Outfits with Grey Jeans for men. Dark and light grey jeans are equally great for everyday outfits, helping your wardrobe have a little fun. Wearing the same blue jeans over and over again can be really boring. We already know that black can match most looks, but grey is equally versatile, too.
It has a wide range of shades and tones. Various shades of grey are now available in major denim and high street brands out there. Grey jeans are a street-style staple, but it doesn't mean you can't use them for other occasions. They can be a great alternative for blue denim on slightly formal occasions. Combining them with the same clothing pieces allows you to create various outfit combos that look different.
Styling Tips
Go for Contrast. It is paramount when choosing an outfit to pair with grey jeans. You can always go for a monochromatic look, but if you don't like that style, then pair darker colors with dark grey. That said, lighter colors should go well with light grey jeans. David Em from Next Level Gents suggests wearing lighter shades of grey in the spring and summer. Darker shades, however, are suitable for the fall and winter seasons.
Formality. It's hard to find something that doesn't go well with grey jeans. Dress up for a certain occasion. And it'll be much easier to choose an appropriate outfit if you consider the nature of the event. Choose between "dress up" and "dress down." Hotdrops said that light grey jeans are better for smarter occasions, and they will give you more outfit combos than dark grey.
Shopping. DMarge

suggests that you consider two things when buying a

new pair of grey jeans: fit and wash. Base the fit on how you want to wear them. Looser straight-leg

cuts are best for weekends. And if you wish to them dressier, opt for slim-cut styles. Slim-cut jeans are easy to team up with a jacket or button-down.

Colors. It's fair to know that it will normally fade after the first wash, especially for those light-wash grey jeans. But be also aware that there's a fine line between light grey and dirty white. It's important to consider shade and tone to select the most fantastic combinations. The beauty of grey can vary between garments, so not everything with this color will look good with the same hues. Always

wear a different color of shoes with grey jeans, even if you try to don a monochrome style.
What To Avoid
Unless your boss permits otherwise, don't wear them to work.

Dark grey jeans look better with casual outfits, so it's better to opt for black jeans for the office and leave your grey jeans at home. But it's best to choose light grey jeans if you insist on wearing them for slightly formal occasions.

When choosing a monochrome style, never go with grey on grey without any jacket or any other layering piece.

If you are too slim, then do not wear tight grey jeans.
How to Wear Grey Jeans
Enough said, here are our top picks from several models and fashion bloggers on the internet: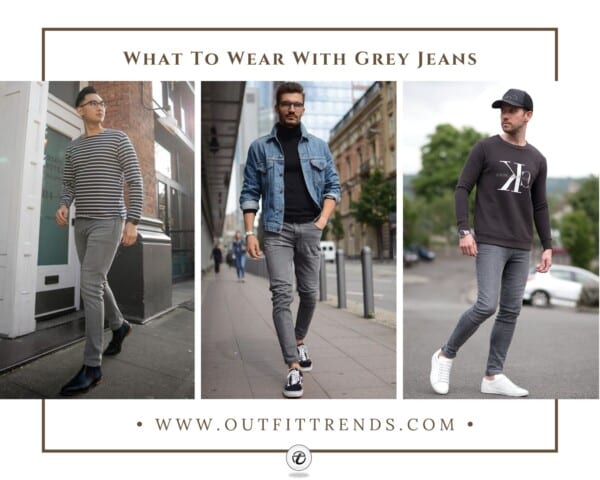 ↓ 20 – With Denim Jacket
There are some layers you can add to the party to keep warm while keeping cool. First in the row is the classic denim jacket. The beauty of grey jeans is that you can pair them with a blue wash jacket without a second thought. Wear it with a black roll neck, and then finish off the look with some Vans Old Skool. Here are some more ideas on Men Outfits with Vans.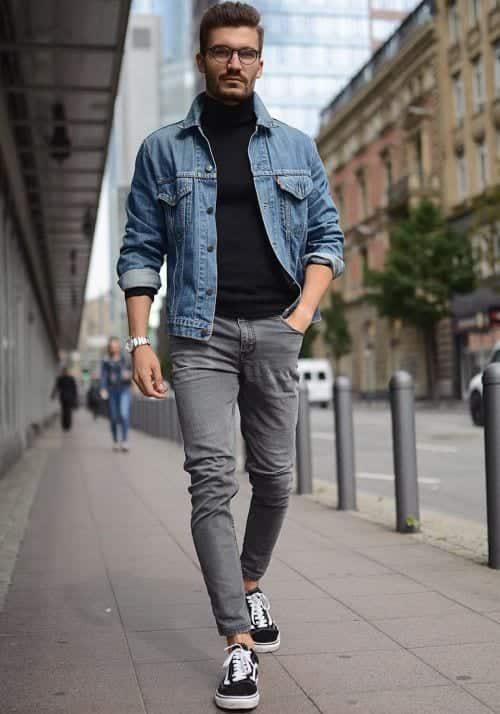 ↓ 19 – With Bomber Jacket
If double denim isn't your thing, get a bomber jacket. Wear it casually over a T-shirt or with a white button-down for slightly formal gigs. Try wearing your dark grey jeans with lighter shades or with black and white for some monochrome combos.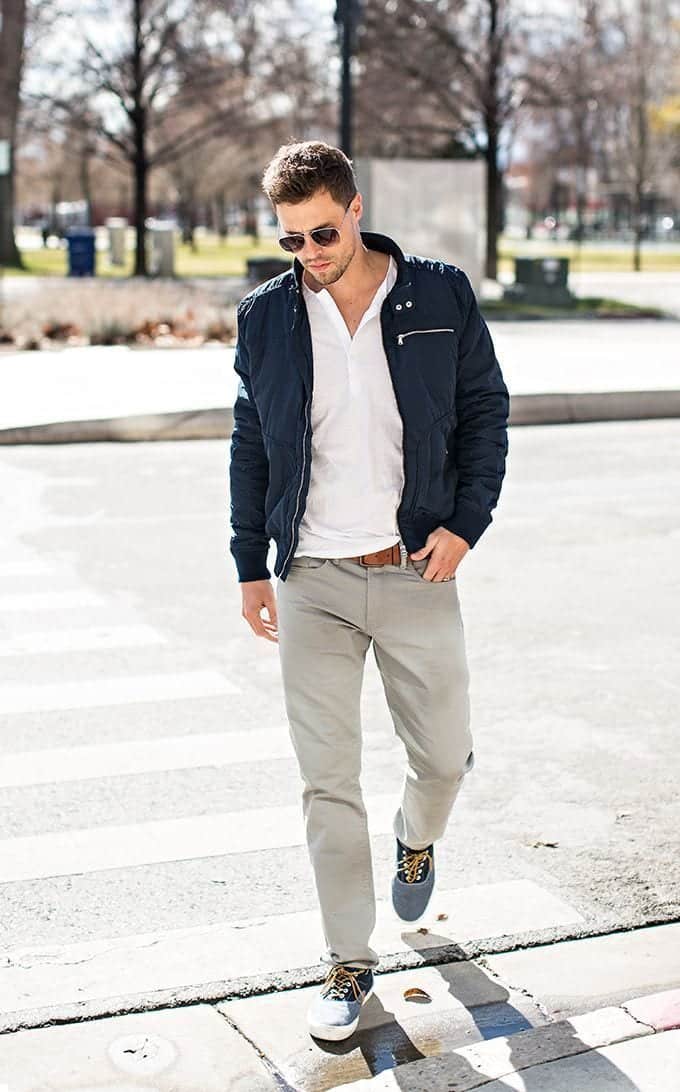 ↓ 18 – With Leather Jacket
Don't stick to your regular blue wash denim. Experiment with grey, instead. Pair it with a biker leather jacket and some black footwear. We accessorize to stand out, so wear that dress watch you've been dying to show off.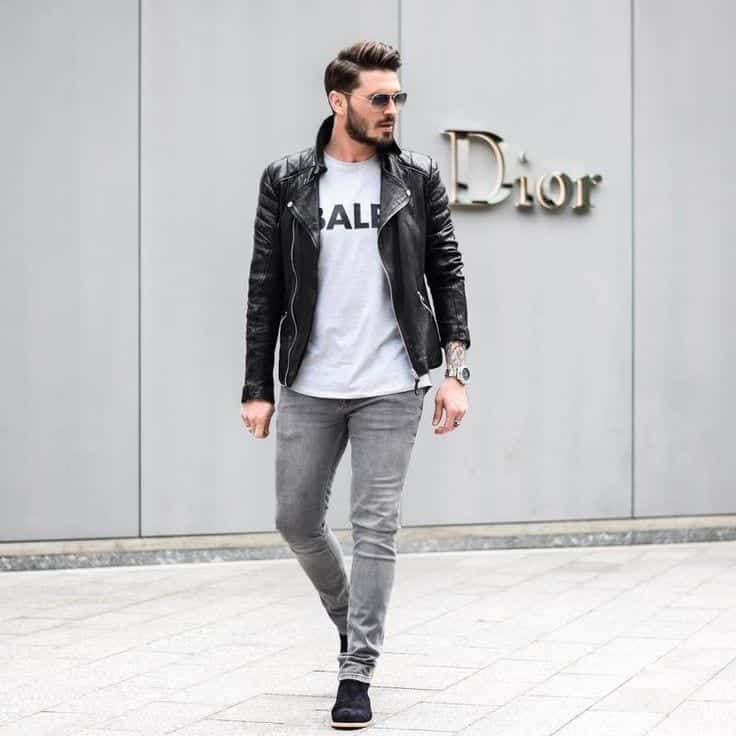 ↓ 17 – With Blazer
If you want to dress up a bit, opt for slim-fit and charcoal-wash grey jeans. You can add some pocket squares to the party, provided it's appropriate for the setting. Also, look for casual tailoring. The soft shoulders, patch pockets, and the lack of lining will keep your blazer a safe option for casual occasions. Complete the look with some white sneakers if the event is a less formal one.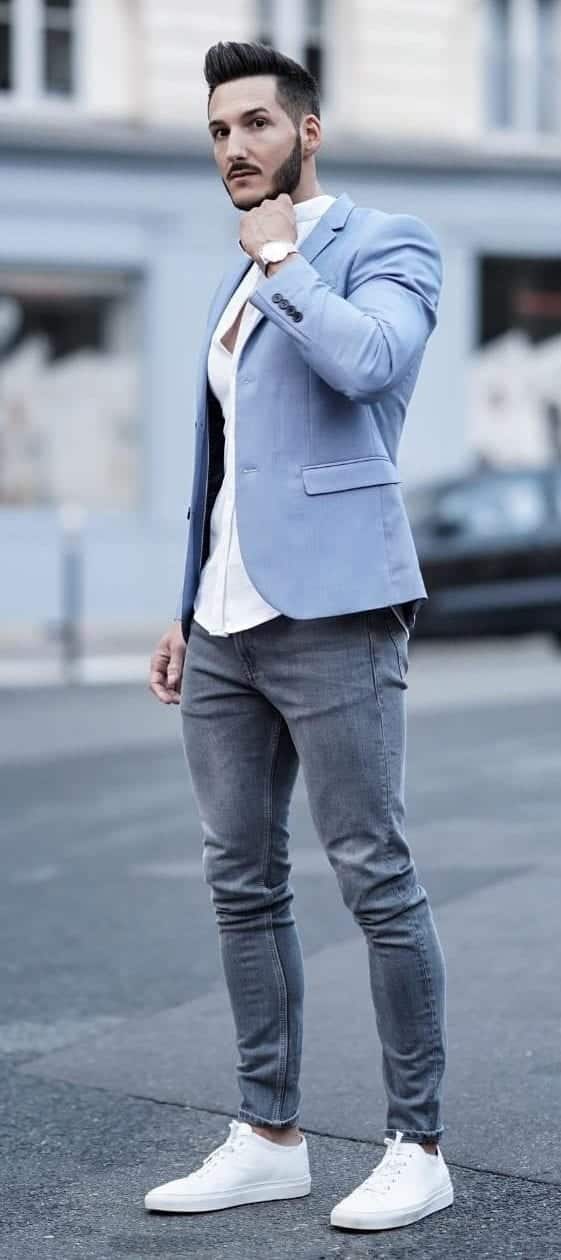 ↓ 16 – Weekend Casual
Wear your grey jeans with a blue flannel shirt for a weekend casual getup. Wear the flannel open to make the plain undershirt visible, so leave it unbuttoned. Roll up the sleeves for a chic look. Here's our complete guide on Simple & Casual Weekend Outfits For Men.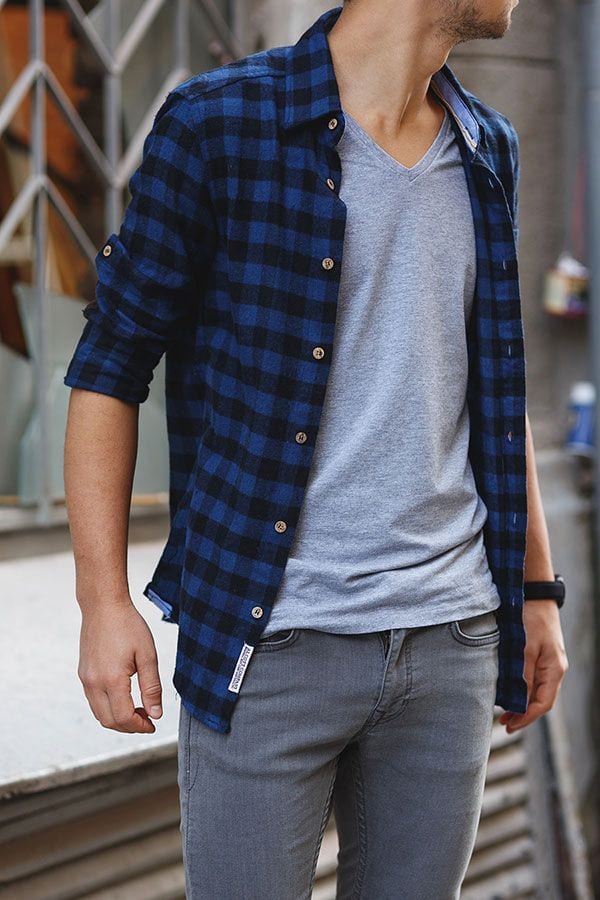 ↓ 15 – First Date Outfit
In the cooler months, choose Chelsea boots for the footwear. Black leather or suedes can spice up most jeans. They look great if you're for slightly more formal occasions. The hem of the jeans should sit over the top of the boots with the tags tucked in. If you are wearing flannel to your first date, close the buttons this time, unlike what you did with the weekend casual style.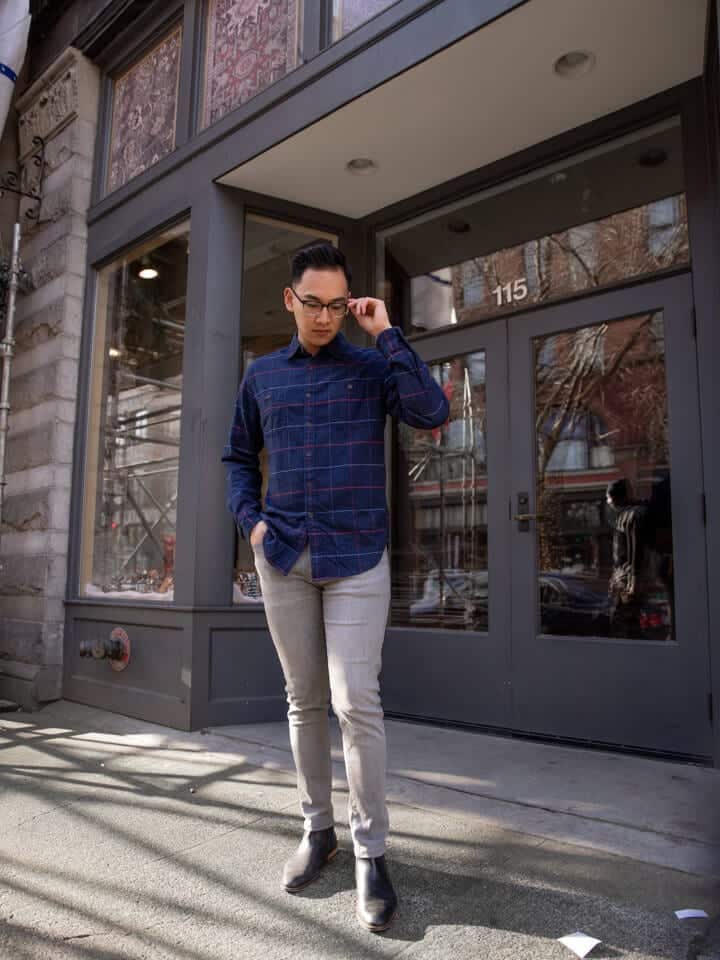 ↓ 14 – With Stripes
Try wearing your dark grey jeans with lighter shades or with black and white for some monochrome combos. Breton stripes are highly recommended. You may already know it but a friendly reminder: go for horizontal stripes if you are a rather skinny guy. But if you have a boxy body shape, vertical stripes are best for you.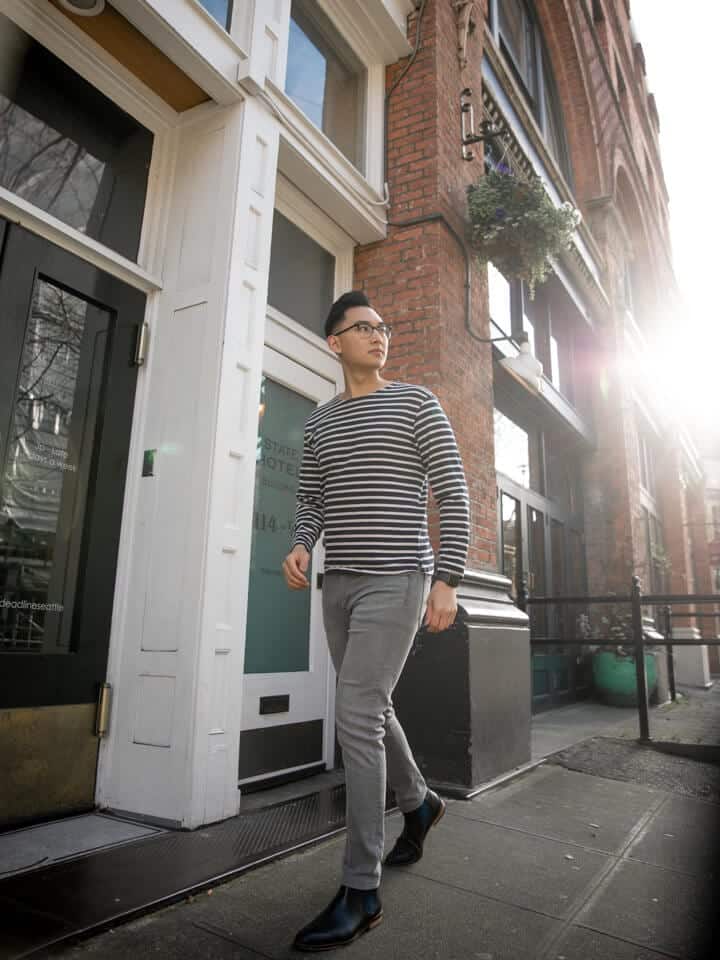 ↓ 13 – With Hoodie
Lighter shades of grey are a relaxed alternative to chinos, and they look good when teamed up with hoodies. On the other hand, darker grey jeans pair well with everything from white to tan. Go for ripped jeans and pair them with your best sneakers available for an ultimate high-street style. Do check out these 40+ Ways to Wear a Hoodie Stylishly.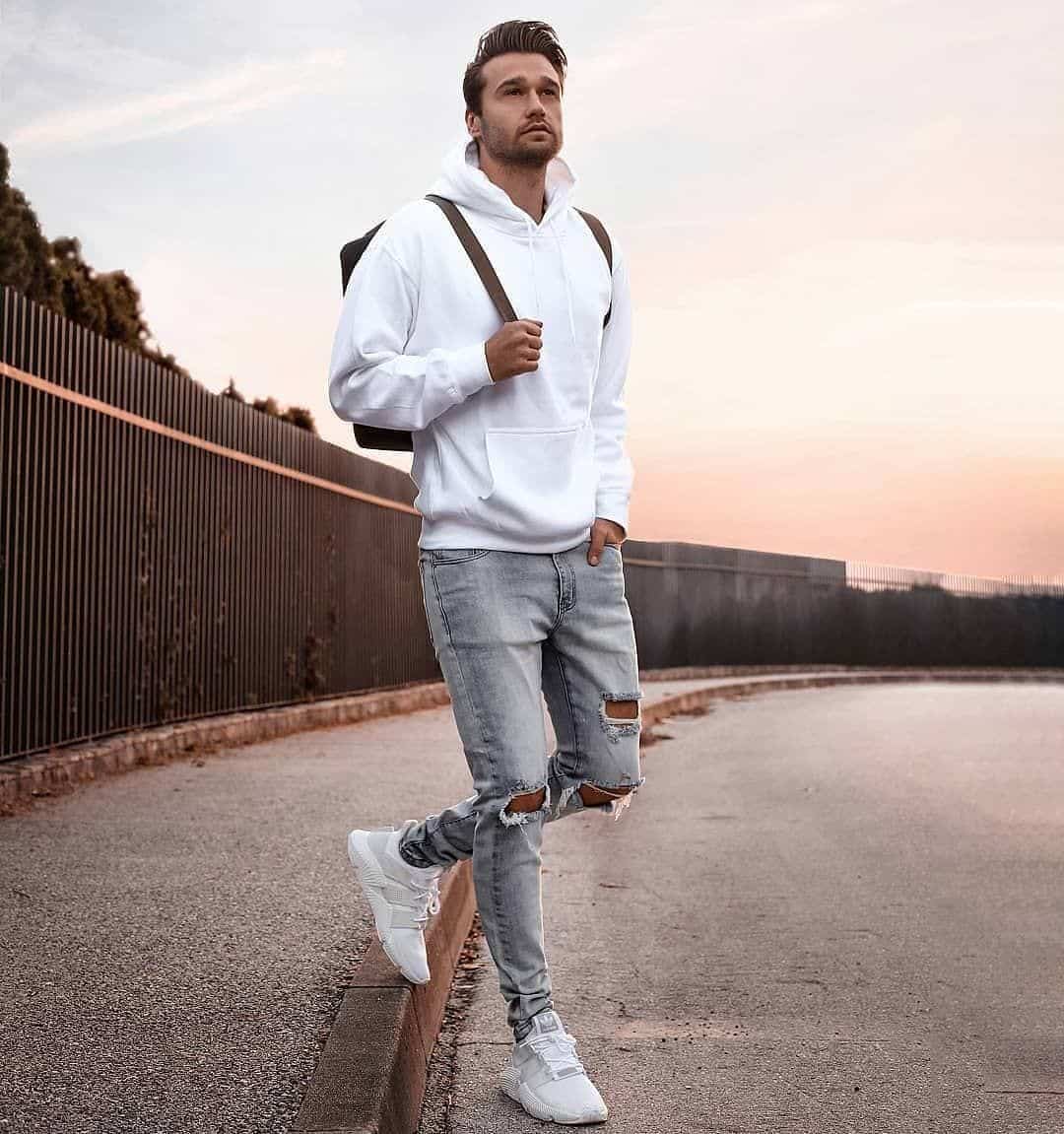 ↓ 12 – With Pullover
Always go for a slim-cut, and remember to keep the rest of the outfit simple. For instance, wear your grey jeans with a pullover like this one from Calvin Klein and then add a cap to the party to up the ensemble.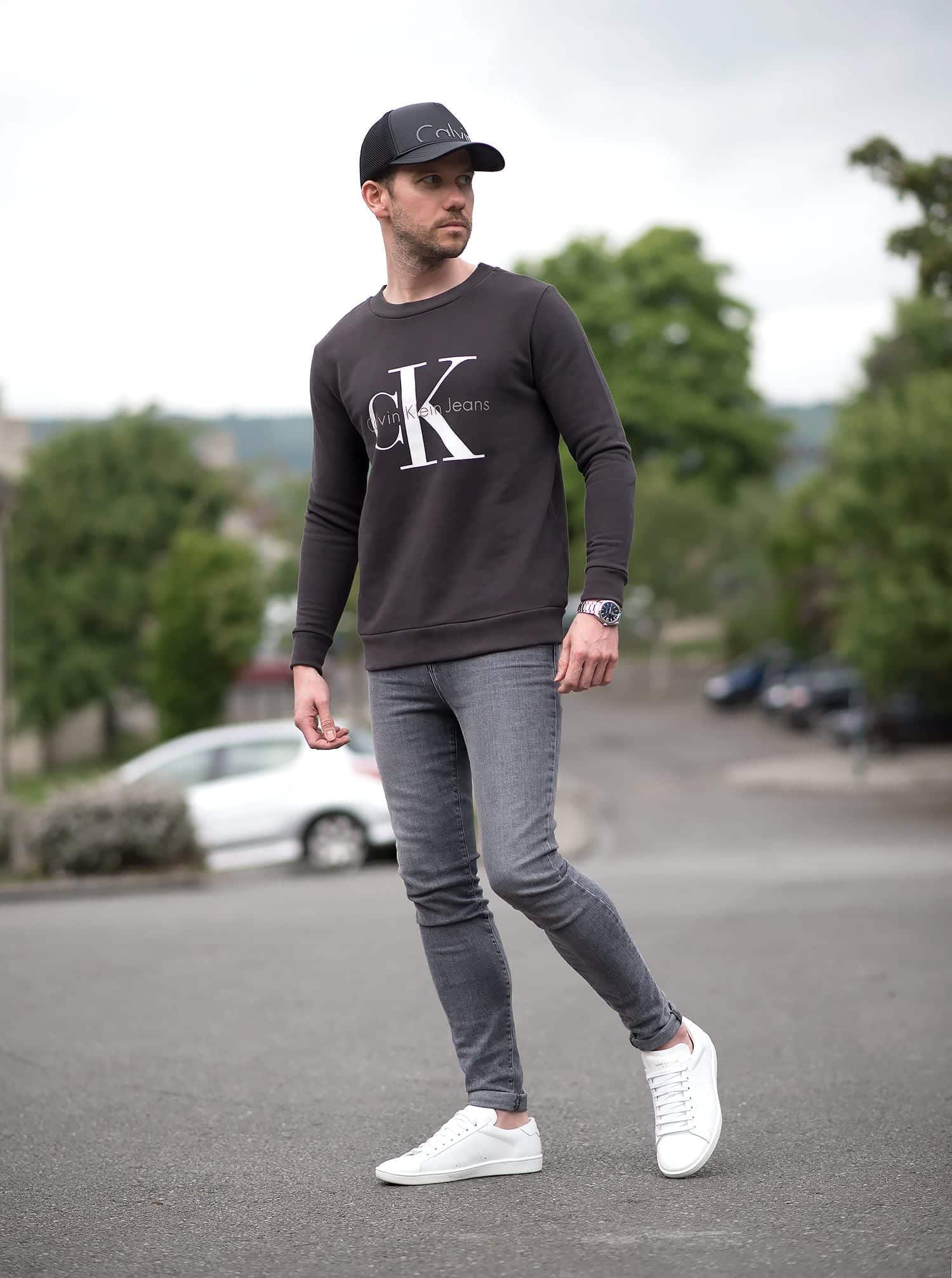 ↓ 11 – With Polo Shirt
Like a simple tee, the shirt's style might have an impact on your overall outfit, but its color is the most pressing concern. A plain sky blue polo shirt paired with grey jeans can be worn to work, provided that it is Casual Friday today and not Formal Monday.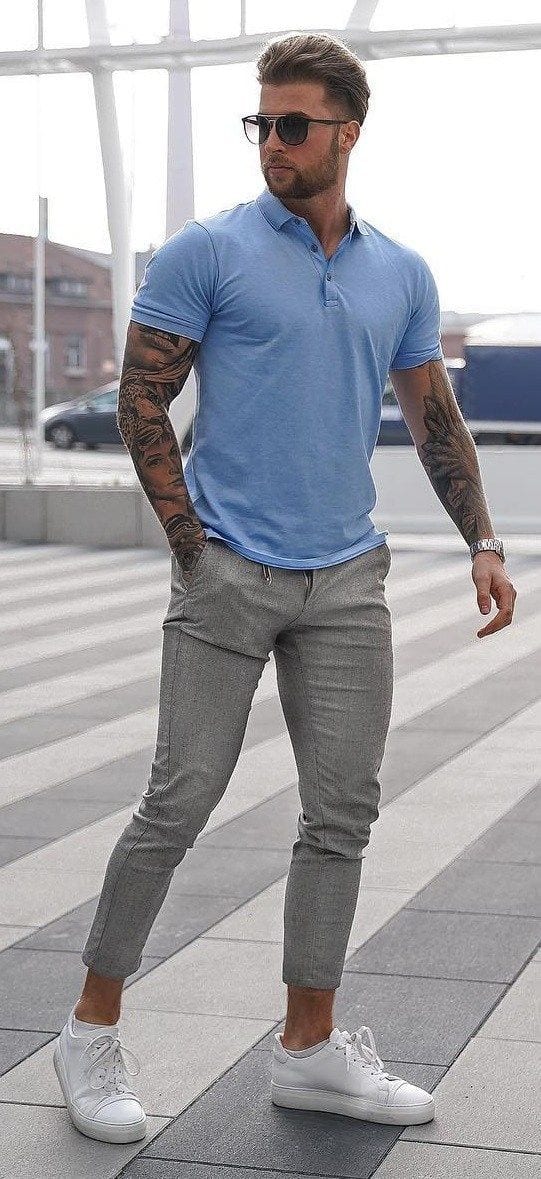 ↓ 10 – With A T-Shirt
Wear your grey jeans with a T-shirt for a casual gig or a sports coat for a semi-formal function. This outfit is made of three neutral colors: white, grey, and brown. Pair a plain white T-shirt with grey jeans, and finish off the look with brown leather oxfords. But if you do not have these shoes, any footwear, from boots to sneakers, would do.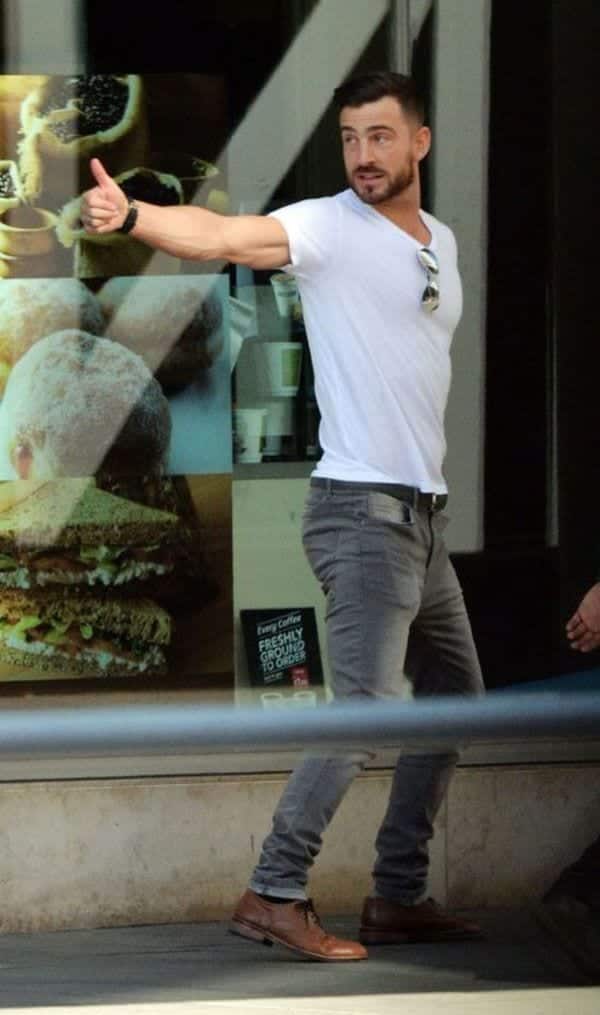 ↓ 9 – With White Sneakers
What do black, grey, and white have in common? They are all neutral colors. And because of that, it's not surprising that the outcome would be fantastic once they united as one through your outfit.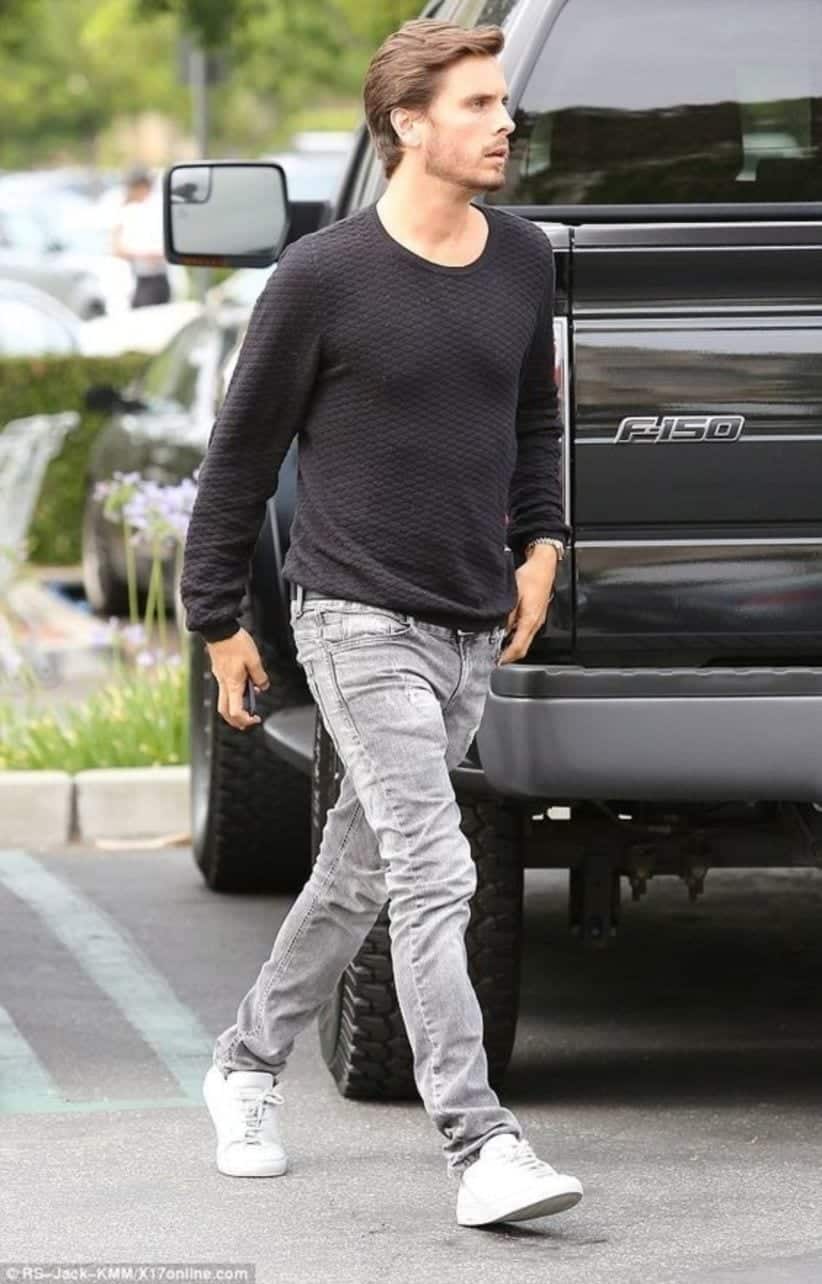 ↓ 8 – With Chelsea Boots
In the cooler months, go for Chelsea boots. Black leather or suedes can spice up most jeans. They look great if you're headed to a slightly more formal occasion. The hem of the jeans should sit over the top of the boots with the tags tucked in.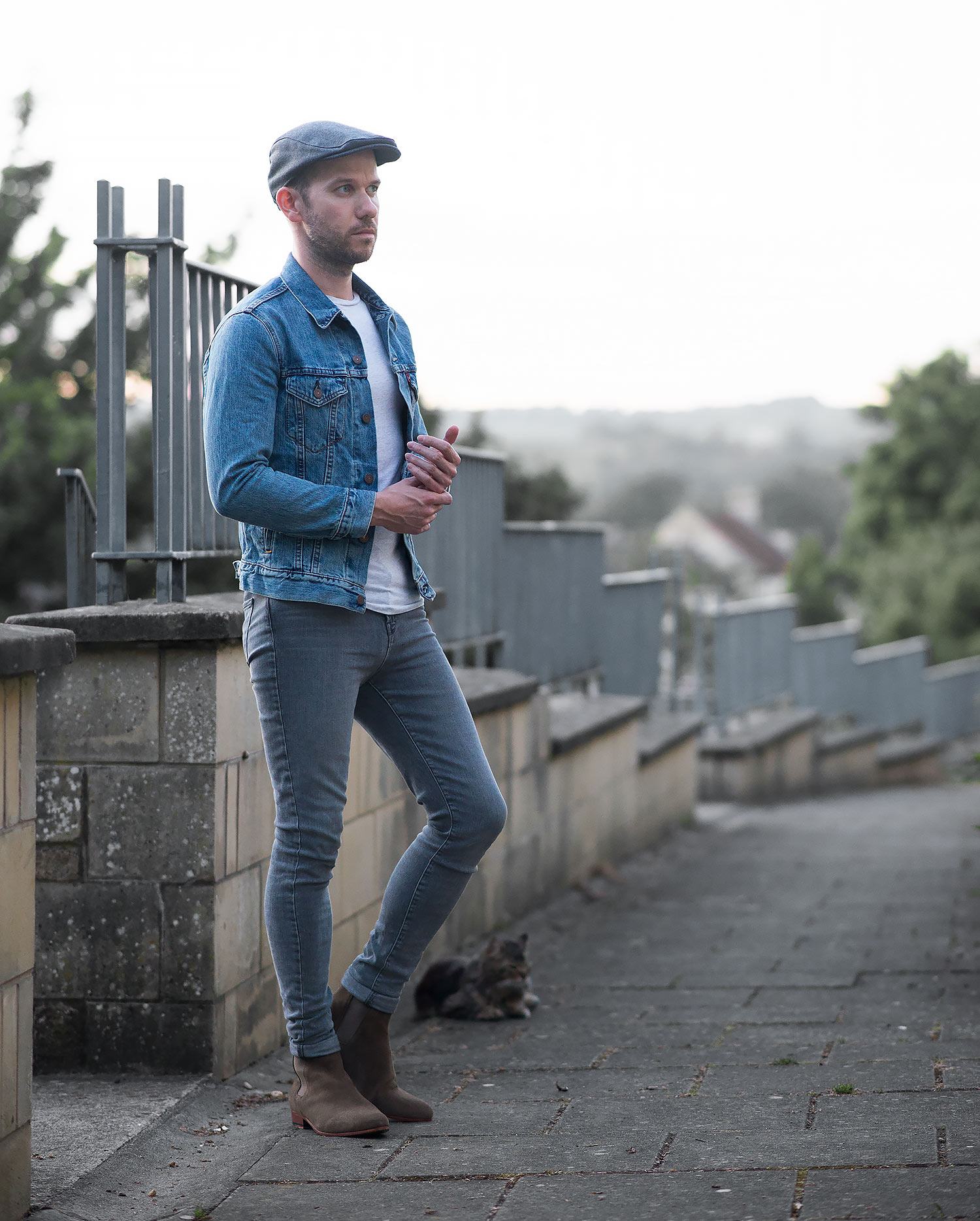 ↓ 7 – Grey Jeans College Outfit
This team-up is simple yet stylish. This sleek and fresh outfit is also perfect for both business and smart casual occasions. Prefer dark grey trousers when dressing for a more formal outfit and light grey pants for a more relaxed aesthetic.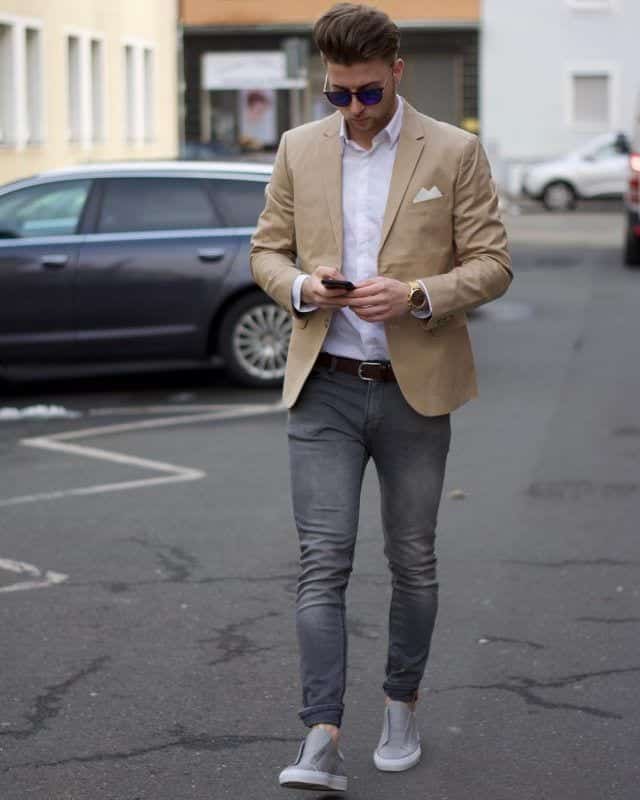 ↓ 6 – For Office
Wear your light grey jeans with a light blue or white shirt for an office-friendly outfit. The standard go-to would be a navy or darker blue blazer thrown over a dress shirt. Your footwear options should be limited to leather shoes or brogues unless otherwise stated by your boss.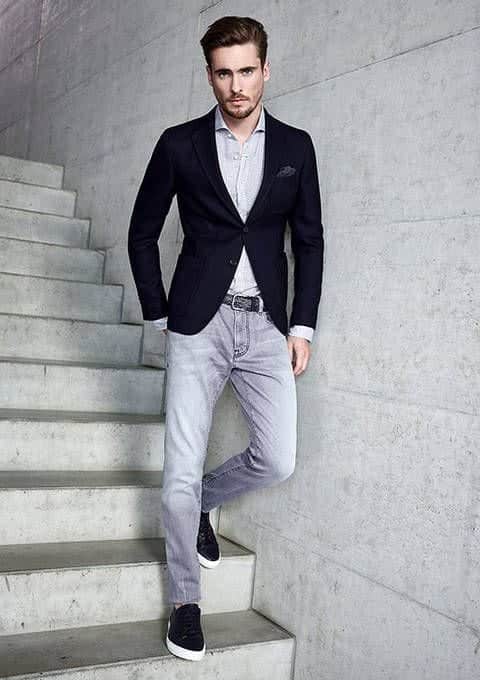 This is a perfect opportunity to go monochrome. Throw a charcoal grey peacoat or a trimmed trench coat over a lighter grey undershirt. Grey pants paired with black shoes are for traditional looks, while brown or burgundy shoes are best for statement and fashion-forward styles. Wear them with matching socks, then roll back your jeans' cuffs for a cuffed jeans look.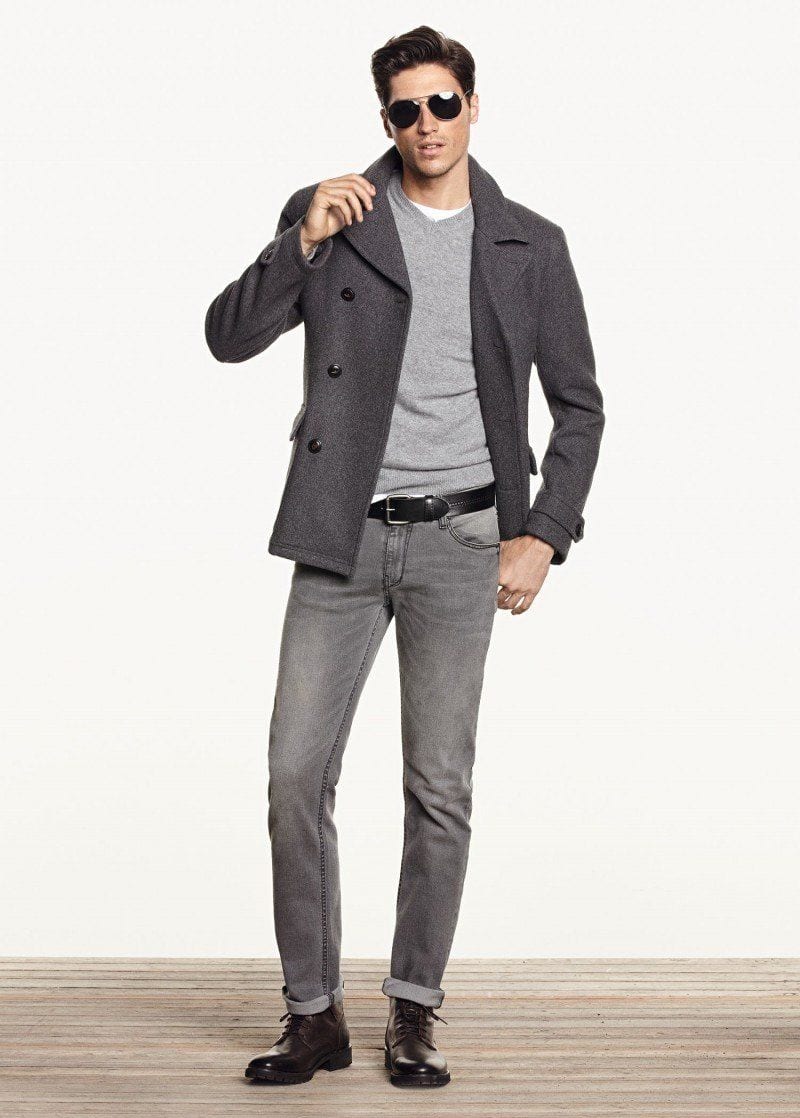 ↓ 4 – Street Style
Baggizmo said that street style came from the British fashion culture. Back then, streetwear is worn by the urban and skate audience. But just because there is "street" on its name doesn't mean that the style is limited to what you see in men wandering by the busy streets of the city.
This outfit can be a little smarter by making some changes with the footwear. Streetwear typically involves casual trainers and sneakers, so the next time you are dressing up for a slightly more formal event, go for Oxfords, Chelseas, and even brogues.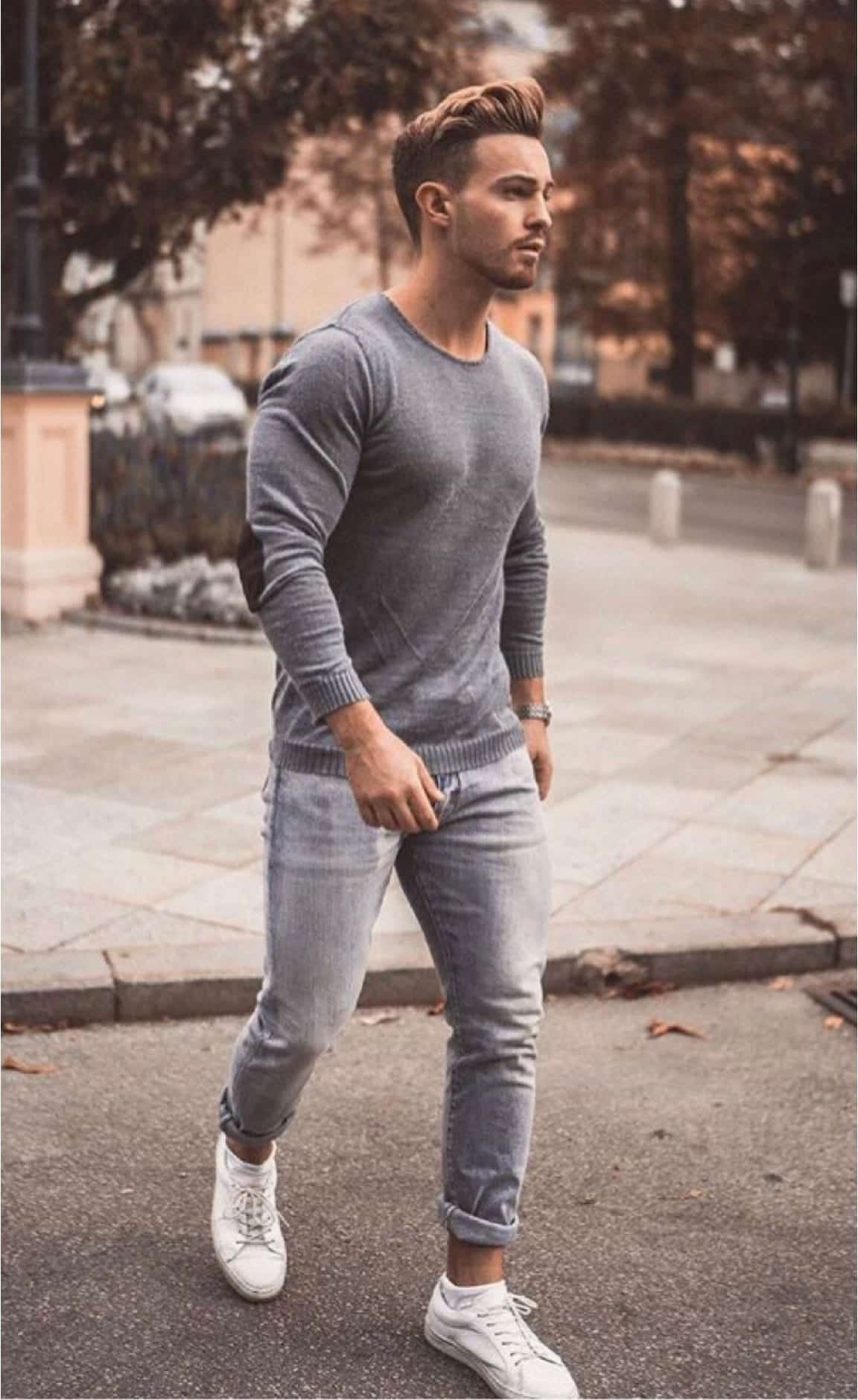 ↓ 3 – Summer Style
Wear a white linen shirt with your grey pants, and then finish off the look with some blue slip-ons. Sunglasses are essential for this season, so don't forget to grab some.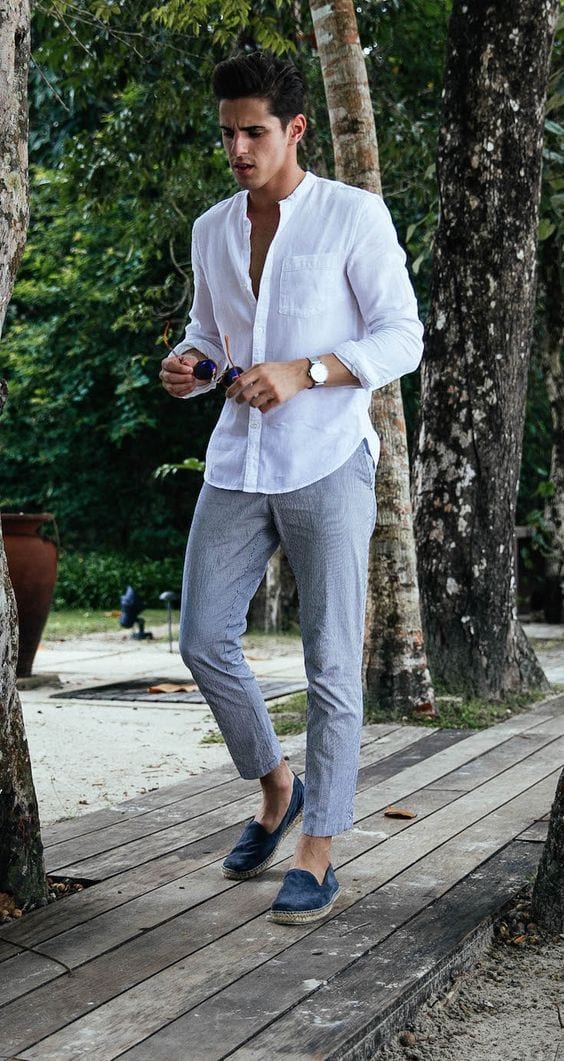 ↓ 2 – Winter Wardrobe
Let's do some layering! Throw a dark grey wool trench coat over a knitted sweater of a darker shade. The combo of these various grey hues blends in well with grey jeans, regardless of the shade.
↓ 1 – With Cardigan
A cardigan is an excellent substitute for your blazer or winter coat. Not only that it's versatile enough to go well with anything, but it's also lightweight, which makes it suitable for summer, unlike your usual and traditional jackets.
Throw the cardigan wool cardigan over your shirt, and you can now wear it to the office or even to your casual hangouts with colleagues.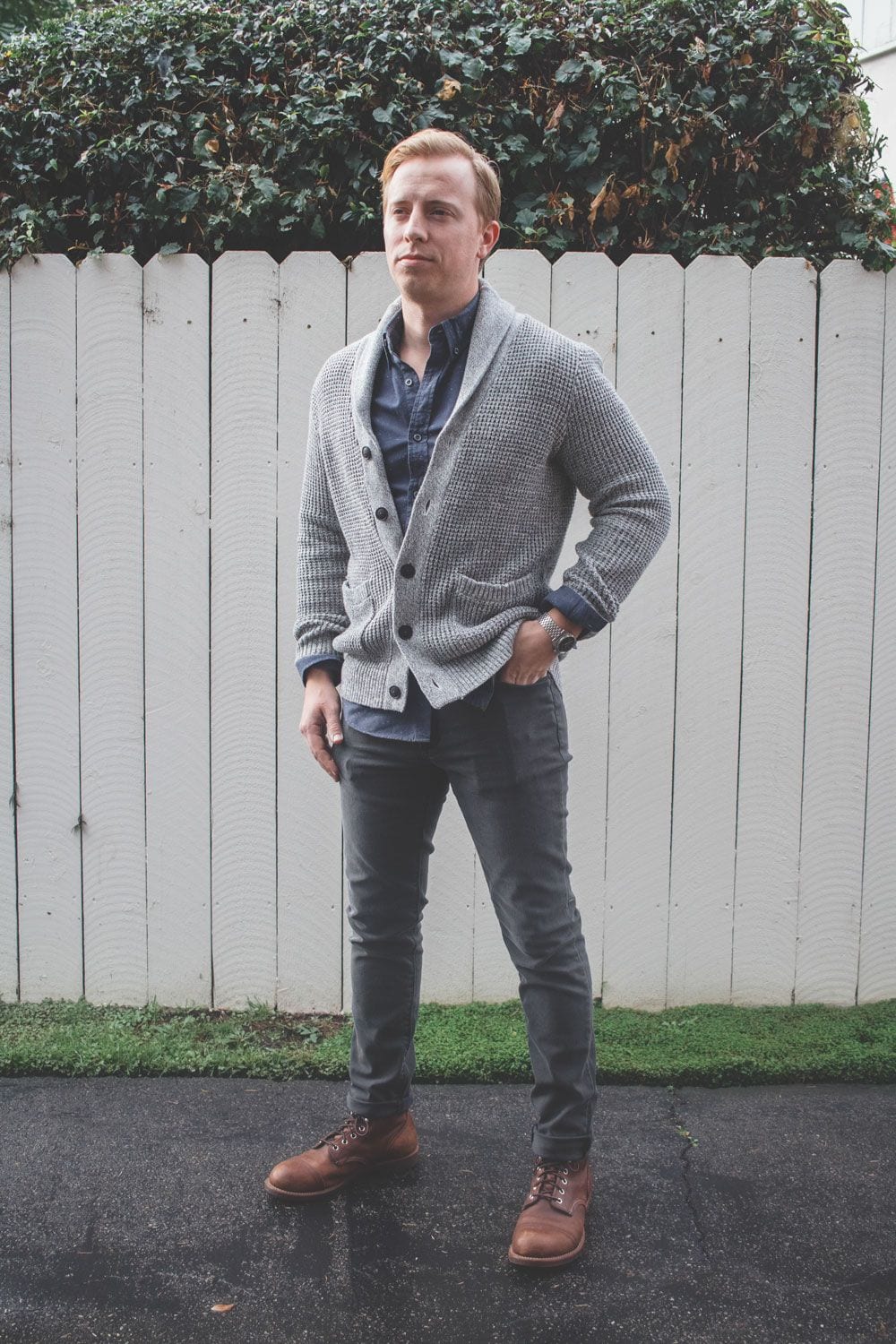 What's your favorite among the outfit ideas above? Please let us know in the comments.
Frequently Asked Questions
Q.

Are grey jeans in style?
A. From its inception, grey jeans have always been a classic pair of trousers. Since then, men have continued to wear them, and because of their practicality, you can see them almost everywhere. Andrew Snavely from Primer Magazine said that just like dark blue jeans, grey jeans are timeless. He admits that he is a fan of charcoal grey jeans as they have become his "go-to" for occasions where he wants to look his best.
Q.

What shoes go best with grey jeans?
A. Depending on how casual or formal your outfit is, you can choose from boots and loafers. But the go-to option is a pair of sneakers. Focus on colors like blush and black. The best colors to go with grey jeans are black and navy blue. Grey also pairs well with brown footwear.
Q.

What looks great with grey jeans?
A. I recommend you go with light hues with grey jeans, but you can also opt for pastels. Also, contrasting hues like black and white blends with grey jeans just right. If you want to pair something with grey, keep them lowkey so that the grey color itself will stand out. When it comes to brighter shades, consider the depth of color and undertones.
Q.

Are grey jeans business casual?
A. Business casual means that you have to wear pants with a color other than your blazer or jacket. Try not to wear the same colored top and pants. If you have a light grey blazer, then pair it with grey jeans in a darker shade. However, some offices may not accept jeans as officewear go-to.
Q.

Can I go monochrome with grey jeans?
A. Yes. After all, there's really no rule as to which outfits should and should not be styled the monochrome way. However, if you are wearing grey jeans with a grey top, don't forget the general rule for monochromatic outfits: the top garment should be of a lighter shade than the bottom piece.