Tie-Dye Outfits For Men: As our country's still in "lockdown and physical distancing mode," it makes sense that people would use "DIY Tie-dye" as a way to connect. And since now is not the ideal time to go out and shop for clothes, you can make your tie-dye outfits from the comfort of your humble home.
Tie-dye has been making noise in fashion for years now. From Kwaidan Editions' iconic spiral T-shirt in 2017 to the creation of Grateful Dead shirts by streetwear lovers from Jonah Hill to Quavo, tie-dye is making its own spotlight. The tie-dye's presence on the fashion runway brings us to a different dimension. Today, tie-dye is almost considered a neutral shade. And just like khakis, jeans, and white T-shirts, it now belongs to American fashion.
In the first few months of 2020, tie-dye has already become one of the year's biggest fashion trends. It was likely because "DIY tie-dying" has been a fun and creative way to endure the boredom of being stuck at home. And it's also not that hard to do it with just a few pieces you already have in your closet.
Searches for the technique "how to crumple tie-dye" have increased by increased 376% on Pinterest. And while this process is simple, it takes some tricky steps to achieve the outcome. It's a good thing because we could really use an excuse to utilize our spare time.
Clearly, this trend did not just pop out of nowhere. Menswear designers like Off-White and Jacquemus have been showing the best men's tie-dye clothing for quite a while now. And if you're an old-school band lover, then tie-dye's reasonably in your DNA.
History. The tie-dye print has been slipping its way back into fashion for years now. The Japanese art of Shibori, the origin of the modern tie-dye, became famous a few years ago. Tie-dye was also seen on both the 2019 and 2020 spring runways.
Tie-dye outfits may sound like a new trend, but the pattern's first appearance dates back hundreds of years. Tie-dye is a universal method of designing textile and fabrics, and the world has been doing it for more than 600 years now. Today, we see versions of it in most cultures, in parts of Asia and America.
Dyeing practices also stem from African culture. Many immigrants from this continent brought their skills to the U.S. in the late 1700s and 1800s. And then tie-dye went popular in the U.S. when the hipsters adopted it in an effort to embrace their sense of freedom and individuality. And so the tie-dye pattern was a DIY and a versatile, flexible statement during that time. This was during the availability of ready-to-wear outfits and the inception of mass-produced fashion.
Tie-dye outfits may seem like a fad, but men have been wearing them for years already. Recently, it's considered a high-fashion wonder, with the likes of Dior and Prada having recently helped popularize them through haute-couture in the runway. Regardless if you are a fan of tie-dye or not, this psychedelic print from the '60s is back with a bang! And it's become a quarantine fashion trend that doesn't seem to be leaving anytime soon.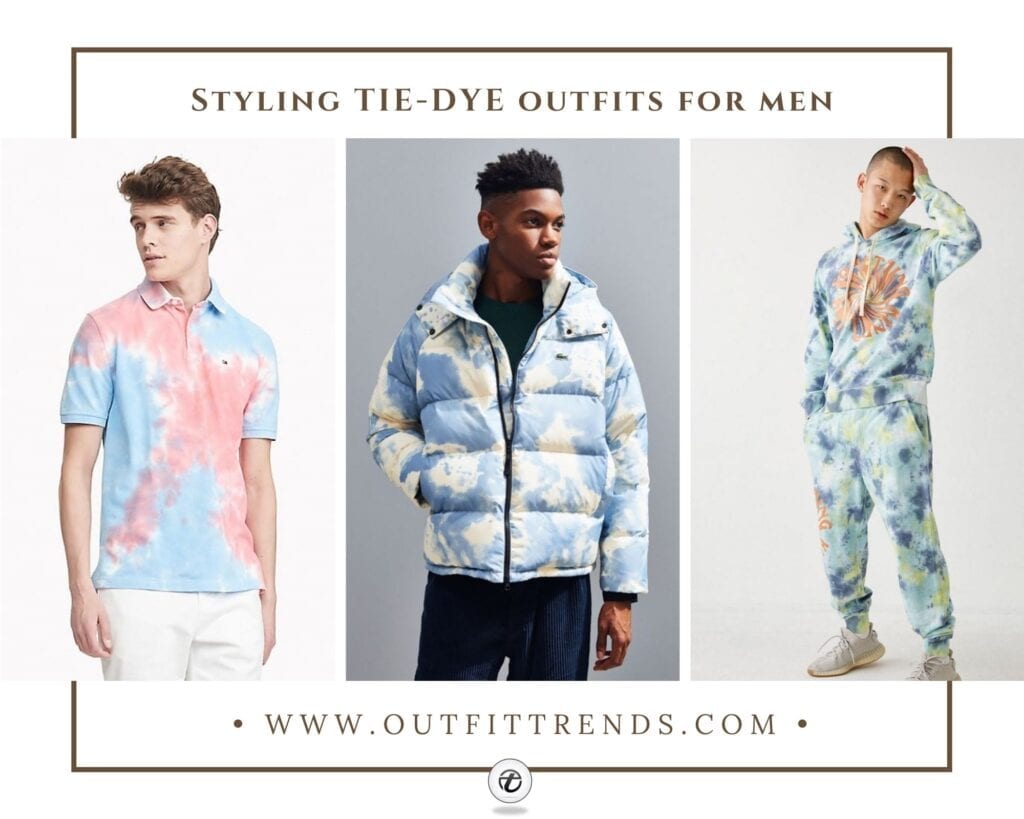 How to Style Tie-Dye Outfits
For Starters. If you feel like tie-dye isn't for you, it is better to start wearing the pattern in the simplest way you can think of. You can do it by choosing an eye-catching garment and pairing it with neutral-toned outfits.
Colors. Earthy tones and neutrals are recommended. And we've also seen subdued black and grey patterning that'd be easy to rock through almost any outfit you can think of.

If you are ready to take your fashion game to another level, combine your tie-dye outfit with pieces of a similar color palette. The outcome will be exceptional and original.

Patterns and Prints. The skies are your limit! Be creative by doing some color blocking and trying a different fusion of prints, such as tie-dye clothing with florals, polka dots, and stripes.
Tie-Dye Accessories. If you don't want to go full-on with tie-dye, consider using a tie-dye accessory instead. Start with socks, tote bags, and pocket squares. Whatever it is, make sure it won't be the center of attention. For instance, a

ccessorize with a tie-dye tote bag to rock the tie-dye look without being an "overkill." This can be a pretty convenient and creative way to incorporate some personality into your look without going overboard. That said, wear simple garments – pieces of a subdued palette to let your tie-dye bag do the talking.

Festivals.

The festival is a perfect place to wear tie-dye. This reminds me of the days of Woodstock, rock 'n' roll psychedelia, and the take of the Western world in this fashion trend.

Tie-Dye Suits.

Wearing a tailored outfit in tie-dye might sound awkward, and I can't blame you. I would agree at one point. Today, however, it would no longer be a cliche to do it, with some points to consider. Choose a classic fit and cut, and stick with only one tie-dye piece per outfit. But don't use this ensemble for a job interview, please.

Dress up with tie-dye.

Don't limit yourself to wearing tees and sweats. Yes, comfy and cozy printed sweatsuits are becoming more and more popular each day, but don't forget that tie-dye can also dress up other wardrobe pieces. This trend can suit almost any occasion while adapting to the ever-changing fads and trends in fashion. Thanks to a myriad of outfits available – from formal wear to casual clothing.
Wearing a tie-dye outfit isn't the key to be strong during this time of uncertainty. But it brings out the free-spirited person in you, if only for a short time, so give it a go. Now, let's take a look at these outfits we compiled for you:
↓ 17 – Crocs Footwear
Wear a tie-dye pattern as a statement. First, round up some essential staple pieces. Then, make sure the rest of your outfit is laid-back and minimal. Allow the bright colors to take the spotlight. For instance, rocking a pair of colorful kicks is a great way to add some flavor to your ensemble. Vans, Crocs, and Converse are making some excellent options out there. Again, keep the rest of the outfit low-key to let the shoes speak for themselves.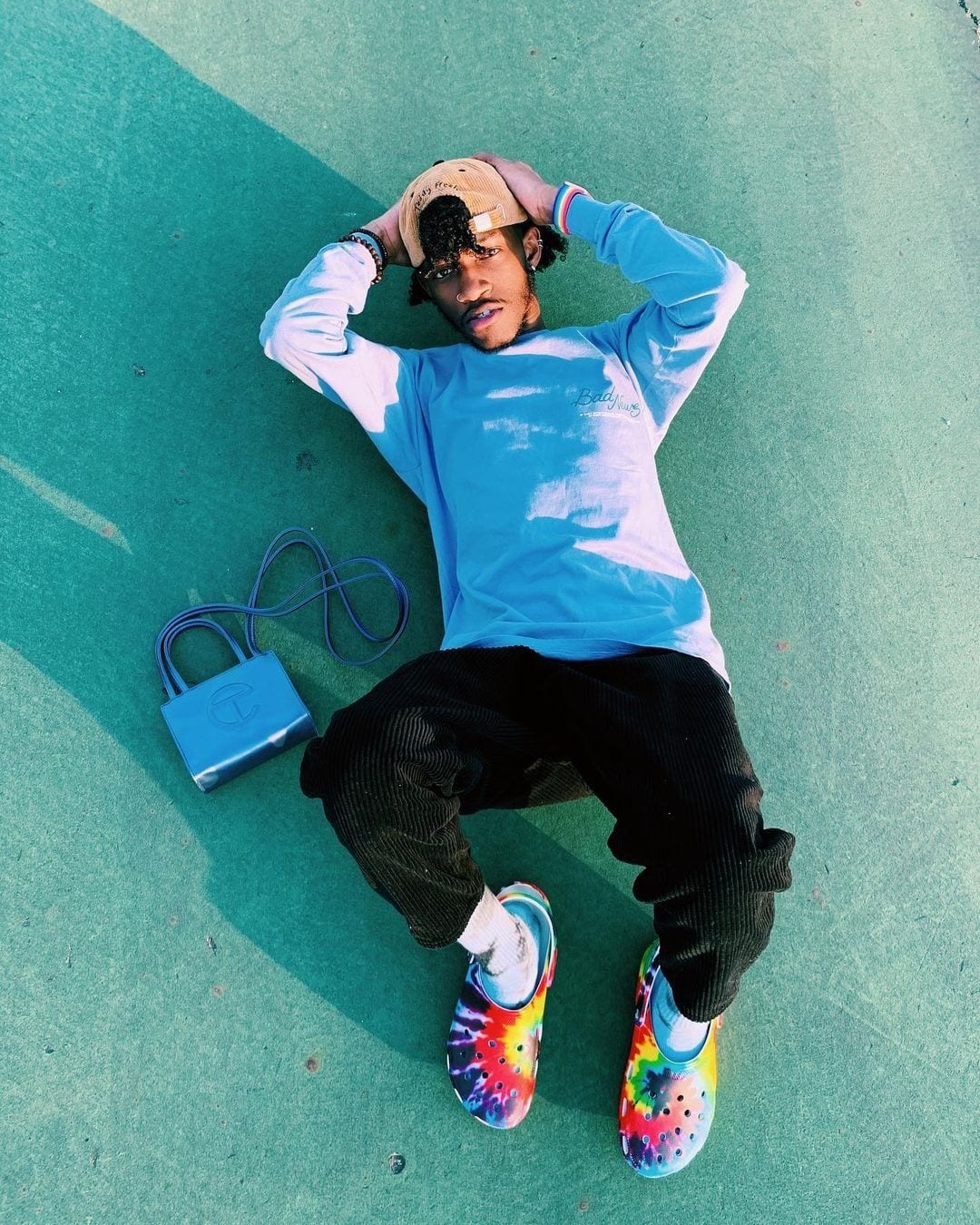 ↓ 16 – Bucket Hat
Both the pattern and the garment have a lot to say with summer indulgence, so it only fits to combine the two.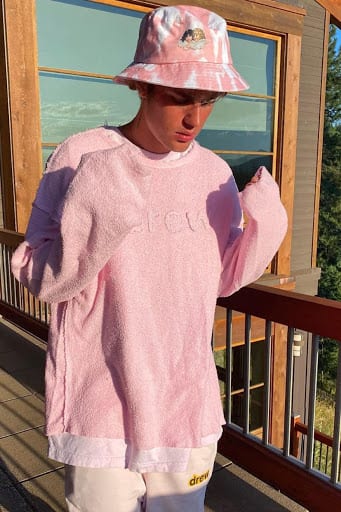 via
↓ 15 – Puffer Jacket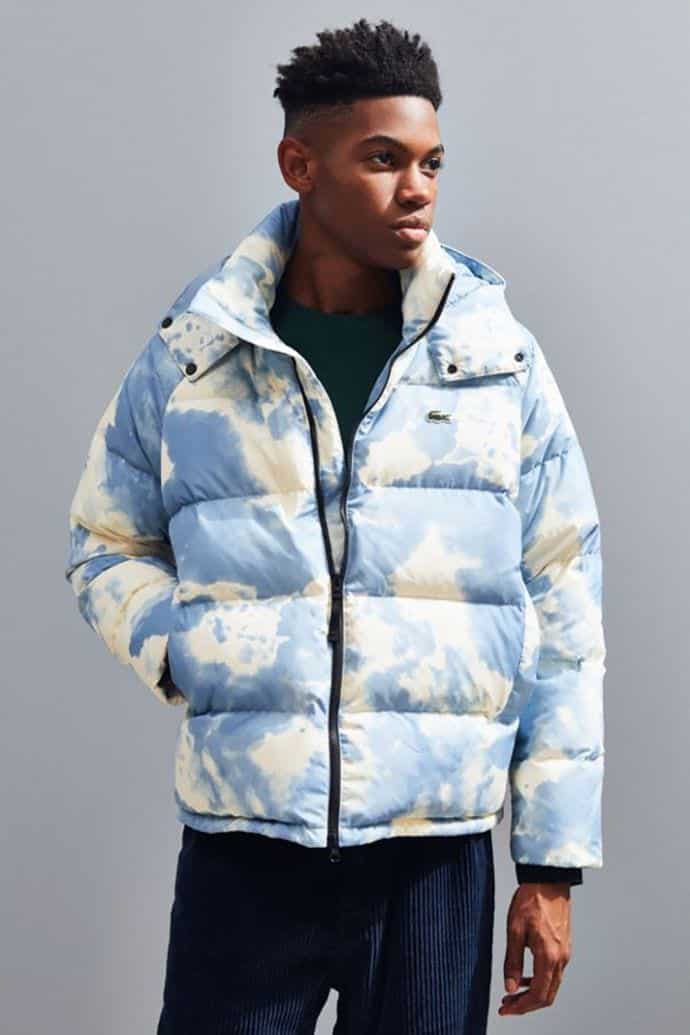 Check out more ways men can also style denim jacket outfits.
↓ 14 – Shirt
Tie-dye can dress up or take a boring outfit to a whole new level. It can make a plain shirt way more attractive.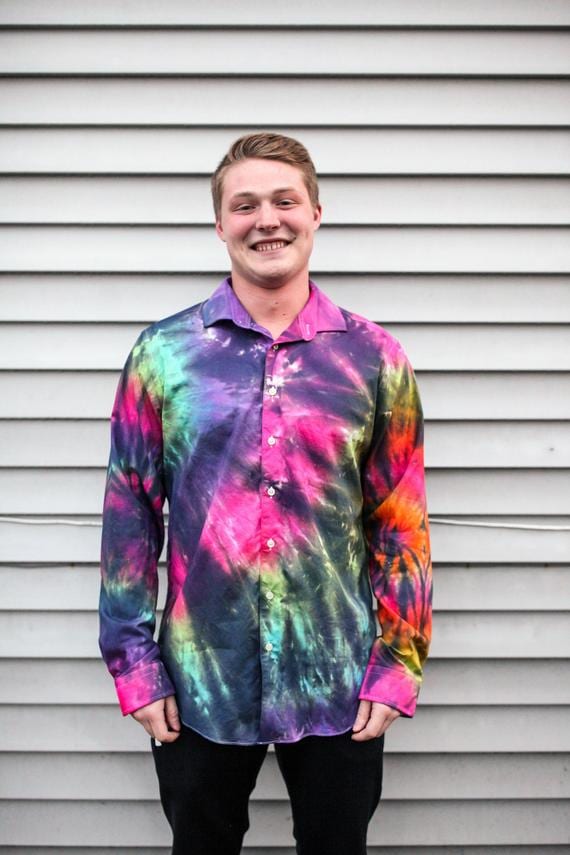 ↓ 13 – Polo Shirt
Modern tie-dye pattern features cotton candy-hued pastel and white color schemes with subtle geometric designs.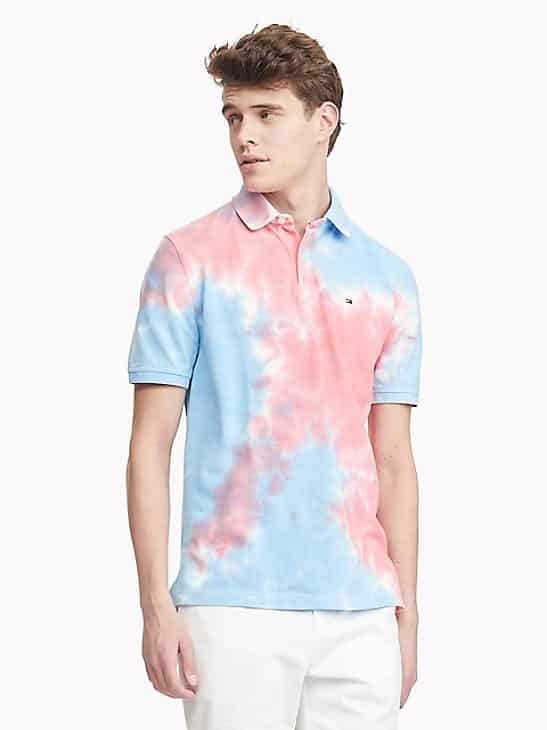 ↓ 12 – T-Shirt
Today's tie-dye looks a lot different than the flashy print they had in the 1960s, which carried more colors into a single garment. The tie-dye version we see today is simpler and has a more minimal appearance.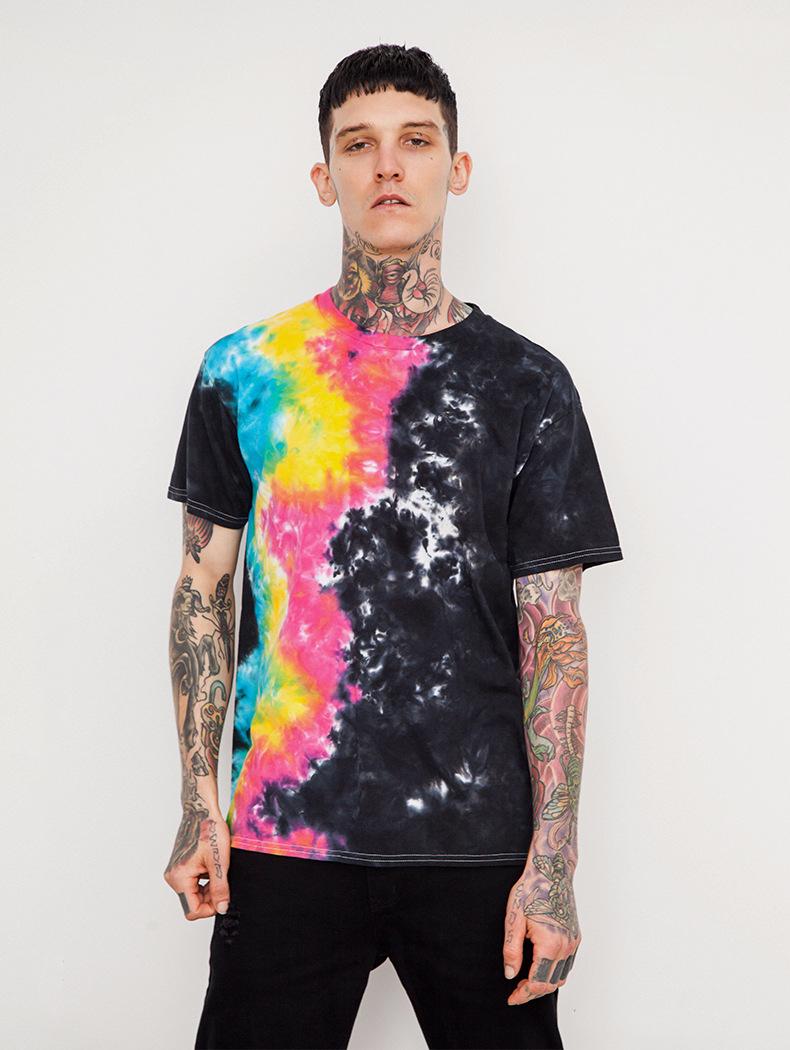 ↓ 11 – Loungewear
The sleepwear trend has become famous during the time of quarantine. In the early days of the lockdown, the matching tie-dye sweatsuit has been the official uniform of everyone from couch potatoes to celebrities turned homies.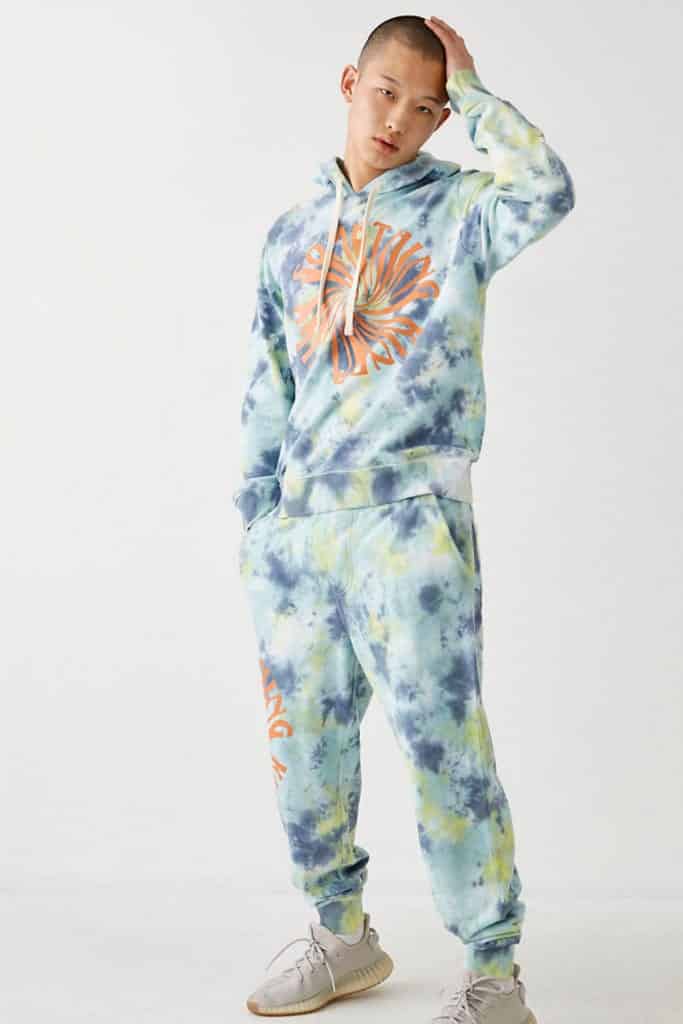 ↓ 10 – Activewear
For a bit of modern update, try to incorporate tie-dye into your streetwear and sportswear outfits.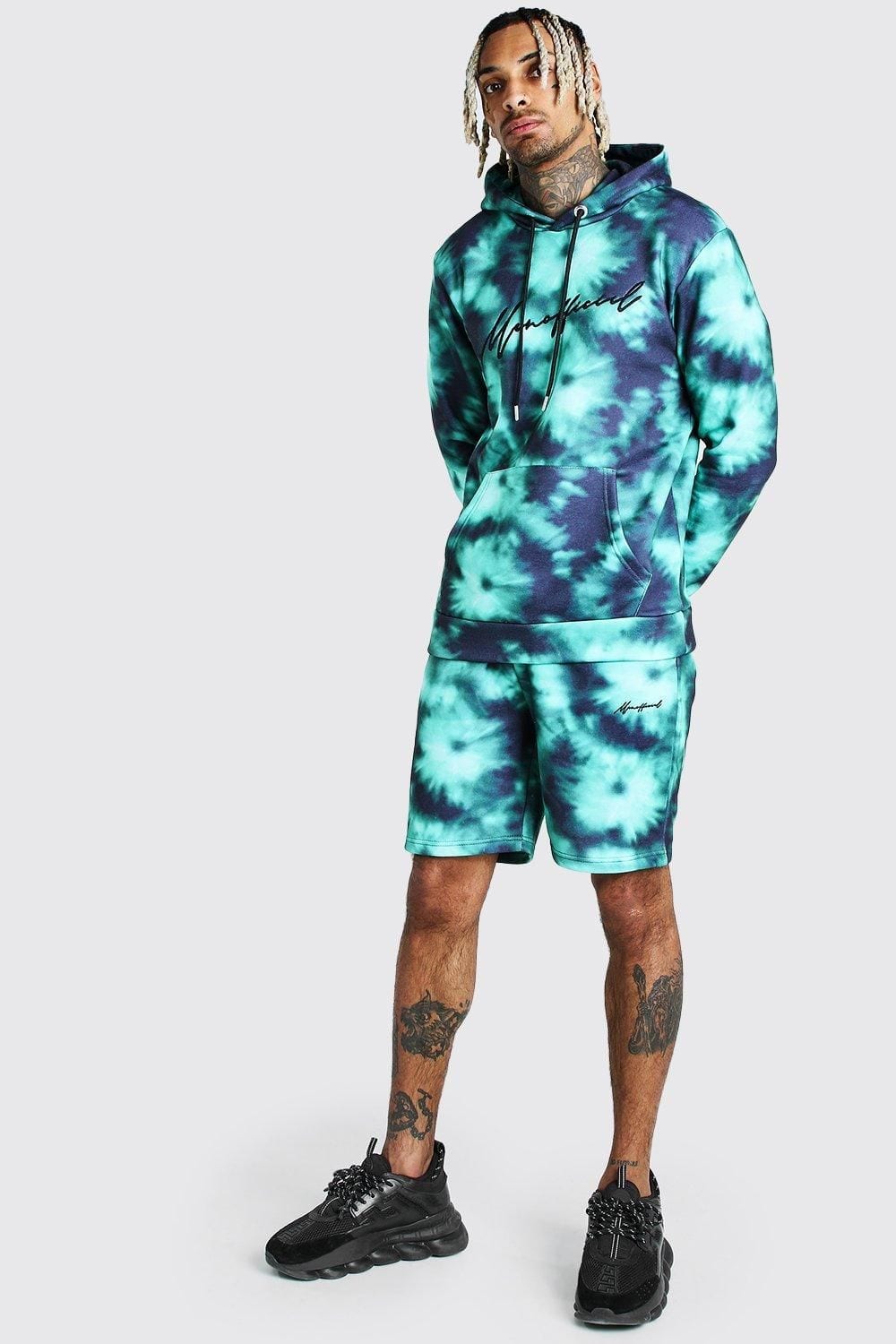 ↓ 9 – Beach Outfit
Tie-dye also evokes the sunny idealism of its 60s bloom. The pattern is playful and bright, which makes it ideal for activities in the summer season. Create memories and enjoy the moment under the sun. Spend your summer days with friends and family in a tie-dye outfit.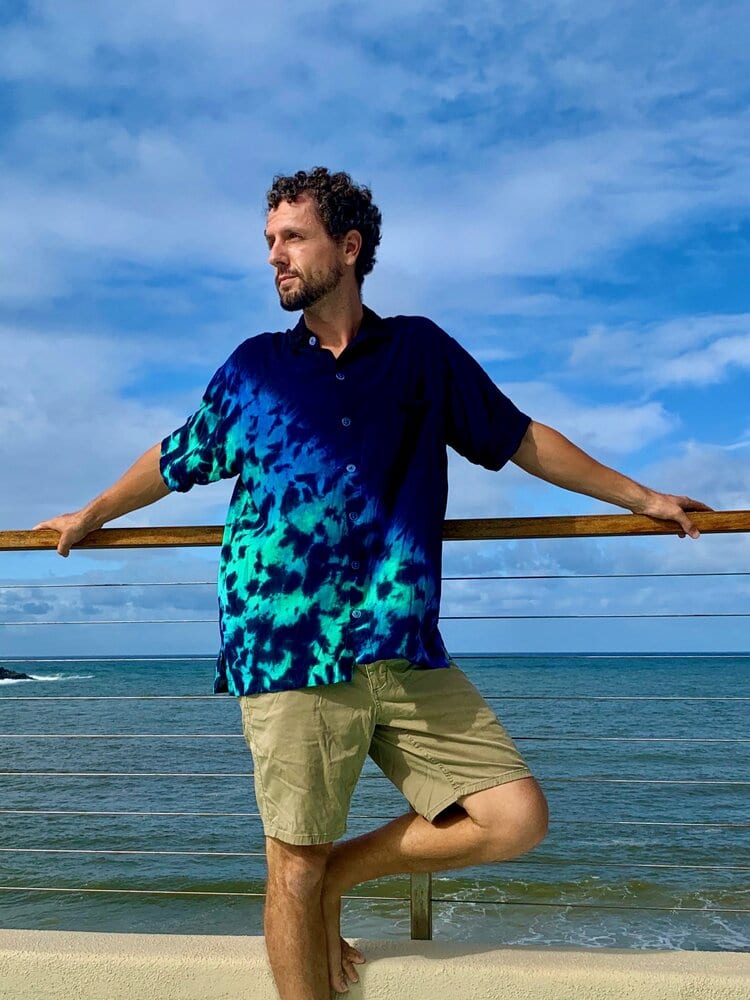 Frequently Asked Questions
Here are some frequently asked questions on how to style Tie-Dye outfits for men.
Q.

Will the tie-dye trend last?
A. People may be trying out tie-dye for the first time. Although we can't be sure that they will continue to do so after quarantine, it's likely that they will, especially with summer ahead of us. Also, if they are thinking about how they spend their money, they might continue doing the DIY tie-dye thing as it is both inexpensive and fun. The Tie-dye pattern may not be subtle. However, neutral tones and modern silhouettes of today's versions have made it a great outfit choice for any man, even with the most meticulous fashion taste.
Q.

Is tie-dye in-style?
A. Tie-dye style brings us back to the 70s summer fashion. It has become a big trend in the summer 2020 runways and has continued to be in the lockdown fashion since then. This art form was a norm for people who liked displaying their rebellious free-spirited personality. And the psychedelic color prints were the reason for a revolution that adapted the youth's perception during the tie-dye's inception. Today, the tie-dye trend has been modernized in many ways and is making cameos on various outfits, creating a different kind of vibe.
Q.

What's so special about tie-dye?
A. Beyond our goal to channel our creative side, there's also a psychological reason behind tie-dye's popularity: embracing nostalgia. Doing so is good for our mental health and can also be a source of inspiration for future purposes. Dr. Clay Routledge, a psychology professor at North Dakota State University, stated through his research that nostalgia boosts our mood.
Q.

Why is it called "tie-dye"?
A. The tie-dyeing process starts with twisting and crumpling fabric before tying it off with either strings or rubber bands before soaking the cloth in dye. This technique then leaves some portions of the material partially or completely dyed, creating swirling effects and circular patterns across the surface of the fabric. Tie-dye entails the will to go trial and error – having no expectations at all. And what's interesting with this pattern is that no two prints look exactly alike. And in case you mess up along the process of DIY tie-dyeing, you will end up creating something fabulous.
Q.

Can I make tie-dye outfits at home?
A. Definitely. Time to get your hands dirty! DIY tie-dyeing is not that expensive. Also, every time you make it, the results are entirely different from each other because it all comes down to how the rubber bands are done during the process. That said, you will need some rubber bands, fabric, and some dye, of course. You can buy all of the materials online or in the nearest supplies store in your area. You can also get a tie-dye kit that comes with a bunch of colors and tips. You can either dye your fabric by soaking it in a basin or by using a washing machine. It's easy to do, but in case you got lost along the way, YouTube has lots of instructional videos to help you.
Q.

Where can I get tie-dye outfits?
A. If you want to skip the messy "dye process," you can just delve in straight to donning the look. You can buy them online with just a few clicks. We collected some of our favorites- here they are:
Bucket Hat

– $46 on APiece Of Cake

Hoodie

– $78 on RicherPoorer

Facemask

– $25 on Everlane

T-Shirt

– $53 on Ralph Lauren

Shorts

– $88 on Gramicci

Jacket

– $36 on SHEIN

Shirt

– $11.88 on Good Threads

Backpack

– $69.99 on Herschel
↓ 8 – Hoodie
Tie-dye might be having its peak moments today, but it's no longer a stranger in the name of streetwear. And the hoodie is one of the key pieces. To pull it off well, keep things relaxed, and pair it with other streetwear staples.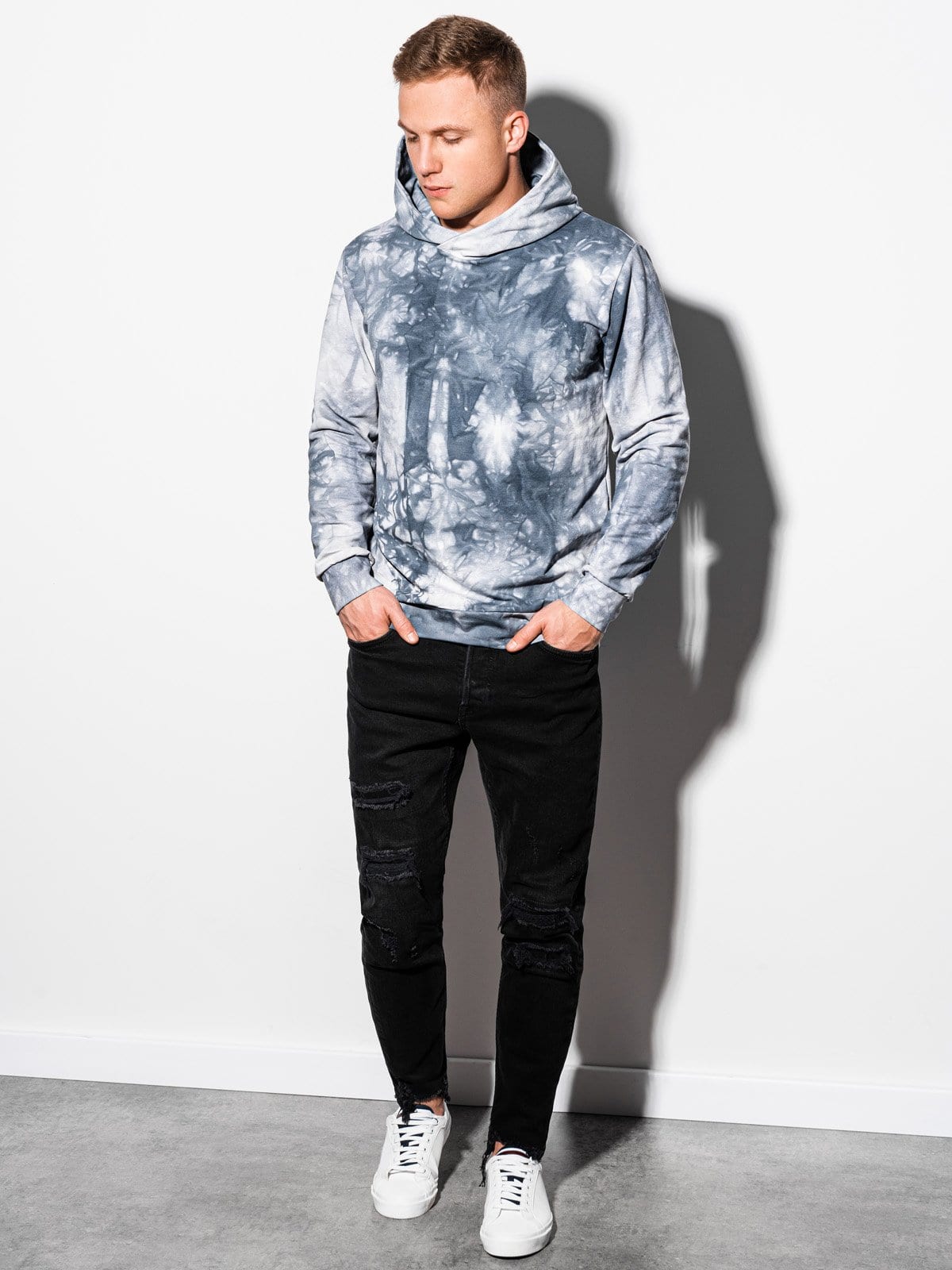 ↓ 7 – Tanktop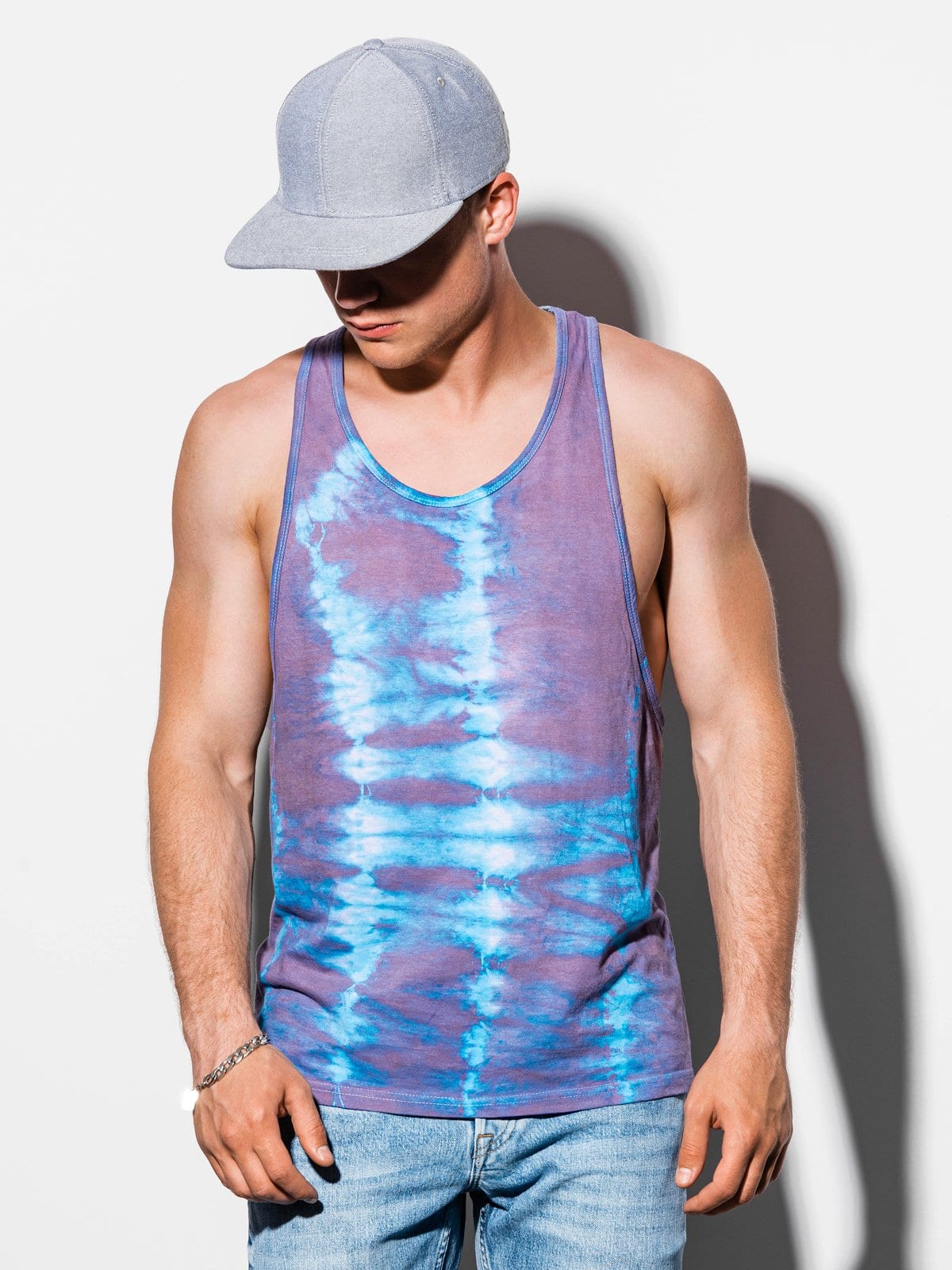 For more ideas how men can wear athletic gym wear.
↓ 6 – Denim Jacket
Tie-dye is a perfect way to upgrade your denim game this season. You can either get a pair of faded or light-hued jeans with colorful dip-dyed cuffs or go all-in with tie-dye acid wash skinny black jeans for some 80s grunge look.
Check out more ways to wear men's white shirt outfit combinations.
↓ 5 – Crewneck Jumper
For better results, opt for a boxy, oversized fit for an extra 90s nostalgia.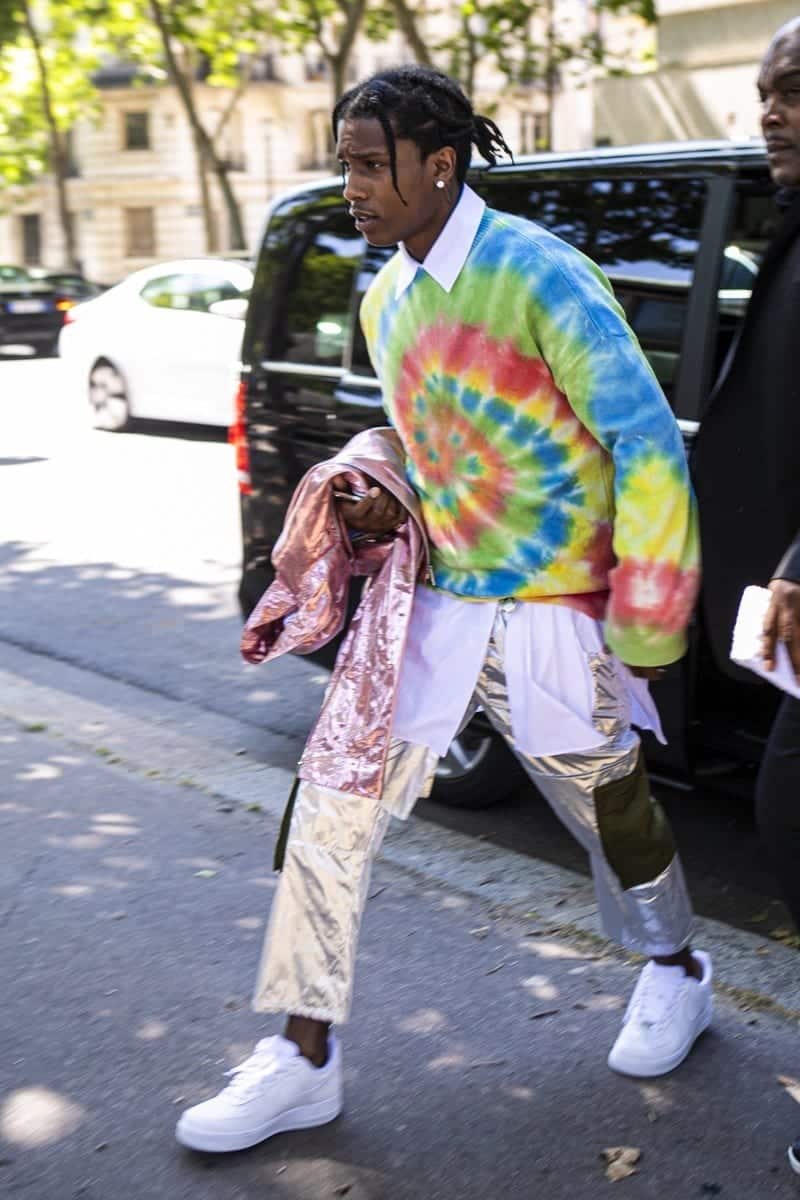 ↓ 4 – Officewear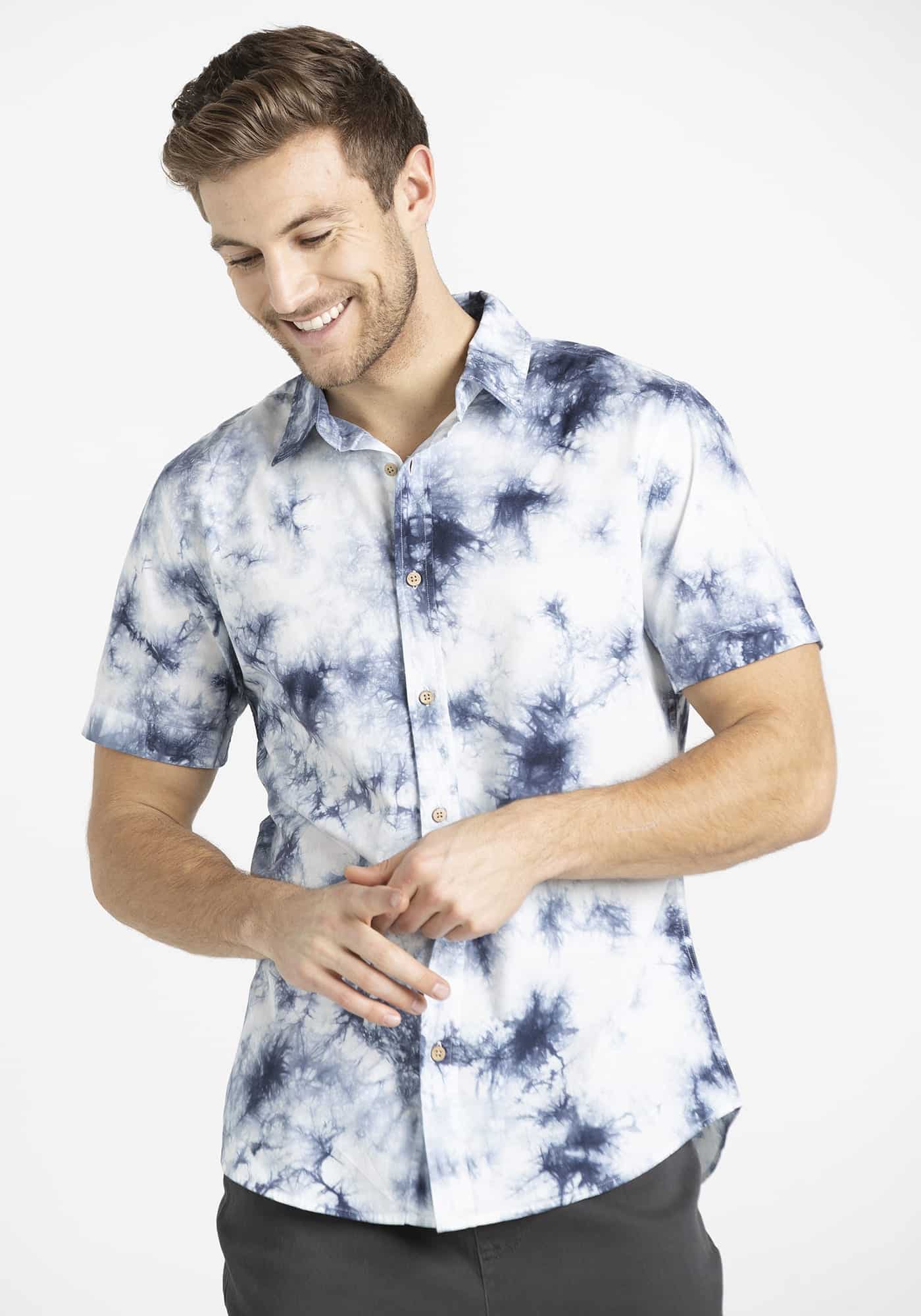 ↓ 3 – Dailywear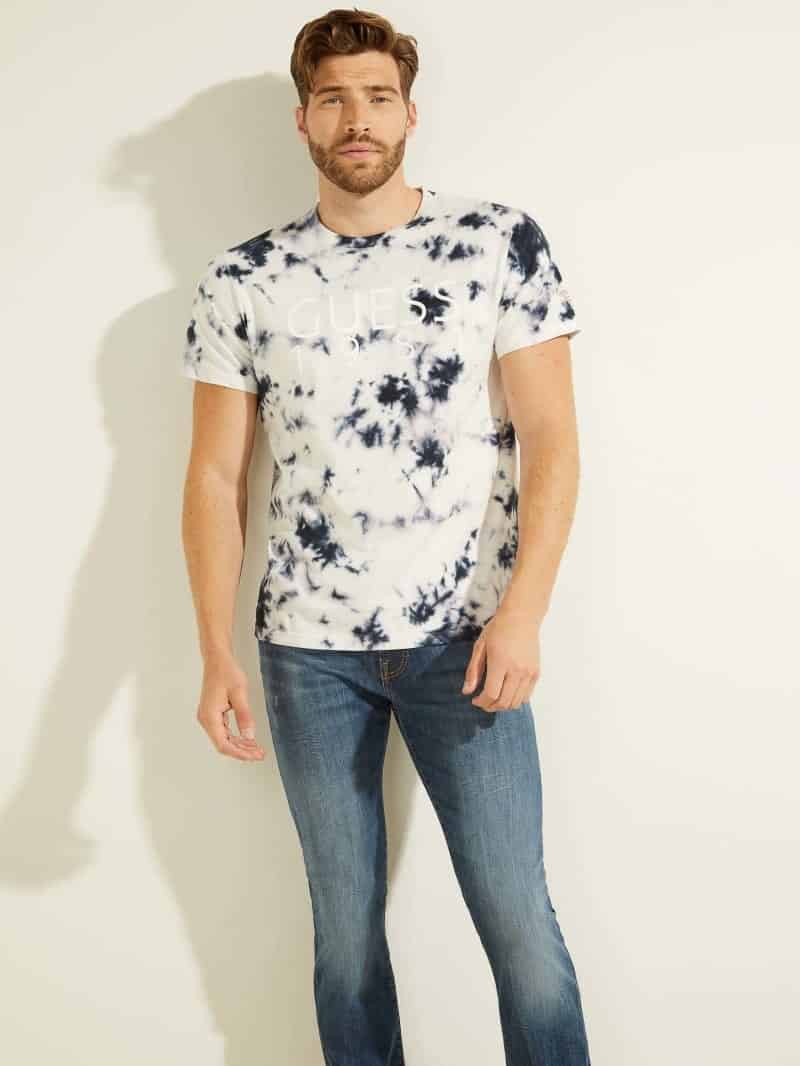 ↓ 2 – Plus-Size Men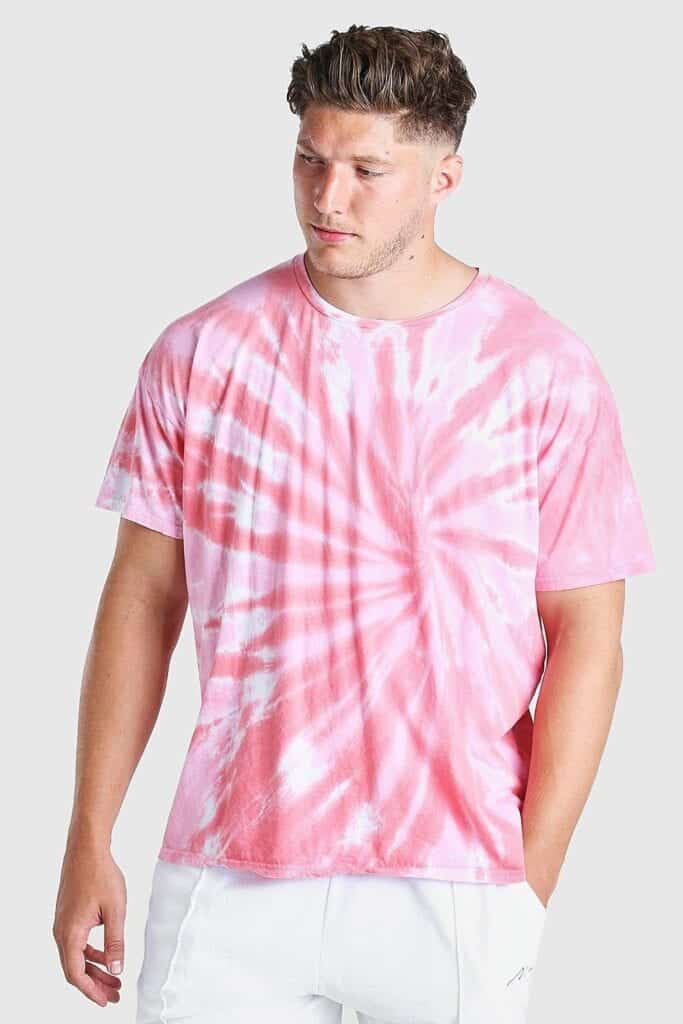 ↓ 1 – Casual Summer
Tie-dye is, no doubt, a casual thing. And the perfect piece can up your everyday look by ten points while making you look effortlessly in-vogue.den
Activities that give us joy are important, especially during these stressful times. And the holistic art of tie-dyeing can help us unleash our creative side. It's easy-to-do, and it also brings the kid out in us. Ever since its comeback, especially during the lockdown, tie-dye has been suddenly all over Instagram feeds and YouTube channels, probably because it's such an accessible and worth it trend.
The catch is that you don't have to be very artsy to jive in on the trend. From loungewear to activewear, several clothing brands are incorporating flashy prints and patterns (through tie-dye) on their products.