Black Shoes With Khaki Pants. The dilemma that, you cannot slay a pair of black shoe with yellow-brownish bottoms, has gone for quite a long time now. Today you will hardly find a man who does not have a black-obsession as our slogan remains the same, i.e. the darker, the better. Black conventionally was worn with tones of grey and navy most of the times.
However, after the evolution of khaki, beige and white pants, the haute trends have transformed now as black is considered to be the ultimate option with such shades.
The true perception prevailing currently is the darker your khakis are, the better it is to avoid black shoes; but when it comes to softer frequencies of khakis, nothing can beat the fashionable vibe that is created by black shoes. Black dress shoes or black boots can look stunning regardless of the frequency of khaki color but when dressing casually you are required to keep up with different types of shoes which go well with different types of garments.
If you love to play around with different clothing combos which are rare but classy, then it is best to wear some dark shoes with your charming khaki pants as it is a daring idea to shirk convention and set your own example by wearing a pair of chic black shoes with khaki wear.
The idea of not getting away with the black shoes and the khaki pants combo is quite old now as black is no more solely associated with highly formal suits and tuxedos only. However, as your khakis get darker in color, the probability of wearing black shoes rightly declines.
Outfit Essentials
Brown Pants. If this is your first time to get a pair, look for the versatile tan chinos. Remember that lightweight fabrics are for summer and spring. And of course, heavier materials are for winter and fall.
Black Shoes. Be it formal or casual, a pair of black shoes are essential. Think of loafers, Oxfords, and sneakers that would work in multiple occasions and weather conditions.
Tips On Wearing
The Fit. As the most crucial factor of style, wearing ill-fitting trousers can ruin your style in an instant. That said, get the right fit and cut for you. When buying a new pair, try them on, stretch, and walk around the room to feel if you're comfy enough. The same goes for your shoes.
The Shade. Consider what looks best with your skin undertone. Lighter shades are ideal for a dark complexion, while darker ones are perfect for a fair skin tone.
Cuff The Jeans. If you want to draw some attention to your shoes, this shall do the trick. Rolling up the hem can also add formality and edge to your outfit. However, this tip isn't advisable for short guys. And do not roll the hem many time – only twice.
Best Black Shoes For You. From dress shoes, boat shoes, loafers, and trainers – choose the footwear that would suit your needs. If you can't decide what to wear, narrow down your options. Consider the occasion, weather, and the outfit combo you'll be wearing that day.
Dress Shoes. They require extra care as you need to polish them every now and then. Wear brogues for formal ensembles, and Oxford for slightly formal and dressed down outfits.
What To Avoid
Baggy, High-Waisted Chinos. Instead, look for modern style: probably a pair with a flat front and straight leg. I recommend relaxed and athletic fits for better results.
Pleats. This is a big "fashion don't" that applies for all types of trousers. Aside from they look terrible, pleats are unnecessary so ditch them at all costs.
Cargo Pockets. Unless you're camping, opt for khaki pants with regular pockets. Extra pockets will make your pants bulky, which is inconvenient.
Best Khaki Pants And Black Shoes Combos
There are always a few parameters to be kept in mind while experimenting with this unique combination. Also, to be noted here, black shoes come up with a more aggressive vibe when compared to brown or blue shoes. Thus the location is always critical when picking up your shoes. Here I am going to gather the 17 killer ways in which you can look totally chic in khakis and black shoewear and some pro tips which will make your life easier if you love your branded, high-priced black shoes and want to wear them a bit more frequently.
16 – For Mature Men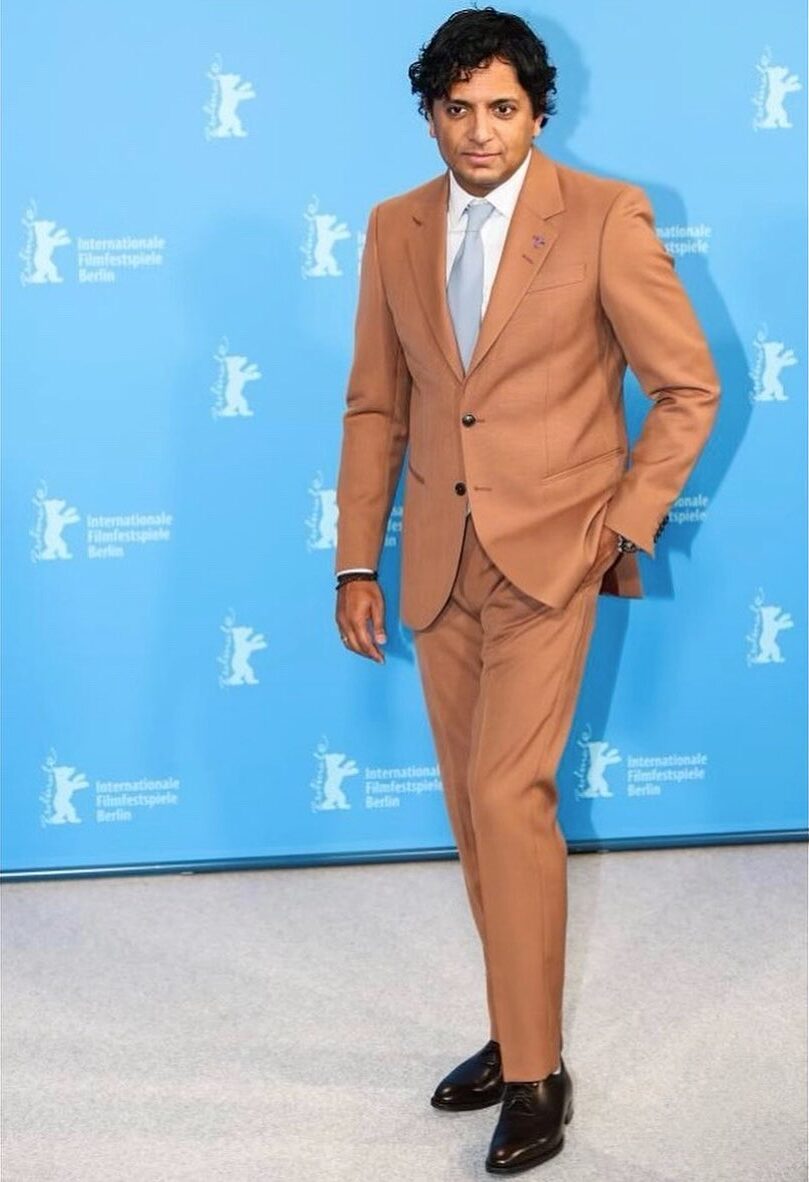 15 – Celebrity Outfit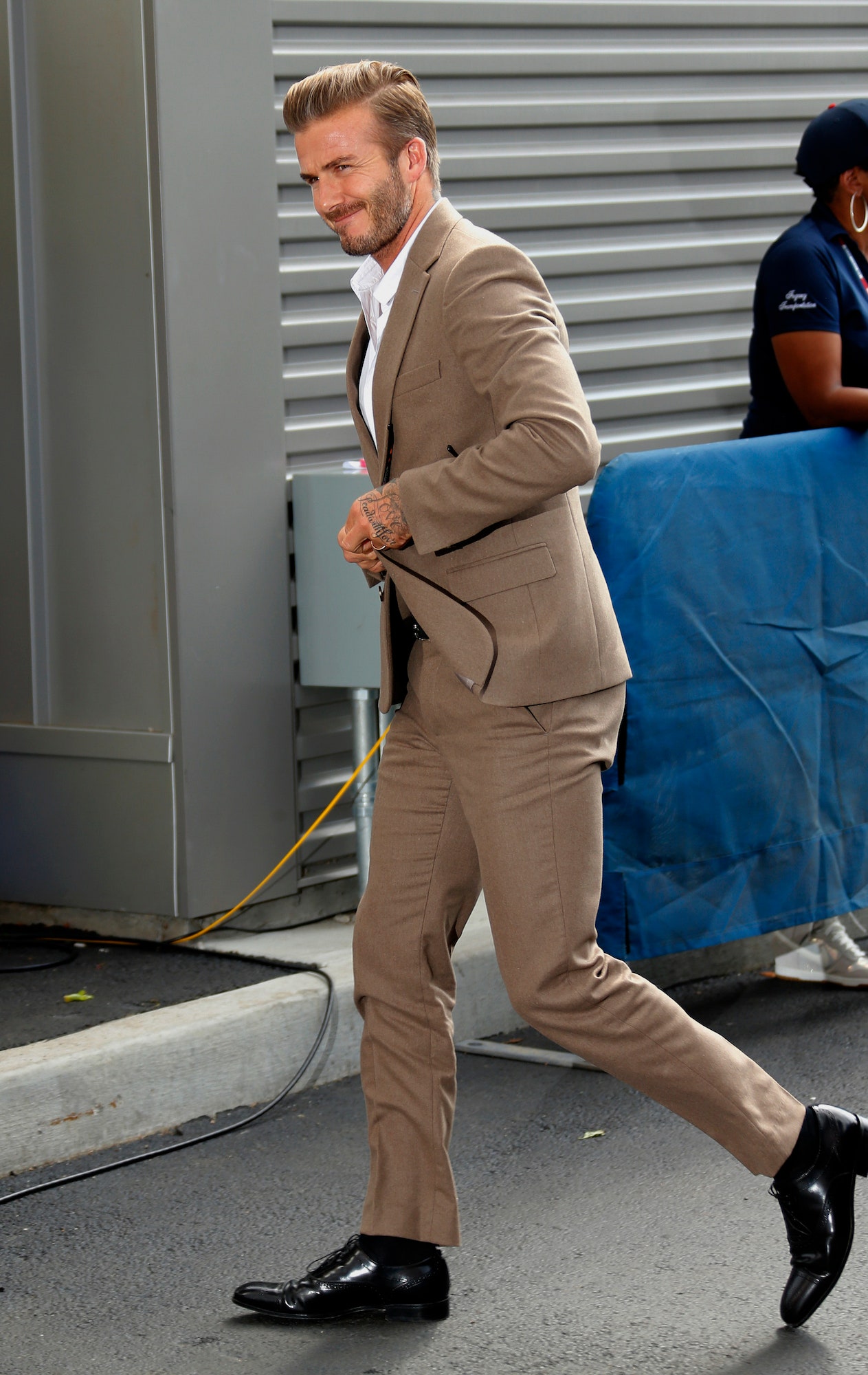 14 – School Outfit
13 – Business Casual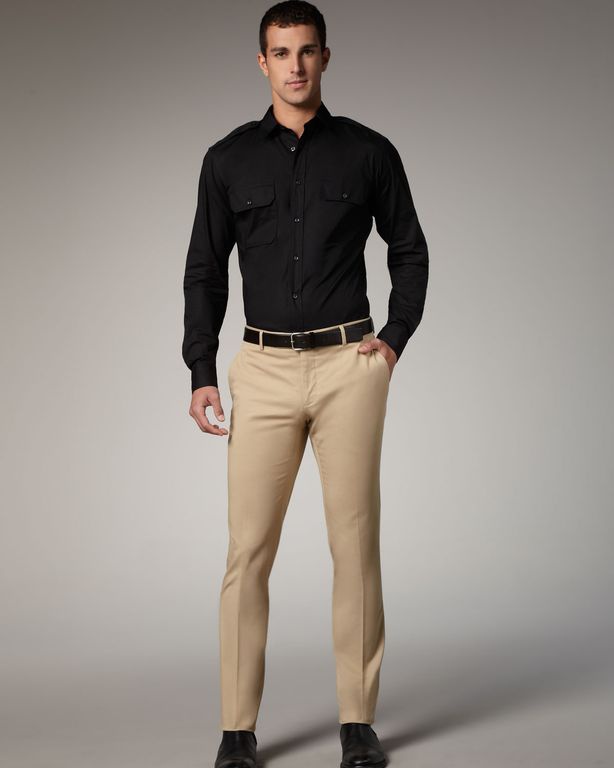 12 – Smart Casual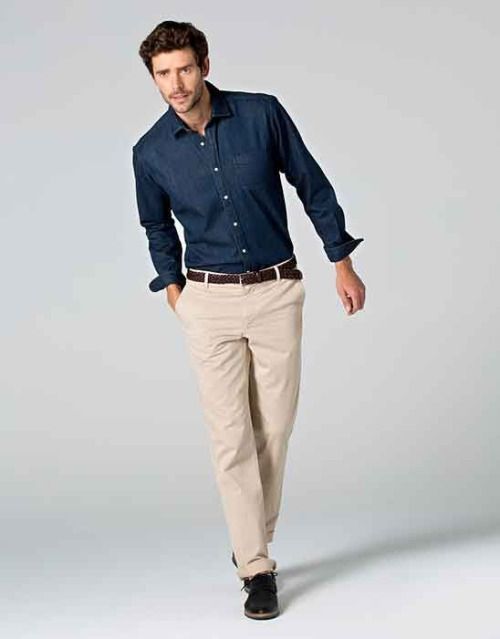 11 – Khakis And Black Shoes In Casual Style
Although khakis are never so formal (other than khaki shorts), you can definitely opt for cropped khaki pants such that your ankles are on display with a jet black button-down collar shirt which has cuffed half sleeves. Wear it with a pair of glossy loafers which are both sleek and simple and miss on socks as socks will kill the vibe of cropped pants. Such an attire looks perfect when you are travelling around and desire to keep a few essential pieces for your adventure. While clubbing or a casual coffee date, this attire will look super charming and a bit more unique. Here are Men's Business Casual Outfit Ideas.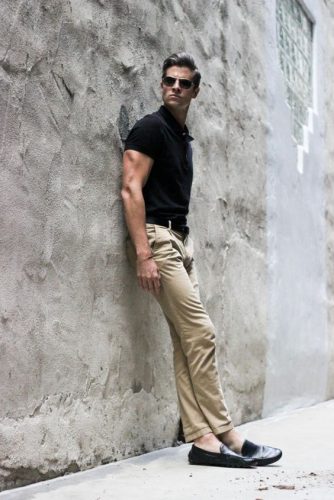 10 – Khakis And Sneakers For Teenage Boys
Teenage boys who want to dress like a mature guy can opt for straight khaki pants with a check print collar button-down casual shirt and round-neck patterned knitted sweater. Sneakers in dark black shade will complete your look, however, if you want a more fashionable demeanour, then go for cuffed ends of your bottoms as it will break the monotonicity of the attire. Such attire is quite appropriate for college or university as it is both simple and stylish.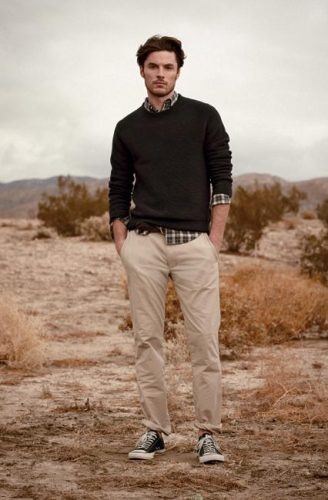 9 – Black Loafers With Tan Suit
Men who want to wear a tan suit to a party or an engagement ceremony need to go for a tassel or buckle loafers as loafers look more stylish and unique when compared with the standardized moccasins. If wearing a tan suit with a white shirt, then try to incorporate a black tie and a printed black pocket square in your ensemble somehow, such that it highlights your shoes. Here are 30 Ideas How To Wear Loafers Shoes.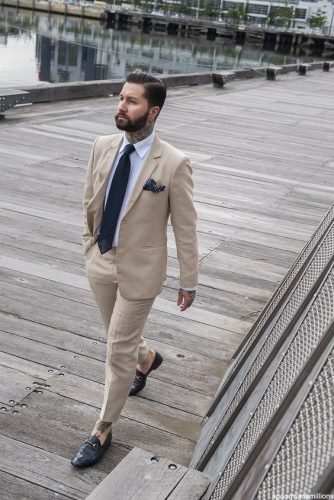 8 – Khakis And Black Sneakers For Summers
A floral black button-down shirt or a printed black tee or any other dark athleisure top can be worn with light tan cotton bottoms which are cuffed at the ends. For shoewear, go for low-top simple black sneakers and a black leather watch plus black shades to complete your ensemble. Such attire is just perfect for summer or spring vacations or holiday parties even, as you are trying out options which are generally considered a bit too dressy during routine days.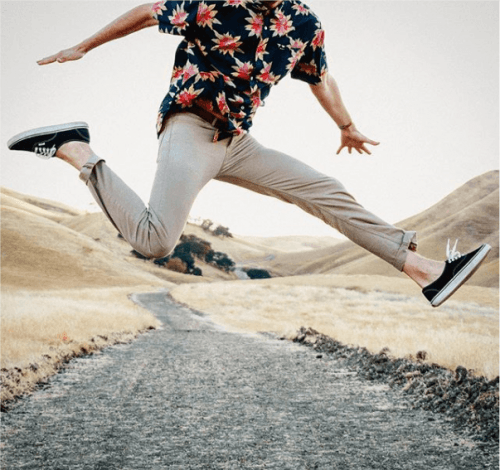 7 – Khaki Skinny Pants With Black Shoewear
Skinny khaki pants are hard to slay in, but if your body is in shape and you have a muscular structure, then you can definitely pull on a skinny khaki pant with a geometric or polka printed collar shirt that is tucked inside your pants. For shoes, you can go for perforated black Oxfords or glossy dress shoes. Opt for a black belt as well since it is a rule to pair your shoes with your belt.
6 – Black Boots And Khaki Pants For Fall
A blackish-brown fur coat with a knitted sweater underneath looks killer with some khaki pants. However, to spice up this ensemble, you essentially require a pair of black boots. To accessorize your ensemble, go for black leather gloves and shades as well. Winter attire cannot get any better than this, especially if you like to try unique trends and want to dress cozy for holiday travelling.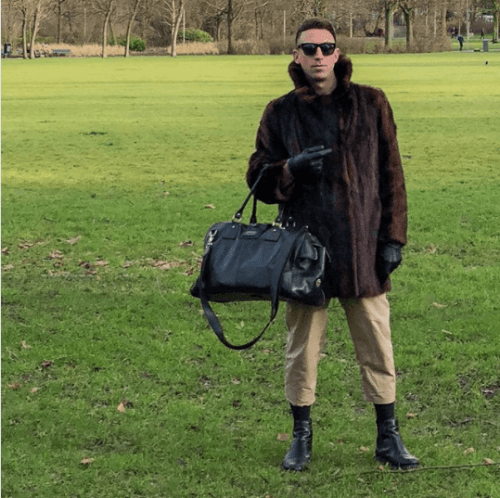 5 – Perfect Streetstyle With Khakis And Black Boots
A black semi-formal blazer with a light grey tee underneath can be worn with tan khaki pants and jet black boots. However, accessorize your attire with some sunglasses and a wristwatch. Such an attire looks perfect for clubbing or dinners during winters. Check out these 17 Most Popular Street Style Fashion Ideas for Men.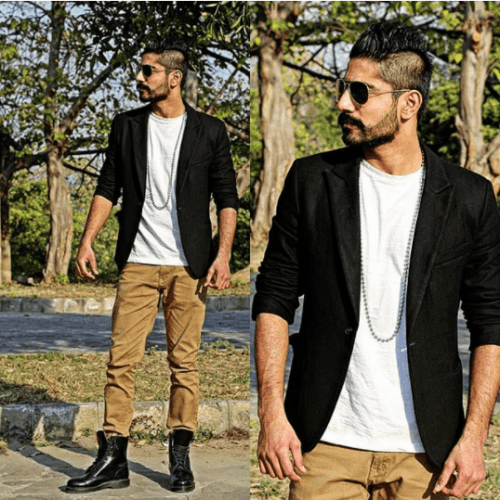 4 – Professional Khaki Look With Black Formal Shoes
Tan suits and black dress shoes go hand in hand, especially when you are wearing them for office meetings with a crisp white shirt underneath and a black patterned tie. A white or black pocket square will definitely add to your style statement.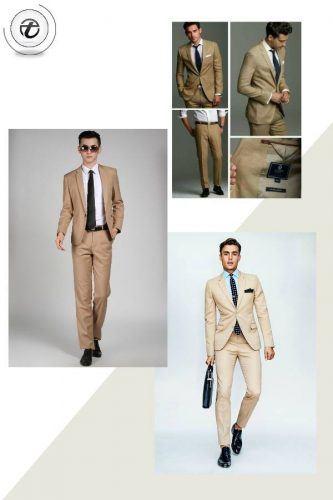 3 – Semi-Formal Tan Suit With Black Shoewear
A maroon or plum round neck knitted top can be worn under a khaki blazer with straight khaki pants. A pair of black glossy monk or dress shoes will enhance the charm of your ensemble. You can also find inspiration from these 28 Best Ideas on How to Wear Converse Shoes for Guys.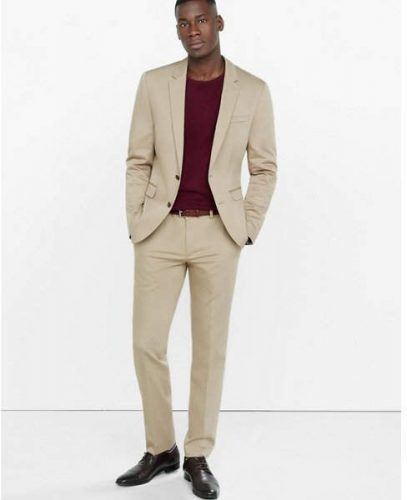 2 – Summer Tan Wedding Suit With Black Sneakers
Wear this suit to weddings or receptions with sporty low-top black sneakers. Choose an unstructured blazer so it can match the casual khaki pants very well. A khaki suit is versatile and it can keep you cool at summer weddings.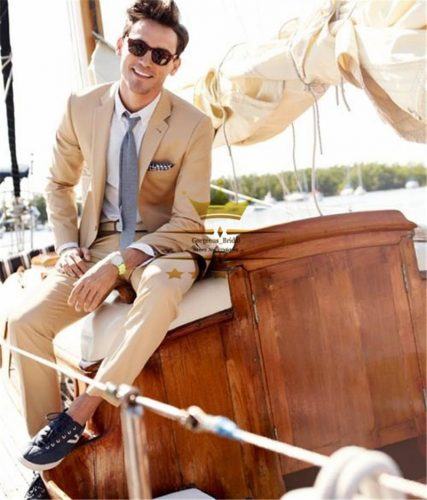 1 – Khaki Jeans And Black Loafers
Cuffed khaki jeans and a black leather or denim jacket is an enchanting idea for a date night or an adventure. Wear it with simple black loafers and spectacles.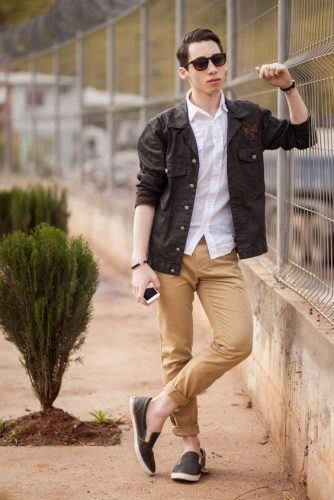 Frequently Asked Questions
Are khaki pants better than jeans?
Personally, I would say YES. For one, khaki pants are more versatile as they suit a lot of occasions and weather conditions. They're also more comfortable because of the fabric. You can literally sleep in them, unlike jeans.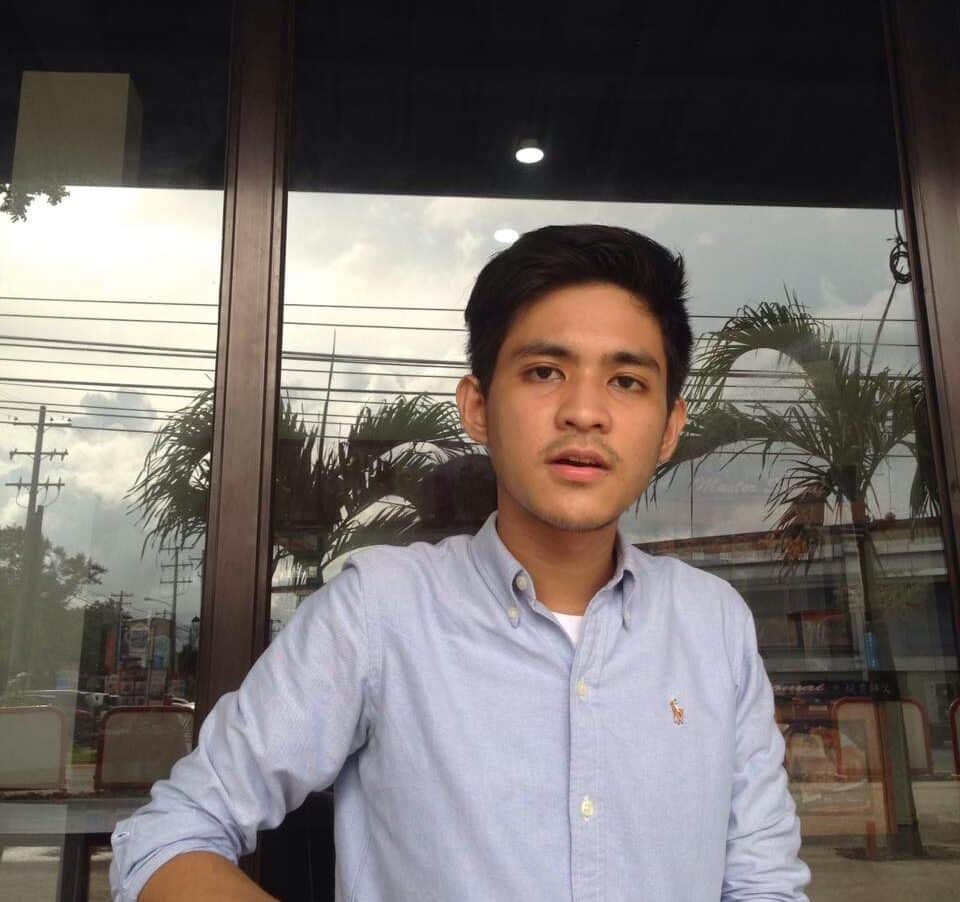 John Vincent studied Communication Arts in the Philippines.
Growing up, he's always had an eye for aesthetics. He enjoys writing a lot. Books, TV series, and movies are a big part of his life. His all-time favorites are Harry Potter, Game of Thrones, and Marvel films.
He believes that fashion is a pure form of art. You express yourself through your personal style – it's something you can't replicate.