Men's White Shirt Outfits. The white shirt is a man's greatest weapon in fashion wars. It's because this wardrobe staple is simple and versatile. It is not just a formal outfit you can wear in the office or at weddings, funerals, and graduations.
Whether you are in a corporate setting or working from home, you are sure to own a white shirt. Men's wardrobe is virtually incomplete without a white shirt. So if by any chance you do not have it, time to buy some stylish white shirt that is available at a good price.
Ways to Wear White Shirts For Men
History. White shirts are traditionally labeled as a symbol of wealth and prominence. Today, you might need to exert an extra effort to stand out in this classic mainstay piece.
This season, bring back your white t-shirt and wear the perfect outfit for all occasions. Today this article will give you ideas on how to wear a white shirt, how to style it with different pants and jackets for different gigs. I hope that you will like them as much as we do!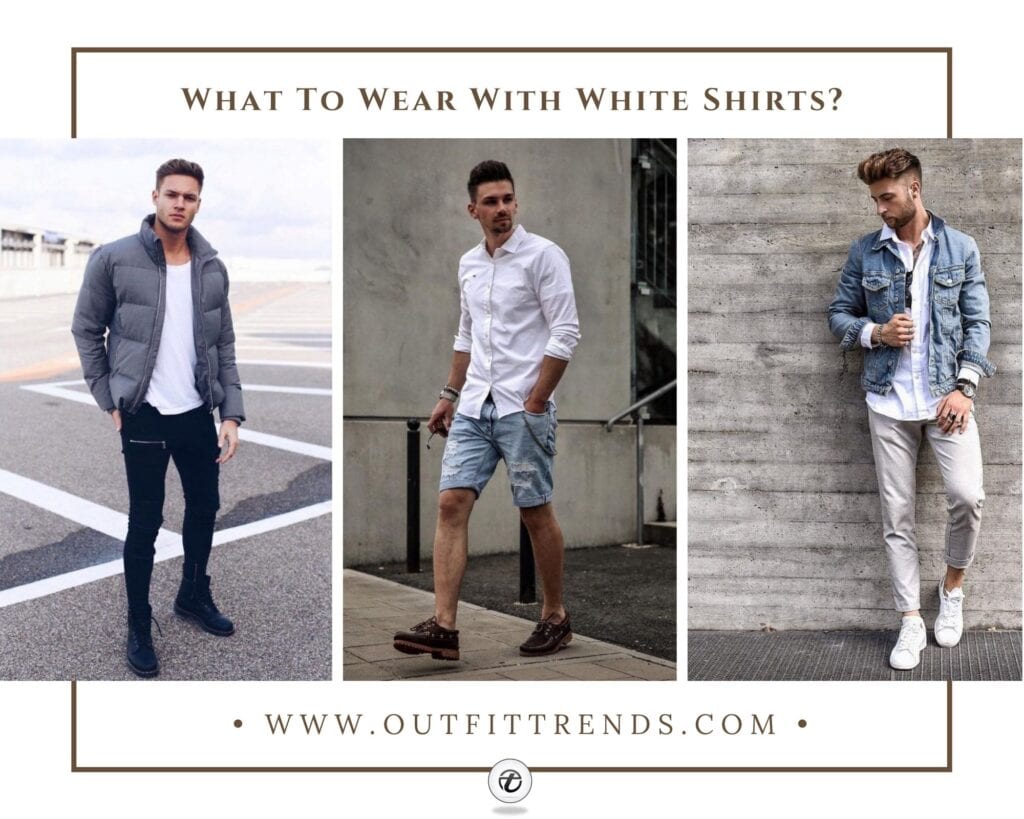 ↓ 30 – With A Vest
Wearing a vest is a great way to freshen up an outfit without going overboard. Go for something made of cashmere or wool. A vest with buttons is recommended, and choose a classic and timeless color, like navy blue or black. Pair it with khaki pants, and finish off the look with some casual trainers. You can go for a "cuffed" style, and it's great for casual situations.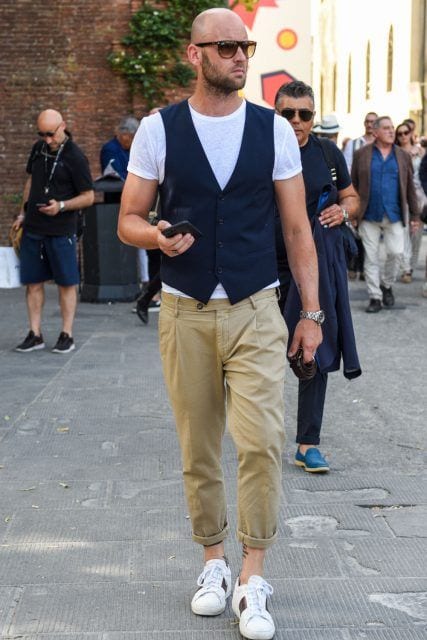 Via
↓ 29 – With Cargo Pants
The number of pockets gave it away! If you are wearing cargo pants with a white shirt, either opt for a classic shade or something neon or just stick to simple and darker hues. Level up your ante with a black body bag, and then accessorize with some dope specs. You're gonna be a total head-turner in this getup.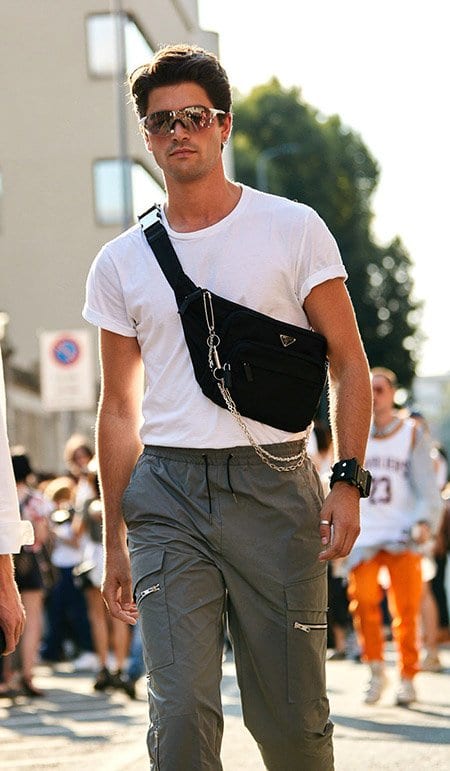 ↓ 28 – With Denim Jacket
A perfect denim jacket is made from 100 percent cotton denim. It will remain crease-free no matter where and how you stash it. Blue and black denim equally look good with white shirts. Try a faded blue denim jacket, and team it up with a white button-down. Pair it with grey chinos (preferably with cuffs), and then complete the ensemble with some white box-fresh sneakers. No need for socks.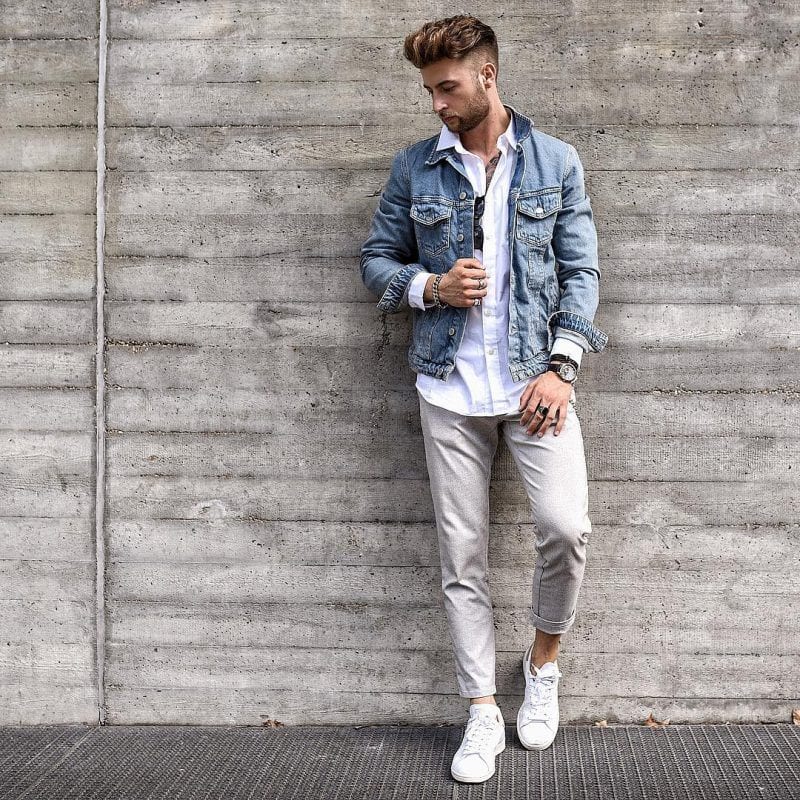 ↓ 27 – With Bomber Jacket
The bomber jacket has evolved from being a trend to becoming a menswear essential. Of all the pieces it can be paired with, it works best with its fellow military veteran, the white tee. Try a maroon bomber jacket, and pair it with a plain white tee. Blue wash jeans will look great with this combo. Finish off the look with some brown Chelsea suede boots.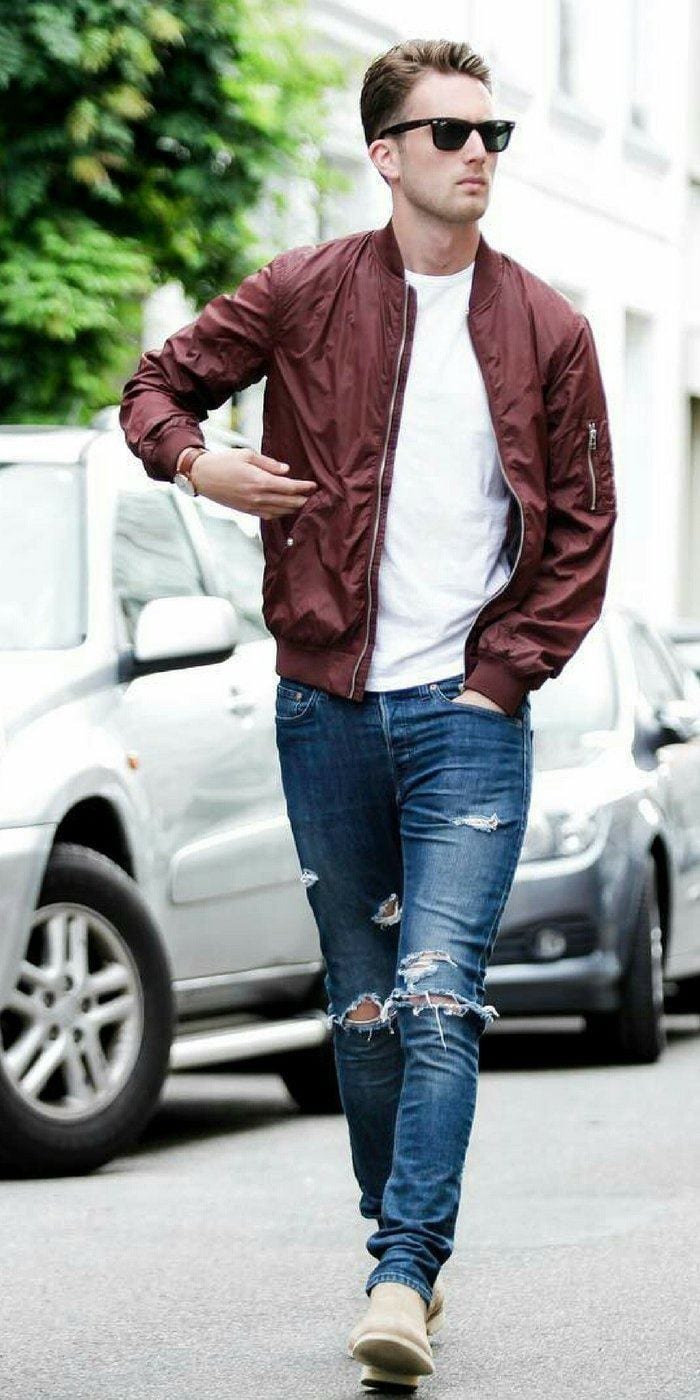 ↓ 26 – With Leather Jacket
Mr. Porter style director Olie Arnold said that 1950s fashion has another side. You can try a crisp white shirt underneath a biker's leather jacket. Brands like Schott offer a great fit with a nice balance in details. Having few designs and your outfit will look plain, and too many will make you look overdressed. A restrained leather jacket will also look fine with a white button-down shirt. And since the jacket is color black, you might as well get on with it by wearing black pants and shoes. Now you have a monochrome look (not bad).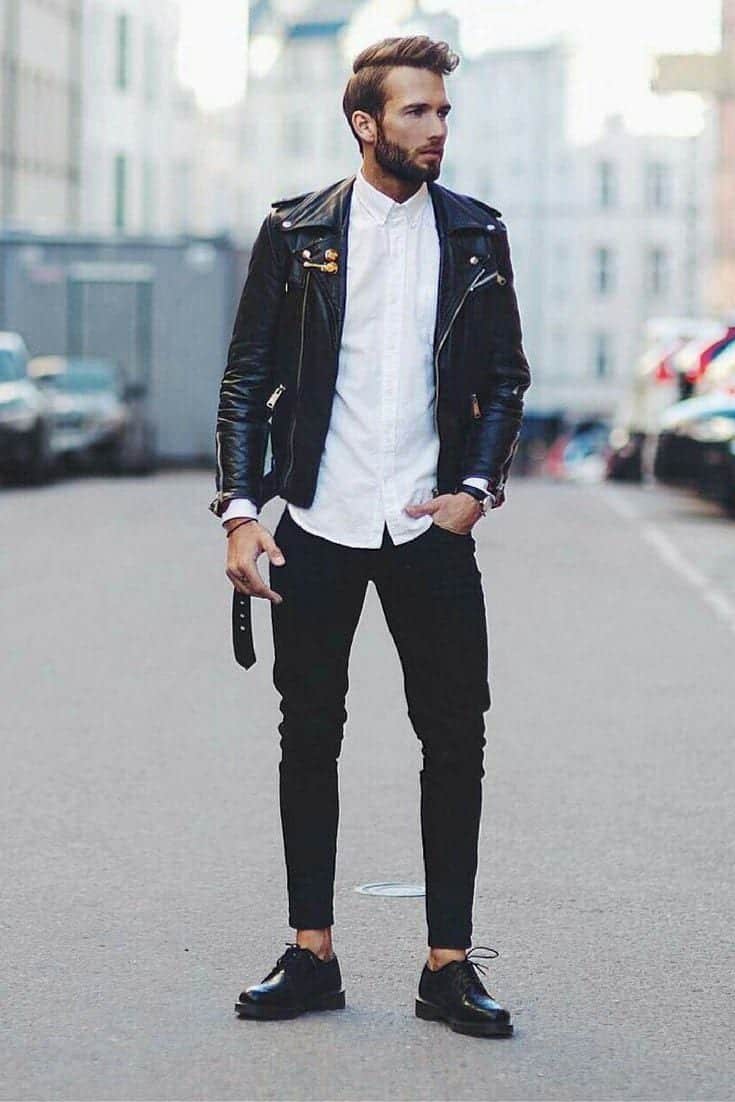 ↓ 25 – With Puffer Jacket
Time for some layering! You know it's that time of the year again when you start to feel some chills. For winter and fall seasons, throw a puffer jacket (down jacket) over a plain white tee to endure the cold. This coat can provide you with enough warmth and insulation. Boots will best complement the overall look, so put those sneakers away for now.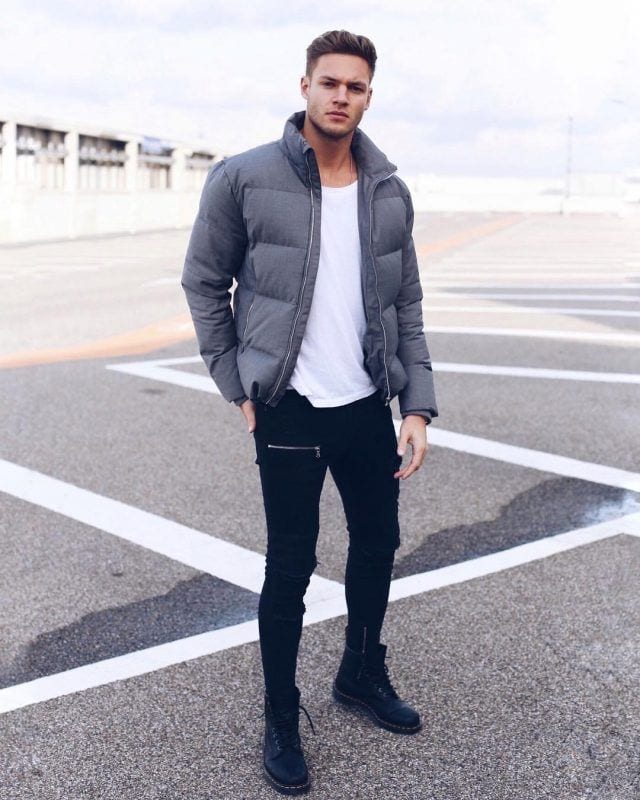 ↓ 24 – With A Casual Suit
The white shirt is the best blank canvas for a tie and a pocket square. But, it's paramount to know what cut looks good in you. Any good outfit should fit you well, starting from the neck's measurement, moving to your torso. Fashion Beans says that your tee should be slim – that means no billow over your waistband shall be seen. Wearing suits with sneakers has now become a trend, so it's not a bad idea to give it a go. However, stick with neutral colors like white and black as they work well with any shade of blazers and pants.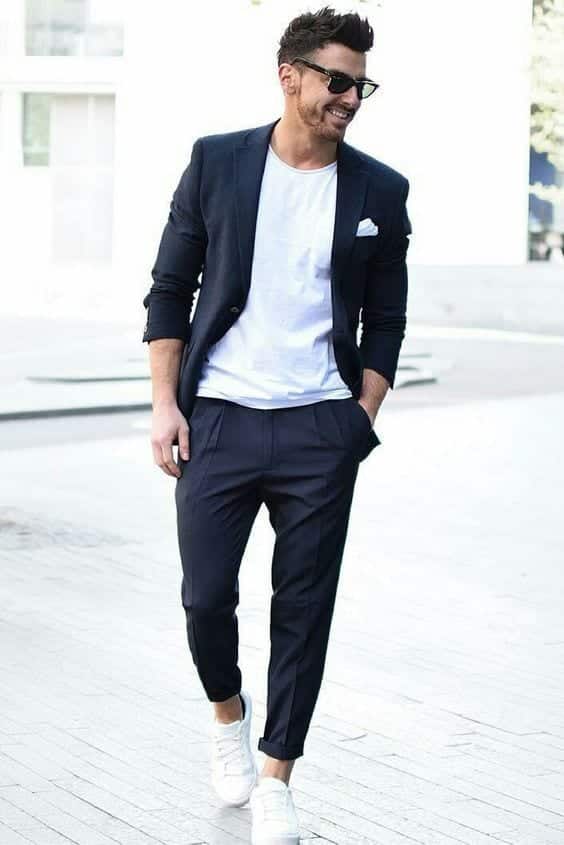 ↓ 23 – For Black Tie
A crisp white button-down shirt is a must-have for a black-tie dress code. No tuxedo is really complete without it, even for black-tie optional events.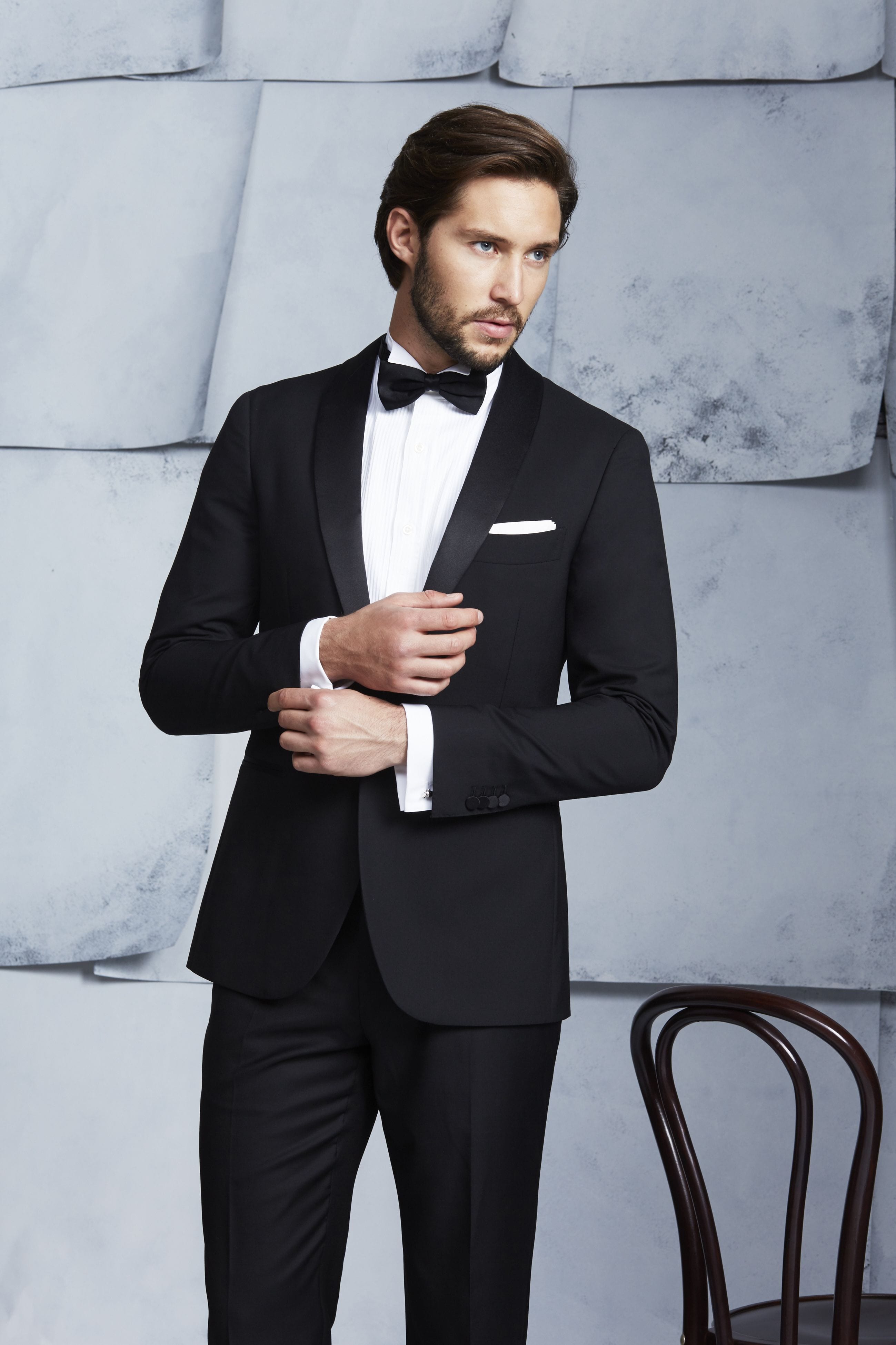 ↓ 22 – With Trench Coat
Experiment with new styles by doing some layering work. A white shirt is a perfect base when you want to brighten up your winter outfit. Trendspotter said that this combo is ideal for the in-between seasons as it offers a timeless aesthetic. Pair a camel trench or peacoat with a white button-down. Do some matching magic by wearing the same color of boots. Any shade of jeans or chinos will look great with this combo.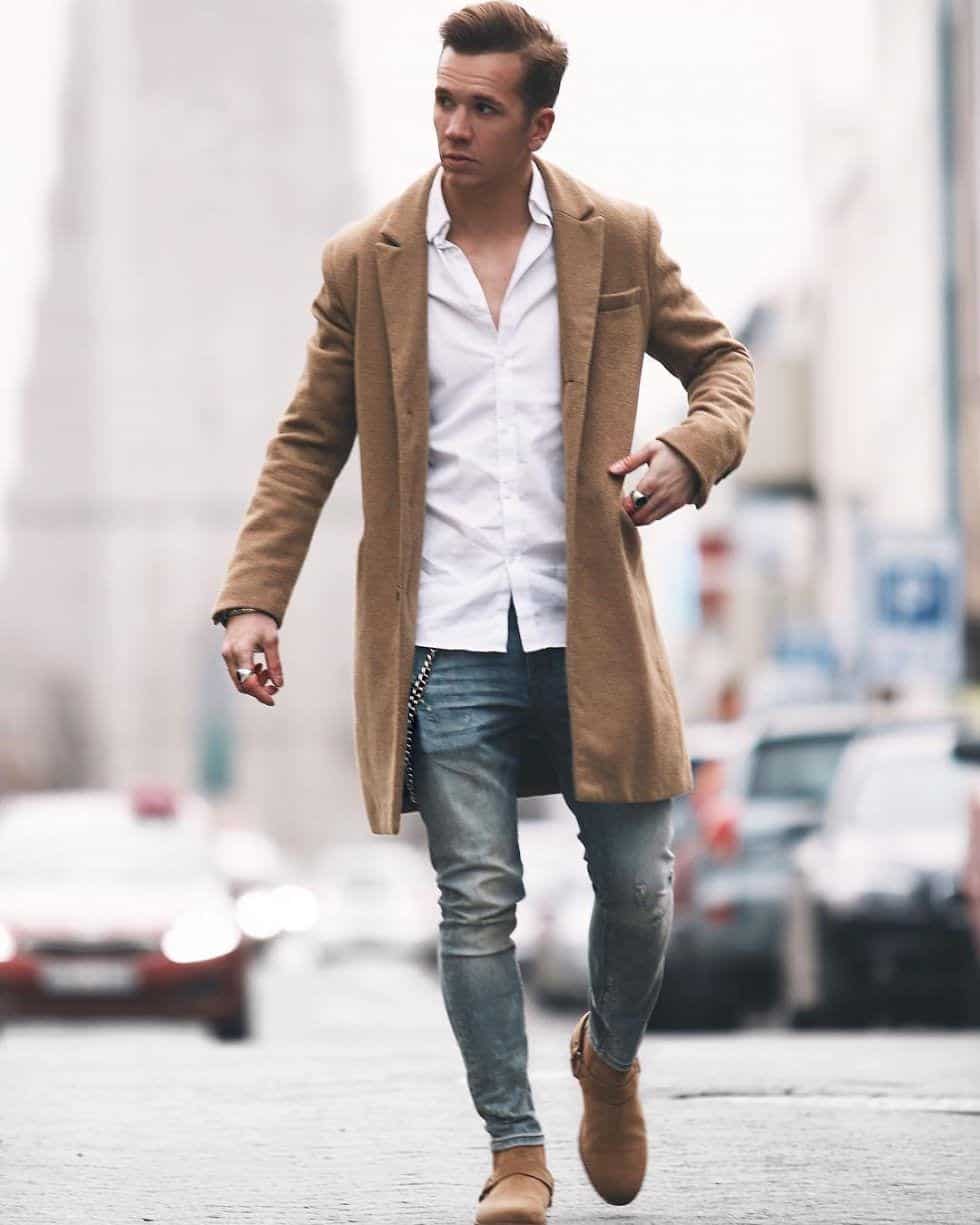 ↓ 21 – With Crewneck Jumper
This can be your business-casual go-to outfit: a charcoal grey crewneck jumper over a white button-down shirt. Steer clear of those preppy blazers in the meantime, and opt for this style instead. However, this is ideal for companies with a very strict dress code policy as they require their employees to wear suits every single workday.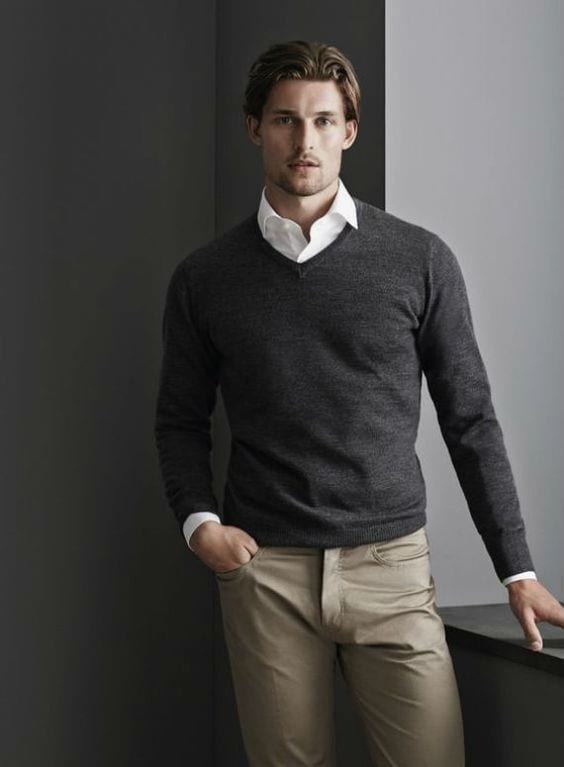 ↓ 20 – With Jeans
Pairing jeans with a white shirt create a thin line between elegance and cool. Opt for casual variations, like a plain poplin or a chambray one. If you want to look slightly formal, choose a shirt with a dense weave. If you are wearing a plain white tee with jeans, it's a slick move to tuck the shirt in. It's also a great way to show off that dapper belt you got there. If you find this outfit boring, accessorize with some sunglasses to level up your ensemble.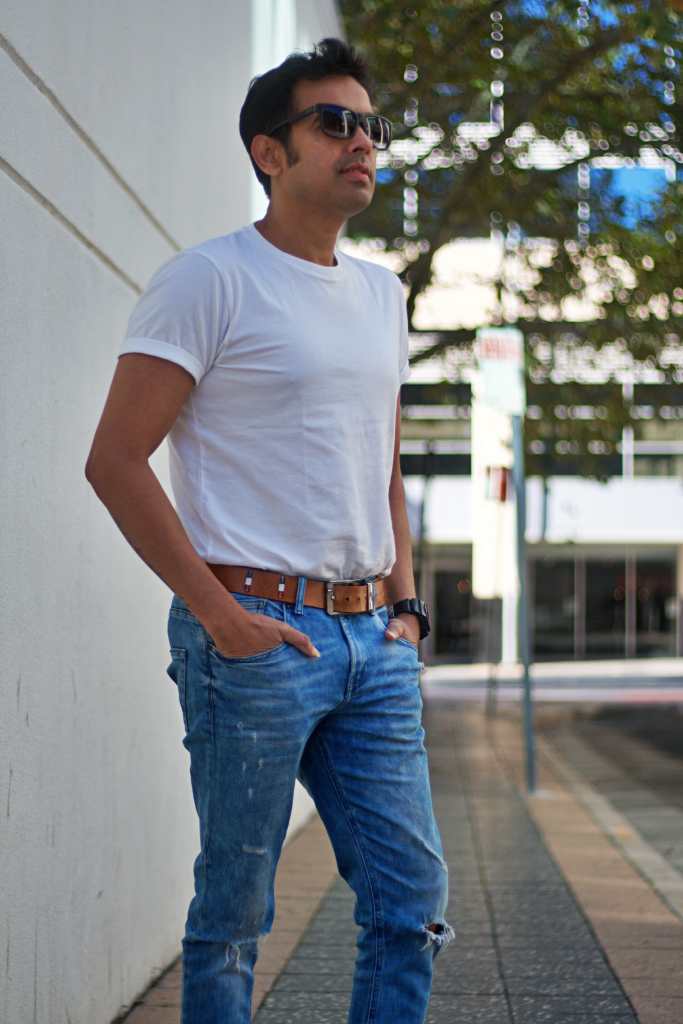 via
↓ 19 – With Chinos
The simplicity of a white shirt entails endless possibilities in terms of trousers. Adding a white shirt to the party can make a big deal of difference. Turn an officewear ensemble into something special by wearing some suspenders instead of a belt.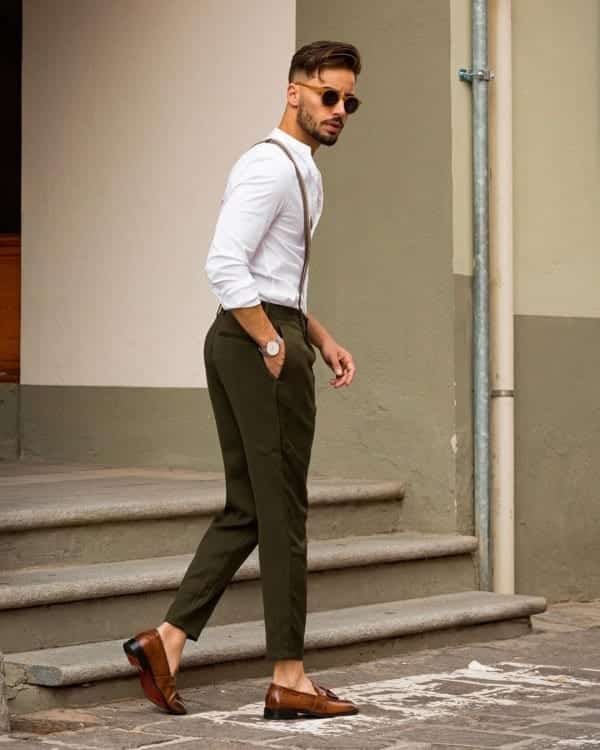 ↓ 18 – With Shorts
Team up a white linen shirt with a pair of denim shorts. Prefer high-quality French linen as it will develop gentle creases over time. DMarge suggests you start with Venroy if you want some beach- and bar-friendly options.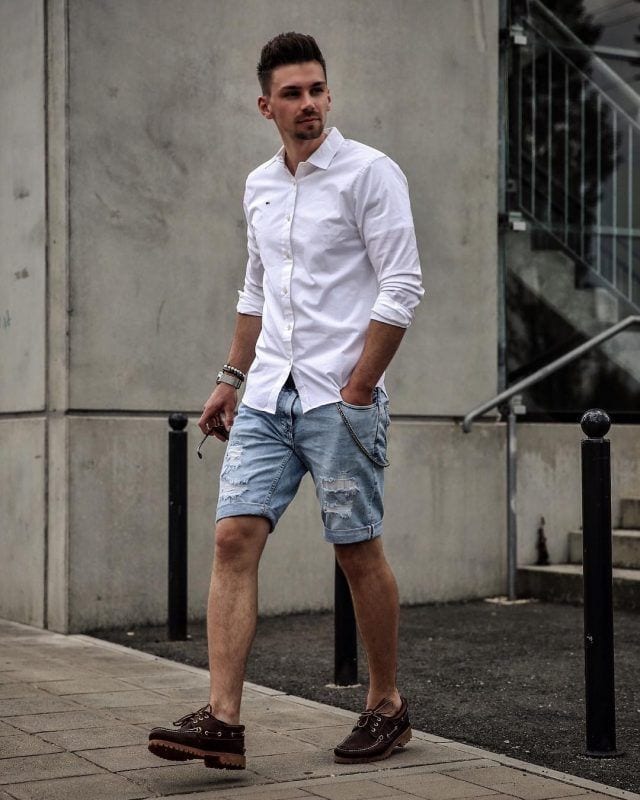 ↓ 17 – With A Scarf
When the temperature starts to drop, consider styling a white T-shirt with a scarf to spice things up. When it comes to scarves, I prefer a minimalist design over those in exaggerated patterns and prints. Simple and classic styles will blend in well with most of your wardrobe pieces, unlike the flashy ones.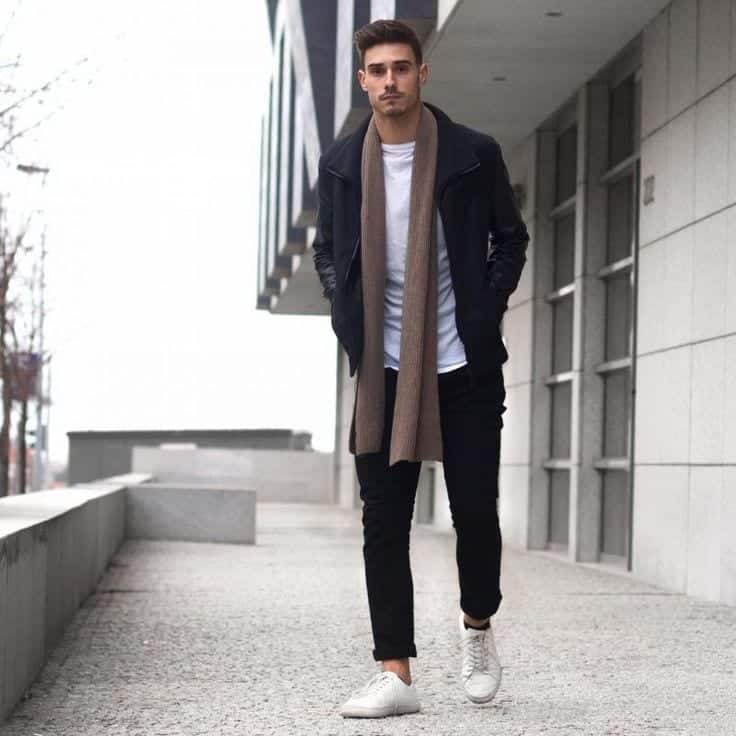 ↓ 16 – Casual Wedding Outfit
Gone are the days when the only acceptable outfits for weddings are suits. You can defy the norm of being too formal for such an event by wearing a white shirt with grey trousers, preferable chinos, but even plaids will work. Tuck the shirt in your pants and roll up the sleeves. A dress watch can also help you maintain that sophistication even with a casual outfit. Remember that this is a wedding ceremony, so don't forget your respect for the groom and bride. "Casual" does not mean you can wear anything you find cool.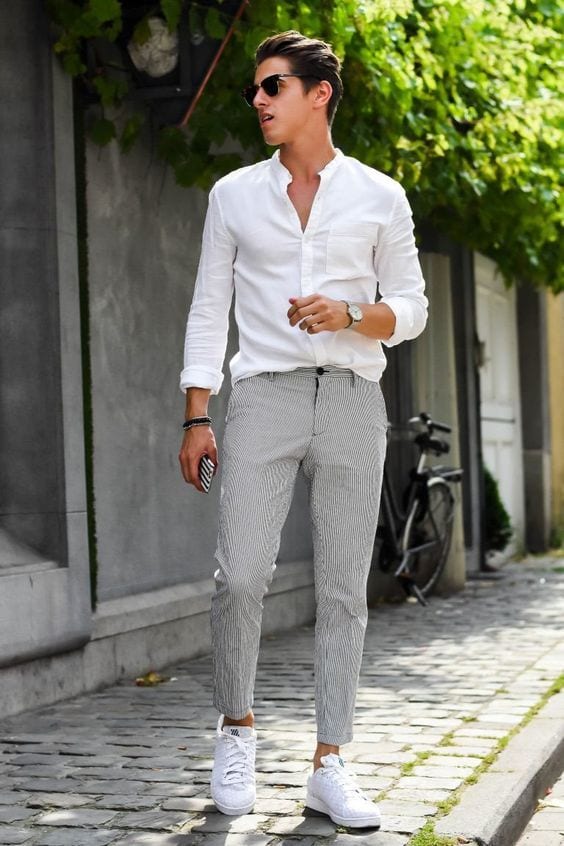 ↓ 15 – College Outfit
The color white can be worn with a range of colors, such as bright neons or dull pastels. This is one piece you can wear with any pants and coat. May it be a casual outfit, job interview outfit, or whatever it looks great on all men of all shapes, ages, and sizes which is why it is so loved. It's a no-brainer that white shirts are also suitable as a college outfit.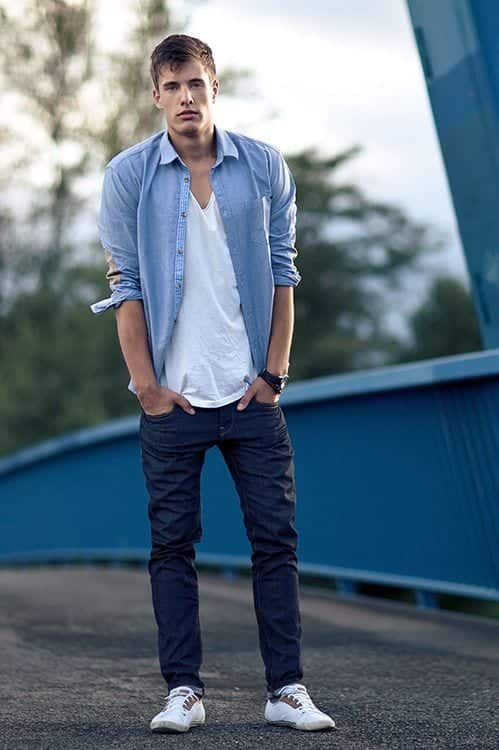 ↓ 14 – Business Style
For the perfect corporate outfit, use your white dress shirt as a part of office attire. Pair it with plain trousers, and accessorize with a tie, tie pin, dress watch. A black leather belt is essential to this style. Besides, no one wants lousy pants in the office – they look awkward and, not to mention, inappropriate.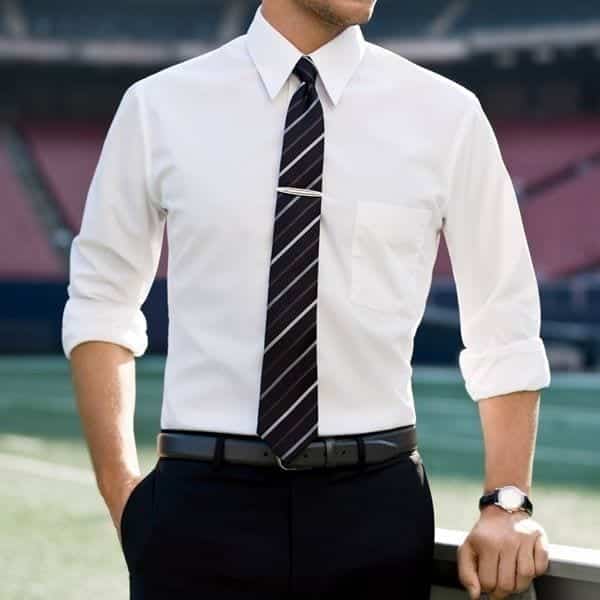 ↓ 13 – With Beaded Accessories
For spirited guys, wear a white 'kurta' or loose top made of cotton, and roll up the sleeves to highlight your beaded or woven accessories.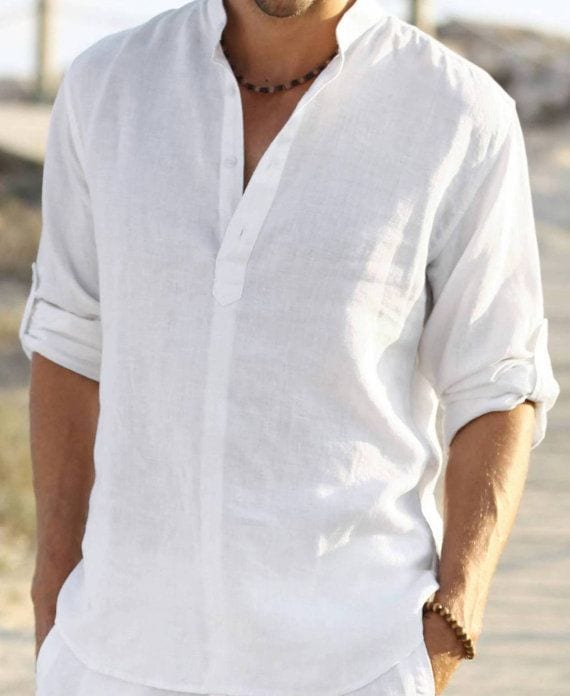 ↓ 12 – With A Blue Blazer
For white shirts with a hint of blue in them, pair them with a bright blue blazer, pocket scarf, and crisp white trousers.

↓ 11 – Travel Style
Straight-cut Levis look great with a black leather briefcase and brown boots. Add headphones for an extra hipster look!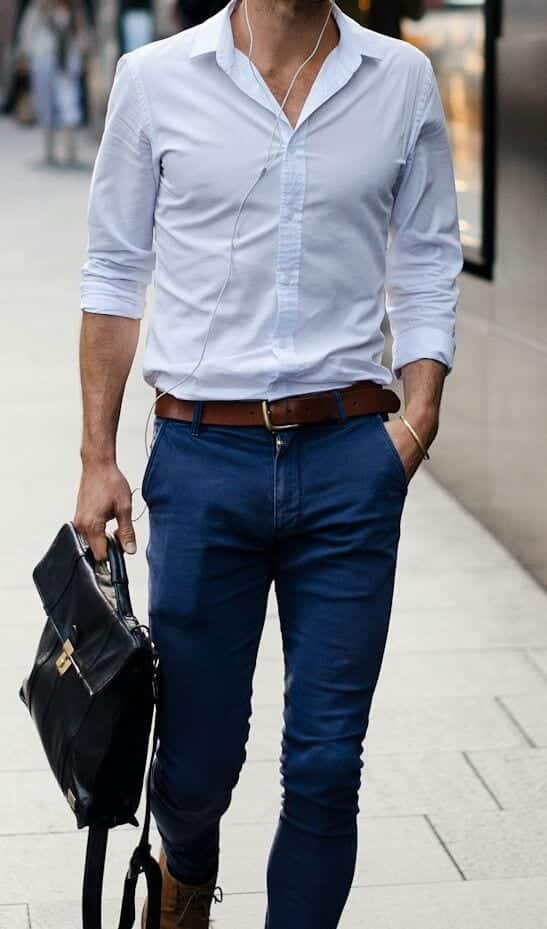 ↓ 10 – White Shirt With Khakis
A classic way to wear a white t-shirt or top is to pair it with khakis. This outfit can be worn indoors or outdoors, during the daytime and the nighttime.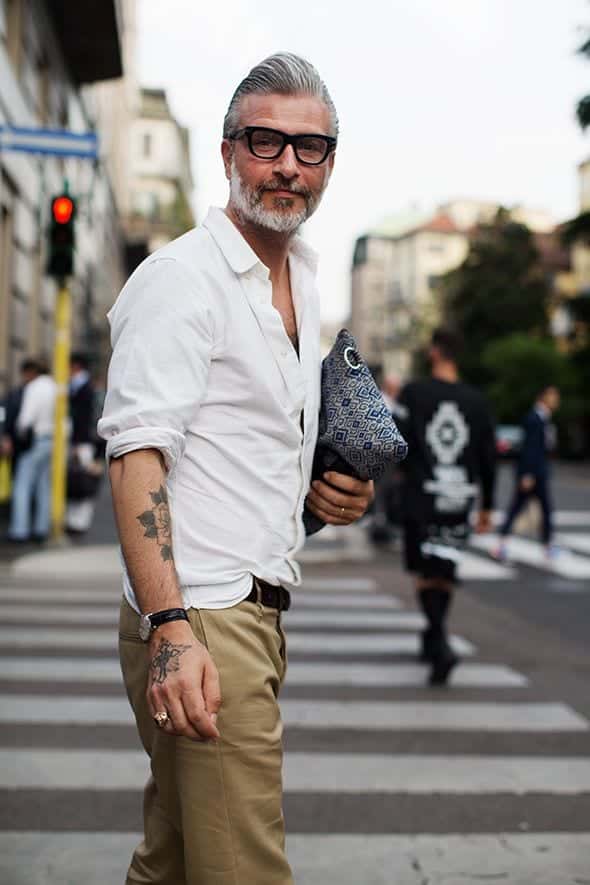 ↓ 9 – With Buckles and High-Waisted Trousers
For a look from the 1920s, wear leather buckles with patterned high-waisted trousers and tuck your shirt inside the trousers.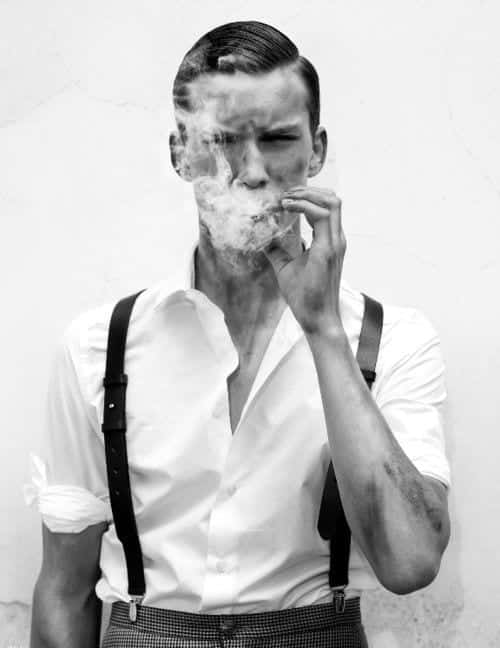 ↓ 8 – With Thin Suspenders
For a modern touch on a classic style, wear thin leather suspenders with dark navy blue jeans or trousers.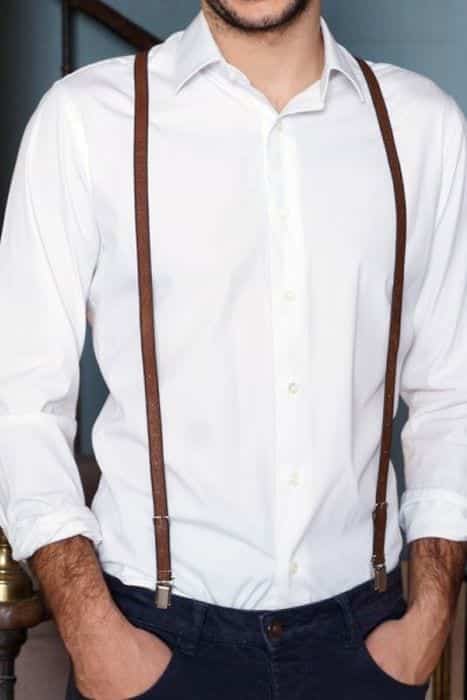 ↓ 7 – Casual Style
Jazz up your wardrobe by wearing funky bright colored pants for added fun style.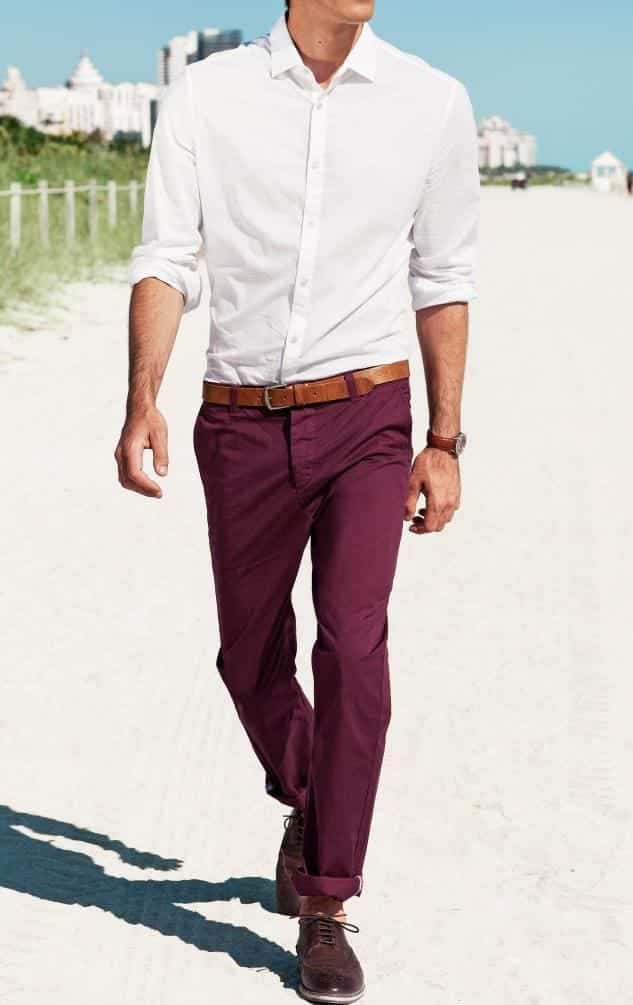 ↓ 6 – African Style
Mix it up by wearing a long white embroidered top with loose pants and lots of African-style accessories.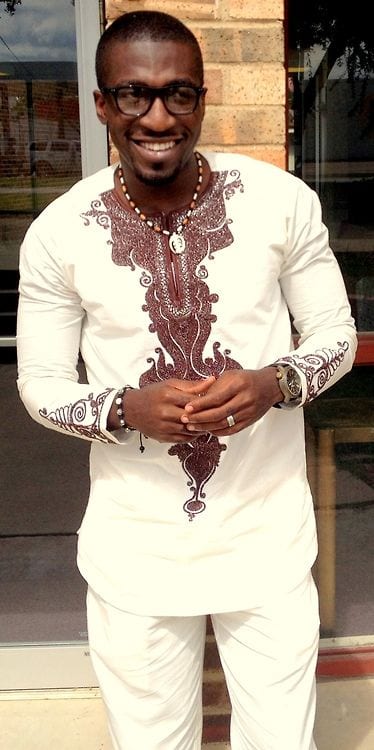 ↓ 5 – Go All White
All white is pretty these days. We have already covered in detail 15 all-white party outfits for men. Keep everything white, from your vest, jacket, and pants! This looks perfect for attending a prom or a wedding.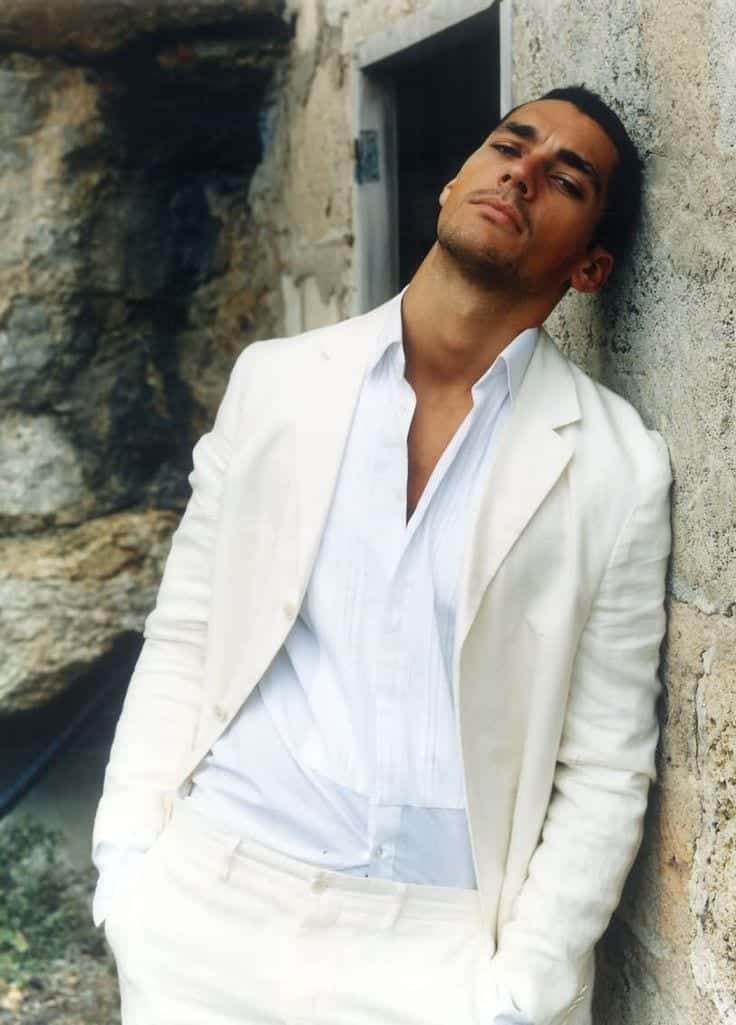 ↓ 4 – Summer Style with White Round Neck Shit
A look that is sure to drive the ladies wild! Wear dark aviators, a statement necklace, and a white, plain t-shirt. The last thing you want to do in the summers is put on a complicated outfit. And that's why you need one item in your wardrobe that works well with almost everything and is very comfortable to wear.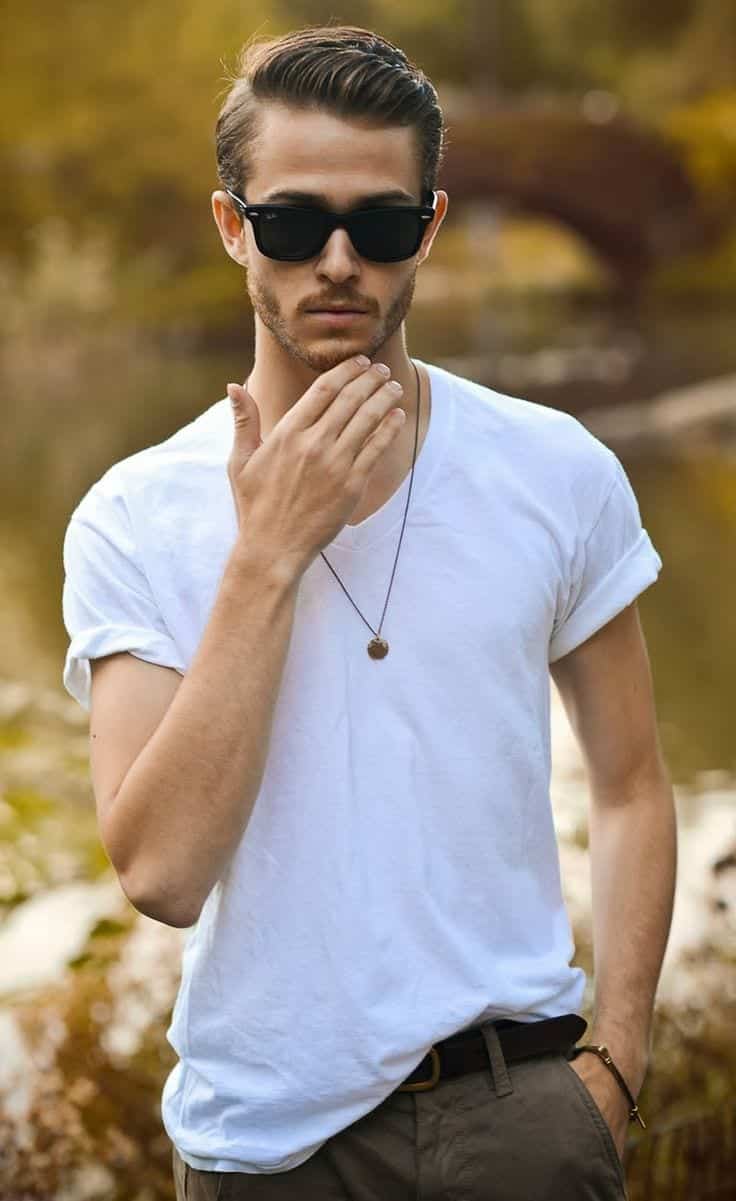 ↓ 3 – With High-Waisted Pants
This style looks great for artists and musicians, but you don't have to be one of them to don this outfit. Tuck your vest or t-shirt into your pants, and you're in for a sartorial aesthetic look.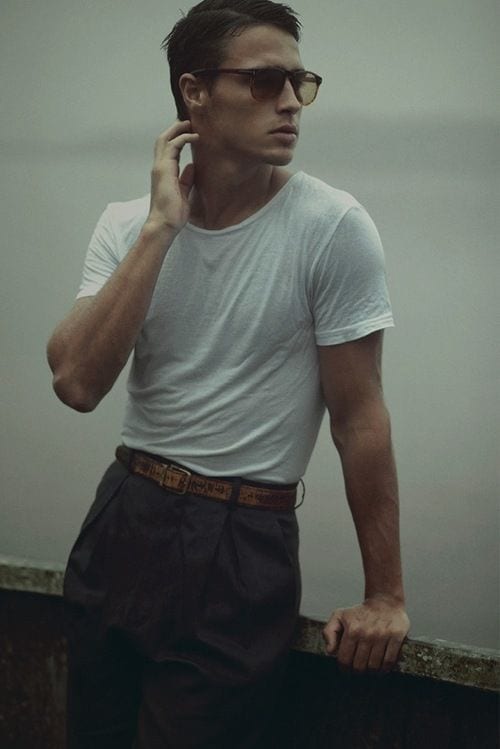 ↓ 2 – With Denim Dungaree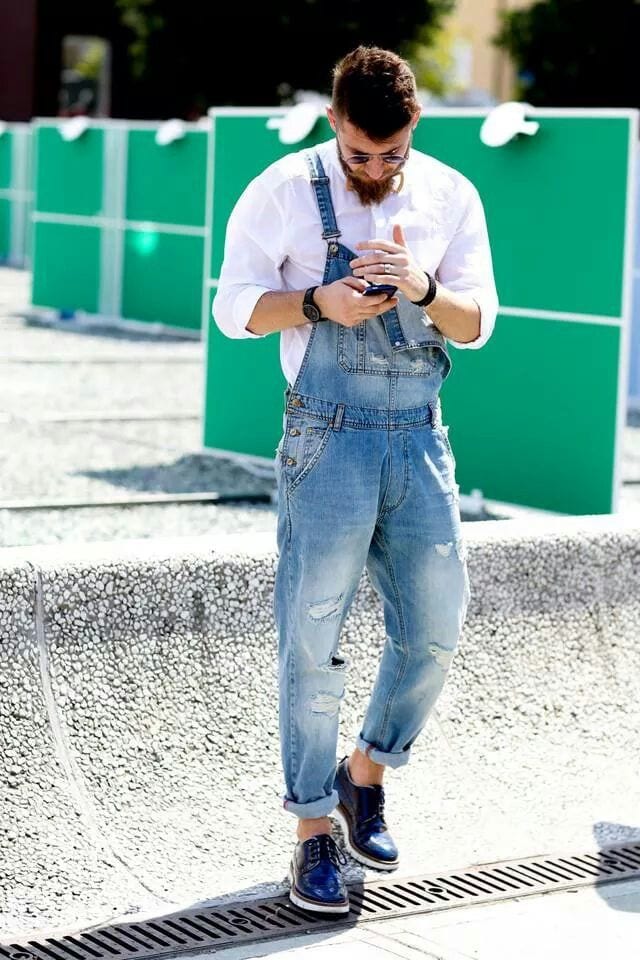 ↓ 1 – Celebrity-Inspired Style
We include some celebrity-inspired outfits on our site for you to have an idea as to what should and should not be done in fashion. Given that famous personalities and public figures have an edge in this matter, it's not cliche to base your style on them. But that doesn't mean that you have to own the same branded clothes like what they have. Remember that quality is more important than the label. So, you don't have to invest in high-end products.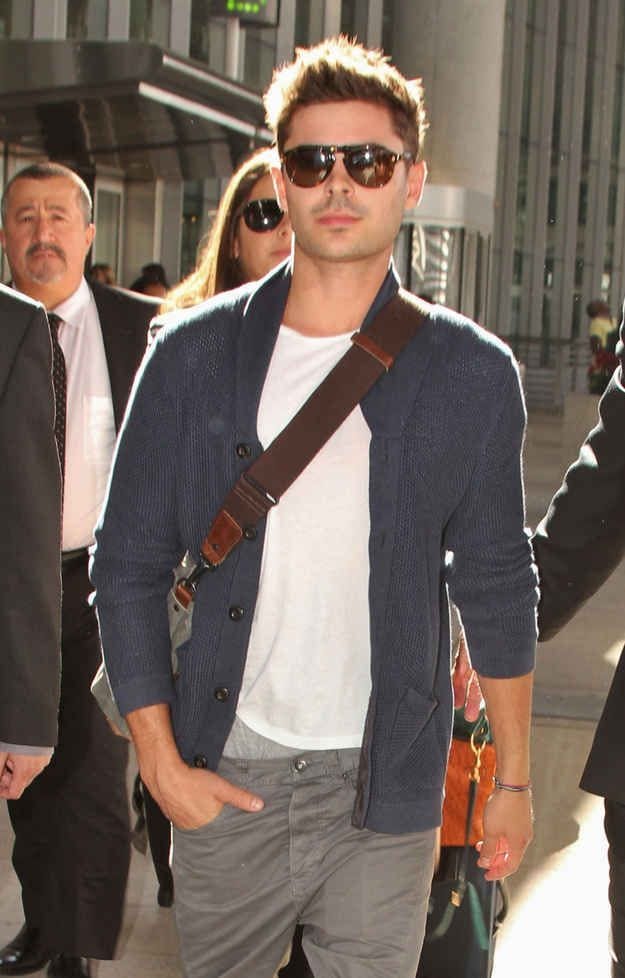 Frequently Asked Questions
Q. How do I take care of my white shirts?
A. White shirts can turn grey over time. And bleach will do the job to make you look fresh in white. They naturally color and age – especially in places like the collar and around the armpits. So if you notice that these spots are starting to turn yellow, get bleach and water to soak the shirt overnight.
Q. Are white shirts in style?
A. A white shirt is the most versatile wardrobe piece you can own. So you can easily dress down and dress up your white shirt. Trends come and go, but the elegance of the white shirt stays forever. You can wear this regardless of the season.
Q. What should I consider when getting a new white shirt?
A. The white T-shirts that look best on most guys have a straight cut and slim fit. And T-shirts with "slub" means they have a soft and slightly worn-in feel.
Q. How should I wear a plain white tee?
A. It is a staple option for everyday casual wear, and it is also a versatile layering piece that works great with every type of jacket and pants. So, wear it with anything you want, but you might want to consider the occasion and the weather while doing it.
Q. What shoes should I wear with white shirts?
A. The footwear you pair with a white shirt depends mainly on the rest of your outfit and where you're headed (the occasion). The weather is another factor that you might want to consider.