White party outfit ideas: White can be an awkward color to style, and some people will steer clear of it altogether. However, for gentlemen nowadays, this is not the case, and white can be an attractive color that gives such a powerful impression, and that can suit all shapes and sizes.
White outfits may appear boring or unimaginative to others. And at times, men in white will look like they are in uniform, which suddenly makes them out of place or something. White garments look less than exciting when you wear them individually, but wear them from head to toe, and it can be overwhelming.
How to Wear White to Parties?
While bright and flashy colors are appealing (no doubt), remember that you don't always need colorful outfits to project an interesting ensemble. Actually, most eye-catching outfits today include white garments. You can wear all-white outfits in events such as themed parties and cocktail gatherings.
Keep in mind what sort of party it is that you will be attending. What should men wear to different parties? What footwear is ideal for a guy's white outfit? And which accessories are great with white styles? This post brings you 25 ideas of white dresses for men to wear at parties. Don't also forget to check out our post on Men's Boat Party Outfits.
Well, in the last post, we talked about 15 trending all-black outfits for men. If going to a more formal party, why not go for the trendy and sophisticated white three-piece suit? Why not stand out and add a patterned tie, colored belt, and contrasting shoes if choosing this look? Oxfords are perfect shoes for this style of white outfit, keeping with the theme and looking stunning at the same time. Make sure shirts are crisp and ironed correctly. Creases will stand out on a white shirt and can completely ruin your look. The same goes for the rest of your suit.
For a more casual style to a not-so-formal party, select a white polo t-shirt, vest with a blazer, or even a jumper. These are great tops for a casual look and will go with plain white jeans, suit trousers, or even crops if worn properly. To complete a casual look, including accessories such as colored belts, ties, handkerchiefs, sunglasses, and even watches. All accessories do not have to be white. Colors such as black, blue, and brown will break up your outfit beautifully without creating an overwhelming image with too much white. Even shoes can be white with casual styles. However, also try and get a touch of color in there. Sneakers, pumps, and boat shoes with brown, black, or blue detail will be perfect for this style and be comfortable party footwear.
Tips On Wearing White Outfits
For starters, invest in a pair of white jeans or chinos. Out of these, you'll create all-white ensembles by mixing and matching existing wardrobe items.

The fit is paramount. The cut of your suit will play a significant part in this matter, so be sure that it is on point. It should be well-tailored to your body contour, and so as the shoulders, sleeve lengths, and buttons.

Plan ahead. To make the most out of it, tailor your white outfit accordingly. Research about the type of party you're attending. And very careful not to spill your drink when you're there as white outfits are prone to dirt.

Don't go all-out. Wearing all-white doesn't mean that you have to go full-on. You don't want to look like a bedsheet. So alternatively, you can incorporate some off-white garments. To have some depth, opt for chalk, ivory, stone, ecru, and other neutral tones. Also, add some flavor without going overboard with contrasting shoes, belts, and accessories.

Fabric Choice. There are no specific set of rules for styling all-white. So it won't hurt you to experiment with different textures and fabrics as they are an easy way to balance the scales and avoid the dullness of an outfit.
The Dont's of Wearing White
White on white can be overpowering, so do not use white everything. Break up your look with ivory, cream, or off-white if you want to stick to this color.
Avoid heavily contrasting or odd color choices with your white outfit, e.g., orange, neon green, etc. Instead, keep it neutral.
Although it may sound ridiculous, it is best to shy away from certain foods, especially if you're at a formal party, i.e., a wedding. The last thing you want is a red wine stain down your stunning, crisp blazer.
Where to shop for white party outfits?
Check out the following images, which show great ways of rocking a white outfit at a white party.
Several stores sell them individually, and some brands offer all-white outfits from head to toe. Put your shopping skills to good use by having a marathon to stalls and fashion boutiques near you. Aside from Amazon, consider Uniqlo and Penshoppe your starting line. As such, you can check my picks: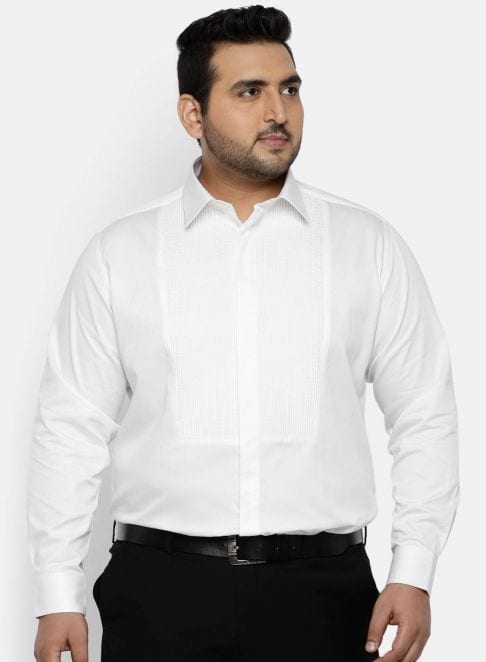 25 – What To Wear With White Blazer
The secret here is to know the venue type beforehand. Keep the individual garments simple and low-key. An all-white outfit may be inappropriate for some formal functions. But do it right, and it can definitely suit a myriad of occasions, including summer weddings and garden parties.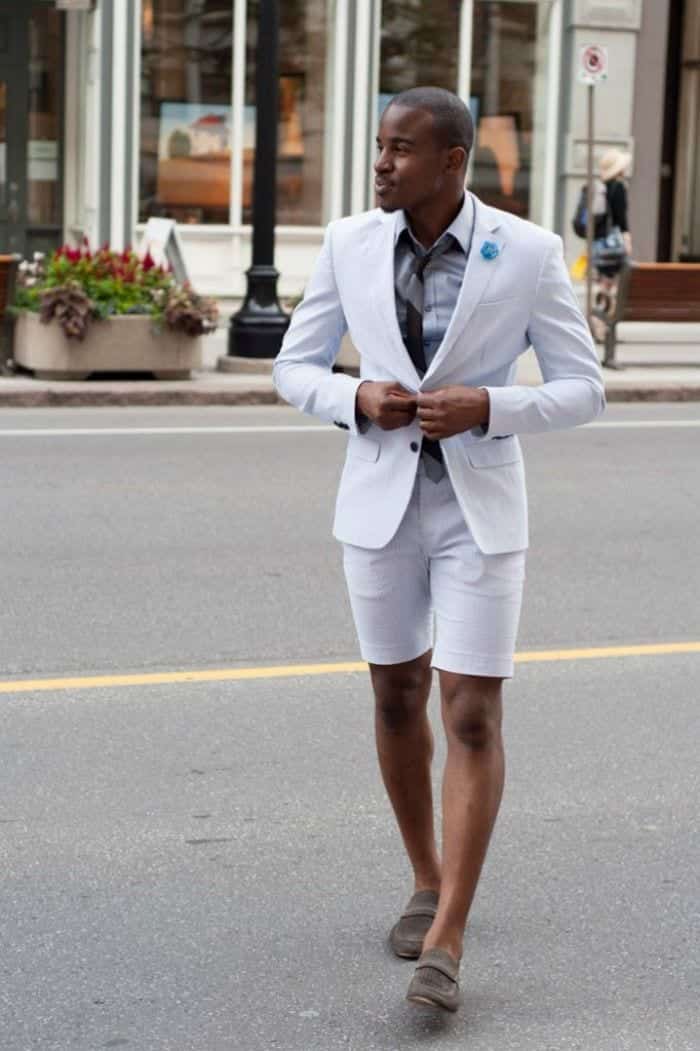 24 – When To Wear White Party Outfits for Men
For years, men have worn white linen button-down shirts and pants to achieve the summertime casual look. So don't hold back – go ahead and wear your linen outfit.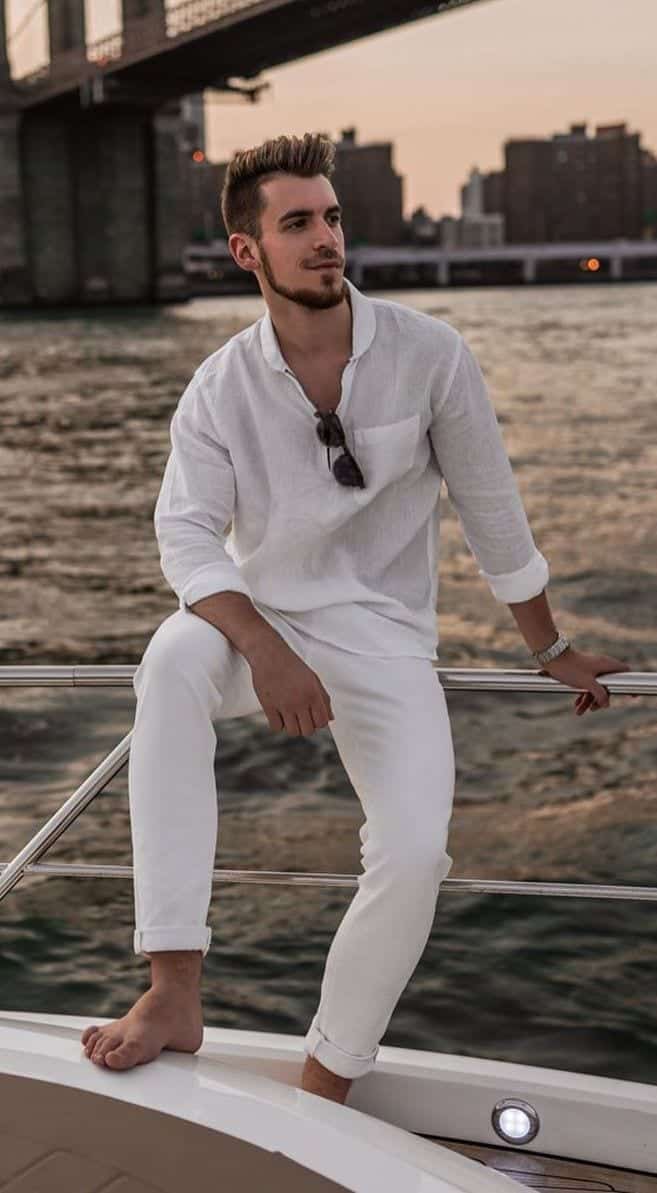 23 – For Mature Men
Choose white outfits with a classic fit if you want to be different from the rest, regardless of what event you are in. Also, age doesn't matter!
22 – Summer Style
Color white's fresh and crisp aesthetic makes it the go-to wardrobe choice for summer. A helpful tip: Go for a relaxed and laidback look with a simple silhouette and lightweight fabrics.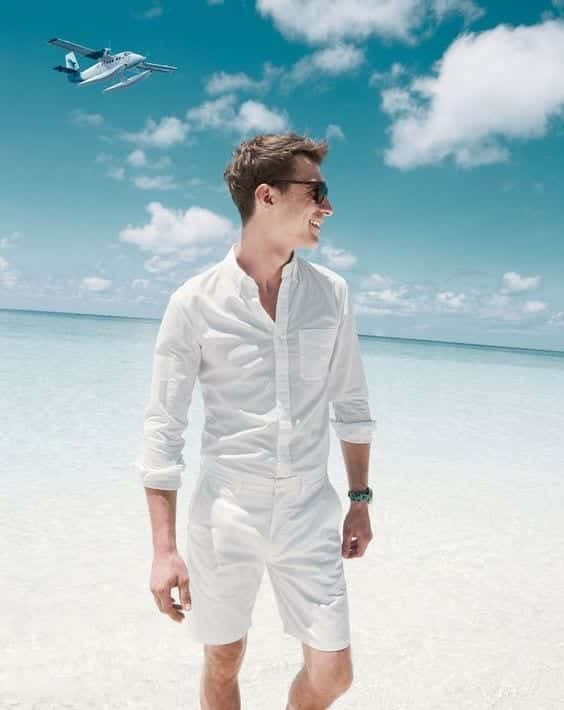 21 – How To Wear White Coats
Snow is white. Coincidence? I think not! White outfits can be an excellent substitute for dark outfits during the winter season. But it can be difficult to wear white outfits from head to toe in freezing weather because of layering thick and heavyweight fabrics. You have the option to add contrast through your accessories.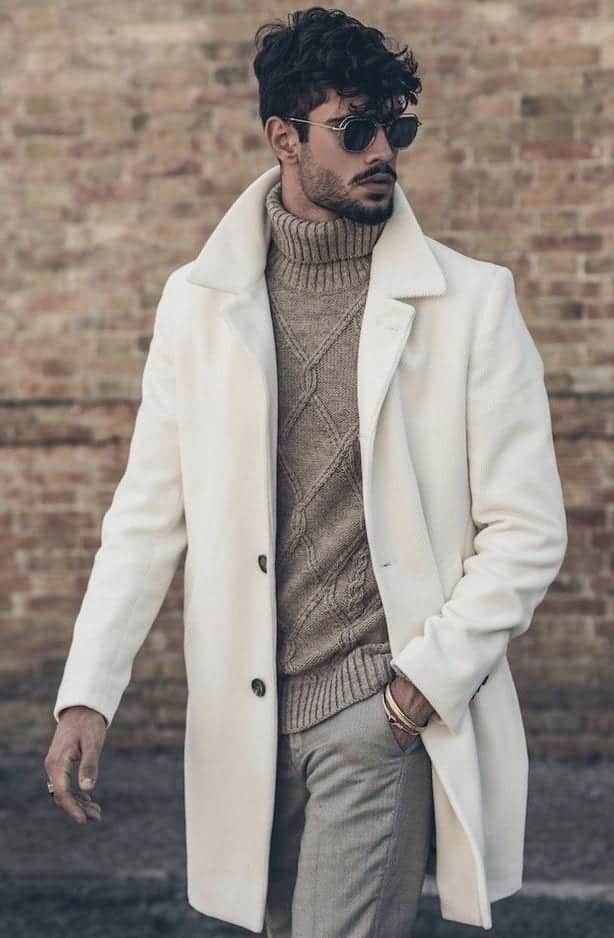 20 – White Athleisure for Casual Parties
White is undeniably suitable for the warmer months to come. It is ideal for various occasions, including barbeques and pool parties. For a smarter look, turn to chino shorts. And to put some "summer vibes" to your outfit, opt for a linen design. White board shorts are an excellent option for the beach.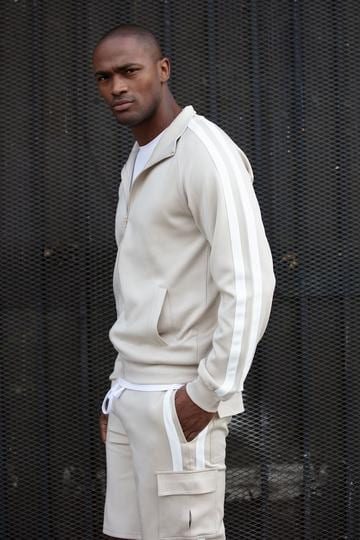 19 – How to Wear White Pants for Men
When getting your new pair of white jeans, there are factors to consider, including the cut and style. In a way, white can create the illusion to make you look bigger, so try opting for a pair of slim-fit or skinny jeans to keep a leaner shape. Another great option is to get a distressed or ripped style of pants to add some spice to your ensemble. You can find a detailed styling guide in our previous post on White Jeans Outfits for Men.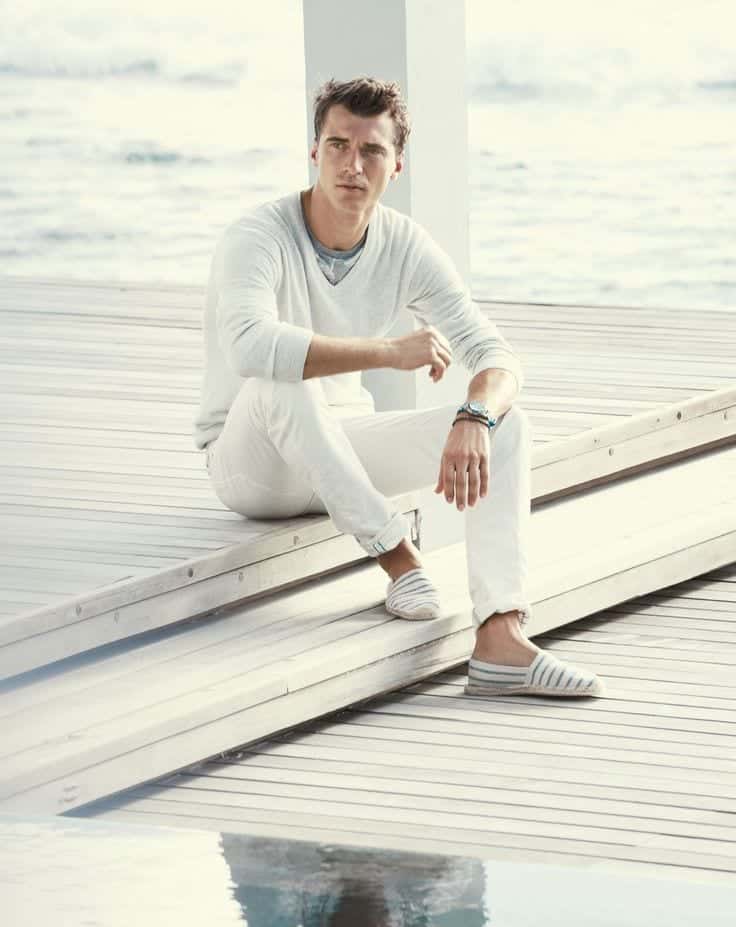 18 – White Bomber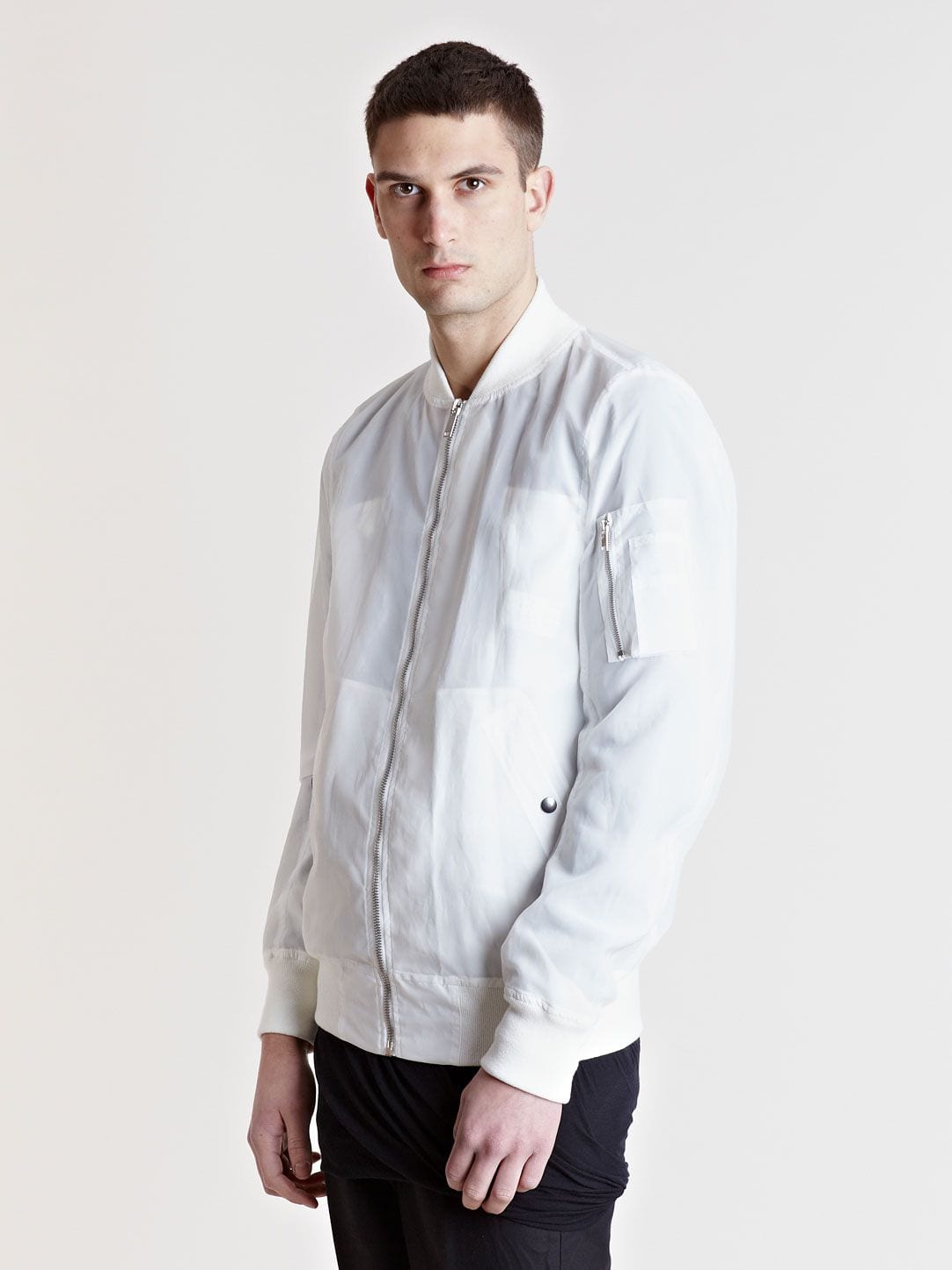 17 – White Denim Jacket
Denim is your ultimate go-to fabric when it comes to casual outfits. Get ready to show off to your friends and followers on Instagram with a crisp double white getup. Another great idea is to have some fun with your look, starting with your footwear choice! A boxfresh pair of white sneakers will do.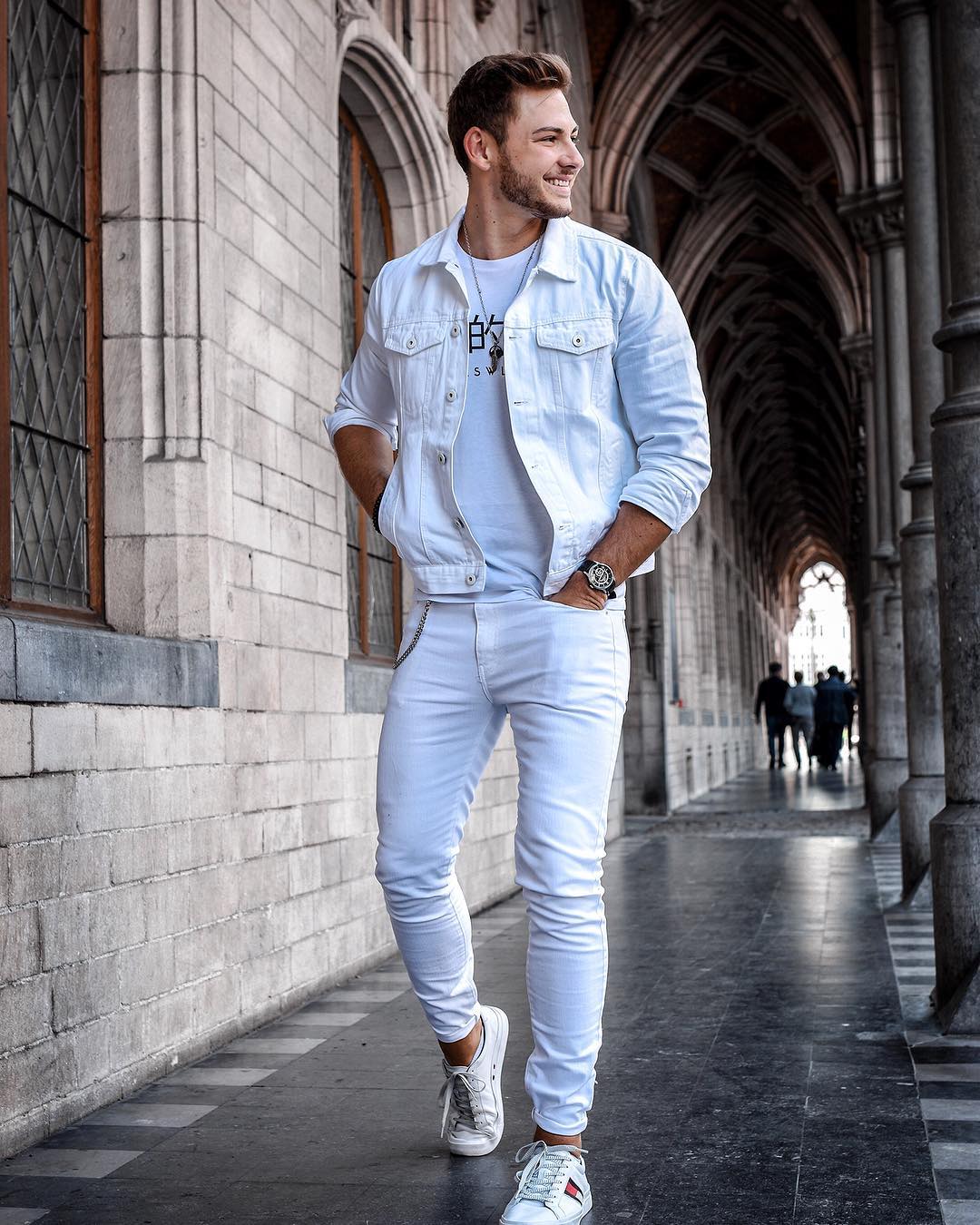 16 – White Sneakers Outfit
The perk of wearing white sneakers as part of an all-white look is that it's not a pressing concern if they're dirtied or worn.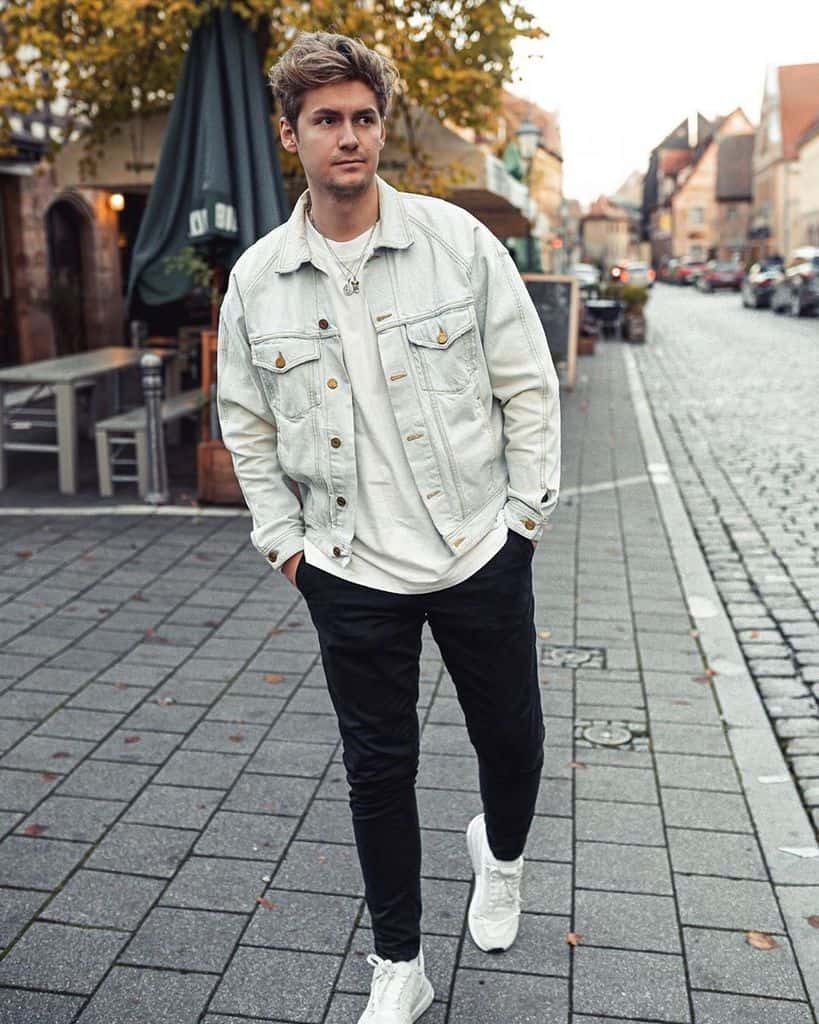 15 – Cruise Ship Party Outfit
The double-breasted suit associated mostly with the movie characters of the 40s have returned with a bang. It has been modernized according to the taste of the latest trends and is now easily becoming a must-have item in fashionable men's wardrobe. It is now a much slimmer and body-fitting type but retains its elegance and manliness. And if the suit is in white, the dressier and eventful it gets. You can wear a white suit on a cruise or a birthday bash or a cocktail party but not for an interview or a serious corporate meeting. The playfulness of the color suggests that you should opt for a dark tie and nice patent Oxford shoes in black and white. Slicked back parted hair, and a nice watch should be your only accessory.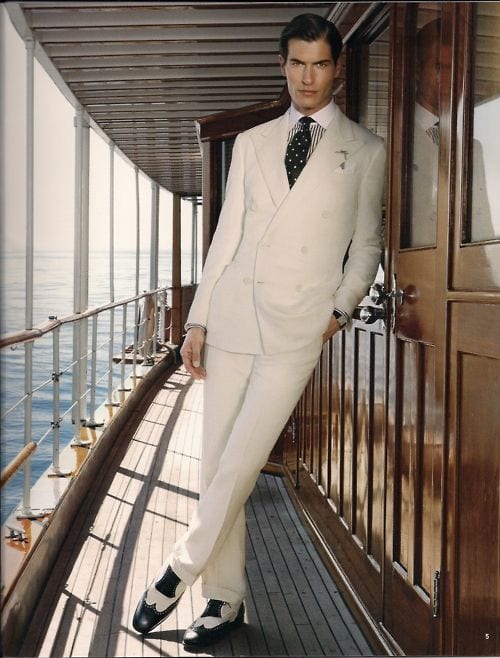 14 – VIP Suit Party Style
Head to toe in white. This is a look that you can adopt if there is an after-party on a golf course or at a wedding. This is the ultimate casual dressing style in a suit, so have fun with the whole outfit and choose matching shoes and a tie.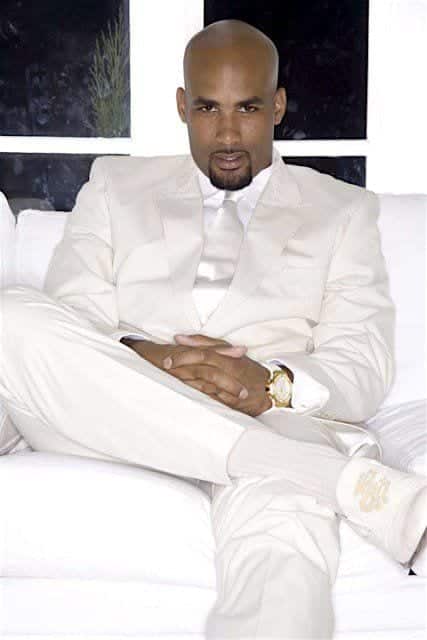 13 – Suave Tailored Suit
Although white suits are a risk to wear as they get wrinkled and dirty rather quickly than all the other colors, you should have a white suit and in three-piece, if the possible cause if you are making a statement, then go all the way to prove it that you a dressy man. Choose to wear white shoes with a matching tie or exchange the tie with black and black shoes. Blow-dried rumpled hair will look nice if you have long hair, and a crew cut would be nice for short hair, guys.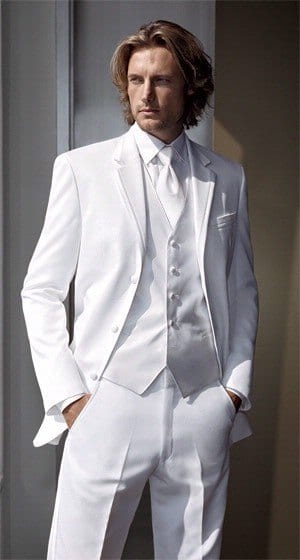 12 – Street Style Party Outfit

11 – Casual Party Style
Going to a party during the summer season, or have you set a date around lunch timings? Have this styling idea in your mind. The cool guy looks all white. Button-down shirt with white chinos. Mix match your accessories with different shades of brown but shoes and belts should be a match. A little pompadour and a chin strap goatee style will look nice.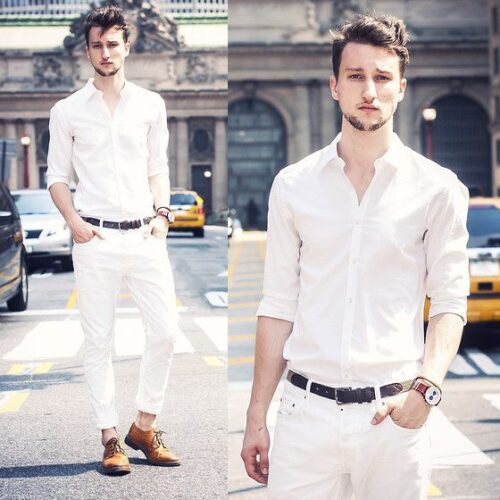 10 – Smart Casual Summer Style
Beach party-perfect outfit for guys. Look dressy and dapper in a tuxedo shirt with a casual white suit. Keep it simple; no accessories, make sure that the suit is a perfect fit. Many men wear black because of its elegance, but white can also work for the same reasons. Make a difference by grounding the look with colored yet not-too-showy accessories, such as a light brown leather belt and shoes.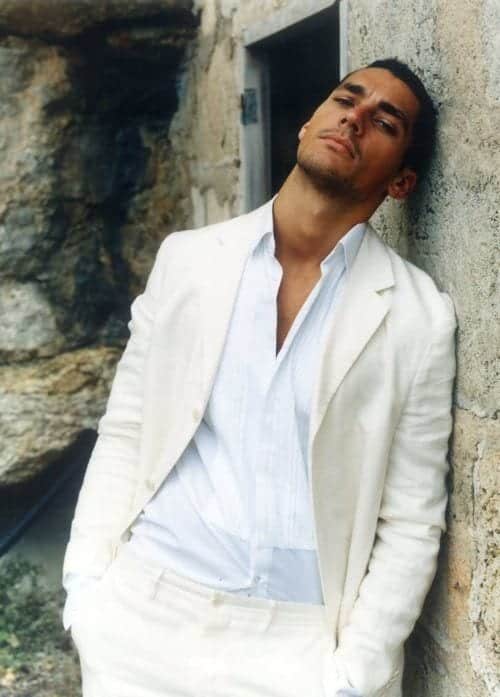 9 – Best Man Wedding Outfit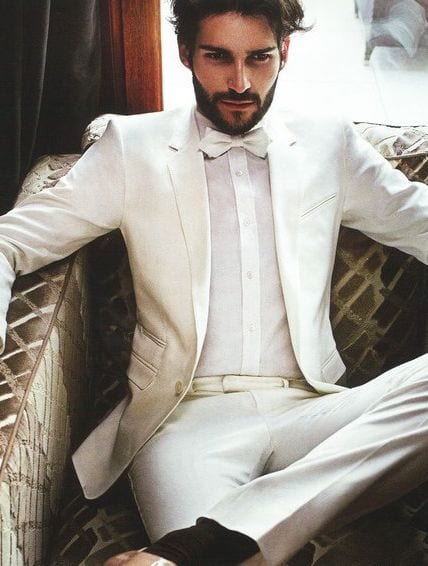 8 – Red Carpet White Suit Style
Red carpet or black tie events mostly call for darker shades for men but if you have the spirit in you, pull off this look. Go for an ultra-classy outfit in white with matching derby shoes and a black belt.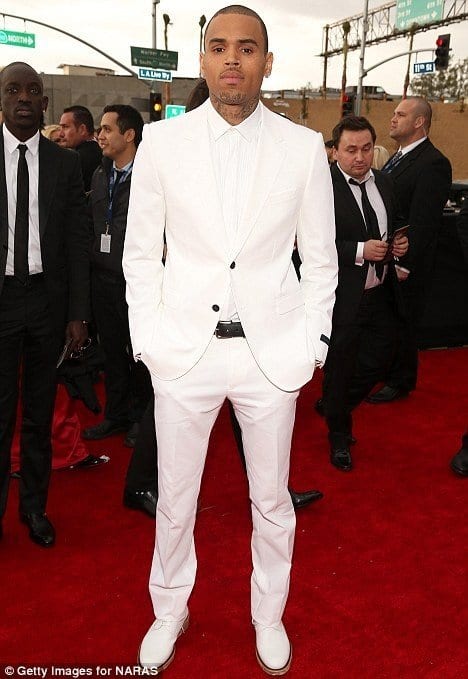 7 – Celebrities White Outfit
6 – City Slick Party Style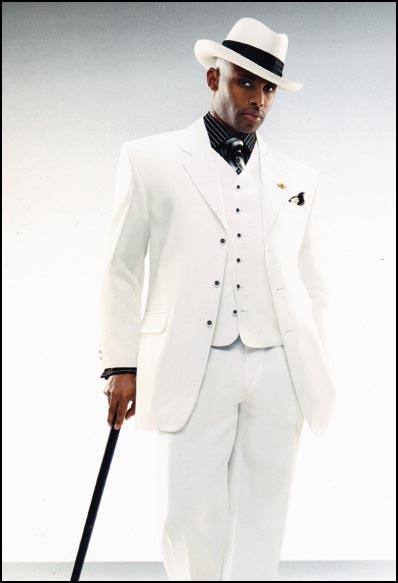 5 – Casual Party Attire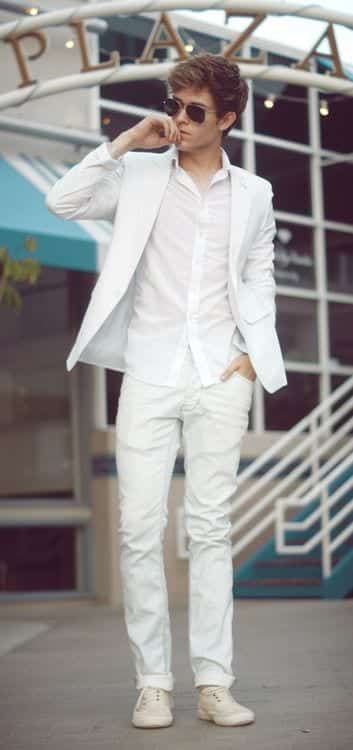 4 – Casual Winter Wear
Pulling off the swag part of your funky personality. This is a style for teenagers or R'n'B B artists. Harem pants for men, especially teenage boys, are a good choice when paired with matching sneakers.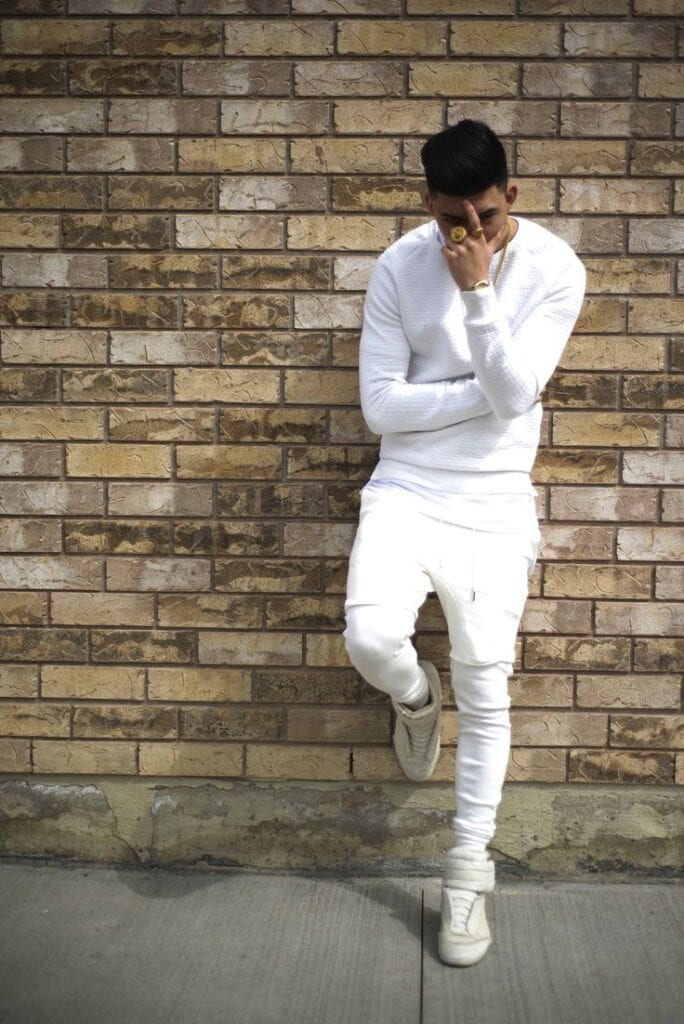 3 – Classic White 3-Piece Suit
Take a break from the usual black, navy blue, and grey suits. It's about time to try something new. Opt for white accessories for a crisp and neutral appearance, but you can turn to brown or black shades for a smarter appeal or bright hues for an intense pop of color.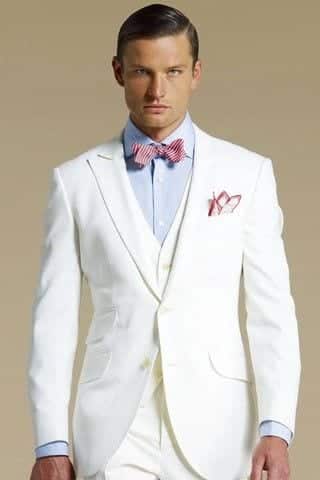 2 – Formal Party Wear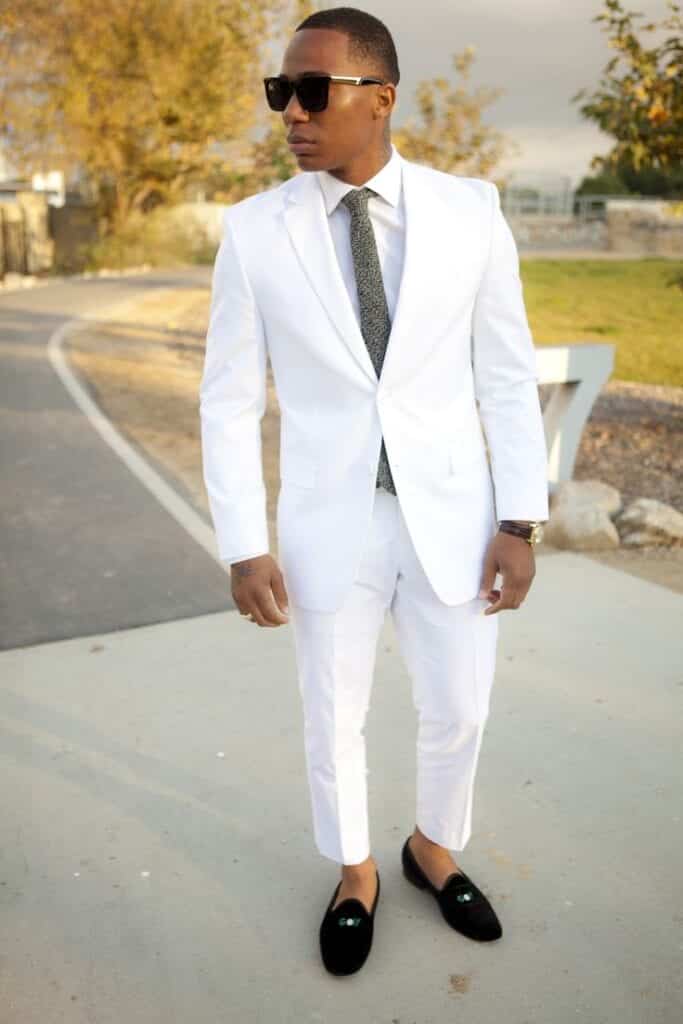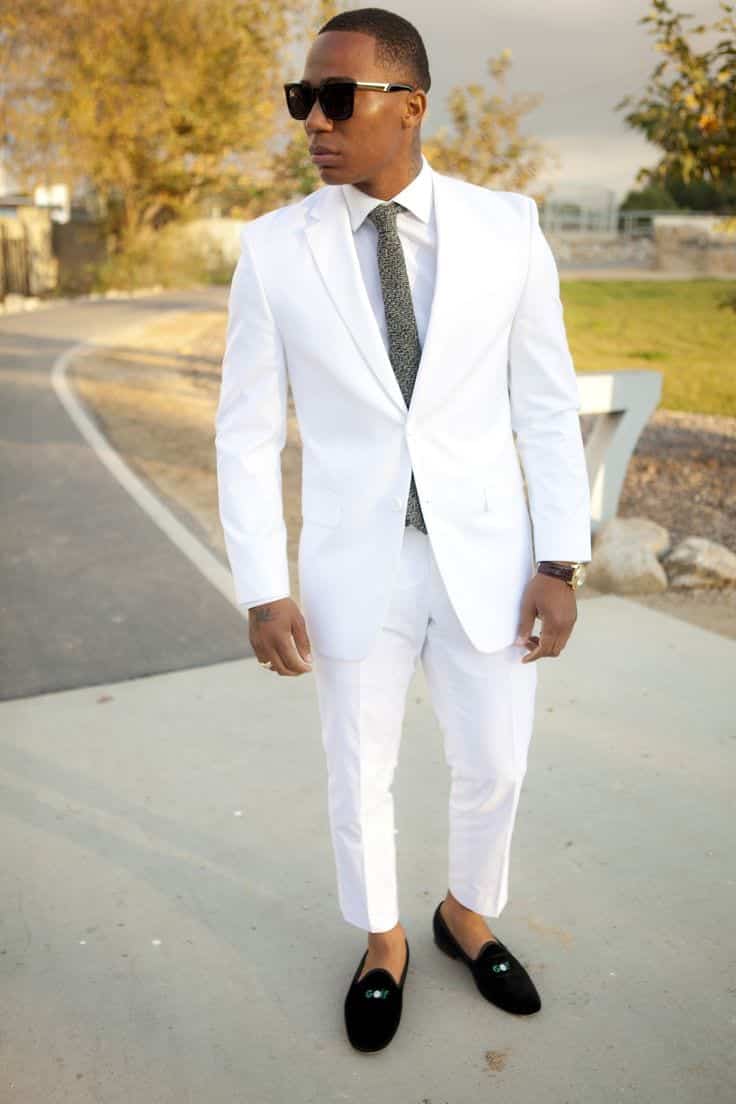 MOGU Slim Fit White Suit for Men $59.99
 1 – Cool Casual Evening Party Wear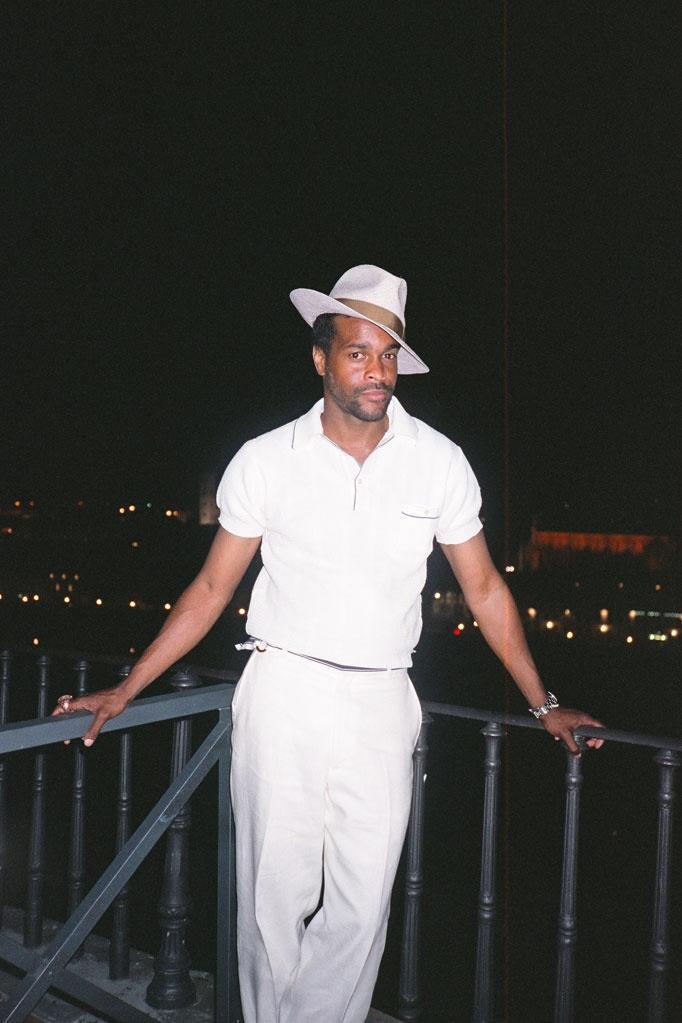 Men's white party outfits are trending, and it's for a just reason. They are a must-have for any gent's wardrobe. But the secret to having the fashion-forward style when wearing white outfits is the right choice of accessories.
Frequently Asked Questions
Q. Are white outfits in style?
A. Americans have a rule of not wearing white post-Labor Day. Some people start to hide their white outfits – putting them on the bottom pile and then bringing them out again for Memorial Day. However, some do not follow this custom as we are free to choose what we want to wear. But know that the downside of wearing white is prone to dirt and dust, so steer clear of them if you're eating saucy foods or drinking wine.
Q. Can I wear a tuxedo to a white party?
A. For formal events, you can go all-out in a white tuxedo without a second thought. Remember that your tux should be made of soft and elegant fabric. Pair it with a formal white tuxedo shirt, bow-tie, and pocket square. Your shoes should be spotless and not too shiny.