Wedding Kurta Pajama for Men. Kurta Pajama is widely considered as a traditional dress in India, Pakistan and many other South Asian Countries. It is widely worn on festivals like eid and Diwali and formals occasions like weddings, engagement functions, or religious rituals.
However plain kurtas can be worn for every day too. As it is a loose fitting garment, a kurta made of light material is great for everyday wear. You can wear while chilling out at home or even when you want to go to sleep.
How to Wear Kurta Pajama on Weddings for Men
There are a number of ways in which you can style up your kurta pajama outfit. The kurtas are available in a multitude of different fabrics, designs and almost any color imaginable. Kurtas can be with bands, collars or round neck. Usually, the Kurtas with a band are considered more formal as compared to the other two. Kurtas are adorned in numerous ways too. There can be embroidery in different ways. Embroidery on the band and cuffs is very popular. But for the weddings much more adorned and colorful kurtas are popular.
↓ 18 – Style Kurta Pajama With A Waist Coat
Waistcoat looks very stylish and elegant with a kurta pajama. It will give your kurta a touch of beauty. Even a plain kurta looks very formal and sophisticated when worn with a nicely fitted waistcoat. Here are 18 Ways to Wear Waistcoat for Classy Look.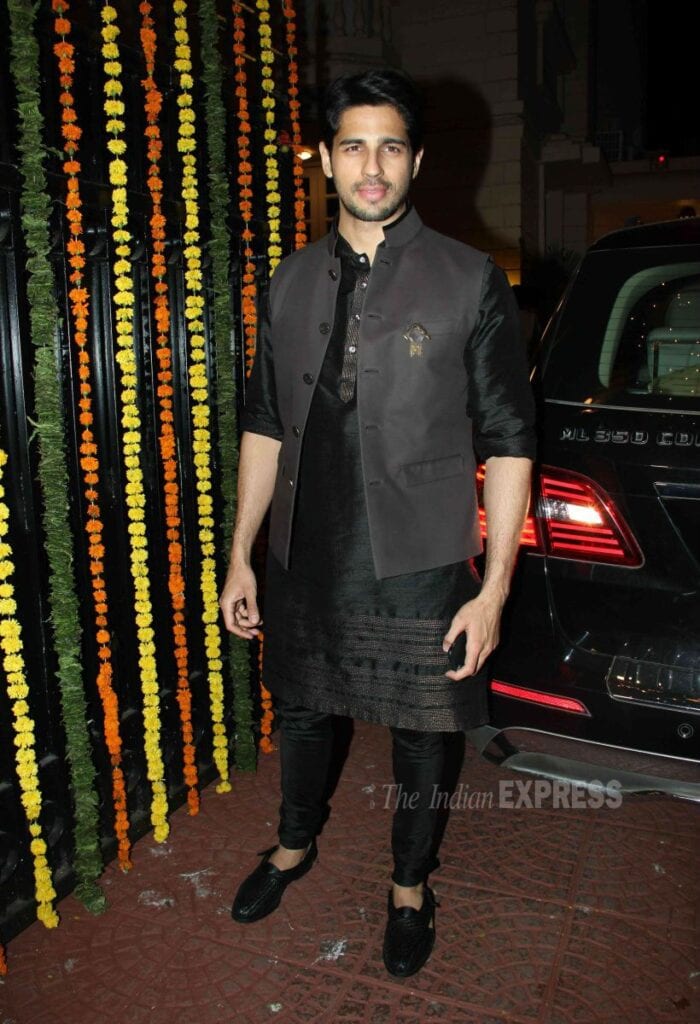 ↓ 17 – Silk Kurta With Straight Black Pajama And Khussa
The soft and shimmering silk fabric is excellent for the wedding season. It will keep you cool too while doing all kinds of bhangra dances. The clothing material silk automatically gives elegance to the outfit.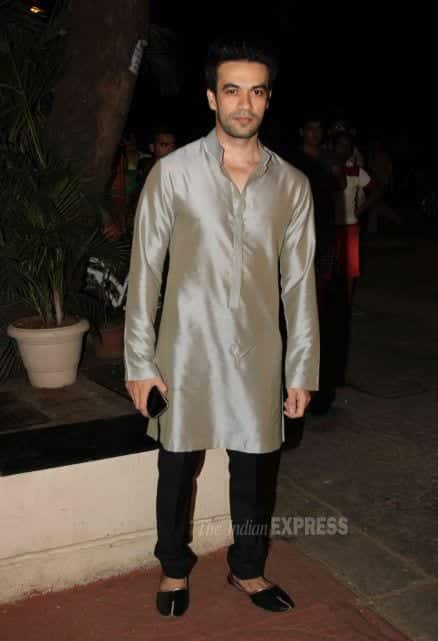 ↓ 16 – Black Kurta With White Pajama Outfit For Men
The black and white is the ultimate combination as we all know. It is not just kurta pajama, in fact all attires look great in the shades of black and white. A black kurta with straight white pajama can be worn on any occasion. Anyone can pull off the black and white combination. So if you are in any doubt or are short of time, this combination does not require much time to think. Just wear a black kurta with a white pajama and you are ready to rock the wedding. RECOMMENDED: 12 Latest Style Fancy Embroidered Kurtas for Men This Season.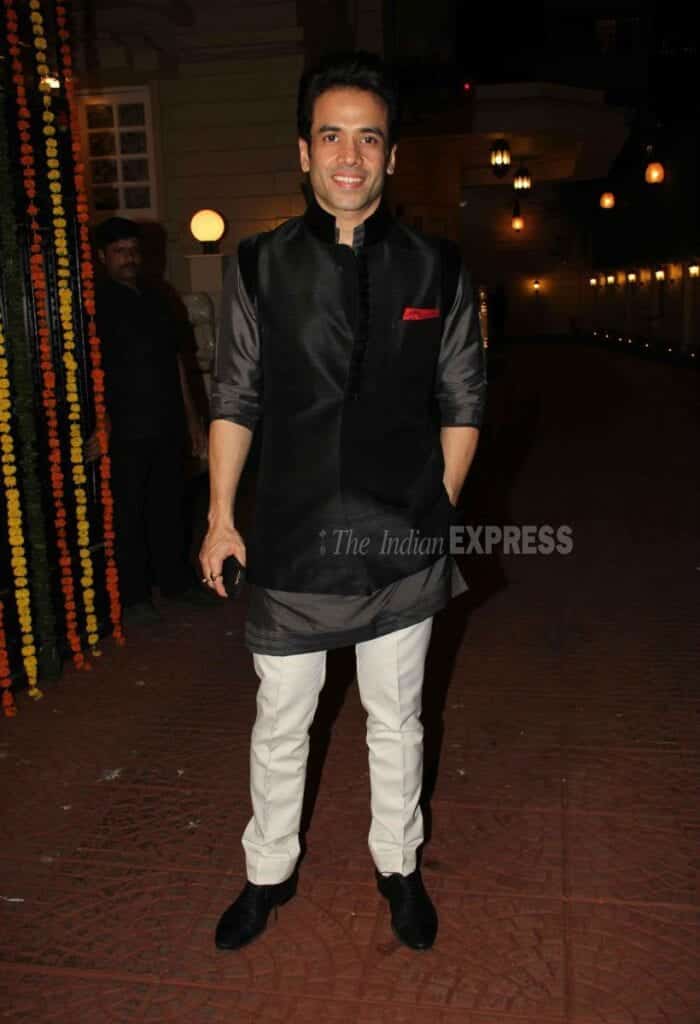 ↓ 15 – Raw Silk Kurta Pajama For The Grooms This Wedding Season
A little red is kind of a must in the groom's outfit. When your bride is wearing a traditional red wedding dress then you can complement her by having red edges to your kurta. White and red make a great combination and so does black and red. For a memorable wedding outfit wear a great kurta with pajama.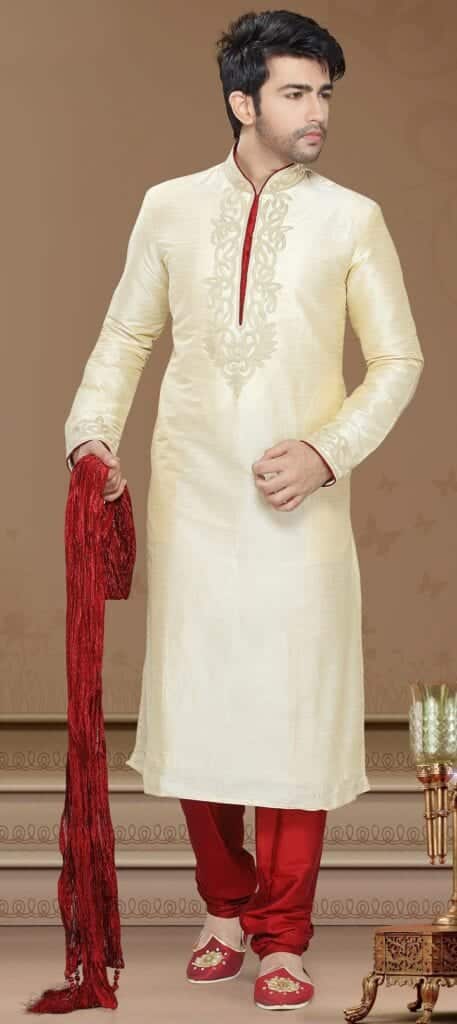 via
↓ 14 – Festive Kurta With A Choridaar Pajama For Men
While at home you can wear Cotton and Linen Kurtas, for weddings and festive occasions stuff like silk, raw silk and jamawaar are more popular. There are wedding kurtas designed especially for grooms with intricate patterns of different types of thread works done all over it. Kurta pajama is not only popular for the groom but all the groom's friends and men in the family can wear a stylish kurta. On the pre-wedding events also like haldi, mehndi, Dholki etc you will see men in colorful kurtas enjoying the all the wedding madness. Do check out the 15 Latest Men's Eid Shalwar kameez Designs for This Eid.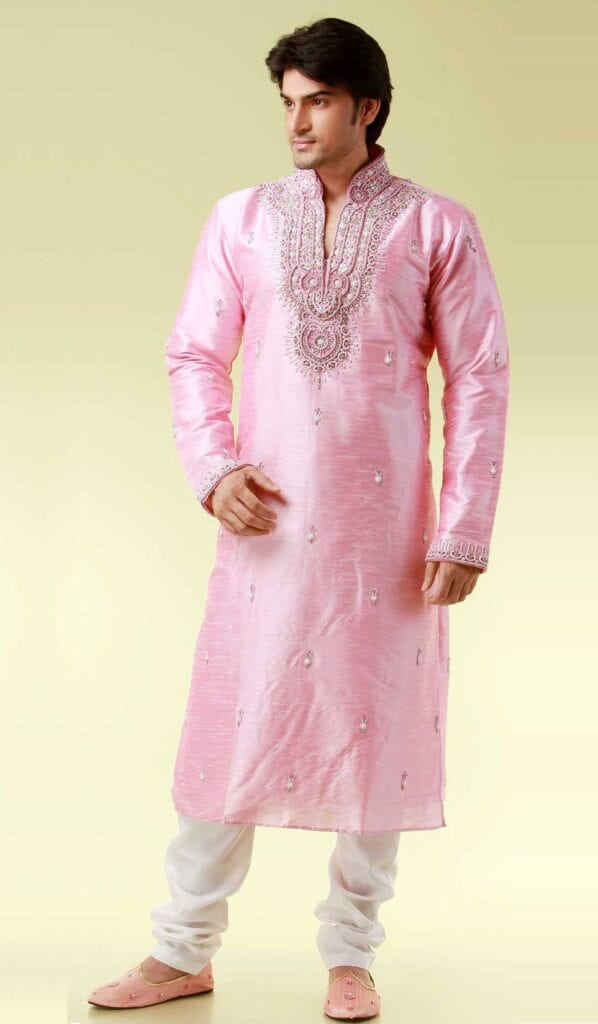 ↓ 13 – Embroidered Kurta With Churidar Pajama And A Stole
Intricate designs of embroidery can make the kurta look royal. So if you have a very special wedding to attend make a kurta that has a beautiful embroidery design. Dark colors with gold embroidery look really cool. Red and gold, orange and gold, purple and gold are all good wedding combinations. On light colors silver or white embroidery look good. Black is such a color that gold, silver and white, all color embroidery look good with it.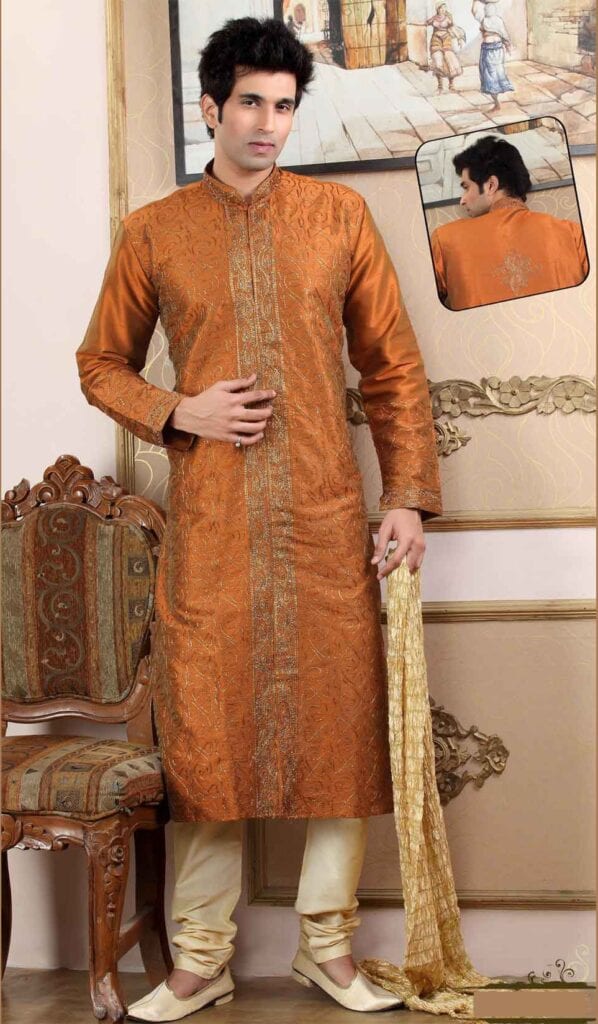 via
↓ 12 – Shoes To Style Up The Wedding Kurta Pajama Look
Many kinds of shoes can be worn with kurtas. Of course on a wedding khussas are the first choice. They are festive and give the kurta an excellent look. Here are 12 Stylish Groom Mehndi Dresses for This Season.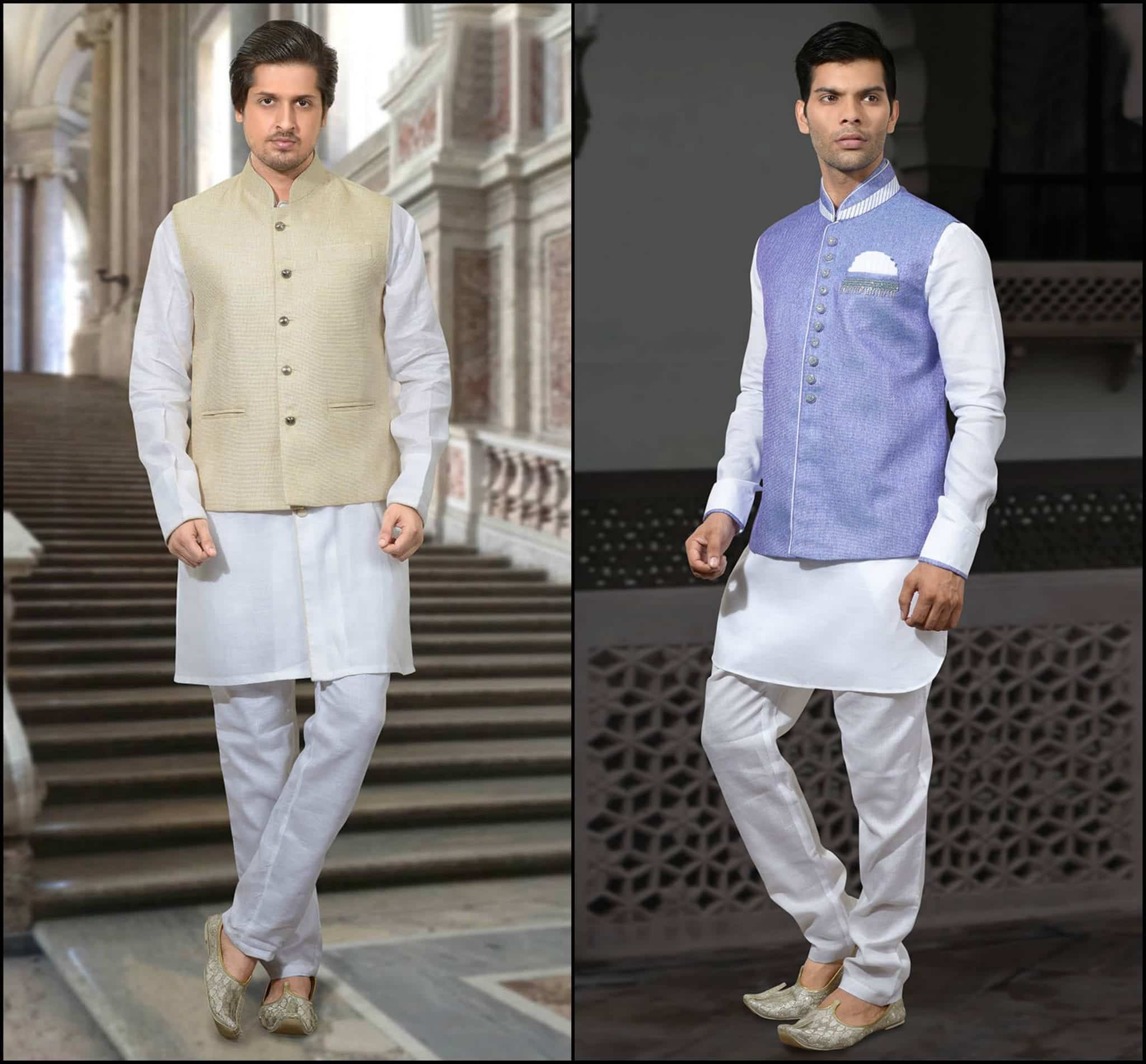 ↓ 11 – Bright Colored Kurta With Straight White Pajama To Go With All Wedding Events
Although it is a traditional dress there have been many innovations and embellishments that can be done with the kurta to make it different and unique from the rest. Styling a kurta with Turban, Waistcoat, stoles, shawls, or colorful dupattas are a norm at the weddings. You can wear a matching khussa to go with your kurta outfit. Waist coat will make your loose fitted kurta look stylish and a shawl will make an everyday kurta look classy. Long kurtas and short kurtas both are worn. If you are tall you can wear both short and long kurtas and if you are short you should wear a medium length kurta. Kurta can be worn by people of all the heights and physiques.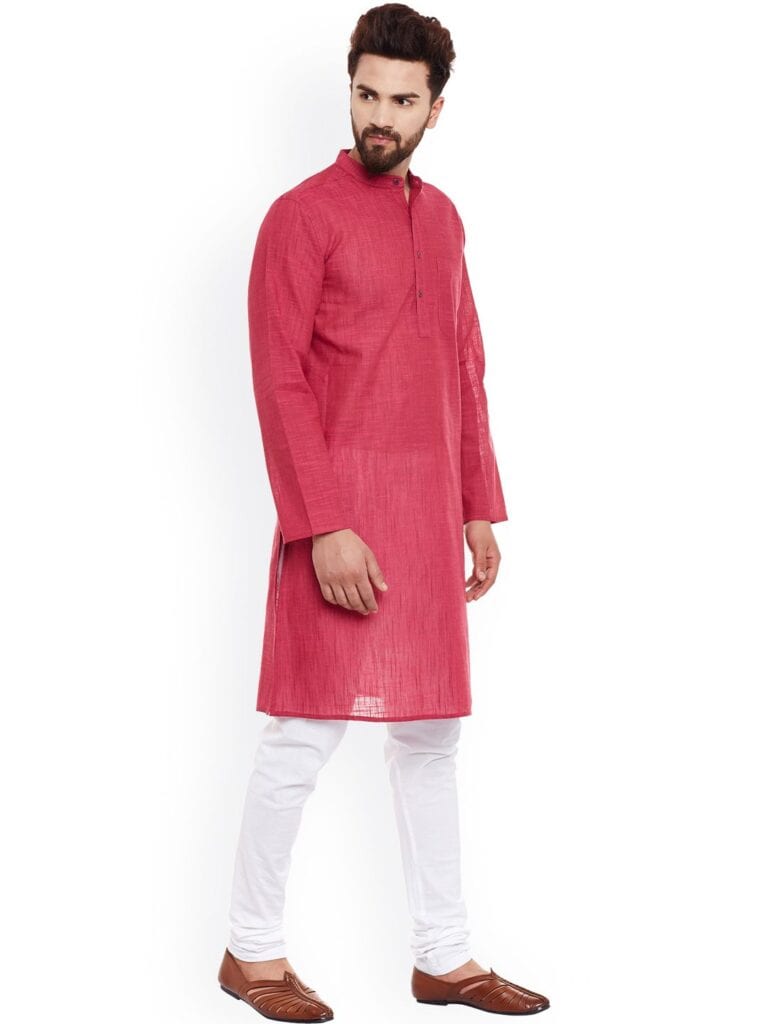 ↓ 10 – All White Pathani Kurta Outfit With Traditional Indian Embroidery
All white is another combination like the black and white that never fails. Surprisingly it is good for all occasions too. For example you can wear a plain white kurta pajama for funerals and embellished and embroidered ones for weddings and happy occasions like Eid and Diwali. Here are the 15 Latest Men's Eid Shalwar kameez Designs for This Eid.
It looks good on all complexions and heights. It is a good color for men who are overweight too because it makes then look slimmer.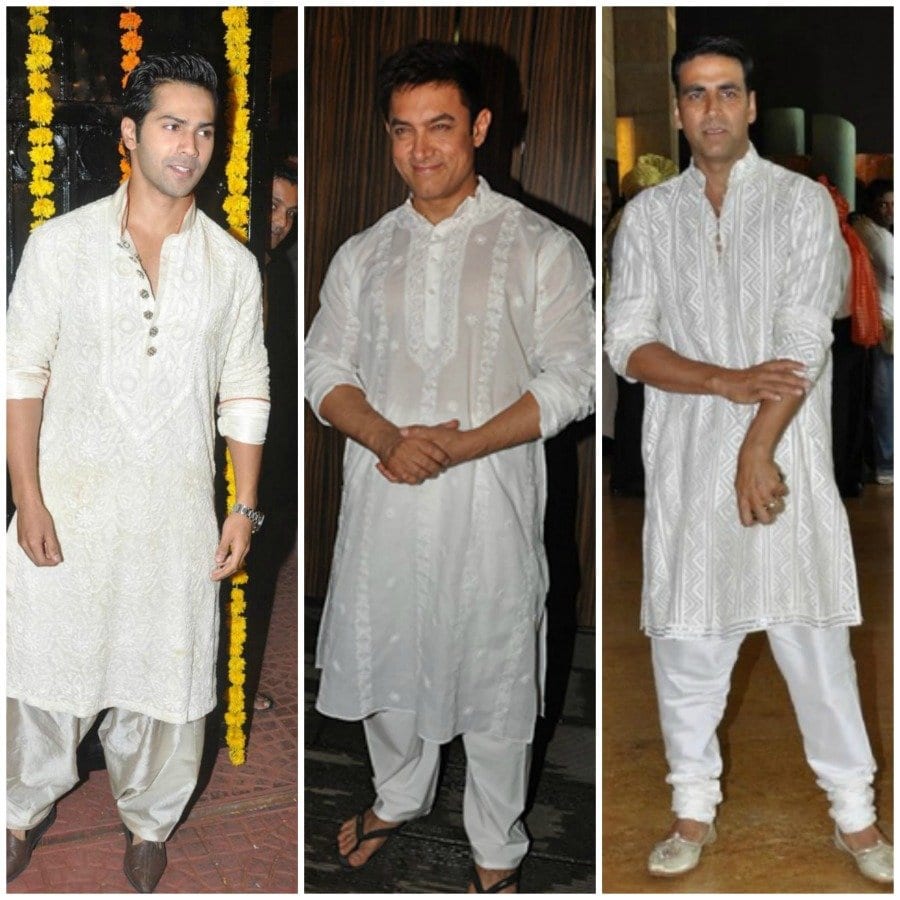 ↓ 9 – Short Kurta With Straight Pajama And A Jacket For A Stylish Wedding Entry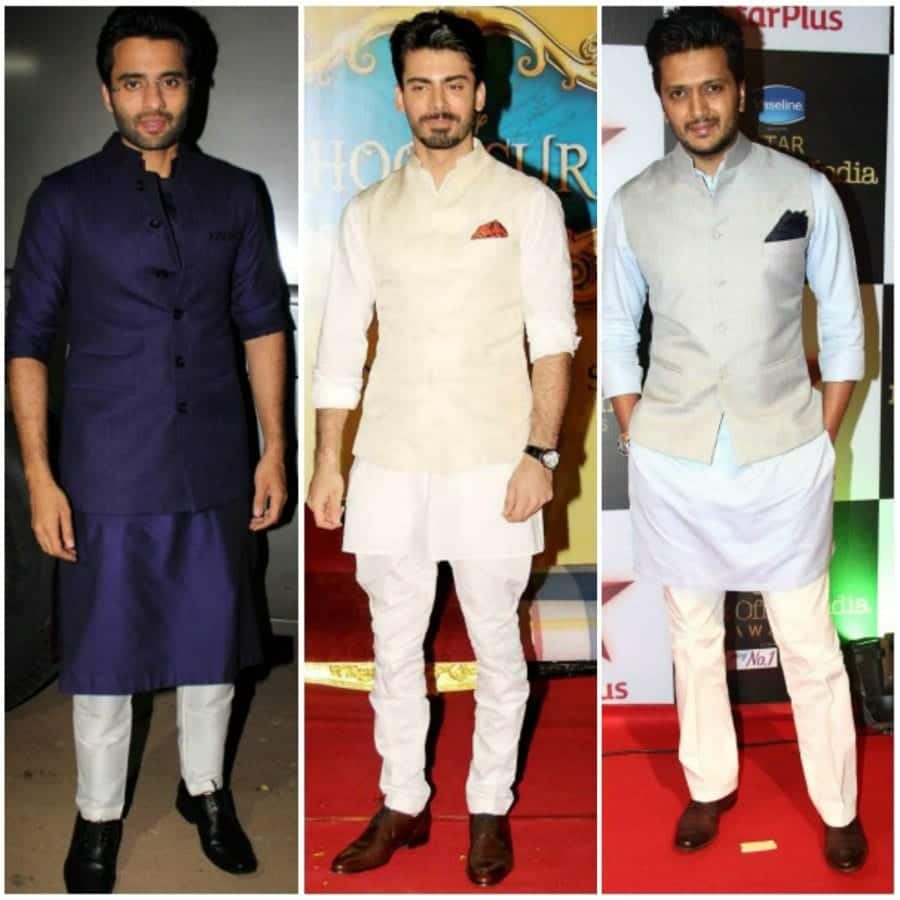 ↓ 8 – Mustard Colored Kurta For Haldi Or Mehndi Wedding Function
For the Winter season, you can easily layer your kurta with a coat, here are the Latest Shalwar Kameez with Coat Style Combinations For Men.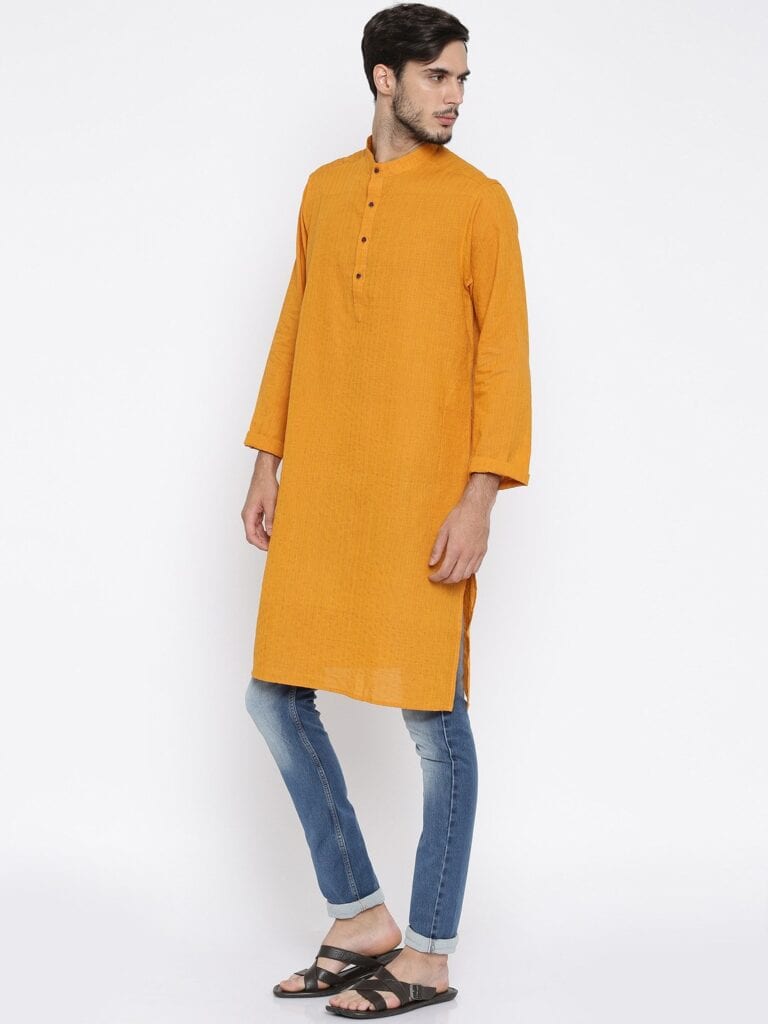 ↓ 7 – Kurta With Shoulder Tabs And Roll Up Tabs For a Chic Look At The Weddings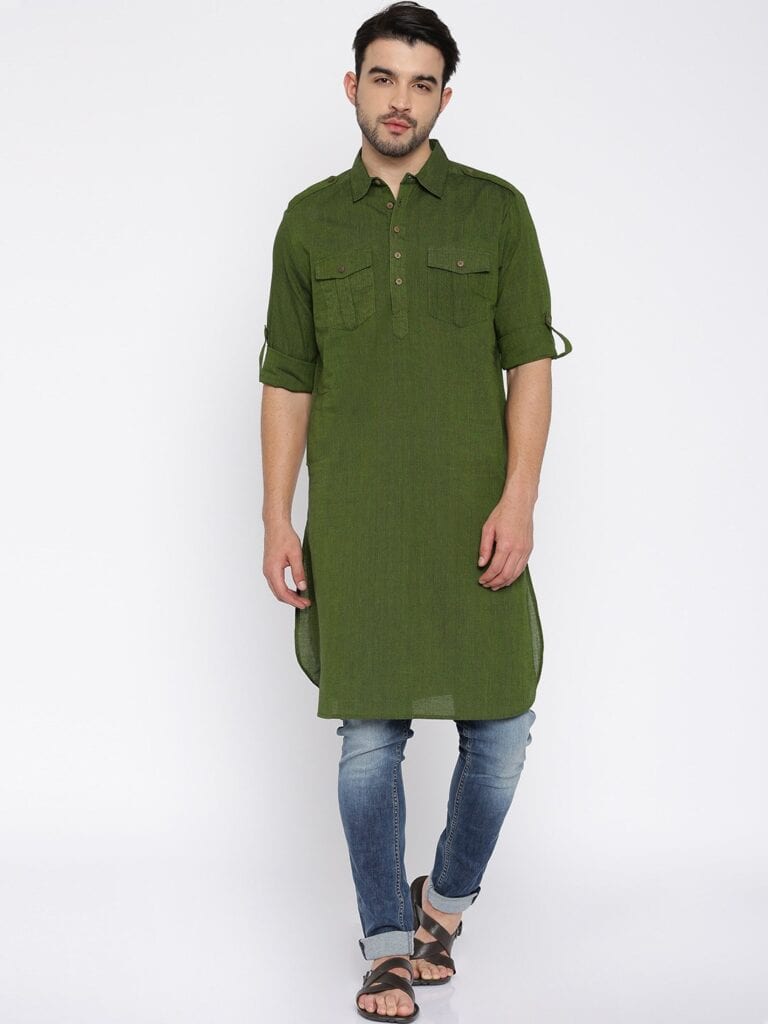 ↓ 6 – A Line Kurta With Pajama Outfit For Men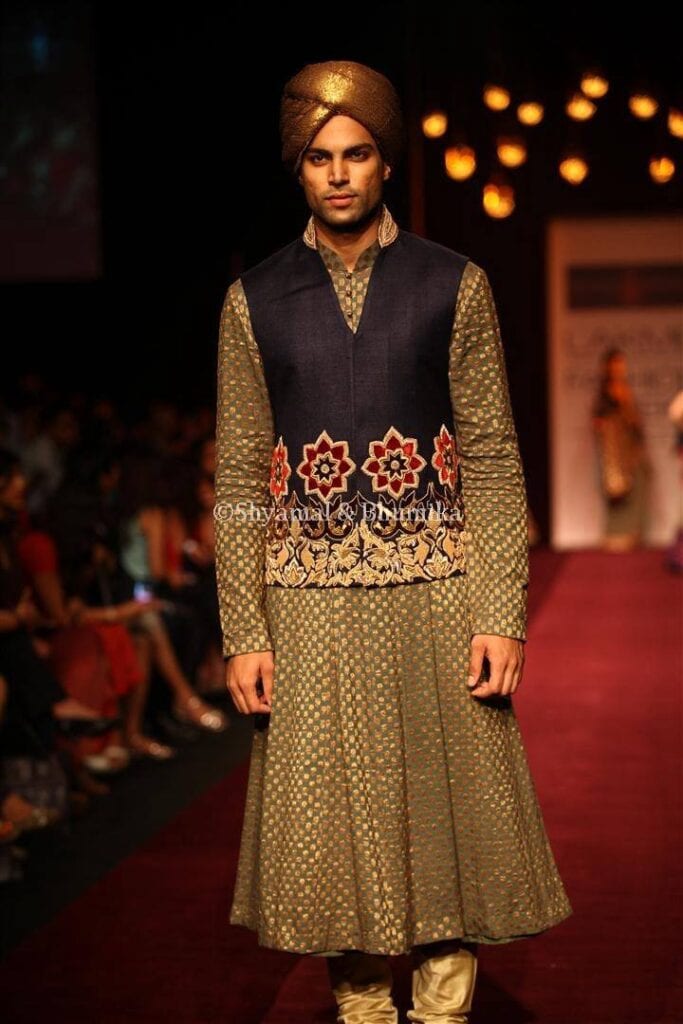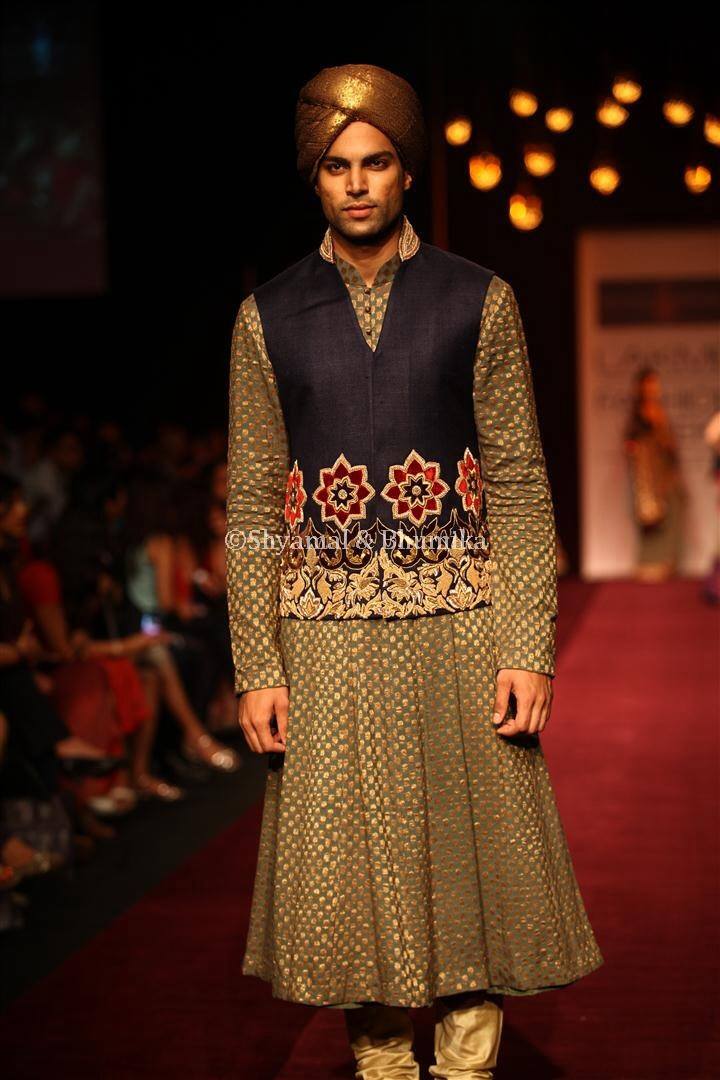 ↓ 5 – Printed Kurta For The Wedding Outfit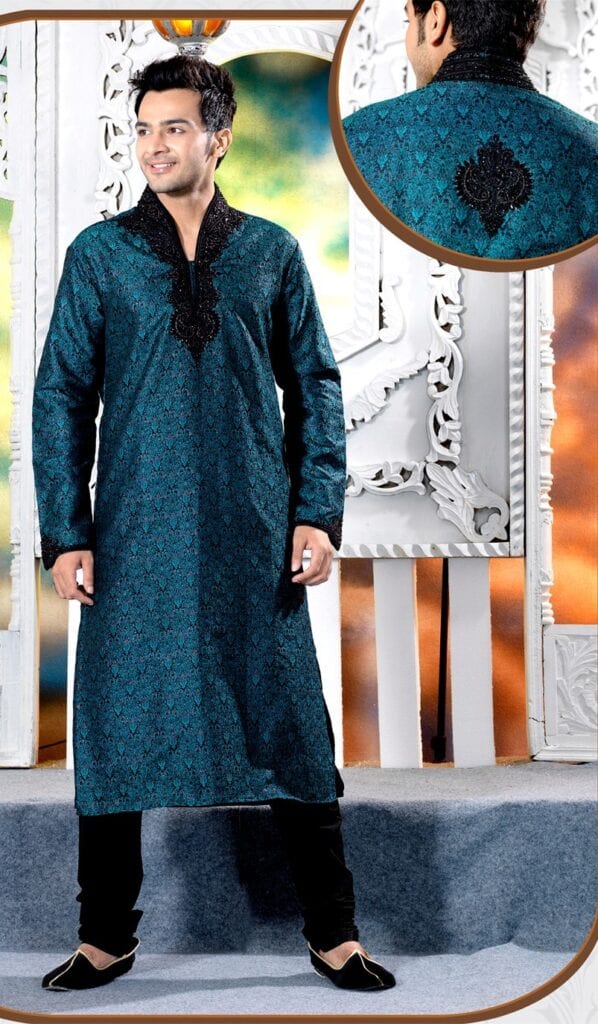 ↓ 4 – Jamawaar Kurta Pajama For Men
Jamawaar is the clothing of festivity so when you wear jamawaar it means that you are dressed for some formal event. Beards look great with eastern kurta attires so here are some of the best Beard Styles for Asian Men.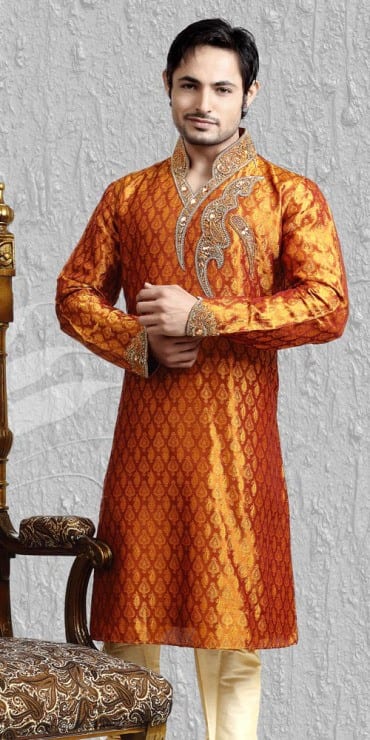 ↓ 3 – Different Hair Styles With Kurta Pajama Outfits For Men
Short hair look good with Kurtas. In short hairstyles you can choose any to got with kurta.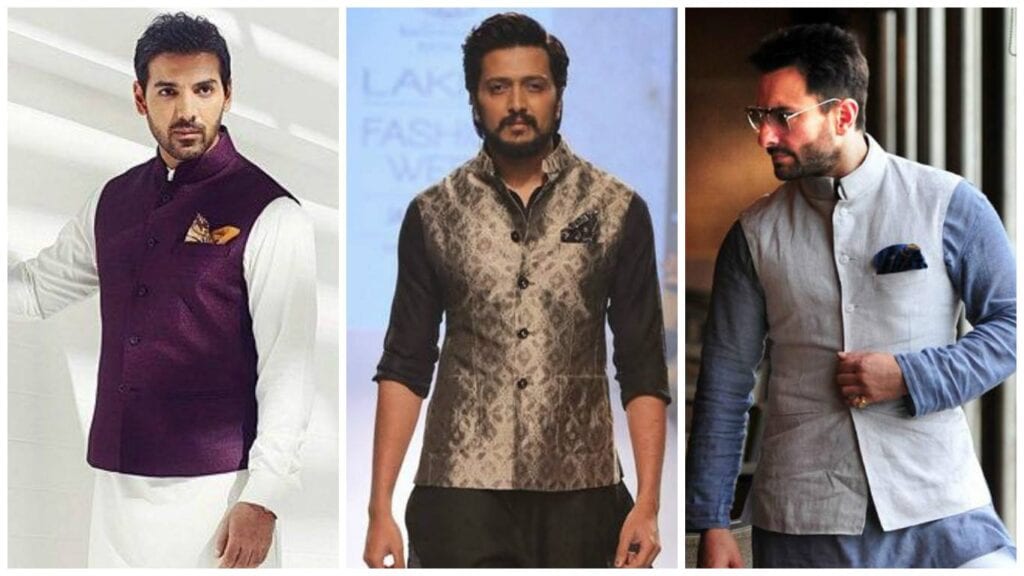 via
 ↓ 2 – Kurta With Tilla And Embroidery On The Band And Necklines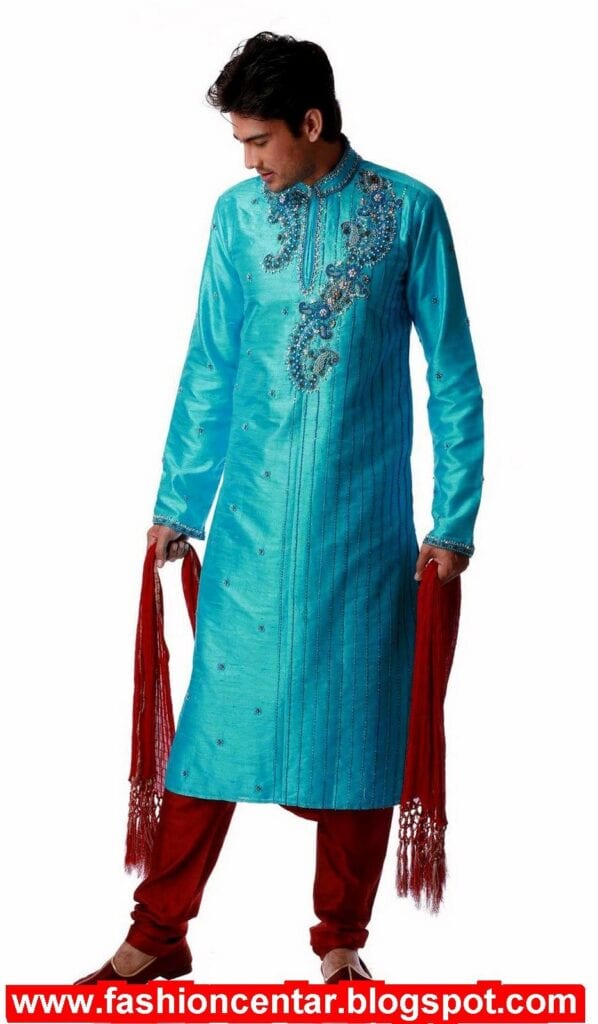 ↓ 1 – Kurta With Collar For A Formal Look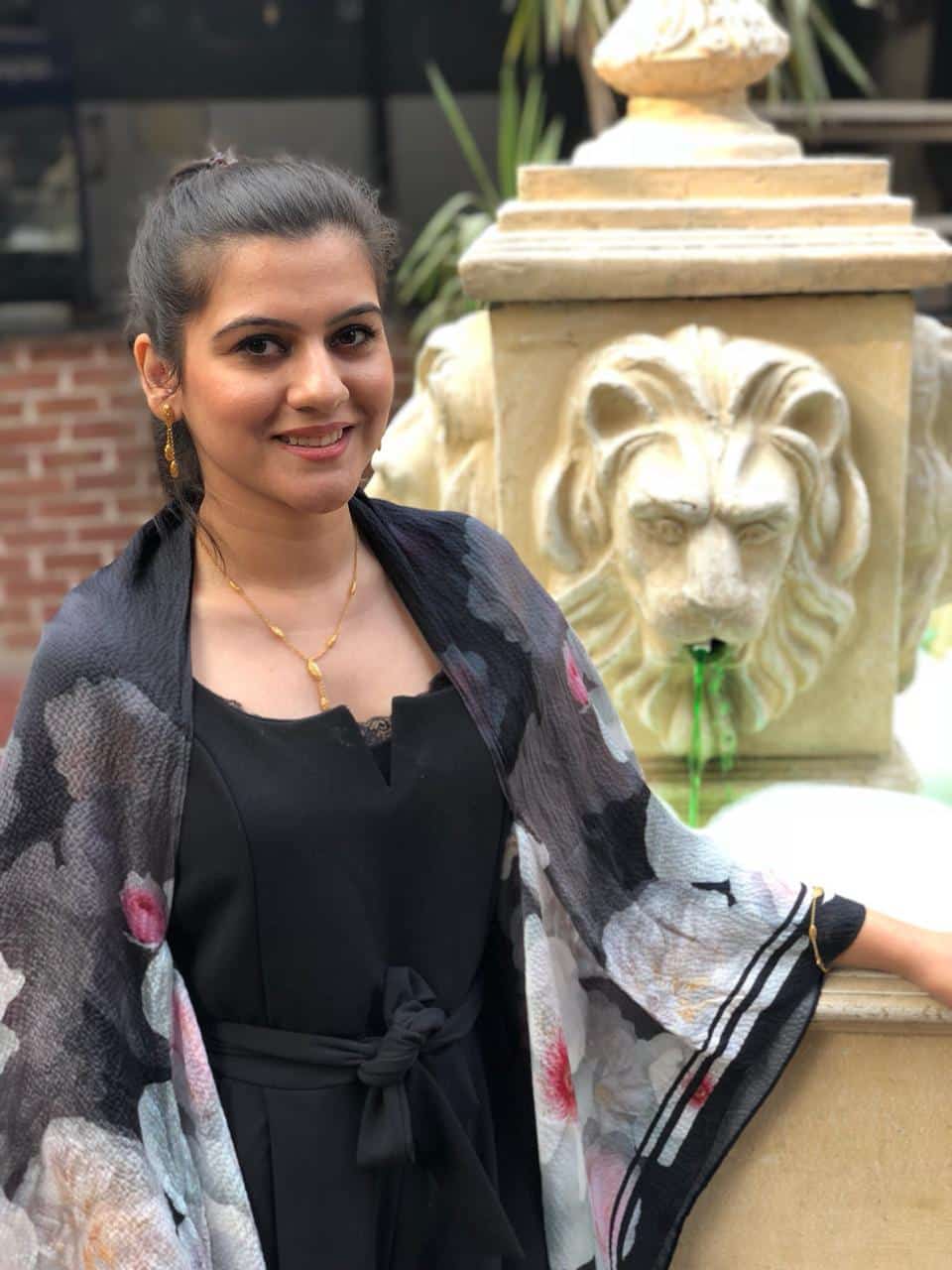 A content writer by the day and a reader by the night – two things that she loves the most. When Zoona isn't writing, she'll either be thinking of what to bake next or where to travel next. When it comes to writing, she has always been a storyteller and one of her short stories was published in 2014 in the Oxford University Press's anthology of contemporary short stories, I'll Find My Way.  Her love for fiction writing also drove her to complete a short course on "How Writers Write Fiction," at The University of Iowa. Her other interests include binge-watching Netflix or online gaming.