Beard Styles For Asian Men. Have you heard the news? Asian guys can now rock amazing beard styles just like any other men. Kevin from Fentouzy said that Asian men are fashionable and best known for their iconic hairstyles. And there are several styles of beard that look great in Asian men. A clean-shaven look is gaining more popularity each day, but some prefer having a thick beard look.
Some immensely catchy Asian beard styles that people from all cultures have aspired to and made sure no distinct beard styles they miss apply to themselves. If you, too, happen to have missed what Asian (Indian, etc.) beard styles can do, here's your chance to know.
Best Asian Beard Styles Ever
First off, you have to realize that growing a beard could be challenging. For a long time, people thought that Asian men struggled to grow their beards. Other than added sexiness, the job of facial hair is to keep your face warm. So people living in colder regions like Norway, Sweden, and Russia, can grow full beards without a second thought. But those who live in warmer places, like Africa and some parts of Asia, just don't need it.
While many Asians can grow facial hair, it's rare to see them with beards. According to Bald and Beards, the Chinese simply shave their beards because it's difficult for them to grow hair. And many Asian families may never have tried to grow a beard because of the stigmas against having facial hair.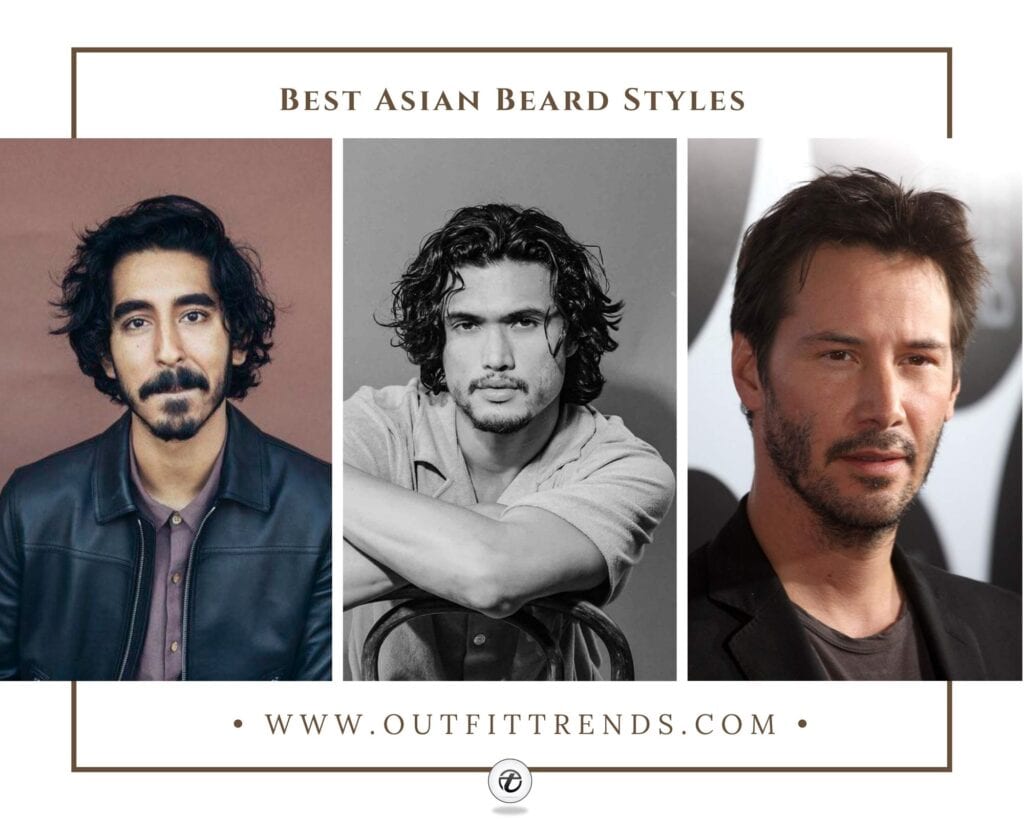 But that doesn't mean that Asians can't try it. For one, Bruce Lee was able to do it. But not every man is willing to dedicate their time and money to maintain a perfect beard. Hairstyle Camp said that beards that Asian guys don differs, from goatees to full beards. And if you're tired of a clean-shaven look and wcabant to try something new, grow out your facial hair, and before choosing your style, consider these tips first:
Beard Style Tips For Men
Choose your style. Examine the way your hair grows before choosing a beard style. It would be a smart move to opt for a goatee or a chin curtain. While developing a full beard is possible, accept that not all Asians look good with it.

Having thick and long facial hair doesn't mean you have to go full-on in growing it as long as you want. Some Asian men prefer to have the biggest hair cluster on their chins and a few bristles on the cheeks.

Make sure it's appropriate. Bald And Beards

said that growing your beard isn't always seen as appropriate in Eastern cultures. From goatees to full-grown, thick styles, Asian men have always seen having various facial hair. It's just not generally welcome in some circles. And even short stubble on the upper lip could still be deemed unprofessional in some cultures. And in Japan, having facial hair can be controversial, especially in business or corporate settings. That's why many Asian men grow their beards after moving to the West, where it's not an issue.
Have a look at these famous Asian beards that all men have to try. Some of them include the color of catchy Indian stars, while some have got covered by Korean and Chinese personas. So have your glance at it, and find out what makes you the star of Asian styles.
RECOMMENDED: Celebrities Beards Styles-30 Most Sexiest Actors with Beard
Beards can definitely bring a totally new and improved personality to a guy. Don't believe us? See for yourself how different this Asian guy looks with and without his beard. We're sure that you'll agree that his bearded look is so much better than the other one. And in case you don't know, he's a famous television actor from Pakistan, Hamza Ali Abbasi.
↓ Know Your Beard Style
If you are quite unsure of what to do with your facial hair, look at this guide from Real Men Style.
↓ 34 – Charles Melton
This Riverdale actor (Reggie Mantle) has a patchy beard in this photo. Guys with the same face shape as his look great in Van Dyke, Balbo, and Garibaldi.
↓ 33 – Avan Jogia
Avan Jogia landed his first acting role in 2006 as Danny Araujo on the "A Girl Like Me.' A patchy beard doesn't bother him. Men with this face shape look great in Van Dyke, Stubble, and Full Beard.
↓ 32 – Ross Butler
You may know him as Zac in Netflix's 13 Reasons Why. In this photo. Long, medium, and short stubble would suit him well.
↓ 31 – Lewis Tan
↓ 30 – Manish Dayal
↓ 29 – Dev Patel
This Slumdog Millionaire actor can rock a full beard style perfectly well.
↓ 28 – Brian Tee
↓ 27 – Keanu Reeves
Keanu is part Chinese. You may know him well for portraying Neo in The Matrix. He can rock almost any beard for his face shape. But stubble, goatee, and full beard would suit him best.
↓ 26 – Ben Kingsley
If you've seen Iron Man 3, you might be aware that he played "The Mandarin." Older guys like him can don a circle goatee effortlessly, provided that it goes well with your face shape.
↓ 25 – Dave Bautista
This WWE American Wrestler is half Greek and half Filipino. He is also known for playing "Drax the Destroyer" in Marvel's Guardian of the Galaxy. A full beard style agrees with him.
↓ 24 – Amol Rajan
↓ 23 – Himesh Patel
↓ 22 – Virat Kohli
↓ 21 – Tiger Woods
At age 21, Tiger Woods became the youngest Masters champ. This golf pro can carry various beard styles, from Balbo to Bandholz and even Mutton Chops.
↓ 20 – New Beard Style of 2021
The new beard style of 2021 for men has got a bit of Asian element to it and what most Asian men opt for.
↓ 19 – Ryan Reynolds Hunter Beard Look
The hunter beard look is what many Asian men apply on their beards, and now you have got a celebrity example of how it may look.
↓ 18 – The Heroic Chinese Look
The heroic beard look of many Chinese men is what you need in your Asian beard style.
↓ 17 – Bollywood Beard Style
Take tips from the Asian-Indian glamor and copy the epic style of Emraan Hashmi in many of his hard-hit movies.
↓ 16 – Aamir Khan's Fierce Beard Look
The Asian beard that gives a fierce essence to your personality is what this beard style is all about. Try this fierce beard look of Aamir Khan for a change.
↓ 15 – The Korean Formal Beard Look
The formal look that rules the style of all Koreans has got to be your signature look too. So try it now. To rock the complete Asian look, check out Asian Hairstyles for Men; 30 Best Hairstyles for Asian Guys
via
↓ 14 – Imran Khan's Hunter Beard Style
Imran Khan's thick-grown beard is for all those who tend to look a bit edgy when it comes to looks. Get your own edgy beard style here. If you feel that you can't grow a full beard like this, let us share some tips. To start, even if you have no hope and feel your beard is too patchy, just let it grow for once. Give the beard at least one whole month to grow, and then see what you get to work with. Keep using beard oils regularly to ensure healthy growth. Avoid stress and do work out for at least 15 minutes a day as these little things can help a lot with your facial hair growth. Take a healthy diet, and if you feel that all this isn't helping, visit a doctor and consult for supplements. There are many supplements available in the market that claim to improve facial hair growth, but only a specialist can help recommend the right one for you.
↓ 13 – Casual Asian Beard Style
If your beard doesn't grow much, then here's a great look that works well with most face shapes. Find it good enough? Try it now. This beard style seems simple, but it involves many details, such as the goatee paired with a soul patch. If you wish to grow a soul patch, you need a perfect trimmer because the areas around the patch can be hard to trim.
↓ 12 – Men's Street Beard Look
The grimly satisfying look of Asian men who opt for treating their street styles as best as they can, with a half-grown beard and up-high gelled hair.
↓ 11 – Anthony Thornburg Sexy Beard Look for Men
The captivating Asian star has got some sternly fashionable beard styles for you. Try his most appealing beard style for men this year.
via
↓ 10 – Fawad Khan Beard Looks
The increasingly famous Pakistan star who's on his way to great things and films has more to offer, and that's his immensely catchy beard styles. Check out French Beard styles; 15 Different French Style Facial Hairs
↓ 9 – Emraan Hashmi Roadies Style
↓ 8 – Gangster Beard
This beard style is all about swag. While it's well maintained, it also has a rough and tough edge to it which combine to give off gangster vibes. If you have a triangular jawline like this guy, then undoubtedly, you can carry this look.
↓ 7 – Beard Style for Oval Face Shape
Take tips from another Indian star to get by life and impress all with your unique Asian beard style. RECOMMENDED: Full Beard Styles and Tips on Growing and Styling Full Beard. Hrithik has the perfect oval face, which is why this beard and long hair both complement his face.
↓ 6 – The Full Mustache and Beard Look
↓ 5 – Bruce Lee Asian Beard Look
Who doesn't know and love Bruce Lee? But not many have seen his bearded look, and it definitely makes him look as amazingly cute as he always does! We're sure, though, that it took him a really long time to grow this beard!
↓ 4 – Hipster Beard Look
↓ 3 – Dreamy Look
Fawad Khan is a Pakistani actor who also gave some great performances in Bollywood. However, a lesser-known fact is that he has also been ranked amongst the top ten sexiest men from Asia, and we believe his dreamy beards had a lot to do with it.
↓ 2 – Beard with Gelled Back Hair
↓ 1 – Indian Beard Styles
As compared to men of other regions, Asians tend to have fewer facial here. However, when given proper care, Asian men can grow an amazing beard, and as proof, we prove with these sexy Asian men with awesome beards.
Whether you go for a cleanshaven style or a thick beard, Asian beards are undeniably unique. You never really know what looks best in you until you try.
Frequently Asked Questions
Q. Is a clean-shaven beard stylish in 2021?
A. The cleanshaven style is a classic beard style that will never go out of style. It offers a polished look; that's why it's also ideal for professional settings like the office. This is also great for men who don't like having too much facial hair or who can't grow enough beard. This allows the focus of the beard to remain on your jawline and hairline.
Q. How long does it take to grow beards?
A. There are some factors (like genetics) affecting the growth of facial hair in all men. It also depends on where you're born. For most men, it takes two weeks to notice a quarter-inch of facial hair growth. And although some Asians want to grow beards, it doesn't mean they can have the same thickness and length. Most men start to have facial hair after the stage of puberty.
Q. Do Asian men look better with beards?
A. While it's hard to grown and maintain a beard, some Asian celebrities with beards are living proofs that it's easy and fantastic to rock any beard, from pencil mustaches to long and thick beards. And Asian men look their best with short and sophisticated beards. Go for the sexy stubble style in the chin and cheeks. Go for a full-sized beard if your facial hair allows it. Just be ready for how much maintenance it needs. But some men end up choosing shorter beards that don't require too much care. The secret is to survive the first stages, where hair may tend to be patchy.