Bitmojis have taken digital fashion to a whole new level, now providing a range of different options to users inspired by real-life fashion trends.
Isn't it overly impressive considering the fact, how conveniently smartphone users can customize their avatars in whichever way they please? Playing with different colors, accessories, and outfits, it's surprisingly so fun!
If you are a fashion freak, it must be no sweat and highly plausible for you to modify and style your avatar, while keeping up with the latest trends.
For some of you, it might be trifling to spend time on styling your avatars, but studies show that millions of people are obsessed with using Bitmojis as they add a feeling to a normal conversation.
Moreover, Social Media Apps like Snapchat and Bitmoji App facilitate their users with a range of multiple features like Summer and Winter outfit collections, followed by a ton of styling options too!
Here's everything I'll talk about today:
How To Style Your Bitmoji?
Selecting the right outfit and accessories for your caricatured version can be a little tricky. The reason is the diversity of outfits ranging from dresses, shirts, and gym wear to seasonal outfits.
Moreover, your Bitmoji should create a realistic and personalized depiction of your virtual self. Therefore, we've compiled a variety of cute fits so you don't have anything to be browned off about.
Furthermore, whenever it comes to customizing your avatar, picking out the right hairstyle, hair color, and facial gestures are equally important, as they should closely represent you. So, what are you waiting for?
Without further ado, let's head on to your virtual closet as we serve you with some stunning outfit ideas.
Styling Tips
• Don't go overboard with accessories like glasses, hats, etc while styling your avatar, keep it simple and cute.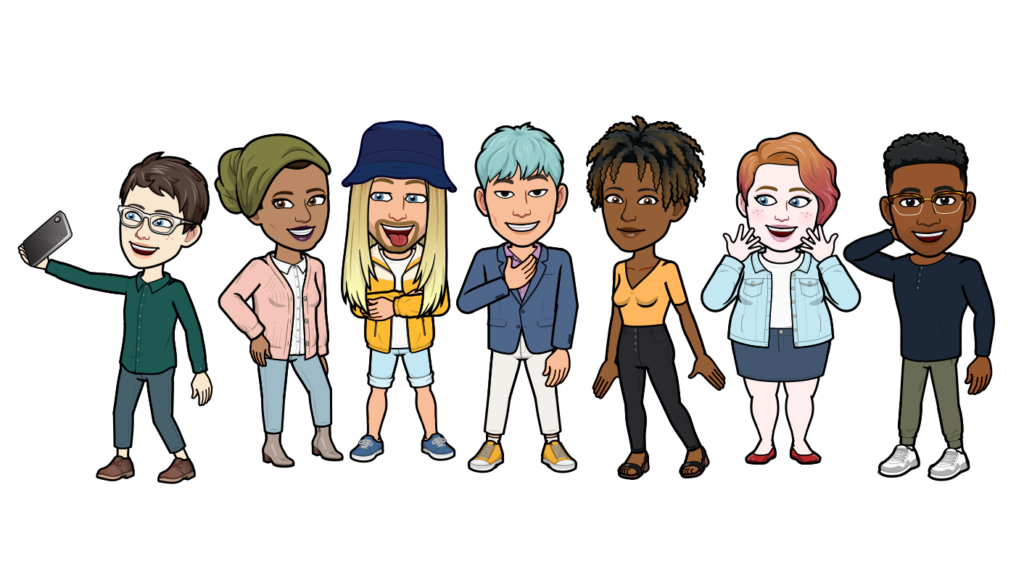 • Try keeping up with the ongoing trends, like styling a cute tank top with high-waisted jeans.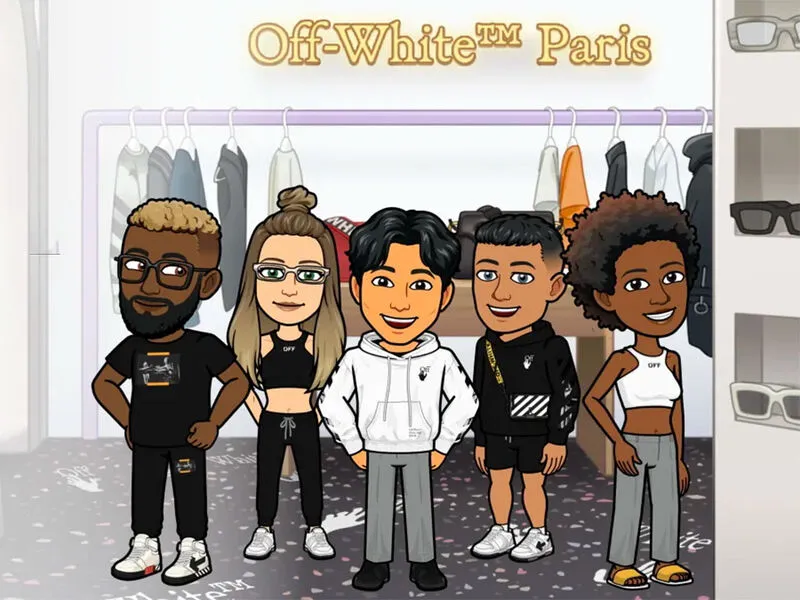 • When it comes to hairstyle, it should complement the entire look. For instance, selecting sleek, long hair with a sleeveless top or dress, whereas, a ponytail followed by bangs with an oversized hoodie.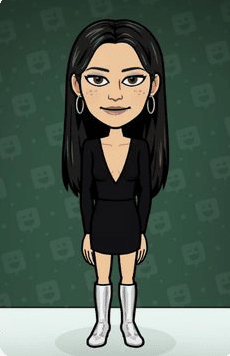 • Be mindful of the look you are going for, and always layer the outfits properly so that they look trendy and flawless at the same time. For instance, putting on a leather jacket over a crop top paired with wide-legged pants.
I personally love going for seasonal looks for my bitmojis.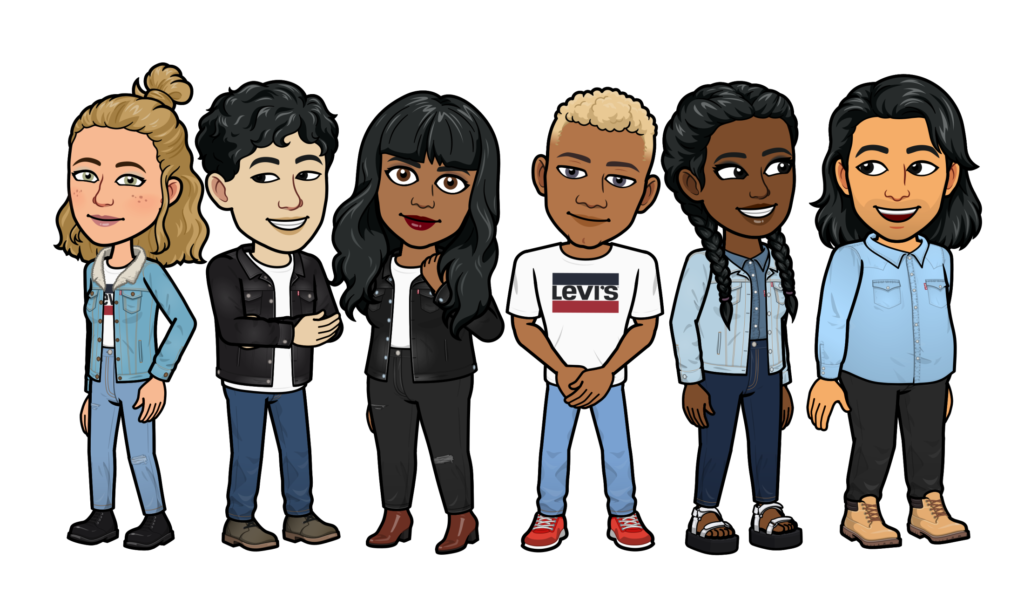 • Try not to stick to a single outfit for years, just expand the imaginative ideas you might have. Redress and pick cute fits your Bitmoji considering the vast variety of options there are.
Ideas for Girls
You can also get lots of female outfit ideas from our latest post on gacha life outfits.
30 – Floral Shirt Over A Sleeveless Top With Shorts
This is a call-out to all the wavy-haired girls out there, as this outfit aggregates the hair and will represent their selves by adding a funky touch to it.
The outfit includes a floral black shirt over a sleeveless crop top, paired with denim shorts and slippers, a classic beach fit.
The hairstyle looks simply decent with a flower clip as an accessory and beach waves.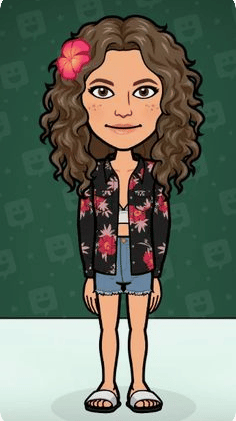 29 – Black Leather Jacket Over A Tank Top With High Waisted Jeans
This outfit will transform your avatar into a head-turner and make it stand out from others. Moreover, this fit gives emo girl vibes, including a black leather jacket over a matching tank top, paired with high-waisted jeans and white shoes.
The black beanie and straight hair are perking up the entire look.
And if you would want to give this look a try IRL, then I highly recommend checking out these Leather Jacket Outfits.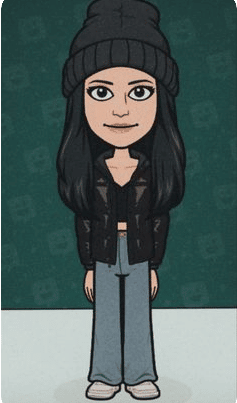 28 – White Printed Top Paired With Two-Toned Pants
How adorable is this valentine's outfit, adding an ethereal touch to the entire look. A heart-printed tank top, paired with two-toned pants is going to be the ultimate fit for your avatar.
The pink-red color combo with matching shoes looks elegant but effortless.
Lastly, wavy hair with curtain bangs would be the go-to choice; no strings attached.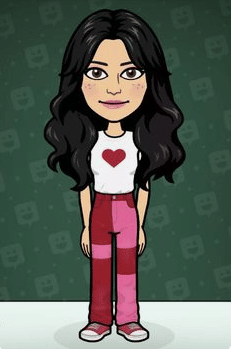 27 – Black Crop Top Paired With High Waisted Jeans
Deep neck crop tops are still in trend these days, and uplift the all-over look, so here's an outfit inspiration for your bitmoji too.
A black crop top paired with high-waisted jeans is going to be an effortless way of styling your avatar.
You can never go wrong with choosing black, but here, a red top could do wonders too. Lastly, head on to your footwear collection and select a pair of white joggers or sneakers.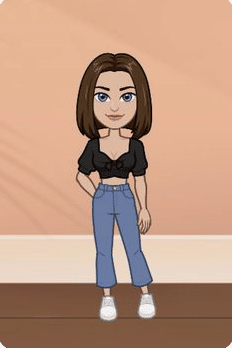 26 – Long Coat with Knee High Boots
If you are a boss lady, this is the perfect outfit inspiration for your avatar, which will represent your personality and charm with exquisiteness.
Dress your virtual self in a black skirt coat paired with knee-high boots, and some jewellery as an accessory, and you are good to go.
You can also put on leggings underneath, or change the footwear to heels, just be innovative with what you do.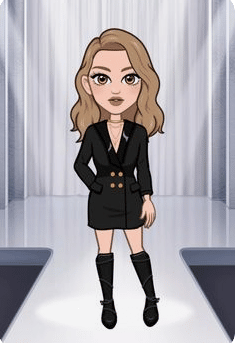 25 – Pumpkin Hoodie With Oversized Trousers
We've got your back if you don't want to go overboard with dressing your avatar and prefer simple outfits.
Hoodies are the most comfortable and versatile piece of clothing so, here's a minimal fit inspired by Halloween.
A spooky pumpkin hoodie paired with oversized trousers and sneakers. If you are not a fan of oversized trousers, black tights would surely work here.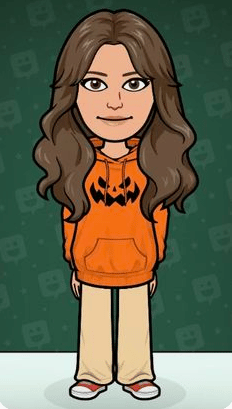 24 – Sleeveless Black Top With Front Button Skirt and Knee High Boots
This outfit is an example of pure perfection and is styled immaculately. Moreover, the hair and jewellery are the game-changer here, so don't miss out on this look.
Dress your avatar in a sleeveless tank top paired with a brown button-front mini skirt.
You can also pair the top with shorts or jeans. Complete the look with knee-high black boots and you are done. Simple additions include a cute necklace and some makeup.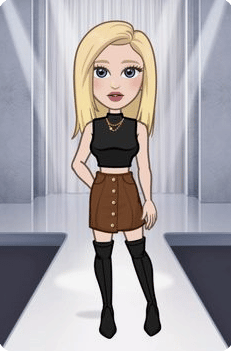 23 – V-Neck Long Dress With White Boots
Unable to come up with a cute outfit idea? This look is for you. The following fit is serving bold and classy looks, yet effortless and unsophisticated.
Pair a V-neck black dress with knee-high white boots, and earrings as an accessory.
If you don't like the black-white combo here, go for matching footwear or select a dress that would go with the white boots.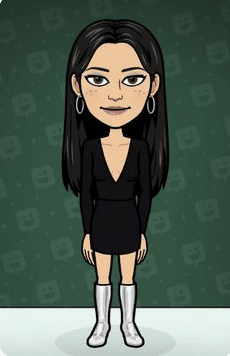 22 – Brown Cardigan Over A Button-Down Shirt With Matching Bottoms
Sweaters over button-downs have been the talk of the town for a while now, and they add a touch of simplicity and elegance to the entire outfit.
So, if you want to represent your avatar in the same way, here's a classic look.
Throw a brown cardigan over a white, button-down shirt paired with matching pants, and cute flip-flops.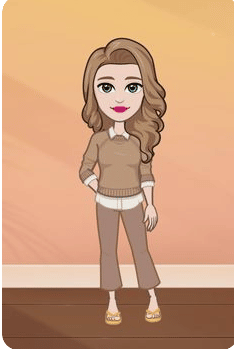 21 – Black Tank Top Paired With Neon Green Cargo Pants
Cargo pants are enjoying renewed popularity this year, so why not try them on your avatar too? This outfit is surely the bee's knees, including a black tank top paired with neon green cargo pants and white shoes.
You can incorporate simple additions to the look by changing the hair into a bun, and selecting a necklace for the accessory.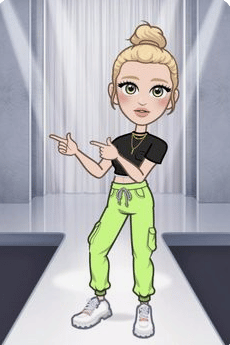 20 – Long Sleeve Striped Shirt With Matching Skirt
If you are a fan of color-coordinated outfits, you've landed in the right place. Here, a white shirt with blue stripes is paired with a white skirt.
Round off the look with a cute, blue headband and matching sneakers.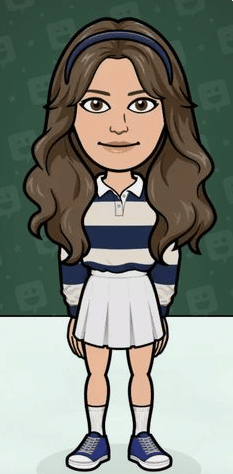 19 – Red Crop Top Paired With Wide-Legged Jeans
Tank tops are the go-to fit for every girl these days because they look smart and neat, to our surprise, they look adorable on bitmojis too.
Here, a red top is paired with high-waisted jeans and red joggers. The pull-back cap and earrings are accentuating the entire look.
Final touchups could include freckles and extra wavy hair, totally setting off the look.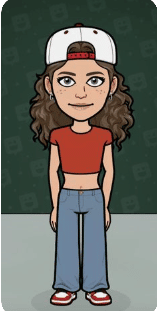 18 – Brown Checkered Shirt With High Waited Pants
This outfit is surely the cut above the rest, elegant and chic. The avatar is dressed in a tucked-in checkered shirt paired with flared pants, secured with a cute belt.
The yellow headband looks lovely along with white sneakers, and light makeup.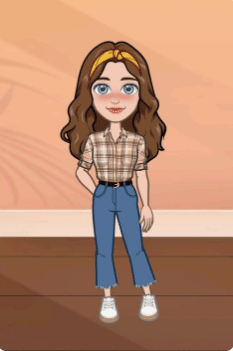 17 – Green Sleeveless Crop Top With White Pants
Have you ever paired green and white fits together? Well, this outfit validates the green-white combo.
So, here's your sign to dress your bitmoji in a beautiful bottle green sleeveless top, paired with white pants and shoes.
Moreover, head on to the earrings collection and put on some funky pieces on your avatar.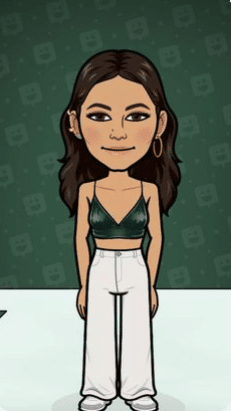 16 – Pink Floral Summer Dress
Dresses are must-haves and they last in your closet all year long. If you are skeptical and unable to find the perfect outfit for your avatar, go for a basic dress, like this one.
A perfect summer dress with beautiful floral prints and white shoes is more than enough.
For those who don't like shoes with dresses, you can always add variations to the look. And yes, don't forget the cute flower clip.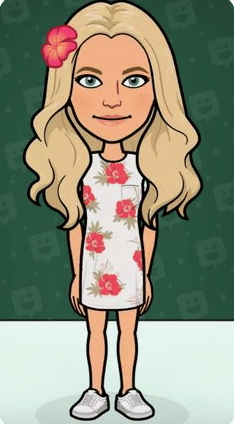 15 – V-Neck Sleeveless Top With Black Leather Pants
A perfect implication of real-life fashion is the leather pants trend! So, dress your avatar in a sleeveless white top paired with dark-coloured leather pants.
The half-tie buns and check loafers would surely bring the entire look to the fore, otherwise, simple footwear can work too.
However, you can emphasize this look by putting on a fur or leather jacket over the top.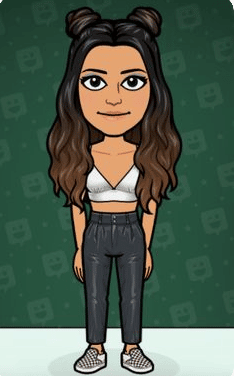 14 – Green T-Shirt Over A Black Top Paired With Mini Skirt
The following outfit combo might look weird, but there are no strings attached to playing with different styles and pieces.
If you want to go with this look, dress your avatar in a black crop top paired with a mini skirt, and pull over a green T-shirt.
Top off the look with some cool shades and white joggers. Other groovy accessories that might go with this look are ear piercings, headphones or headband, etc.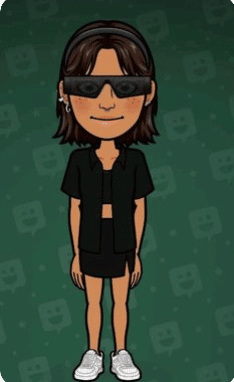 13 – Yellow Tank Top with Matching Bottoms
If your favourite colour is yellow, here's the outfit inspiration you need, a simple look, but worth it! Put on a sleeveless yellow tank top with matching pants and headband, of course.
Not satisfied with the all-so-yellow look? Black high-waisted pants might help.
For the footwear, sandals would look pretty decent, but shoes would suffice too. You can even get some more ideas like these from our collection od Yellow Outfits For Women.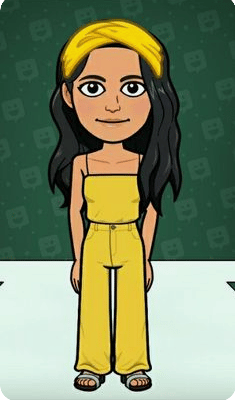 12 – Sleeveless Jacket Over a Sweatshirt Paired With Simple Pants
Here's an inspiration for those who prefer neutral-colored outfits. Sweatshirts are the go-to fit for winters.
So, if you are thinking about redressing your avatar, put on a light-coloured sleeveless puffer jacket over a dark sweatshirt, paired with trousers or pants.
Complete the look with joggers and some cool earrings.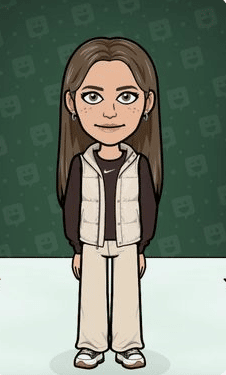 11 – Blue Varsity Jacket Over A Plain Shirt Paired With Matching Pants
Want to add a sportswear look to a casual outfit? A Varsity jacket can be the ultimate choice, a standout piece that looks unconventionally cool, inspired by high school outfits.
Pair a blue varsity jacket with matching high-waisted pants, and a tank top underneath.
In addition, headphones would be a perfect fit for this look, followed by white sneakers.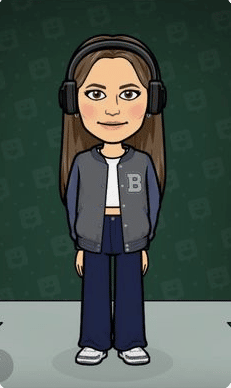 Ideas For Boys
Generally, most of the men's outfits you see on social media are pretty bland, unless one who takes fashion seriously like all the women out there, jumps on the bandwagon.
If you are one of those people who wants to ignite a spark in your dull bitmoji, here are some interesting ideas for you.
10 – Blue Sweat Shirt Paired With Black Shorts
As mentioned before, sweatshirts are the go-to outfit for both men and women. Here, a blue sweatshirt is paired with black shorts and shoes, and the shoulder bag and jewellery are jacking up the entire look.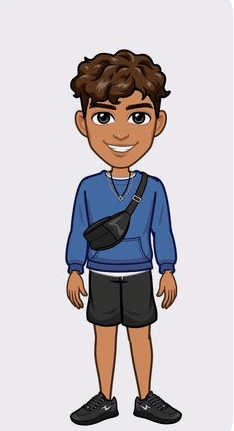 9 – Black Sweatshirt With Dark Grey Pants
Here is the most jaw-dropping outfit that is both smart and casual. Put on a black sweatshirt on your avatar and pair it with dark grey pants and green joggers.
Simple add-ons would include jewellery or you can also go for ear piercings.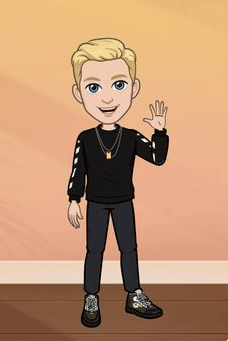 8 – Red Puffer Jacket Over A White Tee Paired With Blue Trousers
Puffer jackets always look chic and besuited, especially on men, so why not try on your bitmoji too?
This one is dressed in a red puffer jacket with a white tee underneath, paired with dark blue trousers and sneakers.
7 – Green Hoodie Paired With Black Trousers
If green is your favorite colour, you should go for this sporty outfit look.
Put on a green hoodie on your bitmoji paired with black trousers and grey joggers.
If you're a hoodie guy yourself then do check out these 40+ Ways to Wear a Hoodie Stylishly.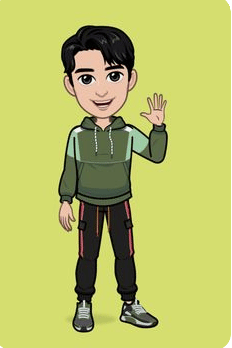 6 – Black Sweater Over Button Down Paired With Wide-Legged Pants
K-Pop fans would surely relate to the craze of oversized outfits and this all-the-go haircut.
If you want to keep up with this trend, dress your avatar in a white button-down shirt and put on a black oversized sweater over it. Pair it with wide-legged jeans and white sneakers.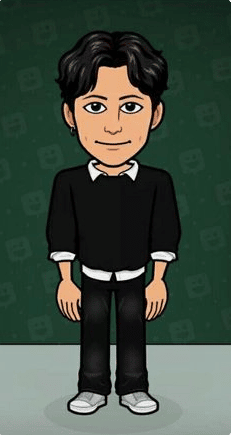 5 – Printed T-shirt Paired With Brown Pants
Are you in search of a casual, yet classy outfit for your avatar? The following fit is a perfect summer attire and an effortless option to style your virtual self.
Put on a printed T-shirt over a Tee, paired with dark brown trousers and green sneakers. They are a ton of other printed designs available as well, so choose accordingly.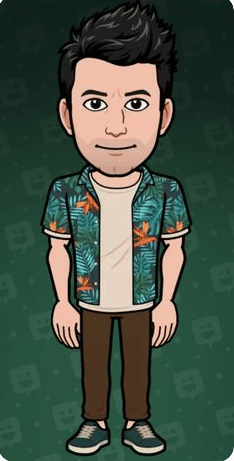 4 – Maroon Jacket Over A High-Neck Paired With Jeans
High-necks are a modern and essential piece of clothing that almost every man owns. Moreover, they add a touch of charisma to your look if you layer them properly.
So, head on to your virtual closet and put on a maroon jacket over a black high-neck on your avatar, paired with skinny jeans. For the footwear, black sneakers would look perfect.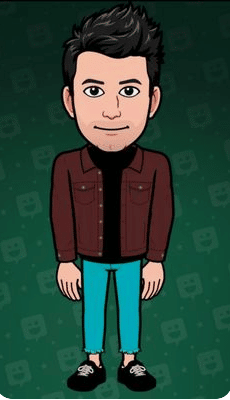 3 – Denim Shirt Paired With Denim Jeans
Denim is one of the most versatile and common wardrobe staples when it comes to pants, but denim shirts are even paving their way into everyone's closets.
If you don't want to overdress your bitmoji, put on a denim shirt and pair it with jeans.
Overall, this combination would look effortless and serve the smart-casual dress code. For the footwear, white loafers would look completely fine.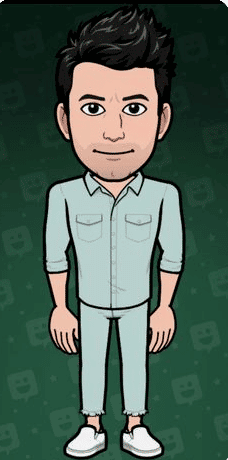 2 – Yellow Puffer Jacket Over a T-shirt Paired With Black Pants
Although, yellow might not be everyone's favourite but the following outfit is surely invalidating the previous statement.
If you are a fan of this combo, put on a yellow puffer jacket on your avatar with a white T-shirt underneath, and pair it with black jeans.
1 – Striped T-shirt Paired With Ripped Jeans
Let's end the outfit list with a basic everyday look. Pair a striped shirt with ripped jeans and green joggers, you can even play with different colours; no biggie.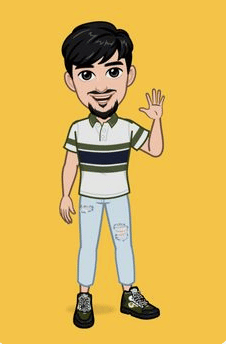 Frequently Asked Questions
Q. How do you tuck the shirt into your Bitmoji?
Q. Can Bitmoji have nose piercings ?
Q. Can Bitmojis wear Jewellery?
Q. Can we buy clothes for our Bitmoji?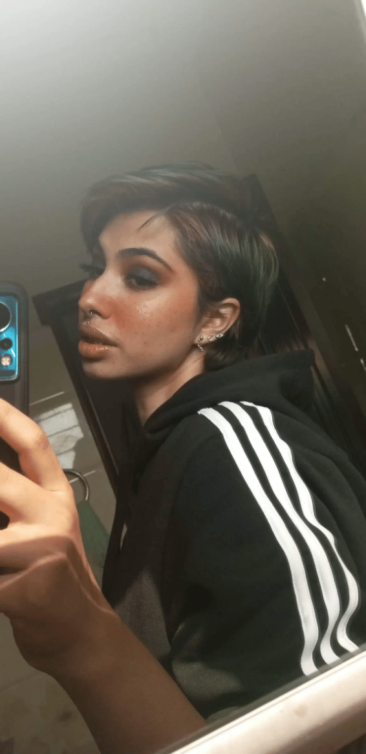 I am a women's holistic health coach and student that enjoys history, experimenting with makeup and skincare, playing sports, working out, and doing all things adventure-related.