Men's Outfits With Mustard Pants. Admit it, when you are in a good mood, you feel like you want to express your joy and share it with the world. Well, wearing a pair of mustard pants is an interesting way to do it. From T-shirts to suits, you can use your daily wardrobe to create great looks with just a pair of mustard pants.
When it comes to bright-colored pants, guys are a little bit dubious. They always want to go for something that is not too flashy and bright. Mustard yellow pants are no exemption to that. Be that as it may, since the design is an announcement, and yellow means jauntiness and happiness, at that point, I think to give a splendidly hued mustard match of pants an attempt does not by any stretch of the imagination hurt.
What to Wear with Mustard Pants for Guys
How about we start with a couple of things that can be of assistance. The following tips might help you style your mustard pants without breaking a sweat:
Don't team up one dynamic shading with another. You can combine yellow jeans with blue, black, white, and other quieted tones. As an emphasis, yellow combines especially with great menswear.
Match the color palette of the tie with your pants and shoes.
The ideal pairing would be cuffed light yellow pants with a striped shirt and a denim jacket for everyday life.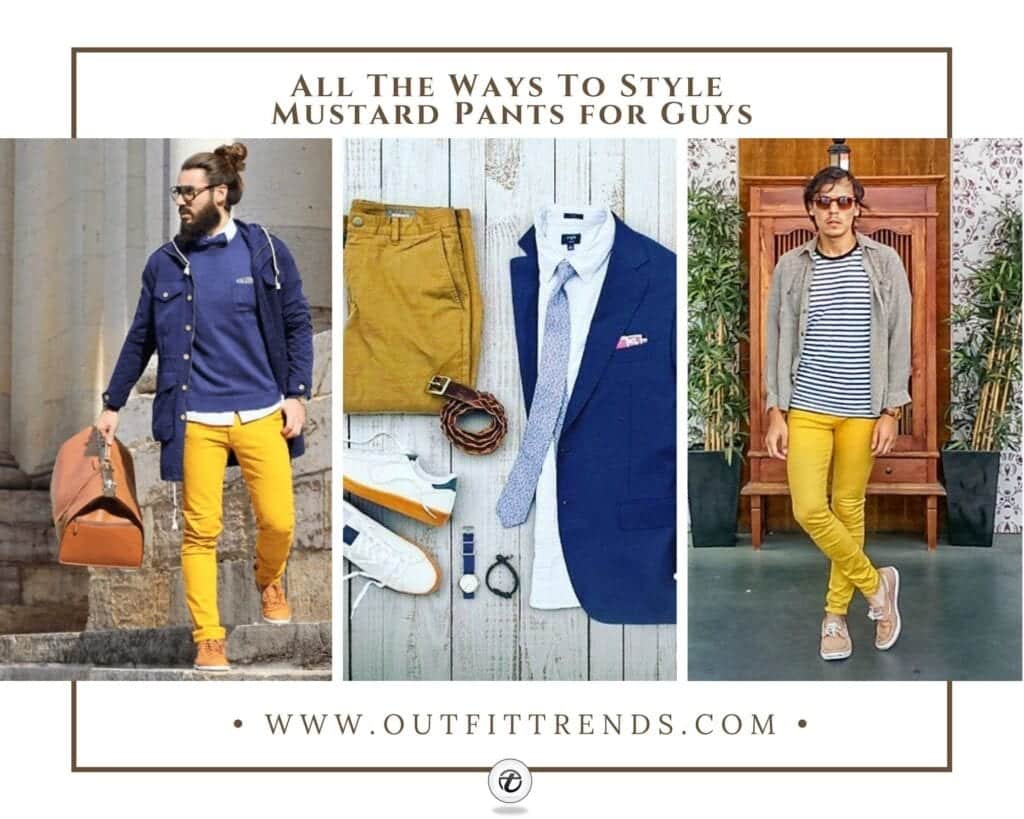 Mustard pants might not be for everyone, but there are still ways to pop them up. You don't need to make special tops to pair the mustard pants. Even the simple staple can go well with mustard pants. Here we have arranged many styling thoughts that you can make utilization of. With this dressing guide, you would be ready to impress anyone:
↓ 35 – T-Shirt With Mustard Pants
A simple combo of a basic tee and mustard pants can be your go-to casual wear. Choose dark colors like black for your shirt options as mustard and dark hues (especially black) make a perfect couple.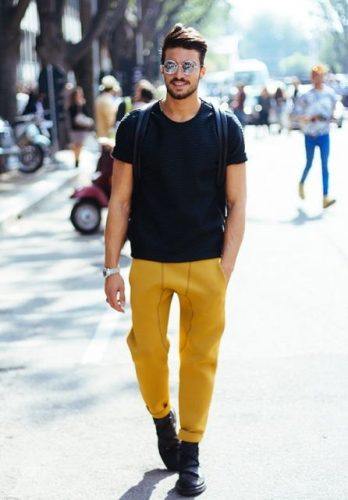 ↓ 34 – Mustard Pants Tracksuit
Time for some athleisure vibe. If you are out for a run or whenever you feel pumped up to hit the gym, this one's for you. It's a good idea to opt for a monochrome style.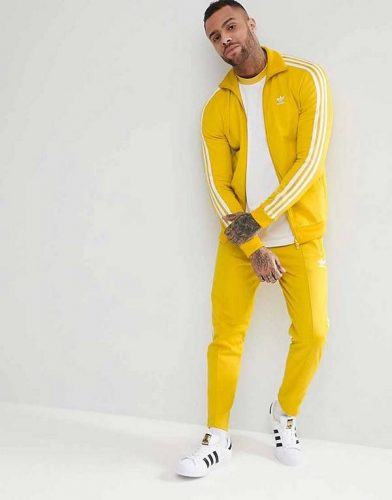 ↓ 33 – Mustard Pants With White Sneakers
Don a preppy look by wearing a navy blue blazer over a white button-down shirt. And please, don't forget the tie. The shirt would create a uniform look as you will finish off this look with white sneakers.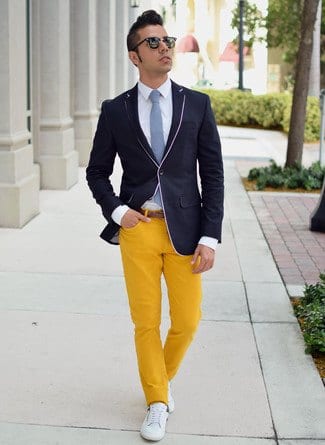 ↓ 32 – Mustard Pants For Older Men
Mustard pants might be joyous and flashy in color, but it does not mean that they're only for millennials and Gen-Z alike. Older men can also wear them. In fact, they look good in them, especially when worn in a smart or business casual way—my advice: try to match the footwear with your blazer, sir.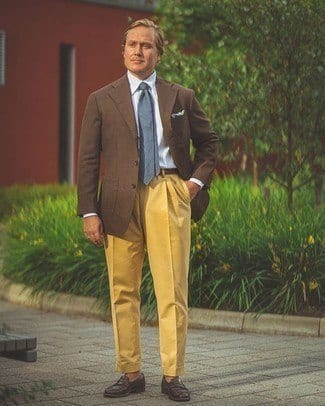 ↓ 31 – Mustard Pants With Brogues
Yellow jeans (mustard pants) also look nice with dark-colored calfskin shoes. Blue, brown, and mustard – mix them and voila! You are in for a chic outfit ensemble. Pair your mustard pants with a blue blazer thrown over a striped shirt (like Breton). Your brogue shoes should match your belt. And rock those glasses if you are more on the nerdy side of things.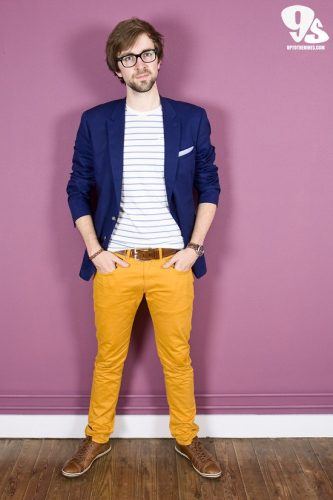 ↓ 30 – Mustard Pants With Classic Boots
You know what season we're in when you see people wearing boots in the streets. And, of course, it's a no-brainer to ditch boots in a hot climate. This calls for a winter wardrobe flex: so pair your mustard pants with a dark brown blazer in tweed or wool fabric and use a turtleneck sweater as your undershirt. And lastly, grab that scarf to complete the ensemble.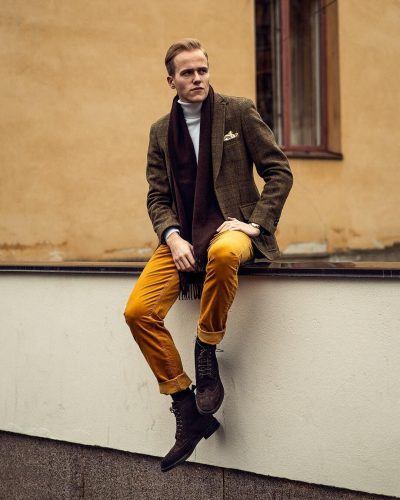 ↓ 29 – Business Casual With Mustard Pants
Wear a blue button-down with your mustard pants. Don't forget to tuck them into your pants. If you are rocking this combo to the office, make sure you're wearing socks. On the other hand, going sock-free with your loafers calls for a smart-casual outfit that's more suitable for date nights and lunch-outs than workdays.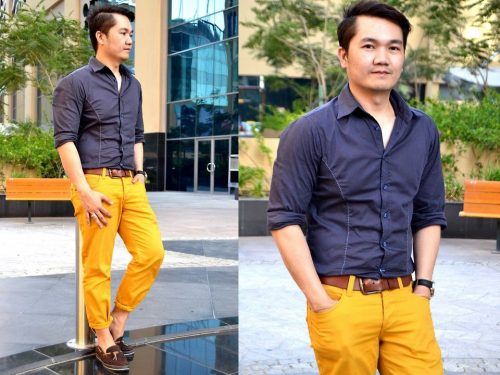 ↓ 28 – Flannel With Mustard Pants
If you plan on pairing your mustard pants with flannels, limit your options to blue hues, and never wear them with yellow, green, and red. Please, don't.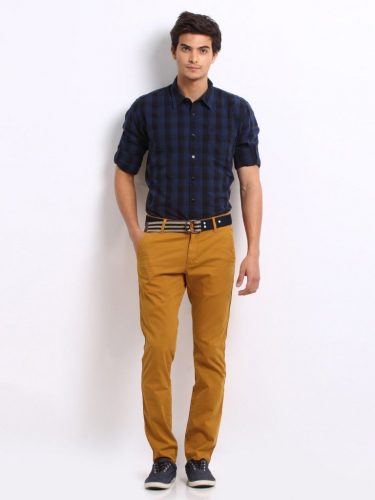 ↓ 27 – Formal Outfit With Mustard Pants
It's been a long time without you, my friend. But this is not Charlie Puth telling you to hang out with your friends wearing this formal outfit. Instead, rock this getup when you're attending galas, traditional weddings, and special birthday celebrations. If you are not a fan of bow-ties, go for a regular necktie, but keep it black.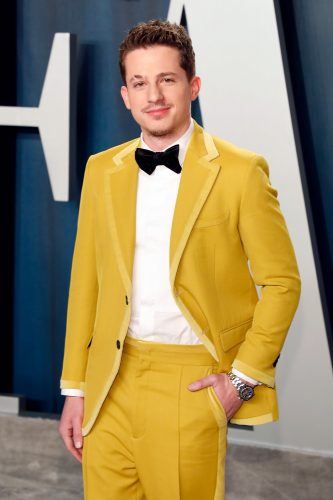 ↓ 26 – Smart Casual With Mustard Pants
Try wearing your mustard pants with a denim jacket. It's not obligatory to get the usual shade. It's also up to you whether you'll tuck it in, but a friendly fashion tip is to roll up the sleeves, especially in the summer and spring seasons.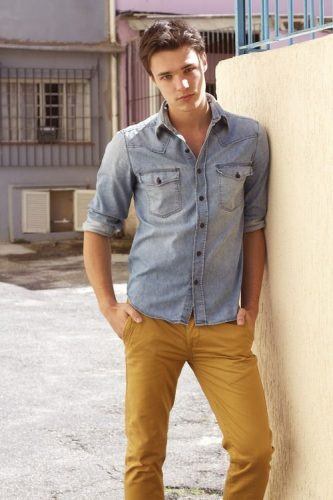 ↓ 25 – Mustard Pants With Knitwear
Knitwear and mustard pants combined can be your loungewear outfit. Wear this combo when binge-watching your favorite shows while wrapped in a cozy blanket. This can also be your go-to school campus outfit, especially in colder seasons.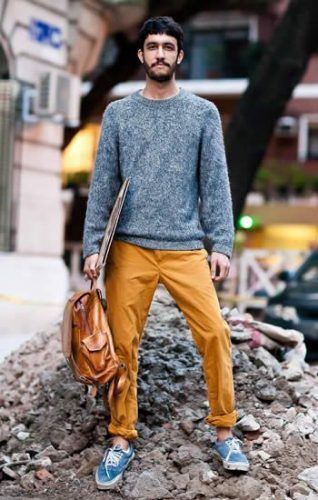 ↓ 24 – Monochrome Mustard Pants Outfit
I've never seen a more sleek and dapper outfit with mustard pants. If you have a shirt jacket (preferable in corduroy fabric), wear it with mustard pants of the same shade. Use a dark brown tee as an undershirt. And I know you've been hiding those dirty white sneakers for so long, but now it's time to expose them to the public.
↓ 23 – Dress Shirts With Mustard Pants
A blue dress shirt makes a perfect match for your mustard pants. And if you have a chambray shirt, then it's a better option.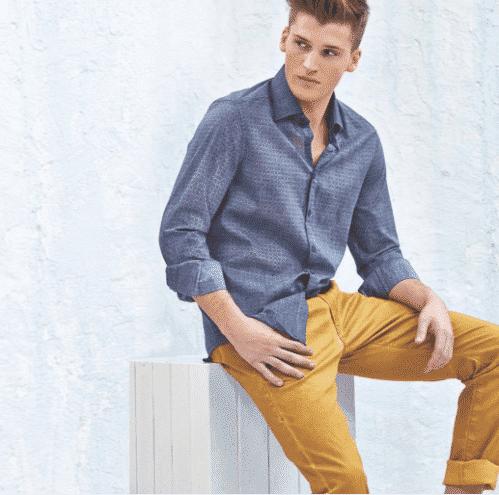 ↓ 22 – Trendy Mustard Pants Outfit
Flex those flashy pocketsquares and ties you've been dying to use. Wearing mustard pants entails an opportunity to rock an all-out trendy ensemble. Pair them with a blue velvet blazer thrown over a plaid shirt.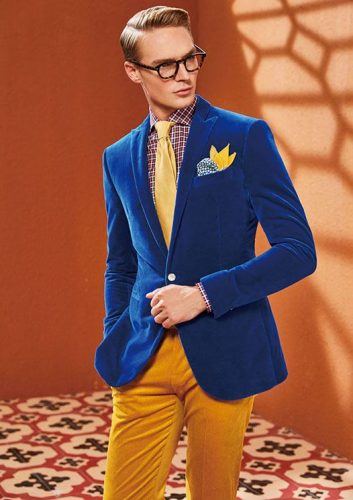 ↓ 21 – Mustard And Blues
Others may take you for a millionnaire with this getup. But isn't that the truth? Well, whatever your social status is, you are welcome to don this outfit consisting of a blue polo shirt, navy blazer, and of course, mustard pants.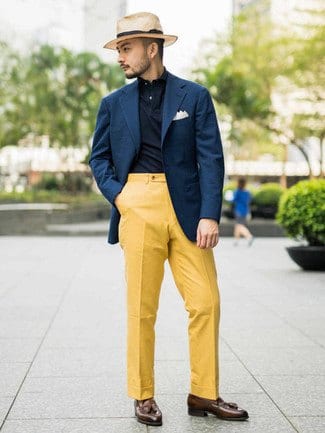 ↓ 20 – Summer Style
Looking good comes easy when the temperature drops. But summer is a different monster. This season is all about embracing fashion without overheating. So a white polo and yellow pants is a versatile combination making it all eye cooling. Here are 27 Best Summer Business Attire Ideas for Men 2018.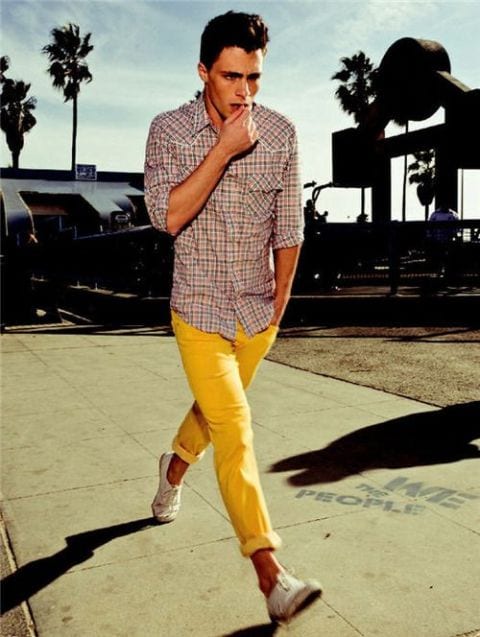 ↓ 19 – Winter Wardrobe
Something teaming a blue shirt with a light grey woolen cardigan with mustard skin-fits can potentially set you apart from the crowd. Why not add brown leather boots to the mix for a more relaxed and warm feel.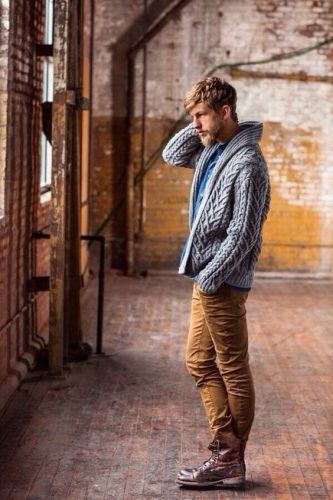 ↓ 18 – Autumn Get-Up
As it is described as the year's most colorful season, so going for a printed shirt and mustard skinny pants is the most comfortable option. A cool pair of brown leather shoes will upgrade your look.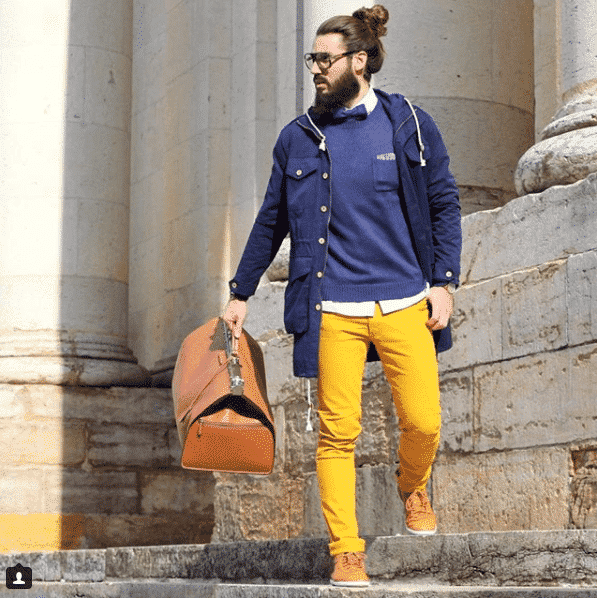 ↓ 17 – Nine-To-Five Habit
Busy days call for a simple yet stylish outfit. Stapling navy-blue blazer with mustard chinos and a white silk shirt and white low-top sneakers will integrate perfectly, giving you a more aesthetic look.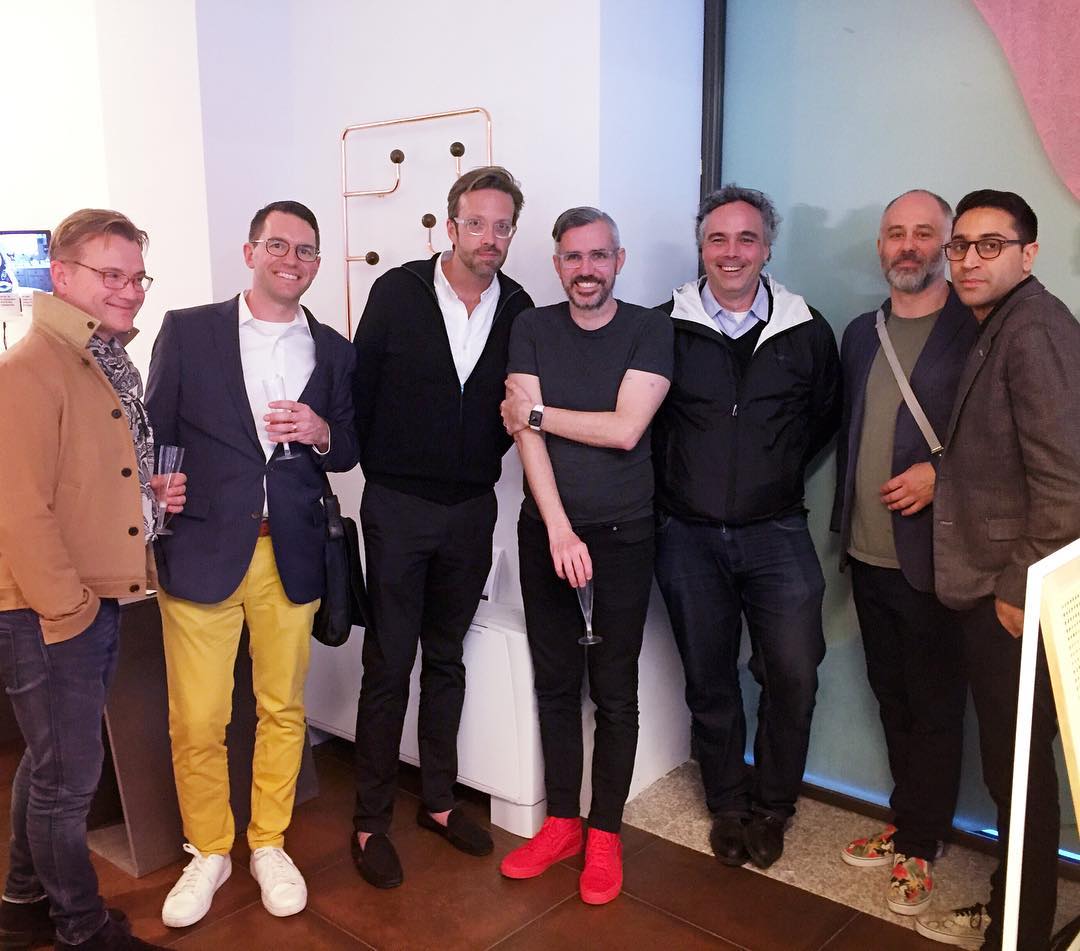 ↓ 16 – Off-Duty Outlay
This combo of a deep-dyed blue folded long sleeve shirt with a button-down and mustard chinos will empower you to keep yours on leave style perfect and basic.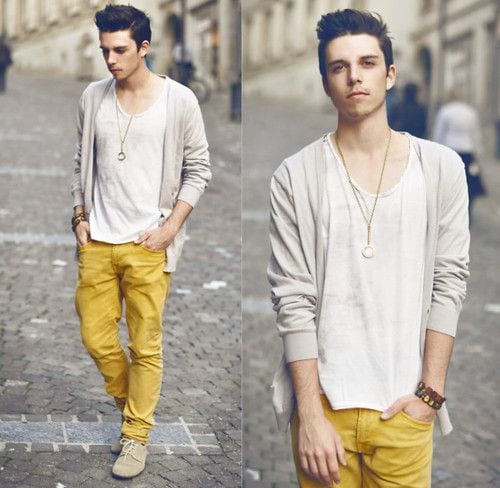 ↓ 15 – Casual Kit
For an everyday outfit loaded with character and personality, pairing a white V-Neck Tee and mustard skin-fitted jeans is a comfortable and suitable option for running errands in the city. Also, compliment it with a more comfy look with charcoal softened cowhide low best tennis shoes and a beanie hat. Here are 17 Casual Fashion Ideas For This Fall.
↓ 14 – Party Rig
From the office bash to a big night out with friends, thinking about what to wear to festive occasions can pose quite the sartorial dilemma, as party calls to put together a cool, easy, and trendy combo. Pairing a blue dress shirt with a grey cotton blazer and mustard chinos is an on-point option. Don't forget to put on a hat for an eye-catchy look.
↓ 13 – College Accouter
A study premise requires a well-groomed yet stylish attire. Choose an olive sweater with white inner and mustard pants for a seriously stylish look. Grab a wristwatch for more elegance and a pair of olive sneakers that brings the dressed-down touch to the ensemble.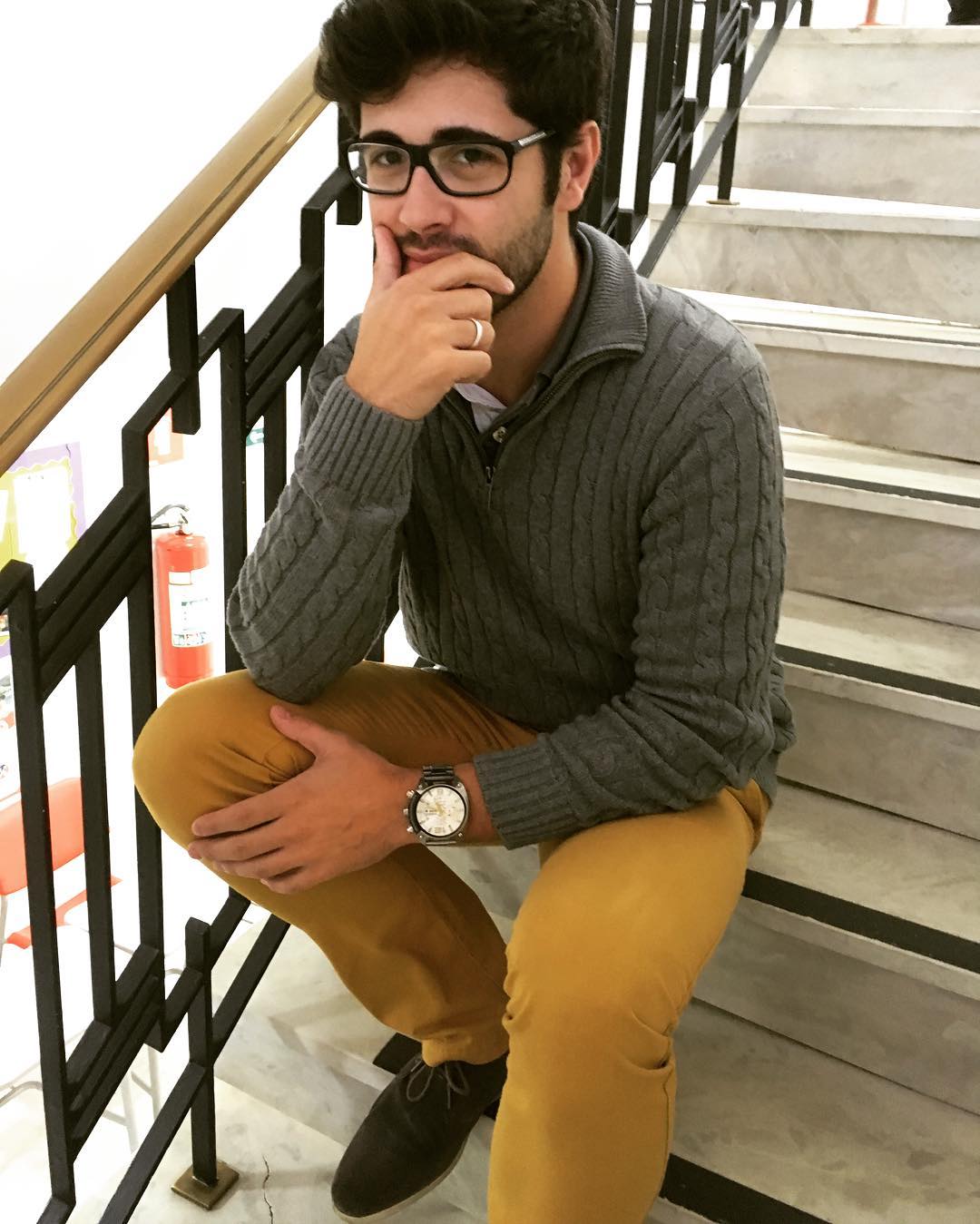 ↓ 12 – School Attire
Uncomplicated in form, white printed Tee and mustard jeans are a great team. Complete the entire look with navy-blue slip-on sneakers and a dark brown cap.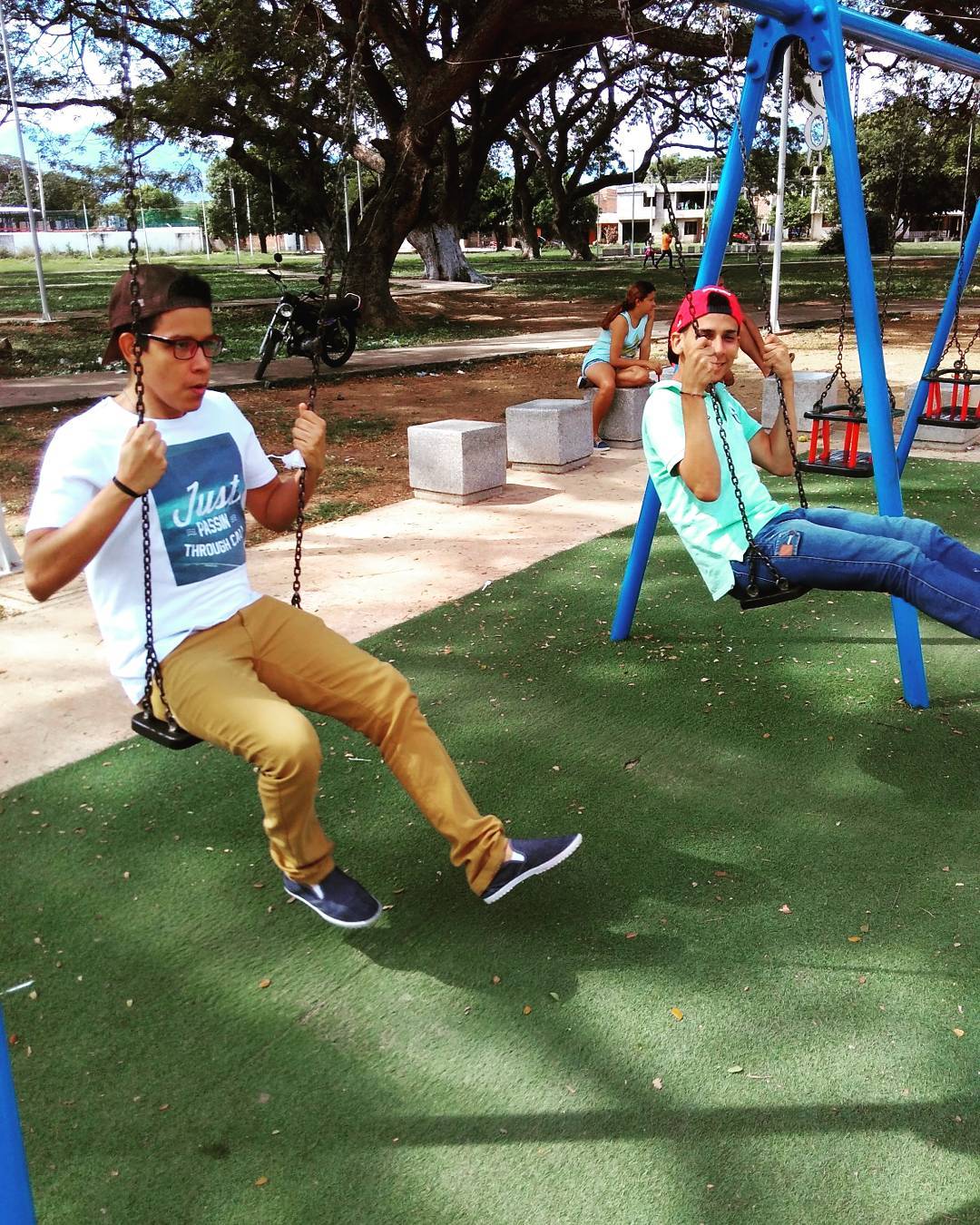 ↓ 11 – Travel Togs
Opt for comfort and a trendy approach by rocking in a white shirt with a blue bow-tie for a glam and a blue round-neck Tee on it, throwing a navy blue hood button-down and mustard pants for a dapper casual getup. Why not introduce camel brown leather hand-carry and canvas plimsoll to the mix for an added touch of style. The poke of hair bun will make you look more picture-perfect.
↓ 10 – Beach Costume
Round off this look with a black V-Neck shirt and yellow cropped pants for a cool and sexy appeal. To relax more, grab some eye shades. Have a look at these 20 Amazing Beach Outfits Men.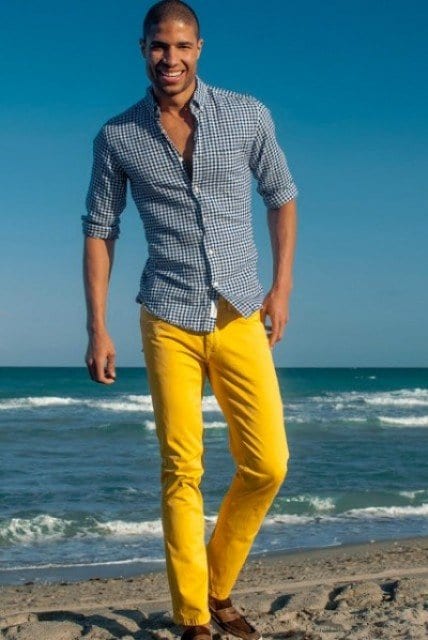 ↓ 9 – Destination Wedding Look
Make a black-blazer and tie your choice with straight mustard pants for a seriously contemporary look.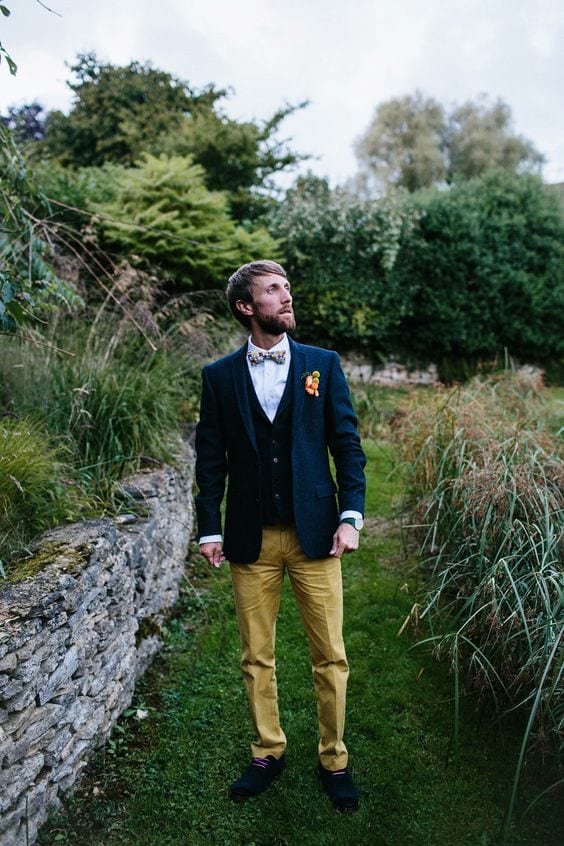 ↓ 8 – Urban Ensemble
The fusion of a blue sport-coat and mustard jeans with a pair of white sneakers is effortlessly blurring the line between elegant and casual, Whereas a Brown leather belt and a blue watch are a perfect attachment to this look.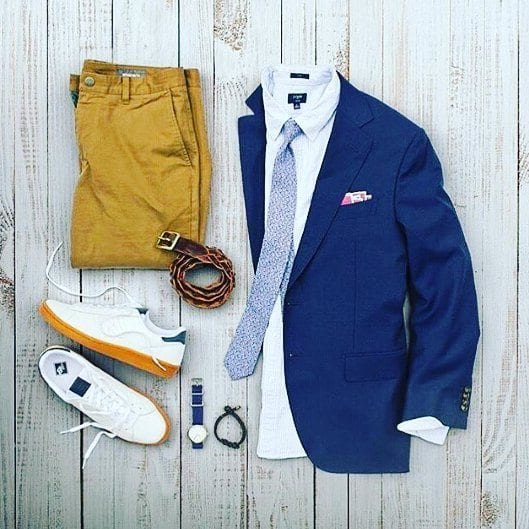 ↓ 7 – Street Dress
Zebra print short-sleeve shirt and mustard stretchable complimented with sea-blue boat shoes will display your personality as highly trendy and cool. Retrofit a wristwatch to your glance.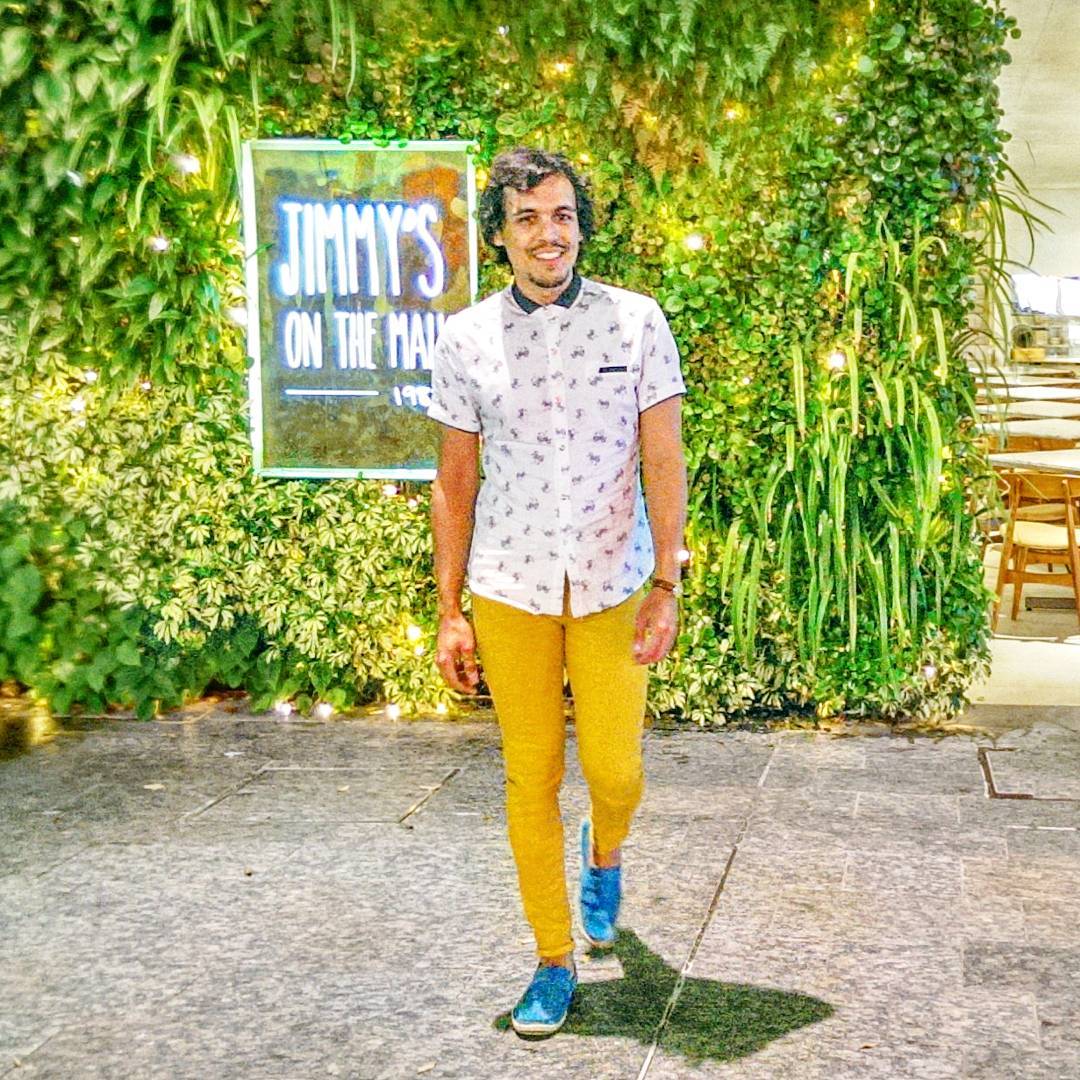 ↓ 6 – Lunch Outfit
Consider wearing an olive shirt and marry it with a striped tee and mustard pants for a Sunday lunch with friends.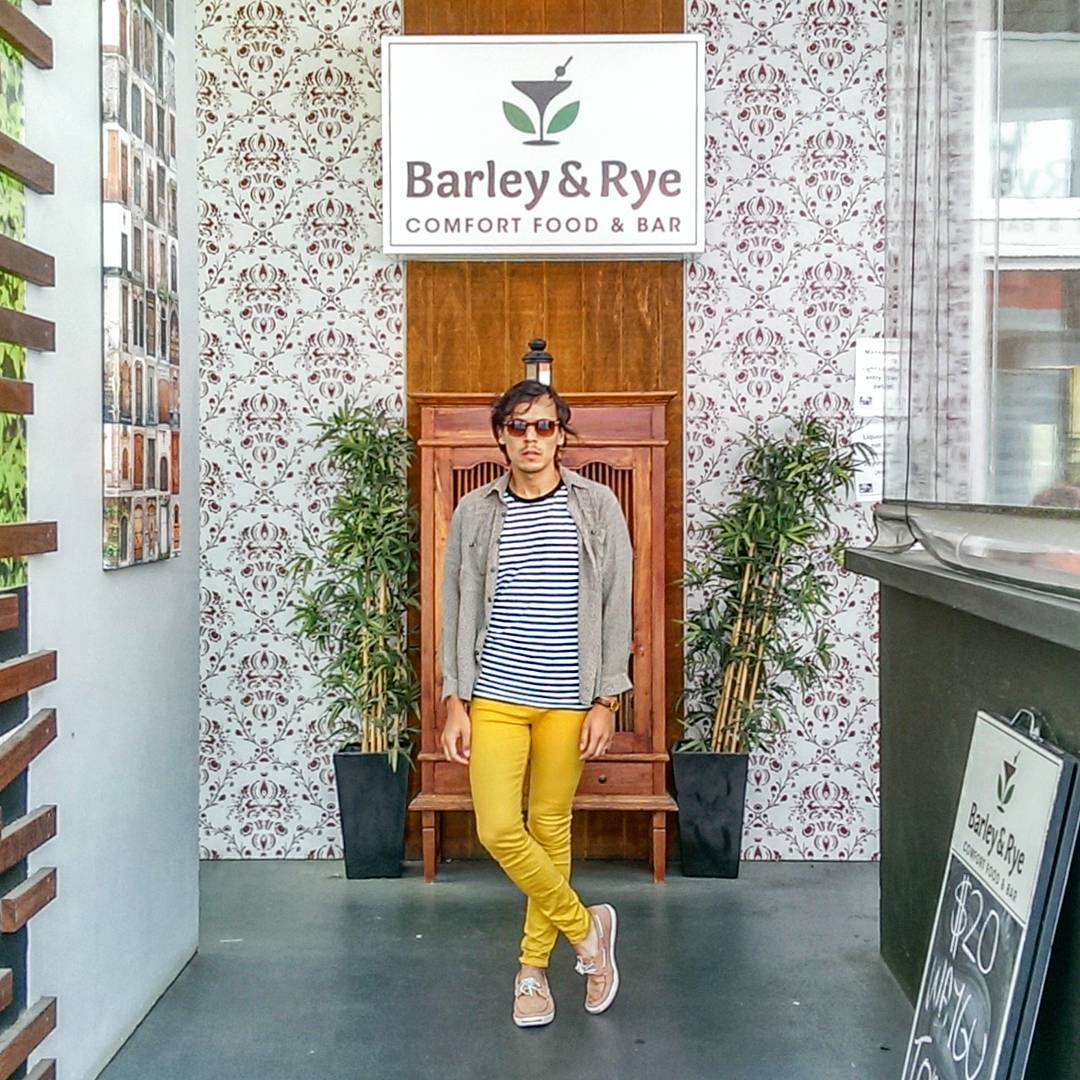 ↓ 5 – Dinner Clothes
A black coat with a dark blue V-Neck Tee and mustard chinos are perfect for a night out and other small casual occasions. Here are 20 Best Outfits for Men to Wear on a Date.
↓ 4 – Brunch Attire
Rock a blueprinted half sleeve shirt and mustard folded pants with brown leather shoes for a simple yet stylish look. Add on some brown eye shades for a more slacken reveal.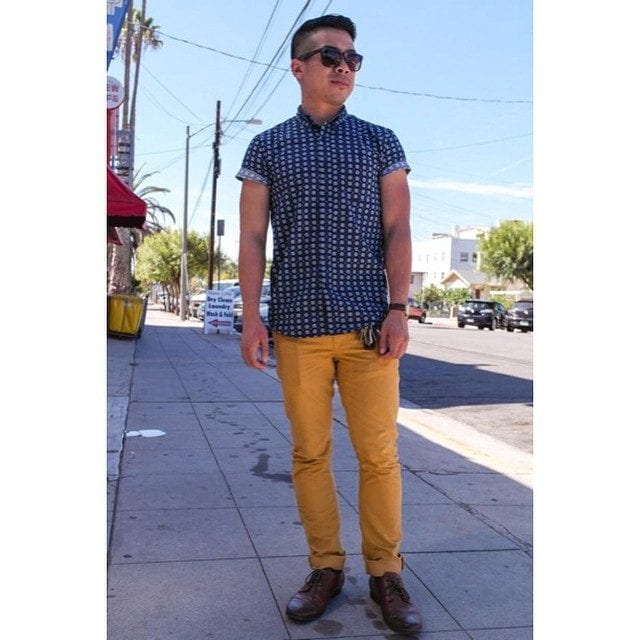 ↓ 3 – Hippie Turn Out
Shake your booty with a more ambient gaze by pairing a white loop sleeve shirt and mustard baggy pants. Accessorize it with a funky hat to get yourself noticed.
↓ 2 – Being a chef Suit
To set the right tone is a must. Because When working in a hot and busy kitchen, you are likely to get your clothes stained by splashes daily. So keeping it fundamental, wear a black Tee and mustard chino with a black leather canvas pair for a more easy-going appeal.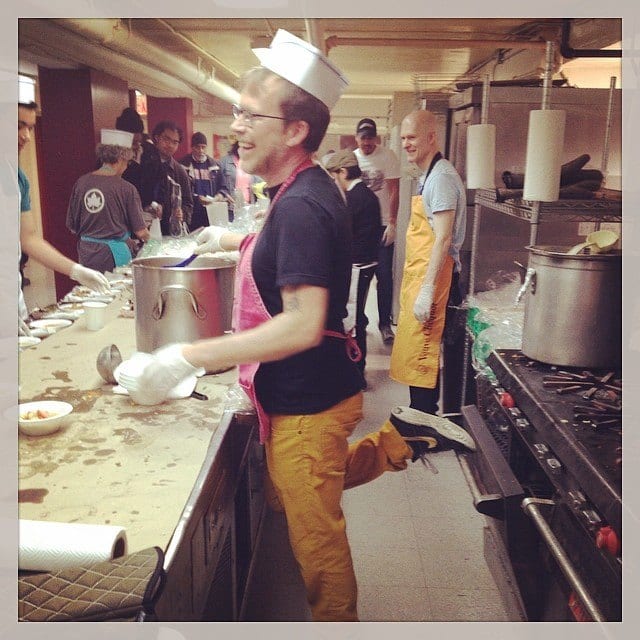 ↓ 1 – Classic Appearance
A black leather bomber jacket and mustard straight pants are a great combination to add to your styling repertoire. Add black leather tassel loafers for the style upgrade.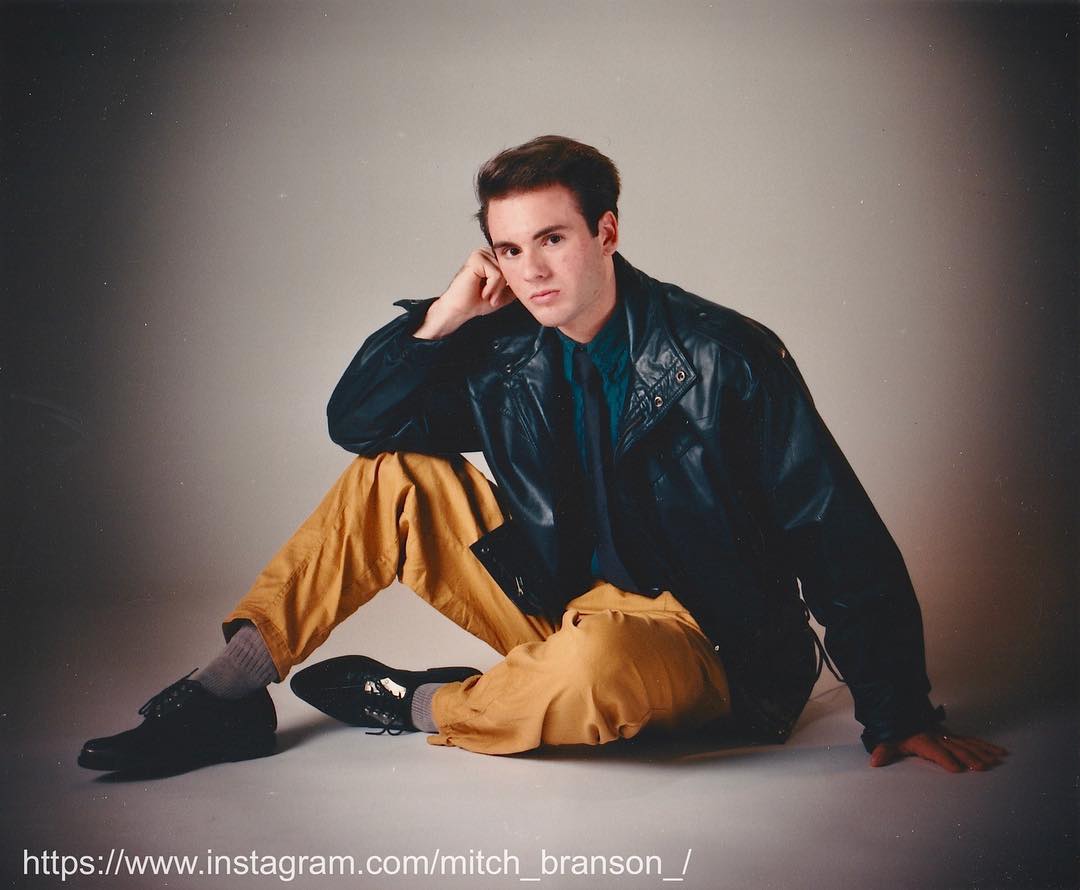 Frequently Asked Questions
Q. Are mustard pants minimalist?
A. No. Although yellow is a primary color, yellow (mustard) pants aren't considered part of a minimalist wardrobe. Unlike contrast colors and navy tones, you cannot easily pair mustard pants with everything you have in your closet. This would also reflect when choosing your footwear for your OOTD. For example, you will notice that your shoes would be limited to brown, blue, black, and white as flashy hues like green and red would look awkward with mustard pants.
Q. What color goes best with mustard?
A. My own opinion: blue, regardless o the shade. However, most Yahoo users answered this question, suggesting that purple looks best with mustard, as it is the "opposite" of yellow. Those would probably look pretty good. But if you do not want to be so colorful and just want to keep things lowkey, black and white pieces are great options.