Fall Outfits for Men – We all cherish the arrival of fall since it allows you to dress the way you want. It's not too hot or cold that you're left debating with yourself about what to wear.
What's so special about fall?
Also known as autumn, the fall season is known for the colourful foliage. Squirrels start to hide food for the upcoming winter. Leaves fall from the trees, and birds leave to find a new nesting place. But for me, the most exciting thing is the presence of sadness in the air.
The fall season gives off a depressing yet aesthetic vibe. We are aware of the things men do in autumn: apple picking, chestnut roasting, and camping, to name a few. But what do men wear in fall?
What to Wear in Fall?
Let's start by discussing the basics.
Fall/Autumn Outfit Essentials for Men
Knitwear

. Cable k

nit sweaters and cardigans are fall staples. Make sure to stock your arsenal with these. They can be an excellent sub for trench coats and peacoats.

Turtleneck

.

Roll neck shirts and sweaters are suitable for layering. Try wearing them as undergarments for jackets and overcoats.

Overcoats

. P

eacoats and trench coats are perfect for winter and fall. However, lightweight fabrics are ideal for fall.

Flannels

.

They have always been my favorite – flannel shirts. Associated with the lumberjack style, these shirts can make you look outdated and in vogue all at one time. It always comes down to how you style your outfits. For one, it would be great to wear a flannel under a jacket.

Jackets

.

Denim, sherpa, and leather jackets are appropriate and stylish for this season.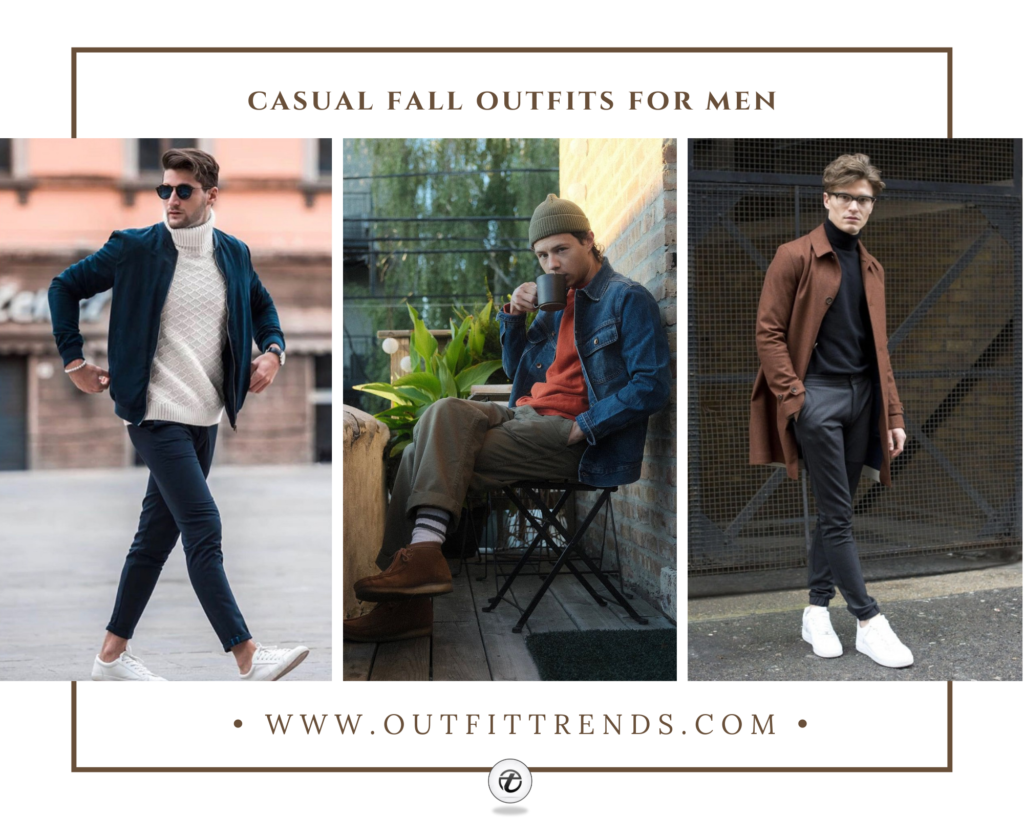 Tips On Dressing
The Fit. J

ust like winter, you are welcome to opt for slightly loose garments in fall. Be wary not to compromise comfort. You still have to consider well-fitting outfits, even if it's about trench coats. Consult the tailors if you must.

Fabric And Texture

.

P

retend that you're dressing up for winter. For starters, look for wool, cashmere, and leather garments. And if you're game for it, add some texture to your ensemble – opt for suede, cord, or velvet outfits.

Colors Of Autumn. B

rown, navy, and grey tones are your best color choices for this season. One look at your outfit, and they should feel the spirit of fall.

Play with prints and patterns.

Don't miss this chance to sport shirts in tropical or floral designs.
What To Avoid Wearing in Autumn
Too Many Layers.

The fall season isn't too cold, but also not too hot. Whatever kind of layering you do in winter, you could ease up this time of year. That said, choose outfits that can keep you warm without feeling uncomfortable. Do not wear many layers together to avoid clashing.
Where To Buy?
Take a stop at your favorite stores. I like getting mine from Uniqlo, Penshoppe, and H&M. What I love about those stores is that their clothing sections are organized. That way, you won't have a hard time sorting out your picks. Also, it would give you the chance to get outfits with quality living up to your expectations. For instance, you can touch and feel the fabric.
You can also get them off the internet. I suggest you visit Nordstrom and Amazon – the best online shopping platforms. The advantage of it is you'll save yourself time and effort. But the downside is you never get the chance to try on the outfits before purchase. In some cases, the products are different from what is advertised on the sites. And some consumers prefer going to physical stores. It's because they're not getting the exact sizes of clothes bought online.
41 – The Good Old Denim Jacket
The first thing that may come to your mind is "jeans." But the catch is that's not always the case. Denim is one of the most commonly used fabrics in the world. Designers claim that it goes well with almost every kind of clothing. That said, you have a wide range of options. Start with sorting them out by choosing garments in similar shades.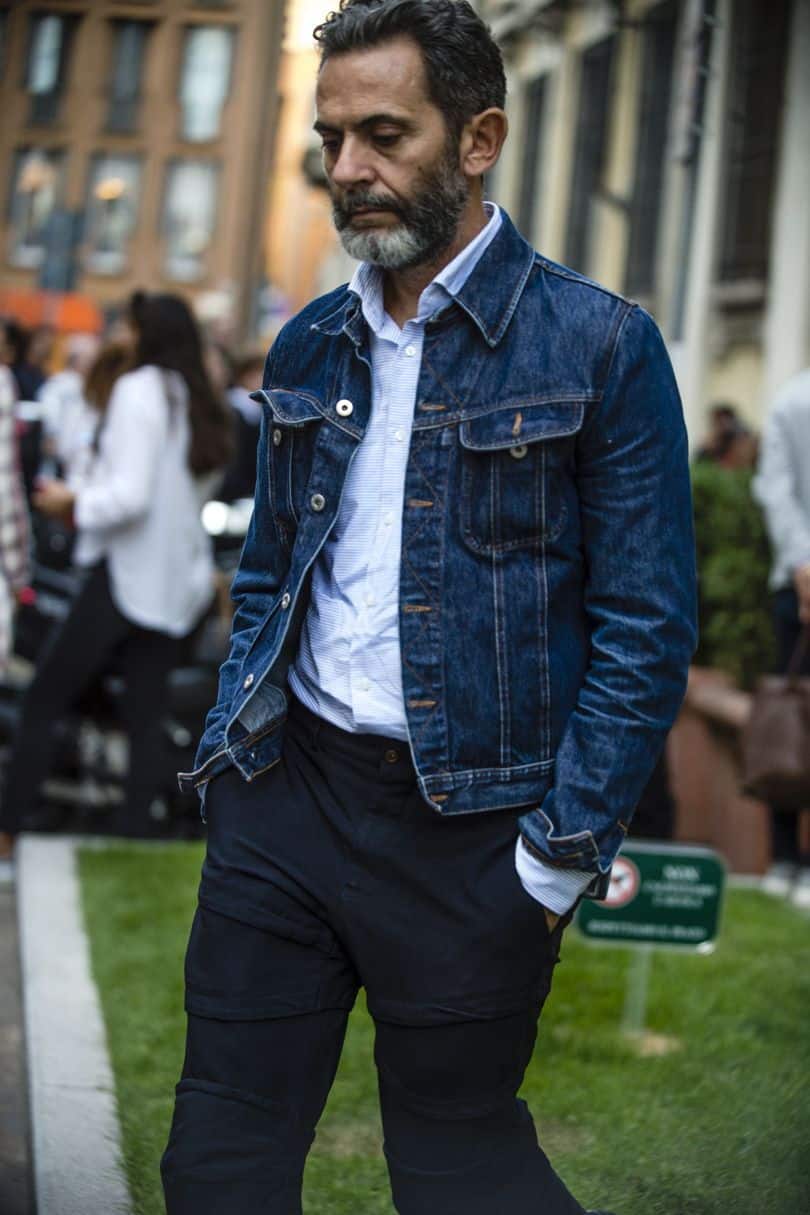 40 – Leather Jacket
It takes courage to rock a biker jacket. For one, the traditional design entails the need to project a "baddie" look. If you don't feel like sporting that one, you can opt for the restrained style for now – that's a start. Besides, this is more universal as you can layer it with more clothing choices. Here are some more Leather Jacket Outfits for Men.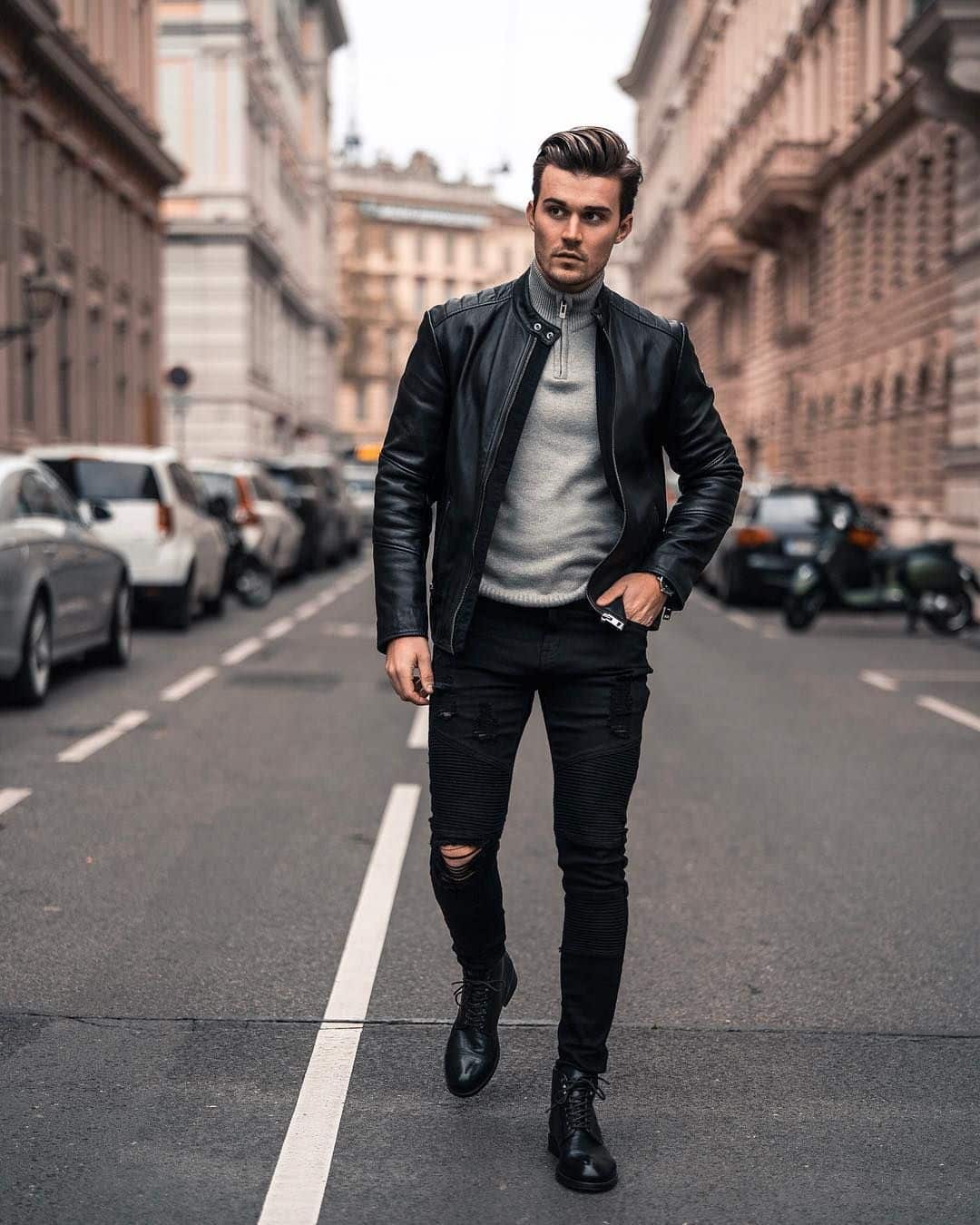 39 – Puffer Jacket
This is similar to a bomber jacket but more reliable for its functionality. No wonder why this is a fall staple! As it's expected to feel cold in autumn, you'll be needing a few jackets to bear with the chills. Thankfully, puffer jackets are engineered to trap your body heat and use it to combat the cold weather. Do check out these Puffer Jacket Styles For Men.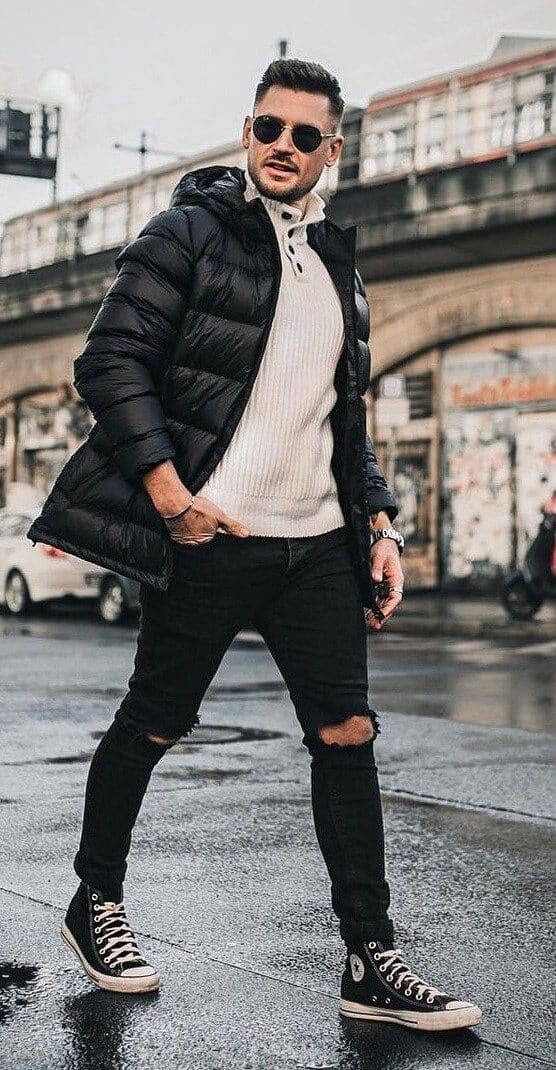 38 – Streetwear for Fall
During fall, you'll see men wearing outfits that make them feel good about themselves. For starters, comfy garments from top to bottom. The streetwear scene is rich with various options, so the sky is your limit. But try to narrow down your choices – consider fabric and color. Try to wear a wool beige jacket over your tee as it would be too plain to go out just like that.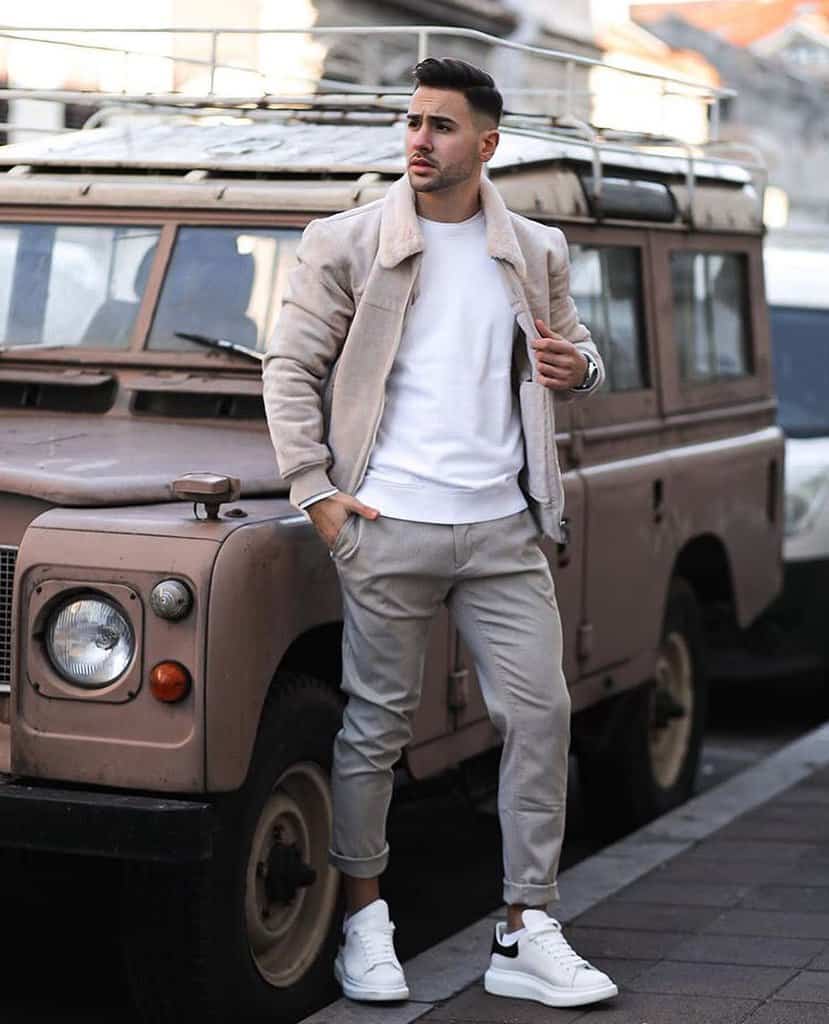 37 – For Skinny Gents
First off, steer clear of baggy clothes. You should always opt for well-fitting outfits that will help you look stylish. There's no secret formula for skinny men to nail an outfit. But you can start changing things up a bit. For instance, instead of wearing a shirt as a standalone piece, throw a vest over it. That way, you can appear a bit buff because of an outfit well put together.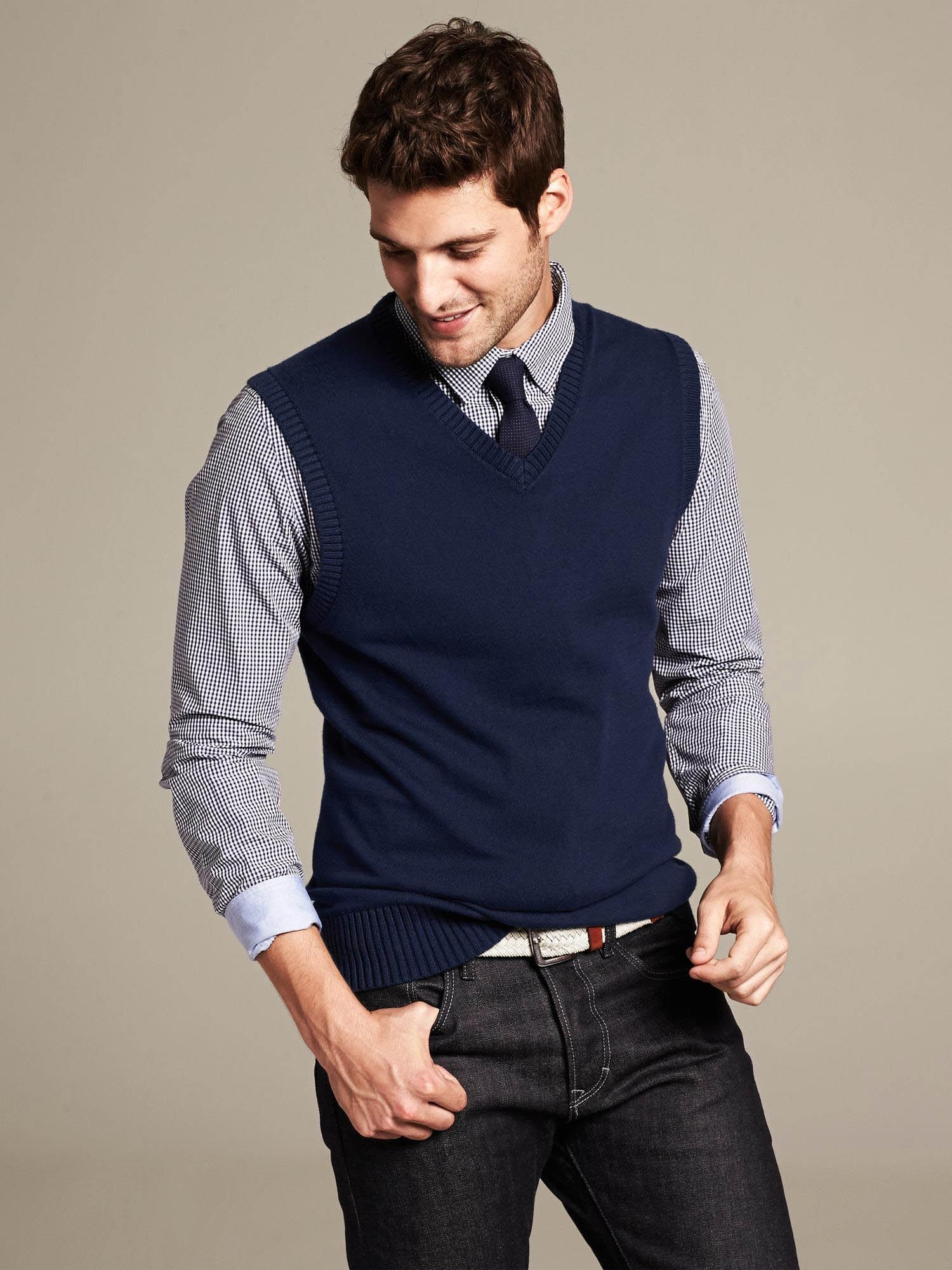 36 – Weekend Casual Fall Outfit for Men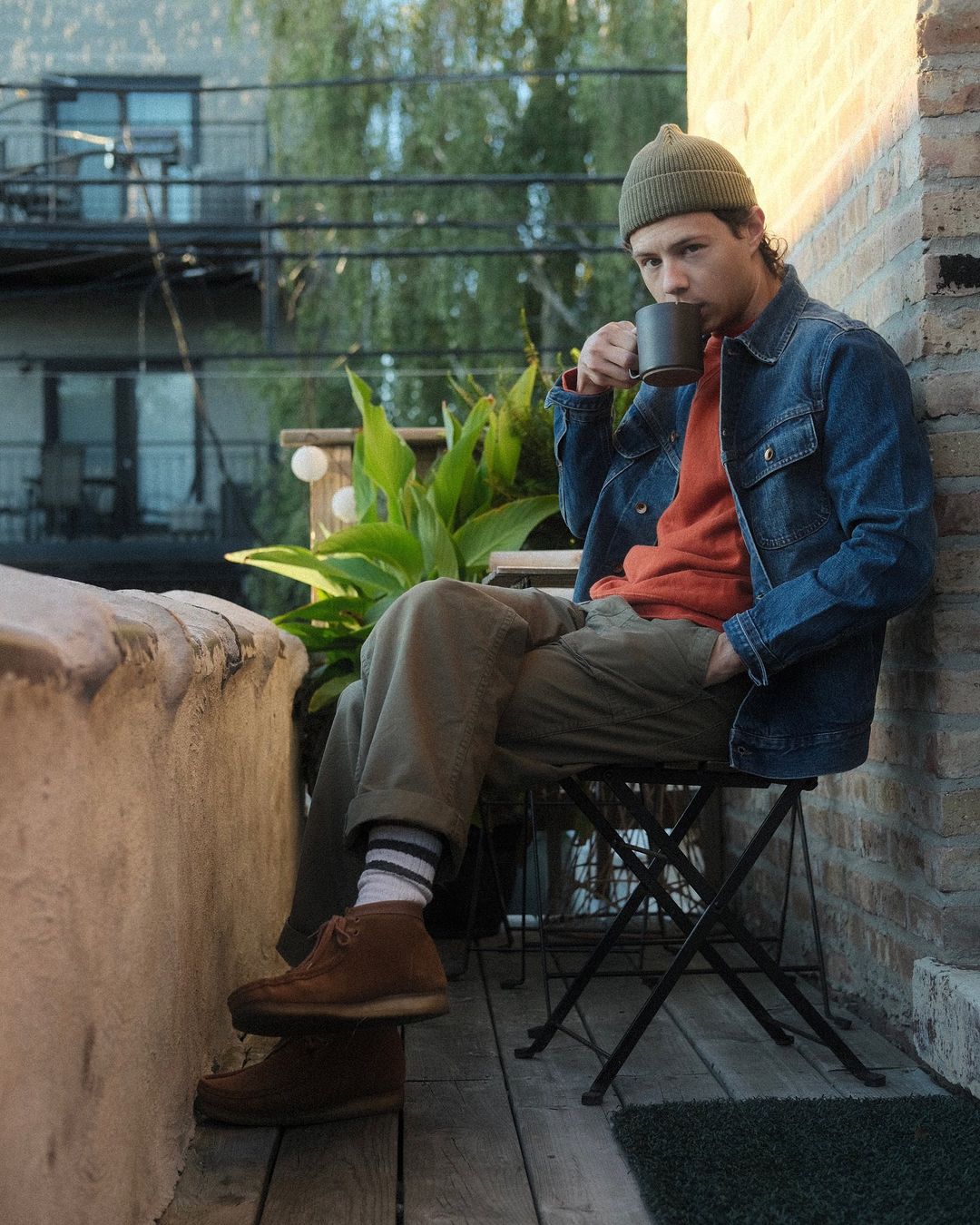 35 – Flannel
Express the colors of fall thru flannel shirts. I've always loved flannels because they can stand alone. Roll up the sleeves, tuck the shirt in, and voila! It also works perfectly under a jacket.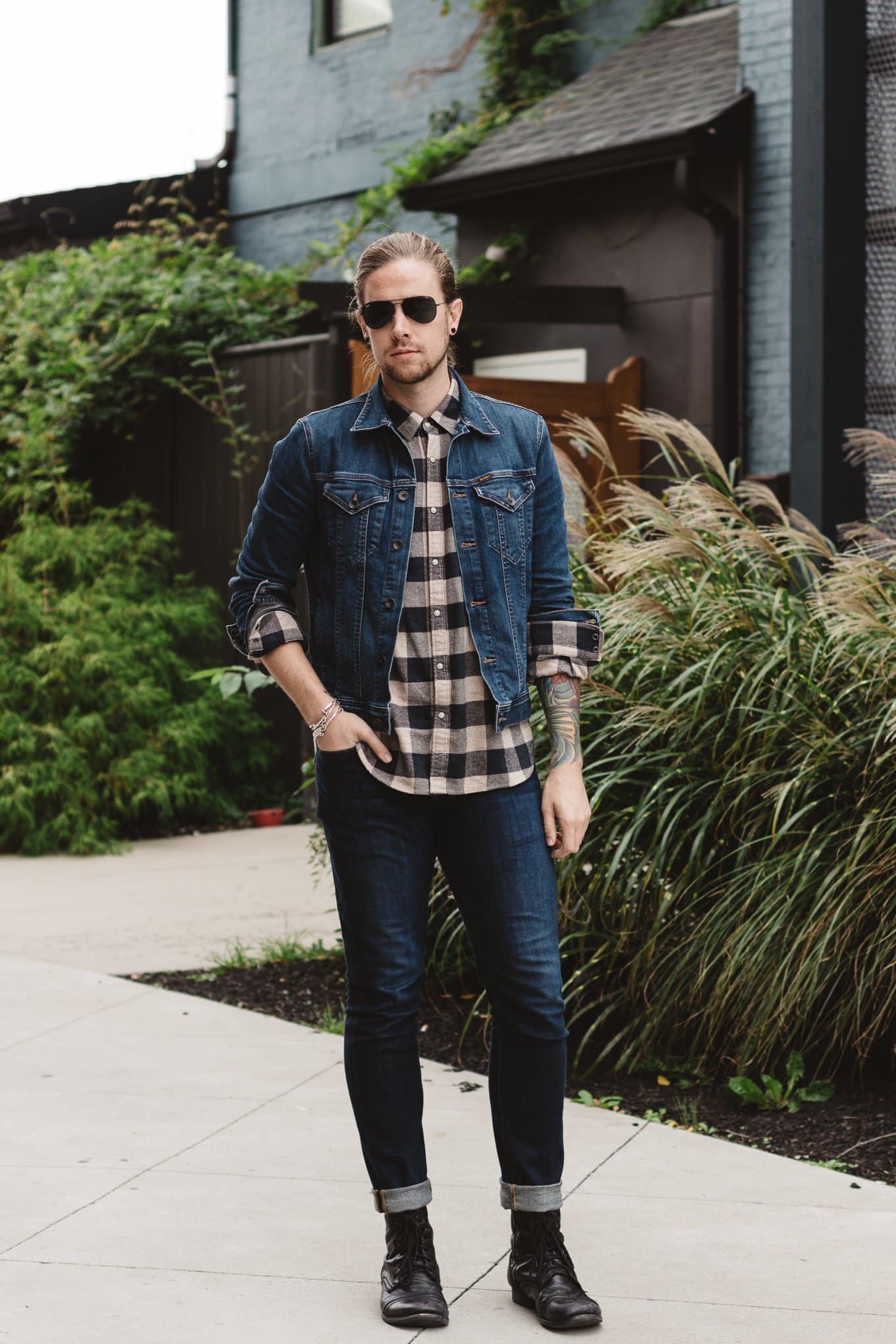 34 – Hoodie
Athleisure style is in vogue all year round. As for the fall season, a hooded sweatshirt is ideal because of its functionality. Pair it with jogger pants, and I suggest you monochrome. This outfit is perfect for running. Make sure to finish off with sneakers or running shoes, for that matter.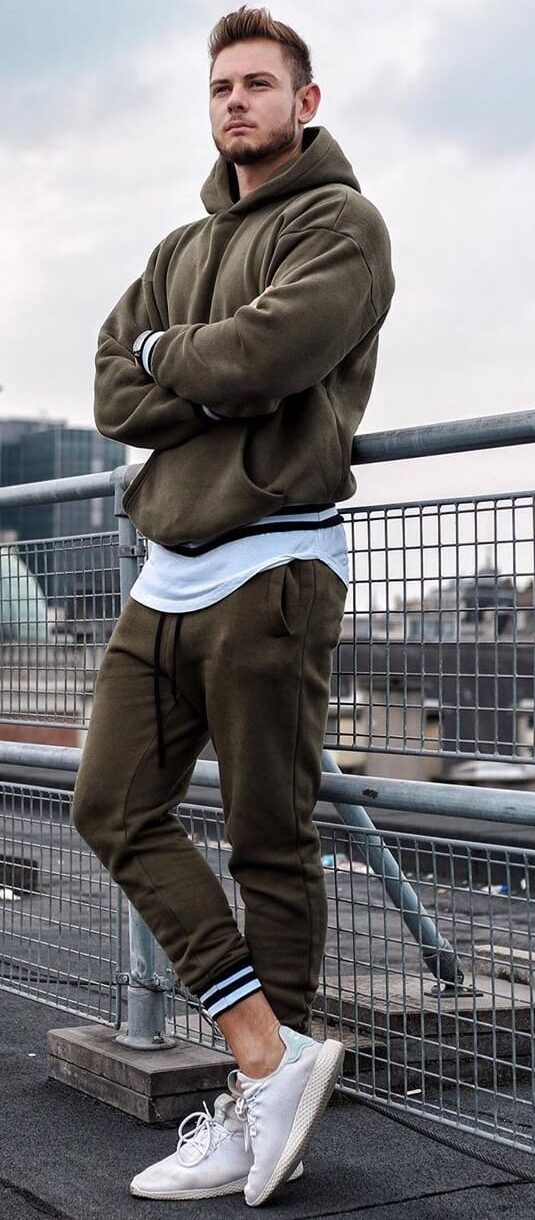 33 – Scarf
Accessorize with a scarf to stand out from the crowd. This will also provide you with added warmth. Wool scarves are the best for the cold weather. This is also your chance to do some color pop or add texture to your outfit. Say you're wearing a monochrome outfit in leather, then grab that fancy scarf!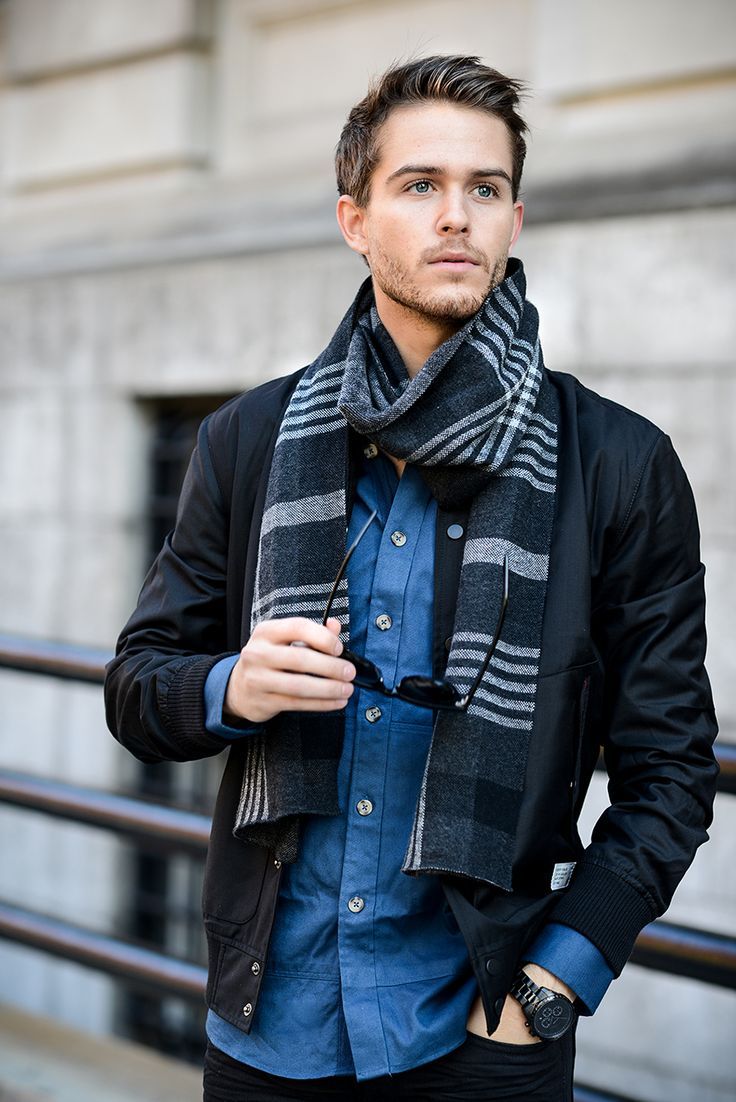 32 – For Plus-Size Men
Stay away from loose fits and oversized garments alike.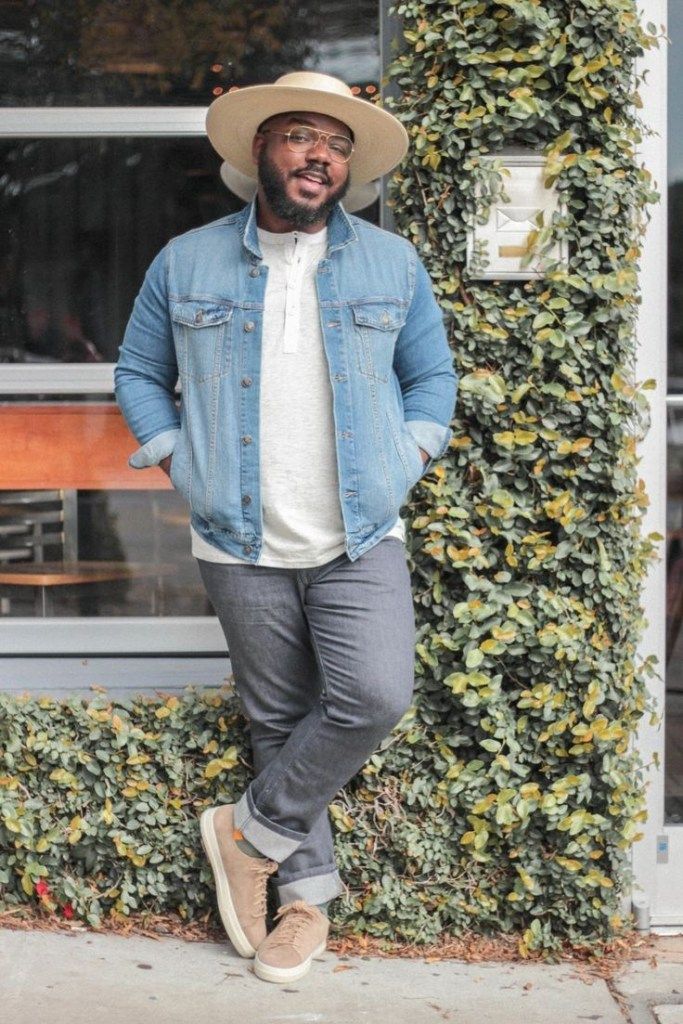 31 – Monochrome Style
Choose one contrast color and sport it from top to bottom. In some cases, two colors would work just as fine. In fact, they look better as a single hue can be boring at times. You can add some color pop through accessories and socks. And remember the rule for monochromatic outfits: lighter shades should be on top while darker ones stay on the bottom.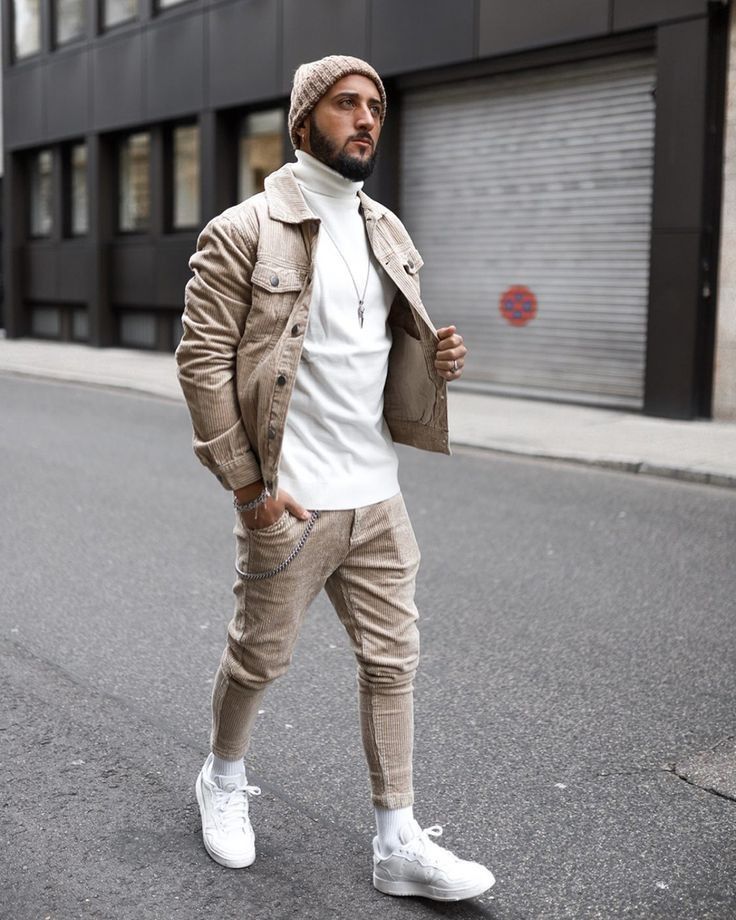 30 – The Minimalist
Keep it simple this fall season. For instance, opt for a white tee and layer an overshirt over it. Jeans are suitable for the weather because of the fabric. Don't hesitate to cuff your pants to amp up your style in an instant.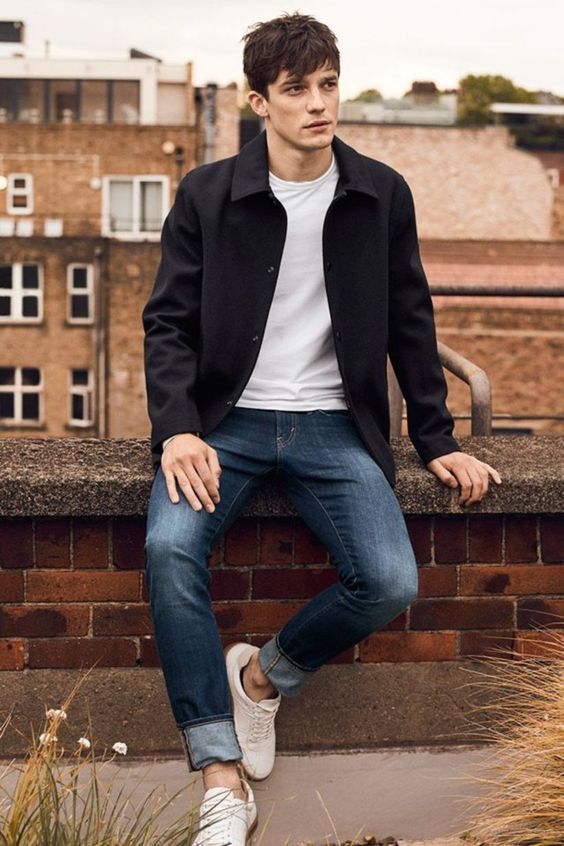 29 – Stripes Combo
Stand out from the crowd by opting for striped tees. You can use this as a way to add some balance to your outfit. For instance, some colorful horizontal bars look great in skinny men. And you can match the line colors to your fall outerwear (e.g., bomber jacket, puffer, quilted).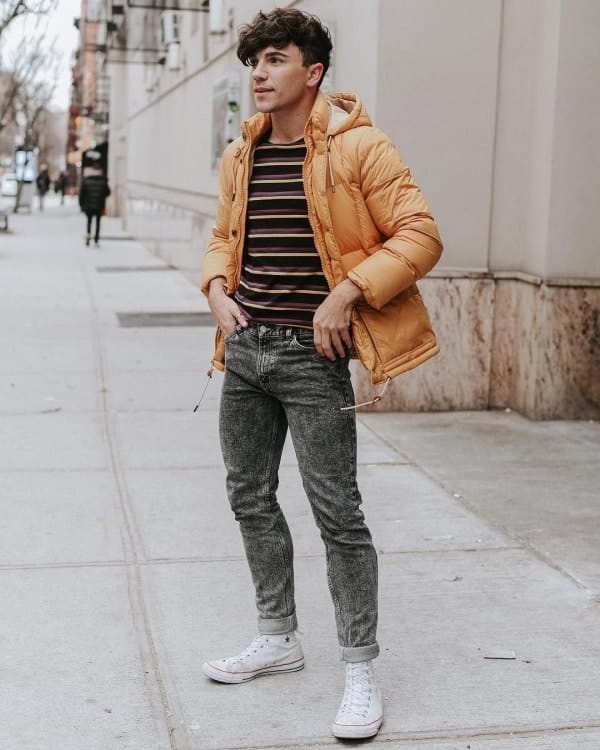 28 – How to Dress For Traveling in Fall
When you are traveling, you want outfits that provide style and comfort. Make sure those two work in harmony. Pack at least one or two outerwear like overcoats and jackets if you are headed somewhere this autumn. Incorporate a fall-inspired piece and let it do the talking.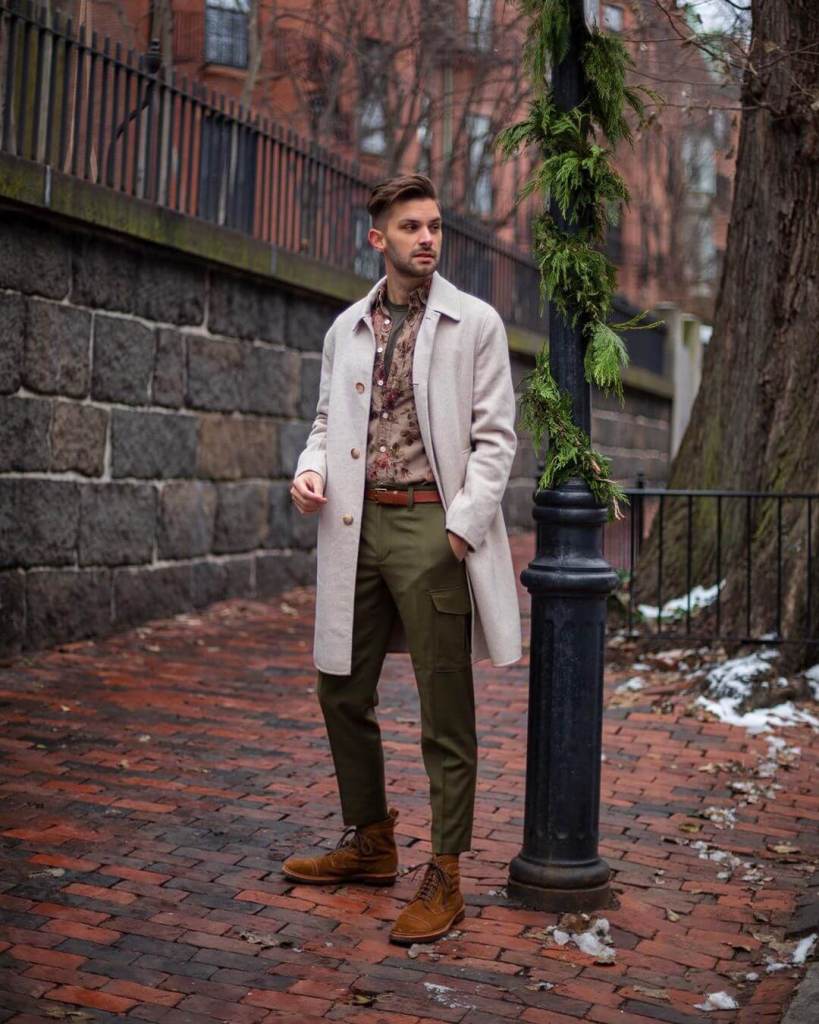 27 – Knitted Fall Outfits for Men
Any knitted garment is suitable for fall. Unlike trench coats and puffer jackets, knitwear doesn't have much fabric. That's why it's ideal for slightly warmer weather. It's an excellent layering piece but can also stand alone.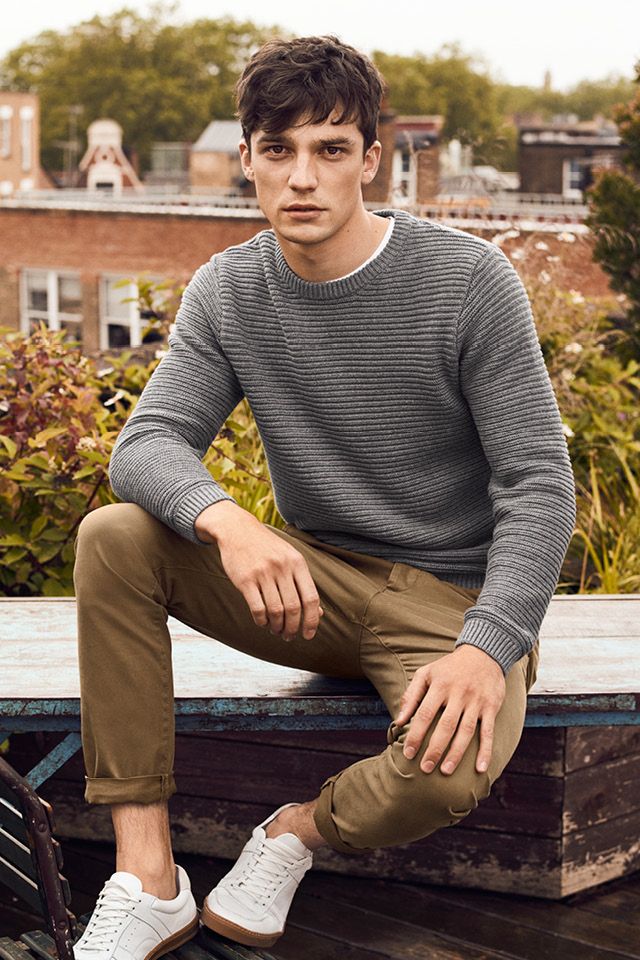 26 – Sweater
Have at least one sweater in your closet. You'll be needing it most in fall and winter.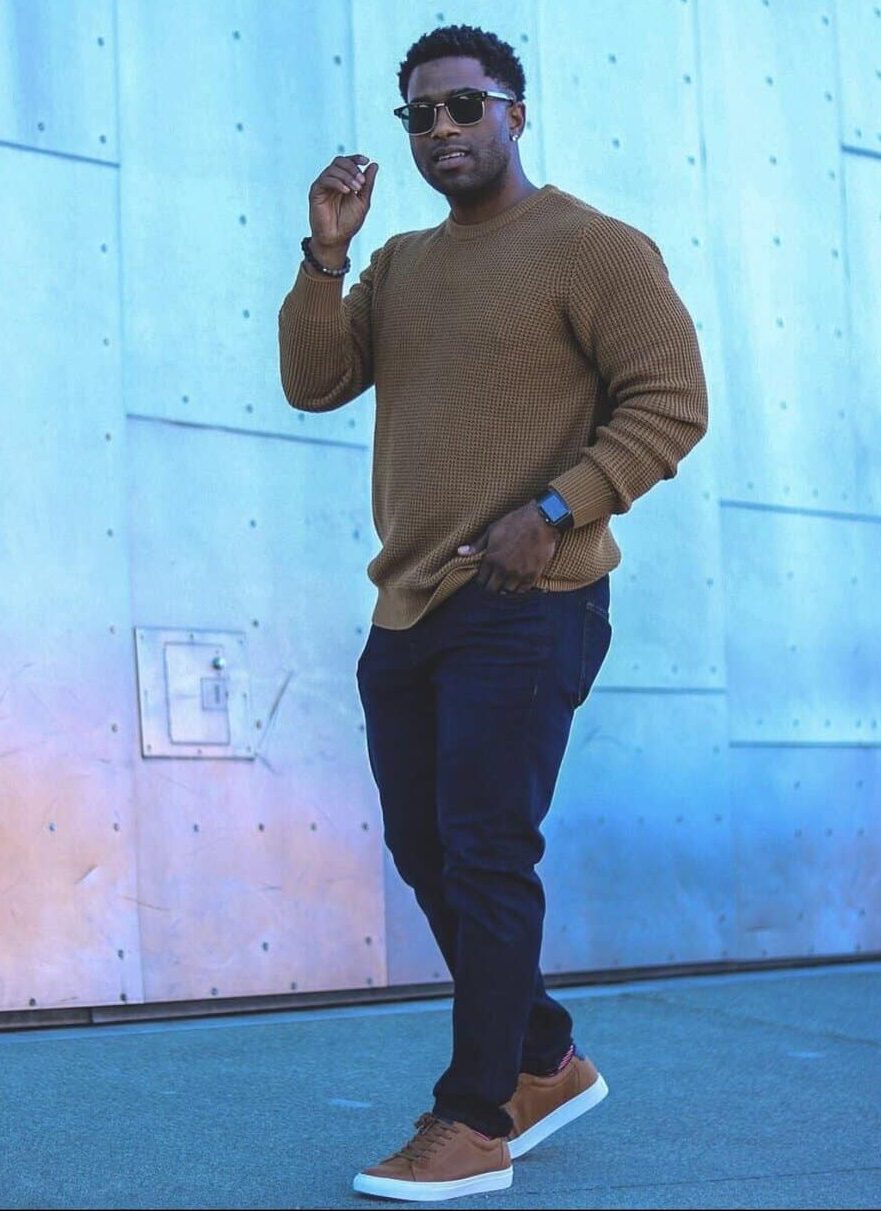 25 – Turtleneck
Like knitwear, turtleneck or "rollneck" are great for layering. You'll also find a variety of turtlenecks in knitted versions. More often than not, you'll be using them as an undergarment. But that catch is it works fine on its own. Just grab a pair of matching trousers, and you're good to go.
24 – Sherpa Jacket
Sherpa jackets are pretty much replacing the standard denim jackets in the world of fashion, so do get one this season and have a look at these different Types of Jackets for Men & How to Wear Them.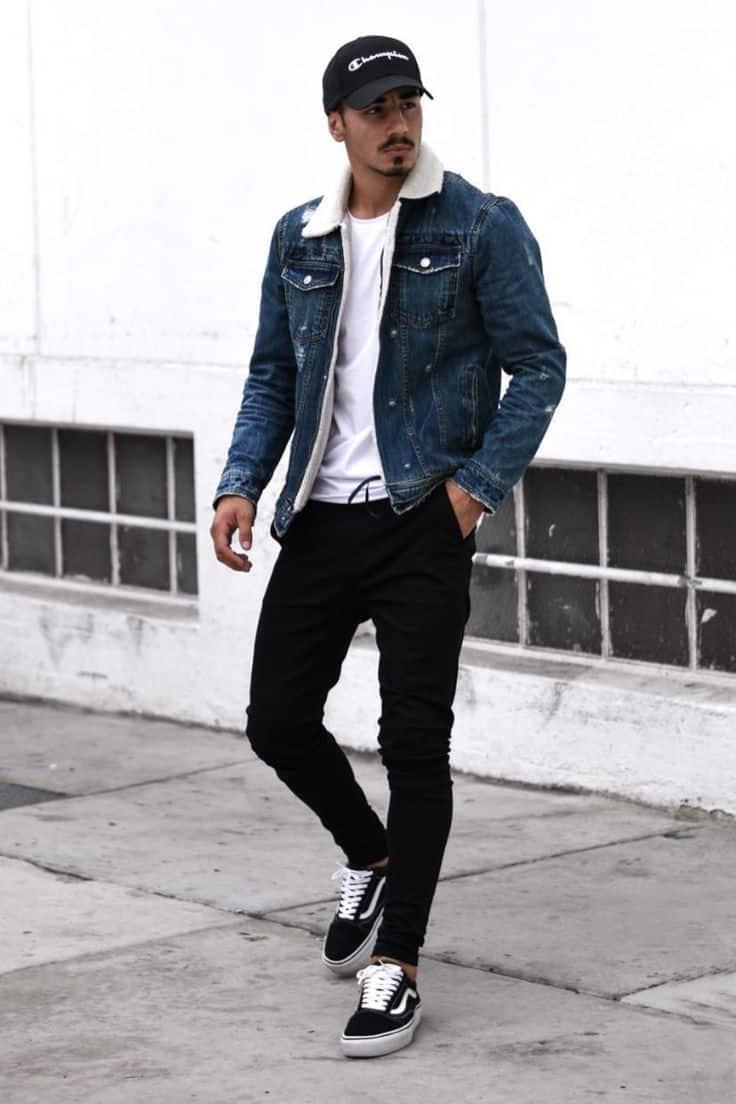 23 – Trench Coat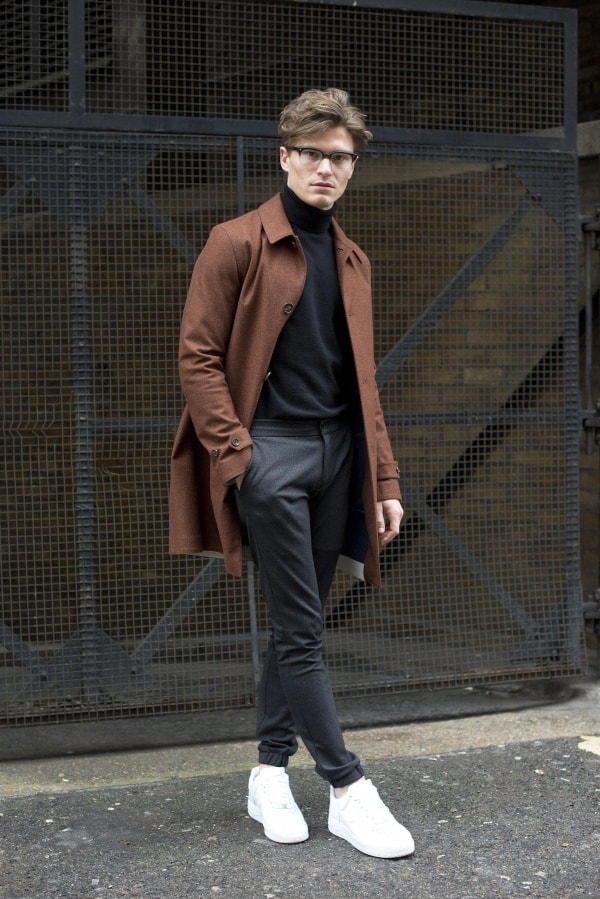 22 – Peacoat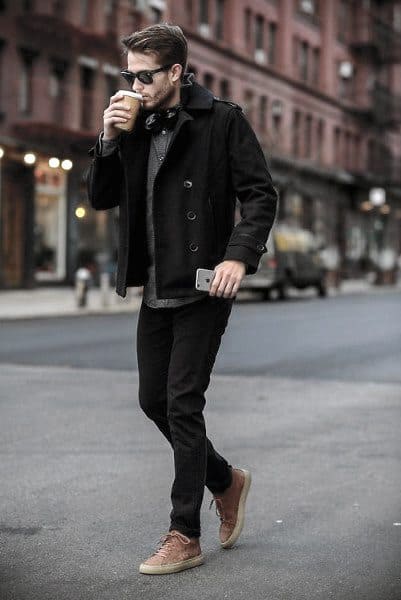 21 – Overshirt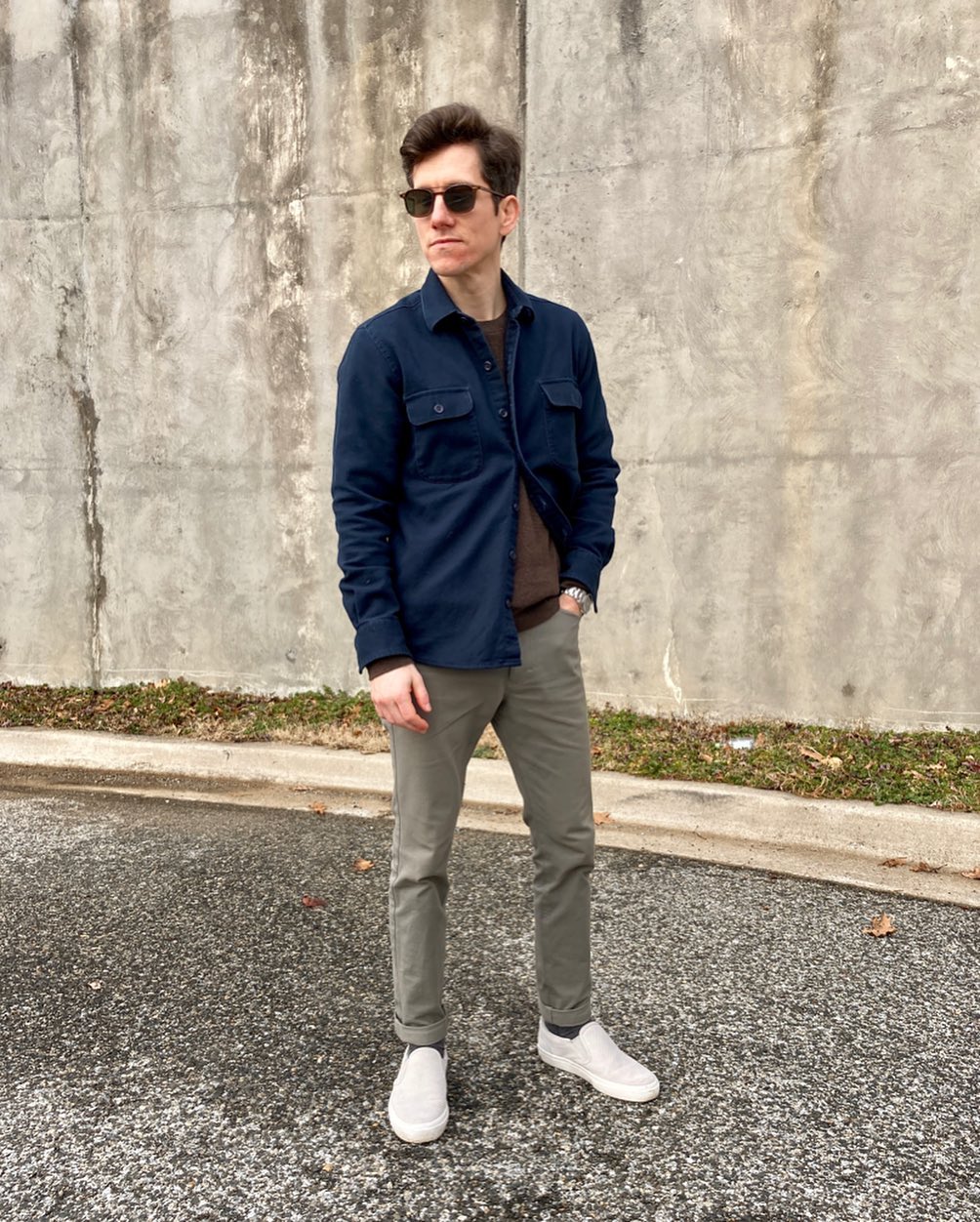 20 – Crewneck Jumper
19 – Suede Jacket
Add a bit of texture to your ensemble by wearing a suede jacket. My favorite color for this jacket is brown, as it blends well with the fall.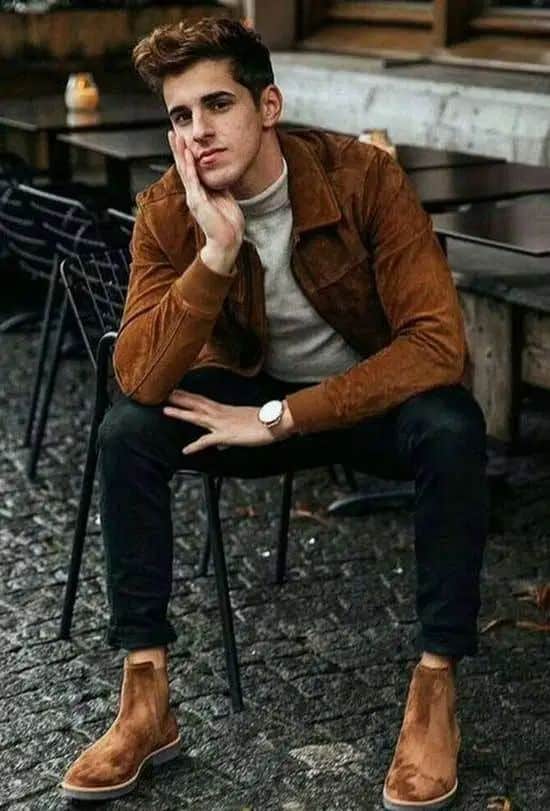 18 – Best Footwear For Fall
In any event, you can opt for sneakers if you're up for it. But just like in winter, Chelsea suede boots are ideal for fall. I'd go for brown if I were you.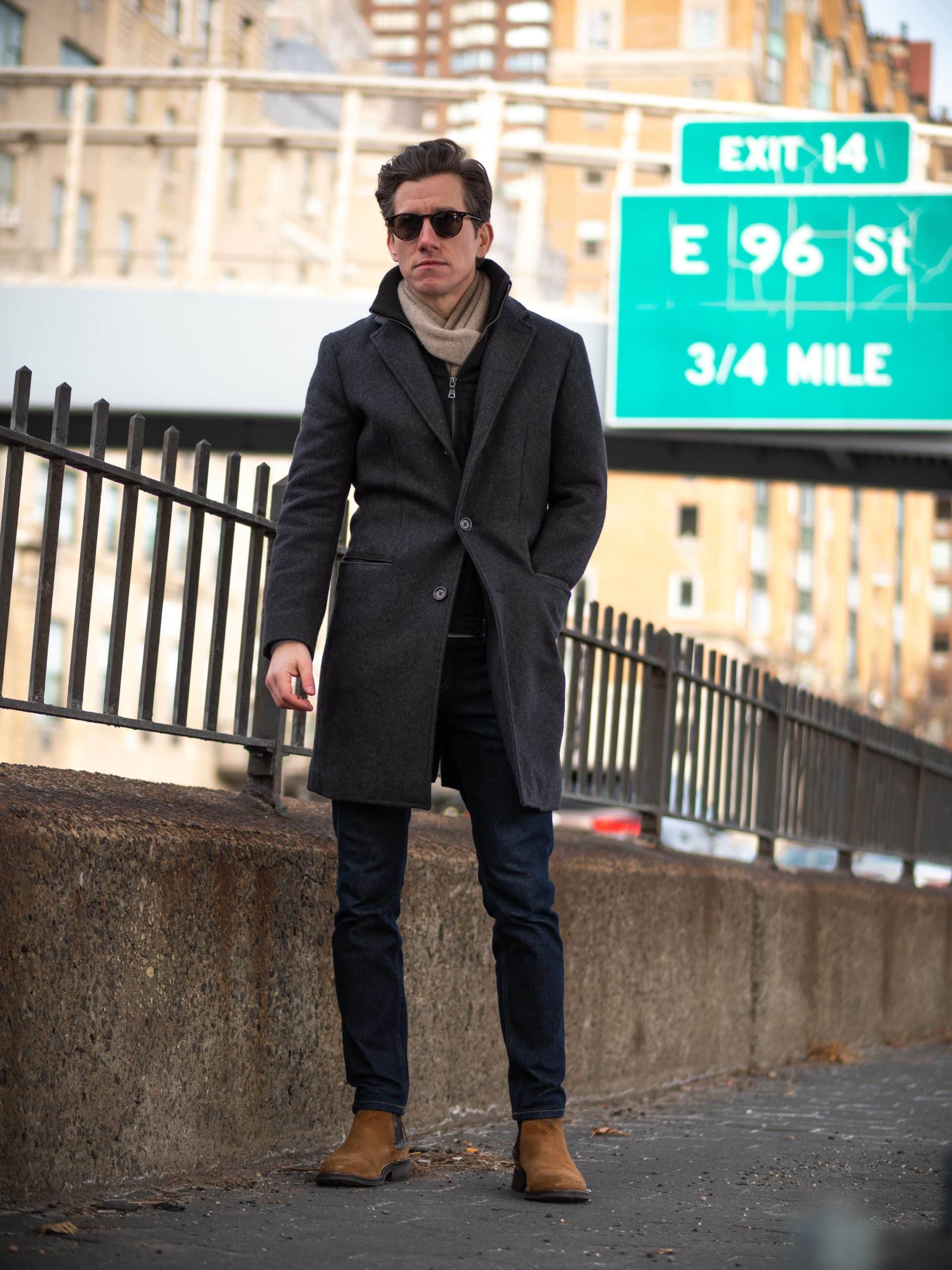 17 – Farmhouse Casual Wear for Men
When you're headed out, choose a subtle hue and let that dominate the whole outfit. Bring the outfit together with a pair of grey pants and a tea pink cardigan.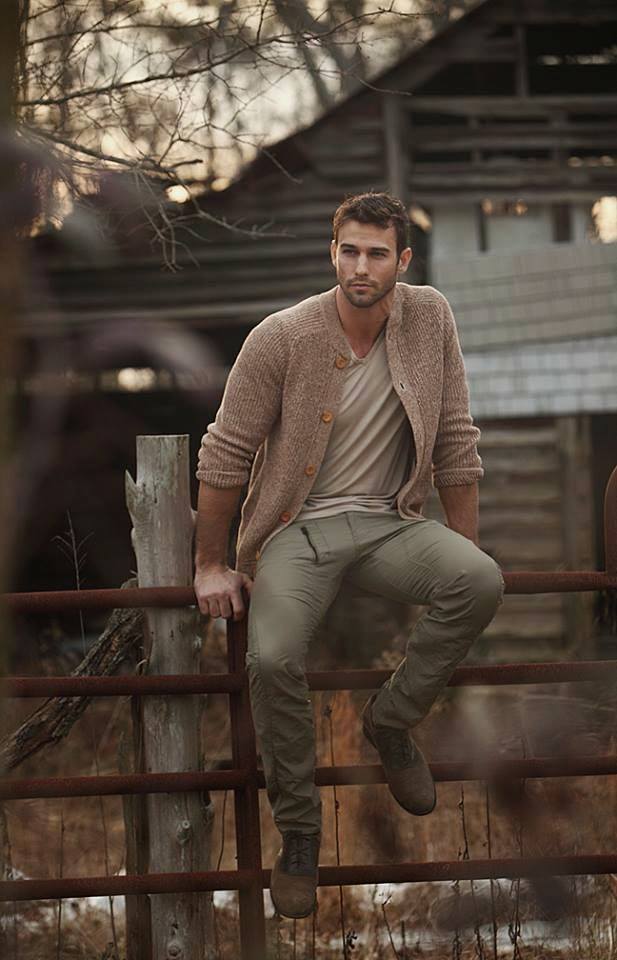 16 – When In Doubt, Grab A Blazer
Stay warm and still manage to look awesome with the addition of a simple navy blue blazer with a horizontal striped t-shirt.

15 – Strike A Balance
When reaching for a dark-colored jacket, make sure to keep the rest of the outfit light. Wear different shades of white so that the outfit doesn't look dark and gloomy.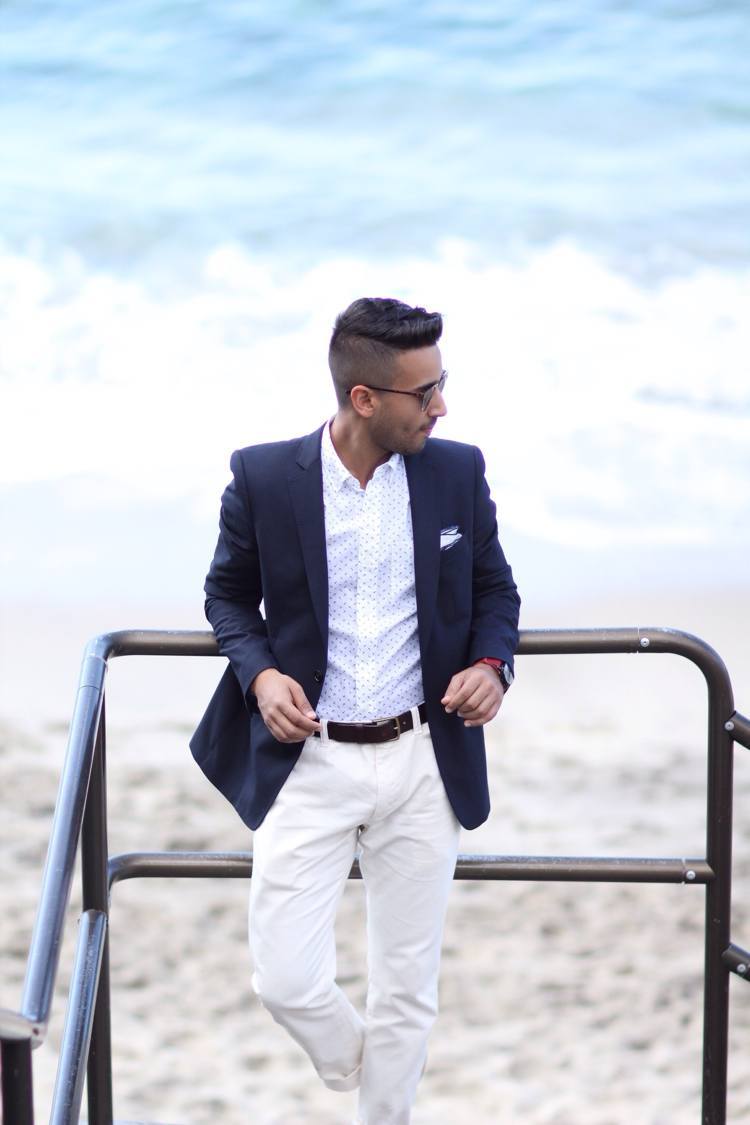 14 – Classic and Casual Male Clothing for Work
The combination of white, navy blue and tan; is classic. We all know when we wear this trio, the outfit simply works!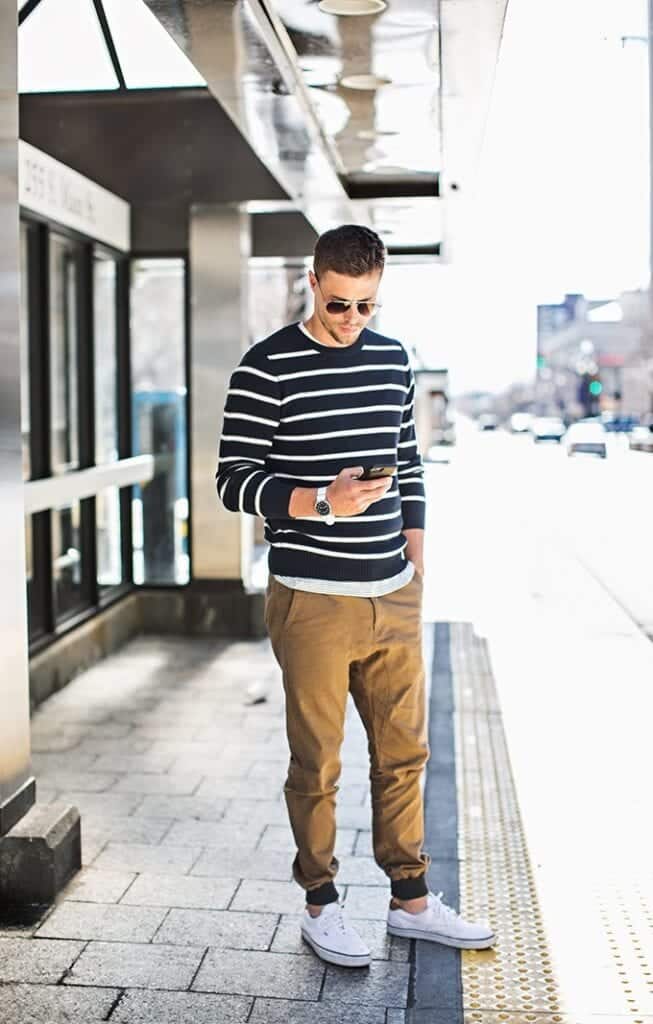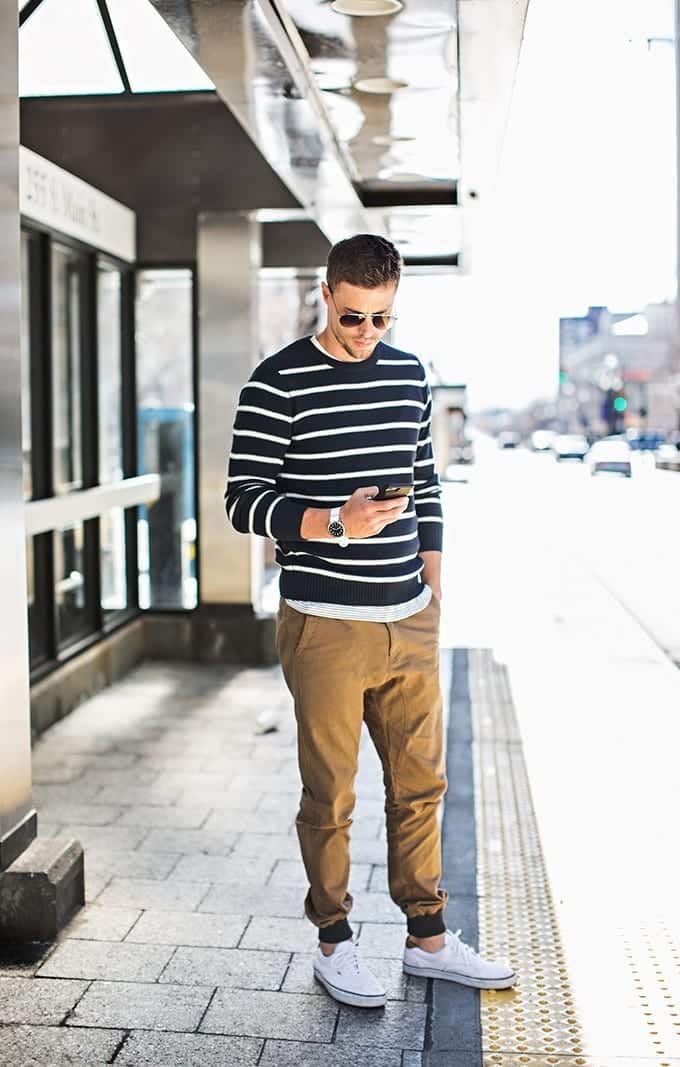 You might also be interested in checking out these 18 best winter outfit ideas for men to stay fashionable cozy
13 – Add Pattern for Casual Party Wear
Avoid looking drab and boring by adding a patterned sweater among your layers. Look for colors that complement each other like a camel coat and dark blue sweater.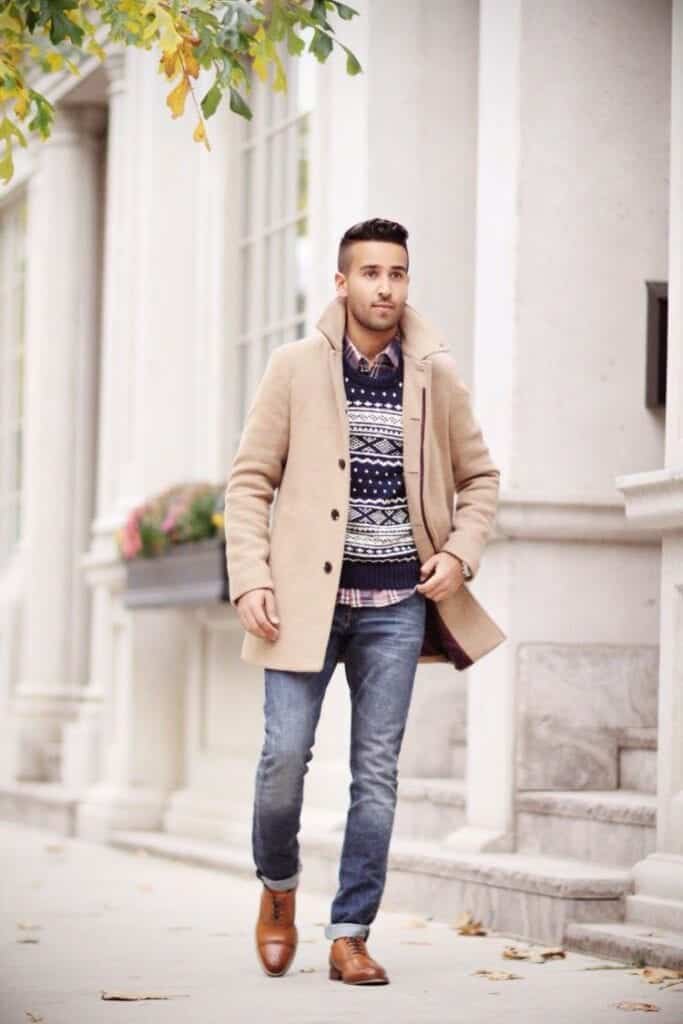 12 – Date In The Park with a Sharp Look
For a casual date in the park grab your go-to jeans and a simple tee with a patterned blazer.

11 – Play With Textures
If your shirt lacks some edge, wear a textured pair of monochrome pants to tie the outfit together.

10 – Comfort First
Aim to create outfits that are comfortable. A check button-down shirt with a cardigan goes perfectly together.

Do have a look at Men check shirt outfits-16 ways to style check shirts
9 – Focus On Accessories that go Best with Casual Wear
You can create a stylish ensemble with the help of a hat, a pair of sunglasses and a watch.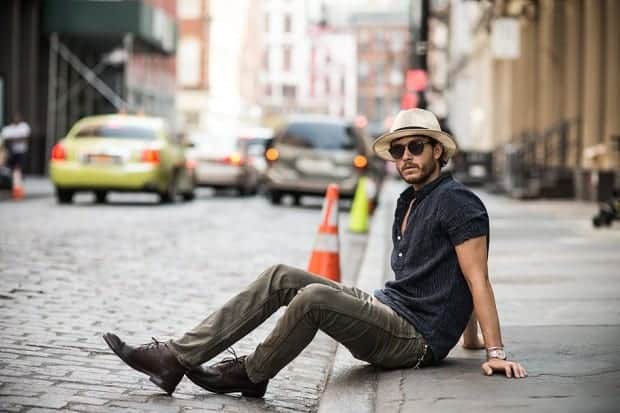 8 – Say Yes To Tweed
Tweed jackets are not only for professors. Turn this classic modern by adding a dress shirt and dark coloured jeans!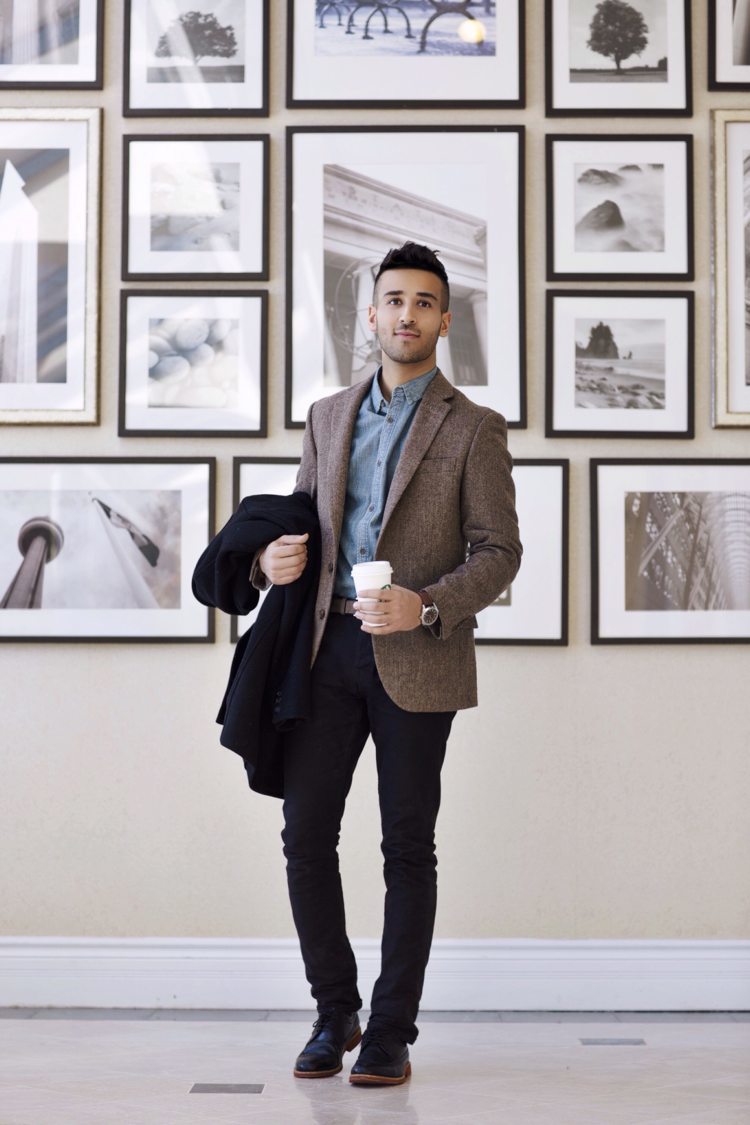 7 – Similar Hues

6 – All Shades Denim
Pair a denim jacket with distressed denim skinny jeans and complete your rugged look.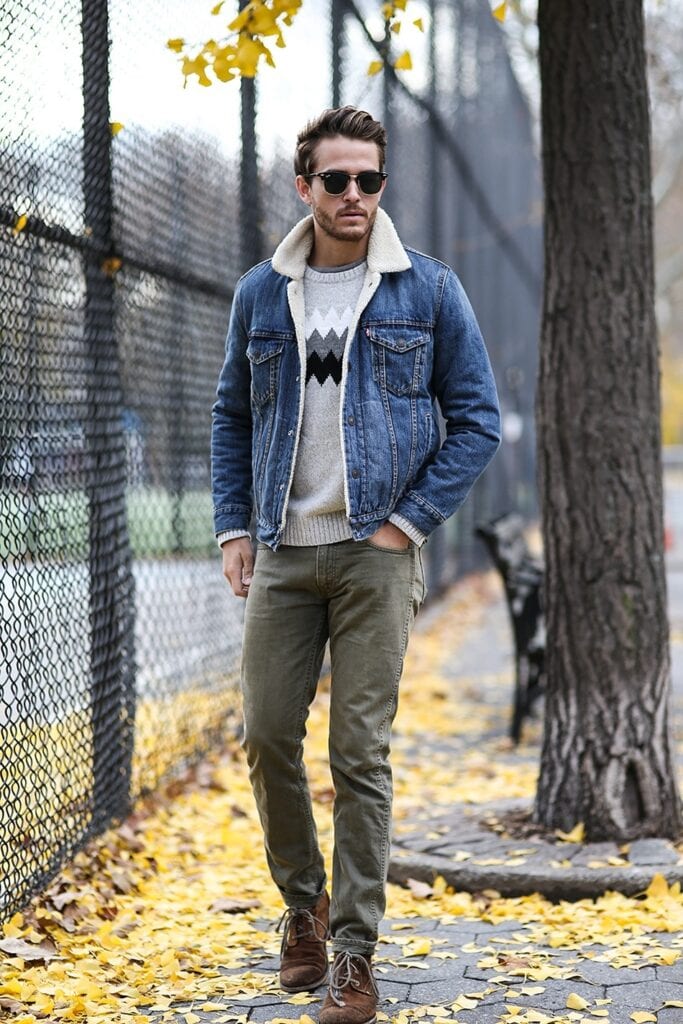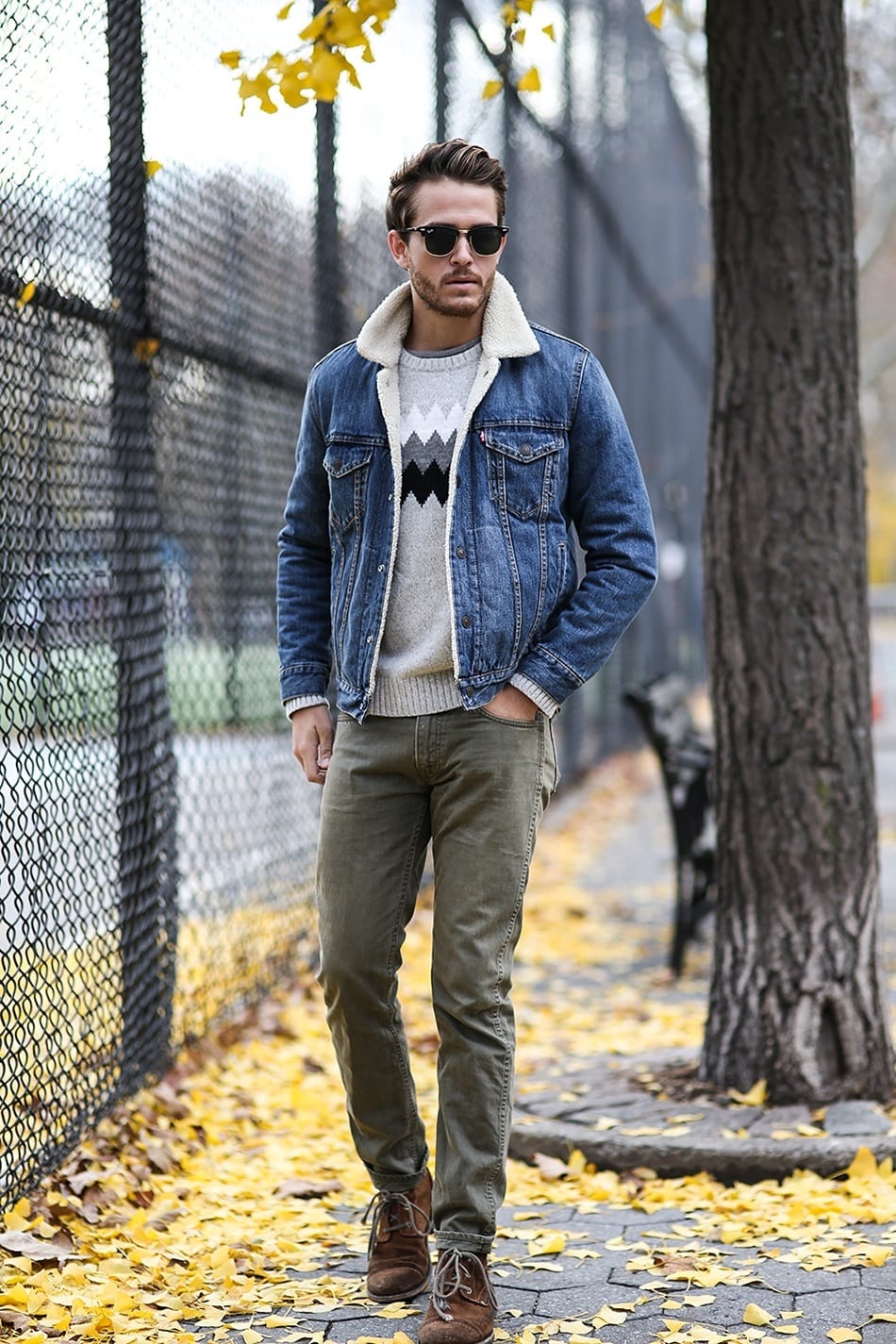 5 – The Hipster Look
A beanie, some sunglasses and a bomber jacket are all you need to get this hipster look!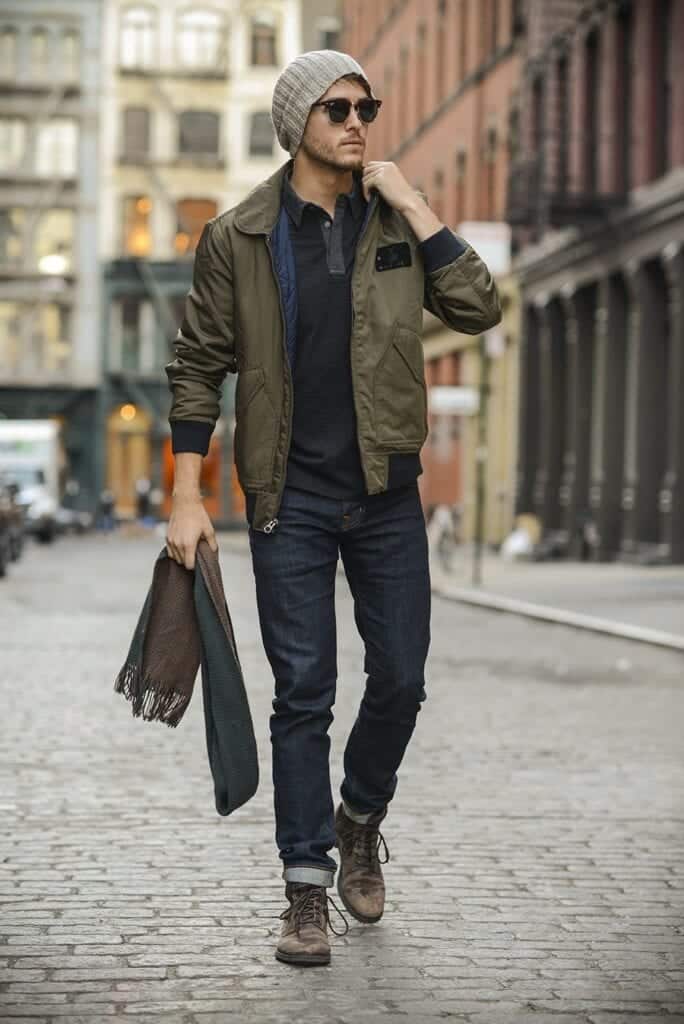 4 – Sexy Leather Jacket
How a simple leather jacket can make someone 10 times hotter is beyond our understanding. Wear simple jeans and a white tee with a brown or black leather jacket when going out to impress that special someone.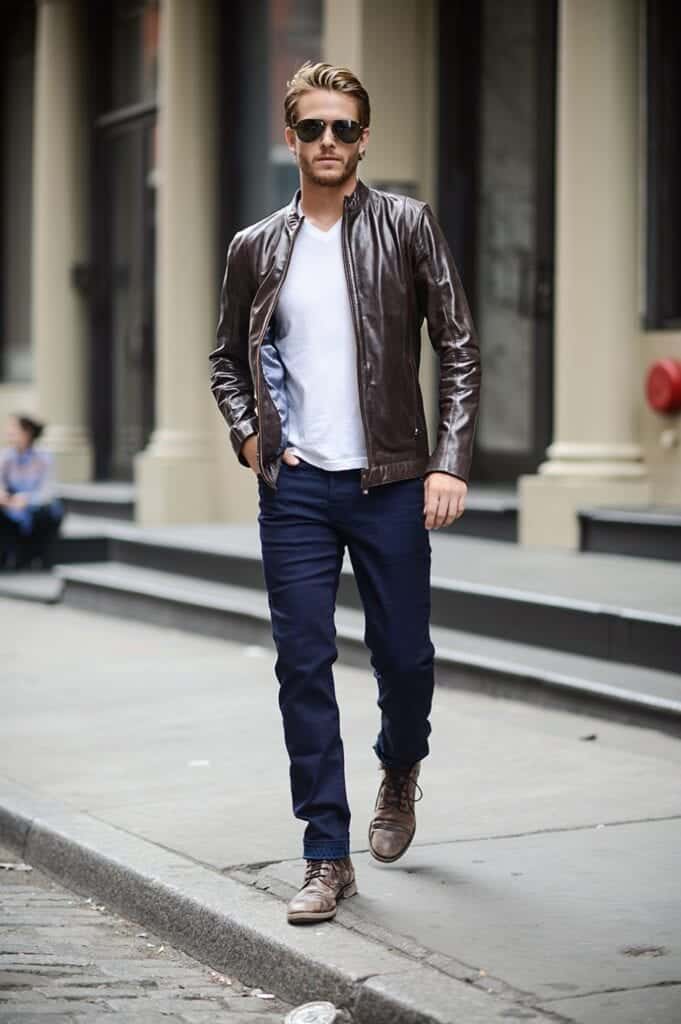 3 – Navy And White
There is no need to worry about mixing different colors to create the perfect look. Choose 2 shades, one light and one dark and base your whole outfit on it. Notice how the jacket is complemented by the white tee and how the navy blue pants are accentuated with white shoes.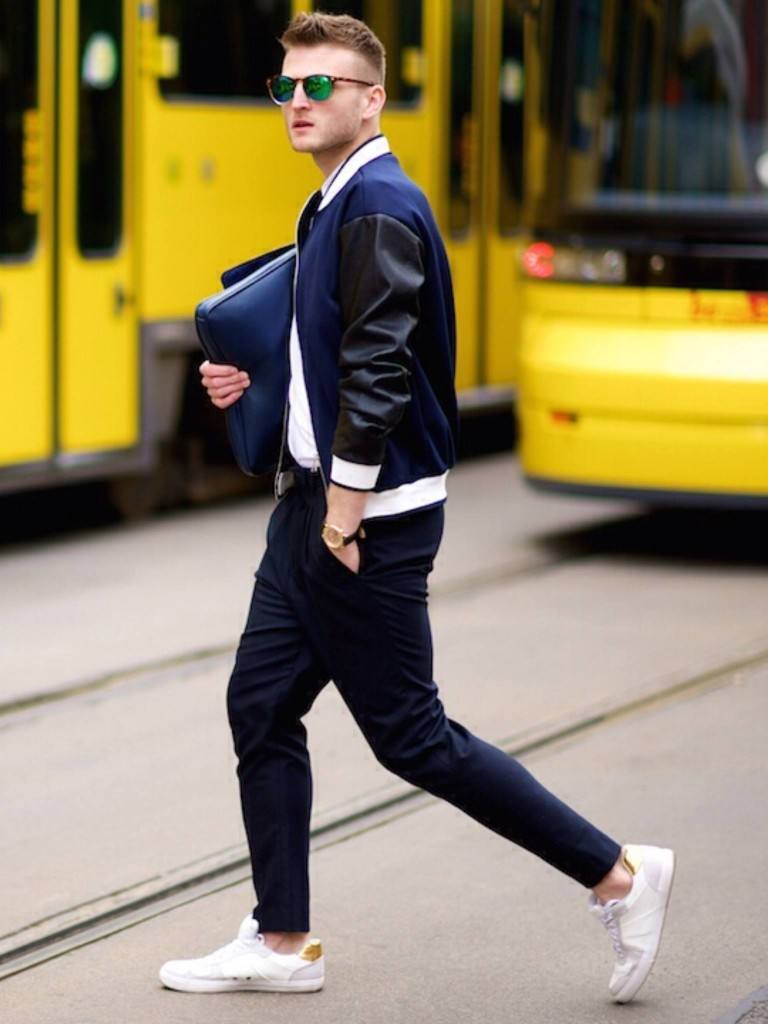 2 – Totes Can Be Masculine
When heading out to run some errands, carry a tote bag matching your outfit. Stick to brown and shades of tan rather than brighter colors. And keep it casual with distressed jeans.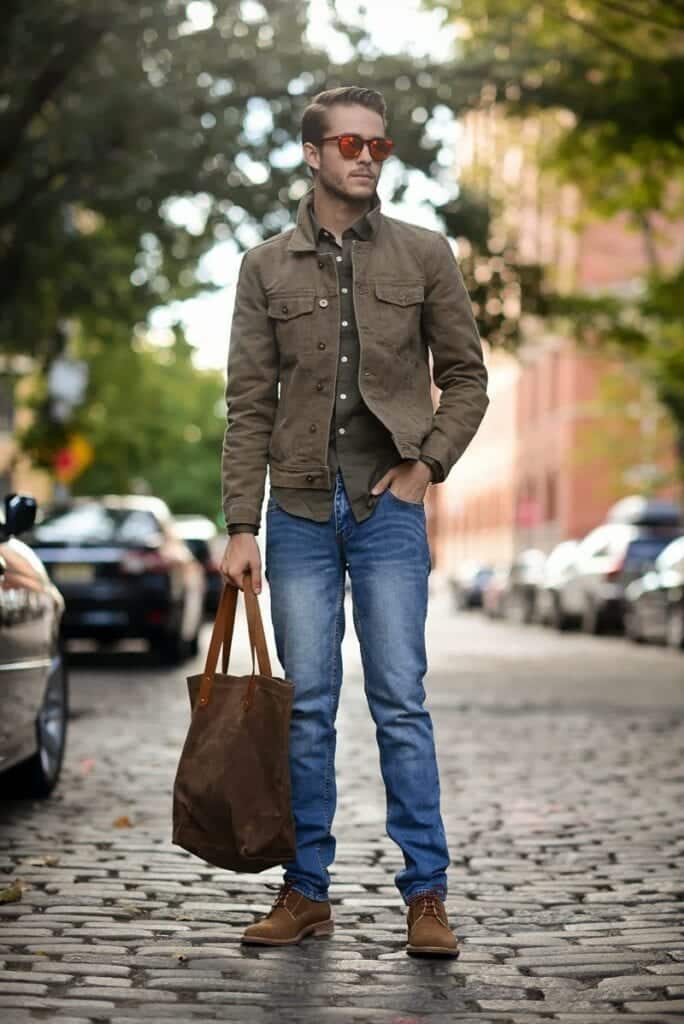 For some more amazing ideas, do check out Men long coat styles.
1 – Casual Fleece
Fleece jackets are associated with hoodies but go for a long fleece jacket and similar shaded pants for an outfit that is both fashionable and hot. Carry a scarf if you feel the outfit needs another element!

Frequently Asked Questions
Q.What colors look good on men in fall?
A. Brown, navy, and grey tones are your best bet this season. You are welcome to add a pop of color to your outfit—for instance, purple and pink accessories like scarves.
Q.What do men wear in the fall season?
A. During fall, you'll likely see men in trench coats and jackets. However, this isn't always the case. Knitwear and turtlenecks, for one, are a good alternative.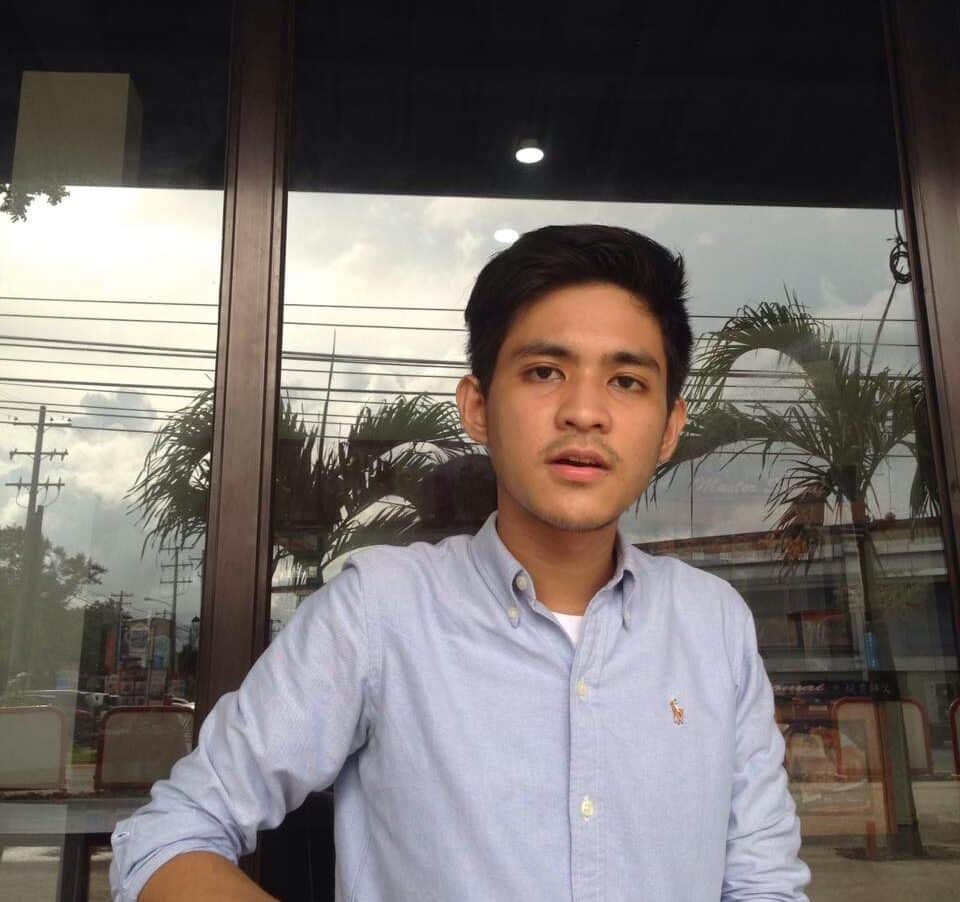 John Vincent studied Communication Arts in the Philippines.
Growing up, he's always had an eye for aesthetics. He enjoys writing a lot. Books, TV series, and movies are a big part of his life. His all-time favorites are Harry Potter, Game of Thrones, and Marvel films.
He believes that fashion is a pure form of art. You express yourself through your personal style – it's something you can't replicate.