Men Outfits with Blue Jeans. They are an essential part of a man's apparel. Without a pair, the closet is incomplete. Most men think they can sport them in any way they like, and though that's a confident look, one should be well aware of how to carry oneself in a suave manner.
After all, if you are not creative with the staple item of your clothing, how can you ever be good at dressing stylishly? Following the trend and maintaining your own style statement are both important. We are here with ways you can do justice to the jeans. So, that you cannot even once mess up with your look and can up your style game.
How to Wear Blue Jeans ?
Here are a few basic tips to have in mind. Have a look;
For semi-formal wear, put on a pair that fits you. Jeans that are obviously not your size look like you fetched them from your dad's wardrobe.
Wear a contrasting color belt with your jeans. Black and brown are the go-to choices. Try to always match the color of your shoes with that of your belt. Unless you are wearing green, red, or such colored sneakers.
Don a pair of light blue denims with either the basic colors of shirts; white and black or other colors that are light. Bright and funky doesn't usually go with light blue jeans.
They can be worn in many ways and complement all attires. Try experimenting but remember to be yourself.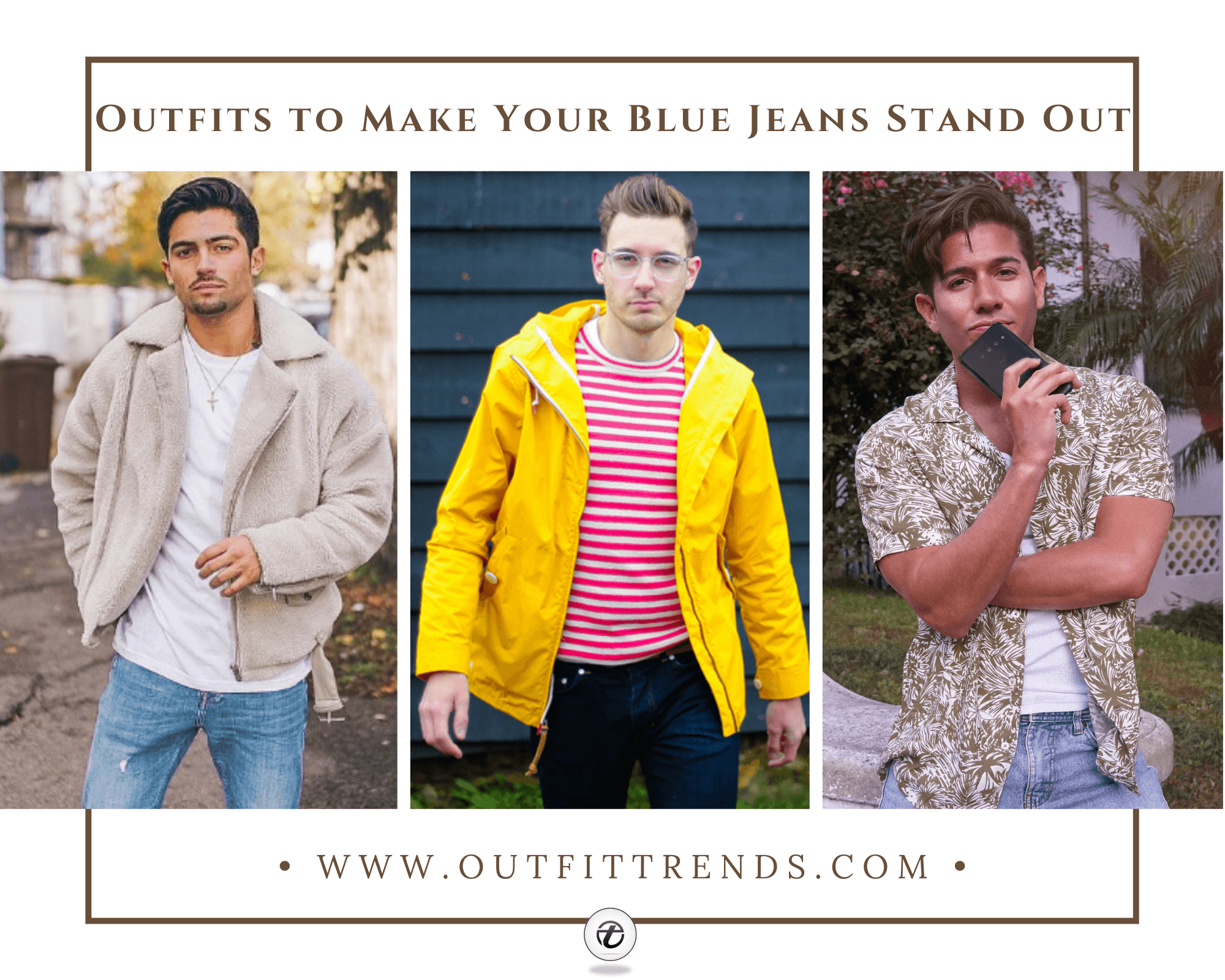 What are the Jeans Brands ?
There are many brands but none can beat Diesel and Levi's jeans when it comes to comfort, style, and affordability. G Star, Nudie, Denham, Scotch and Soda, Gucci are some of the many popular jeans brands. And for more budget-friendly yet good-quality options, you can always check out Amazon, Uniqlo, GAP, Everlane, American Eagle, Old Navy and Banana republic.
Now, let's look at some outfit ideas that we have compiled for you.
↓ 45. Add Some Funk with Bright Colors
We love how our favorite fashion blogger Will from Bright Bazaar has shown that you can easily style dark blue denim with primary brights for an eye-catching yet sophisticated look that anyone can pull off.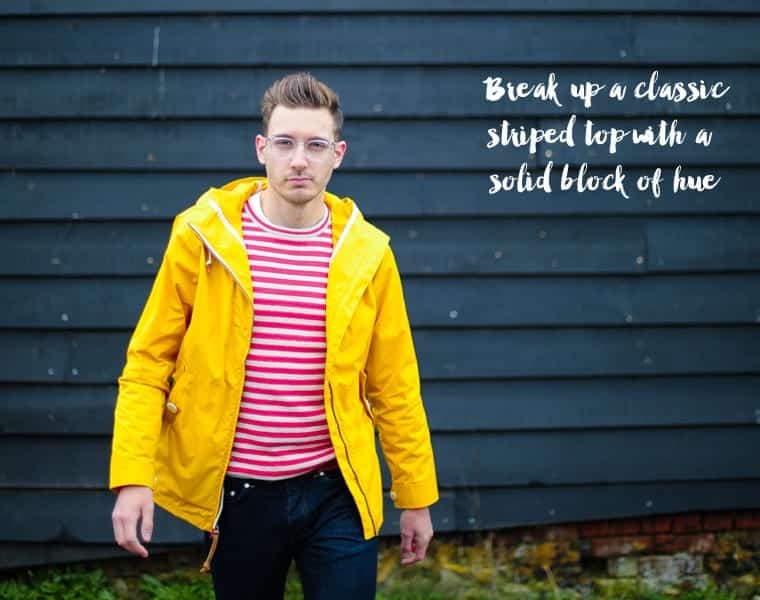 ↓ 44. With a Faux Fur Coat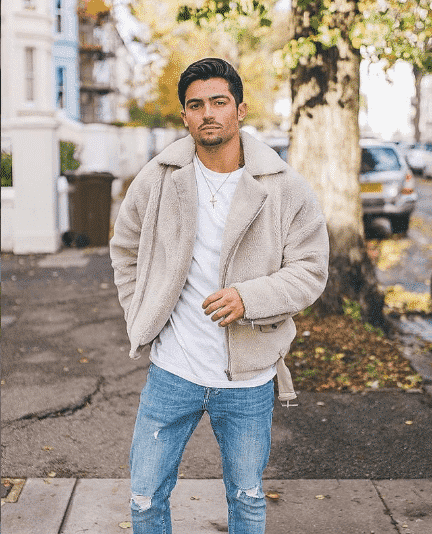 ↓ 43. Make it Casual
Wear with a striped button-down shirt. Stick with being casual by wearing sneakers. Boots are off the table in the meantime.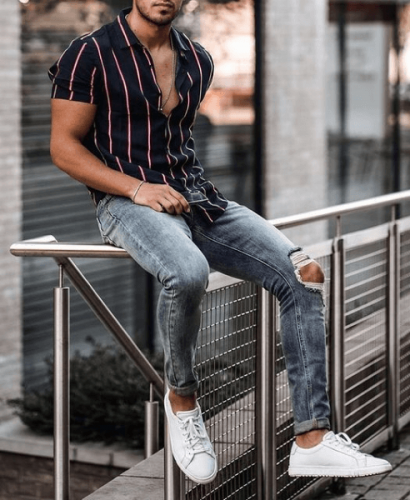 ↓ 42. Style it with a Flannel Shirt
Rolling up the sleeves to show the timeless wristwatch or bracelet you're wearing is a must. Go for tight or relaxed-fit jeans, and complete the look with some white sneakers.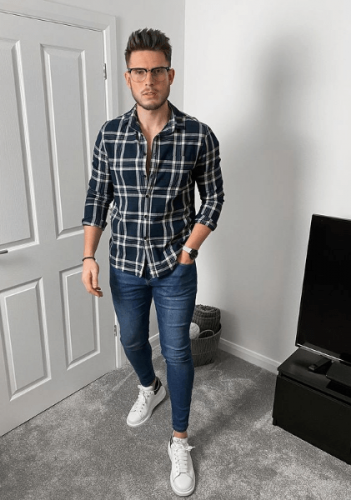 Flannel shirts are as comfy as a pair of jeans. Combine both in an outfit for a kicky yet meticulous appearance.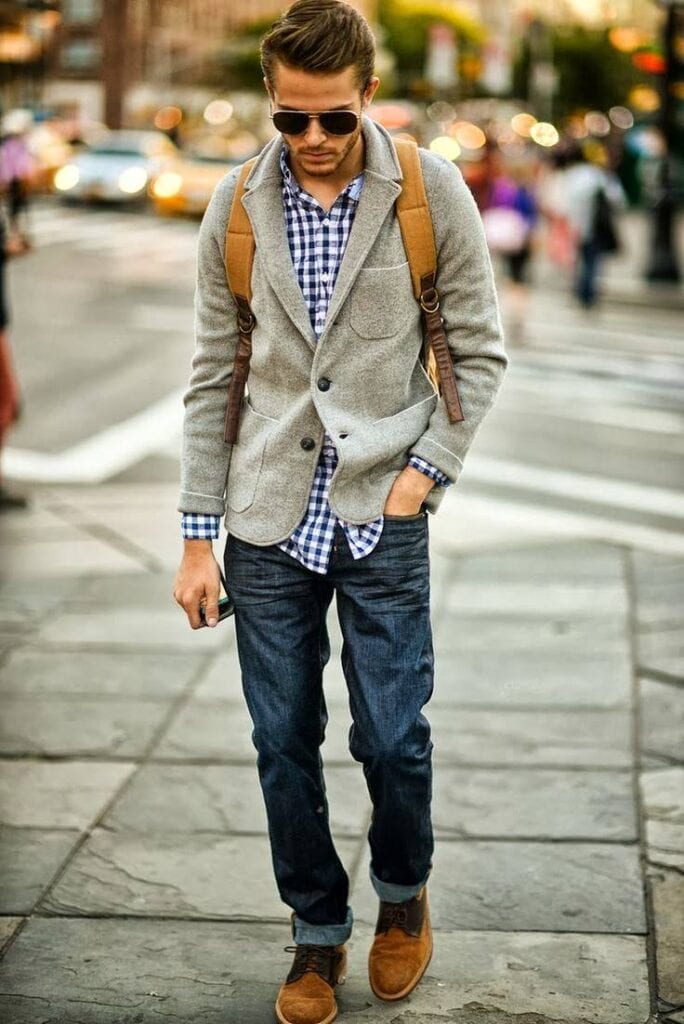 ↓ 41. With a Fur Leather Jacket and a Hoodie
This style is best for the winter and fall seasons. The thick and solid composition of the coat will protect you from the cold weather.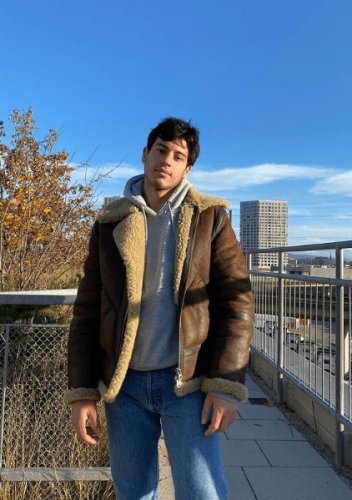 ↓ 40. With a White Button-down 
This smart casual outfit looks better if the shirt is tucked in. Match the color of the shoes to your top. In this case, white sneakers look just fine with a white button-down.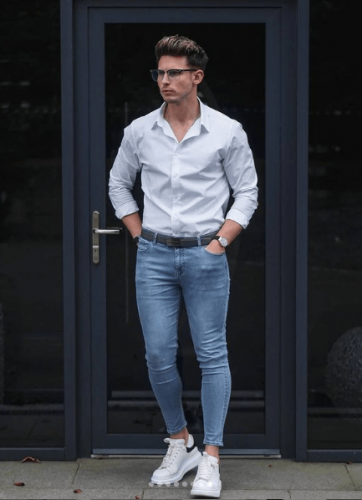 ↓ 39. With a Peacoat
This winter staple would look perfect when paired up with jeans. Try wearing a blue peacoat and ripped or skinny blue jeans. And since it's cold outside, make sure that you're wearing the right footwear – like boots of the same color as the coat.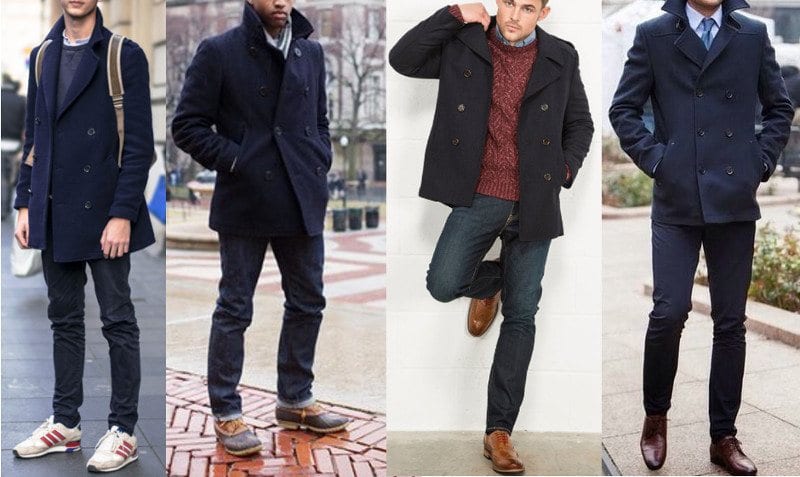 ↓ 38. With an Earthy Toned Pullover
Try matching the color of the shoes to the top.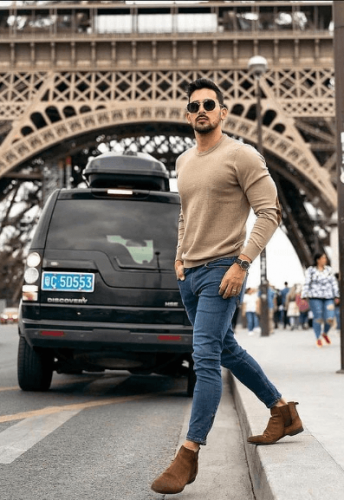 ↓ 37. With a Leather Jacket
Look elegant and hot with this biker outfit. Wearing chucks with a black leather jacket is a good option.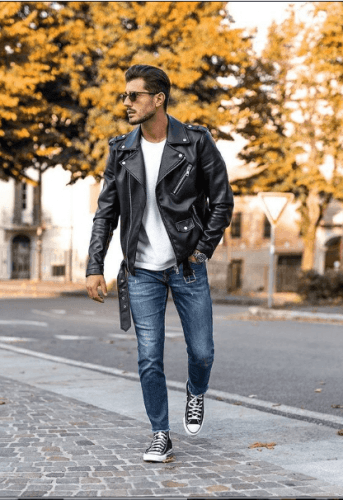 Wear a brown or black leather jacket with blue jeans for a tough-guy look. Leather jackets look dapper with blue jeans and a light-colored plain tee. Paired with boots the look is even more prominent. Leather jackets also look equally good with ripped jeans, so here are the latest Men Ripped Jeans Outfits.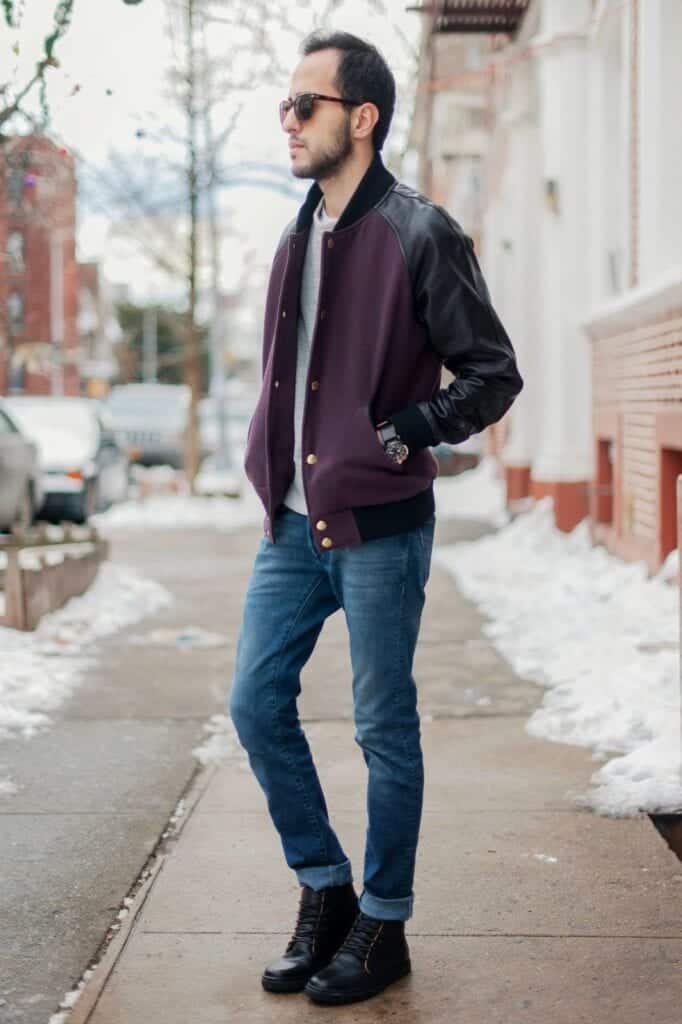 ↓ 36. Wear it as it is
In summer and spring, you can wear jeans without a top. But make sure that you'll only do that on the beach, and not on roads and other public places.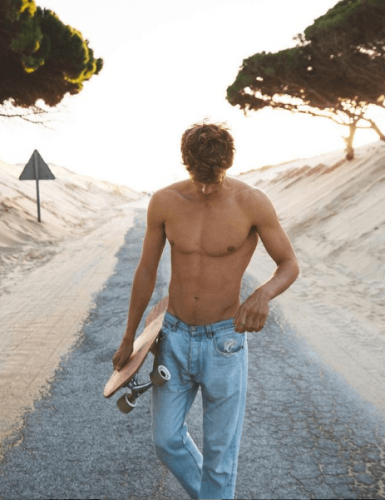 ↓ 35. Denim on denim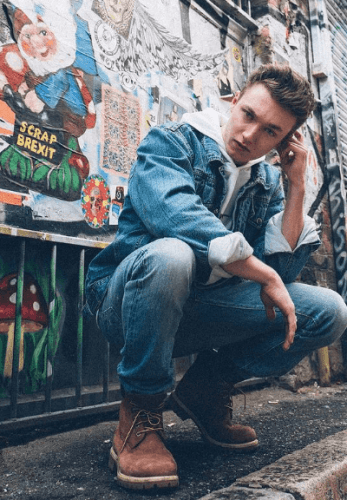 ↓ 34. With a Jacket Shirt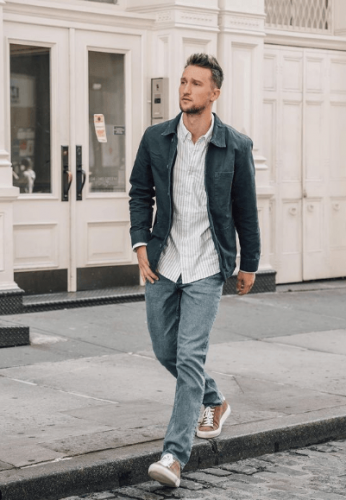 ↓ 33. With a Suede Jacket
For a uniform look, match the jean's color to your belt and other accessories that you will incorporate into your outfit.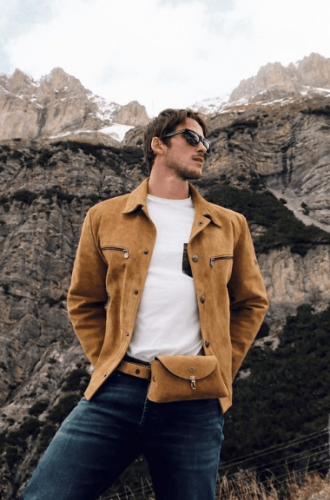 ↓ 32. With a T-shirt
There's nothing more casual than this basic outfit. Hit the streets with this look, or go hang out with your friends at the mall – you will never go wrong with this minimalist combo of faded jeans and a T-shirt.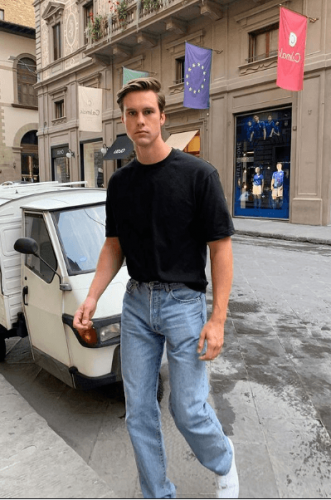 ↓ 31. With Bomber Jackets
If it's chilly outside, add a bomber jacket on top of your daily outfit, and you're good to go.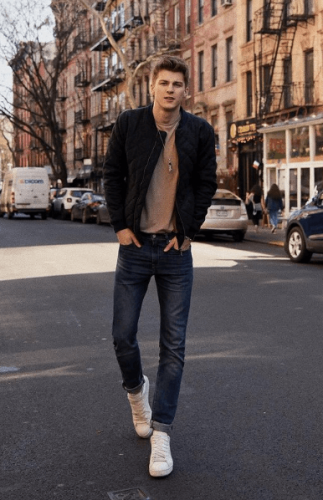 ↓ 30. With a Hoodie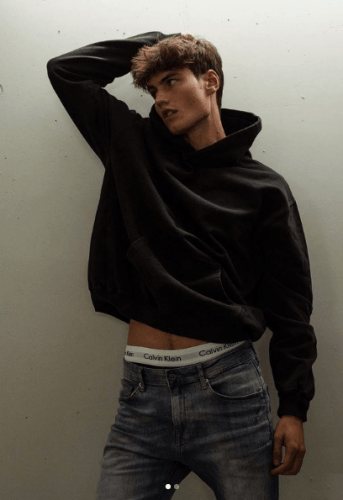 ↓ 29. With a Blazer and a Button-down
One step behind formal attire, this style is suitable for first dates and friendly meet-ups. No need to wear a tie!
For a formal look, don a blazer with a plain tee or dress shirt underneath with a bow-tie your blue jeans. Here are 18 Latest Men Casual Outfit with Blazer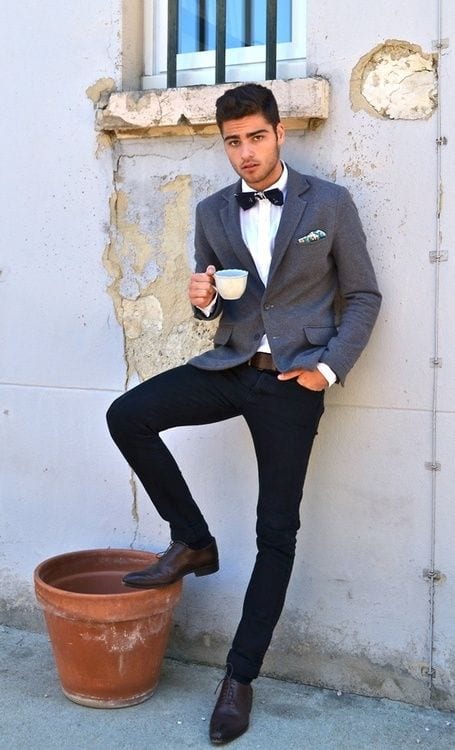 ↓ 28. With a Puffer Jacket
Cold nights are over. Get comfy and stylish with this outerwear. A hoodie is just one of the undershirt's options, a simple dress shirt or a plain T-shirt looks equally good with it.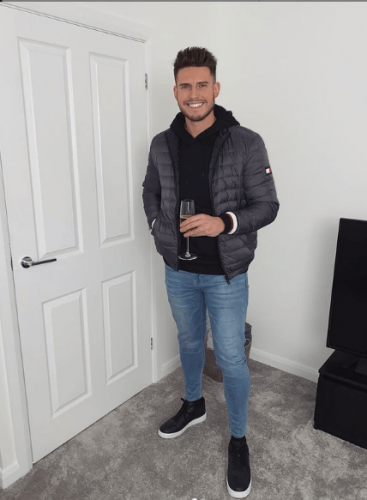 ↓ 27. Trucker Jacket as the top
Another denim top – just add it on top of a shirt. And since this style is best for winter and fall seasons, finish off the look with the best boots you have – brown would make outstanding color coordination with blue tones.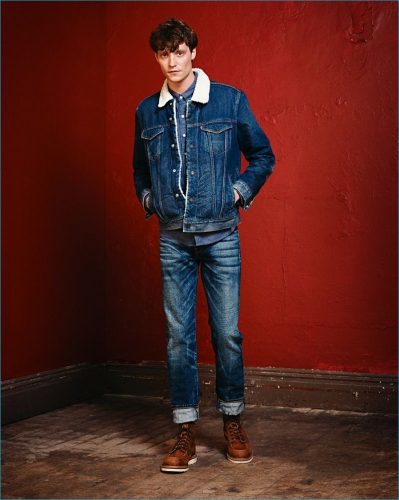 ↓ 26. With a Varsity Jacket
Look sporty and scholarly all at one time with this style. Others may take you for a star player for wearing this campus outfit.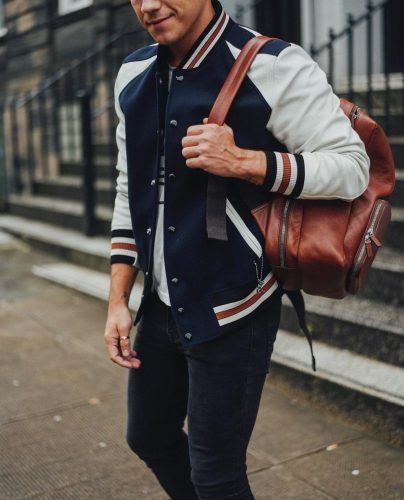 ↓ 25. Turtleneck with Jeans
It is a standalone piece of garment. You can wear it as it is, but it would look better if worn with a jacket or a blazer on top of it. Just tuck in the turtle neck.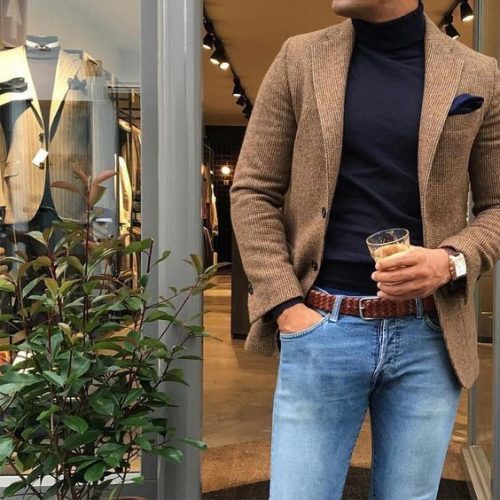 ↓ 24. With a Vest
One step ahead weekend casual outfit, add a vest with a minimal design on top of a dress shirt, and you're in for a smart-casual vibe. It's mandatory to tuck the shirt in and to roll up the sleeves if you're going for the casual vibes.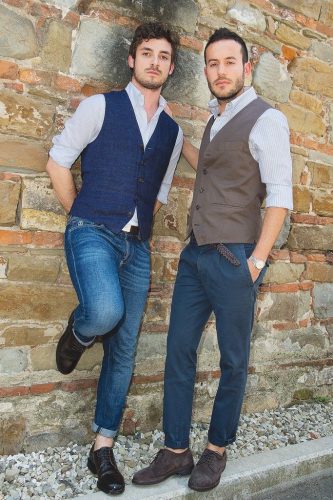 ↓ 23 – What to Wear with Blue Denim Jeans in Fall
A pair of denim jeans is one that every man must have in his closet. It makes for great versatility and effortless style. Denim jeans go with a number of outfit styles. We've already covered the White Jean Outfits for Men so you might want to check them out too.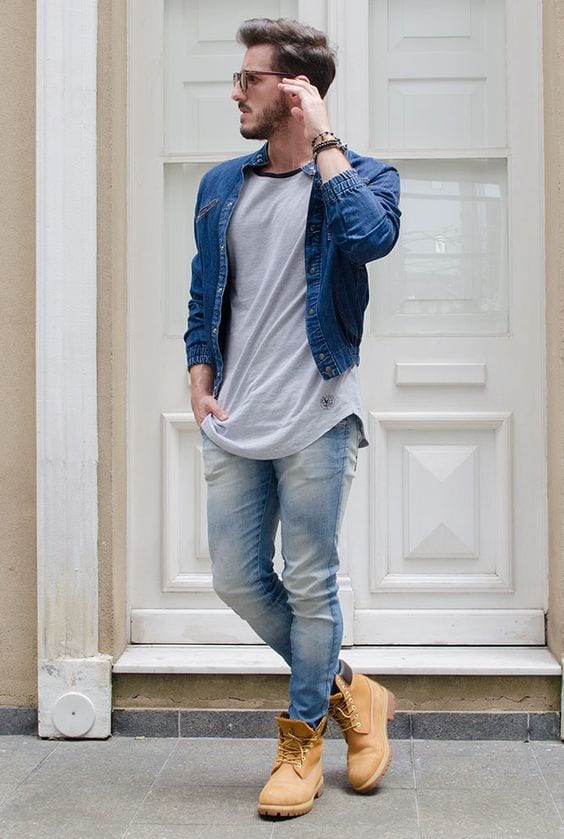 ↓ 22 – Casual Wear in Slim Fit Blue Jeans
Slim fit jeans look snazzy on men who can carry them with sass. Not all men can rock a pair of crisp slim fit blue jeans. If you think that your thighs are too heavy for slim fit jeans, otherwise known as skinny jeans, opt for straight leg jeans instead.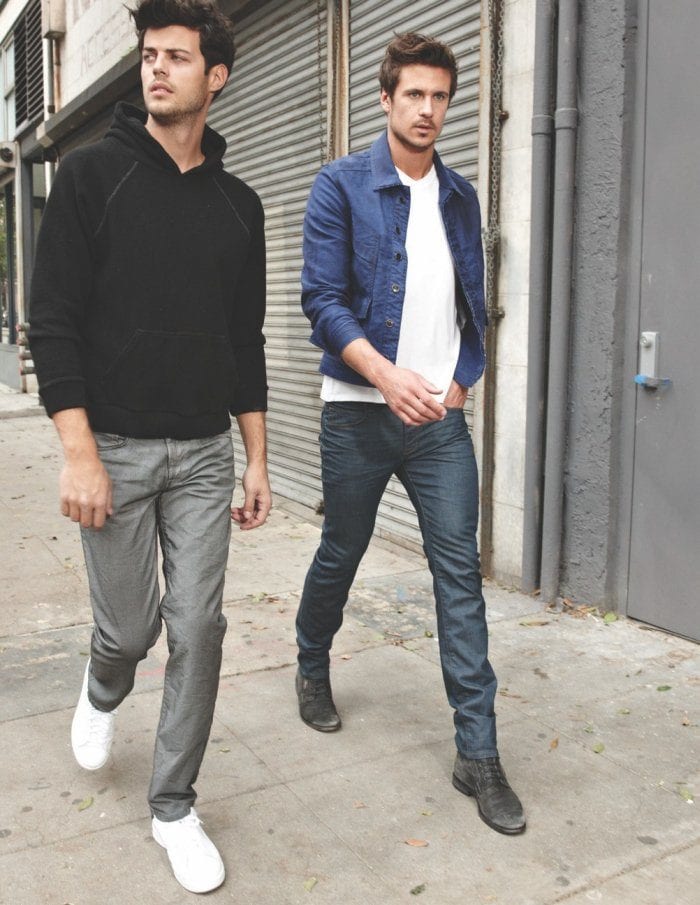 ↓ 21 – Blue Ankle Length Jeans for Work
Ankle length jeans or cropped jeans also make for a contemporary look. Paired with a button-down shirt, sleeves rolled up, they look debonair. I also recommend that you check out this collection of Summer Office wear for men.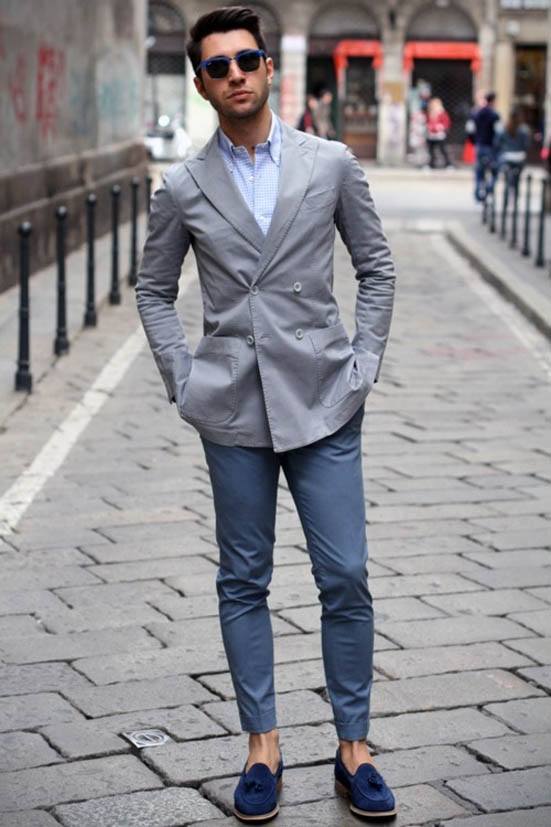 ↓ 20 -Ripped Jeans in Summers
For the bad-boy look, ripped jeans are the topmost choice. For a smart look, they can be donned on with a suede jacket and matching suede loafers.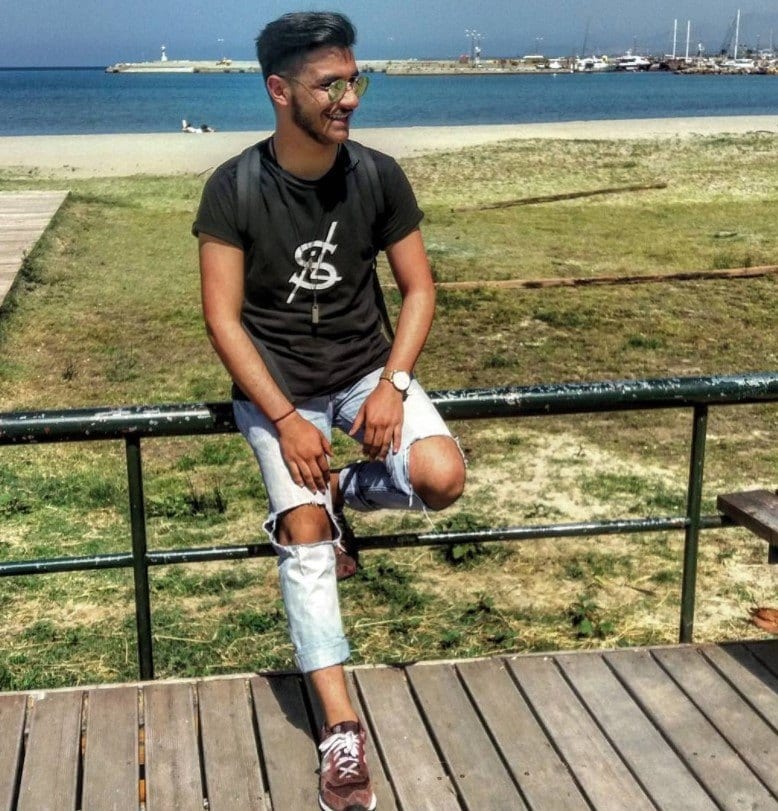 ↓ 19 – What Color Shirt To Wear with Light Blue Jeans
Light blue jeans look modish with a white round-neck tee or a white dress shirt and white shoes. Makes for ideal informal wear. It also looks glam with a light blue button-down or a light pink one. Throw on a black jacket for added sass. Put on your sun shades to complete the look.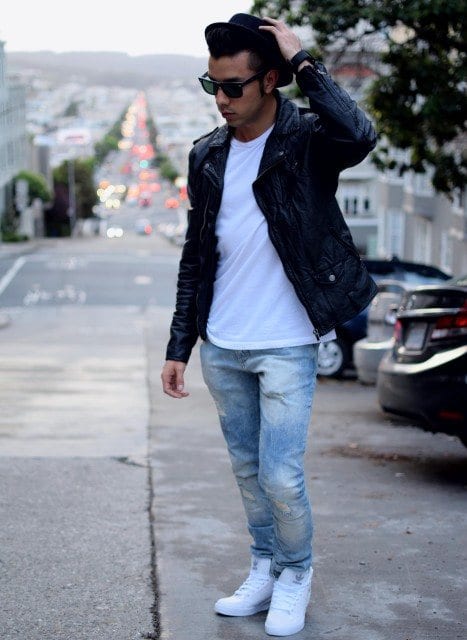 ↓ 18 – What to Wear with Skinny Jeans
Your dark blue skinny jeans can be paired with all dark and light colors. With deep brown shoes, the look is charming. Don a navy or grey blazer or a leather jacket to amplify the style. For some cool outfit combination ideas, you can also check out these Best Combinations with Jeans for Guys.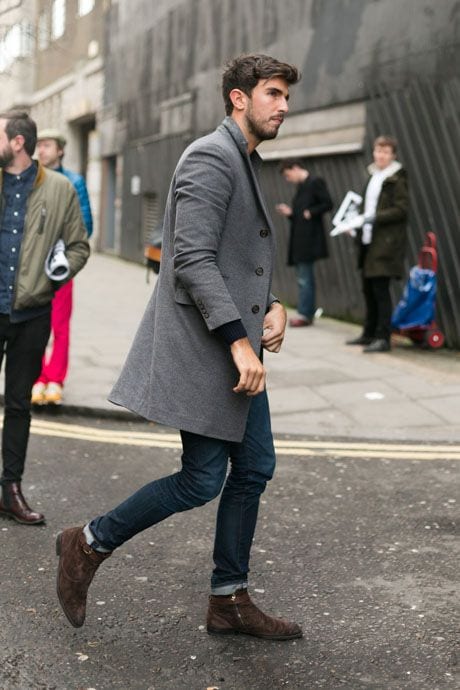 ↓ 17 – What Color Shirt Goes with Dark Blue Jeans
Dark blue jeans are for all seasons and all colors. Try this spiffy look; dark blue ankle-length jeans with a contrasting blue sweater and light blue button-down underneath.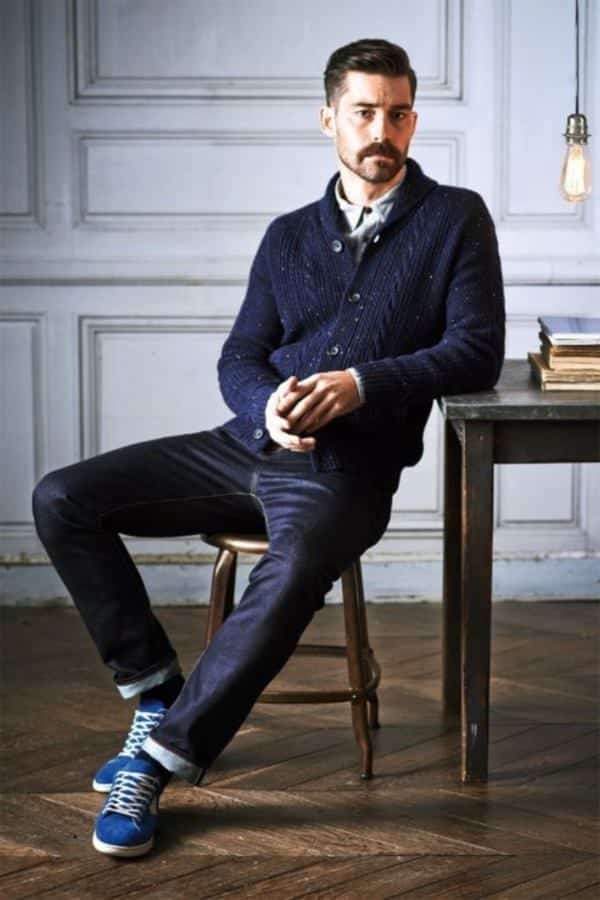 ↓ 16 – Work Wear
A ripped pair of jeans look best with leather jackets or a swag-filled half-sleeved tee. Cropped blue jeans look sophisticated with button-downs. Straight leg jeans complement every type of shirt. If you're into darker shades of jeans then here are some cool Black Jeans Outfits for Men.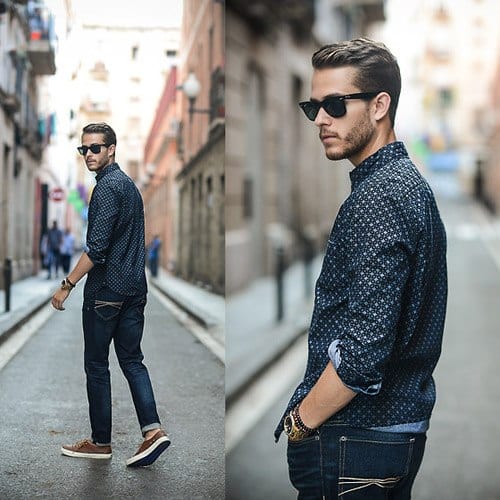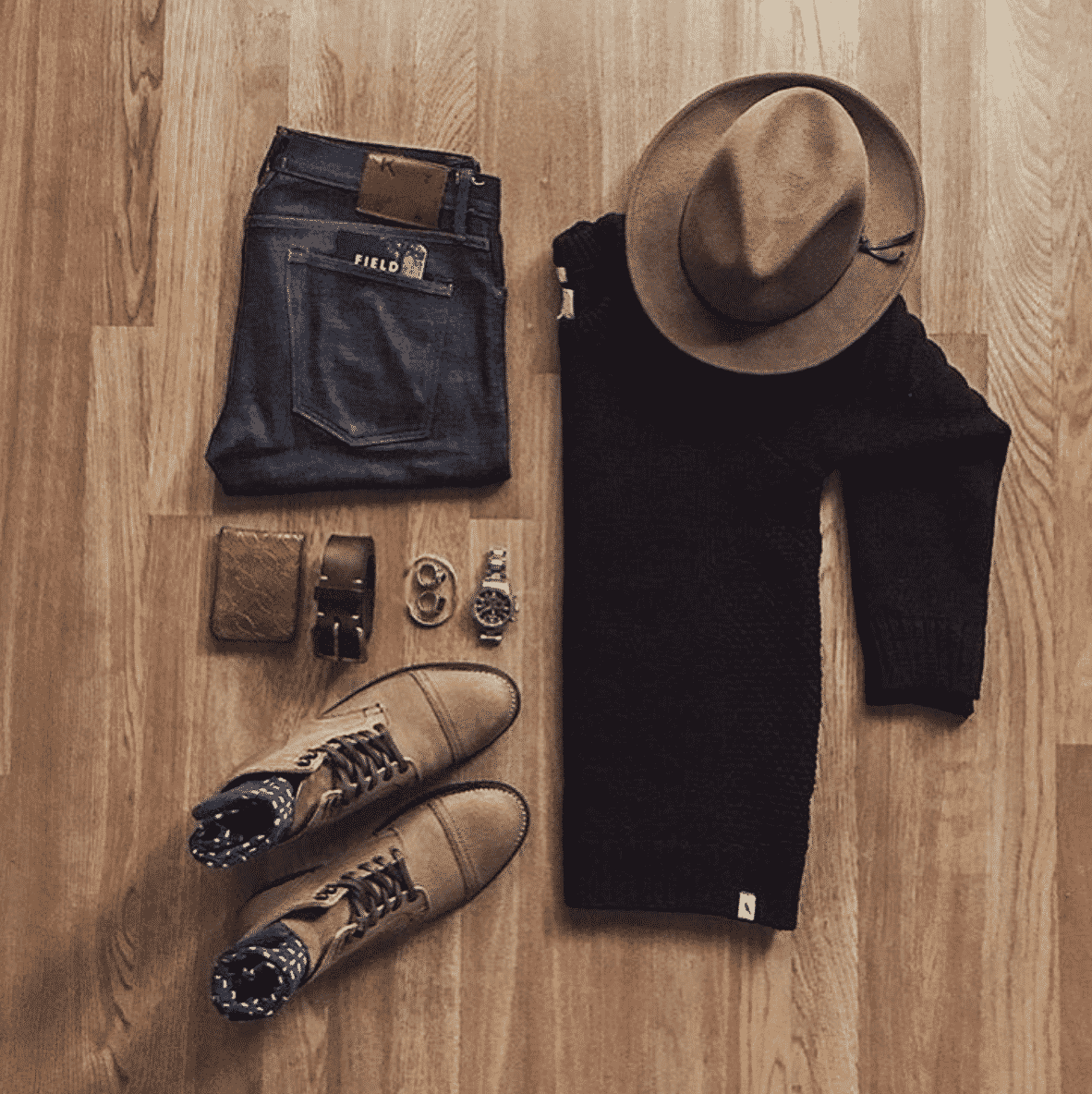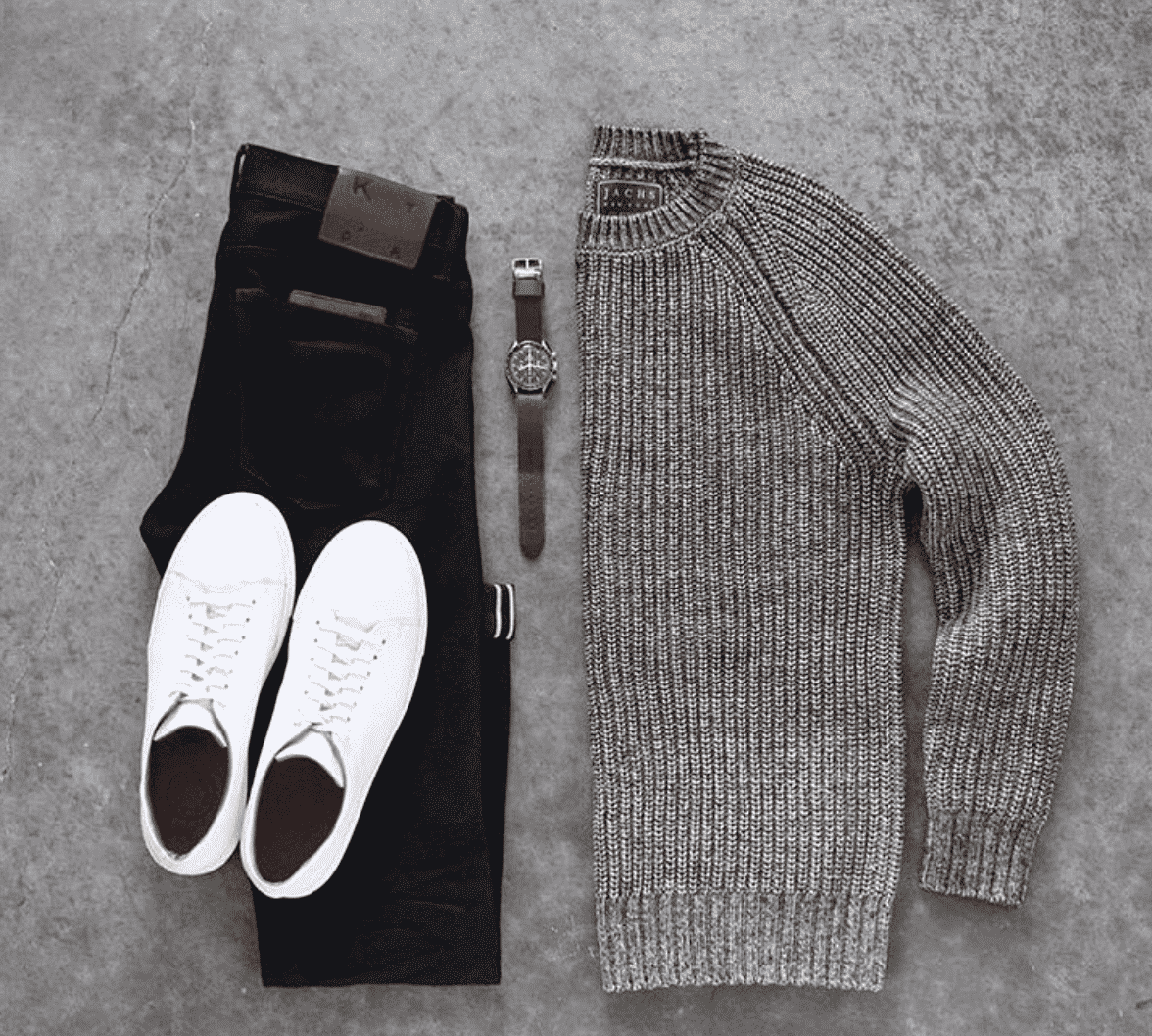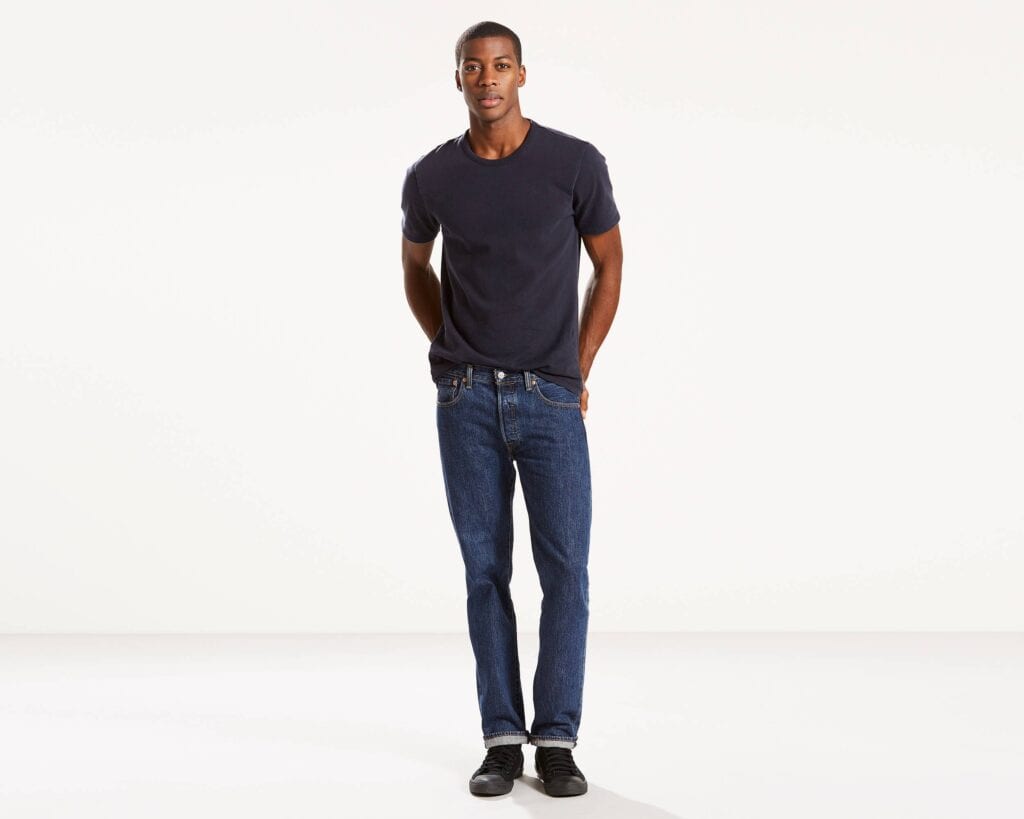 ↓ 15 – Winter Casual
Jeans and boots complement each other perfectly. When the season calls for boots, you better not miss this look. If you're a lover of boots then here's something you can't miss, the most incredible Brown Boots Outfit for Men.
↓ 14 –  With Sneakers for Movie Date
When hanging out with friends for the weekend, blue jeans with sneakers will always be the first and most preferable choice.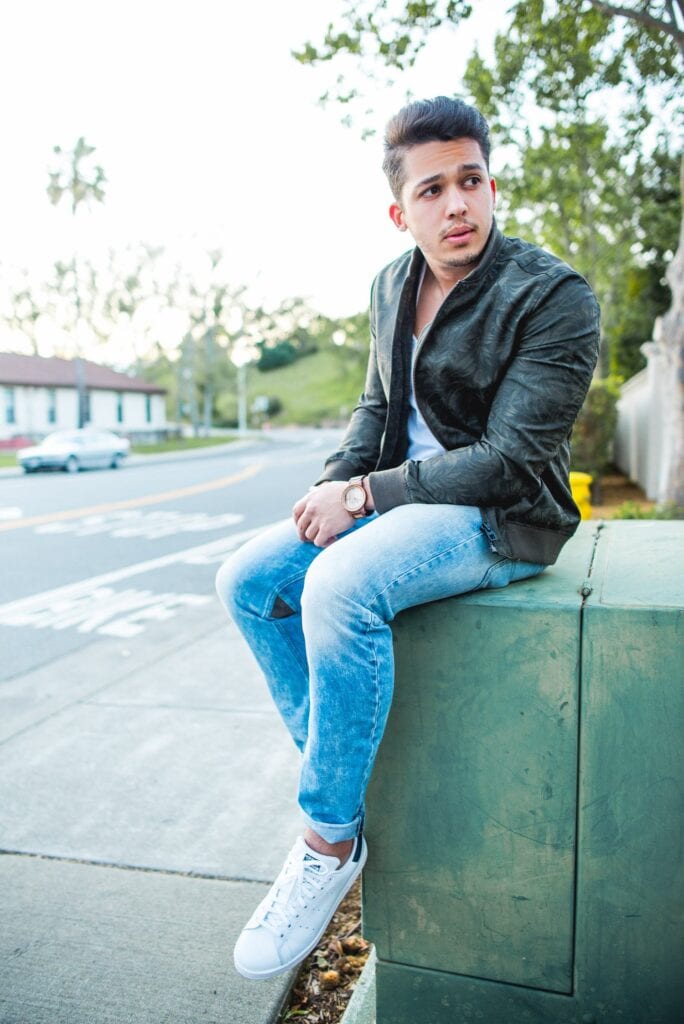 ↓ 13 – With White Shirt for Teens
A white shirt with blue jeans is classic attire. The two are evergreen together. Add some accessories to jazz up the look. Every guy has at least one white tee and if you're looking for some new looks to go with your white tee, here are the 15 Best Ways to Wear White Shirts.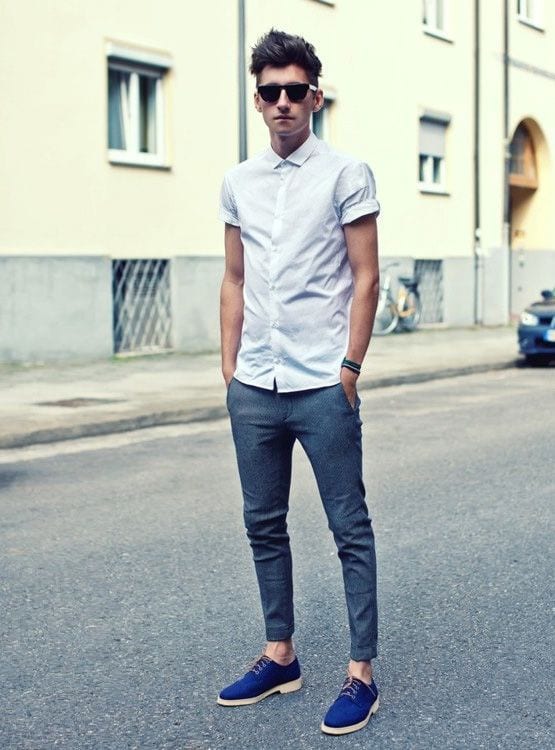 ↓ 12 – How to Wear Black Shirt with Blue Jeans
Whether you go for a black dress shirt, a plain black tee, or a black polo shirt, pairing it with blue jeans will make you leave an impression on everyone you come across. Have a look at this style; a black sleeveless shirt with blue jeans and a basket full of swag!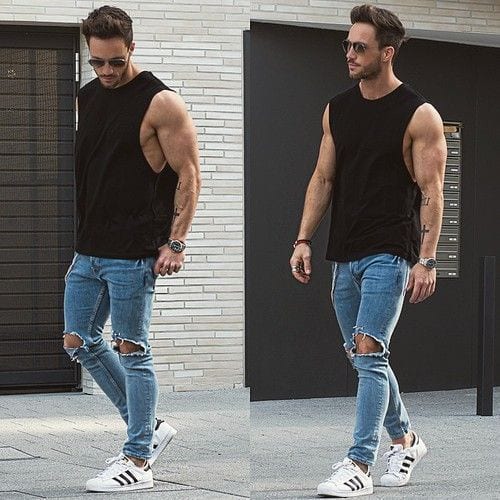 ↓ 11 – With Polo Shirt
Polo shirts look best with a pair of blue jeans. They make for the most effortless casual wear. Anyone can pull off this look. Polo shirts also look great with skinny jeans, for ideas on shoes to wear with them, you can check out these Shoes with Skinny Jeans for Men.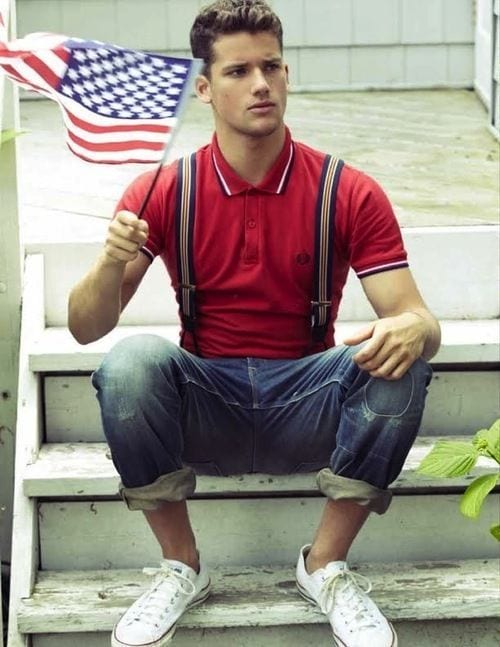 ↓ 10 – With Tee for College
T-shirts will forever be the partners of jeans. The look is traditional yet screams style. For cheering the usual causal look of a tee and jeans, don on boots!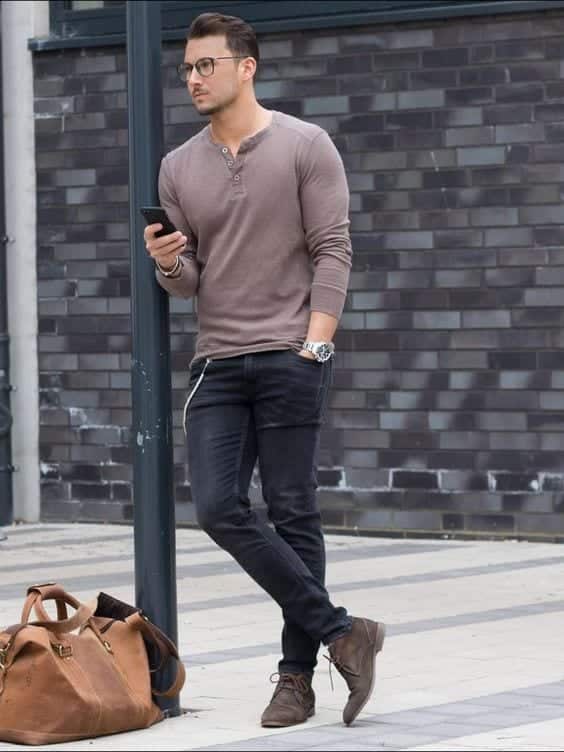 ↓ 9 – With a Matching Color Shirt
The look is unique. Button-down shirts with jeans give a fun yet elegant look. Black, navy, white, pink, gray, blue, and mouse brown make for perfect button-down shirt colors with jeans!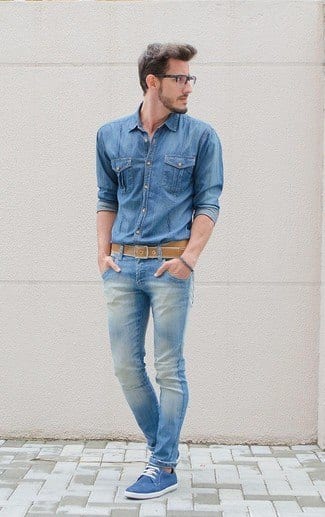 ↓ 8 – With Denim Jacket
Double denim looks very high-end. Try the look.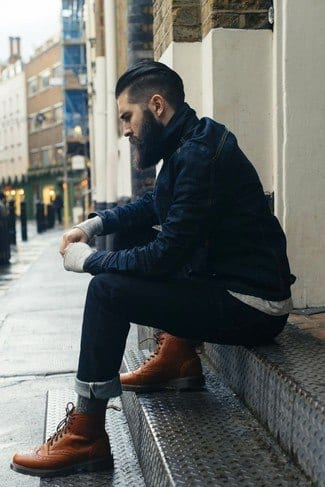 ↓ 7 – With a Tie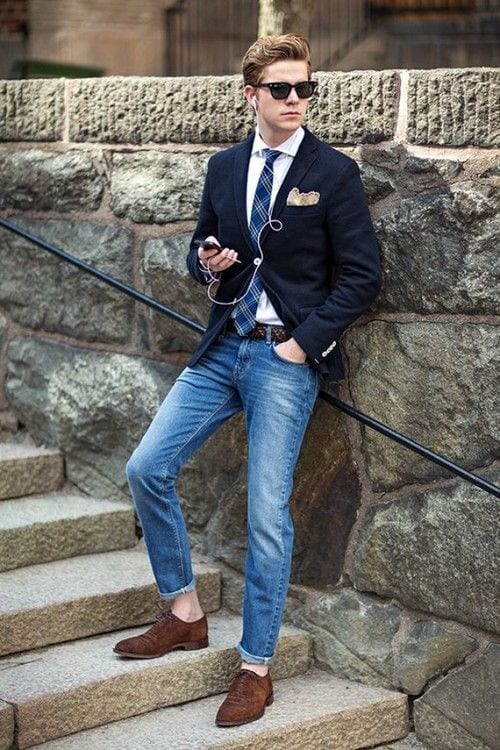 ↓ 6 – Shoes to Wear with Blue Jeans
Your footwear matters a lot. Make sure the color combinations are spot on. Jeans go with boots, sneakers, loafers, monk strap shoes, etc, etc. You should consider your overall outfit when deciding what shoes to go for.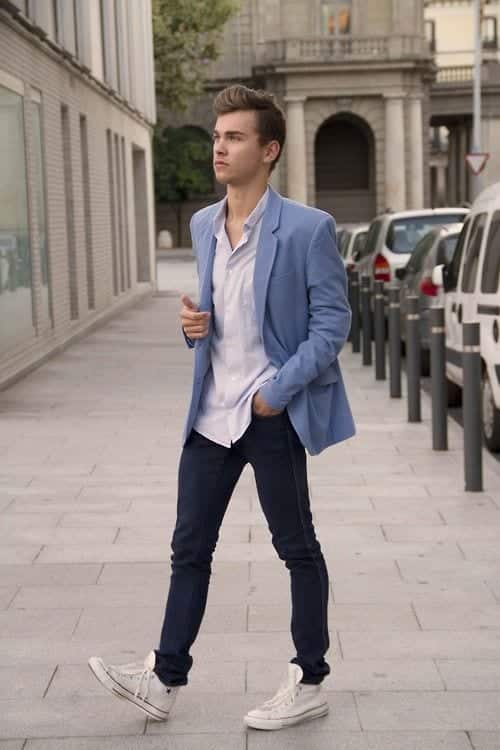 ↓ 5 – With Long Coat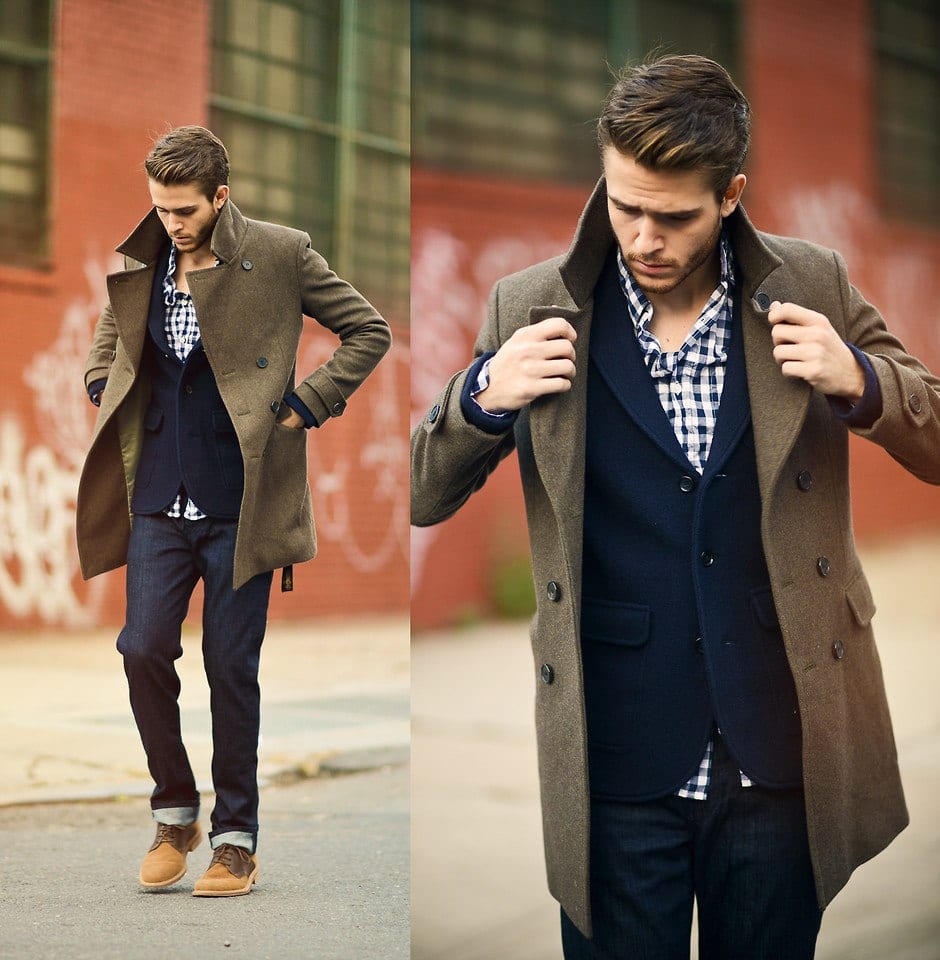 ↓ 4 – Summer Style with Hat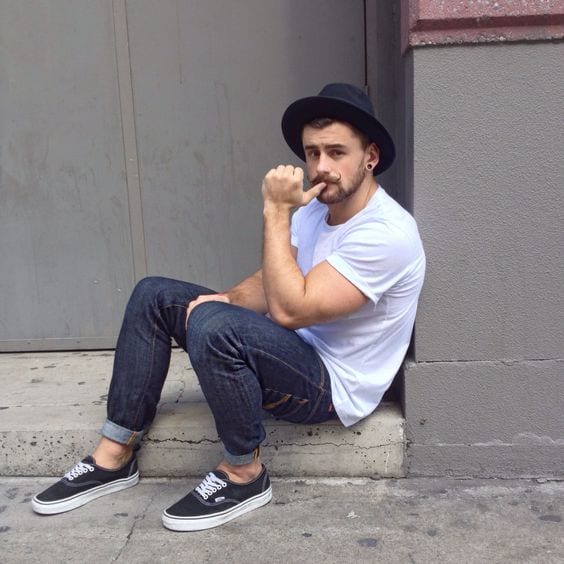 ↓ 3 – For Work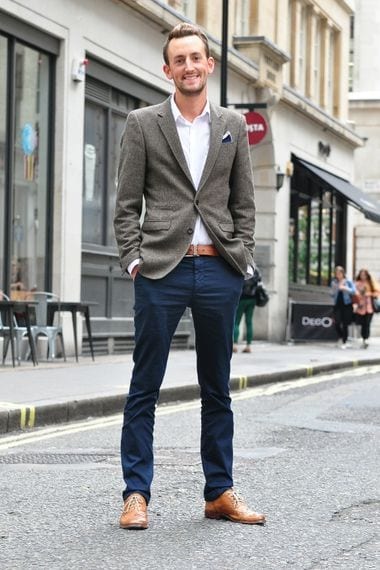 ↓ 2 – Homewear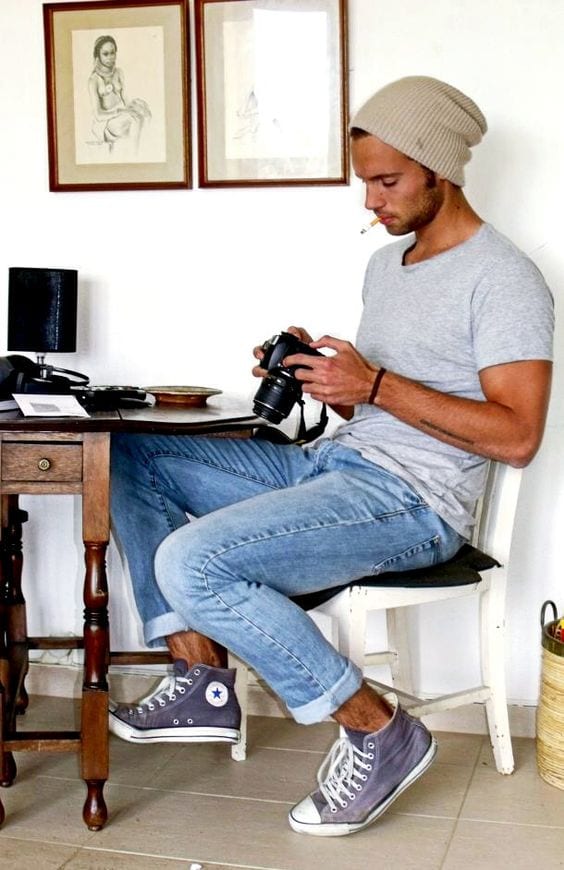 ↓ 1 – Street Style