Striped Suits For Men. Stripes are a universal pattern in menswear. You can often see them in casual clothes and tailored ensembles. Stripes have earned their place as a men's wardrobe staple. The Unstitched said that striped outfits are undeniably a piece that every man should have as it looks remarkable in both casual and formal styles.
Stripes are also commonly found in men's professional attire. And pinstripe suits are usually seen in the workplace. They are typically set vertically but are sometimes set at an angle or horizontally, depending on the garment. Outside of the office, a pinstripe suit is an excellent alternative to something monochrome.
How to Wear Striped Suits for Men?
History. The style was first introduced by British bankers in the 19th century, though back then, they were way more interested in blending in than standing out. The banks each had their own stripe, which differs in shade and weight, which identified who worked. Then it became the uniform at speakeasies in the 1920s, often seen in gangsters and jazz musicians. It also made Hollywood appearances after actors like Cary Grant rocked them in the '40s and has since become an essential part of men's formal wear.
By the end of the nineteenth century, Queen Victoria of England had created a new association with stripes – nautical prints. This was a result of dressing her son in a sailor suit for a Royal Yacht event. Since then, navy and white stripes became associated with the words "marine" and "sea." Then swimmers started wearing blue-and-white striped bathing suits, and the pattern became universal in the following years.
Since then, designers have tossed out traditional tailoring and treated pinstripes like any other pattern. They've appeared on everything from overcoats to T-shirts and had a particular boom in the menswear days. Today, stripes are seen on almost every garment imaginable – not just suits, but socks, shirts, ties, pocket squares, as well.
Types of Stripes In Fashion for Men
Rope Stripes. These stripes tend to be bolder. Leave them to those with higher positions on a professional food chain. They are also good for guys who want to make an imposing impression on an audience. As the stripes themselves are thicker, the spacing between them is often greater than we see with pinstripes.
Chalk Stripes. Chalk stripes are typically thicker than pinstripes but aren't necessarily as thick as rope stripes. They are most often found on flannel wools.
Pinstripe. The prefix "pin" in menswear means "small," therefore, pinstripe refers to "small or thin stripes." They are usually thin and fine vertical stripes running in parallel. Generally, pinstripes are light-colored patterns, while the base fabric is rather dark. Men who don't wear suits very often should own a pinstripe suit as a backup.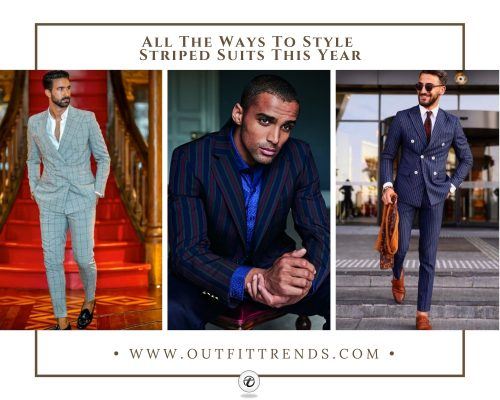 What To Consider When Buying a Striped Suit
Colors. Try before you buy. Pick a suit color that looks good for your skin tone.
Type of Stripes. You must think twice about how wide the stripes are and how much they stand out from others. The bolder the contrast of the stripes is with the base of the fabric, the more you're going to be noticed.

The Coolist

 said that the more you try to stretch up, the narrower the stripes should be. And, the more you want to stretch outward, the wider.

The Fit. It's better to save money on your new suit and spend it on a tailor than get a better suit that fits awkwardly.
Styling. Between your tie, suit, and shirt, at least one should be in a solid pattern. 
What to Avoid
Avoid stripes in neon colors, such as electric blue, which is a common conundrum in menswear.

Avoid combining striped suits and striped shirts with the same width.

Avoid trying to combine different patterns, especially stripes, as they would look very bad.
They say not all stripes are created equal. Styling a pinstripe suit is a little difficult to master, but it looks so great once you've gotten the hang of it. First off, you must learn that rocking a striped look is all about getting the perfect kind for your body type. Your goal is to match your outfit accordingly and to find a balance between bold and conservative. Now, you might want to take a look at these 20 striped suit inspirations we compiled just for you.
↓ 20 – Black And White Stripes
Do not choose a contrasting collar. And a touch of burgundy or maroon with your tie or even better, with a pocket square.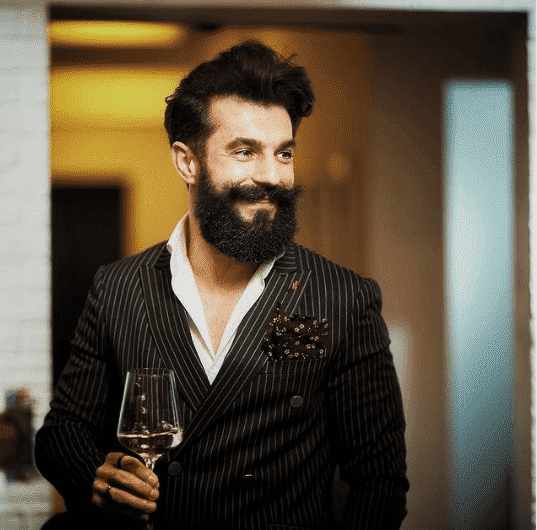 ↓ 19 –  Suit For Weddings
A three-piece striped getup is most suitable for formal events. Make sure you coordinate the colors well because this pattern can easily look awkward when mismatched. Here are some more ideas on Casual Wedding Guest Attire For Men.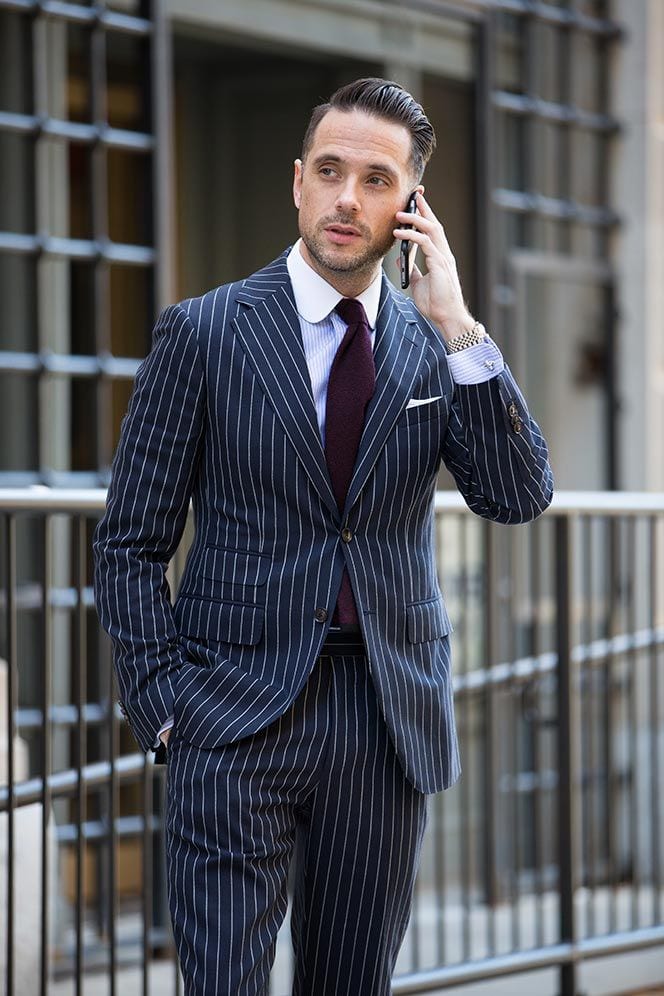 ↓ 18 – Chalk Stripe Suit
Pinstripe suits are considered acceptable for formal events, especially if they are darker, like navy tones. Try to style them with neutral-toned accessories and dress shoes to don the look perfectly.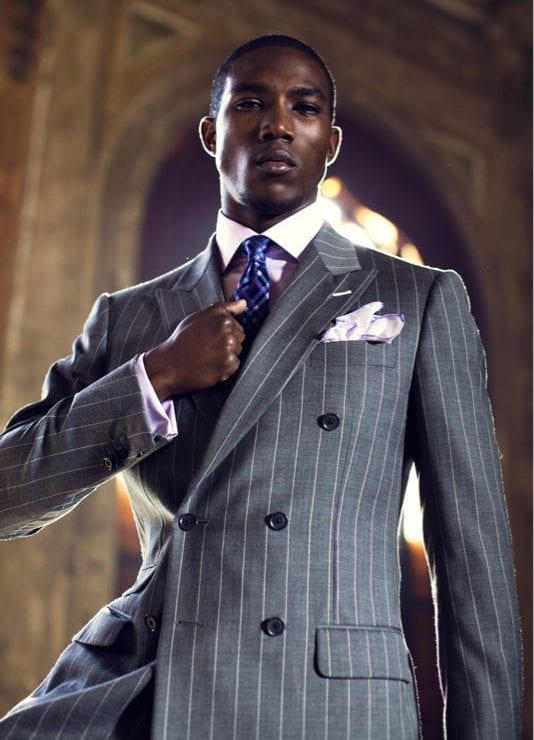 ↓ 17 – Double-Breasted Striped Suit
This suit looks great in dark shades like black or navy, but you can always spice things up slightly in a pale blue or cream. For formal events, get a classic shirt and tie in complementary colors. Here is our complete guide on How to Wear Double-Breasted Suits for Men.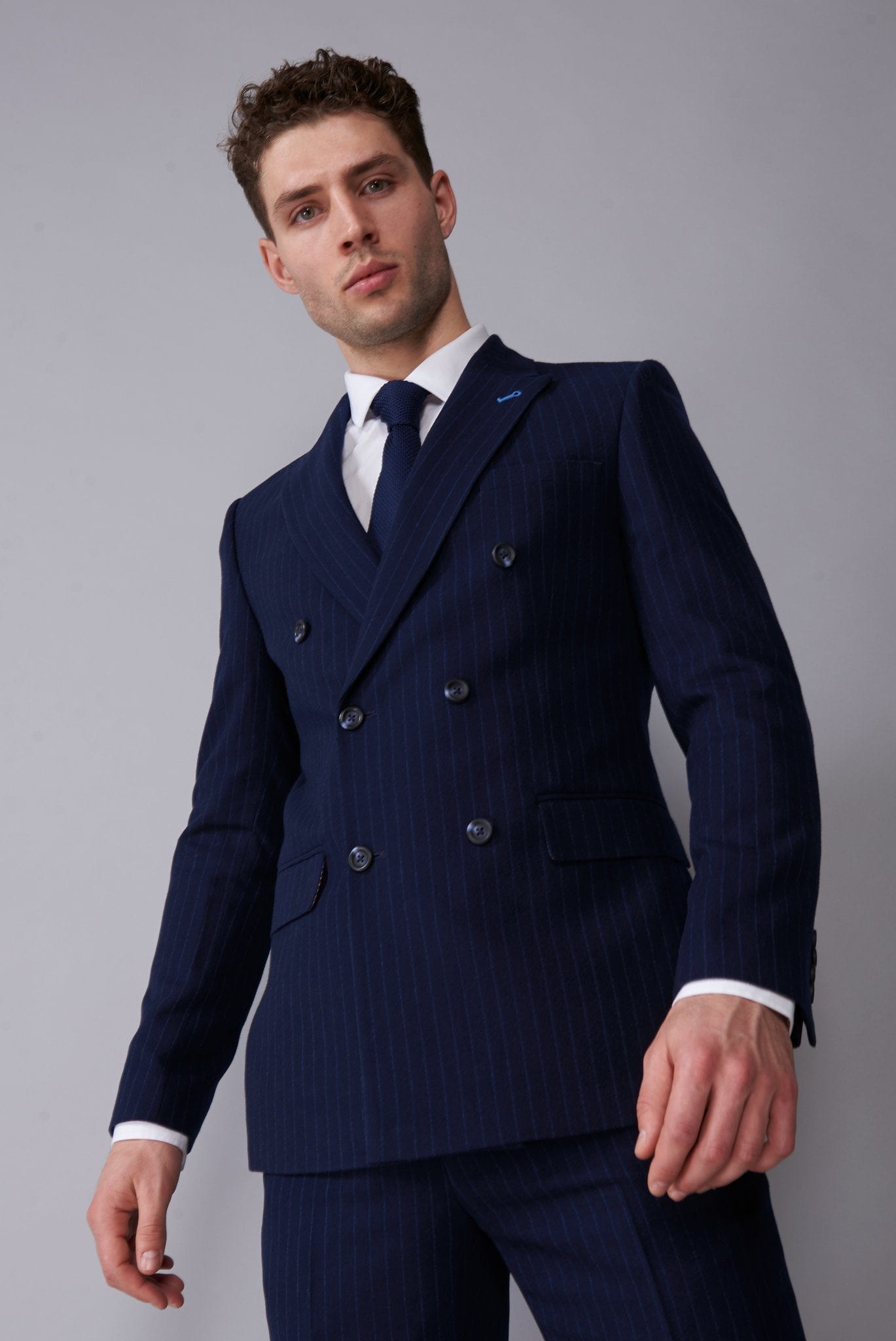 ↓ 16 – Grey Pinstripe Suit
Greys and charcoals are easy options to add instant elegance to any event, plus they look fantastic on every skin tone. You can enhance the tint with a complementary shade, such as blues and purples.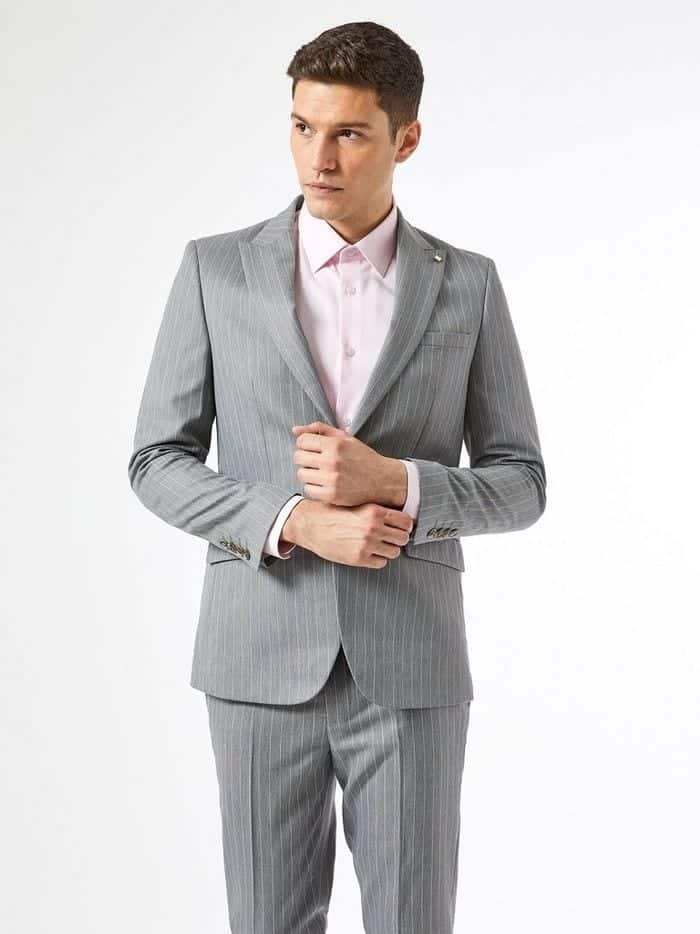 via
↓ 15 – Best Ties For Pinstripe Suits
Complement the shade with a tie in a lighter or deeper shade to create depth in the ensemble. Another option is to throw a salmon or hazel tint into the mix for a fresh combo.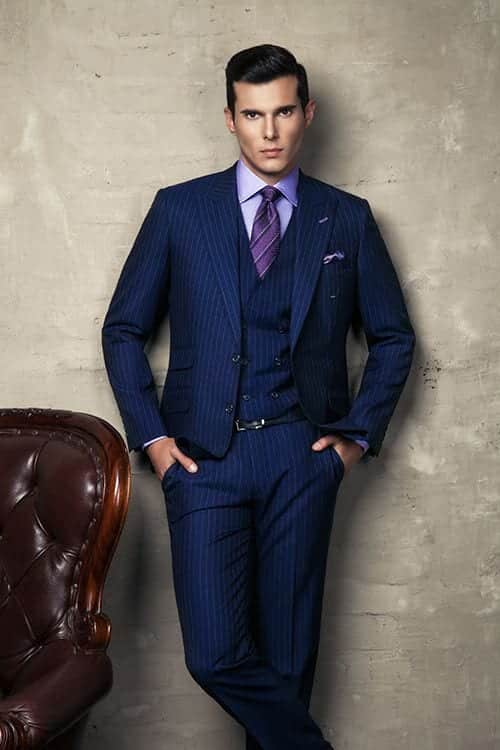 ↓ 14 – Royal Blue Pinstripe Suit
↓ 13 – Striped Vintage Blazer
This calls for a smart-casual getup. When it comes to knitwear and T-shirts, go for horizontal stripes. The classic Breton stripe is perfect for a look that straddles the line between formal and relaxed.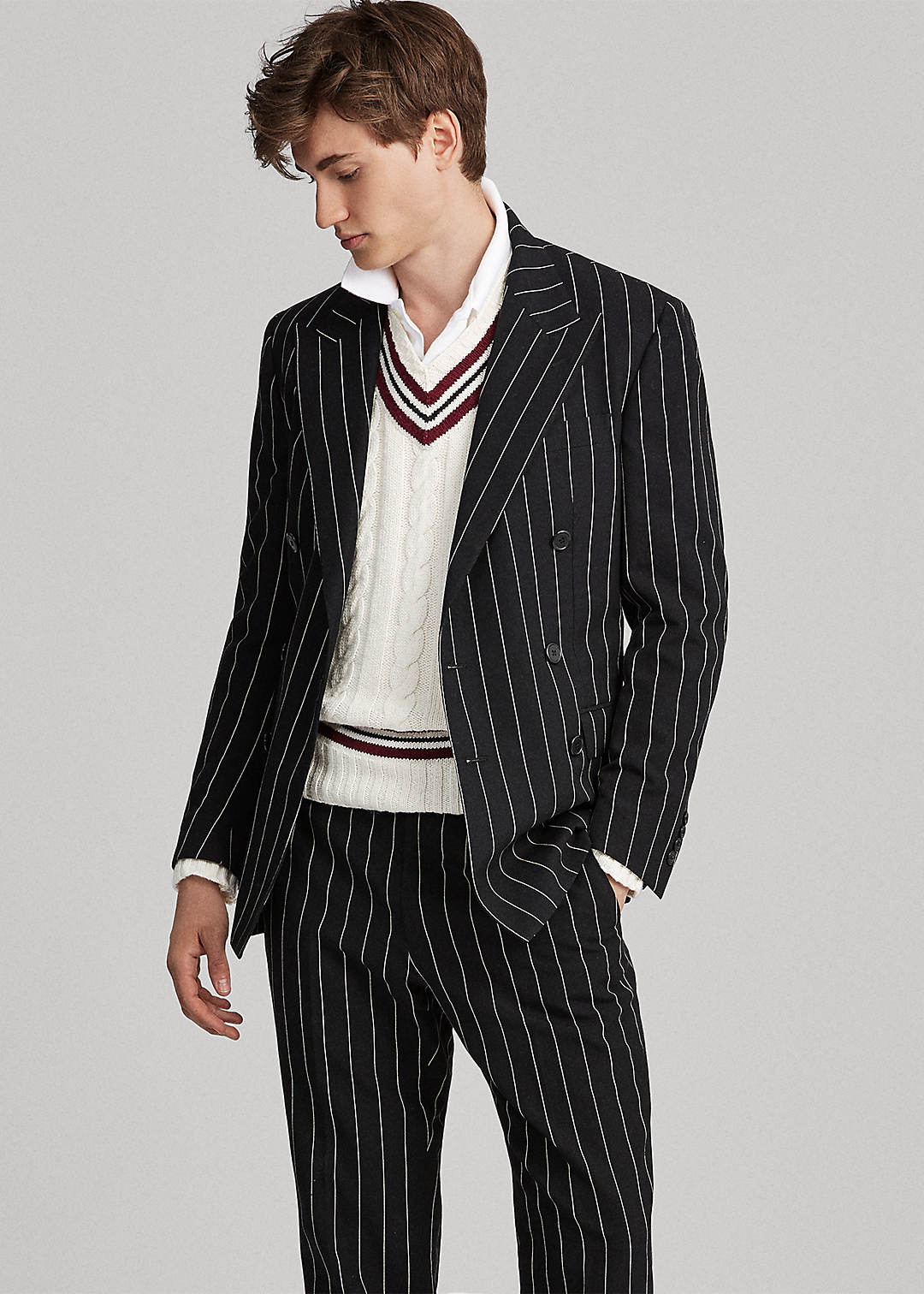 ↓ 12 – Navy Pinstripe Suit
Best for business meetings and weddings. Add some professional feel to this pinstripe outfit in a button-down and tie or mix things up with sneakers, a dress shirt, and a turtleneck. When styling this formal wear, stick to neutral colors such as white, grey or even light blue. However, if you want to make an impact, opt for a contrasting color like dark orange or mustard. Here are more ideas on Wearing Blue Suits with Brown Shoes.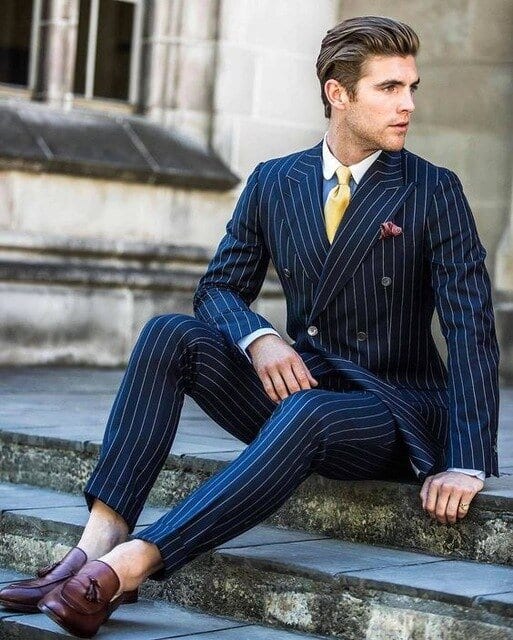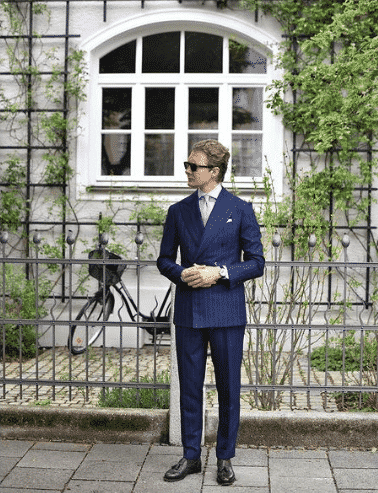 ↓ 11 – Striped Suit With Chinos
When pairing your striped blazer with chinos, limit your color options to white, khaki, and black. For a more uniform look, base the color of the chinos on the stripes of the blazer. With this combo, you will achieve smart casual and business-appropriate looks.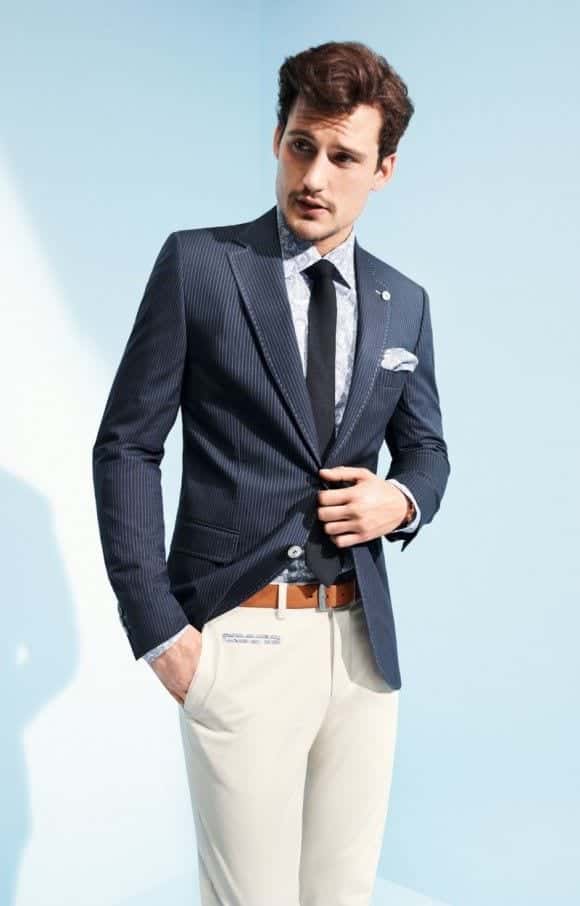 ↓ 10 – Striped Suit With Jeans
Jeans can go well with almost any staple in your wardrobe. It might be a casual dailywear, but the outcome is jaw-dropping when paired with a formal piece. Consider pairing blue jeans with blue striped blazers.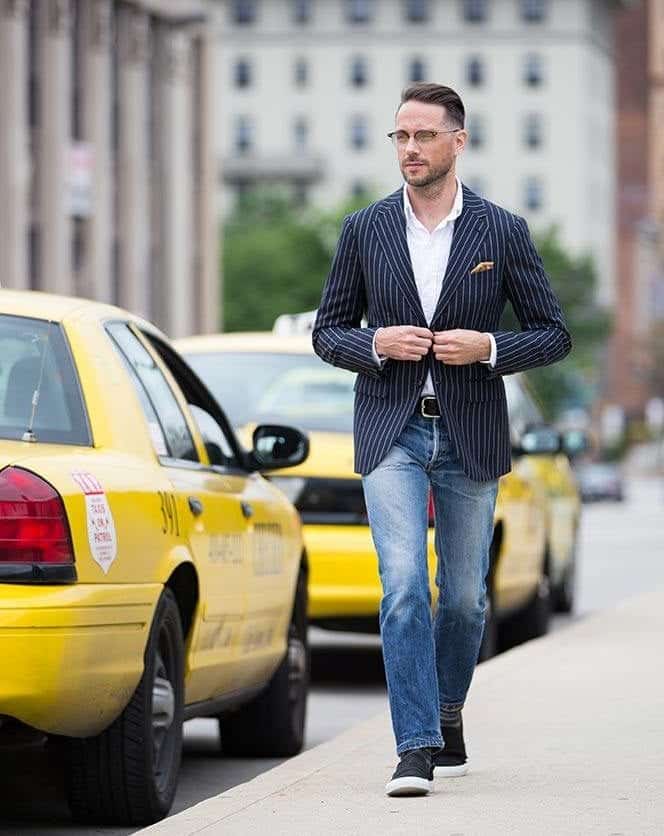 ↓ 9 – Striped Suit With White Sneakers
If you will your suit with a white button-down underneath, get those white sneakers to do some matchy-matchy!
↓ 8 – Classic Pinstripe Suit
With its origin going back decades, this piece is kind of hard to style. Try to pair it up with a white button-down shirt and charcoal or grey tie for a sophisticated vibe. If you'd like to mess things up a bit, go for some brown shoes with a matching belt, which adds a modern touch to its traditional design.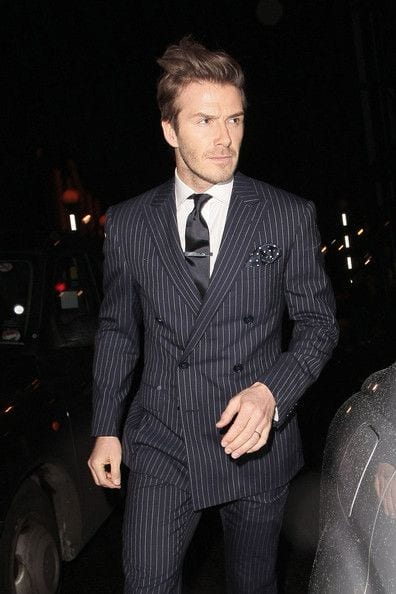 ↓ 7 – Suit For Travels
Suits are a great option for travels and leisure time. If you are in for an out-of-town gig, grab that striped suit you've been dying to wear. Navy blue is recommended.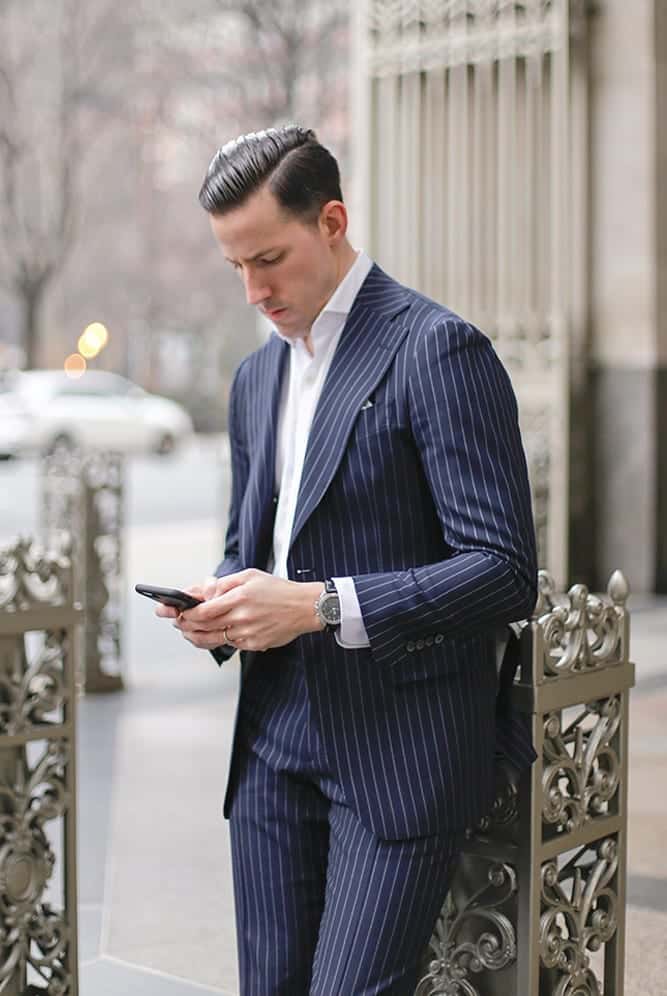 ↓ 6 – Suit For Parties
This style requires mixing and matching patterns among ties, shirts, and stripes. Use a color palette that complements the stripes and not the suit itself.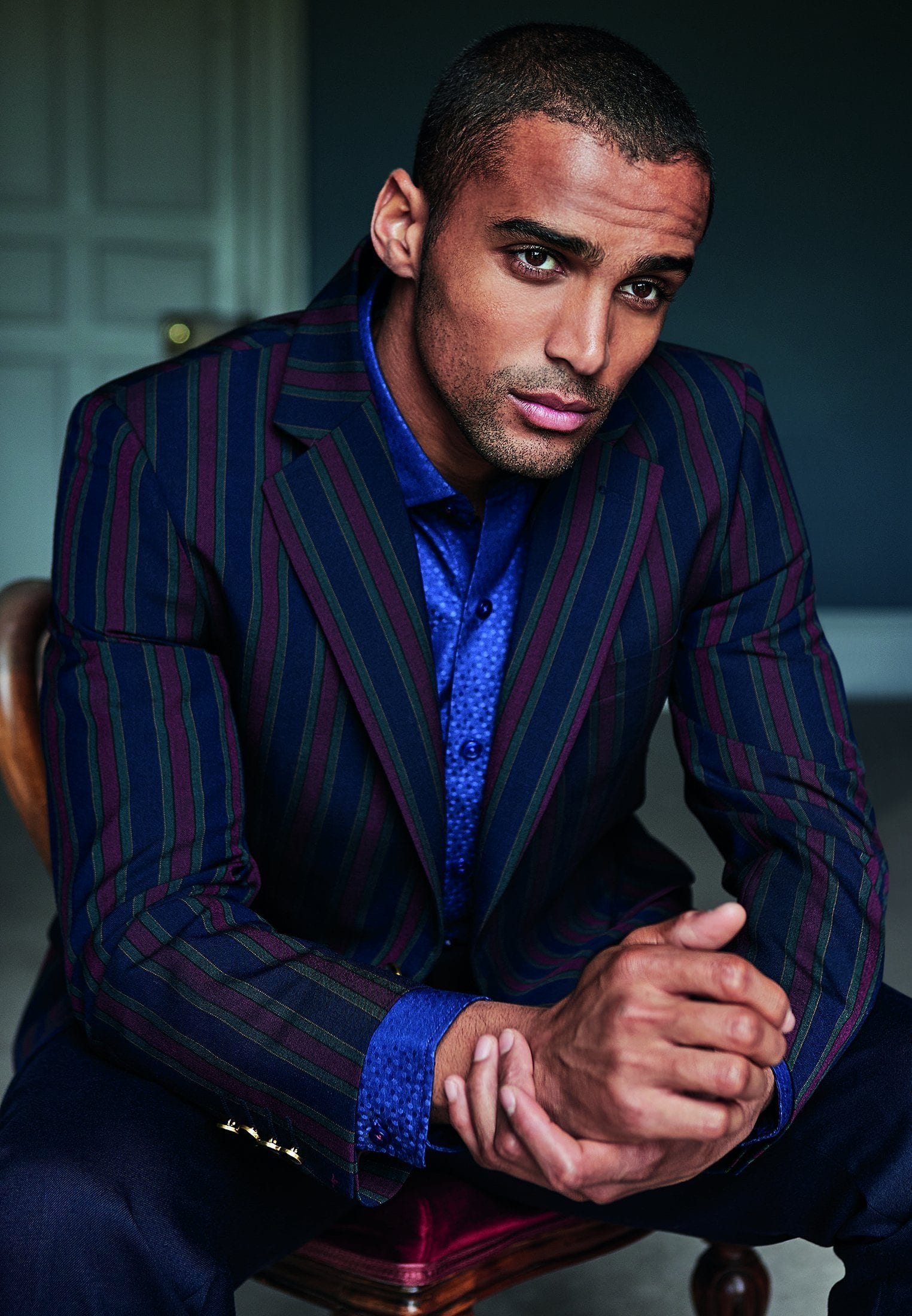 via
↓ 5 – College Outfit with a Striped Blazer
In winter, get a dark suit and then match it with a turtle neck. This is a good substitute for a dress shirt without going overboard.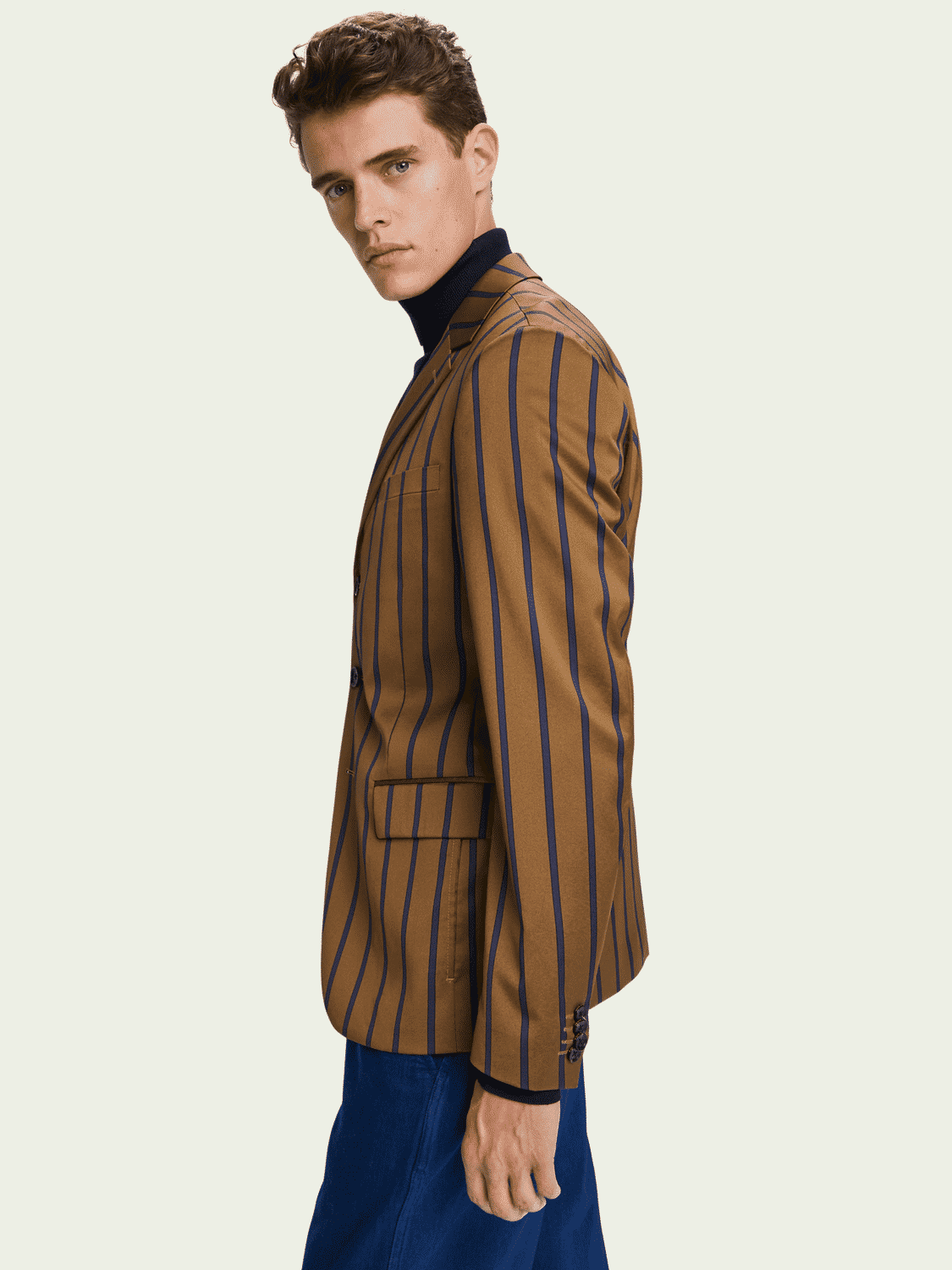 ↓ 4 – Business Casual Suit
For your days at the office, wear a pinstripe suit with a button-down shirt and contrasting tie. The pinstripe suit is really a corporate wardrobe staple. However, these days it's also making cameos in other matters. Therefore, it's no longer business as usual; it's now a savvy, sartorial look that can be modern and adventurous all at one time.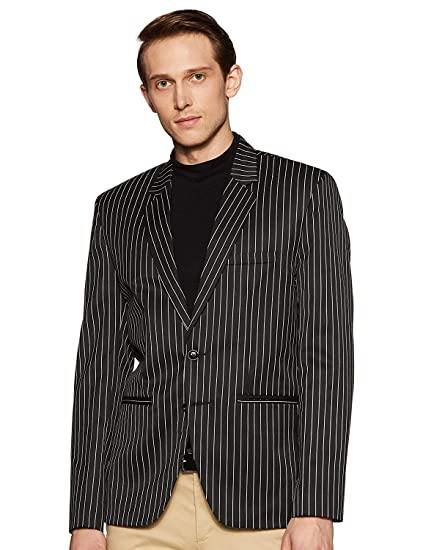 ↓ 3 – Casual Striped Blazer
Blazers are usually worn for formal to semi-formal occasions. However, you can make it casual by wearing it with a basic white tee underneath. Don't close the buttons, and leave the undershirt loose. Chinos like khaki are recommended.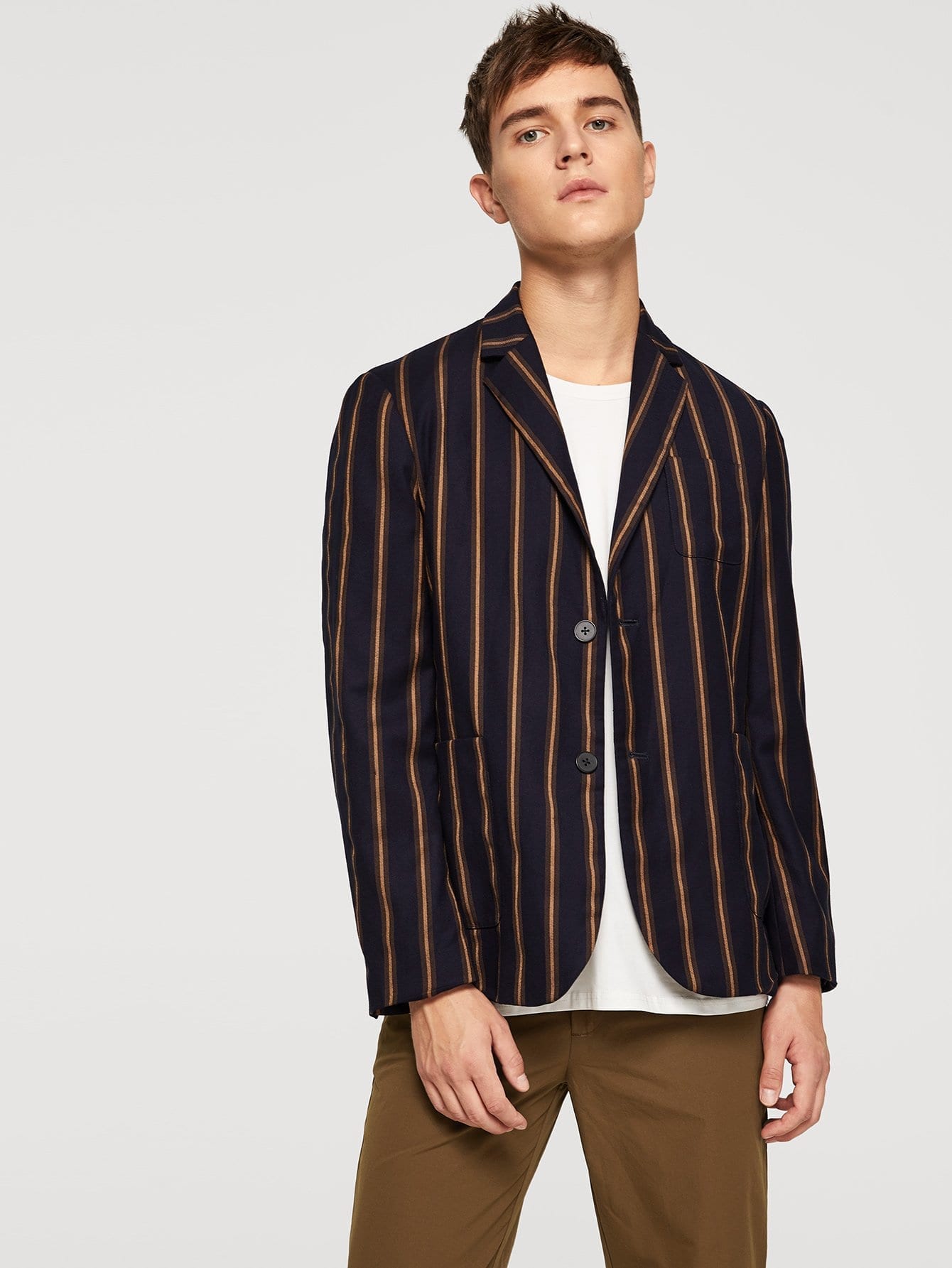 ↓ 2 – Pink Perfection
Enhance it with a complementary shade, such as blue chinos. A pink suit with some grey hints looks best with muted tones like dove grey or sky blue.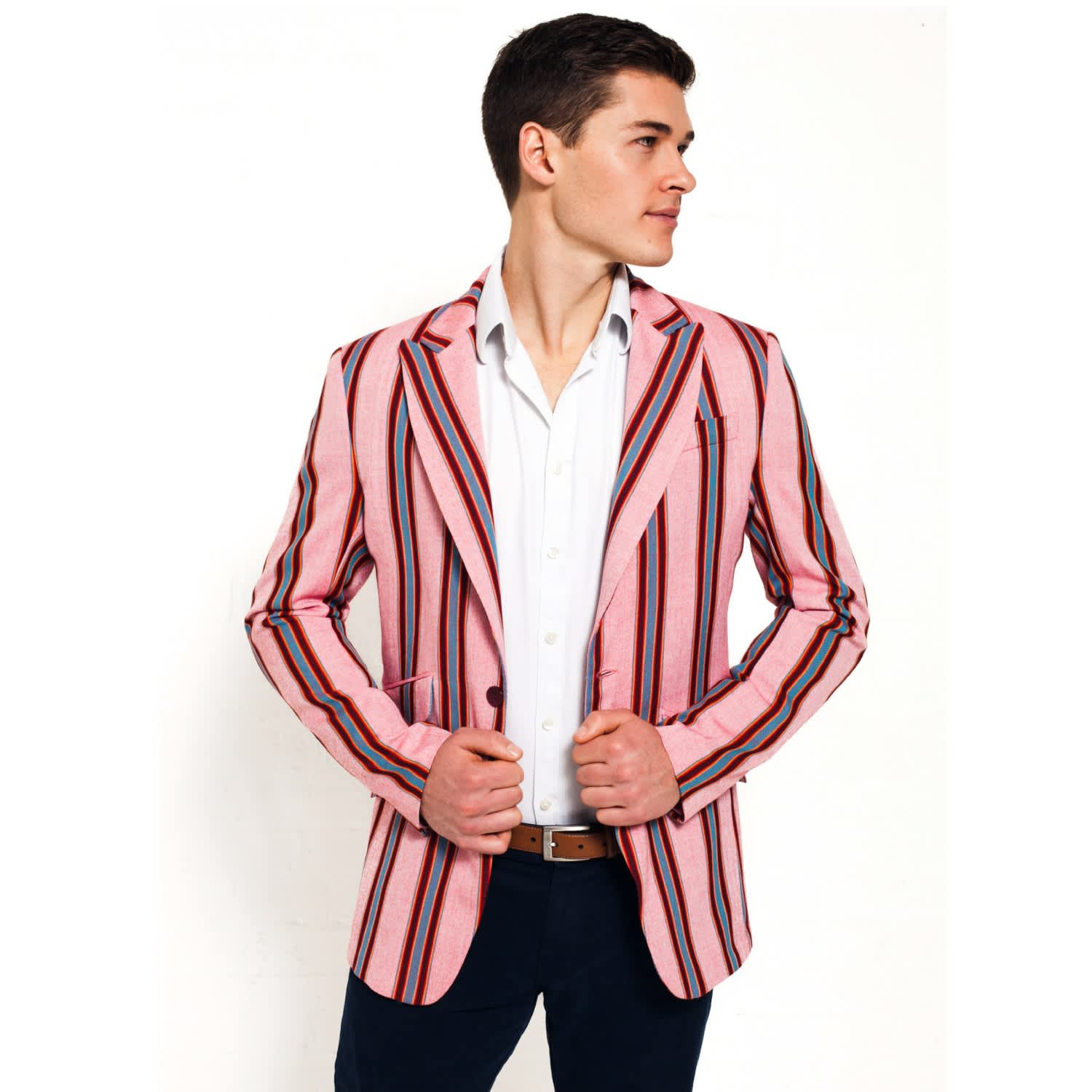 ↓ 1 – Red Summer Suit
Try to wear a flashy striped suit once in a while. It's not a bad idea to go out of the norm (like blue and black blazers). This outfit is suitable for summer-themed celebrations.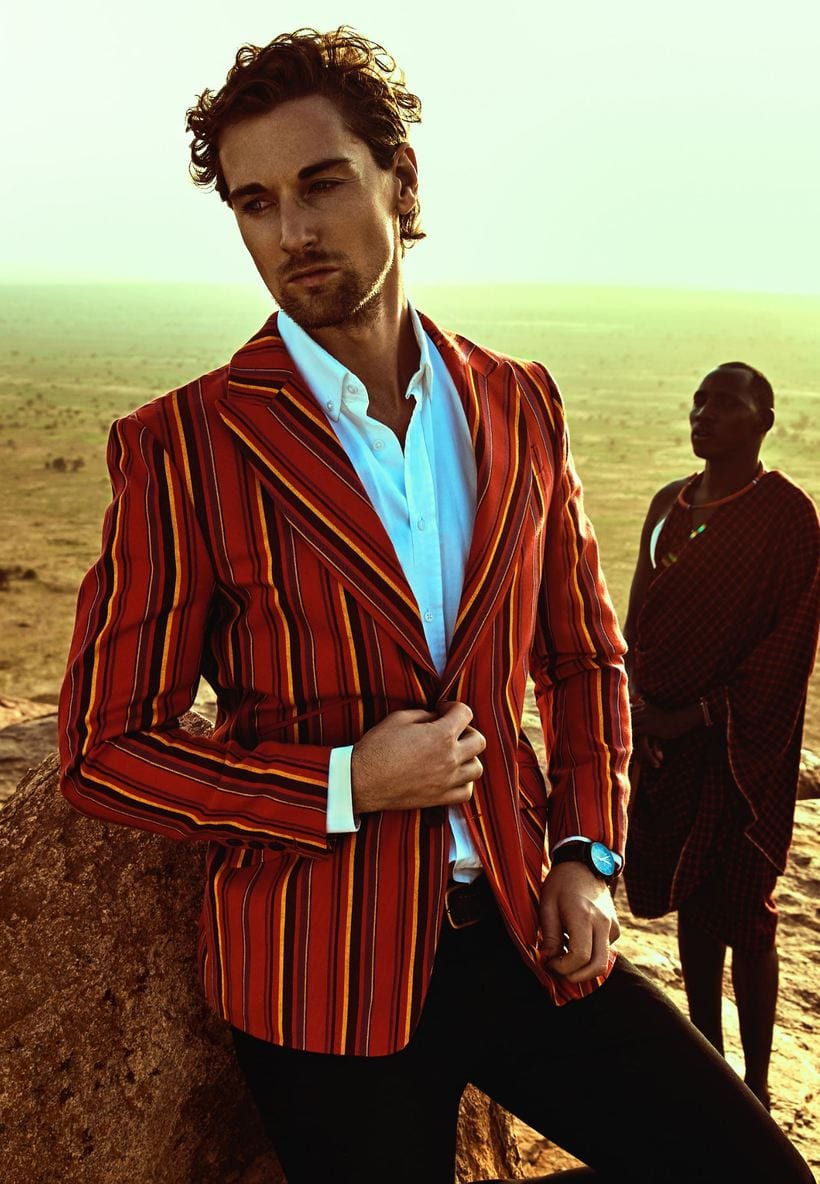 via
Any type of striped suit isn't as flexible as the others since it is different from the crowd. Anyone will notice if they see you wear it a couple of times. And if they think it's your only suit, the effect of authority and sophistication you're trying to impose will fade.
Frequently Asked Questions
Q.

What are the best places to shop for men's striped suits? 
A. It was listed in Fashion Beans that the following are some of the best brands of Pinstripe suits: Topman, Mango, Ralph Lauren, and Suit Supply. Meanwhile, I think Indochino and Black Lapel would smake the list, as well.
Q.

Are pinstripe suits in style in 2021? 
A. According to Fashion Beans, the pattern has been the unofficial uniform of financiers since the 1980s, serving as a smokescreen for greed and sociopathy in Wall Street, American Psycho, and The Wolf of Wall Street. But pinstripe suits first came into vogue in the 1920s and have had a comeback in the spotlight many times. Today, pinstripe suits are considered a staple suit option alongside classic and navy suits, so they never really go out of style.
Q.

Can someone wear a striped shirt with a pinstripe suit?
A. No. Please don't try to do it as much as possible. The style is a bit hard to pull off. However, if you insist on doing otherwise, the secret is to contrast the shirt stripes with your suit's pattern instead of matching them. And if you can, get a shirt with a white collar, and then opt for a tie in a solid shade to balance the stripes.
Q.

Can I wear a pinstripe suit to a funeral?
A. Pinstripes are generally associated with the business setting, so they are usually reserved for the office. However, a dark and conservative pinstripe suit is appropriate to wear in paying your respects. A black or charcoal suit is highly acceptable for a funeral dress code. Pair your suit with a black tie and some polished black dress shoes.
Q.

What shoes should I wear with my pinstripe suit?
A. Try not to clash your footwear with your pinstripe suit. Dress shoes such as Oxfords, monkstraps, and loafers in solid colors (brown and black) are great options for a business meeting, while white sneakers are a good casual option.
Q.

Can I wear a Pinstripe suit without a tie?
A. For casual meetings, open your top button and lose your tie when wearing a pinstripe suit. This option is also suitable for gigs in the summer. Another option is to pair your pinstripe suit with a turtleneck shirt or a roll neck for a '60s-inspired vibe.
Q.

Can someone wear a pinstripe suit to a black-tie event?
A. Unfortunately, you can't. The black-tie dress code calls for a tuxedo, which means you must wear either a black, midnight blue or an off-white DJ. Pinstripe suits won't work even for a "black-tie optional" dress code.
Q.

What makes striped suits special?
A. For short men, narrow pinstripes are recommended as they make you look taller. Though wearing stripes won't necessarily make you look taller, they will make you appear less short. Short, thin men look best in tightly spaced pinstripes, whereas heavier guys who are short can wear more widely spaced stripes if they so choose, which will help fill out their frame. Horizontal stripes are also best suited to men with tall, slender structures. Meanwhile, big men may or may not need the illusion of height, but they do need the illusion of slimness. As with height, stripes won't make you appear thin, but they will draw minimal attention to your weight.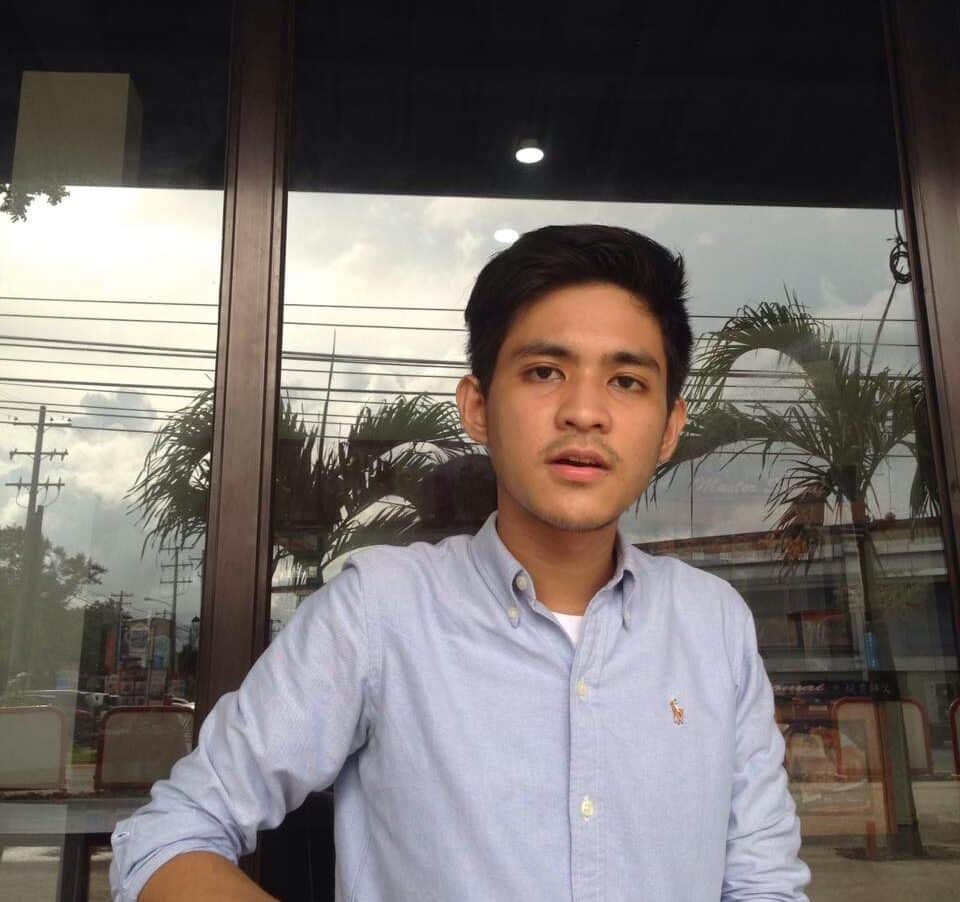 John Vincent studied Communication Arts in the Philippines.
Growing up, he's always had an eye for aesthetics. He enjoys writing a lot. Books, TV series, and movies are a big part of his life. His all-time favorites are Harry Potter, Game of Thrones, and Marvel films.
He believes that fashion is a pure form of art. You express yourself through your personal style – it's something you can't replicate.