Suede Jacket Outfits for Stylish Men. Suede Jackets were a popular clothing item in the 1960s and 70s and they are once again in trend. Suede is known for its smooth and sumptuous feel. The versatile fabric is as classy as leather as it's made of animal hide; mostly cow skin or lamb.
A suede jacket outfit is sure to make a style statement if you pull it off right. It's not that tough to wear it in an elegant manner as it can be ideally paired with many clothing items. To make fashion easier for you, we have compiled for you ways you can don it in a stylish manner.
How to Wear a Suede Jacket for Men
When the air turns dry and the seasons start to change, suede jackets become the talk of the town. For a casual look that remains timeless and classic, this overcoat will last for years and decades to come. But what is a suede jacket? And how is it different from other types of jackets?
Suede is a type of leather with a napped finish, commonly used for jackets, shoes, wallets, etc. The term is derived from the French phrase gants de Suède, which means "gloves from Sweden."
Getting a suede jacket is a wise investment, but the options are overwhelming. It feels good to touch a suede fabric as it gives you a soft and fibrous effect. But, it is a little sensitive and must be handled with extra care. It's also hydrophilic so there's a high chance for it to get wet when exposed to moisture and rain.
Suede jackets, especially the genuine ones are more expensive than most jackets, so you might want to treat them the right way:
Think twice on how you're gonna wash and store them.
Also, give it a generous dose of protector spray.
And always consider the weather condition before going out.
If you are on a budget, get the faux suede jackets in the meantime, but they should be handled with care all the same.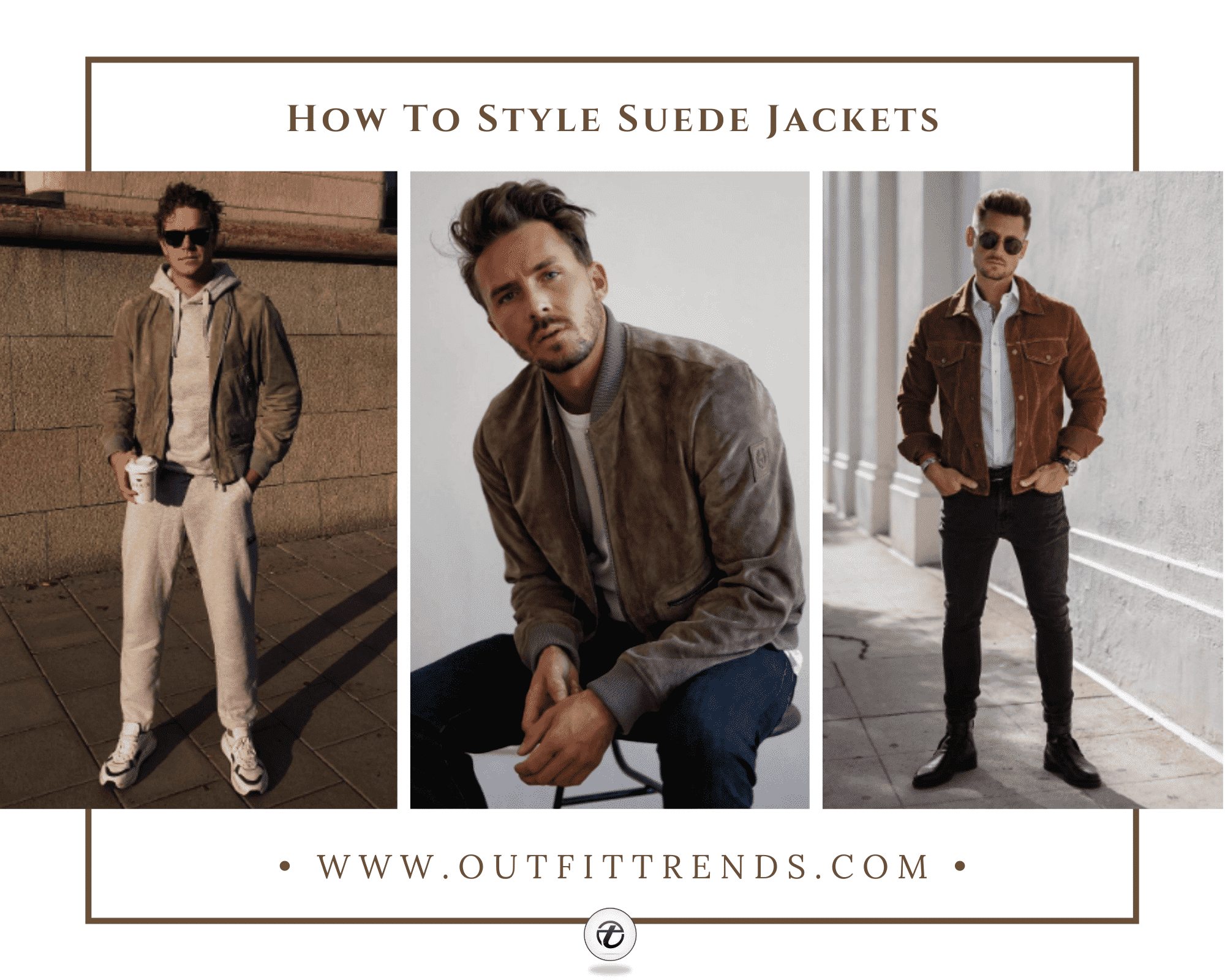 Basically, you can wear a suede jacket as a substitute for any available jacket in your wardrobe. Let's say that you grew tired of wearing the same one in a loop, so now it's time to make some changes. Nonetheless, suede jackets look just fine when paired with almost everything. It's good to mix and match. It's only up to you how you will style and accessorize your outfit. Jackets are the best accessory for guys which is why we've already covered in great detail the trending men's Denim Jackets and Bomber Jackets. Now here are some basic tips that you should keep in mind for when you decide to wear a suede jacket.
When wearing suede simple is stylish.
Keep the suede jacket in a cool and dry place in the summers.
Suede absorbs stains. Buy a suede brush or eraser beforehand for cleaning them. Paper towels can be used to remove stains of juice or tea and baking soda can be used for removing tougher stains like grease and oil.
Stay away from funky combos.
↓ 34 – With Flannel Undershirt
15. Give some emphasis to your undershirt by wearing a flannel under the suede jacket. You may tuck it in if you want, but I would suggest you not to, for a smart casual look.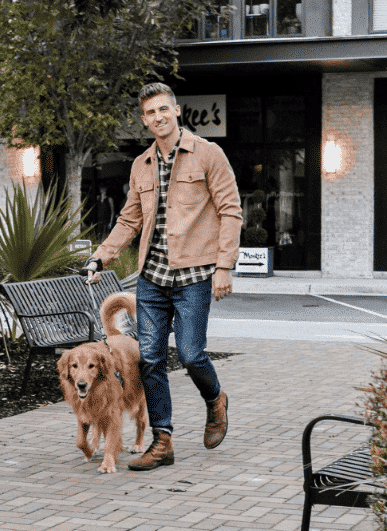 ↓ 33 – With Plaid Pants
Every man, who loves fashion trends, must have plaid pants in his closet, and it doesn't matter what type they are or what color is. As long as you know how to put them on style, they will go just fine with suede jackets.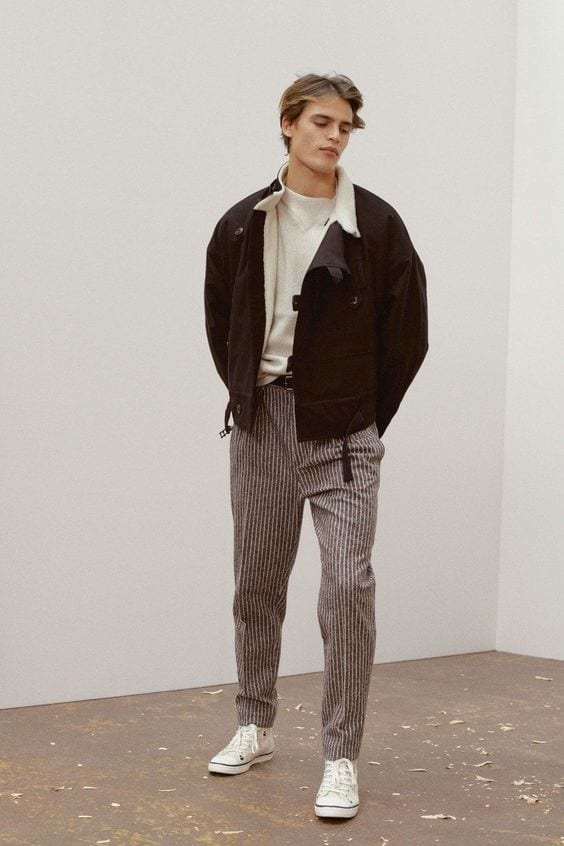 ↓ 32 – Wear it to Work
Suede jacket can be a replacement for a blazer. It may look like you're going to your work with this outfit, well you're quite right. This can be a business or corporate attire, but it's also suitable for occasions like weddings and Christenings.
↓ 31 – Athleisure
Sports and leisure in one. Going out for your daily cardio session? Even if not, and you just feel like taking a walk around the block, a combo of a suede jacket on top of a hoodie, with jogger pants and running shoes will be perfect for this gig.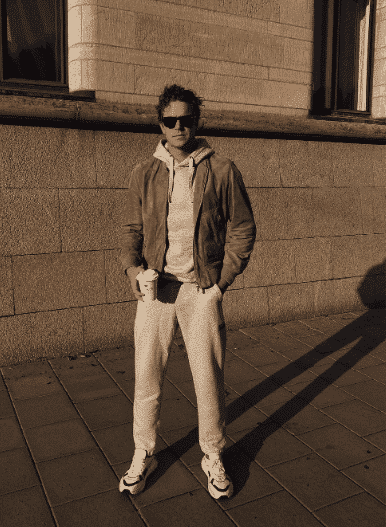 ↓ 30 – Color Coding
Base the color of the jacket on the sneakers. I highly recommend you to be very picky with shoes. You can wear a topsider if you have them, they look very good in this outfit. Regardless of the undershirt and the type of pants you're wearing, the footwear is what would impact the entire look the most.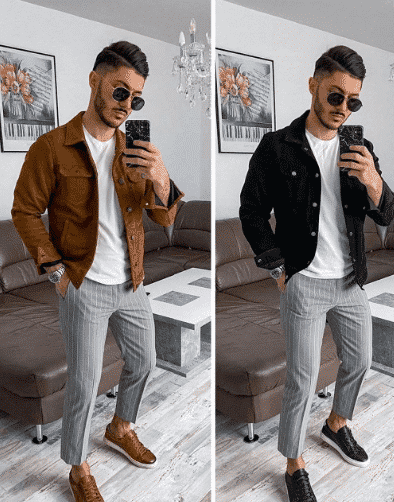 ↓ 29 – Brown Suede Jacket with White Chinos
The color white would make a good contrast when paired with a classic brown suede jacket. Wear a dress shirt or a button-down underneath, and make sure to tuck them in to show that cool belt you're wearing.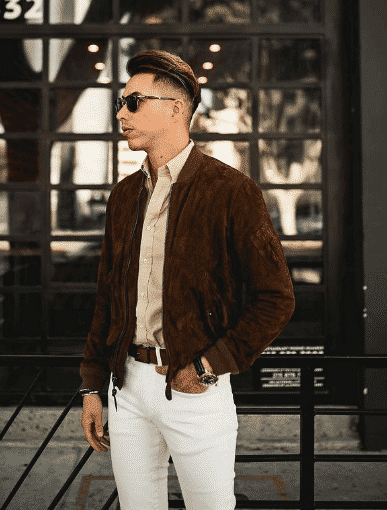 ↓ 28 – Style it with a Cap
A suede jacket in a similar color as the cap would make a good combo. Wear it with chinos in a solid khaki shade, and it would make the outfit a whole lot better.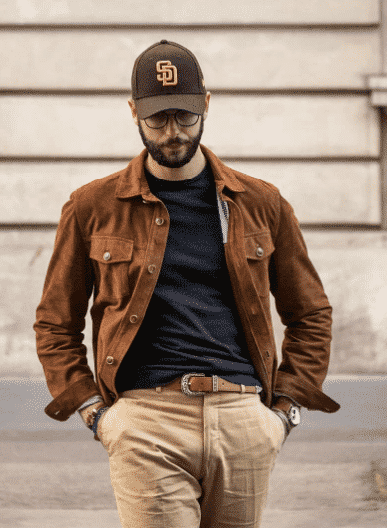 ↓ 27 – Weekend Style
Wear it with a button-down, jeans and boots. You can choose between black or blue jeans, and if you don't have boots, dress shoes would do. Here are more ideas on Weekend Outfits For Men.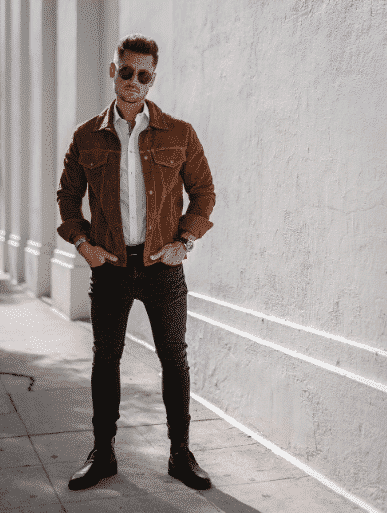 ↓ 26 – With Shorts
Perfect for travel and summer getaways, this outfit is convenient and is a total trendsetter. Not everyone is ready and willing to rock this look, so do the honor and be one of the few.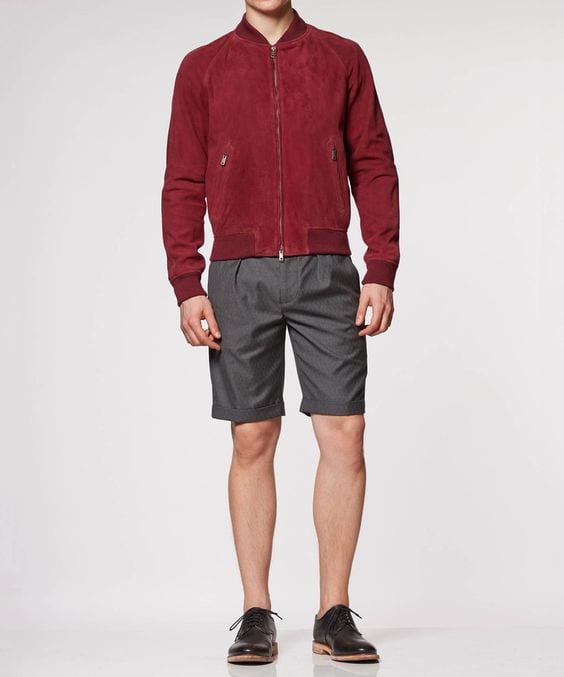 ↓ 25 – Casual & Minimal
If you want the jacket to be the core of the outfit, keep the rest simple. Wear jeans and a white or black T-shirt or tank top as the undershirt. That's it!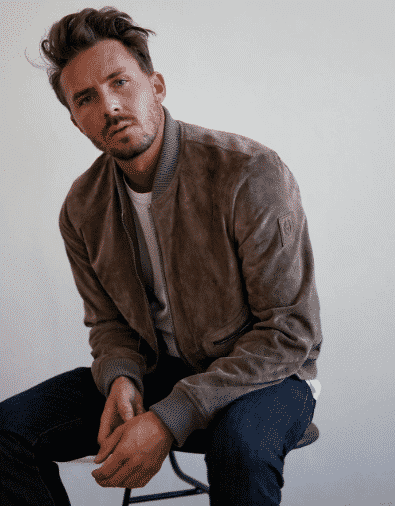 ↓ 24 – With Denim
Channel your inner cowboy self by styling your suede jacket with denim and a hat. This swagger look is best for photoshoots, and clearly, it's quite IG-worthy!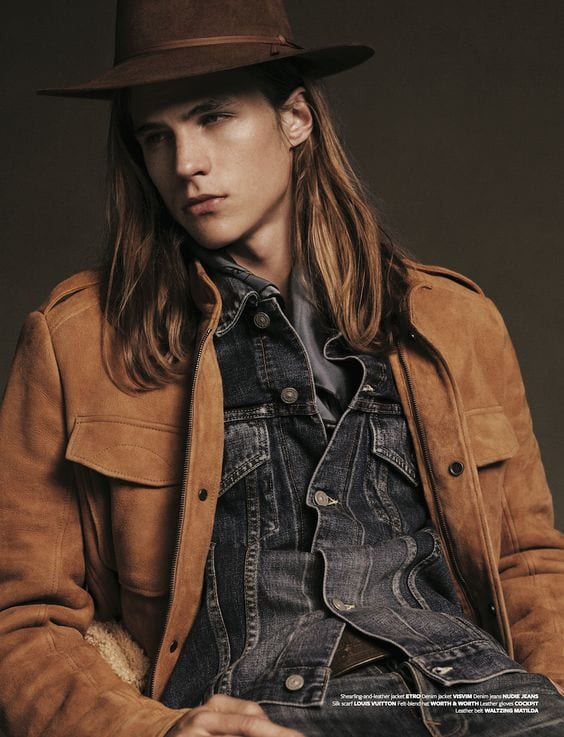 I was gonna call this style a cowboy outfit but I realized that you don't need to wear a hat to make it complete. We already know that brown and blue make a good couple but this time, wear the suede jacket with white chinos.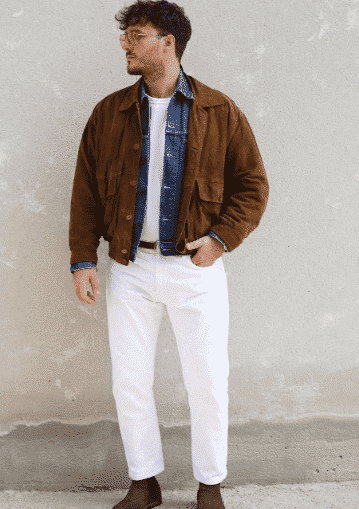 ↓ 23 – Winter Style
The temperature is sub-zero but you wanna go out and have some fun with your colleagues, try wearing your suede jacket with a vest or quilt on top, and a turtleneck underneath to give you the best protection from the cold.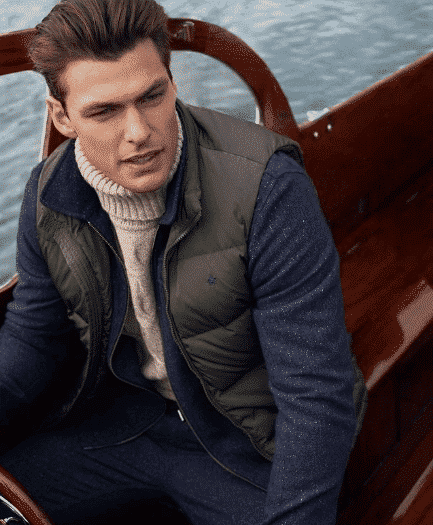 ↓ 22 – Biker Style
This suede with an unusual cut is best styled the monochromatic way, meaning you should wear it with black jeans, and a navy T-shirt. This gives the impression that you are untouchable and always on-the-go.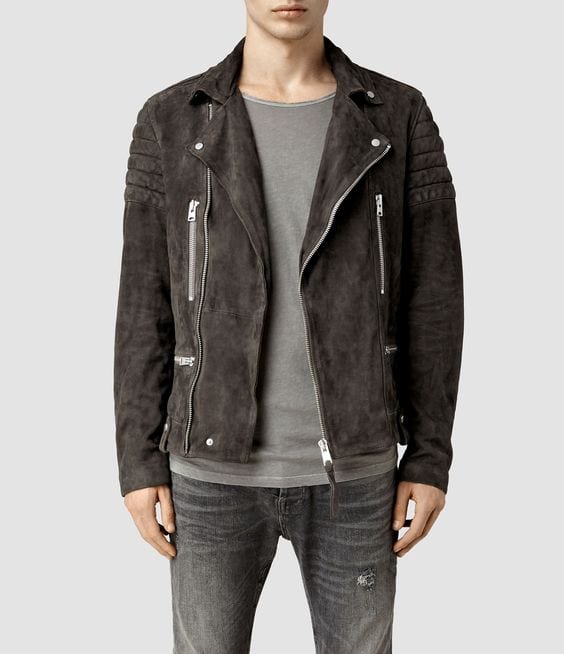 ↓ 21 – Retro Vibes
Channel some retro vibe with this style. Wear a brown suede jacket with faded jeans. The undershirt can either be a dress shirt or a polo shirt, just tuck it in and you're ready to rock. Some shades or sunglasses would finish off the look.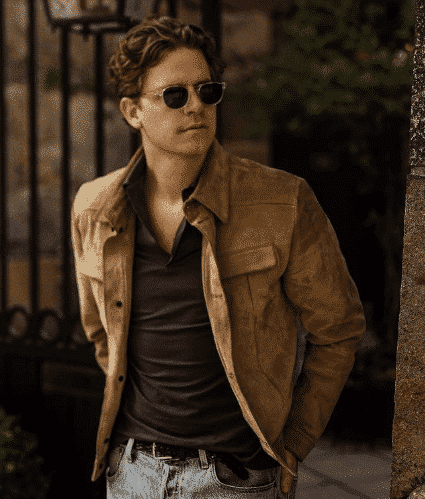 ↓ 20 – Are Suede Jackets in Style?
Hugh Jackman rocked a suede jacket in his recent hit "Logan." So, of cours, it is in vogue this year. Don't let anything discourage you from buying an expensive suede jacket this season.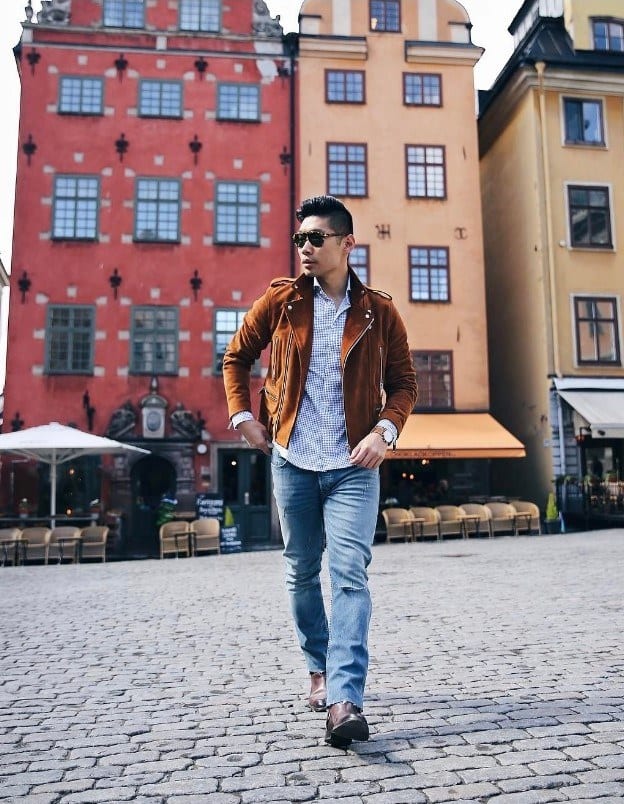 ↓ 19 – Suede Jacket Outfit for College
Suede is a versatile material and goes perfectly with a variety of outfits. But it is best to make the sophisticated and rich suede jacket stand out by pairing it with plain tees or button-downs. You can go for cropped white pants, ripped blue jeans or black slim fit jeans. If you're a college guy then do check out these Cute First Day of College Outfits for Boys.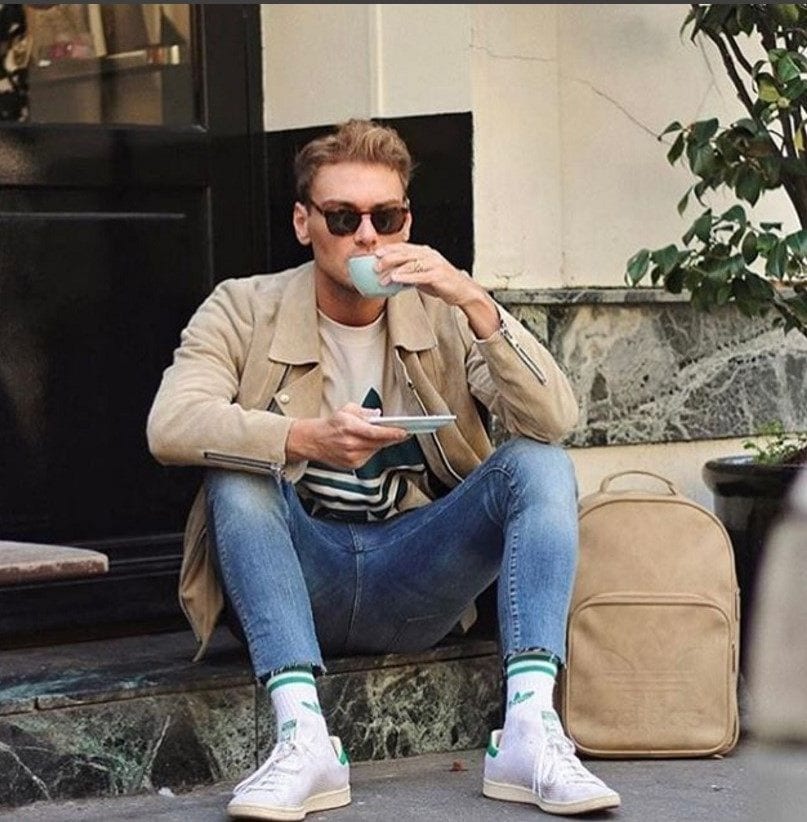 ↓ 18 – Suede Jacket with Fringe
Suede Jackets with tassels aren't very in these days. However, if you want to experiment with your style you can don one with a pair of jeans and brown long boots for the ultimate cowboy look.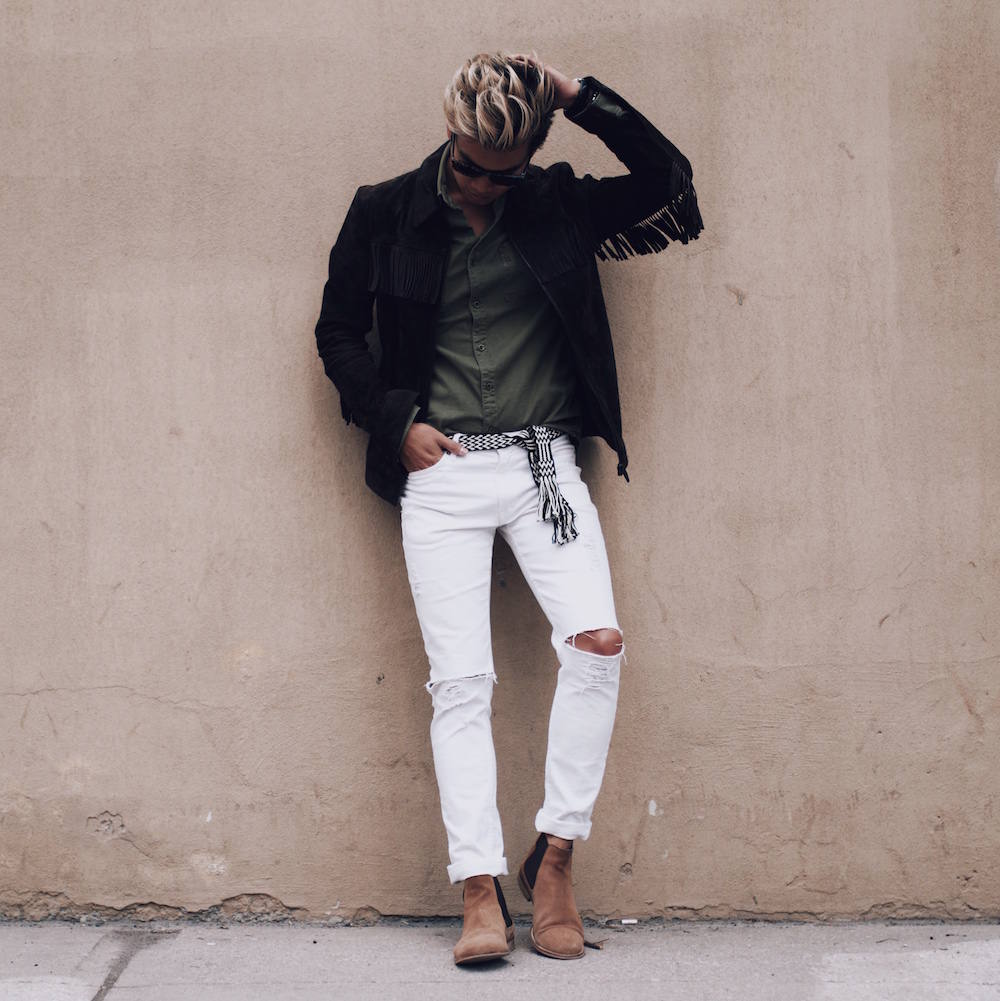 ↓ 17 – Suede Jacket with Fur
Suede Jackets make for an opulent appearance and paired with fur the style is enhanced. Fur on the collar of your suede jacket with a white round-neck t-shirt and blue jeans would look absolutely classy in winters. Paired with leather boots, the look is even more graceful.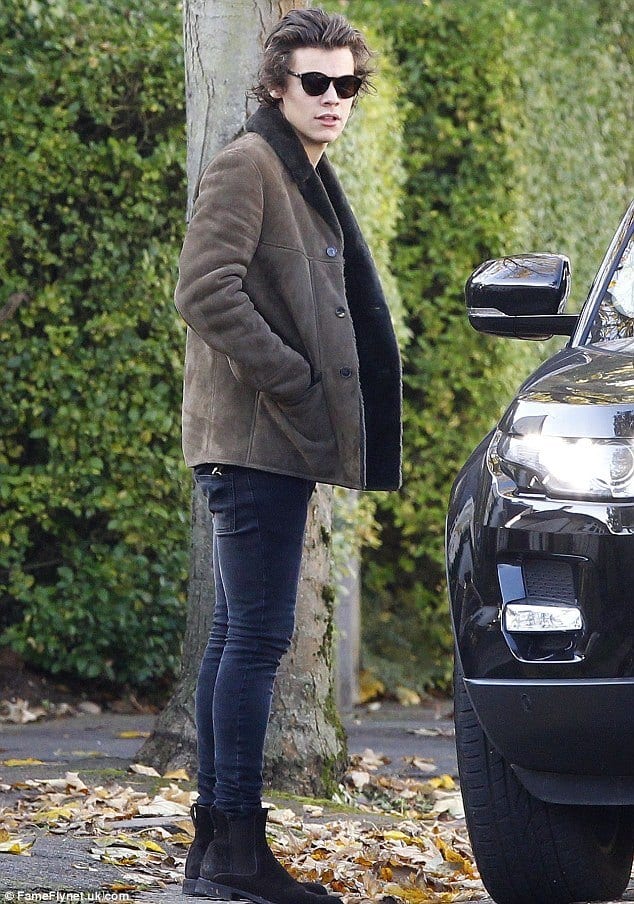 ↓ 16 – Suede Jacket with Belt
Celebrities have donned on suede jackets with belts and the look is unique and arresting. You should try it too. This outfit definitely works best with brown shoes, if you own a pair then do check out these 20 Ways to Wear Blue Suits with Brown Shoes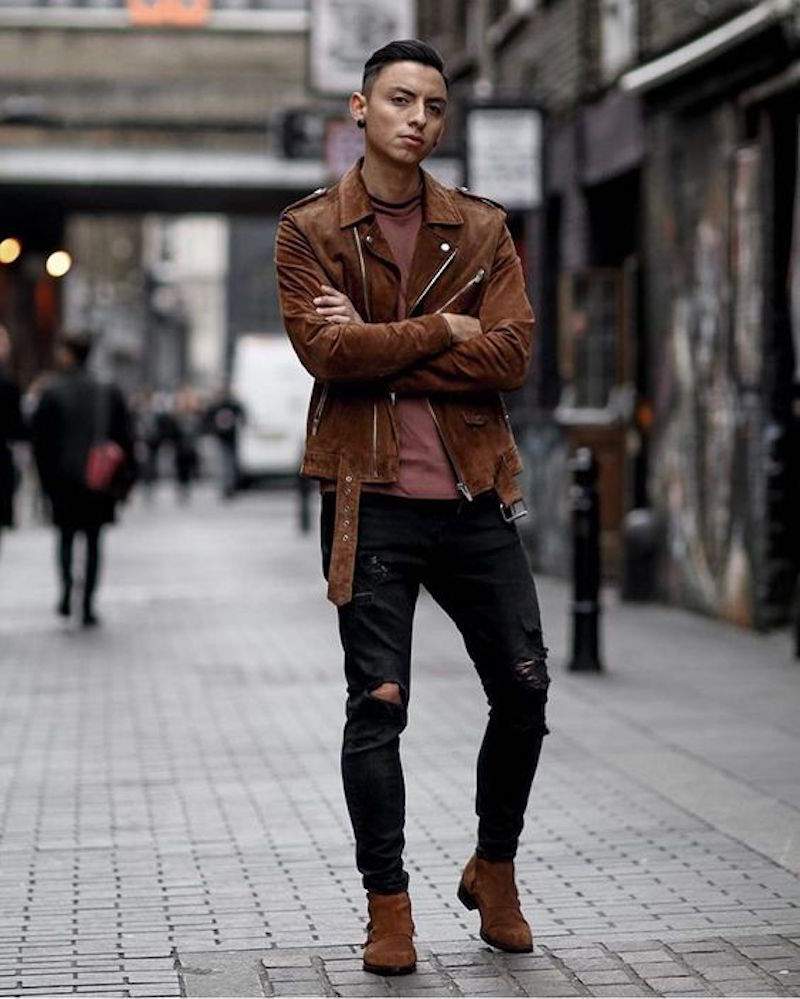 Via
↓ 15 – Suede Jacket with Elbow Patch
Like jeans with holes are widely accepted and admired despite how silly the idea is when you closely think of it, suede jackets with elbow patches are also considered a mark of premium style. And well, they do look modish. You can wear a suede jacket that has patches on the elbows with a plain black tee and a pair of crisp white jeans.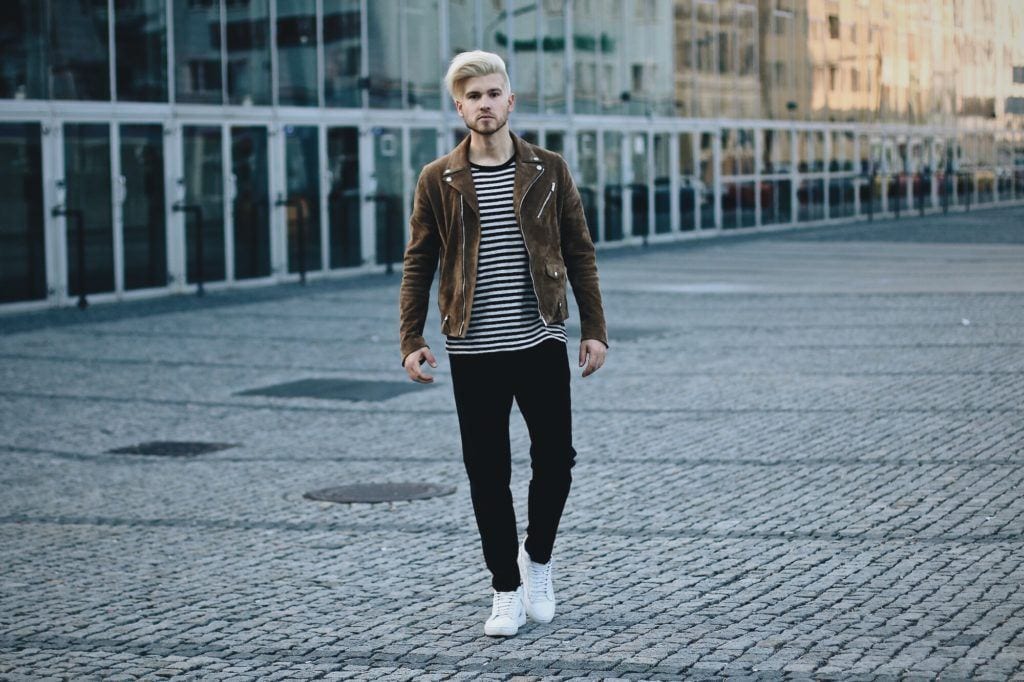 ↓ 14 – Suede Jacket with Print
Suede jackets with printed linings also look great. It's a contemporary look but when the lining is printed, the shirt you wear under the jacket must be plain or striped at most. If you're into the printed bohemian looks then here are some cool Bohemian Outfits for Men.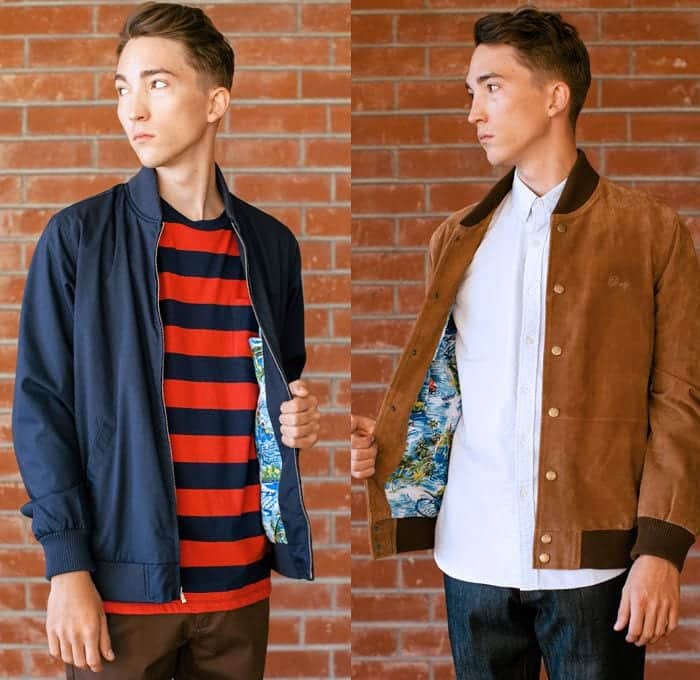 ↓ 13 – Suede Jacket with Sheepskin Lining
A suede jacket with a sheepskin lining is a very comfortable one. Try this one for winters this year.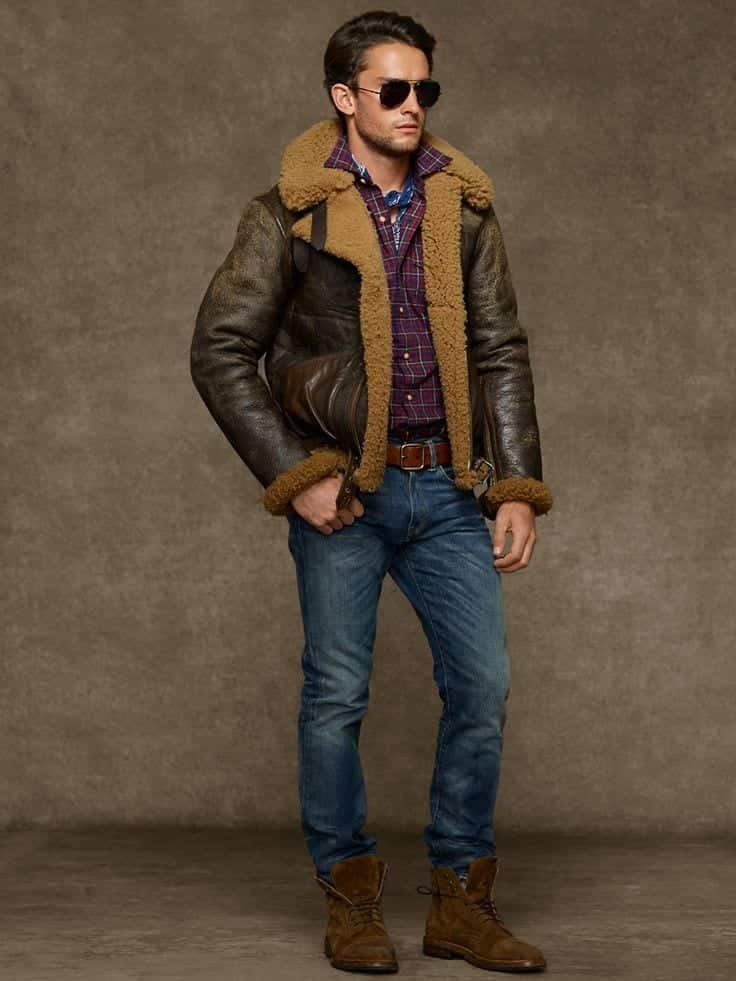 ↓ 12 – Faux Suede Jacket
A faux suede jacket with a round collar would look ultra modern with black pants and shades.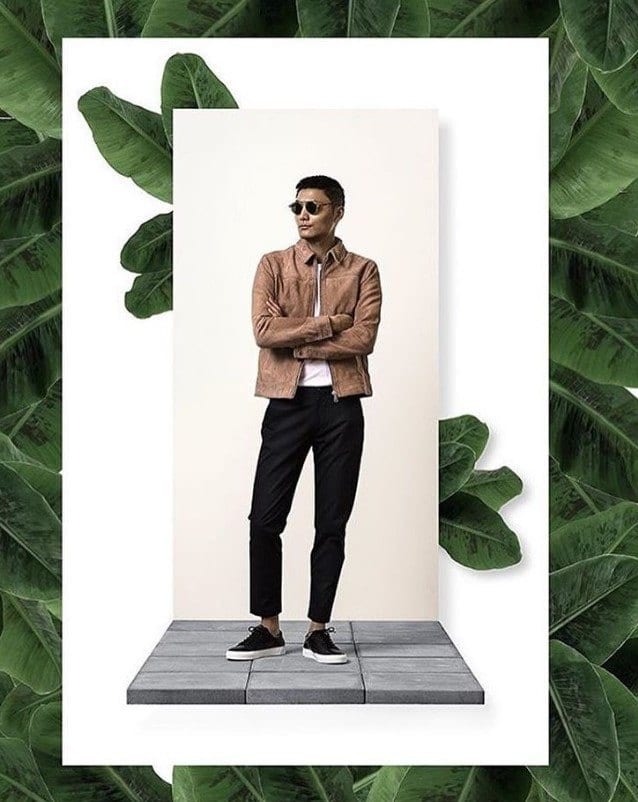 ↓ 11 – Suede Bomber Jacket Swag
For the tough-guy look, don on a suede bomber jacket! RECOMMENDED: Leather Jacket Outfits for Men-18 Ways to Wear Leather Jackets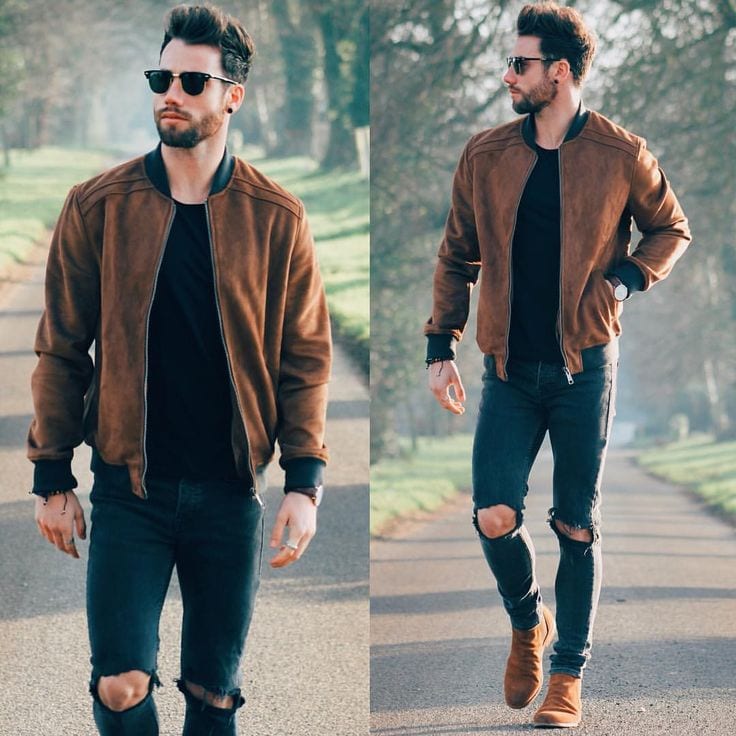 Via
↓ 10 – Suede Biker Jacket
A suede biker jacket would make for perfect streetwear.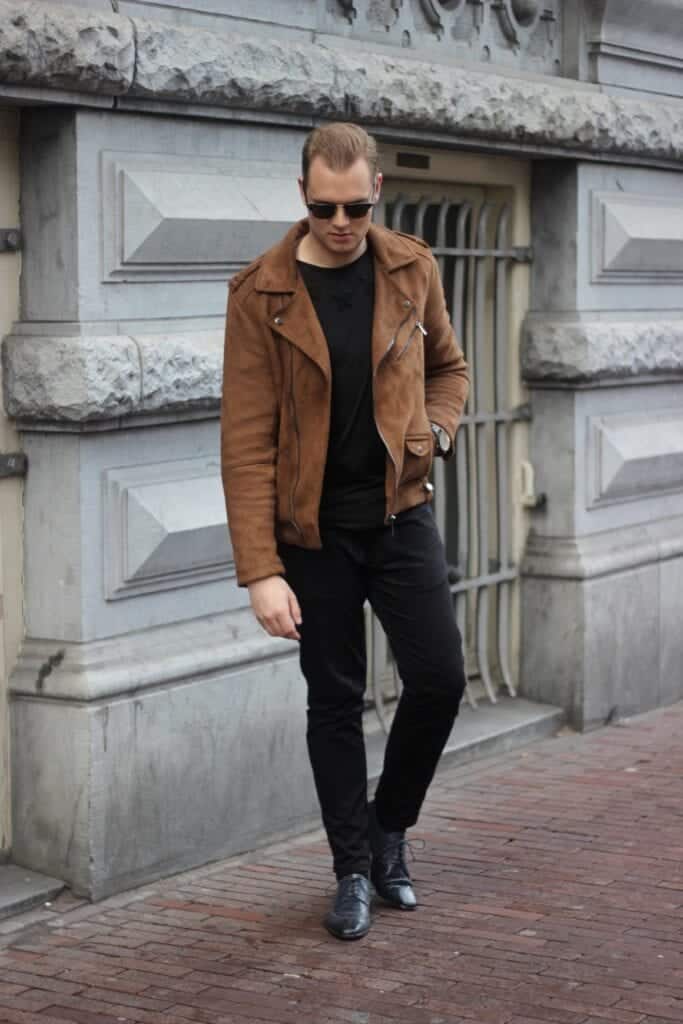 Via
↓ 9 – Suede Jacket in Rain
Suede jackets are not something that you should wear in the rain. Suede is a material that absorbs stains and when it gets wet it needs to be air-dried first and then polished. In case you are wearing suede and it suddenly starts drizzling, seek shelter! Don't start dancing in the rain when you are donning a suede jacket. If it gets wet, dry it naturally at home. This may take more than 24 hours. Then use a suede eraser or brush to remove the marks. Don't apply pressure if not absolutely necessary. Gently clear off the marks. Then at the end use the eraser again to restore the material's shine. You can also find great inspiration from these Men's Workout Outfits.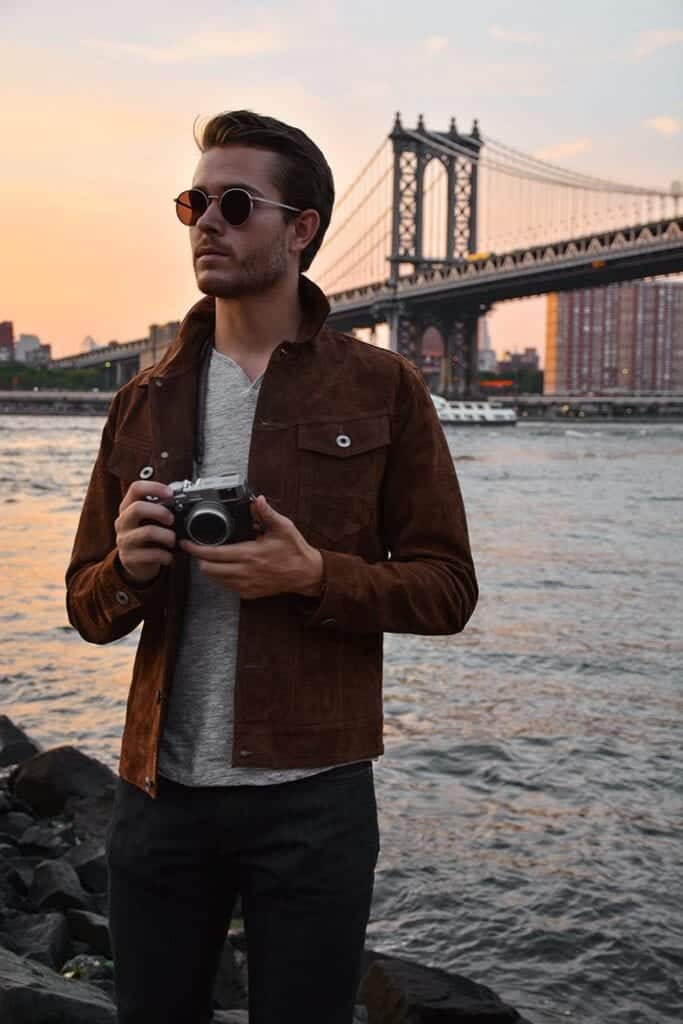 ↓ 8 – Suede Jacket Outfit in Summer
Many people believe that since suede is a material that's a relative of leather, it shouldn't be worn in summer. However, fortunately, there's no truth backing this idea. Suede can actually be worn in summers as well when it isn't blazing hot outside. The color and material fade and get damaged by the sun's scorching rays so be sure to avoid wearing suede on a bright sunny day.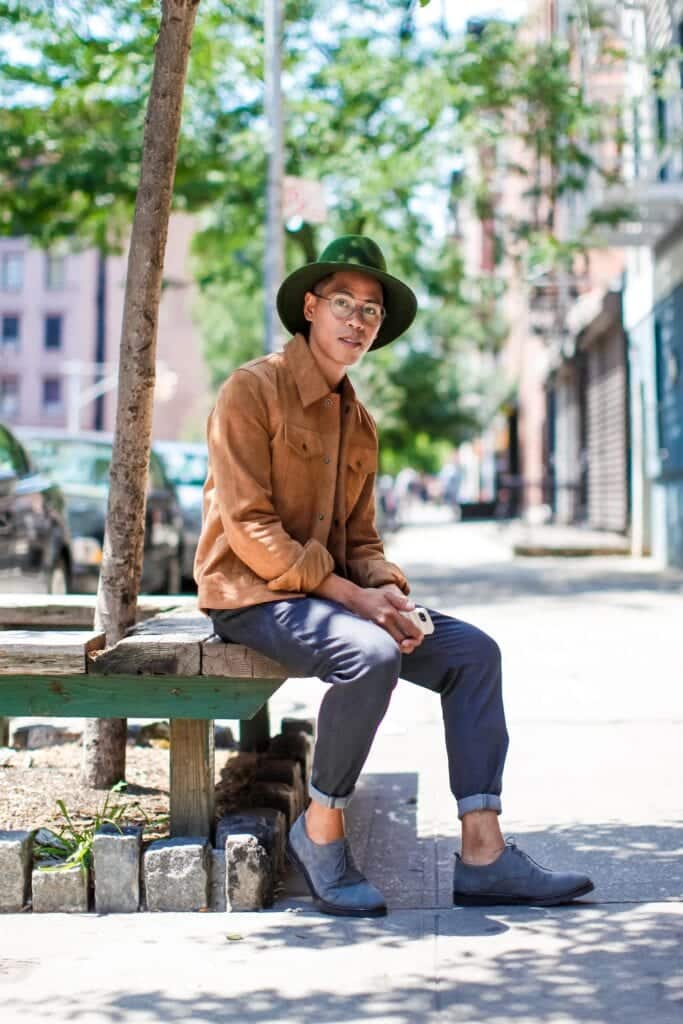 Via
↓ 7 – Styling a Suede Jacket
A suede jacket can be paired with several clothing items. Pair your suede jacket with a pair of white, blue or black jeans. You can wear a navy, black or white tee under it for a neat and smart look. You can wear tailored or fitted suede jacket for a formal look and a boxy one for a casual look. Since we all own at least one pair of black jeans, don't miss out Black Jeans Outfits for Men.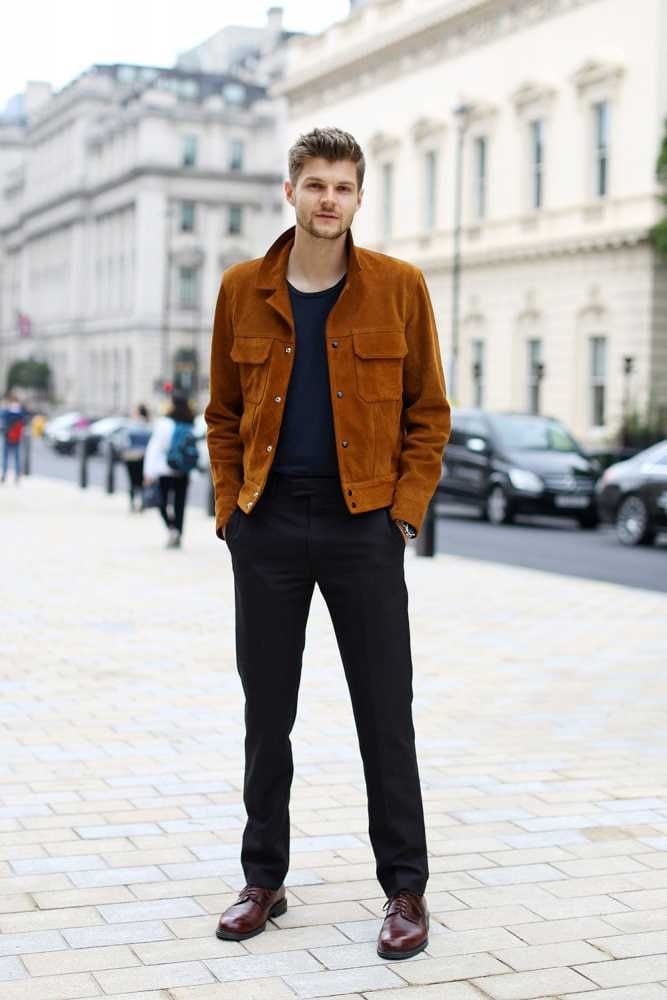 ↓ 6 – What to Wear with Brown Suede Jacket
Brown is the traditional color for suede. A brown suede jacket can be paired with a white, gray, black, blue and other shade of brown itself.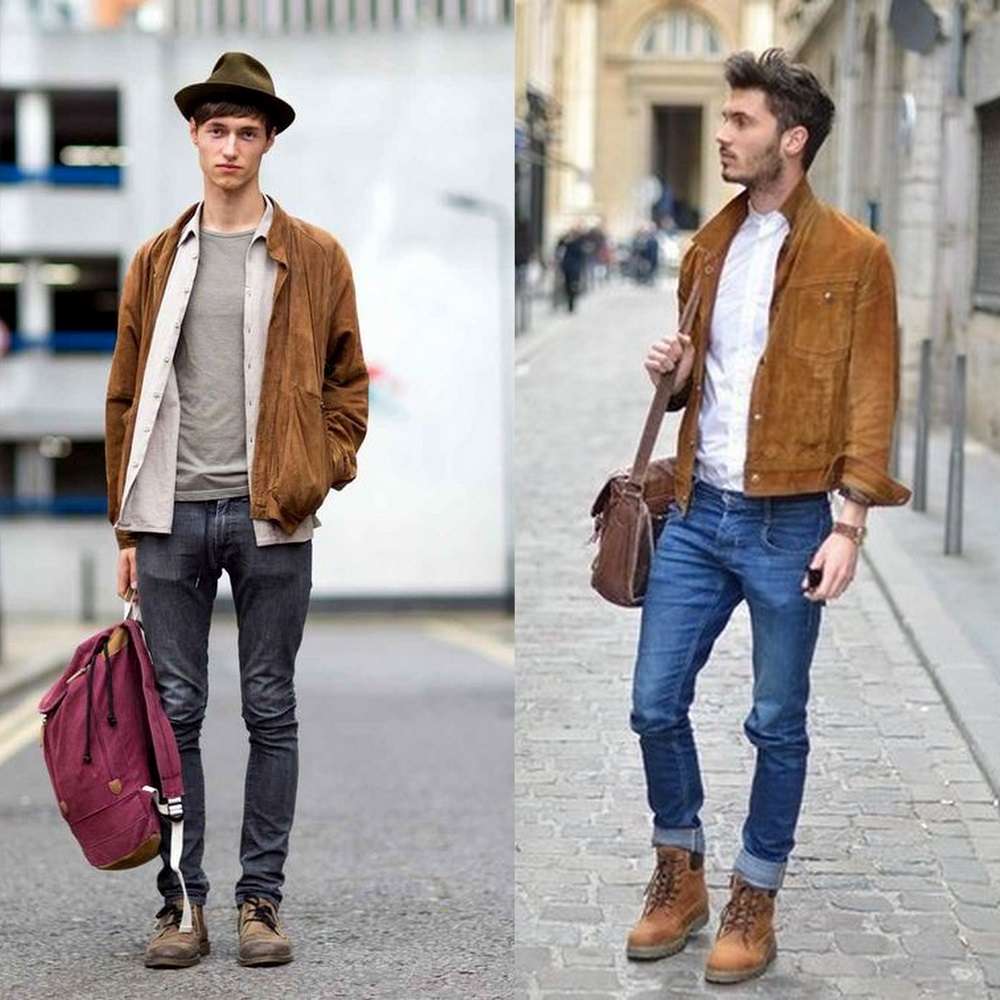 ↓ 5 – Blue Suede Jacket
Blue is the most wanted color of men's apparel. Suede jackets come in a variety of colors and even though brown is the popular choice, blue ones look marvelous too.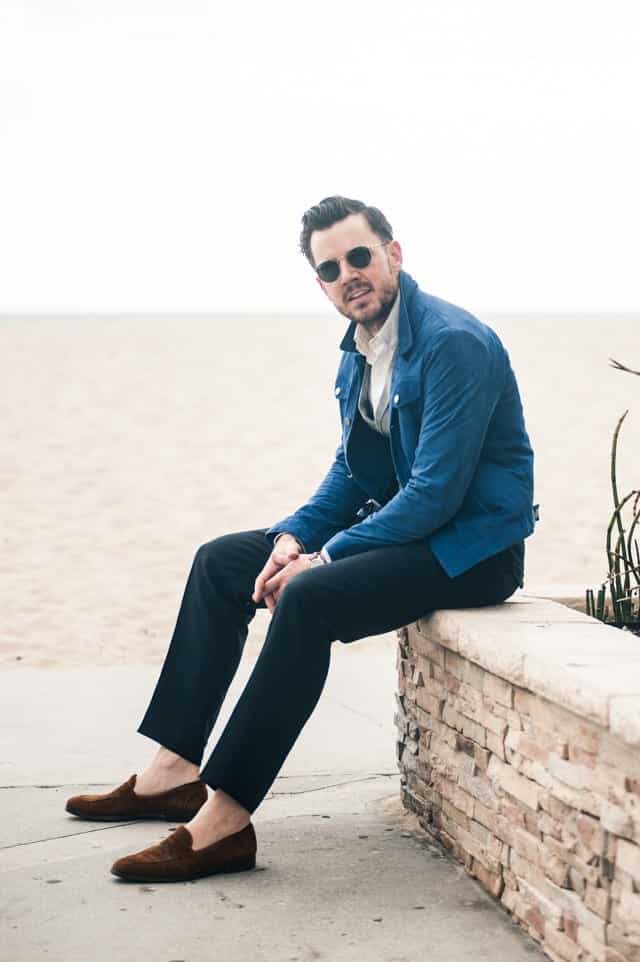 Via
↓ 4 – What to Wear with Red Suede Jacket
Red suede jackets look amazing as well. Love Red? Don't miss out these incredible Red Shoes Outfits For Men!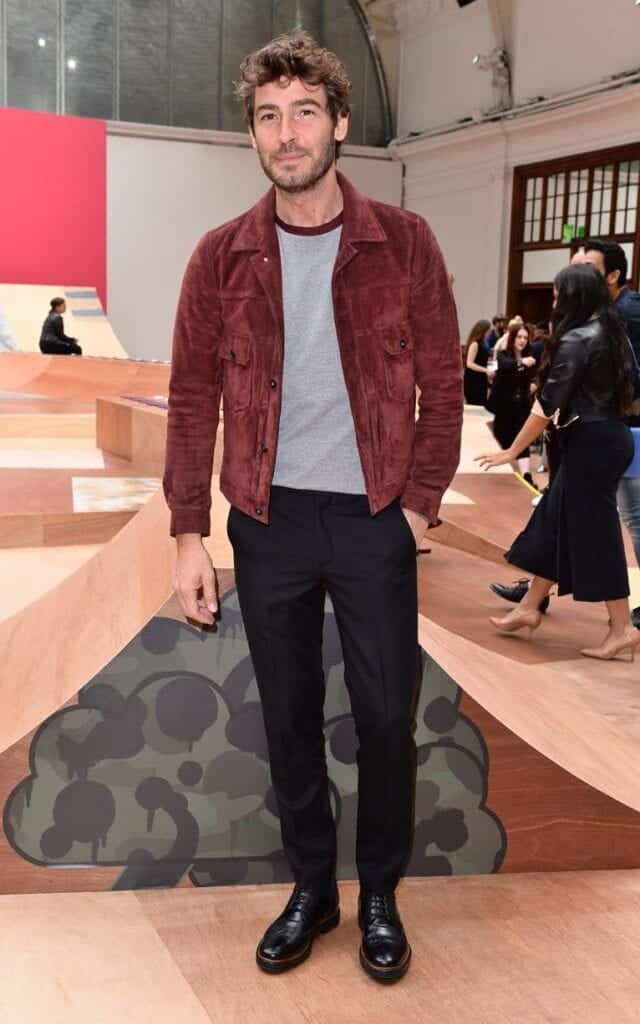 Via
↓ 3 – What to Wear with Black Suede Jacket
Black suede jackets look stunning and classy as much as brown ones do!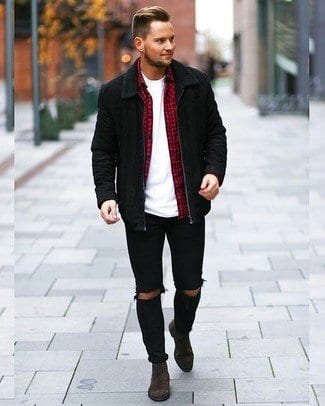 ↓ 2 – Suede Jacket and Jeans
Suede jackets look very snazzy with a pair of rough jeans.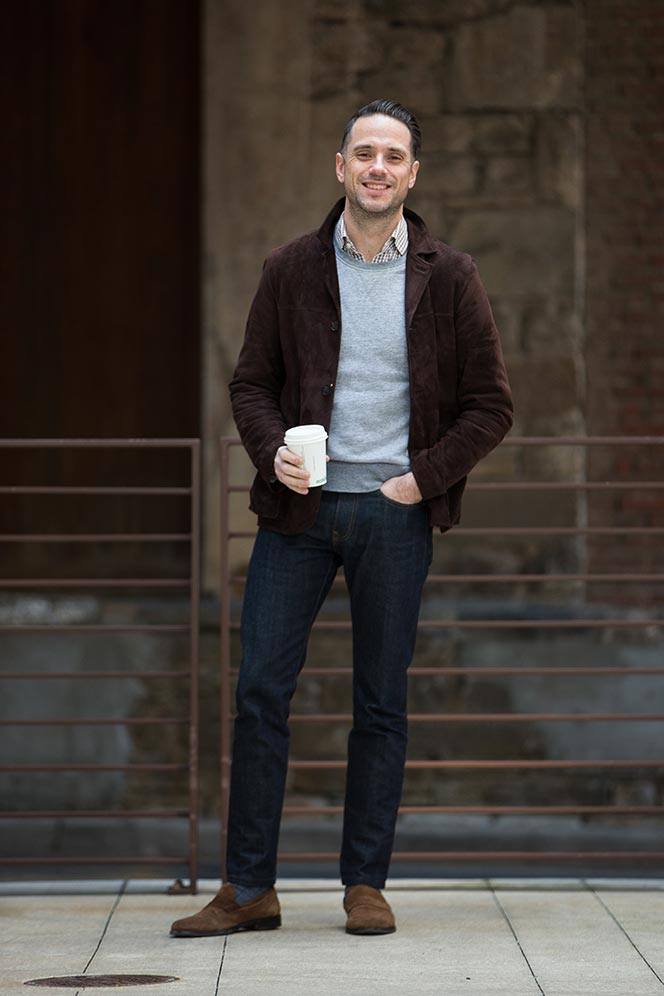 ↓ 1 – Suede Jacket Style for Young Guys
More than what you wear matters how you carry it. For a stylish look, don a suede jacket with confidence.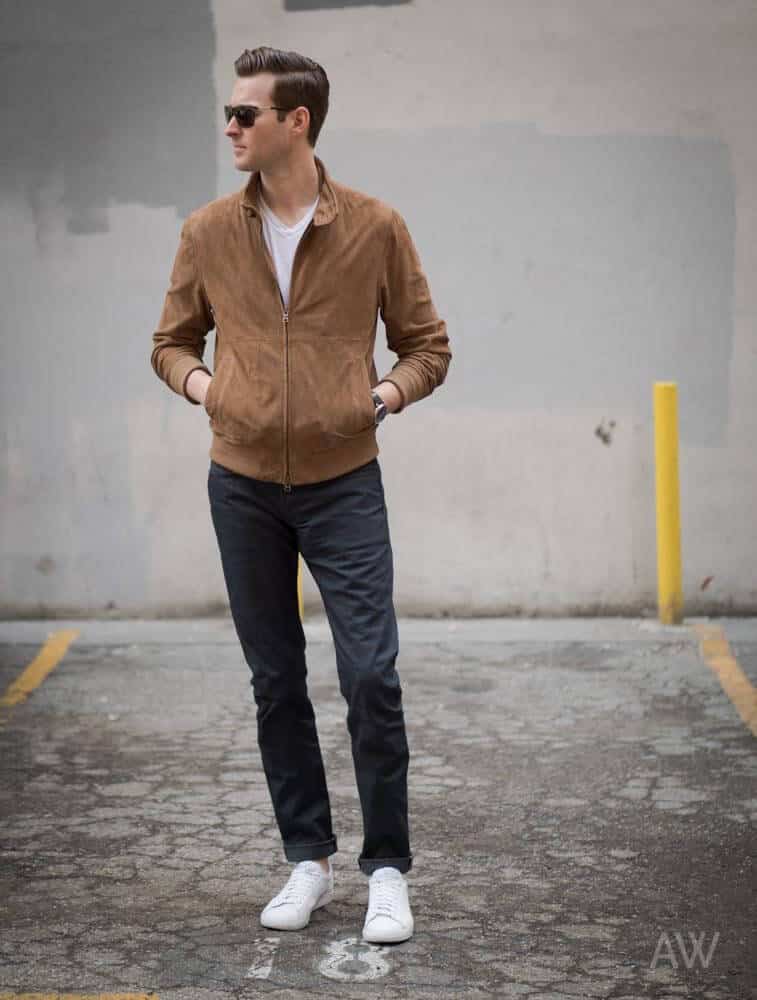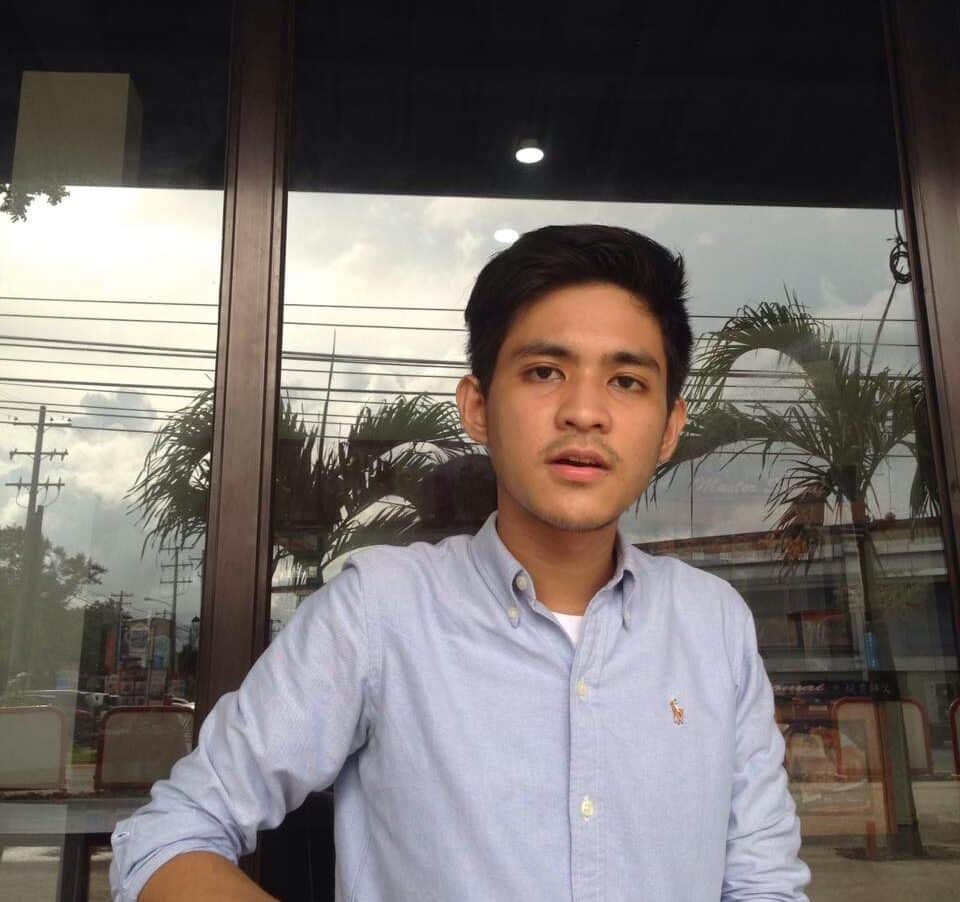 John Vincent studied Communication Arts in the Philippines.
Growing up, he's always had an eye for aesthetics. He enjoys writing a lot. Books, TV series, and movies are a big part of his life. His all-time favorites are Harry Potter, Game of Thrones, and Marvel films.
He believes that fashion is a pure form of art. You express yourself through your personal style – it's something you can't replicate.