Bohemian Outfits for Men. Bohemian outfits are a mix of old and new fashion pieces and putting them together to create the absolute lit look! Be it guys or girls, both of them love bohemian outfits, as they look effortlessly fabulous, and they give you the whole trendy look.
 How to Get Bohemian Look for Guys
A Bohemian man is a socially unconventional person – someone involved in the arts. If you want to be a boho person, don't succumb to societal pressure or expectations, and you must live a more free-spirited life. You should be ready to make your own rules – to find the beauty in everything. And you can often see them in music, arts, and literature.
In fashion, the Boho style is a reflection of personal style and individualism. Bohemian outfits are relaxed – clothes that are made comfortable and casual for the wearer. Here comes the patterns, prints, and colors carried boldly and expressively. The details have a vintage appeal, and accessories are artisanal and unusual.
Tips On Wearing Bohemian Outfits
Keep the outfits loose, lightweight, and unstructured.
Go for a relaxed look. Don outfits with vintage and artisanal touches.
Learn to play with patterns and prints.
Keep grooming to a minimum. Don't mind going with messy hair and rugged facial hair.
Have a trip to the thrift stores to search for some bohemian pieces.
Men usually are unsure what pieces of clothes to put together to achieve the perfect bohemian look. Well, if you're worried, then it's time to put those worries to an end because we have compiled these unique bohemian styles to make you look fabulous this season. From rugged bohemian looks to some chic workwear, these boho menswear styles are ideal for music festivals and parties:
↓ 27 – Hipster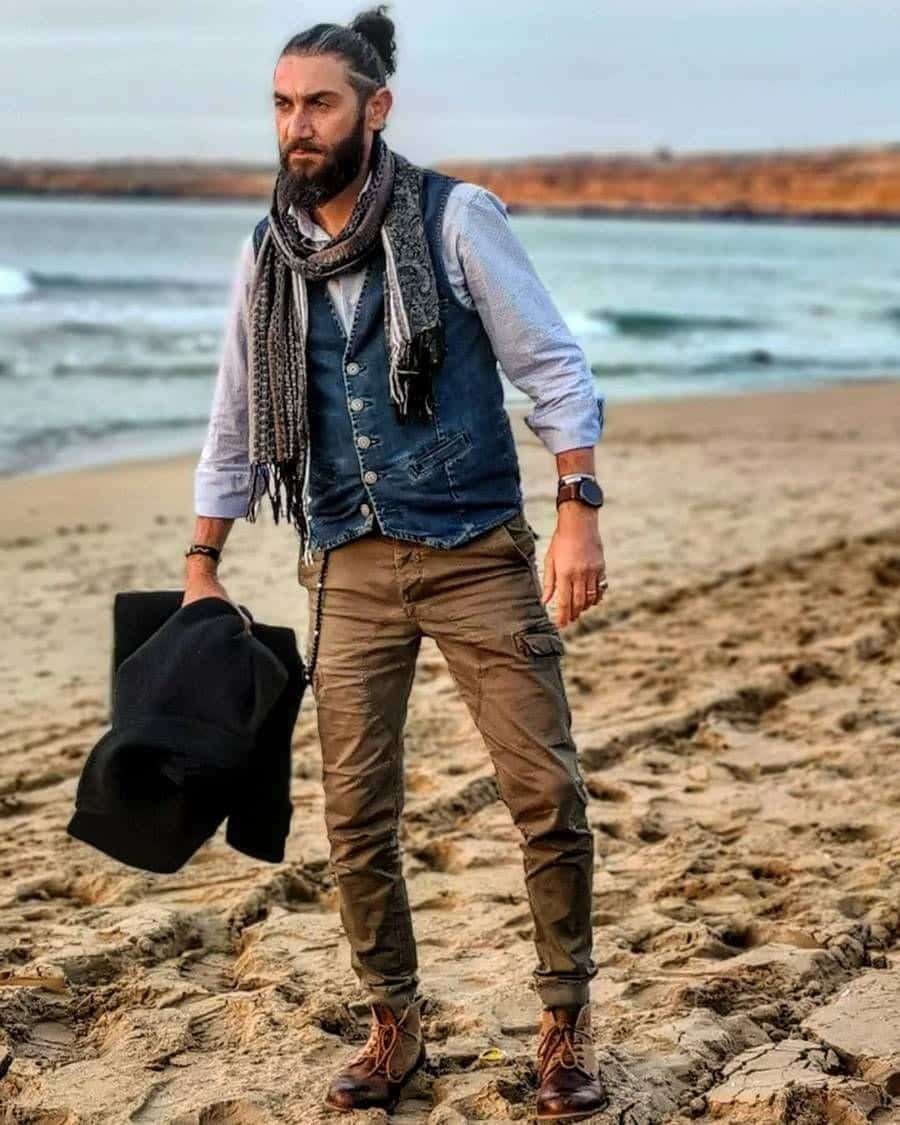 ↓ 26 – Natural Hippie Vibe
While traditional bohemians consider going barefoot, modern-day guys will likely object as they find the option unhygienic (which, of course, it is). So go for loafers and slip-ons, but you can also opt for leather-strap sandals as the trendsetting bohos of this generation love them. But cross Nike pool slides and velcro sandals out of your list, please.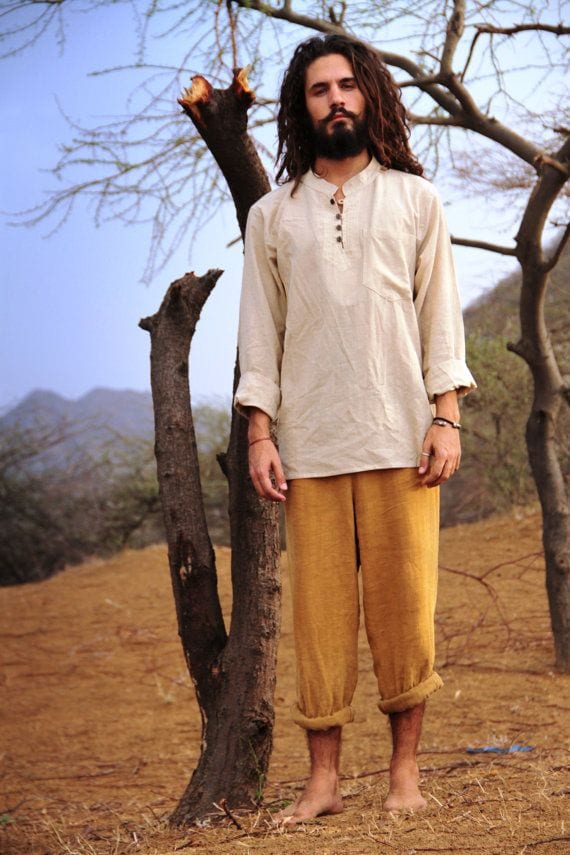 ↓ 25 – The Traveler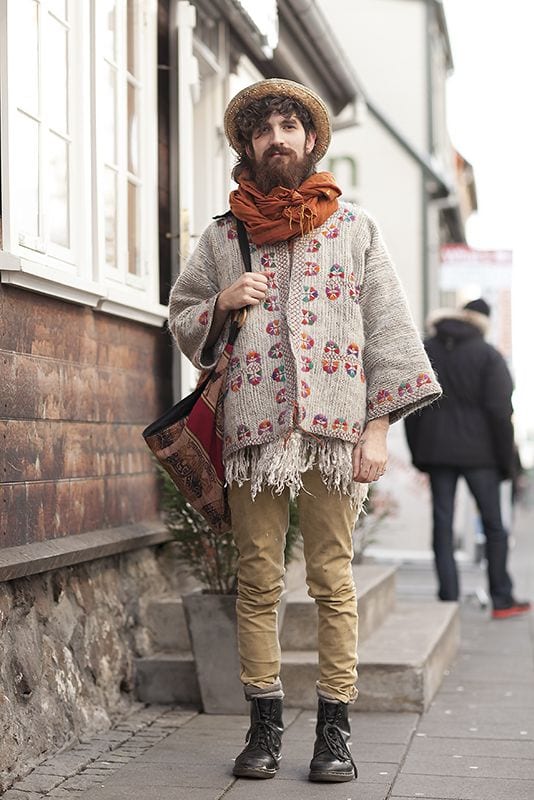 ↓ 24 – Boho In The Beach
While modern fashion rules tell you to wear pants everywhere but the beach, bohemian men break the norms by embracing shorts.
↓ 23 – Retro-Vintage Shirt
Save the pinstripes and checks for your workwear, and let your creative side run its course. The style would also include florals, paisleys, and even subtle animal prints. Just make sure they're catchy enough. Embrace your bohemian self and choose a lightweight cotton shirt. DO NOT iron it – don't mind the creases as they are an essential part of the boho style. One more thing, rolled-up long sleeves and open buttons give off the laid-back attitude you want.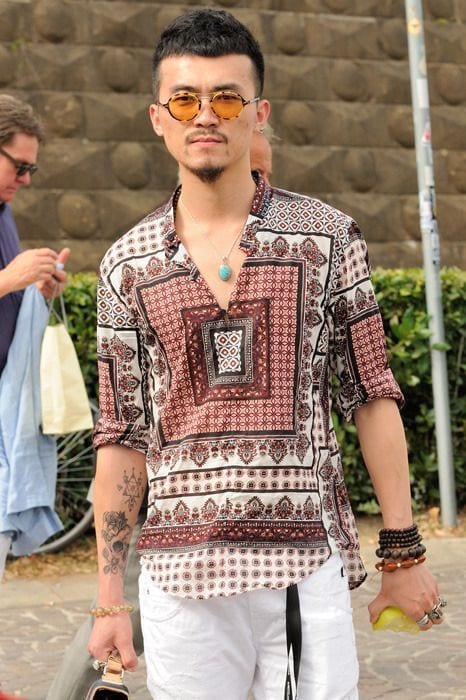 ↓ 22 – Boho-Inspired Scarf
When the weather gets too cold, put the shorts away and opt for jeans instead. They are another wardrobe staple that bohemians love. Make sure that your jeans have the appropriate weekend casual style. Steer clear of those smart, dark denim you wear on casual Fridays and washdays. Instead, opt for rugged and ripped, light or mid-blue jeans. Also, pleated trousers create a natural vintage feel. It would be ideal to wear them baggy in the legs and belted at the waist.
↓ 21 – Summer Boho Look
The summer season is the perfect time to have a wardrobe overhaul. Look for pieces that are more relaxed yet creative. And these bohemian menswear styles are ideal for men wanting to look chic while being comfortable during the hot weather.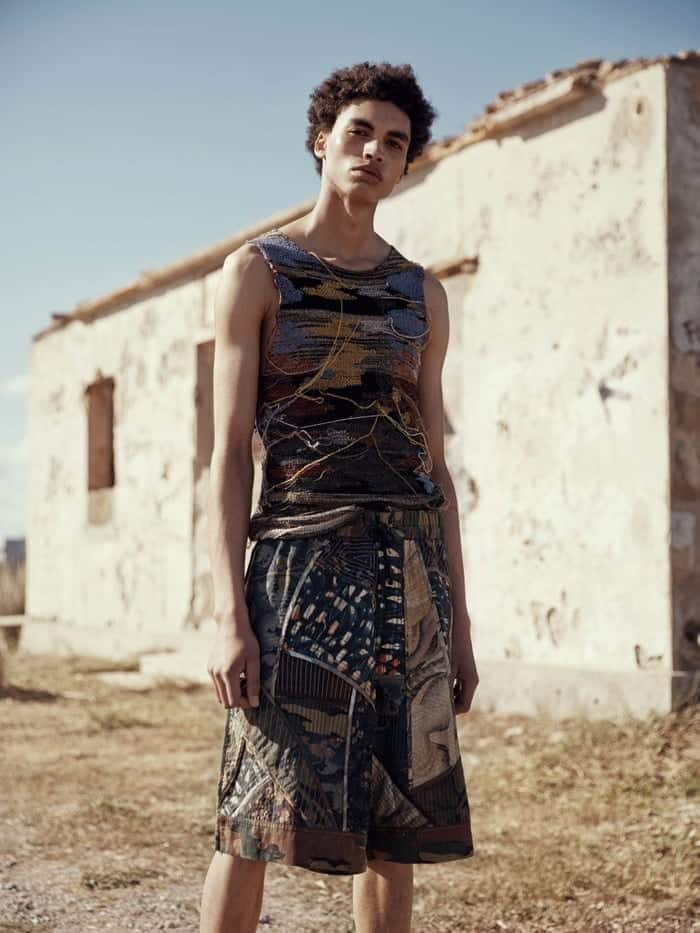 ↓ 20 – Boho Cardigan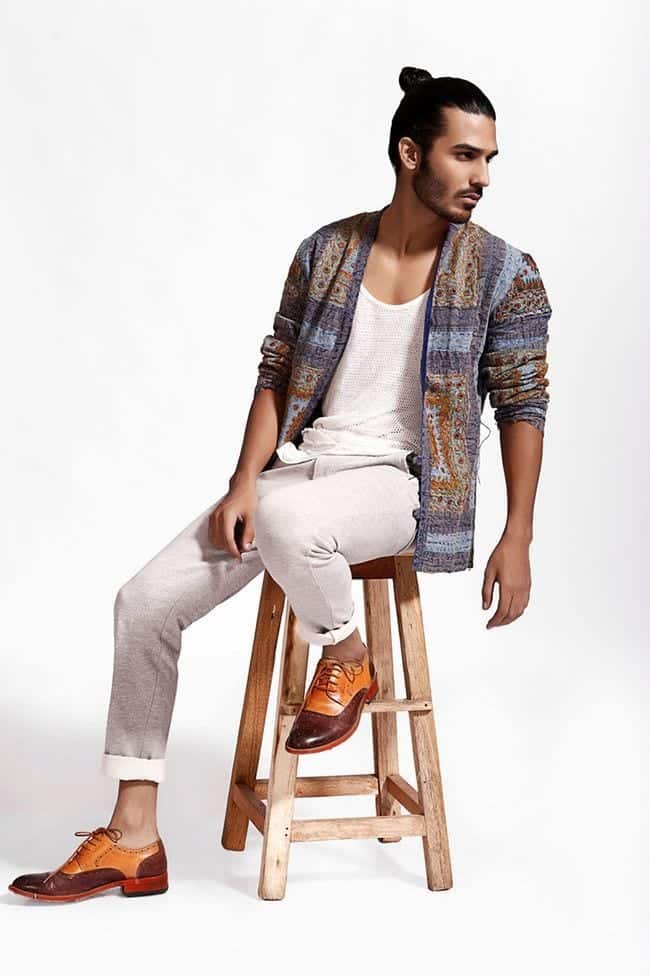 ↓ 19 – Bohemian Blazer
The bohemian style involves being confident enough to rock unstructured silhouettes. For instance, it would be inappropriate to don a tailored blazer in fall or winter. So instead, keep a preppy look by choosing loose fits and by leaving the buttons undone. It's even better if your outerwear looks a little worn out. For backup, go for lightweight, oversized, and patterned pieces.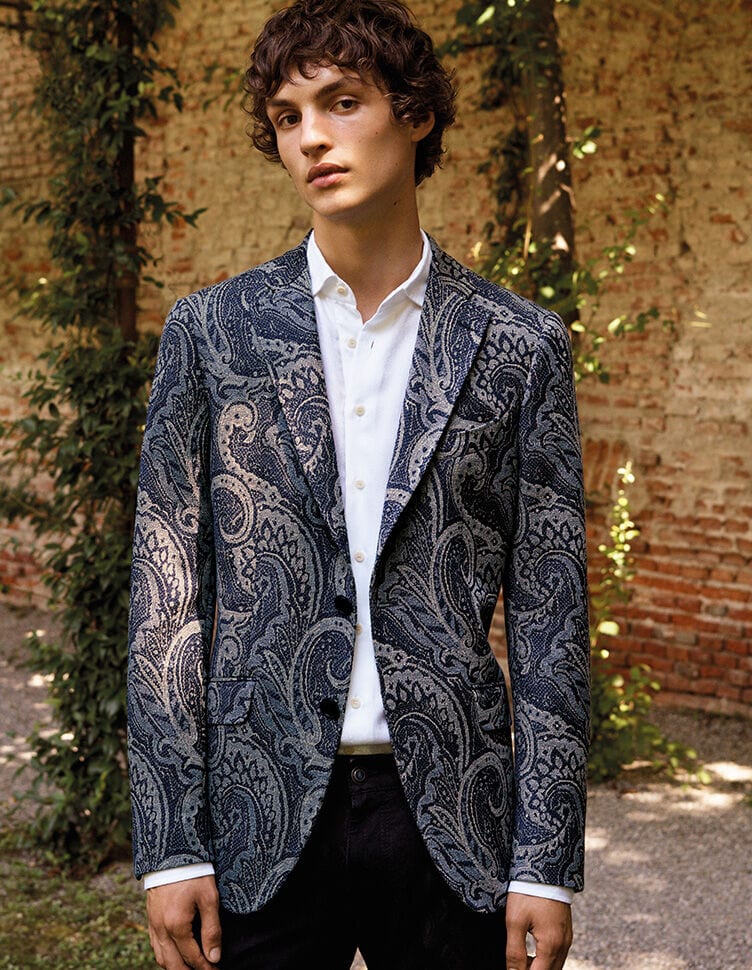 ↓ 18 – Bohemian Suit
If you've been invited to a boho-themed party, let layering be your "plus-one." For starters, some baggy cuffed trousers and a loose button-up shirt will do. And if you're in the mood, get some pieces with bold patterns, like this funky suit.
↓ 17 – Winter In Bohemian Style
Bohemian winter wear may sound confusing and ambiguous to many men, but it can be effortless and easy to carry if the right dress is picked. Wear a faded blue or light-colored sweater with khaki pants. You can also carry it ideally with shoulder-length hair to look unique and different. RECOMMENDED: Trench Coat Outfits Men-19 Ways to Wear Trench Coats this Winter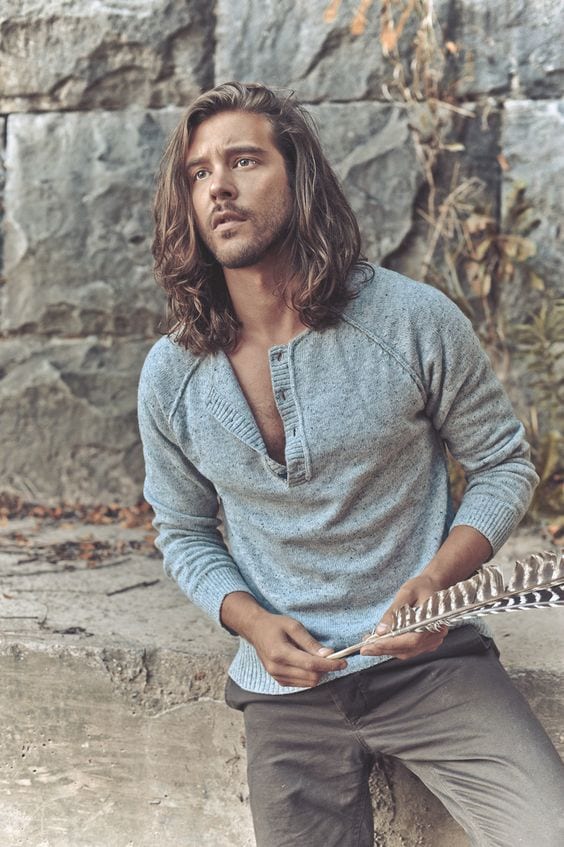 Via
↓ 16 – Rustic Bohemian Look for Work
Men with medium-toned bodies can opt for rustic style. This means wearing khaki pants with a triple layer of shirt and with a waistcoat and a jacket. However, you must ensure that the shirt must be worn with a different colored waistcoat and a complimenting coat color. You can let your hair be loose or tied in a loose man bun to complement the whole look.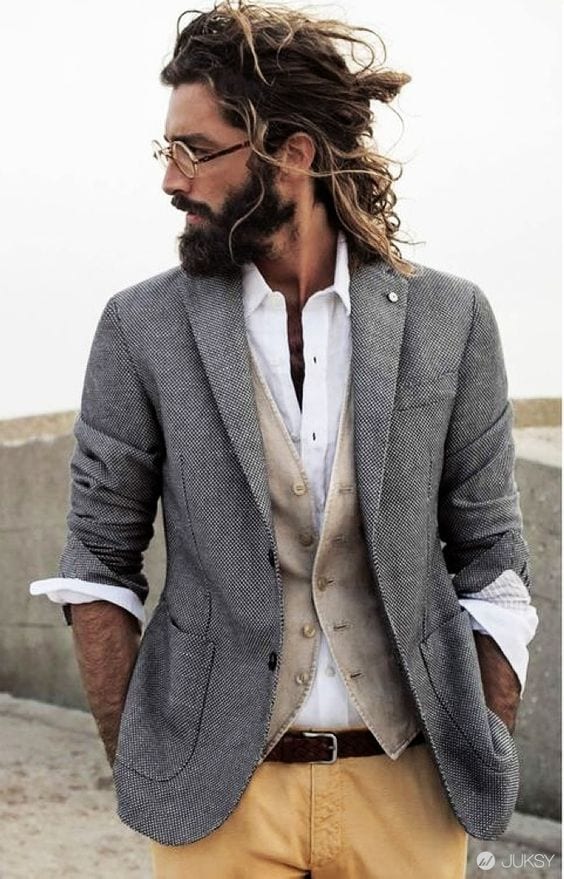 Via
↓ 15 – The Ripped Denim Swag
Ripped denim is the easiest and the safest way to pull off the bohemian look. You can complement it with a long coat and a printed scarf to add more charm to the look. This look is ideal for young boys as well as men in their middle ages. This can make your personality look subtle as well as fun at the same time. Check out these Men Ripped Jeans Outfits-18 Tips How To Wear Ripped Jeans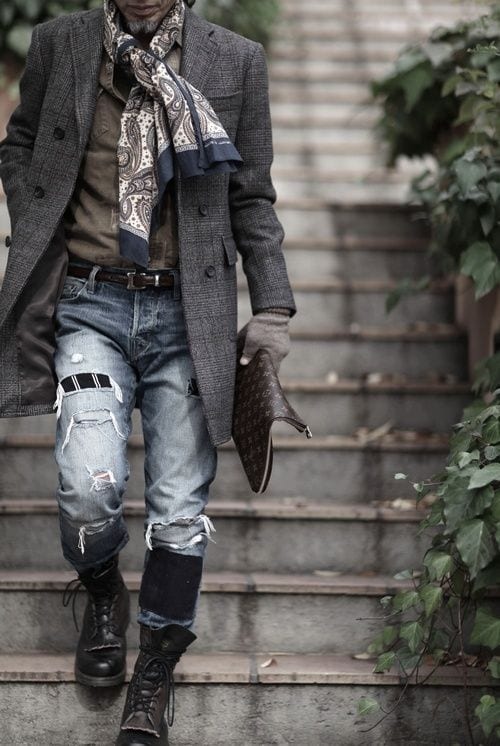 ↓ 14 – The Old Age Boho Look
Who says the Bohemian style is only for young or middle-aged men? Let us prove you wrong by giving old age the perfect and the most lit bohemian style. A denim jacket with a plain shirt and trousers coupled with lots of stone accessories is the ultimate way to go by. In addition, you can have a full long beard and hair pulled back in a man bun to add more to the look. Here are 17 Smart Outfits for Men Over 50- Fashion Ideas and Trends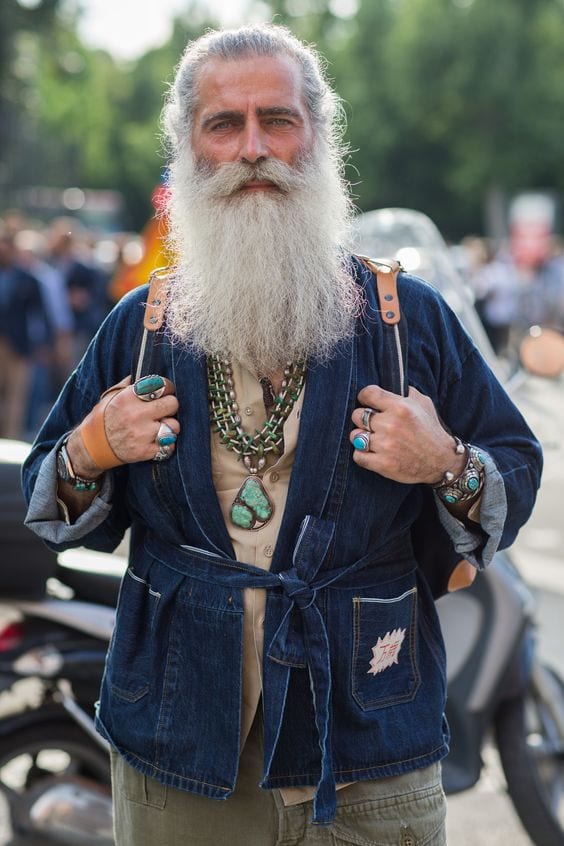 ↓ 13 – The Folded Pants Style
Folded pants not only look smart but add charm to your personality. To up your bohemian game, wear khaki pants, fold them and wear a contrasting colored button-down shirt with lots of hand accessories and a hat! This will look fabulous if you're planning to go on a beach date with your loved one. Here are 20 Outfit Ideas to Wear Black Pants with Brown Shoes for Men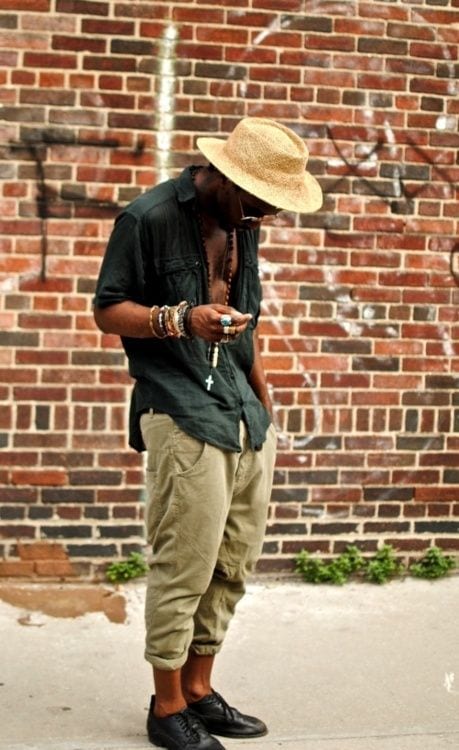 ↓ 12 – Go Fancy
Don't want to wear many pieces of clothing? Want to look bohemian and all casual? Well, here is an easy tip for all the men out there. Wear a fancy and different textured shirt that will complement your event and give you the right bohemian look that can be carried to the beach or a casual BBQ lunch with friends.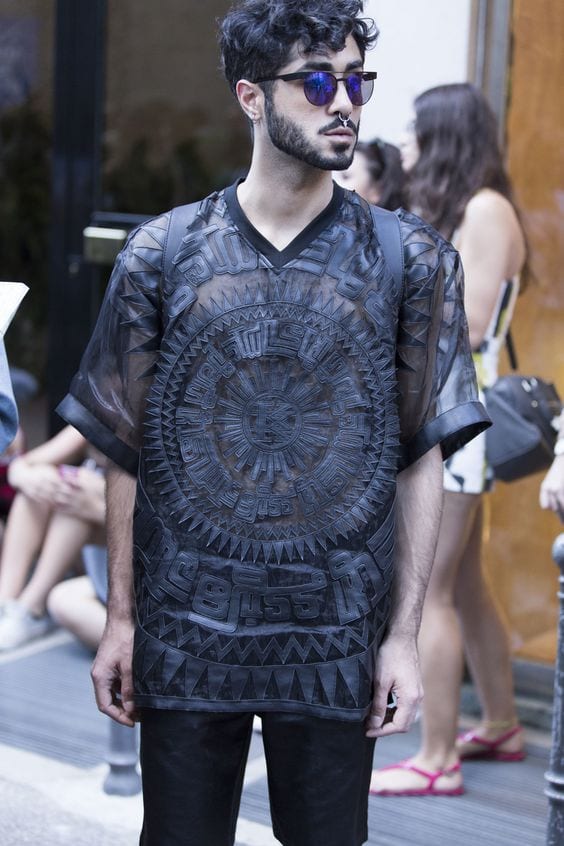 ↓ 11 – Bohemian Pants
Sometimes you don't want to opt for crazy colors. For such days, the best thing to do is opt for the basic colors yet style them to give you the best bohemian style. Ripped denim with a white vest, a gray scarf, and a black jacket will provide you with the right style to carry.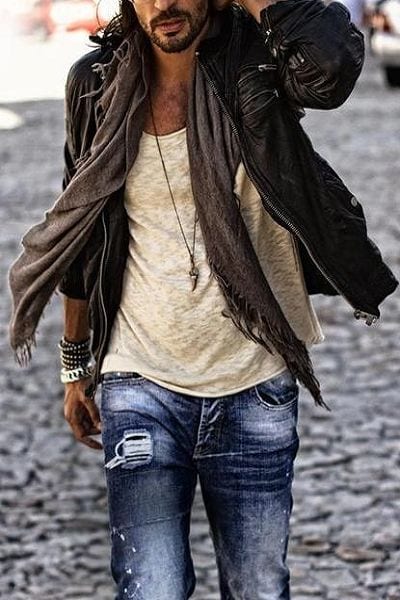 Via
But if you want something genuinely bohemian, go for funky boho harem pants, perfect for a beach day!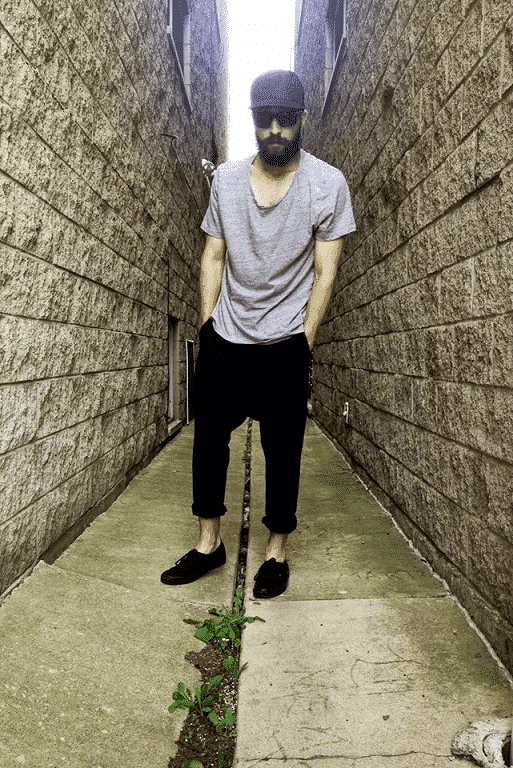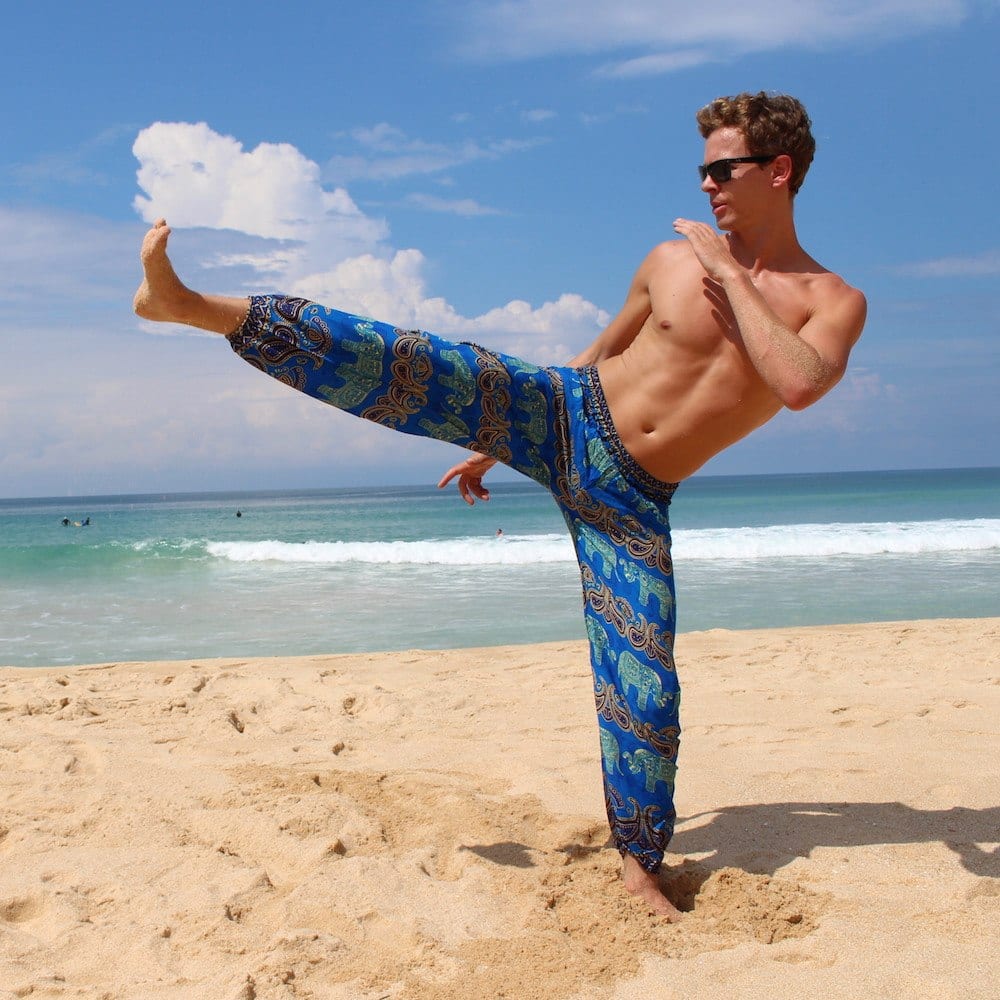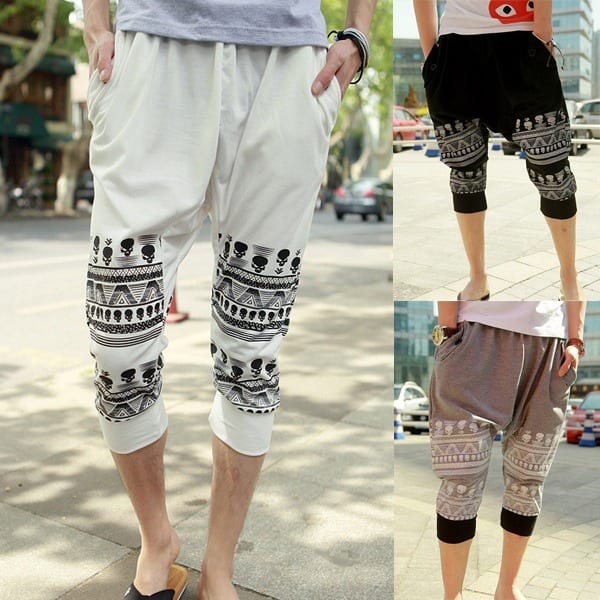 ↓ 10 – The Artistic Boho Style
If you have an artistic flair to your personality, then why not dress creatively? To do a fusion between the bohemian style and some artistic style, all you have to do is pick on a jacket, or waistcoat multicolored and printed, wear it over your tee shirt and pants. If you're looking for something more fun, then wear a hat to complete the look. RECOMMENDED: Men Outfits with Hats – 15 Ways to Wear Different Hats Fashionably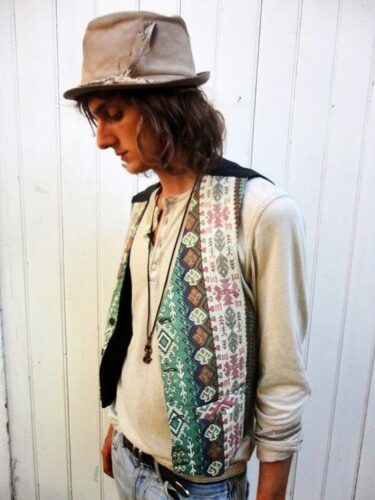 Via
↓ 9 – Tattoo It Up!
For the guys in their 20s or 30s, they must change their looks; they are also willing to experiment and choose the style which will suit them best. For such experimental souls, we suggest why not go for an arm tattoo. You can combine it with your rugged bohemian style and shoulder-length hair. This is an easy way to carry yourself without getting in the hassle of thinking about carrying different sorts of dresses.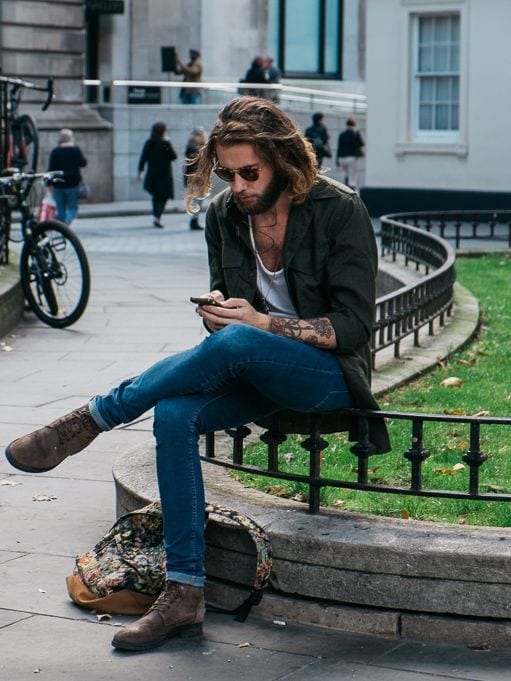 Via
↓ 8 – Hairstyle With Bohemian Outfits
Men are often confused about the hairstyle as to which style will look best with their bohemian style. Our best pick is the man bun! If tied correctly, the man bun not only looks classy but makes your personality shine out. Man-bun suits men of all ages, so it is not at all age bounding. Have a look at the Men Scarves Fashion; 18 Tips How to Wear Scarves for Guys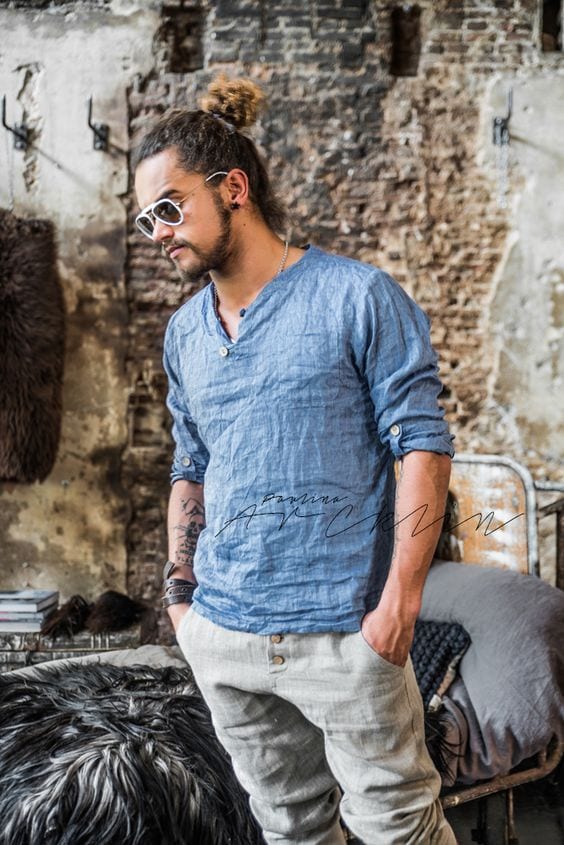 ↓ 7 – Go Formal In Bohemian
Most men are reluctant to go informal, especially in Bohemian outfits. Most men are confused about what to put together, so the outfit looks formal yet bohemian in fashion. An easy solution is to pick your favourite black skinnies with a tee shirt and leather jacket. Add a hat and a complimenting colored scarf, and here it is your perfect bohemian and formal look!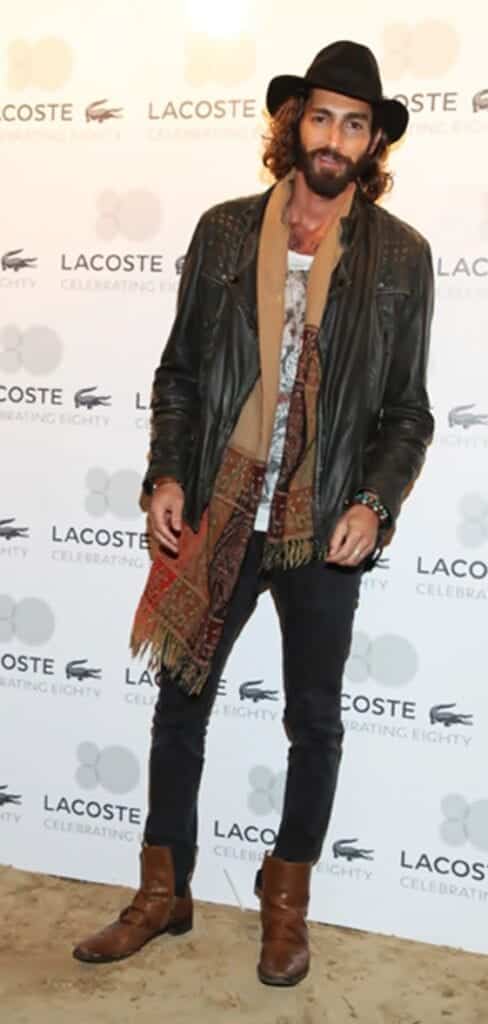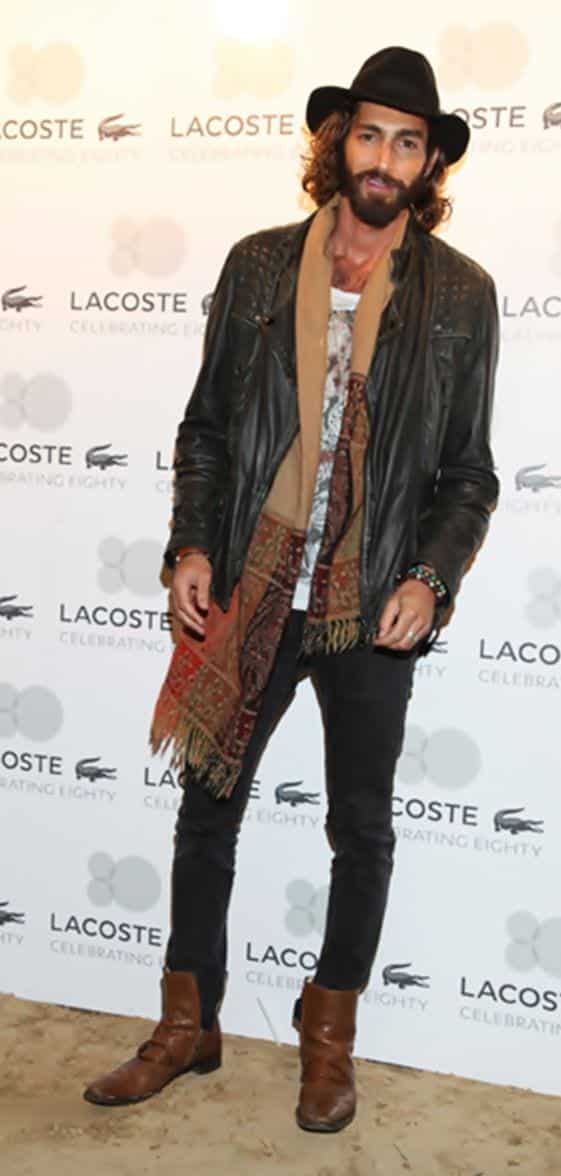 Via
↓ 6 – Colorful Bohemian Party Outfit
Bohemian fashion can vary in prints, colors, or simply the way you wear different pieces together. A fun way to look bohemian at a wedding is to wear a printed colorful coat over your formal dress. This will make you look unique and fashionable at the same time. RECOMMENDED: Men's Party Outfits; 14 Best Party Wear for Men for All Seasons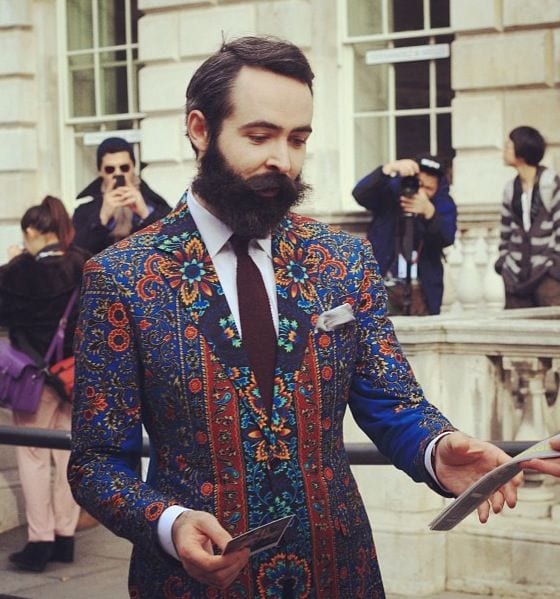 ↓ 5 – Footwear With Bohemian Outfits
Patterned shorts are a wardrobe staple for guys. Look for bold botanicals and busy patterns to keep this look stylish. The bohemian look involves the right choice of footwear as well. Wear your sandals with your casual tee and shorts, and enjoy your Sunday relaxing around the town. Sandals don't only look fashionable but also provide great comfort.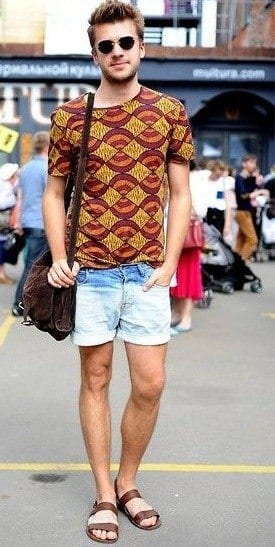 ↓ 4 – The Floral Boho Print
Another beautiful yet straightforward way to look bohemian with minimal effort is to opt for a floral print tee shirt. Now, this can be worn with shorts, ripped denim, or formal pants as well.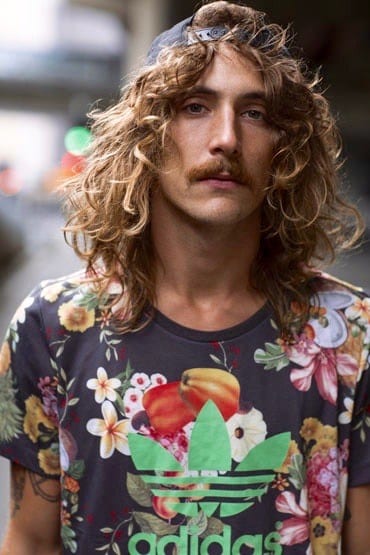 Via
↓ 3 – How To Dress Like A Bohemian Gentleman
The bohemian gentleman look can be very easily achieved. All you need is a casual button-down shirt combined with a jacket and scarf. This look is very intimidating and gives you the ultimate gentleman look.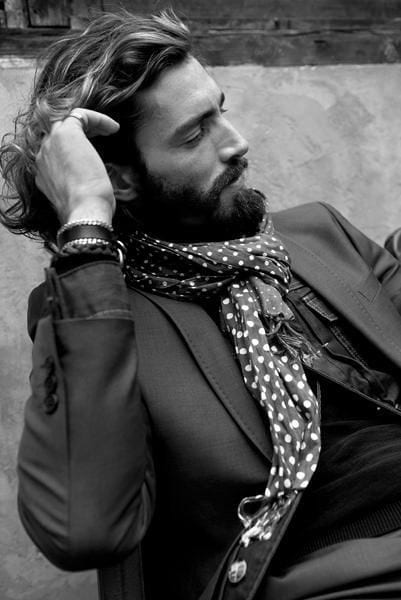 Via
↓ 2 – What Accessories Should Men Wear For Boho Look
The bohemian look doesn't necessarily mean putting on the right clothes. Sometimes it can also be achieved by wearing the right accessories. Wear pendants and long-chain necklaces with bright colored scarves, and you're all set to rock the look. Check out these Trendy Mens Clothing and Fashion Accessories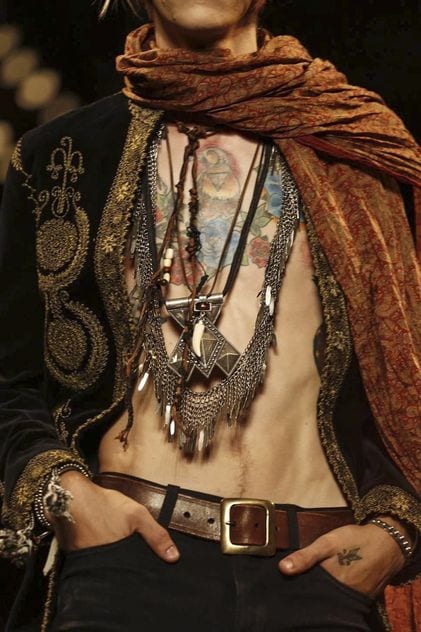 ↓ 1 – The Printed Scarf
The easiest trick to add the bohemian flair into your persona is to carry an abstract printed scarf with any dress you plan to wear. This trick works wonders on all occasions and at all times and gives you the radiant bohemian look!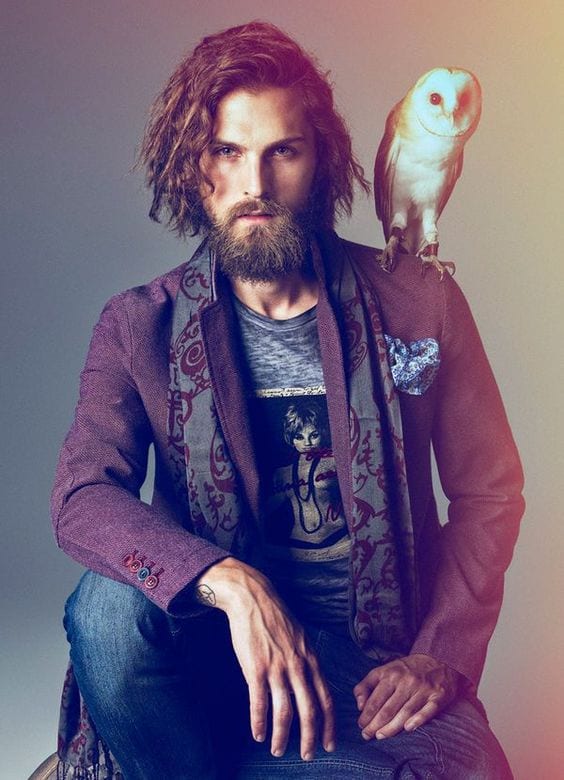 The best part about bohemian outfits is that they can be easily composed together and will give you a completely different and unique look. Bohemian style entails the will to express yourself and feel comfortable with your out-of-the-norm outfits.
Frequently Asked Questions
Q. Where can I buy Boho clothes?
Q. How do I look Bohemian?
A. Start by disregarding skinny jeans and sleek tailoring as options. Instead, choose loose shorts and trousers. And jeans should be ripped and a little worn in.
Q. What shoes look Bohemian?
A. While traditional bohemians consider going barefoot, modern-day guys will likely object as they find the option unhygienic (which, of course, it is). So go for loafers and slip-ons. Still, you can also opt for leather-strap sandals as the trendsetting bohos of this generation love them. But cross Nike pool slides and velcro sandals out of your list, please.
Q. What accessories look Bohemian?
A. No Bohemian man is really complete without the right accessories. A simple straw hat, canvas tote bag, patterned scarf, and wooden bead bracelet will all help you complete the boho look. And steer clear of sleek sunglasses and minimal watches as they are contradictory to the style you're trying to achieve.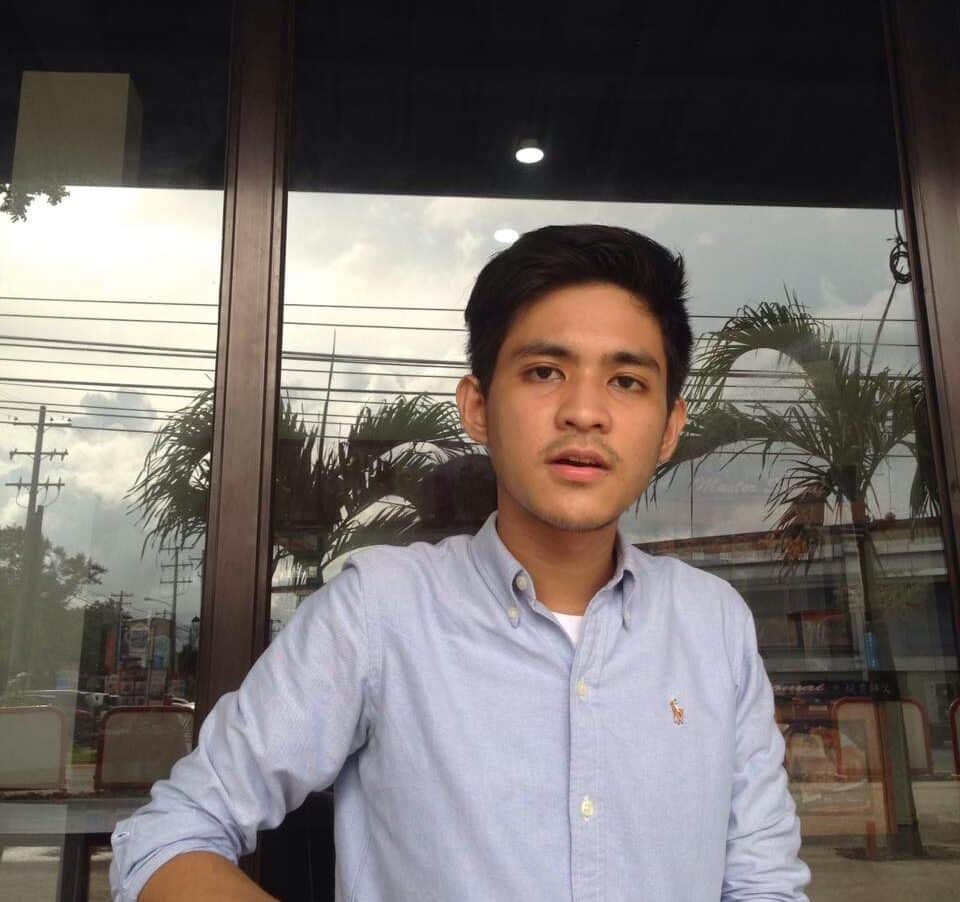 John Vincent studied Communication Arts in the Philippines.
Growing up, he's always had an eye for aesthetics. He enjoys writing a lot. Books, TV series, and movies are a big part of his life. His all-time favorites are Harry Potter, Game of Thrones, and Marvel films.
He believes that fashion is a pure form of art. You express yourself through your personal style – it's something you can't replicate.