Greece Travel Outfits for Men: Travel is supposed to be fun. Don't let it be ruined by the stress of packing and planning your outfits. Luckily, we are here to guide you to make the most out of your trip to the Mediterranean.
Aside from being rich in history, legend has it that Greek islands are known for having delicious food and warm-welcoming locals.
What to Wear in Greece?
Let's start with all the packing tips and essentials you need for this trip: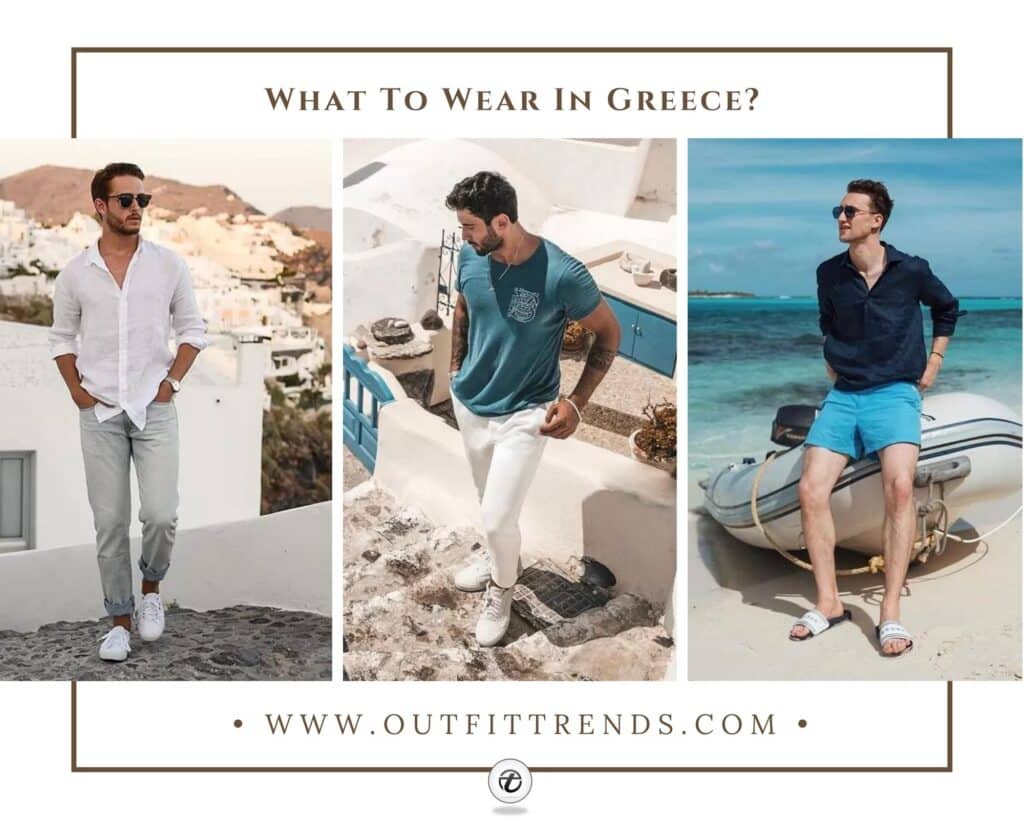 Travel Essentials
Scarf. This is a must, especially when you can expect that it will be cold in there. And a lightweight scarf can also help keep you warm in an air-conditioned plane.
Sunglasses. For people visiting Greece, chances are they want to witness the beautiful and famous sunset in Santorini. And why not pack some dope sunglasses while waiting for that moment. Also, it's vital to protect your face and eyes from direct sunlight.
Hat. You deserve extra protection for your precious skin, and sunglasses can't do all the work. That said, a nice brim or sun hat would make a worthy addition to the party.
Umbrella. Pack a handy or foldable umbrella for rainy days and Mondays (but mostly winter and fall). You don't want to ruin your getup by getting soaked with rainwater.
Beach Tote. This would serve as your bearer of small yet essential items like books, gadgets, e.g., speakers, snacks, and toiletries. And a tip: order your sunscreen online beforehand. Most islands in Greece have limited stocks, so they charge higher than you expect.
Tips When Traveling
In Summer. Before planning your trip and booking your ticket, be aware of the weather you'll be walking into. Greece can be really hot. And with hot, I mean the temperature can literally burn your skin. So you might want to pack lightweight clothes.
In Winter. And just like any other country, Greece is not always hot. And it can get freezing at times. On that note, please know that you can always get away with sweaters, jackets, and knitwear.
Footwear Choice. Greece is known for many things, and roads with cobblestones are one of them. That said, steer clear of heels and anything that would make your stroll less enjoyable. Flip-flops are also a worthy investment, especially for your beach rendezvous.
Dress accordingly. The wisest move is to base your outfit on what type of activities you're having there. For instance, some monasteries in Greece are located on cliffs. And they have a strict dress code. As such, men should wear trousers – choose from chinos or slacks. Ditch the jeans in the meantime. And save them for more casual settings.
What To Avoid
Heavy clothes. Aside from they're a hassle to pack. They would keep you from enjoying your trip. Imagine carrying a suitcase or a travel bag with such items in it. The same goes for your travel essentials like photo gear, toiletries, and whatnot. Stick to lighter items as much as possible. Heavy luggage can be a cause of "epic fail" travel moments.
Expensive jewelry. Leave that bling at home. This is not the time to show off. And remember that crowded places are filled with petty thieves and pickpocketers. And you don't want to be the apple of their eyes.
Any clothing that says you're a tourist. It's not a good idea to wear "I Love Singapore" or "I Love Broadway" tees when visiting a foreign place. Not only does it look cliche, but they are also a magnet for robbers and other M.O
↓ 20 – For Teens
Wear a pullover shirt and layer it over a collared shirt. Consider the color combo like how Noah Schnapp of Stranger Things does it. If unsure, stick to solid hues for the top layer and settle with white for the undershirt. Make sure that the collars are not limp so they would pop out. Pair them with chinos and some white sneakers to finish off the look.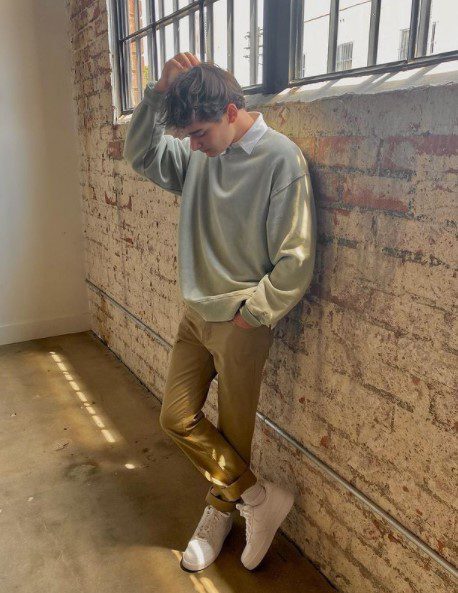 ↓ 19 – Shorts
There's no doubt that shorts are pretty convenient for Greek travel. But always consider the location and type of activity you're doing. For one, shorts are a terrible choice when colder areas of Greece are on your "Go-To checklist." Stylist Dan May said that shorts that touch the bottom of the thigh are ideal. Cuffing the bottom gives off the illusion of shortness without exposing too much skin. Here are some more of our favorite Men's Outfits with Shorts.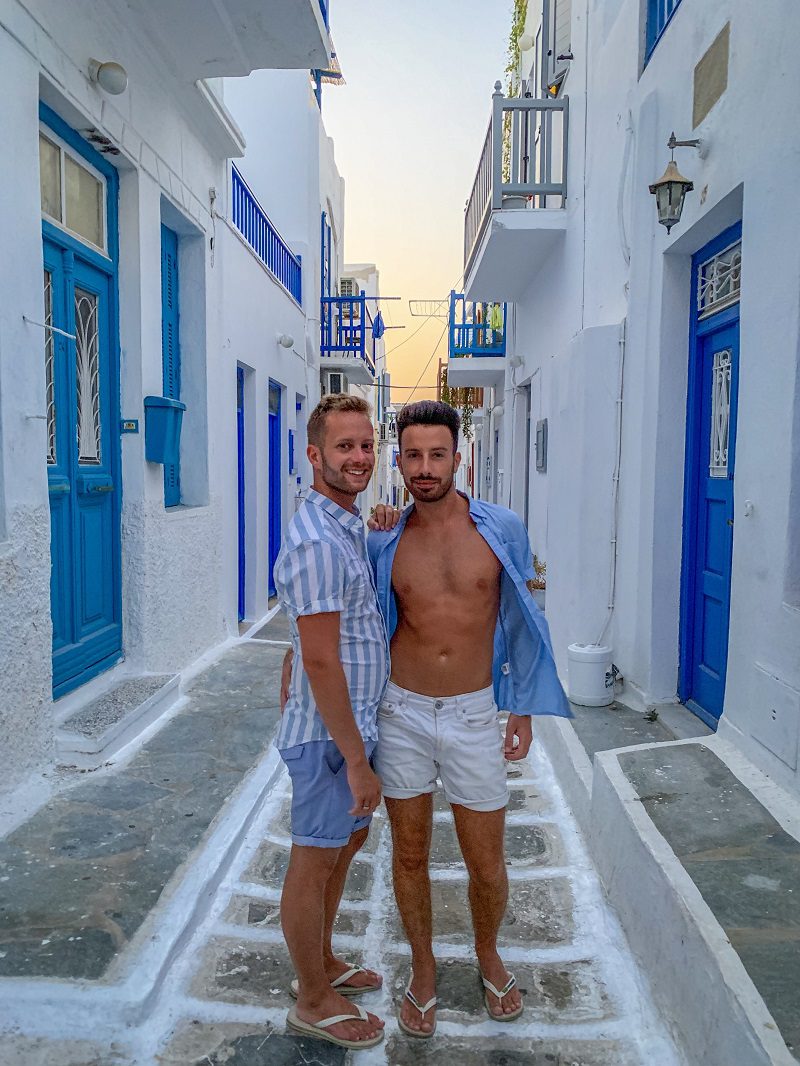 ↓ 18 – Casual
This could be the simplest fit you could ever come up with: a combo of a T-shirt and white chinos. This proves that you don't need to be fancy when going on a vacation. You can look good even with just a few pieces. But of course, this does not mean you go out there looking like you're not doing the European game very well. Consider these factors: fit, weather, and comfort.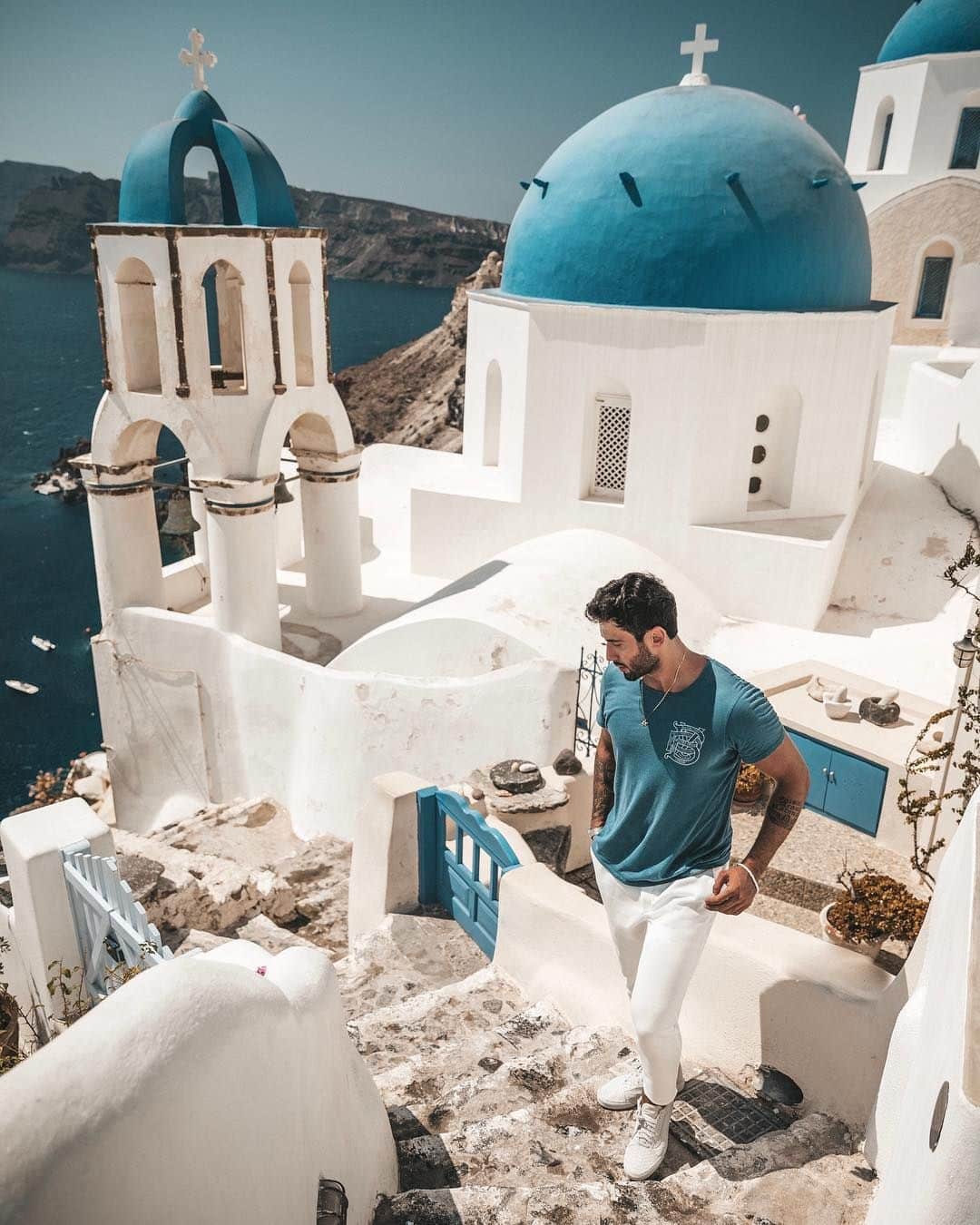 ↓ 17 – Sandals On Beach
Your Greece trip wouldn't be complete without getting your feet dirty. And by that, I mean going to the beach and leaving footprints on the sand. In any event, sandals are more comfortable than any other footwear. If you have flip-flops, that's better!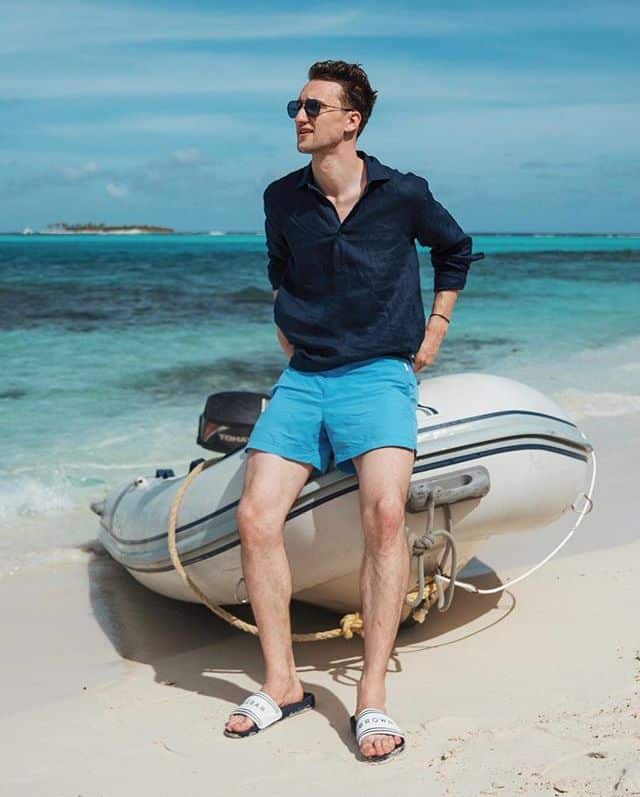 ↓ 16 – Linen Shirts
Linen is somehow associated with Greeks as they wore the fabric back in the ancient days, a few millennia ago. Stick to solid colors like black, white, and grey. V-neck will up your ante, so go for it if you're game!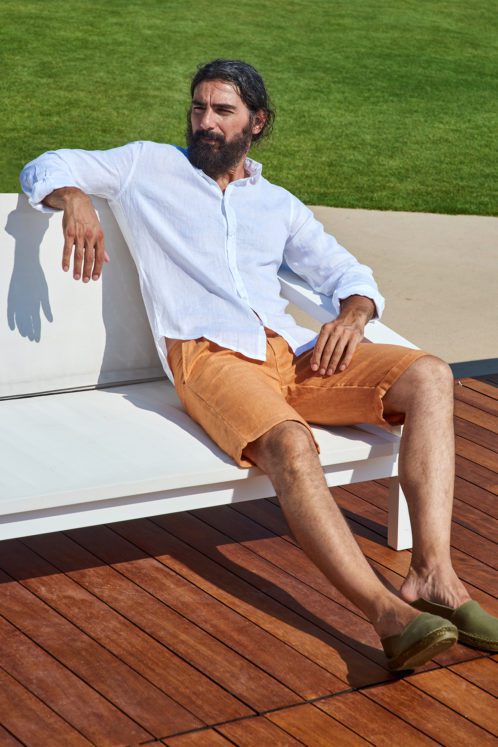 ↓ 15 – Activewear and Athleisure
This is an excellent option for your adventures. And if you pack these, then chances are you have "hiking" and rock climbing" on your to-do list. The rule of thumb here is to choose lightweight garments for added comfort and flexibility, and these things will be in your favor when you need them most.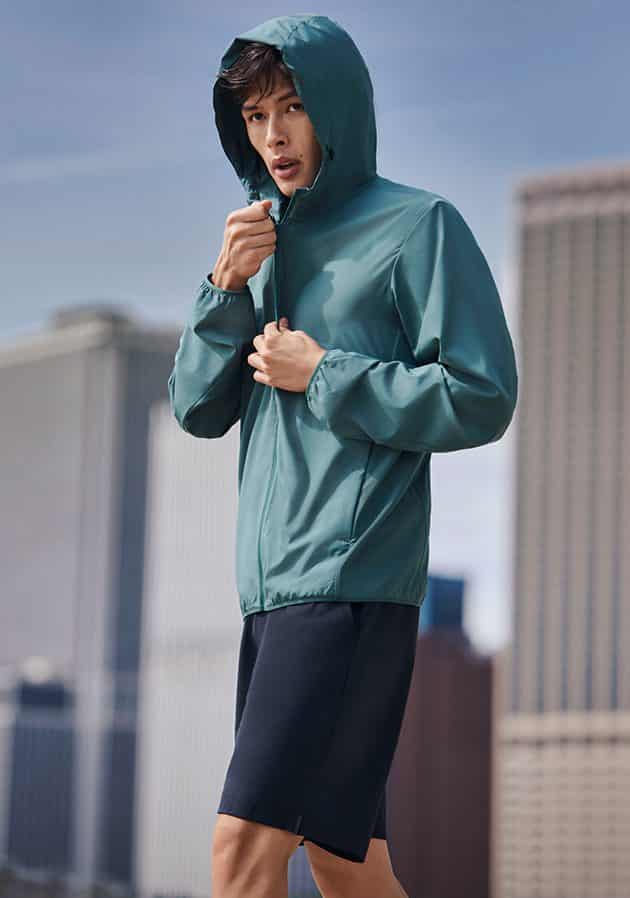 ↓ 14 – Crisp White Shirt
In any event, a white shirt is your go-to. I mean, this color never goes out of style. Not only does it fit many occasions, but its versatility will not let you down – whatever the season you decide to go on a trip. Pair it with jeans or chinos, preferably in a contrasting color, too. In summer and spring, try not to layer it with anything as it can do well on its own. Here are some more Men's White Shirt Outfits that you can take inspiration from.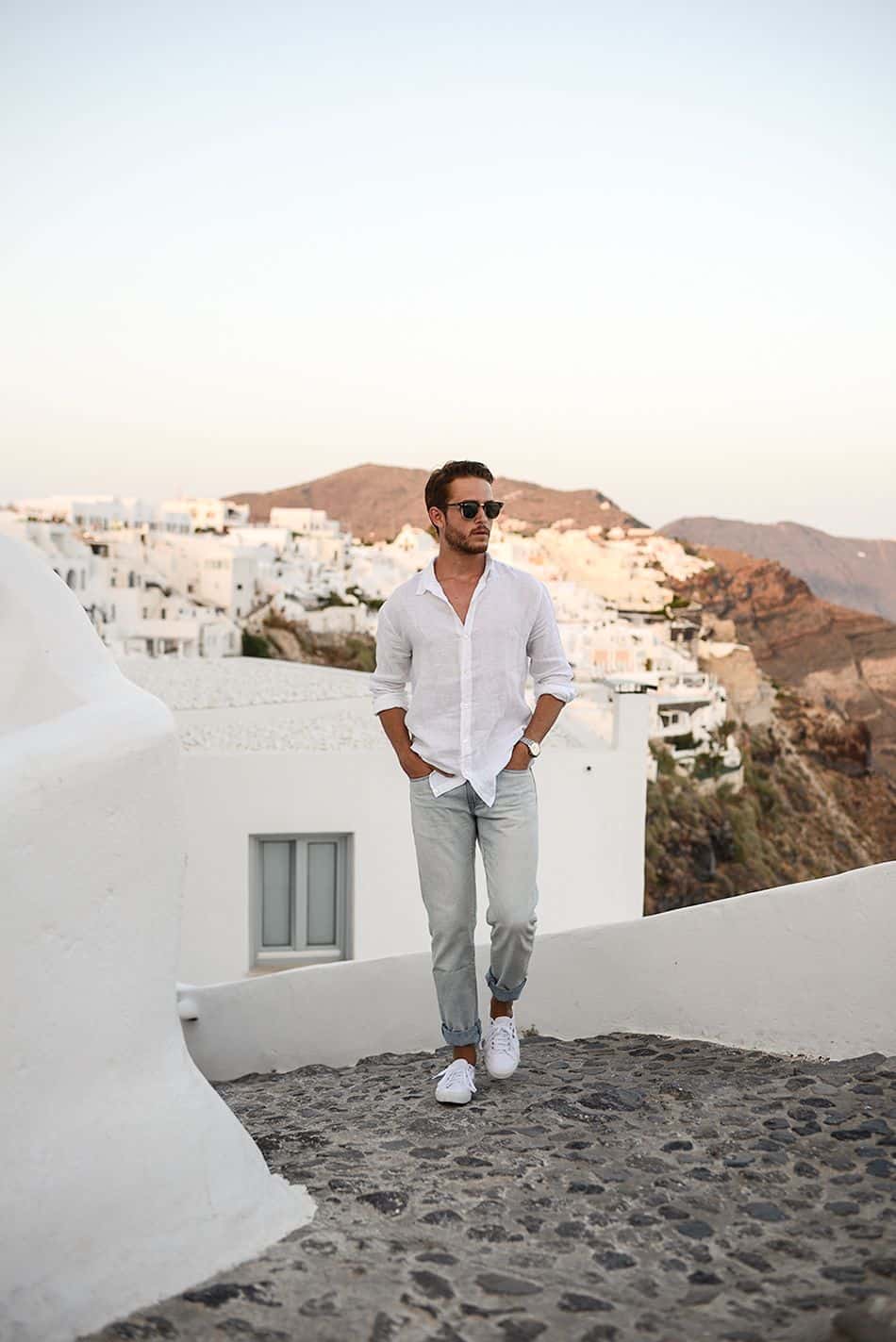 ↓ 13 – Polo Shirt
Polo shirts are a step ahead of your daily tees. Their iconic collars make them appear a bit more formal than your everyday T-shirts, tank tops, and whatnot. A common style tip for men: tuck it into your chinos or jeans for a fashion jump-start. Here are some more Men's Polo Shirt Outfits that you can try.
↓ 12 – Greece Vacation Outfit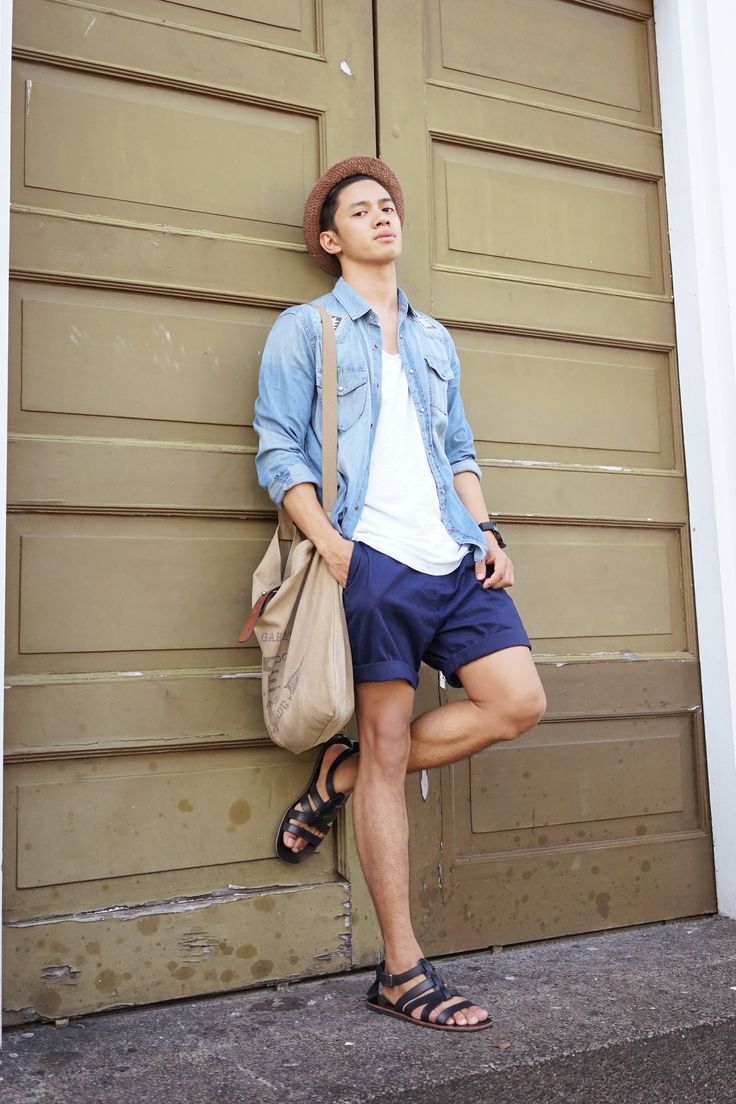 ↓ 11 -For Mature Men
Stick to solid hues and contrast colors like black, grey, and darker shades of blue. I'm not going to sugarcoat it, but flashy and bright colors are a faux pas for older men. Others may say otherwise, but I think it depends on how you do it. Better safe than sorry – so follow my advice, gents!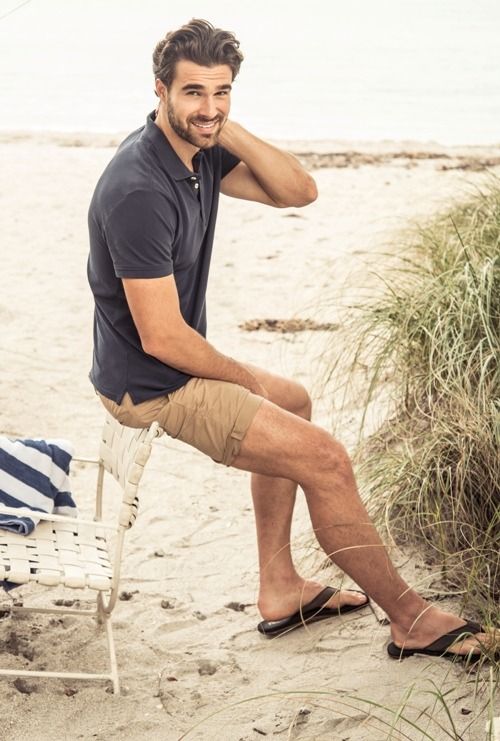 ↓ 10 – For Short Guys
Striped shirts are a worthy addition to every man's wardrobe, so make sure to have them at your disposal. For short gents, vertical stripes are your best bet. As we know it, they create the illusion to make you appear taller. Some shorts would also add up to the effect. If you are a skinny guy, go for slim-fitted shorts as they would best compliment you.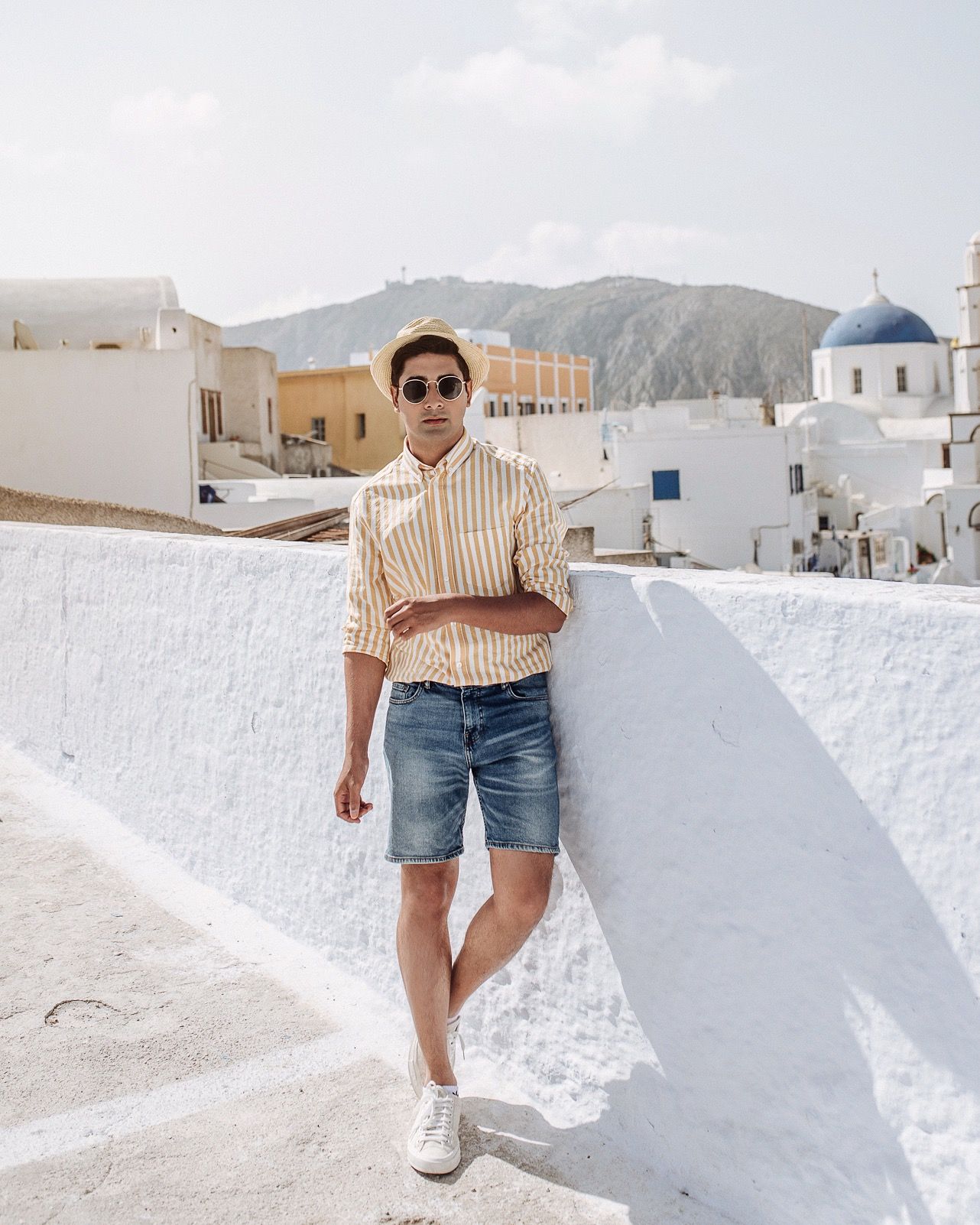 ↓ 9 – Spring Outfit
This is the season when you can expect frequent rainstorms. In March and April, you need to pack proper gear like a rain jacket and a windproof umbrella. On the other hand, sunny days require you to wear lightweight clothes and bring your sunhat. As for shorts, stay away from baggy styles, as they will make your torso and legs appear asymmetrical. Shorts should go straight down without having excess material around the edges.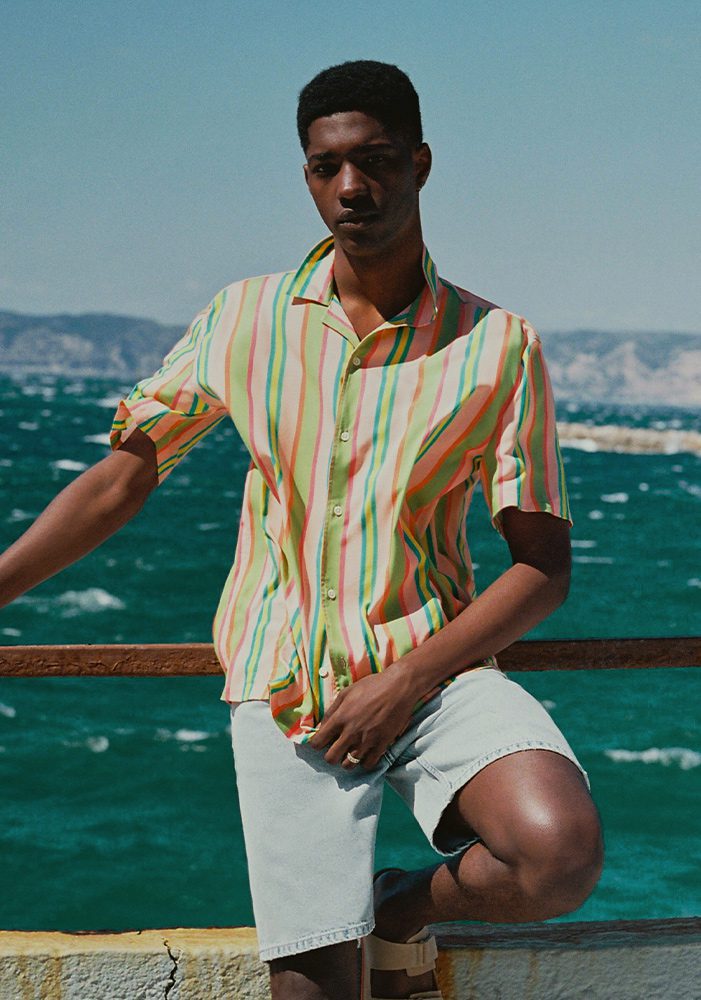 ↓ 8 – Summer Outfit
This is the time when you can expect a high volume of tourists visiting Greece. In May, June, July, and August, the place experiences the most stable weather of the year. Be careful as the heat can be very harmful, especially to those with health conditions.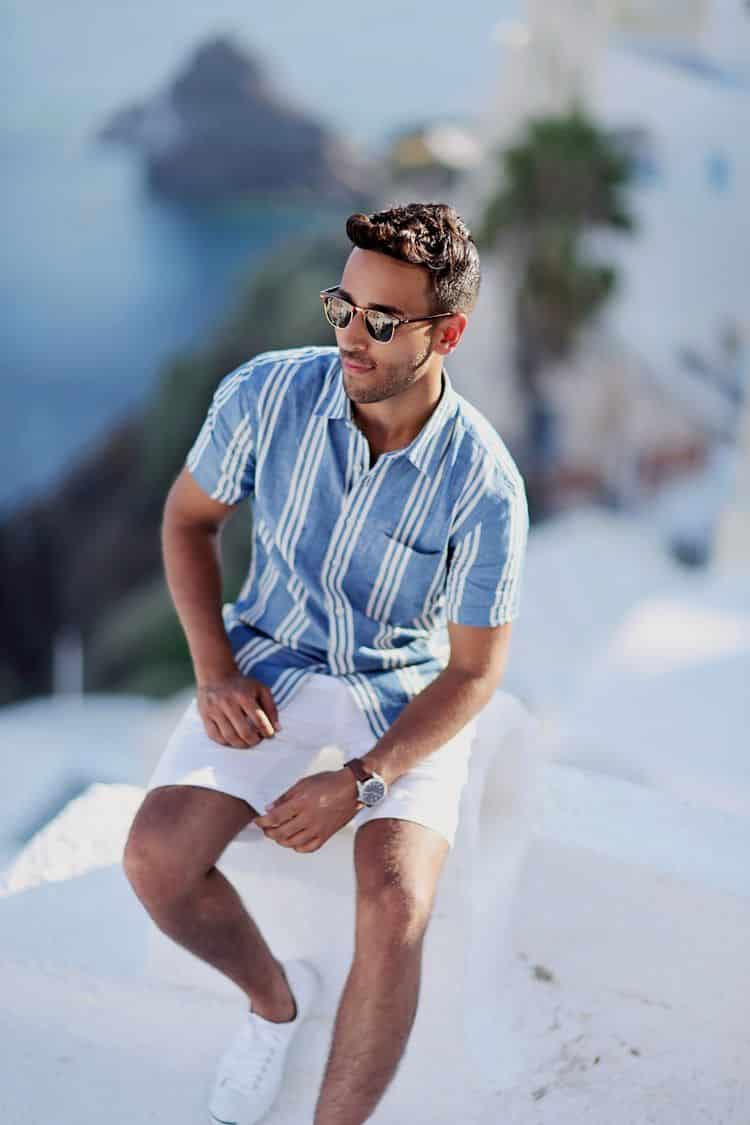 ↓ 7 – Fall Outfit
You made the right choice for those going to Greece sometime in September, October, and the first half of November! This is the perfect time to visit the place. Unlike summer, tourist crowds are not that heavy at this time of the year. Plus, you can enjoy the foliage and dazzling mountain views. Make sure to dress in layers, and a scarf or shawl is essential as well.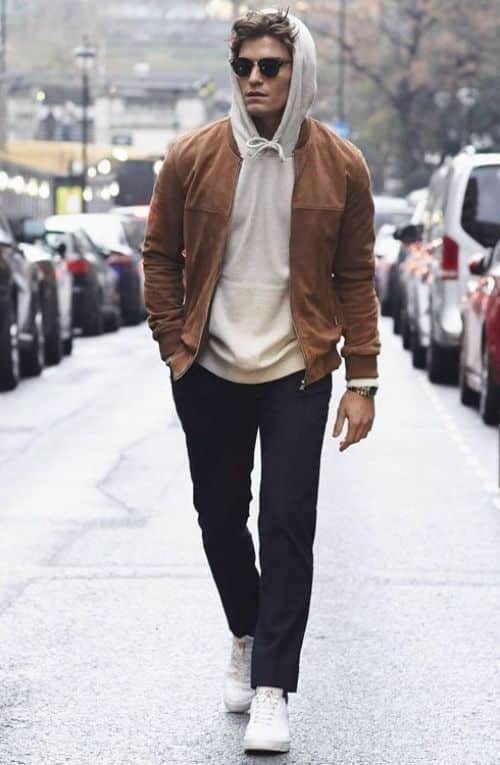 ↓ 6 – Winter Outfit
The seasons in Greece are like what you experience in all of Europe. The place has a different kind of breeze in colder months, and you have to get along with it. Sometime in the second part of November, December, January, and February, wear layered outfits that can easily be removed whenever the need arises.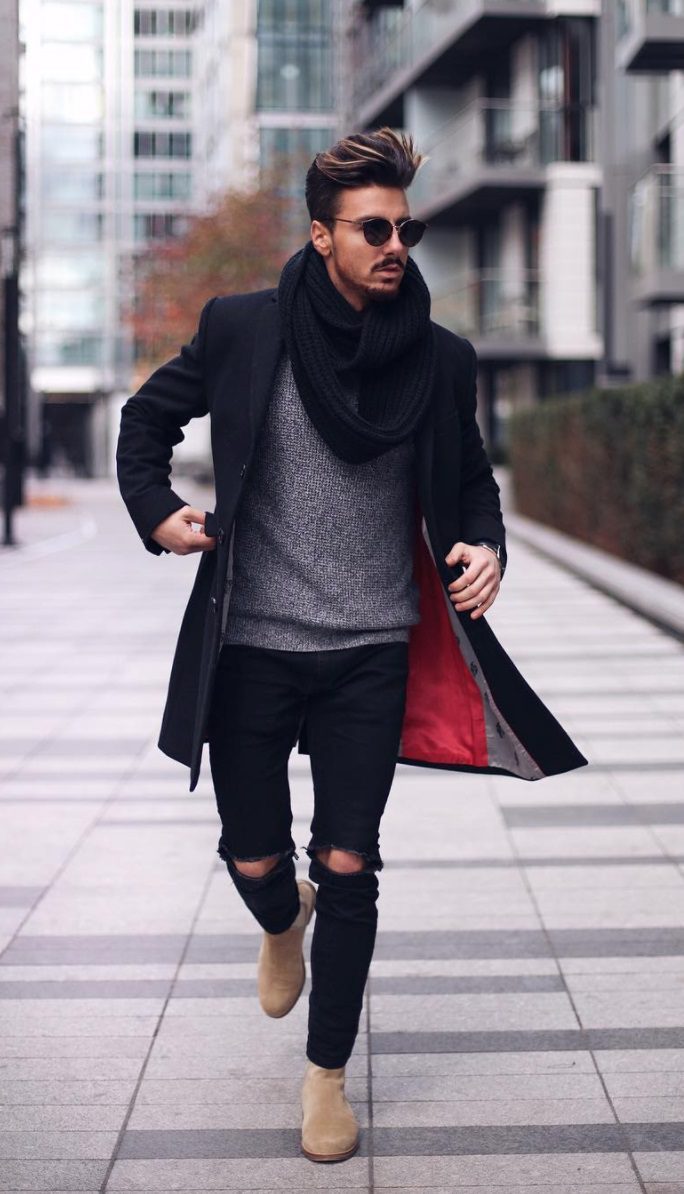 ↓ 5 – Rainy Day Outfit
They say that it can rain in any part of Greece. Regardless of your destination in the country, expect drizzle or rain showers, which can both be a good and a bad thing. And just in case things go sideways, it's better to come prepared than be sorry. Pack your best wet day outfits, including your wellies, boots, and raincoat.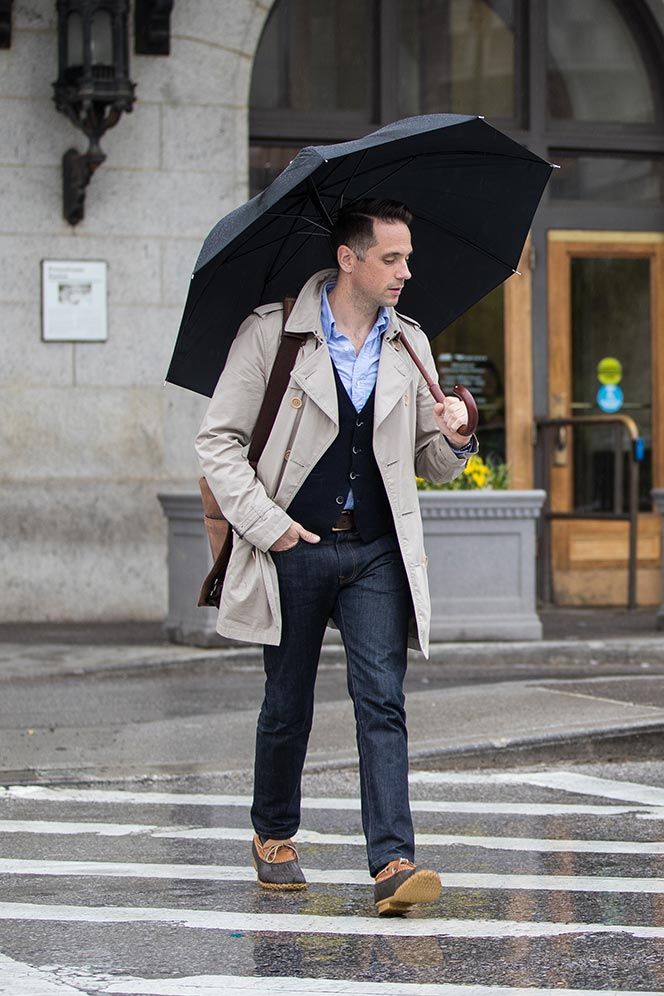 ↓ 4 – Beach Outfit
In any event, men would likely go topless on the beach. That said, you'll only need to focus on getting the right pair of shorts. This is your time to be creative, as you can choose trendy and flashy designs. But it's also not a bad idea to pack some beach shirts like those with Hawaiian or tropical prints.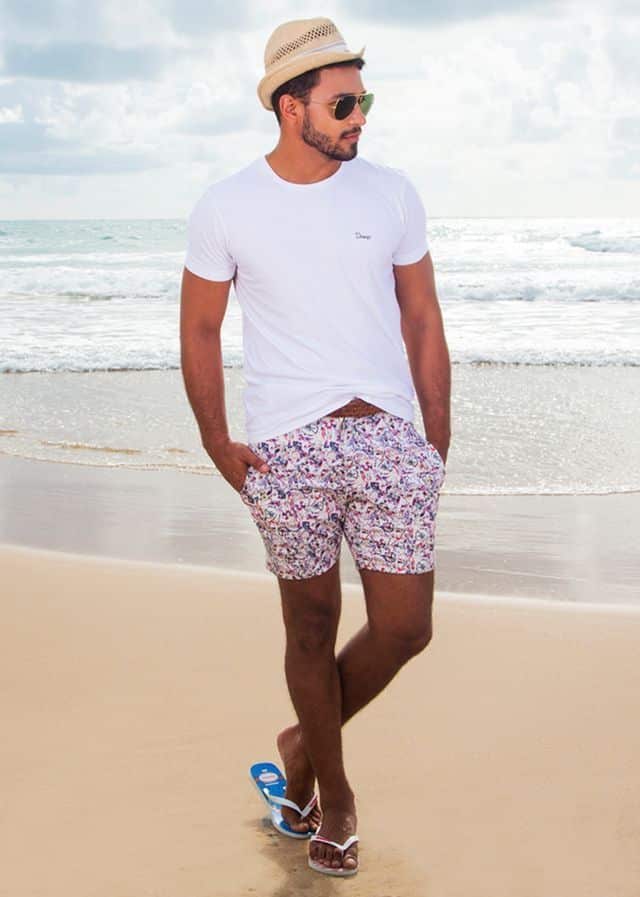 ↓ 3 – Monochrome Outfit
Mind that monochrome doesn't mean you have to go full-on white or all-out black. In most cases, you can grab those pieces in neutral or contrast colors – namely black, white, and grey. In some instances, navy blue would also fit in. Combine them, and you are in for a simple yet dashing look. If you have what it takes to pull on this style, then go for it! Consider your skin undertone when choosing colors.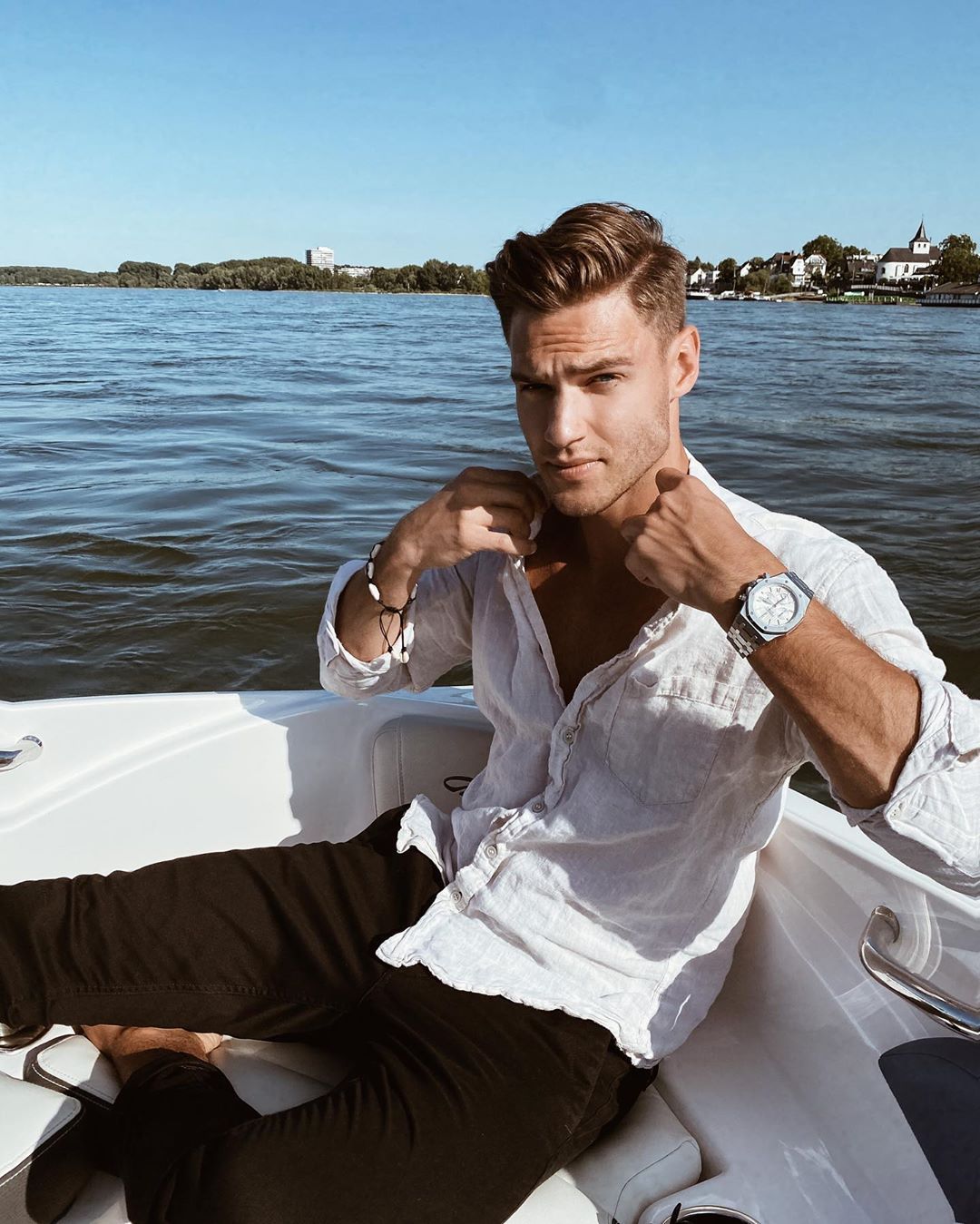 ↓ 2 – The Minimalist Travel Outfit
Advantages of having a minimalist wardrobe: less clutter, less time and effort getting dressed. You can have a fashion statement that would never go sideways. Be your own stylist, coming up with various outfit ideas out of timeless and versatile pieces—more things to consider: functionality and appropriateness.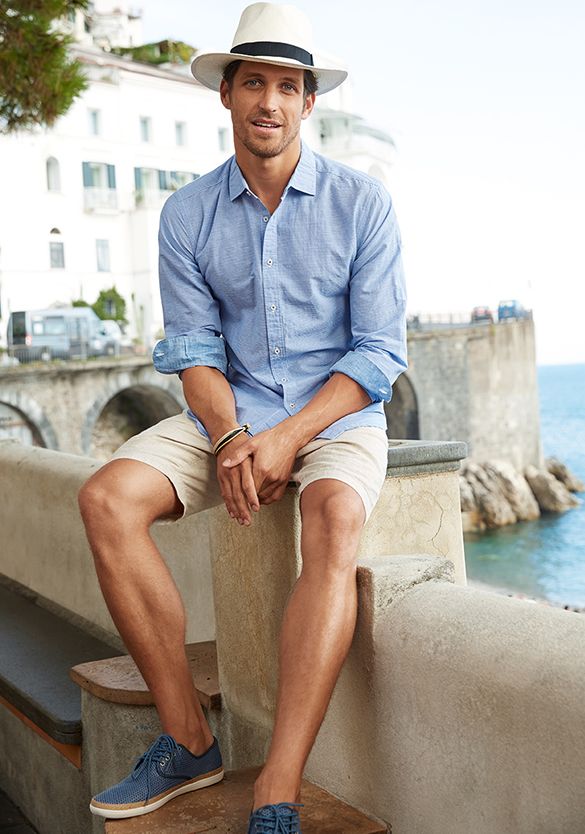 ↓ 1 – What To Wear On A Greek Cruise
If you are going on a boat trip, nautical designs should be top of your list. But if you are not comfortable with blue, start off with some stripes, provided that they're not too flashy. Shorts are usually every man's first choice for this kind of gig, but some lightweight minimalist pants won't hurt you.

This post is about ideas on what to wear in Greece for your next travel. I'm not encouraging the readers to risk traveling knowing there's a deadly virus out there. Consider health before pleasure, so you might want to think twice before you book your next flight.
Frequently Asked Questions
Q.What should I wear in Greece to not look like a tourist?
A.For starters, wear anything but tourist shirts. "I Love New York" and "Te Amo Paris" speak volumes, so they should be your last resort if you don't want to look like a visitor from another planet (country, I mean).
Q.What shoes should I wear in Greece?
A.Loafers is the general footwear choice for a place like Greece. It is also a practical move to wear sandals, especially when planning to go to the beach. In any event, sneakers won't be out of place as you will be seeing men wearing them everywhere you look. Plus, almost every man has them in their weaponry.
Q.How do men dress in Santorini?
A.Opt for white, beige, and shades of blue. There's really no strict rule when it comes to color selection. Focus more on other factors like fit and occasion. Style is paramount, but it should come with comfort and functionality. Always check the weather in Greece when planning your trip.