Polo Shirt Outfits for Men. The polo shirt is a simple yet timeless piece of clothing. You can wear it with its distinctive collar, buttons, and fabric to any occasion. Menswear stylist Paul Higgins (Diesel and Aquascutum) says that the polo shirt has always been easy to style in recent years.
Men's wardrobe is incomplete without some stylish polo shirts. But despite it being a wardrobe staple, it does not come in for much affection or enthusiasm. The basic polo is a short-sleeved, collared shirt with a three-button neckline. It's a lot like a t-shirt, but the collar and neckline set it apart. Polos can also have breast pockets, which isn't a common feature.
Polos are available in a variety of fabrics, from natural to synthetic. But they are usually made from knitted cotton, which makes them a little heavier than T-shirts. Cotton is the most common material for polos, although some may have polyester or Spandex in them.
Styling Tips
The Buttons. Keeping the top buttons closed is an easy way to create a polished look. On the other hand, keeping them open isn't bad for some casual occasions. But mind that having all the buttons undone looks awkward.

Ensure the shirt buttons don't sit too low; otherwise, it will look like a V-neck shirt.

The Fit. The fit of a polo shirt shouldn't be too tight or loose, so make sure you can move around comfortably. You don't want it skin-tight, right? See to it that you can still stick a couple of fingers under the sleeves. The polo shirt should be long enough to tuck it in well. Also, it must be short enough so you can wear it untucked. If your shirt is longer in the back than it is on the front, then it was clearly designed to be tucked. The sleeves should hit about midway down your bicep and run no longer than 2/3 down your upper arm. It's normal to be a little tighter in your chest and arms and then taper down to your waist.
Colors. Next to the fit being the paramount concern, i

t's hard to go wrong on color, too. For instance, a tonal polo shirt with a similar shade to your overcoat will work just as easily as a contrast design. A helpful tip: t

he darker your complexion is, the lighter tones you should pull off. And t

o add some fun to the party, wear a polo shirt of a different color to stand out in the crowd.




What To Avoi

d

Large logos. One of the biggest polo shirt hacks is to look for polos with minimal to no branding. Don't let the logo be the center of attention; that spot is reserved for you alone. Patterns can be cool but when it comes to branding, keep it minimal. So if you can find a polo without a logo, go for it.

Avoid wearing a polo with an undershirt as it adds extra bulkiness. If you insist otherwise, choose one with a neckline that won't be visible.

Layering a polo with another polo.

Polo shirts with pockets.
You might get some ideas about wearing polo shirts in these modern times from the following compilation.
How to Wear Polo Shirts?
Now that we're done with the tips, let's look at some inspiration on what to wear with polo shirts.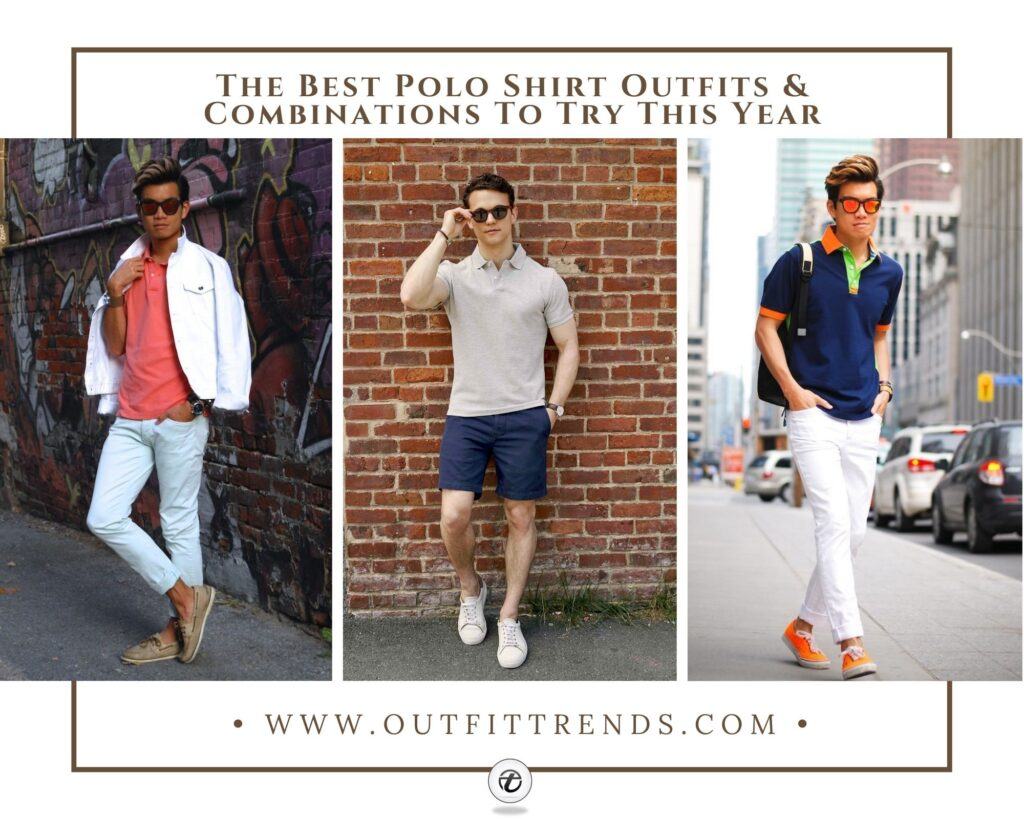 ↓ 35 – Knitted
Knitted polo shirts work well for both all seasons. They also have a more modernized designer look.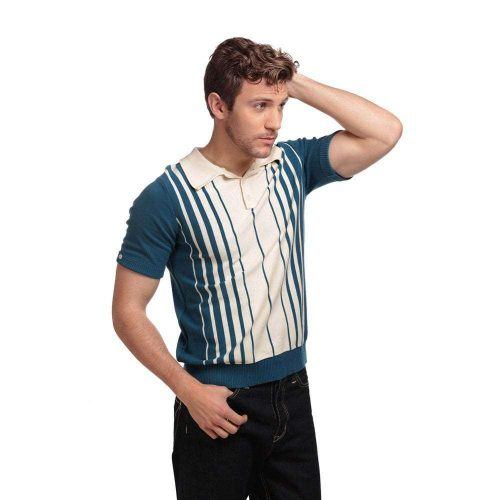 ↓ 34 – With Sweatpants
Keep it relaxed and cool, and pair your polo with some sweatpants. The top gives an instant casual vibe when paired with comfortable bottoms. But there should be a fine line between athleisure and messy. Complete the look by choosing one of these Shoes To Wear With Sweatpants.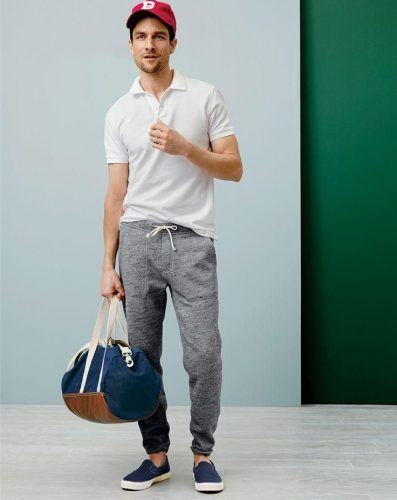 Tucking in your polo shirt makes a huge difference – it makes the ensemble more formal. Also, adding a nice belt increases the formality feel even more. Finish the look off with dress pants and nice pair of shoes, and you're good to go. You can switch out the shoes depending on the vibe you're going for.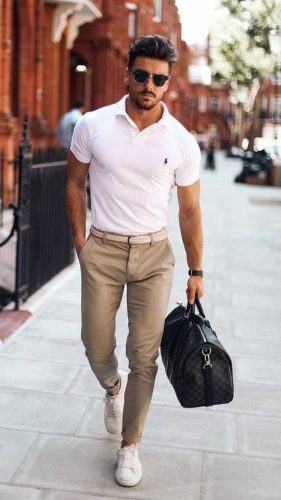 ↓ 32 – Can You Wear Polo Shirt With a Suit

?

A polo shirt paired up with a blazer work well together. This is suitable for a casual dinner with your friends or business casual workdays. Stylist Paul Higgins said that combing a suit and a polo shirt will make a classic yet creative outfit. Simply wear a polo shirt as a sub to your shirt.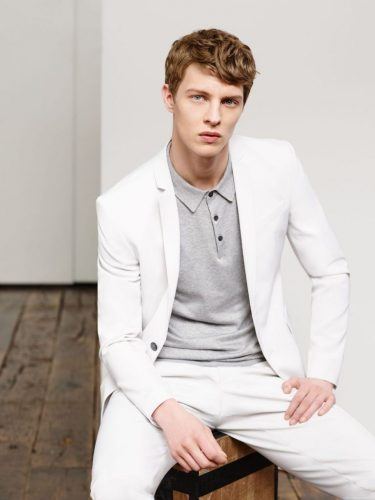 ↓ 31 – Spring

Look

When it gets too hot, a polo shirt with shorts is an effortless outfit combo that will make you look super cool. For the spring and summer seasons, you can wear polo shirts with Bermudas/shorts.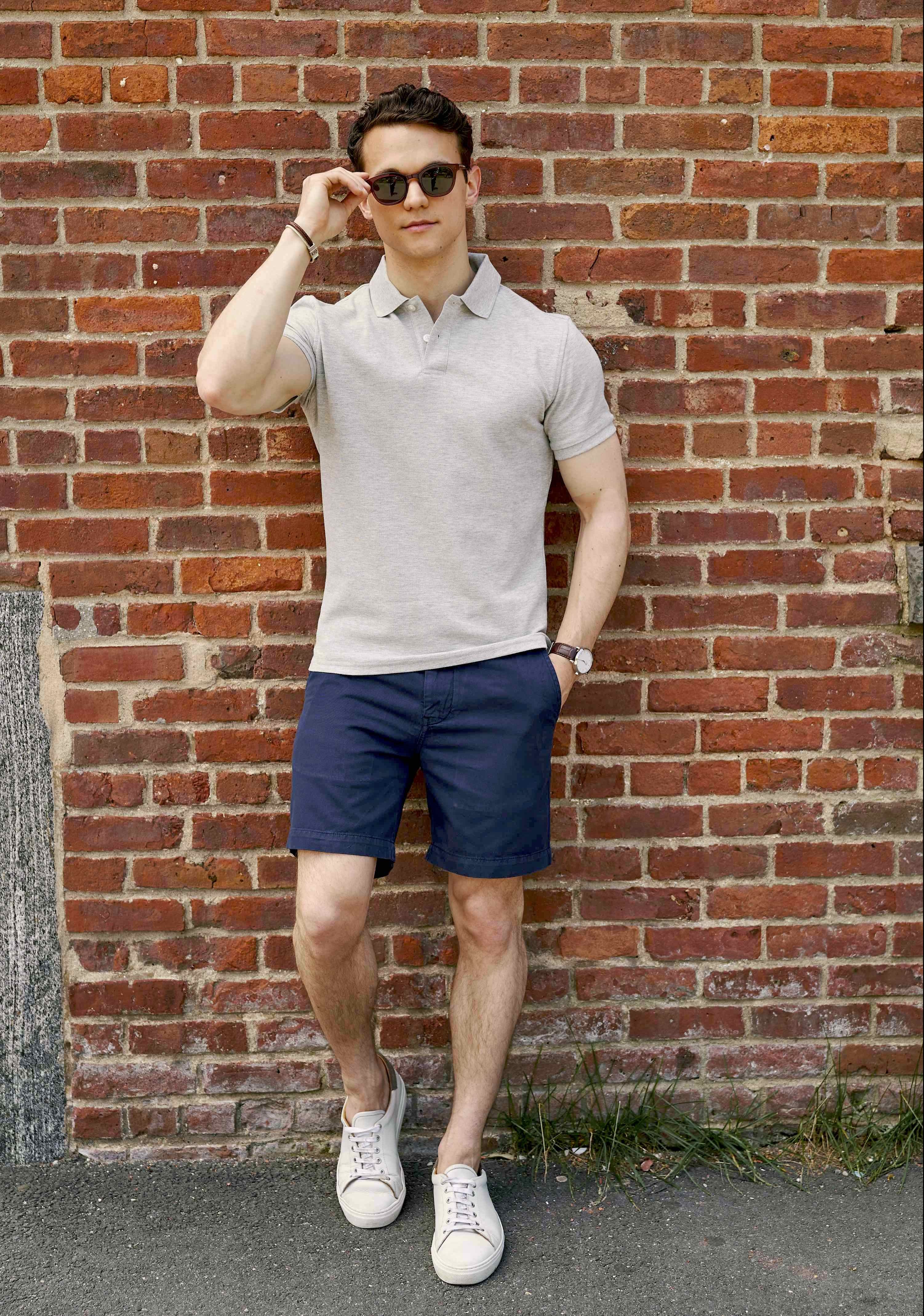 ↓ 30 – Fall Outfit
This outfit lets you stay warm without layering a ton, making it perfect for chilly weather. Polo shirts are commonly seen in the warmer seasons, but it doesn't mean they're only for summer. Long-sleeve polo shirts look perfect in winter, too. Plus, they have a really nice look that gives off something different from a standard button-down. For the winter and fall seasons, you can wear jackets with them to achieve a sharp look.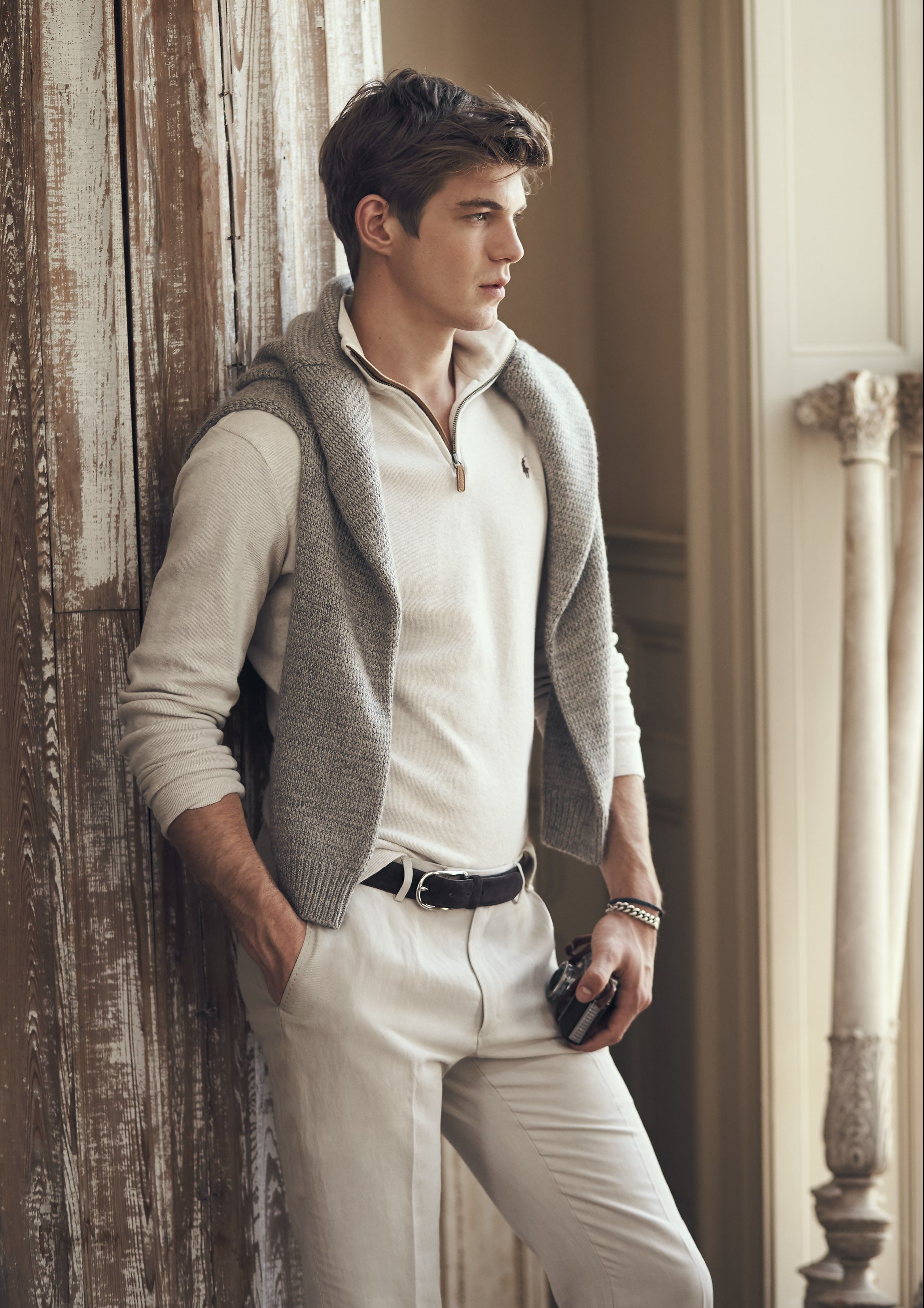 ↓ 29 – Streetwear
Street style with polo shirts is also very trendy as many top fashion bloggers and celebrities have been spotted wearing these shirts for a street-style look. Opt for monochrome colors to create a sleek and timeless style.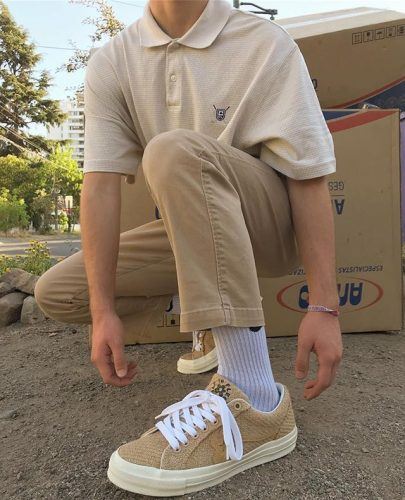 ↓ 28 – Business Casual
It's the sort of outfit you might wear for your office's Casual Friday. Choosing a dark color like black or navy for your polo will give it a more formal look, and pairing it with simple pants helps it look even more eloquent. Here's the complete Men's Business Casual Attire Guide.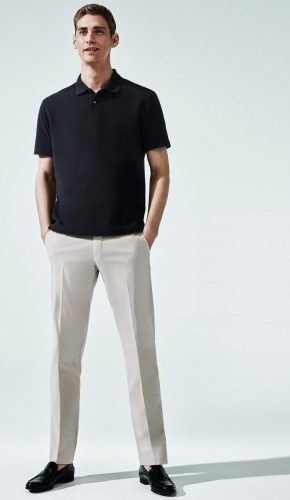 ↓ 27 – Travel Outfit
The most stylish polo shirts are the ones that come with a button-down collar. A fitted pique polo is best since the shirt's texture will match the surface of the denim, making for a balanced outfit. Think of it as an upgrade to the classic t-shirt and jeans combo.
↓ 26 – Party Getup
Darker shades such as navy, grey, white, and black are great for a polished ensemble. But don't be too bland, so try to add a pop of color.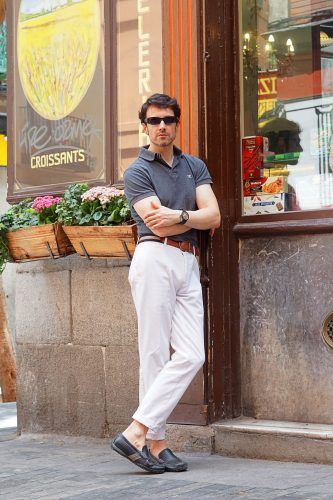 ↓ 25 – For Golf
Polo shirts with piping are perfect for golfing and country club gigs alike. The piping at the collar and cuffs of your polo shirt gives people a different feel. Piping will smarten up off-duty looks and make sure you stand out. Piped polo shirts are more versatile than you realize – they'll pair fairly as quickly with shorts as they will with jeans, and they can be worn tucked or untucked depending on your discretion.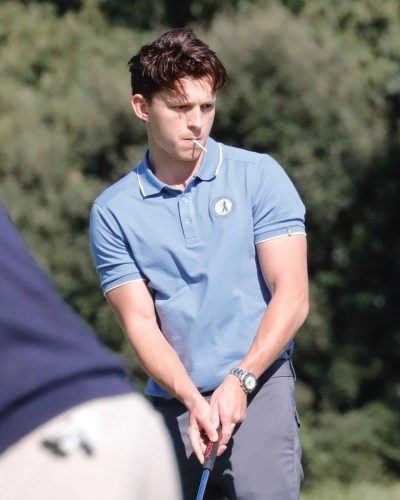 The contrast colors, black and white, are the foundation of college uniforms, so if you have a white polo shirt hiding at the bottom of your pile, it's time to pair it with black pants. For your footwear, consider making some changes, put away your usual black shoes for now, and replace them with boots.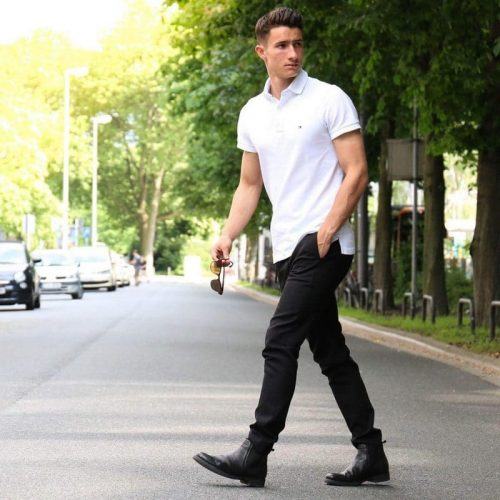 ↓ 23 – With Bomber Jacket
Try to team up a black bomber jacket with a tan polo shirt. Match the bomber with your pants to achieve a uniform and sleek ensemble. Do check out these awesome outfits with Bomber Jackets for Men.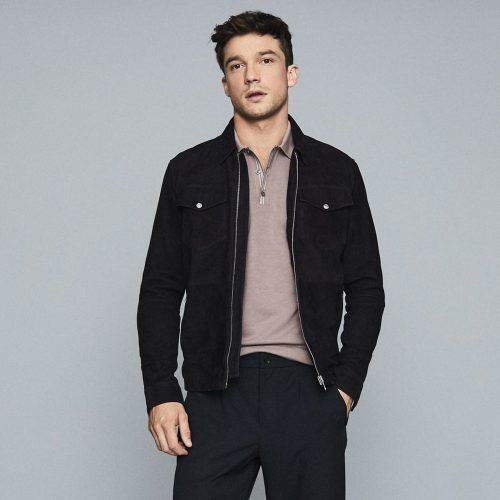 ↓ 22 – With Denim

Jacket

White polo shirts and denims are meant for each other. Let's just say that they would make a lovely couple. However, I would advise you against wearing two same denim shades together. The guy's jacket in this photo is a bit darker than his denim shorts, and that's how it should be. Important tip: always match your sneakers with your polo.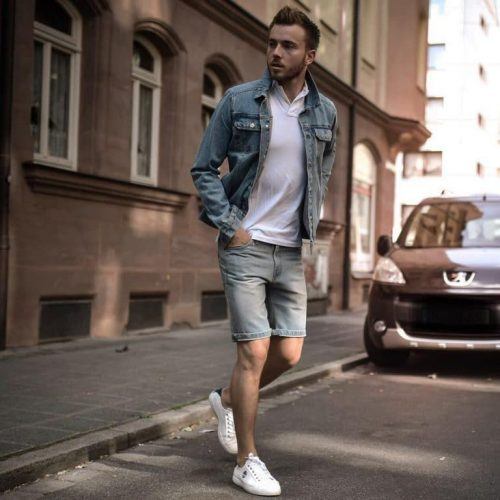 ↓ 21 – With Jeans
Polo will look great when paired with jeans. In fact, one of the trendiest looks in summer involves pairing up a polo shirt with the right shade of jeans. Trendspotter says that you can wear many different shoe styles such as loafers and sneakers for a Miami vibe. Team up a navy blue polo shirt with dark blue washed jeans.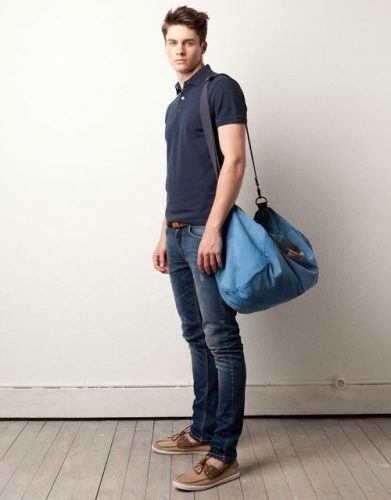 ↓ 20 – With Chinos
Somewhere between semi-formal and smart casual styles, chinos are a great wardrobe choice to pair up a polo shirt. Keep the look polished and sleek by tucking the shirt into your pants. However, it is best to keep the polo untucked for casual days and ensure that it's well-fitted for your body type.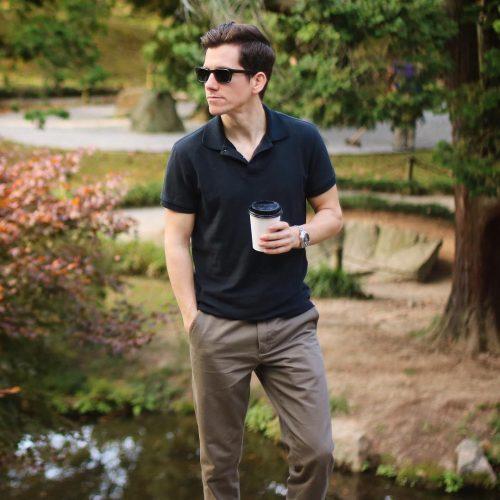 ↓ 19 – Polo Shirt And Suede
Style it with a suede jacket and slim tapered trousers to achieve that 1950s Hollywood vibe. Limit your color options to black and brown shades. Do check out my previous post on Suede Jacket Outfits for Men.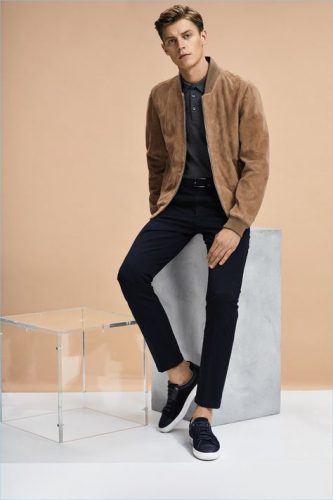 ↓ 18 – White Polo Shirt Outfit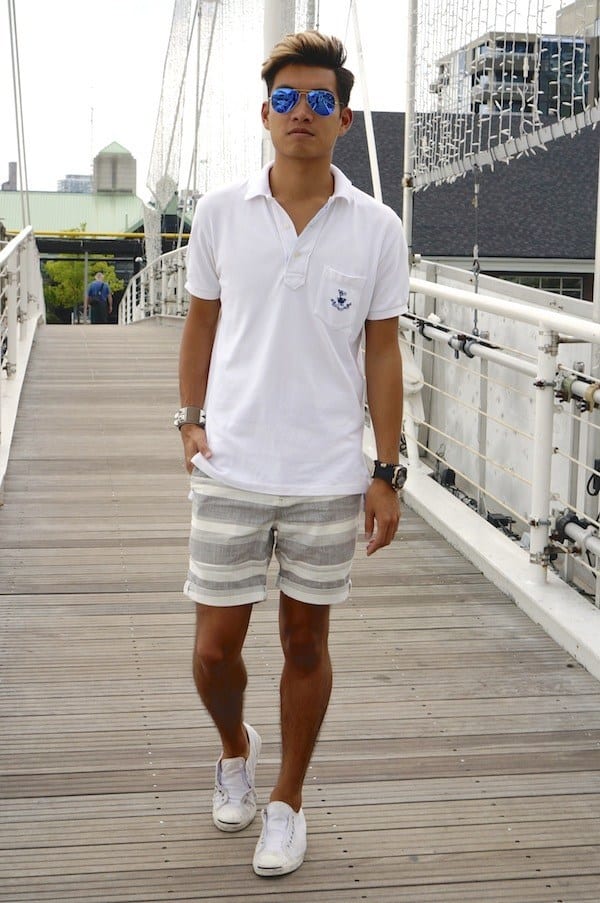 ↓ 17 – With Shorts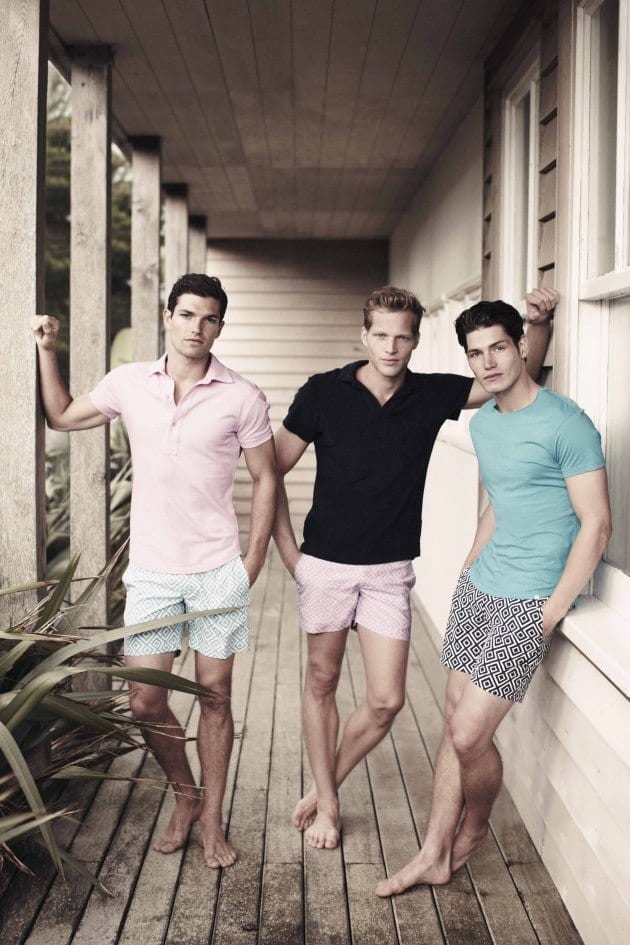 ↓ 16 – Shorts And Navy Blue Shirt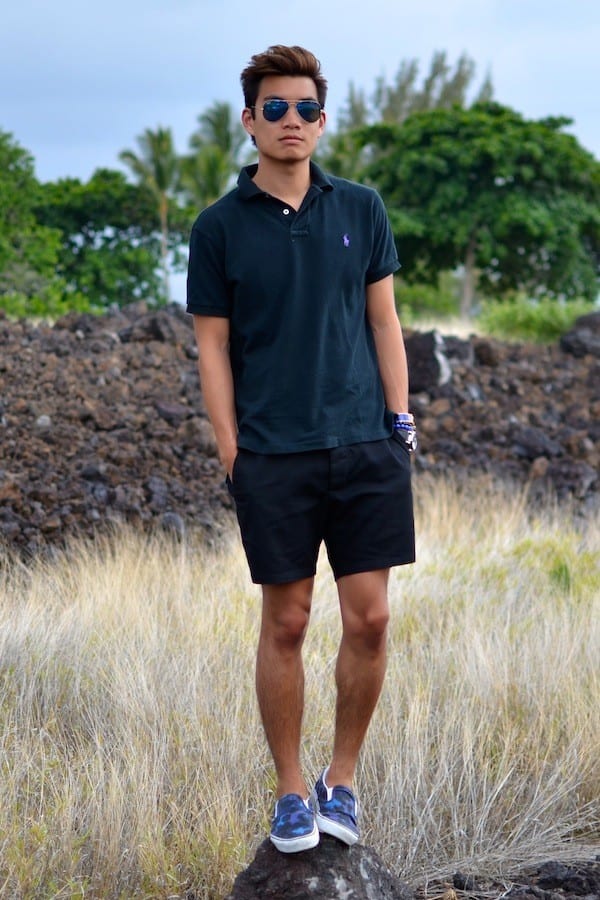 ↓ 15 – Beach Outfit
Try to wear white shorts with a light blue polo shirt and a hat at the beach.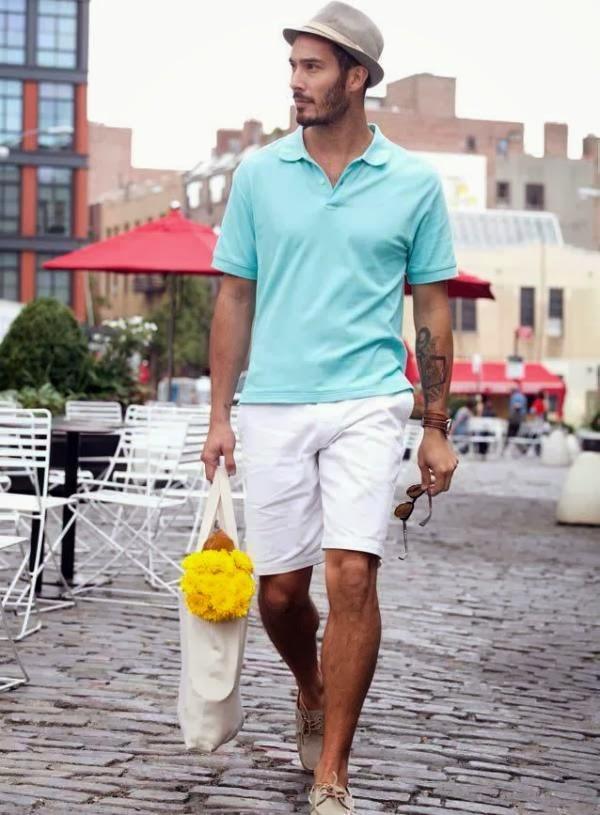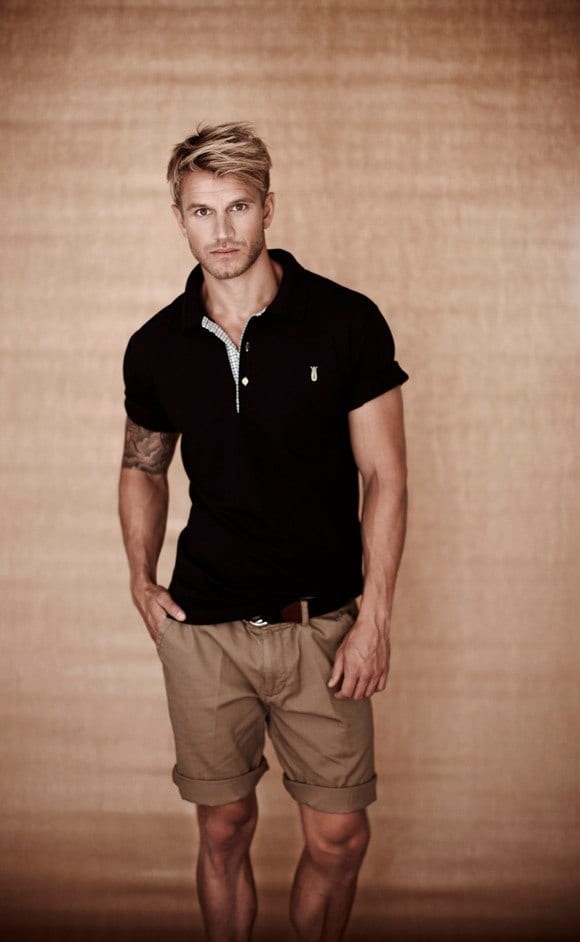 ↓ 14 – With White Pants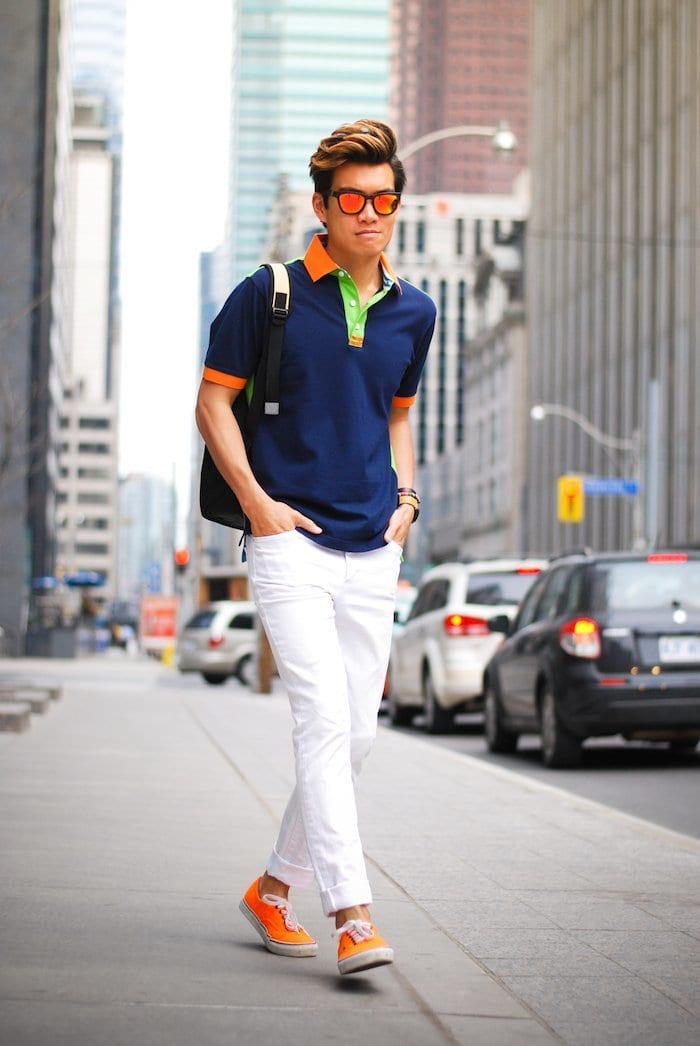 ↓ 13 – What to Wear with a Red Shirt?
Wear a polo under a blazer and finish off the look with brogues or black leather shoes, but white sneakers will work just as fine as the occasion permits.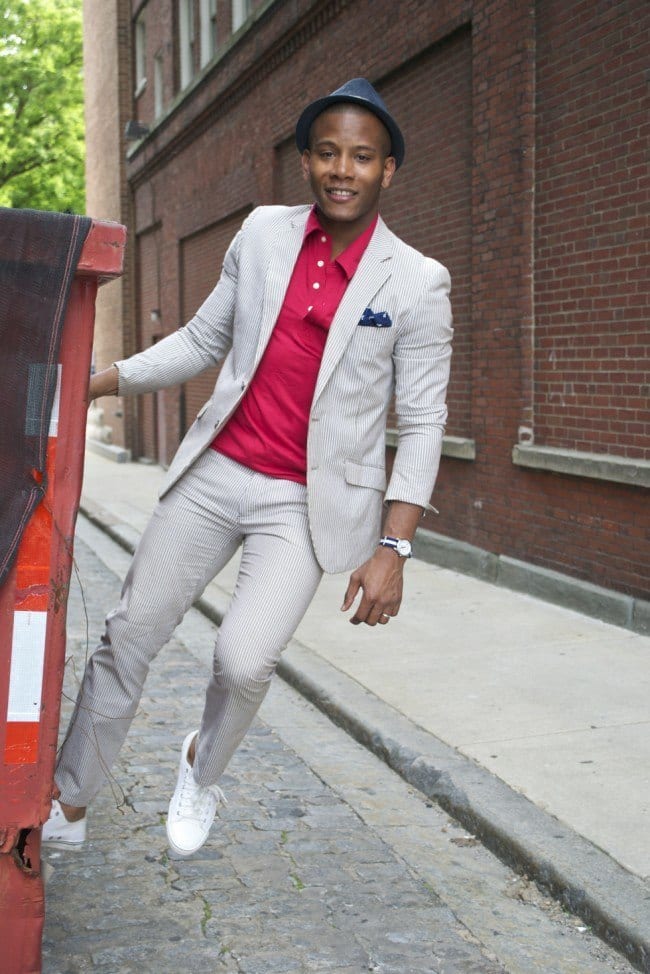 ↓ 12 – Summer Outfit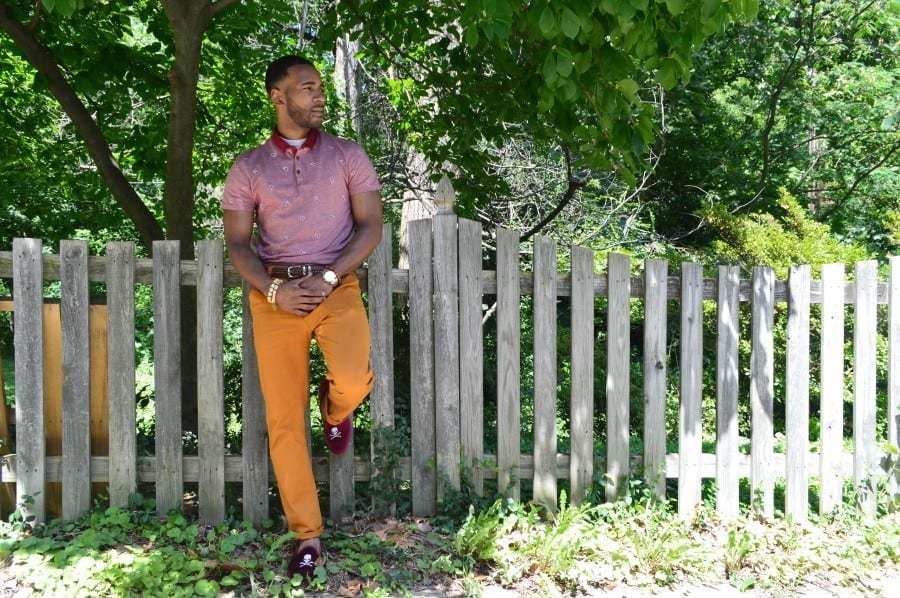 ↓ 11 – With a Suit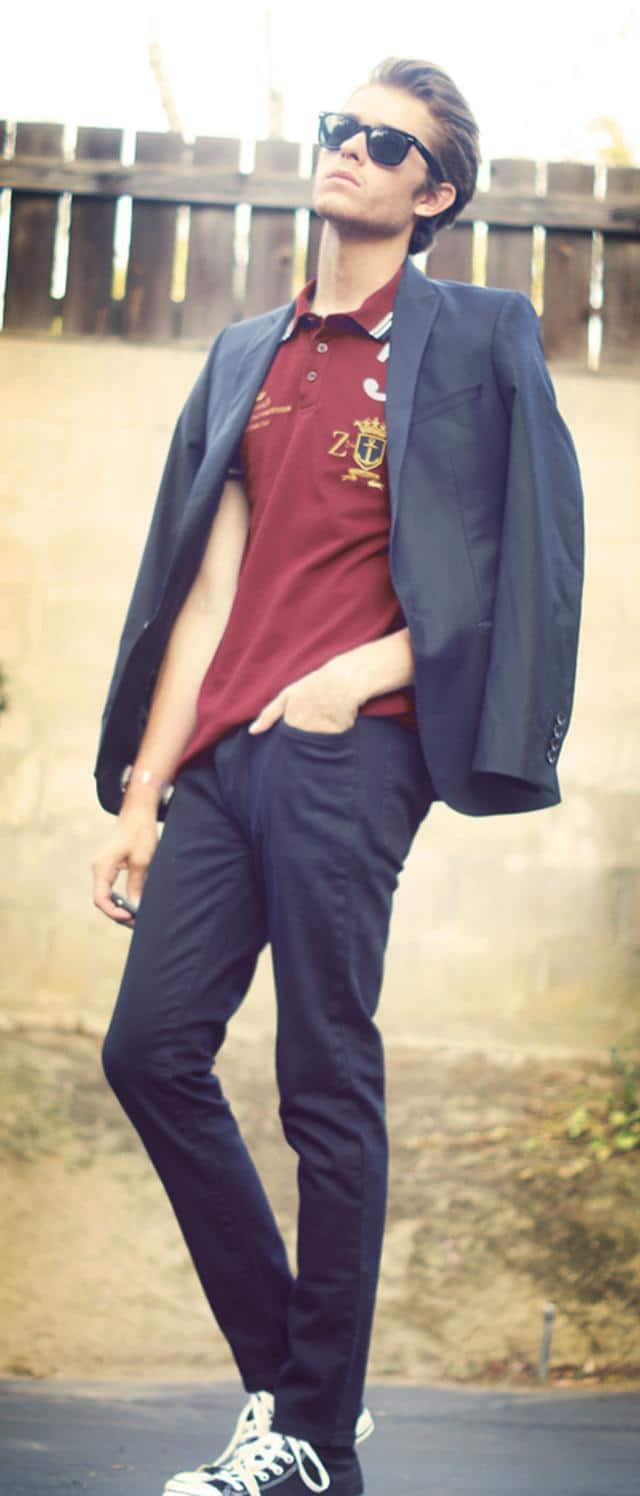 ↓ 10 – With Plaid Pants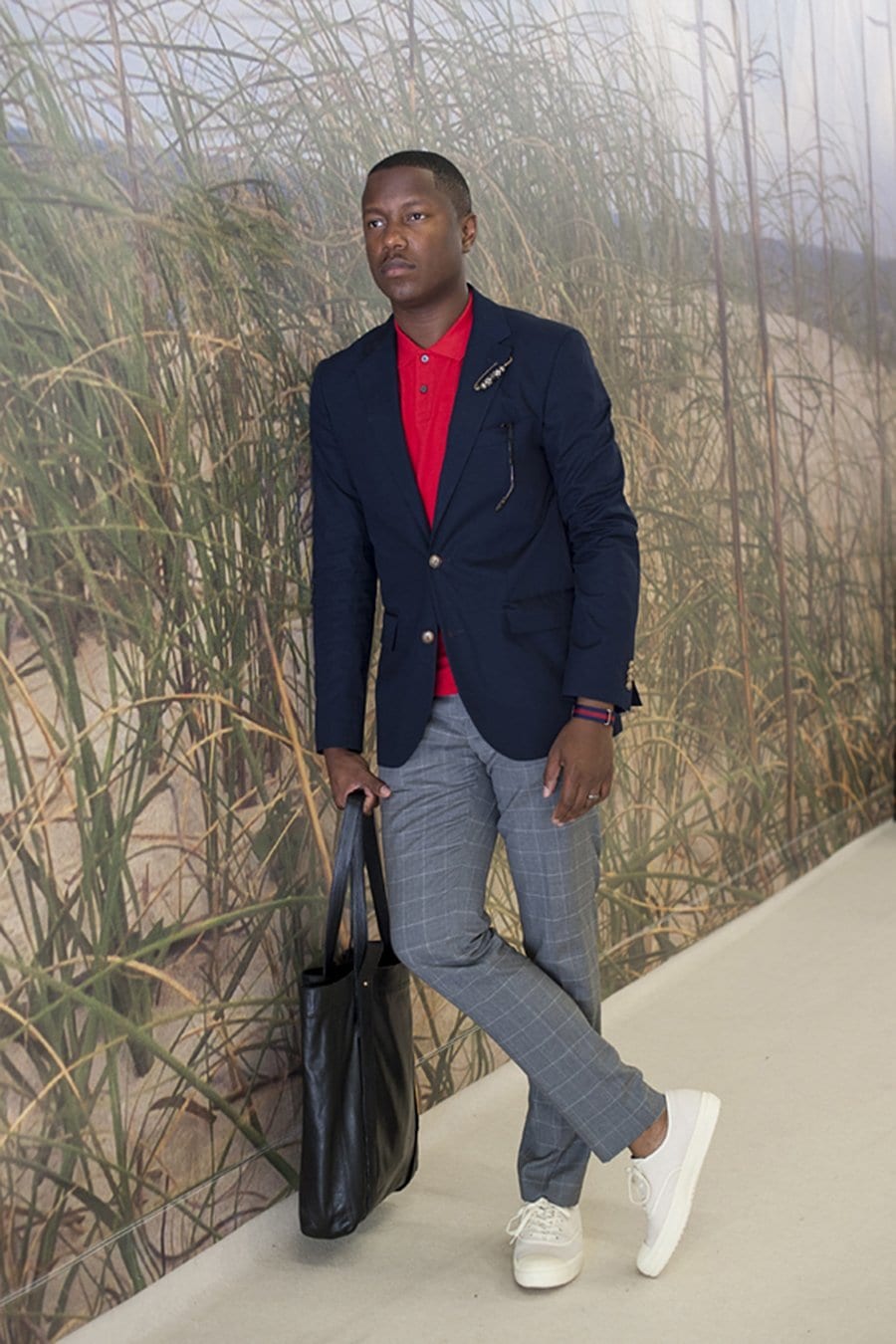 ↓ 9 – With Shorts
See some stylish collection of Bermudas/shorts here to match with polo shirts for the spring-summer season.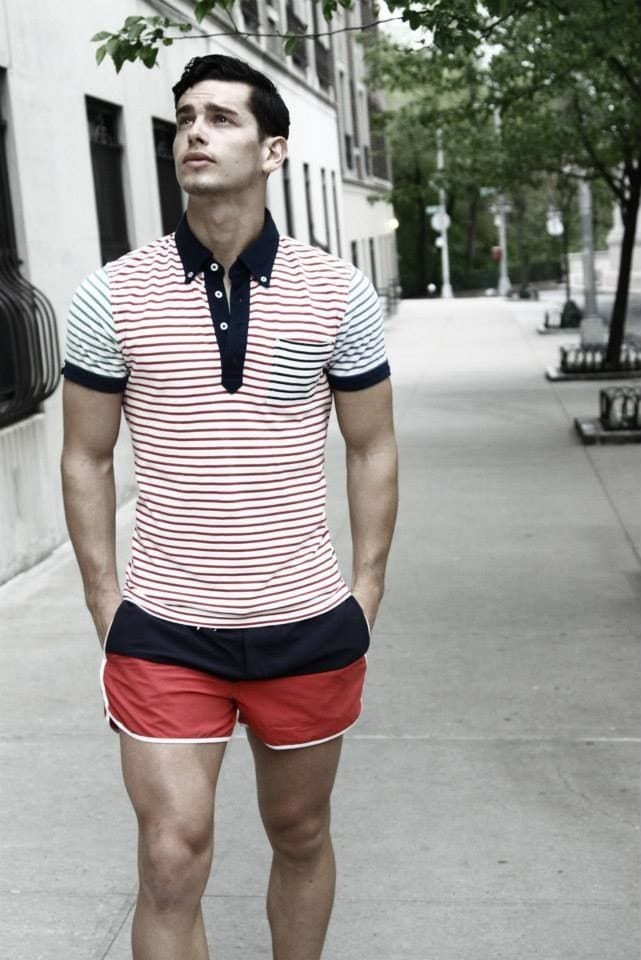 ↓ 8 – With Denim Jeans
Opt for some bold and block stripes to add some flavor to your ensemble. They look good with chinos and blue jeans.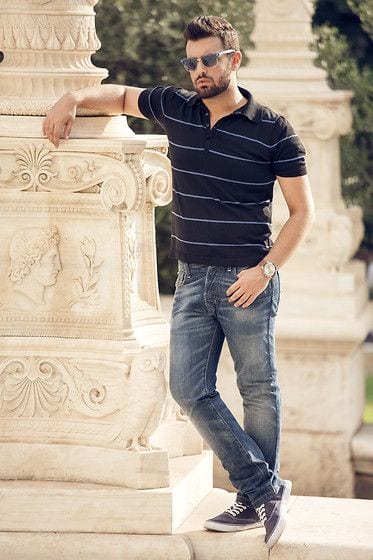 ↓ 7 – Pink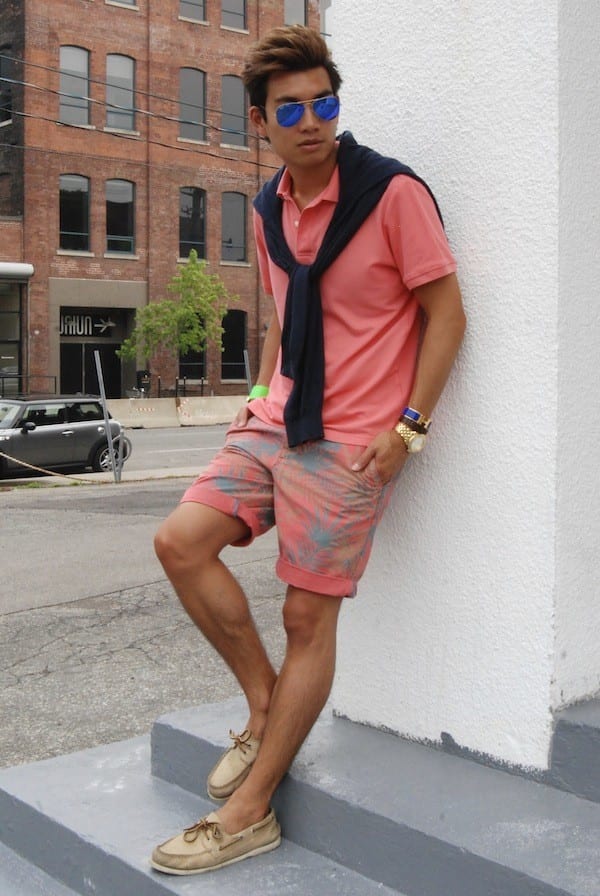 ↓ 6 – With Red Jeans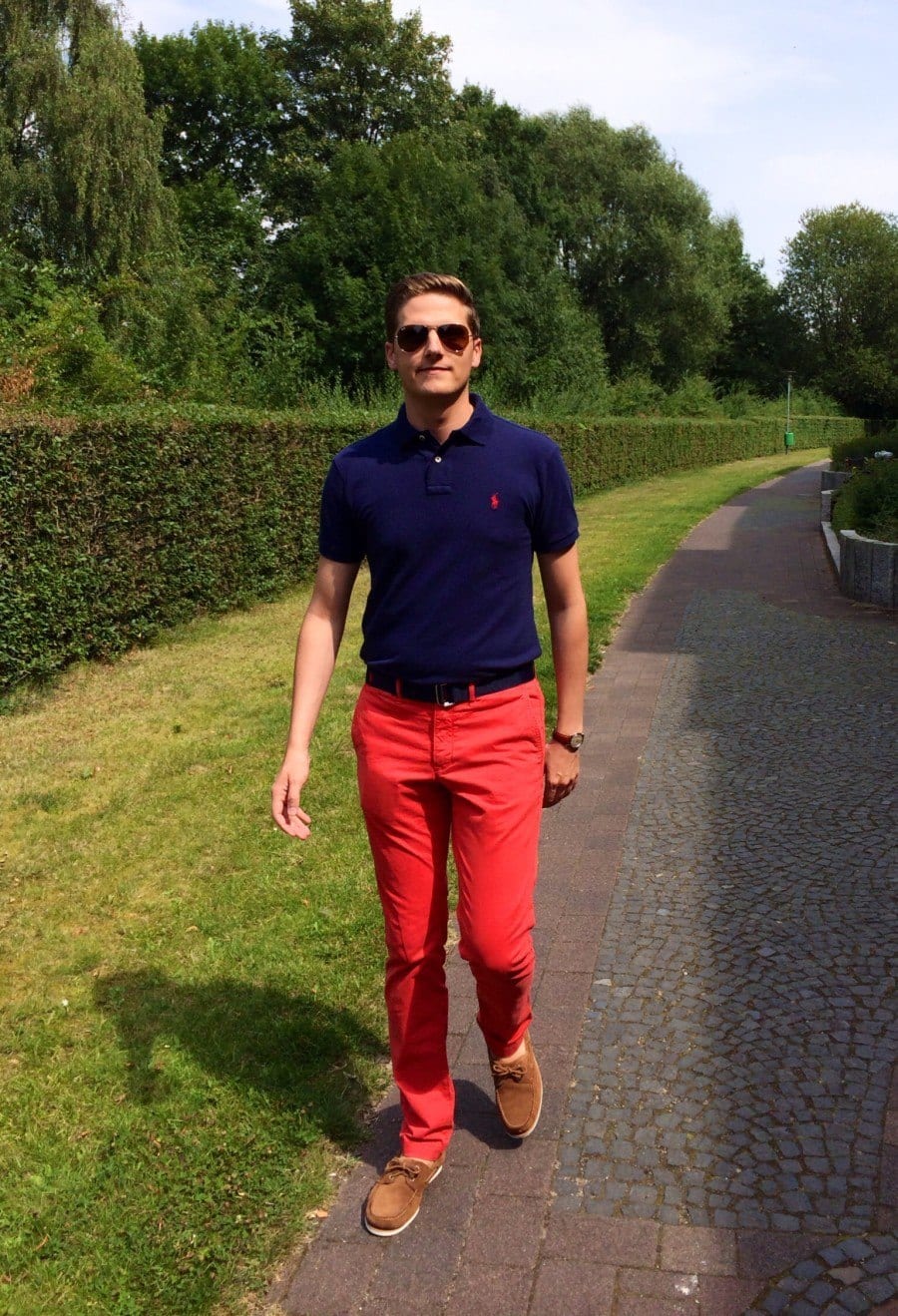 ↓ 5 – White And Pink Ensemble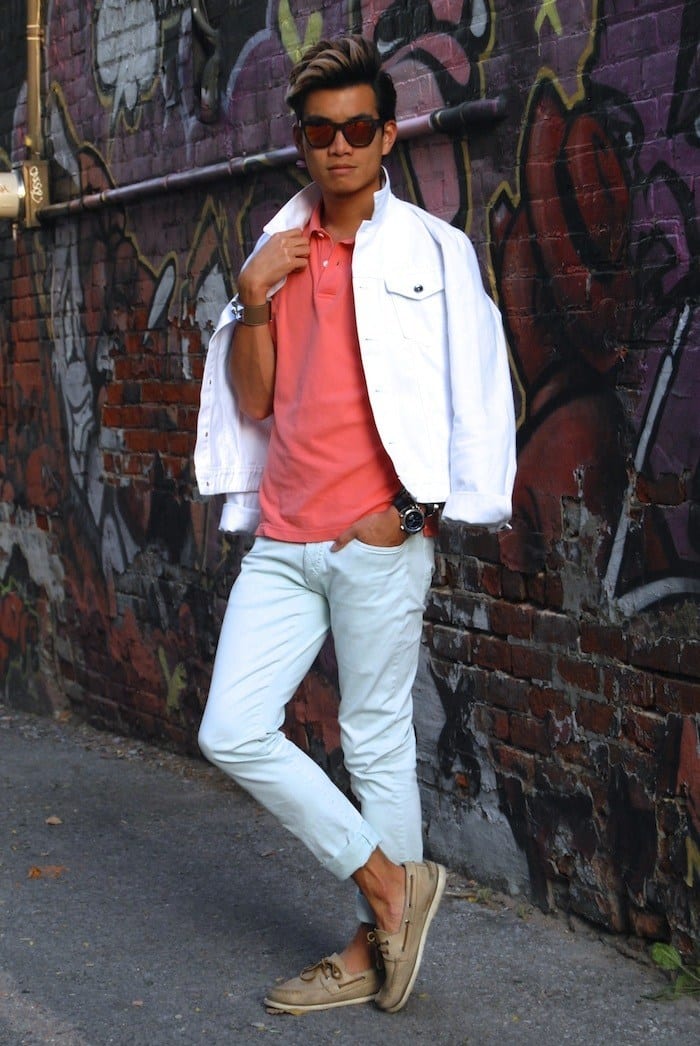 ↓ 4 – Khaki Pants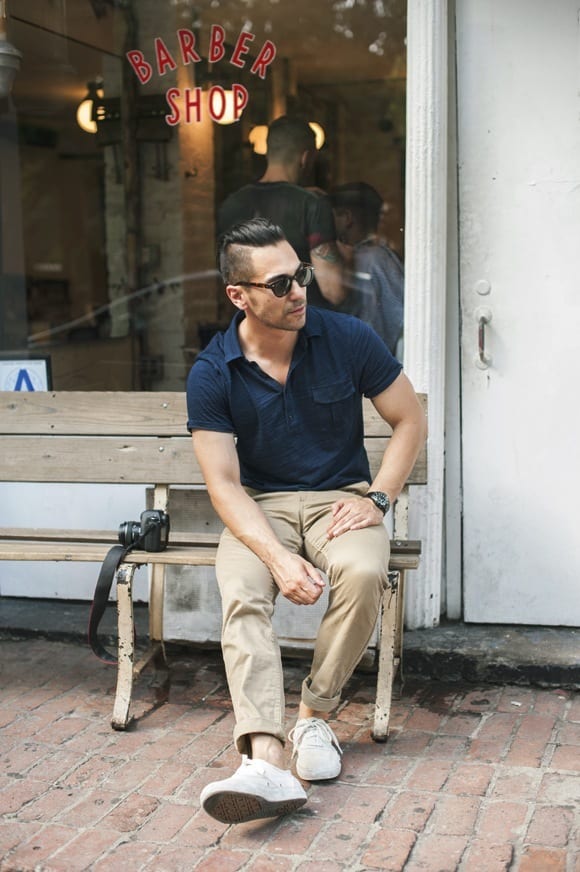 ↓ 3 – Black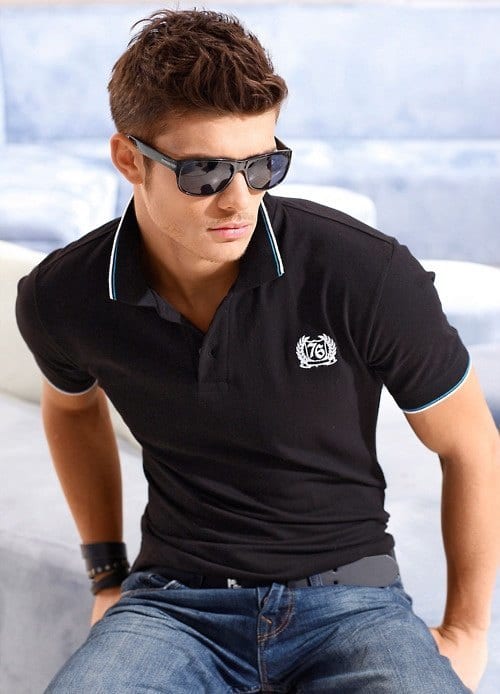 ↓ 2 – Coolest Attire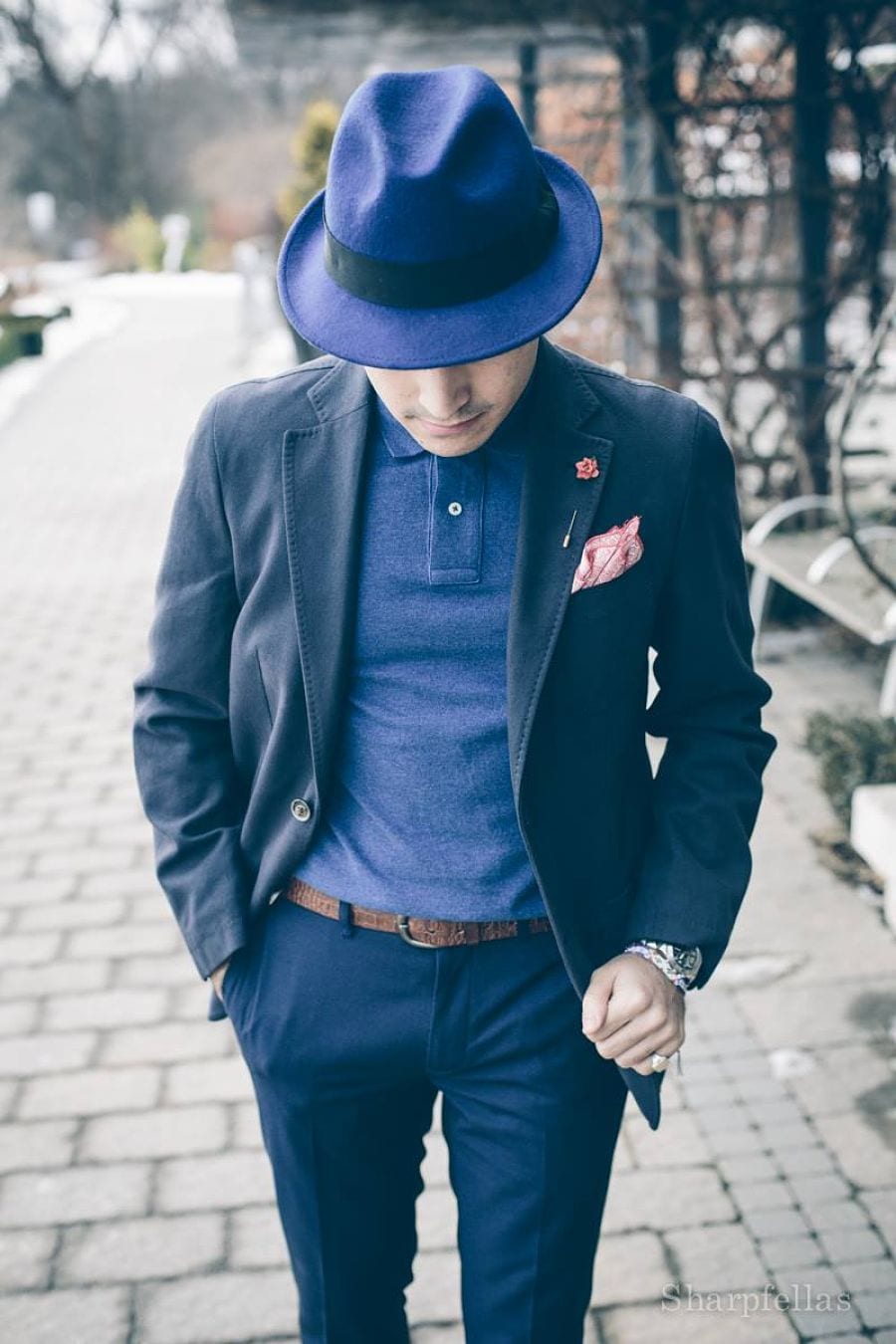 ↓ 1 – Celebrities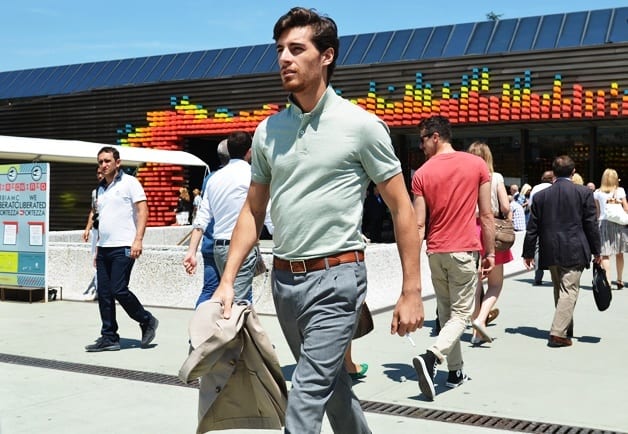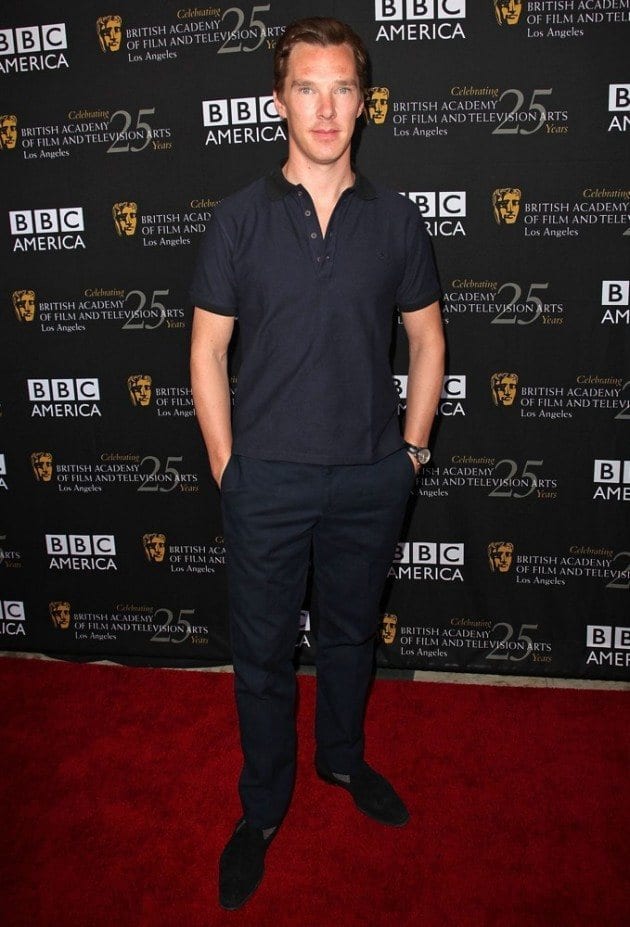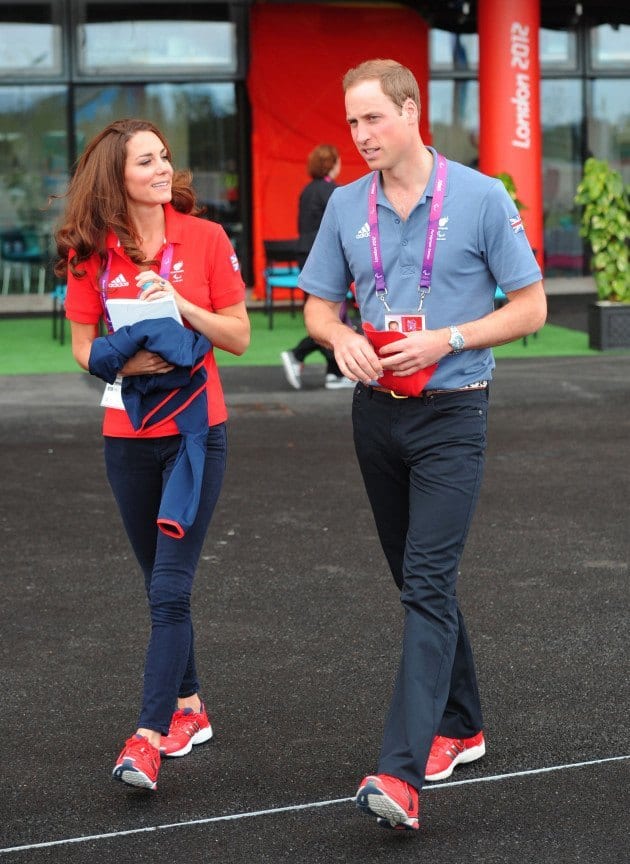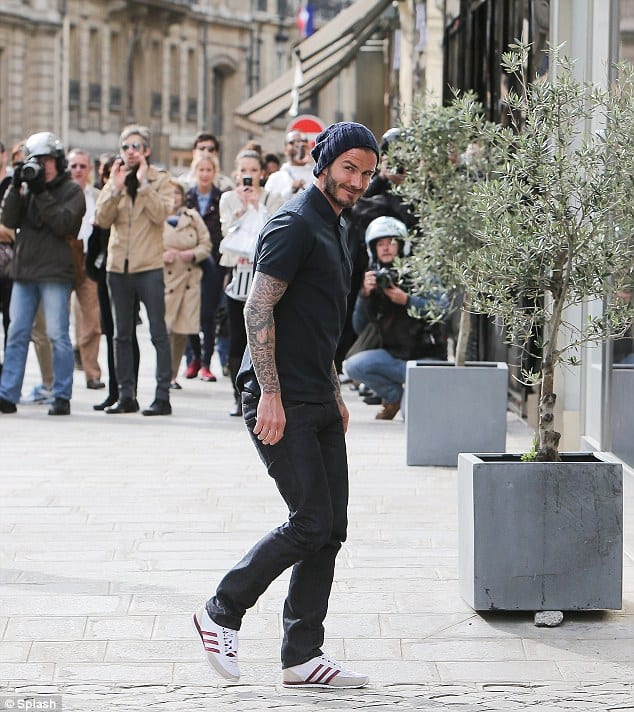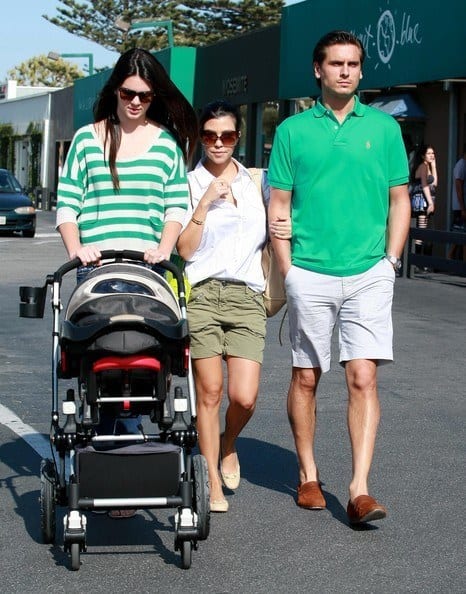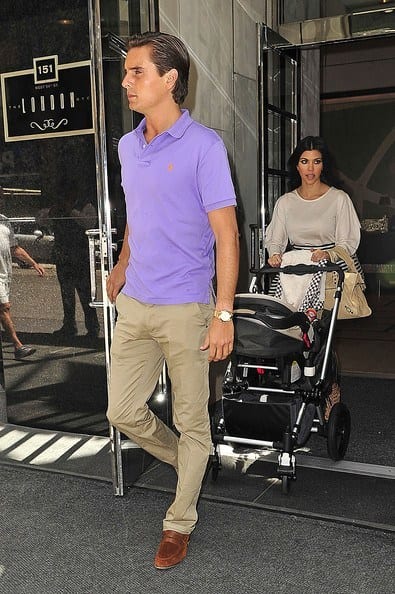 Frequently Asked Questions
Q.

What is the difference between pique polo shirt and a jersey polo shirt?
A. A pique knit has a textured waffle weave, while a jersey knit creates a smooth, flat surface. The terms "pique" and "jersey" refer to the knit of the fabric. People use "pique polo" to describe the standard polo shirt. Because of their crosshatched weaving, pique polos are thicker and sturdier.
Q.

Are polo shirts in style?
A. They historically associated with golfers. But polo shirts have become popular over the years, with office personnel and celebrities rocking them. However, the polo shirt has developed a reputation for being basic and lame, maybe because it is a part of the preppy college look that many men try to avoid. On the contrary, the polo shirt is versatile and can be exceptionally appealing if styled well. And the best thing about polo shirts is that you can wear them for casual gigs, sports functions, and even formal events.
Q.

Where to shop for Polo Shirts for men?

If you're looking for the best quality and high-end polo shirts then Ralph Lauren and Micheal Kors are the brands to go for. For a lower price range you can find a really huge range of Polo Shirts at Giordano. Lacoste, Uniqlo, Banana Republic, Tommy Hilfiger and J.Crew are some other trusted brands of men's polo shirts.