4th of July Outfits for Men –  As it is said, freedom has its presence in the hearts, the actions, the spirit of men, and so it must be daily refreshed. What is a better day than that of the 4th of July? Guys, it is just around the corner, and we did a post on 4th of July outfit ideas for girls. So it just occurred to us that why should girls get all the fashion advice. Why not, guys? Guys have an equal right to show their patriotism, and that too in style.
Here are some ideas on what to wear on the 4th of July this year for all those handsome hunks out there. Get your patriotic spirits for a holiday, boys.
What To Wear On 4th July 2019 For Guys.
You all must be excited for the 4th of July. Control your craze, and don't be in a hurry! You'll get your desired outfits because outfit trends, as always have it all covered for you. Before that, here are some tips for you for a better and productive independence day.
Wear patriotic clothes and decorate your homes and streets with American flags and lights.
Screen patriotic movies and let your children know American history.
Visit museums and national monuments.
Have family time together and take out some time to pray for your country.
Here we have answered some of the most asked questions for you guys.
Can aged people wear patriotic shirts?
Everyone has an equal right to celebrate and show patriotism on 4th July irrespective of anything. There is nothing terrible or offensive in wearing patriotic shirts. You should be proud of wearing them.
What to wear if you don't like wearing printed clothes?
If you are not into printed clothing, then you can go with hats or accessories that have an American flag on them or wear any color that is in the flag.
What are the best colors to wear on the 4th of July?
The favourite most colors for 4th July are red, white and blue.
Where can we buy American Patriotic shirts?
You can check out our two favourite online stores below.
Is It Offensive To wear American Flag Outfits?
It is not offensive at all! It is instead a way of showing love and respect for the country. It is better to avoid shoes and socks having the American Flag on them as most people consider it as disrespectful.

↓ 25 – Cute Onesies for Teenage Guys
 You might think that a one-piece and that too for a grown-up man? But HEY, it is the 4th of July, and it looks super duper HOT. I mean, look at JB rockin' it. You should also check out these 20 Summer Outfits For Teenage Guys.
↓ 24 – Patriotic Outfit
Wear the stars and stripes tank with loose-fit jeans and brown boots and look like one nationalistic STUD on the 4th of July. If you have a pair of patriotic red or blue shoes, then they too would be perfect. Otherwise, you can go for any nude or brownish shade of shoes.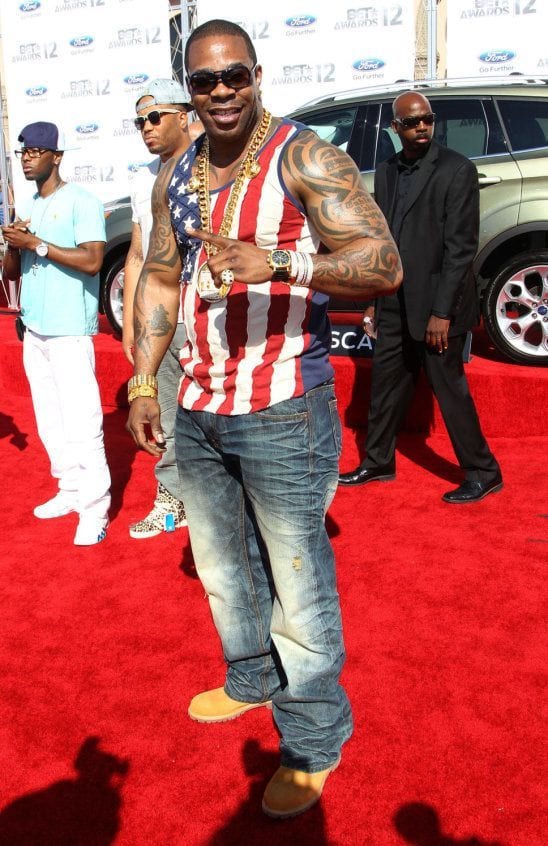 ↓ 23 – Accessorize – Belt that Flag
Some men may be too enthusiastic yet don't wanna look all flashy wearing the flag. We have a solution for you. Wear an American flag belt around the waist and show your patriotic spirit. You can pair it up with a relaxed fit acid-washed jeans, a black tee, and a leather jacket. You can also wear a cap if you like. How Dapper!
↓ 22 – Jason Derulo Swag Celebrity Style
Look like a celebrity wearing an American flag tee and partner it up with black jeans, black leather jeans with denim sleeves, and a baseball cap.
↓ 21 – Go Bold Or Go Home
Look ULTRA patriotic by wearing a star and striped jacket and pair it up with a white shirt and white trousers. As we said, BOLD wears a flag printed tie and looks like the most jingoistic American citizen.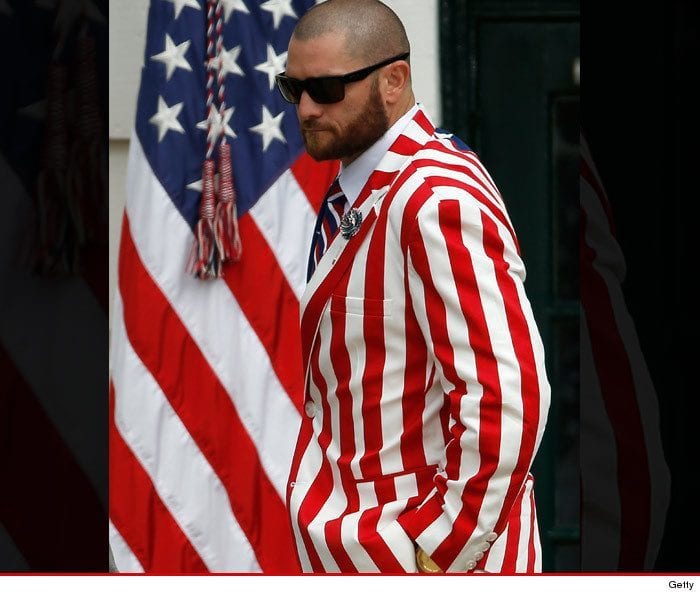 ↓ 20 – Hot Casual Street Style
This look is trendy, super trendy, and nationalistic. Wear a gray American flag tank with khaki colored trousers and white sneakers. Add that extra bit of styling by tying a denim shirt at the waist. Khaki bottoms are always fun and simple to style, so do check out these Men Khaki Pants Outfits.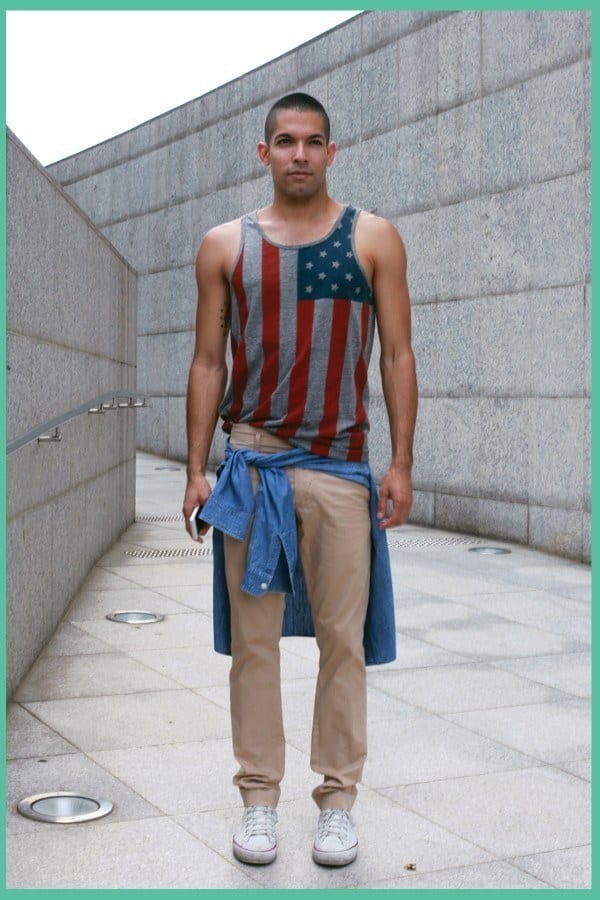 ↓ 19 – Black & White
While red is seen all over, it look different yet jingoistic. This look is perfect for those shy and color-conscious men. Wear a white tee with the flag printed on it in black and white cargo shorts. Add up a pair of black sneakers with red details and shades. This Fourth of July, the weather is likely to be hot in the USA, so shorts are an excellent option for all.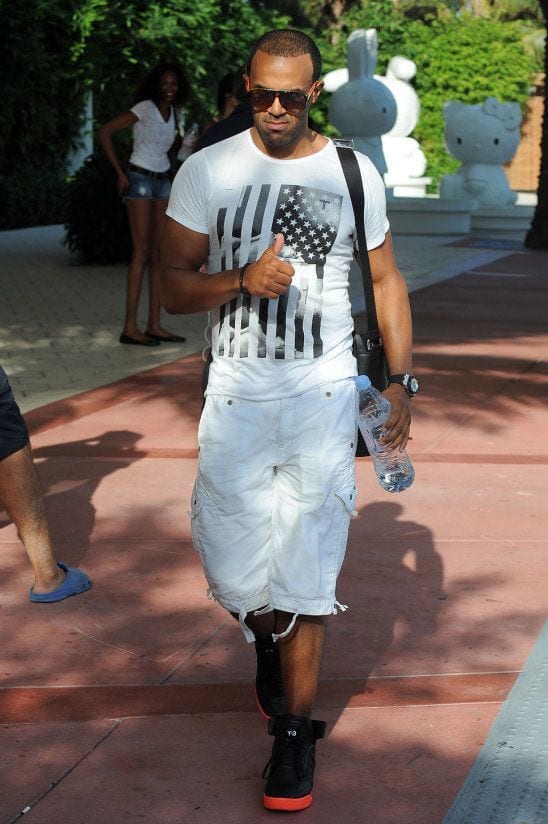 ↓ 18 – National Pantheon
Put on American flag blended pants with a lightweight and classy white button-up shirt.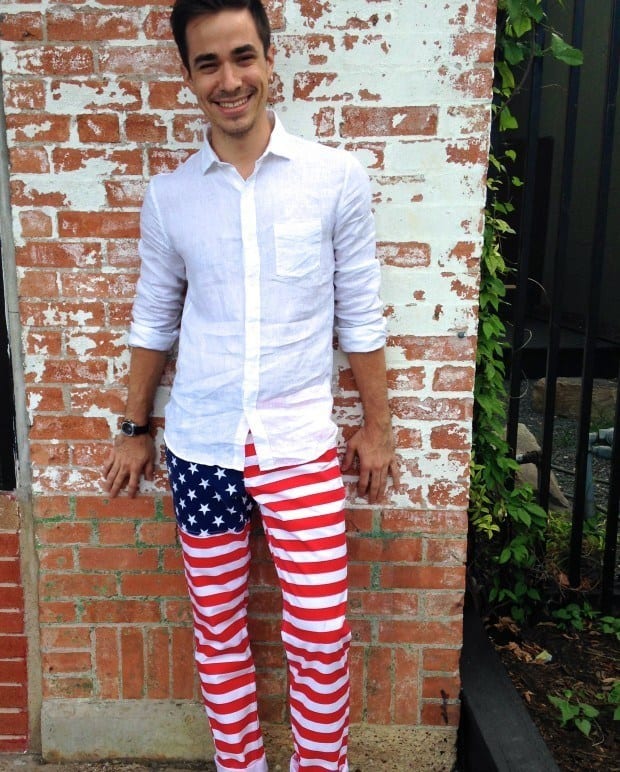 It is crucial to look patriotic on holiday; however, it is not necessary that you MUST have the flag on you for that purpose. There are other simple ways to dress up that not only reflect the theme yet make you look handsome for all those holiday festivities. So for all those gentlemen that do not want the flag on them, here are some alternate patriotic ideas.
↓ 17 – Simple Check Shirt
It is simple, yet check shirts on men are probably every girl's favorite. Wear a red check shirt with camel-colored pants. HANDSOME! Here are 16 Ways to Style Check Shirts.
↓ 16 – Blue & Red Details
Wear a grey shirt with blue stars on it and pair that up with a grey coat. Add up a red pocket square as well. Moreover, put on white pants and tie up a red belt. Very very manly and classy.
↓ 15 – Style Up Daddies
All those hardworking daddies who look after their families all year long. This holiday it is your turn to look all dapper and stylish. Wear a white, red, and blue striped shirt with simple black shorts for those family outings for the 4th of July.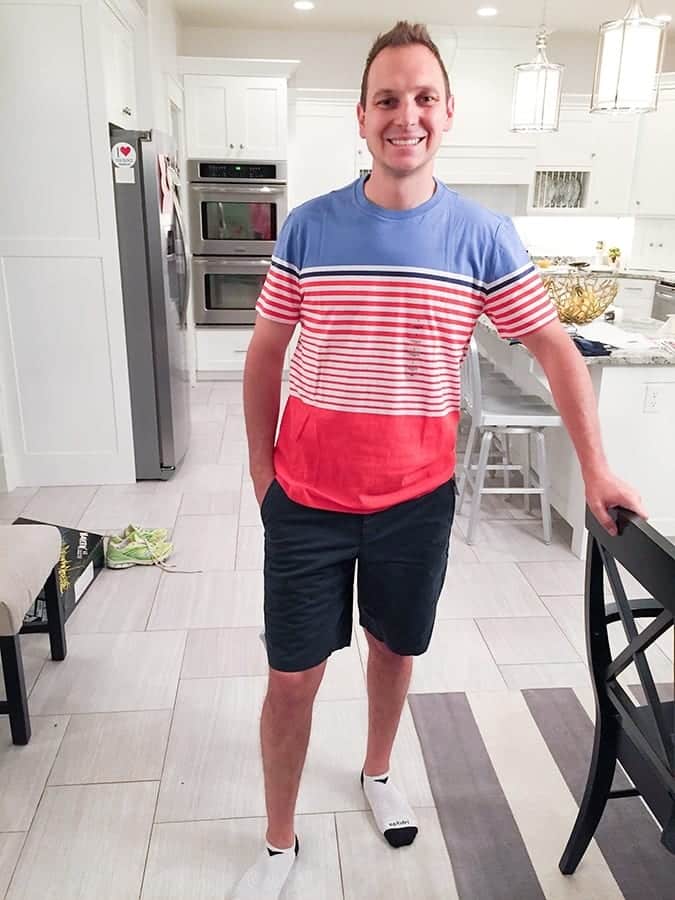 ↓ 14 – The Cool American
Jackets are every guy's go-to. This 4th of July, all you need is a bomb-ass red jacket that you can partner up with slim-fit jeans and brown oxfords. SO HOT I CAN'T EVEN…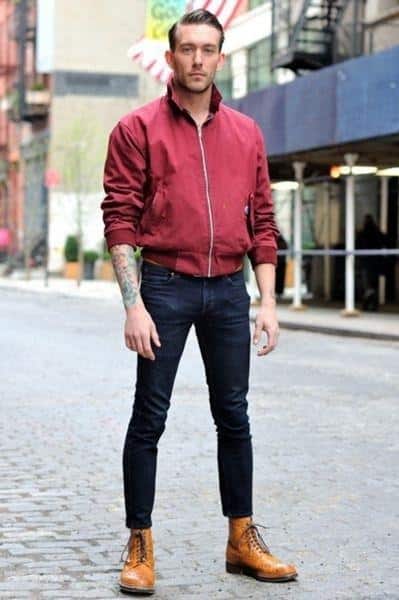 ↓ 13 – Sober, Stylish, And Preppy
Pair your red pants with a white shirt and a blue sweater with a white and blue striped jersey. Wear blue shoes to complete the look. Trendy and stylish.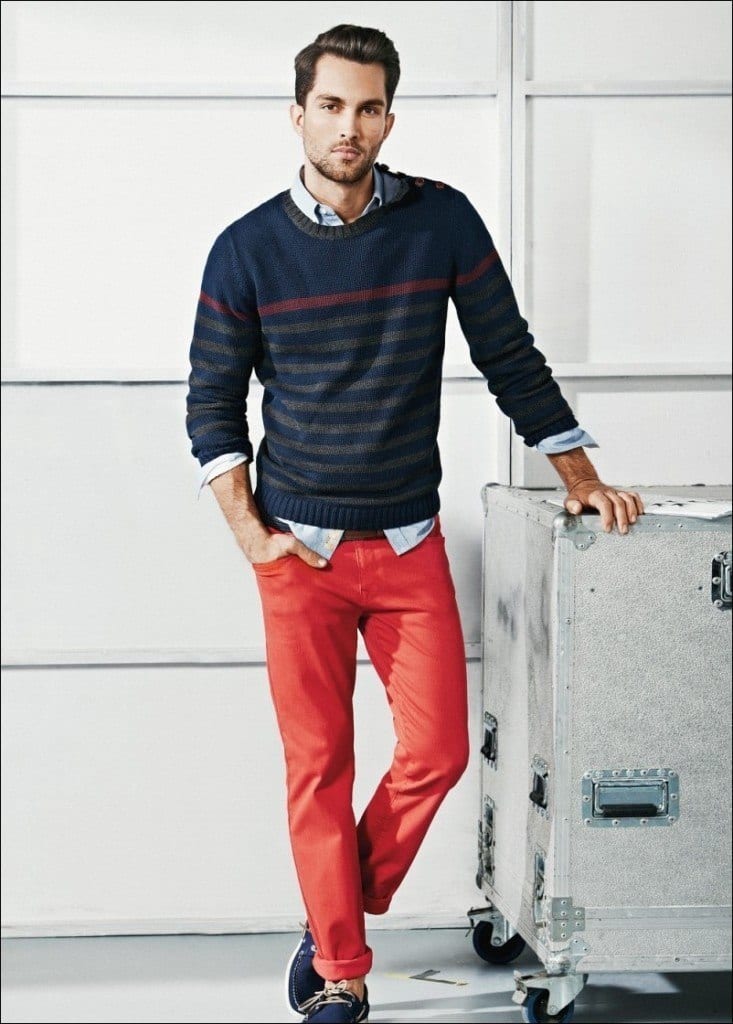 Via
This hairstyle is also perfect for a preppy look. If you are thinking about the right hairstyle for 4th July, have a look at Preppy Hairstyles for Men-20 Hairstyles for Preppy Guy Look
↓ 12 – Wear A Scarf
Suit up this 4th of July and look like a handsome gentleman. All you need to do is wear a white shirt with red pants and a check scarf.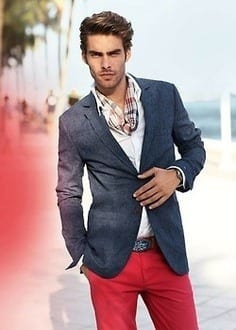 ↓ 11 – Say Yes To Denim
This 4th of July, wear a blue denim shirt with red pants. Add up a blue and brown belt and some shades for a perfect look.
↓ 10 – Red Tie
A pop of color always looks hot. Wear a blue and white striped shirt with navy blue chino shorts. Wear the tie and finish off with leather sandals. If red is your color, don't miss out on these Men's Outfits with Red Pants-.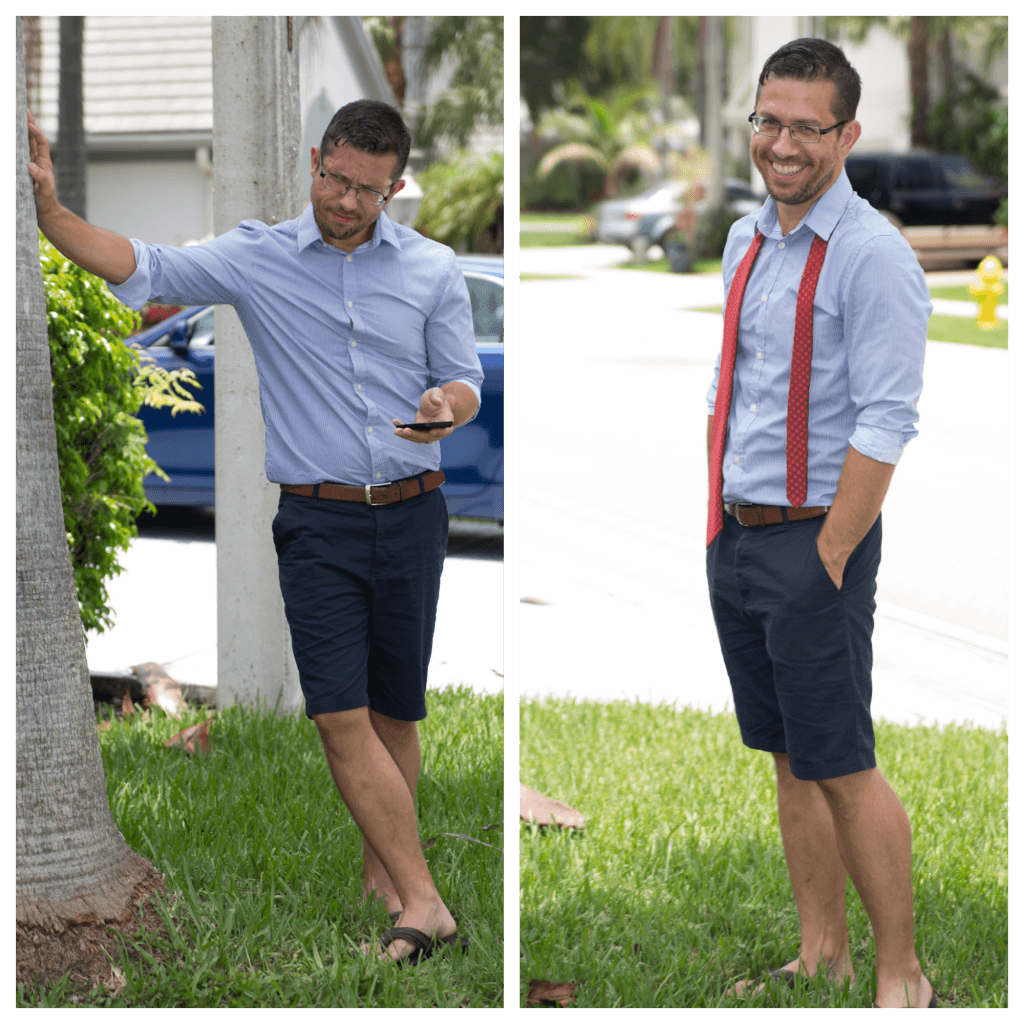 ↓ 9 – Gallace Up
Skinny leather suspender gallace go well with a pair of red pants and blue denim shirt. Tuck the tie into the shirt and put on a pair of shades. A fashionable unique look for independence day.
↓ 8 – The Flag Flyer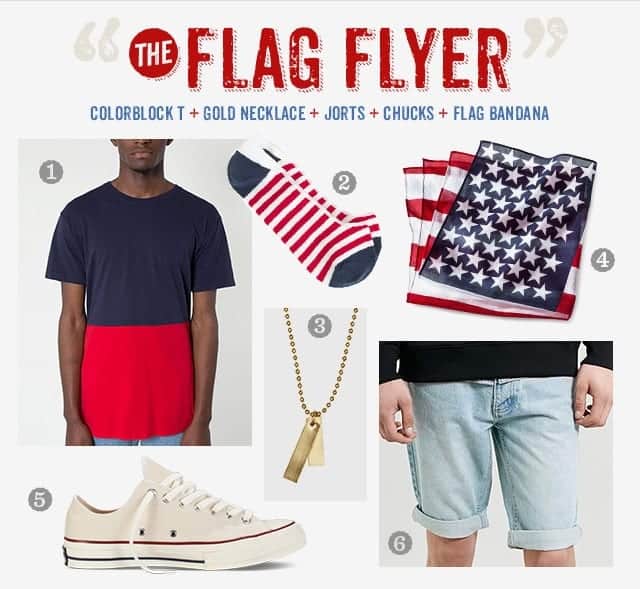 Buy similar look here in less than 1000$
T-shirt: American Apparel
Socks: J. Crew
American Flag Bandana: Target
Canvas All Star Chucks: Converse
↓ 7 – The Neat National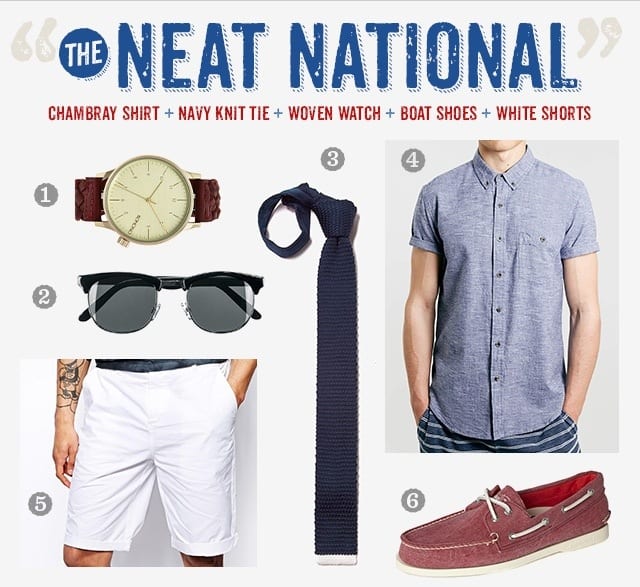 Shop the entire look in 1000$
Contrast Tip Knit Tie: Ties.com
Red Canvas Boat Shoes:  Sperry Topsider
↓ 6 – The Classic Countryman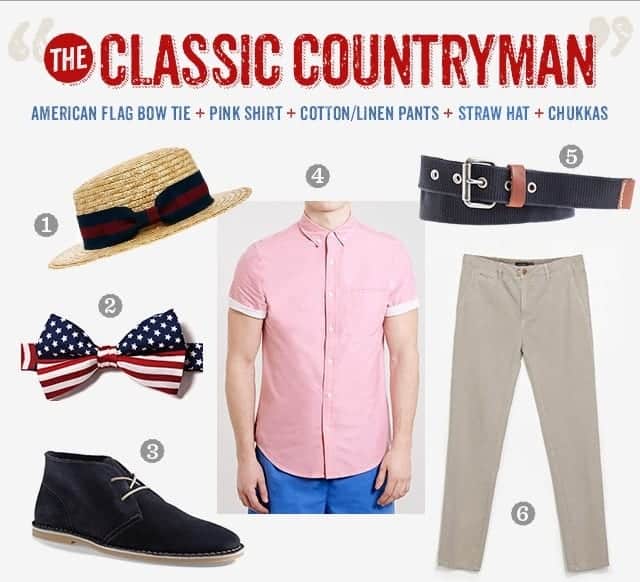 Shop the complete look here
American Flag Bow Tie: Ties.com
Web Belt: J. Crew
↓ 5 – The Polished Patriot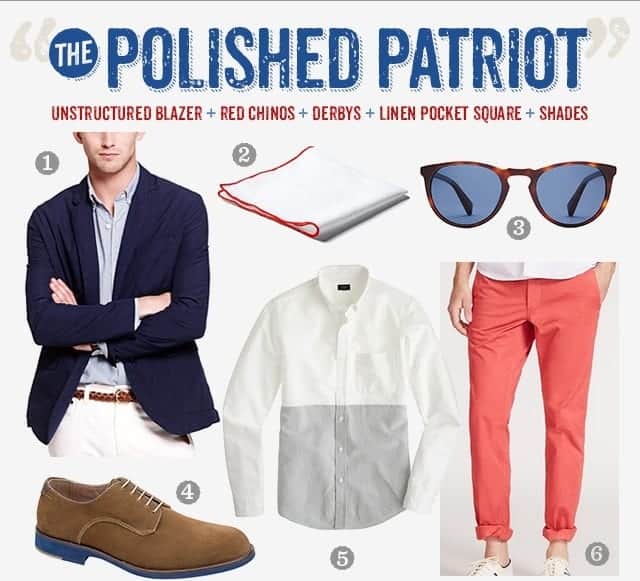 Shop similar items below
Cotton Blazer: J. Crew
Red Edged Linen Pocket square Ties.com
Oxford: J.Crew
↓ 4 – Night Time 4th July Party
Here is an outfit with both a  nostalgic and nautical feel for you all. On this day, celebrate by wearing a logo Tommy Jeans T-shirt along with solid selvage denim jacket.  Opt for Koio's seasonal Americana sneakers to complete the look. Plus, a throwback camera for capturing the night if you have one.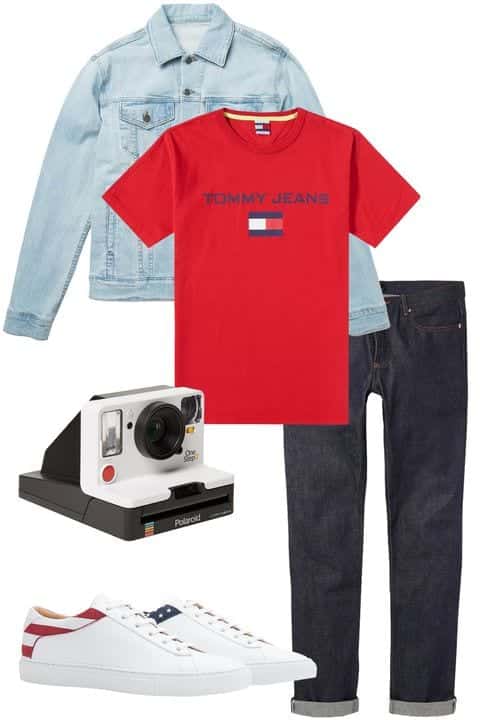 Buy the complete look in less than 1000$
Light wash denim jacket ($95) by DSTLD, dstld.com
logo tee ($45) by Tommy Jeans, endclothing.com
selvage jeans ($210) by A.P.C.,mrporter.com
Capri America sneakers ($298) by Koio,  koio.co
OneStep instant camera ($100) by Polaroid, mrporter.com.
↓ 3 – Independence Day At The beach
Young men and sporty people you are lucky enough. Guess why? Well, that's because you have a ton of options to celebrate freedom beach on 4th July. Let us start dressing up for beach party with a bold pair of red trunks, which can be paired easily with a navy blue color pocket tee and cool  Adidas slides. If you're a simple dude, you are done here with this little effort. Add white shades and Fila "sling bag"  if you are a very American boss kinda person.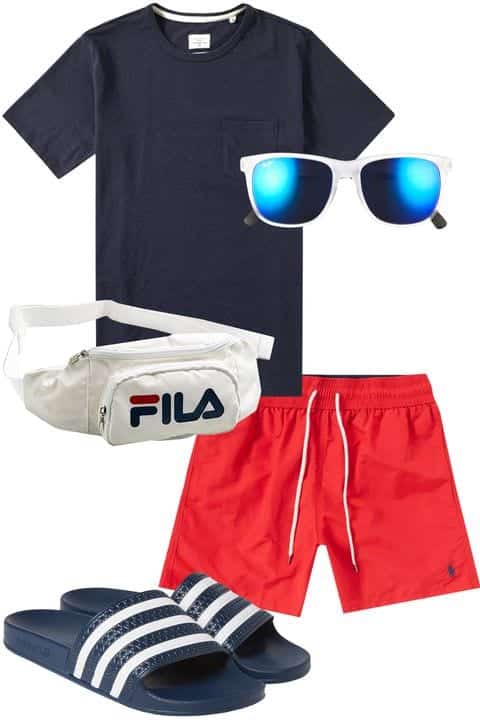 Buy the complete look in 1000$
Standard issue pocket tee ($85) by Rag & Bone, endclothing.com;
traveler swim short ($69) by Polo Ralph Lauren,endclothing.com;
Adilette slides ($45) by Adidas, mrporter.com;
tailslide polarized sunglasses ($249) by Maui Jim,nordstrom.com;
Logo sling bag ($34) by Fila, urbanoutfitters.com.
↓ 2 – Shop For 4th July
On this independence day buy national flags and hang them on your front doors or rooftops. You can even decorate your balconies and drawing rooms with national flags in case you are hosting an independence day party at your home. You can get it in your desired size and wave it high in the air. Make sure flags are folded and kept properly after this day. Respect and honor your flag as well as the country.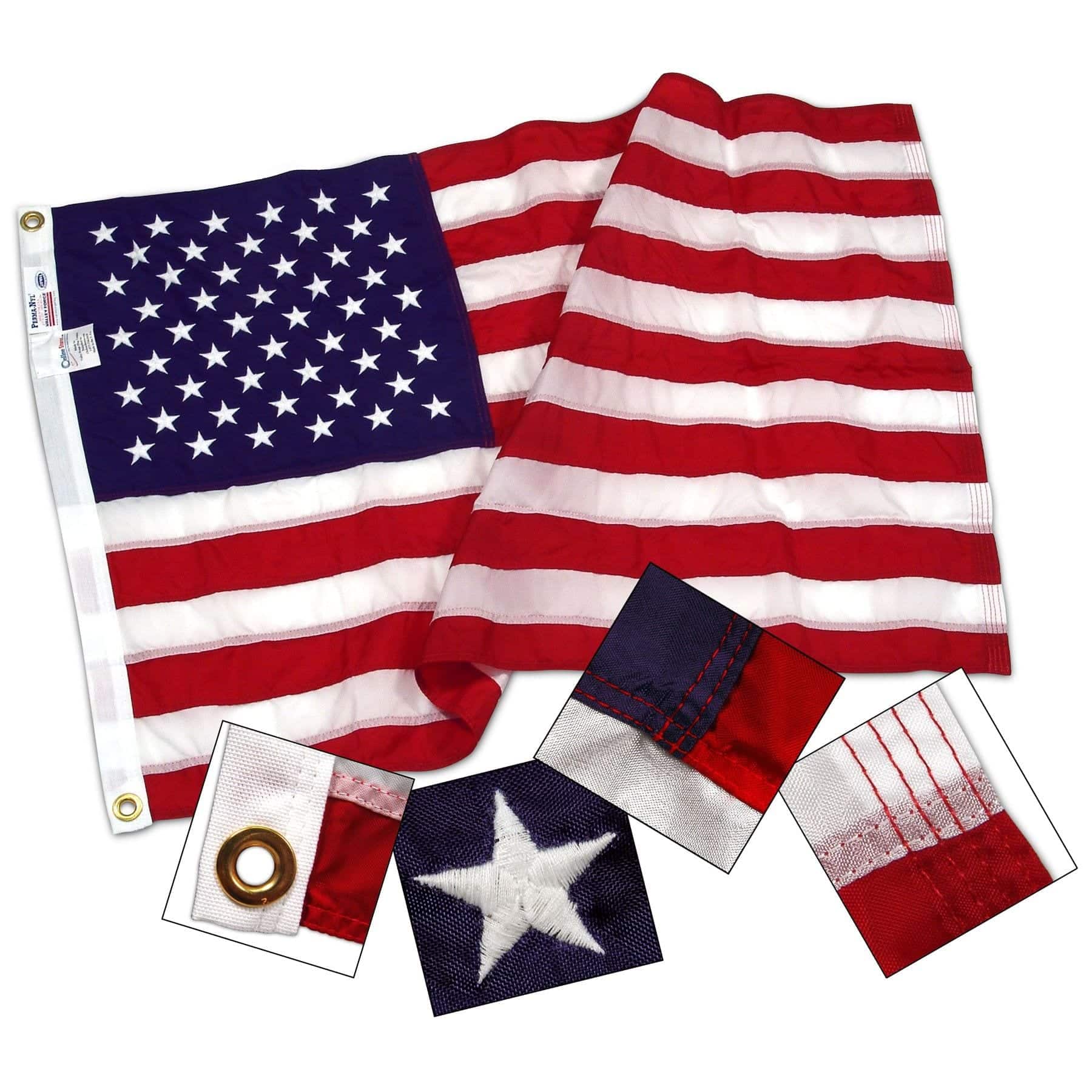 Super Tough Brand USA 4ft x 6ft Nylon Flag SKU $23.10
The easiest and quickest way to dress up on occasions like independence day is to dress up according to the theme. And the theme of this day is all about America.  Get yourselves shirts and tees that have America flags on them or entire printed like the flag. You can either wear them with jeans, trousers or shorts. This idea is suitable for everyone if you are in your teens, tweenties or even again up. Your entire family can dress up in the same shirts and celebrate as well.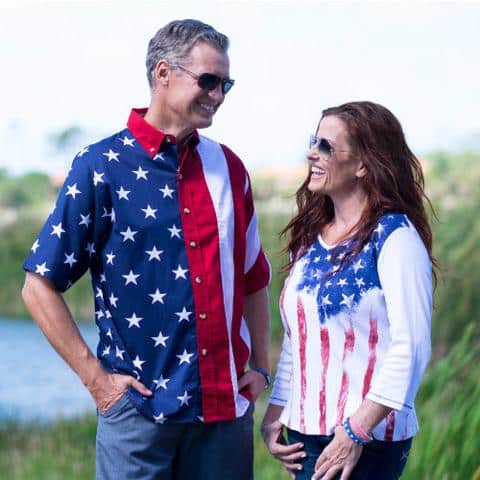 4th Of July Hats And Caps
Accessories are essential. No look can be complete without them. If you are not into dressing up in shirts or suits printed like an American flag but you want to show how whole heartedly you love your country then at least put on American hat or cap.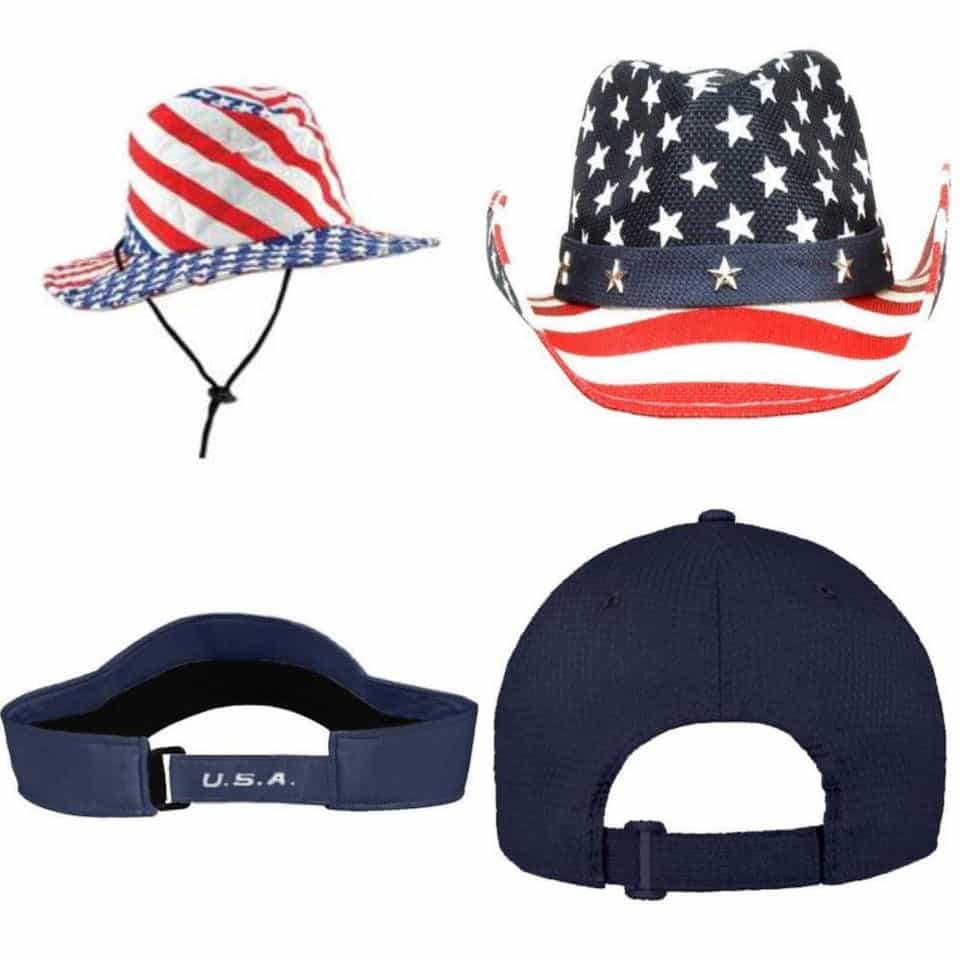 Hey men! Suit up this 4th of July, go out, have fun. What's the point of independence day and the celebrations when all you are gonna do is spend day in the lounge in your night wear? Don't disrespect this great occasion and get dressed in this amazing patchwork printed USA blazer and pants. To go with the theme of the day, a white shirt underneath will complete the look. Get your feet in Oxford shoes. That's how handsome American men should dress at least on this day.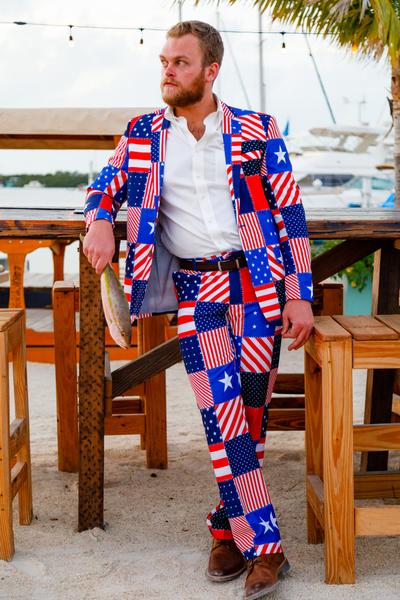 THE MAVERICK | PRINTED PATCHWORK USA BLAZER $99.99
How hot is it? Or how patriotic you are? There is no competition between both of them nor are you going to compromise on comfort while showing patriotism and screaming national songs on the peak of your voices. Dress up in a short suit. Wear a white casual shirt and red shorts. Don't forget to use belt for a formal touch. Put on your American themed blazer. Blend the casual and formal look by adding a hat and sandals.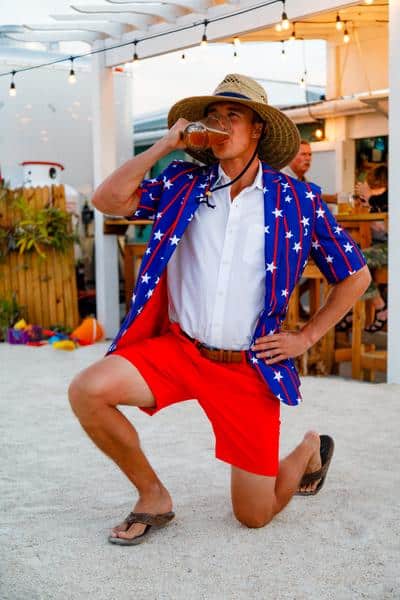 THE SHOTGUN WEDDING | SHORT SLEEVE USA SUIT $99.99
It is independence day and no plans? That's not possible. If you are planning to celebrate this 4th of July on a beach or any other outdoor spot then you need to carry a bag with yourself. It's important as there is always loads of stuff to carry especially phone, wallet and keys. You surely don't want to lose all this while you are celebrating with your friends. How about getting your hands on this bag that you can tie along your waist? With the secret bottle opener?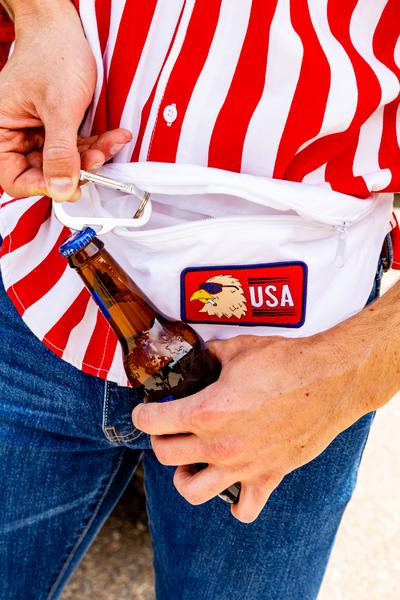 ↓ 1 – Paint Your Face For Independence Day Celebrations
Is there any nationwide celebration even complete without face art and all those colors? Well, we don't think that way. Bring patriotism, zeal, zest, and enthusiasm to this great day by painting your faces or hands. Paint American flags and get a flag in your hand as well and walk with pride across the world on this day. Moreover, you can use this technique in order to create awareness among your children and teach them the importance of having a separate independent country.
Show patriotism on this day by uniting. Show your love for your country in whatever possible way you can. Let the world know how much you love your country and whatever you are ready to do for it.
Happy Independence Day Americans. Lots of love.