Camping Outfits For Teen Boys. Technology makes escaping an addiction. It's supposed to make our lives easier, but the sad truth is people these days depend too much on it. It has become toxic for most people, but luckily, the perfect antidote exists — camping!
Camping is usually held in the wilderness. And more often than not, this activity involves campers staying in a cabin, tent, or RV. Participants take a break from the urban scene to spend some time in a new environment — with nature.
Camping Packing List & Styling Tips
Campers usually engage themselves in swimming, rowing, hiking, and bonfire while on their trip. The sole reason for this is to detach from the virtual world and reconnect with the real one. Once in a while, you have to experience life away from your screens.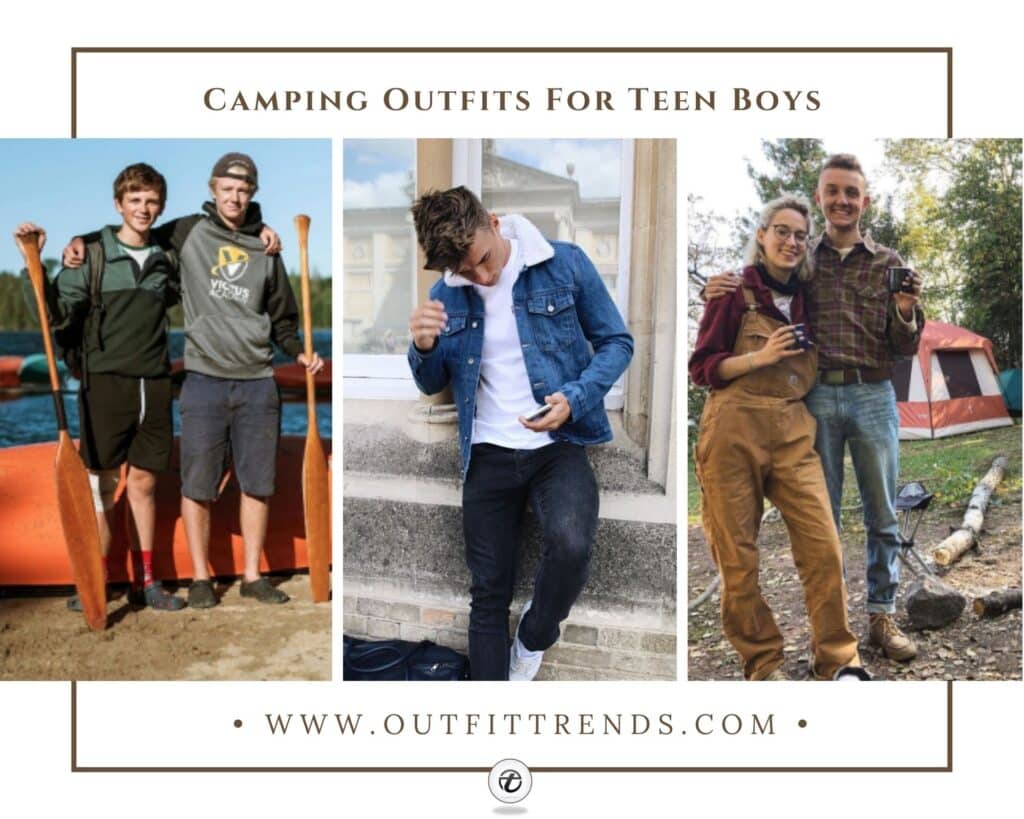 Outfit Essentials. The best clothing options make a big difference in your trip enjoyment. And it would help if you organize your clothes — pack your outfits and divide them for different times of the day. 
Pullover

. This is your weapon against unexpected rain showers. They're not bad to encounter while camping, but being safe and prepared is better. 

Aviator Sunglasses

. We prefer these specs for camping. But any glasses you have available will do just fine. Wearing such is a stylish way to protect your eyes from the sun.

Bring clothes for the nighttime.

 You shouldn't wear to sleep what you wore all day. And an advantage of wearing layers is that you can just ditch something if it gets too hot. 

Nice Swimwear

. Pack your swimming clothes as there will be chances you'll pitch your tent near a lake. Make sure they're made of materials safe for the environment. Silk is a good choice as it is a skin-contact fabric, ideal for active individuals.

You can get some inspiration from these Amazing Beach Outfits For Men.

Long-sleeved shirts and pants.

They will protect you from insects and bushy plants.

Headwear

. Think of a lightweight hat or visor.

Breathable socks and underwear.

Quick-dry T-shirts.

Puffer jackets or quilted coats.
Camping Tips
Pack Durable Clothes.

 When camping, you might want to wear clothes that can withstand the rigors of your adventures throughout the day. I'm talking about nasty weather conditions, sunburn, and bugs.

Comfort Before Style. 

Pick clothes that are comfortable enough. Ditch those that might keep you from moving freely to enjoy the activities. Sweat is a familiar face in summer

, so you know the drill. Steer clear of heavy fabric and settle with cotton instead. You can get some good ideas on comfortable travel wear from these Ideas on What to Wear for a Road Trip.

Activities

. Plan ahead! It will help if you know what type of activities you'll be doing there beforehand. For instance, bonfire sessions require you to pack long sleeves and pajamas.

Keep your clothes dry.

 You have two options if your clothes got soaked from swimming or dancing in the rain. Hang them in the sun or spread them out by the fire; it's helpful either way.

Check The Weather.

 Consider checking the weather forecast before going out. This will help you decide what kind of clothes to pack.
What To Avoid When Camping
Tight garments.

 These include skinny jeans and super-tight tees.

Walking barefoot.

Be it in the rivers or grasslands, always wear something on your foot to avoid stepping on stray fishhooks, shattered glass, and hidden rocks.

PVC Clothing On Rainy Days.

 It is waterproof but not breathable. Also, it can

cause you to overheat. Instead, invest in Gore-Tex, which can keep the water at bay while allowing

air to reach you.

Leaving a trace.

 You want to brand the place and say, "He has been here." However, that doesn't include leaving your trash behind. Remember: Pack out what you pack in!

Expensive jewelry.

 Leave those gems and bling at home. There's another time and place for showing off. No one wants to play "needle in a haystack." Thinking whether where you put (dropped) them while camping might ruin the fun.

Drug or alcohol-inspired clothes.

 Don't be the apple of the eye of campground forest rangers and security personnel.

Strong perfume

. It is a beacon for wild animals like bears and lions. So unless you want a close encounter with them, cross out the perfume from the list.
Where To Buy Camping Clothes
You don't need to spend your paycheck on quality clothes. Be practical and look for affordable and versatile garments. Get outfits you can also wear outside camping.
And to save money, take a closet tour because you don't know what you'll find. You may have some pieces that are camping-appropriate.
Check The North Face and Columbia for jackets and raincoats. Meanwhile, vests, plaid shirts, and trousers can be found at Banana Republic, Far Afield UK, A Day's March, and Levi's.
While gear is paramount, don't overlook another important detail: your outfit. And like any other occasion, consider functionality and comfort next to style.
In any event, coats like puffer and quilted jackets will work perfectly in such a setting. Not only can they protect you from the cold, but they can also shield you from mosquitoes and insects alike.
↓ 20 – Summer Beach Outfit
Wear your basic tee with some chino shorts. Keep in mind that shorts aren't named like that for no reason. They are meant to be above the knees to pull off that beach-ready look. A baseball cap would also be an excellent addition to the team-up. Here are some Cute Hairstyles for Teen Boys to complete the look if you're not wearing a cap.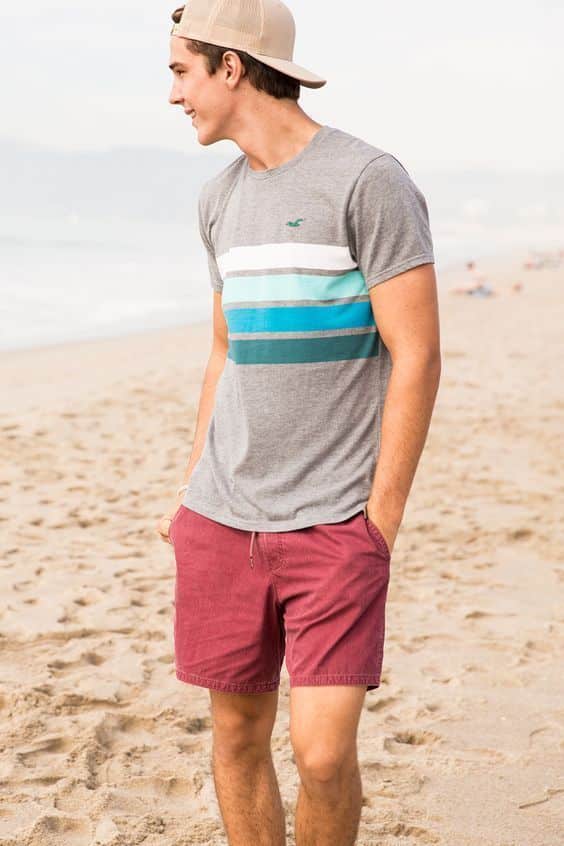 Shorts outfits are also a great choice for any water activities you might participate in during the camping trip.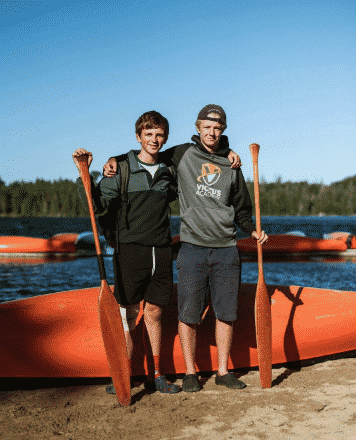 ↓ 19 – Winter Camping Outfit
When camping in winter, make sure to pack at least one or two quilted jackets. These coats will have you covered when you need them the most. With this, I'm talking about chilly nights and wet rainy days. Pay extra attention to mosquitoes in summer, so bringing long sleeves is a good idea.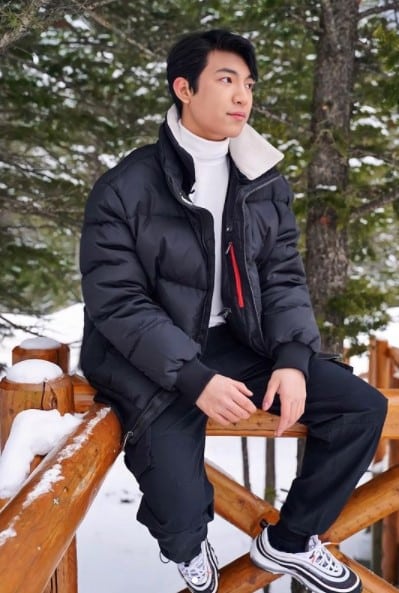 ↓ 18 – Stripes
Stripes are for everyone. And if you are relatively short, opt for vertical stripes. Meanwhile, horizontal stripes are perfect for skinny guys. For instance, throw a brown striped shirt over a white tee. Lastly, pair them with blue jeans. If you tuck the undershirt into your pants, the outfit will look better, and leave the shirt open. Here are some more amazing Ways to Wear & Style Striped Shirts.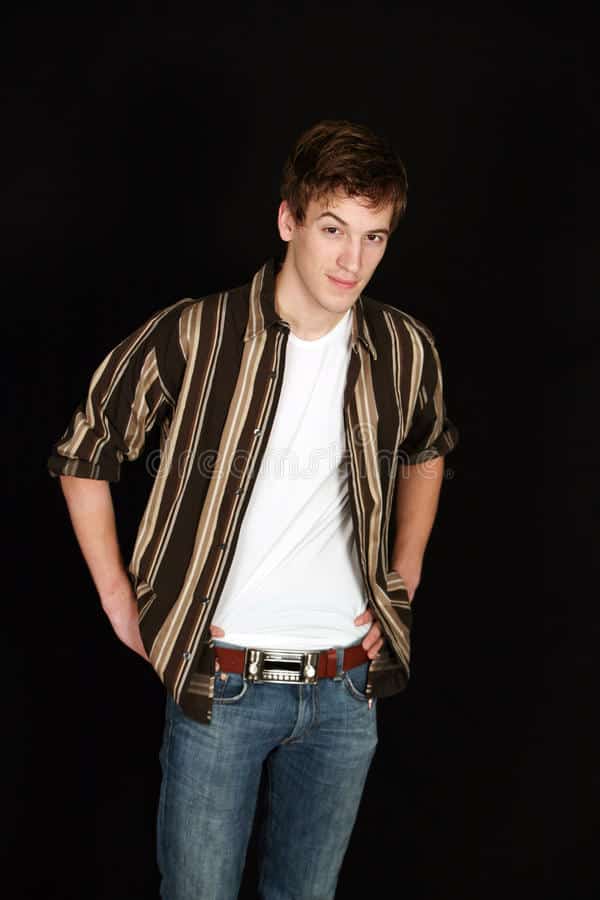 ↓ 17 – Harrington Jacket
Think of a grey overshirt — it looks great with dark jeans. Finish off the look with some box-fresh white sneakers. Cuff your pants, and you're ready to rock! A Harrington jacket is functional as it can shield your arms from bugs and wasps common on camping sites.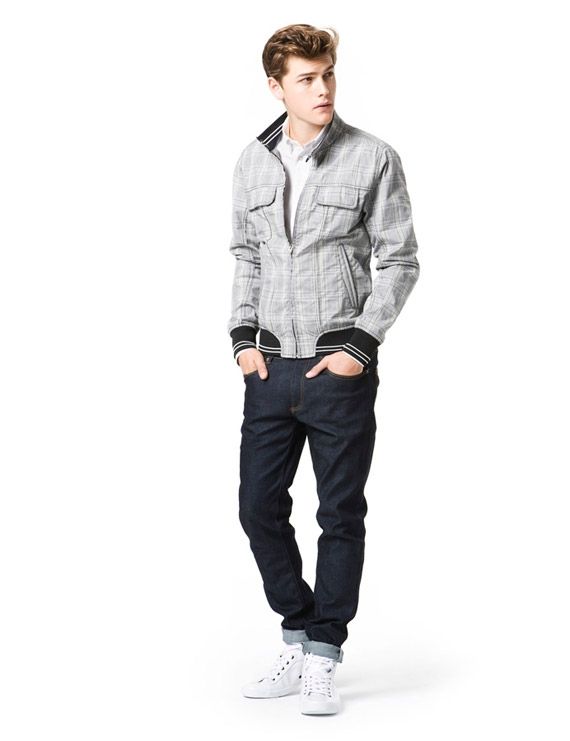 ↓ 16 – Boho Camping Outfit
Boho fashion is an extension of someone's personal style and individualism. Bohemian outfits are rather relaxed, so wear clothes that are comfortable enough. Don't succumb to societal pressure or expectations; live a more free-spirited life instead.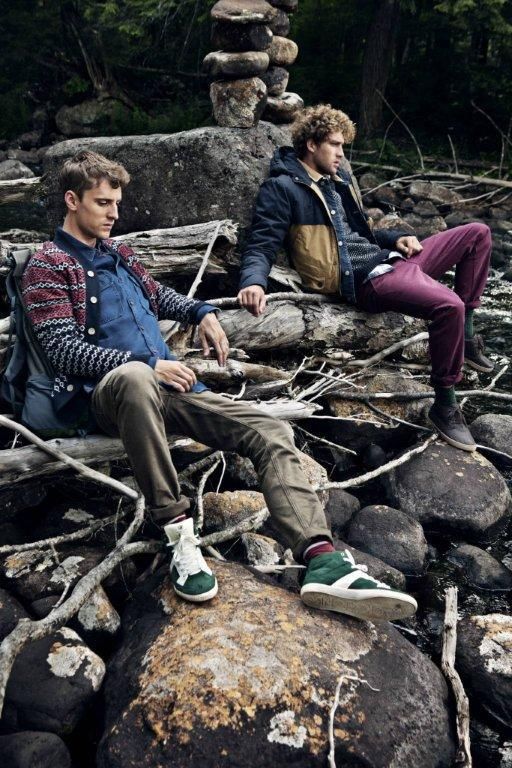 ↓ 15 – Monochrome
Opt for a monochrome look by choosing outfits from one or two neutral colors. Team up a grey fleece hoodie and space blue jogger pants. This athleisure style is perfect for challenging and enjoyable activities like camping. Wear them with white sneakers, and now you're ready for adventure.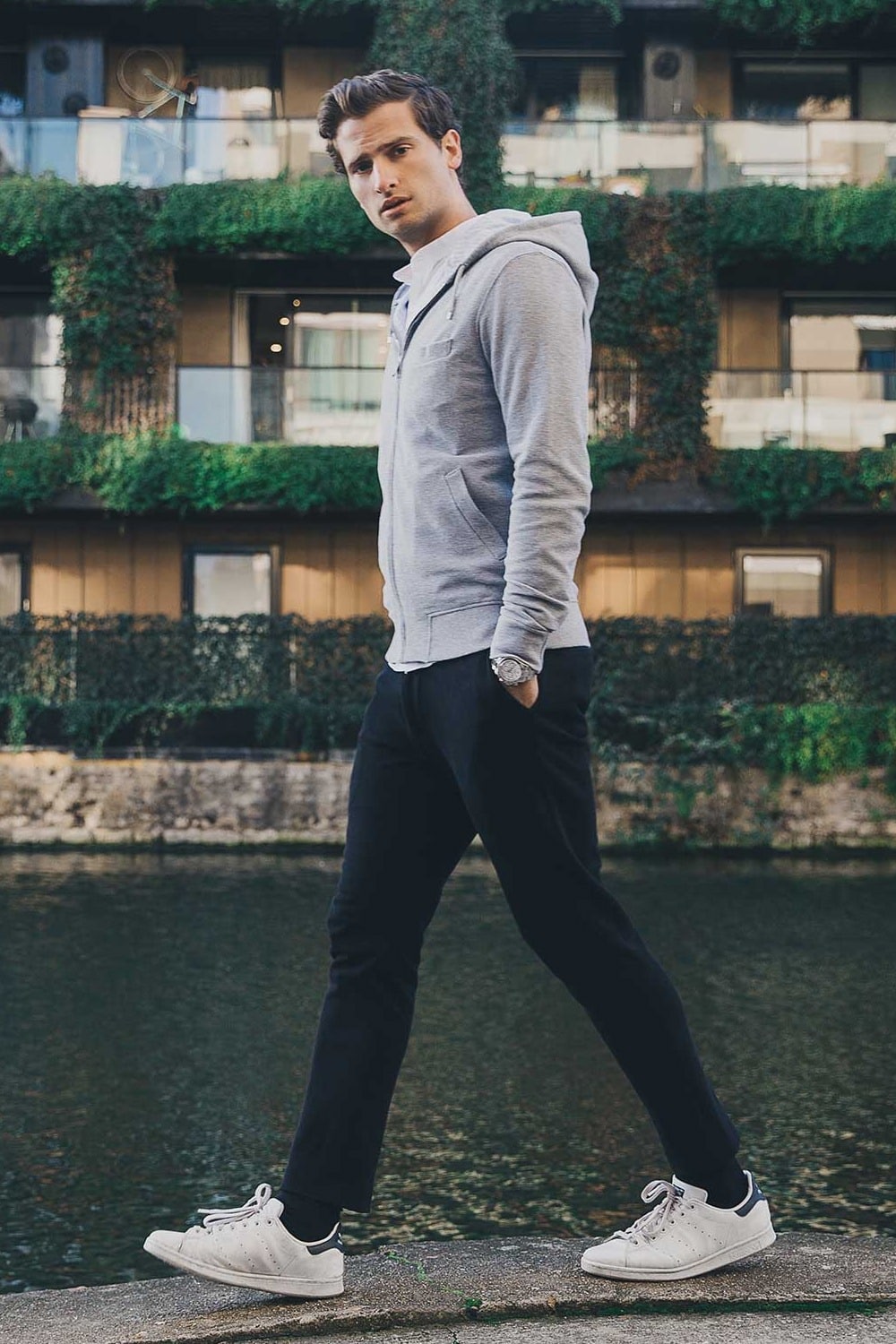 ↓ 14 – Minimalist
Simple is the new stylish! You don't need a lot of colors and patterns to achieve a dashing look. One or two colors would suffice if you know how to pull them off. For example, pair a navy blue shirt with white shorts to don a nautical style.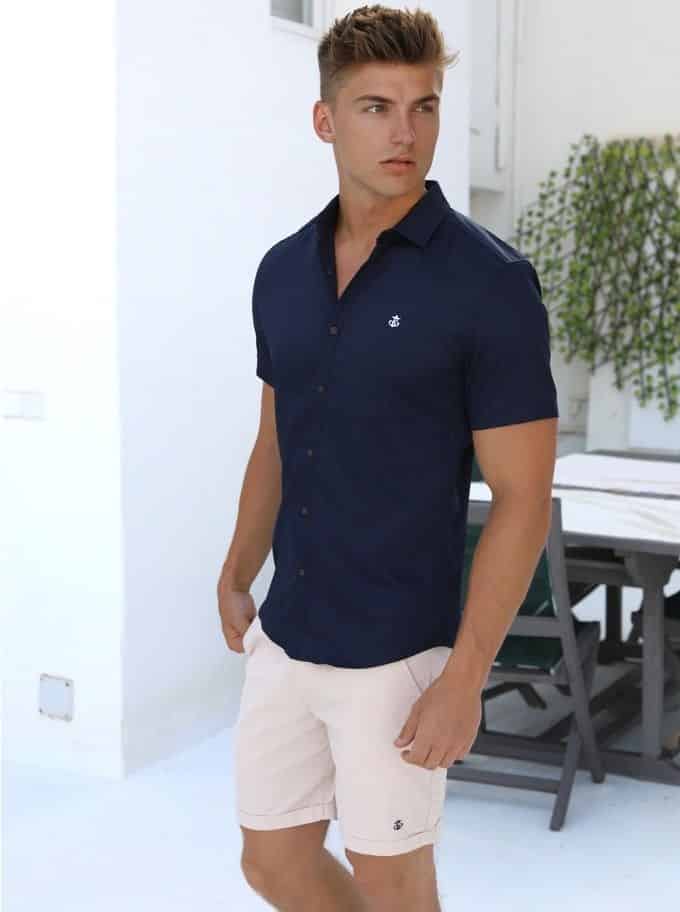 ↓ 13 – Athleisure
Wear your workout clothes to camping. It may seem cliche to some, but we live in modern times, so let them judge. Besides, there's nothing wrong with thisActivewearar is functional enough for you to survive the camping journey. Hoodies, along with lightweight cotton trousers, are essential.
↓ 12 – For Skinny Gents
Quick-dry shirts and breathable bottoms are your best bet. And steer clear of lousy garments as much as possible. Knowing your body measurements is important to know the best fit for you. You can also opt for horizontal stripes to make you appear bigger, even just for an illusion.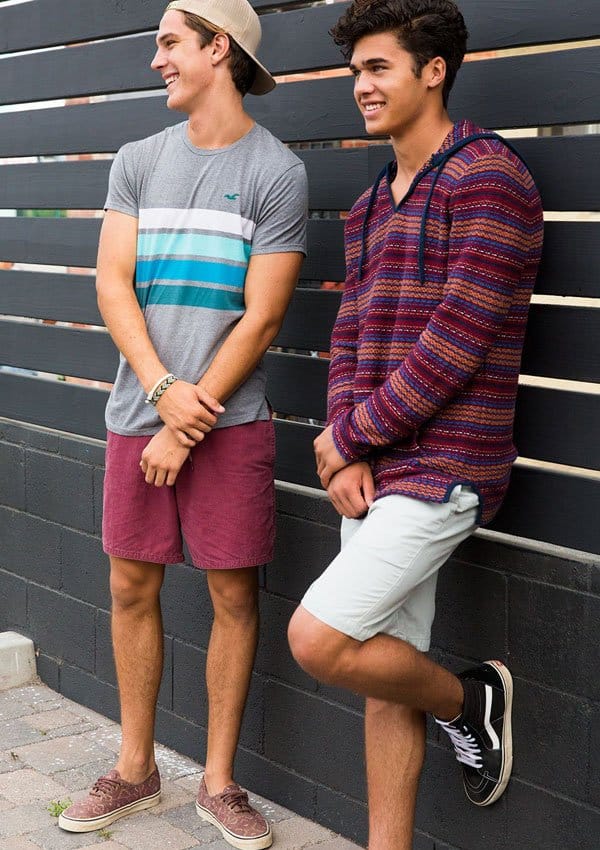 ↓ 11 – Jacket
Fioff, choose lightweight jack, notnthosenes made of heavy fabrics. Remember that nothing should get in the way of your enjoyment while camping. You must also consider if it dries quickly. Often, the fabric becomes heavier when wet, and you don't want that.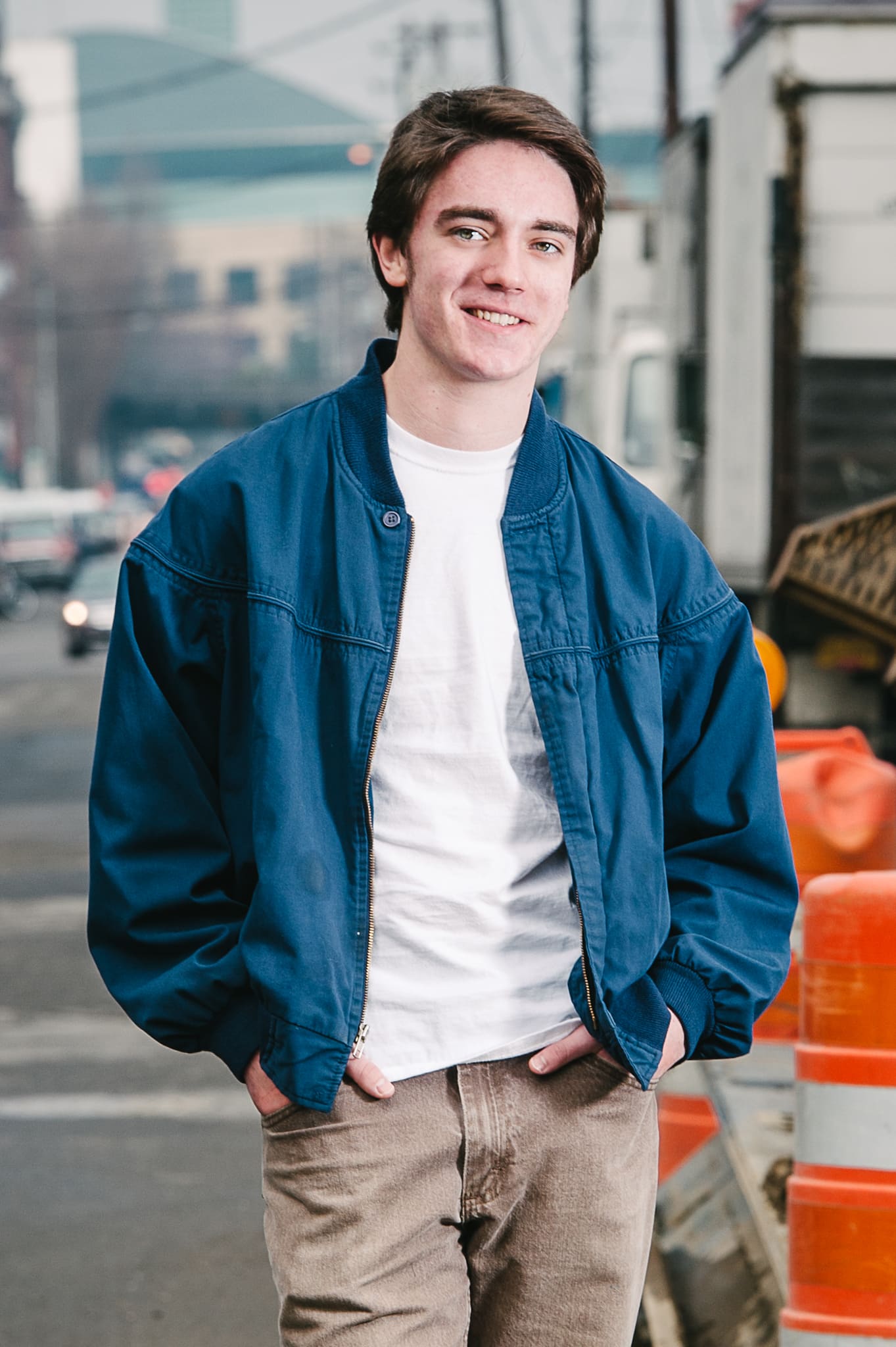 via
↓ 10 – Camping Outfits For Fall
Sherpa jackets are known for having distinct collars. It's one of my favorites because of its chic appearance. Wear one over a white tee with dark jeans and white sneakers. This outfit is ideal for winter and fall, but you can also rock it in summer with fewer layers.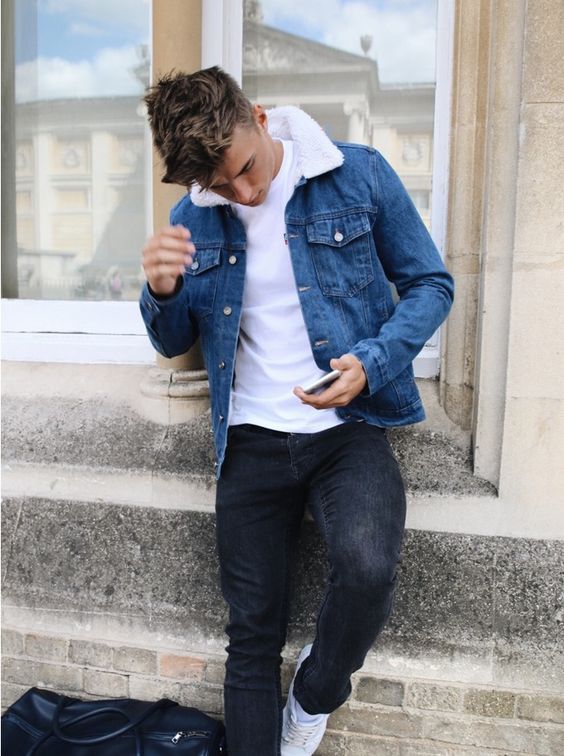 ↓ 9 – Trucker Jacket
Wear a trucker jacket as the top layer, red flannel as the mid-layer, and a knitted sweater as the inner layer. This team-up is ideal for the winter and fall seasons. Add a beanie to the party, and now you're ready to conquer the campsite. I love this outfit because of the color coordination.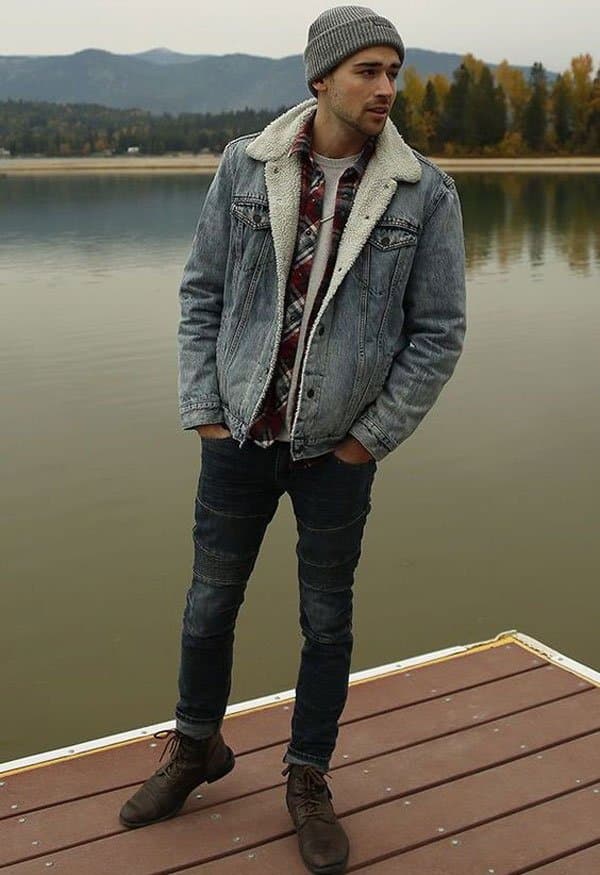 ↓ 8 – The Boy Next Door
Grab that leather jacket and wear to camping. A brown one would be nice; throw it over a green undershirt, like a knitted shirt. Both tops are earthy tones which make them perfect together. Wear them with blue jeans and finish with bang — brown Chukka boots!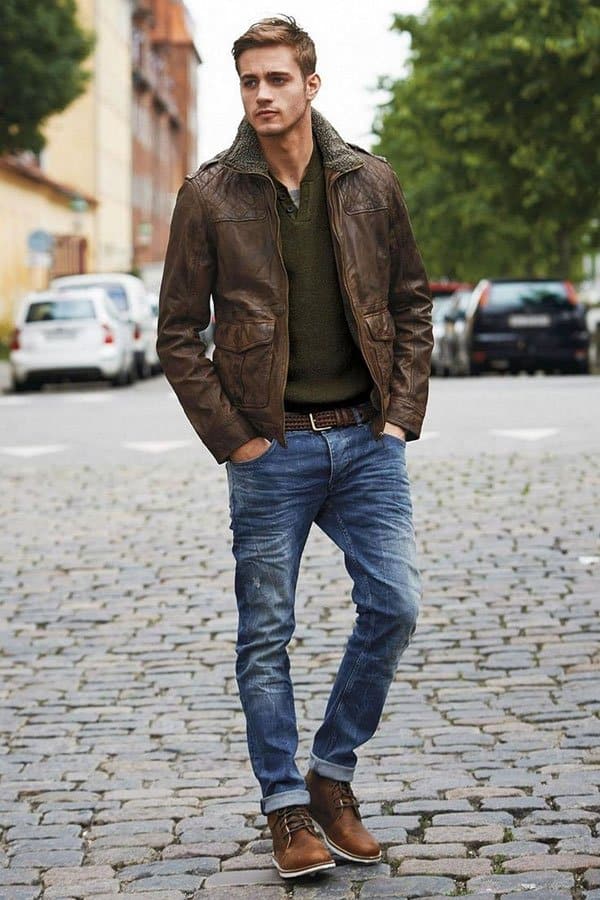 ↓ 7 – Casual
Casual outfit as it is! Wear a white tee with khaki cargo shorts. The shorts' pockets make them functional – convenient for storing handy tools and essentials. They may be baggy, but they are ideal for such activity because of the construction.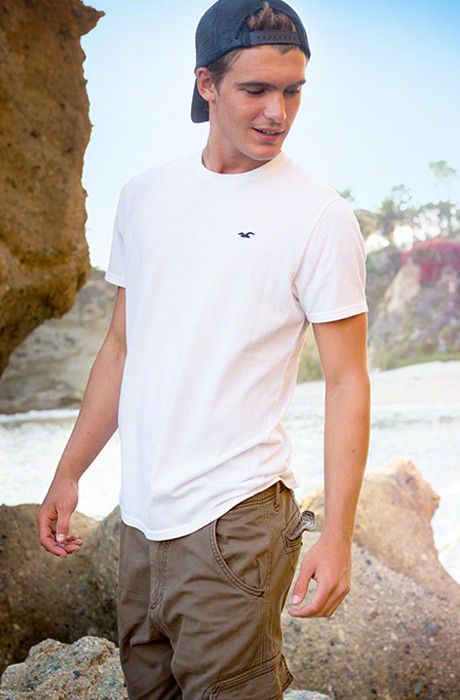 ↓ 6 – Polka Dots
On summer days when you can't bear the heat, opting for short-sleeved shirts is better. You can add some playfulness through prints and patterns. For one, polka dots are amazing as they can make a boring outfit an interesting one. Here's a collection of the Best Polka Dot Outfits For Men.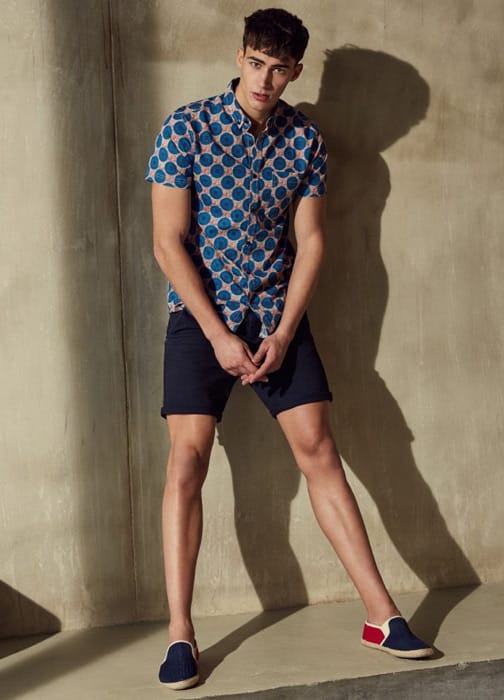 ↓ 5 – Travel Outfit
Sort your travel wardrobe, and get what you call "camping-appropriate." Remember, they should be comfortable, durable, and functional. For instance, a denim jacket that you only wear on road trips. Try to wear it over something bright, like a red shirt.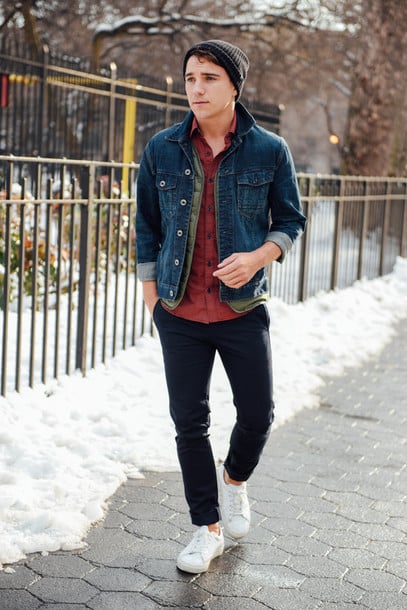 ↓ 4 – Hoodie
A hooded sweatshirt or a hoodie is just one of those camping essentials. If you wear it camping, you might as well do it right. In any event, accessories would help. A cool pair of sunglasses will do. You don't need those fancy bling and jewelry – save them for the gala.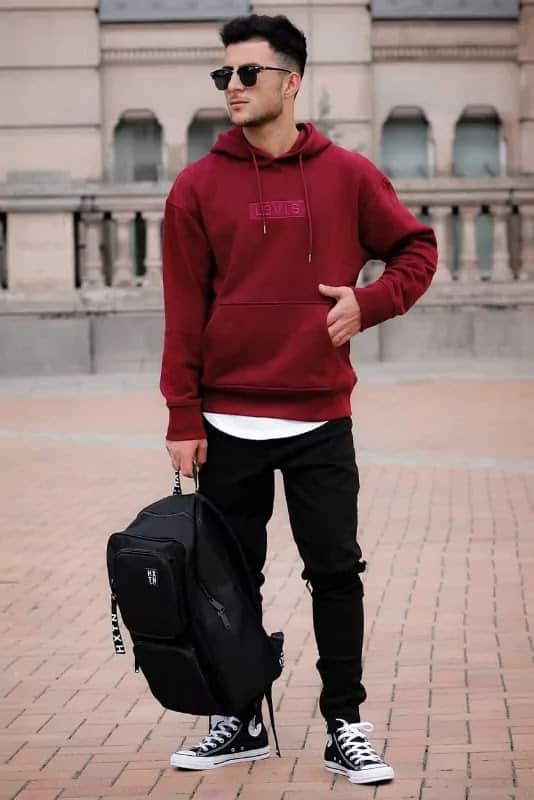 ↓ 3 – Flannel Shirts
A flannel is a familiar friend you can lean on when camping, as it is associated with the logger style. Woodchoppers and farmers are tied to this style. The shirt's aesthetic look makes it ideal for various occasions. Camping, in particular, is the perfect setting to see men in flannel shirts.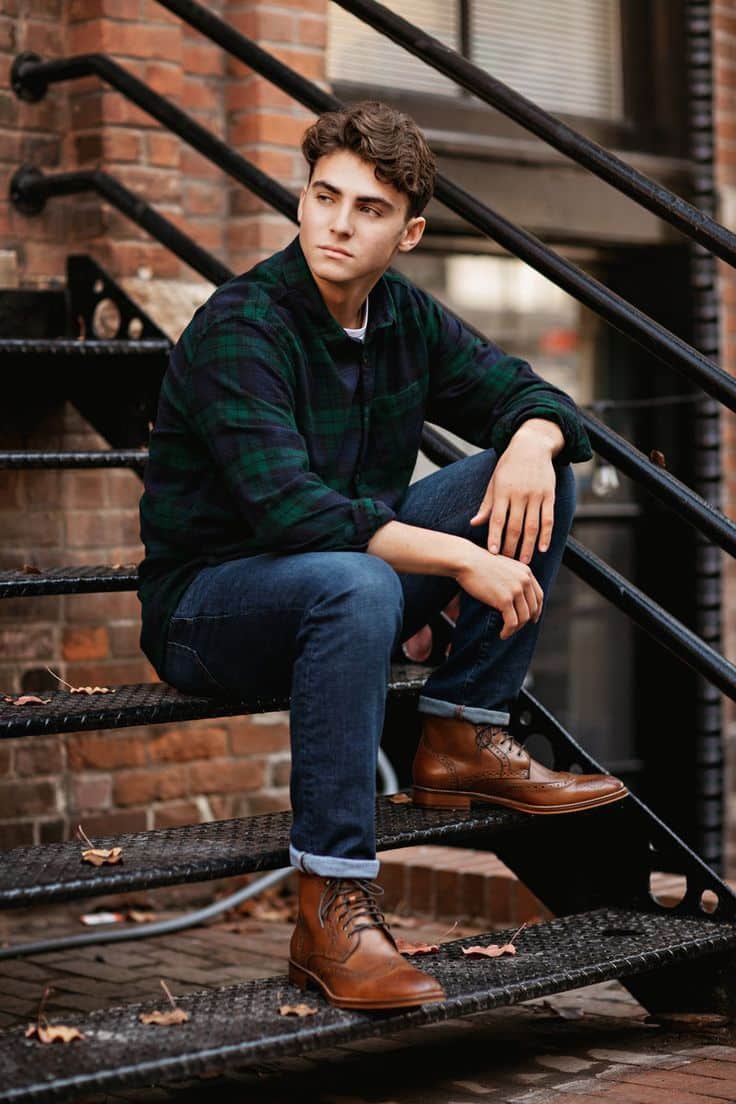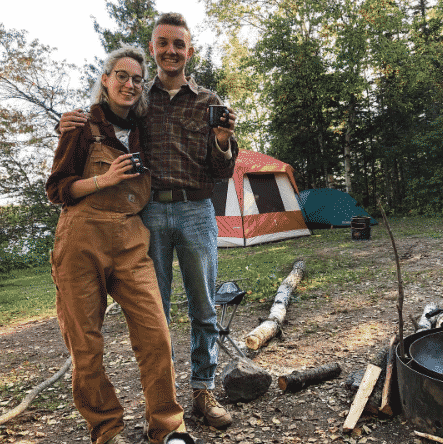 ↓ 2 – Layered
One good thing about layering is that you can remove something once it gets warm. Be more careful when mixing and matching your clothes. Try not to develop a color combo that will make others scratch their heads. Consult the fashion color cheat sheet if you must.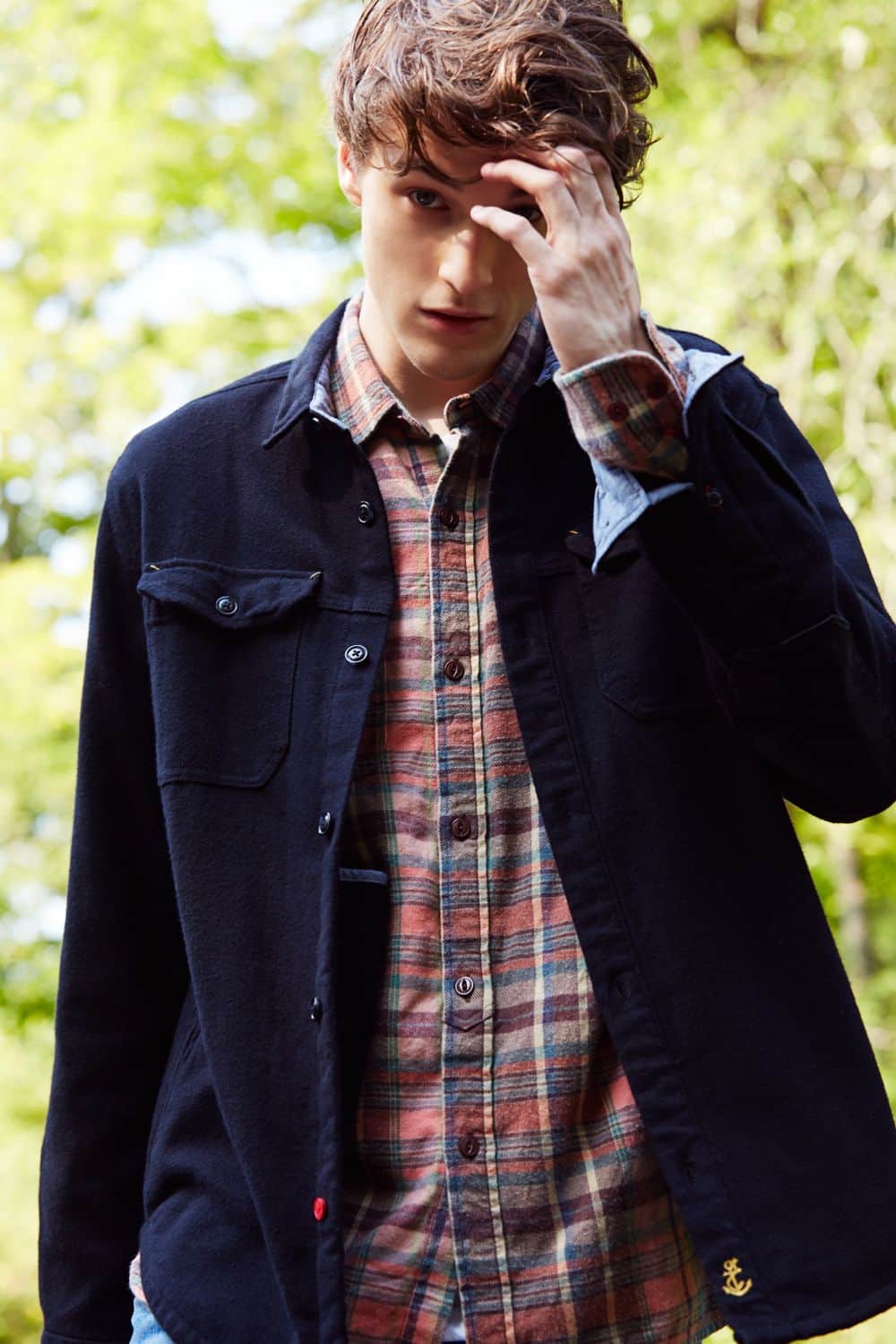 ↓ 1 – Gilet
Wear a navy blue gilet over a cream hoodie. Who wouldn't love this color match? They make a great combo!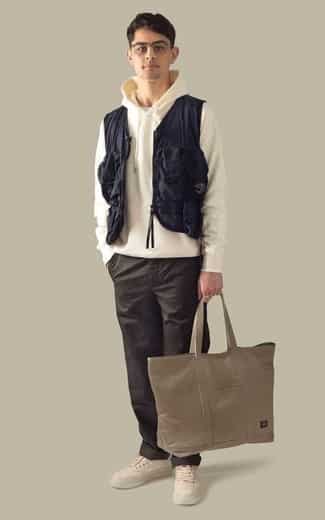 Frequently Asked Questions
Q. Can teens wear contact lenses when camping?
A. Yes. You can wear them as long as you'll maintain proper lens hygiene. That means you have to bring your essentials with you.
Q. What footwear is best for a dune?
A. Mid-height boots. They are ideal for dune hiking as they cover your ankles. They are lighter than your usual bootOpt for boots or tennis shoes if If you're walking on the dunes on a summer afternoes. In warmer months, sand surface temperatures can reach 150° F. That said, you might want to hike early in the morning or evening.
Q. Can teens wear leggings when hiking?
A. Yes. Anything spandex, like yoga pants, cotton leggings, and running tights, are perfect for hiking. They are comfortable enough as they fit just right.
Q. What shoes are perfect for camping?
A. Hiking boots are equipped for any environment. It fits to opt for these when going camping.