Bandana Outfits For Men. Let's talk about men's accessories. You've been in the fashion game long enough to know that accessories can make or break your outfit. It can either up your confidence or make people question your style. It's hard to find the right accessory – the one that can go with any outfit. Lucky for us, bandanas do exist!
A bandana, also known as a "kerchief," is a triangular or square piece of cloth. The term was derived from Hindi, meaning "to tie. Men traditionally used bandanas to protect the face by keeping the dust and sweat at bay. They wear them around the neck or head for protective or ornamental purposes. Today, men and women style them in a myriad of ways – around the wrist, and from the waist, and they even use them as a pocket square for special situations.
How to Wear Bandanas?
Classic bandanas are colored and usually have a white paisley print, but many other options are available today. A bandana instantly becomes a fashion-forward accessory regardless of how you wear it. They allow men to accessorize in brand new ways to showcase their unique personality, which is more than what a watch or necklace can do.
History. Bandanas were different back then. In the 90s, there was a specific meaning to wear a red bandana. But today, we're in a generation where men can express themselves in any way. They can define their personal style without limitations – without a thought if they fit in a certain category of fashion.
A bandana entails the opportunity and freedom for men to express their individuality. From John Wayne to the Beatles, wearing a bandana is a fashion trend that won't die anytime soon. Stylish actors and musicians like Jay-Z and Chris Brown have brought the bandana back into the limelight.
This simple yet versatile piece can be styled in various ways and is ideal for spicing things up. It might be a simple piece of cloth, but the bandana has had a significant impact on American culture. Apart from bikers and pirates, bandanas can also suit any guy. They can be suitable for all seasons and can blend in well with a variety of outfits.
Styling Tips
Colour Choice. Regardless of how you wear it, be picky with your bandana's color. Great options are red, white and black. And neutral shades like cream, grey, or black can help tone down a more colourful

outfit.

Patterns and Prints. Go for a print that says something about your style. Bandanas have come a long way since it was just a paisley-printed cotton classic. Cool geometric designs can give a graphic twist to your simplest outfits.
Fabric. If you just want to experiment with your style, an affordable cotton bandana would do. And if you're willing to spend, get a good quality silk bandana that you can use for years, probably something that can also be a pocket square. A silky texture also accentuates your ordinary suit to make it stand out.
For Starters. Wear your bandana as a scarf if unsure that you'll look good with it around your neck or head.
What To Avoid
First off, be aware that wearing a bandana isn't always appropriate for every occasion. For instance, if you're attending a job interview or a wedding, leave it at home. And don't wear a bandana around your head when going to a funeral, work meeting, etc.

Don't wear a bandana around your wrist when wearing a smart outfit like a suit. It would be awkward otherwise, and you don't want to be a laughingstock because of that simple conundrum.

Don't use a bulky cotton bandana pocket square. It would bulge in your jacket pocket. Instead, opt for a satin or silk fabric. And make sure it's ironed beforehand.

Don't iron your bandana when wearing it around your wrist. You might be surprised, but the reason is that it's meant to be messy as it is.
↓ 29 – Flashy Bandana
If you think your outfit is too plain and boring, try to make it up through your scarf. Choose a bandana with a funky color. However, this approach may not work for minimalist fashion lovers.
↓ 28 – Bandana Clothes
Since you want to don a bandana, you might as well get on with it. And nothing beats bandana-inspired clothes.
Bandana-printed clothes don't always come in a single color. Some are available in a mixture of dark, muted, and bright hues. That said, be wary in choosing the design you want. You don't want to look like a rainbow, so don't get something that would be a sight for an eyesore. If unsure, it's better to stick with minimal and monochrome styles.
↓ 27 – Bandana As Face Mask
You may look like a wild west cowboy here, and there's nothing wrong about that. Instead of buying a bunch of printed generic face masks, opt for this versatile, budget-friendly alternative. To use a bandana as a face mask, tie it behind your neck to cover your mouth and nose. But remember to wear only the bandana as a face covering over an actual face mask.
Check out more combinations on how to wear white shirts for men.
↓ 26 – Wrist Wrapup
This one is best for sharp casual looks. Wear a bandana around your wrist projects to don an instant rockstar vibe. This style works best with darker bandanas and stunning prints. This wouldn't need much time as you can wear it a little messy. Don't be bothered if it's perfectly folded and tied.
↓ 25 – With A Striped Shirt
Instead of making it a flat fold, twist the scarf to create a swirl. Then hide the back or tie it at the front.
↓ 24 – Coachella Outfit
Starting with the flat square bandana, fold into a triangle. Then create a neck scarf by tying it around your neck with the triangle, either at the front or back – regardless.
↓ 23 – Bandana For Travels
Printed bandanas are ideal for road trips and travels. Then again, the color should blend in well with your overall outfit.
Check out a guide on business casual attires for men.
↓ 22 – Summer Outfit
A helpful fashion tip: match the color of your bandana to your pants. The two don't have to share the same shade; similar shades would do.
Read more on how men pair their outfits with vans.
↓ 21 – Around The Head
For a bolder look, you can tie your bandana around your head. This look is the favorite of rock-and-roll musicians. It's also ideal for guys with long locks. To style it, lay your bandana flat. Next, fold it lengthwise several times until it becomes a long rectangle. Then tuck in any loose corners before you tie it around your head.
↓ 20 – With White Tee
A patterned bandana looks best when paired with a neutral-colored outfit. For instance, a simple tee teamed up with jeans or chinos is a great option. You can add a blazer to the party if you want to opt for a smart-casual look.
↓ 19 – With Crewneck Jumper
Fold the bandana to make a long rectangle and wrap it around your neck, hiding the ends underneath your shirt.
↓ 18 – Around The Neck
Wearing the bandana around the neck is one of the easiest and most practical ways. Opt for a small bandana to keep things subtle. To style the banana, twist it, place it around your neck, then tie a knot at the front. Or knot it at the back of your neck with a corner left loose at the front. And if your bandana is large enough, use it as a scarf.
↓ 17 – With A Denim Jacket
Fold the square cloth into a triangle, and then fold up from the long end until you have a long piece. Then, position it on your forehead and tie it at the back.
↓ 16 – With A Bomber Jacket
Fold the square into a triangle. Fold up from its end until you have a long piece. Place it around your neck like a scarf and then tie it at the back. You can opt for a front knot by turning the knot to the front for a timeless look.
↓ 15 – With A Leather Jacket
↓ 14 – With A Blazer
↓ 13 – With A Flannel Shirt
↓ 12 -With A Suede Jacket
↓ 11 – With A Shirt
↓ 10 – With A Polo Shirt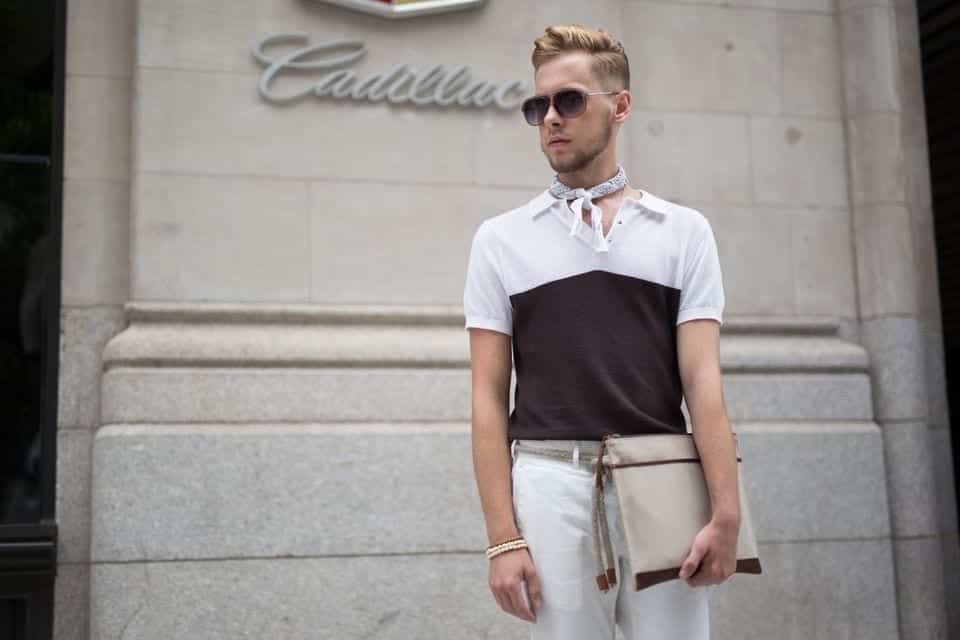 ↓ 9 – With Jeans
↓ 8 – With Shorts
↓ 7 – Activewear With Bandana
You might not be surprised to see this. It's a no-brainer that bandanas are making cameos in the gym and the track field. 
↓ 6 – With A Striped Tee
↓ 5 – With Pinstripe Suit
Do not look underdressed, so choose a smart bandana, and wear it neatly tied around your neck or folded as a pocket square. Also, if your bandana is a bright color, keep the rest of your outfit low-key for a balanced and fashion-forward look.
↓ 4 – For Festivals
A bandana would make a worthy companion when attending a festival, hanging out with friends this weekend, or throwing a party, And if it ever gets chilly, wear it around your neck and knot it at the back to keep you warm.
↓ 3 – For Parties
Bandanas have been a party outfit staple since its inception.
↓ 2 – With A Floral Shirt
↓ 1- For Older Men
Bandanas of the right color choice can make older men look a bit younger, even just for an illusion. Steer clear of flashy and exaggerated designs as they wouldn't look good in mature men. Instead, limit your option to minimal colors like black, white, and grey.
The bandana's appeal is different. Fashion enthusiasts have embraced its existence, giving it greater significance than any other accessories out there.
When it comes to men's bandanas, it's hard to beat a true classic. Whether you're using them as face masks, an outfit accessory, or to wipe away sweat (I hope not), every man needs them in their closets.
Frequently Asked Questions
Q. What Instagram accounts should I follow?
A. If you're looking for some inspiration for bow ties, bandanas, or ties, you might want to check these accounts on IG:
Bandits Bandanas. These guys are based in Joshua Tree, California. They make artist-designed bandanas made of 100% cotton, with 10% of proceeds going to their chosen charities.

Beboldmen. They have loads of various accessories you can choose from, including pure silk bandanas with some really cool prints.
Q.

Where can I get cheap but good bandanas?
A. Gucci bandana costs around $500. You don't need that, but I'm not stopping you from getting one. You don't have to spend a lot of money on a piece of cloth. That said, consider looking for affordable yet good quality bandanas:
Levi's Paisley Cowboy Bandanas. ($16.37 per 6-pack on

Amazon

)

Urban Outfitters Tie-Dye Paisley. ($8 on Amazon)

Old Navy Tie-Dye. ($3

here

)

L&M Paisley Cotton Bandanas ($11.88 per 12-pack on

Amazon

)

Reclaimed Vintage Bandana ($8.45 on ASOS)

OHSAY USA Camouflage Bandana ($13.72 on Amazon)

River Island Black Paisley

($12)

Topman Navy Print

($12.50)
Q.

Do bandanas look good for men with long hair?
A. Yes. And although this is a rockstar look, your hair shouldn't be sticking out everywhere. To style, flatten your hair out underneath your bandana. In festivals, a bandana will help keep your hair out of your face, especially in windy weather. When wearing a bandana in your hair, tie it around your head.
Q.

Can I use a bandana as a pocket square?
A. Yes. If you are in for smart-casual occasions, use a bandana as your pocket square. Fold it and place it in your jacket or coat pocket for a quick and easy chic vibe. Patterns and bright hues will stand out, while ingenious and straightforward designs will blend in just fine. It's better if the bandana is thick enough so a small portion of it would be visible. Also, it should be small enough to avoid too much bulkiness to your outfit. It's essential to iron your bandana before using it as a pocket square to get rid of awkward little creases.
Q.

Can a bandana look good on the waist?
A. Yes. Wearing it from your waist makes an addition to the party, especially for casual outfits. Wear it low from your waist to gently accent your outfit by giving it a pop of color without going overboard. To style, it, tuck in the bandana into a pocket, your belt, or waistband. You can also tie it to a belt loop.
John Vincent studied Communication Arts in the Philippines.
Growing up, he's always had an eye for aesthetics. He enjoys writing a lot. Books, TV series, and movies are a big part of his life. His all-time favorites are Harry Potter, Game of Thrones, and Marvel films.
He believes that fashion is a pure form of art. You express yourself through your personal style – it's something you can't replicate.