Men's peacoat outfits – With the cool winter breeze and snow kicking in, your hunt for the perfect winter wardrobe and how to wear it still remains. But do not worry; we are here to get that sorted.
We have all the do's and don'ts for the fashion scene this season, so let's get started! If there is one piece of clothing you buy this winter, make it peacoat. With its absolutely classic look and practicality, there is no reason why you should not include it in your closet.
Here's a brief insight into what a peacoat is and how it all began. It dates back to when sailors in the army used this coat as a source of protection from the extremely unpredictable and harsh climate and later it became their uniform. The blue-colored peacoat signified their association with the navy. It is mostly double-breasted (although not always) with big buttons and lapels. The length may vary but it is usually short.
How To Wear A Peacoat For Men
If you were to ask what's the best part about a peacoat, we would say its versatility. The fact that you can turn it around from casual to formal so easily makes it very useful. So whether you need something to slide into on a day of chores or an impressive outfit for business meetings, you're completely covered.  Not only is it super stylish, it will also keep you warm on the coldest of days. Here are a few things you need to keep in mind before wearing one:
Make sure it is not too long, otherwise, that will turn it into an overcoat
The fit can make or break the look, so choose wisely
What you wear inside it is very important to create the overall look. Avoid over-doing it
↓20 – Semi Formal Look
This look is for days when you want to look stylish but not overdone. Pair your favorite sweater with this coat and formal pants. Here are 30 Ideal Ways to Style Khaki Pants.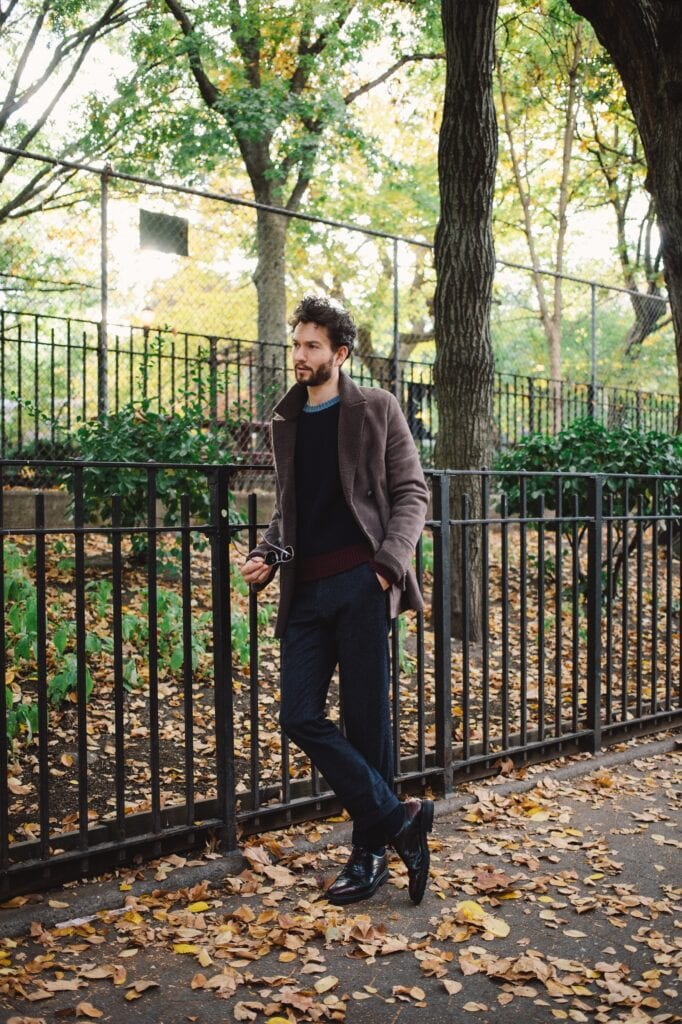 ↓19 – With A Suit
You can top it over a suit for formal meetings and events with the coat unbuttoned.
↓18 – Casual
It gives off a very fresh and young vibe. So guys, get your peacoats out and get going.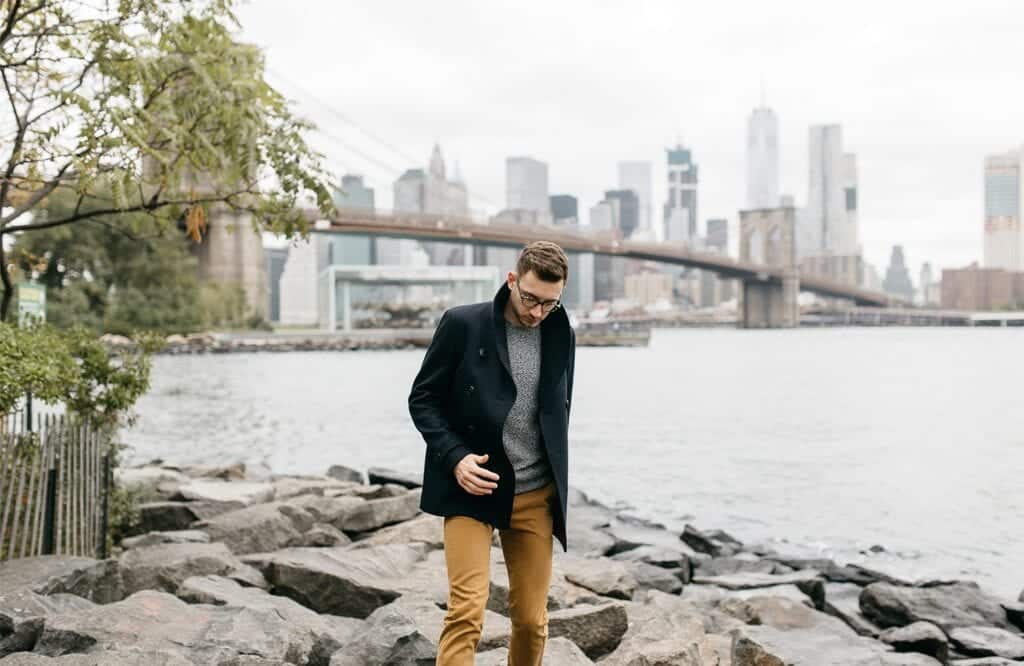 ↓17 – All Blue
Since blue peacoats give off the most classic look, you can create an all blue outfit and experiment with different shades of blue for your shirt and jeans.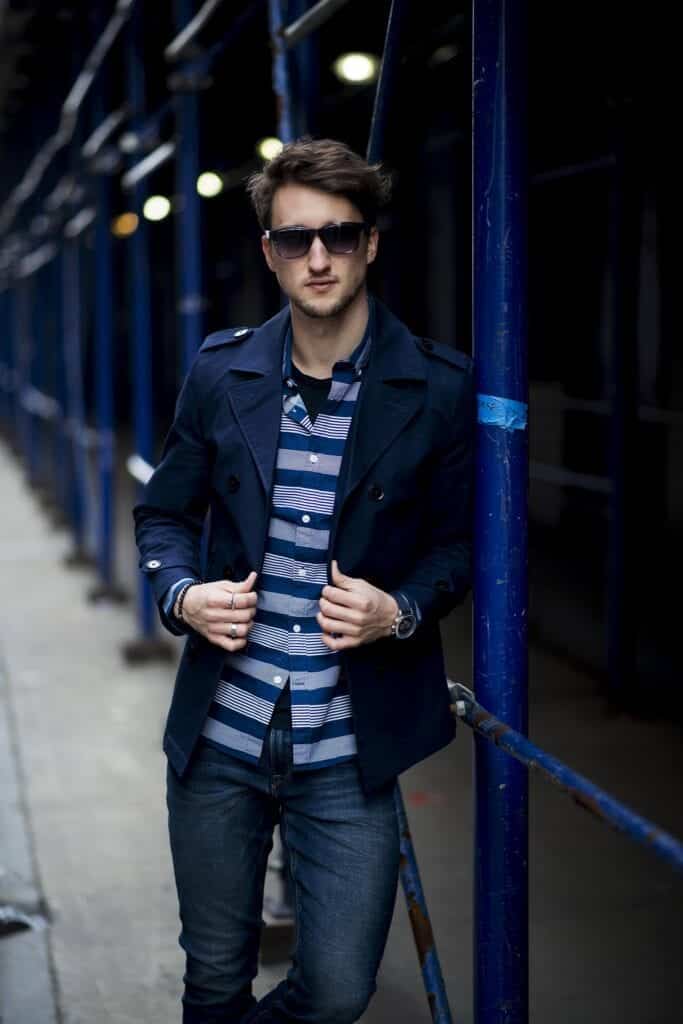 ↓16 – Colored Peacoat
Some may think that colored ones may be hard to pull off and while that is true, it is not impossible. So choose whatever color you want, as long as you have balanced it with the right inner and pants you are good to go. Check out Men Shearling Jacket Outfits.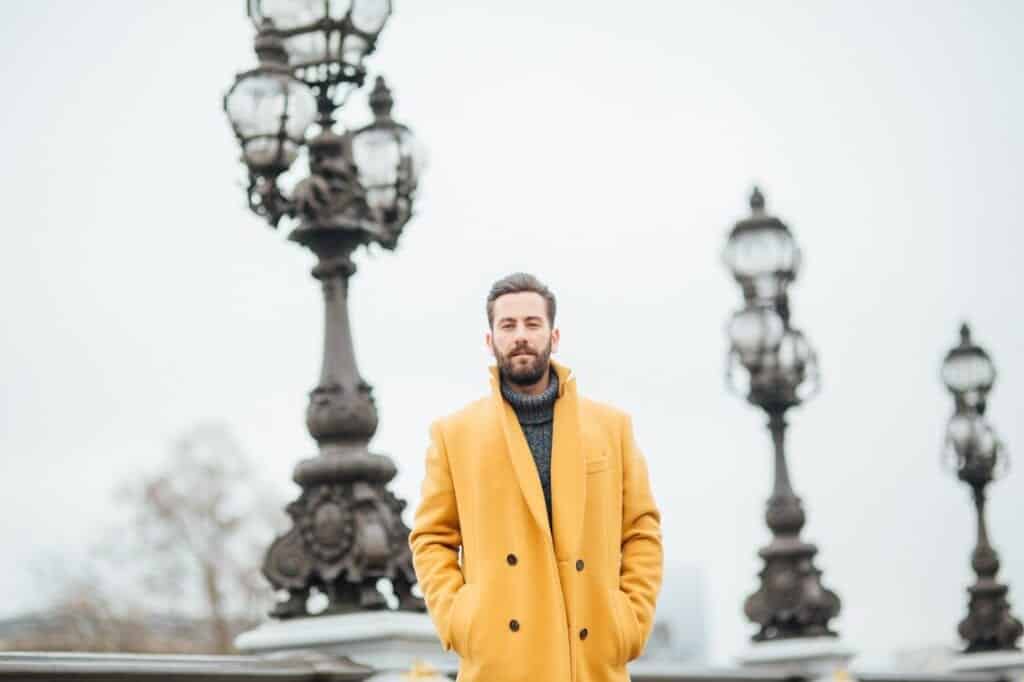 ↓15 – How To Button A Peacoat
You can leave the coat unbuttoned for a casual look but if you want to look smart and sharp, it is best to keep it buttoned except the bottom most button. This will give a nice shape to your outfit.
↓14 – With Striped Shirt
If you are someone who likes funky looks, try going for a bright coat with perhaps a striped inner sweater.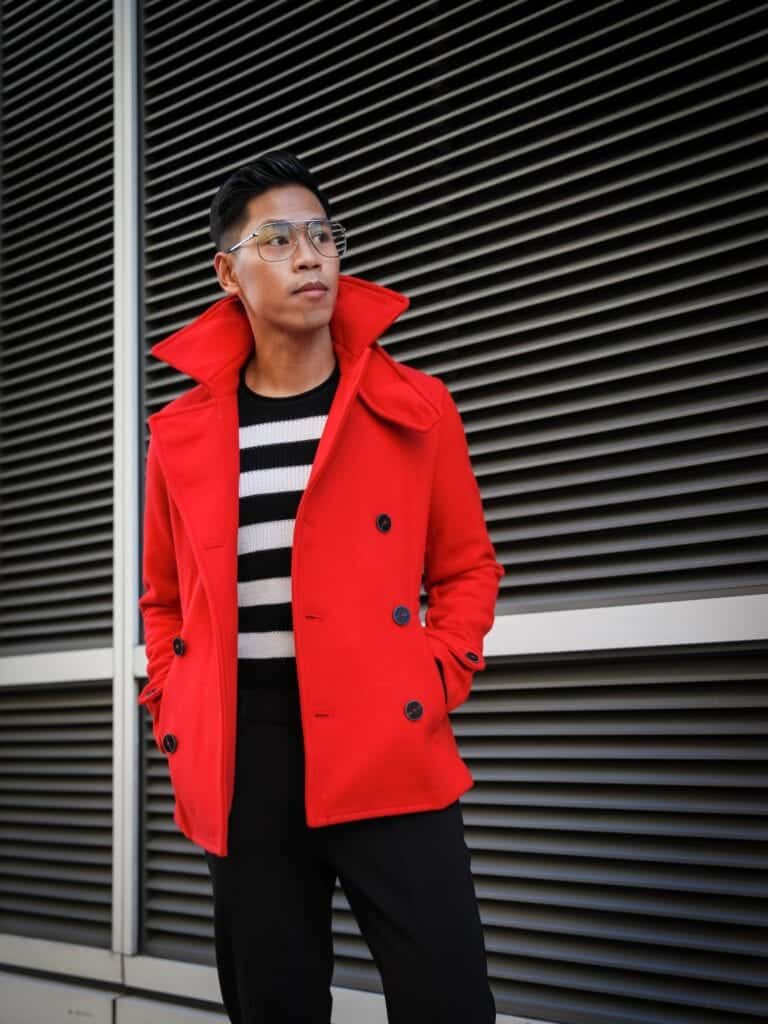 ↓13 – Navy Blue
The first ones introduced were navy in color. So if you want to wear it the old school way, go for a navy coat over a white shirt and black tie.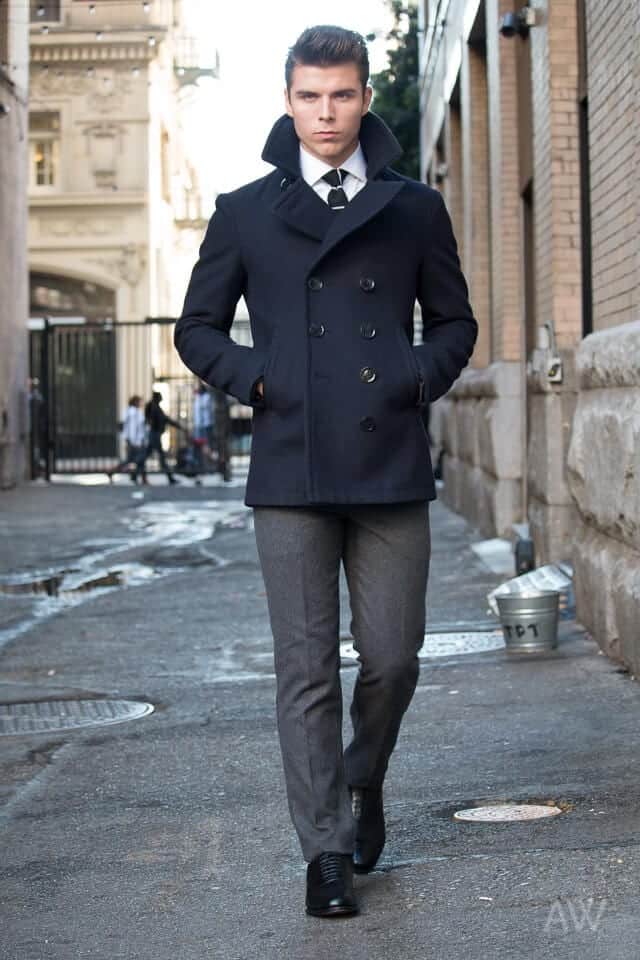 ↓12 – With White Pants
If you want to deviate from the usual looks, you can pair your coat with a white pant and sneakers. Check out Men Outfits with Red Pants.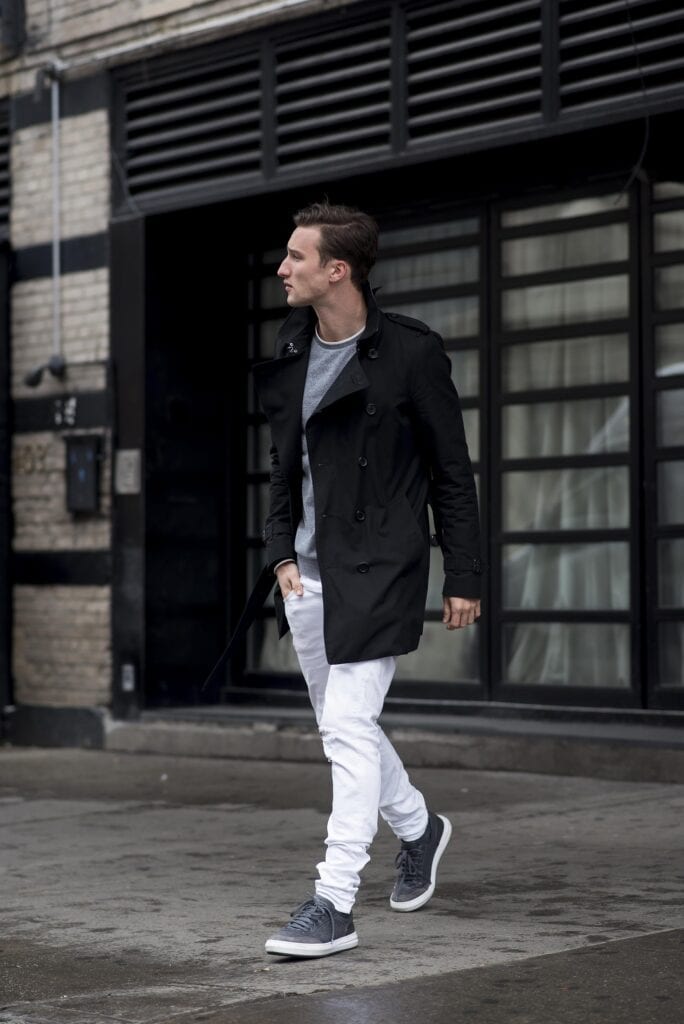 ↓11 – With Jeans
Is there anything you can not wear jeans with? Pair it with your favorite denim jeans for a comfortable and easy look.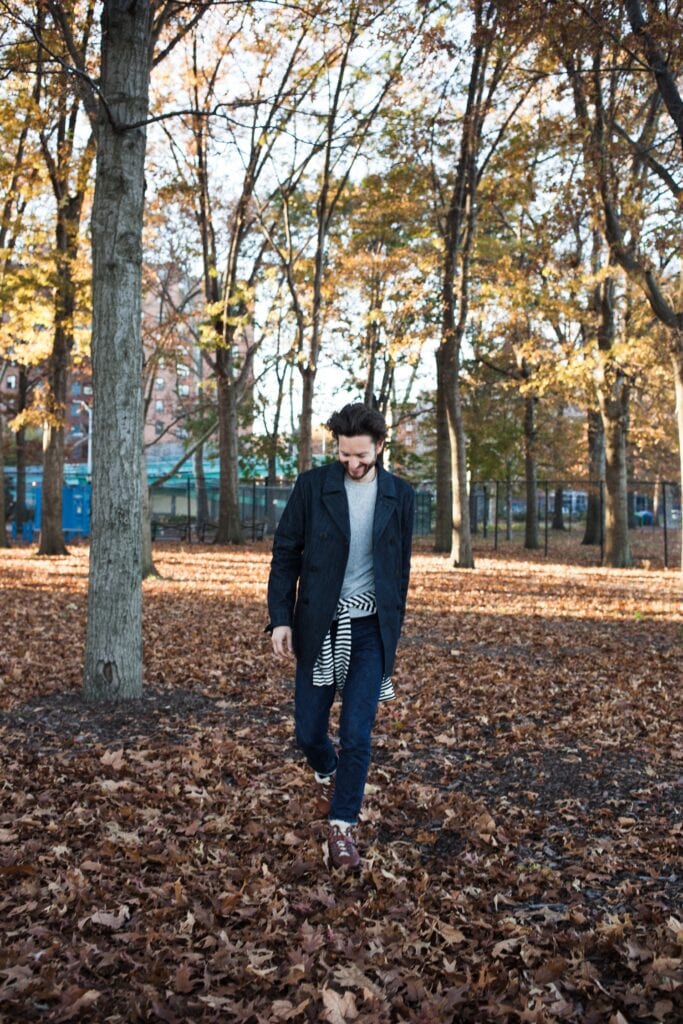 ↓10 – Turtleneck
You can also wear these coats with turtlenecks for a vintage look.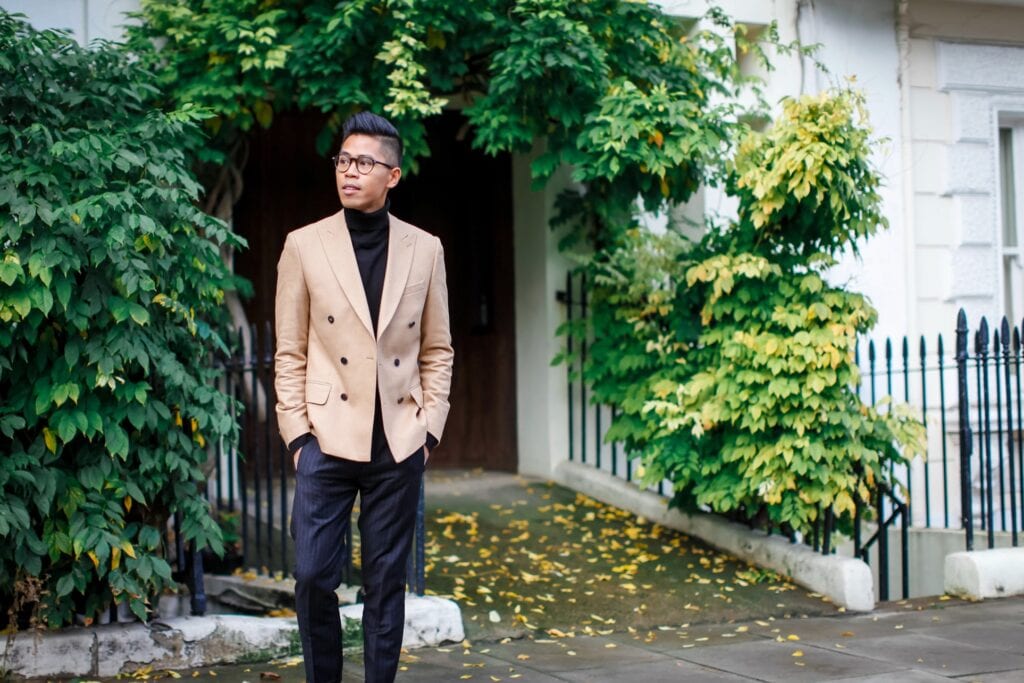 ↓9 – Peacoat Collar Up Or Down?
If you are confused about how to keep your collar, know that collars should be down when you want a decent look however if you want to keep trendy and fashionable then you can keep the collars up.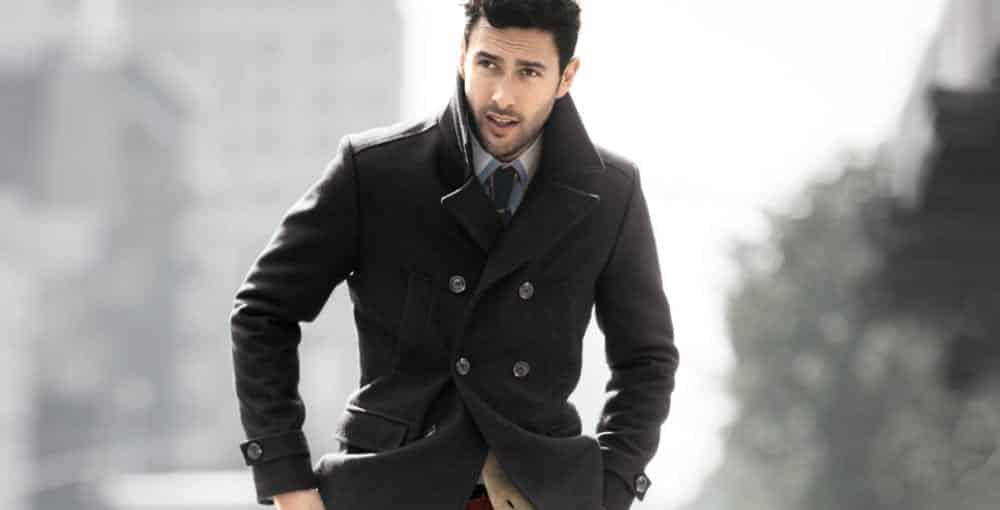 ↓8 – With a Scarf
Tie your best scarf around the neck and button up a cool peacoat to complete your look. Here are 23 Ways to Wear Pastel Outfits for Guys.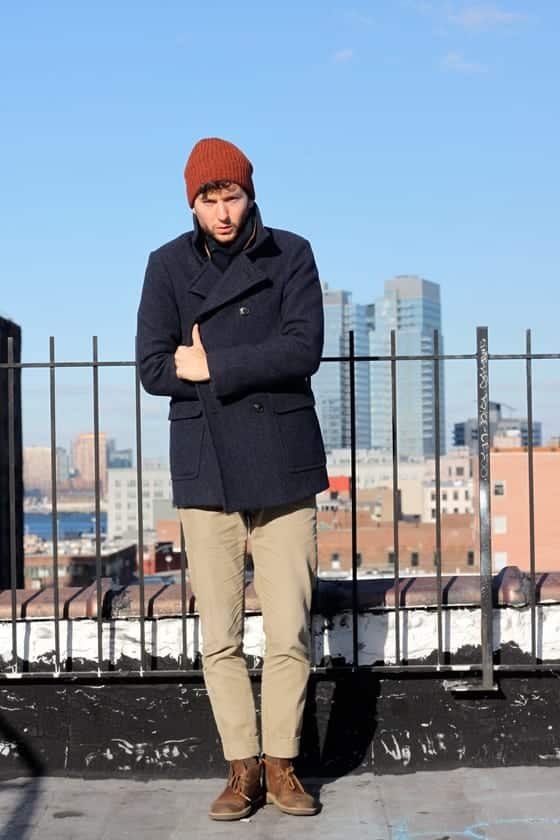 ↓7 – Accessories
You can rock accessories such as sunglasses, caps, hats, beanies and scarves to enhance your overall look.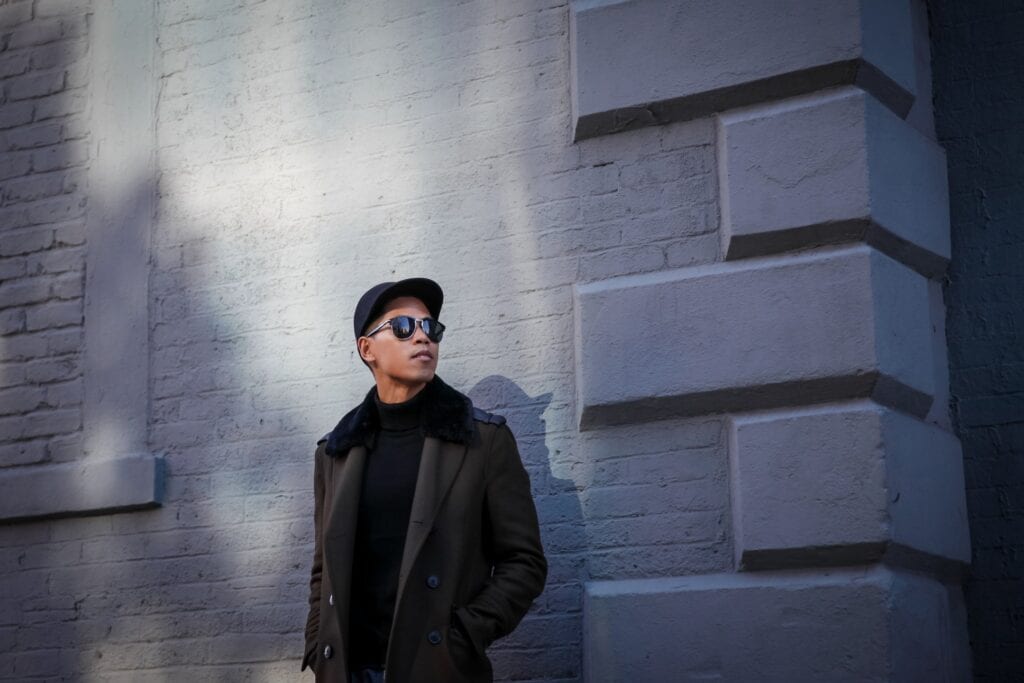 ↓6 – Try Different Textures
You might want to see which texture and material looks best on you. If you are bored of the same old coats then you should definitely try a new texture.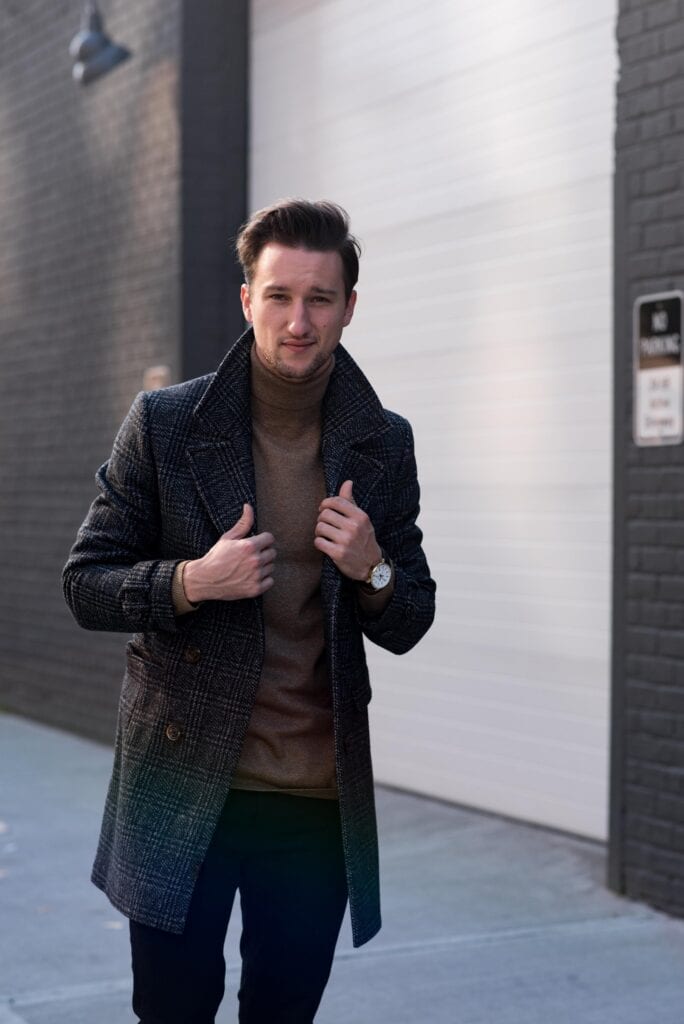 ↓5 – Black Peacoat
You can never go wrong with black. Pair black coat and pants with a white or grey shirt to bring out the contrast in your outfit.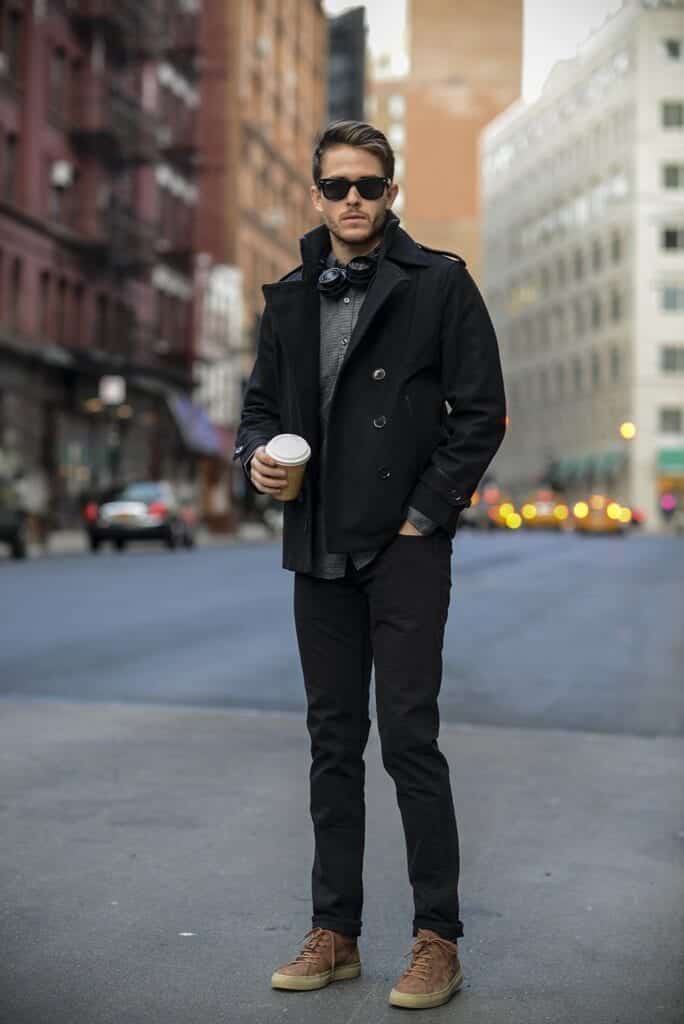 ↓4 – With Beanie
Beanies look super cute in winter. Wear them with a peacoat for evening walks and casual get-togethers. Have a look at 20 Ideas What to Wear for a Road Trip.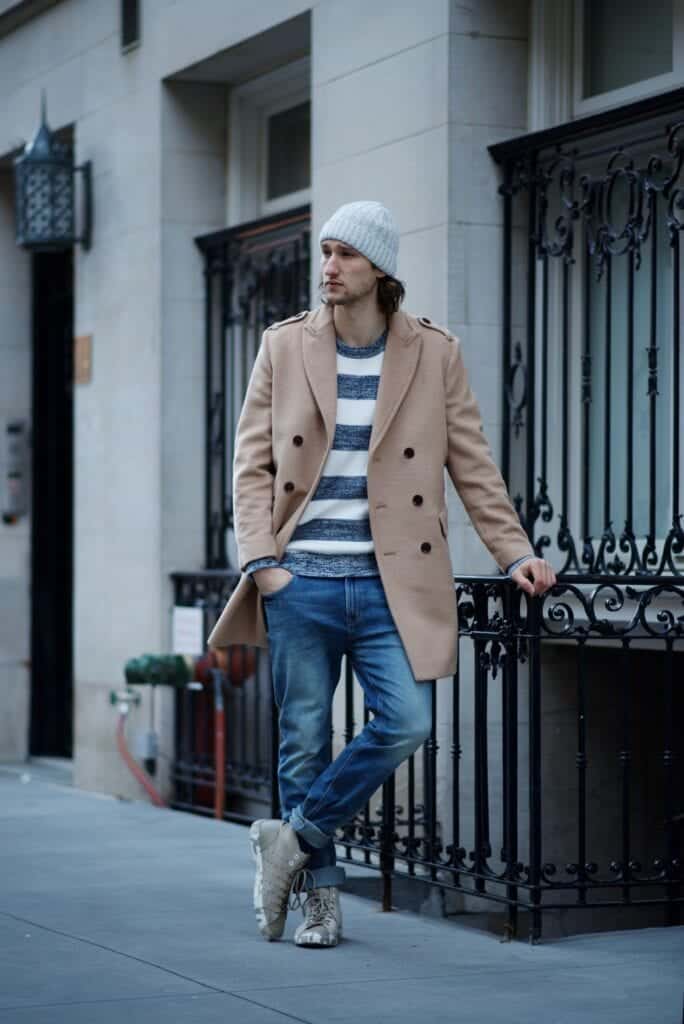 ↓3 – Shoes To Wear With Peacoat
Your shoes will depend on your overall look. If it is casual, sneakers will be your best friends. Otherwise, you can go for boots or loafers.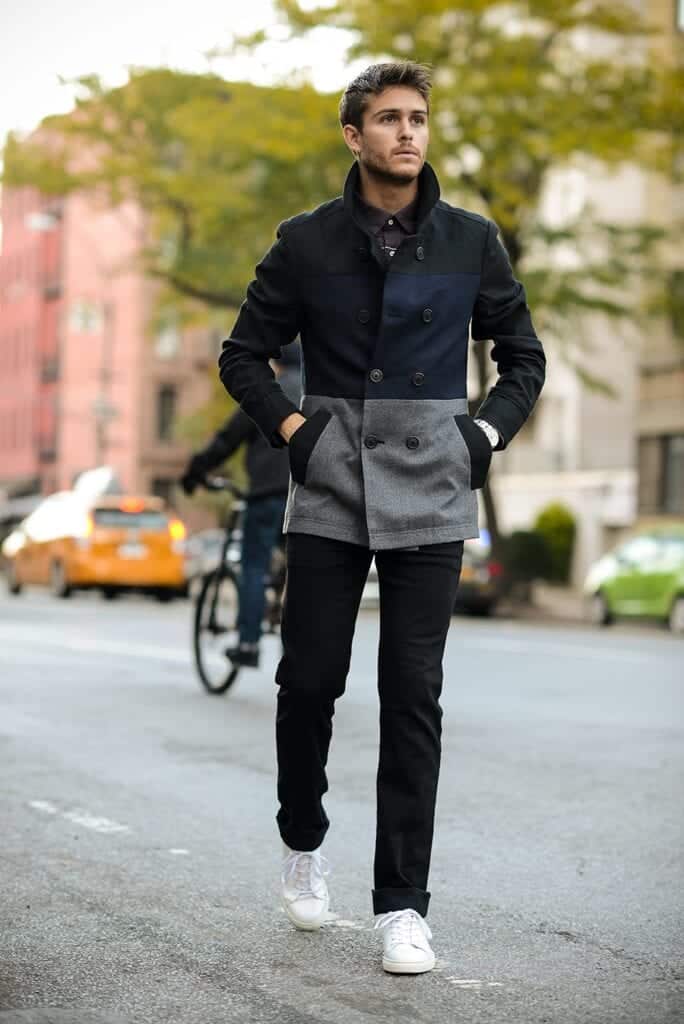 ↓2 – Casual Look
Wear it with a simple white tank or shirt for a laid-back look.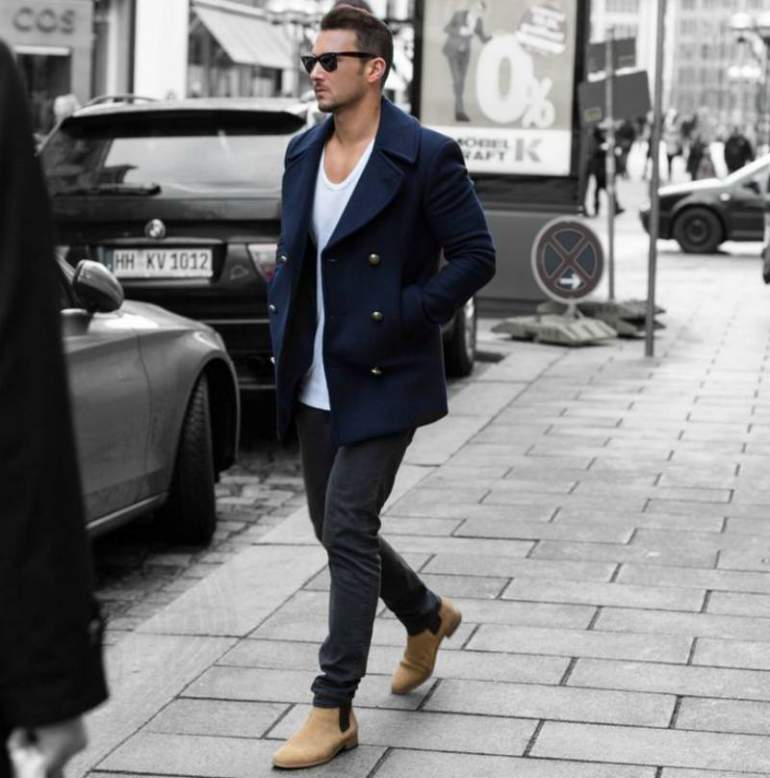 ↓1 – The Classic Look
Keep things minimal with neutral tones to look handsome and classy.