Men Road Trip Outfits – Road trips are the perfect way to relax and explore the world. Whether you are traveling with friends, family, or your significant other, this is going to be the most adventurous ride of all time.
You may forget to decide your outfit for the road trip until the last minute in all the excitement and traveling preparations. Road trip outfits should be comfortable and trendy as well. You can get some amazing Insta-worthy shots on a road trip, and you do not want to miss out on that opportunity.
What to Wear on a Road Trip
While road trips are a lot of fun, they may also get very tiring, especially if you decide to drive your own car. The long hours of sitting tend to exhaust you, which could get a lot worse if you are wearing something you are not comfortable in.
As a result, you end up missing out on all the enjoyment, and the relaxing trip becomes a hassle instead. Sounds dreadful. Well, we are not here to scare you. We are here to save you from that trouble and provide you with all the right information you need to know to decide your outfits.
So, please keep reading to know some of the fantastic road trip outfits we have come up with to save your time and energy and make you look the best!
As the trip gets closer, you will notice everyone traveling with you is wholly indulged in picking and choosing their outfits and accessories. And you need to do the same, so get your vacation mode on! You need to be on your A-game so you can get great pictures and be the center of attention!
But you do not want to get carried away with it and keep in mind that you have to choose something that you are most comfortable in. You do not need anything formal here, so it's time to make use of all your best casual outfits. If you are traveling in the summers, you should keep outfits that are breathable and not suffocating.
If you are going for the trip in winter, you would want to go for something that keeps you warm and does not make you freeze. In springtime, you may want to opt for floral prints to match with the scenic beauty and, in fall, go with darker tones and sweaters.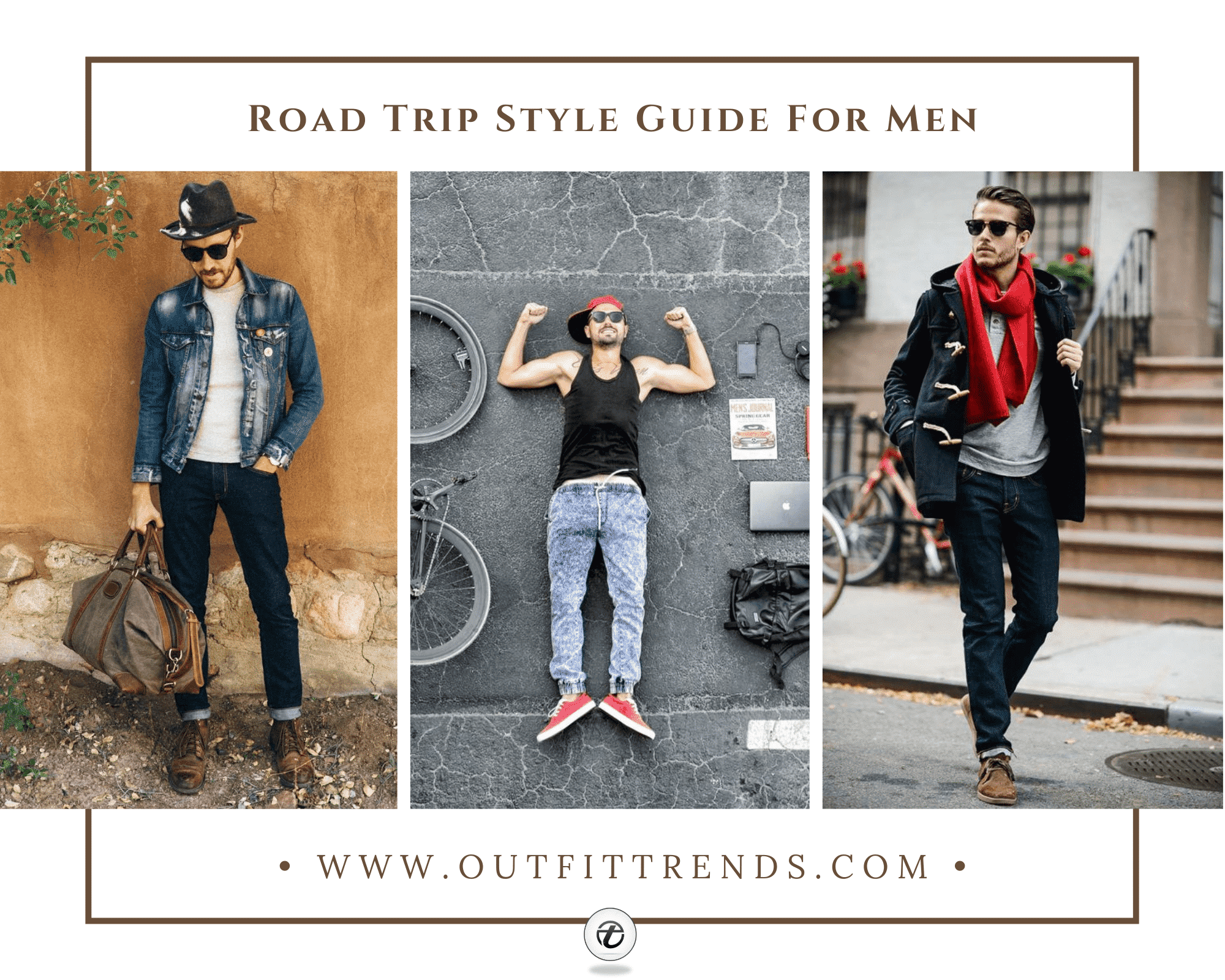 Some do's and don'ts with regards to outfits for your road trip!
Keep in mind that road trips are casual, so do not wear formal clothing as it will make you look out of place and make you feel uncomfortable throughout.

Make sure not to forget some of the other essentials such as cameras, shades, hats, and of course, a good playlist of songs!

Wear comfortable shoes like joggers, trainers, or boat shoes.

Always keep an extra pair of pants and shirts.
Here are some of your options according to the season:
For summers:
Tank tops

Shorts

Half sleeves shirts

Flip flops

Sunglasses

Hats and caps
For winters:
Hoodies

Jackets and coats

Denim Jeans

Sneakers and Converse shoes

Beanie

Sunglasses
For fall:
A light jacket

Floral button-down shirt

White trainers

Hair Bands
We have rounded up a list of 28 outfits that you can wear for a road trip for more tips and ideas. Take a look at these outfits and choose one that suits you best!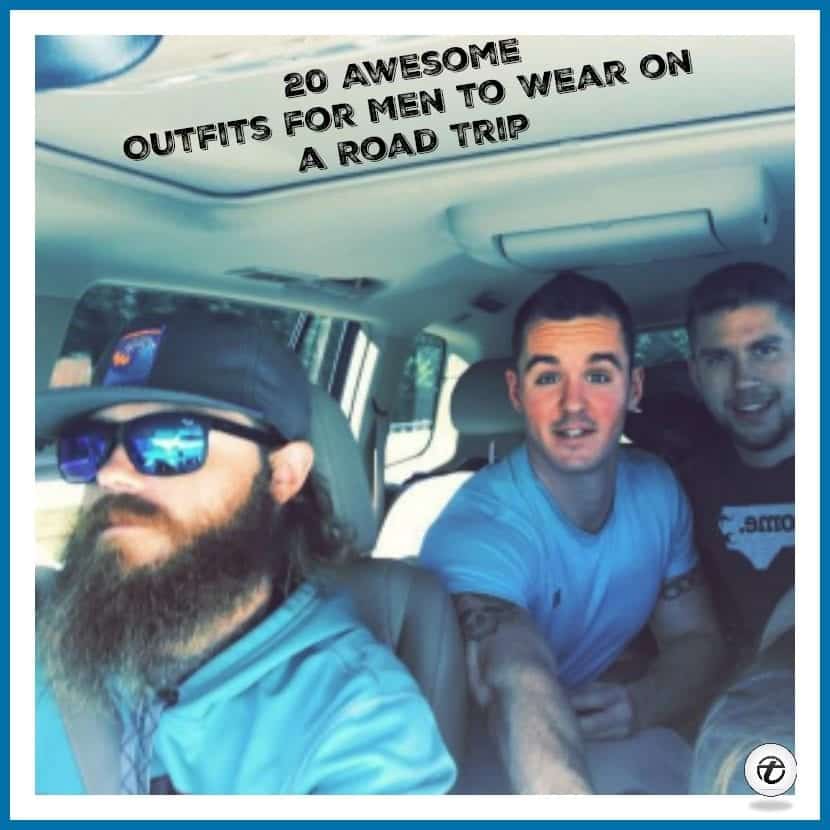 ↓ 29 – Men's Travel Clothes for Europe
If you plan a road trip in Europe, pack basic and neutral-colored pants, minimalistic tees, sturdy shoes, and dress jackets.

↓ 28 – Outfits with Bags
A backpack gives a very subtle but amazing look to your outfit. A bag with a good tee shirt can help you achieve the perfect look and will help you keep all your stuff safe. They complete your outfit while giving you a good summer look.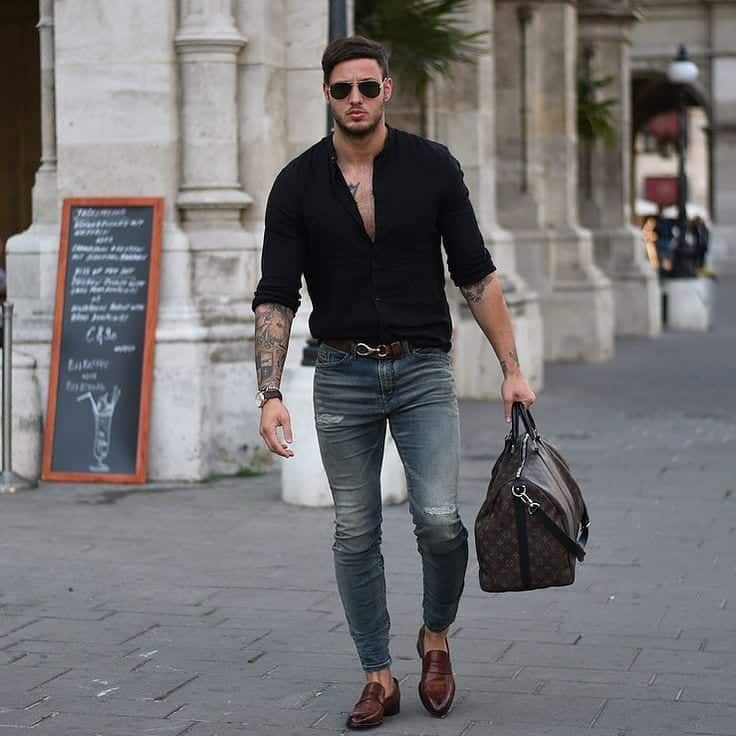 ↓ 27 – Wear a Wrist Watch
A wristwatch is one of those accessories that just fit into any outfit. They make a complete outfit, perfect. They make you look mature and smart and are considered to be a symbol of a gentleman.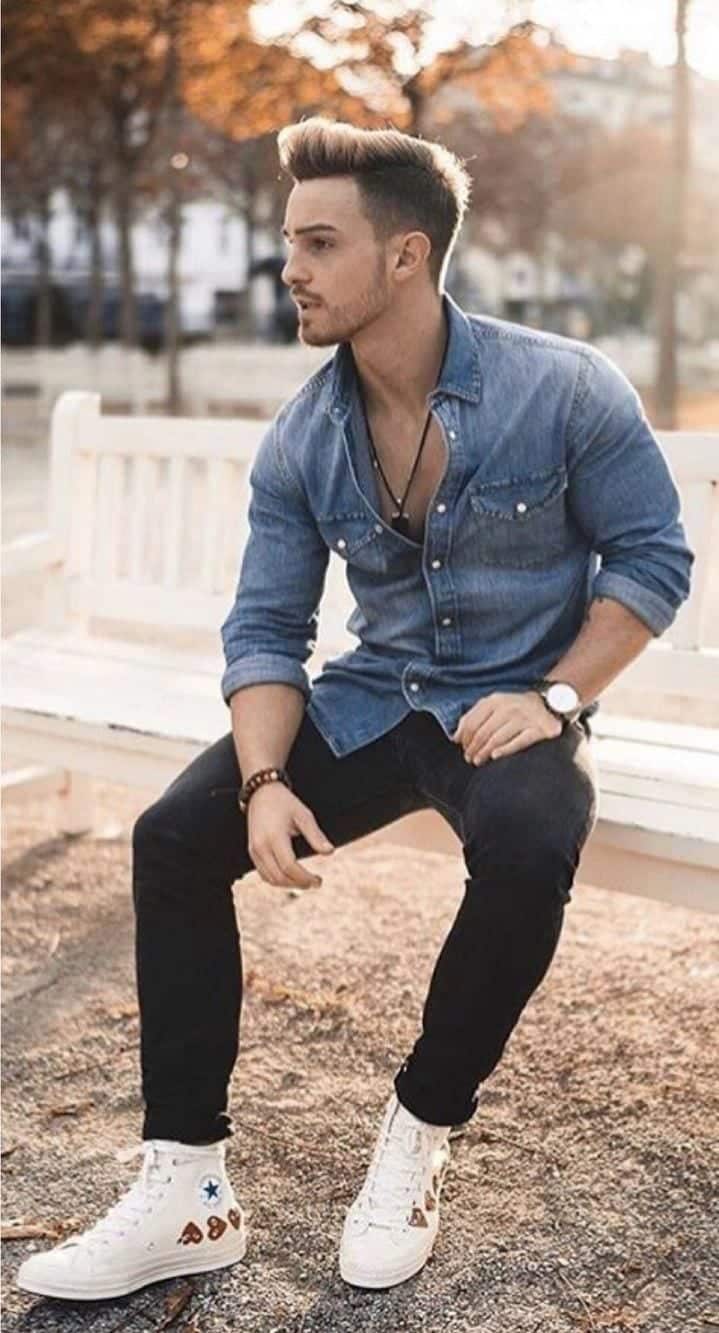 ↓ 26 – Wear Gloves
When hearing about gloves, leather and wool are the only two materials that come to mind. And the fun fact is that only gloves of leather or wool look amazing. They give a gothic look to the outfit. When worn with long coats and black hats, gloves work like magic in an outfit.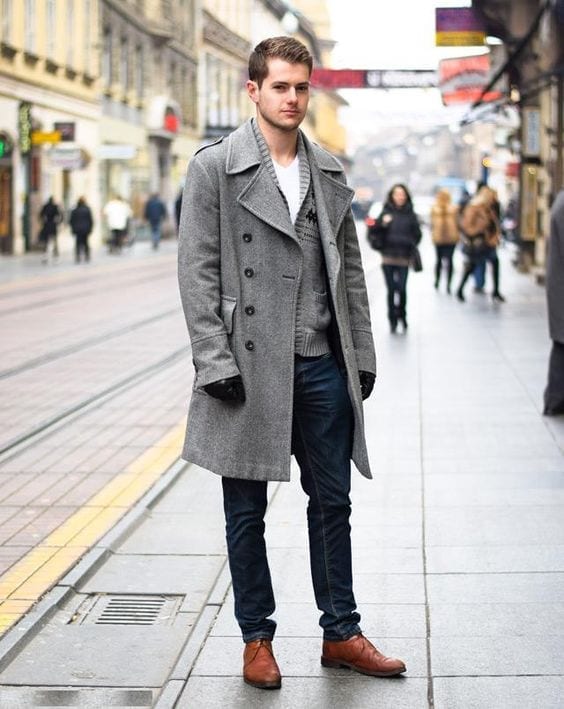 ↓ 25 – Neck chains And Turtlenecks
Neck chains are trending a lot nowadays, and they can be paired very well with a turtleneck and some casual denim jeans. Wearing neck chains is a way to stand out while making the minimum effort. It depends on your outfit if you should opt for a thin chain or a thick one.
via
↓ 24 – With Hats
Some outfits are incomplete without the addition of a good looking hat. If worn correctly, hats look very good on most of the men. They give you a cool breezy look. Whether worn in winters or summers, they complete your look amazingly. Below is an example of a preppy outfit that can be put together with the simplest of your wardrobe items.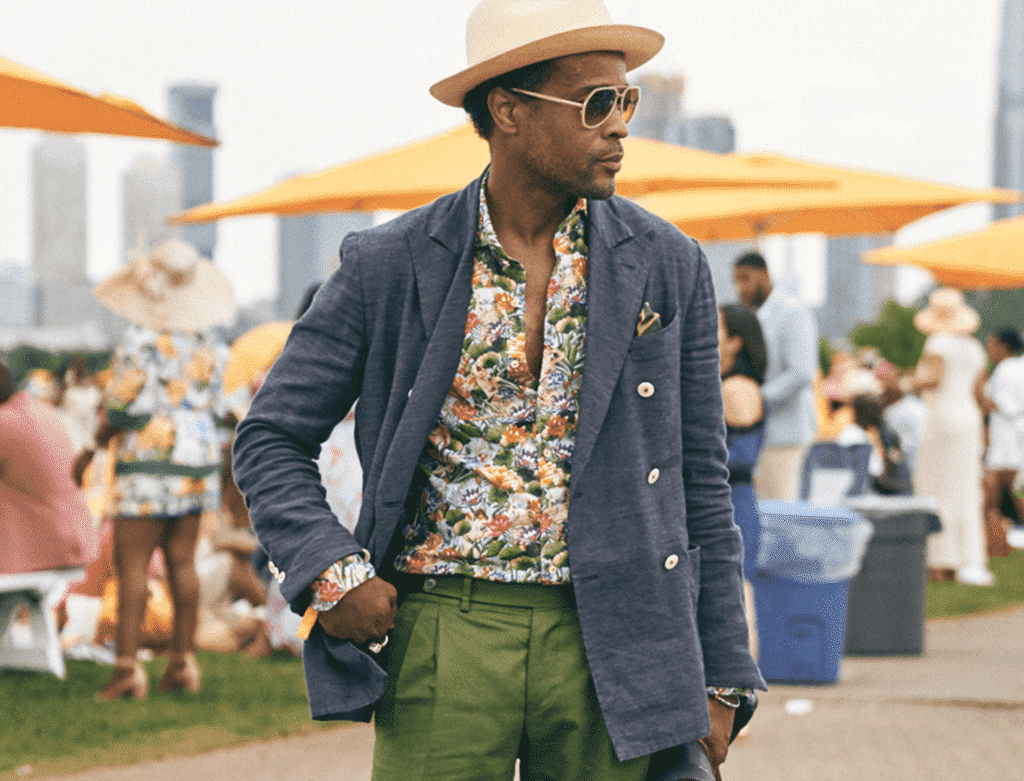 ↓ 23 – Scarves
Scarves give a very classic look to an outfit. Men usually wear them with casual shirts and tee shirts. Plain half sleeves shirts and printed shirts are best for scarves to be with. They make you look attractive. You can also wear scarves with leather jackets in wintertime. Here's an exclusive post on styling your Outfits with Scarves.
22 – Short Sleeve Shirts
The short sleeve shirts have been in fashion for quite a bit now. They come in various prints and colors. People mostly wear them in the summers, but you can wear them under a blazer in winter as well when going on a road trip. It will ease you up and not occupy your arms.
via
↓ 21 – Chino Shorts
A man's summer is incomplete without Chino shorts. A go-to outfit makes it easy to bear the hotness in summers. Chino shorts look classic and modern with a touch of freestyle fashion. These shorts are quite comfortable and go with plain tee shirts and funky printed shirts as well. They are amazing to wear on a road trip, semi-formal family gatherings, beach parties, or even hang out with friends casually.
↓ 20 – White Tee
Boys, you can't possibly be thinking of going on a trip without one of these classic tees. It is a must-have because of the various ways in which you can style them.
For more ideas, do check out these Men White Shirt Outfits.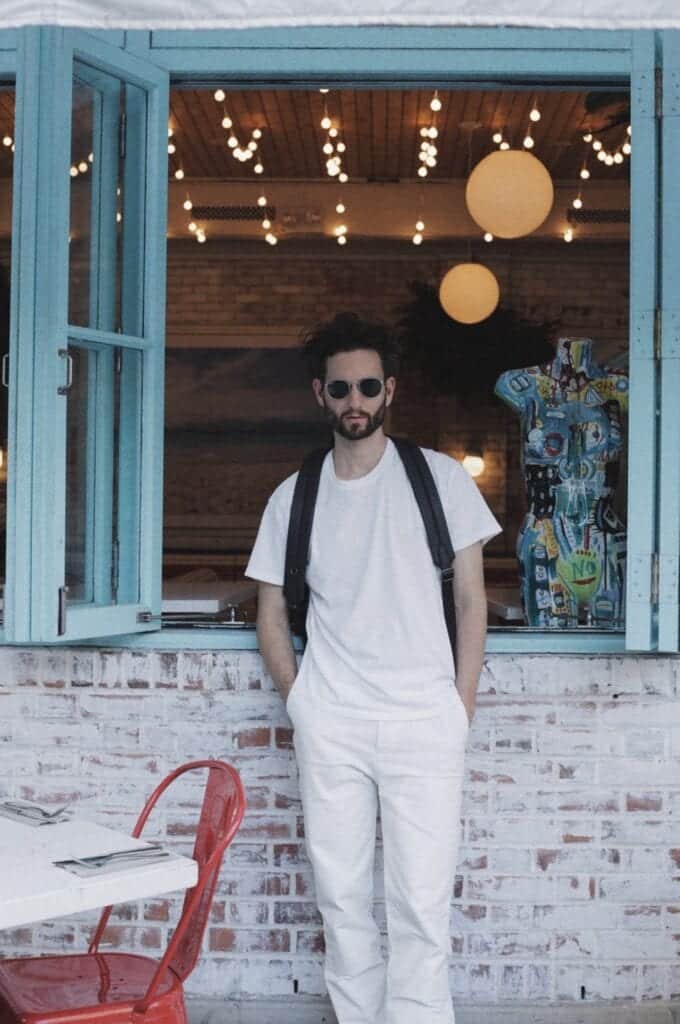 ↓ 19 – Tank Tops for Summer Road Trip
Tank tops are known to look excellent and keep you cool in a hot and humid environment. These can be styled with shorts and also denim jeans. This is an ideal clothing piece to stay easy, comfortable, and calm on a hot road trip day.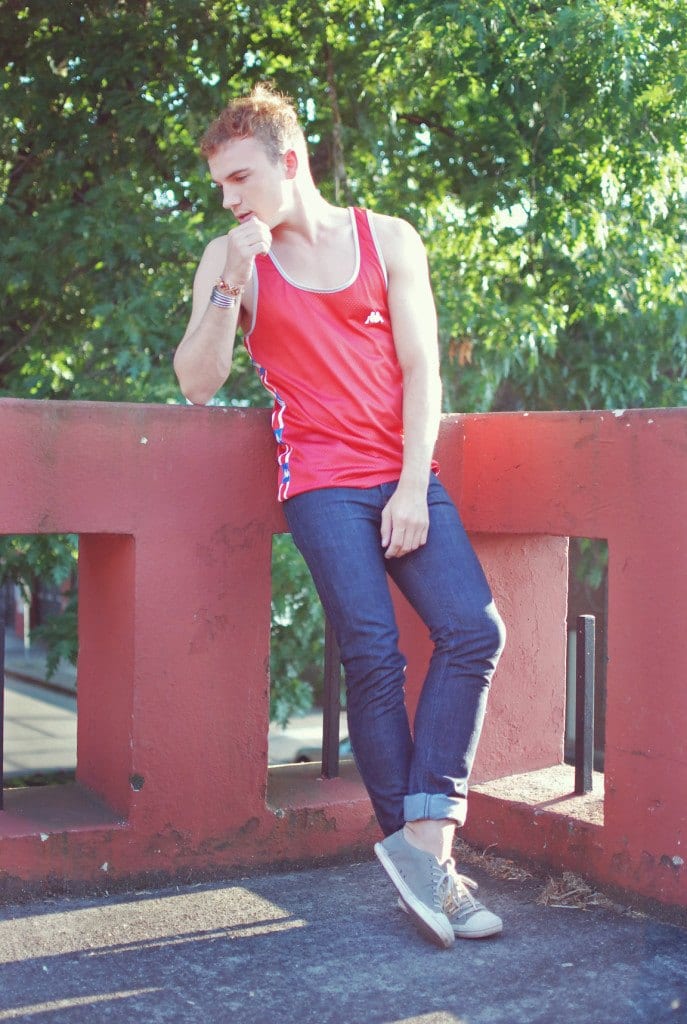 Via
↓ 18 – Comfortable Road Trip Outfit
In summers, when all you want to do is just beat the heat and chill with your friends on a trip, shorts will be your best friends. They can be paired with full-sleeved shirts or tees.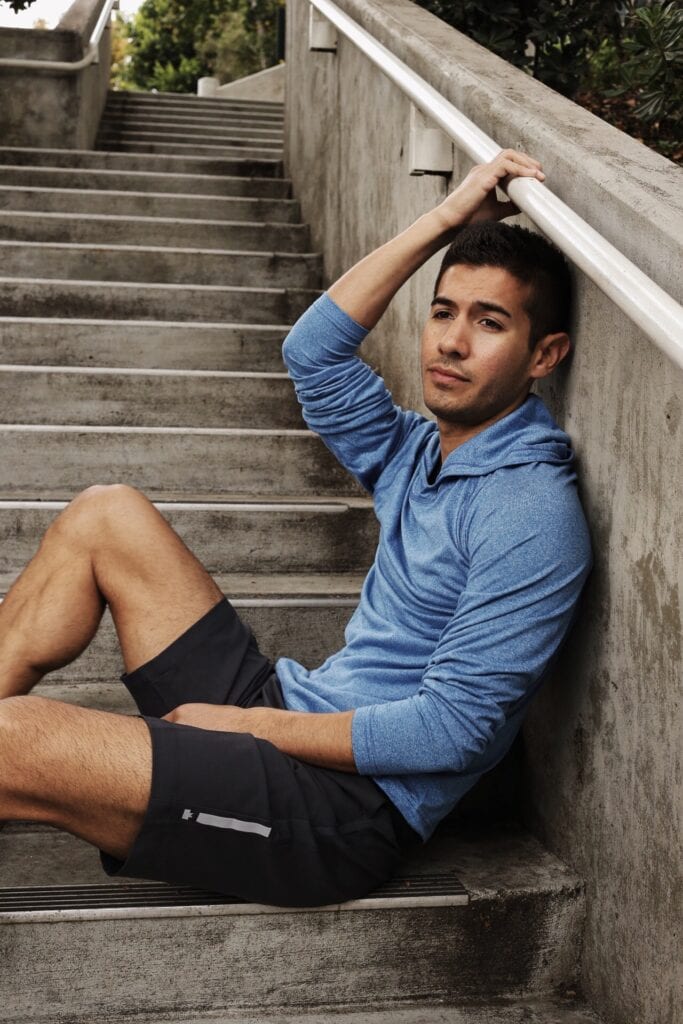 ↓ 17 – Cute Road Trip Outfit
If you want to style a basic tee further, you can wear an unbuttoned shirt over it. It looks casual and relaxed at the same time. You can carry a fanny pack with this outfit to make it look even more swaggy. This outfit is best for summer and spring trips.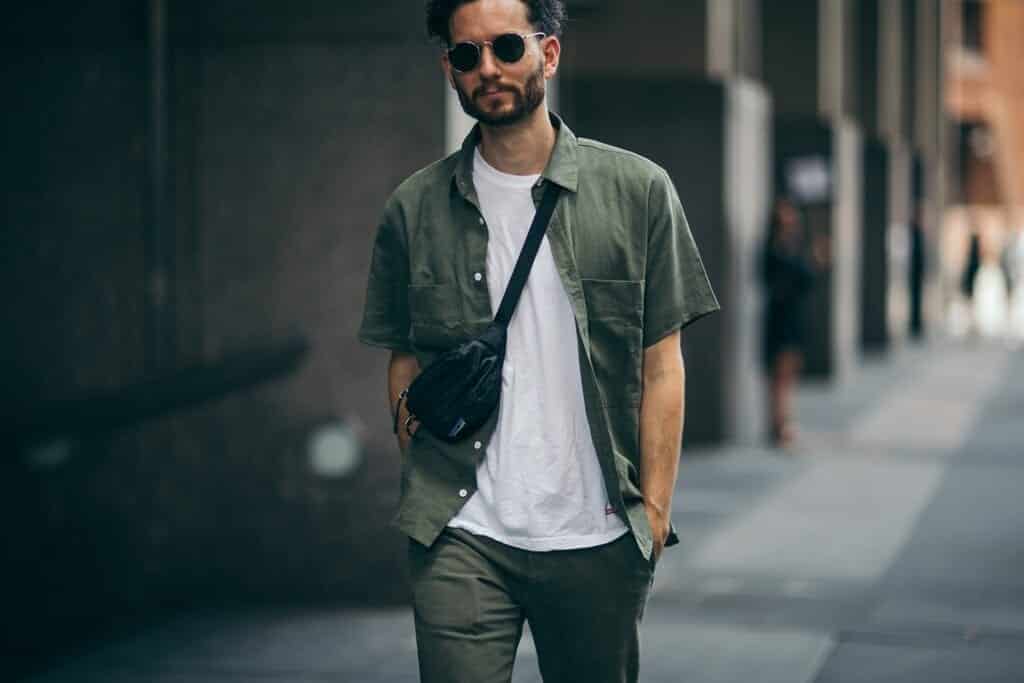 ↓ 16 – Road Trip Outfit Winter
If you are traveling in winter, you can wear a sweater in many ways. One such method is wearing it over a collared shirt to look trendy and well dressed. Other than that, you can go with sleeveless sweaters over simple black formal shirts and denim jeans. This look goes best with a pair of sunglasses. Here are 17 Ways to Wear Sweaters Fashionably.
↓ 15 – Striped Shirt for a Chic Look
Stripes have always been the number one trend in the world of fashion. Be it a striped shirt, hoodie, or backpack, it looks incredible. If you do not want to look dull, this look is for you.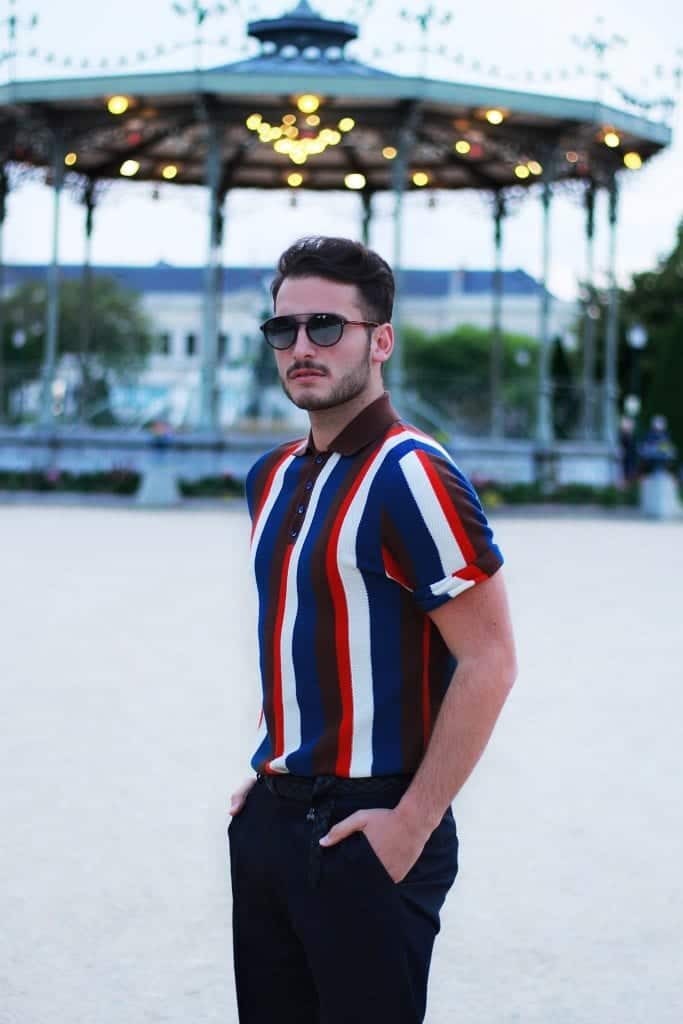 ↓ 14 – Statement T-shirts for a Cool Look
Most youngsters these days prefer t-shirts with bold statements and slogans, and there is no reason why they should not; they look absolutely amazing. Here are some perfect Black Shirts Outfits for Men.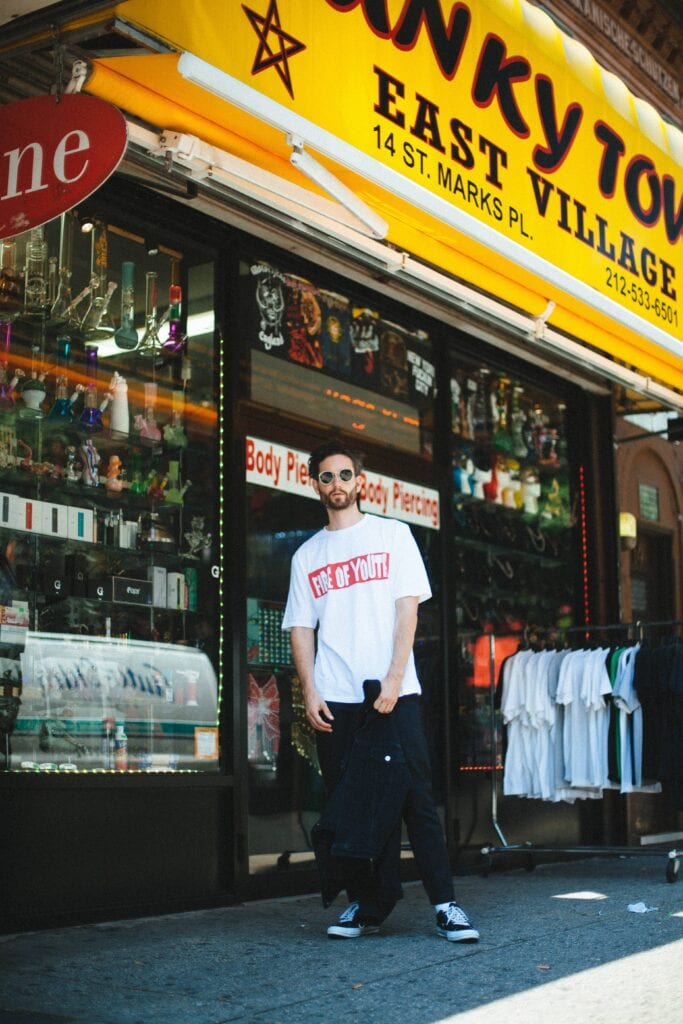 ↓ 13 – Sweatshirts for Road Trips
If the weather is not too cold or hot, this is the perfect clothing piece for you. You can wear it over denim jeans. Sweatshirts are not only comfortable but also look very trendy. They are hands down the best thing to wear on a road trip.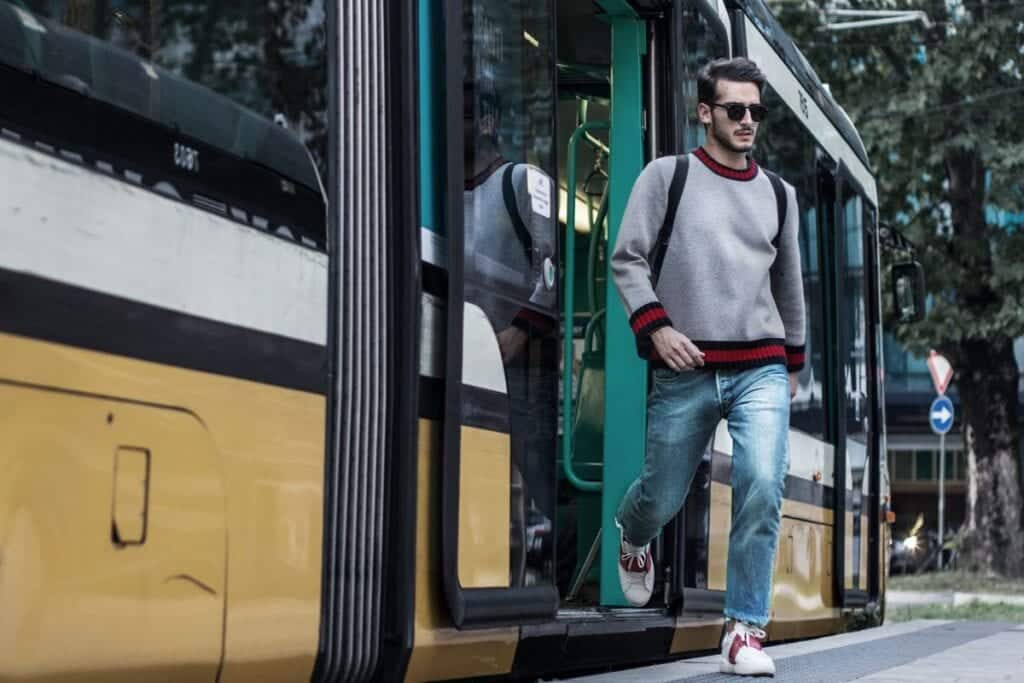 ↓ 12 – Denim Jackets For Men
How could you forget the classic denim look? Denim jackets look super stylish and give a great, effortless look. They feel good and look incredibly lovely in pictures. So, if you want some groundbreaking Insta shots, this outfit is the best for you. Here are 17 Ways To Wear Denim Jacket.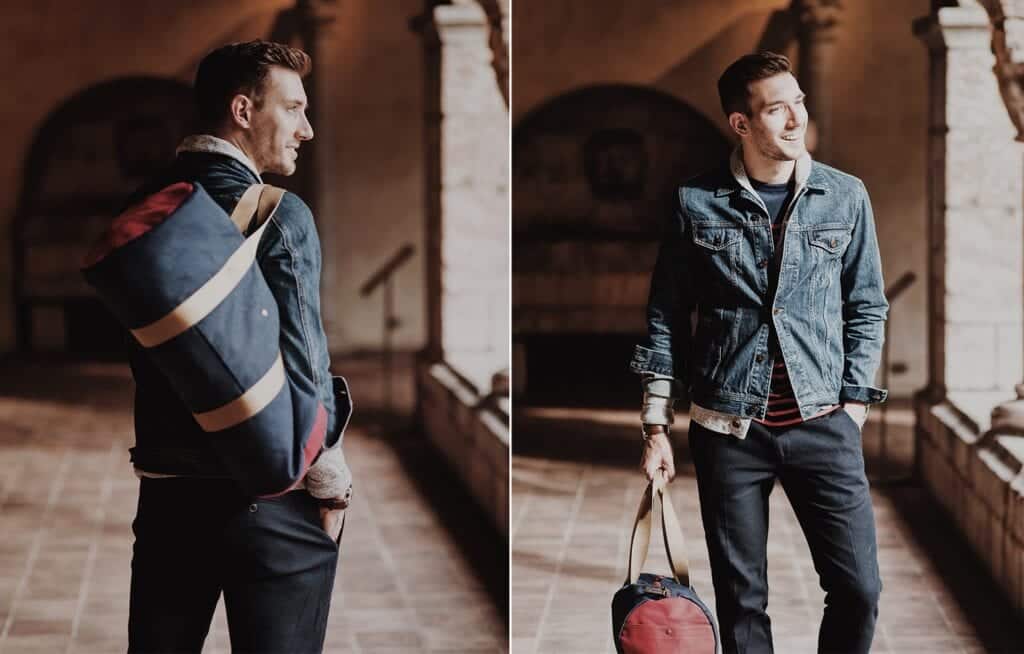 ↓ 11 – Tropical Prints for Road Trips on Sunny Days
You can also style your outfit according to your destination. If you plan on visiting a beach or island, these kinds of prints will look great. Tropical prints are light and breezy and very aesthetic to the eye. They can be paired well with light-colored shorts and pants.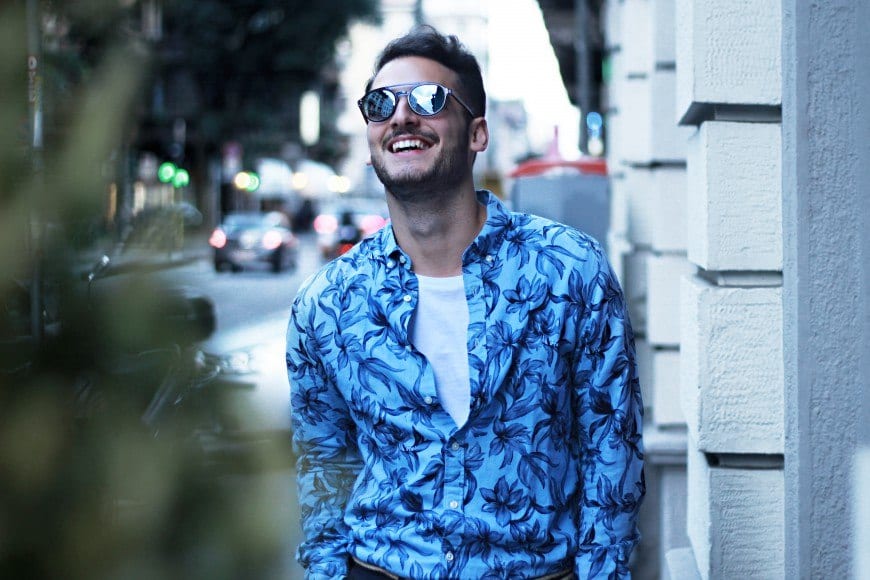 ↓ 10 – Comfy and Stylish Road Trip Outfit
To stand out from the rest of the people, you can focus more on your pants and wear one that is unique with a simple shirt. These printed or patched pants go well with simple tees. Please do not wear a printed t-shirt with these pants because it can make your outfit look a little too overwhelming.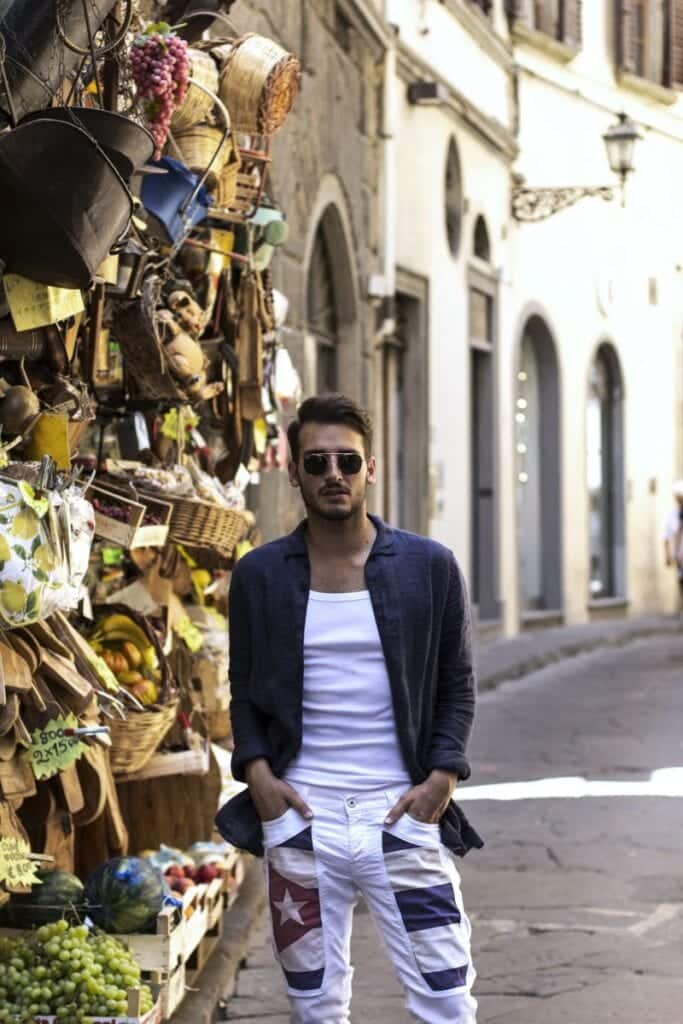 ↓ 9 – Bomber Jackets
Don't these jackets look super cool? It would be best if you considered wearing one for your next road trip. Bomber jackets look extraordinarily cool and come in several different designs and prints. You absolutely have to carry a bomber jacket with you if you are traveling in wintertime. Don't miss out on these 18 Outfits with Bomber Jackets.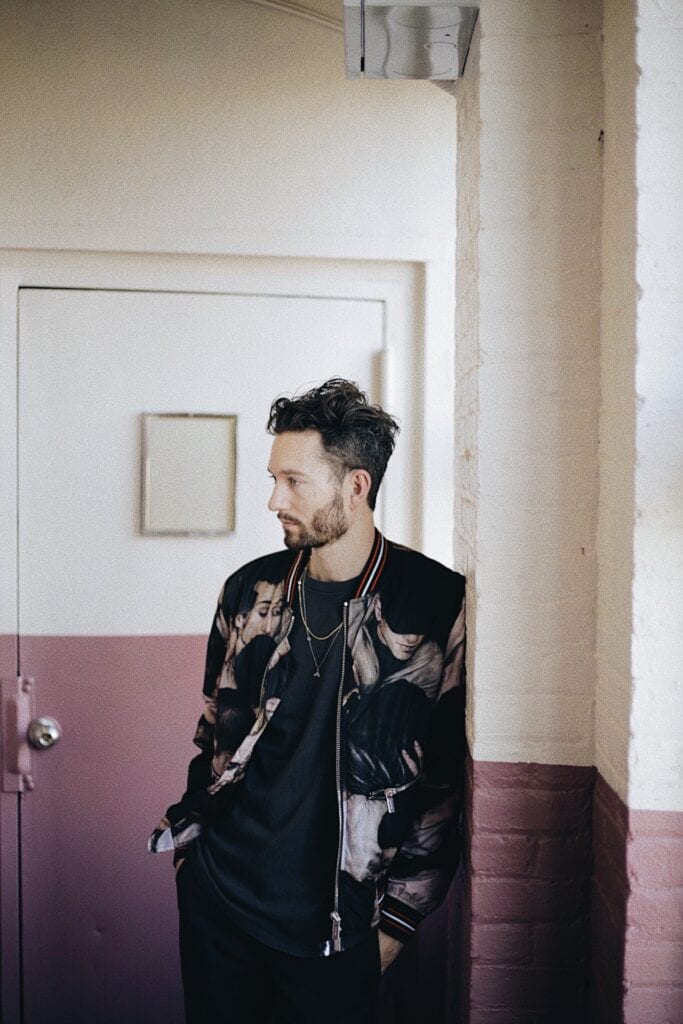 ↓ 8 – Accessories For Chilly Weather
In winter, you may need some additional clothing such as jackets and scarves to keep yourself warm. You do not want to freeze yourself to death in chilly weather because that can be super uncomfortable.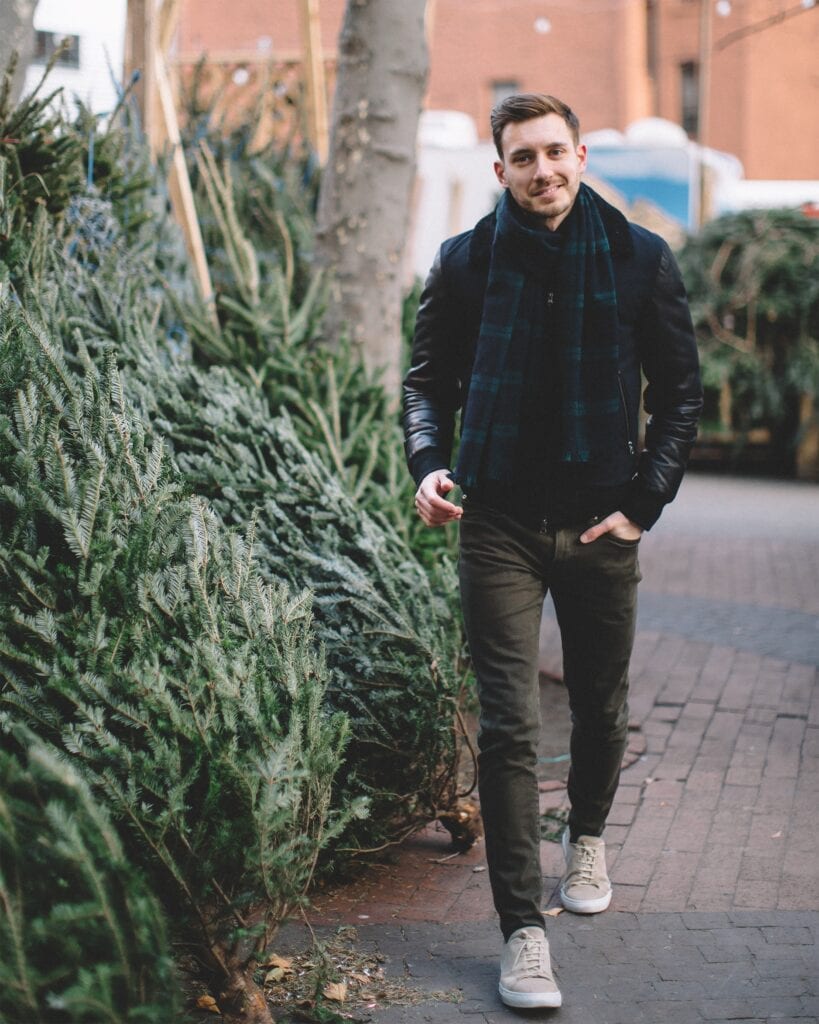 ↓ 7 – Leather Jacket To Look Stylish
Who doesn't like wearing leather jackets? If you've been waiting for the right day to wear it, now is the time! Leather jackets are best if you decide to travel on bikes because it makes you look dope and keeps you warm.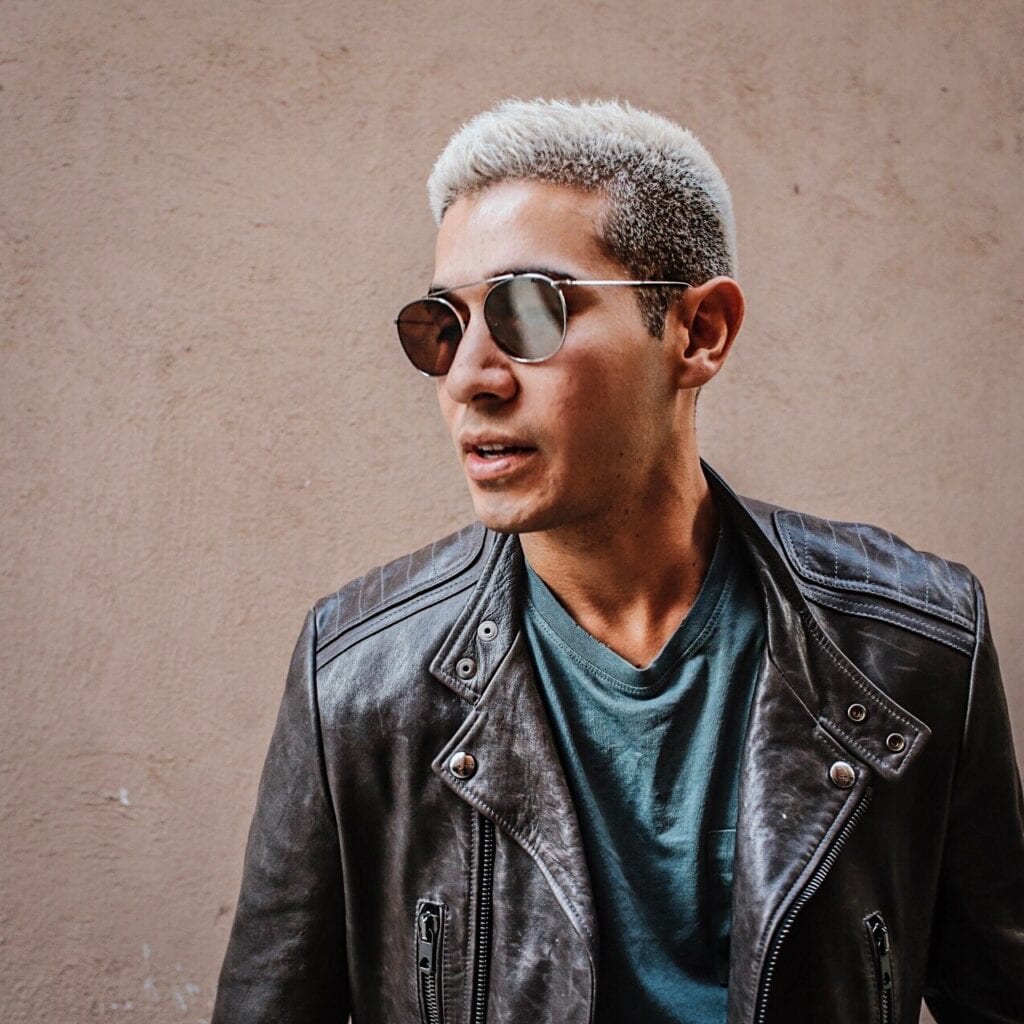 ↓ 6 – Road Trip Outfit For Beach
When visiting the Beach, don't forget a pair of shorts and shades. Beach outfits are amusing and can be styled with many beach accessories. Boat shoes, hats, sunglasses, and bracelets go best with simple tees and beach shorts. Here's a complete guide on What Men Should Wear at the Beach?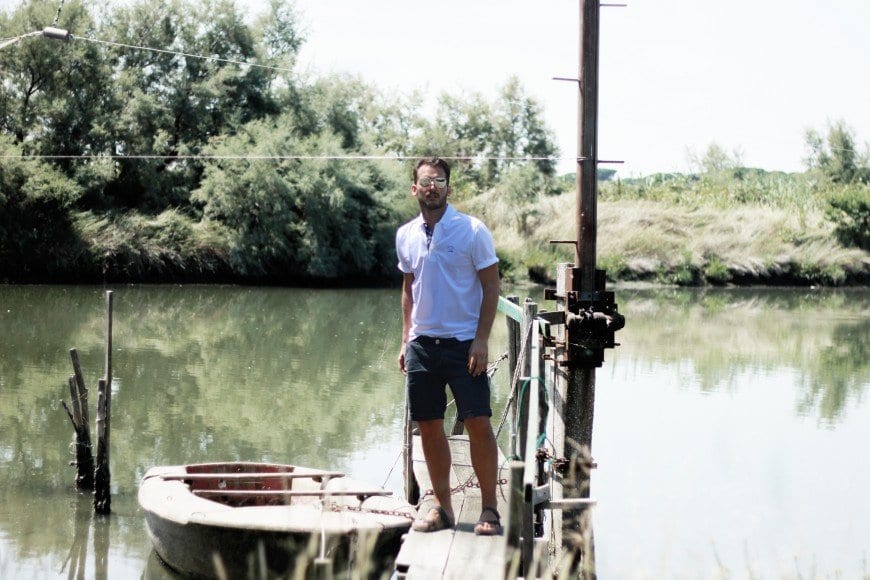 ↓ 5 – Bags To Take On Road Trip For Men
These handbags and backpacks are great for traveling if you have an excessive amount of stuff to keep. Not only that, but they also enhance your look. While traveling, people tend to lose a lot of things. Carrying a bag prevents that and keep your valuable items safe.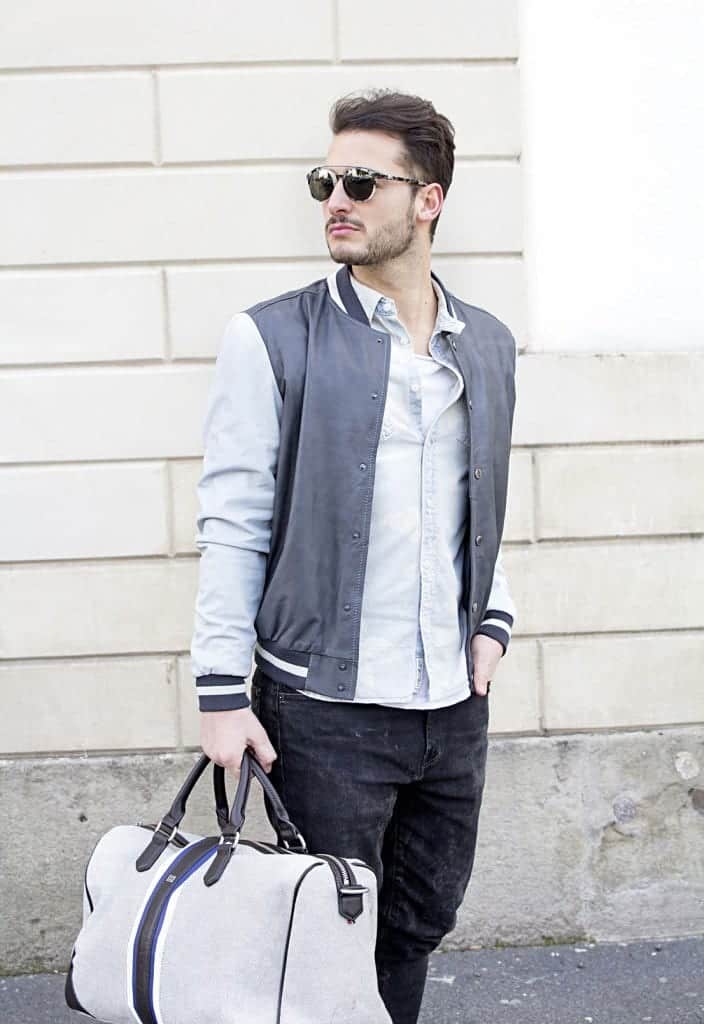 ↓ 4 – What to Wear on a Road Trip with Friends
Whether you are at home, going to travel, or just casually hanging out with friends, there is no place where you can not rock a hoodie.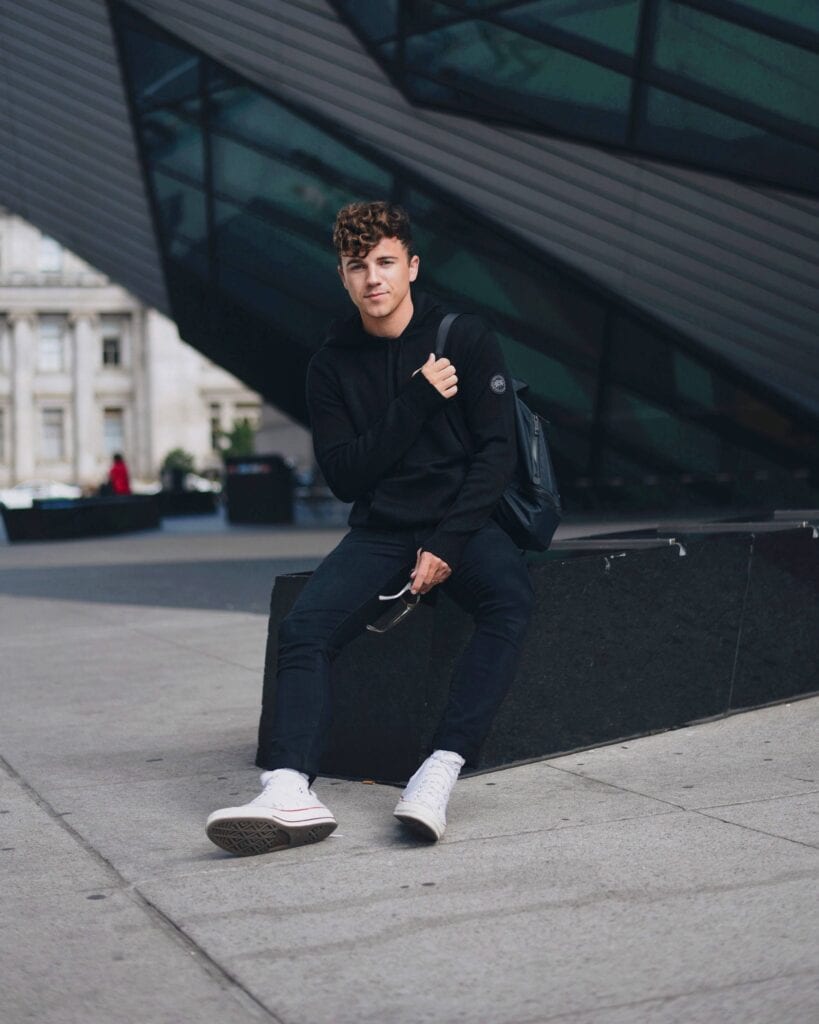 ↓ 3 – How to Dress for a Road Trip with Girlfriend
When you are with your loved one, the need to look good increases, and people seem to get flustered with this pressure. But we assure you, it is not that hard to come up with a great date outfit. Below is an excellent example of an outfit that will go well when you are out with your loved one. For more ideas, check out these Date Outfits for Men.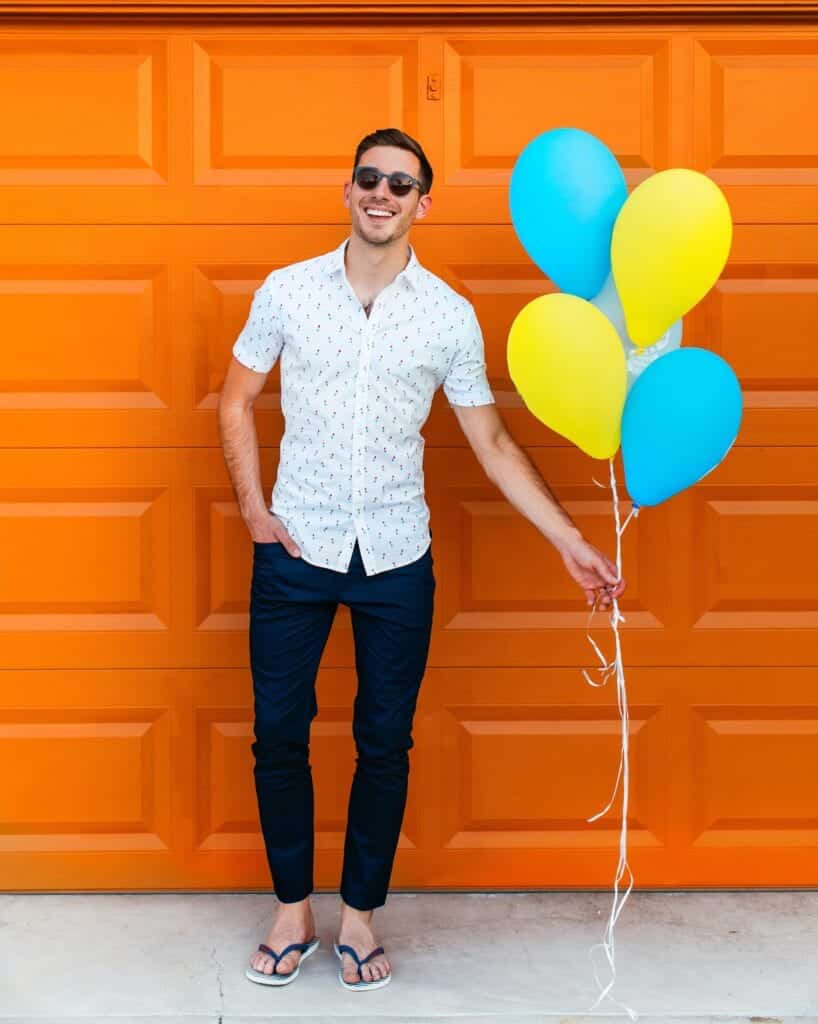 ↓ 2 – Fall Road Trip Outfit
Fall road trips are the most enjoyable because of the scenic beauty, and choosing outfits is even more fun. You can keep a few full-sleeved shirts and pants and style them with blazers, sweaters, or hoodie jackets. You can wear dark-colored clothing in winter and pair your outfits with boots.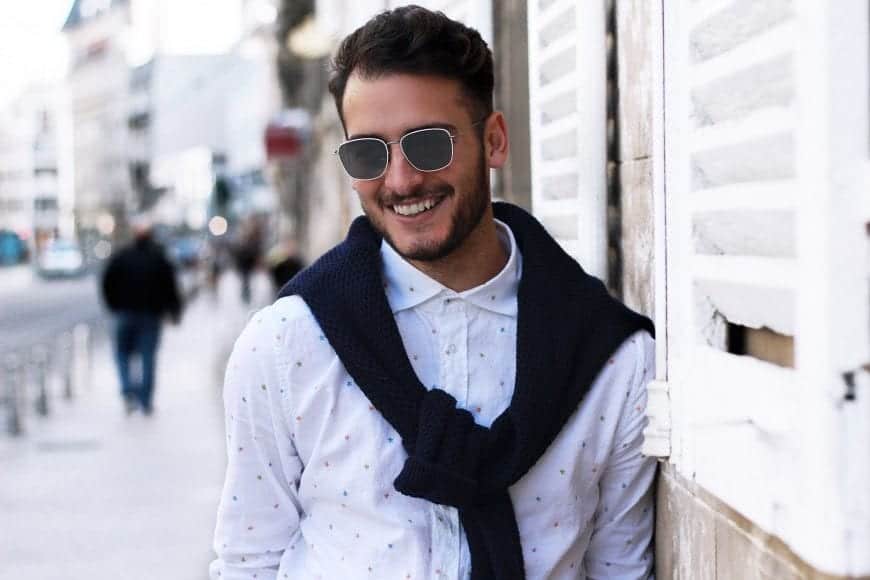 ↓ 1 – Best Shoes to Wear for Road Trips
The best shoes are undoubtedly sneakers as they work great for cold days. But if you're not the one driving and you like to take your shoes off during the trip, then you could go for slip-on shoes or even some comfortable flip flops.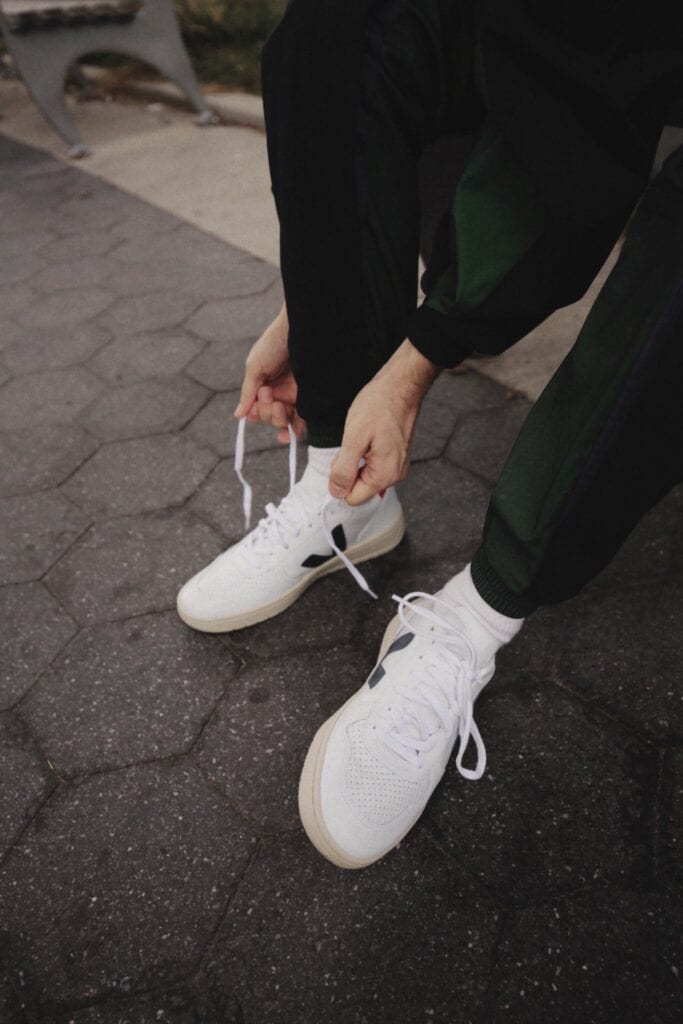 Frequently Asked Questions
Q.

What clothes to pack for a road trip?
A. It would be best if you packed clothes according to the destination and weather. What works in every case is a basic tee, button-down shorts, jeans, and joggers.
Q.

What to wear when traveling long distances?
A. If you are traveling long distances, it means you'll be driving more and chilling out less; so, focus on your comfort. Wear easy-breezy clothes like teeshirts, hoodies, casual pants, and comfy joggers.
Keep in mind that road trips are casual, so do not wear formal clothing as it will make you look out of place and make you feel uncomfortable throughout. Make sure not to forget some of the other essentials such as cameras, shades, hats, and of course, a good playlist of songs! With everything mentioned in this article in your mind, we are sure you will have a fabulous and relaxing trip.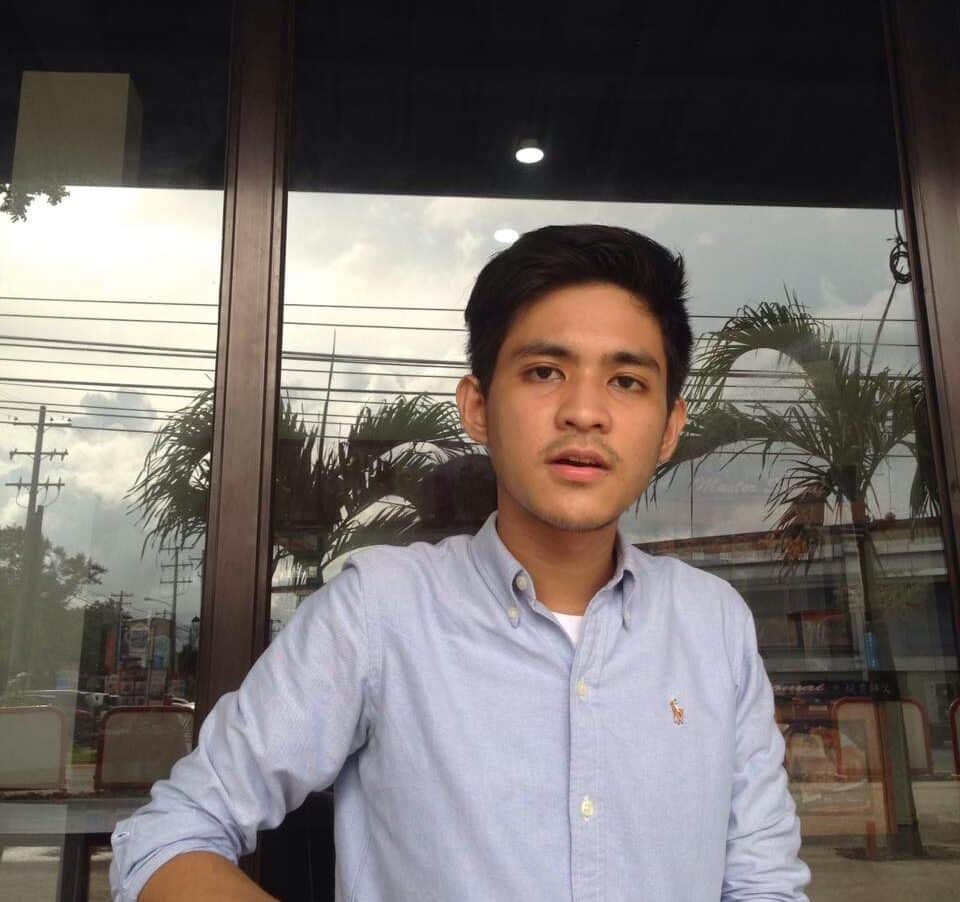 John Vincent studied Communication Arts in the Philippines.
Growing up, he's always had an eye for aesthetics. He enjoys writing a lot. Books, TV series, and movies are a big part of his life. His all-time favorites are Harry Potter, Game of Thrones, and Marvel films.
He believes that fashion is a pure form of art. You express yourself through your personal style – it's something you can't replicate.