Beach outfits for men: During summer the most appealing place for men is the beach, as throughout the year, men are looking forward to this time of year to hit the beach. May it be holidays or a casual weekend the most essential and first noticeable is the outfit we are carrying. Therefore, choosing outfits is a major part of the beach trip.
There are thousands of options available for men which can result in confusion, so that is why down below we have made it easy for you to combine the perfect wardrobe for your time at the beach. This includes all the accessories ranging from swimwear, sunglasses, footwear, beach tops, beach bags, and headwear all have been matched in order for your outfit to stand out in the crowd. Keep in mind these are the most latest fashion trends for men.
What to Wear to a Beach?
Outfit Essentials for a Beach Vacation:
Crisp White Shirt. Cotton is overrated, so trying linen fabric would be great. And don't mind the crease – it's part of summer style! I know you love ironing your beach outfits, but I won't recommend it this time because it's no use.
Striped Outfits. Those stripes can amp up your style by ten points. The pattern is associated with nautical style, which is mostly seen in cruise and yacht festivities. It's only fitting to don it at the beach.
Cotton Shorts. Pure cotton or poly-cotton blend are the perfect fabric choice for summer. For one, they absorb moisture better than any fabric.
Swimwear. Flex your beach body and let those tights help you do the job! Pack at least one rash guard. If you're not into it, some swimming trunks and a tank top would do. Make sure you use them otherwise, you'd miss the opportunity!
Flip-Flops And Sandals. They are the most ideal footwear at the beach. You can also go barefoot as you walk. Leave footprints as you feel the coarse texture of the sand. Make sure the sand's not too hot. It's better to do it on slightly wet sand.
Helpful Fashion Tips
Wear Bright Colors. They are kind of a big thing this summer season. And lucky for you, they have a slimming feature – making your body beach-ready. Yellow and orange are your best bet! In any event, white clothes like crips shirts are perfect for the beach.
Plan Ahead. As a fashion lover, clashing is the last thing you want. Plan your outfits – decide which goes with which. You can do a wardrobe overhaul to try every combination.
Prints and Patterns. One look at your outfit, and they should feel your joyful beach vibes. You may consider opting for tie-dye and stripes to look more interesting.
Pack Your Long-Sleeves. If you don't plan on getting wet, you can wear long sleeves. They add up to your style, and the extra length would somehow shield you from sunburns.
Bring Extra Dry Cothes. This would matter more for men with plans of enjoying the waters all day. But a friendly tip for all: pack more dry clothes so you won't leave the beach dripping with water (or sweat).
Others. Have a sunscreen and deodorant with you. Other than that, it's up to you. This post will focus more on outfits.
 Don'ts
Too Much Colors. Doing a color pop is okay, but wearing a rainbow is not. I know that people love to see colorful things in summer, but don't get carried away!
Too-Revealing Garments. Going to the beach entails the leeway to be free-spirited. However, don't be too daring with your outfits. As such, your outfits should still look decent.
Layering. Keep in mind that it's not ideal to wear layered outfits at the beach. Although this is a no-brainer, it's crucial to overlook this important detail. Also, steer clear of thick fabrics like wool and leather.
All-Black Outfits. While black is elegant, it's less appropriate at the beach. Remember that we are at the beach to have fun, not to mourn (except for some). But generally, your beach outfits should feel like summer spirit.
Socks. Steer clear of socks at all costs, please. It would be awkward to wear them with your flip-flops. And it won't hurt you to go barefooted once in a while.
33 – Hats
Include sunhats to your list of beach-worthy accessories. Apart from clothes, headwear is essential as you'll be exposed to direct sunlight. Sunglasses are a worthy investment as well. The fact that you'll be spending a lot of time under the sun, you must be prepared with the perfect gear. Here are some different
Ways to Wear Hats Fashionably.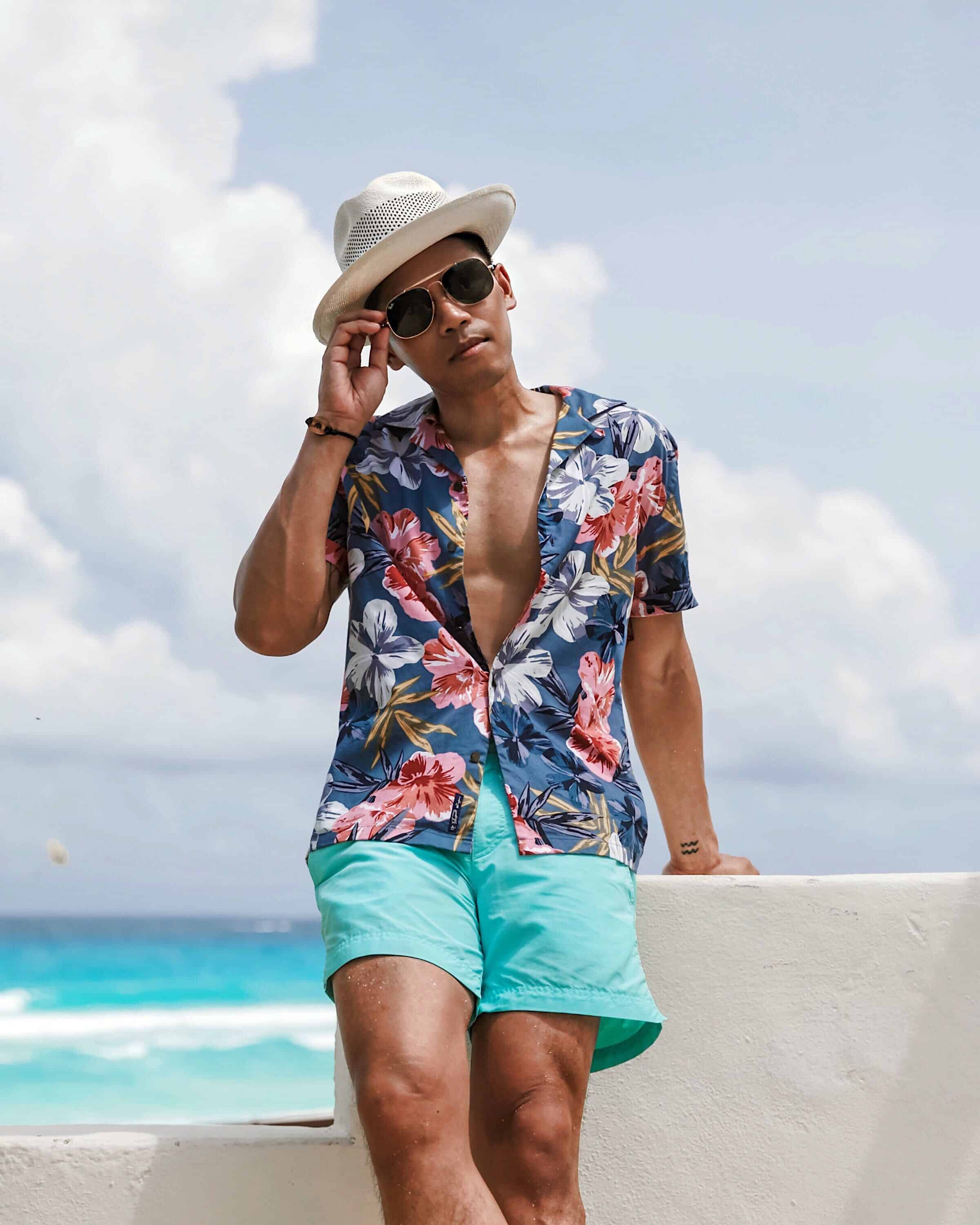 32 – Best Shorts For Beach
Opt for lightweight and comfy fabrics such as cotton. Brenton stripes look perfect at the beach, but you are also welcome to try plain designs. Ensure that your shorts perfectly otherwise don't wear them. The beach is a place to liberate yourself, but stay wholesome. lll-fitting bottoms won't look so good.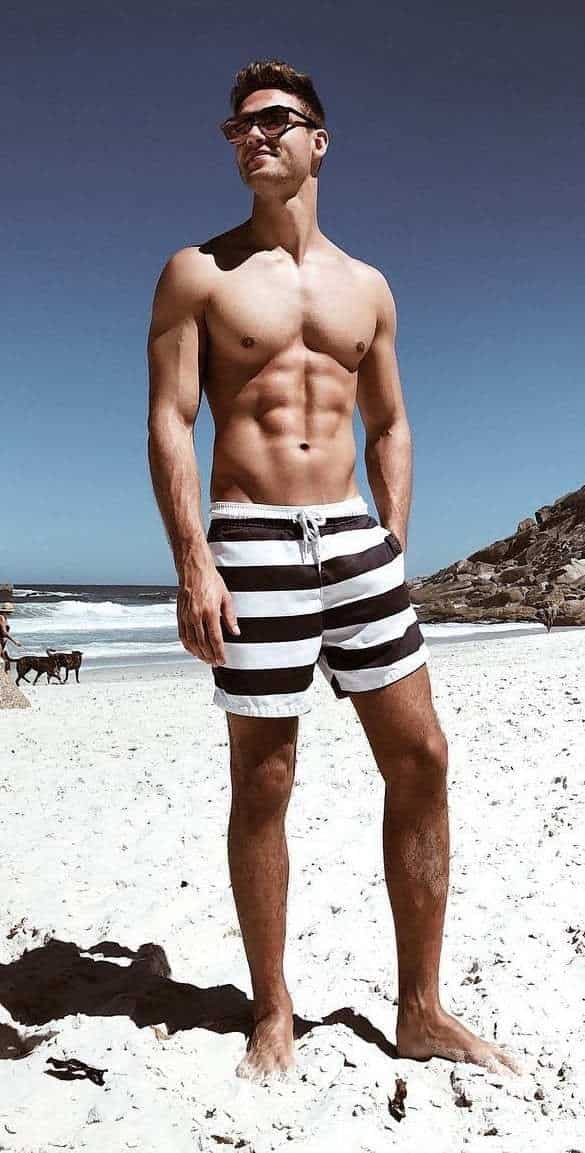 31 – For Short Guys
If you have a rather short build, steer clear of baggy and lousy clothes. Instead, opt for well-fitting garments. You can appear slightly taller with above-the-knee shorts. Vertical stripes could help as well.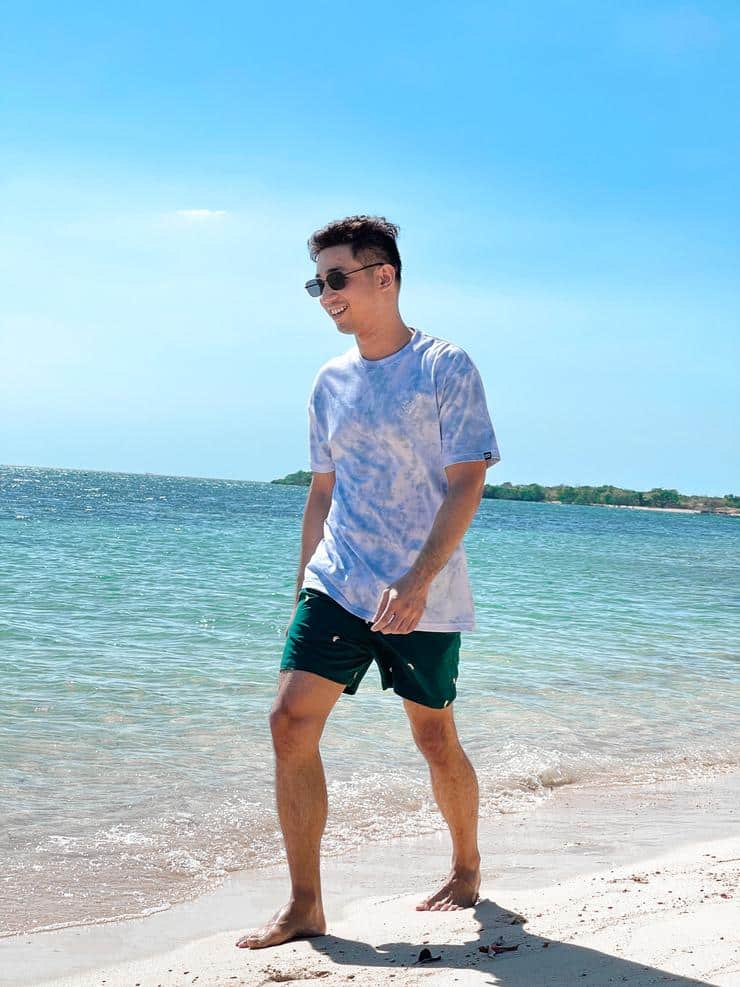 via
30 – Polka Dots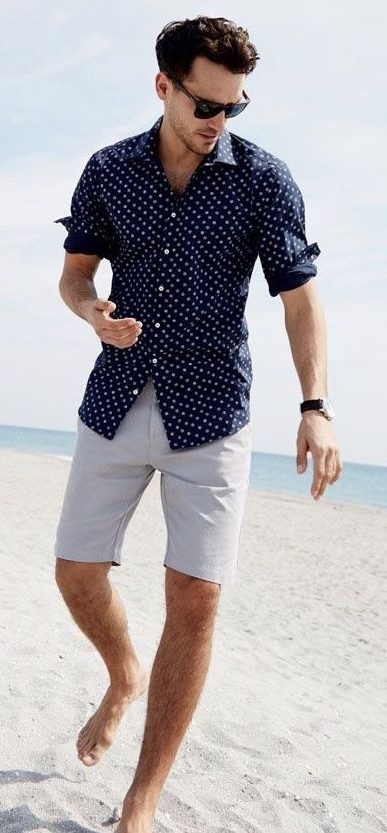 29 – Tie-Dye
Summer is the perfect season to play with prints and patterns. Tie-dye is just one of the ways you can spice up your look. The pattern comes in variants – its up for you to choose.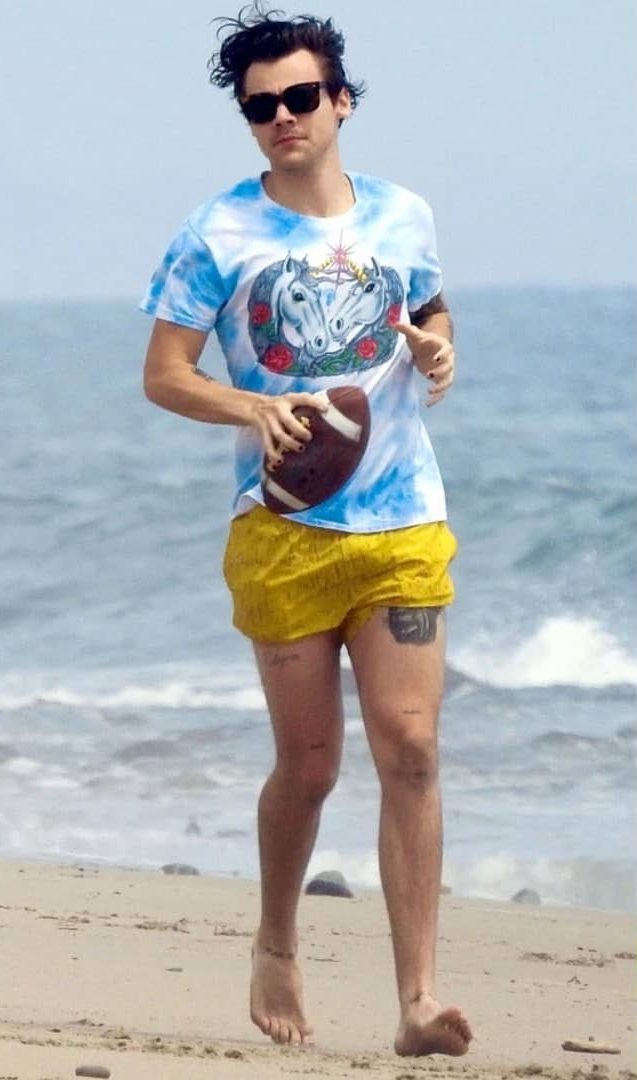 28 – Beach Wedding
For casual wedding dress code, wear a crisp white shirt with woven pants or chinos. Flip-flops go best with this team up. And once you're at the beach, go barefooted if you're game!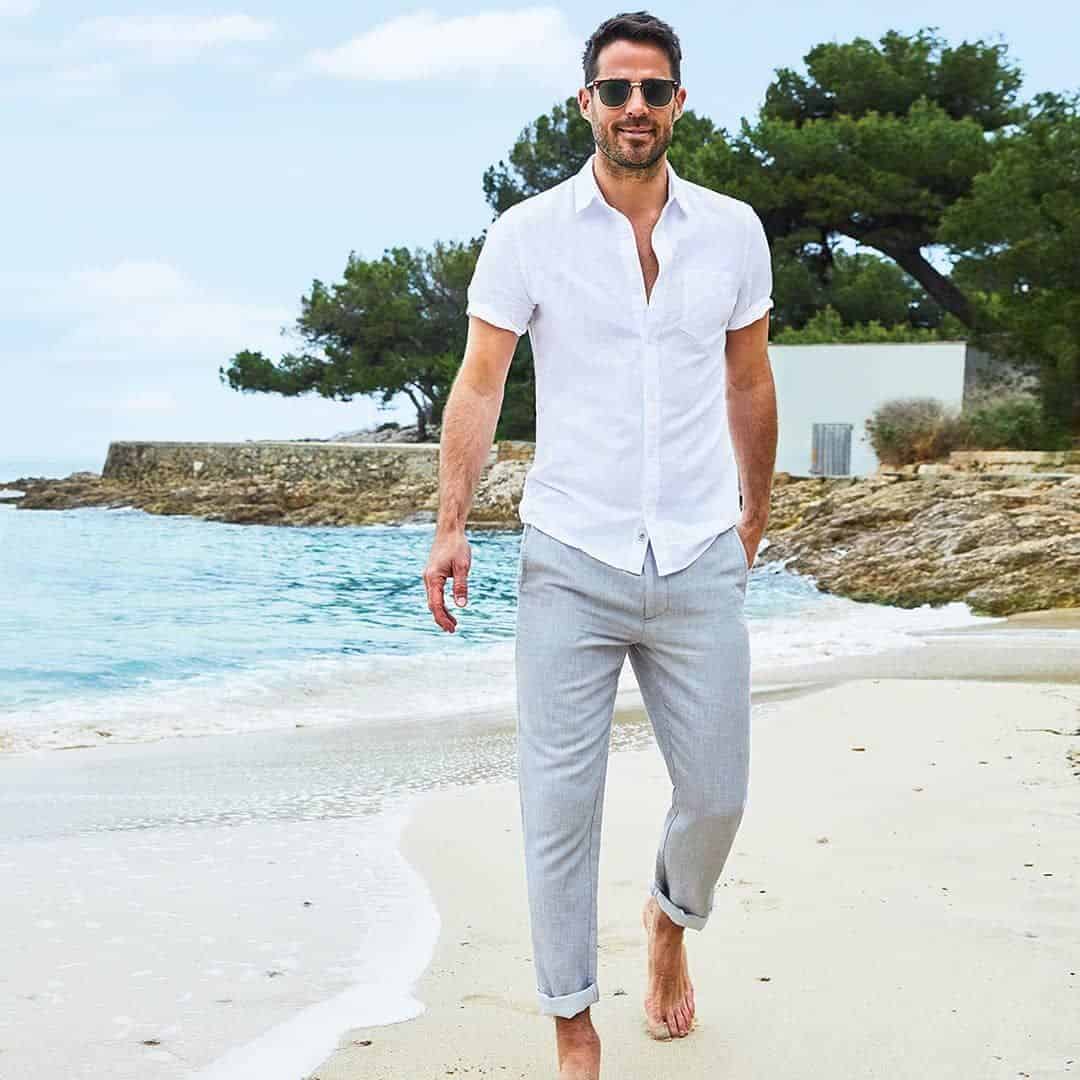 27 – Button-Down Shirt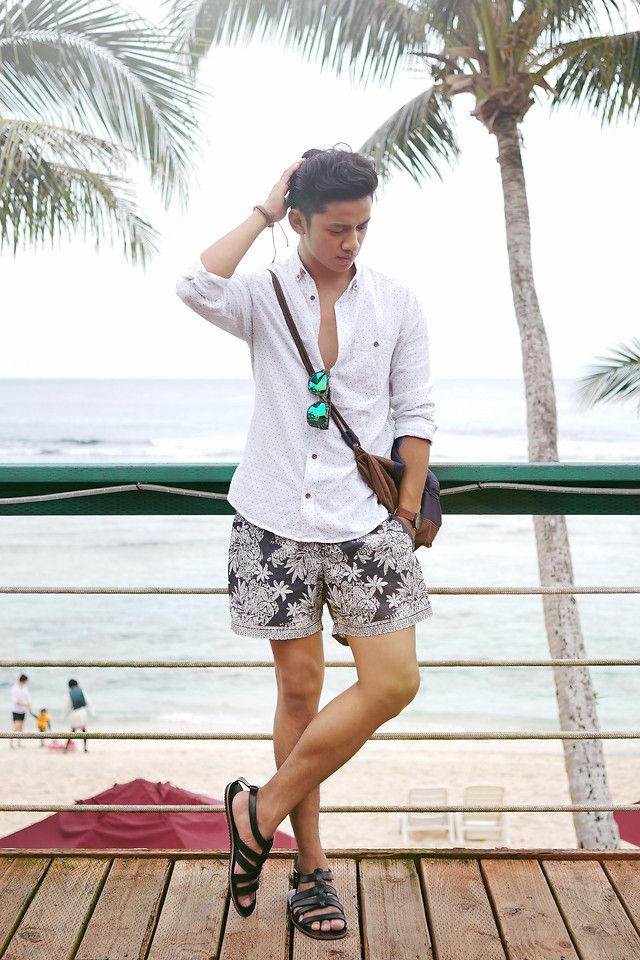 26 – Nautical Style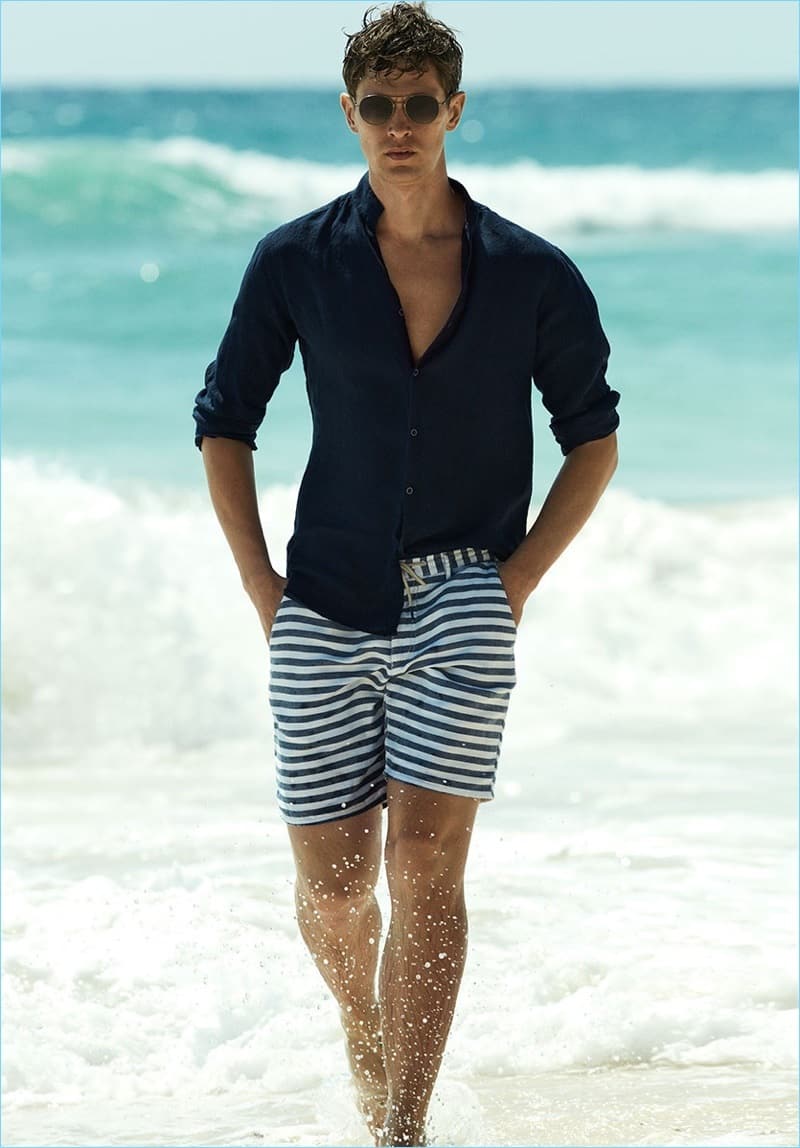 25 – Floral Shorts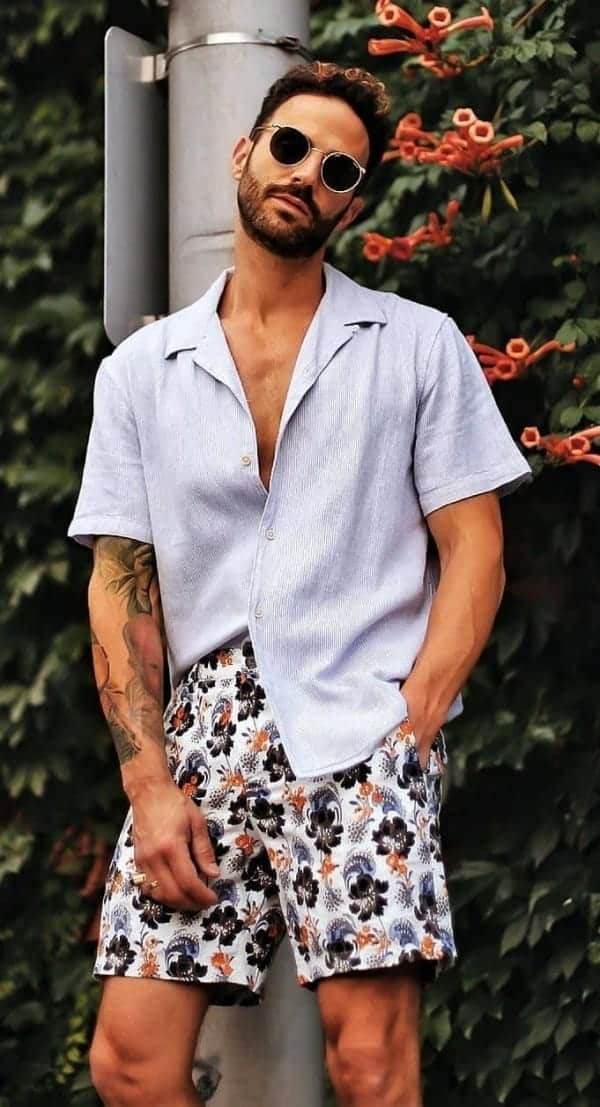 24 – White Tee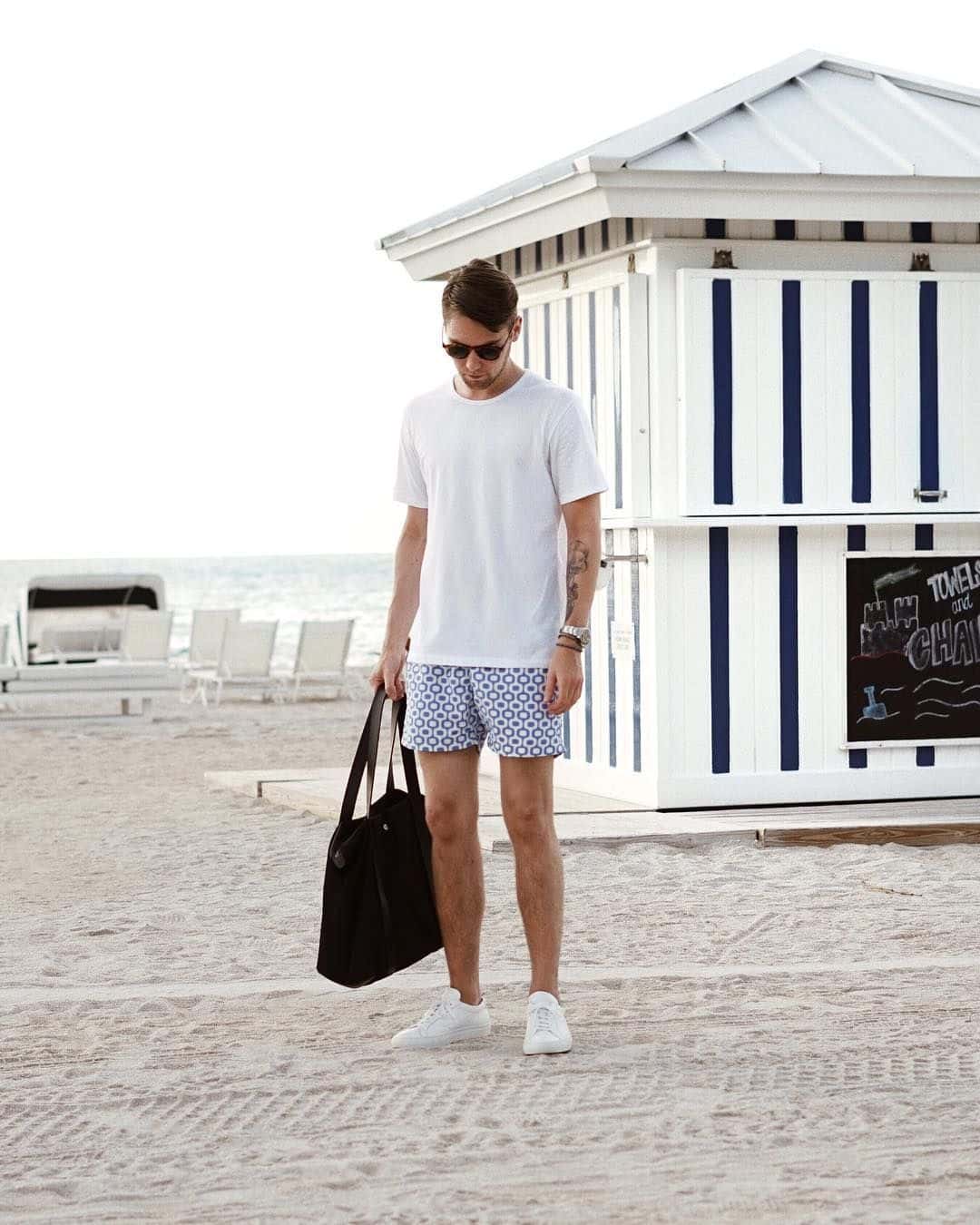 23 – Prints And Patterns
Floral prints and tropical designed shirts are kind of thing this time of year. Don't hold back to sport them, along with vintage shirts as they look particularly amazing at the beach. Wear the shirt open and just wear a tanktop underneath. Team them up with some comfy bottom to finish off the look.
22 – Resortwear
The aesthetic of stripes look great at the beach.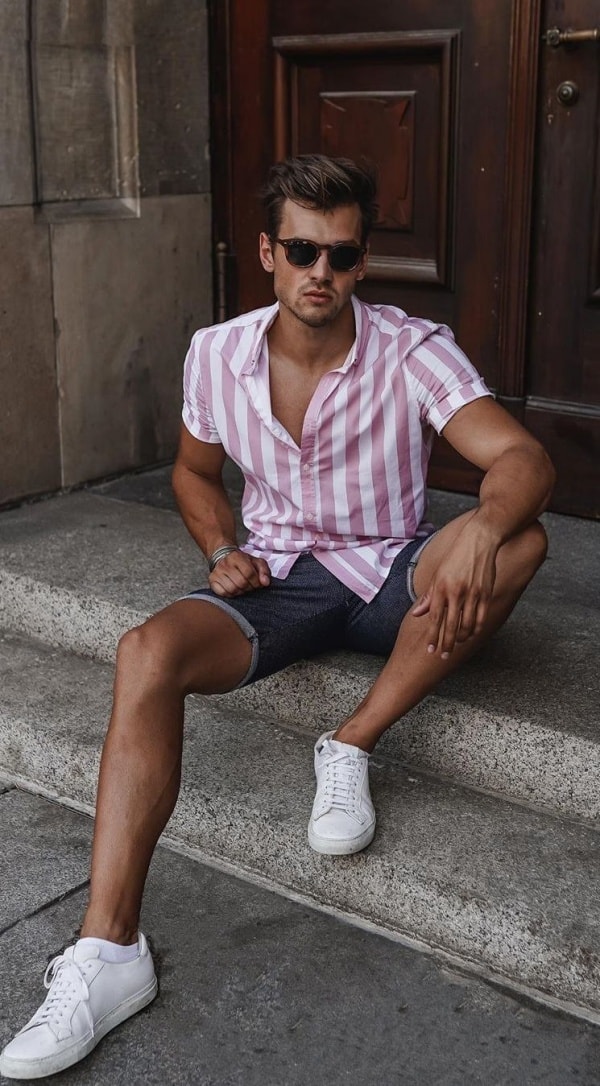 21 – For Skinny Gents
Skinny guys can look bigger in horizontal stripes. Brenton stripes would be fine, but I recommend thinner bars. Another stylish advice is to avoid sloppy outfits. I'm sure you don't want your clothes to shrink your body.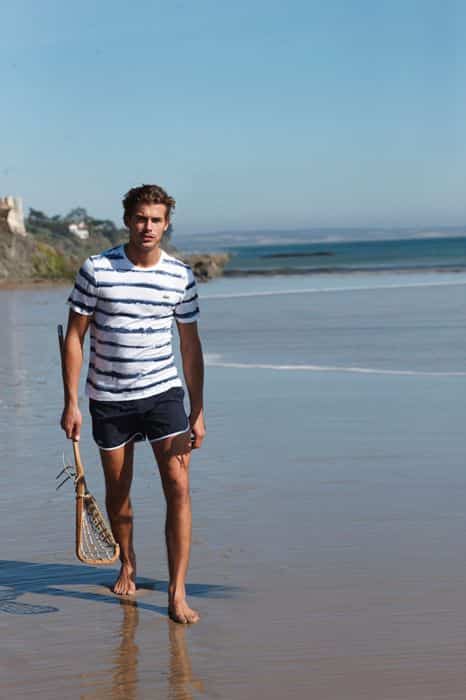 20 – Vest with Denim Shorts
A classic combination along with sunglasses which not only helps you keep the heat cool, but also to make you look perfectly dashing at the beach. However, this outfit also keeps the perfect balance of the heat for your body, enabling you to comfortably have a good time at the beach.

19 – Sleeveless Shirt With Bermuda Shorts

18 – Perfect Hairstyle For Beach
If you are keen of keeping long hairs, it's certainly considerable to make a "bun style" hairstyle for your hair. In order to keep that harmful heat out of your head, and moreover keep a fine balance of temperature. This way the long hairs will also not come within your way when you are having fun full activities at the beach such as soccer, volleyball, frisbie and much more.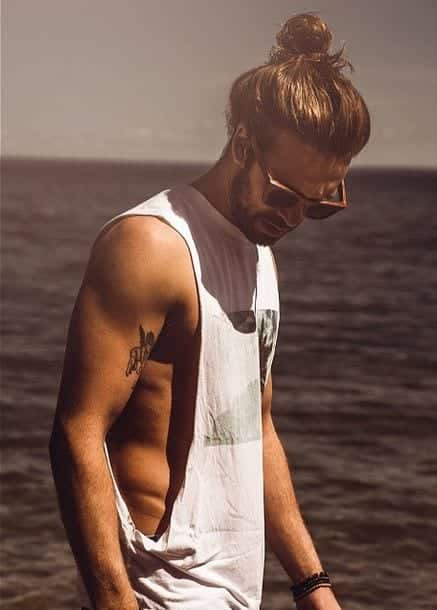 17 – Open Shirts With Shorts
This particular outfit is specially ideal for men who are gym freaks, the open shirt with shorts will allow steady sunlight for the muscles, so that next day along with having a joyful time at the beach you are also more productive and healed for the gym too.

16 – Accessorize Your Self Well
An old good saying is "while you plan something always be ready for anything that may encounter you", so the same philosophy applies to going to the beach, it is very vital to accessorize yourself completely which will allow you to have a great time at the beach, and no matter the strength of scorching sun the beach will be never able to annoy you. Some important accessories are sunscreen, sunglasses, cap, hat, reusable water bottle.

15 – Glasses Are a Necessity
As mentioned earlier in this blog, glasses are a necessity for the beach. They will not only protect your eyes from the sun but will also help you look more attractive along with your outfit, they are a good contrast with your hairstyle, outfit and on top of it all, they help you keep it cool!

14 – Look For Teen Guys

13 – Spring Wear
Spring wear is undoubtedly a very handsome choice for every men, but this outfit is more likeable during the low temperature at the beach. During the low temperatures beaches tend to throw mild cold breezes, this outfit will definitely help you in those times, besides helping keep a balanced temperature for your body.

12 – Choose Colorful Shorts
As vibrant as the beach, and as joyful as the beach, the bright colorful shorts will help you keep the vibe alive.

11 – Formal Beach Party
Sometimes in our lives, beaches have to be formal. Whether it be a wedding at the beach, BBQ, cruise on a ship, or a family/friends hangout time. This attire is the fine balance between the attributes of the beach and being representable as formal. A comfortable choice for you to wear in the formal occasions, hence will also not stop you back from having a leisure rhythm.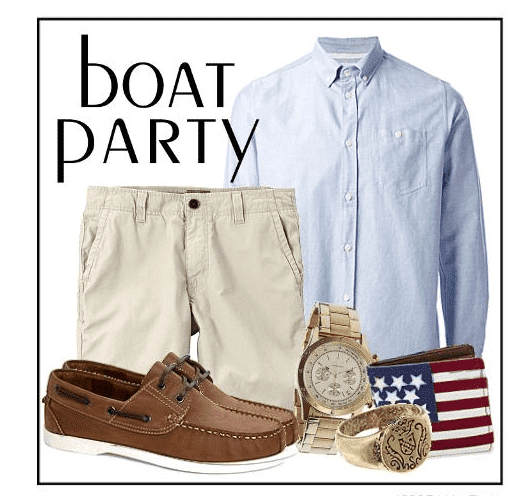 10 – Casual Party Time
Want to look ready for a party, even in the case we have kept you covered. Parties are more likely between the features of formal and casual. However this idealistic attire is the flawless choice to blend within those scales. Outgives unblemished contrast of the sea with Caribean blue, Light blue and as well dark blue bermuda shorts. When it comes to hairstyles with this outfit, we would suggest you have a look at our collection of 
Preppy hairstyles for men.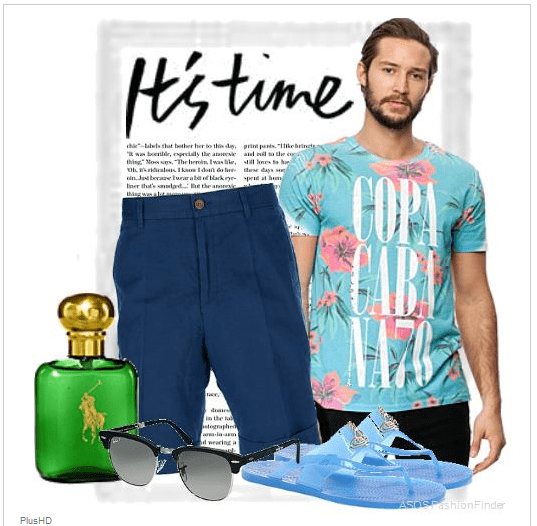 9 – For The Love Of Black
Black is the type of color that blends doubtlessly within any surroundings and gatherings. But what makes black more appealing? Wearing the same black colored cool Nikes, which make your whole outfit impressive to every eye. So therefore it's worthy to have a look at our
Cool Nike Air Shoes-Latest Nike Shoes for Men
for more cool ideas for Nikes!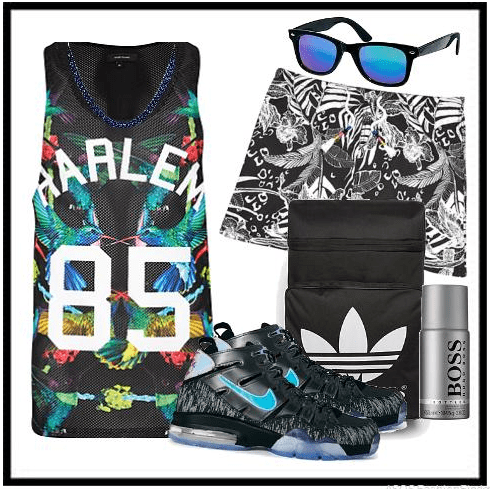 8 – Summer Outfits
If you are going to the beach on a sunny day, but you want to outgive cool vibes? Wearing light colors are best to go with, in addition with pastel shades will make you look cooler then ever.
7 – Hot And Cool Look
Another great look that you can try in balanced temperature of the beach.
6 – Orange Is The New Black – Floral Shirt
Any guy can look breathtaking in orange colour, though you might have to make a little effort to find the shade of orange which best suits you complexion and body shape. For plus size guys, usually the dark orange colours are recommended while on slimmer guys both light orange and neon shades look really nice. Though there is nothing wrong with experimenting more since that's what fashion is all about.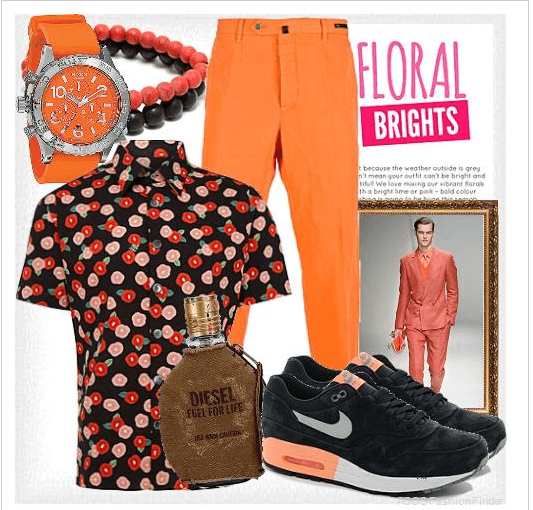 5 – The Carefree Look
Here's another casual and effortless outfit that helps show the cool side of yours. These shoes are perfect for the beach.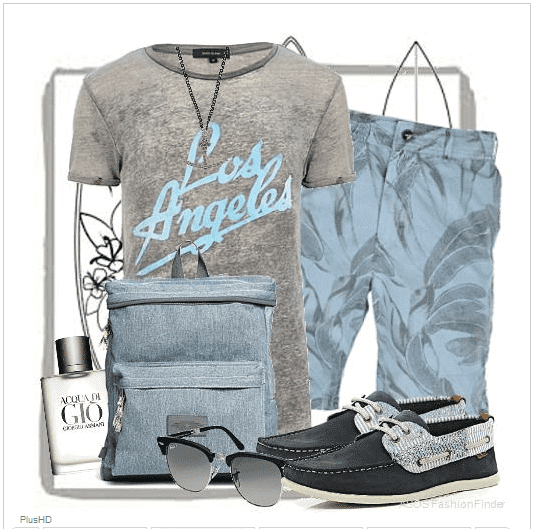 4 – Spring And Summer Beach Outfit – Hawaiian Shirts
Want to look classy for the beach? It might be a good idea to wear beach printed shirts, that will also help you give retro looks, that are attarctive to every eye.
3 – Cargo Shorts For A Sporty Look
Once again, any open-top shoes especially thongs or  flip flops work great for any beach outfit. They'll not just help you stay comfortable during your time at the beach but are also pretty stylish. If these shoes are made of plastic or rubber material then that's even better.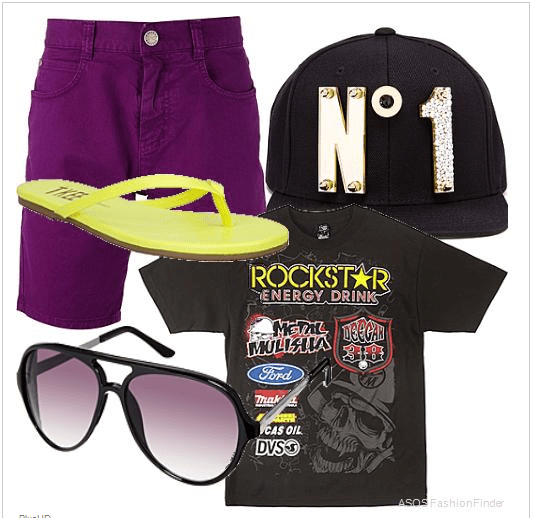 2 – Go Sleeveless For Summers
Sleeveless t-shirts make the most appealing and amazing summer outfits. You can find one with tight fitting to show off your muscles even more. It can look great with both jeans as well as shorts. A perfect beach wear for African American guys.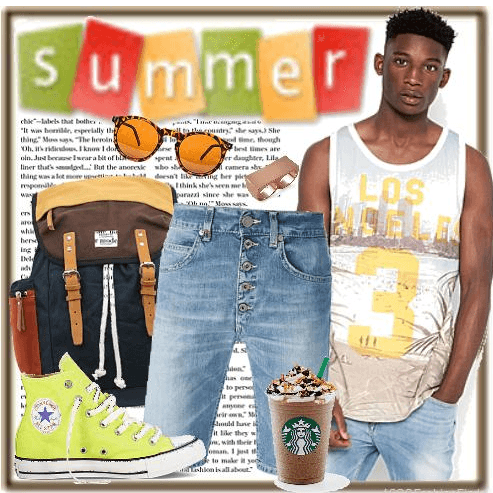 1 – Polo Shirts
This look surely is a chilling treat for the eyes. Great for men in 20s or 30s to wear in the Summer season.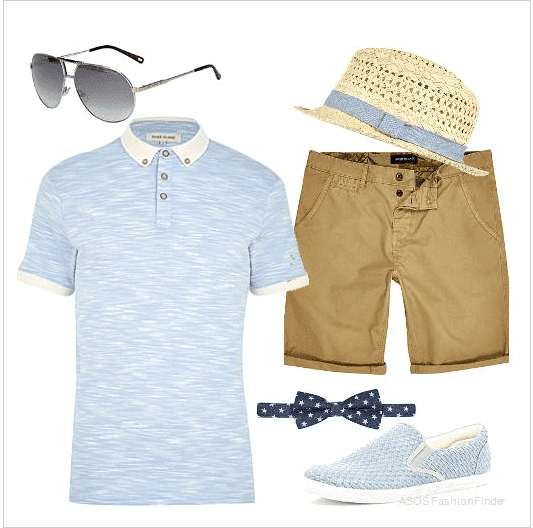 Frequently Asked Questions
Q.What is resort wear for men?
A.Resort wear refers to outfits worn by stylish people when traveling and when on a vacation. The style has been associated with summer wardrobe. Typically, you can wear your cruise outfits to your next visit at the beach.
Q.What shoes should men wear beach?
A.Personally, I recommend flip-flops and sandals. But apart from those two, you can try canvas casual shoes, espadrilles, and loafers.