How to wear a neckerchief? A neckerchief is a small scarf in different fabrics like silk, cotton, linen, and polyester. Neckerchieves are quite a trend these days. A neckerchief consists of a triangular piece of cloth or a rectangular piece folded into a triangle.
It is a nice way to complete your style statement in an easy and affordable way – by using it as an accessory to add color, interest, and dimension to your outfit. However, there is a number of ways to tie a neckerchief, and each knot or twist can transform your look, taking it from a classic outfit to a cowgirl outfit.
What to Wear with a Neckerchief?
A neckerchief is a perfect accessory to brighten up your outfits. I have listed below some stylish and easy ways to wear a neckerchief with coats, jackets, boots, and all sorts of outerwear for chilly days. On the other hand, for the spring and summer seasons and pair them with your short dresses shorts, and jeans. You can even wear them as tops! So let's start with some tips:
Neckerchiefs are usually small and square, however, larger squares can create a different look, which will definitely highlight your outfit.
Keep your ends in a square knot so that they lie flat and they look neater that way.
Neckerchiefs can be used for longer necks and shorter necks, however longer necks look more elegant in them.
Make sure you wear a neckerchief that complements your skin tone as it will be in direct contact with your face.
Choose your print wisely I recommend a modern print because others may create that dreaded stewardess look.
Go for vibrant and modern prints to enhance your look for parties.
My favorite option is to wear the neckerchief as a chocker with a side knot. Make sure to tie it properly, you don't want it to be messy.
22 – Try the French Style
Most of us were motivated to try the neckerchieves after seeing how gracefully Lily Collins carried them with her french girl outfits in the popular series, Emily in Paris. Here are a few of her best looks with neckerchieves: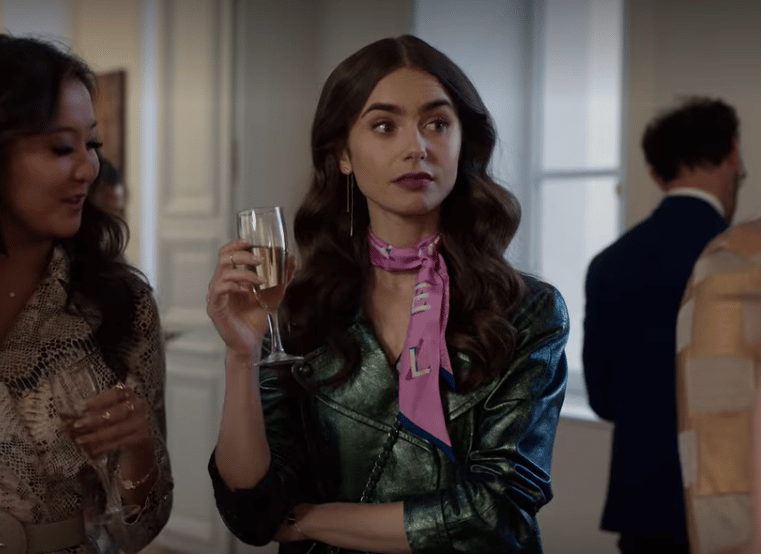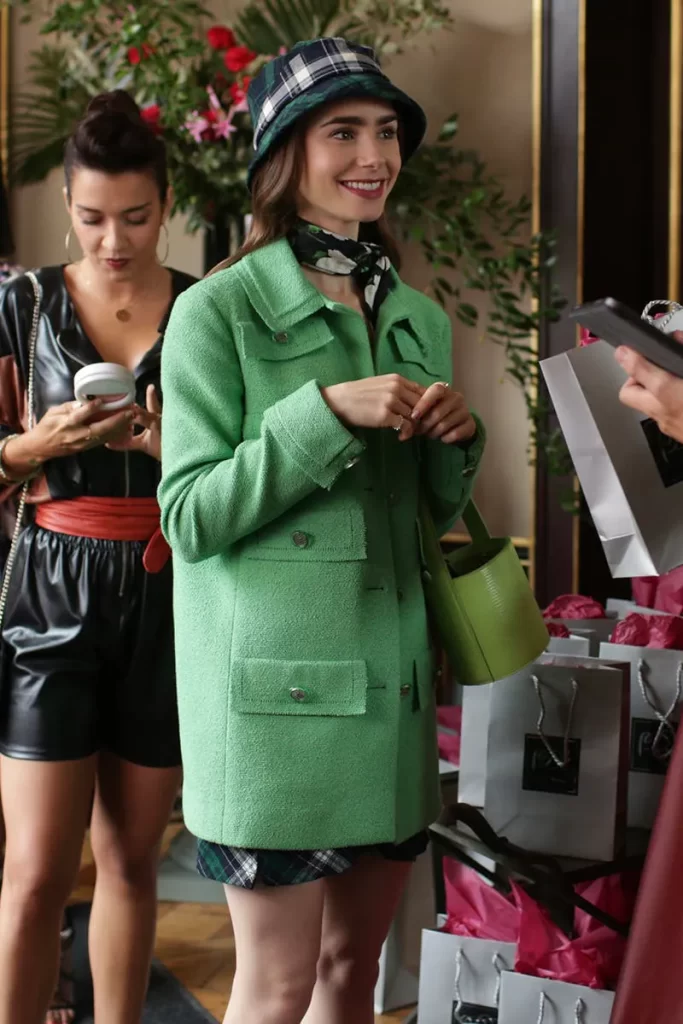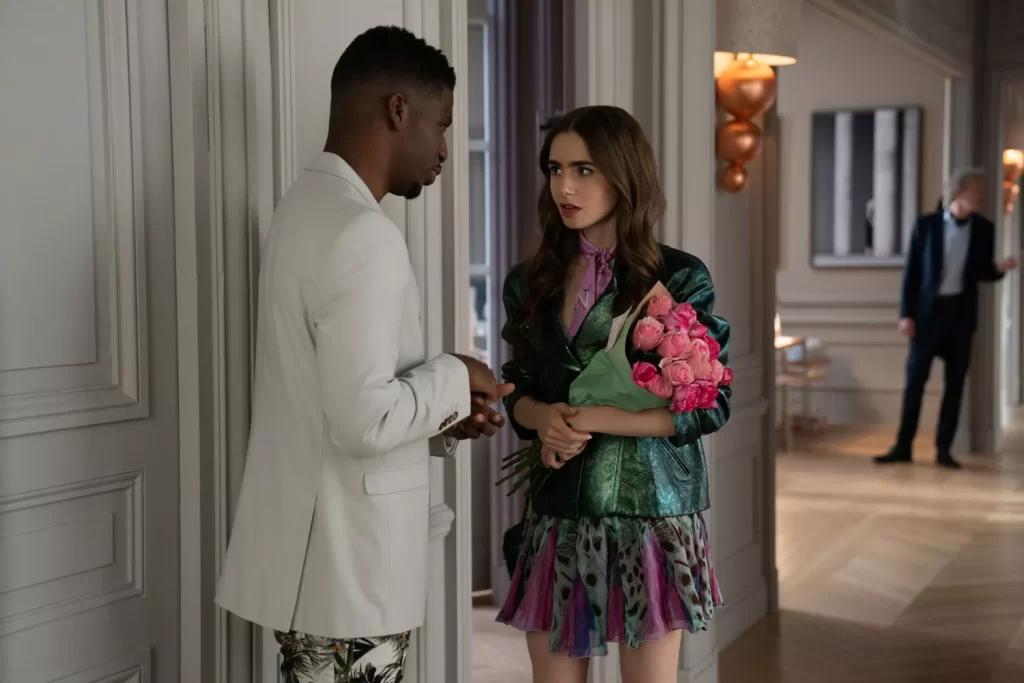 21 – Fall Neckerchief Outfit
For this fall outfit, the neckerchief is the real deal.
Roll and wrap it twice around the turtleneck of the sweater vest and tie it so the ends of the scarf would come down towards the front of the outfit.
If you're trying this look for work, pair the silk scarf with a white button-down, sweater vest, long boots, and your favorite accessories. Overall the silk scarf works very well with this outfit because it adds a bit of interest to an otherwise simple look.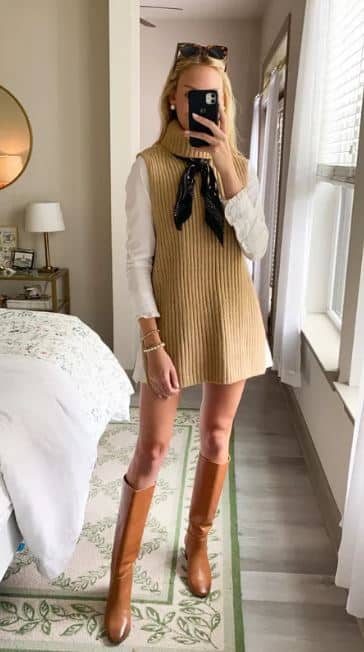 20 – Wear Neckerchief as a Headband
You can wear a neckerchief as a head accessory as well.
You don't always have to use the scarf to add dimension, contrast, or color to an outfit. Sometimes a scarf can just serve as a supporting accessory. In this outfit, wear your neckerchief as a head accessory that stands out with this denim dress and pair it with runners – a really cute weekend outfit to run your errands in.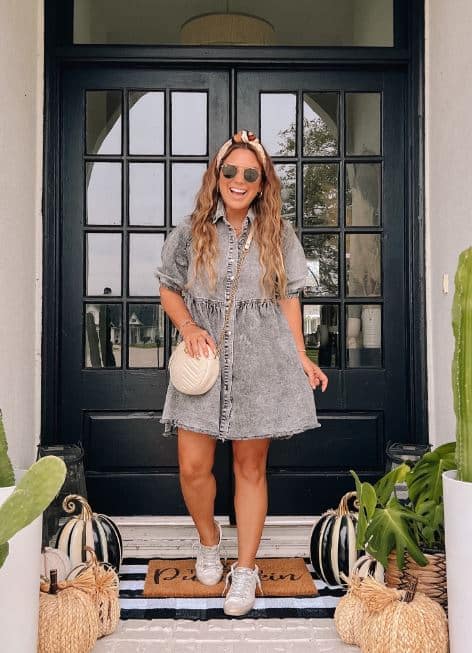 19 – Pair Neckerchief with a Trench Coat Outfit
Neckerchiefs should be fun, and you can have a wide variety of options. A winter coat can be very expensive, and a scarf, even a quality one, is cheaper. By owning a bunch of them, you will feel like you have a different coat every day! So, when it comes to patterns, you can be daring. But don't pair a patterned scarf with a patterned coat.
Love how well-coordinated the colors and patterns are in this outfit.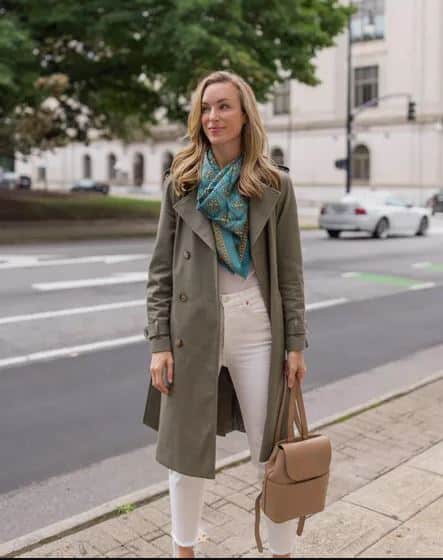 18 – Wear it as a Choker
This look is super cute and trendy. Moreover, the attention to detail is phenomenal!
My favorite option is to wear the neckerchief as a choker with a side knot. Shape it out like a band, hide the edges in the middle and wrap it flat around your neck as many times as needed.
You can make this look formal by opting for stiletto heels, or you can go for cowboy or ankle boots if you are going to be in the countryside!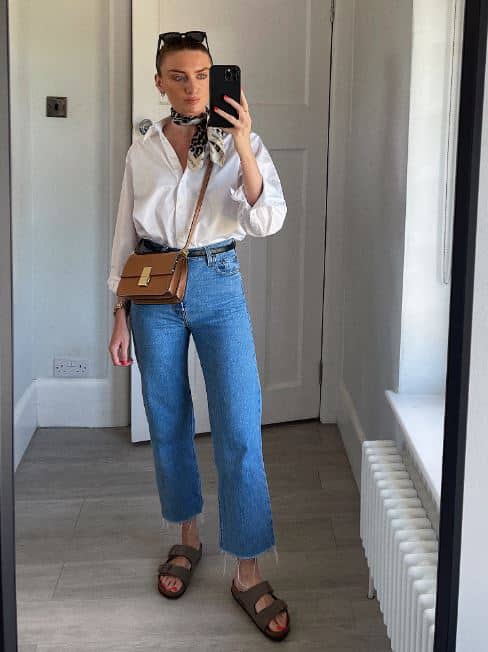 17 – Tie it Around Your Waist
Tie the scarf around your waist for a unique and equally wonderful Look. To keep an outfit from looking a little too plain don a fun patterned scarf instead of a belt, to add some interest.
In this outfit, instead of stopping at pants and a shirt, add a printed neckerchief around your waist for fun. You can try a floral, stripe, or even a nautical theme if you are headed to the lake or ocean.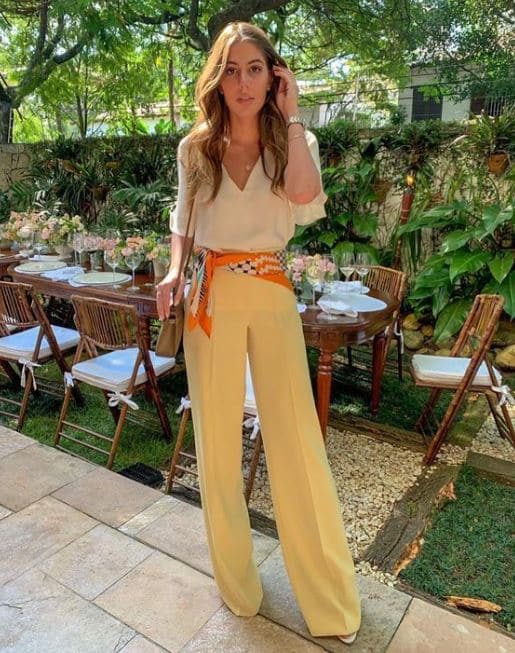 16 – Tie it Around the Handle of Your Purse
Be creative. Tie your scarf at the wrist, or wear it as a belt. The chicest way to incorporate a neckerchief into your wardrobe? Tie it around the handle of your purse! How effortlessly chic does that look?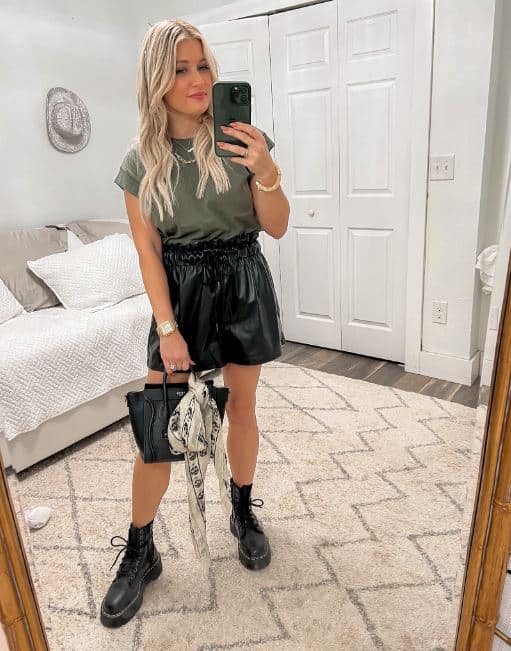 15 – Elegant Neckerchief Look for Mature Women
There are numerous ways to wear a neckerchief to have a special look and add colors to outfits for women over 40.
You can go for a vibrant color neckerchief and style it with your casual looks. It is a nice accessory used to get the maximum attention to your outfit. Try to style it with jeans and a tee. Wrapping a neckerchief around your neck and letting the knot hang out on the side makes you look elegant and well – posh.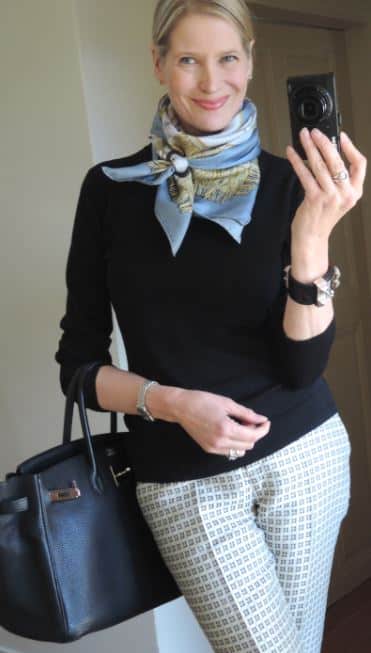 14 – Wear a 90cm Neckerchief as a Top
The most effortless way to style a 90cm Hermes scarf as a top is through the tube top style!
Grab your square-shaped scarf and fold it in half diagonally. Next, take the longer half of the triangle formed, center it in front of your chest, and tie the two corners in the middle of your back. Here are two cute ways to style your scarf tube top. And if you are lucky enough to own a Hermes scarf, you must check out these ideas on What To Wear With a Hermes Scarf?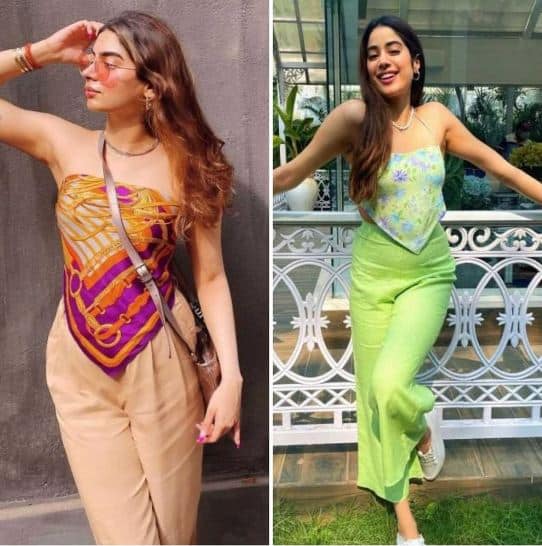 13 – Pair Neckerchief with a Skirt and Basic Top
Personally, I love to see ladies wear neckerchiefs to add a classic look to their outfits.
A silk neckerchief is an excellent way to add instant, effortless chic to your look. You can wear this accessory with any outfit, including a skirt and a cute top.
You can become a fashionista by just wearing a silk neckerchief and grab all the attention. This outfit looks incredibly breezy and comfortable – making it ideal for a daytime date.
12 – Street Style
You can make this cute accessory to be the center of attention in your outfit. Try styling yours this way to add a little extra something to jeans and a crop top.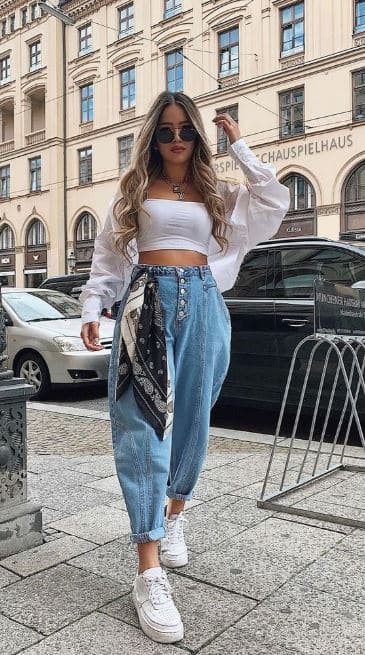 11 – Pair with a Floral Maxi Dress
If you are looking for a feminine, effortless, and easy-to-style outfit, this is the one for you!
Throw on a flowy maxi dress, and grab your favorite neckerchief to go along. Wrap it around your head like a bandana. Feminine, classy and effortless! If you're confused about styling your hair, you can surely take some ideas from these Bandana Hairstyles.
10 – Black and Yellow Never Goes Wrong
A classic black jumpsuit will never let you down if you are trying to achieve a chic look. Jumpsuits are a lot like slip dresses. They're basic and versatile pieces you can style up and down. To add a pop of color to your outfit wear a bright yellow neckerchief, and minimal jewelry and you'll look sharp and chic.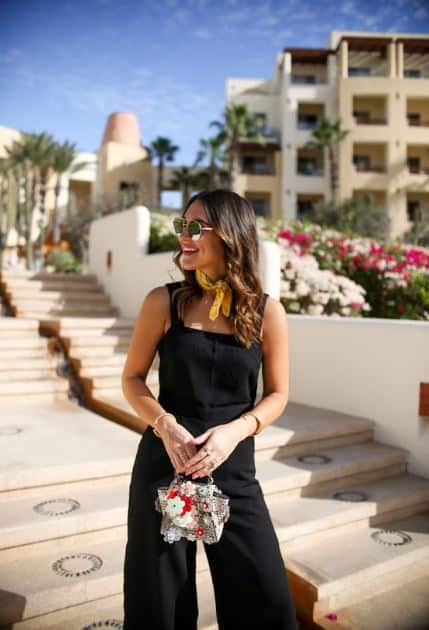 9 – Beautiful in Blazer
This outfit is perfect for the summer, it's super breathable, and you will look fashionable and feel comfortable throughout the day. 
Love how she has incorporated color blocking to this outfit by pairing a pink floral neckerchief and a turquoise green handbag. It is perfect to wear to work or any special occasion – white blazers are definitely a forever staple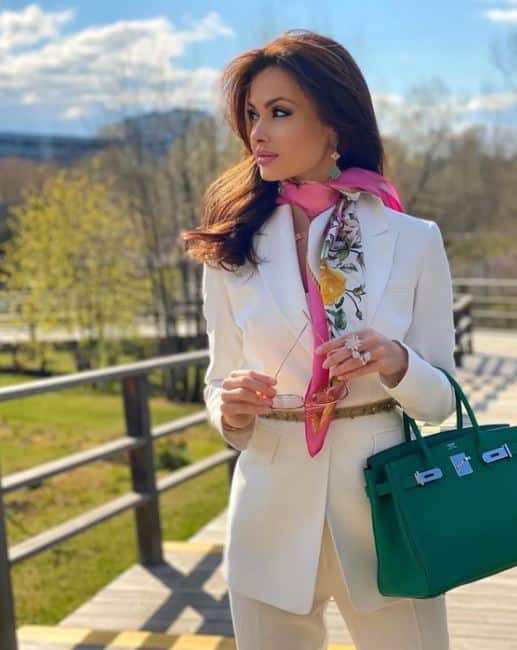 via
8 – Pair with a Crop Top and Cargo Pants for a Casual Street Style
There is so much to love about this look that we have picked out for you.
Let's start with the high-waisted cargo pants. They are great for summer as they are light and airy. They are super versatile as well.
We love how she paired her pants with a cropped white top.
She topped off the look with an amazing animal print neckerchief as a bandana which screams chic
7 – A Casual Day Out
Are you wondering what effortlessly chic is? This outfit is the answer for you!
For a casual look, throw on your usual casual pants with a neckerchief top and tie another neckerchief as a bandanna. This will hold your hair out of your face and also make you look stylish, chic, and super trendy! Have a look.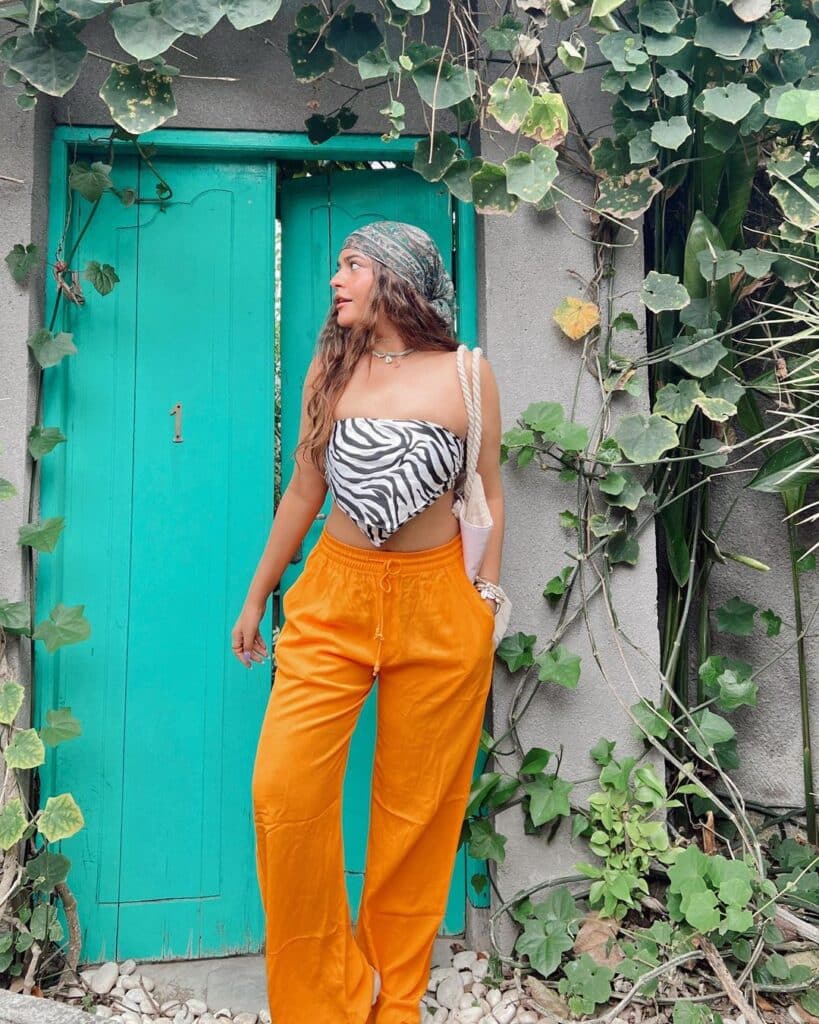 6 – Use Neckerchief as a Hair Accessory
Personally, I love to see ladies who wear neckerchieves as headwear. No matter if you want to achieve that special cowgirl look, bohemian or grunge style, this will make you look special and creative.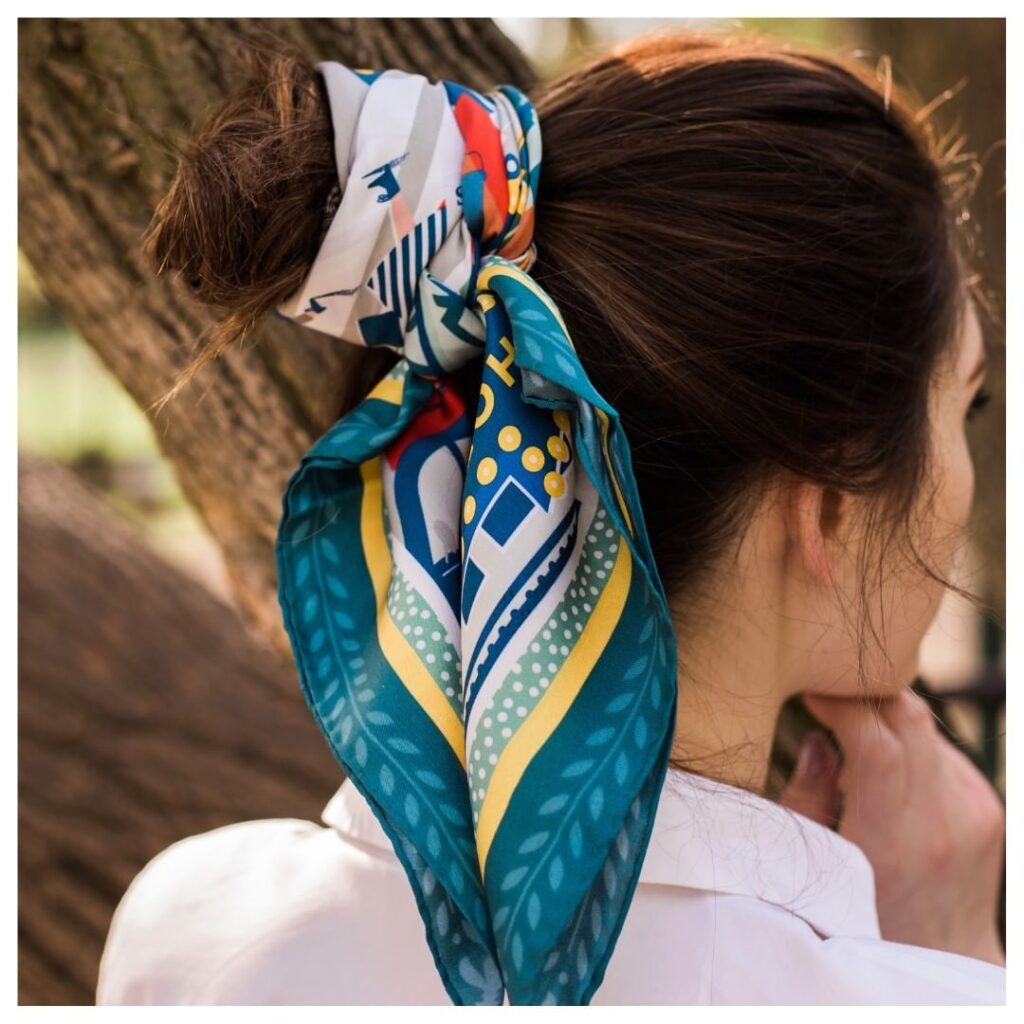 5 – Pair a Neckerchief Top with a Denim Skort
Skorts are a huge trend this summer. We have seen almost every other celebrity wearing them. Pair your neckerchief top with a skort for a more stylish and structured look. Complete the look with your favorite shades.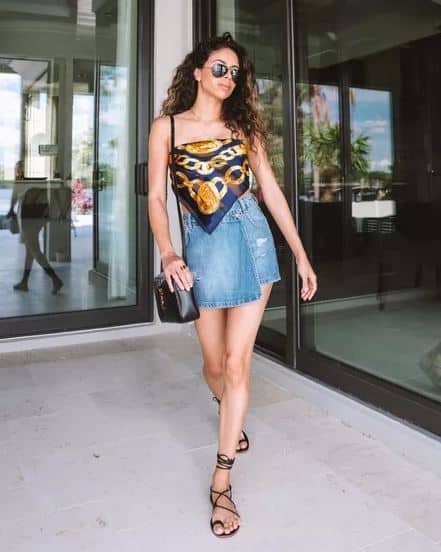 4 – Keep it Casual and Weather Friendly
A neatly tied mini-neck scarf can be a subtle, simple way of adding dimension to an outfit. Wear this printed scarf with a relatively plain outfit consisting of simple pants, a sweater shirt, and a camel coat. Feel put together in timeless pieces like the silk scarf.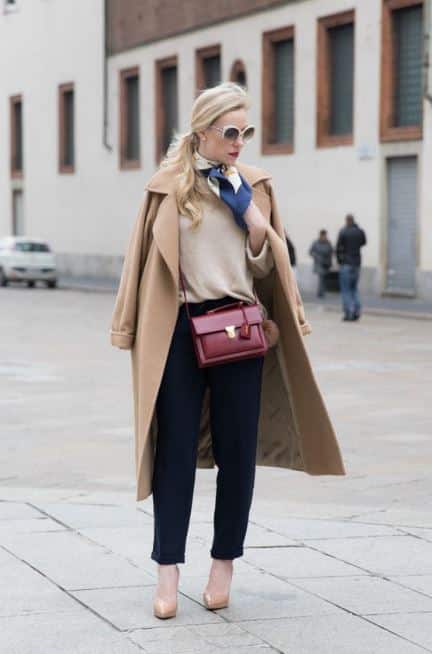 3 – Wear Neckerchief as Head Scarf
Here's a pretty way to wear a neckerchief that looks best when you are wearing a modest outfit with a simple neckline.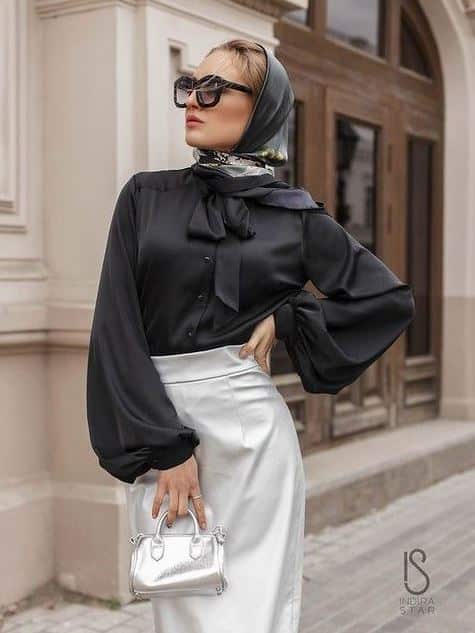 2 – Smart and Casual
Smart and casual, this way of tying your scarf will soon become a favorite. It's a perfect style to wear with a plain shirts.
For that extra style, add minimal accessories, go for bold lips, and don't forget to wear your sunglasses!
1 -Easy and classic
Easy and classic, this way to tie your square scarf is perfect for young girls.
This is one of the people's favorite ways to tie a silk square scarf, and for good reason as it showcases the pattern of the scarf while looking super chic at the same time. Loving the combination of pants and the neckerchief as they both match without going overboard.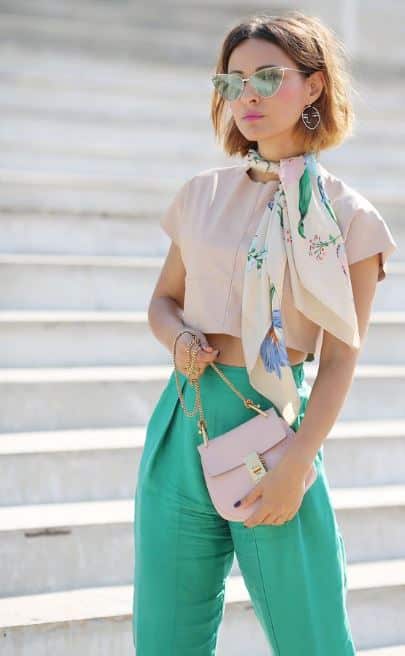 FREQUENTLY ASKED QUESTIONS
Q. What do people wear neckerchieves for ?
Several reasons – mainly decorative and functional.
Decorative purpose: Accessorising a plain or relatively plain costume
Decorative purpose: beautifying an essential but plain accessory
Functional or fashionable-functional purpose: as a piece of clothing
Functional purpose: for warmth
Functional purpose: holding hair in place
Functional purpose with a twist: as a belt
Q. How do you tie a neckerchief on the head?
If you want to wear it like a cap, then fold it across the diagonal, and put the fold on your forehead. Then take the two long corners and wrap them around your head and tie them in a knot, making sure the other corner is below the knot. If it is too short to tie, then you need a bigger neckerchief.
Q. What are some different ways to wear a scarf?
There are many ways to wear a scarf! Here are a few of my favorites:
Wrap it around your neck like a scarf would normally be worn. This is a classic look that can be dressed up or down, depending on the scarf you choose.
Use it as a headband! This is a great way to keep your hair out of your face, and it looks super cute.
Tie it around your bag strap. This is a great way to add a pop of color.