Tribal Pants Outfits: Clothing has always been the best way for people to express their style and aesthetics. We can even identify certain people by the way they dress. Similar was the case for indigenous people who presented and expressed themselves through their textile and unique fashion sense.
Each tribe had its specialty and was easily recognizable from the way they dressed. Moreover, clothing has held cultural and religious significance for tribes as far back as time goes!
While the times have changed and new fashion trends are being introduced every day, you will be delighted to know that tribal fashion is still very much in style! It would be best if you had the fitting silhouette and nitpick the best parts of the indigenous people's clothing, for example, tribal prints. One of the easiest ways to dress vintage-inspired is by incorporating the unique and beautiful prints of the olden times into your outfit – whether it be in your bottom, top, or even a scarf. I want to inform you that tribal pants are probably that one item you need in your wardrobe but never thought you would require it!
What To Wear With Tribal Pants?
In our last post, we talked about Tribal Jewelry, and today we bring you tips on styling tribal pants. Tribal printed pants are fun, trendy, and so unique to style while being right on-brand with your fashion sense. Not only this, but they can be worn for any possible occasion, whether it be the beach, a girls' day-out, a Sunday brunch, or a hiring interview. You can pull them off for any event if you dress and accessorize aptly!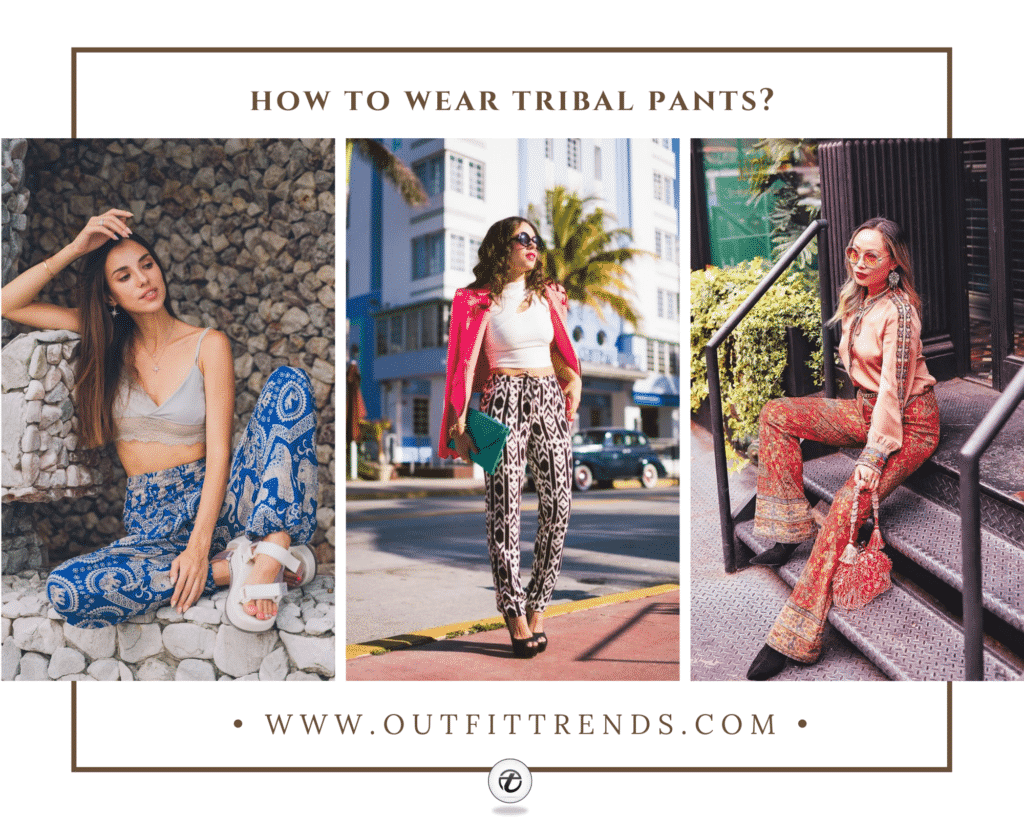 Where to Buy Tribal Printed Trousers?
Rock & Roll Denim: These striped printed pants (here) is super cute and fun to style!
Shein: This brand carries a versatile tribal range. And that too, in various styles, from flared and wide-legged to harem style, take a look at their collection (here).
Boho Buys: You need to check these stretchy tribal flares out (here).
Harem Pants: This brand is a dream-come-true for all the tribal lovers out there! How cute are these tribal Harem pants with ankle straps (here)?!
Anthony's: These tribal capri pants are a must-have in your wardrobe (here)!
↓ 42 – Black & Red Remedy
This look is simple, straightforward, and oh-so-elegant! The contrast of the black against red is always a classic and leaves you looking effortless. Moreover, I love that she kept it simple with nude heels, a purse, and a statement necklace to compliment the pants. The perfect way to look effortlessly chic!
↓ 41 – Revive & Relax!
Are you looking for something stylish yet sustainable to wear for your yoga class? Look no further because this outfit is the answer to all your queries! The simplicity of the black tank top helps enhance the vibrance of the statement pants. And the loose fitting of these would enable you to stretch and relax in whatever pose you want to. Throw your hair in a similar braided bun to keep it out of the way, and you are all set to focus!
↓ 40 – The Animal Print Edition
↓ 39 – Effortless Everyday!
What a cute way to style your printed tribal pants?! The patterned cut-out top looks phenomenal with these gorgeous pants, and the denim jacket brings the whole look together. And this tribal clutch is the perfect accessory to complement the top and bottoms. Adorn a pair of small golden hoops, and your look for the day is complete!
↓ 38 – How to Style Tribal Pants for Teenagers?
This outfit is so trendy, playful, and vibrant! I love the pink denim against the purple pants, a combination that is truly a classic. Furthermore, the army boots add a slight edge to the look and leave you looking so fashionable. Add on a hair scarf while styling your hair, throw on some silver hoops, and you are a vision to behold.
Shop the look below:
Button Down Denim Jean Jacket $29.89
Blueberry Kulture Hippie Harem Pants $39.38
Combat Lace-Up Side Zipper Mid Calf Boots $37.99
↓ 37 – Truly Tantalizing in Tans!
A gorgeous look for your everyday runs to the market or for a casual window shopping day! The colors of this outfit exclaim summer and are comfortable enough to last you the entire day without leaving you exhausted by the end.
↓ 36 – Winsomely Vogue
This outfit is perfect for shopping days with the besties! I adore the sheer simplicity, sparkled with the elegance of this entire look. The vogue top is truly vogue, and the snake print pants are an ideal match to similar shoes. Style with dainty gold jewelry to complete this masterpiece of a look!
↓ 35 – Brown & Cream Euphony
↓ 34 – An Outfit For Any Occasion
↓ 33 – Springing in Pastels
Matching two-piece sets are so fun and easy to style. You save the hassle of looking for the perfect top to match your bottoms because everything is done for you. Throw on some cute white sneakers and head out for the day!
↓ 32 – Tribal Fashion for the Modern Days!
Ready to hit the farm? Throw on this cute and pleasant outfit to breeze through the day!
Shop similar right here:
Western Floral Embossed Genuine Leather Belt $16.95
Wide Leg Paisley Print Pants $55.99
↓ 31 – Vacay Lux
Looking at this outfit, the first words that pop into my head are comfortable, fashionable, and so chic! And these are the exact qualities you are looking for in an outfit when dressing on your vacation.
↓ 30 – The Matching Set
Another matching set which is so feminine and pretty! Want to glam it up to make it wedding appropriate? Style with a classy white sequined blazer, nude clutch purse and, nude court shoes. Contrarily, if you wish to dress down for a more casual day, opt for some sneakers and a denim jacket.
↓ 29 – Tribal Pants Outfits for Plus Sized Ladies!
↓ 28 – Hairstyles to Wear With Tribal Pants
Everything braids look phenomenal with such vintage-inspired pants. Therefore, box braids, braided buns, half-up-half-down braids would all leave you looking effortlessly chic.
↓ 27 – Truly Tribal to the Roots
If you are not comfortable wearing such a loud and bold outfit, we would suggest toning the accessories down. Opt for daintier tribal-inspired pieces on the neck to complement this off-shoulder top and delicate earrings. Plus, those shoes are to-die-for!
↓ 26 – Blues Clues!
↓ 25 – The Fit For The Juniors
This adorableness needs no words to be described! All I know is that you must match your tiny one in similar outfits.
↓ 24 – Classy is my Middle Name
↓ 23 – Keepin' it Simple With Harems!
↓ 22 – Boss Lady Outfit With Tribal Pants!
I love how fashionable this outfit is! It is the perfect pick for a new job interview or a meeting with important people. Not only would you be styled to impress, but it would also give you a significant confidence boost. This look is the perfect amount of simple and fashionable. How creative! Here are some more tips to help you Dress Like a Boss Girl.
↓ 21 – Ravishingly Rustic
↓ 20 – The Simple Way to Style Harem Pants
I personally love tribal printed harem pants the most which is why I also recommend that you go through these fabulous Harem Pant Outfits.
↓ 19 – Accessories For Your Tribal Printed Palazzos!
Rusts and orange hues look fantastic for every occasion, wildly when these bold colors are styled in such a tremendous manner. The palazzo pants are chic and so modern. But what indeed elevates this look are the shoes and accessories. The statement belt is phenomenal; the purse is a statement in itself, and the dainty gold jewelry brings the entire look together. What a splendid way to style tribal palazzos! Here are some more ideas on the different Ways to Wear Palazzo Pants with Sneakers.
↓ 18 – How to Wear Tribal Pants for Women Over 50?
My only suggestion would be not to shy away from colors and vibrant shades just because you are above 50. After all, age is truly just a number!
↓ 17 – Presenting Patchwork Tribal Pants!
↓ 16 – Beauty in Blue
↓ 15 – Ready to Hit the Barn!
Tribal prints are truly unique and the perfect way to dress vintage. This tribal-inspired pant outfit is so pretty and easy on the eyes! The crop top matches the bottoms ideally, and the boots and sunhat add a slightly bohemian edge to the look.
↓ 14 – The Music Festival Fit
↓ 13 – Girl's Day Out!
↓ 12 – When to Wear Tribal Pants?
Tribal pants can be your ideal companion for any occasion. But if you are traveling and need to look effortlessly classy on your vacation, then I would suggest packing a pair of tribal pants! Depending upon the style, if you pack wide-legged or palazzos, then a complementing fitted top would do the trick and leave you looking trendy and comfortable.
↓ 11 – Turnin' Up Exuding Class & Elegance!
This outfit would help you establish who the real boss is, leaving no space for questions! The monochrome palette is so refreshing and very business-appropriate. The white blazer is a statement piece, and the gold chains add to the mystery of this look.
↓ 10 – Spring Break, Beach Babe!
↓ 09 – Shoes to Wear With Tribal Pants Outfits
These Kolhapuri sandals look so unique and stylish with these printed vintage pants! Overall, this looks like the ideal outfit pick for creating new art in the studio or working on important projects with friends at home.
↓ 08 – For the Tie & Dye Fans
↓ 07 – Amp it Up in Mama Style!
Being a new mom is stressful as it is, with all the new responsibilities bestowed upon you. But something to make yourself feel better is styling and dolling yourself self up! This new mother looks terrific in these tribal printed bottoms, and the white top is a wardrobe staple must-have.
↓ 06 – Where to Wear Tribal Pant Suit?
A tribal suit can be the perfect wear for many different occasions. Some of them include a meeting day at the office, a brunch look, a bachelorette party, or even a wedding! The possibilities are endless, especially if you have a suit as dapper as this one.
Shop the look below:
Ankara Blazers and Pants Set $184
↓ 05 – Beauty in Black
↓ 04 – How to Wear Tribal Pants for a Semi Formal Event?
Pick out remarkably printed pants and look for a silk shirt to match the pants. Next, tug in the shirt similar as done in the picture. Accessorize with the appropriate earrings and bracelets and rings, style your hair in gorgeous waves, and you are good to go. Oh, and do not forget to glam up the face too!
↓ 03 – An Everyday Look for a Casual Day-Out!
↓ 02 – A Feminine Boho Affair
There is nothing about this look that is not to love. From this gorgeous to the unique cut of the pants and the minor boho elements in the attire, everything about this look screams boho, feminine, and oh-so-fun!
↓ 01 – Grunge But Make it Bright & Classy!
Frequently Asked Questions
Q. What are tribal pants?
A. Tribal pants are the types of pants worn by the indigenous people back in the day. While the pants are not worn as they used to be, different aspects are bring taken and given a unique spin to make them modern. For instance, tribal prints are primarily popular today and are present in bottoms of all shapes and sizes, from shorts to capris to wide-legged flares. Similarly, the silhouette of the pants is an inspiration for modern-day dressing. Tribal prints are culturally important to the people, consisting of animals and other significant patterns.
Q. Are Harem pants the same as tribal pants?
A. Harem pants are essentially a type of tribal pants. While most tribal-inspired printed pants are labeled as tribal pants, harems are a little more than that. The silhouette of these pants traces directly back to the people of the 1910s, put forth by a Parisian designer. These pants served to conserve the modesty of women and divert attention away from the shape of their legs. Today they are widely popular among bohemians and all comfort lovers for the unrestricted movement and breathability they provide with their wear!
Q. What should I wear with tribal pants?
A. The way of styling your tribal pants highly depends upon three aspects:
Silhouette: The cut and shape of the pants determine what top to wear with them. If the bottoms are fitted, you can wear an oversized top, for example, a knit sweater. Contrarily, if the pants are flared and wide-legged, a cropped cami would sit marvelously on top.
Print: If the pattern of the pants is bold and colorful, you might want to wear a more muted, nude top. However, if the design is more timid and monochrome, then a brightly colored top would look splendid along with bright shoes!
Occasion: The occasion you are dressing for is significant. For a more formal gathering, style your tribal pants with stiletto heels, lovely jewels, and a fancy clutch. But for a low-key day, ditch those heels for sneakers and a backpack instead of a purse.
Janeeta Khan loves to write and loses herself in the world of fiction during her free time. You will probably find her curled in the corner with a Harry Potter book and a steaming mug of hot cocoa.