Pleated pant outfits: You probably know that women wore skirts and dresses earlier, no matter the occasion or season. But do you know why that was? For the longest time, pants had been associated exclusively with men as a symbol of power and dominance; thus, the origin of the idiom "wears the pants."
As time progressed, it became more and more acceptable for women to wear pants in public after their constant struggle and the ongoing fight for their rights. Finally, by the 1970s, women could wear pants freely whenever and wherever they wanted!
This significant change introduced pleated pants among females to wear to work-related activities and social purposes. Thus, women's rights activists paved the way to wear whatever we pleased, and women began to style pleated pants in a modern and chic manner. Today, pleated pants remain as popular as ever and are worn to various events, ranging from weddings to loungewear.
How To Wear Pleated Pants?
Pleated pants are a clothing item that has been around as far back as time goes. And the ways to style them have revolutionized over time. These pants are easy to carry and look phenomenal on the wear.
Along with being comfortable, they add a little extra detailing to your trousers and tend to cater to all body types. Not only do they look flattering on plus-sized body types, but they also add fullness around the hips for petite women depending upon the number of pleats.
Simultaneously, a single pleat at the front of trousers gives a slimmer appearance to the wearer.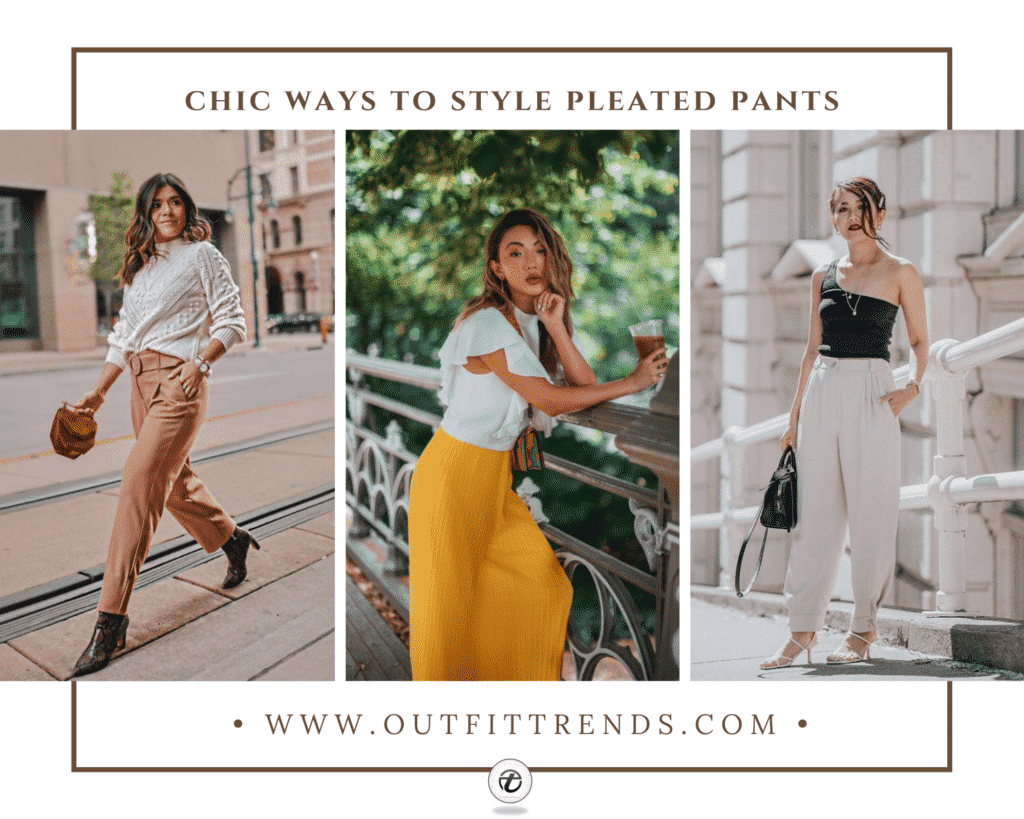 Styling Tips :
I would suggest wearing this style of trousers in the loose-fitting. Chances are you might rip your pleats if the pants are too fitted.
For a modern and trendy look, style fitted tops with pleated pants. The fitted top would balance out the bagginess of the trousers. If you are uncomfortable wearing fitted tops, throw on an oversized jacket on top of your snug top!
Do not forget to wear a belt for an intelligent and accentuated look. If your pants come with a built-in strap, then you are good to go!
Make sure to get pants that are slim or cuffed at the ankles. This would give your legs a more shapely appearance unless you intentionally opt for loose, straight-cut trousers.
If you do not want a lot of volume around your hips and want to appear slimmer, choose the pants with a single pleat. Just the right amount of roomy and snug!
Master the art of tucking your shirt in your pants! If a particular shirt is not working with your pleated pants, chances are it will look spectacular with a half-tucked-in look.
↓ 52 – Double Pleats for the Holiday!
This outfit is the definition of outfit goals! It is classy, elegant, outgoing, sexy, and oh-so-smart. Moreover, pairing the white with the lilac pleated pants for summers is a dream come true for pastel lovers. Throw on a pair of white sneakers if you will be on your feet all day long; otherwise, some nice heels will perfectly match this chic outfit! Here are some more of our favorite Outfits for the Airport.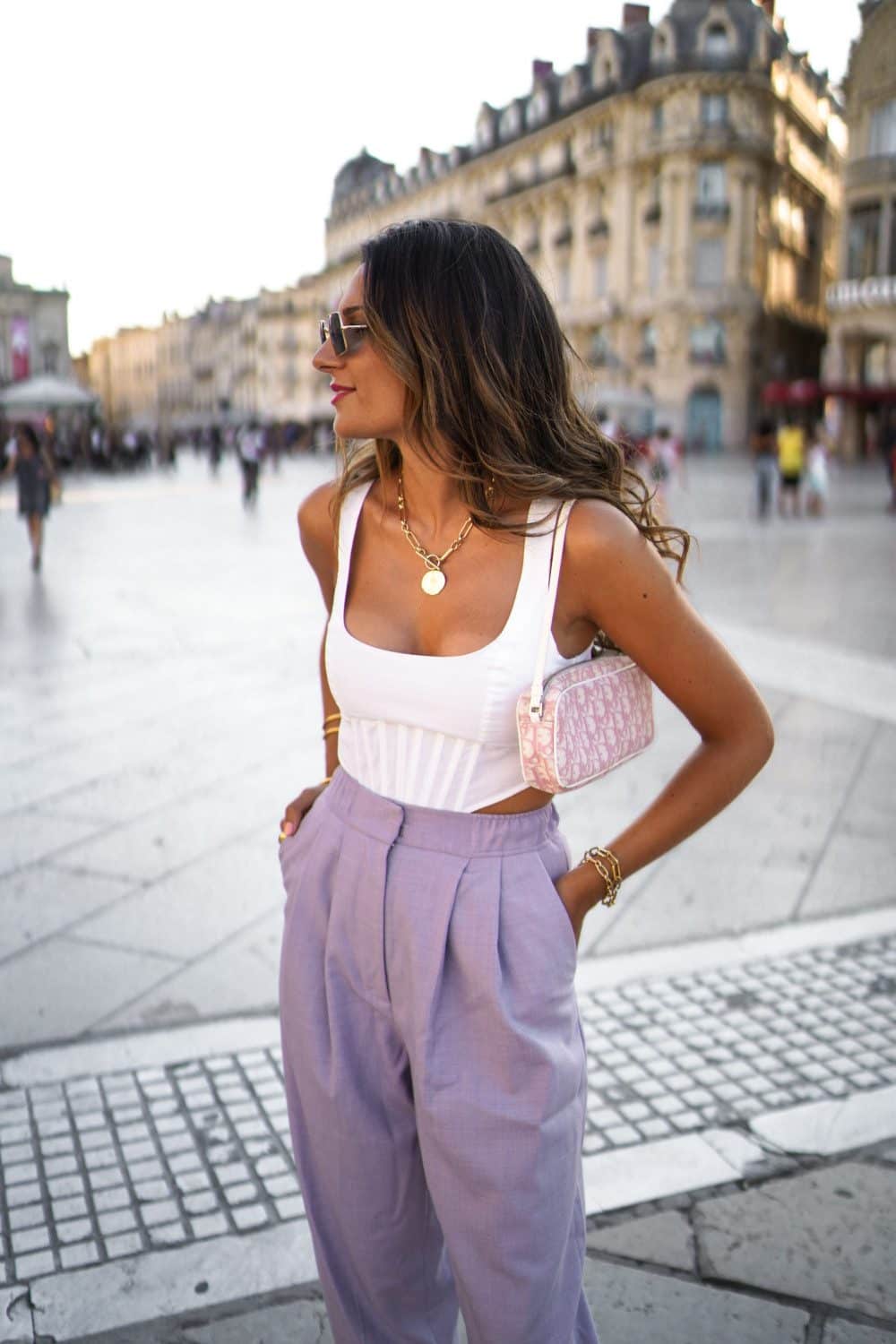 ↓ 51 – All Decked Out With Pleated Leather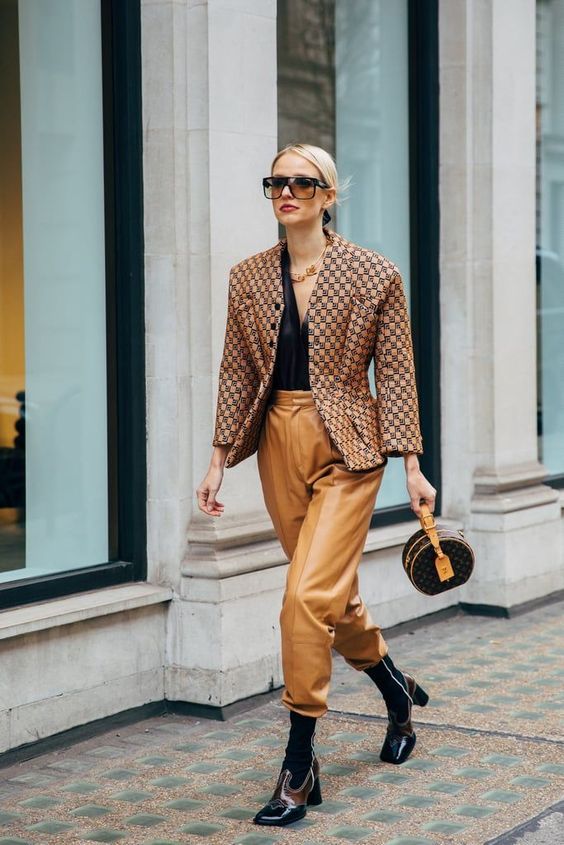 ↓ 50 – Diva in Wide-Legged
Looking for the perfect outfit to wear to a fancy pool party? Look no further because this outfit – with a few additions here and there – is ideal for a party by the pool! The high-waisted pleated pants make this outfit fancy, while the balloon-sleeved bikini top makes it pool-appropriate. Add on a cute straw hat or glasses and a cute dainty necklace to complete your look!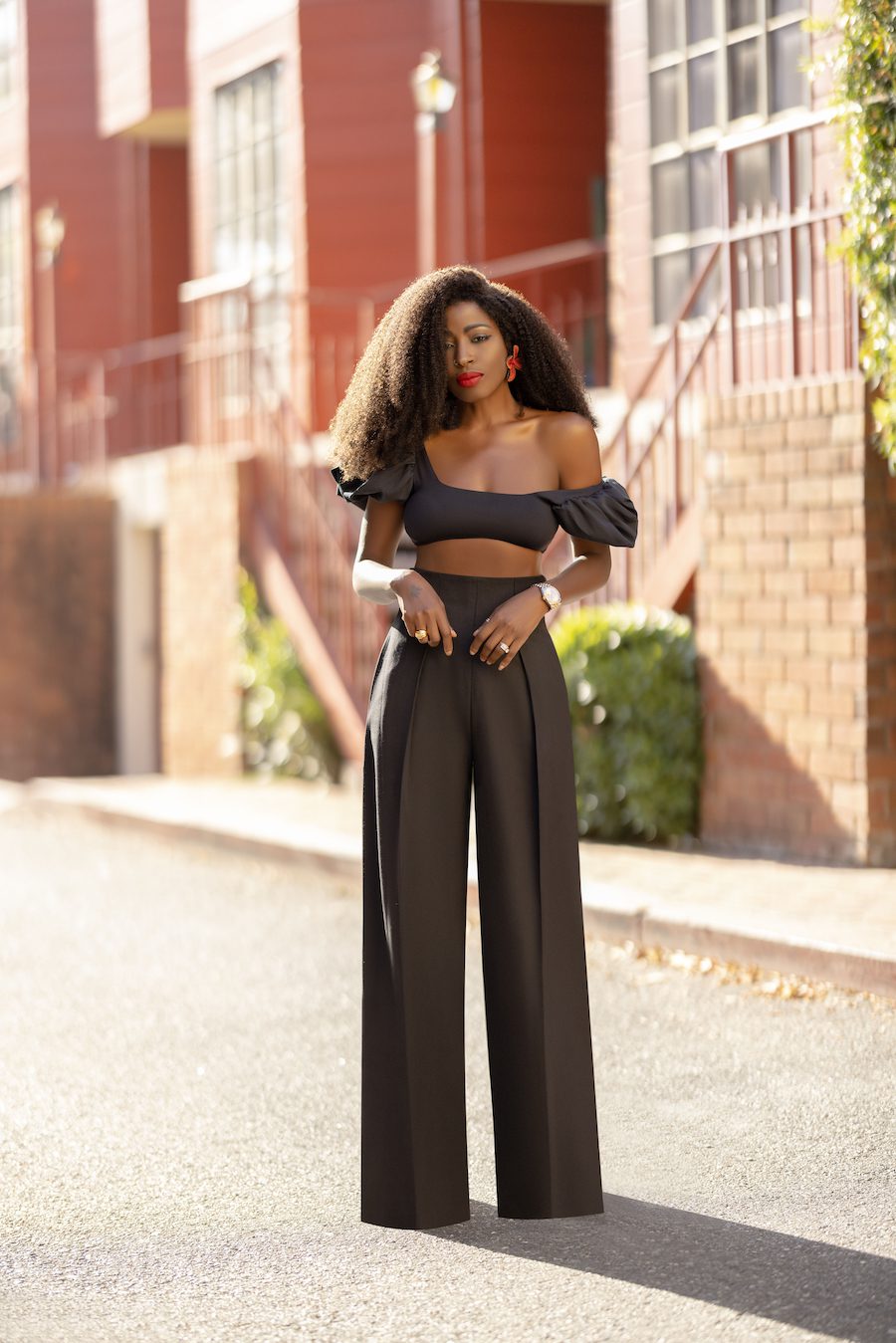 Shop the look:
Zara Balloon Sleeve Bikini Top $35.90
High Waist Wide Leg Gabardine Pants $595.00
↓ 49 – Executing That Barbie Inspo!
↓ 48 – Pretty Fellow in Mustard & Lilac!
The color palette of this outfit is exemplary for the spring-summer season! Not only is it bright and eye-catching but, it would also make you stand out in the crowd while looking extra fresh.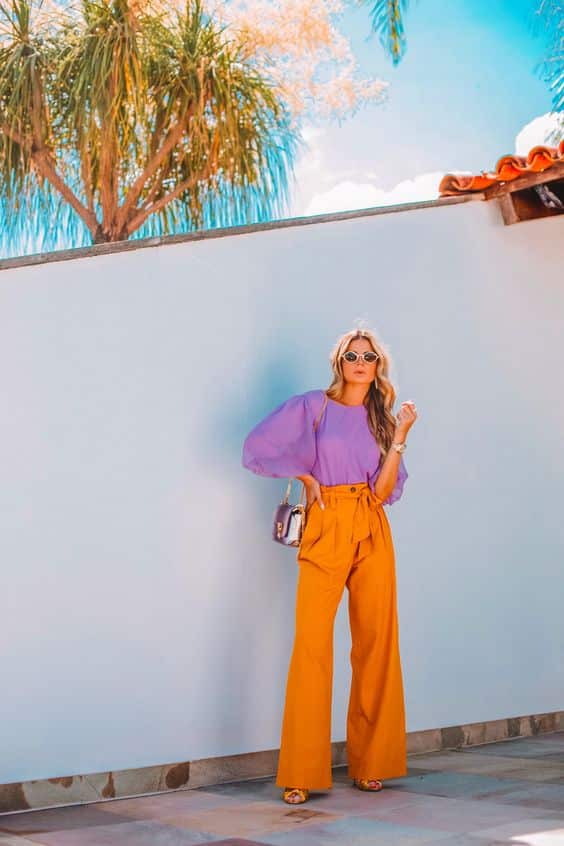 ↓ 47 – The Snake Print Edition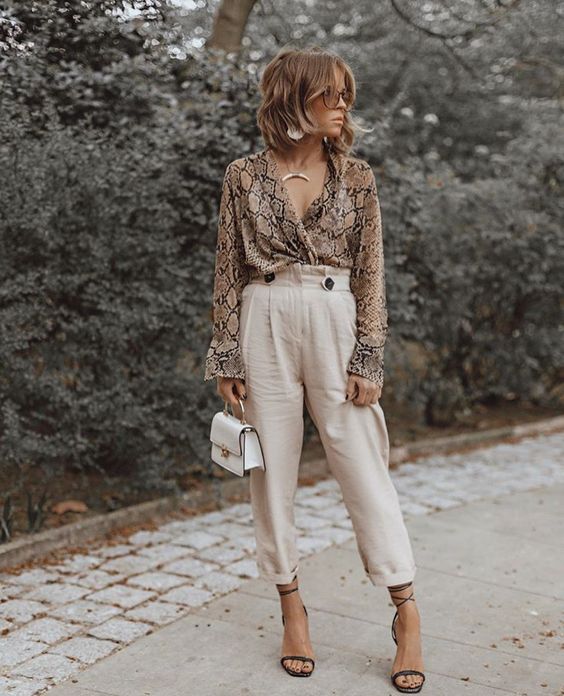 ↓ 46 – Khaki Pleated Pants with Stripes
High-waisted pants are a wardrobe staple, and with how well they fit, I would say, rightly so! Throw in pleats in the mix, and you are ready to make a statement. This outfit is so clever, and I love how well everything works together!
The stripes on the khaki look effortless, and the red lip to match the red shoes bring the entire look together. Add on a khaki blazer, and this look is officially work-appropriate! Do check out this collection of the best Khaki Pant Outfits for Women.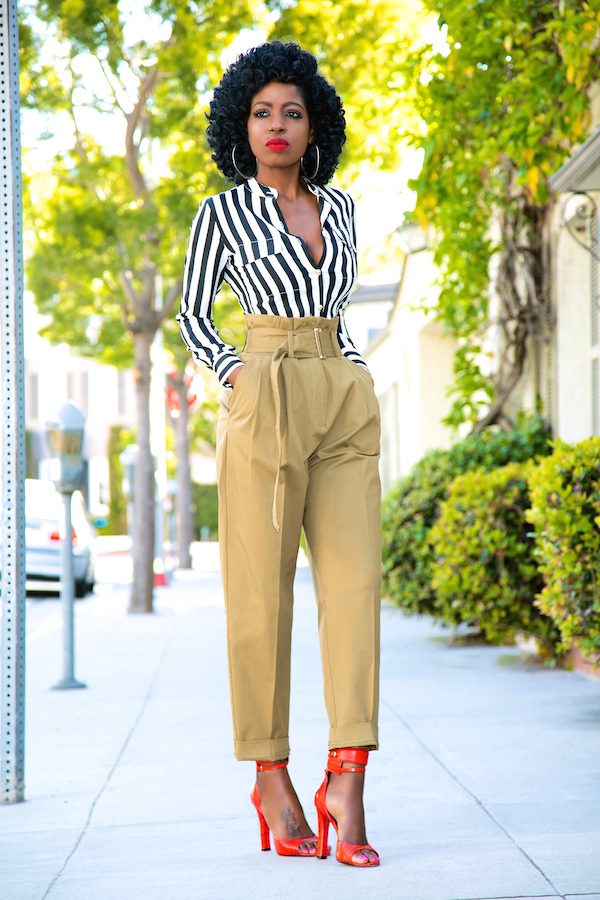 ↓ 45 – Barely-There Pleats in Lavender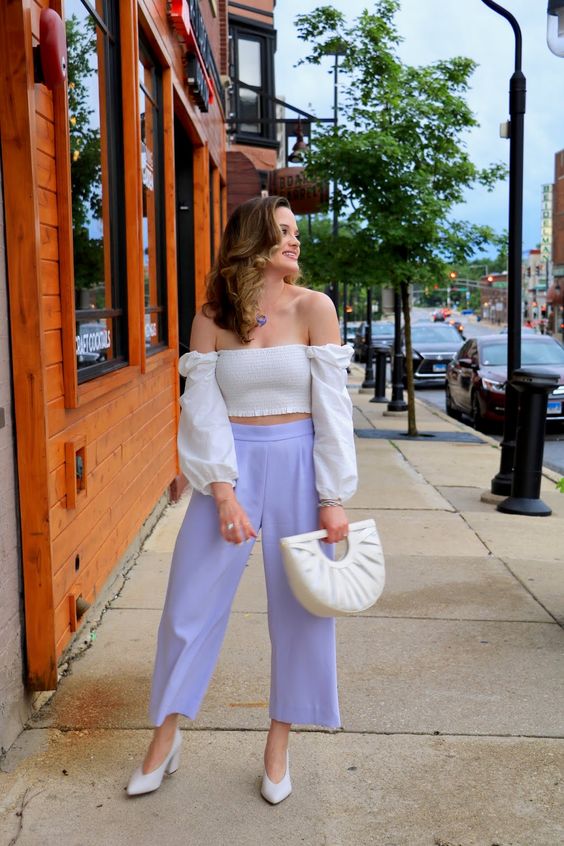 ↓ 44 – Browns & Oranges Done Right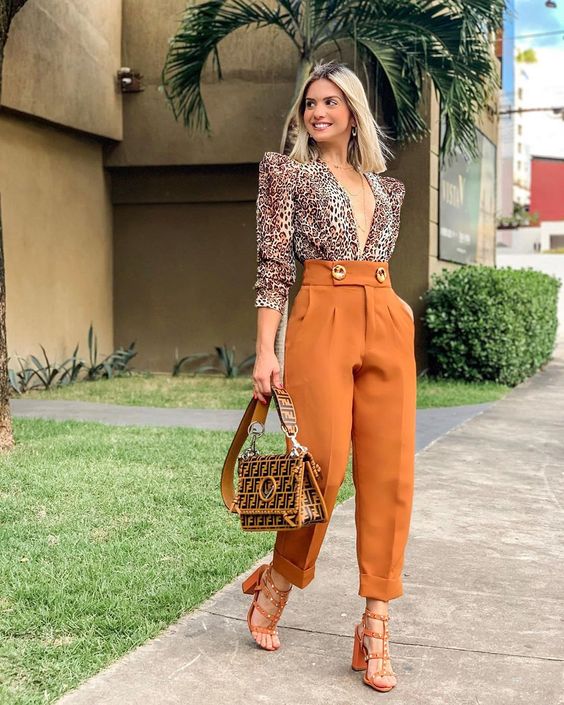 ↓ 43 – Minty Aesthetics for Pleated Pants Outfits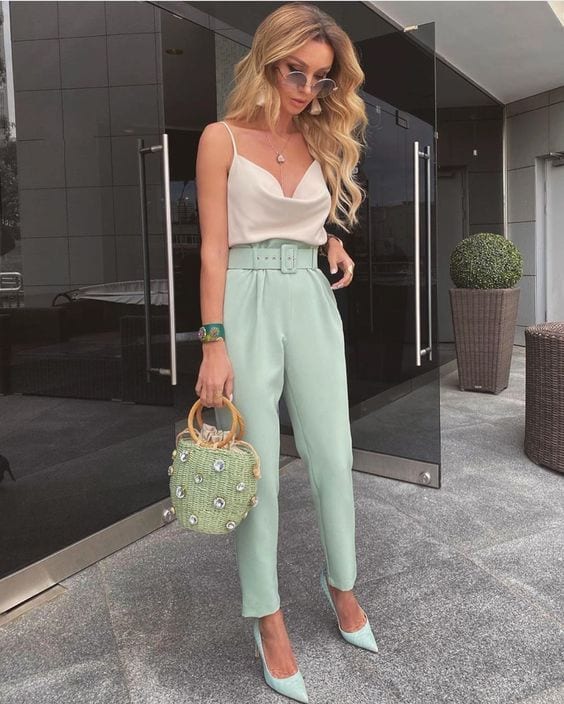 ↓ 42 – Fit for the Cool Summer Days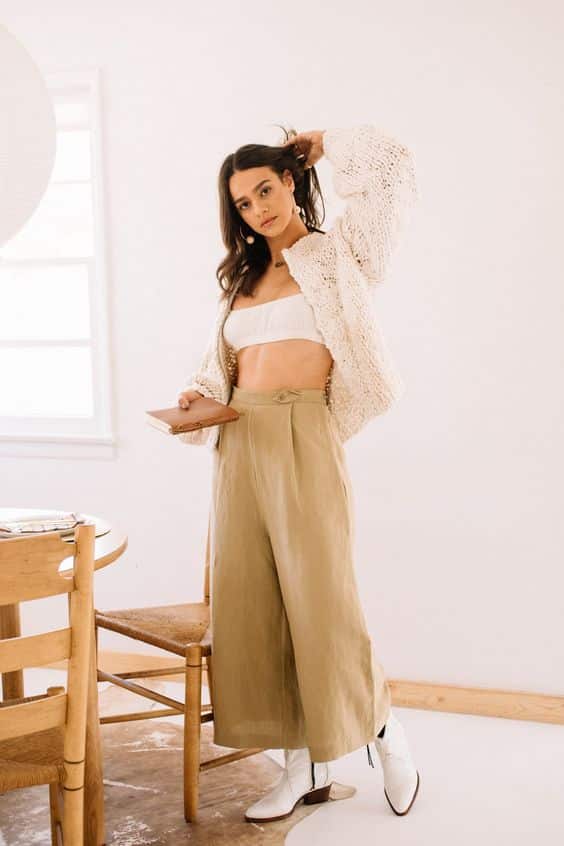 ↓ 41 – All-Over in Blue Gray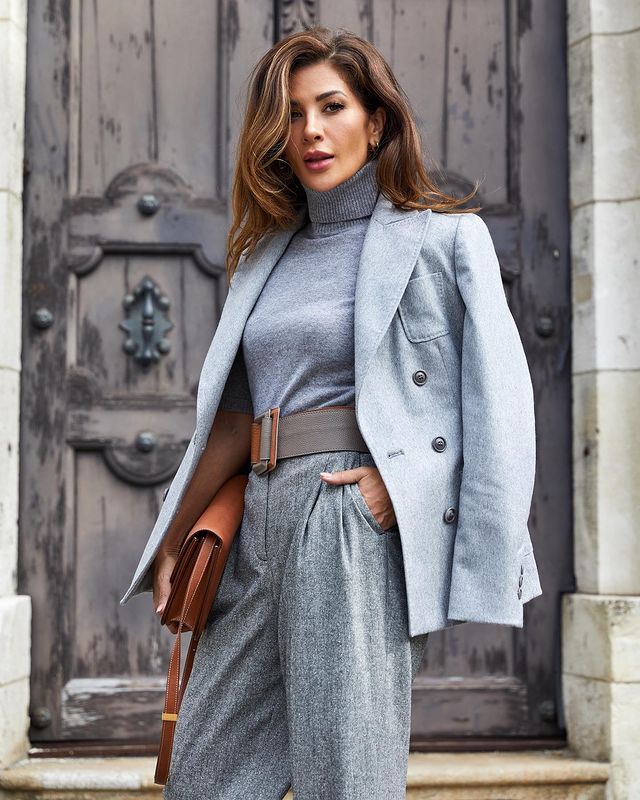 ↓ 40 – Pastel Perfection!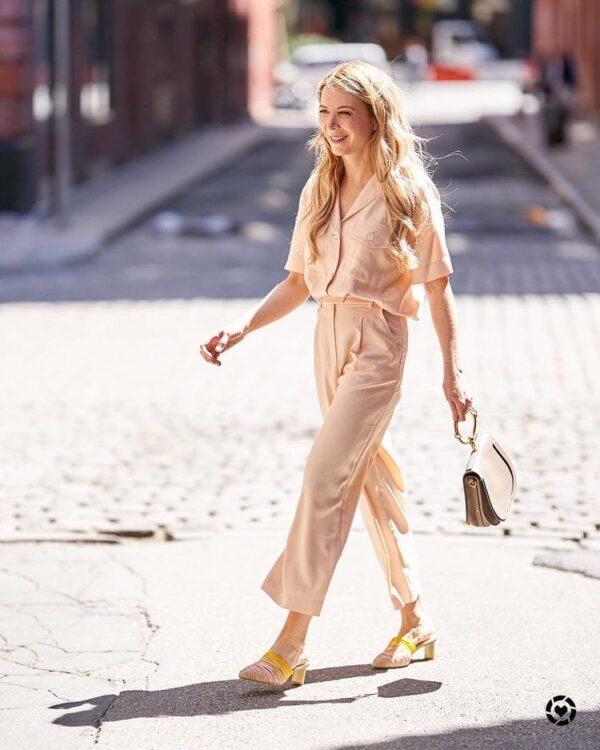 ↓ 39 – Pleated Pants Oufits for Curvy Ladies!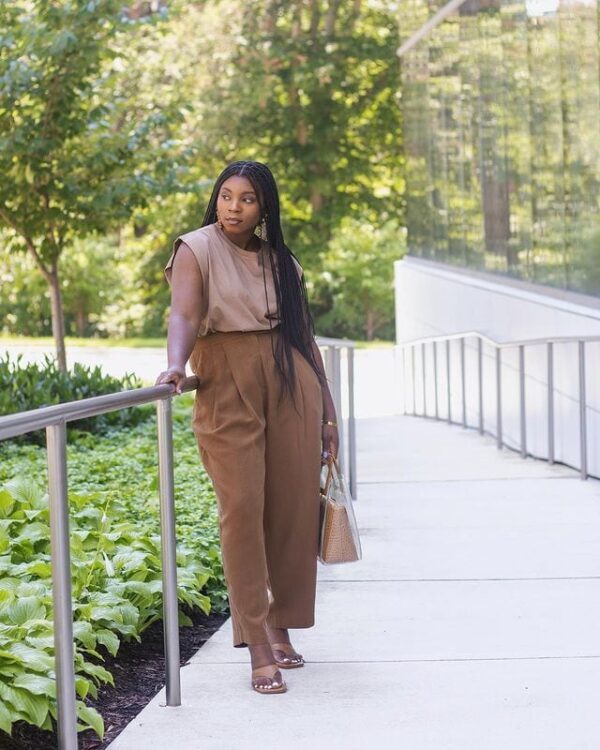 ↓ 38 – Classic Fit Pleated Denim Outfit for Teenagers
Graphic printed tee-shirts are so easy to style and look effortless on the wear. This entire fit was crafted especially for teenage fashionistas! The tucked-in graphic tee looks exquisite/, and the blazer to complement the print on the tee shirt ties the entire look smoothly.
You are free to opt for a tee-shirt printed of the color of your desire. I would advise trying to match your blazer to that; otherwise, black, white, and brown are classic options that you can not go wrong with!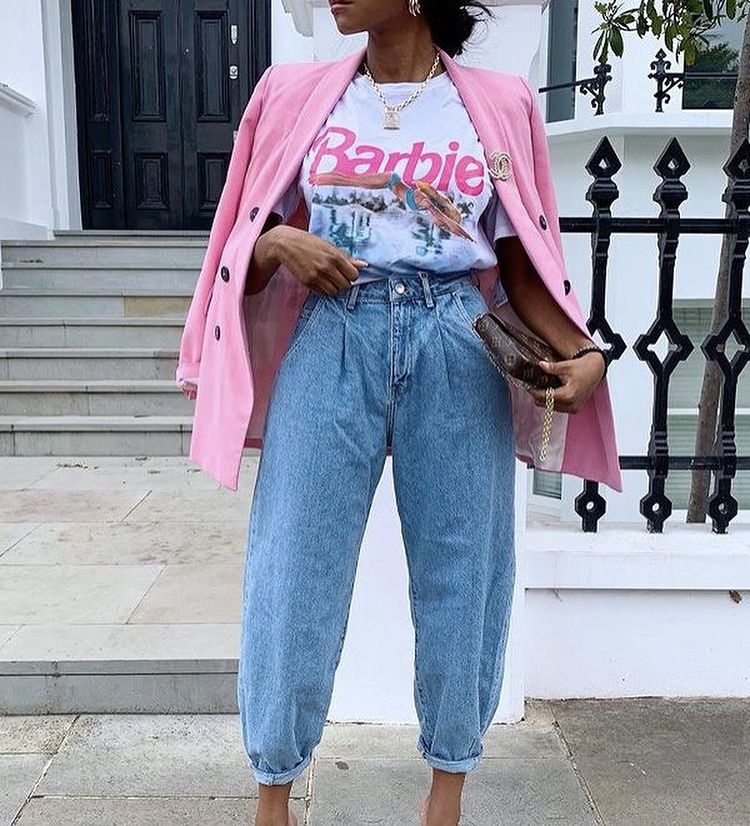 ↓ 37 – Glam it Up in Pleats!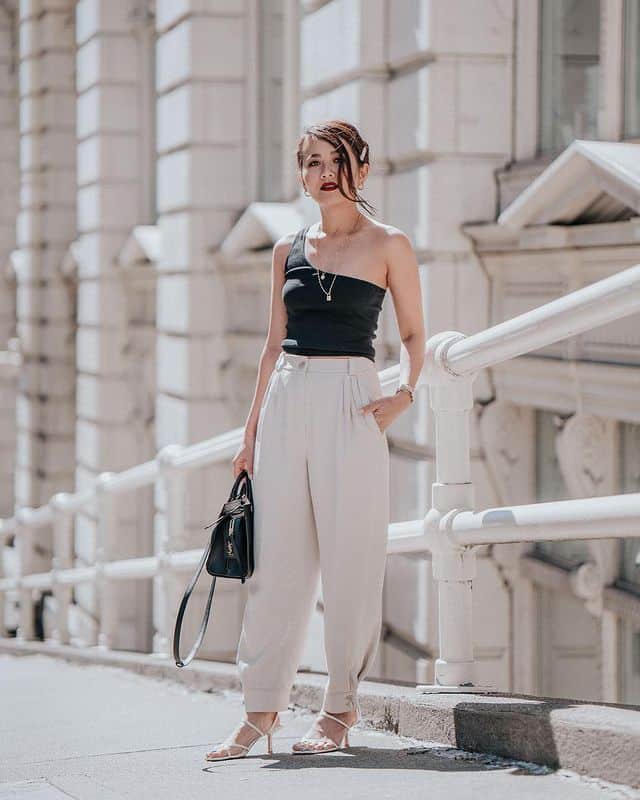 ↓ 36 – Ultimately Vogue for Winter in Classic Pleated Trousers!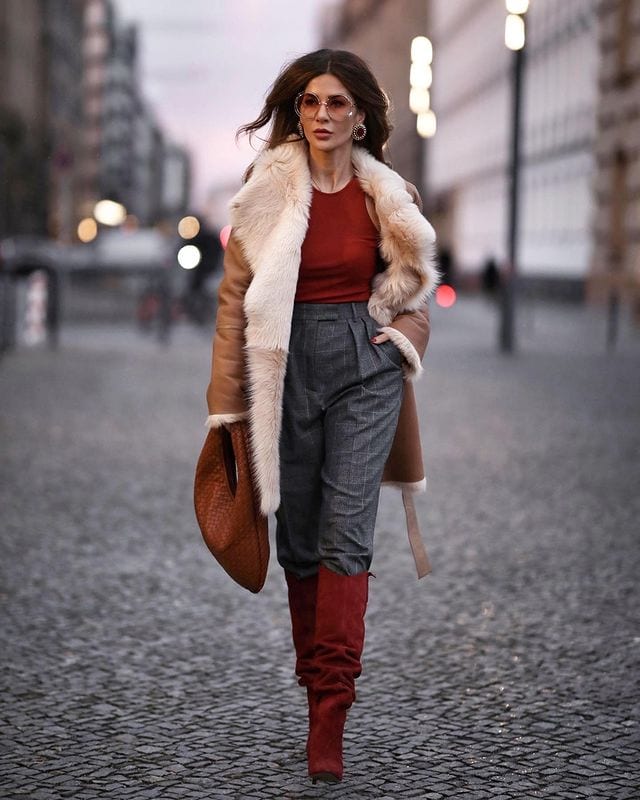 ↓ 35 – The One With the Fringed Jacket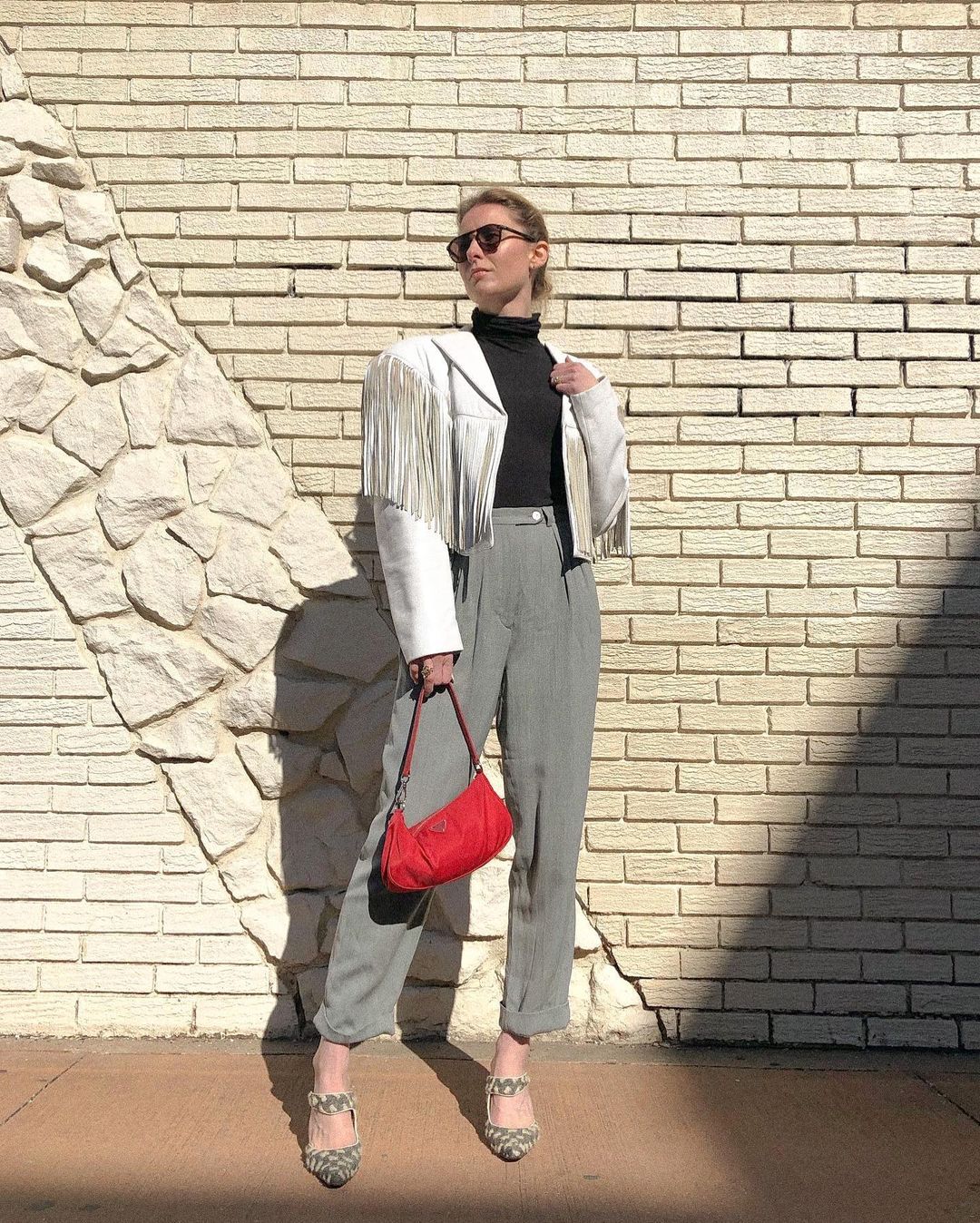 ↓ 34 – Casual Chic For Senior Women
I can not stress this enough when I express how much I love this sweater and outfit as a whole! The blue and white striped sweater is elegant, chic, and perfect for all age groups. And the white pleated pants serve to be the ideal pick against this cute sweater!
Finally, we have these sneakers and the glasses to complete the outfit from top to bottom. Let your hair down in waves, and throw on a high ponytail for a more youthful look!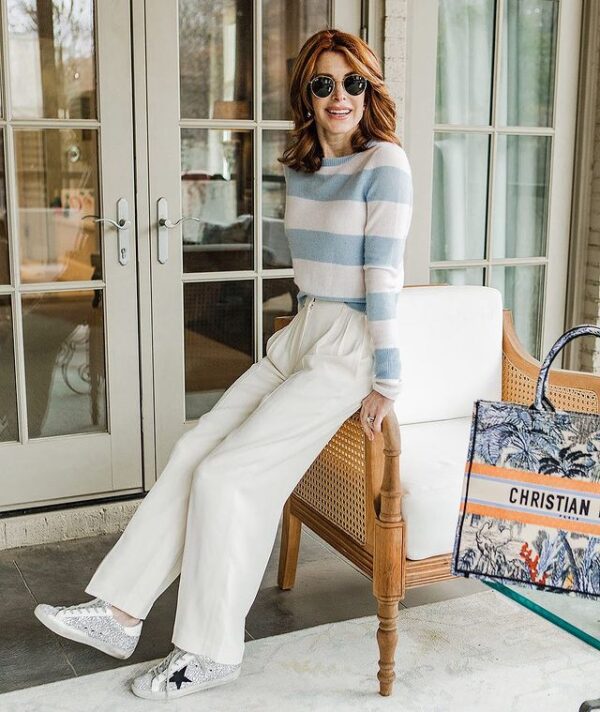 ↓ 33 – The Everyday Classic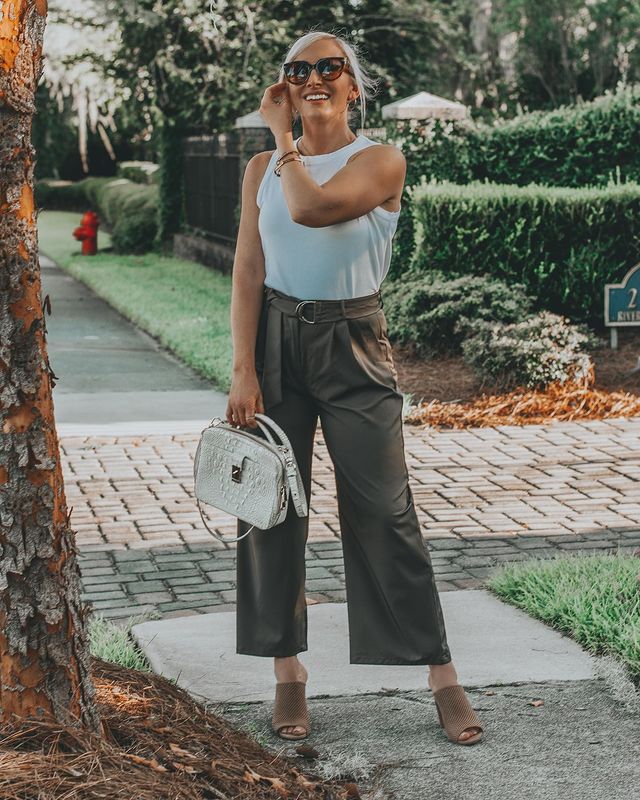 ↓ 32 – What to wear with Pleated Pants Outfits for a Day Time Event?
A bright, sunny top is always a good option for day time when you're sporting your pleated pants.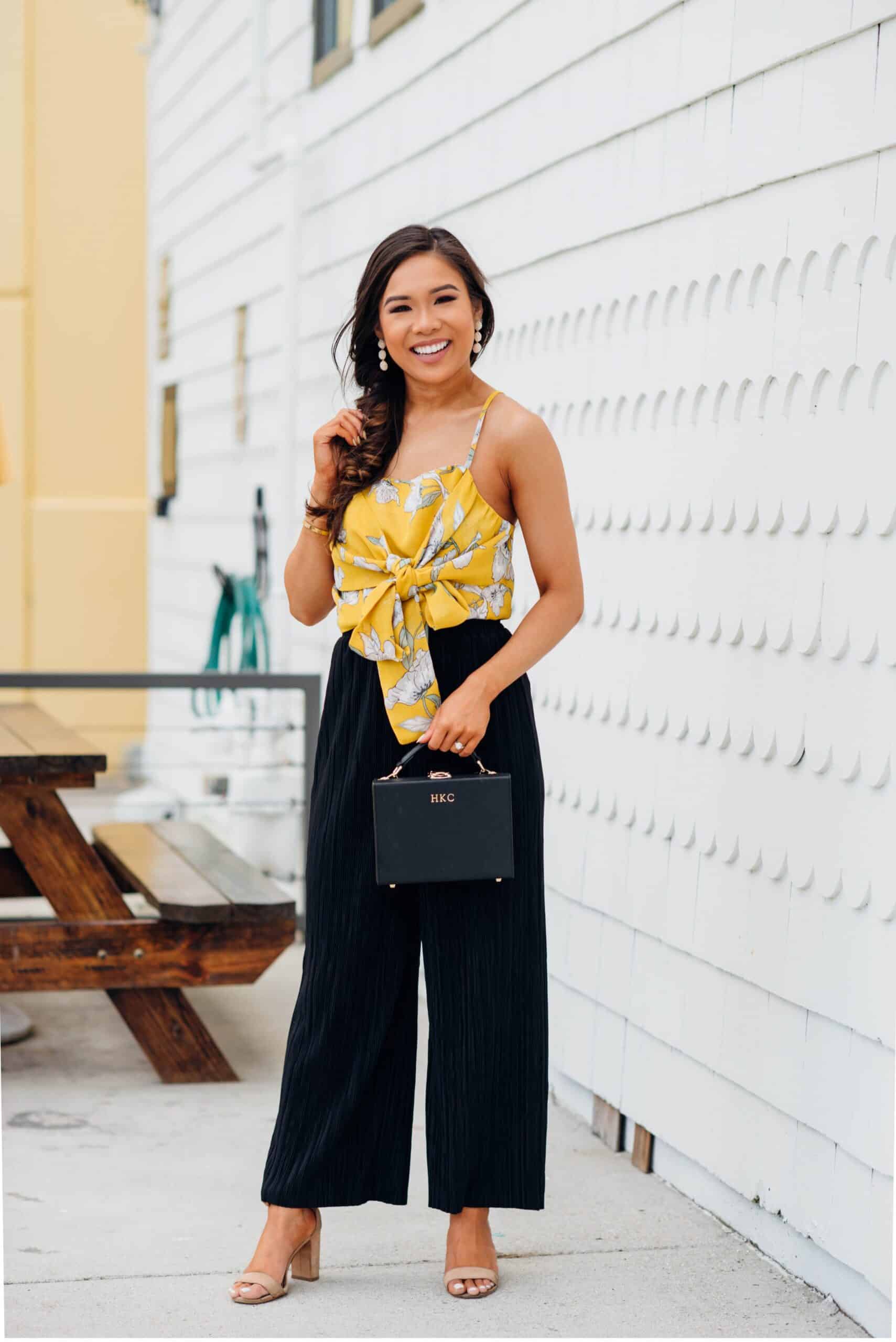 ↓ 31 – High Waisted Pleated Pants for Days!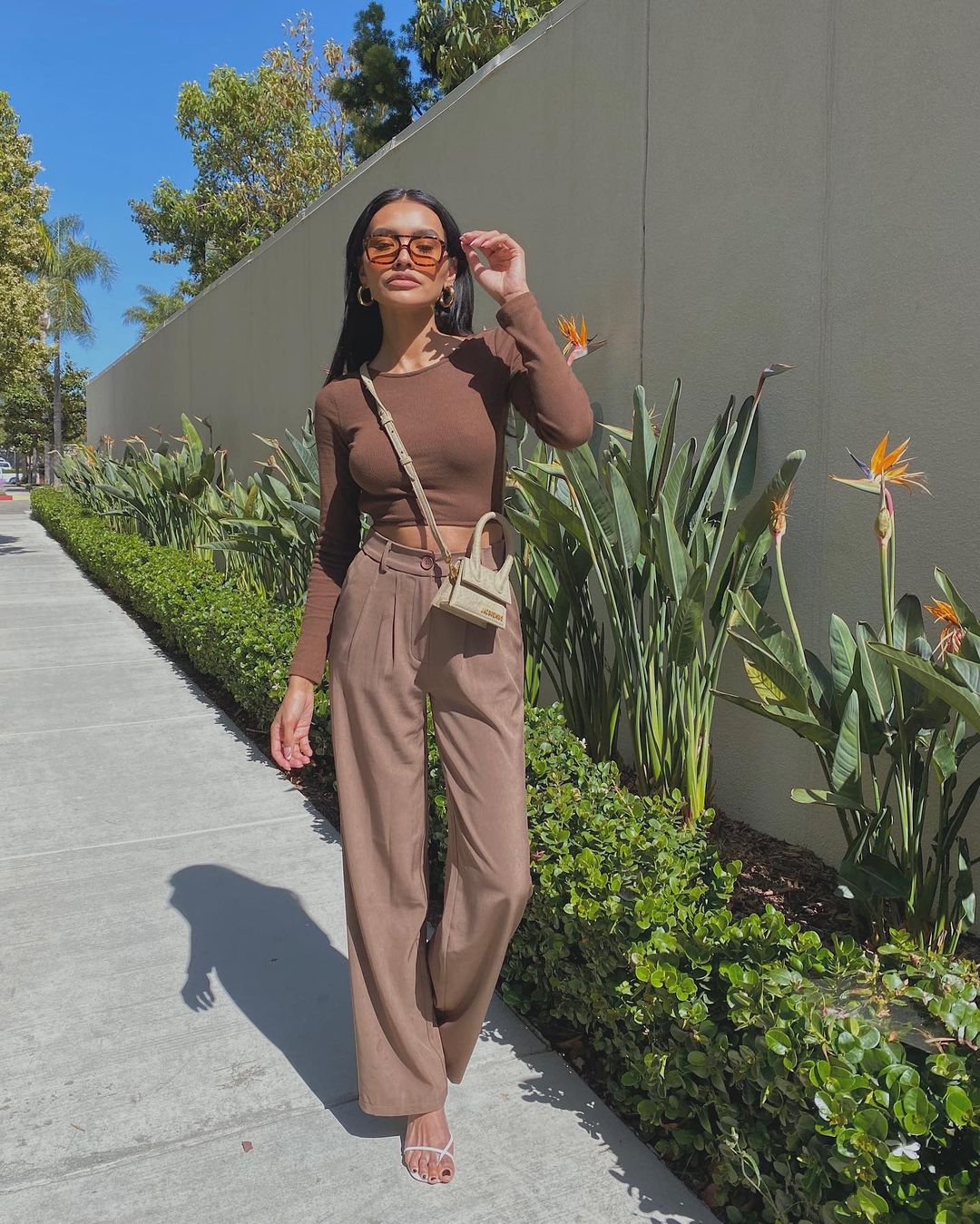 Shop the items:
Long Sleeve Backless Crop Top $14.99
↓ 30 – Footwear for Pleated Pants Outfits
Court shoes are classic wear which looks exquisite with any outfit, regardless of the occasion. Similarly, they look flawless with pleated pants as well, and the bonus point is that they come in so many colors and textures and prints!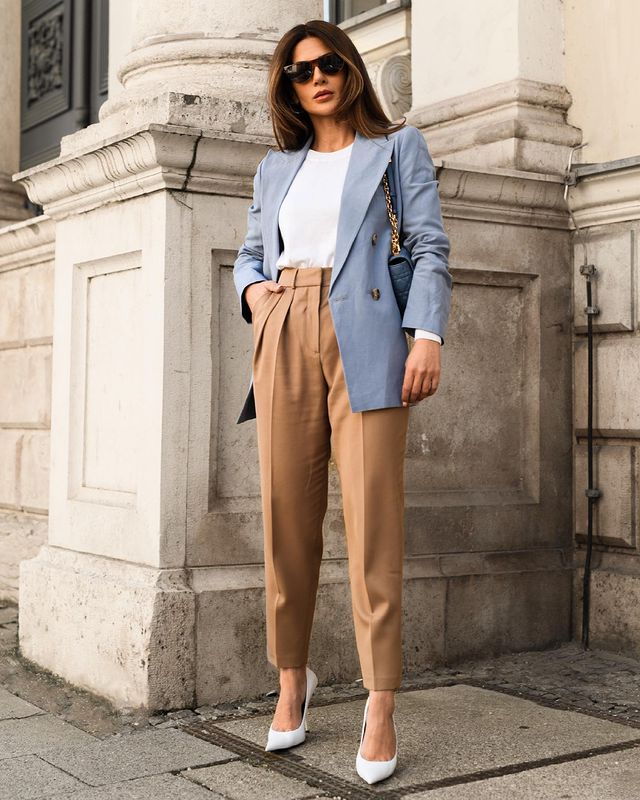 ↓ 29 – Pleated Top to Match the Bottoms!
You can not go wrong with double pleats, especially with how cute this outfit looks! The pleated top is a flirty and fun option to pair with your pants, making this outfit perfect for a lunch date with your significant other. Opt for a bright bag and a matching lip, and you are a vision to behold!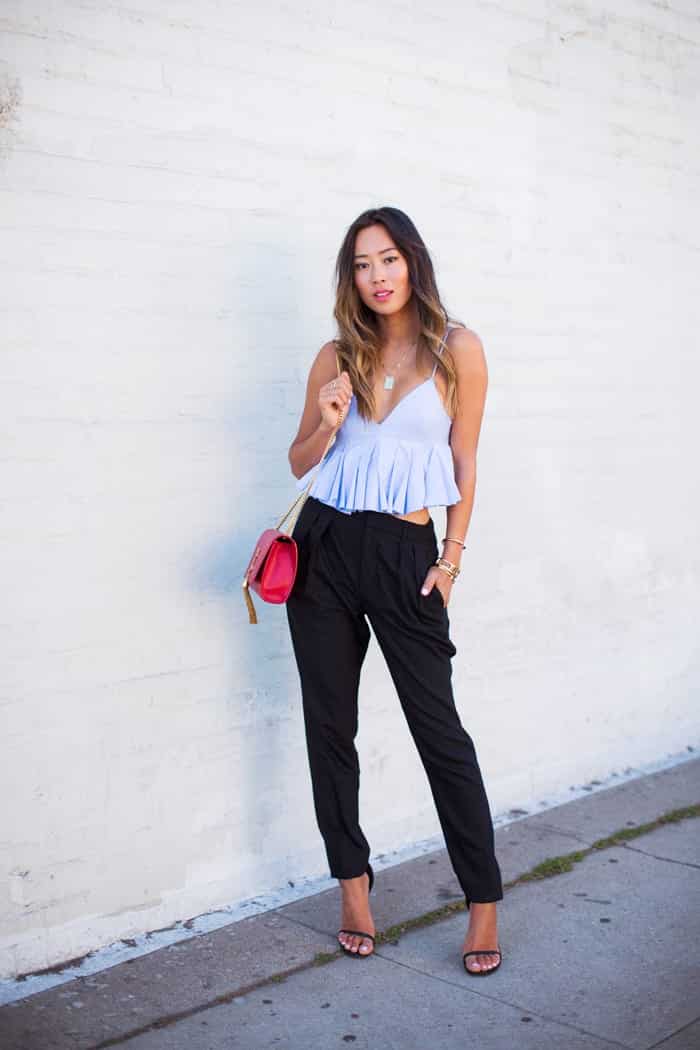 Shop the look below:
Medium Kate Tassel Chain Bag In Lipstick Red Leather $ 2,290
Helmut Lang Pleated Tapered Pants $415
↓ 28 – Leonardo DiCaprio Inspired Fit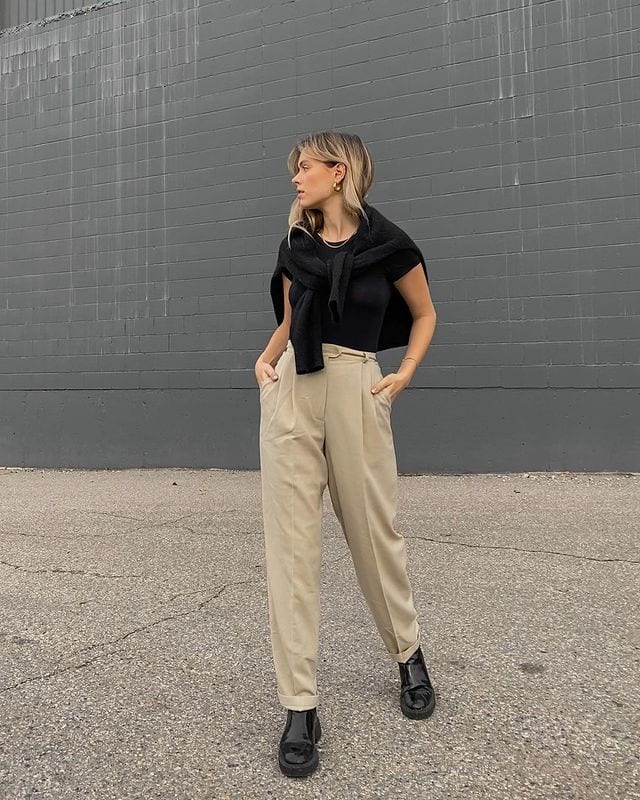 ↓ 27 – Matching Two-Piece Outfit
Matching sets are super trendy these days which is why I recommend that you should go through these Best Matching Sets to Wear.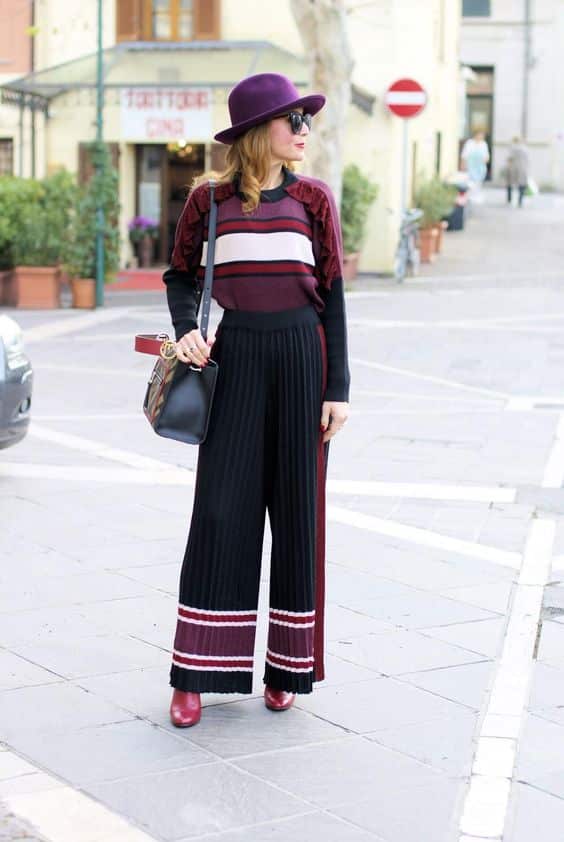 ↓ 26 – Exclusive Pleated Pleats to Stand Out!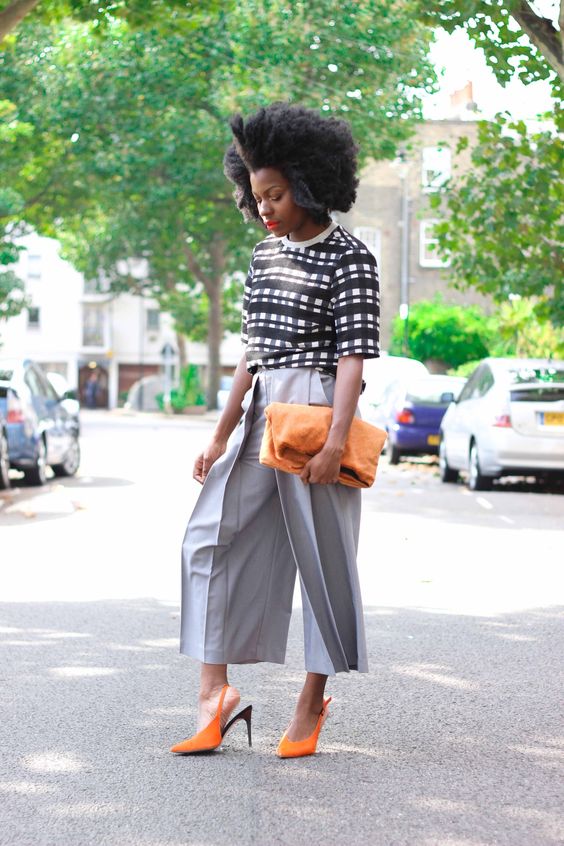 ↓ 25 – An Everyday Look you Can't Go Wrong With!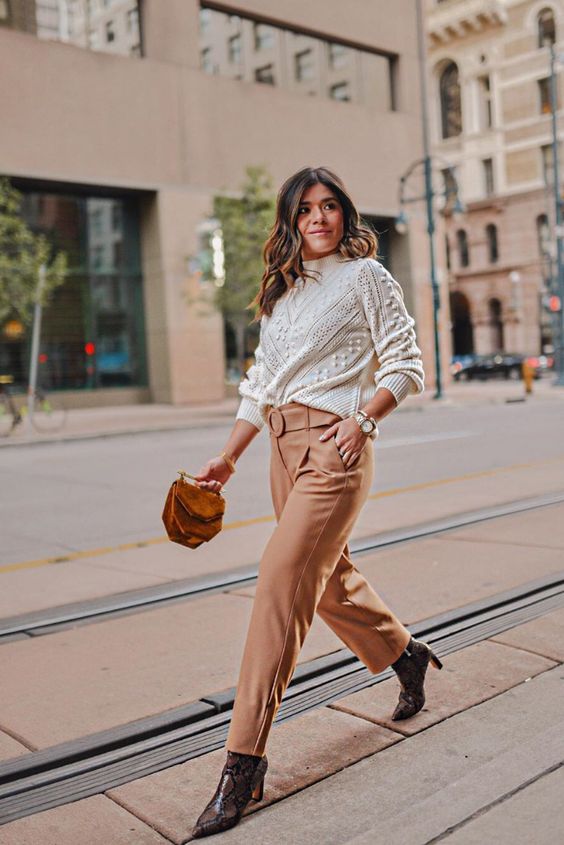 ↓ 24 – French Tuck for the Winters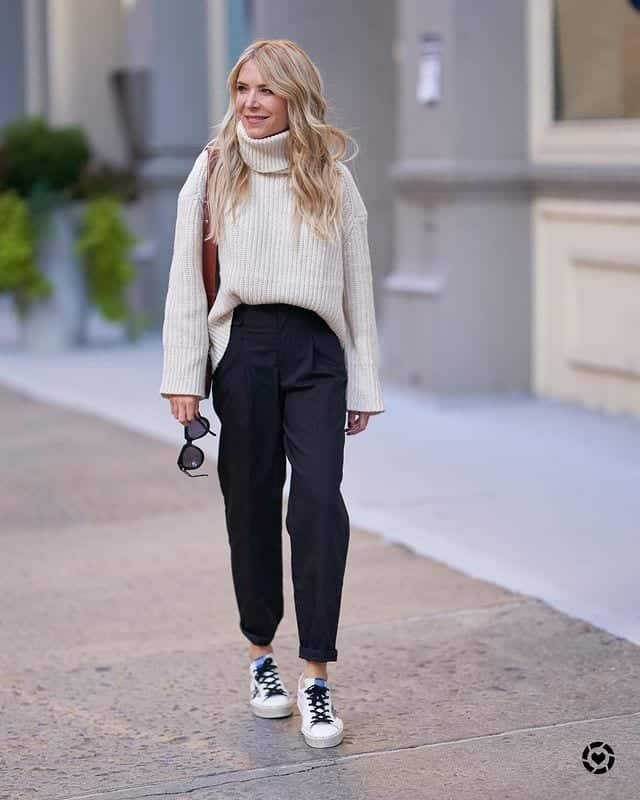 ↓ 23 – Browns and Blacks for Pleated Pants Outfits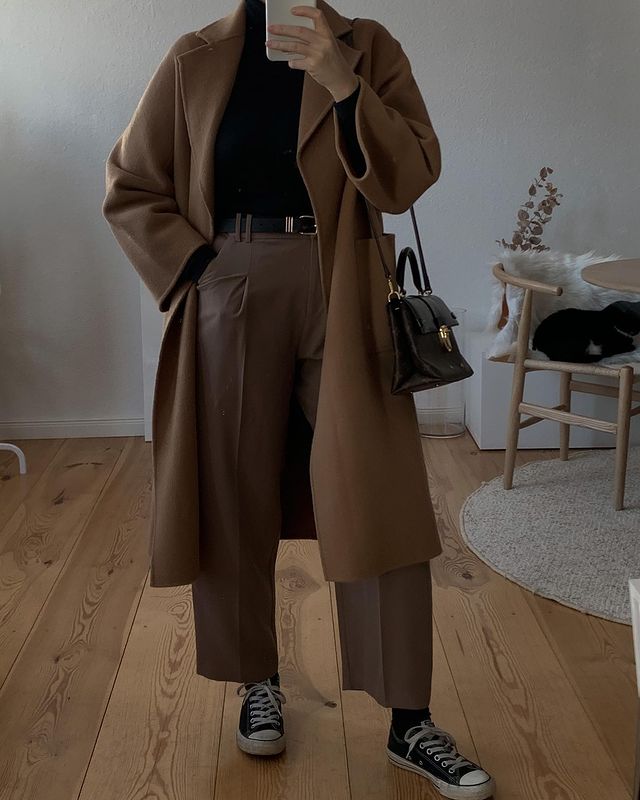 ↓ 22 – Casual Pleated Denim With Quilted Jacket
Quilted jackets are quite the favorite during the fall & winter season for how comfortable and trendy they look! And the best part is that they look chic in all age groups. I adore how well this outfit is styled!
The pastels against the denim look flawless, and the pink turtleneck brings out the simplicity of the printed jacket. The pairing of the white boots and tucked-in pleated denim truly brings the entire look together and sets you apart in the crowd in the best way possible!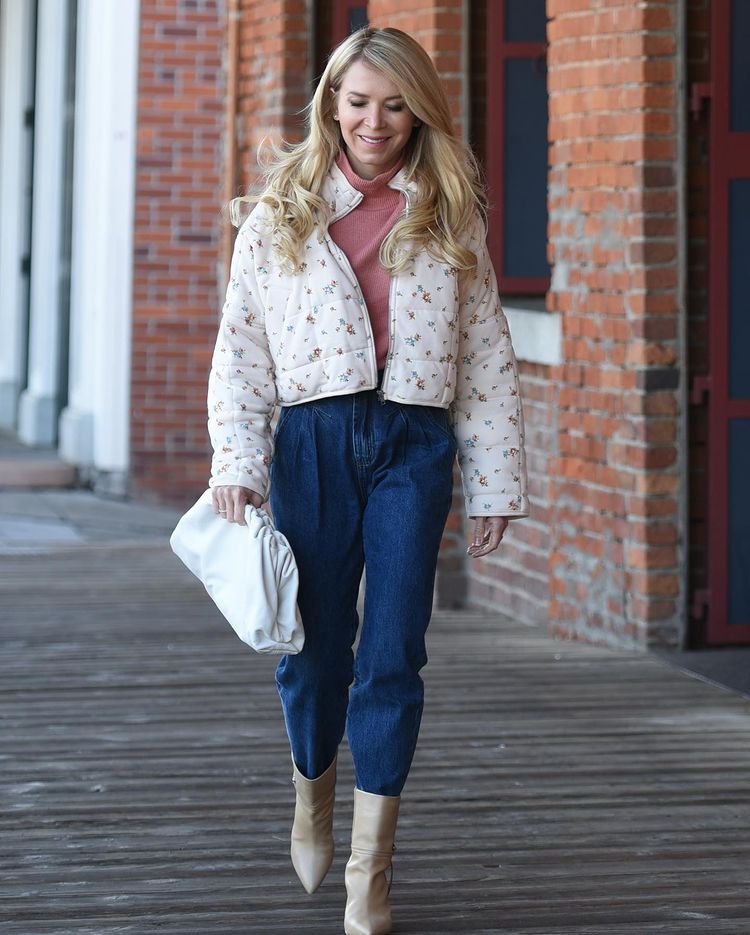 ↓ 21 – Beach Vibe Done Right!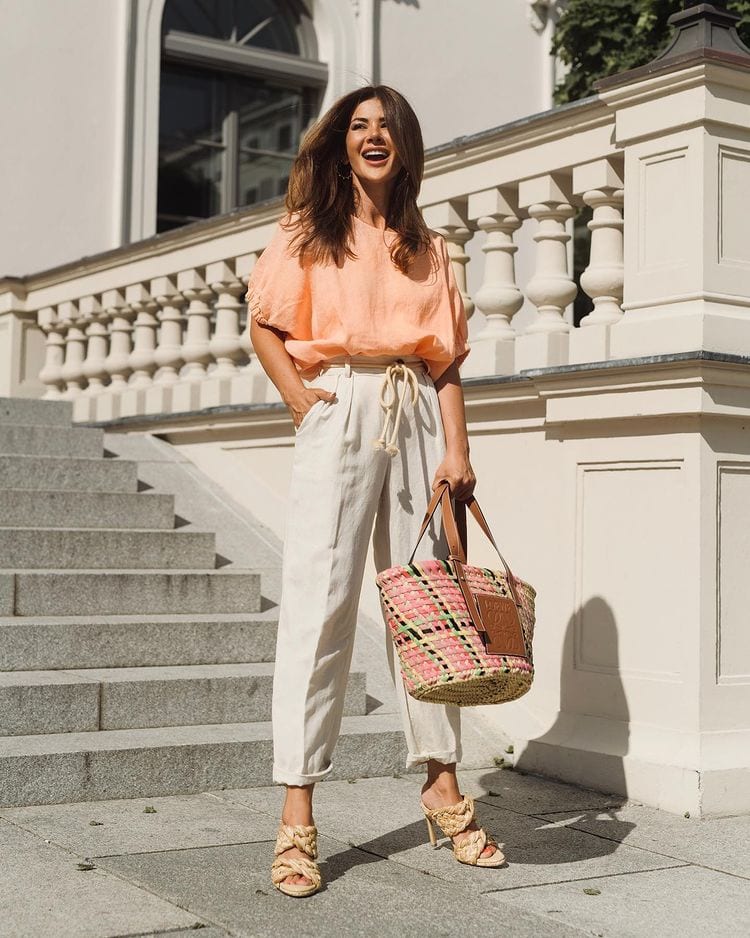 ↓ 20 – Corset for Pleated Pants Outfits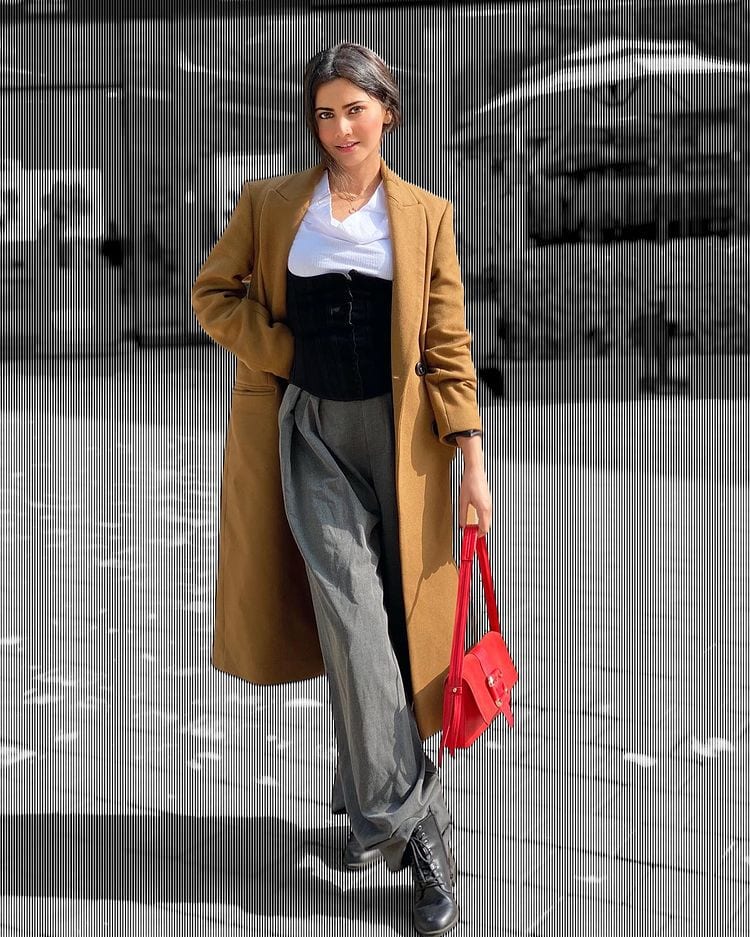 ↓ 19 – Trending in an Everyday Casual Outfit!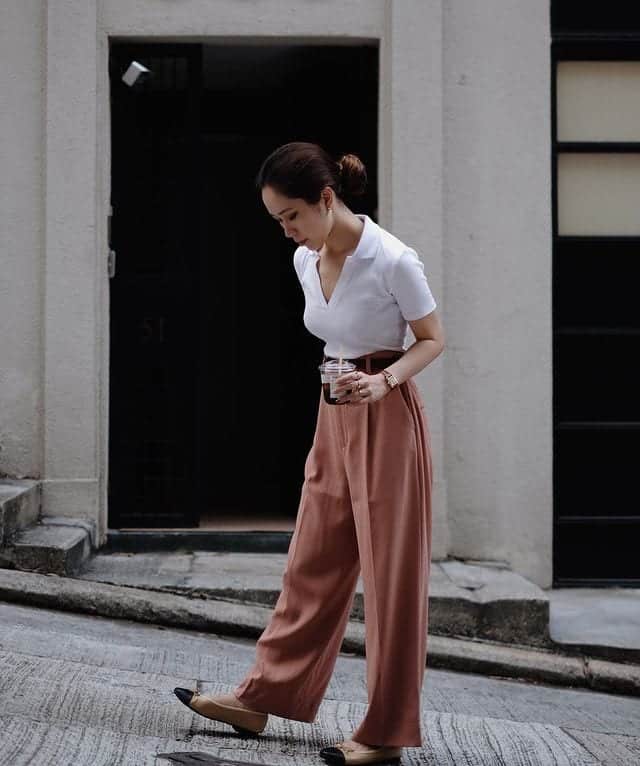 ↓ 18 – Where Ruffles Meets Pleats!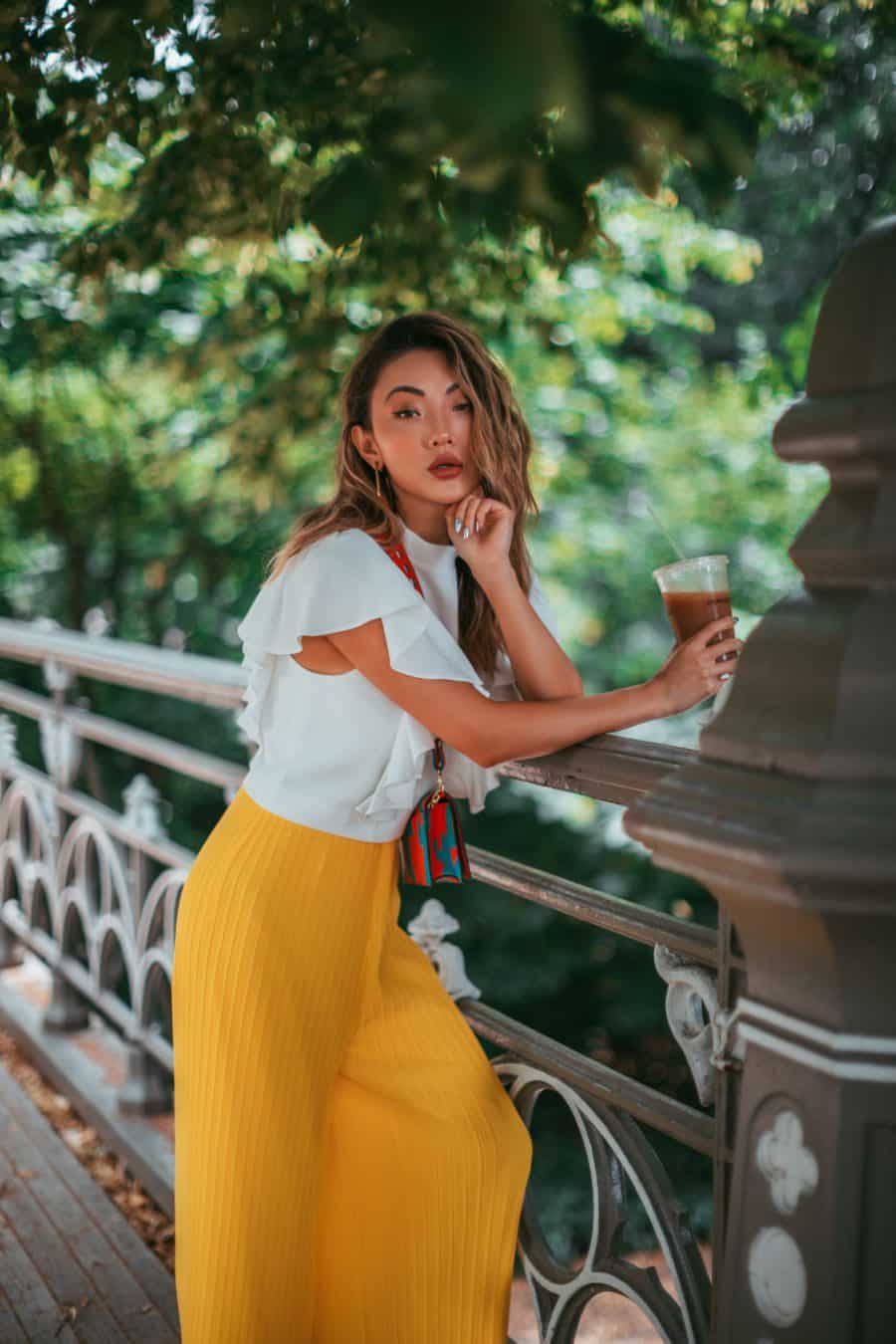 Shop the look:
Cinq a Sept White Bow Ruffled Crepe Blouse $282.80
Solace London Plissé gauze wide-leg pants $500.00
↓ 17 – The Bachelorette Party Look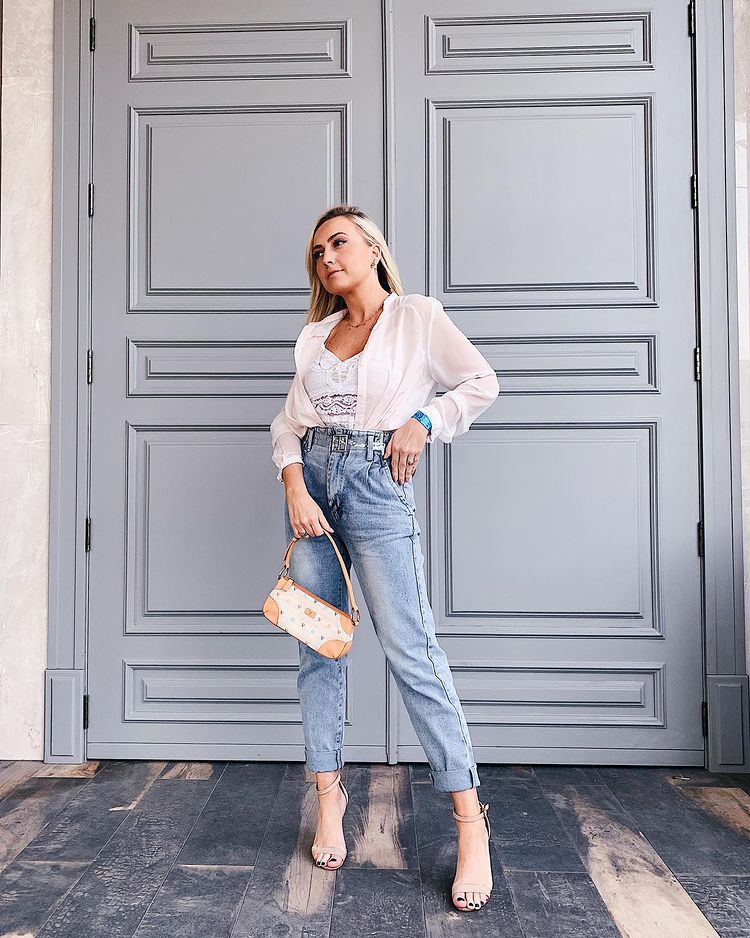 ↓ 16 – Pinstriped Jacket in the House!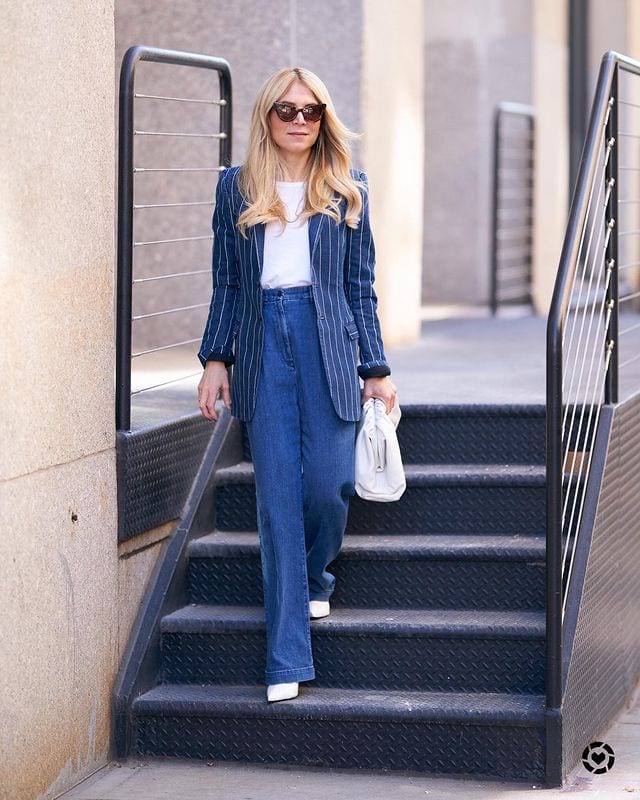 ↓ 15 – Printed Pants Outfits to Run Errands in Style!
I believe I speak for everyone when I say running errands can be quite a mundane task. But who said can not look fancy while doing so? This outfit is comfortable enough to keep you on your feet all day long and perfectly fashionable to satisfy your inner diva. The printed jacket serves its purpose: to provide you warmth and make a statement, as do the pleated pants. And of course, sneakers are the top choice on a busy day for happy feet!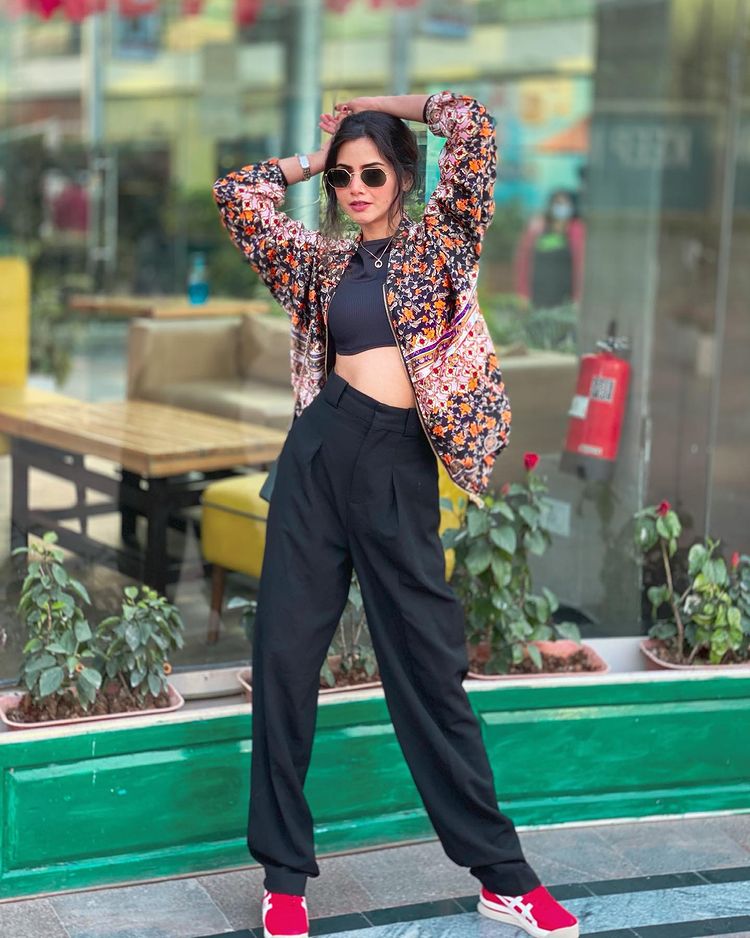 ↓ 14 – A Glam Outfit for Semi-Formal Occasions!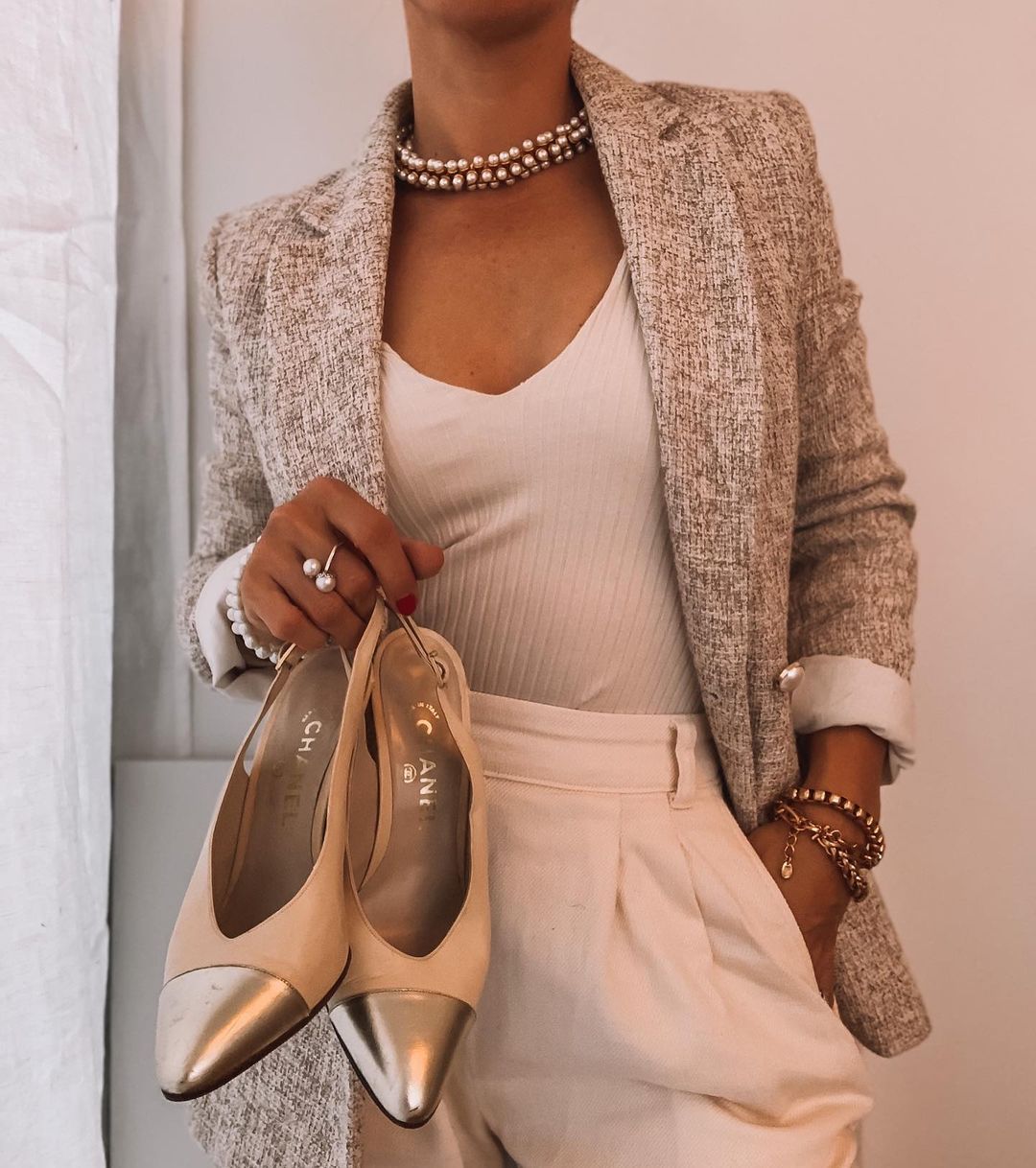 ↓ 13 – Plus Sized Beauty in All Black!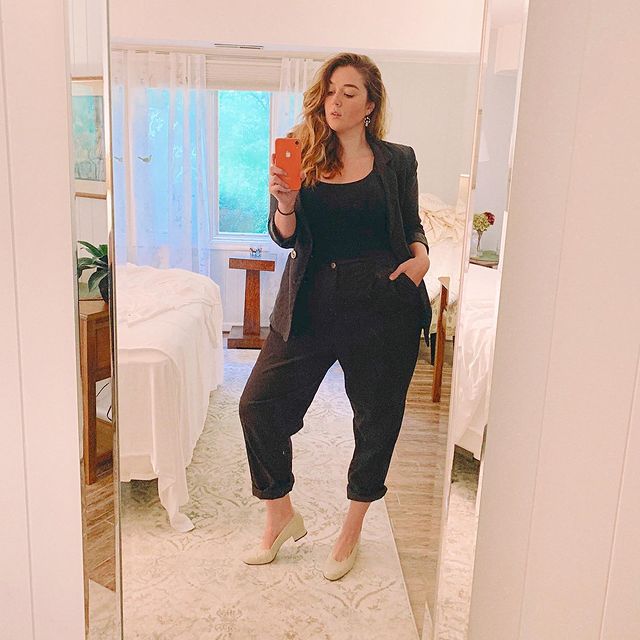 ↓ 12 – Splash of Maroon to Make it Pop!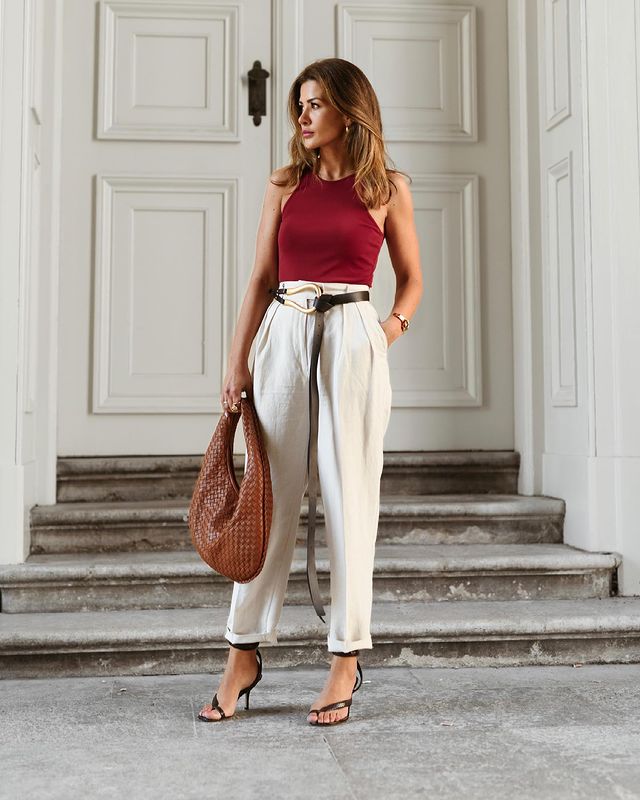 ↓ 11 – Whites & Creams with Gold Accents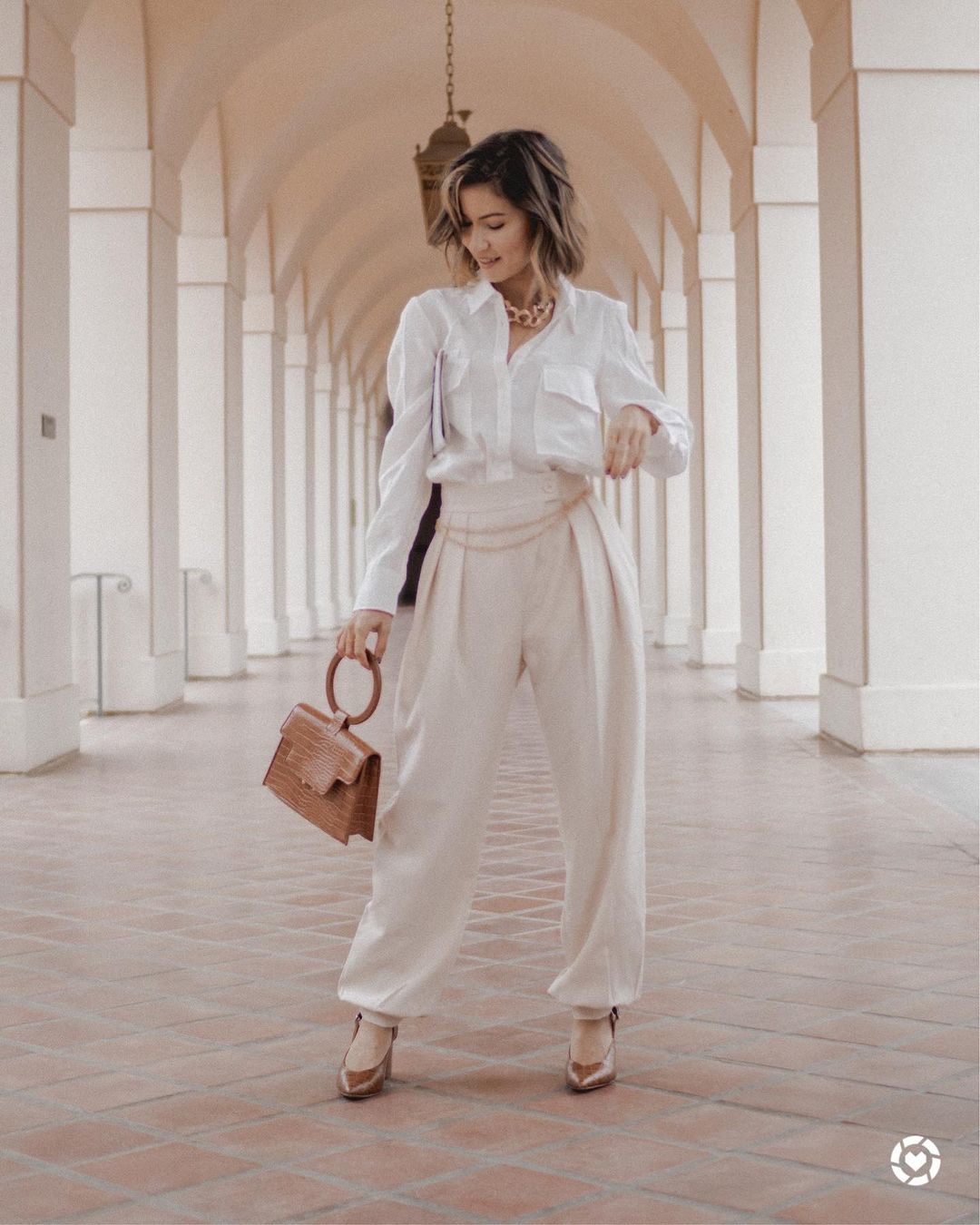 ↓ 10 – When to Wear this Pleated Pants Outfit?
First look at this outfit, and I love how simple, elegant and classy this fit is! It is appropriate for a fresh fashion-related intern looking forward to impressing their senior colleagues on their first day. I would also suggest wearing a similar outfit for an interview or a presentation day at the office. Do not forget to wear your comfiest classy heels!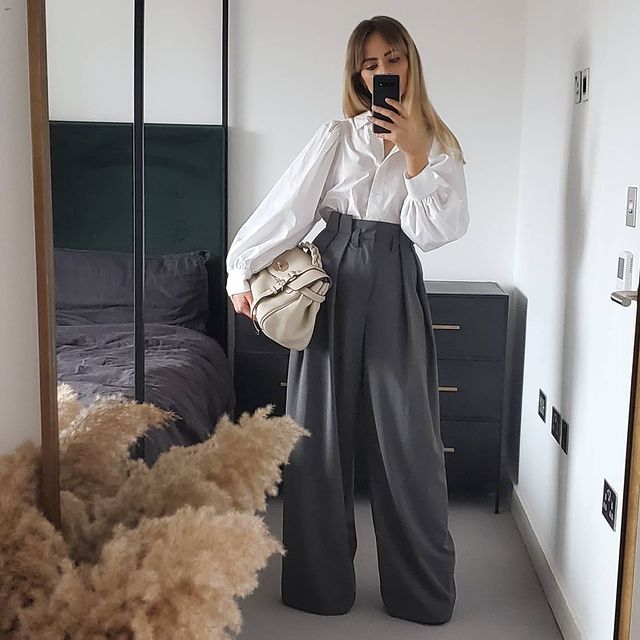 ↓ 09 – Creamin' in Tans!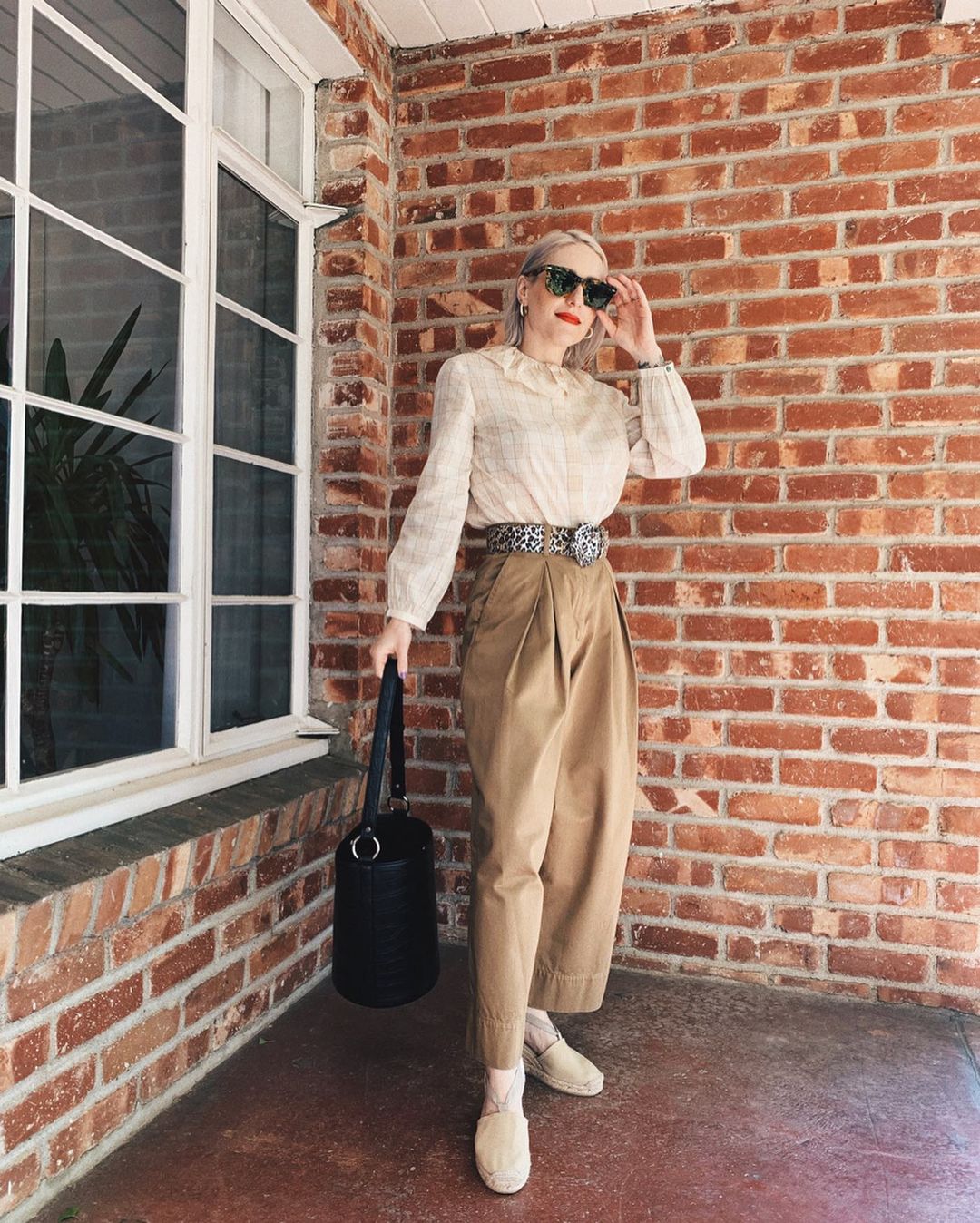 ↓ 08 – Accessories for Pleated Pants Outfits!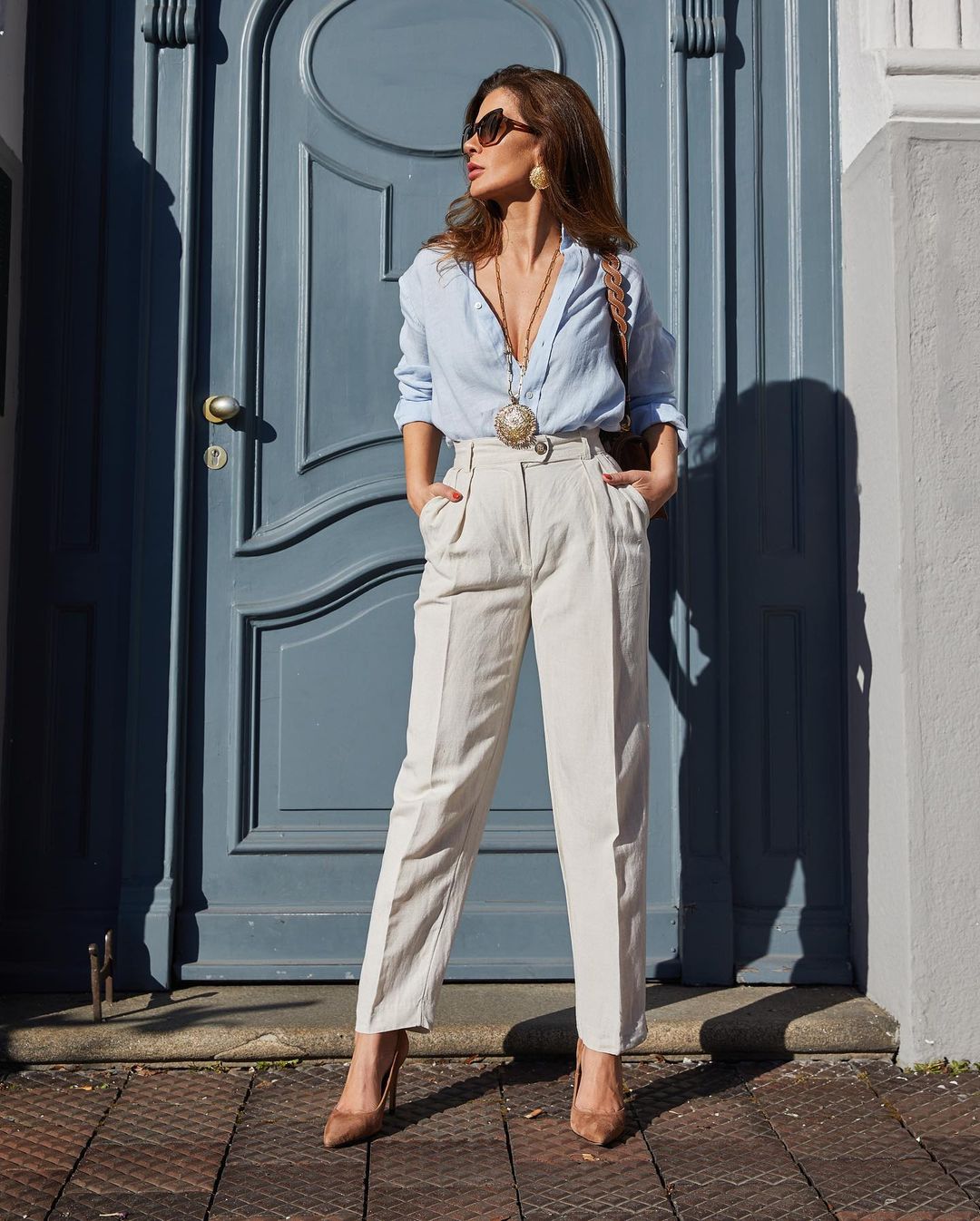 ↓ 07 – How to Wear Pleated Palazzo Pants?
Pleated palazzo pants are versatile and extremely popular during the summers for the comfort and the trendy look they give your outfit. These pants will look great with a top similar to the one in the image below or with an off-shoulder blouse. Style with dainty jewelry and a pair of heels!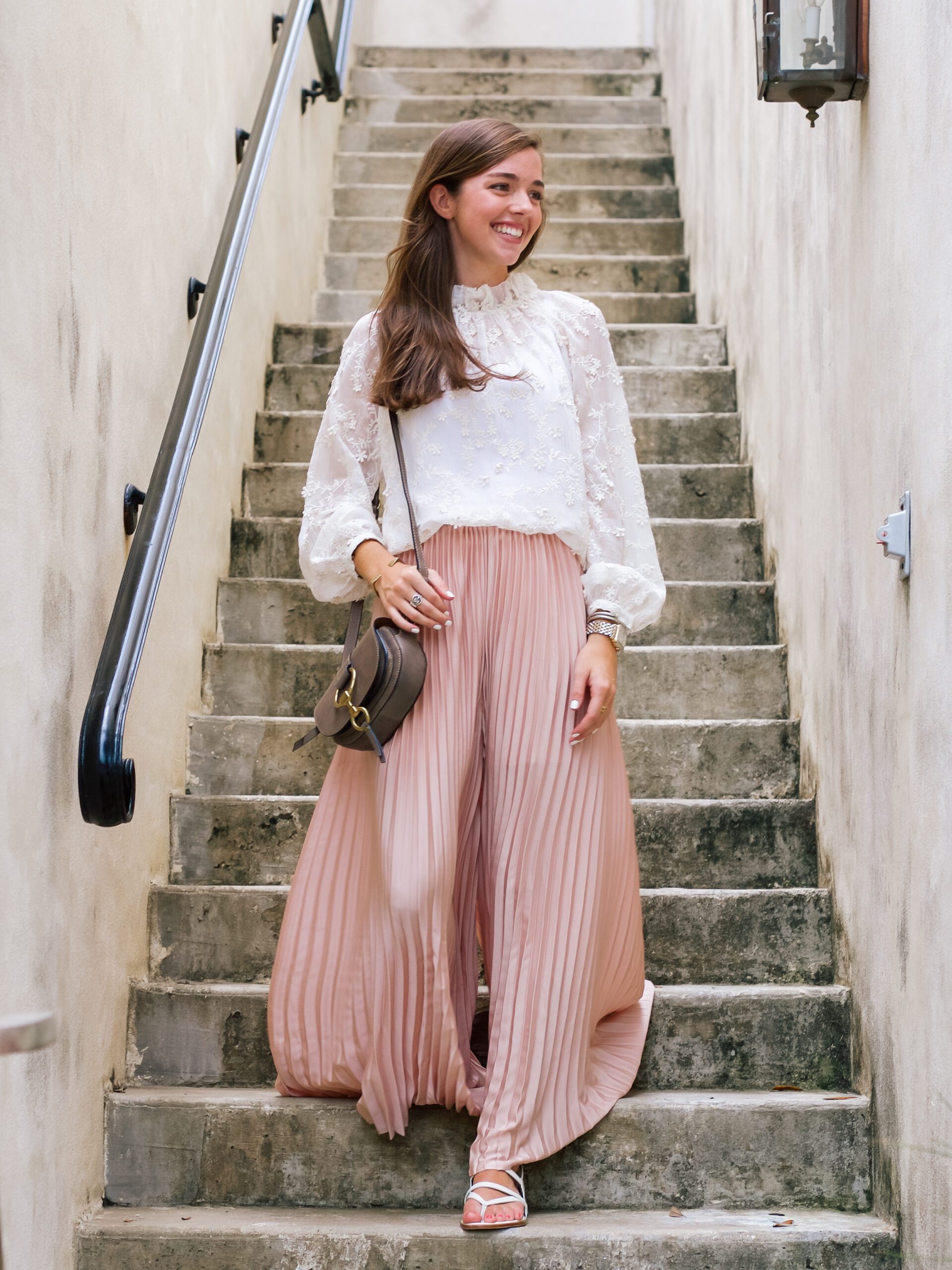 ↓ 06 – The Trendy One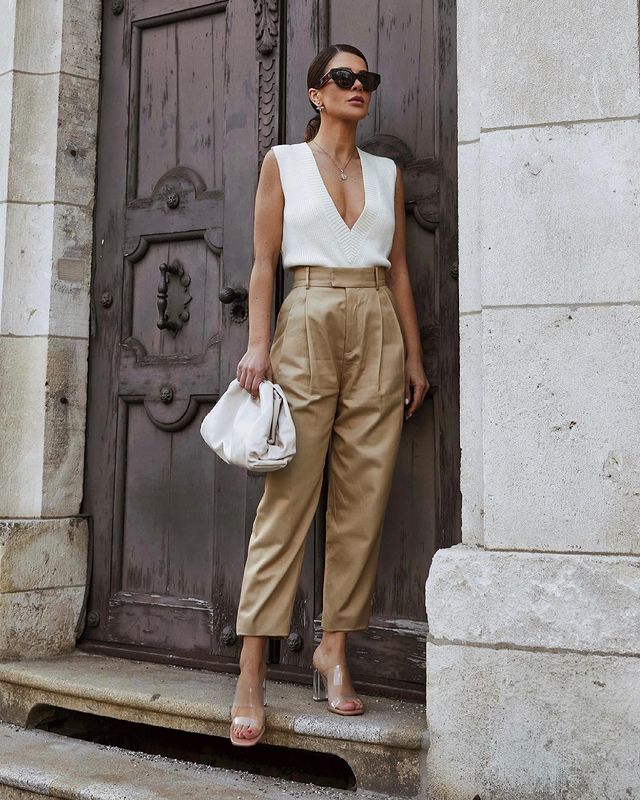 ↓ 05 – What to Wear With Pleated Pants for a Summer Look?
For summers, choose brightly colored pleated pants for a more casual look. Pair your pants with a crop top similar to the one below, or go for a cute bralette with a mesh top on top. Wear colorful heels or sneakers according to the occasion you are dressing for and accessorize with fun, statement jewelry. Throw your hair in a messy bun, and you are all set!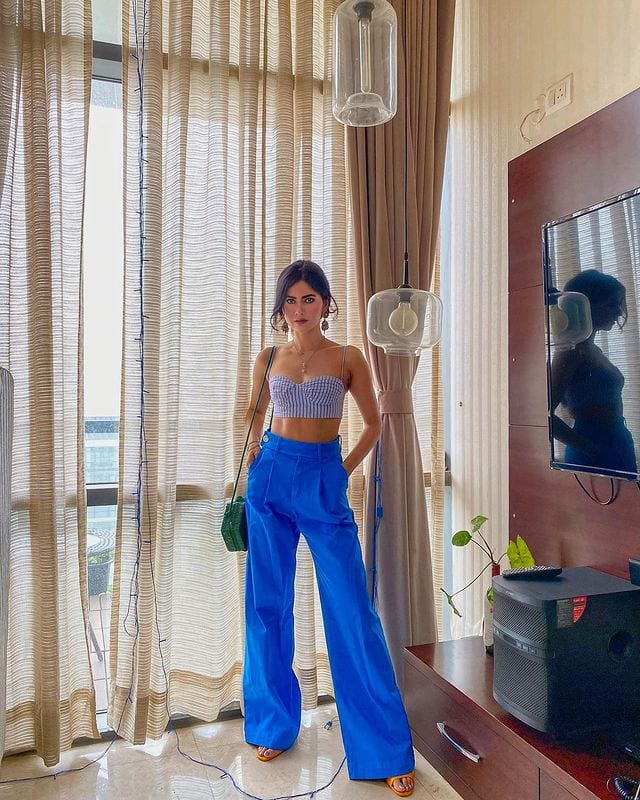 ↓ 04 – Pleats Done the Unique Way!
First look at these pants, and I love everything about them including, the color, the style, and the pattern on them! This look is styled in such a unique manner and made appropriate for winters. Furthermore, the alternative matching of the clothing items is so clever! The shoes with the top and jacket, and the beanie with the pants. I would advise you to opt for sneakers with less platform and height to make the outfit more wearable!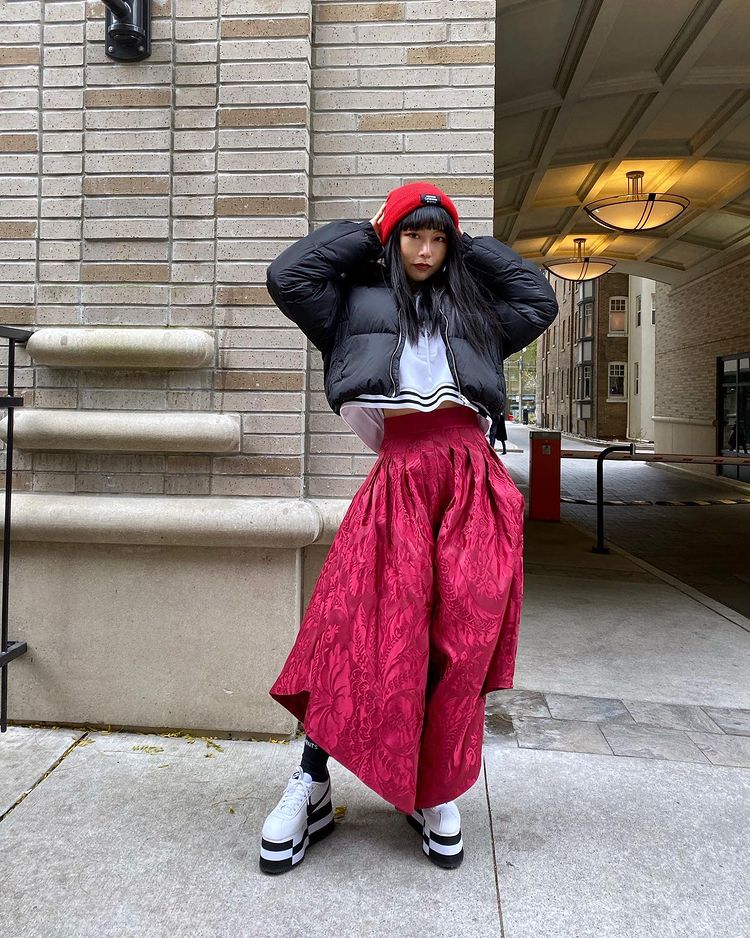 ↓ 03 – If Effortless Chic had a Face!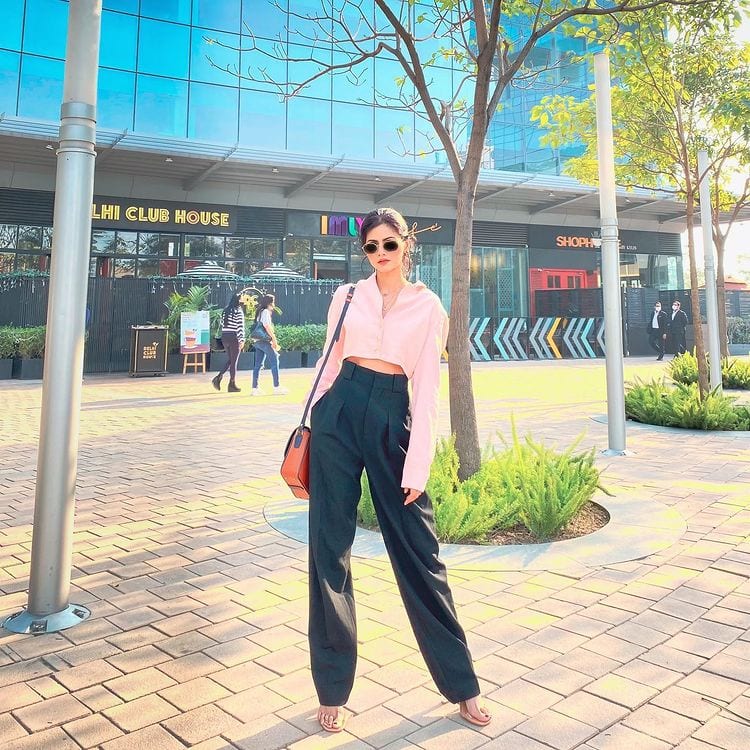 ↓ 02 – Stripes to the Rescue!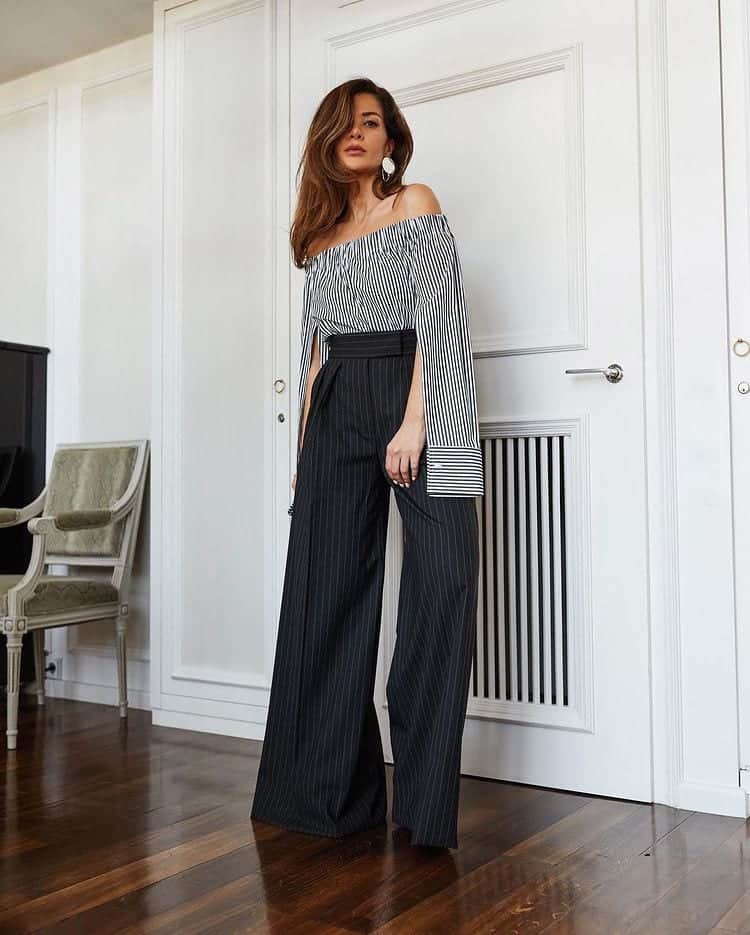 ↓ 01 – Comin' in Hot
We are coming in hot with this vibrant, bright, and eye-catching look! The outfit's colors are truly spot-on with the spring-summer season, and the style of pleated pants screams maximum comfort.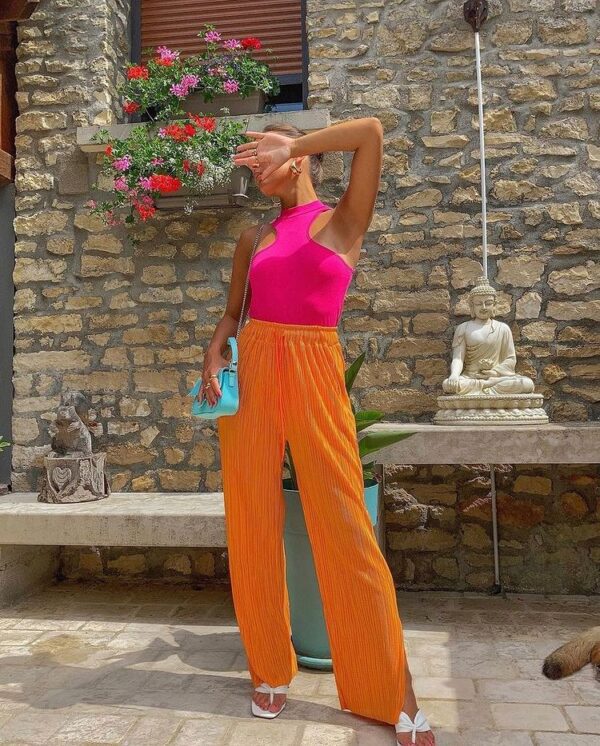 Frequently Asked Questions
Q. What are pleated pants? Are they flattering?
A. Pleated pants are the types of pants that come with a single pleat (usually at the front) or multiple ones distributed around the front, side, and back of your bottoms. They serve to provide more room on the wear and protect from rips when sitting or squatting. Trousers with pleats have been around for a long time and, over time, have revolutionized to be more practical and comfortable to wear.
Not only this, but they also look incredibly flattering if styled according to the body shape and the occasion that you are dressing for. Pleated trousers are a chic trend revived over the years and are styling in modern and practical ways to wear by various designers this year. For more guidance, scroll to the top to check out some tips to serve significant looks in pleated pants!
Q. How do you wear high-waisted pleated trousers?
A. The best way to wear these pants is to allow them to do what they aim to – show off your waist! And the best way to do so is to master the art of tucking in your shirt. You can style these pants with any top, ranging from a tee-shirt to a dress shirt or blouse. But the vital thing to remember and practice is to tuck these shirts in. For a more relaxed and casual look, try the French tuck, and for a formal, official look, a full tuck is a way to go. Play around with different styles and add on a statement belt to make your outfit stand out!
Q. Where can I buy pleated pants?
A. Pleated pants are readily available at a variety of stores.
H&M: These pants are adorable in pastel blue and brown (here)!
Zara: Prints and pleats (here)? Yes, please!
Next: You can't go wrong with these white pants (here).
Forever21: These pleated jeans (here) are a must-have!
SheIn: Looking for a unique option in pleats? Check these leather pants out (here)!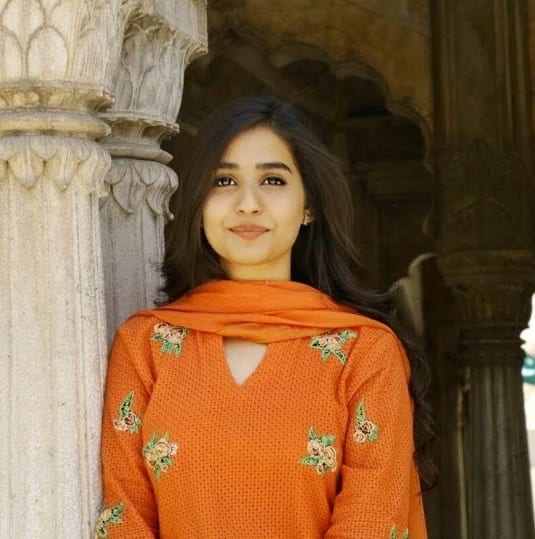 Janeeta Khan loves to write and loses herself in the world of fiction during her free time. You will probably find her curled in the corner with a Harry Potter book and a steaming mug of hot cocoa.