Khaki Pants Outfit Ideas –  If Audrey Hepburn can wear khaki pants, so can we. This classy pair of pants are always in fashion, and no matter what color you pair it with, you will look chic with these pants. So if you are one of those ladies more inclined towards neutral tones than bright ones, khaki pants will be a handy addition to your closet. 
As everyone has a different fashion sense and sense of style, different people opt for different fashion trends. While some women are inclined to wear skinny jeans and plaid trousers, some want to go basic and comfortable with cotton khaki pants, also known as chinos.
Recommended: What Shoes to Wear with Khaki Pants? 16 Ideas
These pants are best for minimalists who do not like going overboard with their outfits and want to look effortlessly chic. The best thing about these pants is that they can be styled with many different tops, such as t-shirts, cardigans, or trench coats. 
How to Wear Khaki Pants?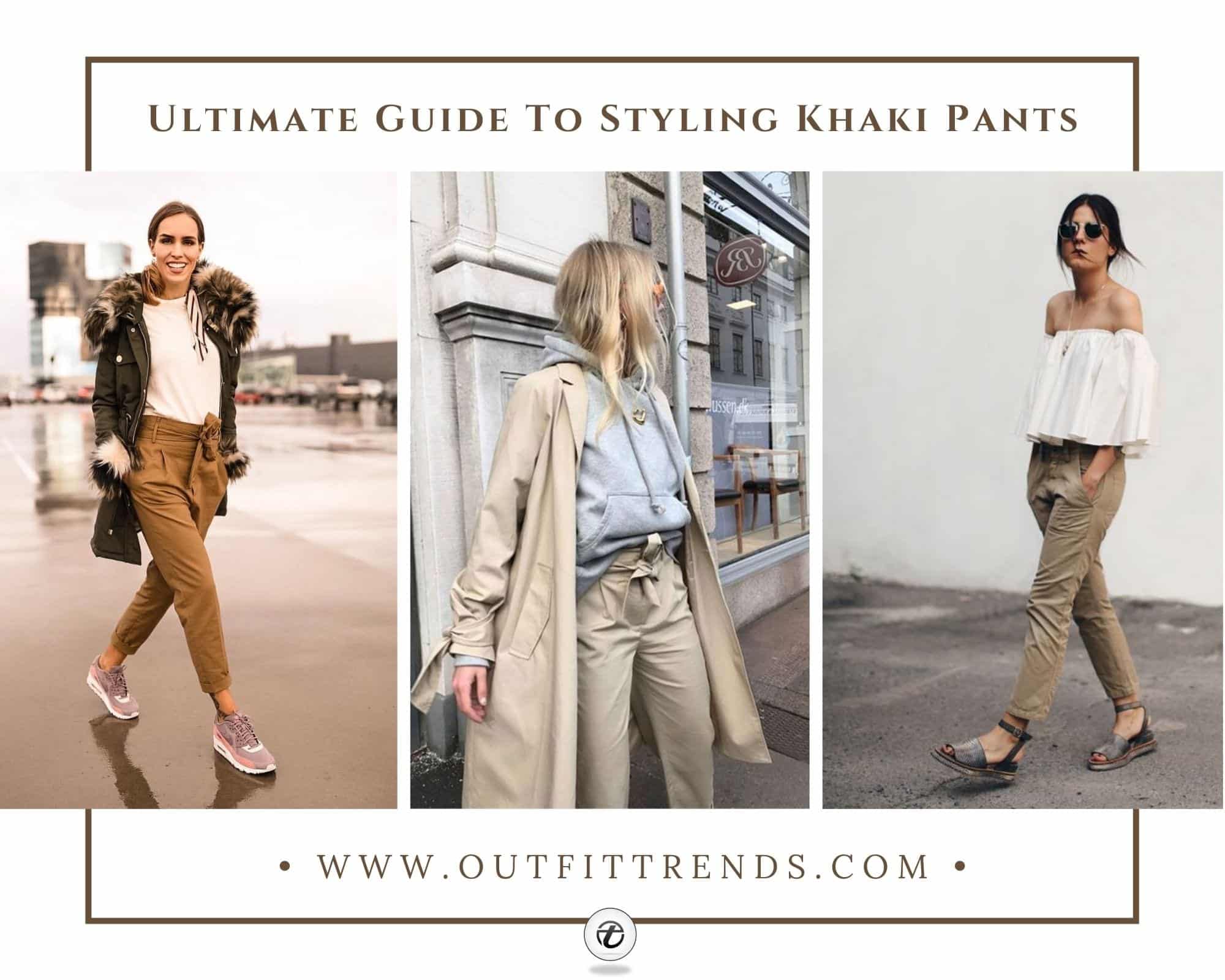 Some do's and don't's –
Make sure the fit of your khaki pants is amazing to avoid looking dowdy. 

Ensure the pants are the correct length and not too long for your size. 

Khakis go great with a white or black T-shirt. 

Sporty vests or tank tops go great with chinos. 

If you wear a belt, make sure its color matches your socks. 

Don't be afraid to incorporate patterns into your outfit. 

Wearing accessories such as glasses, watches, and a leather satchel bag elevates your khakis look. 

Wear khakis with casual footwear to give a more everyday look to your outfit. 
↓ 22 – Short Pants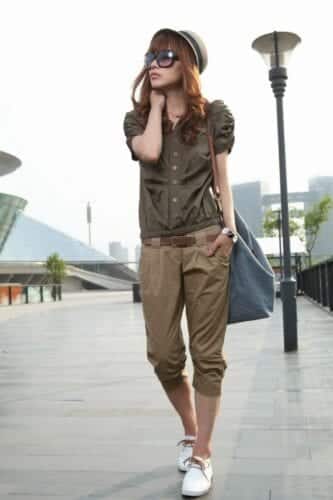 ↓ 21 – Boot Cut Khaki Pants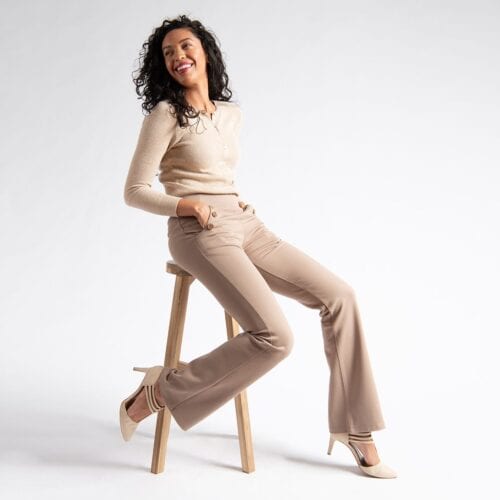 ↓ 20 – The Diva Style
Summers are here, and wearing those skinny jeans all the time can be such a hassle, but who can compromise style, right? Well, if you want to maintain your style but be comfortable in what you wear, then a plain shirt with baggy Khaki Pants is all you need to show off your style. Wear a Leather belt to complete the look. I recommend looking at these Top 20 Ways to Style Palazzo Pants with Sneakers for Women.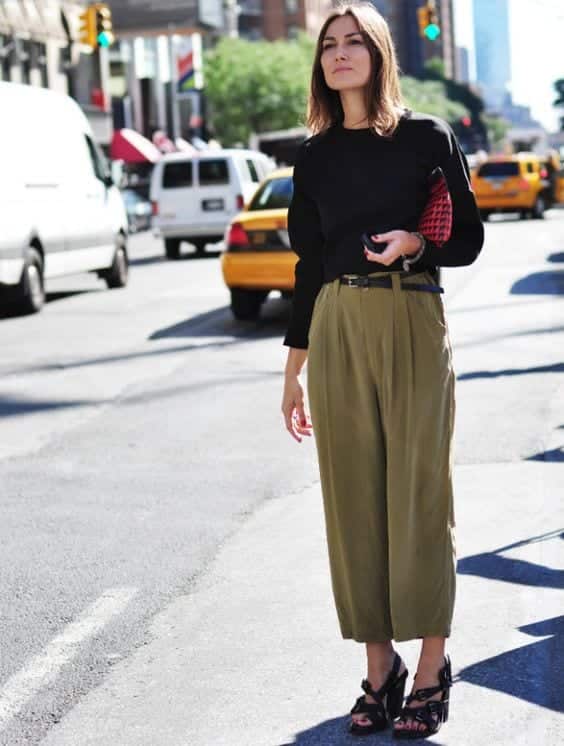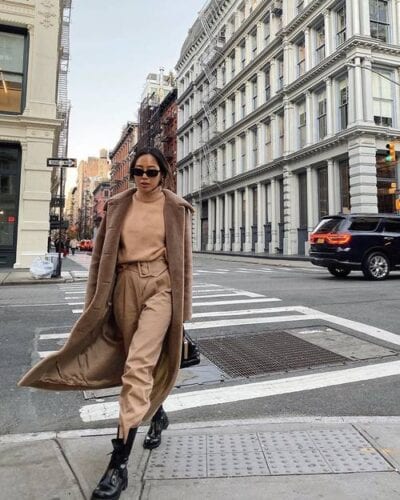 ↓ 19 – Casual Look
Just because you are at home does not mean you have to dress up badly; you never know, guests can be waiting outside at any hour of the day. So stay in your comfort zone by wearing bell-bottomed Khaki Pants with your comfortable T-Shirt.
Neat and super voguish. This look is also a show-stopper when going to college or school because it is not overwhelming despite being super comfortable.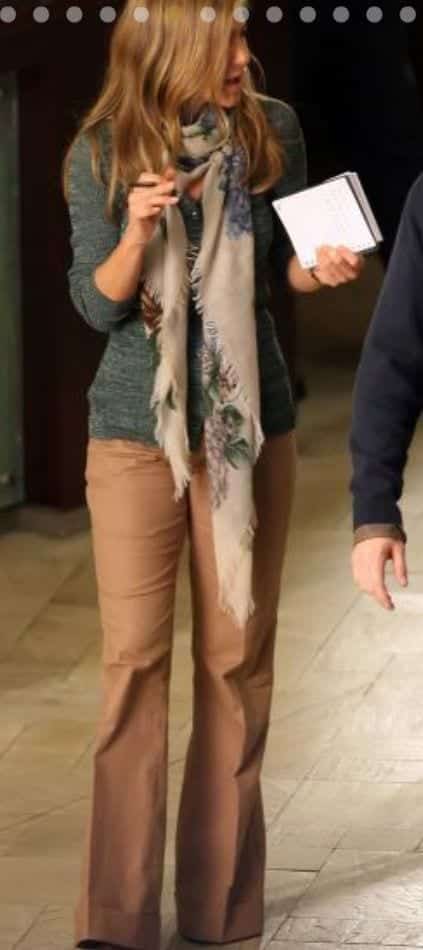 ↓ 18 – With Tank Top
Khakis are just too lovable – you don't have to think for hours to select the color that looks good with your Khaki Pants; every color can go with it. So dig in your cupboard for your tank top and wear it with your cargo khaki pants; Viola, you're dressed up for summer.
Tank tops are one of the simplest yet hottest outfit items, so check out these 16 Cute Outfits with Tank tops.

↓ 17 – Office Wear
You don't have to wear your usual, strictly formal dresses to the office; your Khaki Pants paired up with a bright-colored coat would look lovely, and you have not broken any official dress code rules too. Win, win situation it is!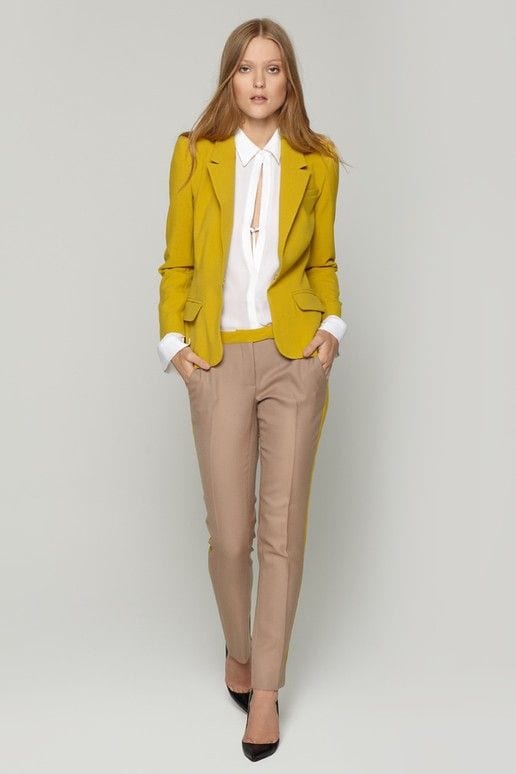 ↓ 16 – Kitty Party Dress
Khaki Pants have such charm, these can be worn on any occasion, and you will always look super classy in them. If you have a party to attend this weekend, wear this adorable Dress, khaki pants with a light neon-colored sweater, and a printed scarf. Trust us; you'll get all the envious looks from your friends because of your style.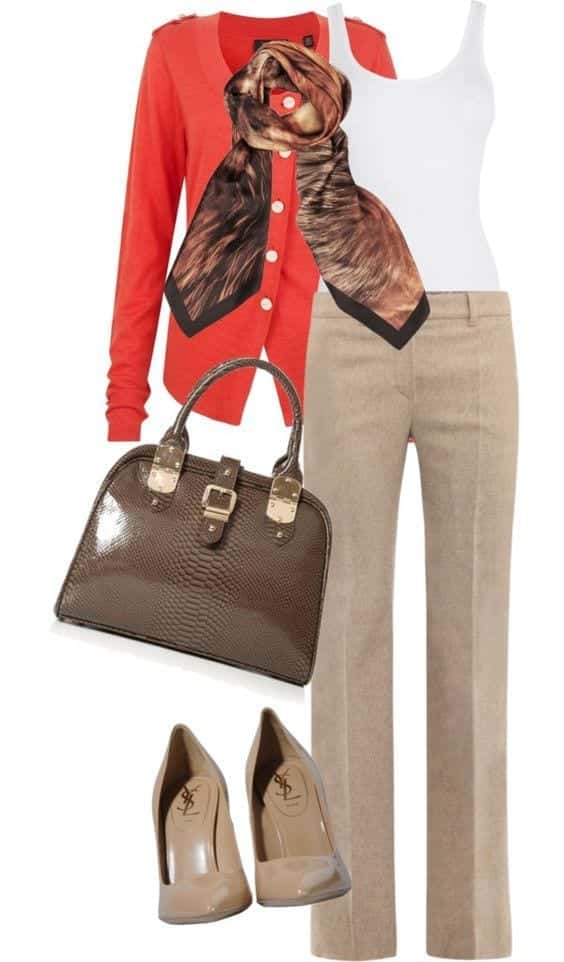 ↓ 15 – With Denim Jacket
Denim jackets look super fashionable with Khaki pants, but you have to select a neutral-colored shirt or camisole to go with the look. All shades of black or white would go with this look. Wear nude pumps to make it more classy, and you're the star of the day.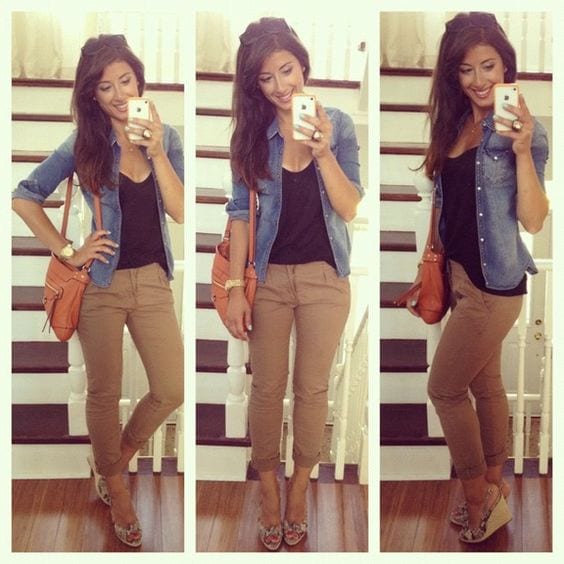 ↓ 14 – American Eagle Khaki Pants
Family meetups or dinners can be such a competition. You don't only want to impress people with your food but also your style, so always choose smartly. Don't spend bucks on shopping for the right outfit.
Just grab your usual khaki pants, pair them with a navy blue cardigan and white dress shirt, and you're ready to be an apple of the eye of everyone. If you're planning to arrange or attend a family dinner soon, look at these awesome Ideas on What to Wear to a Dinner Party.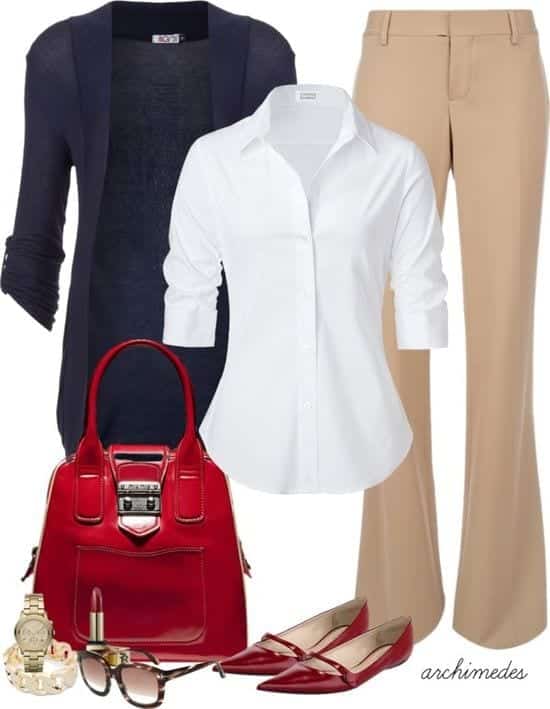 ↓ 13 – Summer Dress
Be playful with your dressing this summer. Wear the super cute Khaki pants with your sweatshirt. Complete the playful look with studs in-ear and a colorful scarf, aha! You will be the cutest!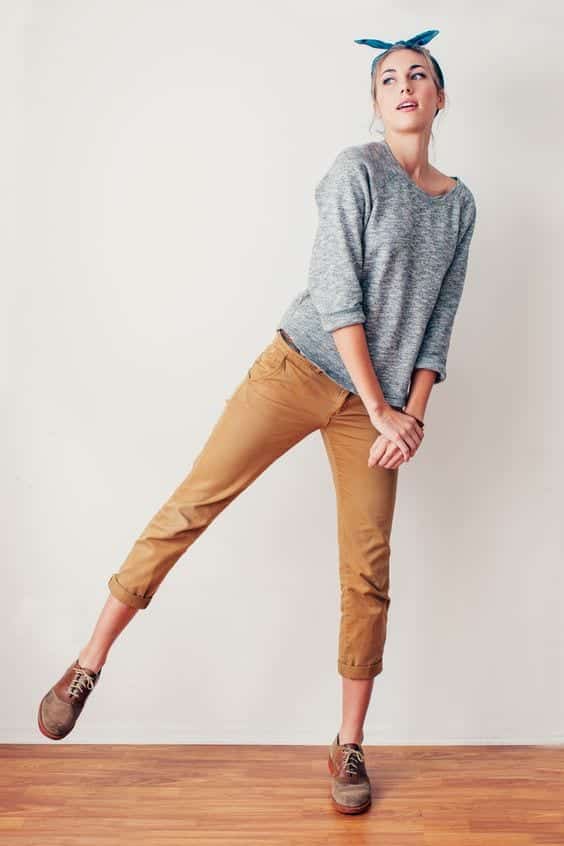 ↓ 12 – Girl-Next-Door Style
Everyone adores the simple, preppy style. If you enjoy simple clothing, then your khaki pants can be worn with the always-stylish polka-dotted print and a simple woolen sweater. Go, melt some hearts with this sweet look. If you love such preppy outfits, pair them with one of these Preppy Hairstyles for Women.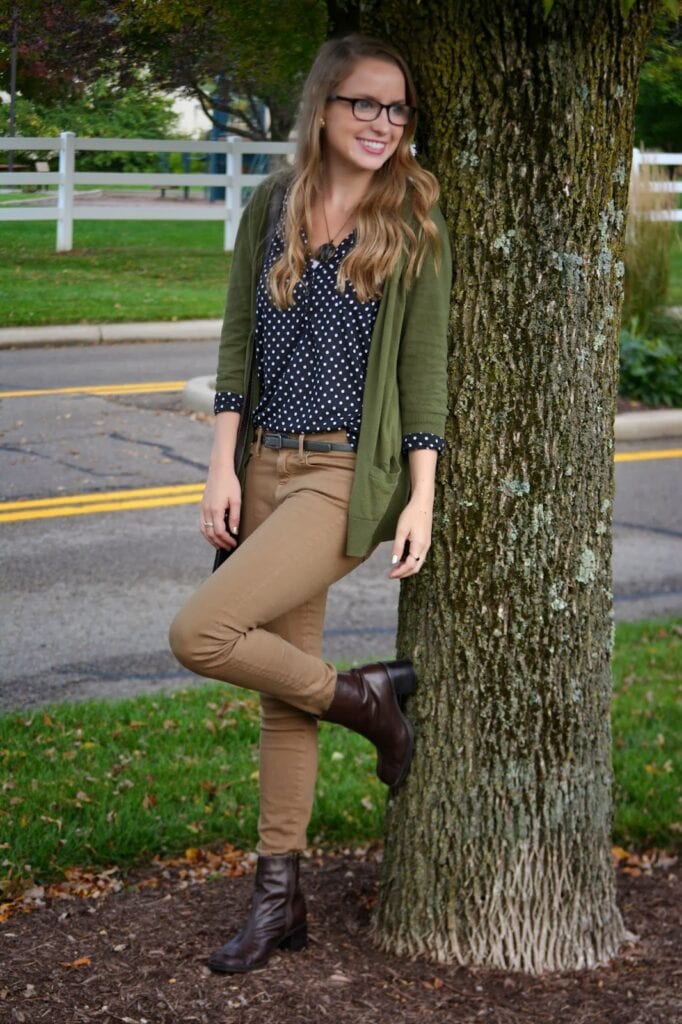 ↓ 11 – Dress Up for Shopping
If you're planning to go shopping after Work, don't wear anything that can be uncomfortable. Dress up formally but make sure you're wearing these comfortable dress pants, a silk scarf, and your slim-fit coat.
Apart from being stylish and formal, this Dress is comfortable and would make it easy for you to roam around in malls. By the way, don't wear heels; go for wedges with this look.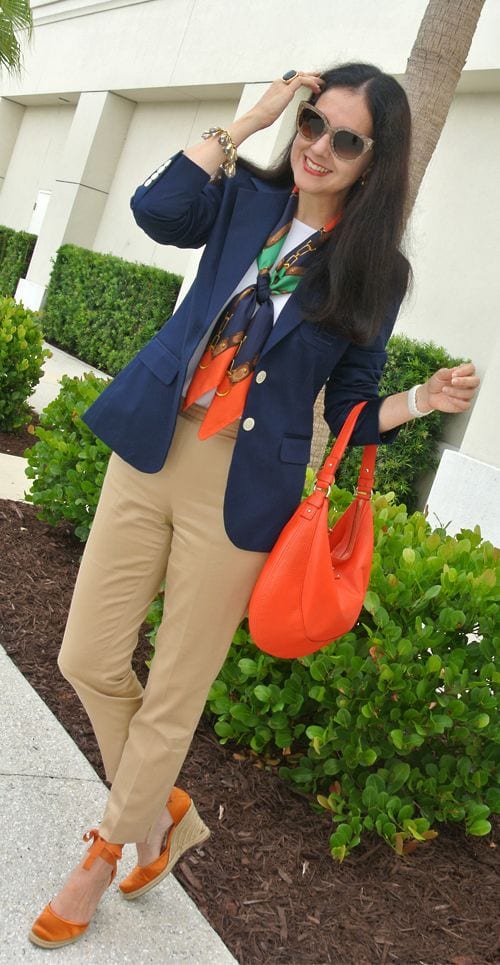 ↓ 10 – Beach Parties
Khaki pants are not just for offices. You can wear it to fun places like beaches and sea views. Now that it's summer find all those frilly off-shoulder shirts pair them up with pants, and rock the party. You might want to check out these Hollywood Celebrities Beach Outfits for celebrity-style beach inspiration.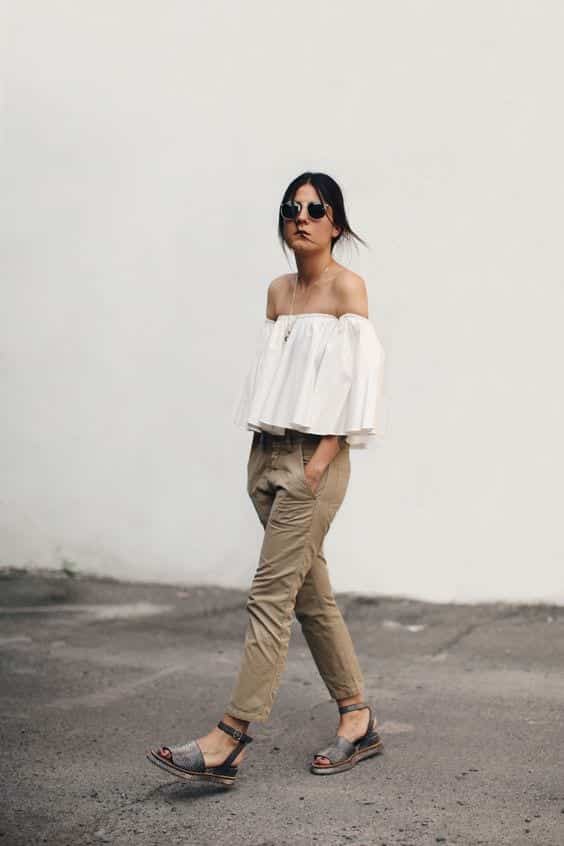 ↓ 9 – Date Outfit
If you're finding it difficult to decide what to wear for the perfect date- we have that sorted out for you. Your favorite straight khaki pants with a lace print top would perfectly match.
Accessorize your outfit with dangling earrings and a long chain. Don't forget your solid-colored heels to go with this look.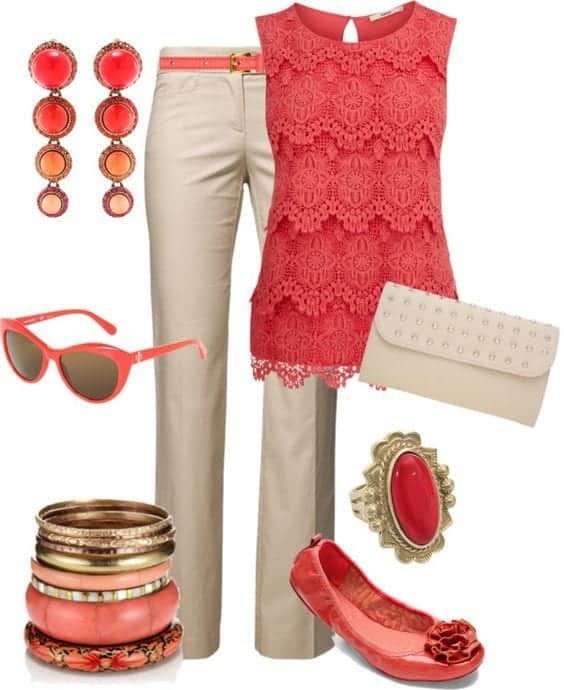 ↓ 8 – Like Parisian
Parisians are famous for their fashion sense. No matter the Dress, they know the perfect ways to carry it smartly. So if you are in awe of their fashion sense, why not try one of their looks.
Wear your Khaki pants with your hoodie and a long overcoat, and you're all set to look like a Parisian. Hey, don't miss wearing shades with this look. Here are some more amazing Trench Coat Outfits for Women.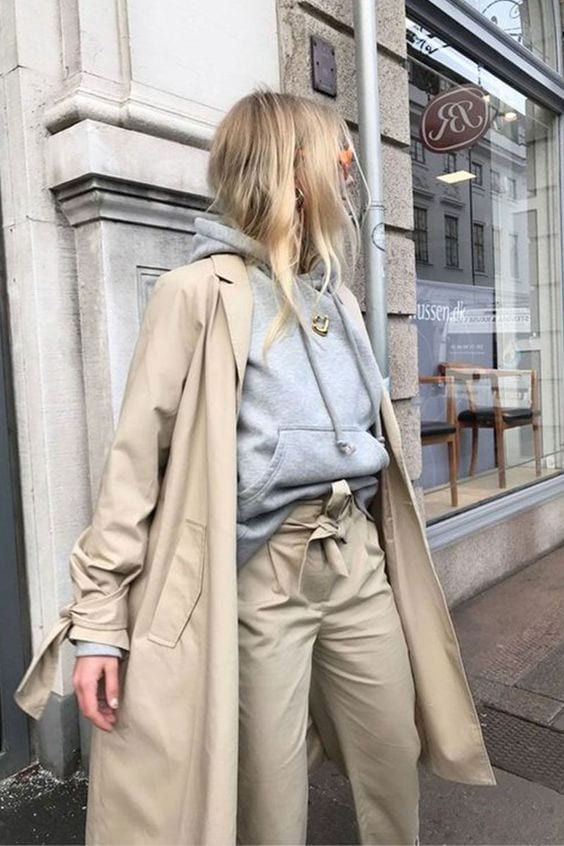 ↓ 7 – Vintage Look
Khakis have been in fashion forever. If you want to wear this sexy pair of wide bell-bottom pants in vintage style, wear it with a bow-collared shirt and rolled-up sleeves. Curl your hair and clip it on the side to complete the look.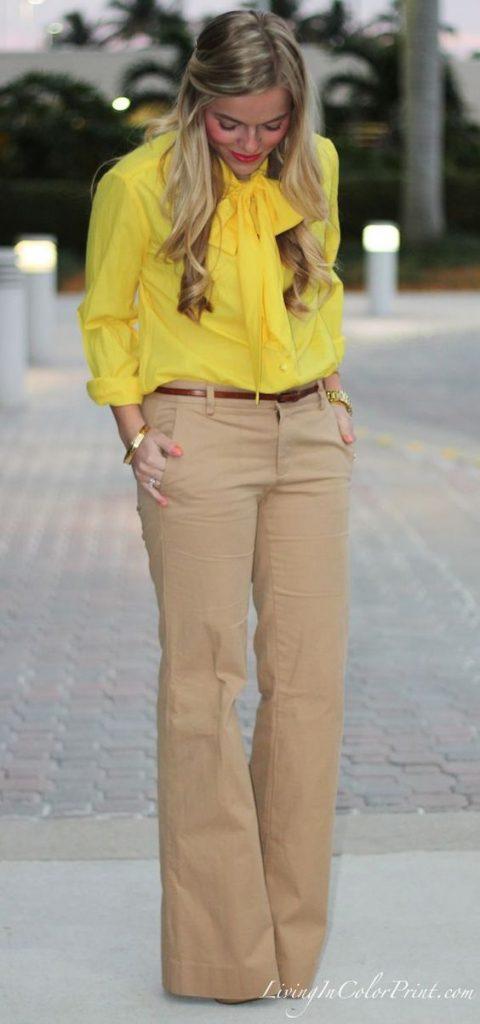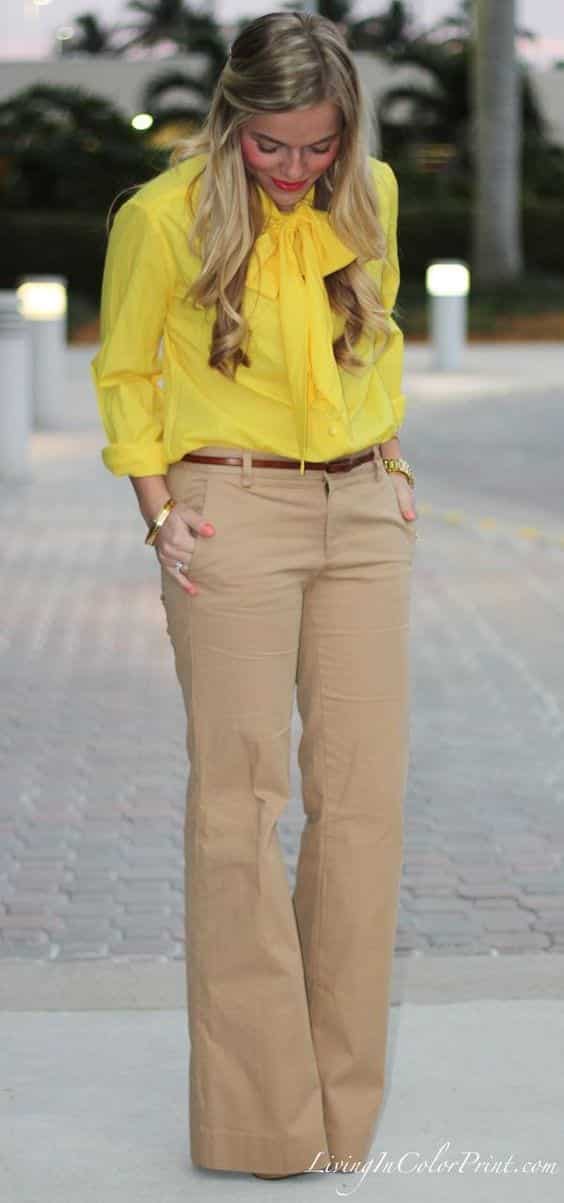 ↓ 6 – Khaki Cargo Pants
Show off your carefree soul with these super classy baggy khaki pants and a sleeveless shirt. Not only is the look very comfortable, but it is the perfect definition of street style.
Few cuffs in hands would look very trendy with this outfit. You could layer this look with a vest if it gets too chilly; here are the Best Vest Outfit Ideas for Women.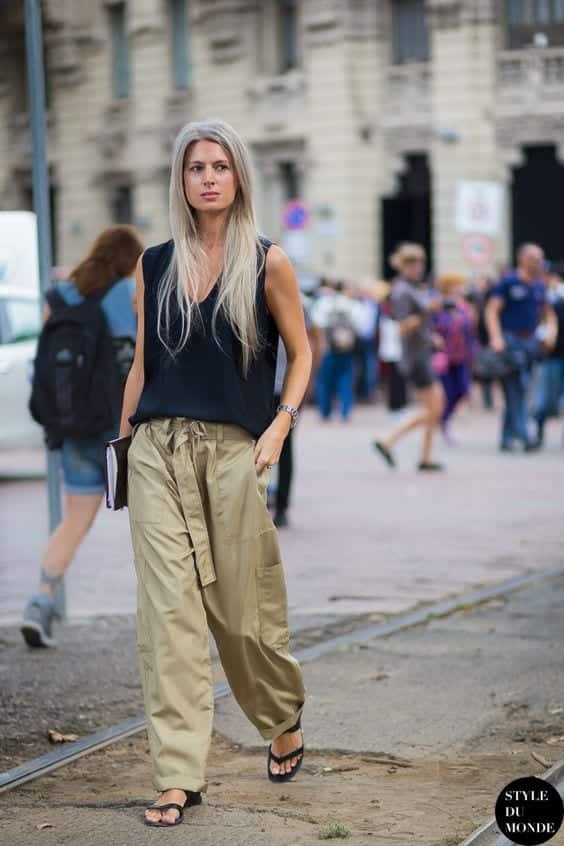 ↓ 5 – Celebrity Style
Afternoons can be very tiring. One doesn't feel the need to dress up for it, but you can not afford to look disastrous, can you? If you are too conscious of your style, a comfortable tank top with a khaki Capri is the perfect look for you, best for summer and funky.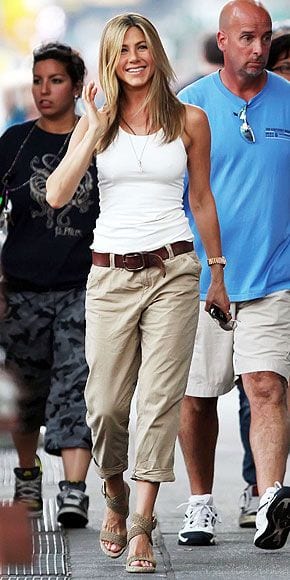 ↓ 4 – For Work
Don't be boring at your workplace; how you dress matters a lot, not just for you but for the people around you. If you want to create an attractive aura of yourself, dress up smartly in these khaki dress pants and a slim-fit blazer.
To accentuate the look, wear animal-printed pumps and tie your hair in a high, clean bun. If you're looking for some new shoes to wear for Work, then find the most amazing collection here: Best Business Casual Shoes for Women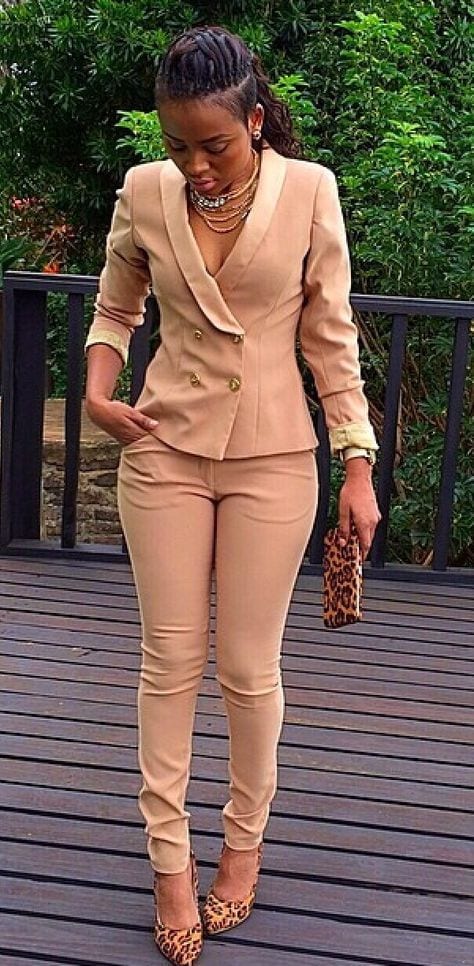 ↓ 3 – Street Style
Here is another look for you to carry in the streets—a plain tank top with linen khaki harem pants. A messy hairstyle would enhance the look even more, giving you a casual yet edgy look, perfect for the streets.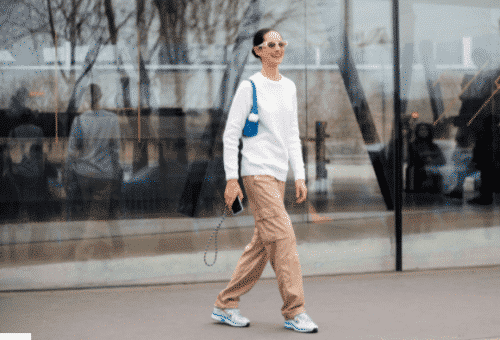 ↓ 2 – Girl's Day Out
Girls, do you want to look stylish when all of you guys get together? There is not anyone who doesn't. Girls' days end with many pictures and videos taken for the gram, so you must be absolutely at your best and look amazing.
Well, what are you waiting for, pair your khaki pants with a checkered print shirt and a navy coat and let your friends adore your style. Simple yet very elegant.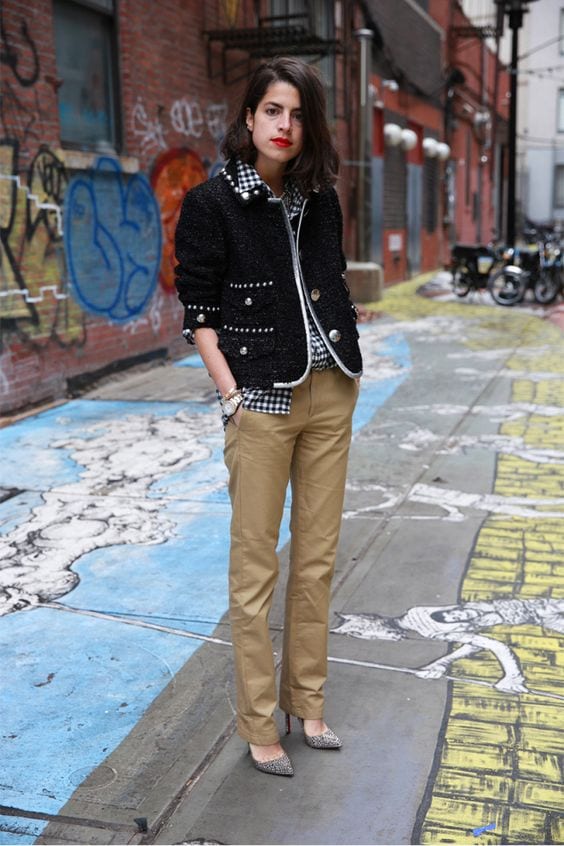 ↓ 1 – Perfect Meeting Dress
Meetings can be the time when you want to impress your clients with your abilities and your business tactics, but they will be judging you with the way you dress up, too, because personal hygiene matters the most.
Go in this neat attire of a printed Georgette shirt and straight khaki pants; the look is very formal yet very smart, just the right one for the smart businesswoman.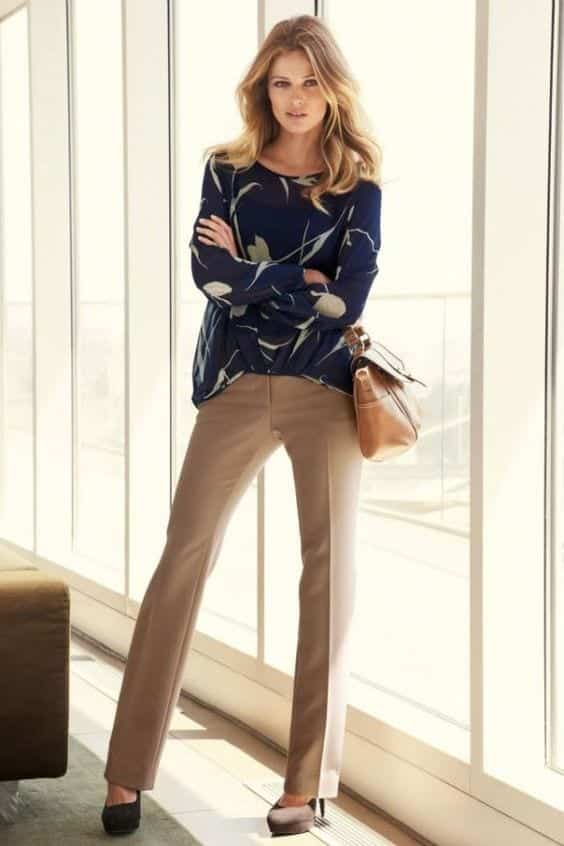 Q –

How to style khaki pants in the Summertime?

A. Summertime calls for light and breezy clothes that keep you cool but also make you look gorgeous. You can wear striped or sleeveless tops or tank tops and loose pants with khaki pants. With this look, a belt would look amazing. 
Q –
How to style khaki pants for office wear or formal meetings?
A. Women usually get stressed over what to wear to a formal meeting and not knowing if it's formal enough. The good news is that khaki pants scream formal and are the best office attire you can get your hands on.
With button-down shirts or even full-sleeved tops, bell-bottom or simple khaki pants would look formal and classy. You can wear heels or flats with this look. Accessories such as watches and belts may also look amazing with this formal look.  
Q –
Which kind of footwear looks best with khaki pants?
A. Without the perfect shoes, your outfit can never look as amazing as possible with the right ones. So, pay attention to your footwear while putting together your outfit for the day. With khaki pants, go with footwear in lighter colors.
Leather shoes usually go well with light-colored khakis, e.g., Derby and Boucher shoes. If it's warm outside, you can also go with casual options like boat shoes, loafers, and main canvas sneakers.
Q –
What to wear with green khaki pants female?
A. Green khaki female pants look the best with a white tank top and denim jacket. Wear casual sneakers with them, and finish off your look by accessorizing with a chunky necklace.
Q –
What to Wear, Khaki Shorts?
A. Khaki shorts look the best with casual tops. You can go with plain T-shirts or solid oversized tops. Tie your hair in a messy bun and finish off your look by wearing chunky accessories, pleasant lip color, and shades.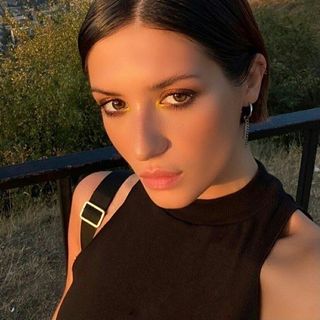 Avid reader and Fashionista. London Based freelance lifestyle editor