Women's Shearling Jacket Outfits – What are winters without shearling coats and jackets? Being the ageless trend they are, it is no surprise that they are back in fashion this year.
It's time to dig deep into your closet and get those jackets out, and if you do not have them in your closet, now is the time to purchase! So get your winter wardrobe game on and get ready to style because I can assure you that you are about to turn some heads your way with this classic trend!
If you are a little confused about what these jackets are made of, we are here to clear away your queries! These jackets are made of lambskin or sheepskin with an underlayer of wool, making them incredibly soft and comfortable to wear, especially during the fall and winter seasons. They can be somewhat heavy in the pocket, but we have a solution too! In that case, you can always go for the variety in faux! Unlike some of the other winter trends that only focus on making you look good while inside you are freezing (oh, the struggle); this one will keep you as warm and cozy as possible.
How To Wear Shearling Jackets?
From runways to off duty, all of the top models are wearing them and going gaga over the unique cuts and styles of shearling jackets that are trending this season and being showcased at fashion weeks. Despite being present for tens of years does not make these coats outdated; in fact, quite the contrary! If anything, they are becoming more popular with the day! So whatever dull image you have in your mind, push it away.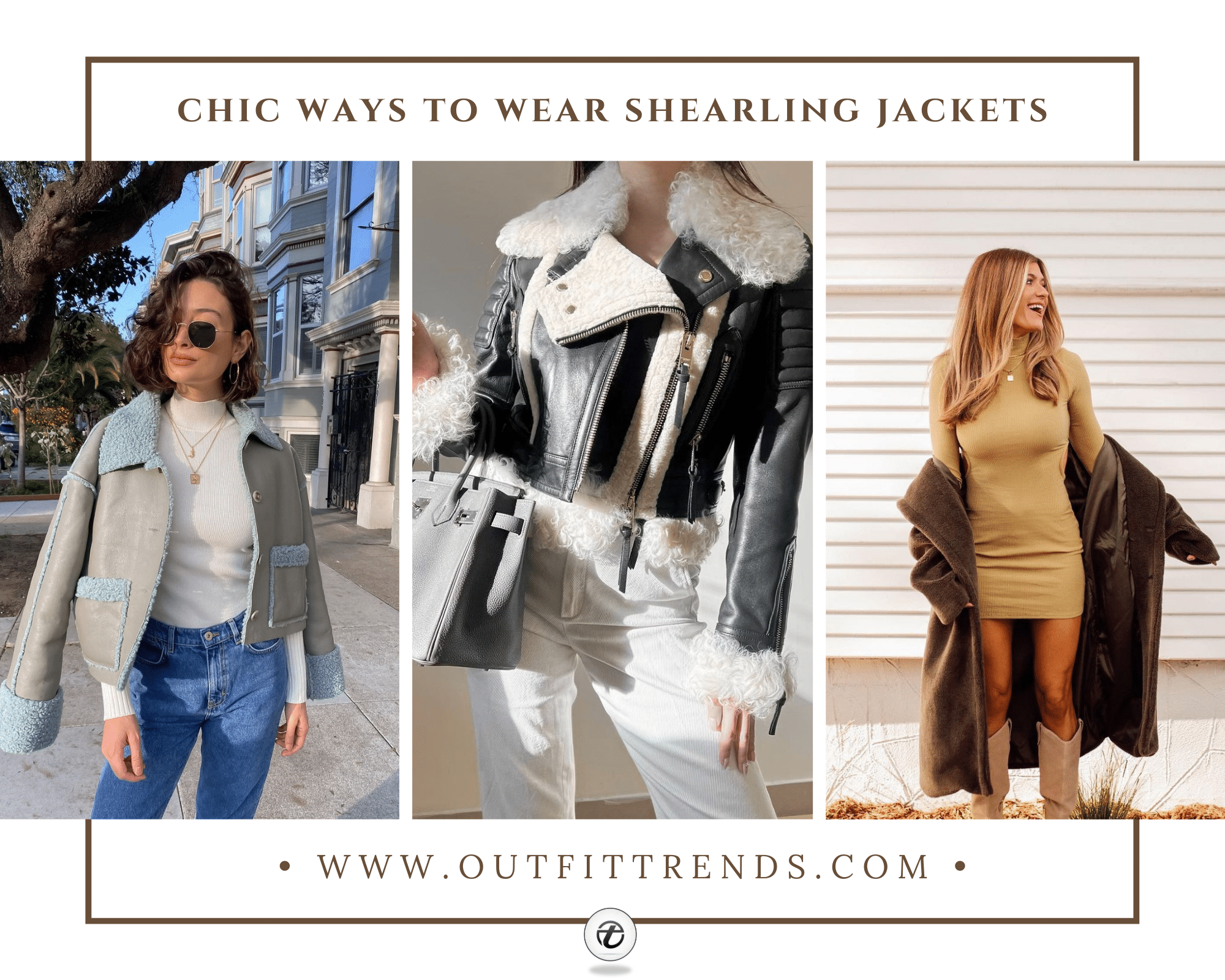 The number of ways you can wear these jackets is countless. So whatever your age, body shape, and skin tone are, do not worry. There is a style that will suit you and bring out your best look. Here is a brief list of wardrobe item suggestions to pair your jacket with:
Tops – turtle necks and sweaters bring out a great look
Bottoms – flared pants for a retro look or skinny jeans for a modern style
Dresses – fitted would be the way to go, especially if your jacket is oversized
Scarves – bright and bold to contrast with your jacket
Ankle or knee boots – you just can't go wrong with these!
However, there is no strict rule about what you can or can not wear with these jackets. So feel free to use your creativity and choose something you are most comfortable in. To help you further, we have rounded up 27 different outfits with shearling jackets to throw some primary style goals your way and help stir up some inspiration. We have also listed the best places for you to shop for shearling jackets in the FAQ section. So keep scrolling to check them out!
27 – All Black Shearling Jacket Fit!
One look at this outfit, and I am already thinking of cozy winter days, hot chocolate, and a good book to spend the day surrounded by snow! The contrast of the all-black outfit with the brown turtleneck is oh-so-welcome and enhanced by the detailing on the jacket. And the color-blocking on this outfit is executed flawlessly!
26 – Mysterious in Monochrome!
It is universally established that you can not go wrong with black and white, especially when paired this flawlessly!
25 – Dresses and Sherling Jacket Outfits!
24 – What Shoes Should I Wear with Shearling Jacket Outfits?
Boots, boots, and boots! Whether you opt for ankle or knee-high boots or chunky doc martens-inspired boots. But the best way to pull off a shearling jacket effortlessly is to wear boots with your outfit for a refined, edgy, and statement-worthy look! mysterious
23 – Faux Jackets Have Entered the Chat!
How cool and bright is this faux shearling jacket? The colors are perfectly pastel, making this jacket the ideal pick for not only winters but also spring and summer seasons! Style it with your favorite pair of blue jeans, a white shirt, and white chunky platform boots to complete your look!
22 – Gigi Hadid Shearling Jacket Inspiration
We adore all the different colors being brought to you in this look by Gigi Hadid! You can carry these jackets with a dress and heeled boots in a similar fashion. My advice would be to go bold and not be afraid of experimenting! You should also have a look at these Spring Outfits With Floral Jackets.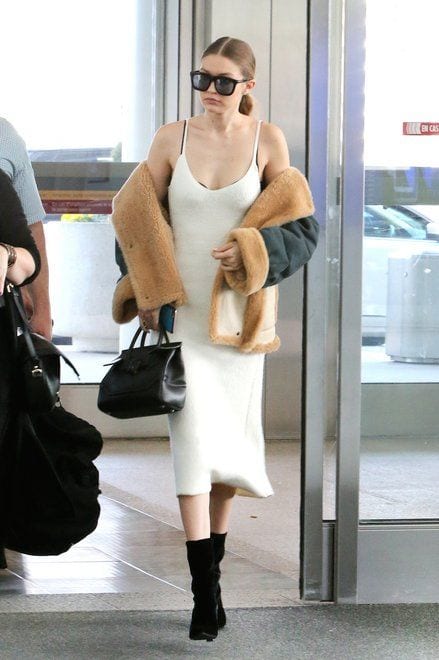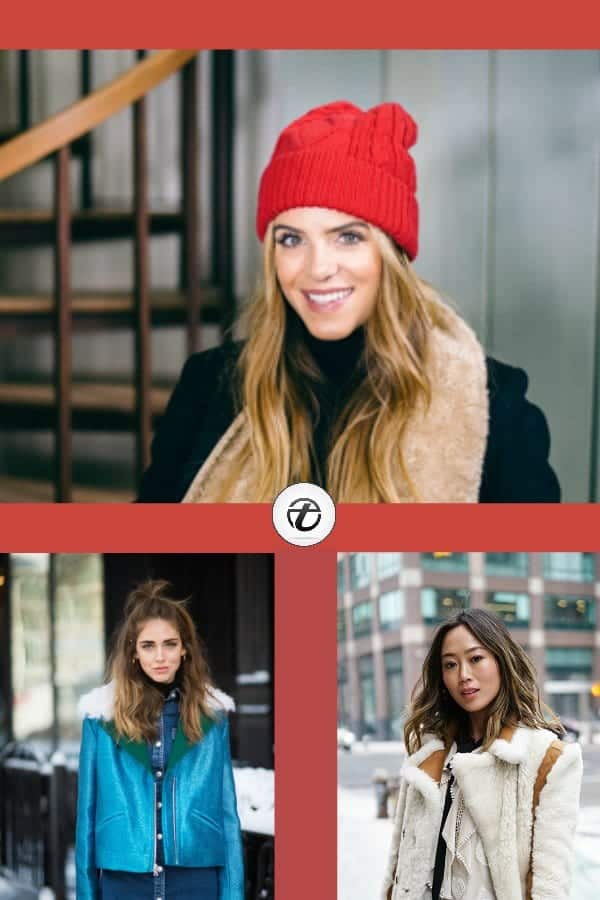 21 – Outfit For A Funky Look
Incorporate funky colors or an animal print with these jackets to look chic. After all, it's either go-big or go-home! Also, notice how the pattern on the skirt matches that of the frame on the glasses? Try to add similar touches to your outfit to make it truly unique and you in the best way!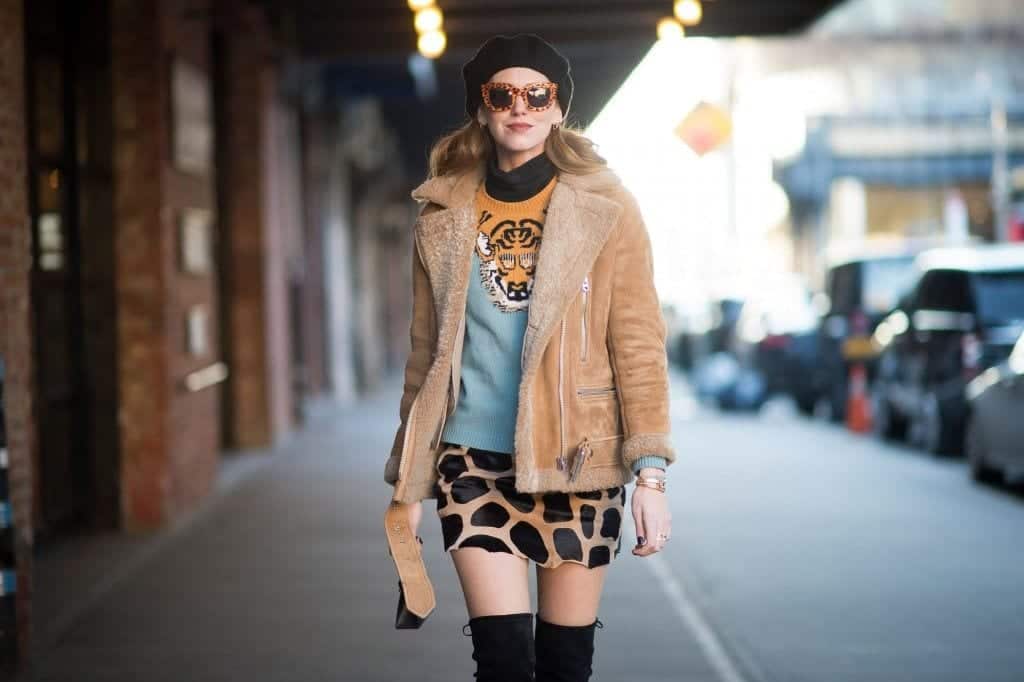 20 – Shearling Jacket With Denim Dress
For parties, you can wear a unique jacket like this glittery one with shearlings and wear it over anything of your choice, perhaps a dress. Also, see these 25 Cute Outfits Ideas to Wear with Denim Studded Shorts.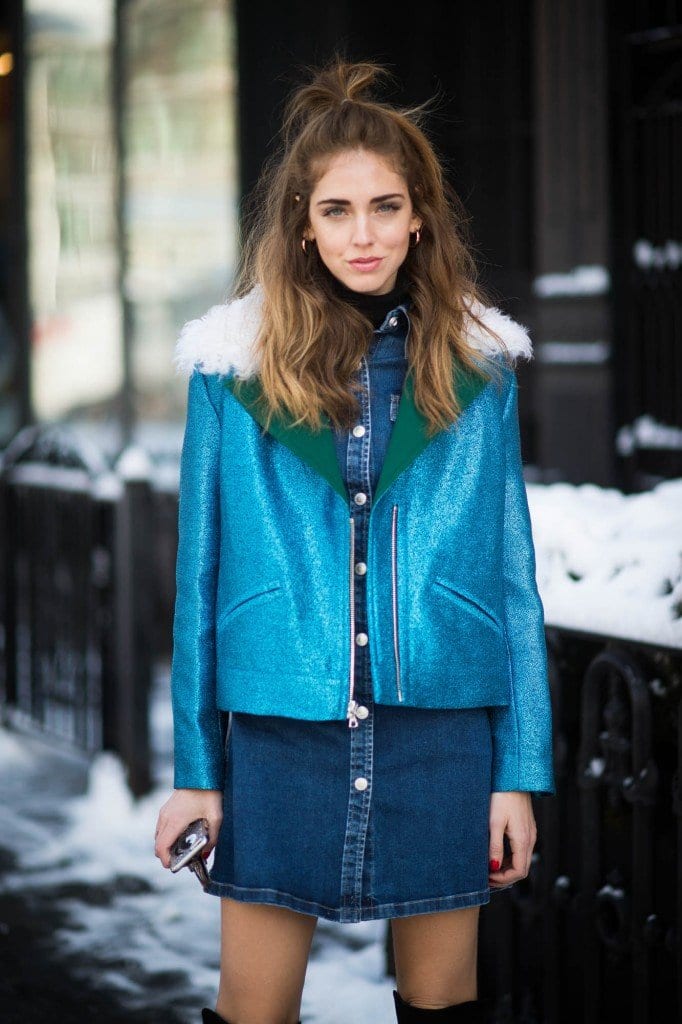 19 – Outfit With Flared Pants
For a 70s inspired look, pair your shearling jacket with bell bottoms or flared jeans.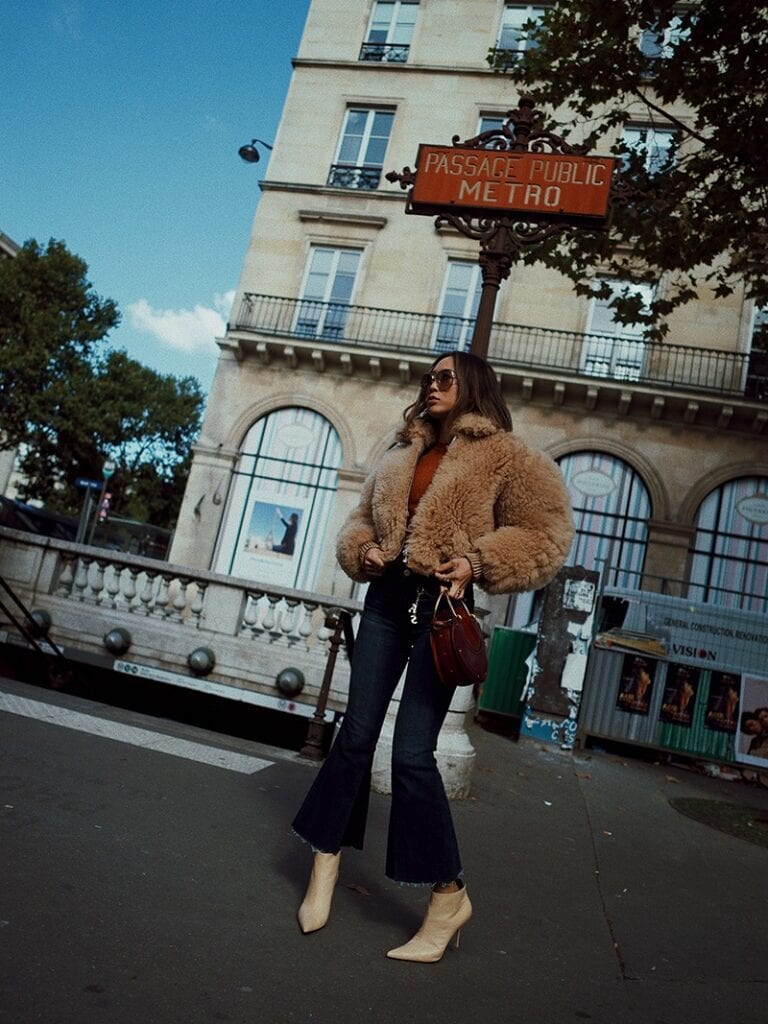 18 – What To Wear With a Black Shearling Jacket?
The possibilities of wearing a black shearling jacket are endless! Adding in a pop of color like the red beanie below will elevate your look, making it bright yet edgy at the same time! You could wear it all black or pair it with classic blue jeans. Check out these ideas on How to Wear Hats with Different Outfits.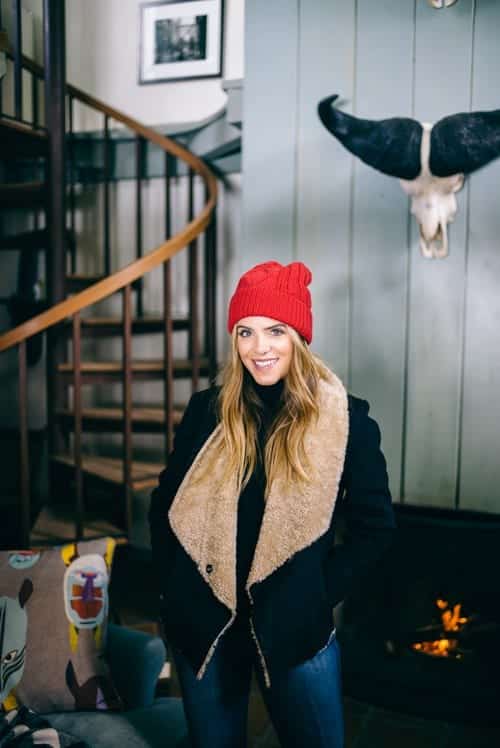 17 – What To Wear With Shearling Moto Jacket?
Shearling moto jackets provide you with that extra layer of warmth, especially around your neck and chest. Thus, they are the ideal pick for winters! You can wear such a jacket with skinny pants and matching knee-length boots. And pair it with a sweater below for a trendy look. Complete your outfit with the right accessories and leather gloves (if you plan on being in the snow!).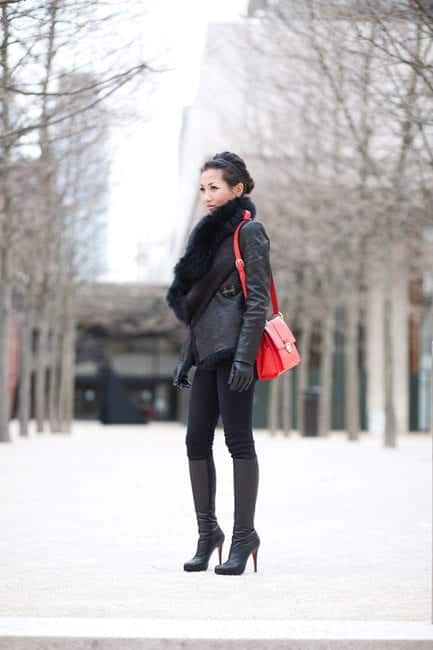 16 – Accessories for Shearling Jacket Outfits
Winter accessories are the best! Add scarves, mufflers, and boots to your outfit to further enhance the look. Moreover, simple gold hoops, classy sunglasses, and a watch are all the best ways to look ultra-chic! Here are Girls Outfits with Hiking Boots.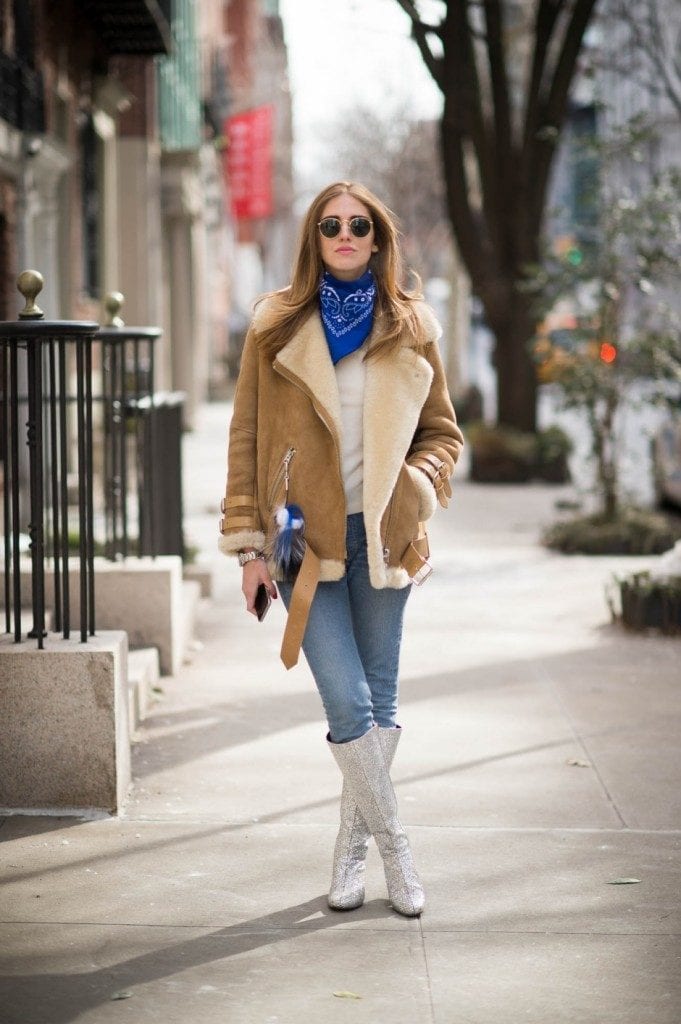 15 – How To Wear Faux Shearling Vest?
Grab your favorite knit, cashmere, or woolen sweater – preferably a turtleneck – for the winter/ fall fit. For a spring/ summer look, you can style this jacket with a bristol top or a top with puffy, flowy sleeves! Since this type of jacket will show off your arms, I would advise you not to compromise on your top!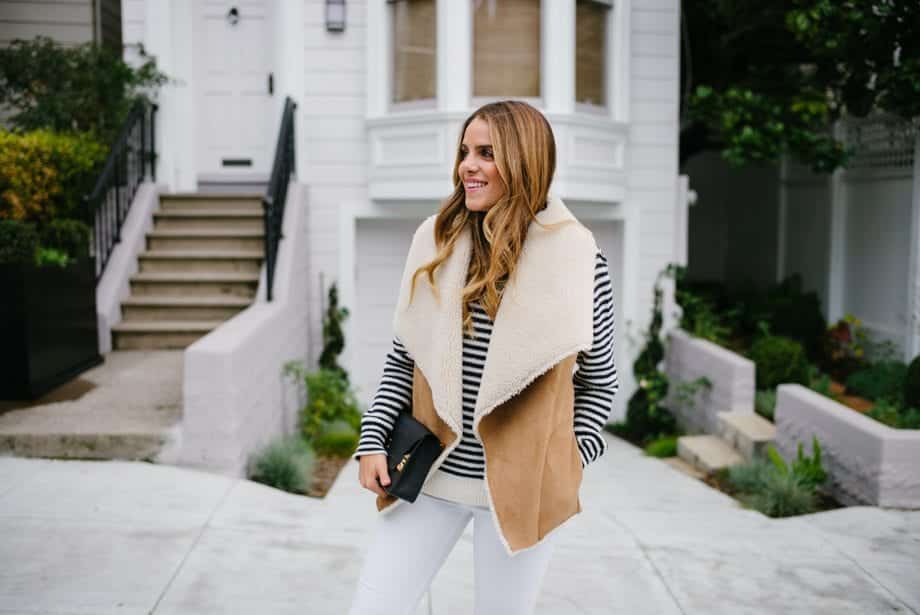 14 – Styling a Long Shearling Coat
Long coats look best with dresses and can be worn to formal occasions. The best way to look vogue will be to keep the length of your dress short if your coat is below the knees, similar to the image below. This would add more shape and body to your outfit, making you look chic. A pair of heeled boots or stiletto court pumps will boost not just your height but your overall look too! Don't miss out on these 19 Ways to Wear Trench Coats this Winter.
13 – With Printed Pants For A Cute Look
If you want to keep it subtle and girly, pair your jacket with floral printed pants, and you will indeed look adorable.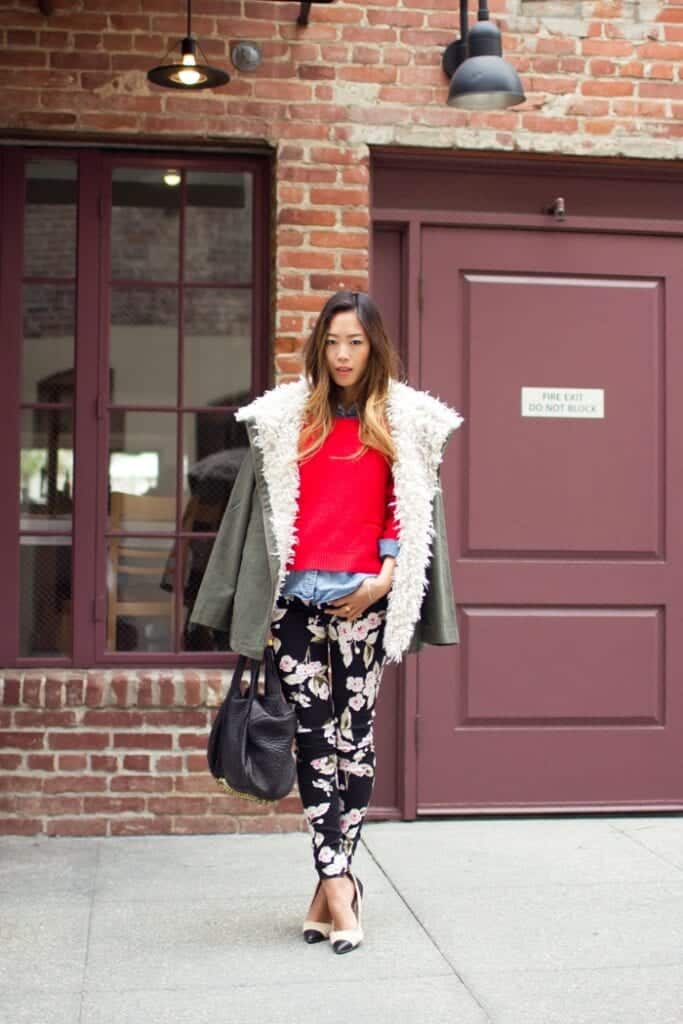 Via
12 – Shearling Jacket Outfits With Skinny Jeans
Honestly, whatever you decide to wear, you simply can't go wrong with skinny jeans. They are that one staple item in your wardrobe that will never disappoint and accompany you for a long time!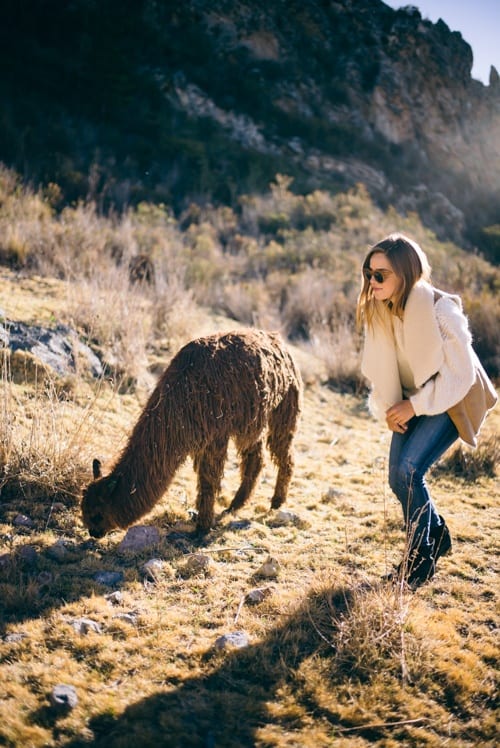 11 – Shearling Bomber Jacket
You can color coordinate your jacket with your boots and bag to create a unique and fashionable look.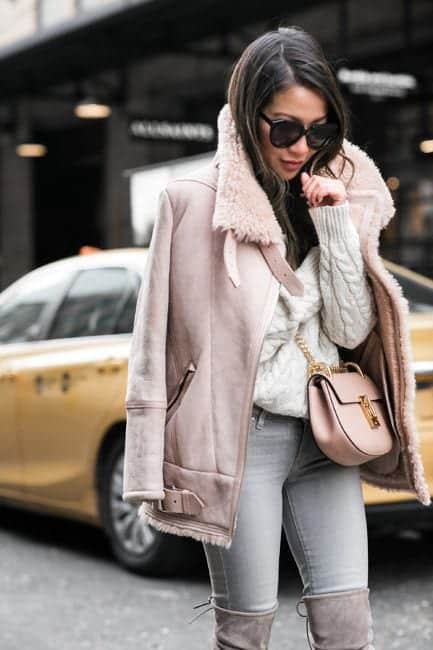 10 – Shearling Leather Jacket Outfit
Know what's cooler than leather jackets? Here is a monochrome look that you can even wear to work. Shearling leathered jackets! Here are the best Outfits with Leather Jacket.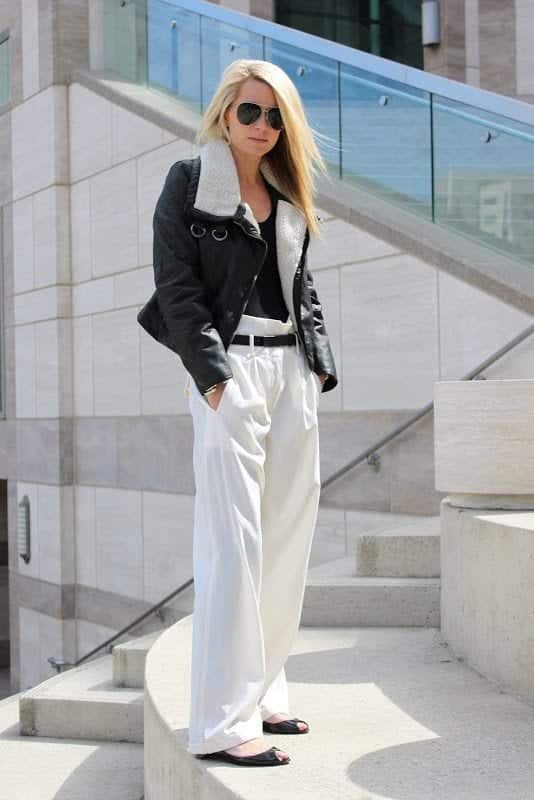 9 – With a Pencil Skirt
Color contrasts play a significant role in styling an outfit. Here is a pink pencil leather skirt that brightens up the look with a black sweater and jacket.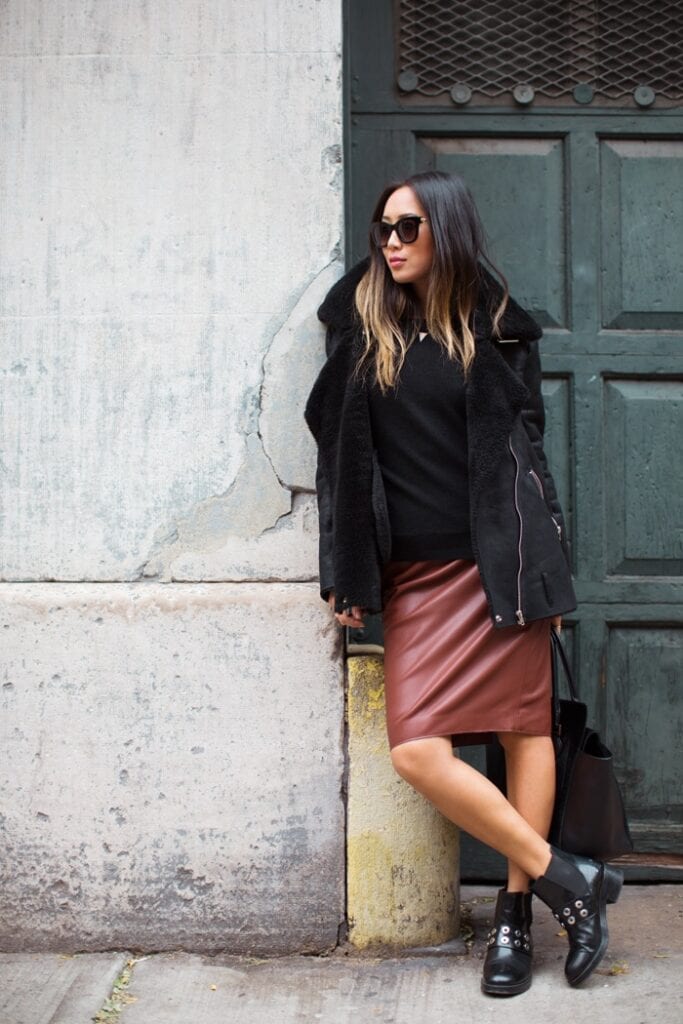 Via
8 – Scarves To Wear With Shearling Jacket
From small tie around the neck scarves to these long striped ones, you can rock absolutely any kind depending on the rest of your outfit. Check out these 15 Accessorizing Items that Every Girl Should have.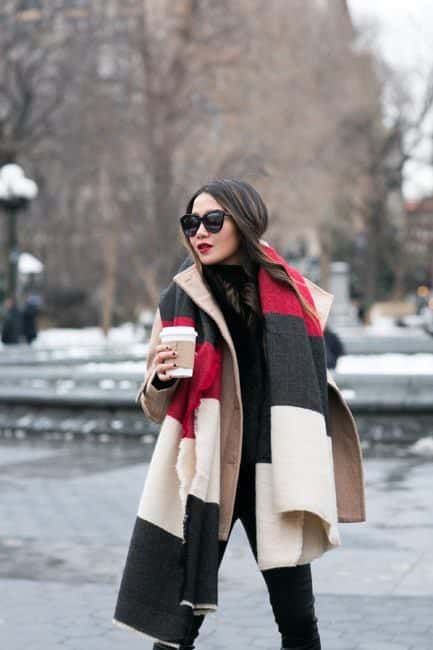 7 – All White Look
You can go for this look with a white dress and a long shearling jacket for a glamorous daytime look.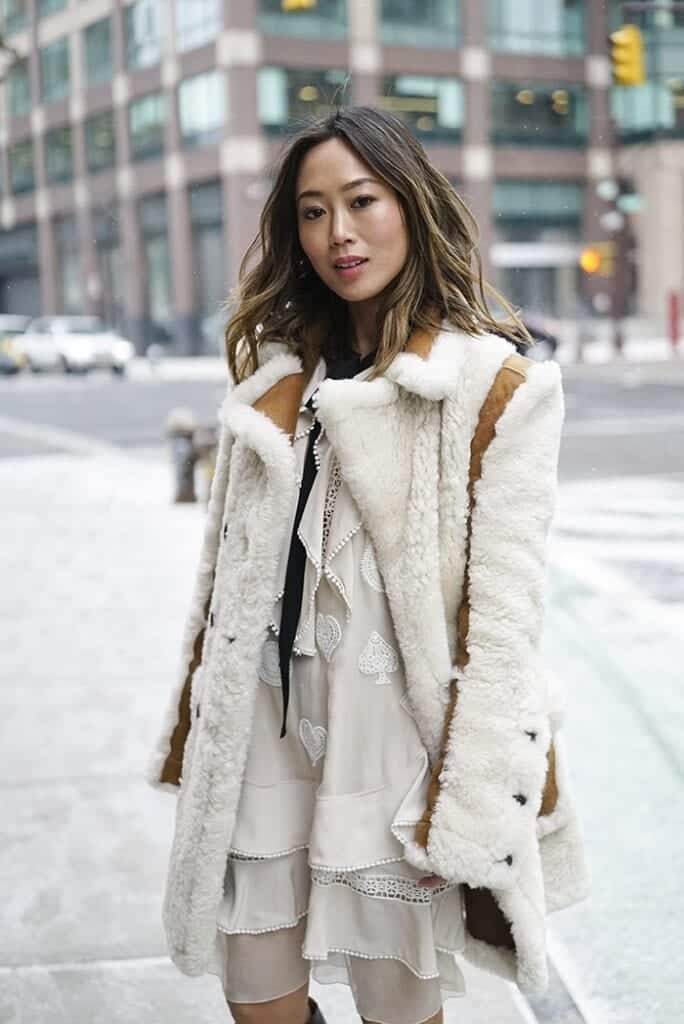 Via
6 – How To Wear Shearling Aviator Jacket?
Aviators are all the rage this season, whether sunglasses or jackets. You need one of these in your wardrobe if you like bold looks. Check out 13 Cute Minimalist Outfits for Winters.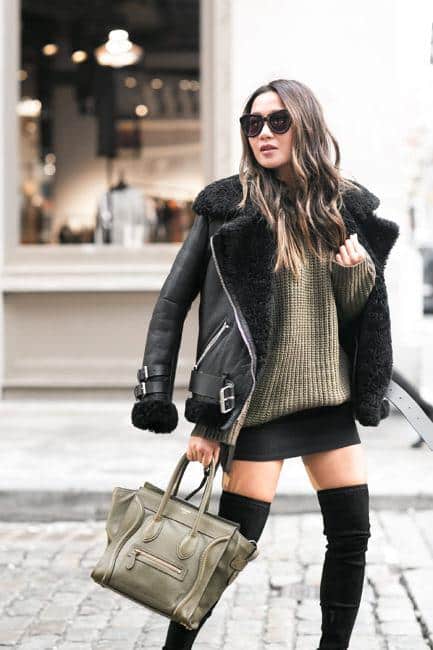 5 – Shearling Leather Jacket Outfit
This is an excellent example of a street style look consisting of a leather jacket, t-shirt, and ripped jeans. Does not it look super chic?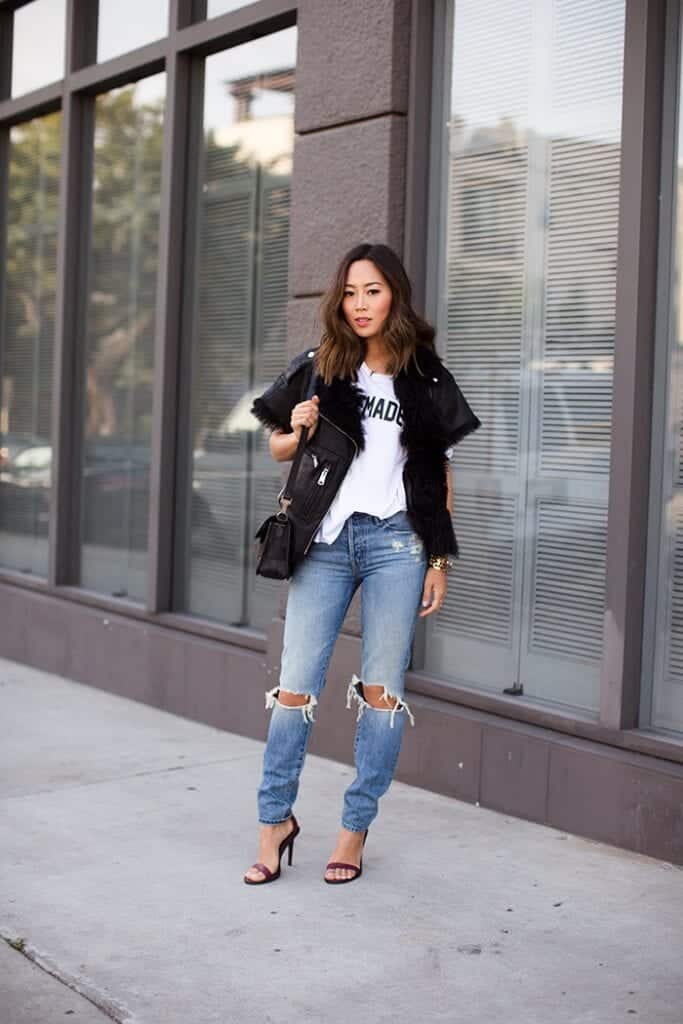 Via
4 – All Black Outfit Ideas
Getting one black shearling jacket will solve all of your problems. You can turn it into a completely black outfit with pants and an undershirt of the same color, and it will look good with every other color too! Don't miss out on 25 Celebrities All Black outfits Styles for Fall to Copy.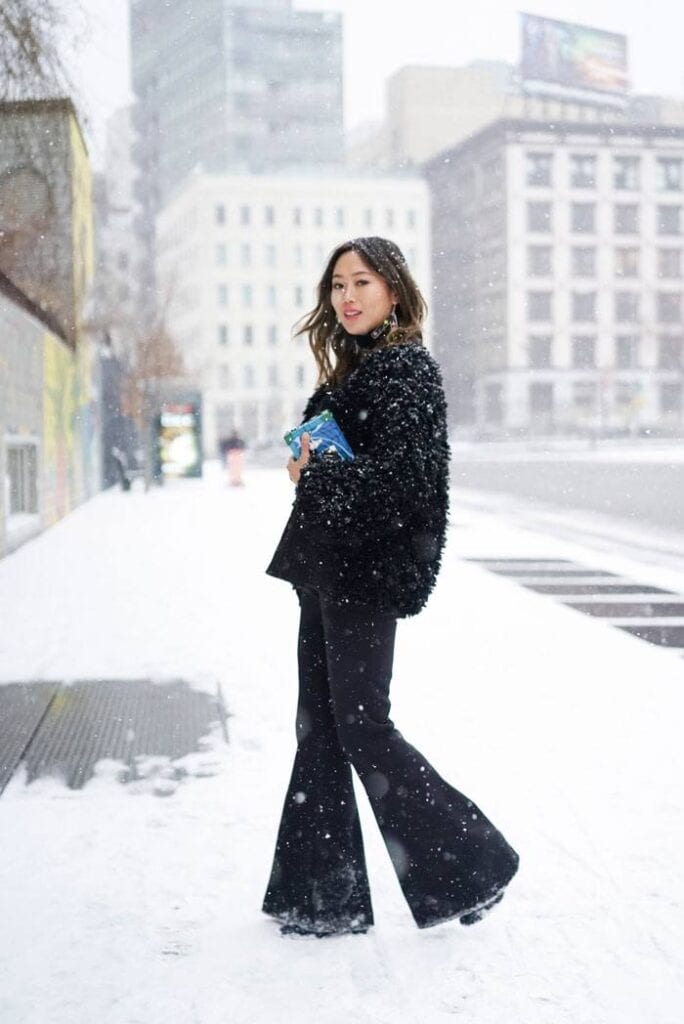 Via
3 – Shearling Jackets For Plus Sized Women
You can go for a texture and style that is not too puffy as it will make you look stuffed, so try to avoid bomber jackets, etc.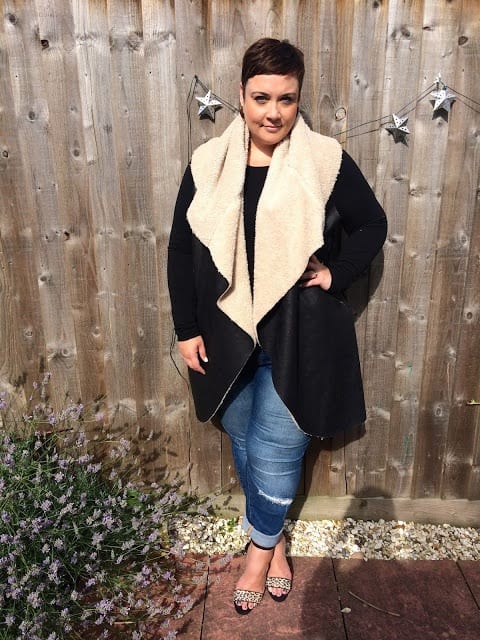 2 – Tommy Hilfiger Shearling Jacket For A Classy Look
You can go for designer statement coats to stand out and look sophisticated. What an elegant and classy look?!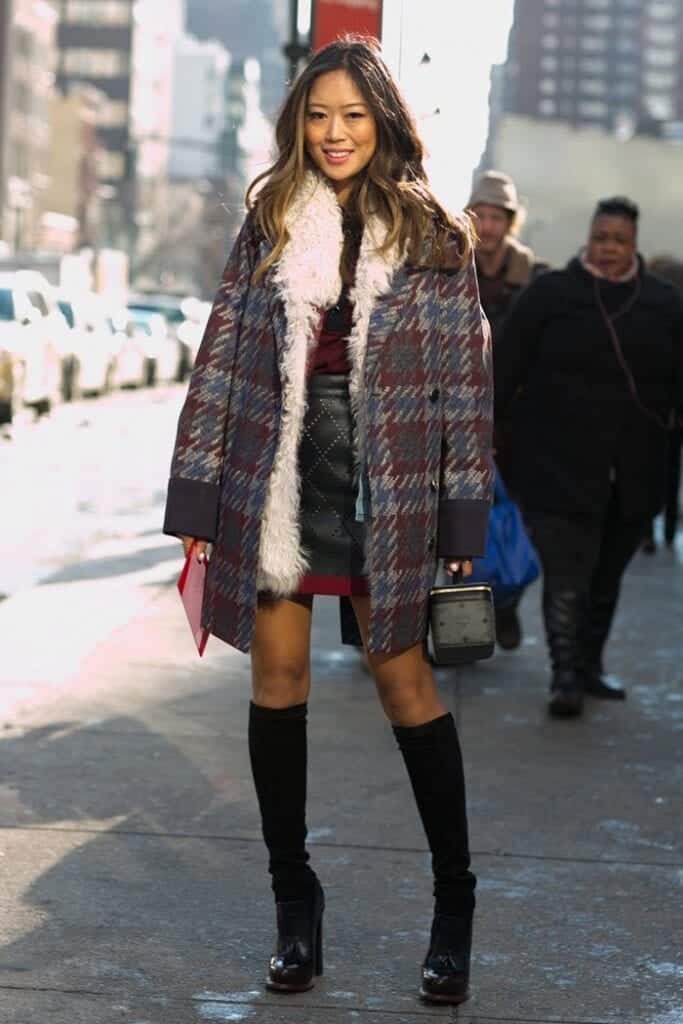 Via
1 – Shearling Denim Jacket Outfit
Shearlings on denim jackets give a very relaxed cowgirl vibe. You can pair it with skinny jeans and boots or wear it with a printed skirt.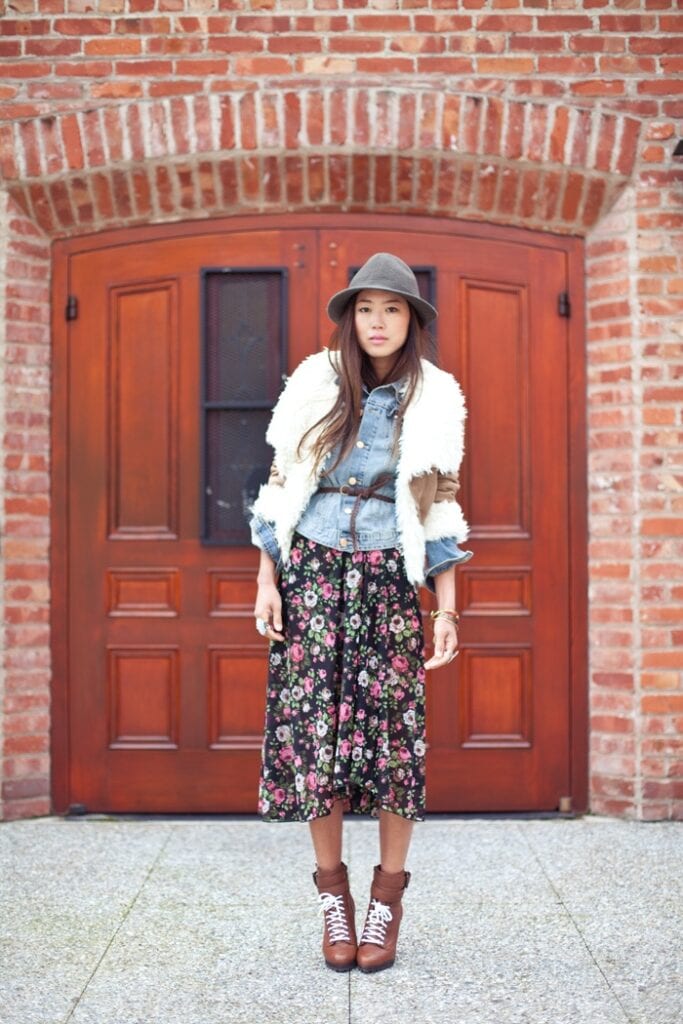 Via
We hope you liked our compilation of some of the best shearling coats and jackets trends this season. Remember that these are only to give you some inspiration and ideas; you do not necessarily have to stick to these as your style statement and comfort come first. Let us know your favorite look in the comments. Also, scroll down to get some of your frequently asked questions answered. Happy Winters!
Frequently Asked Questions
Are shearling jackets in fashion?
Absolutely! Shearling jackets are very much in trend. In fact, I will go as far as to say that this fashion trend is classic and effortlessly timeless. So no matter what year it is, you can reach out for your shearling jacket without hesitation as soon as it starts getting chilly. Moreover, you are guaranteed to make a fashion statement without even trying by simply throwing on this garment. So get your hands on this hot trend that has been making significant rounds this fall and winter season!
How do you wear a short shearling jacket?
The possibilities of styling a short shearling jacket are endless! You can pull off anything, from baggy jeans to a maxi dress and more. I would advise opting for fitted jeans and a plain solid colored tee for an effortless, laidback look. At the same time, amp up your look according to your desire by choosing the right shoes and accessories for yourself. On the contrary, go for a fitted silk dress, topped by an oversize shearling jacket to add the right amount of pizazz to your look!
Is a shearling jacket worth it? Is it warm?
I will answer that with a "yes" to both questions! A shearling jacket is an investment that will keep you company for not just one but upcoming seasons. And it is bound to keep you warm during its lifetime in your closet. This garment is lined with wool on the inside and has a tanned outer covering, making them the optimum choice for the chilly days and winter season. Thus, consider getting this jacket as more of an investment than spending!
Where can I buy shearling jackets?
Here are all the best yet affordable places to grab the hottest shearling jackets of the season:
SheIn: This long shearling coat (here) is a must-have in your wardrobe!
Nordstrom never disappoints and it definitely didn't with this colorblock jacket (here).
Forever21: How trendy is this denim-trim jacket (here)?!
Bloomingdale's: Shearling biker jacket? Yes, please! (here)
AllSaints: The details on this jacket (here) have my heart!
Zara: Get your hands on this faux shearling jacket (here) as soon as possble!