Rock Concert Outfits: The importance of a great outfit can never be denied whether you are going to your first rock concert or are the #groupiegoals chic. For the appropriate selection, there are several factors that you have to keep in mind ranging from the venue to the timings and weather conditions.
Fashion and trends are changing all the time, and even though you will think graphic tee and shorts are the majorly popular choice, suddenly, you will find that 1980s fashion trends are now making a comeback. So, to keep up with major trends, we have collected a vast selection of ensembles you can choose from for your perfect appearance.
What to Wear to a Rock Concert?
These occasions are all about unwinding and letting loose. Thus, you can put on your comfiest attire and be perfectly dressed, whether it is an oversized tee shirt and shorts or a pair of leggings and sneakers. You can't go wrong with either. And to exude rock vibes, there are a few tips and tricks to help you fit right in.
I suggest reaching for a band tee or a graphic-printed one if you do not have your favorite band's shirt. Combat boots, distressed denim, and edgy accessories are ideal items for the grunge aesthetic. Moreover, darker tones with sparse pops of color will help you blend into the crowd.
On the other hand, if you wish to stand out in the crowd, put on the brightest color in your wardrobe and style it with platform-heeled boots, edgy necklaces, and trendy hairstyles!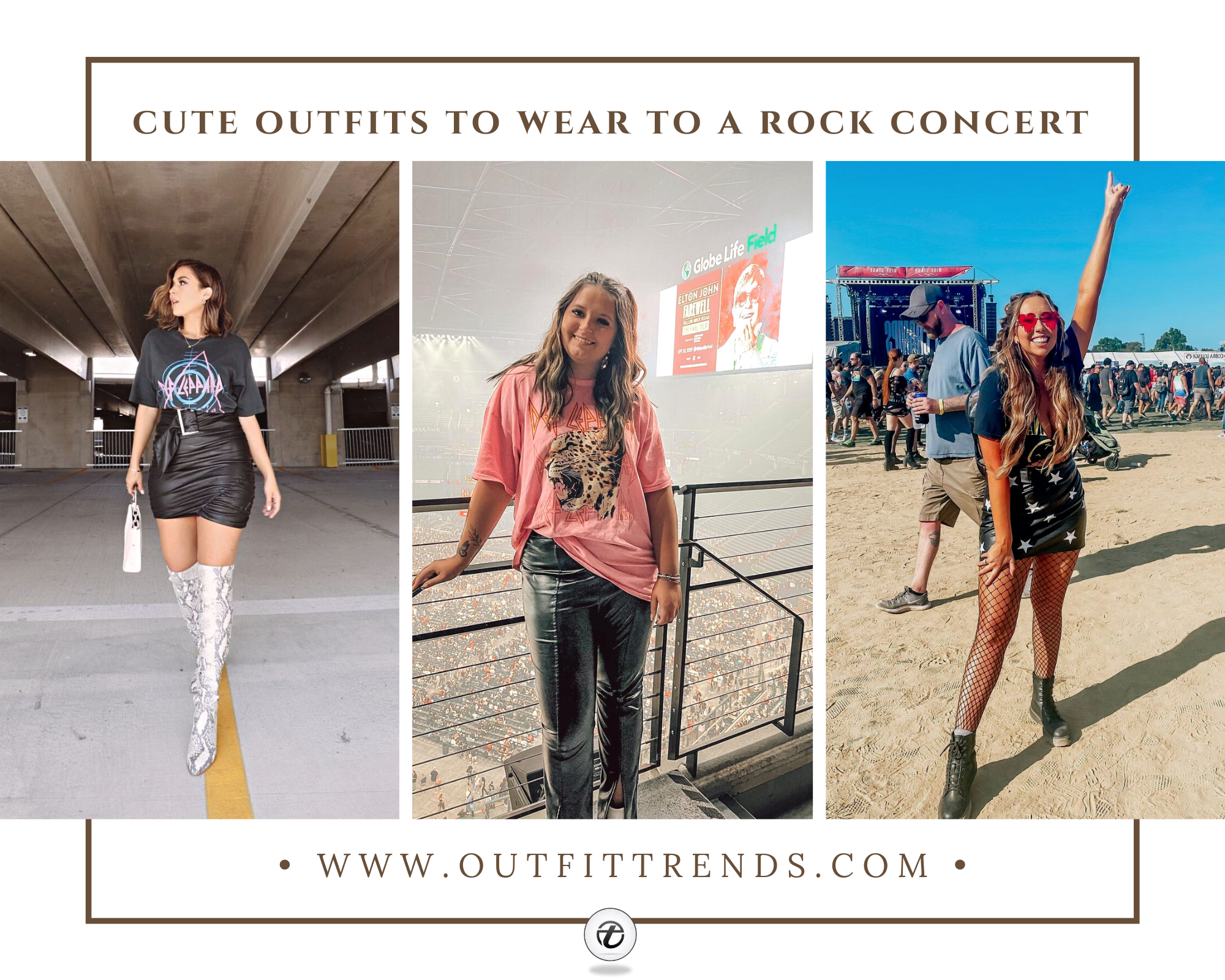 Tips to Keep in Mind
You should wear what makes you comfortable and not sport a look that does not match your personality to mix well with the crowd.
Carry a comfortable pair of sneakers in case heels get too overwhelming. Or bypass the heels altogether and opt for supportive (but still cute) footwear that you can wear for hours on end and jump and dance around in.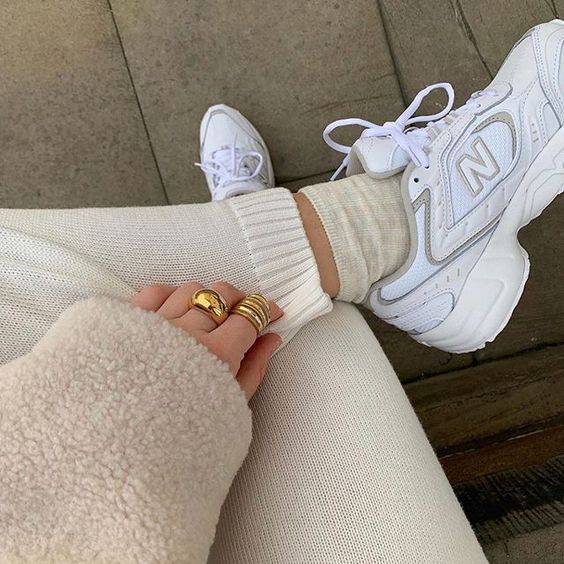 Keep a jacket or scarf with you! Although, you might not even need to layer up because there will be a lot of activity, and you might not need anything to keep you warm.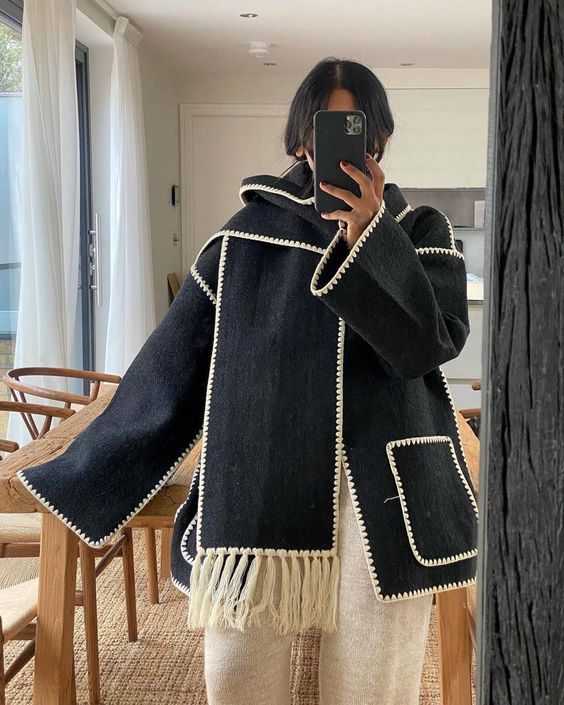 Consider a fanny pack or a little crossbody bag worn over the chest to prevent your valuables from getting lost or stolen.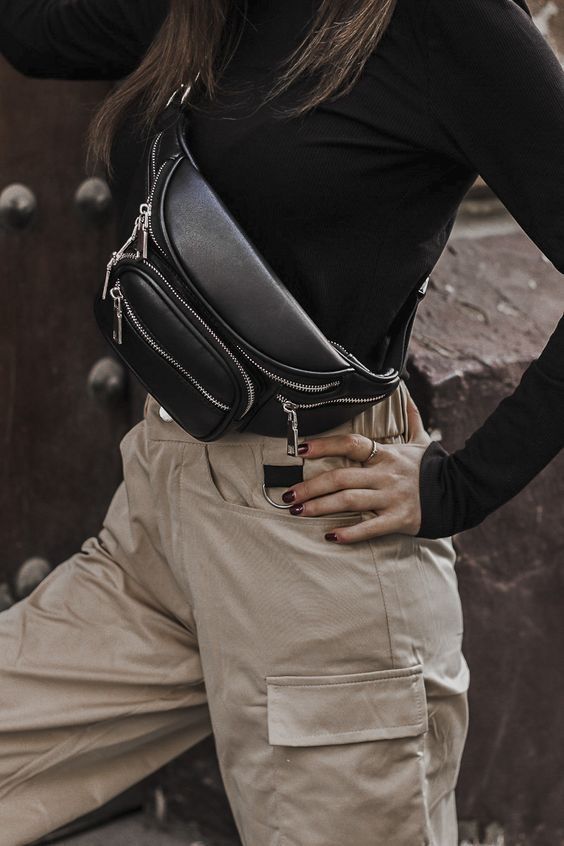 Opt for complementary accessories.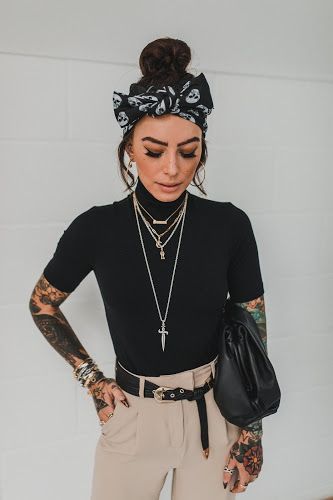 Wear good deodorant and consider waterproof makeup if you are an active concert-goer, you'll likely be sweating a lot!
Without further ado, here are 37 ideas to inspire you!
Skirts and Shorts
37. Go for a Trendy Hairstyle to Complement the Attire
Bubble braids are not only easy to make but look trendy and unique! Separate the sections of your hair you want to braid. Tie a clear elastic band to secure the section and add another elastic tie at a distance of 2 inches. Pull and tease your hair between the two ponytails till it gives the appearance of a bubble.
Repeat by adding ponytails and pulling the hair to create bubbles. Continue to the end and apply hairspray to keep everything in place. And do not forget to add your style products before beginning the hairstyle!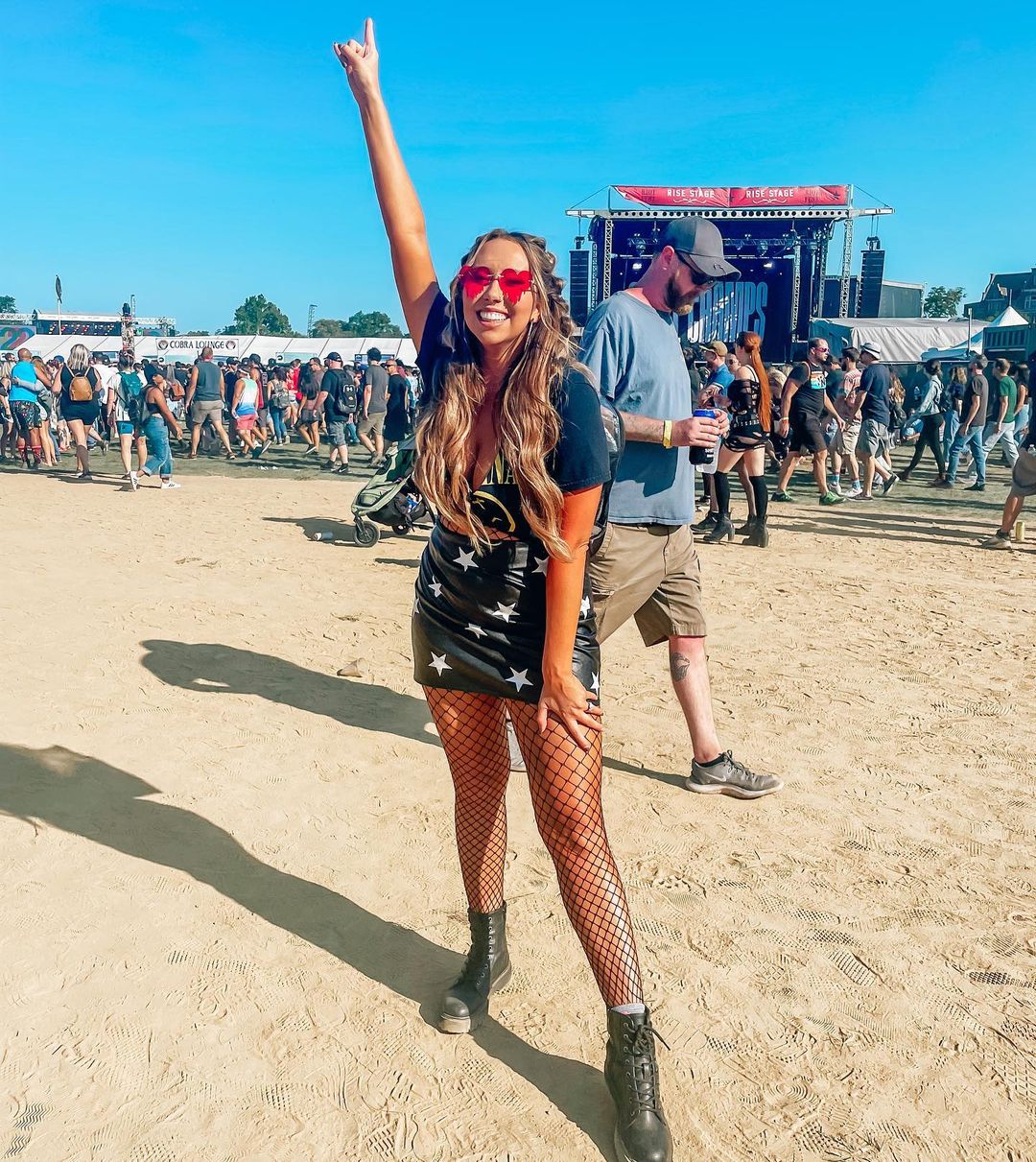 36. When in Doubt, Wear Cowboy Boots!
Now is the time to get your cowboy boots out of the cupboard and style them! They pair phenomenally with a band tee and a solid-colored skirt or shorts. You can jazz this ensemble with chunky gold accessories!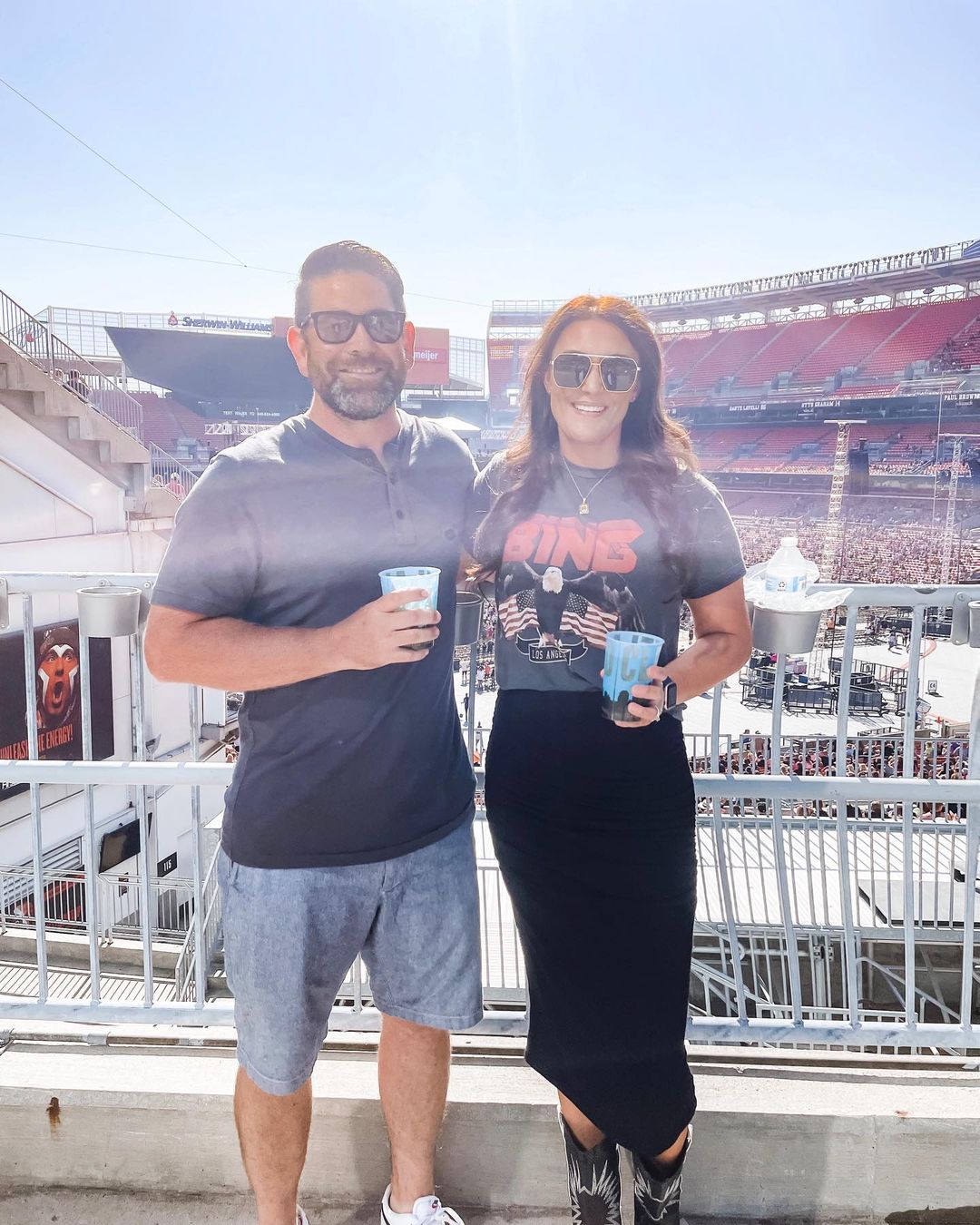 This fit proves you can not go wrong with an entirely black ensemble. You can wear it to a concert but also to other semi-formal events. Swap the boots for a classy pair of heels for a more dressed-up occasion, and you are all set!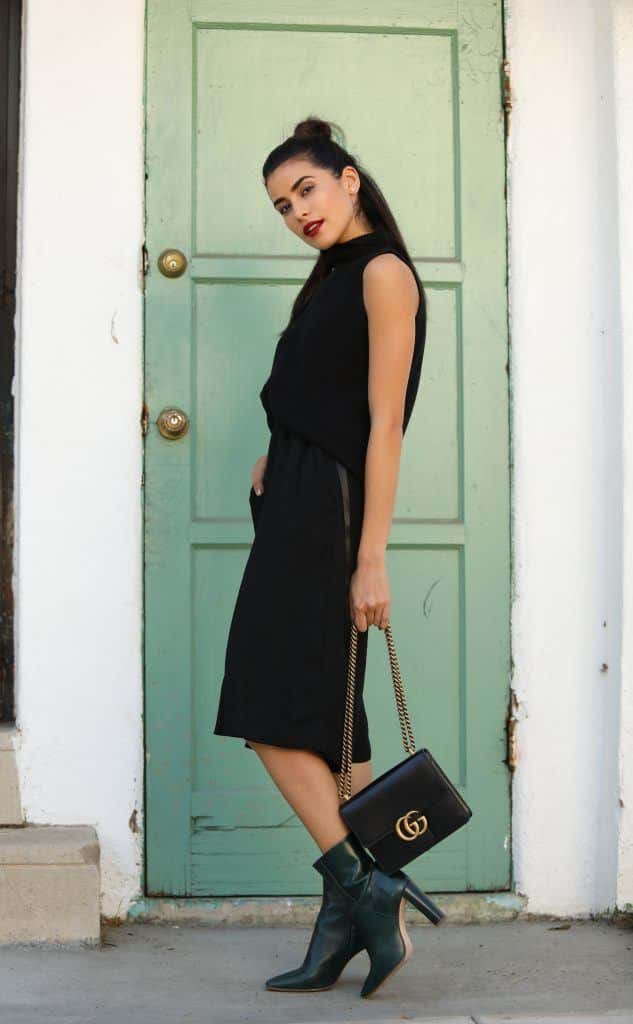 34. Opt for a Bright Red Lip When Parisian Meets Rock
For an impeccable Parisian meets grunge look, go for a pleated leather skirt with a cropped or knotted tee and a houndstooth print coat.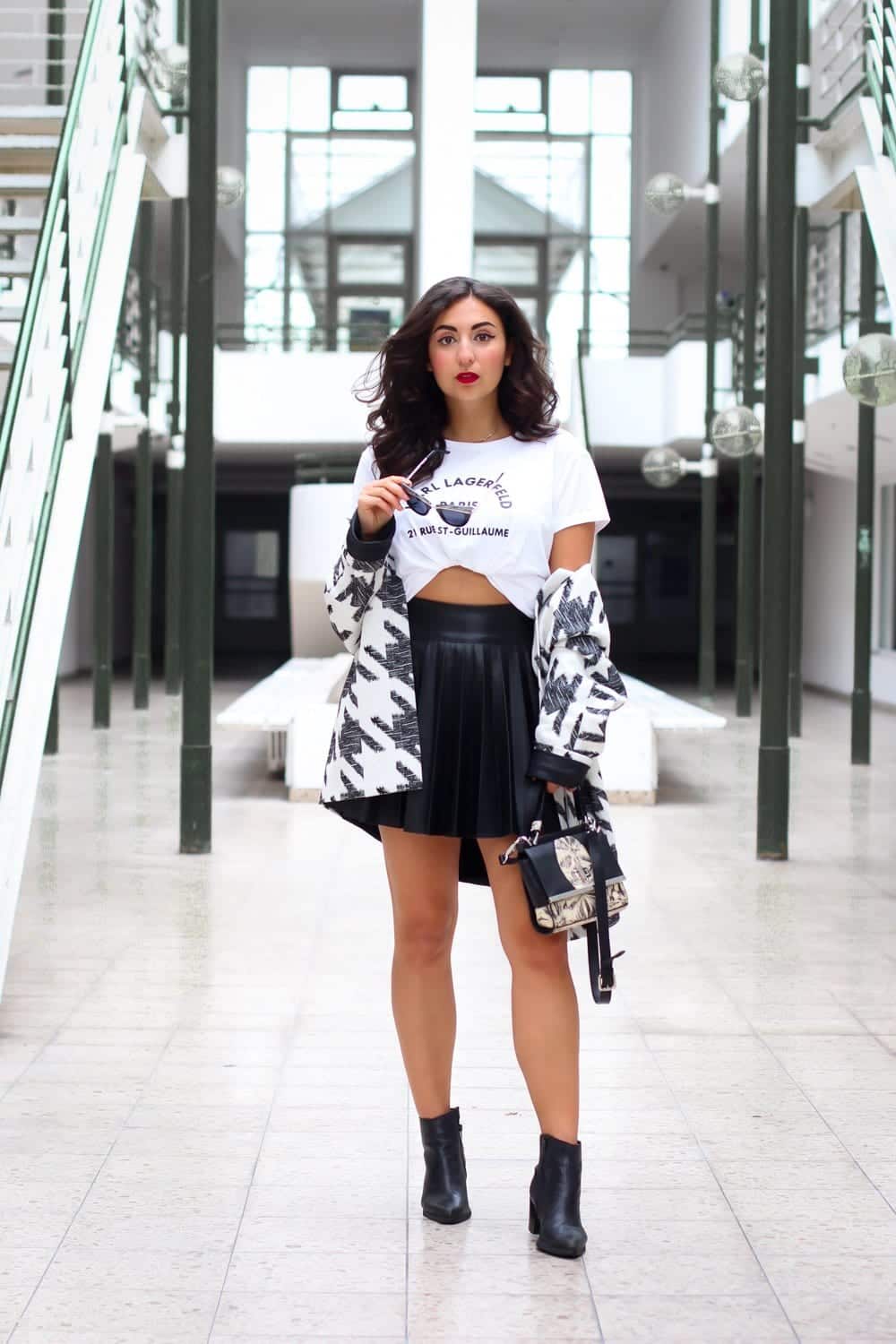 33. Keeping it Casual in Crocs for a Less Crowded Event
For an effortless casual look, you can wear a short sleeves shirt with a sleeveless leather jacket and frayed black denim skirt. Wear your white or colored crocs to emphasize your point.
However, you would be better off with sneakers or boots if you plan on getting into the crowd since Crocs might not provide the best protection for your feet. Moreover, the setting plays a significant role. If the event is on open ground, go for sneakers, as the mixture of sweat and dirt will cause blisters.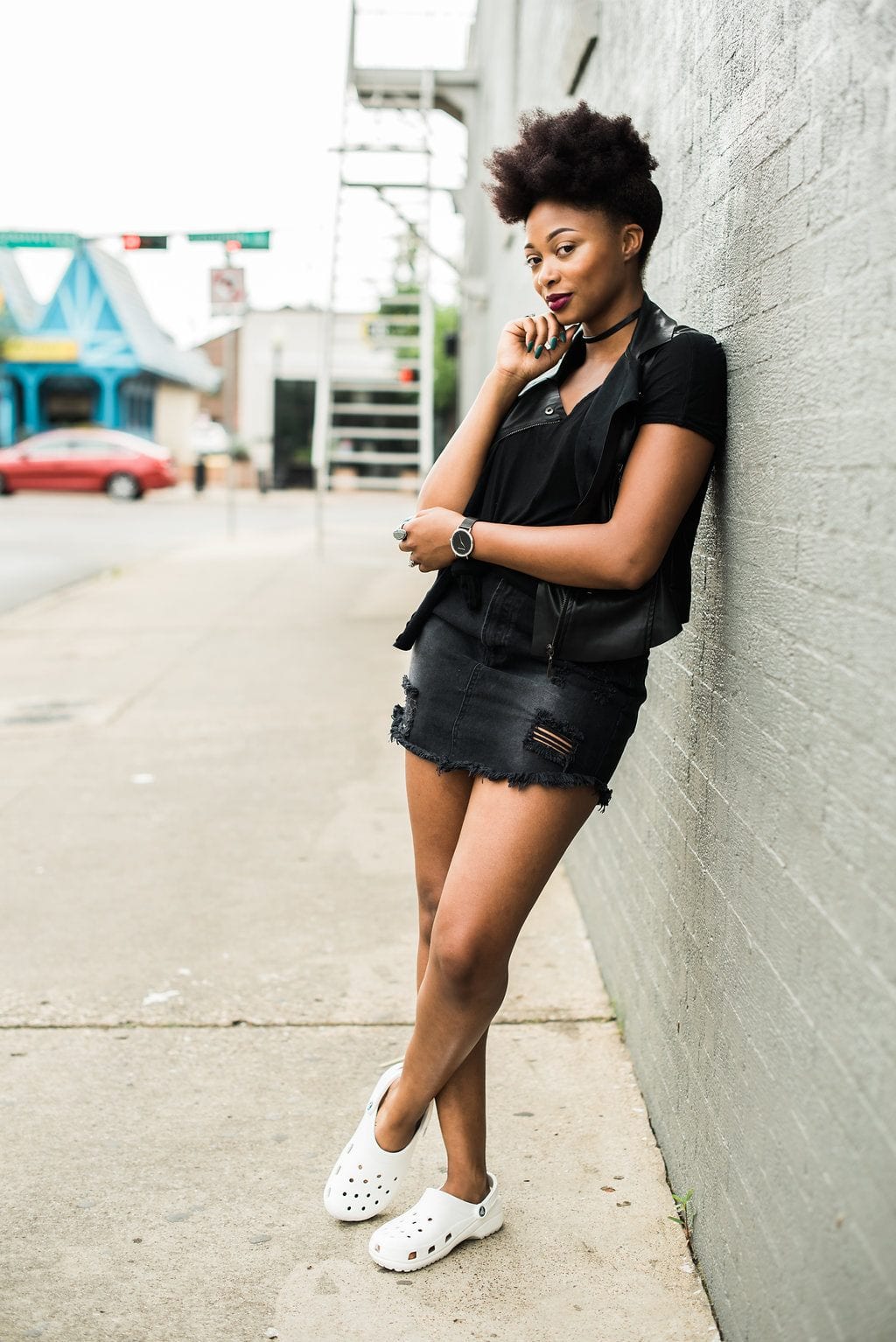 32. How to Style Black Leather Mini Skirt?
Black min skirts are immensely versatile! You can pair it with multiple items for different looks. You can style it with a bold graphic tee in black, a leather jacket, and silver booties for a grunge-rock look. Here are more ideas on how you can style leather skirts.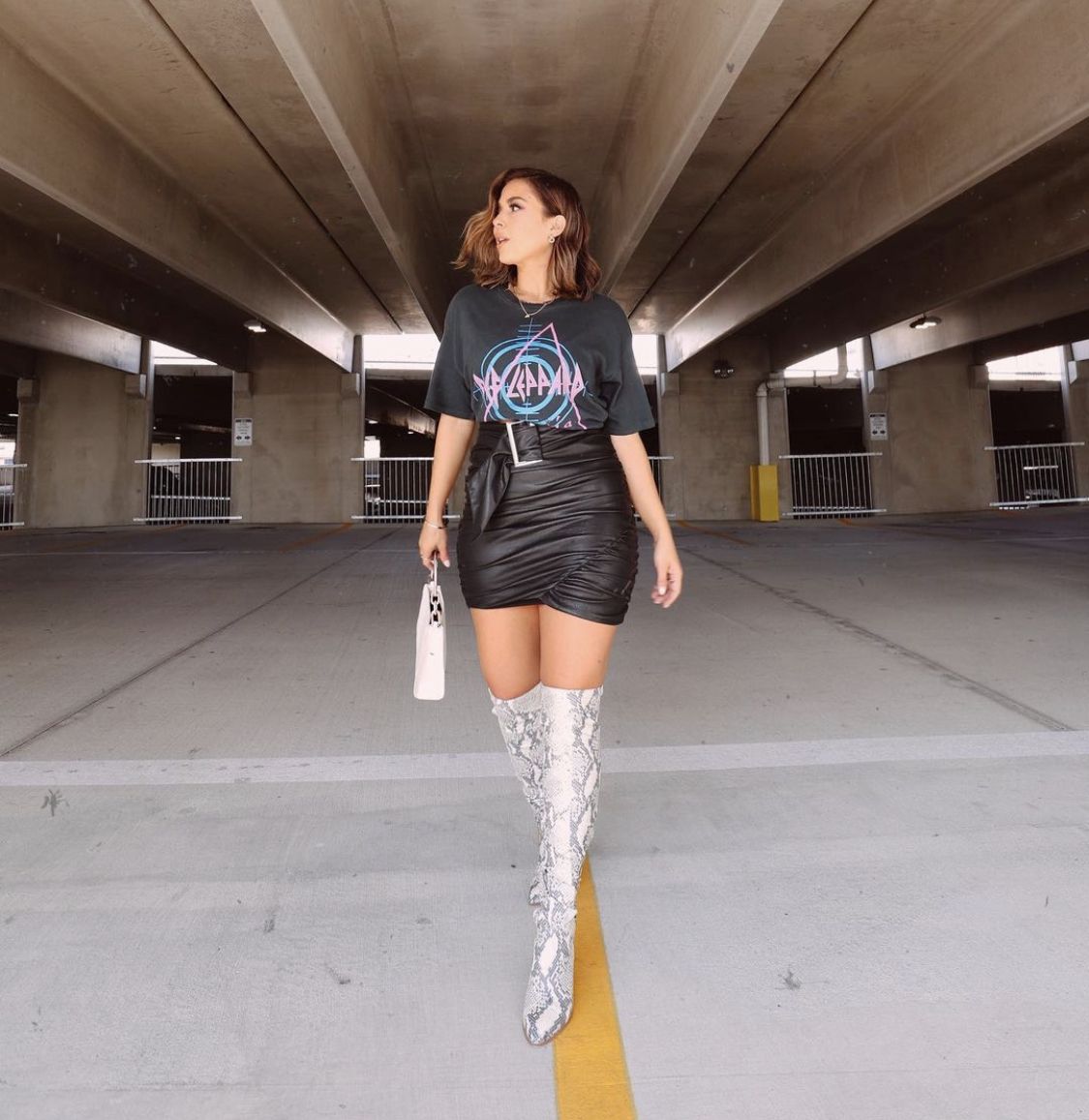 31. Keep the Grunge Spirit Alive in an All-Brown Fit
A classy way to mix things up and look different from the majority is to opt for an entirely solid ensemble in a dark shade other than black. Plum, dark brown, and deep maroon are excellent color options!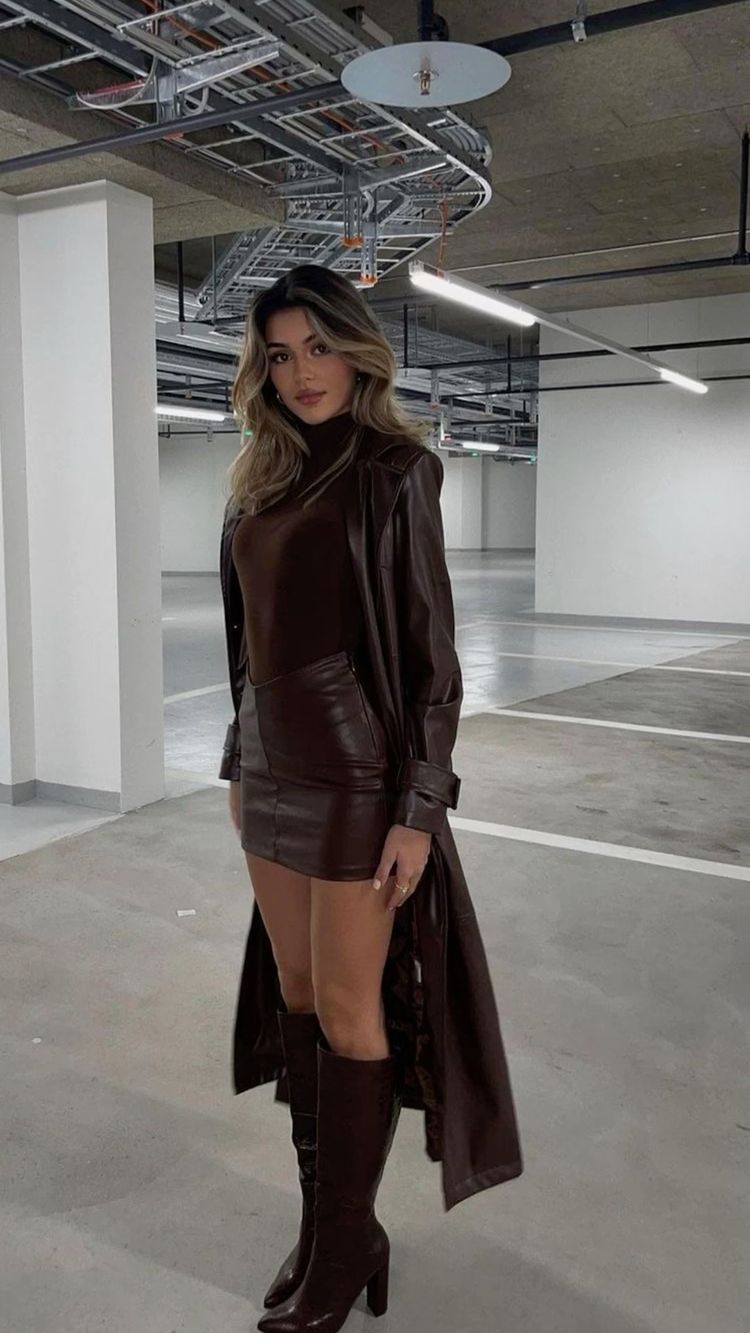 30. Accessorize With Boho-Inspired Jewelry
Boho-inspired accessories and tribal jewelry are the easiest ways to spice up the most boring-looking fits. Add a layered necklace and fancy belt, and immediately elevate your attire.
29. Opt for a Black Skirt for a Cohesive Look
Are you feeling spicy? Get yourself a pair of animal-print booties and pair them with a denim miniskirt! Top off the look with a tee of your choice (a graphic tee, band tee, or just one you like) paired with a moto jacket.
Go for a bright, bold lipstick color and a bedhead hair look, and you are ready to hit the night! Here are some more ideas on styling Animal Prints.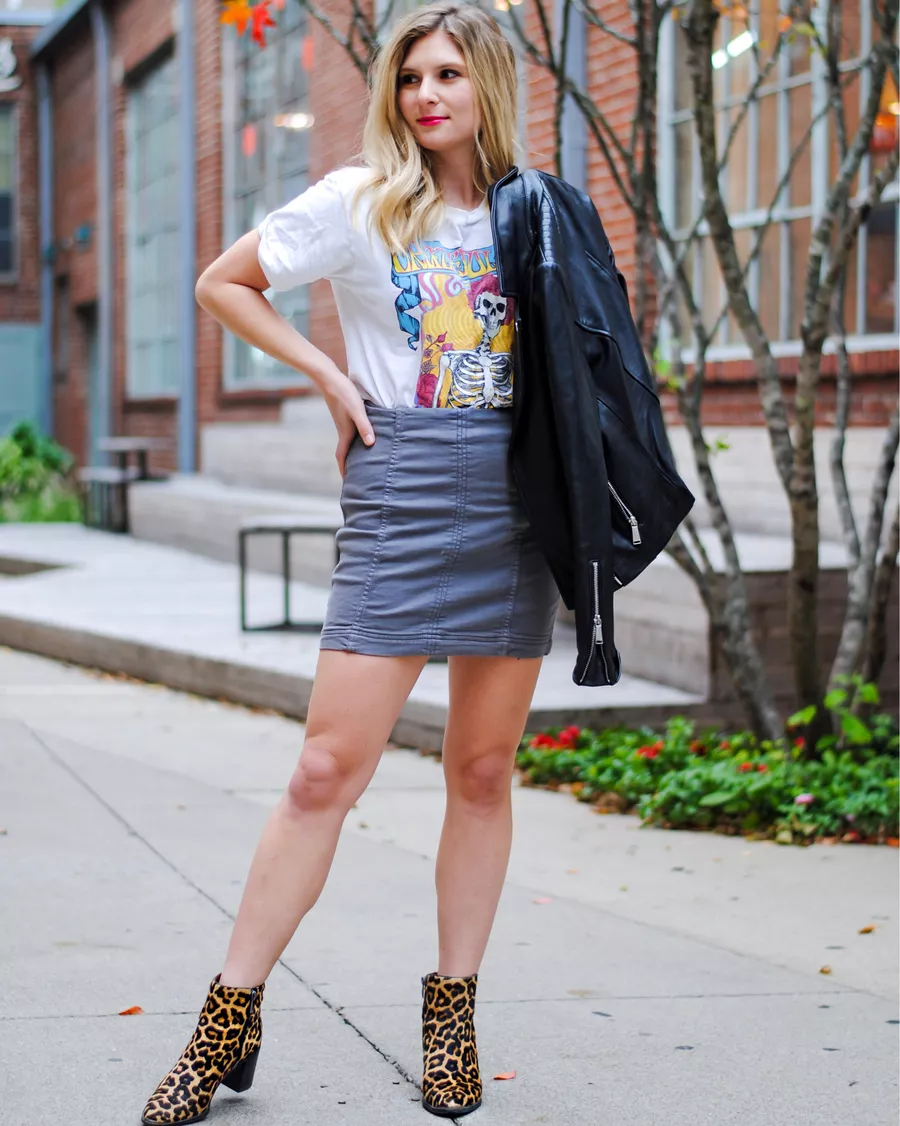 28. Put on a Bold Lip Color to Brighten Your Fit
Another quick way to spice up any outfit with shorts or skirts is to add fishnet stockings!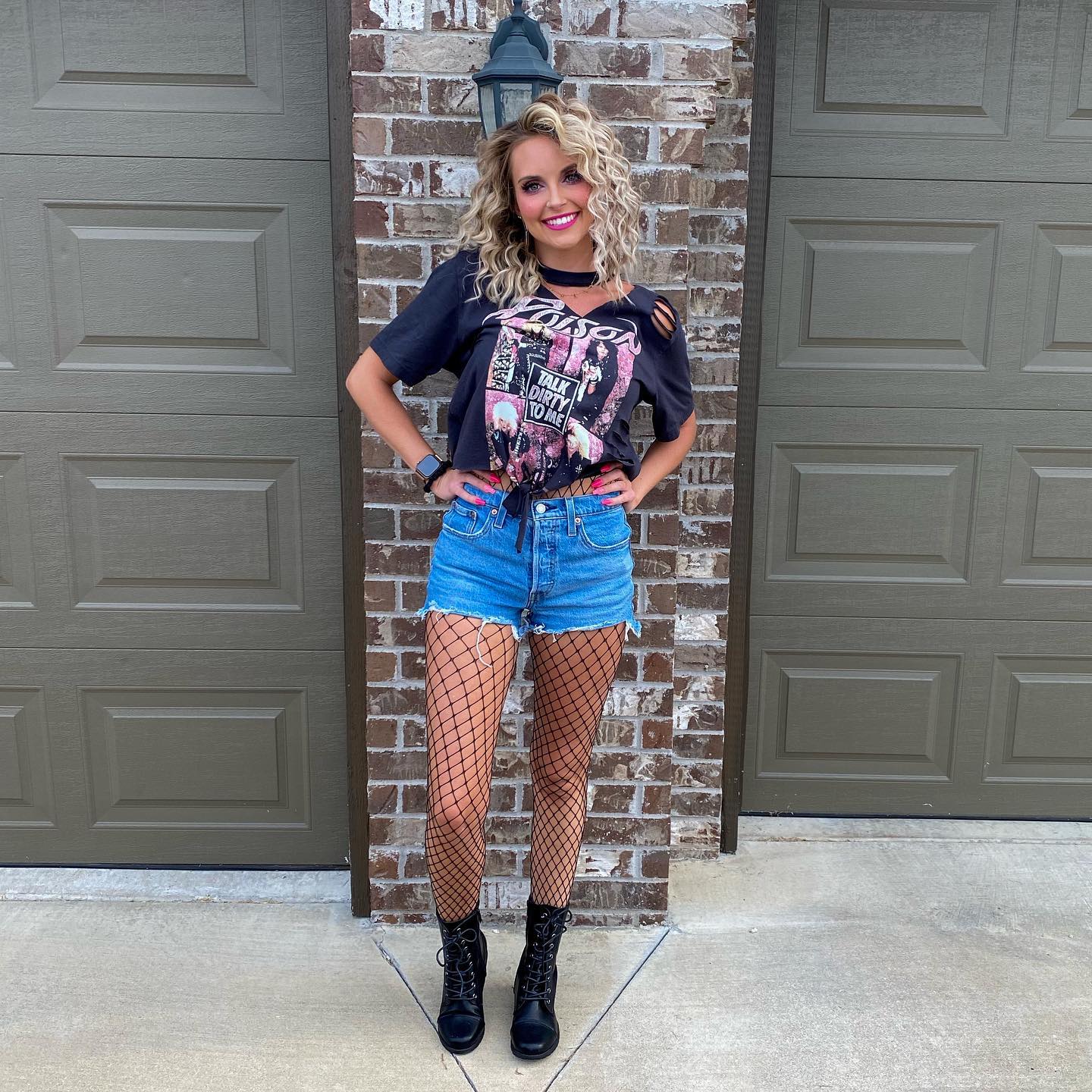 27. Nail the Perfect Feminine Tomboy Vibe
If you are a fan of the '80s and love vintage stuff, wear your vintage tee with a denim jacket and shorts or jeans, and wear a hat for that particular tomboyish look. Sneakers would look great with this outfit and provide you with comfort. Here are 20 Cute Tomboy Style Outfits for Teenage Girls This Season.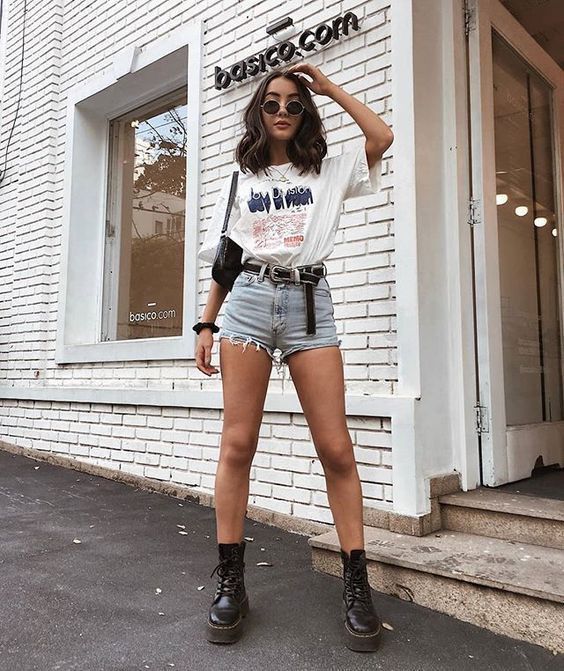 26. Add a Statement Belt & Stockings to Elevate Your Fit
Summer is about bringing out your bold bralettes and crop tops and letting them see the light of day. Wear a beautiful black faux leather bralette or cotton and lace crop top, and tie your plaid tee around your waist. Style it with lace shorts or frayed denim shorts. With this outfit, wear knee-high or thigh-high boots.
Celebrity Edit
25. Support Your Band Tee With Julia Roberts
24. Go All Out With Kris Jenner's Statment Shoes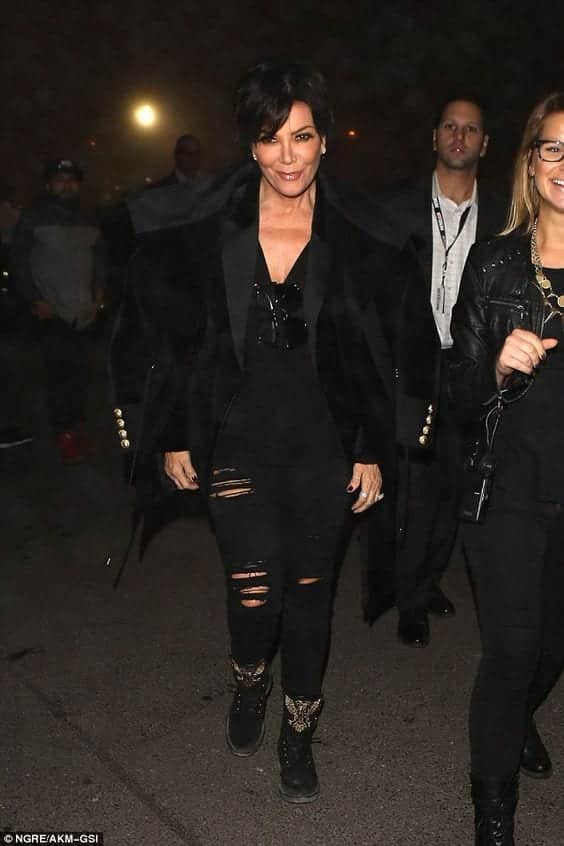 23. Effortless & Bold in Rain Boots & Stockings
As a rock fanatic, you should wear spunky and bold colors and textures as a part of your ensemble.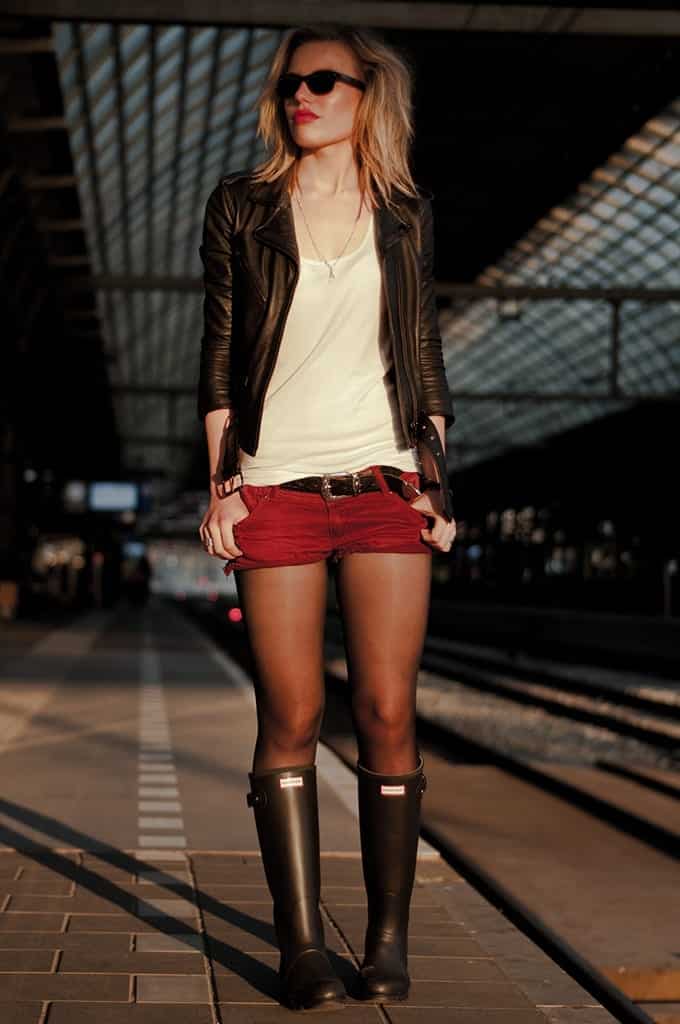 22. Take Inspiration from Celebrity Styles
Who can flaunt it better than celebrities? We bring a classic look from Hailey Bieber to inspire your next ensemble. You should bedazzle your fit with sparkling stockings and blinding jewelry!
Rock Band Tee Shirts
21. Swap the Blazer for a Leather or Denim Jacket
While the blazer looks stunning, a leather or denim jacket in black would be a more suitable choice for a laidback experience.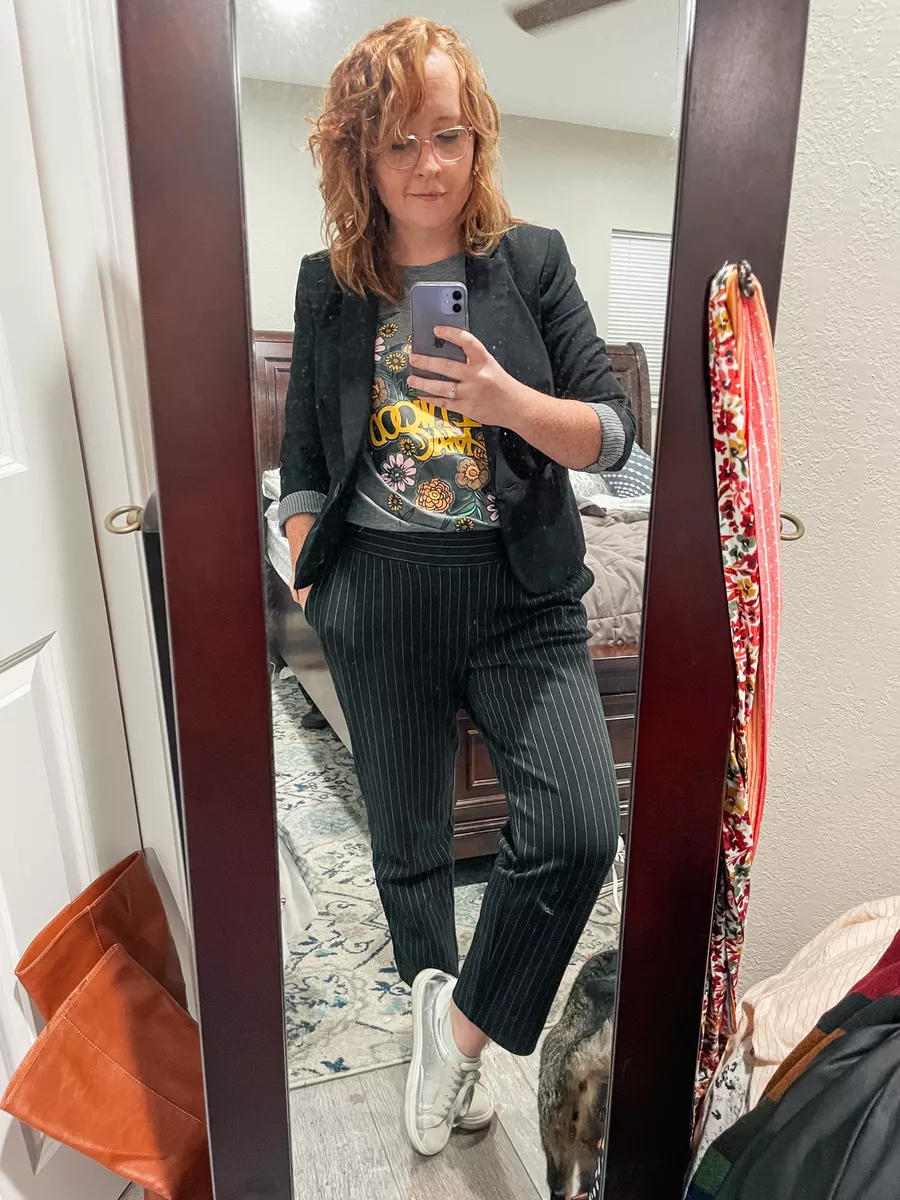 Shop the outfit below:
20. Opt for Graphic Printed Tee Shirts & Leather Pants
You want to look cute but comfy, which means no uncomfortable heels or belly-cutting jeans but a good, chic, and comfortable ensemble.
This easy-peasy look takes minutes to throw together, and you can wear it comfortably all night long without losing your mind. Pop on a printed tee and pair it with a leather jacket. Instead of jeans, opt for a fun pair of leather pants.
Finish off the look with a cute hairstyle and comfortable booties.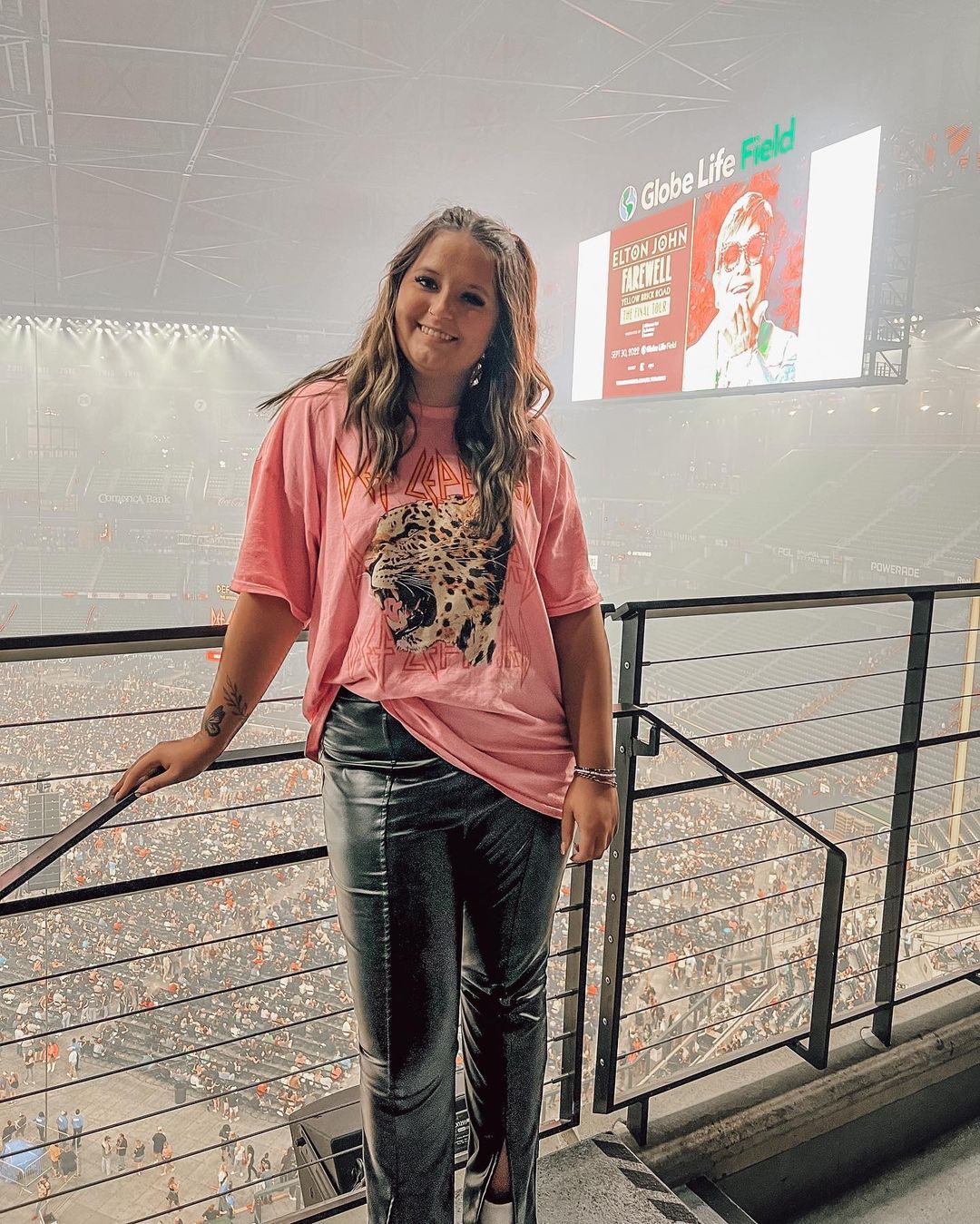 18. Slaying it in Jacket, Pants & Comfortable Heels
You can wear a blazer jacket and jeans number with small closed-toe heels for a classic look. Check out these 21 Best Leather Bomber Jacket Outfits for Women.
19. Add Black Accessories To Make the Shirt & Pants Stand Out
The best way to tie this gorgeous attire is to opt for solid black accessories. The printed tee, denim jacket, and plaid pants require a cohesive factor to unify the look. Thus, a black fanny pack, scarf, choker, and boots are perfect!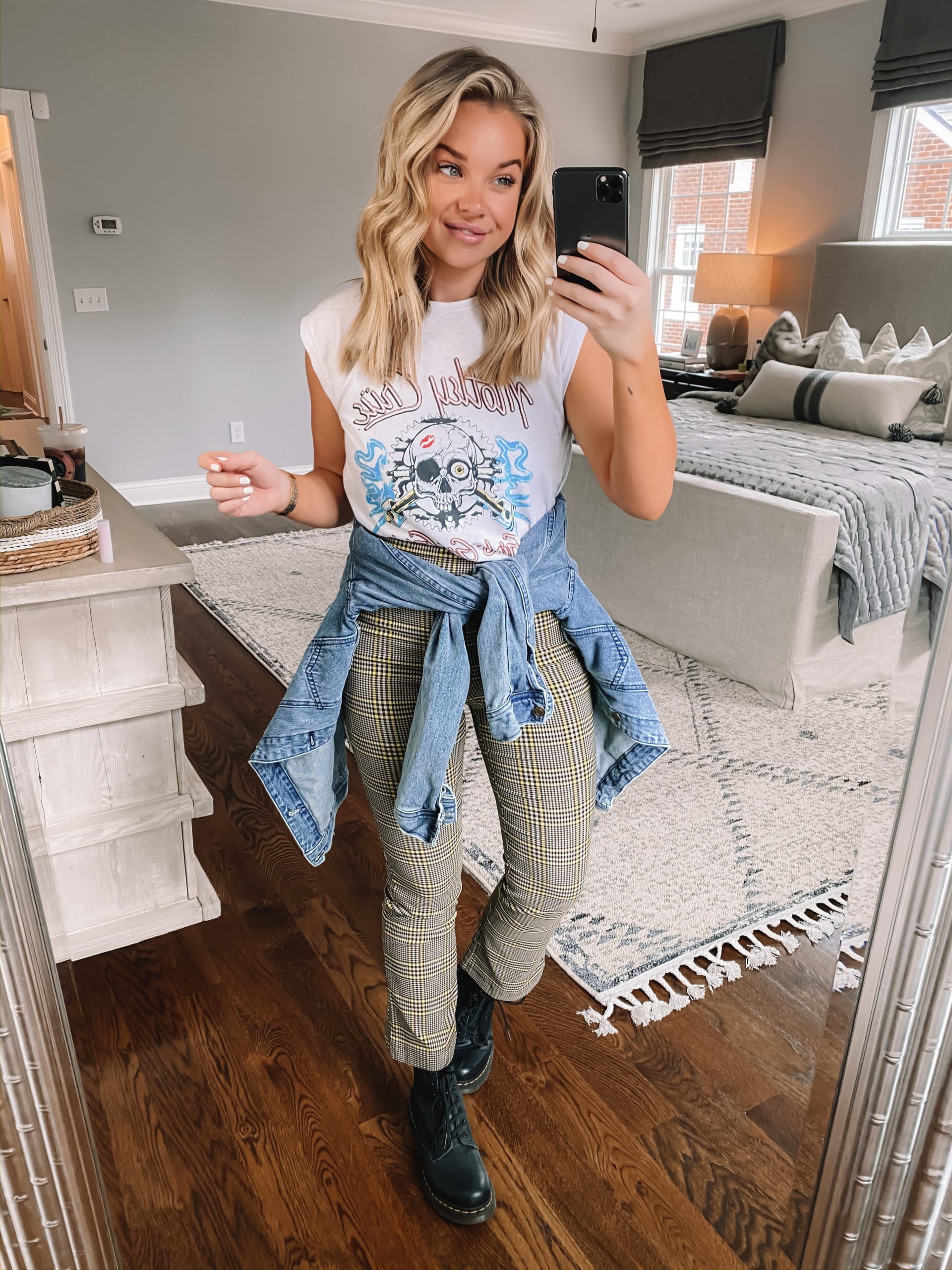 17. Pair the Ideal Accessories and Shoes
Choosing the right accessories is very important when going for that heavy grunge look. With the shoes and clutches or bags, you can either intensify your look or downplay it.
16. Sporting the Band Shirt to Support Your Favorite Band
Show your love and devotion to your favorite rock band by wearing the graphic tee and style it with denim shorts and black stockings for a modern look.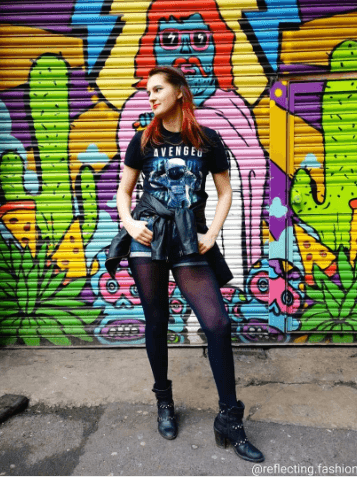 15. Go for the Edgy Street Style Ensemble
Wear a monochromatic look and throw in a pair of bright-colored heels for a trendy street-style look.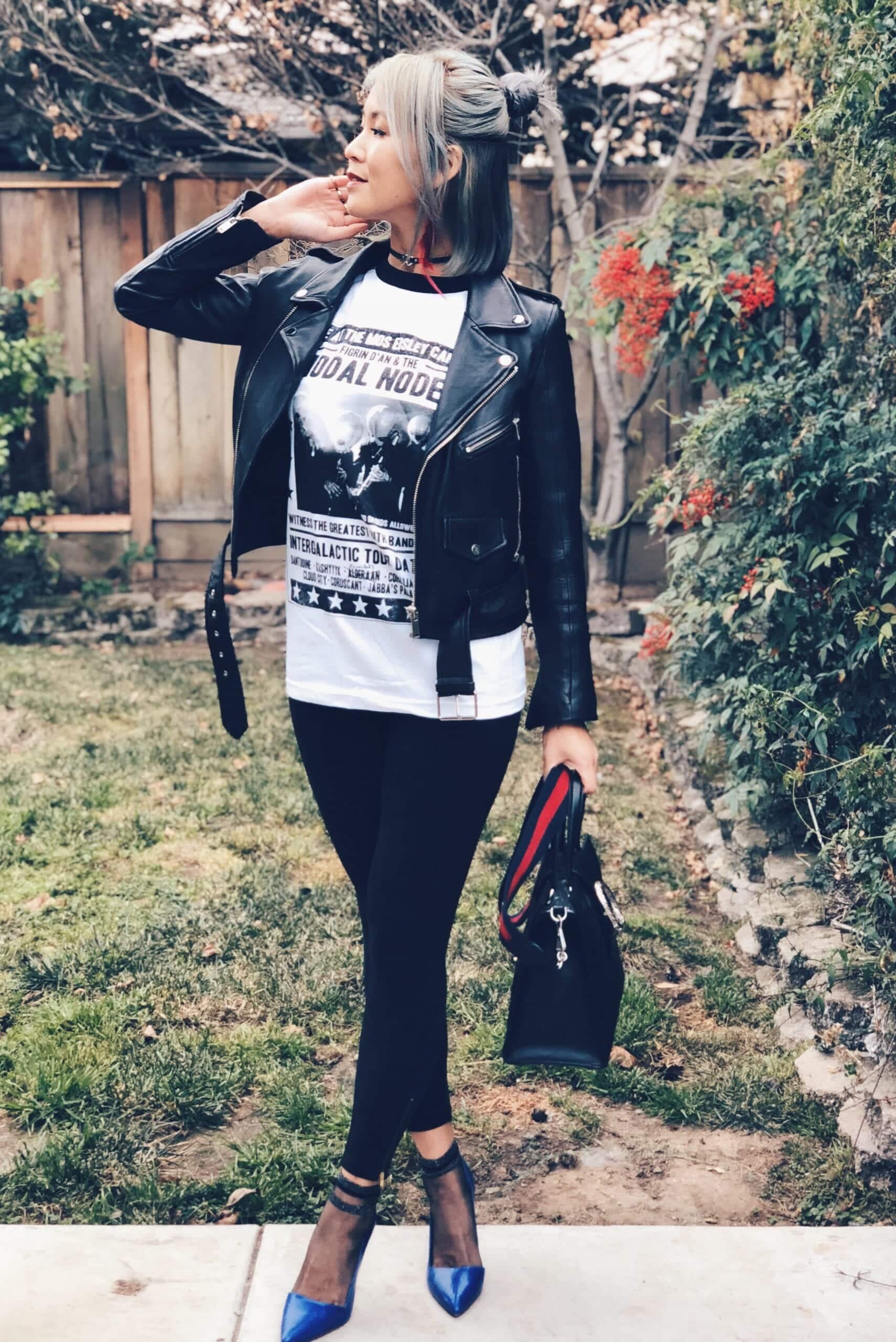 For more such pairing ideas, you can check out our guide on How to Wear a Graphic Tee.
Dresses for Concert
14. Do Not be Shy to Stand Out in Bold Colors
If you can't live without colorful clothing items, you don't have to go all black and gothic. You can wear a cute bright-colored dress and style it with a leather jacket for a striking contrast.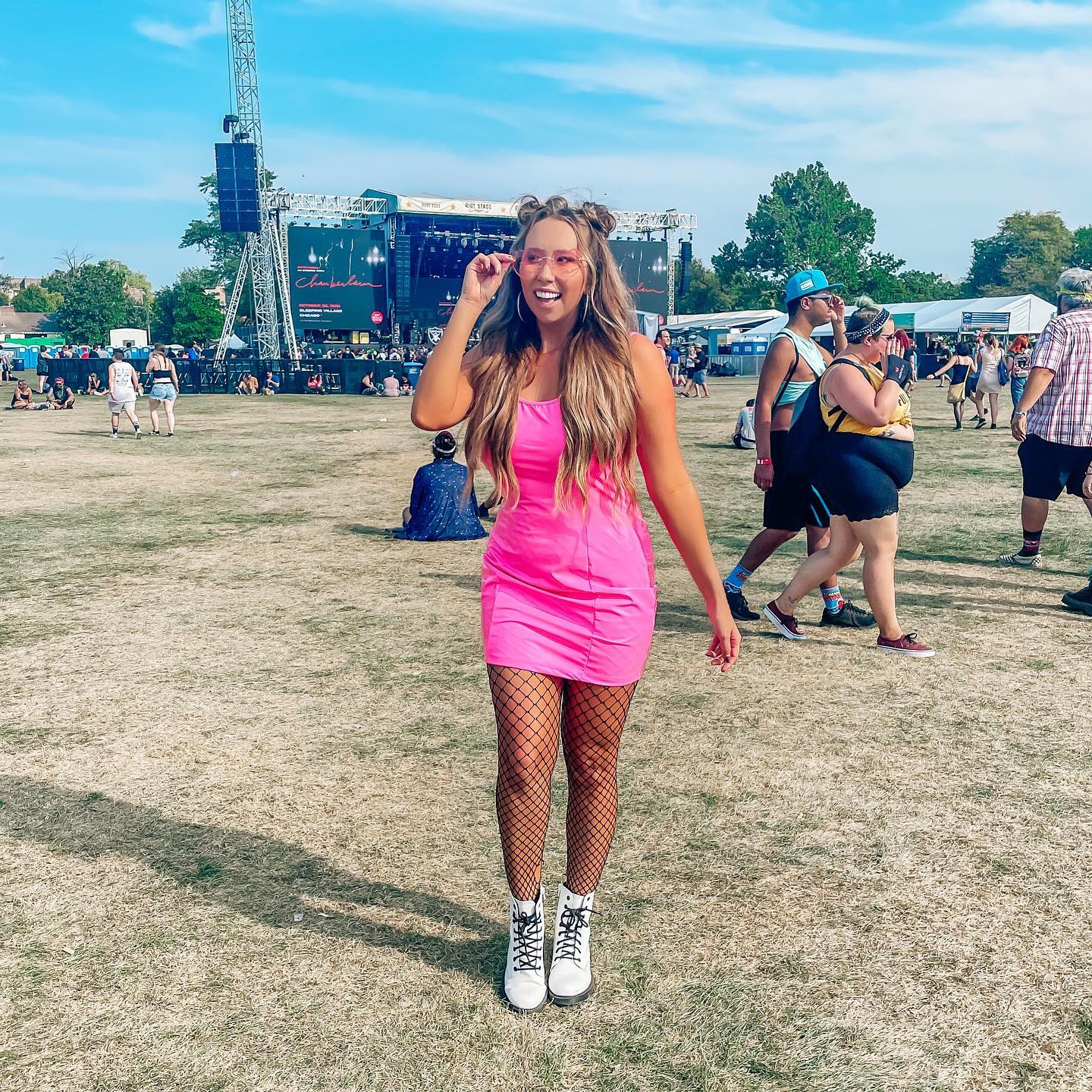 13. Embrace the Boho Chic Vibes
Embrace the boho-chic vibes with printed free and flowy fabrics.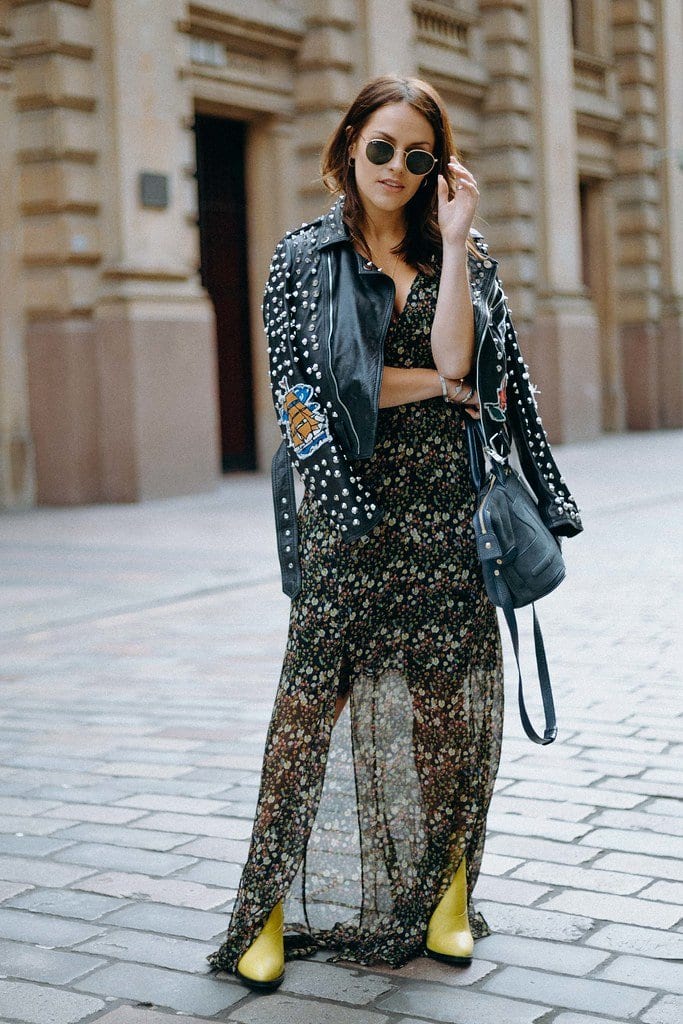 12. The Preppy-Meets-Grunge Look
If you have that golden ticket and are planning for a luxurious concert experience, a preppy look is what you need. Beautiful detailing leather jackets and belts will add a charming look and assist you in pulling together a great ensemble with elegance. To go with this look, here are 18 Preppy Hairstyles for Women.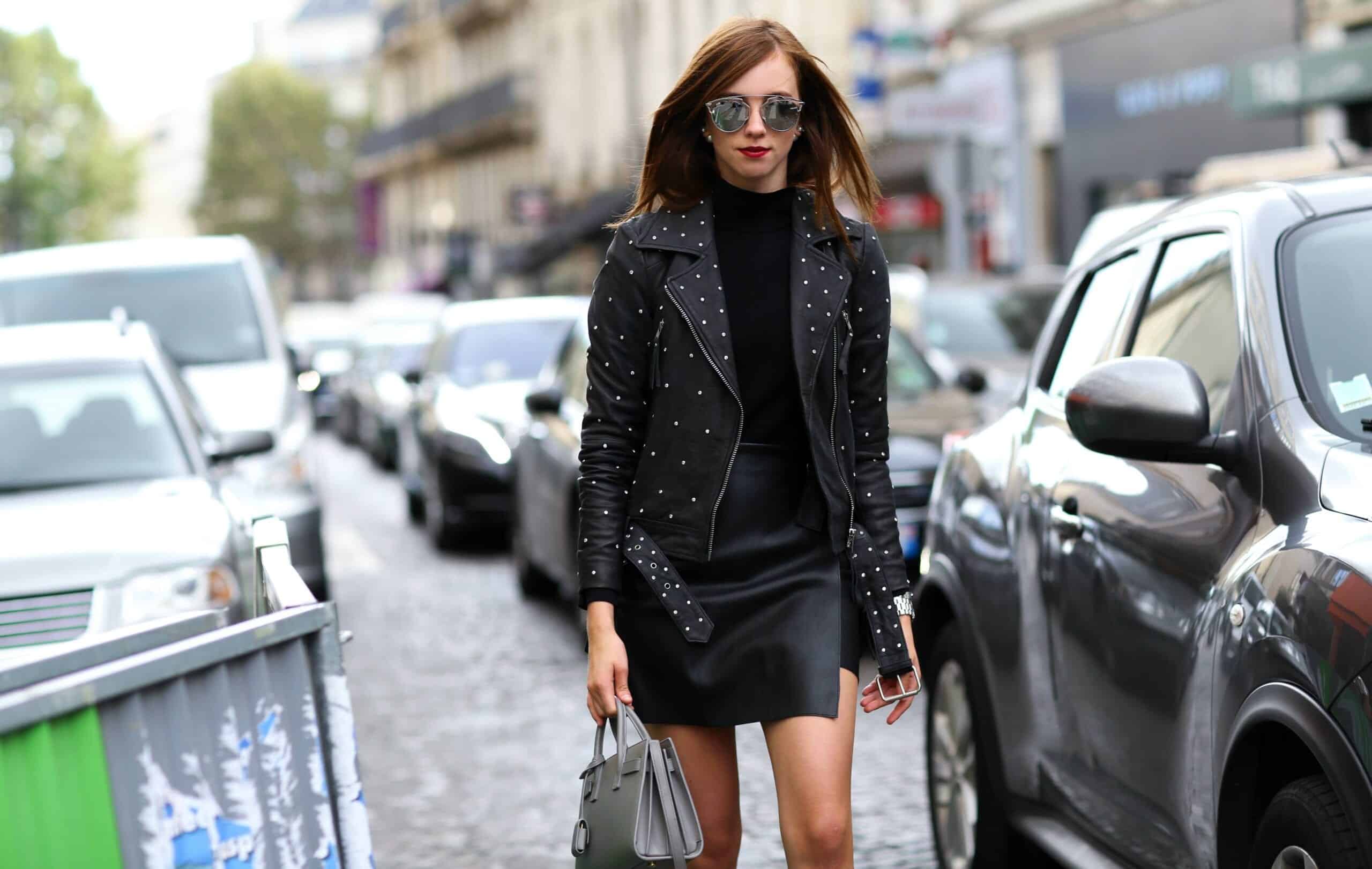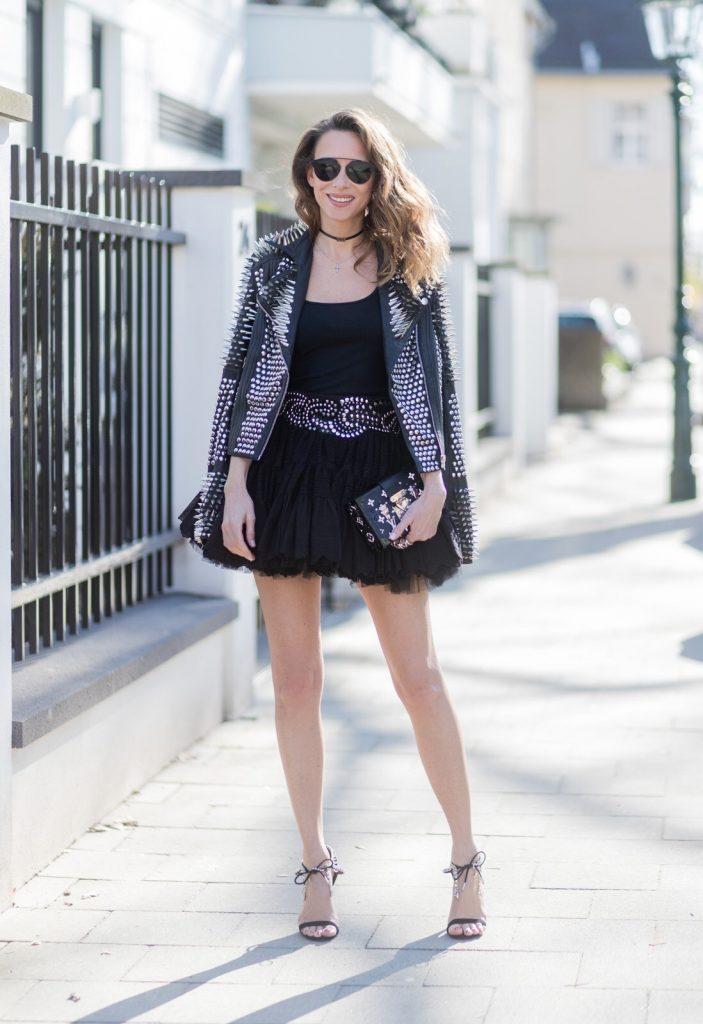 11. Pair Thigh High Boots with Tee-Shirt Dresses
A tee-shirt dress with a camouflage jacket and thigh-high boots is a creative spin.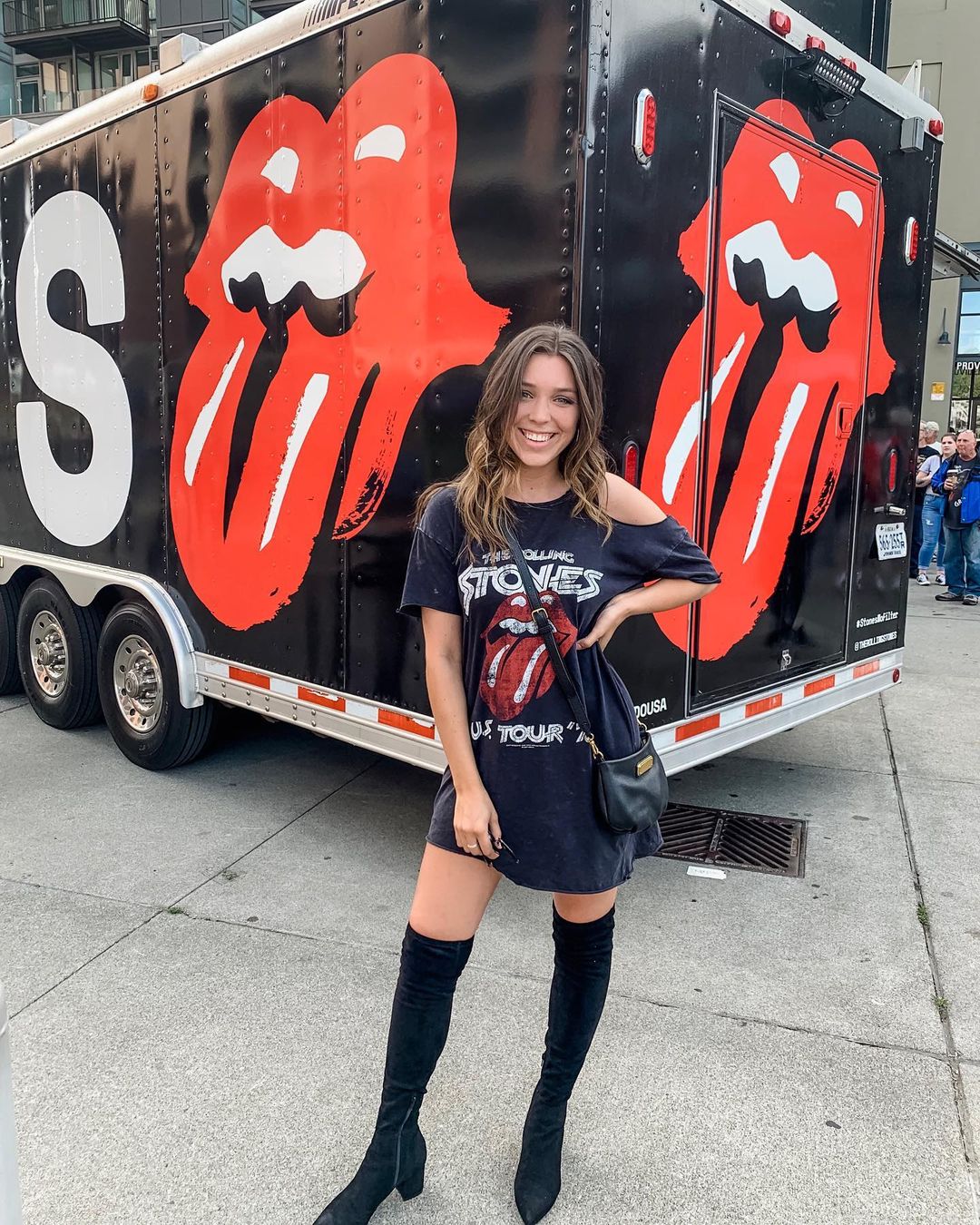 10. Throw On a Leather Jacket With a Black Midi Dress
A slit black midi dress with a leather jacket and fur stole is not only a very appealing outfit but also very easy to carry. Also, check out these 16 Cute Outfits To Wear With Midi Skirts.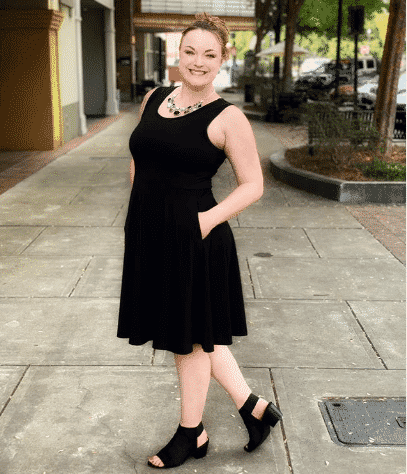 Pants Outfits
09. Fitted Blouses Pair Phenomenally With Loose Pants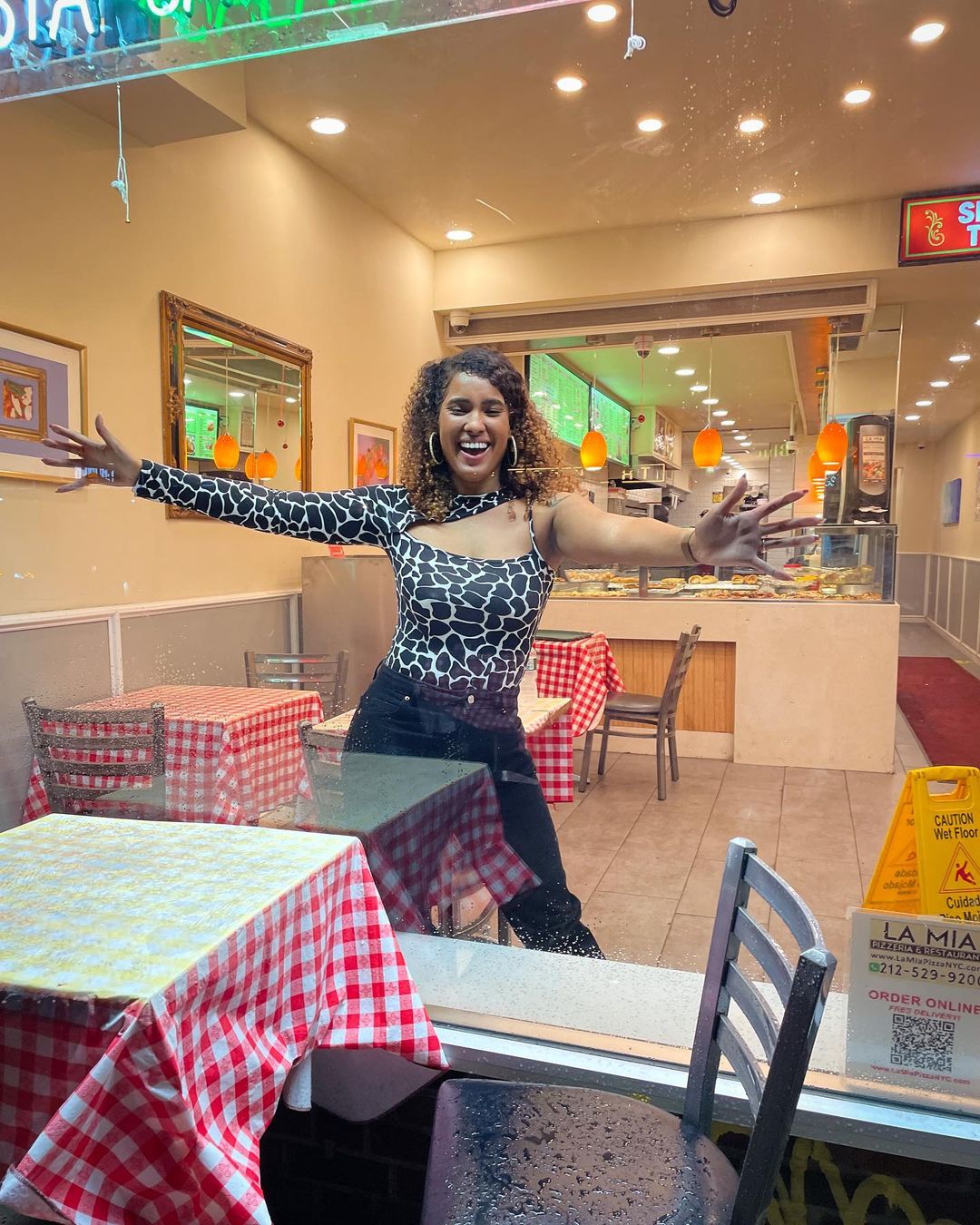 08. Layer Your Attire Appropriately for Winter
In winter, you should be careful about the outfit options and layering up well to keep you snug and cozy at all times. Don your traditional chic black clothes and wear an overcoat of fur, wool, or leather to be perfectly dressed up.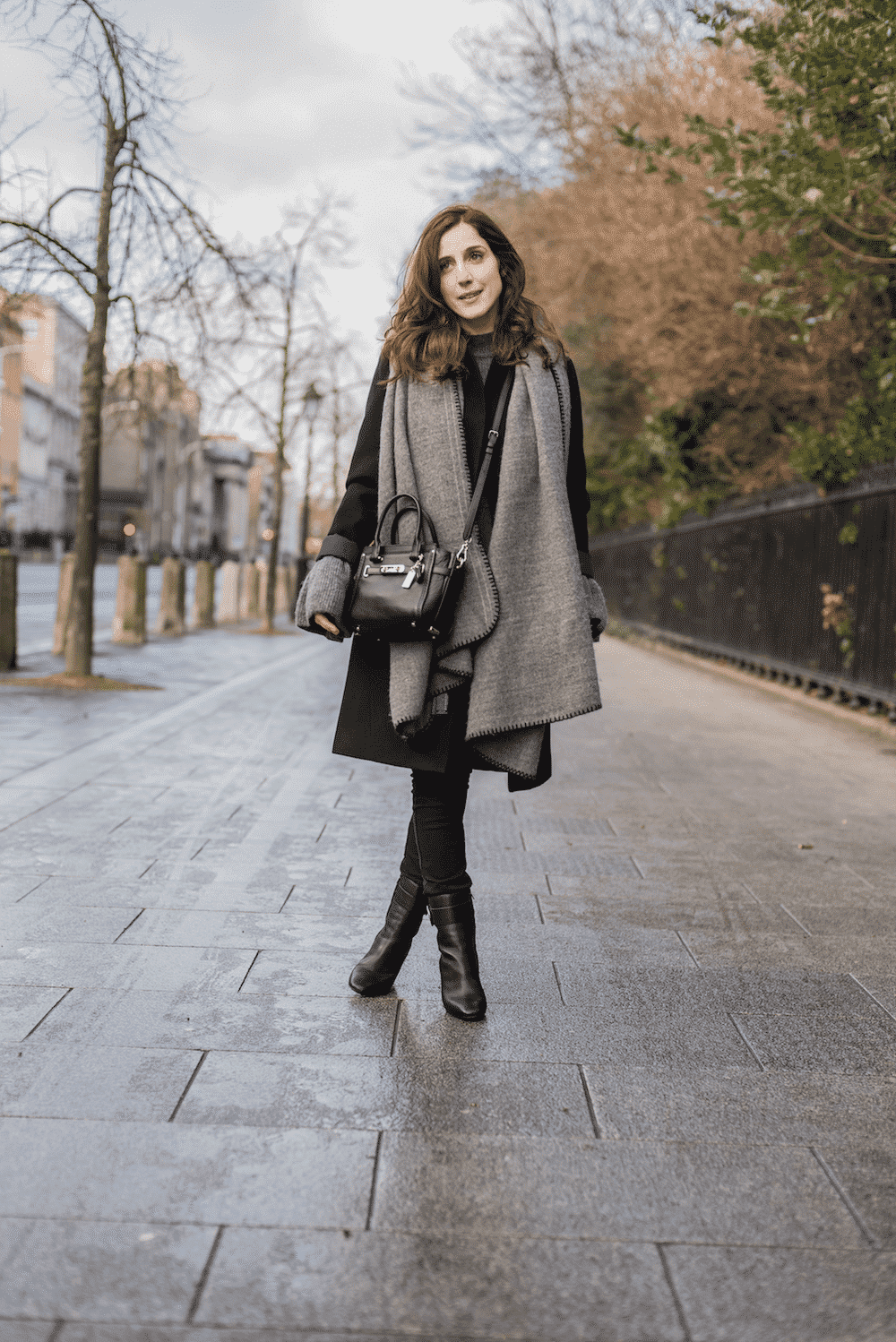 07. Fringes Are the Way to Go for a Country Music Festival
From modest to sexy, there are multiple options available for women that you can wear, ranging from a simple tee with the fringe leather jacket and jeans combo to a more evocative oversized shirt styled with a beautiful golden embellished belt and shorts combo.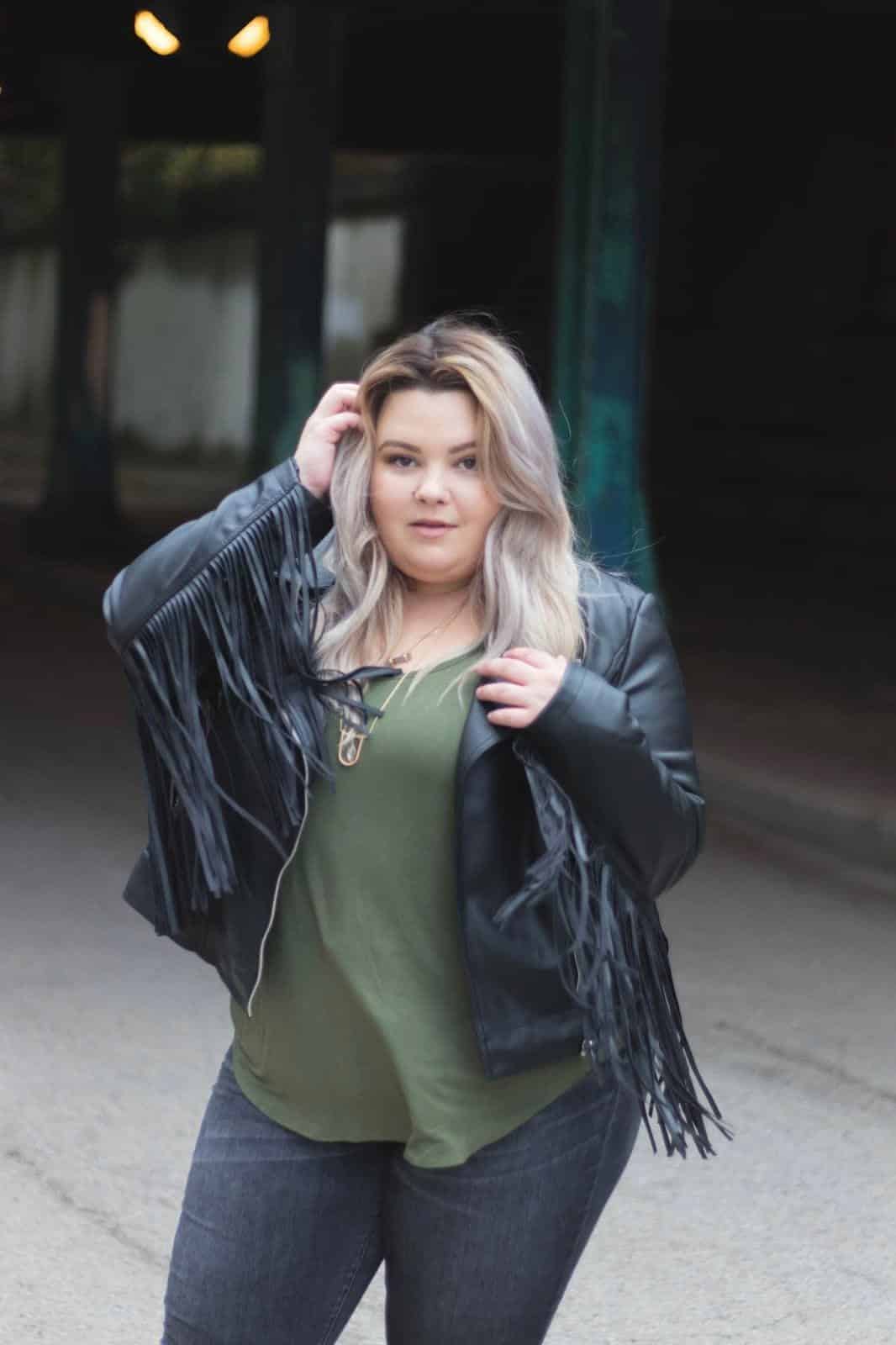 06. What Should Moms Wear?
If you are a mom and confused about your outfit choices, I advise you to wear something you can pull off with confidence. Go with darker hues and outfits, and wear comfortable shoes. Have a look at these Cute Outfit Ideas for What to Wear to a Concert.
If you want to go with something bold and out there, you can wear a graphic shirt with leather pants.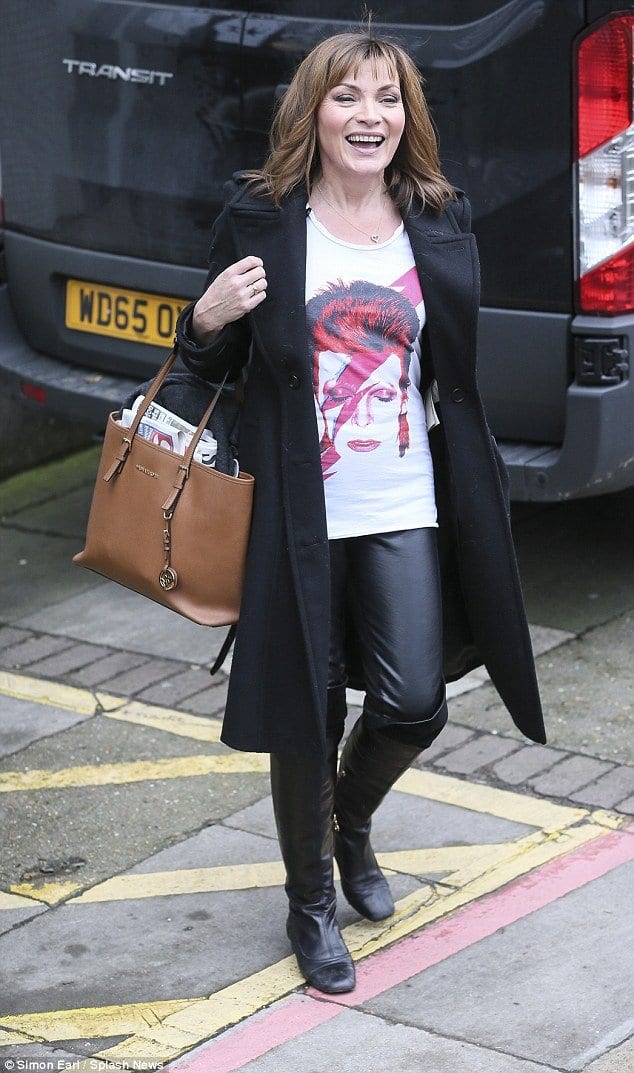 05. Opt for the Minimalist Approach
If you are a minimalist at heart, you will have no problem bringing together a great fit. Wear a black tee with structured black pants and a leather jacket or a blazer. Carry along a printed or bold-colored clutch to add a pop of funk to your attire.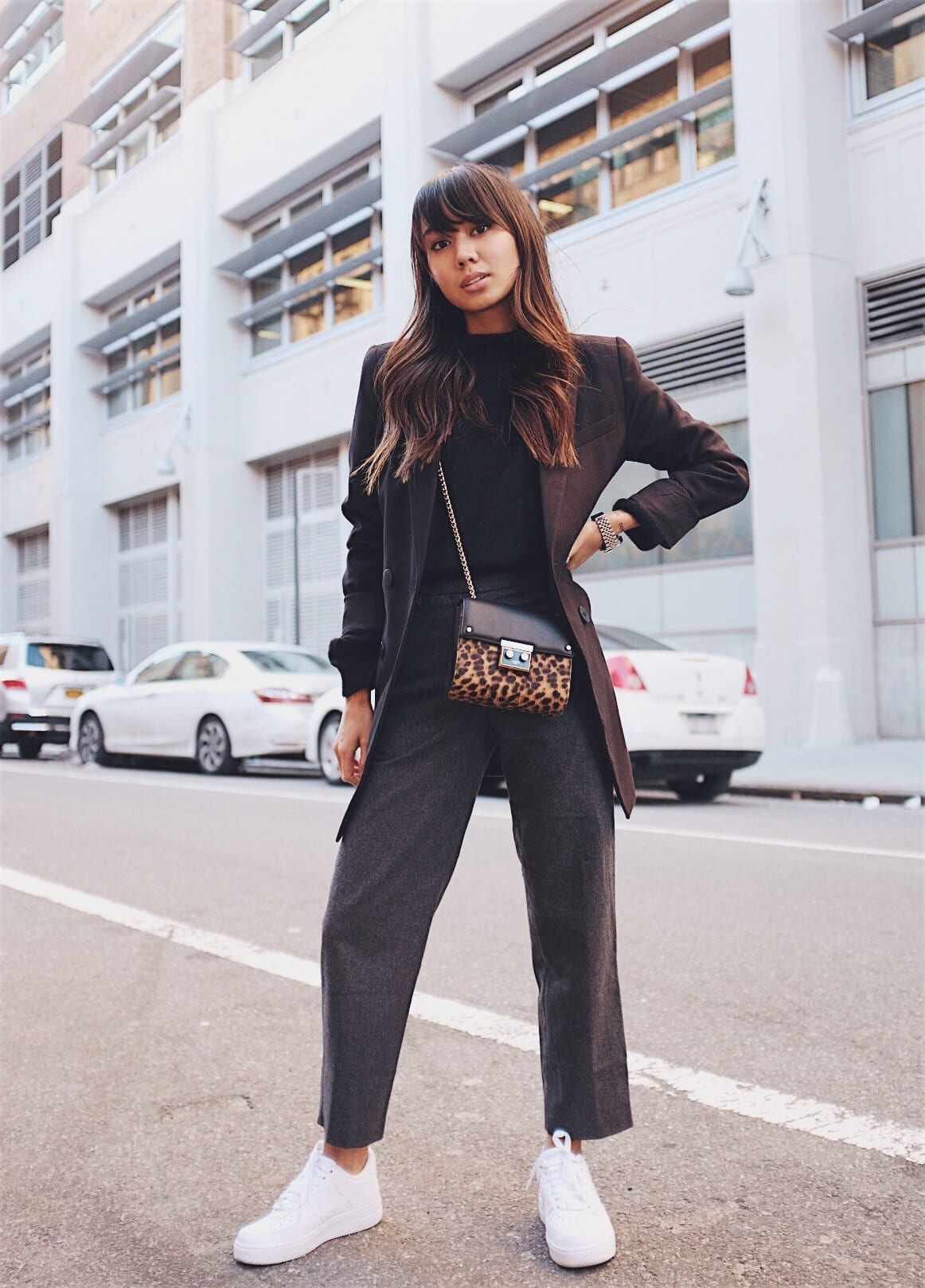 04. Planning the Elegant Date Outfit
If you are planning to go on a date to your favorite band concert, this chic and pretty sweet high-neck sweater with wet leather leggings is the perfect look for you. For winter, you can carry a scarf and wear a black double-breasted blazer for a distinctive look.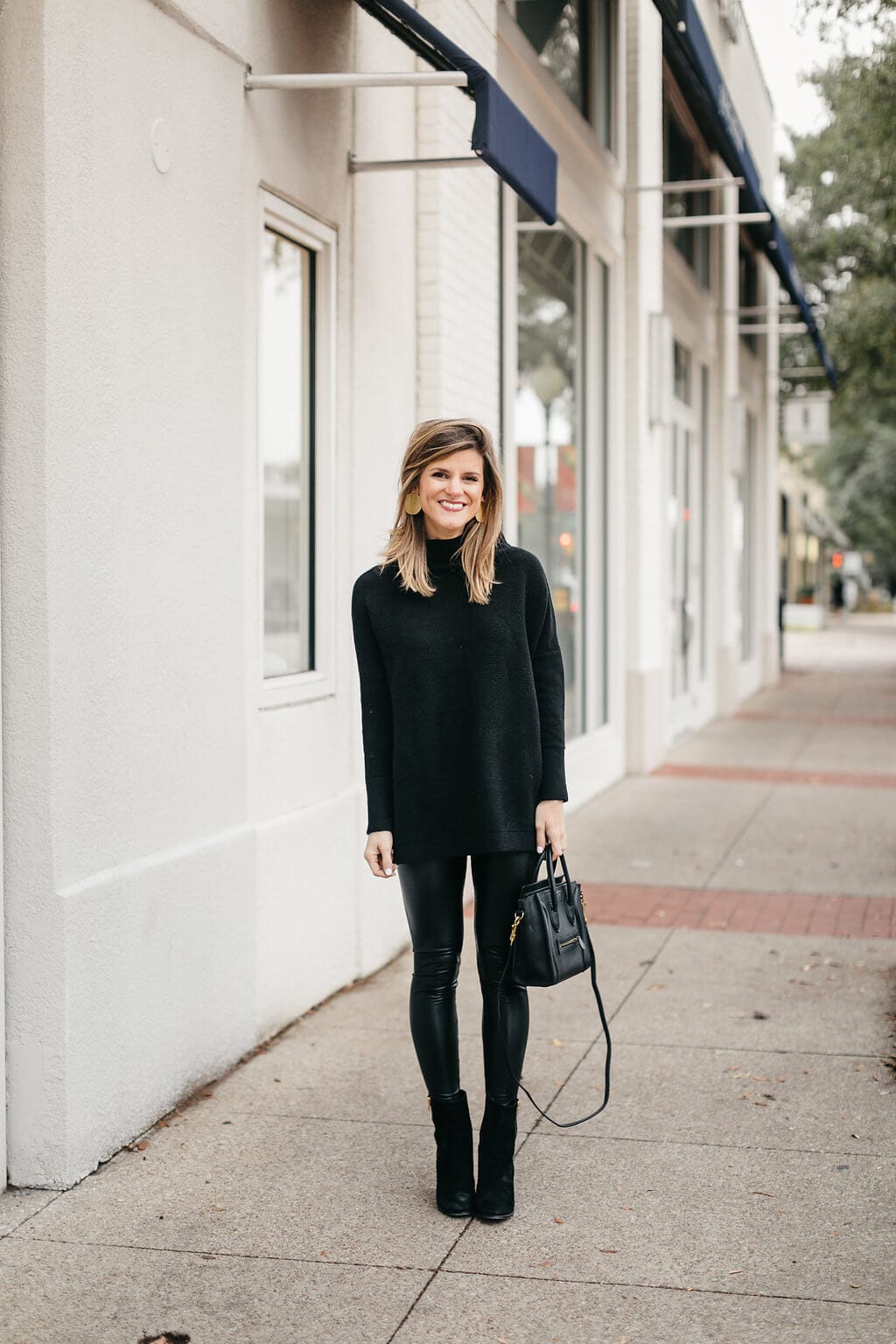 03. Posh Meets Elegance
For a posh and elegant look, ditch your leather jacket and opt for a grey structured blazer or cardigan to go with this lush purple maroon-toned camisole and black leather pants.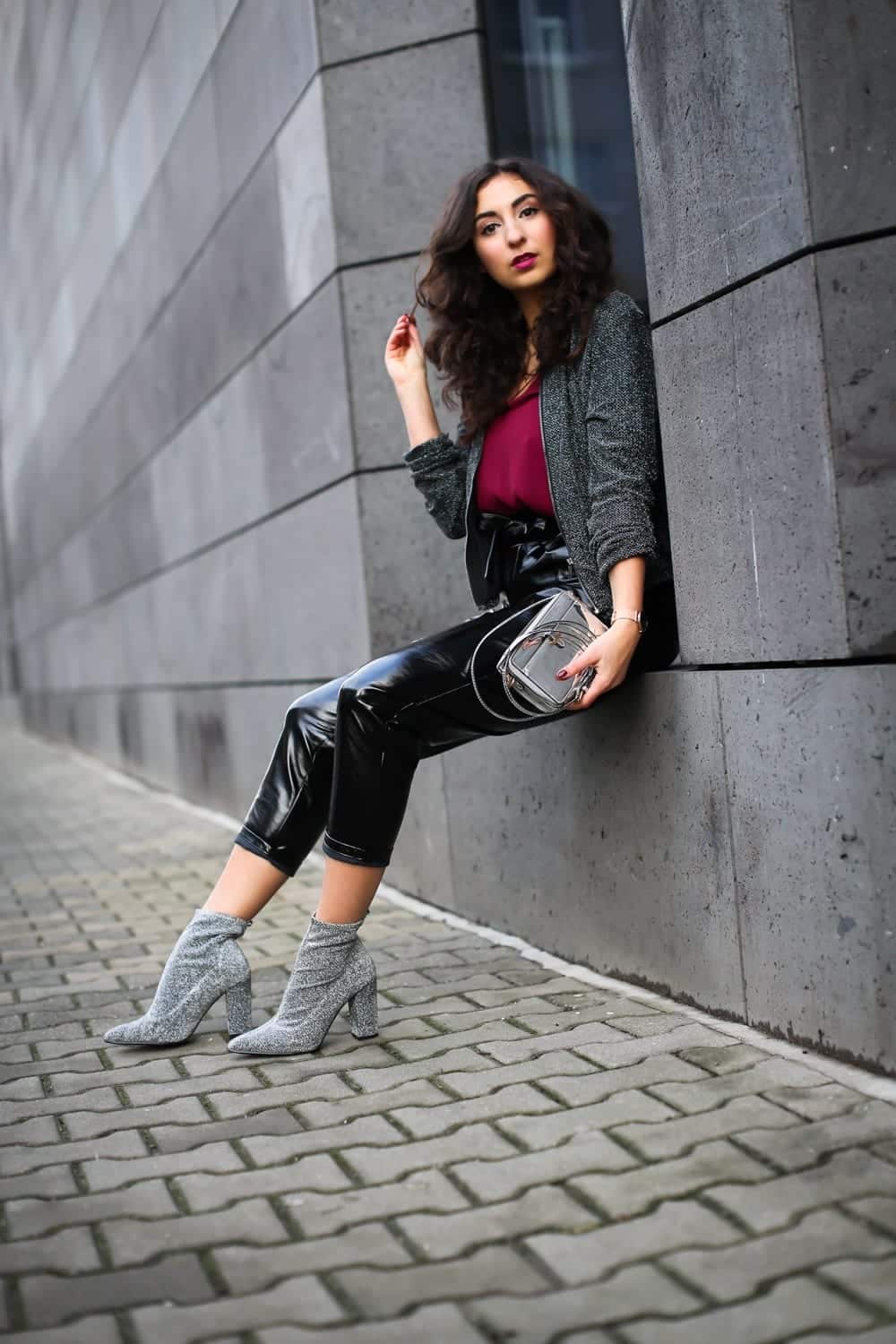 02. Add a Statement Belt to Tie Everything Together
Are you planning to go to a gig with outdoorsy settings? You should pick an outfit that is functional and comfortable and will not compromise your style. It is better to go for jeans or loose pants.
This attire is a suitable option for such an event and is bound to keep you comfortable throughout the day (or night). I suggest adding a statement belt at the waist to tie everything together!
01. Pair a Faux Moto Jacket With White Jeggings
Mix up your look by pairing some white jeggings with a graphic tee (naturally, you can wear the band tee for whoever you are going to see!) and a faux leather moto jacket. Opt for a jacket in an olive green color.
This is a fun way to incorporate a leather look without going too "biker chic." (Unless that's the look you are going for, in which case, have at it!) Finish off the look with some suede booties.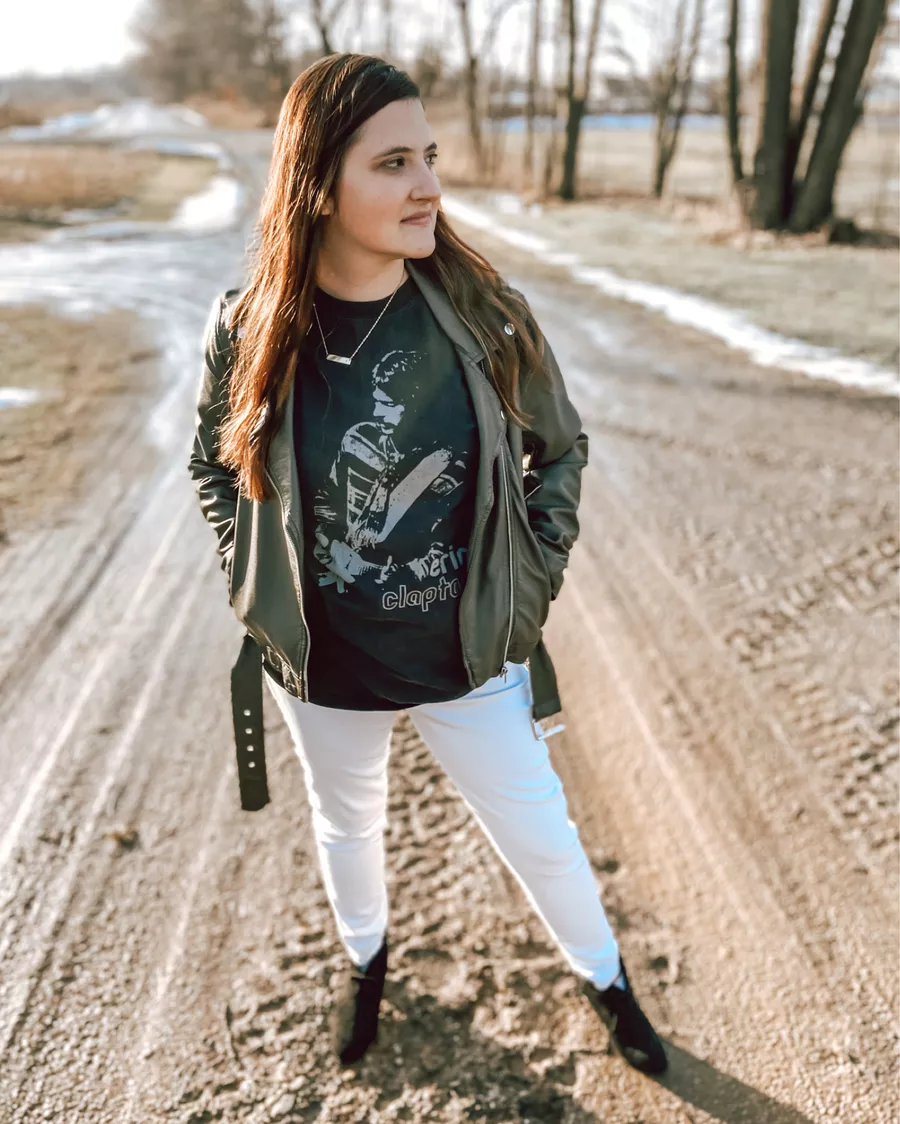 Get the jacket right here:
Faux Leather Moto Jacket $34.99
FAQs
Q. What should I not wear to a rock concert?
This is an excellent question. Avoid wearing overly restrictive clothing (you want the freedom to move your arms around). Avoid plasticky materials that will have you feeling hot and sticky. An off-the-shoulder top isn't the greatest option as these need constant adjustment and fixing.
We hope you found these outfits and tips helpful. Let us know in the comments below what your favorite look is!
Q. What do women wear to concerts if they are over 30 & 40?
You can rock Daisy Dukes if you so wish, but we love a classic jeans-and-jacket combo. Add a leather belt and a graphic tee. If you prefer a classier look, check out outfit #2. This is a fun way to style leather capris and a solid-colored top.
No matter your age, you can style a gorgeous and edgy look without feeling juvenile or cartoonish – simply by building on some basic blocks. You can't go wrong with leather, but don't overdo it. It's a common sight.
A biker jacket or moto jacket will fit the bill nicely. Wear with jeans and a sleeveless tank or a patterned top. You can rock (pun intended!) some booties or combat boots for a grunge look that your feet won't hate you for. Wear a small crossbody bag and voila!
Q. What shoes should I wear?
You will likely be on your feet most of the night (even jumping around and dancing) you are going to want to wear shoes that support that. After all, nothing ruins an occasion like aching, sore feet.
So, before turning to your favorite stiletto boots, try giving your Converse a spin. Flats, sneakers, flat boots… these are all good options. Add insoles to your shoes as well for a bit more comfort!