Jury Duty Outfits for Women – For some, jury duty can be nerve-wracking. For others, it may be exciting. No matter what the case is, there is no denying that deciding what to wear for that particular day is one of the most important things on your to-do list and can be extremely tricky.
Being a part of court can be pretty overwhelming, and among the tens of responsibilities that come with the duty, one of them is respecting the dress code. The thing that impacts a lot of questions is what do you wear to jury duty?
As you step into a public institution, you're expected to dress appropriately and in line with the jury duty dress code. That said, forget about casual and beach attire, even if it's 100 degrees outside! 
You want to dress up in a way that impresses everyone around you. Be it the judges, fellow attorneys, the witnesses, or other dignified people present there, everyone will have their eyes on you. How you dress will vary according to the objective of your court meeting. Since you already have a lot on your mind for that important day, we are here to make your job easier!  Read on for some of the best clothing styles and tips that will help you put together an amazing outfit.
How to Dress up for a Jury Duty?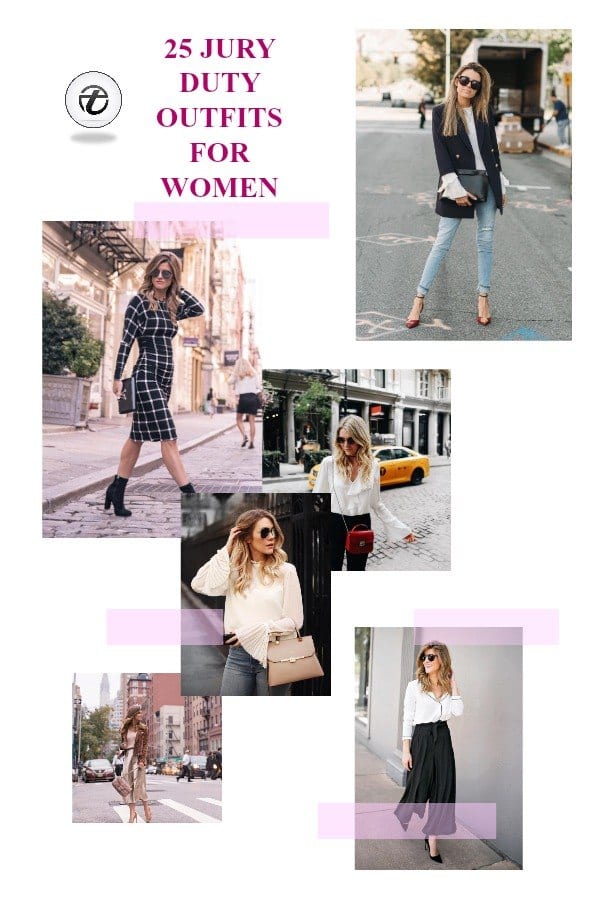 As you may already know, courts follow certain rules and guidelines regarding everything, your outfit should also be in harmony with the specific guidelines provided by the court. It is important to be well-informed about the rules and regulations before attending the meetings and hearings so you can style your outfit accordingly.
As a general rule, your outfit should be business casual or formal. Whatever you choose, make sure you are comfortable wearing it. A stylish outfit is no use if it is not something you are comfortable in. Here are some of the do's and dont you should keep in mind when getting ready to go to a courtroom:
Do's
Add lots of whites, blues, blacks, and browns to your wardrobe
Choose formal or business casual attire.
Button-down shirts and blazers are your best friends.
For Footwear, go for heels or a nice loafer.
For accessories, go for simple Jewelry and a small handbag 
Don't's
Maintaining the dignity of the court with proper attire is required. Shorts and flip-flops are not acceptable. Additionally, courtrooms tend to be cool, and you may wish to bring a sweater or light jacket for your comfort.
Avoid wearing too many funky colors.
Say no to casual clothing such as tees, shorts, and ripped jeans
Try not to expose too much skin – stay modest
No unnecessary accessories such as caps, hats, and flashy jewelry.
Do not wear any short dresses or skirts.
Flip flops and casual shoes are a big no
Do not select anything with an offensive slogan or statement
You don't need to worry about what to wear anymore as we at Outfit Trends have rounded up a list of 25 different styles of outfits you can wear when you go for the assigned job. Take a look!
25 – Outfit with Button Down Shirt
As mentioned earlier, for court hearings and other duties, button-down shirts will be your best friends. They are cool effortless and almost everyone owns this kind of shirt already! Make sure not to wear one in a bright color. Try to opt for neutral shades to achieve a formal look.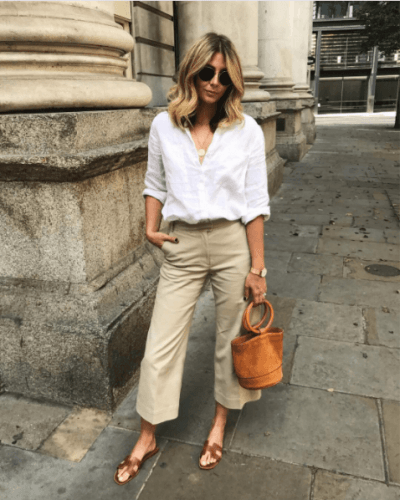 24 – Blazers for the win!
Nothing adds class like a good blazer! You can turn almost any outfit into a formal one with just this one piece. Pair with light-colored pants and nude heels to complete the look. They create a classic look you want in your closet forever. Since white blazers are trending the most this year, check out these 24 Ideas on How to Wear a White Blazer.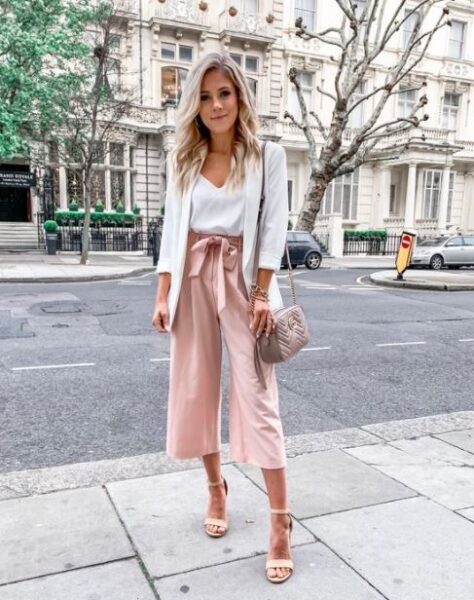 Via
23 – Wide Leg Pants For a Classy Look
Wide Leg pants and bell bottoms look super chic. It's a must-have for your wardrobe if you frequently need to attend work meetings. You can pair it with a tucked-in shirt to further enhance your look.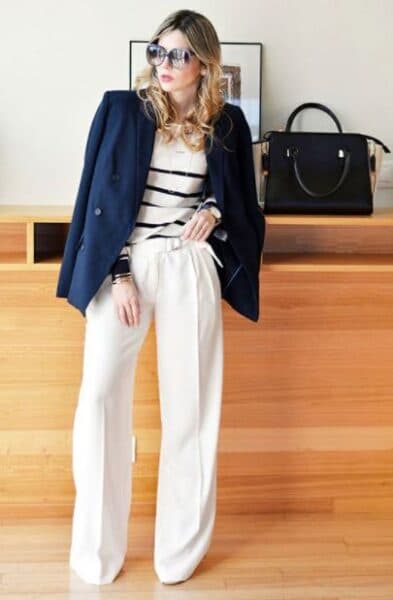 via
22 – Add A Little Color If You Like
One can get bored of wearing the same kind of neutral shades. If so, you can wear a colored blazer to drift from your usual look. What color is better than yellow to add a pop of color? Here are 14 Chic Ways to Wear Yellow outfits
21 – Turtle Necks With Cigarette Pants
Melania Trump is the epitome of grace and elegance in this outfit. This is the kind of jury outfit you wear when you don't want to try too hard and still look great. Navy blue straight pants are an excellent choice in line with the dress code for jury duty. They are relaxed and classy, ensuring your comfort and overall look are significantly enhanced.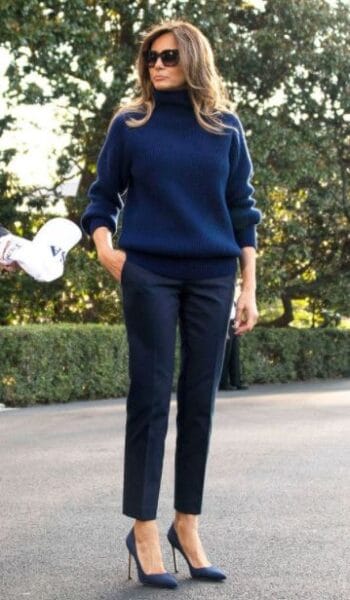 20 – Outfit For a Cool Look
The blazer is perfect to wear for jury duty. Pair with high-waisted pants and sensible heels, and you're ready to deliberate. These neutral colors are also perfect for the courtroom. The best color to wear to court is probably navy blue or dark gray. These colors suggest seriousness. This type of footwear is convenient for cold jury rooms, preventing you from feeling any discomfort as you're sitting there.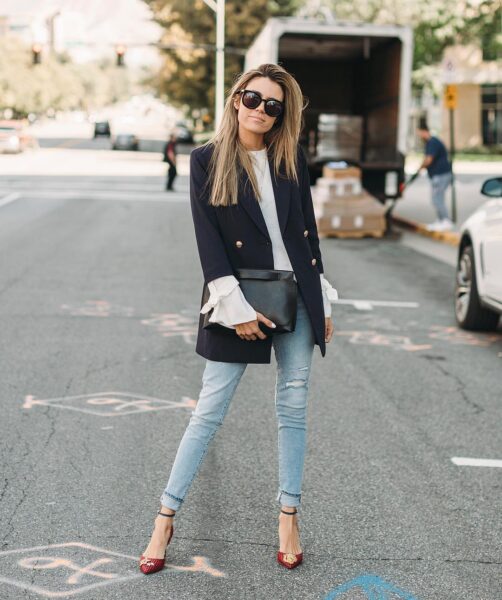 19 – Clooney's Court Style
Which Celebrity is better than Amal Clooney to take inspiration from for a Jury duty outfit? The ever-stylish, British-Lebanese barrister is wearing a white knee-length shift with a red and blue striped midsection, bringing attention to her tiny waist even more.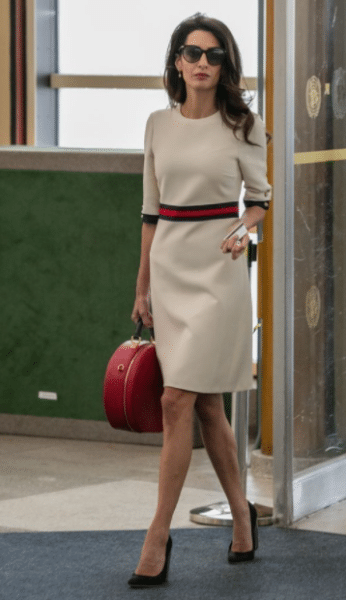 18 – Go Monochrome
Do black and white outfits ever go out of fashion? The answer is no! You can pair a white top with black dress pants for the ultimate formal look tens of times, and you will still not get bored of it. Pair tiered ruffled sleeves with a pair of smart trousers and pumps. The striking contrast from pairing these two colors is perhaps the most powerful of all combinations.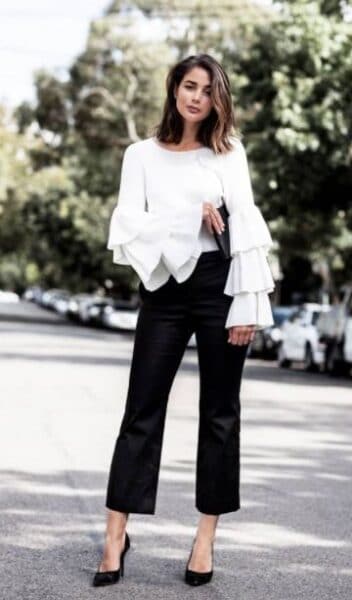 17 – All Black Everything
I love a monochrome look. This look is for all black lovers. You might want to wear cool patterned heels with your black outfit to look extra chic. You can wear it with a blazer to get the right outfit for the courtroom. Check out these 25 Celebrities All Black outfits Styles for Fall to Copy.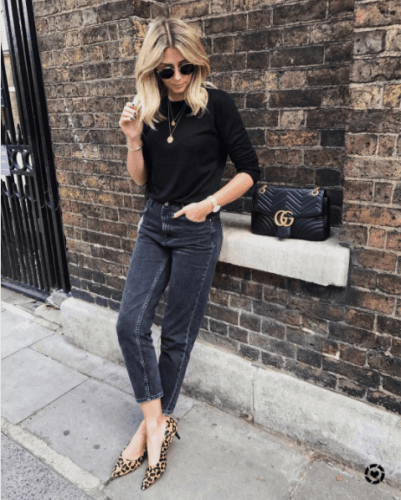 16 – Matching Set for A Sophisticated Look
Matching sets are a great way to get more wear out of your outfits. For jury duty, looking for what to wear is the perfect excuse to snag a sharp woman's suit (if you don't already have one). This one is so feminine, elegant, and oh-so chic! These sets will boost your elegance and make you look by the occasion.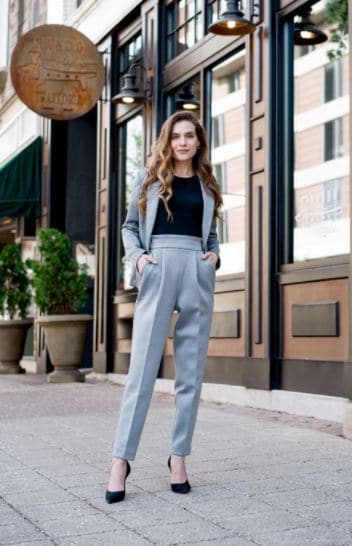 15 – Semi Formal Top For a Chic Look
Wear clothes that fit well and display the best effects.  A perfectly tailored semi-formal top is easygoing,going while a semi-formal blazer and trouwill complement your look. For this one, pair it up with blue jeans and white sneakers or loafers. Sneakers and jeans are not prohibited to wear for jury duty, but you can replace your jeans with Straight pant. This look could be your go-to outfit for any semi-formal occasion.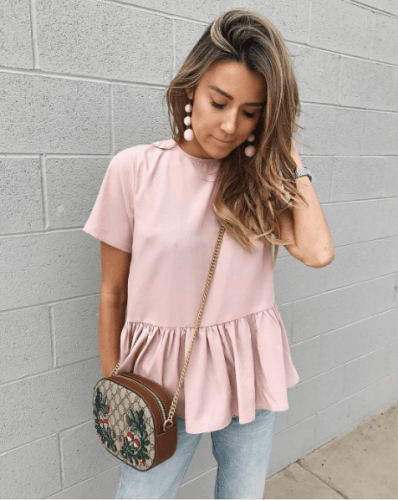 14 – Neutral Sweaters
In winter, you can even wear sweaters and style them in a way that makes you look sophisticated. Sweater for jury duty? Yes, ma'am! This elegant sweater will also keep you warm in the chilly courtroom. Subtle colors work better than brighter ones for jury duty.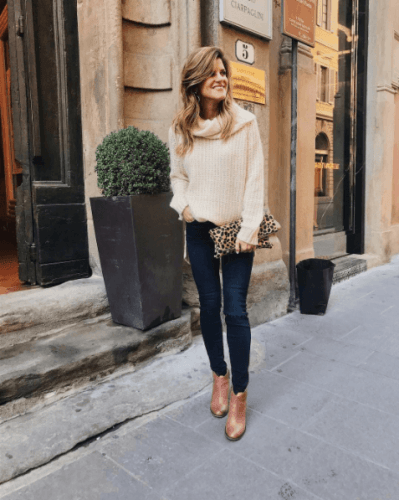 13 – Stripes Work For Every Occasion
When in doubt, wear stripes! For business casual attire, stripes work best with a collared shirt, but you can also wear it with a round neck and add a blazer to complete your look. Here are 10 Ways to Wear Striped Shirts.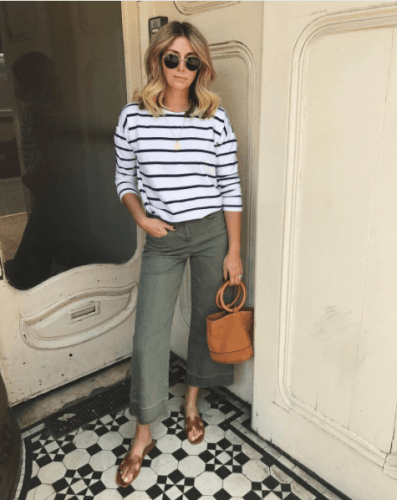 12 – For A Modern Day Look
You must have a basic white top and a couple of light-colored ones that can be used to layer under your coats in winter. They act as a great canvas to show off your gorgeous coat. These neutral colors are also perfect for jury duty. Add statement necklaces, and wear sandals to complete the look.
11 – How to Dress for Summer Jury Duty
If you have decided to wear a dress, ensure it is below your knees to suit the court environment. It can be checkered or even a simple one, whichever you like best. Here are 27 Ways to Wear Shirt Dress in Different Ways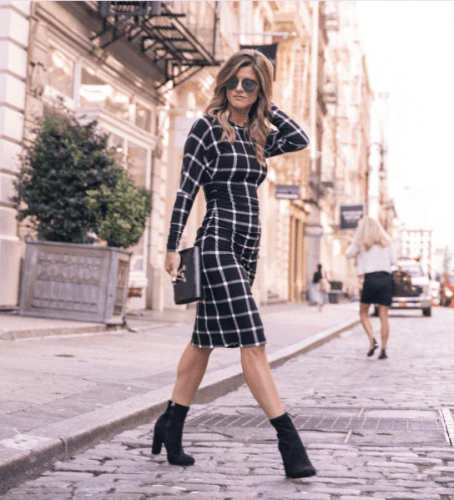 10 – Frills For a Stylish Look
Here is a simply cute one, a top with ruffled sleeves. Those frills look so stunning on this baby-pink top. You can wear denim jeans and heels with this outfit. Jeans are acceptable for jury duty in most courtrooms; avoid jeans with rips and tears. That big (and very beautiful) bag is also great to stash some snacks.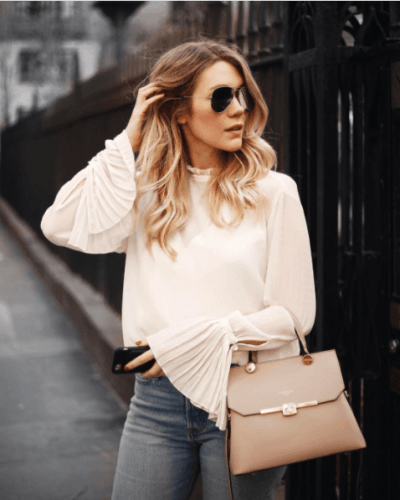 9 – Checkered Pants Look Fantastic
A checkered pant look is a stylish piece that brings a dose of trendiness to the jury duty outfit. A relaxed fit enhances these pants. Apart from being incredibly fashionable, these pants are comfortable, so you'll feel pleasant even though you may be sitting in the courtroom for a couple of hours.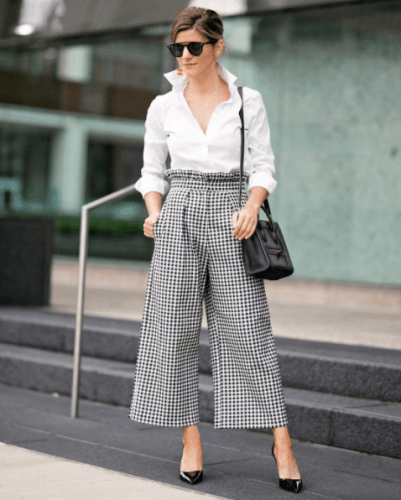 8 – For a Professional Look
Most people in the courthouse will be dressed in business and business casual attire. Additionally, many men and women alike will be in suits. If you don't want to look and feel like a commoner, dress up a bit! These neutral colors are also perfect for the courtroom.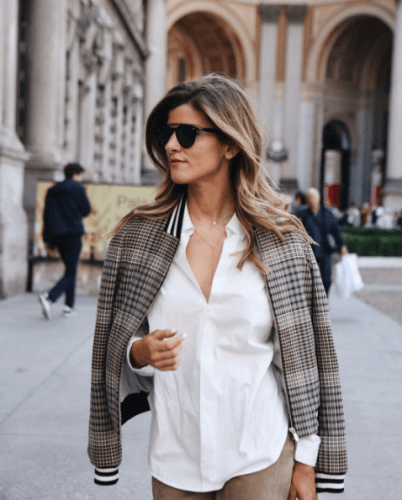 7 – Loafers For Women
When deciding which shoes to go with your outfit, remember that shoes that cover your toes are preferred. Flip flops and sandals are a big no! The sensible choice of sturdy loafers, and I'm here for it.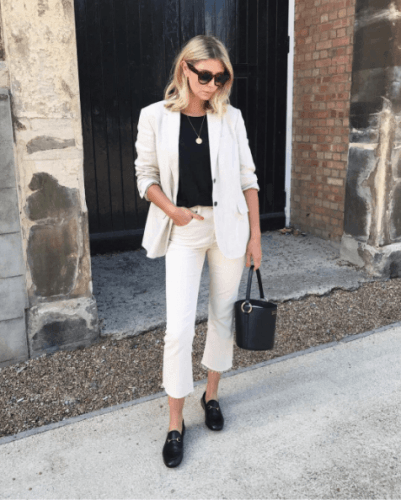 6 – How to Dress for Jury Duty in Winters
You can wear this outfit for a meeting at the office, a classy evening out, or any time you want a sleek and structured look; you can't go wrong with this look. Do check out these 20 Ways to Wear Long Coats This Winter.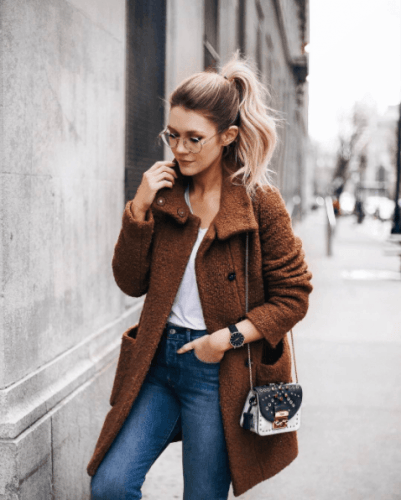 5 – Culottes Are New In Thing
The best way to dress up is by keeping your style. You can always remember that light colors are appropriate and appreciated for jury duties. You could select a dark Culotte with a light white shirt. For shoes, you can wear nice heels or wedges that are comfortable and stylish.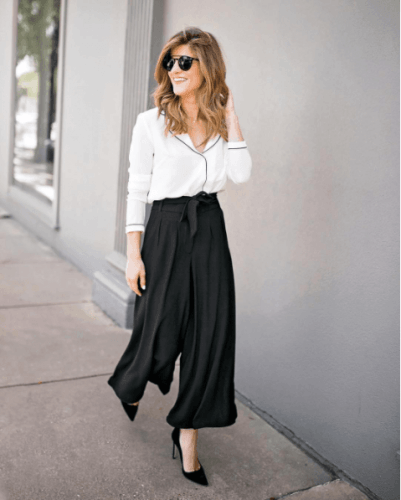 4 – How to Wear Skirt for Jury Duty
The goal is to look pulled together while still feeling comfortable. You can wear a mid-length skirt with a button-down striped shirt over it – this is a comfy and trendy combo. Elevated accessories like matching shoes and bag will bring the full look together.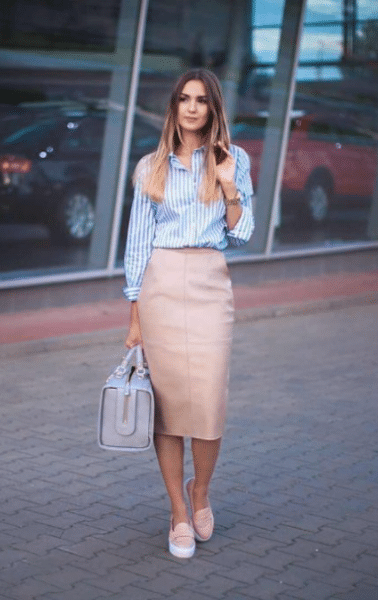 Via
3 – Colored Pants Can Be Worn
Add a pop of color to your dull jury duty outfit with your colored pants. This looks elegant and vibrant, especially suited for the courtroom. You can tie your hair in a high ponytail or loose pigtails.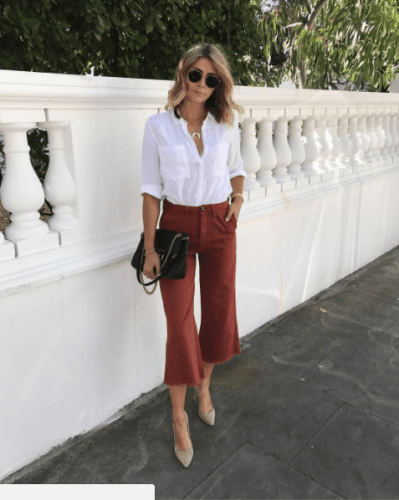 2 – Accessories for Jury Duty
Leopard print pumps work well with any outfit,, whether a pant or a skirt. You can also add any accessory to this look to make it classy. Accessorize yourself minimal, considering the jury duty. The less jewelry you wear, the better. Jewelry should not be flashy or make noises when you move. You can also add Framed glasses for a professional touch.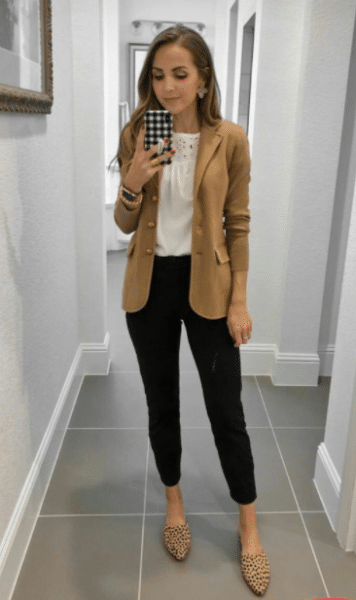 1 – What Shoes to Wear For Jury Duty
A black sweater dress for a chic and comfy look. Awaken your inner fashionista and take your style up another notch with a stunning coat. It is always smart to cover up the upper body with a coat to keep yourself warm even with your lower legs naked. These heels are your go-to shoes! They look extremely classy and professional.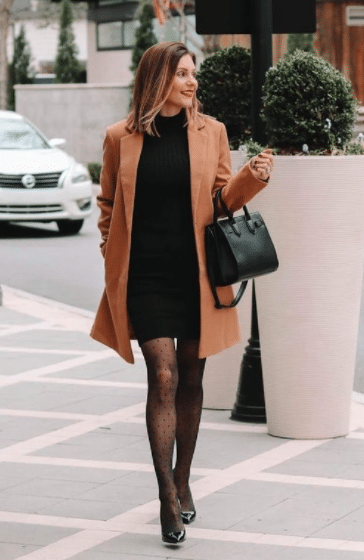 FREQUENTLY ASKED QUESTIONS
Q: Can you wear sneakers to jury duty?
There is nothing wrong with wearing sneakers to jury duty. They are comfortable and convenient for business casual dress codes, especially those lifetime sneakers, which are durable and always on trend. If you opt for sneakers, ensure they're clean and fit your overall look.
Q: Can you wear jeans to jury duty?
Many courts nationwide allow jeans for jury duty, but you should avoid rips and tears. If you go for jeans, choose those with a relaxed fit since you'll be sitting for a long time – you don't want discomfort to spoil your mood.