Flared Skirt Outfits – While skirts may seem like a more formal outfit choice, they can easily be dressed up or down by switching up your shoes, shirt, and accessories. To prove the versatility of skirts, and share some styling inspiration, we rounded up some flared skirt outfit ideas that anyone can recreate.
Flared skirts have recently become the go-to fashion piece for those looking to make a statement. With their flattering fit and ability to be worn with virtually any type of clothing, they are the perfect addition to any wardrobe. Whether you're looking for something casual, classic, or bold, a flared skirt will perfectly fit your style.
What To Wear With Flared Skirts?
Flared skirts are one of the most versatile clothing items you can wear. The flared skirt is an essential item when it comes to dressing up your outfit. It gives off a mysterious vibe, while still being able to be worn with a lot of different looks.
These skirts are perfect for the beach, pool parties, or any other casual event where you want to feel comfortable but still look fashionable! For a classic look, pair your flared skirt with a tucked-in blouse or a fitted sweater. Add an extra layer with a statement jacket or coat for added flair. For a more modern take, try a bodysuit, tucked-in tank top, or crop top with your skirt.
Tips on How to style the perfect flared skirt outfit
The length of the skirt: When styling a flared skirt, it's important to make sure the proportions are balanced. If your skirt is long, opt for a cropped top or tucked-in blouse. For a shorter-length skirt, pair it with an un-tucked blouse or cropped sweater.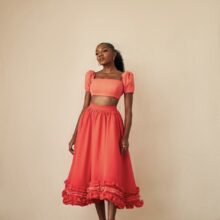 Depend on Accessories: When styling a flared skirt outfit, the key is to accessorize. Adding details such as a statement necklace, bold earrings, or an interesting belt can take your look to the next level. For an extra-special touch, pair your skirt with an eye-catching pair of heels or boots.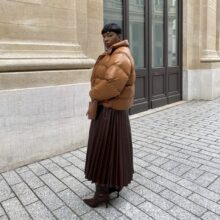 Mix n' Match the Tops: Choose a top that either flatters or contrasts with the skirt; a good rule of thumb is to pick a top that is the same color family as the skirt or a color that complements it. Secondly, choose the right shoes; try to keep them within the same color family as the rest of the outfit.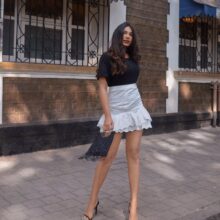 20 – Camel flared skirt with Floral Crop Top
This season, try a camel-flared skirt with a floral crop top and matching sandals. This bold look is sure to turn heads and has enough versatility to take you from day to night. With its timeless charm, this chic outfit will make sure you look your best no matter what comes your way
For a beach day with your beau, accessorize this fit with dainty gold earrings and a floral bag, and your sunnies for a timeless look that will make you stand out. Style your locks in wavy hair with cute hairpins for an effortless look that will give you a cool and chic vibe.
19 – Hot Pink Flared Skirt With Matching Pink Bodysuit
For a flirty and fun look to wear on a night out, try a hot pink flared skirt with a matching pink bodysuit. With its bold hues and timeless style, you are sure to turn heads with this look.
Turn up the glam factor with a pair of blue heels for a pop of color and a monochromatic handbag. This flirty yet fun combination is the perfect outfit for a party or date night and will make sure you are the life of the crowd!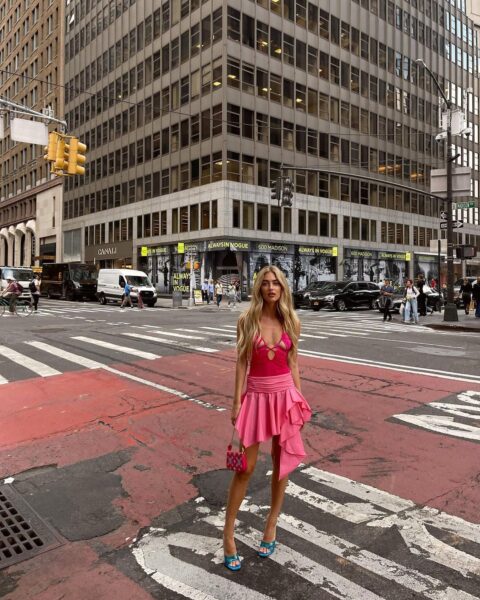 18 – a matching plaid skirt and blazer fit
A beige plaid skirt and blazer combo are perfect for a study date, or even a day at the office. The plaid pattern adds a fun visual element to the outfit and a bit of personality.
To add an extra dose of style, try pairing your beige plaid skirt with a plaid button-down shirt in an analogous color. Pair them with a crisp white shirt & black pumps. If you don't know how to wear a baseball cap for an elegant look that feels like you're going out of town, then just pair the cap with a cute plaid co-ord set.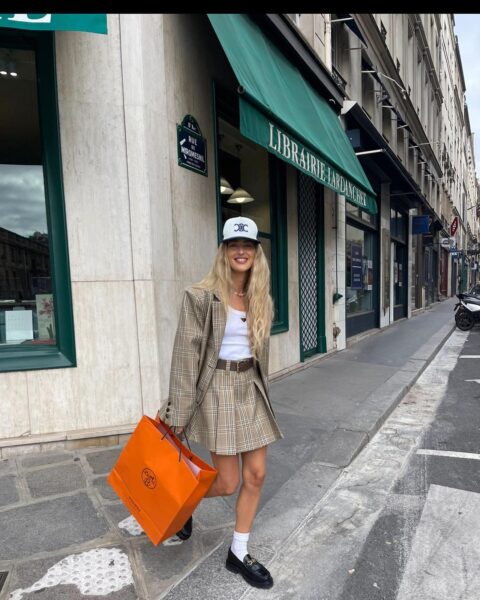 17 – Printed T-shirt with a sheer flared skirt
To take this look to the next level, try adding another print or texture to your outfit. This will create a fun and unexpected twist.
To complete the look, a silver bag, and classic heel pumps will add an extra inch of height and playfulness that you'll love! Accessorizing is the perfect way to add interest to any fit.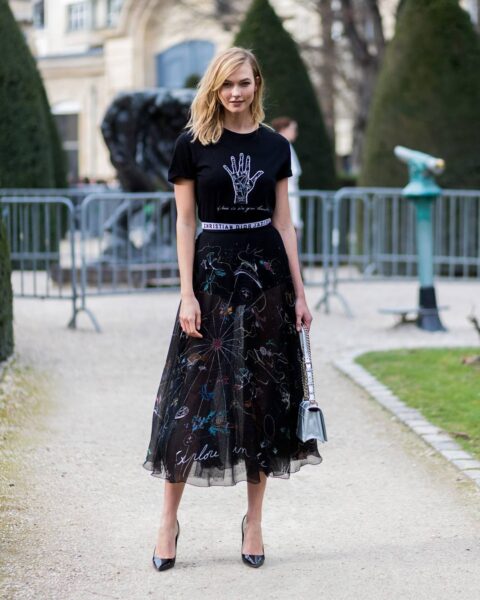 16 – Suede Flared Skirt With Collared White Shirt
Cute cropped shirts are in trend these days. A light and soft white cropped shirt with a contrasting suede skirt is all that you need for your next casual outing with your friends.
Keep the look subtle by wearing a shoulder bag, high boots, and a dainty necklace paired with gold hoops and sunglasses for a chic day-out-in-the-city vibe. For a chilly day, you can definitely pair it with a contrasting leather jacket!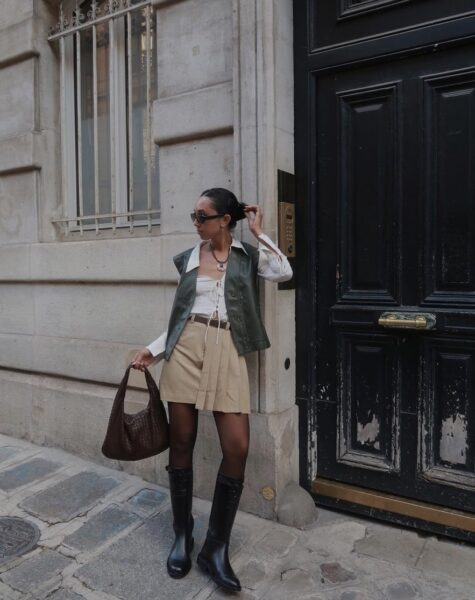 15 – Sheer Beige Skirt And White Top
Strut around the city scene looking fresh and elegant in a sheer layer flared skirt with a light breezy contrasting full-sleeved sweater top.
You can tuck your semi-sheer blouse into this skirt, then finish with ankle strap heels for a simple yet captivating look, with a clutch and a mini scarf to wear around the neck.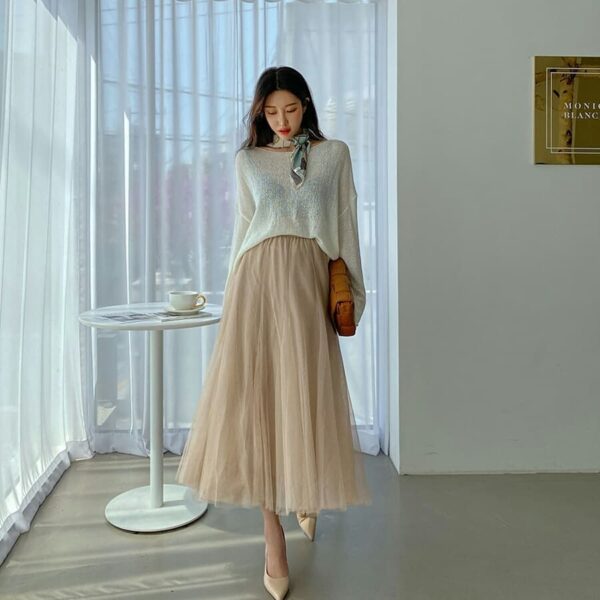 14 – A midi-length skirt with matching blazer
For a more professional, meeting-ready look, try a midi-length flared skirt with a matching blazer. Finish with some pointed heels and simple jewelry for a polished and timeless look.
To complete the look, add a structured handbag that complements the blazer and skirt and you'll be sure to make an unforgettable impression.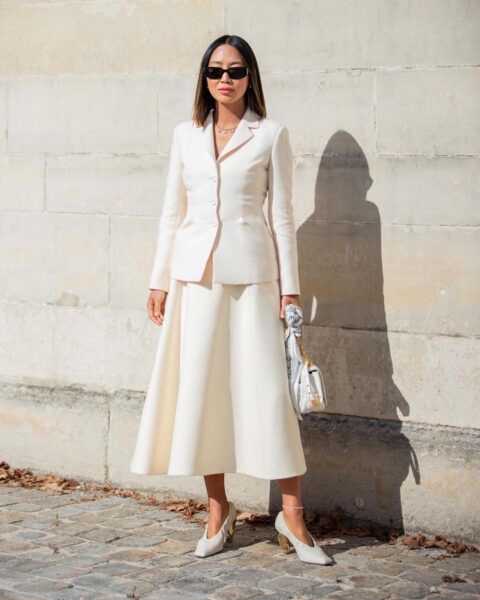 13 – Glitter Flared Skirt With Black & White Top
For a dinner date, a glitter-flared skirt is the perfect option for a night out, and pair it with a black and white top for a classic yet bold look. Throw on some dangling earrings and a structured bag to complete the outfit.
Since this look is fun and flirty, it can be dressed up with a pair of strappy heels and a bold belt around the waist. To finish off the look wear your hair in a messy bun and add a nude lip color.
12 – White Flared Tennis Skirt With Blue Sweater
For a look that's both fresh and modern, try a white mini flare skirt with a light sky blue colored sweater. Keep it elegant with some pearl earrings and nude pink lipstick to complete the look.
Finish off the ensemble with a classic tote bag for an effortless and timeless finish. You can pair the outfit with white sneakers and socks.
11 – Knee Length Flared Denim Skirt With Layered Jackets
For a trendier look, try a knee-length flared denim skirt paired with layered jackets. Try pairing the skirt with an edgy layered look consisting of a snakeskin long boot, a green puffer jacket, and a grey blazer. You can also accessorize with a belt or necklace to create an individualized style that stands out.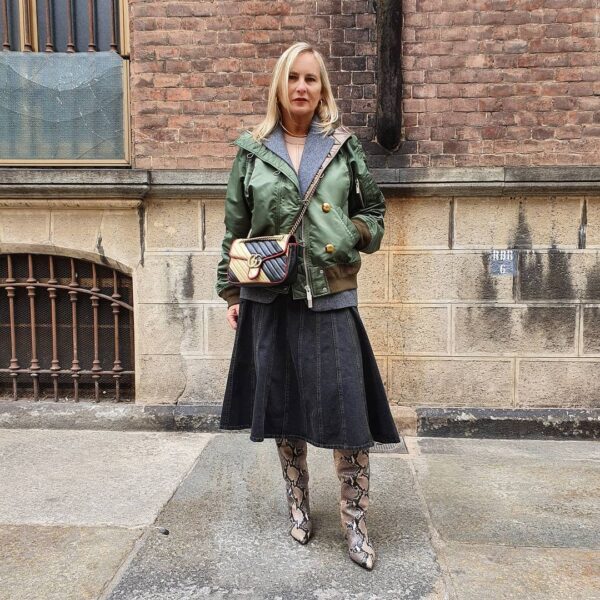 10 – a Camel-Flared skirt with Off-white shirt
For a modern office-to-lunch look, pair the flared skirt with an off-white top and a long camel-colored coat. Complete the ensemble with brown heel boots and accessorize with gold earrings and a white bag.
Finish the look with wavy hair and you'll be ready to turn heads wherever you go. This unique style will make a bold statement, while still staying on trend.
9 – Black leather skirt with Lace top
Show off your curves with a black leathered mini flared skirt paired with a matching lace top. This look is both stylish and vibrant, perfect for a special occasion or for turning heads at the office.
To keep warm on cooler days, add a pair of net tights and a statement belt. Finish off the look with a pair of knee-length boots for added height and comfort.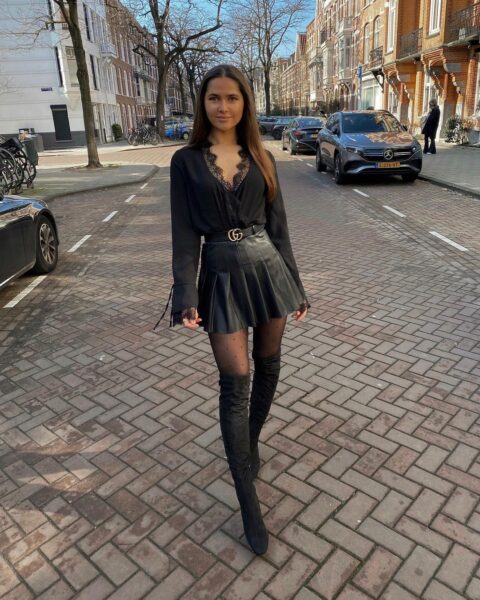 8 – low waist flared skirt with a white t-shirt
A timeless look that can be worn in any season is a low-waisted flared skirt with a white t-shirt and a red long leather coat for a pop of color.
Finish off the fit with sunglasses, a sleek bun, and Mary Jane shoes.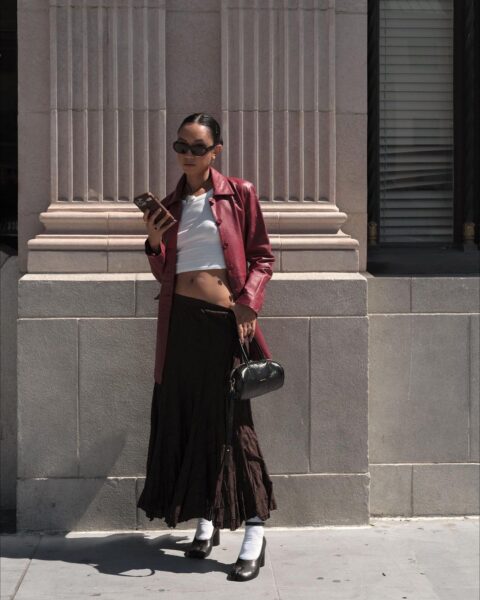 7 – A silk romance fit of Purple and Black
6 – An emerald knitted sweater paired with a maroon flared skirt
For a bolder and more statement-making style, pair a green knitted sweater with a midi maroon leather flared skirt. Complete the look with a brown shoulder bag and sunglasses. You can also wear open sandals or heels for a look that is perfect for any event.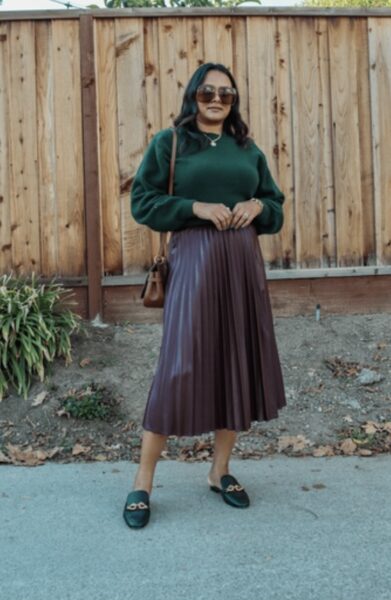 5 – Green Bomber Jacket with pleated Plaid skirt
The minimal accessories were the perfect touch to polish the look; basic black closed-off shoes and ankle socks complete the ensemble. This is a stylish and classic look for any season, and with the right styling and accessories, it can be easily dressed up or down.
The pleated, flared skirt adds an unexpected femininity to the outfit by creating an interesting silhouette with the white shirt.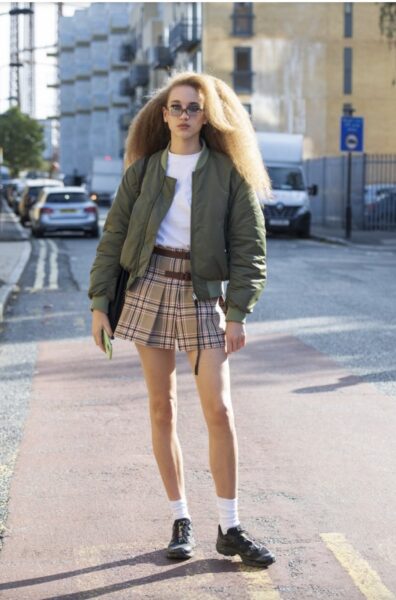 4 – Leopard printed flared skirt with Black silk top
3 – Denim Jacket and Colourful Plaid Skirt
Accessorize with your favorite shades, a classy makeup look, and a few jewelry pieces for a contemporary and classic look. To add a pop of color, add a pair of bright pumps or sandals to your look.
2 – Black Mini flared skirt with a cropped Collar shirt
1 – Green Ankle Length Flared Skirt With Vest Jacket
This outfit is perfect for any occasion, whether it be work or personal; the look is versatile enough to be dressed up or down, from a casual lunch to a formal dinner.
The accessories are kept minimal with a crochet bag, edgy dark brown boots, and dainty rings. This combination creates an effortless and chic look that is sure to impress anyone you meet.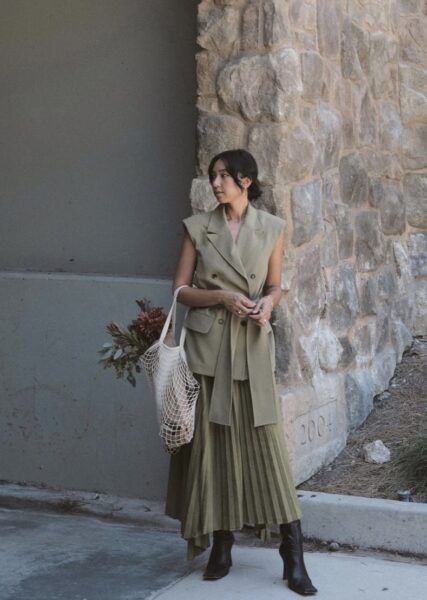 Frequently Asked Questions
Q. What top goes with a flared skirt?
A. Blouson and shirt-style tops are the most preferred choice with flared skirts. Further, one can try out an off-shoulder lovely fancy top too.
A loosely tailored wrap top can look amazing over a flared skirt when they aren't too long when untucked. In winter, you can pair it with a turtleneck tucked or untucked.
Q. How do you style a flared midi skirt?
A. The midi skirt has fuller coverage, so wear it with a contrasting little top – like a crop top or little tank – or a tucked-in blouse for waist definition. Wear midi skirts outfits with sweaters and coats in the fall and winter, and little tops in the spring and summer!
Q. Are flared skirt outfits business casual?
A. Yes! When coupled with office-appropriate clothing, they could be considered business casual. This implies you should swap your T-shirt with a simple button-up, blouse, or blazer.
Make frequent use of subtle tones and shades to ensure that your attire is as acceptable as possible for the setting.