What to wear with tote bags? In today's post, we are going to talk about tote bag outfit ideas and how to wear them on the streets and everywhere you are about to attend. We see a comeback of our beloved IT bag that is an ideal accessory for almost any occasion to wear this season.
The tote bag didn't become an omnipresent accessory overnight. Over recent decades, however, it has become a go-to bag for so many people, largely because of the easy, functional way it allows for self-expression.
I am totally in love with tote bags! I am going to share with you my favorite 22 ways how you can wear a tote bag this year. What is so special about this bag anyway? Well, the classic tote comes in a minimalistic look, shape, and color.
7 Types of Tote Bags That Women Should Have
Canvas Tote Bag – It is made of canvas fabric. A plain canvas tote bag goes well with any outfit and can be accessorized with either casual or formal. They are available in a wide variety of colors and patterns.
Picnic Tote Bag – They are designed specifically for picnic outings
Cotton Tote Bag – They are cheaper, durable, and easy to use. It can be used for groceries, shopping, formal wear, and casual outings.
Work Tote Bag – Smaller than other tote bags and have enough room to carry work essentials.
Travel Tote Bag – A travel tote bag is the biggest bag unlike a market tote bag, this bag has many pockets for holding accessories and items for travel. It is made of leather or polyester and is durable.
Foldable Tote Bag – They are foldable and do not take up too much space when not in use. They are ideal for shopping. It comes in many sizes and patterns.
Market Tote Bag – Market tote bags come in simple, practical, and classic designs. It features a large compartment which is convenient for shopping.
How to Style Tote Bags with Different Outfits?
Some ladies say this bag is the most boring one, but thanks to normcore and minimalistic fashion, everything has changed. From edgy high fashion look to boho girl style, tote bag never fails to get the look on point.
The classic tote comes with a big and slouchy canvas look, two handles, and no closing zipper. They have come back in a more mature and creative form with a wide range of fabrics and designs, a one-of-a-kind tote bag can definitely add a fashion twist to your look! Let us not waste time and learn how to wear tote bags and look chic no matter the occasion!
22 – Go Minimalist with Neutral Colors
The minimalist style is stripped down to the basics, so a plain canvas tote bag or a sleek, black leather bag is the ultimate minimalist fashion move.
This style makes use of neutral colors; it shies away from bold prints and favors texture as the alternative for breaking up an outfit. For this look, channel the '90s with a leather jacket, mini skirt, and black sturdy loafers. Don't forget to carry your big tote; it looks great.
21 – Business Meeting Ready with a Gucci Medium Tote
A Gucci tote bag can be worn with a suit to work, minimal accessories, and bold heels. It allows you to easily store all kinds of objects such as your mobile phone, wallet, keys, pens, diaries, or even a laptop, in such a way that you can comfortably transport what you need to your day-to-day at work without forgetting to wink at fashion.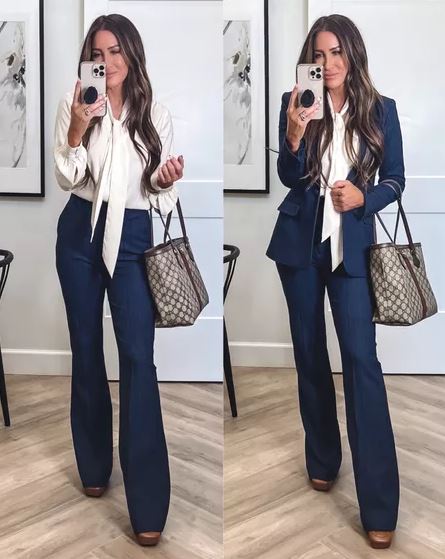 20 – Top Off Your Look
Date nights totally call for a go-to pants-and-heels outfit. This red top & low heels = HOT! This outfit can go from effortless to elegant in a matter of minutes, and this red top is a staple piece for sure. Paired with wide-leg pants and this chic black tote, it creates a perfect outfit.
19 – Easy Breezy Beach Style
We love the versatility of the tote bag and all the ways you can rock it. A day at the beach means having all of your seaside essentials on hand. A tote is large enough to accommodate your towel, book, sunscreen, and more, so you can relax for hours.
If bright colors are not your thing, having an unbleached linen set can be a lifesaver and is a piece you'll wear over and over. Linen is elegant, timeless, and feels close to nature, so it's the perfect material for beach outfits.
18 – Animal Prints for the Win
Animal prints allow you to enhance any look and, in addition, the prints on a tote bag can be matched with any outfit. To experience it, a leopard tote bag can be a great option, as it will stylize even the most basic looks. Consider pairing a beige sweatshirt with an animal print tote bag for a casual and stylish ensemble.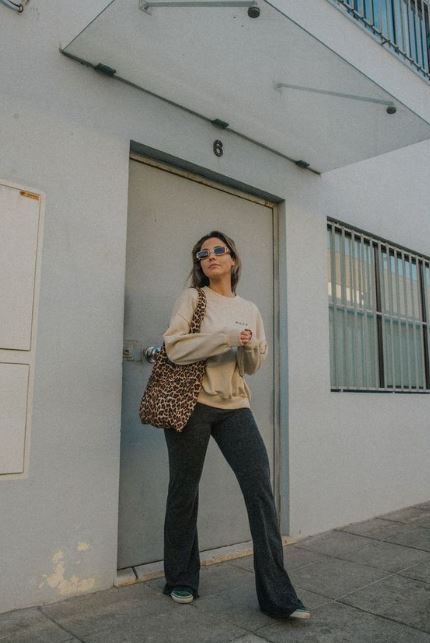 17 – Orange is the New Black
An all-white outfit with a bright orange tote bag is the kind of never-failing off-duty combo that you need when you have no time. Wondering how to finish off? Introduce brown shades and suede wedge sneakers to your ensemble to kick up the glamour factor.
16 – Black Never goes Wrong
No matter where the day takes you, you'll be stylishly ready in this relaxed pairing of a black romper dress and a white canvas tote bag. On the shoe front, this look is finished off brilliantly with black gorgeous loafers.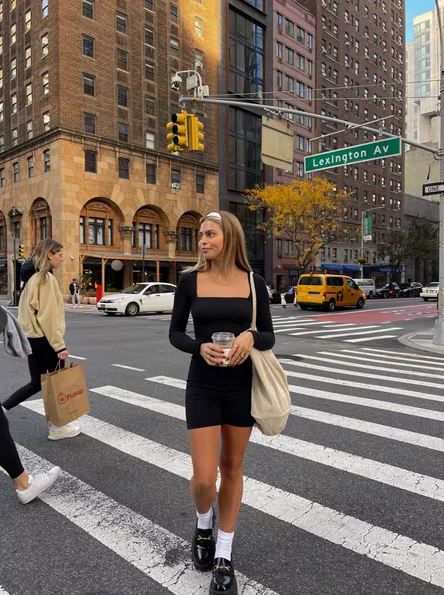 15 – Airport Ready with YSL Tote Bag
When you're traveling in the fall season, perhaps to a neighboring big city, you will most likely want to wear your jacket of choice on the plane and a multifunctional bag. This outfit with a plaid jacket and a Saint Laurent tote bag isn't super hard to pull off and is one of the easiest outfits to wear when traveling.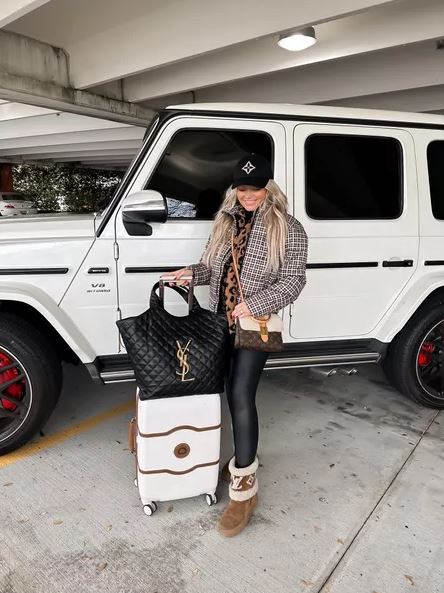 14 – Modern and Chic Look
If you want to try on something modern and chic, then you might like to wear long boots, a T-cap, a fleece sweatshirt, and a mini skirt. Complete the look by adding this gorgeous tote bag. In love with the outfit details.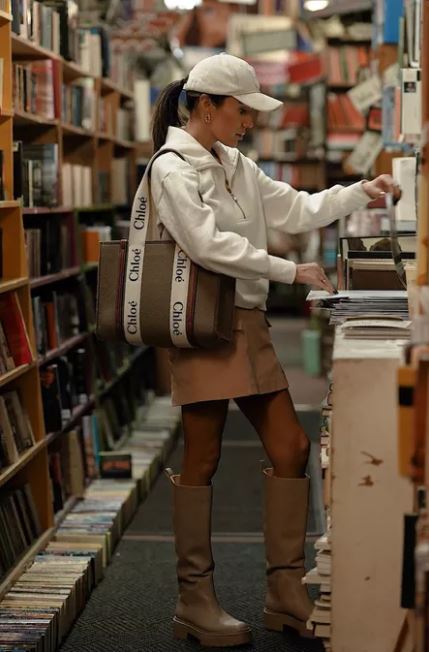 13 – Grocery Run Outfit
Going back to its true utilitarian roots, the canvas tote is optimal for effortlessly bagging groceries in the check-out line. Opt for a tank top with military green cargo pants and a white canvas tote bag to achieve an interesting and modern-looking casual ensemble. On the shoe front, this outfit pairs perfectly with these black runners.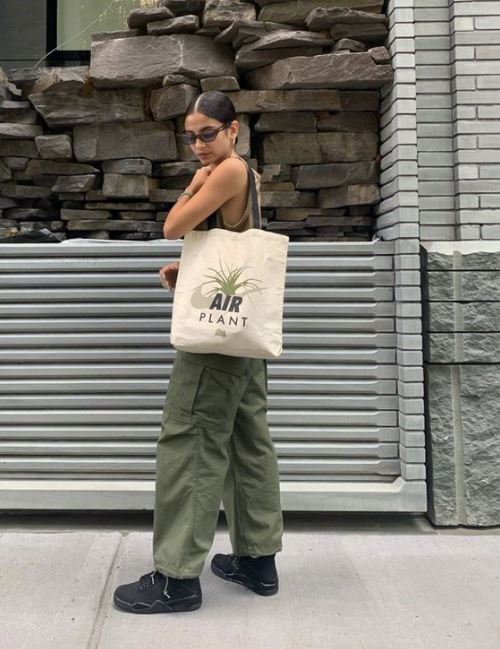 12 – Pair White Swing Dress with a Brown tote bag
To bring out your inner happiness and the child inside you, you can try on some softer or lighter colors like white and beige. Here's a complete day inspo for y'all. Keep things minimal. In love with this white swing dress and vintage look tote.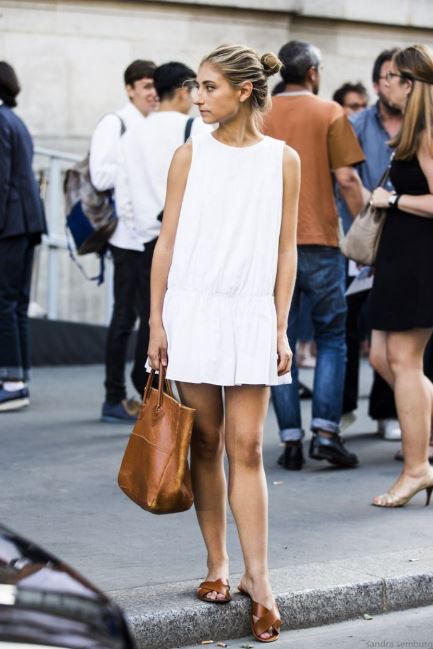 11 – Casual Street Style
Summer fashion is all about innovation and bringing forth your wild side. If you want a practical and stylish look. Pair your fav crop top with relaxed denim and a tote bag to carry all your items to school or work. Don't forget about a hot pair of sunglasses to complete your outfit and add just the right amount of mystery to your look!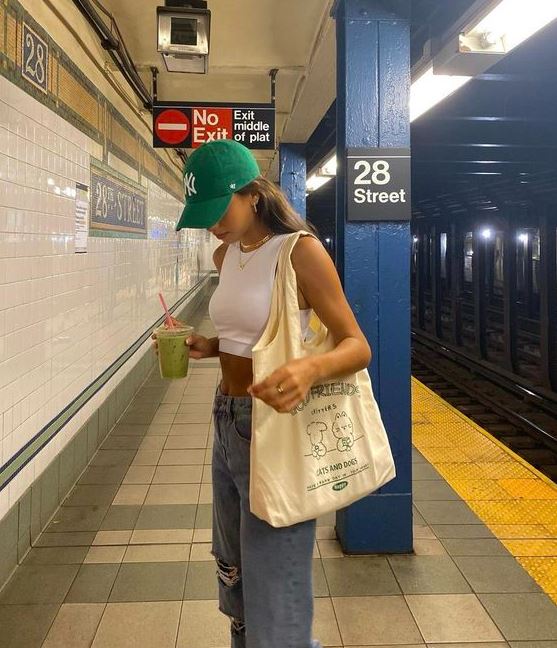 10 – Pair the Tote Bag with a Body Dress
A bodycon dress and a white canvas tote bag are a great combo to have in your travel casual fashion mix. When traveling in summer, add a bandana to keep all that extra hair away from your face and give your outfit an effortlessly put-together appearance.
9 – Active Lifestyle with a Tote Bag
Since the tote works well for the gym or a more active lifestyle, it is a great match for the athleisure aesthetic.
Wear leggings or shorts with a sports bra and tote over your shoulder as you go for an afternoon workout carrying all your exercise necessities ( Yoga mat, Water Bottle, etc). They are perfect for everyday use to hold anything from your trainers to your gym wear.
8 – Sophisticated and Urban Cool in Blazer
Keep things sophisticated and urban cool! In this outfit, we see a structured leather blazer, crop top, black trousers, white sneakers, and canvas tote bag.
The canvas tote bag shows some cute wording written over it which shows the artistic side of the person wearing it. That's the thing I personally love about canvas tote bags.
7 – Pair Jumpsuit with Tote Bag for a Casual Party Look
From cotton to canvas or leather, totes can easily work for a casual trip to the grocery store or an afternoon bringing the kids to the park. You'll have enough space for the kids' snacks and a blanket so you can lay out in the sunshine and watch them play. You can also pair the tote with sneakers or comfortable sandals for a laid-back party outfit.
6 – Boho Look with Crochet Tote Bag
The bohemian style of long flowing dresses paired with boots and a wide-brimmed hat works well with the tote bag accessory. For this style, you can opt for a crochet tote to really highlight the playful and unconventional nature of the style.
Keep your shirt and pant minimal as the main highlight of the outfit are boho boots and hat and of course the crochet tote bag. This can be the perfect look for browsing the local farmer's market on a Sunday afternoon. And if you're daring enough, I would highly recommend pairing this bag with Crochet Pants.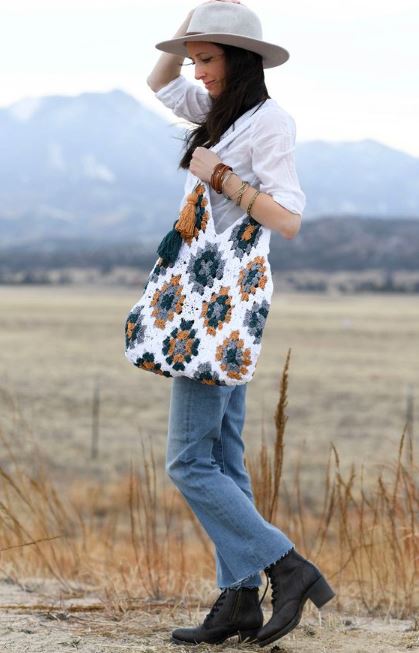 5 – Boujee in Blazer
With neutral hues trending, adding a plaid blazer to your outfit is a no-brainer. If your evening plans are more laid-back, separates are the way to go. Keep it formal for the office with a blazer, pants, a top, and your favorite tote bag. To keep your look chic, you can always wear some nude heels and let your hair down, your whole look is done!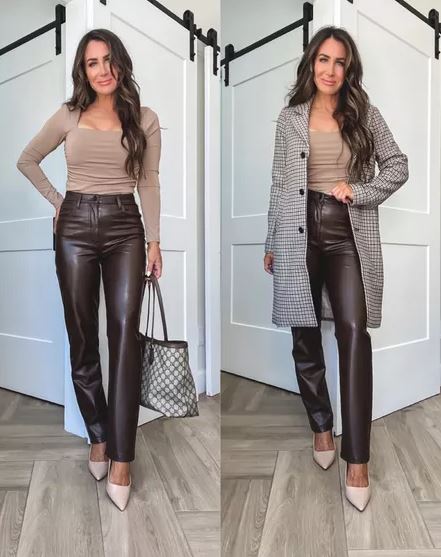 4 – Pretty in Pink
Show that no one does casual like you by wearing a pink crop top and a pair of denim shorts. Unimpressed with this outfit? Add a rainbow tote bag to mix things up. The piece that stands out in this outfit is your bag. With a tote bag in a striking color, you can brighten up any outfit.
3 – Winter Outfit with a Tote Bag
Who said you can't make a style statement with a relaxed outfit? You can do that effortlessly in a sweatshirt, coat, and beige tote bag. And if you wish to easily level up this look with a pair of shoes, complement this ensemble with a pair of high-top sneakers. Complete your look with shades and a beanie to handle the cold out there.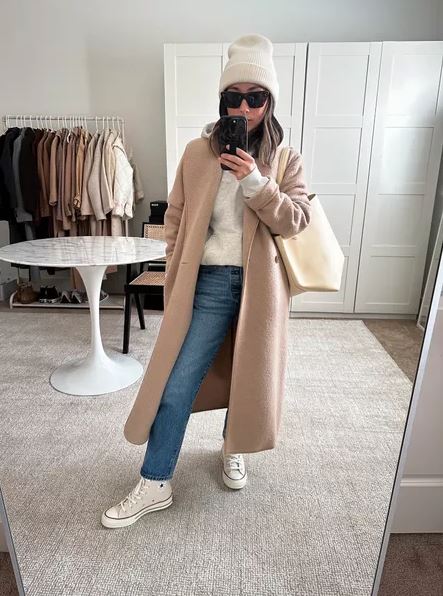 2 – Gorgeous in Green
For the style that's as chill as it can get, Pair matching separates with a puffer tote bag. Puffer tote bags are basically a fashion statement and they can elevate any outfit. Finish off with white athletic shoes to upgrade this getup. The addition of sassy shades will put a glamorous spin on your ensemble.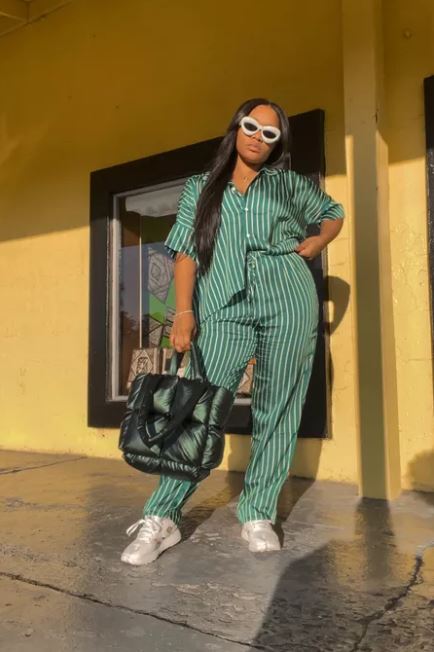 1 – Style it Like the Influencers
This chic yet relaxed casual pairing of a turtleneck sweater with leather shorts and a tote bag takes on different moods according to the way you style it. Black knee-high boots will class up this outfit.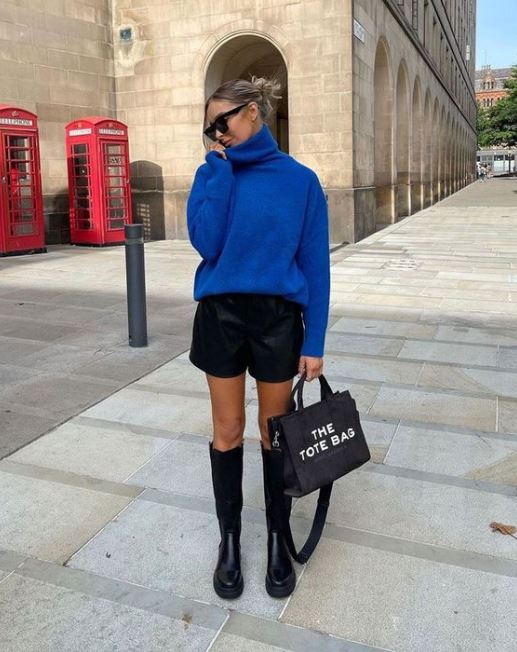 FREQUENTLY ASKED QUESTIONS
Q. What's a tote bag used for?
A tote bag is a large bag that is often used to carry items such as books, groceries, or clothing. Tote bags can be made from a variety of materials, including cloth, canvas, or leather. They are typically square or rectangular in shape and have a long strap that allows them to be carried over the shoulder. Tote bags are a popular choice for shoppers, as they can be used to carry a variety of items without having to use multiple bags.
Q. Are tote bags good for travel?
Sure, as long as you can secure all the stuff inside the tote. Always use a tote with a zipper. Carry things in the tote that you might need during a flight and items. The travel tote bag has many pockets for holding accessories and items for travel. It is made of leather fabric or polyester, which is strong and durable for long-lasting use. It has different sizes for you to choose colors and shapes. It is a good companion for short trips.
Q. How are tote bags good for the environment?
If you're referring to the reusable tote bags that people often use for groceries or other transport. They help the environment by cutting down on the use of plastic or disposable paper bags. Those bags not only fill up landfills, but they also are costly to create by an environmental standard.
Maria is a 21 years old, skilled, and amazing writer. She loves to write and spread positivity through her eloquent writing. She believes that writing is an art through which one can narrate a complex idea, thinking, and project in an easy and simplified way. She is passionate about fashion, style, and beauty. She is here to write about styling tips, trends, and ways how to dress for various circumstances. Hope you gonna love her posts.