Masculine Outfit Ideas For Women – Fashion is becoming more gender fluid and blurring the lines between our preconceived ideas of what people should or shouldn't wear. Instead of being put into a box and made to wear a certain style or type of clothing, we want you to be able to fully express your inner fashionista.
If you're looking for outfits to match your unique sense of style or if you want to come out of your old closet and you've been looking for inspiration that's a little different, this is the article for you!
How To Dress Masculine As A Girl?
Maybe you're ready to step out of your comfort zone or step into it so we've curated twenty looks for you to help you along your journey.
Ranging from hot biker jackets to loose-fit khaki pants to something more formal like a tux with suspenders or a mini bowtie, this article will definitely be covering all types of masc outfits so let's hop into it.
Tips For Mixing Masculine & Feminine Styles
Don't Restrict Yourself. It's very important that you let your creative energy flow and not limit yourself to a specific masculine style. If you want to mix it up with something more feminine to make a blend, I say go for it!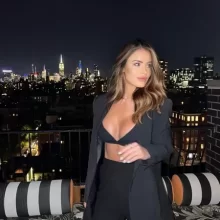 When In Doubt, Oversize. Sometimes you might not be able to find something that matches the look you're going for. If you're stuck then always go for something more oversized to add that masculine tone.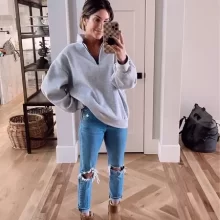 Don't Be Afraid Of The Men's Section. There's a lot of variety in the men's aisle these days as well so don't be afraid to go and complete your fit from there.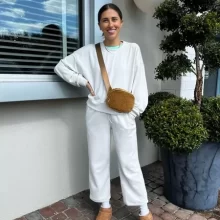 Don't Let People's Judgement Bother You. With something that's more masculine presenting, it is often easy for people to judge you and put you in a box but don't let them get to you, just keep on rocking!
22 – Black Silk Puffed Sleeved Blazer With Matching Silk Trousers And Silk Bowtie
We thought to start off the article with a bang featuring Rihana! Looking hot in her fit, Rihana is wearing a black silk fitted blazer which has long sleeves puffed at the shoulders. Paired with it are some matching silk trousers which have a white button tucked inside.
To accessorize the outfit, she had added some chunky black heels, diamond studs, some black leather gloves, and a silk black bowtie!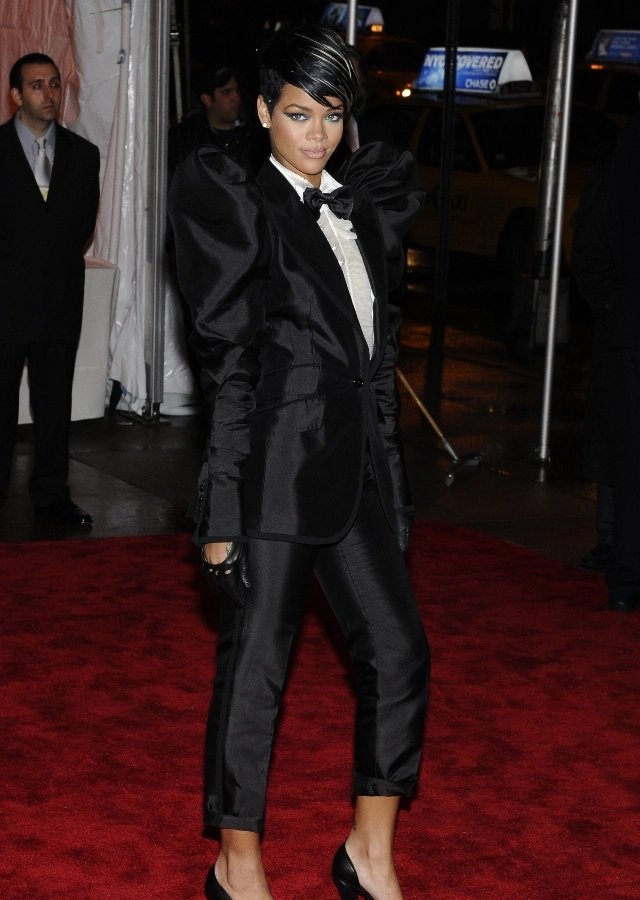 21 – White Zipped Hoodie With Blue Varsity Jacket And A White Beanie
Looking for ways to dress masculine with curves? Then this look is the one for you! This simple look features a blue varsity jacket with an orange embroidered letter on top. Matching with it is a white zipper hoodie, some long black trousers, and a white chained purse.
Add in a white beanie and some classic old white sneakers to complete the look.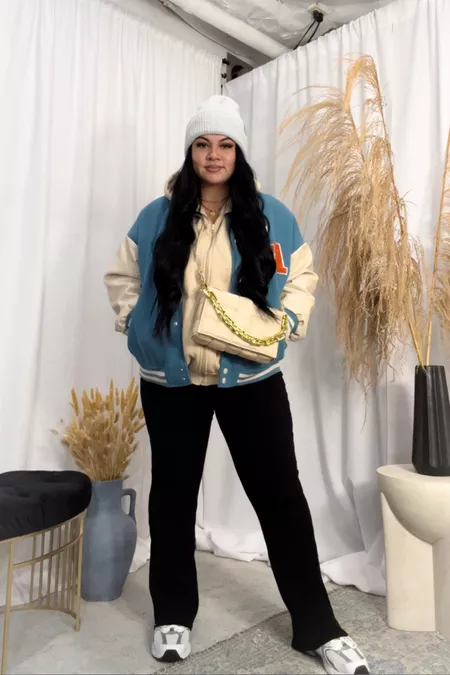 20 – Olive Green Collared Shirt With Black Denim Bermuda Shorts
If you want to go for something that screams Netflix rich jocks meet Indiana Jones, this is the perfect outfit for you. Featuring an olive green collared button down with loose sleeves tucked into black denim loose bermuda shorts.
Additionally, tie the look together with a black buckle belt, a chunky full-body chain, and some square-toed neon yellow sandals.
19 – High-Waisted Black Pants With Cream Mock Neck And Suspenders
The article could not be complete without mentioning suspenders! This sassy look features high-waisted black loose-fit pants paired with a cream mock neck tucked inside.
Equally important are the black suspenders that hold the look together along with the black leather biker jacket. Match this outfit with some chunky loafers and you're ready to take on the world.
18 – Orange and Black Co-ord Set With Black Bralette And Heels
Masculine women don't need to be all boring and monotone, they can also be bright, funky, and exciting just like the look below. This outfit highlights an orange and black co-ord set with a jungle theme.
The Bermuda shorts are belted and high-waisted along with a button-down. Added to this, is a pair of black pencil-heeled boots, a black bralette, and a watch to complete the look.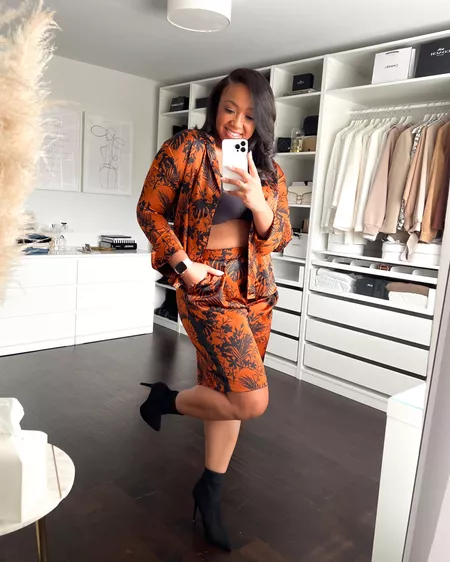 17 – Blue Spaghetti Strap Denim Jumpsuit With White Jogger Shoes
What screams masculine more than some good old blue denim? This simple but hot look showcases a blue denim spaghetti strap jumpsuit as the star piece.
The jumpsuit has wide-legged bottoms and is paired with some classic white joggers. Additionally, you can throw on a cute pendant or maybe a neck bandana to add more flare to the look.
16 – Black Trousers With Mock Neck Top And A Harness
Who runs the world? Girls! This look is the literal embodiment of this song and we are all for it. The outfit features black belted pants with side chains, paired with a black mock neck sexy bodycon top with a sheer black laced shapewear and a black harness.
To complete this powerhouse of a look, add a black handbag, a black beret hat, and some gold jewelry like a chain, rings, and bracelets. You won't regret this look!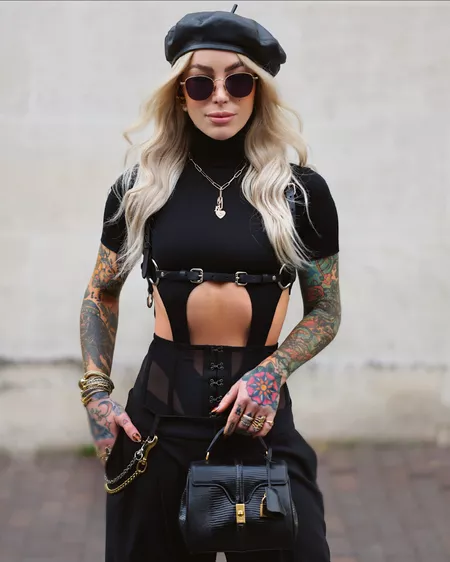 15 – Baby Pink Co-ord Hoodie And Sweat Pants Set With White Sneakers
If you're looking for something casual that fits right in your comfort zone, especially in this chilly weather, then we have a cute outfit for you! This soft masc outfit features a baby pink co-ord set showing a baby pink hoodie and some loose-fit baby pink sweatpants.
This lazy day masculine-Esque outfit can be matched with some classic old white sneakers and voila, you have your look complete.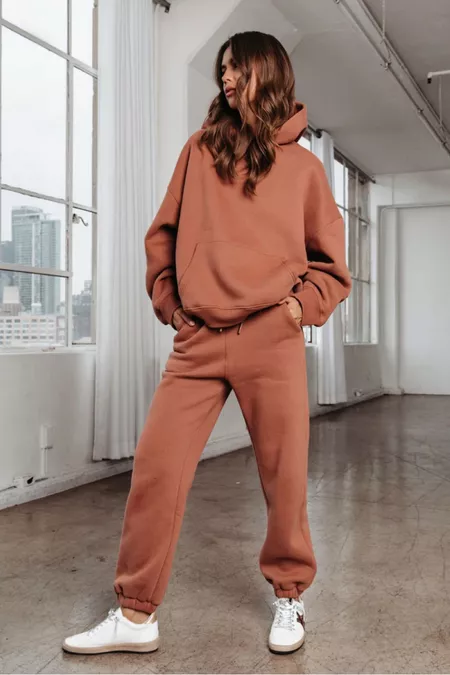 14 – Burgundy High-Waisted Loose-Fit Pants With Black Belt And Purple Cardigan
Need a pop of color to add to your outfit? Don't fret because we have got you covered. This look highlights beige loose-fit high-waisted pants with a chunky back belt across them.
On top of that, throw on a soft purple cardigan with a collar and deep u-neck that has cuffed sleeves. Pair it with some black thick boots and a gold pendant to complete the entire look.
13 – Light Blue Suit Set With High Waisted Pants With a Long Blazer
We couldn't have missed out on the opportunity to showcase a matching suit article now could we?
This look showcases a stunning woman wearing a light blue set of long drop-shoulder buttoned blazer with high-waisted blue straight-fit pants. Additionally, the outfit is paired with some pearl white sneakers, a white bralette top, and some golden mini hoops to with it.
12 – Black Faux Leather Pants With Chunky Black Boots And Black Top
This outfit is giving us major boss girl vibes (remember Kim possible?) and we are all for it! The outfit features some black leather pants rucked inside chunky combat boots at the bottom.
Paired with the look is a fitted black full-sleeved top with a round neck. You can further add some extra flare to the look by wearing a matching watch or throwing on a jacket as well.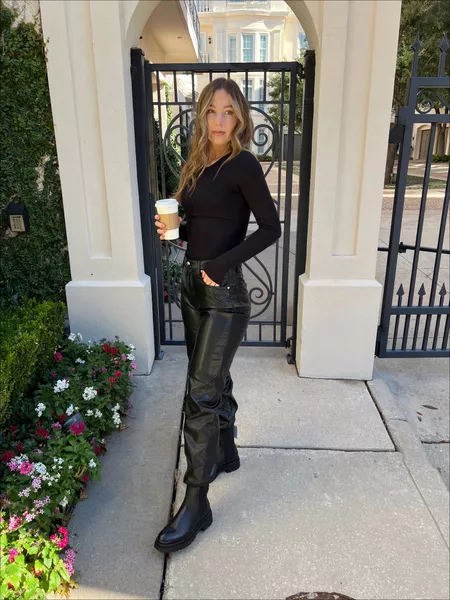 11 – Blue Distressed Denim Jeans With White Collared Cardigan Top
This look might be simple, but it certainly is super trendy and chic. It features a pair of blue distressed denim jeans matched with a white collared cardigan with baggy sleeves that are cuffed at the bottom.
Paired with this outfit is a black sherpa fur bag with a thick strap and some chunky black square sunglasses. You can put your hair in a messy bun on top, wear bold lipstick and conquer the world.
10 – Baby Blue Check Shacket With High-Waisted Grey Pants
This look is straight out of the closet featuring an oversized long blue and white check shacket outfit (shirt plus jacket) with long sleeves.
Added to this outfit is a pair of grey suede-like high-waisted pants with huge side pockets with a black v-neck top tucked inside. Match this outfit with some cute studs and your look is complete.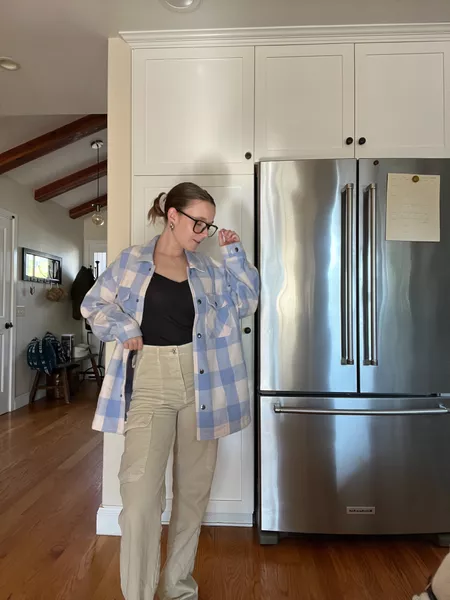 9 – Black Leather Biker Jacket With Black Belted Trousers And Shades
This fit embodies the female version of James Bond and if you're anything like me, you'll definitely want to look badass. It features a fully black outfit with a black leather biker jacket, black loose-fit trousers with a thick black belt, and a black full-sleeved top tucked inside with some thick black combat boots.
Don't forget to match the look with some sexy black gradient shades!
8 – Brown Sherpa Coat With Black Leather Skirt And Collared Top
Looking for an outfit with the perfect blend of masculine and feminine energy? Then we might have something in store for you. This outfit highlights a furry brown sherpa long coat with a white collared crop top that has a grey and white check on top.
On top of that, wear a black faux leather side slit skirt with a gold chain belt, some chunky black boots, and a textured purse and you have your complete outfit ready.
7 – Basic White T-shirt With Blue Denim Ripped Jeans And Black Beanie
This hipster skater-boy era look is perfect if you're looking for casual masculine outfit ideas. It showcases light blue denim ripped jeans with a simple white t-shirt, paired with a leather biker jacket to keep away the cold, and some black sneakers with white laces.
Don't forget to throw on your black beanie to complete the entire skater vibe.
6 – Sporty Black And Red Jacket With Bandana Knotted Top
Add this to your badass list of outfits for 2023, because this look features a black and red sporty car racer varsity jacket with cuffed sleeves. Add to the outfit by throwing on a pair of black skinny-fit denim jeans and wearing a sexy bandana top knotted at the front.
Put on some black-laced shoes, add some brown shades and complete the entire outfit by adding gold choker chains.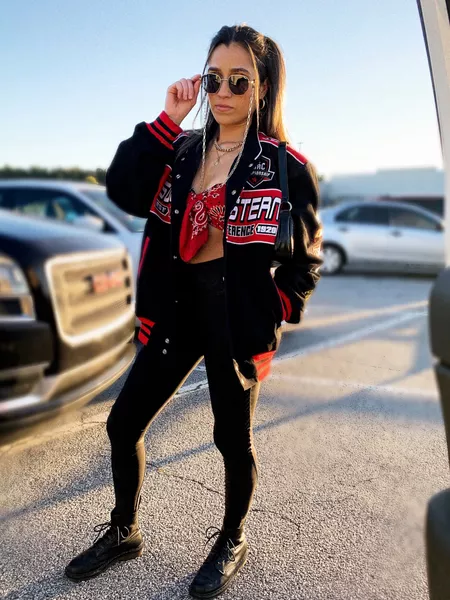 5 – Grey Long Coat With Grey Sleeveless Sweater And White Button Down
If you're into the nerdy boy aesthetic, this look is made just for you. This outfit highlights a long grey coat with some white denim jeans below. On top of this, the look showcases a grey sleeveless knitted sweater with a deep v-neck and adds a white collared button-down underneath.
To further enhance the outfit, match your favorite beige shoulder bag and add in some gold chained pendant necklaces.
4 – Navy Blue Belted Pleated Pants With Waist Coat And Brown Boots
Are you looking for more typically androgynous fashion for females? Because we have curated the perfect look for you. This fit features long wide-legged navy blue pleated and belted pants paired with a navy blue waistcoat with a buttoned denim shirt beneath.
Add in a navy blue blazer if it gets too chilly. Matched with this outfit are some brown long boots. If you're feeling a bit adventurous then unbutton that denim shirt and look like a king.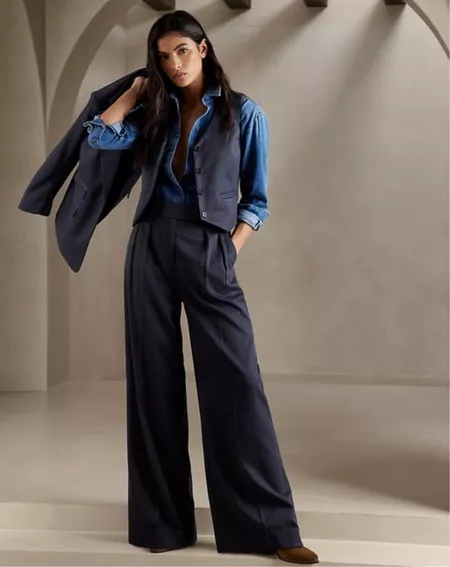 3 – Grey Pleated Pants With Black Buttoned Blazer And Black Center Slit Top
This outfit is a mix of chic and trendy outfits and you need to take it straight into 2023. It highlights grey pleated pants that are high-waisted and have a straight fit. Add in a bodycon black top underneath that has a ruffled bralette and throw on a black blazer on top.
To accessorize, add chunky black loafers, and a black shoulder bag, and throw on a grey scarf to complete the fit.
2 – Spaghetti Strap Olive Green Jumpsuit With Black Long-Sleeved Button Down
This look showcases an olive green lose and baggy deep u-neck jumpsuit with spaghetti straps, big side pockets, wide armholes, and legs that are rolled at the bottom.
It is paired with a black button-down with full sleeves, some combat boots, and gold jewelry.
1 – Grey Full-Body Jumpsuit With Side Pockets And White Classic Sneakers
Last but not the least, we have our final jumpsuit look featuring a grey full-body jumpsuit that had wide side pockets, a zip going across the jumpsuit, and pleats across the waistline.
It also has a collar cuffed and baggy sleeves. Pair this look with some classic pearl white laced sneakers, do your hair, and put on some bold-colored lip tint to fully show off your brand-new look.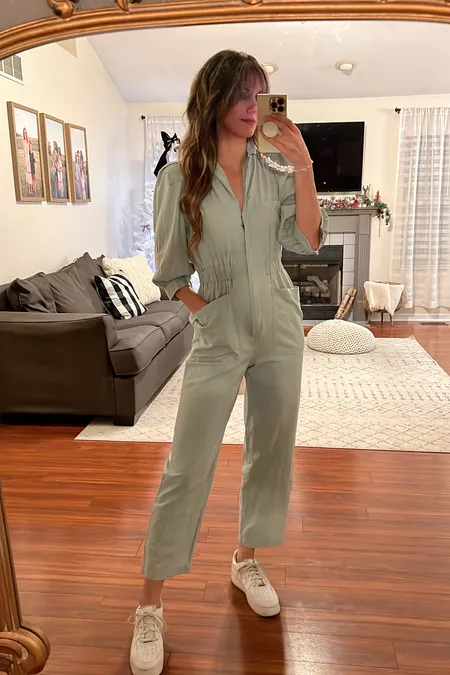 Frequently Asked Questions
Q. What clothes to wear to look more masculine?
Ans. To look more masculine, you can wear some of these staple items like vests, blazers, puffers, and overcoats which will automatically give off that energy you want to go for.
Q. What colors are more masculine?
Ans. Some colors are just perceived to be more masculine than others. These colors vary from shades of blue, red, and orange to colors like black and white as well.
Q. What is the most masculine outfit?
Ans. A suit or a tux that has the right fitting. This is generally perceived as more masculine than feminine most of the time.