Cute Bermuda Shorts Outfits for Girls – The hot season still seems to be upon us, causing us to head towards the beach. Aside from casual Saturdays spent by the beach, there are many pool parties, picnics, weekend brunches and shopping trips to plan for. The perfect chic outfit for girls to wear outdoors are Bermuda shorts.
These look good on women of all shapes and sizes and ages. Many people think Bermuda shorts are boring, however, they can be styled for a glamorous yet relaxed look. Check out the following suggestions for a super fun outfit to wear at events.
How To Look Chic by Wearing Bermuda Shorts
Let's start with some tips on wearing Bermuda shorts:
Remember that they look best when paired with sandals.
If you're looking for a more sophisticated or professional look, opt for the tailored Bermudas, silk blouse, and blazer since they look dressy.
For a funky beach look, pair your colorful Bermudas with a white shirt.
If you want a slimming effect, go for Bermudasrmudas.
If you want to add some extra length to your legs, wear them with heels or wedges.
To avoid a baggy look, wear them with a well-fitted shirt or bodysuit.
↓ 1. Lazy Weekend Look – Outfits with Bermuda Jean Shorts
For a relaxed yet fun look, grab your loose t-shirt, an oversized hat, and denim Bermuda shorts. This attire is perfect for walking and looks great with leather sandals or Crocs.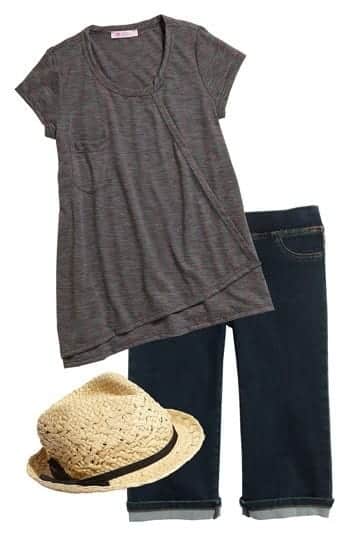 ↓ 2. Pop of Colour Look
Looking to jazz up a black and white look? Simply add on bright colored Bermuda shorts, such as pastel pink, or any neon shorts. This works really well on young girls and especially school going teens.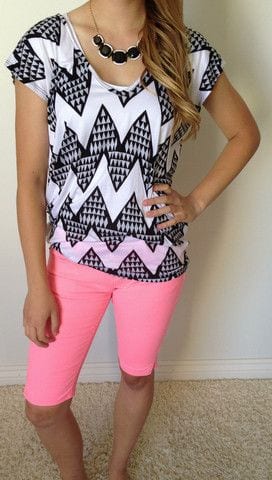 ↓ 3 . School Teacher Look – Best Shoes with Bermuda Shorts
If you need the perfect semi-formal outfit for your job, wear straight-cut, cotton bermuda shorts. Paired with tan leather heels and a cropped blazer, you have the perfect outfit for a professional yet fashionable look. If you like such pastel colours, you will surely love these 18 cute pastel outfit combinations.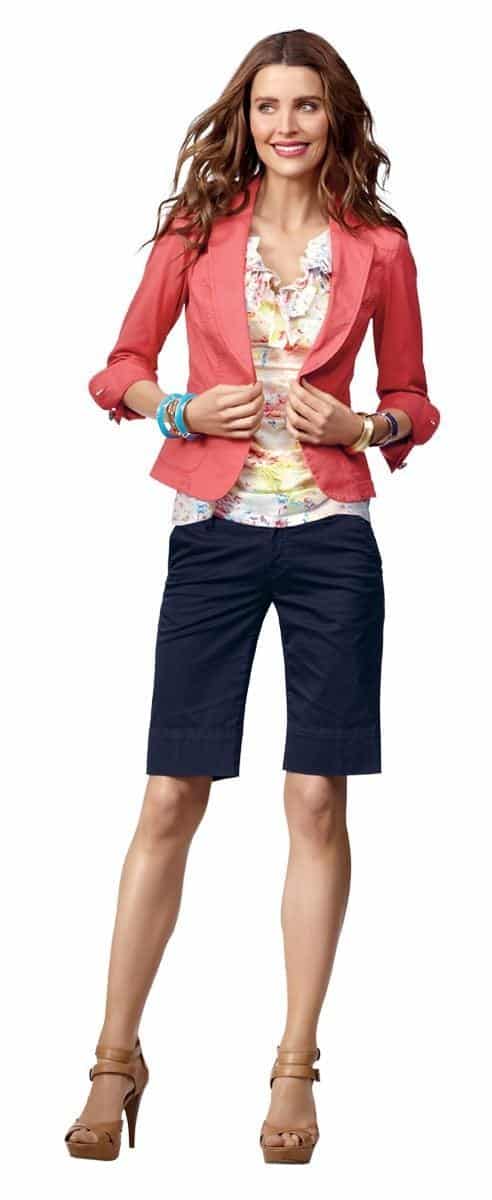 ↓ 4. Fun and Fabulous Look
For a sorority girl outfit, keep it fancy with a neon pink top and black polyester blend short pants. Mix it up with bling accessories and a Guess handbag. If you're also a lover of pink then don't miss these amazing Pink fashion accessories for girls.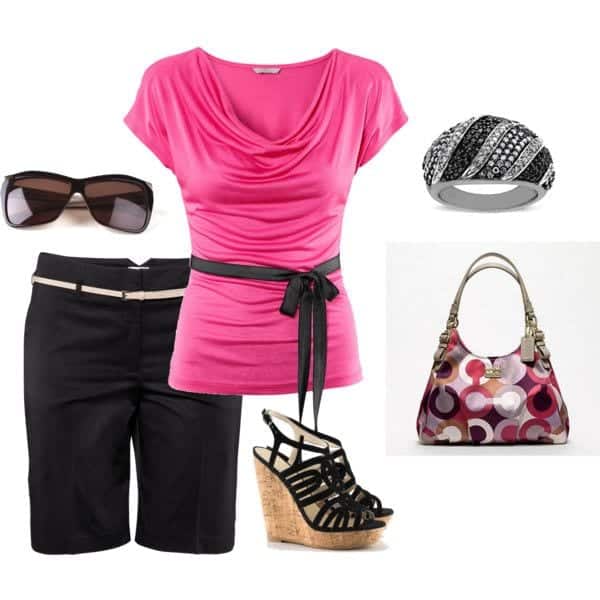 via
↓ 5 . Glam Look for Curvy Girls – Denim Bermuda
If you're a plus size girl, then make your curves look fun with denim bermuda pants. Pair it with a off-shoulder white t-shirt, a glitzy gold belt and shiny metallic heels. Also take a look at these 16 cute outfits to wear with gladiator heels or sandals this season.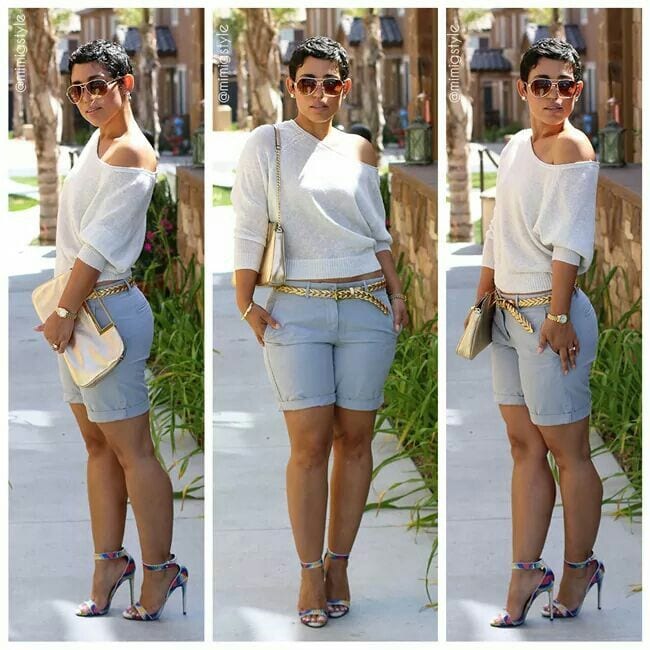 via
↓ 6 . Formal Nautical Look
Heading for a trip towards the sea or river? Wear a stripy outfit and pair it with a brightly coloured blazer. Keep the bottoms plain and white to draw attention towards your blazer. Pumps shoes would look awesome with this look.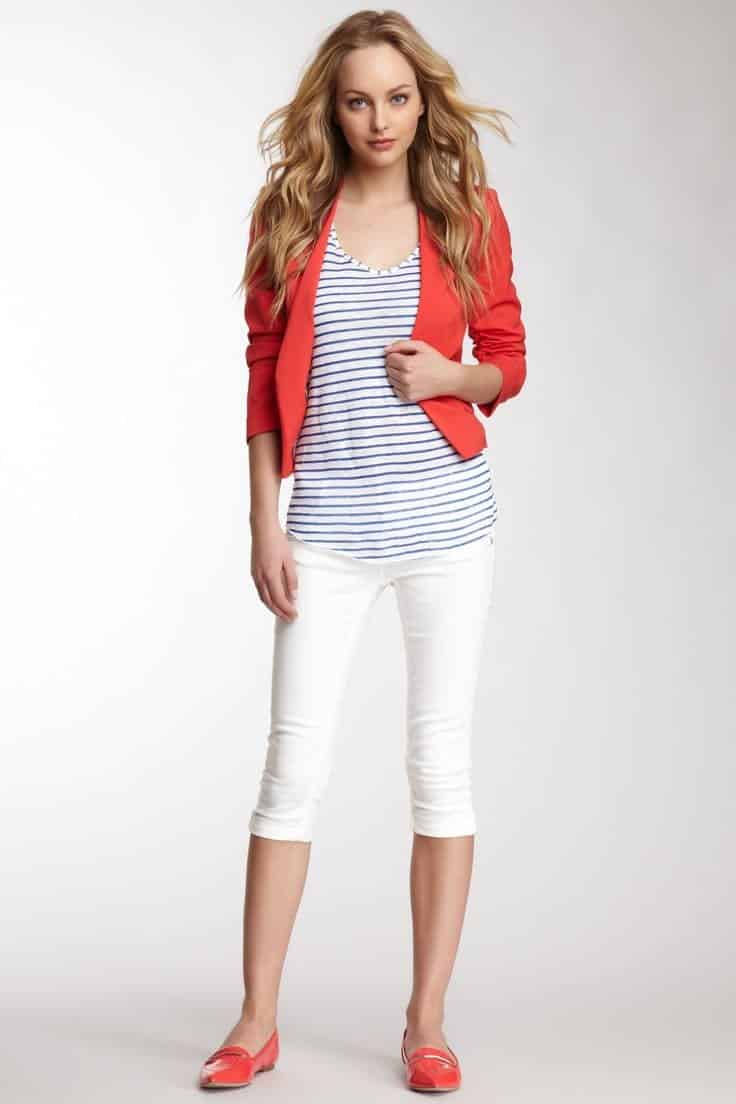 via
↓ 7 . Nerdy Look for Little Girls
For a whimsical outfit for little girls, grab your polka dot sweater and mix it with a striped shirt and a bow tie. Pair this with khaki bermuda trousers and dark leather pumps.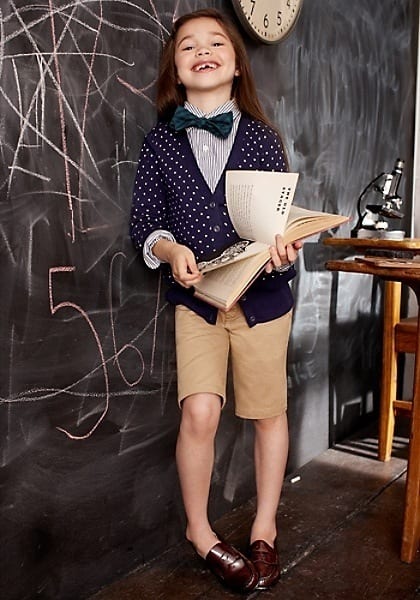 ↓ 8 . Fashionable Girlfriend Look
Heading out on a date? Go cute with folded up black bermudas and a matching zig-zag print chiffon blouse. Mix it with matching black shoes.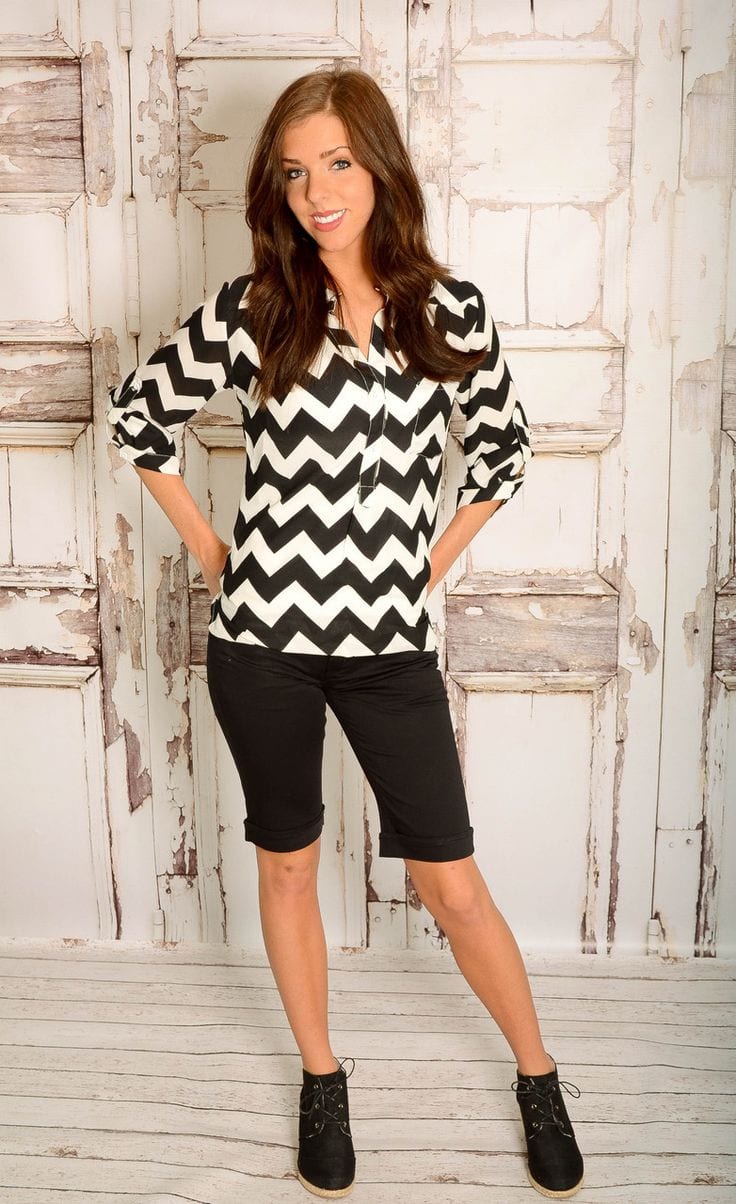 ↓ 9 . Beachside Holiday Look
A look that is great for fun by the beach is a brightly coloured red bermuda short. Mix it with a denim jacket and a tucked-in striped shirt. An oversized tote and sneakers can be worn for a practical look.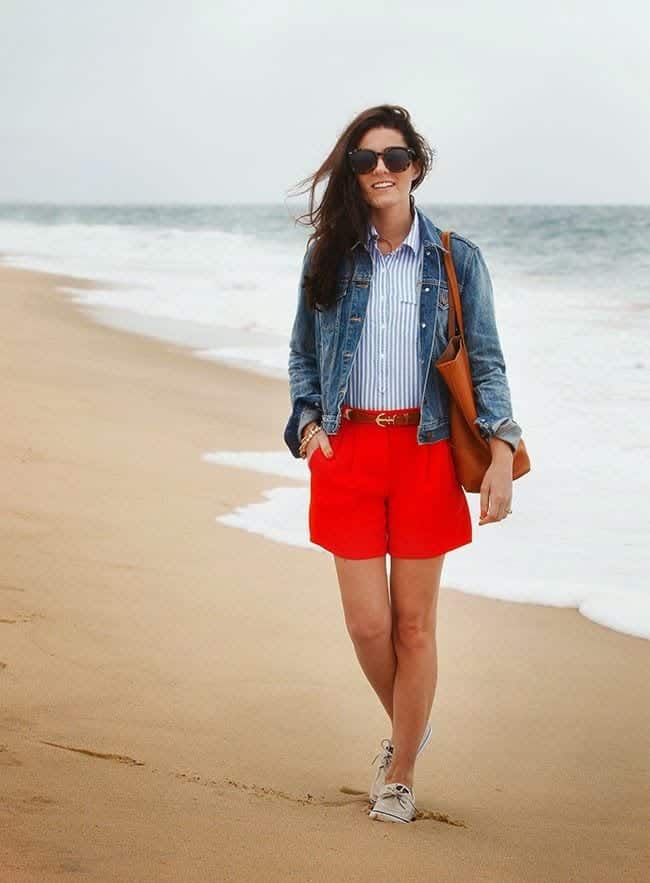 ↓ 10 . Retro Glam College Look
Going to class? Pop on pale blue bermuda pants with an oversized black blazer. For a fun, retro look, tuck in the front of your shirt and wear wedge heels.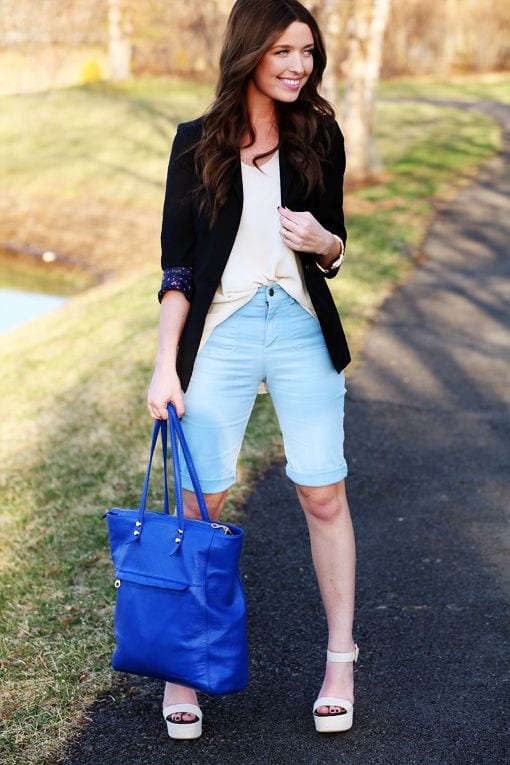 ↓ 11 . Sharon Stone Grunge Look
For a punk rock look, wear a black t-shirt and pair it with plain black bermudas. The t-shirt can have grunge art or a metal rock band printed on it for a funky look.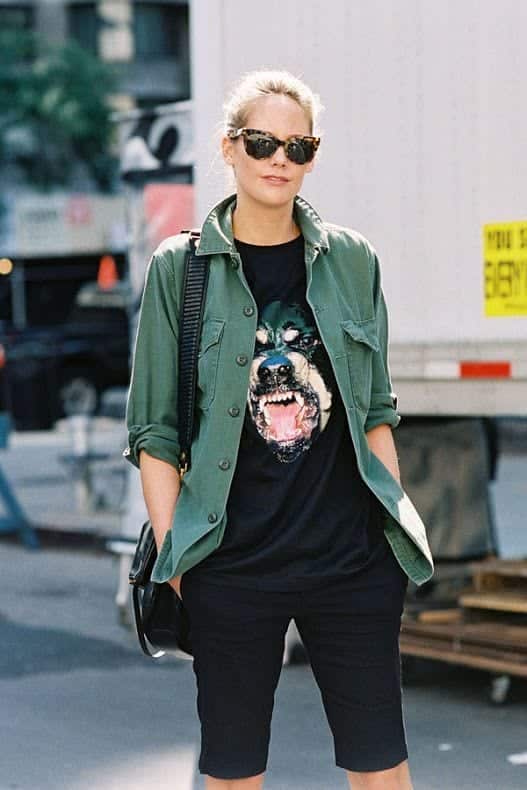 ↓ 12 . Bow Tie Look
If you're the kind of girl who just can't go with simple outfits and always want to make a statement then you need to focus on the details. You can easily find such cool bow-tie Bermudas or other details that will make you stand out. If you can't find one, why not make one? You can easily turn your ordinary shirts into unique ones with some DIY tutorials.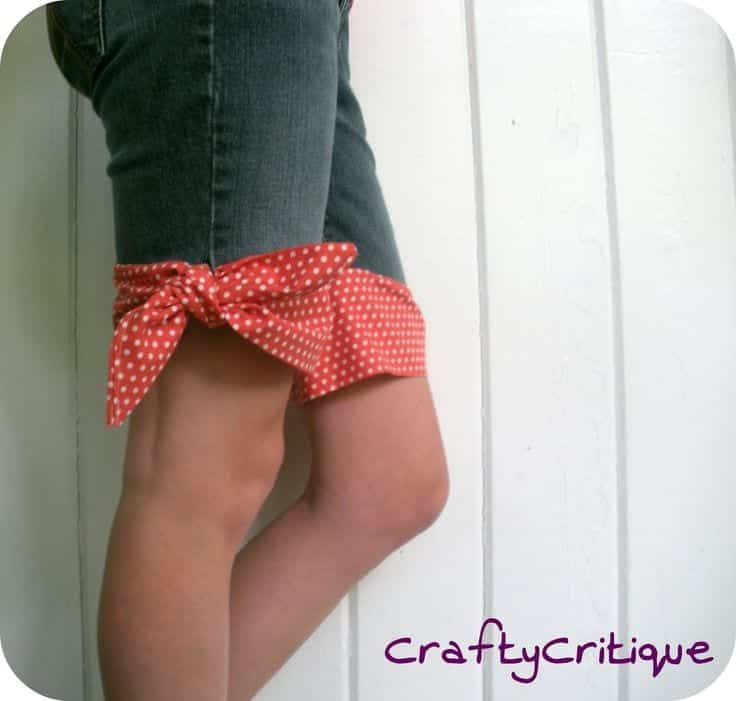 ↓ 13 . Weekend Brunch
A hot casual look that's ideal for the weekend brunch when you want to look good while making it seem effortless.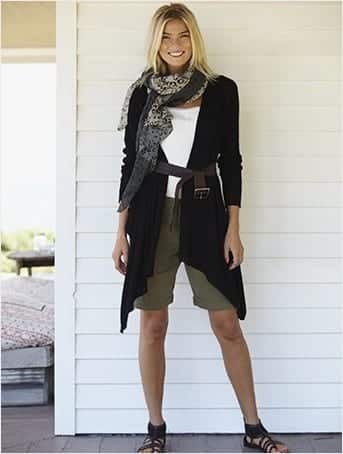 ↓ 14 . Fun in Pink
A simple but funky look, you would also like these cool Ideas on How to Wear Hot Pink Skirts.
↓ 15 . Floral Look
Floral Bermuda shorts look great in Spring and Summer season, especially when worn in pastel shades. They're so cute and girly and look great when paired with either plain solid colored tops or striped ones.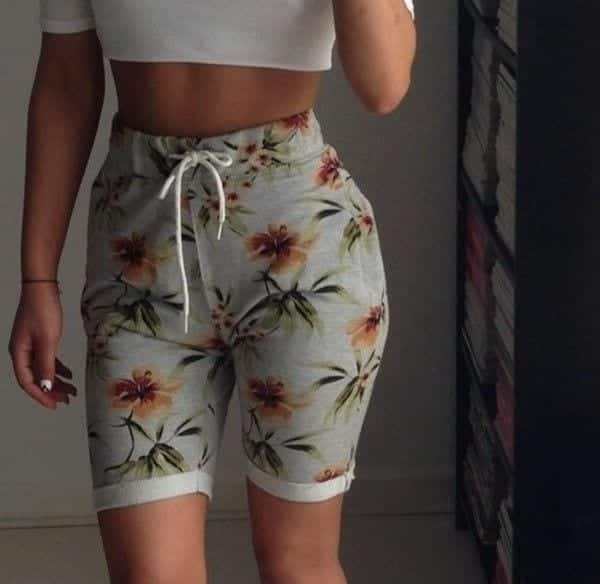 This is a look that even celebs can't resist, as you can see how dope it looks on Rihanna! We're absolutely loving the fresh Carribean and tropical vibes she is giving off.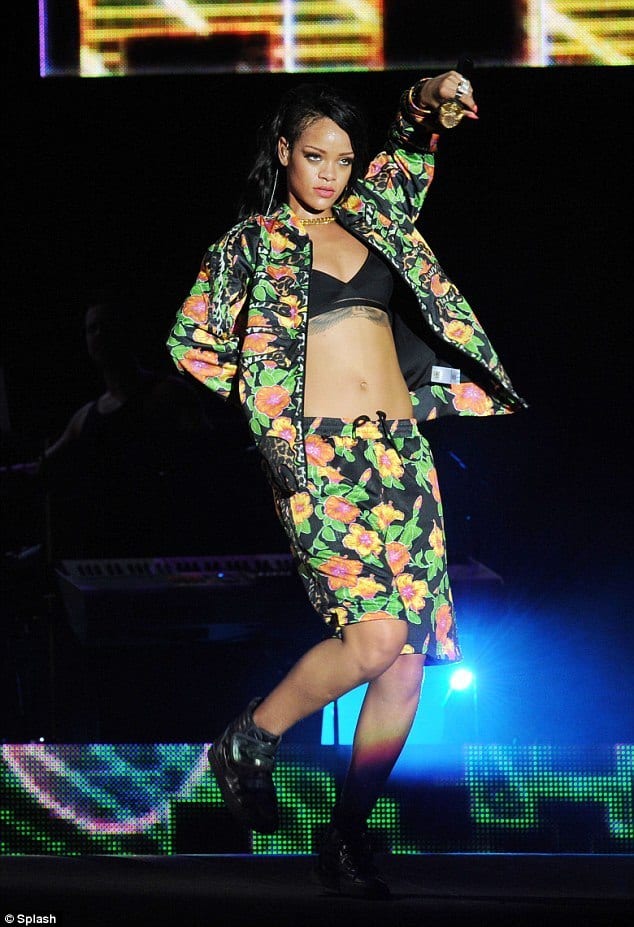 ↓ 16 . Plus Sized Bermuda Shorts
If you're a curvy girl who loves to embrace her curves then Bermuda shorts are what you need. Some of the best options for you would be pleated shorts or ones with embellishments at their base. For the most flattering look, go for wide legged and knee-length Bermudas and pair them with a nice fitted top.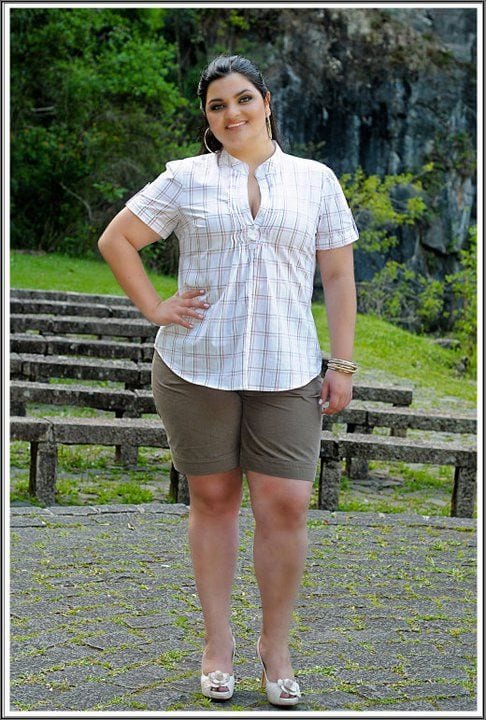 ↓ 17 . Schoolgirl Asian Look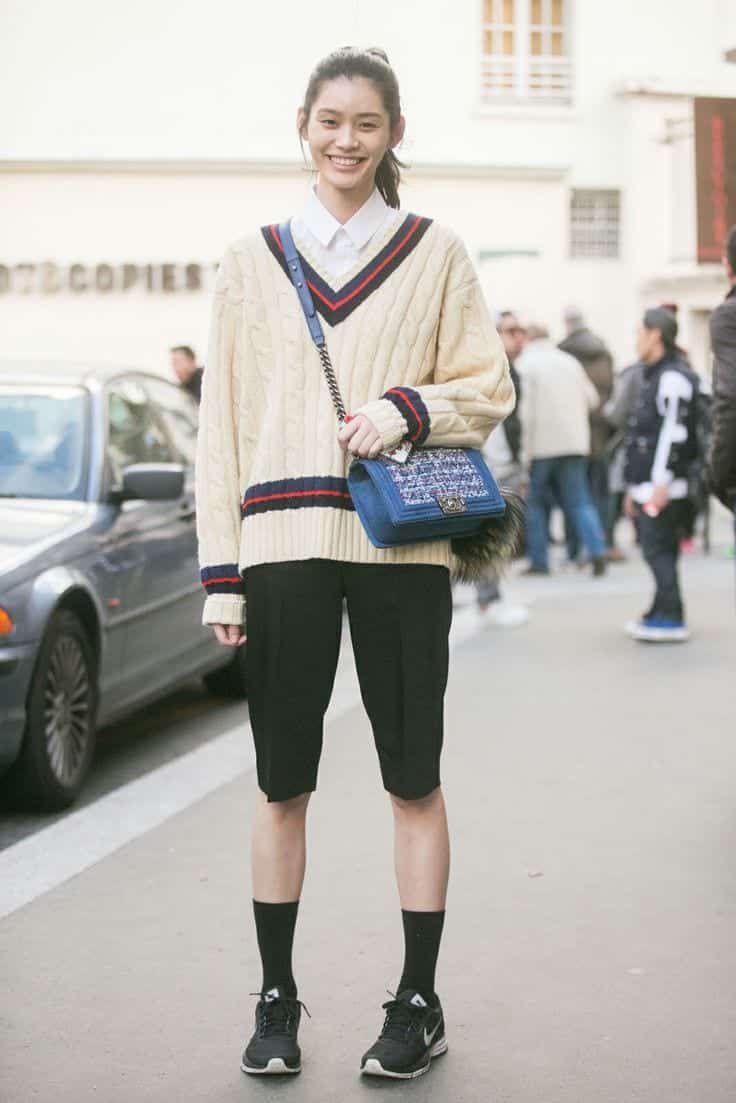 ↓ 18 . Plain Jane Look
Looking for a cool and comfy outfit to wear at home? Wear your Bermuda shorts with a tank top and your favorite shoes. Also, have a look at Girls Summer Home Wear.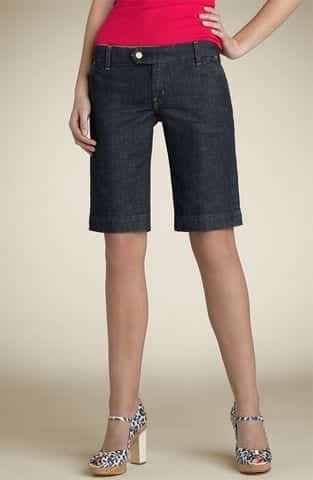 ↓ 19 . Ripped Denim Bermuda Shorts
For a rough and rugged look, wear your ripped Bermudas with a white off-shoulder top. It's also an ideal street style look.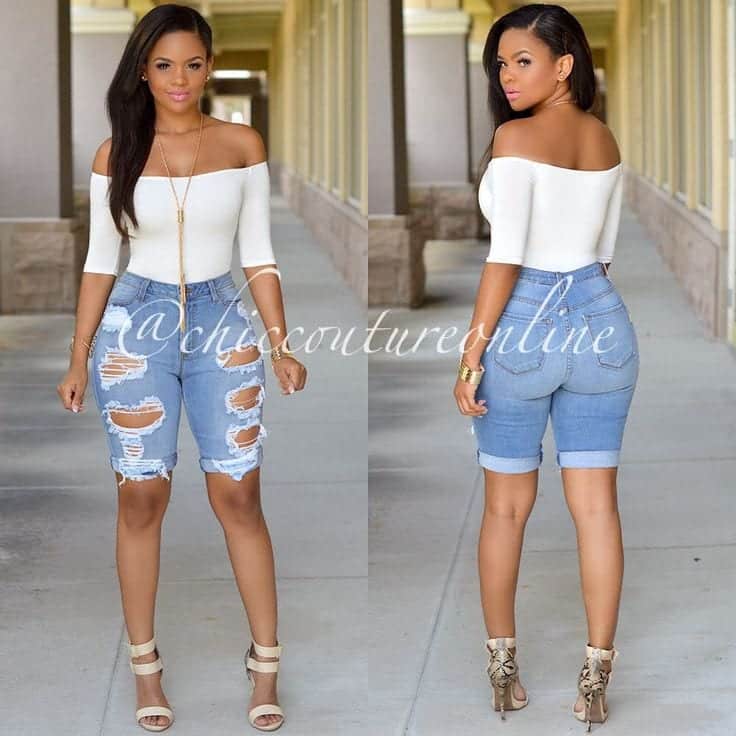 ↓ 20 . Fun Mom
Bermudas are perfect for busy mummies since they let them stay comfortable and functional as they carry on with their mom duties or work responsibilities.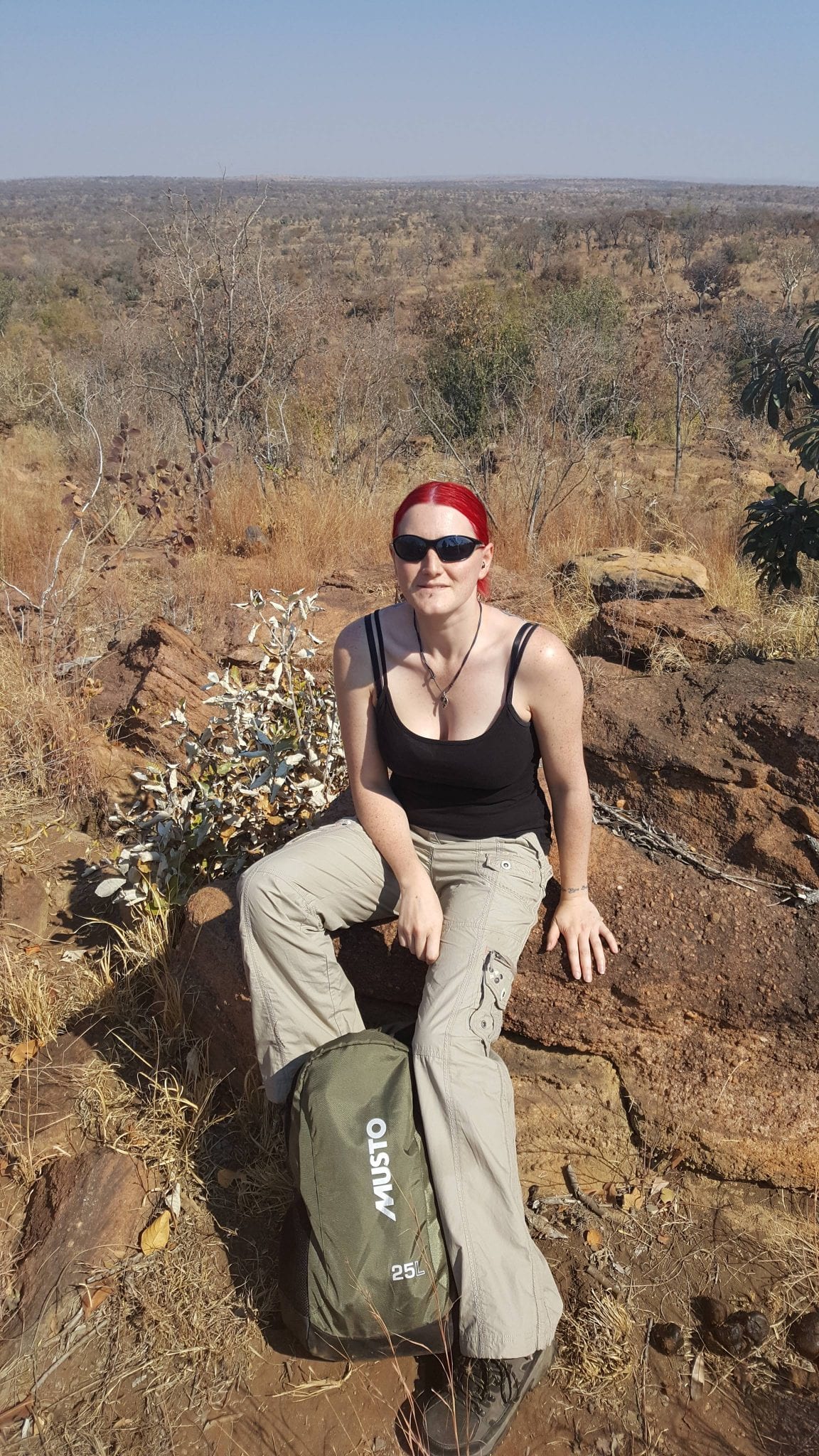 Caz, aka Vixen, has been freelance creative writing for several years. She has a lot of experience in different fields including high street fashion, tattooing art, and even the gothic and historical costumes. Caz has a Diploma in Fashion and Textiles and also a Bachelors Degree in Historical Costume and Corsetry. Her passion lies with gothic design, corsetry and any other styles considered to be taboo or unusual. Style-wise Caz has a love for Vivienne Westwood and her take on the punk era. Although Caz loves the weird and wonderful, she has a deep love for all fashion and allows this to show through her work.