Outfits with Gladiator heels- They are all the rage within the fashion world these days. Be it Milan, Paris, London or Dubai, girls of all ages love to wear gladiator heels, and sandals in different way for different occasions.
However, many get confused about what to wear with gladiator sandals. How to wear them for different occasions? Well, there are so many outfits to choose from, that it gets really confusing. Here's a list of the 16 ideas ideal ways to wear them. These clothes can be worn with gladiator heels for all sorts of occasions; parties, brunches, holidays, lunches, functions etc. There is an outfit here that is sure to be liked by all of you fashionistas.
How to wear gladiator Heels
1. Celebrities Style – Kourtney Kardashian's style is a perfect inspiration to wear gladiator heels. Pair your shoes with ripped jeans, a crisp white shirt and aviators.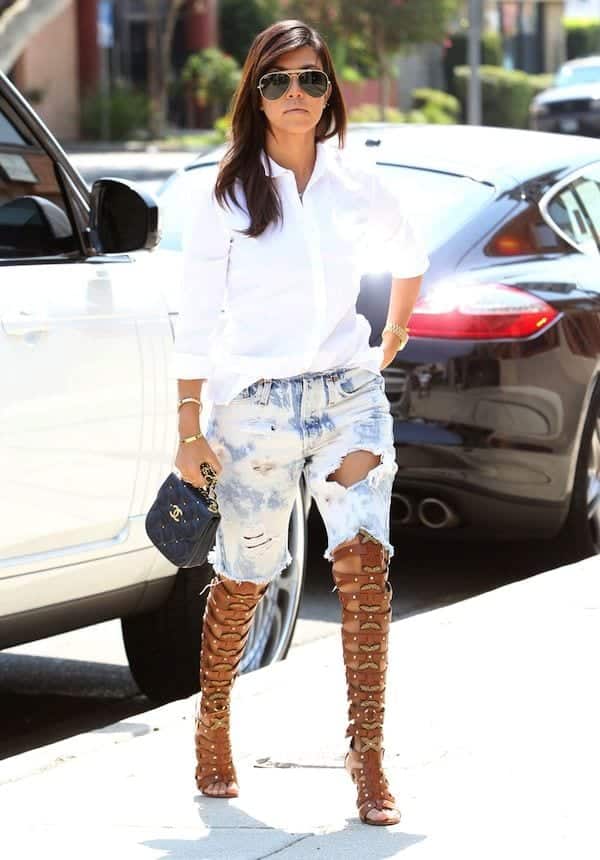 2. Casual Summer Style – Long Gladiator shoes go along perfect with a cute mini dress, and long satchel handbag.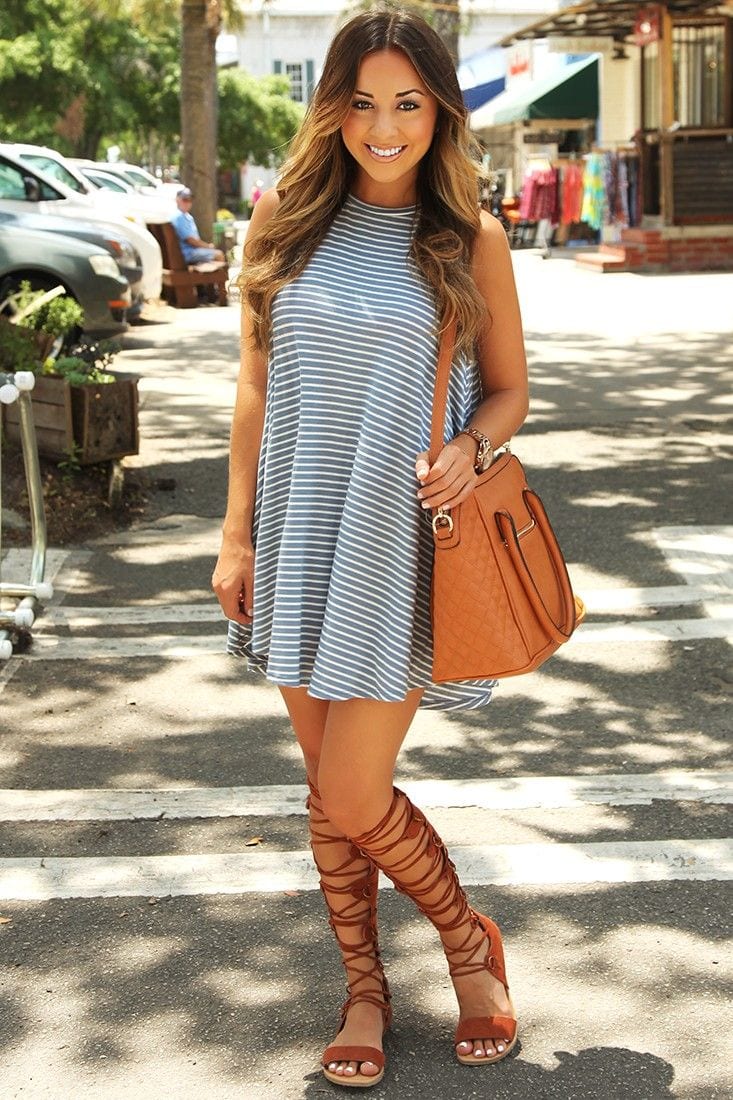 Also, see 15 Chic ways to Dress up for Sunday Brunch
3. Street style – Long gladiator heels look perfect with a stylish black dress and gold accessories.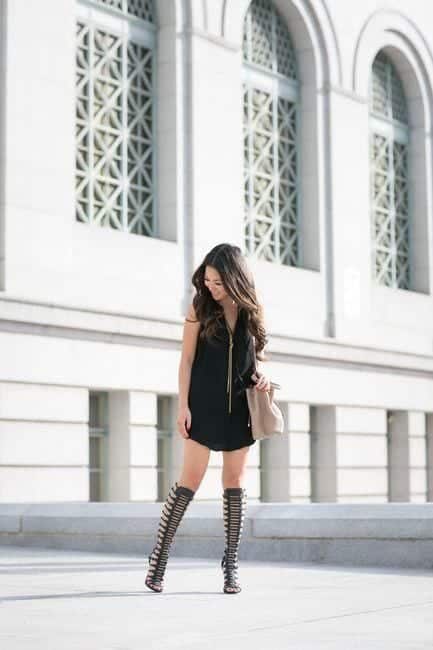 4. Swag Style – Knee-length gladiator heels look super stylish with mini shorts and loose top. Try it today with your gladiators!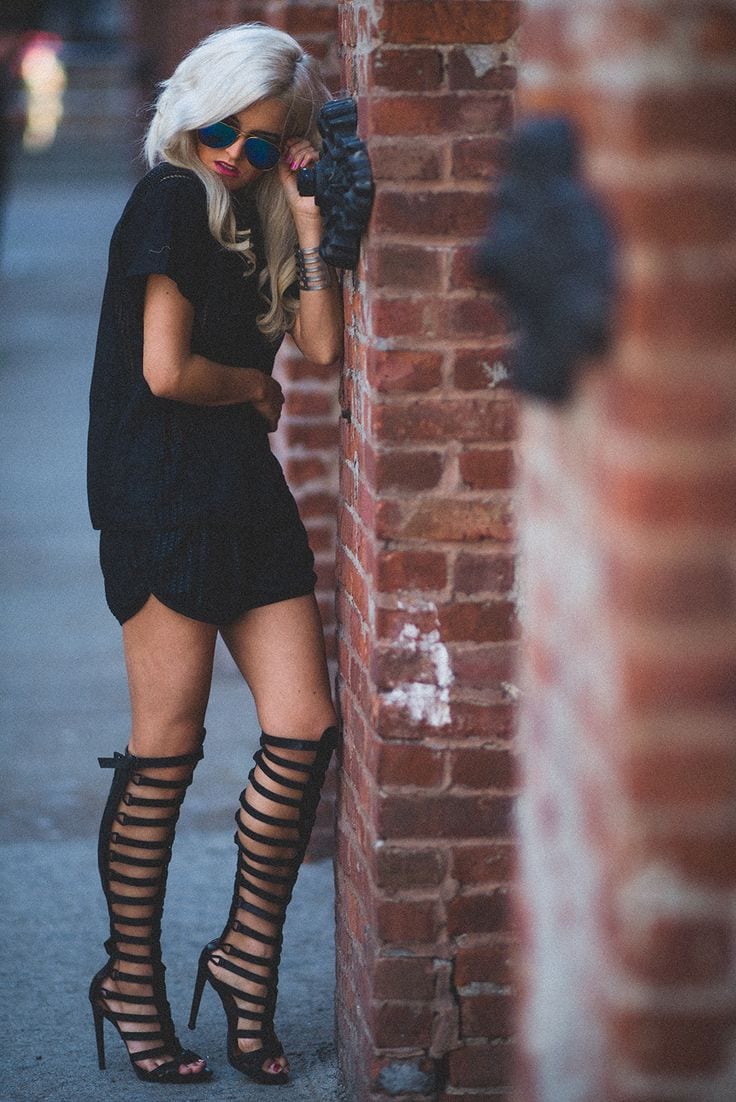 5. Style them with Denim Short – Kendell Jenner is the most stylish fashionista, so copy her style and pair your gladiator High heels with a cute long coat.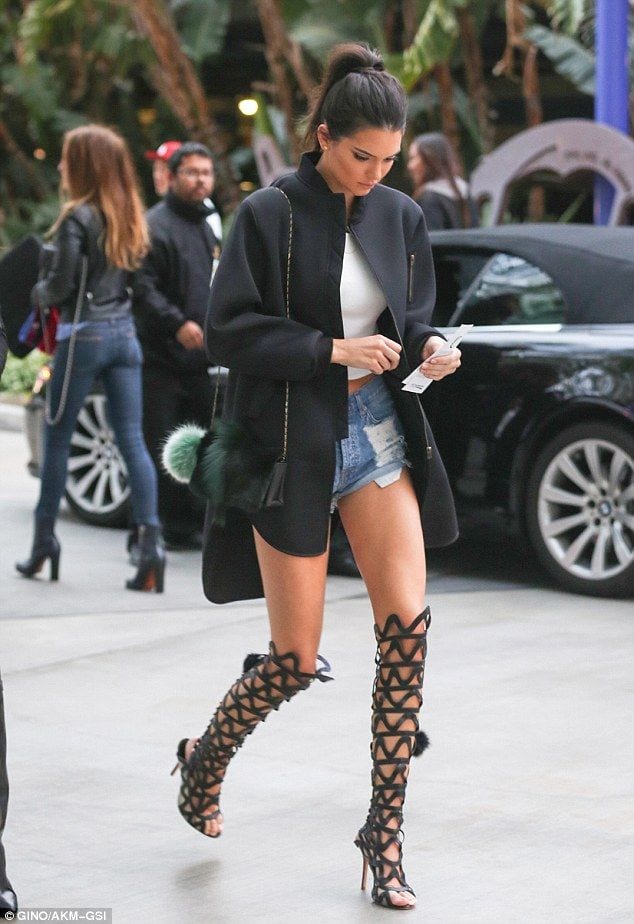 6. Dark Complexion Women Style – Brown gladiator heels look fantastic in a white short dress.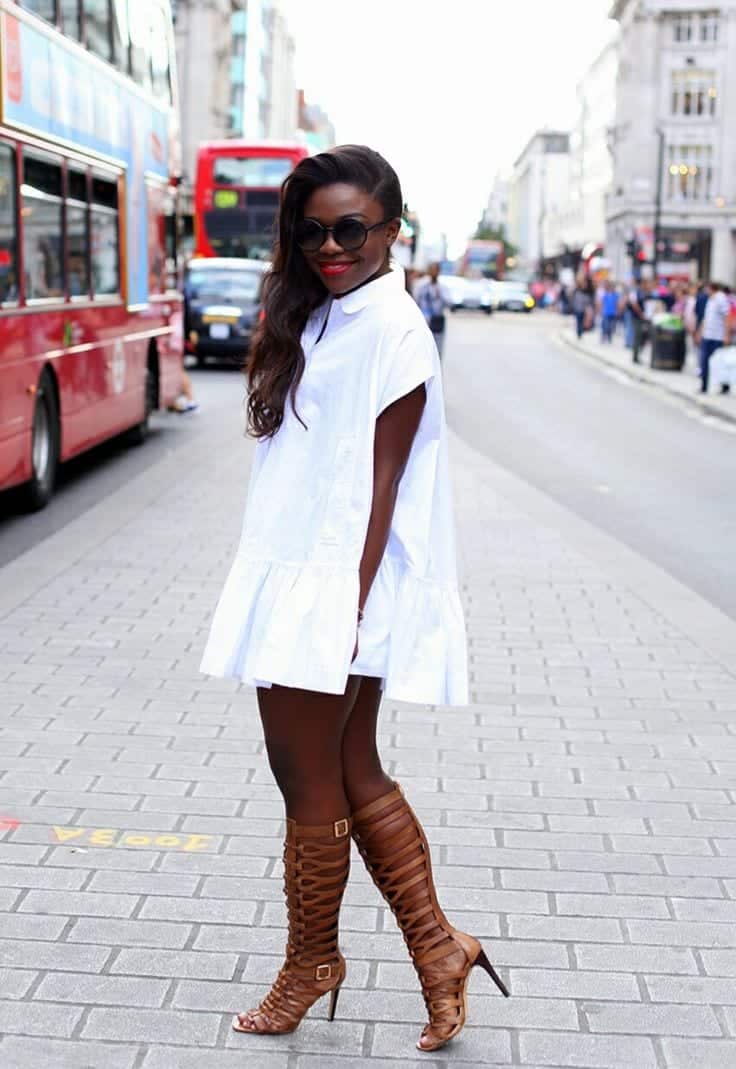 8. Casual Wear – A black maxi looks great with camel-tones gladiator heels, along with gold bangles.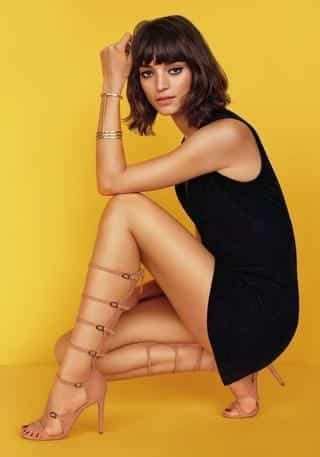 9. Jessica Beil's outfit goes great with gladiator ankle length shoes. She chose a white shirt, ripped jeans and a designer handbag.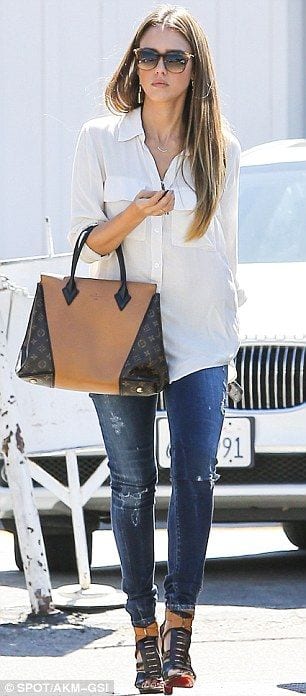 10. With Boy Friend Jeans  – Cheetah print looks hot with gladiator heels of all colours, so seek inspiration from this! Must see also 30 Stylish Shoes to wear with Boyfriend Jeans.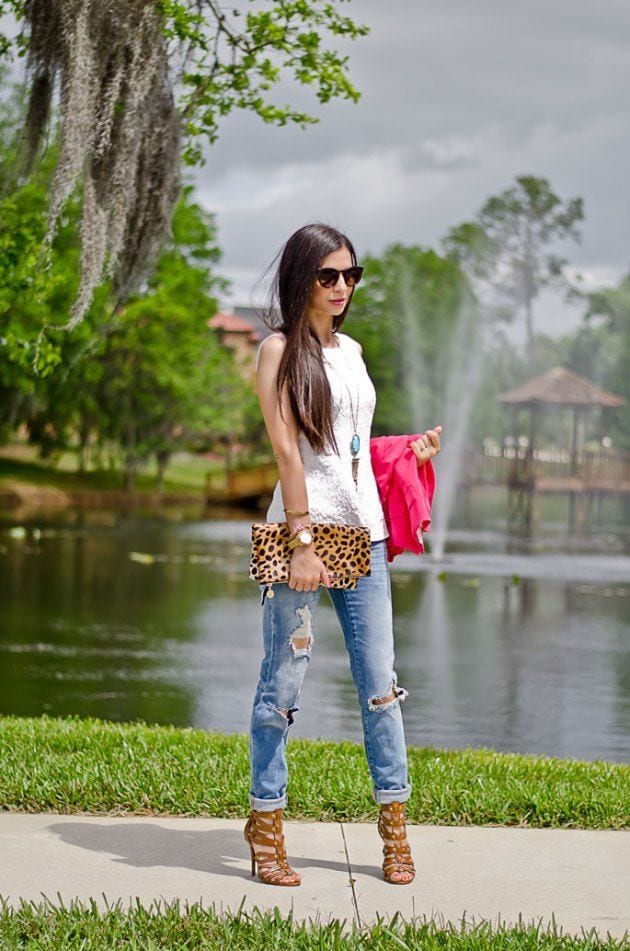 11. Boho chic style is in vogue these days, so take tips and go boho with your gladiator heels. Don't forget to wear lots of jewellery with your gladiator heels!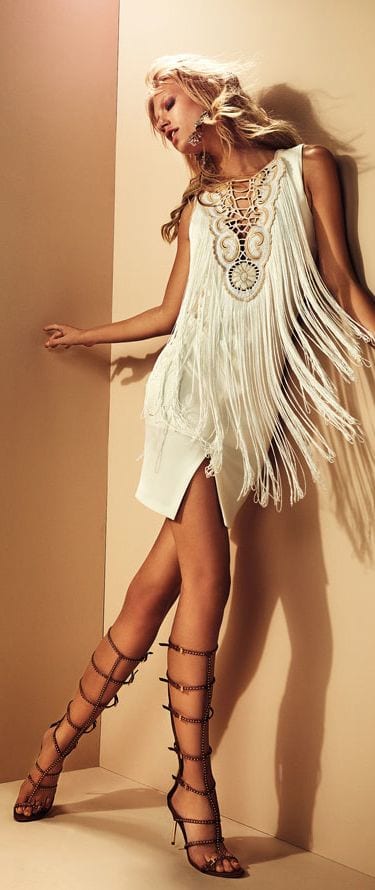 12. Cargo shorts and a loose top, with a large pendant, are perfect cute outfits to wear with gladiator shoes.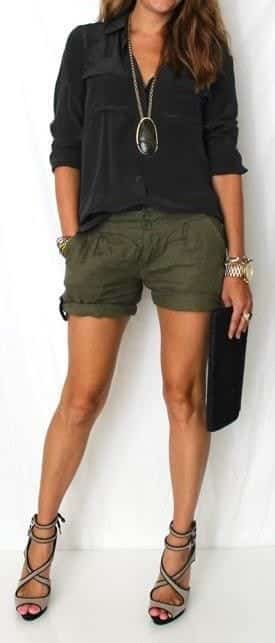 13. Black and grey is a cult favourite. Use this combo to pair your gladiator heels with, and you will look super cute at any function or event.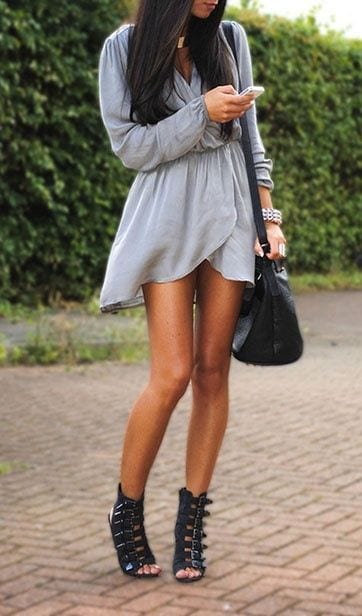 14. Michael Kors handbag, lots of gold accessories and mini white shorts look amazing with gladiator heels. Use this look with your gladiator heels, and you will look super hot.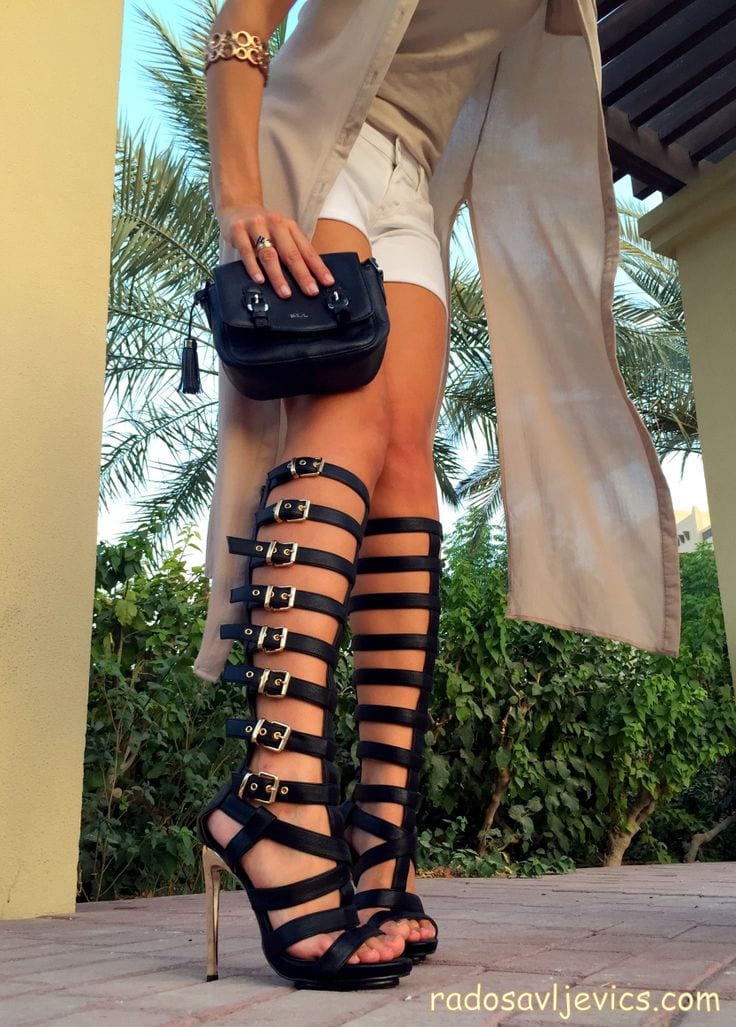 15. Casual City Look – A long trench-coat looks amazing with Thigh High gladiator heels, along with a large chunky belt. Black and gold would look amazing with this style.

16. Pair gladiator heels with red nail-polish and a kinky, short top. This will look super cute and sexy with your shoes! Any colour goes well with gladiator heels, so long as it is worn with confidence.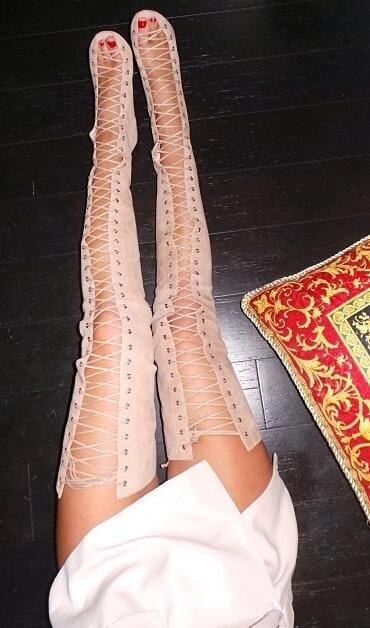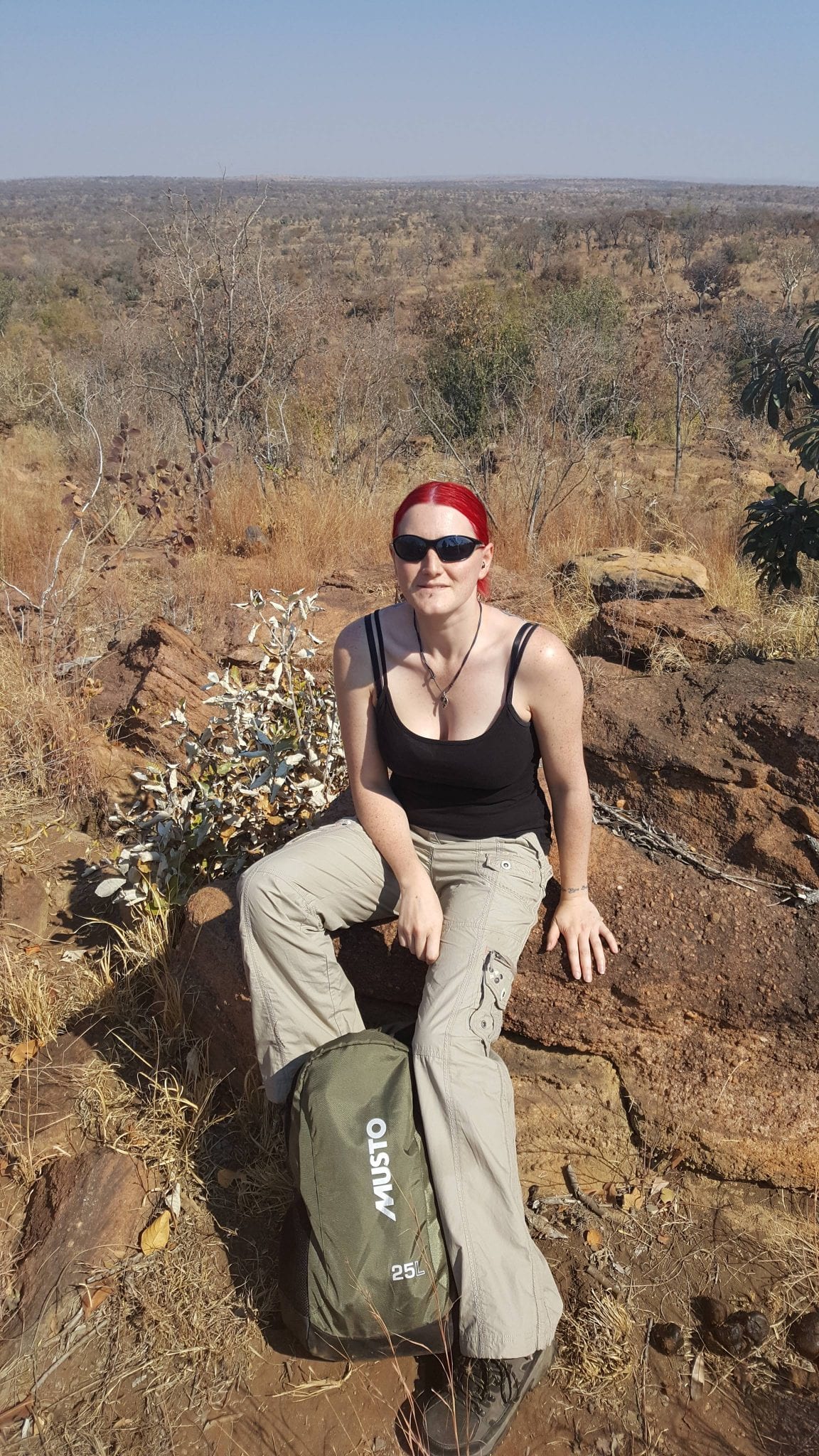 Caz, aka Vixen, has been freelance creative writing for several years. She has a lot of experience in different fields including high street fashion, tattooing art, and even the gothic and historical costumes. Caz has a Diploma in Fashion and Textiles and also a Bachelors Degree in Historical Costume and Corsetry. Her passion lies with gothic design, corsetry and any other styles considered to be taboo or unusual. Style-wise Caz has a love for Vivienne Westwood and her take on the punk era. Although Caz loves the weird and wonderful, she has a deep love for all fashion and allows this to show through her work.