How To Wear Chunky Sneakers – You may know them as dad shoes, ugly shoes, or the usual chunky shoes, but you can't deny the trend these shoes have set. Be it, Princess Diana, in the late nineties to the Hadid sisters in the modern age, the gigantic sneakers have taken the world by storm.
Moreover, you don't need to be a sneakerhead to try on a pair of chunky sneakers, all you need is the right inspiration for it.
Chunky sneakers may not be appealing to the eyes, but there are unlimited ways to style them. The enormous platform shoes can up your fashion game if you style them the right way. Now, if you wonder, what could you possibly wear with a pair of chunky sneakers, look no more as here's where you'll find the answer to this question.
Outfits To Wear With Chunky Sneakers
While it is convenient to style a pair of regular converse sneakers, things might get a little tricky with chunky sneakers. Their large, unappealing size may intimidate many fashionistas. However, with adequate guidance, you can always decide what to wear with chunky sneakers. You do not need to buy a specific bottom or dress design to complement your shoes because they go with everything you own.
You can wear chunky shoes with pants, shorts and even skirts. Furthermore, you can style them with a trench coat, a shirt dress or even with a maxi dress. Despite their athletic look, you can also style these sneakers for an outfit for running errands or even a party. The shoes can become a staple accessory for all seasons as well. To sum it up, with a pair of chunky sneakers, the outfit possibilities are endless.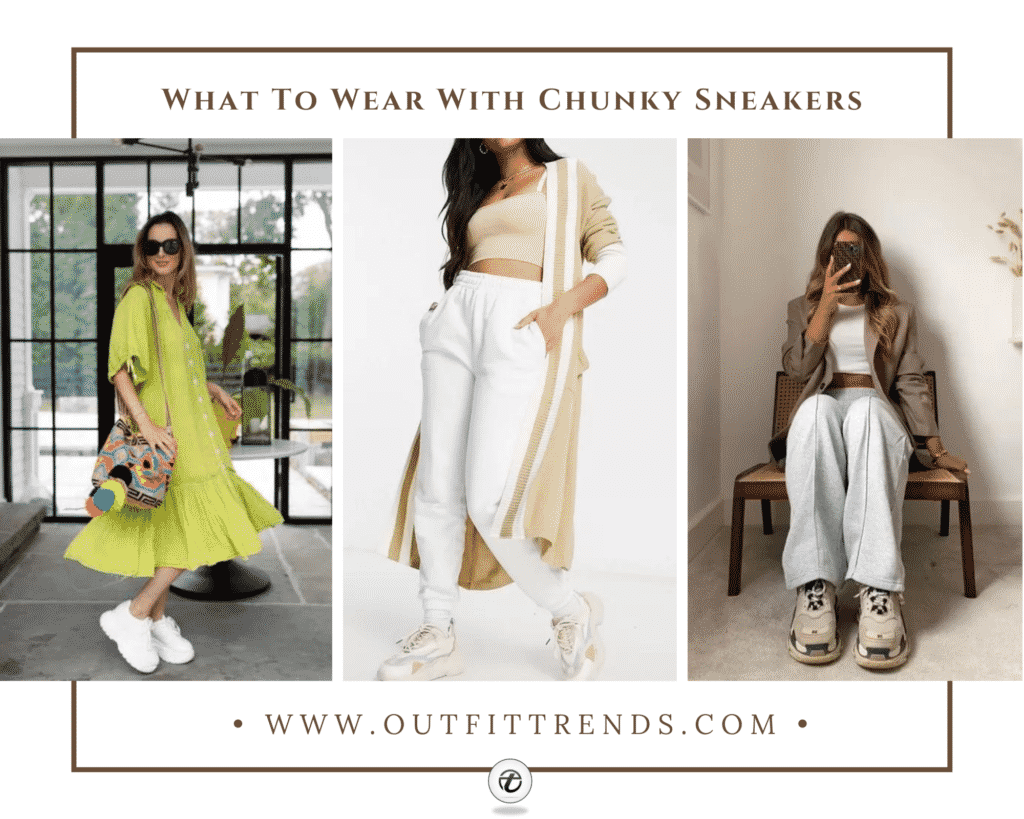 Styling Chunky Sneakers
If you wish to wear chunky sneakers with a dress, pick a mid-length dress so that the hem falls above the shoes.
On the contrary, if you wear a maxi dress, one with a slit will complement the shoes better.
If the outfit has a bold, vibrant print, wear chunky shoes in solid colors such as black, white, or grey.
31 – Where To Buy ?
ASOS is where you find both high end and reasonable sneakers. From Calvin Klein to ASOS' own design, the shoes here in between the range $40 to $177
Misguided is the store to buy affordable chunky sneakers between the range of $17-$30.
30 – Celebrities Wearing Chunky Shoes
29 – Style A White Outfit
Be it a white bodycon dress or a white pantsuit, do not hesitate to pair it with chunky shoes. However, you may wish to wear the sneakers either in white or in colours such as pink.
28 – Wear Them With Camo Pants
Camo pants, a tank top, and a pair of chunky sneakers are perfect for when you're running an errand. An outfit as such is not only effortless to style but looks trendy as well.
27 – What Socks To Wear With Chunky Trainers?
When it comes to socks with chunky sneakers, everyone has their own distinct choice. Some people opt for ankle socks that are not visible, while others wear crew socks or even fancy net ones. However, if you're confused, wear crew socks with shorts or skirts and ankle socks with jeans or leggings.
26 – With a Printed Skirt
If you don't know how to wear chunky sneakers with a skirt, take notes from the outfit below. You may opt for a printed skirt and a solid blouse or vice versa and wear it with or without a blazer.
25 – What To Wear With Platform Sneakers?
A flannel shirt is a versatile top option that puts a casual outfit in place. However, whether you go with skinny jeans or leggings, feel free to add chunky sneakers to the attire. The big, bold shoes will make even a casual outfit look classy. The ensemble is ideal for work, chores, or even a day out.
24 – With A Cropped Puffer Vest
24 – Skinny Jeans All The Way
Unlike popular opinion, chunky sneakers do go well with skinny jeans. You may style the outfit with a button-down shirt. Furthermore, if you wish to refine the attire, you may also tuck in the shirt.
23 – Chunky Trainers For Travel
Do you know what goes well with an airport look? Shoes that are comfortable yet stylish, and there's nothing better than chunky trainers to accompany you on the voyage. Style your most comfortable outfit with these shoes and you are all set to step at the airport in style.
22 – Create Your Own Street Style
When it comes to street fashion, one can not deny the role of chunky sneakers. The enormous athletic shoes go perfect with a sweatshirt outfit and sweatpants or an oversized raglan tee.
21 – With A Bodycon Dress
Who said you can't flaunt a bodycon dress with what others call ugly shoes? Because the truth is you can wear whatever you want. While a pair of stilettos may add a ceremonious element to the outfit, you can wear chunky sneakers with a bodycon dress for a more contemporary style.
20 – With A Trench Coat
A baseball cap, an off-shoulder top, a trench coat, and a pair of chunky shoes, and voila, you're all set to hit the street in style. So no matter where you're off to, incorporating these shoes is a wise choice in terms of both; comfort and style.
19 – With Jeans
Jeans are a staple outfit option because of their versatility. Moreover, just like how you can pair any type of shoes with it, chunky shoes are no exception. Be it a wide-leg, skinny, or even ripped, jeans and chunky sneakers are a very suitable match.
18 – Dad Sneakers
Matching top and jogger pants in neutral colours such as black, white, beige, or grey are becoming the newer approach for a casual outfit. However, the co-ord idea has allowed people to style chunky sneakers with their sweatpants. On the other hand, you can also style this attire with a blazer or even a duster cardigan.
17 – What To Wear For a Comfy Look?
Comfort is a prerequisite for every attire. Whether it is a dress for a black-tie event, a pantsuit for office, or casual wear, everyone wants to be comfortable and at ease in whatever they're wearing. One such way to style such a cosy ensemble is to opt for chunky sneakers. The shoe choice will not only elevate your casual outfit but will also render comfort to your feet.
16 – Wear a Shirtdress
The perfect warm-to-fall weather transition outfit is one with a shirtdress and a pair of chunky platform sneakers. The colourful ensemble will instantly become your favourite look for an outdoor lunch or a similar plan.
15 – Black Chunky Joggers
An all-black outfit, a black and white attire, or a colourful dress, there's no way that the black sneakers would go wrong with them. On the contrary, you can wear these shoes with an all-white outfit as well. Black chunky shoes will do a perfect job in accentuating the dress without taking too much attention.
14 – Hit The Gym In Dad Shoes
13 – Opt For A Raglan Tee
A lost treasure in your closet is a raglan tee that you can style in various ways. One such way is to wear it with a pair of chunky sneakers. You can either opt for an oversize baseball tee or one with a hint of the feminine. However, whatever you choose, the tee will go a long way with these athletic shoes.
12 – Style With A Duster Cardigan
If you want to up your fashion game, take notes from the outfit below. It combines a basic tank top, jogger pants, a duster cardigan, and a pair of chunky sneakers to create an attention-worthy ensemble. This effortless and stylish attire is all you need to step out and bring all the attention to yourself.
11 – When To Wear Chunky Sneakers?
Winter is the perfect season for chunky sneakers. The enormous shoes not only protect the feet from cold but also ace up the style game. You can style them with a turtleneck, padded vest, crop vest, or even knit sweaters. So this winter, pull up your socks and look sizzling in your chunky shoes.
10 – Outfit Ideas With Shorts
Shorts and sneakers are a duo that neither goes wrong nor out of style. Be it denim shorts or cotton, sneakers complement both very well. For a casual, rugged look, opt for an oversized shirt with denim shorts. On the other hand, for a finesse look, pair cotton shorts with a co-ord sweater. However, a common element in both outfits is the chunky sneakers.
9 – An Oversized Denim Jacket
8 – Fall Outfit
Take your play on fall colours and let the black or white chunky shoes do their job. Be it a colourful shirt/jacket or a solid-coloured outfit, your shoes will surely compliment the outfit.
7 – Flaunt Your Leather Pants
You may not favour styling your super skinny leather pants with a pair of enormous chunky sneakers, and we do not blame you. The tight, sleek pants may accentuate the shoes a little too much. However, if you wear shoes in the same colour as the pants, the outfit would not look mismatched.
6 – Outfit Ideas For Summer
5 – With A Onepiece
If you are too lazy to style a proper fall outfit, take that basic onesie, put on your black sneakers, and you're all set to hit the road. The attire may seem basic it is, nonetheless, effortless and chic.
4 – For Outdoor Trips
Did someone say chunky sneakers are fit for an outdoor hiking trip? Well, they're right because these padded shoes are designed for an adventure. Therefore, the next time you are up for a day in the woods, an outfit with a padded vest and these gigantic shoes is just the right choice.
3 – With A Corduroy Dress
If you want to find a sweet balance between these butch sneakers and feminine outfits, here's what you should do. Wear your favourite corduroy dress with a printed shirt and pair it with a pair of coloured platform sneakers.
2 – Casual Black Dress
1 – All-Black Outfit
For those who love an effortless monochrome outfit, it is time to pair one with your chunky sneakers. The all-black attire goes well with either black or white shoes.
Frequently Asked Questions
Q. What to style with chunky sneakers?
Ans: As we have discussed before, there are endless ways to style a pair of chunky sneakers. You can wear it with pants, mini skirts, shorts, and even dresses. However, a contemporary approach is to wear gigantic sneakers with co-ord. A neutral colour sweatshirt with jogger pants in the same colours, and you're good to go. Furthermore, you can also wear a black or white pair of chunky shoes with a bright, colourful kaftan dress or a solid-coloured bodycon dress.
Q. How do you pair chunky sneakers with jeans?
Ans: While it is a common belief that chunky shoes go well only with long pants, there's nothing wrong with wearing them with other kinds of bottoms. For example, wide-leg pants, jeans, skinny jeans, leather pants, and even leggings are well-suited to go with chunky sneakers. Additionally, you can pair them with a crop top, a sweatshirt, a button-down, or a flannel shirt.
Q. Are chunky sneakers a fashion trend?
Ans: Despite their unprepossessing appearance, the shoes have been in fashion for a long time. Since people have now accommodated chunky sneakers in their routine outfits, it won't be wrong to say that not only they are in trend currently, but will continue to stay in trend.