Types of Sneakers For Women: It is no doubt that sneakers/trainers are the best bet for comfort as well as style. Here at OutfitTrends, we are here for them! Although the past has seen a difference in trainers and sneakers, recent years have seen the gap bridging between the two, making both sports trainers and casual sneakers versatile options for leisure and activity.
Sneakers and trainers have been in the game for decades and never once have the styles felt outdated. Over the years, various styles and designs have made a comeback and have now become a permanent staple in everyone's closet. While we have the classics with variations to them, newer, trendier pieces have made their space in the market, especially in high street fashion. While they may not be liked by everyone alike, we have curated a list of some of the classics as well as the new entrants that make for chic and trendy types of sneakers for women.
Read on to find out what some of our and everybody's favorite pairs of sneakers are along with styling tips, tricks, must-have pieces, do's and don't's, and more!
What Sneakers Should You Buy in 2023?
We've already talked about Outfits with Sneakers so now it's time to look at the sneakers that you should buy. When we think of sneakers, we think of comfort. Along with comfort, we now look at style, what's trending, who is wearing what, what are our favorite celebrities wearing for their infamous off-duty looks; after all, the scope to style sneakers and trainers are endless in the present day.
There are countless ways to style sneakers. You can wear them with classic jeans, or dresses, and more recently, with formal wear too! So if you are looking for the perfect end of the workweek outfit that can easily translate into a casual look for a plan with friends after work, sneakers are your best friends. The best about these is that fit absolutely any aesthetic you're into. Be it cottagecore, street style, normcore, and more!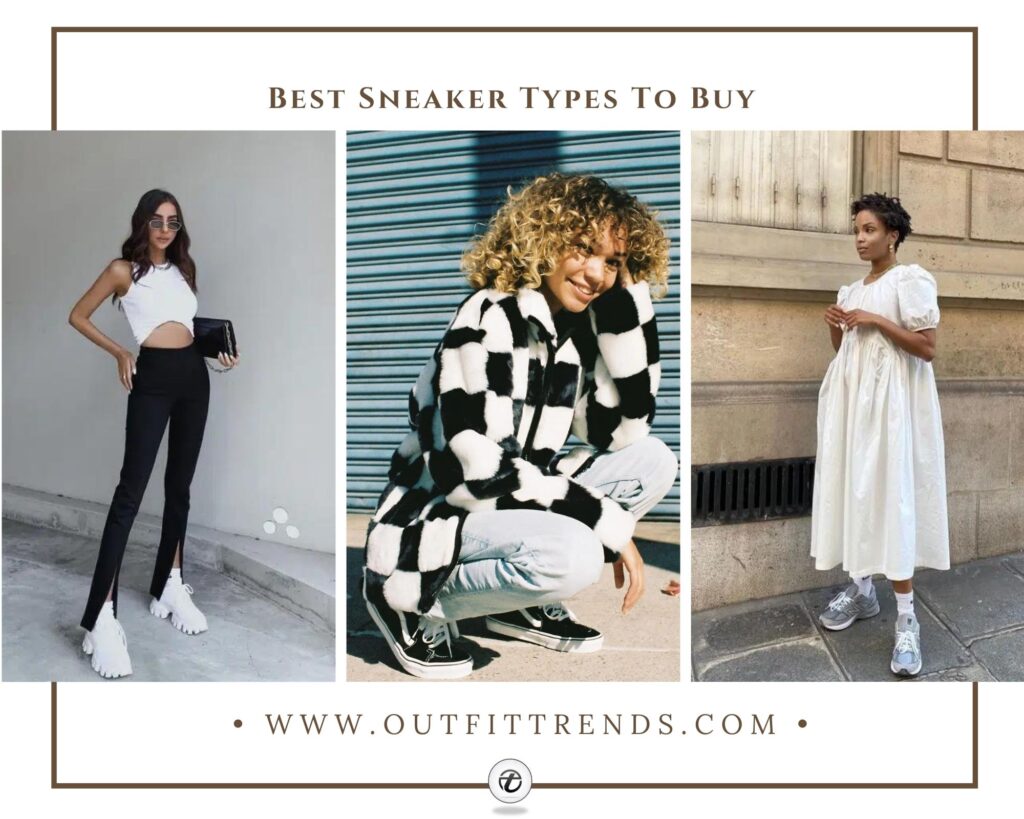 We have round up a list of seasonless, effortless, casual, dressy, comfortable, and easy-to-wear sneakers/trainers that you need ASAP! But first, here are some tips we need to keep in mind:
Protect your sneaker right out of the box. Invest in a bood repellent spray to avoid them from getting spoiled by dirt and water.
To keep your sneakers in pristine condition and have them last longer, clean them regularly by hand using appropriate brushes and ingredients.
You can fight in-sole odor by wearing moisture-wicking socks and letting your sneakers dry completely between uses.
Soak up your laces in water and detwegent to brighten them up instantly.
11 – Get Retro With These Retro-Inspired Sneakers
If you are someone who absolutely vibes with the 90s or 2000s aesthetic, these sneakers are just the choice for you. The 90s/y2k fashion scene has seen a major comeback, especially in recent years, and the footwear from that era most definitely is a hit. With everyone opting for thrift stores and garage sales to purchase vintage, y2k pieces of streetwear and accessories, thrifting is in fact the best place to turn to to get these retro-inspired sneakers.
Brands like New Balance, Puma, Nike have tons of options if you are looking to shop for brand new pair of these retro sneakers. available in a variety of designs, styles, and colorways, it is always a good idea to opt for classic colors like blacks, greys, whites that pair very seamlessly with any outfit. co
These retro-inspired sneakers make for a great option to be paired with jeans for casual day-to-day outfits, for travel, and if you are a mom, these can be a comfortable option when you are on your toes during the day.
While you can buy brand new pairs, you can try your local flea markets, and garage sales for great options on a budget! You should also check out these ideas on How To Wear Nike Air Force 1s.
10 – Amp Up Your Streetwear Game With Sneaker Boots
Sneaker boots are a relatively new concept in the sneaker biz and although they may not be liked by everyone alike, they definitely have gained a lot of traction when you think of streetwear. Like all the styles that have and will be listed, these are unisex options that you can go absolutely crazy with and create uber-cool outfits if you like that extra flare and an exaggerated touch to your outfit.
These can be worn with mini skater skirts bodycon dresses, thick winter leggings for the colder regions of the world, wide-leg jeans, or even bootcut jeans. These are best bought in either black or white that make for classic colors that could ultimately be paired with any item in your closet. These make for a fun and chic option for anyone living in the colder parts of the world where you would typically experience heavy winters. That way you can make the most out of these sneaker boots on snow days or even just for a chill, wintery day out with your friends!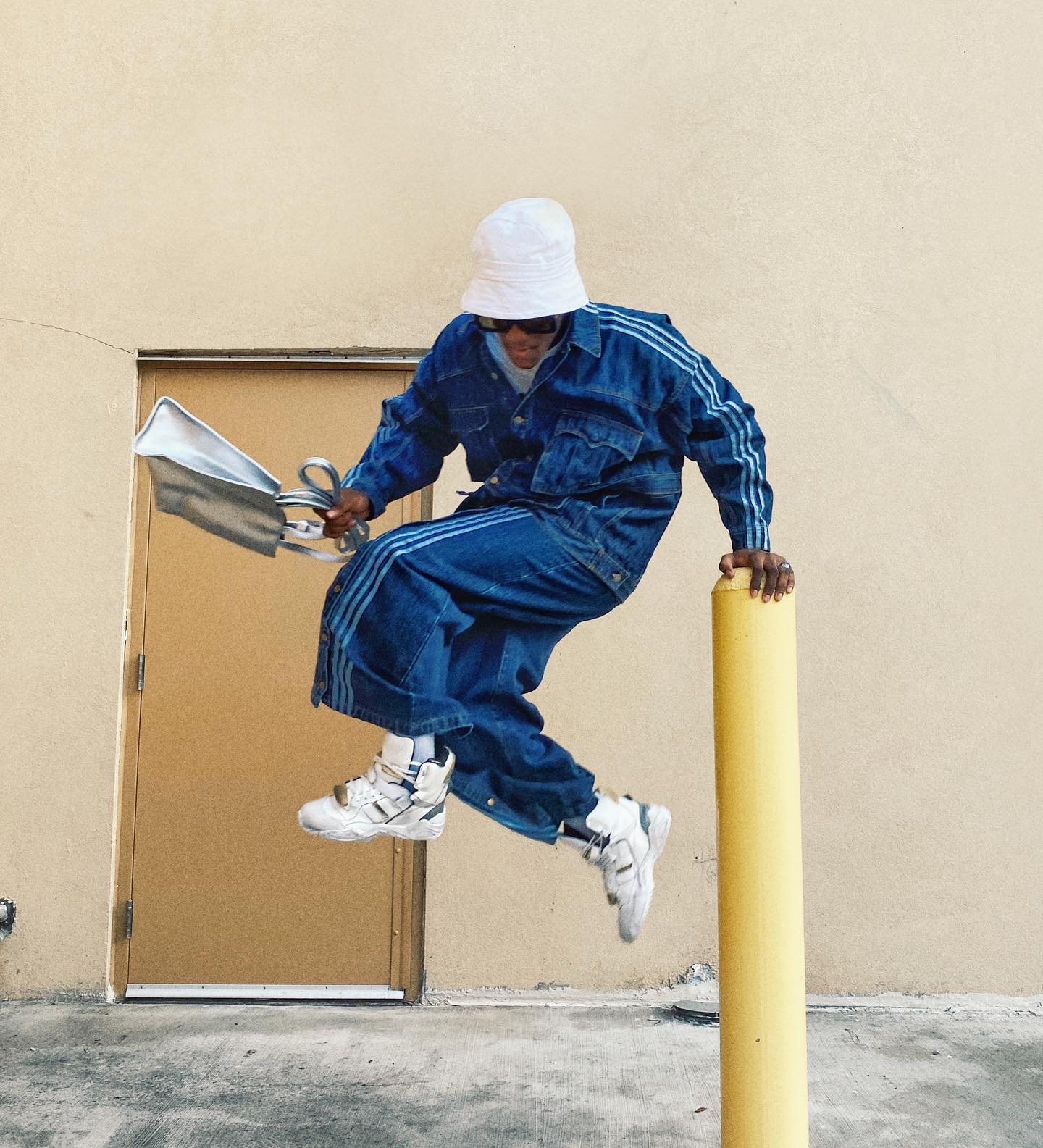 9 – Add The Extra In Your Outfit With These Dress Sneakers
Dress sneakers have really upped the game in terms of casual ways to style sneakers with dresses. In the last two years, on social media platforms like Instagram and Tik Tok, these sneakers blew up, and safe to say, they did make a statement. With creators from all across the globe wearing these chunky sneakers/trainers with dresses, trousers, jeans. etc., they have created a statement in the fashion industry.
What may have seemed like a regular wear piece and something that you'd have probably seen trending back in the 90s, is now a universally worn pair of sneakers by men and women alike. The iconic New Balance sneakers that took the world by a storm, led a lot of different brands to create sneakers of a similar vibe and aesthetic.
They are classics and can be paired with absolutely anything. So why not style them with dresses? You can elevate those humble-looking sneakers with maxi cotton or linen dresses or even short bodycon dresses with some added sequin and sparkle to keep the look dressy, while also being comfortable.
8 – High Performance Days Require High Performance Dad Sneakers
You have definitely heard the term 'dad sneakers' making the rounds right? Tik Tok blew these up when the world saw creators dress up in casual 'running-errands' outfits with these chunky big dad sneakers. Although ugly to some, they sure one way to elevate your loungewear too! What erupted in the fashion scene back in 2017, are still very much in trend and are another chic type of sneakers for women which are definitely here to stay.
What were typically created for high-performance activities and mainly catered to the sports field, can now be worn with literally anything you desire from loungewear sets, trousers, dresses to get more wear out of them. The most recognizable pair of dad sneakers are the Balenciaga Runner and the Triple S Sneakers. While these remain the classics, a variety of other brands like New Balance, Raf Simmons, Golden Goose have seen the popularity and jumped on board with this trend.
Here are the Best Women's Outfits to Wear With White Sneakers.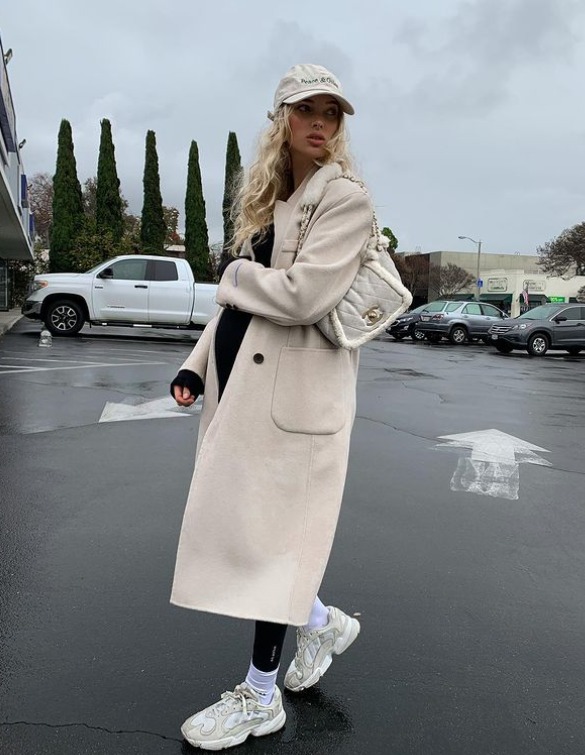 7 – High-Top Sneakers With Jeans For An Effortlessly Cool Look
High-top sneakers make for the perfect style, especially when executing the effortless, laid-back look. These are the absolute best choice when pairing with tonal tailoring. a classic and the most recognizable high-tops are those of Converse, that makes for a staple in your shoe closet. The versatility they hold is great and just like the rest, are perfect when paired with any outfit of your choice. Pair them with a pair of classic old denims, maxi dresses, summer sundresses, and more! Here are some more Stylish Ways to Wear Converse Shoes.
With high-tops making a comeback in the last decade, brands like Gucci, Prada, and Saint Laurent have followed suit and put their stamp of approval on these classic sneakers. With minimalistic hints of their personal branding to the shoes, they definitely stand out and make for a luxurious option and keepsake for years to come.
You can easily pair high-tops to match your comfort. A cropped top with denim, a sweater paired with denim, denim skirts with summer crop tops for an effortless brunch look, the list is endless!
6 – Old Skool Vans Make For A Great Choice For Wide-Set Feet
Sneakers or trainers have one core goal- to provide comfort. We often opt for comfort-based sneakers from brands like Skechers to aid in day-to-day activities like daily walks or runs. While those are great, you need to ensure you are selecting sneakers that are the perfect fit for your feet as well. Not everyone has the same pairs of feet. Some of us have wide-set feet and that is absolutely okay because we have got just the right pair for you! The Van Old Skool sneakers.
There has got to be a reason why they have been around for so many years, right? When discussing sneakers, podiatrists have said that not all sneakers make for the right choice for all types of feet. Wider feet need differently designed sneakers that will provide just the right amount of comfort. And along with that, we need to add a bit of spice too right? That's where the Vans classic Old Skool sneakers come into play.
They are perfect in terms of comfort, long-wear, longevity and are the perfect one-time investment if taken good care of. Along with that, they pair perfectly with literally any pair of jeans you own, dresses, skirts, and more and are literally a staple for your closet! Here's a collection of the best Outfits to Wear with Vans Shoes.
5 – Elevated Streetwear With Basketball Sneakers
When we think of basketball sneakers, we immediately think of the Nike Dunks or the Nike Air Jordans. the extremely classic sneakers initially launched for the purpose of the sport, have now elevated into a streetwear staple in the last few decades. These come with an absolute 90s aesthetic, which now has a modernized feel to them with a myriad of colorways, and multiple luxury brand collaborations on them.
They make for a great choice if you are a crazy fanatic about streetwear. The streetwear space has definitely elevated since these infamous basketball sneakers have come into the scene changing the fashion game.
If you enjoy dressing in baggy streetwear clothing, you can pair baggy denim with an oversized graphic tee, with a pair of Air Jordans or Dunks in the same color family. You can complete the look with silver chunky accessories, a bucket hat, or a simple hat for the ultimate streetwear aesthetic.
4 – Create Perfect Transition Looks With Minimalist Sneakers
If you are looking for the perfect sneakers that can be a good choice for workwear as well as casual day outfits, these minimalist sneakers are the pick for you! They make for a closet staple as these in white will go with anything and everything in your wardrobe. Beyond that, these are not like the typical heavy chunky sneakers we have seen so far. So if you like minimal dressing with minimalistic, simple transitional shoes, these make for a great choice.
They can complete an ensemble with a pair of straight-leg jeans, a tucked-in basic t-shirt, and a long-like jacket like a trench coat, which is the perfect outfit for those who experience autumn and beautiful monsoon weather. For a more basic look, they can be paired with blue denim jeans, with a classic white baggy shirt, tucked in, and minimalistic gold accent jewelry for an airy, classy look. They can even be paired with formal trousers, a simple shirt, and a blazer for a semi-formal office look.
3 – Choose Slip-On Sneakers For A Laid-Back Look
You can add slip-on sneakers to your wardrobe as they make for the ultimate wardrobe-essentials. They are perfect for when you are looking for something that is easy to wear, without the hassle of having to tie laces all the time. They are fun, chic, come is a lot of different patterns and colors that make them easy to pair with any outfit of your choice.
They are best worn with narrow-fit cropped jeans, as that creates a simplistic look without making the bottom half of the outfit very heavy. That can be compensated with a baggy oversized sweater or a short tee to keep the outfit very laid-back, perfect for all you women who are on the go! Here are some Cute Outfits To Wear With Slip-On Sneakers For Chic Look.
2 – Bring Back The 90s Vibes With Platform Sneakers
With trends from the 90s having such a major hold on the present-day fashion scene, these platform sneakers are hard to miss. With major brands like Gucci including these sneakers in their runway looks, platform sneakers are all the rage in 2023. When we talk about Gucci, the Gucci Ace Sneakers are a fan favorite.
These are year-round winners, so if you are looking for something that is going to last you through all seasons, you can take inspiration from Axel Arigato's Sneakers that are perfect with a 30mm platform, and the upper body in varying shades of neutral tones that are the perfect color palette for minimalist aesthetic lovers. Here are some Outfits to Wear With Chunky Sneakers.
1 – You Can Never Go Wrong With The Classic White Sneakers
I think we all agree, that the most versatile and the most sophisticated, yet chic sneakers to have ever existed are classic white sneakers. And when we think white, we think of the infamous Nike Air-Force 1s. They have paved the way for numerous other brands to create similar-looking white sneakers for more budget-friendly options.
Previously brands like Addidas saw the rage for their very popular All-Stars, after which Nike saw increasing popularity in a number of different sneaker models, some of which have made a comeback from the 90s.
There is no doubt about how many looks you can create with these sneakers. A crisp white shirt jeans and sneakers, a mini bodycon dress, biker shorts and a sweatshirt combo, even maxi dresses look absolutely cute with white sneakers! The list is huge! They can be paired with baguette bags or tote bags for very cute streetwear vibes that make for perfect outfits for brunch dates, shopping at the mall, and more!
Frequently Asked Questions
Q. How can i make my sneakers more comfortable?
Make sure to buy the right size that suits the lenght and width of your feet
Invest in moisture-wicking socks
You can benefit by using show stretchers
Q. How do I get the best deal on sneakers?
Use your discounts on relevant sites
You can shop from online clearnace sales
You can shop from warehouse outlets of the brands to avail better deals
Enter giveways to try your luck!
Q. How do I prolong the life of my sneakers?
Clean your sneakers in regular intervals
Spray them with a water protectant right after purchase
Stuff your shoes with newspaper to prevent crease marks
Store them in a safe place to avoid any wear and tear