How to Wear A Net saree – Are you a desi at heart? If yes, then we understand your craze and fondness for sarees. And we do know that net sarees have always been your hot favorite. Net sarees can be arduous to wear and carry at times, but that's only because you're not wearing them the way you should be.
But hey, that's not something for you to worry about. We have it all sorted out for you.
Latest Net Saree Designs & Styling Ideas
Net sarees can get too sheer or see-through for many people if not worn correctly, and you'd possibly never want to wear them in that scenario. Net itself has an excellent grip; thus you can merge it with georgette, Silk, Banaras or Organza easily and be all edgy, trendy, and fashion-forward.
To get the saree tucked at proper places, you may use a handful of pins and use them efficiently. Make sure you pin up nicely and hide the pins. Don't overuse the pins.
Don't overdo the accessories and makeup as a net saree is already a pretty heavy attire.
Do make sure that the petticoat is well fitted so that the saree is appropriately tucked in and remains in one place.
Choose the right fabric for the right occasion. Know that net fabric can always be used.
Choose the right blouse. Make sure that it is not too loose or too tight. You can get some good ideas from these latest saree bouse designs.
Don't go for flats, heels are preferred with saree.
Never wear a complete plain net saree. It will destroy your whole look.
Do keep your height in consideration and choose the print accordingly.
Always pick the best color coordination.
Don't tie your saree way too low.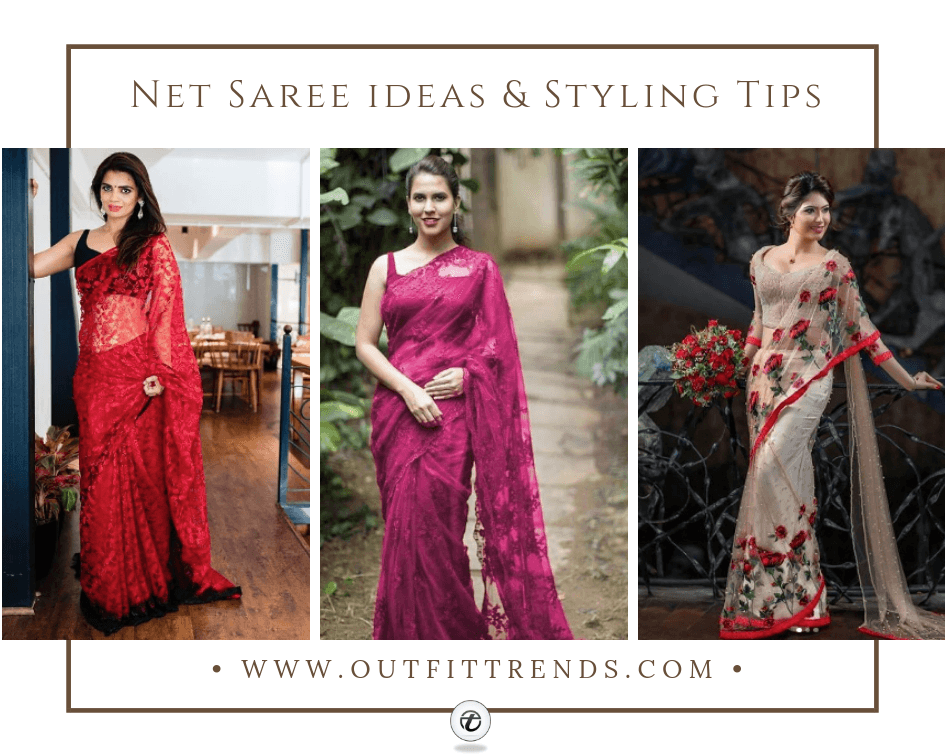 23 – Black Net Saree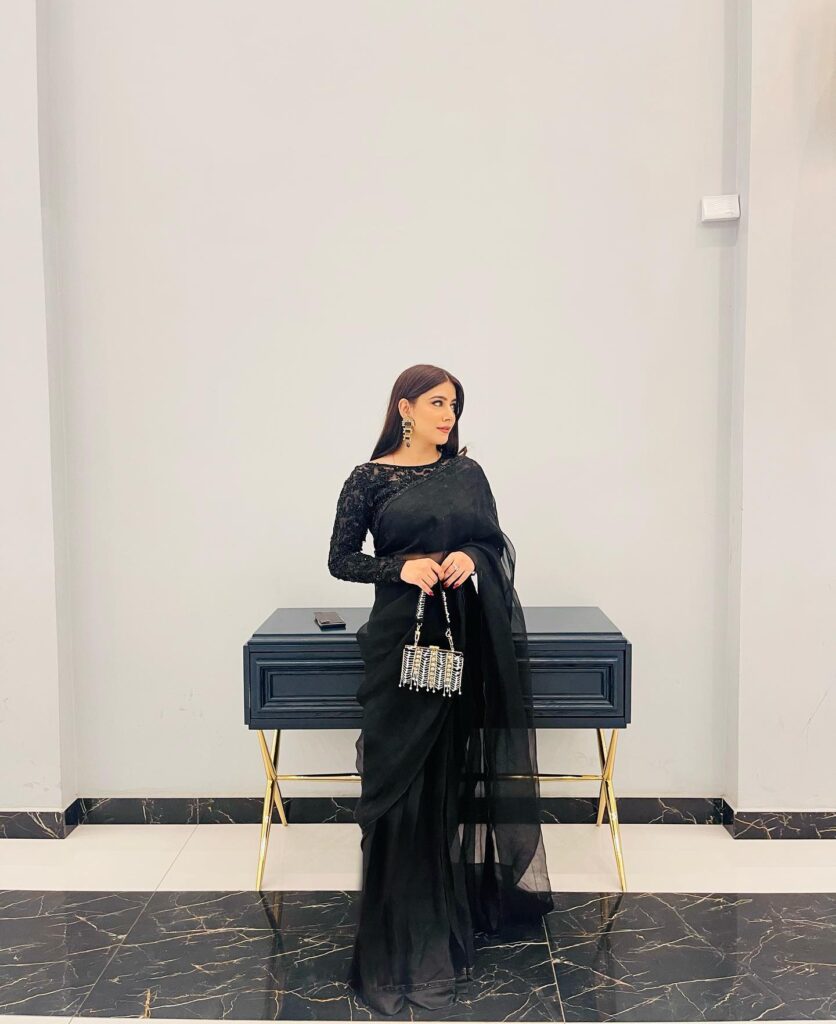 22 – Soft & Classy Net Saree
Saree is one of the most versatile outfits that make women look sensual and gorgeous. A soft classic net saree is a mix of both traditional and latest trends. It is the ideal way to add grace to your entire personality along with a feminine look and a traditional touch. You can wear this kind of saree everywhere, and it looks more captivating if you use light colors like white and nude shades. Don't try making a classic saree too loud. A Banarasi blouse is going to be the perfect fit with a net saree. Add on some traditional jewelry and a hair bun is going to elevate your entire personality. For more guidance, check out our earlier post on How To Wear A Heavy Saree.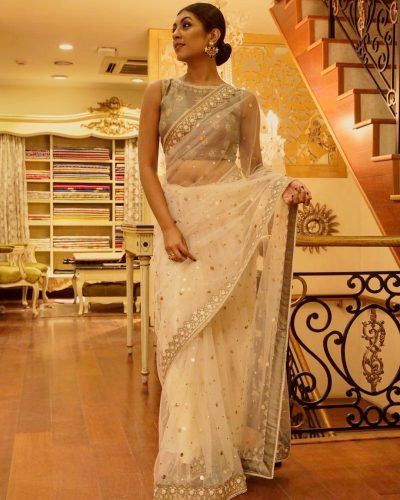 21 – Semi-Formal Net Saree
Events and celebrations require a unique set of apparel to flaunt, and what better dress is to flaunt other than saree? For a semi-formal event like a welcome party, farewell, or get-together where women have quality time and show off their dresses the best option is to pick up a saree. Your confidence and attitude will speak a lot when you will enter the party in an enchanting net saree that you are comfortable in and not worried about.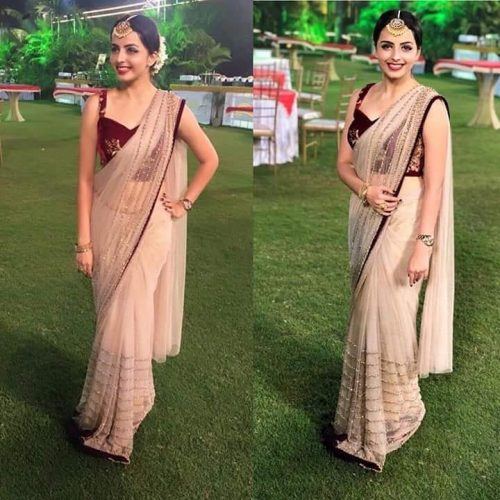 20 – Formal Net Saree for Wedding Guest
Saree is not just an outfit. It is a lifestyle that women adore. You can wear a net saree on formal events like engagements and weddings. They are easy to carry and always on top of fashion trends so you don't have to worry about the fact that can it be used again or not. Heavy borders will automatically give your saree a formal appearance. There is nothing more stunning and beautiful than a gorgeous net saree for a formal occasion.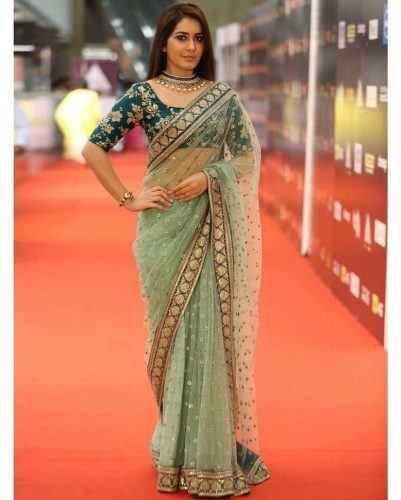 19 – Ruffled Sarees
Ruffles are taking over the world, and people are going crazy over this trend. They are seen everywhere from red carpets to the wedding receptions. It is undeniably the correct time to add stylish ruffles to traditional nine yards. The perfect fabric to be used, without any doubt, is NET. You can add net ruffles to pallu or sleeves of the blouse. To elevate the net ruffles, even more, you can add a silk lace border to ruffles. It appears reasonable to the viewer's eyes, and the wearer also feels encircled in a soft image.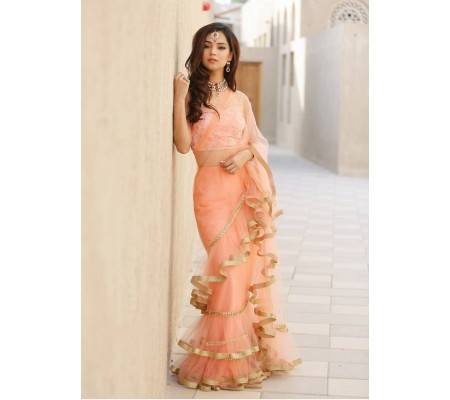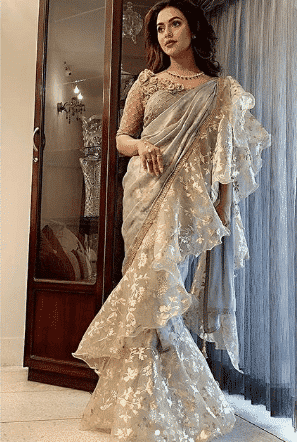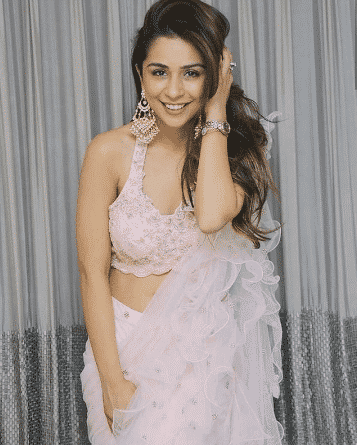 18 – Furry
Saree is one of the most fashionable apparel in modern times. But now it's not limited to any typical design, it's vast and expanding. It is accepting new touches, trends, and styles. A saree with feather detailing will give a very edgy outlook. Make your entire saree in net and for detailing use feather and fur. It is going to be incredibly chic and unique.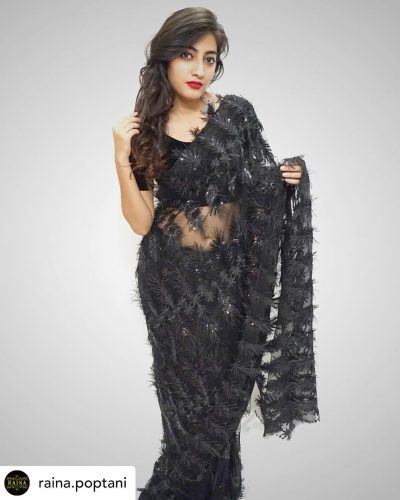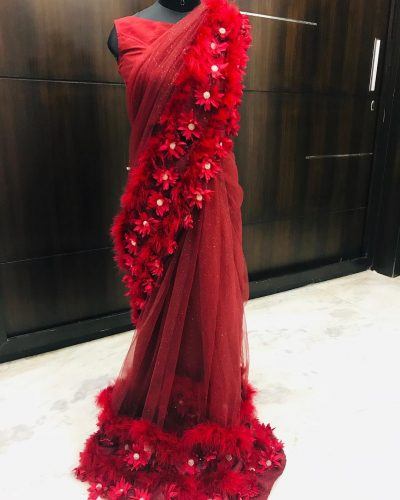 17 – Pant Net Saree
Fashion is all about what you love to wear and feel confident in. It's time to ditch your skirt and wear pants. Pant saree is an Indo-western style which makes it very easy to carry. You can replace the blouse with a crop top and make the rest of your saree in net, make sure you do it neatly. A pant net saree is perfect for women who have a fast-paced lifestyle. Moreover, it will help you enhance your curvy silhouette, and if you have an hourglass figure, this style will accentuate it more. Do check out these Ideas On How to Wear Pants Style Saree.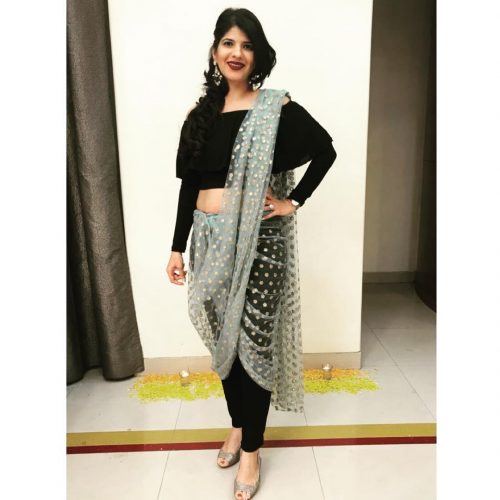 16 – Lehenga Style
Lehenga style sarees presents a harmonious blend of two most fashionable apparels- saree and lehenga. It's the fusion of these two. Get yourself a Silk or Banaras blouse and match it with silk lehenga saree. Net is the perfect fabric to use with silk as it will make the grip secure and won't let it slip. Saree is something you can wear if you want to maintain dignity as well as beauty.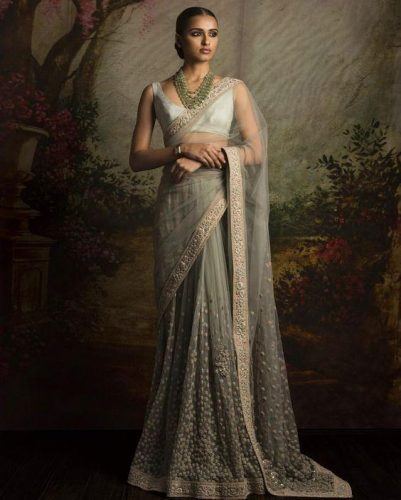 Pastel Green Lehenga Saree- 121,059 PKR
15 – Gown Style
The relationship of women with saree is unexplainable and forever enchanting. Add a gown style to your net saree and flaunt your fun and playful side with sophisticated and smart net saree gown. Here's a collection of the latest Indian Ethnic Wear Sarees In Modern Day fashion.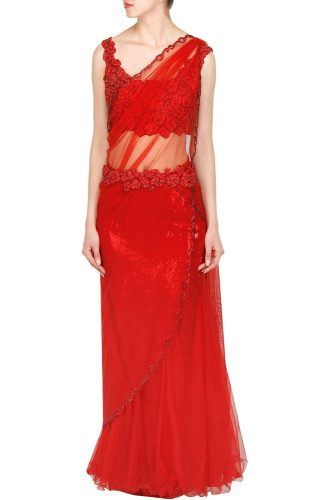 14 – Net Long Tail Saree
Be the fashion icon of the season by slipping in the net long-tail saree. Use net fabric and add beads and motive detailing on the tail. You can use this type of saree at your wedding as well. You now have stolen the spotlight!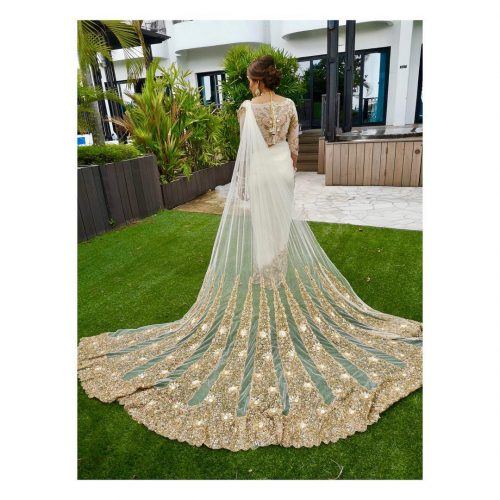 13 – With Extra Glimmer
Every woman loves Saree, and it is the top priority when it comes to ethnic wear. A net saree can be a considerable option if you want to add sparkle, glimmer, and shine to your attire. Make the base of the net and keep on adding whatever kind of sparkle you want to add. It will be suitable for weddings, parties, and red carpet.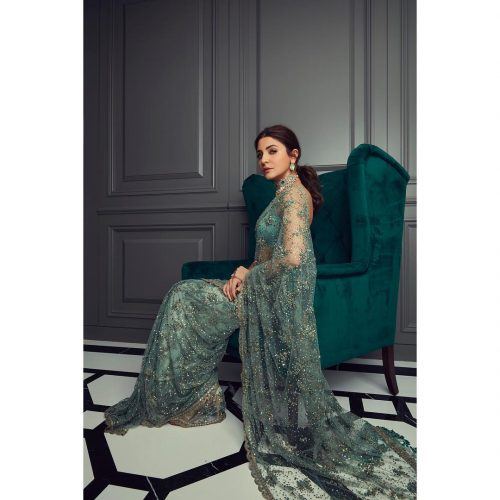 12 – Net Saree As Bridal Wear
Net sarees are always trending as they add an enigmatic touch to the overall posture. Net sarees can be the perfect bridal wear as well, and there is no doubt that any bride would look stunning in a heavy saree. If you are a bride to be and planning to wear a saree on your most significant day of life, then you should try a red saree with a tint of dull gold. A net saree with an embellished blouse is going to make it spellbinding. Being a bride it is necessary to look after the accessories, hence pick a matching clutch, and wear your family jewelry on this day. Don't forget to do your hair with accessories like flowers or fancy pins. A loose hair bun will make you look ethereal and surreal.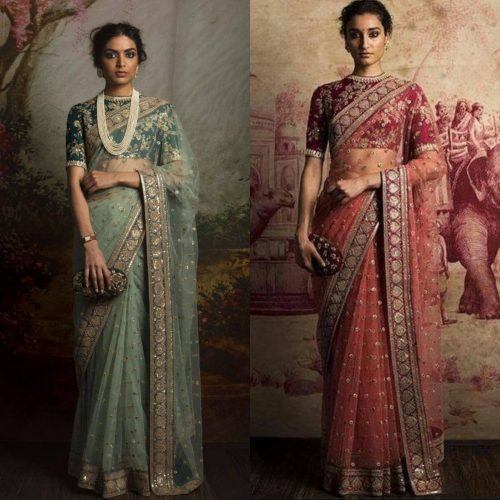 11 – With Velvet Blouse
Net sarees enhance the charm and appeal of the wearer by appealing a bit and leaving the rest to the imagination. Choosing the correct blouse is a fundamental part of wearing a saree. Wear a velvet blouse with your net saree to give yourself a royal touch.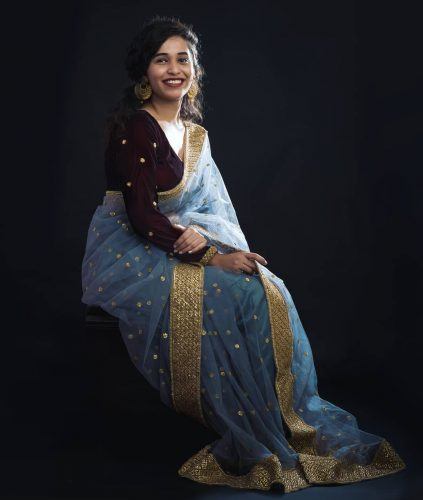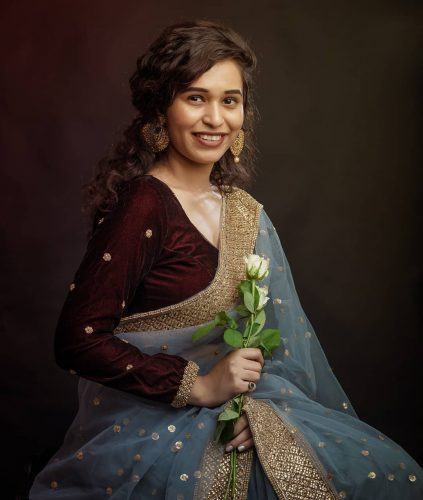 10 – Traditional Net Saree
Sarees are ought to be considered as the oldest fashion statement in the region of the subcontinent. With time, the style of saree has continuously gone through a change and transformation, but the charm of traditional net saree has never come down. Traditional sarees are a must in any women's wardrobe and can be worn best at weddings and festivals. It gives women an elegant, majestic, and luxurious look.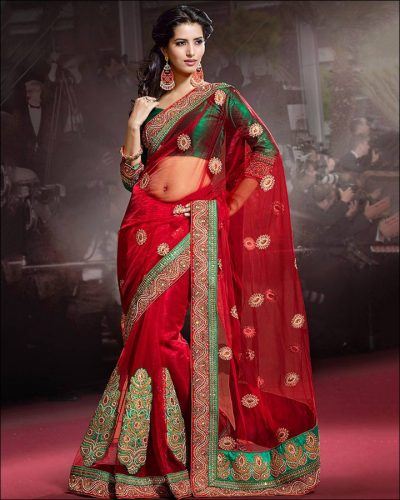 9 – Net Saree With Cape
Maybe you will not turn into a superwoman, but capes are a great way to add some serious power to your style. Keep your saree in a delicate fabric like the net and throw a net cape over to lend an elegant touch to your look. An embroidered cape is going to be the best option for a formal function. Saree with capes looks fabulous no matter what the occasion.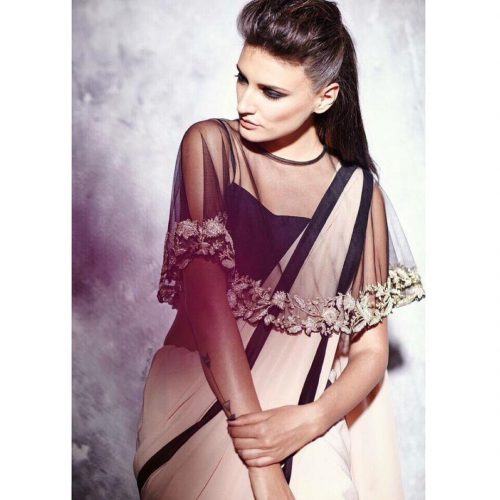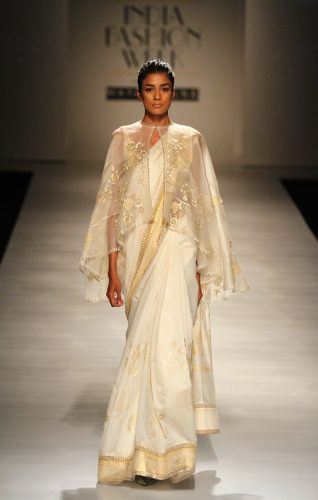 8 – Styling Net Saree With Belt
This saree trend is definitely a "Win-Win." Belt with a saree! This idea is great for curvy women as the belt will give them a slimming effect. Moreover, it is a substantial idea for bridal saree as it's going to make it a lot easier for the bride to carry her dress. It is a fantastic option to accessorize if you want to look stylish and make no compromise on your comfort.
It doesn't matter if your saree drape is edgy or straightforward, whether it is traditional or trendy, the idea of the belt is never going to be wrong. What are you waiting for? Belt up your saree looks appropriately for the perfect fusion touch.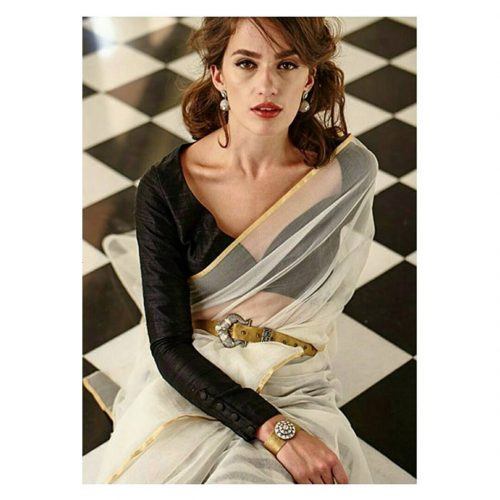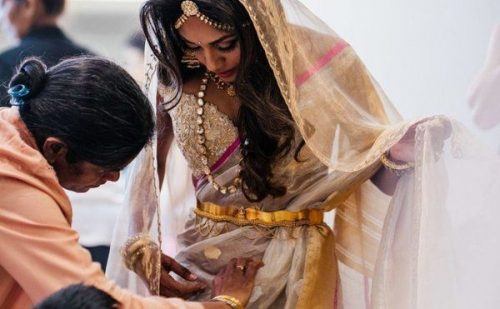 7 – Draping With Jacket
A jacket with saree is a vaguely bold move, but it is worth the risk. It is a style that can be worn by any woman regardless of age and body shape. A jacket can help you in layering and also add to your style and comfort. Once you try it, you will surely add it to your winter saree look. This super amazing idea is going to make you feel fierce, thrilling, classic, and elegant all at the same time.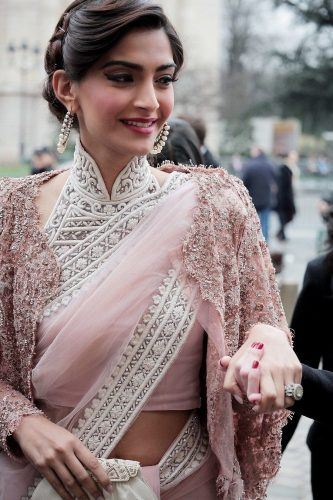 6 – Statement Sleeves
It is now time to step out of your comfort zone and shed the conventional age styling and try newer designs of saree. Add frills and floral sleeves to your net saree blouse. It's going to give your saree a whole unique aspect. It can be rocked on any casual and formal occasion. If you are planning on getting stitched a new blouse with your old saree try out this suggestion. It is something completely new and stunning. Take this chance to stand out unique in a crowd of many.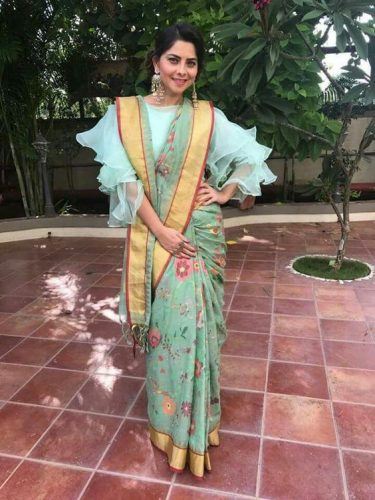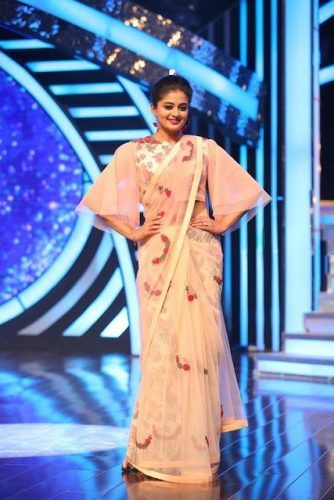 5 – Makeup With Net Saree
Are you leaving your house without makeup?  The answer is most palpably ' NO.' Then why not know what exact makeup will suit your snappy and sophisticated net saree? There are two categories; heavy and light makeup, and now you need to know when to do which makeup. Go for heavy makeup that includes bright lipstick in shades of Maron and red and smoky or glittery eyes.
But make sure that you don't wear heavy jewelry if your makeup is heavy because we know you don't want to overdo and look extra in a negative sense. This type of makeup will suit you best in the night time.  Light makeup can be pulled best on casual functions and in the daytime, wear a nude shade of lipstick with some blush and highlighter. If you feel dull, you can wear a piece of slight heavy jewelry. There you are all dressed stunningly!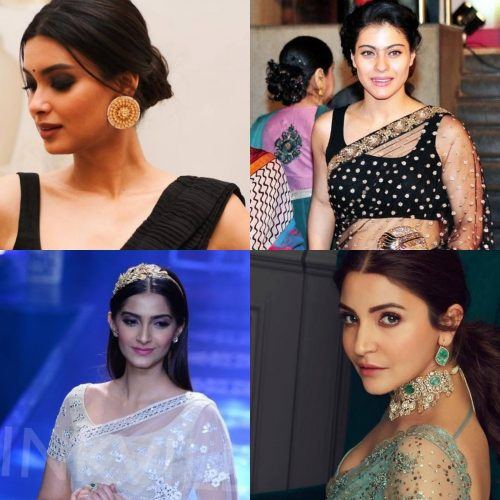 4 – Jewelry With Net Saree
Jewelry is every woman's best friend. They feel lousy without it especially if it is an outing or any other formal gathering. The right choice of jewelry that goes with the outfit is mandatory. Just keep in mind the occasion that you are planning to attend and choose accordingly. Go for heavy jewelry if it is a wedding or formal event and opt for light silver if the game is casual or semi-formal. You can go with necklaces in Kundan design, Jumkas will compliment a saree more than anything. For a very informal affair, only studs or earrings will work more than enough. At weddings, you can give antique silver jewelry a try as well. IndiaTrend sells some beautiful, handmade, and traditional jewelry that would go with any net saree so you can always browse their collection online since they offer international shipping.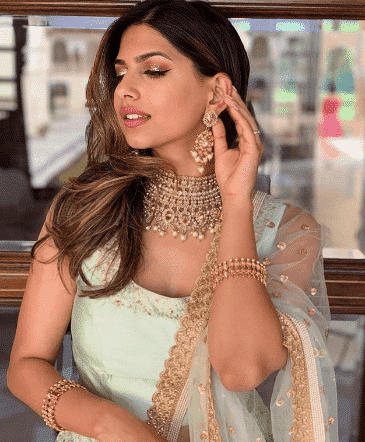 3 – Ideal Purse To Carry With Net Saree
After dolling up one of the hardest choices a girl has to make is about carrying the ideal purse that compliments the apparel and does not mismatch. The lighter the purse you carry the better you look. As saree is already a compelling dress, it is better not to overdo things, hence take a light purse probably a clutch which is just enough to keep your phone, lipstick, or some money.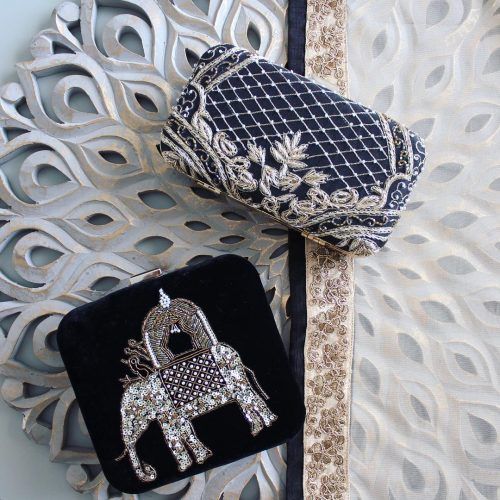 2 –  Choosing The Right Footwear
We have often heard people say that wear whatever you feel like wearing a saree. But in our opinion, it is a disgrace to this traditional dress. It is of supreme value to dress up appropriately no matter what you are wearing and what gathering you are headed to. 
How often do you think that people cannot see your feet underneath a saree? Many times, right? But now it's time to change your perspective. People can see your feet and your footwear when you are walking or sitting even if you feel like they are not visible in your saree. The best choice of footwear with a saree is stiletto heels as it will give you height and make your whole attire look more appealing and gripping. There will be fewer chances for you to stumble and your dress will not be dragged, and it won't get mucky.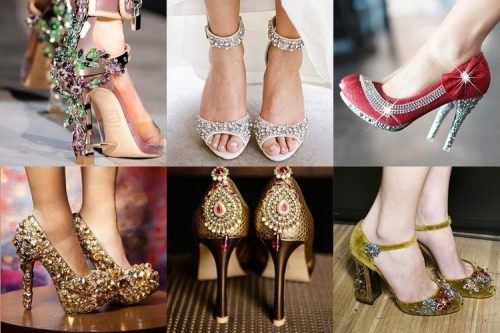 1 – Step by Step Video Tutorial On Draping A Net Saree
Q.

Where To Shop For Net Sarees?

A. Now when you know all and everything about net sarees, their ideas and styling tips you might be thinking of the places from where you can buy them and doll up. Hence we have made it easier for you by sharing some of our favorite saree designers from India & Pakistan.

We hope this blog post helped you in figuring out net saree ideas and ways to style it up. Thank You for reading!