Baddie Winter Outfits – Every year, as summer turns to fall, we become very eager to update our clothes. This year is no exception. In 2022, many new fashion trends came and conquered the market, and people are curious to know what the next year has in store for us.
The social media trend that has not died out during the past years is to dress like a baddie in winter. I am sure everyone likes to carry themselves with attitude and grace. But sometimes, they get stuck in the endless realm of fashion and do not know what to choose for themselves.
Don't worry, we are here to help you out in this regard. There are endless ways to style a winter outfit and look polished and stylish. Here in this article, we will look at the winter outfits you can try in 2023 and slay the looks.
Best Baddie Cold Weather Outfit Ideas
The wonderful thing about winter days is that they give us more opportunities to layer and mix practically all of the adorable clothing items, giving our entire outfits the ideal dash of individuality. When it comes to your preppy winter outfits, the priority should be to keep you warm. However, that doesn't mean you cannot have a blast with your winter wardrobe.
If you are looking for styling tips, you have come to the right place. Keep these tips in mind when shopping for your winter outfits. Apply these tips, and you will notice how it enhances your outfit.
Tips And Tricks For Styling Winter Outfits
Layering is popular in the winter because it's a remarkably useful method to wear when it's quite chilly outside. Finding items you can subtly layer beneath trendier clothing is crucial to staying warm while maintaining a fashionable appearance.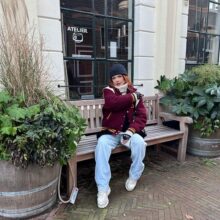 Chilly winds can be avoided with the use of snug clothes. Switch to narrow jeans instead of wide-leg ones to help tone down bulky boots and oversized knitted sweaters. To keep your legs warmer under the skirts and dresses, put on a pair of stockings or fleece lined leggings. In this way, you will stay in fashion while keeping yourself warm.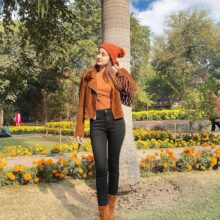 Wool that wicks away moisture keeps you nice and comfortable all day. If wool irritates your skin, choose merino or cashmere. Lightweight wool called merino works well as a base layer: Choose a belted wool coat for the ideal winter layer.
You can mix and match shawls, hats, and boots using the same wool coat nearly every day. A vibrant cashmere beanie can inject some color into a somber winter outfit. Additionally, wearing a hat is a simple way to keep your entire body warm.
Although crop puffers are fashionable, your entire chest should be protected if your goal is to snuggle up. So, ensure that you have at least one large sweater and outerwear for the winter days.
A great pair of boots is the key to great winter fashion. Wear a gorgeous pair of over-the-knee boots with a short dress and graphic tights. You can also wear amazing ankle boots with a thick knit and cuffed pants.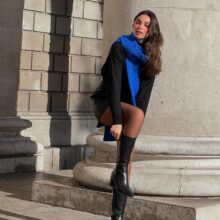 20 – Pair A Plaid Shirt With Tight Jeans
This classic pair is perfect to staple when putting together an outfit. It does not matter what your personal style is, you can mix and match different colors and still look put together. A plaid shirt and blue jeans are a never failing combo that looks aesthetic for winter wear while keeping up with fashion trends as well. It is something you can try in the winter.
You can add oversized shirts or sweaters beneath it. Pair a beanie and chelsea boots with them to complete your look.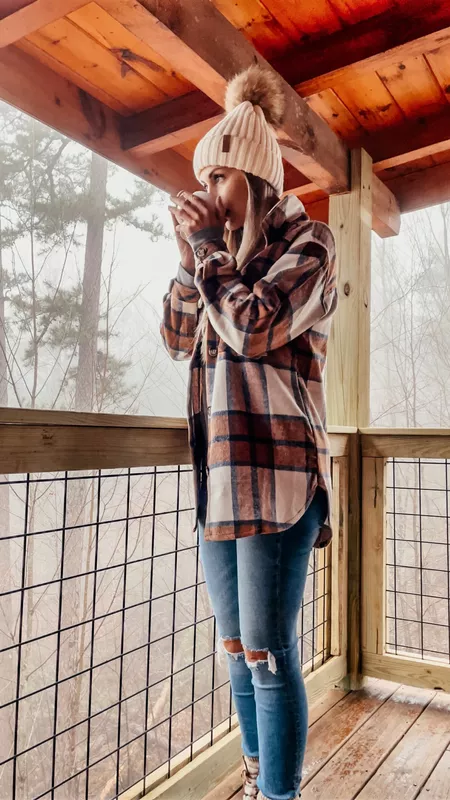 19 – Rock A Baddie Aesthetic in Hoodie And Long Coat
Black and leather are major components of baddie fashion, but why not mix things up? Combine a traditional matching sweatshirt and hoodie with an oversize wool coat that is ankle length, and finish the look with loafers. This is unquestionably the ideal combination of trendy and practical.
Add a flat brown bag to the outfit to accentuate the look. The sunglasses are also crucial to the winter baddie look, so don't forget them.
18 – Ultra Cool Way to Style Denim-on-Denim
Denim and white are the lite combo that is perfect for casual wear in winter. In the colder months, when warmth is paramount, it might be simple to opt for less fashionable attire. But this outfit is a great example of how you can wear simple clothing and still look stylish.
The puffer sleeves of the outfit give a round-off look perfect for many occasions. The denim vest is the highlight of the outfits giving you a new look.
Finish off your look by adding chukka boots and curling your hair. In this get-up you can stay toasty and fashionable at the same time.
17 – Boss Lady All White Outfit
When monochrome clothing is not designed correctly, it might look drab or throw off your proportions. However, altering the shapes of the garments is a simple technique to combat the issue. Wear a turtleneck and tailored jeans for a more interesting silhouette.
To add more shape to your outfit you can tuck your turtleneck into the jeans. It will look stylish to corporate a nice belt into your outfit so it does not look boring. Wear your sunglasses and you are ready to grab tons of compliments.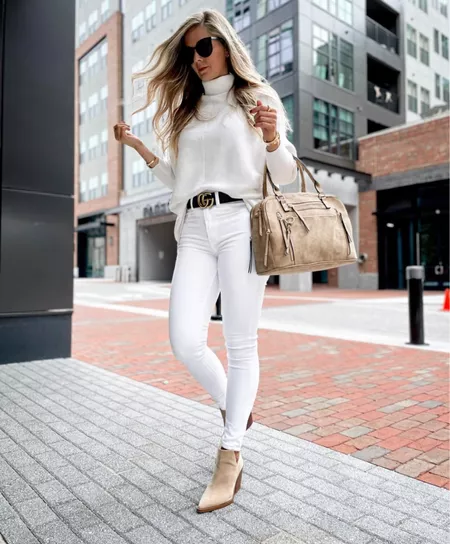 Sweaters and long skirts are a fabulous combination and something one should definitely try in 2023. It is a very chic and poised look. The maroon sweater and floral print skirt go perfectly with each other. This outfit sounds good for a lunch date or a fun day with friends.
You can elevate the outfit by playing with the accessories. Pair the outfit with ankle boots and add a leather bag. Finish off your look with a minimal look and congratulations! You are ready to slay the day.
15 – Leather is Your Savior In Winter
This appearance is so classic that we find it difficult to bear. Everything about this outfit shouts "edgy," from the black leather pants to the black leather jacket. The ensemble has a special touch thanks to the black heels. It is up to you to either go with the all-black outfit or experiment with it a little bit.
To add a little splash of color you can add a scarf or a belt of your favorite color mostly brown or beige color will go perfectly with this. Our vote is to wear it when going to a museum or concert to have that mysterious girl vibe.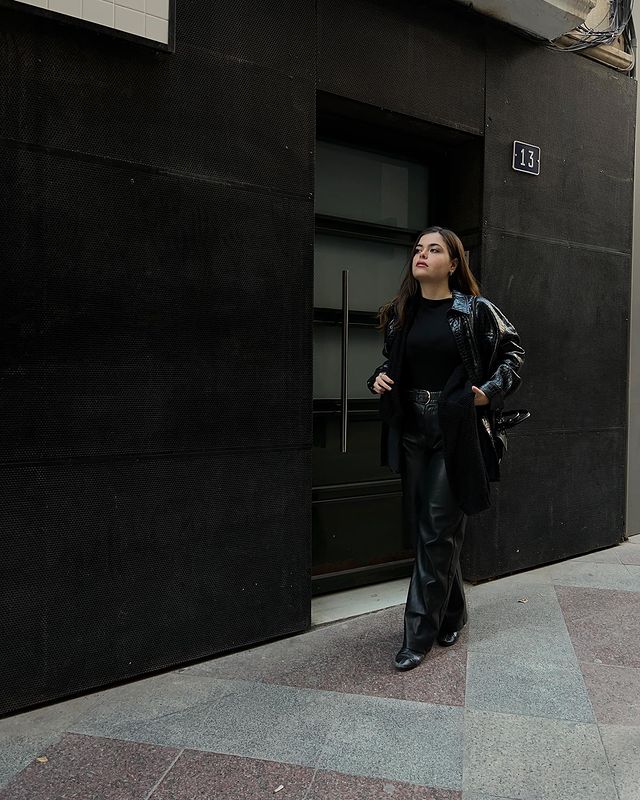 14 – Be Next Level Aesthetic With A Power Suit
It is winter season but you want to stay in style. Don't worry! suits got you covered. It is a statement that will make you look polished in every setting. Put on a turtleneck and a brown suit if you are going to attend any formal function.
You can play with this look by adding a sweater underneath as well. In places where it is freezing incorporate a puffer coat or long coat to make up for it. Add black high heels and a leather bag and your attire will demand attention.
13 – Pair Your Leather Jacket With Hoodie
Here comes a stylish layered outfit that is simple yet elegant. For this gorgeous look, you can pair any hoodie with a black leather jacket. Keep one thing in mind, the outfit should be color coordinated. For the bottom wear skinny jeans or wide-legged jeans, anything will complement this style.
When it comes to accessories add a hobo bag and converse. To finish the look you can add light make up and don't forget to add sunglasses as it is essential for baddie outfits.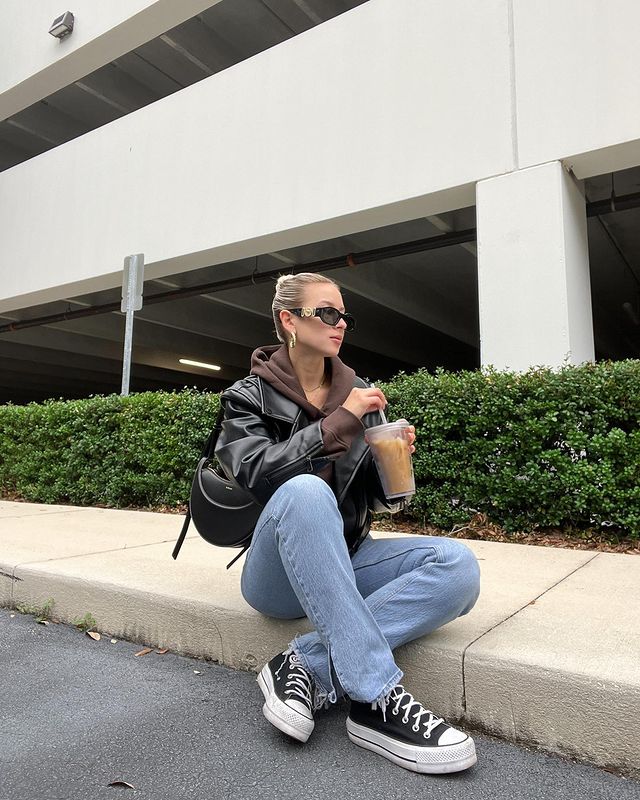 12 – Wide Leg Jeans, Turtleneck, And Leather Jacket
Basic blue jeans are the best friend of every woman. How about you style it with different clothing items to stay in fashion while keeping yourself warm? Crop turtlenecks are a new trend in the fashion industry. This outfit seems ideal for the new year party. Pair a simple leather jacket to balance out the outfit.
Add chunky boots and a simple pendant necklace and you will look polished and put together.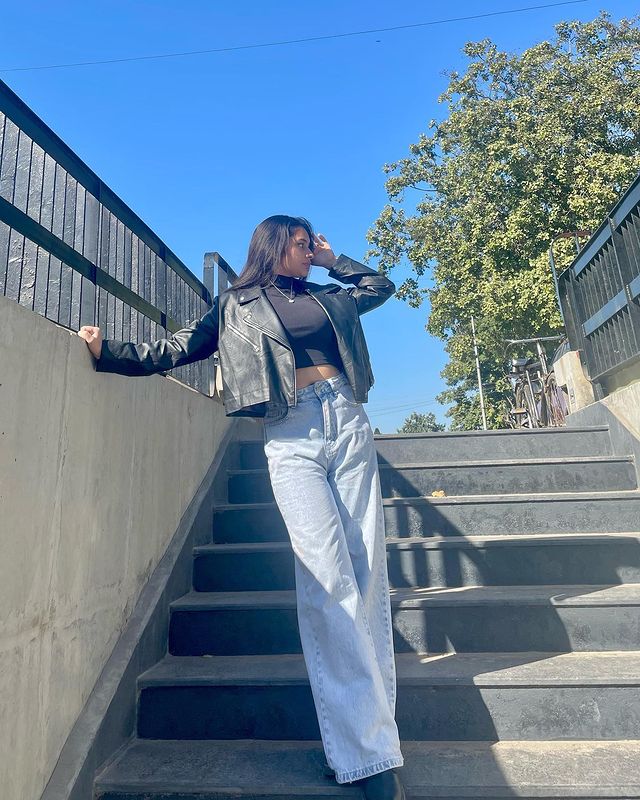 The puffer jacket is no doubt the best piece of outfit you can have in your closet. It presents the perfect balance between function and fashion. This outfit is arguably the best in this list one should go for in 2023. The combination of a puffer jacket with the faux bottom is what brings something new to the table.
Add a turtleneck or a sweater or cream color and little accessories from sunglasses to dainty jewelry will go perfectly with this ensemble.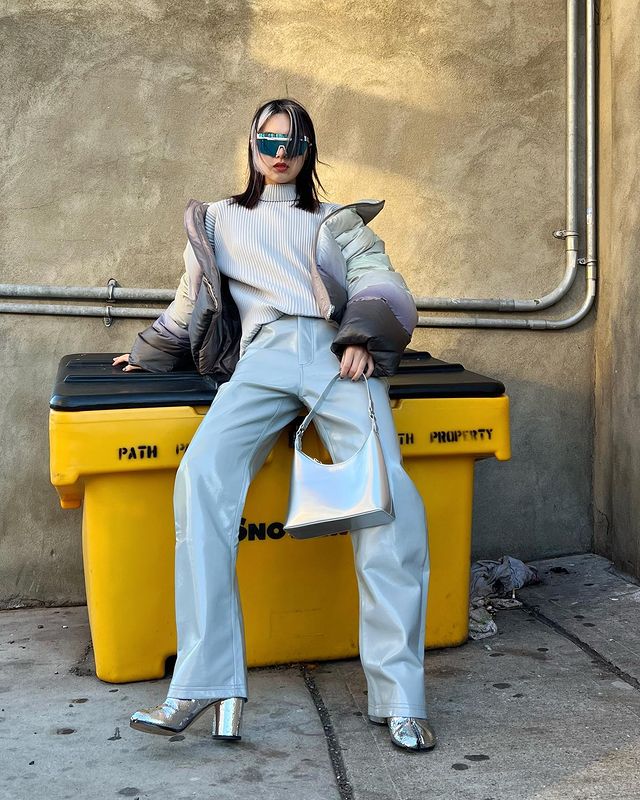 10 – Berets Are Your Best Friend
Open up your wardrobe and find your best beret. You are off to a good start. You can create many stylish outfits and one of the classic ones is a long coat with berets. This is a safe choice as you can go everywhere with this outfit.
Everything in brown shades looks exquisite. Let your hair fall on your shoulder and add chunky boots to finish off the look. Apart from this outfit, berets are a must-have essential needed to acquire the classic and poised look.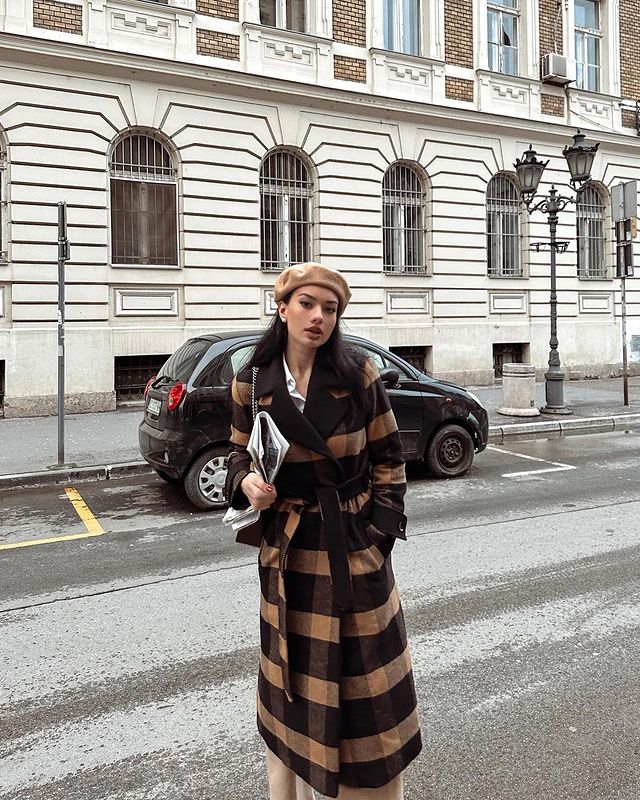 9 – Cardigan Paired With Long Plaid Coat
You can put together this outfit in less than 10 minutes yet it will give an impression of a well-thought outfit. The plaid long coats are the favorite in the winter season and when paired with a cardigan, you will look elite. It is a better option to add chunky black shoes with ankle-length jeans.
It gives a mix of both formal and casual vibes.
8 – Look Edgy in Winter With A Bucket Hat
Bucket hats are still in fashion. There are multiple ways to incorporate a bucket hat into your outfit that will look chic and fashionable. Add a long sweater dress and wool scarf to finish off the look.
Pair the outfit with knee boots. It is important to keep the color coordinated. You are good to go for a night out with friends or on a casual date.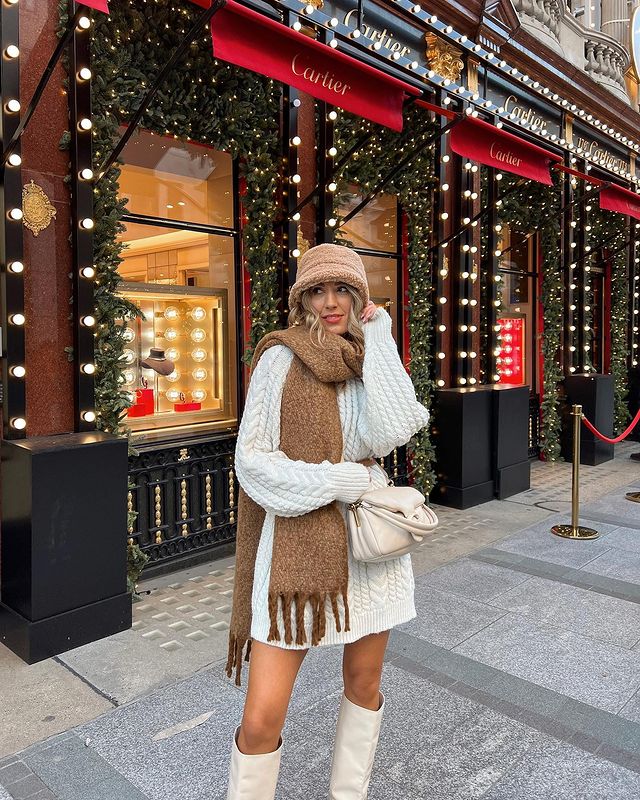 7 – Burnt Sienna Silk dress
When we talk about baddie outfits mostly our minds deviate toward black and dark colors. You can still exude boss energy while playing with colors. This silk dress with a matching oversized sweater is one of those options.
To elevate the dress add pumps and little accessories. It seems an ideal choice for a brunch with friends.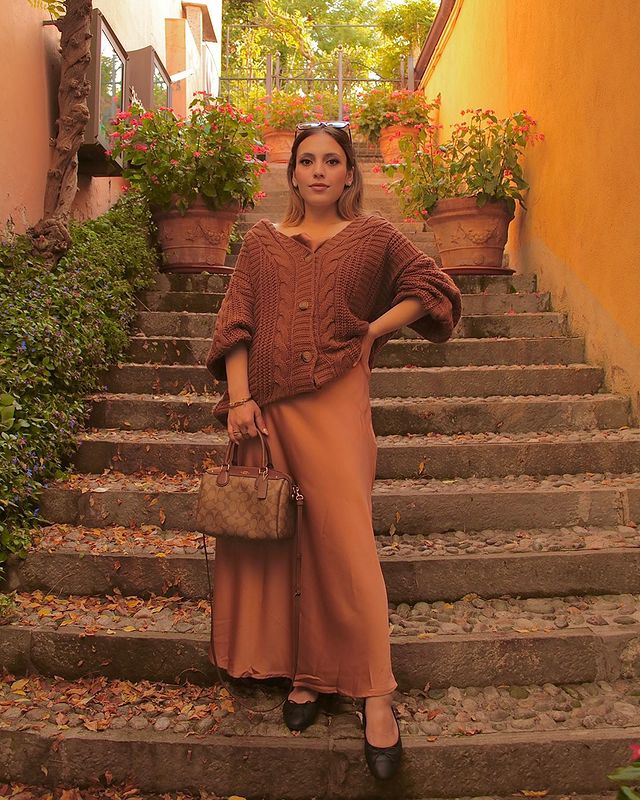 6 – Add Layers to Keep it Warm And Edgy
Layering is a skill needed to make your outfit stand in the winter. The warm color combination looks elite in this sense. This outfit is perfect for a formal get-together.
Pair this outfit with a belt to highlight your waist. It is indeed a flattering staple.
5 – Amp Up Your Style With All Grey
A grey monochrome outfit looks absolutely chic in the winter. You can easily pair it with a long wool coat and skirt. Finish off this look by adding leather boots, they will accentuate your outfit.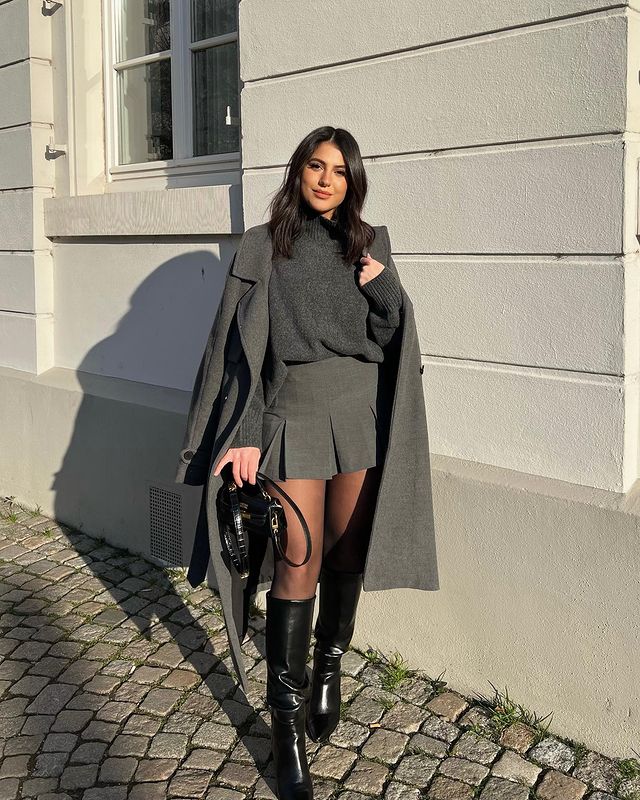 4 – Add Your Coat Over A Jumpsuit
Looking for office wear that still looks fashionable? Pair a red jumpsuit with a cream or brown wool coat. This look exudes femininity and people will surely admire your looks.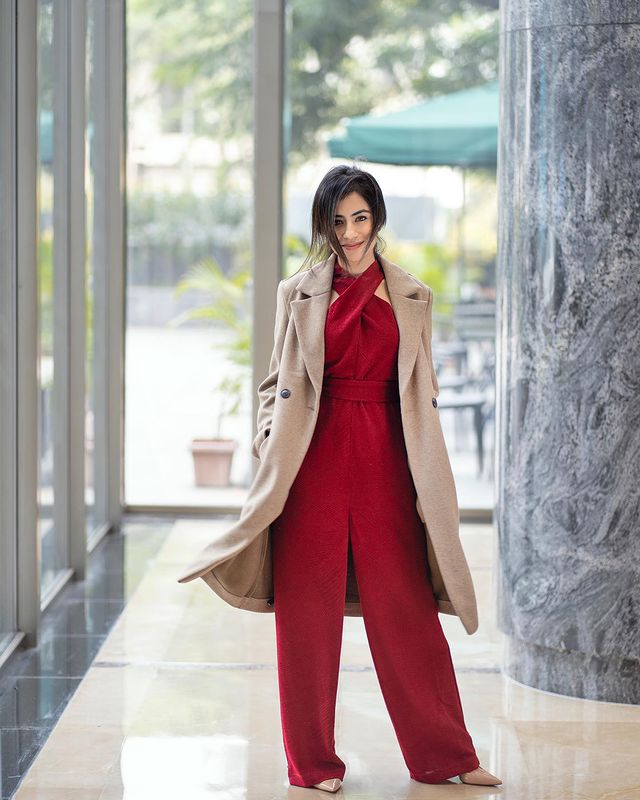 3 – Puffer Vest With Tight Leggings
Going for a stroll or a coffee outside? In this scenario, a puffer vest and black leggings are perfect. To finish the ensemble, add sneakers and a cap. The outfit is the ideal blend of a badass and a casual look that is both cozy and fashionable.
2 – Go For A Combination Of Brown And Beige
Beige and brown are still in style. These neutral hues are now grabbing their moments. In this color combination, even a basic outfit appears put together. Combine a knitted beige sweater with tight brown pants. Wear ankle boots to complete the look. How stylish is this attire?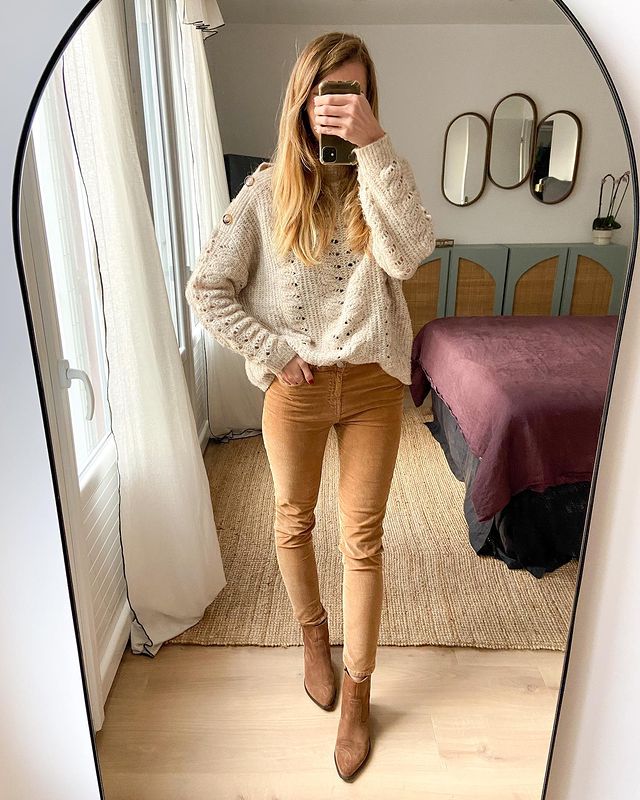 1 – Panama Hat Paired With Black Pants
Panama hats are not only suited for summers but for winters as well. Style them with white sweaters and a wool plaited scarf. You can add white sneakers and minimal jewelry to finish off the look.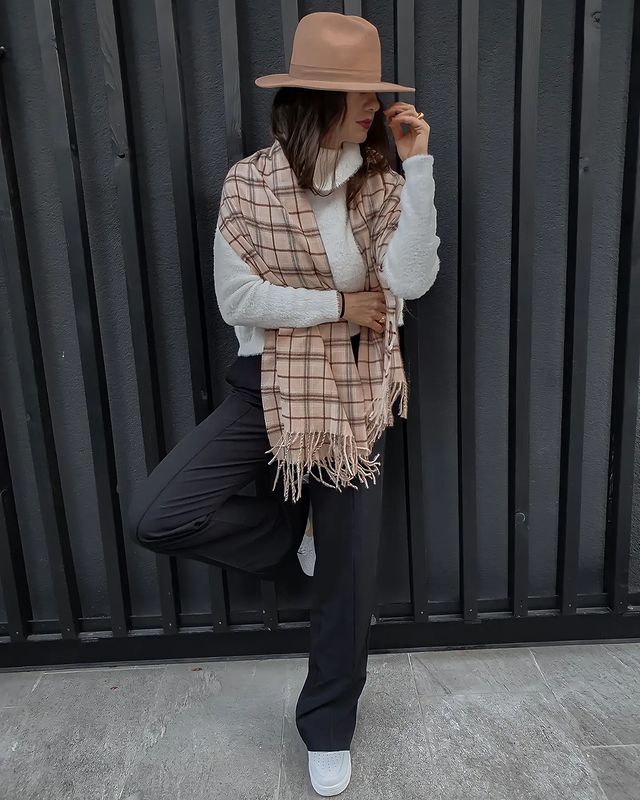 Q: What are the essentials for winter baddie fashion?
A: Lets start from the basics. You should incorporate turtle necks, oversized jackets, crop tops, high-rise jeans, athletic leggings and oversized coats and hoodies. Now that you have invested in the main essentials you can play around and achieve a lot of looks.
Q: How VSCO girls dress for winter season?
A: VSCO females frequently wear tights or leggings in the winter months to stay toasty. With large sweatshirts, knitwear, cardigans, or sweater dresses, they create chic winter ensembles. As I've said before, investing in the basics will help you advance in this aesthetic.
Q: What colors are an ideal choice for baddie winter fashion?
A: Well baddie fashion is all about playing with dark colors. But it does not mean that you cannot go for beige or lighter colors. Mix and match bright neon colors, black, gray, red neutral tones, and pastel pink for maximum effect.