Fleece Lined Legging Outfits – Do you want to wear miniskirts in winter, but weather conditions aren't allowing you? Don't worry because Tiktok has found the solution to this problem. Fleece-lined leggings look simple in appearance, but these leggings are lined with fleece from the inside for insulation.
You don't have to layer under your bottoms to beat the cold because these leggings can make you look tall and keep you warm simultaneously. If you haven't added these tights to your wardrobe, do it today because I have some exciting outfit inspiration for you to recreate this season.
How To Style Fleece Leggings?
Styling these leggings is super easy. You can build an outfit around it with the everyday items in your wardrobe. Be it an oversized sweater, turtleneck top, or plaid leggings which you haven't worn for years, take them out of your closet because we will recreate some fun outfits with your already-established wardrobe.
Tips To Wear Fleece Lined Leggings
With fleece-lined leggings, try to keep the length of your skirt short. Leggings are already fulfilling the purpose of keeping you warm, so it's better to style the bottoms according to the outfit.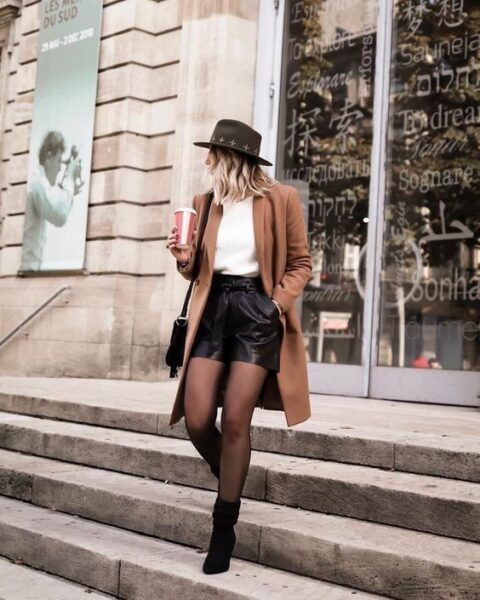 Match your shoes with bottoms or coats instead of the color of the top.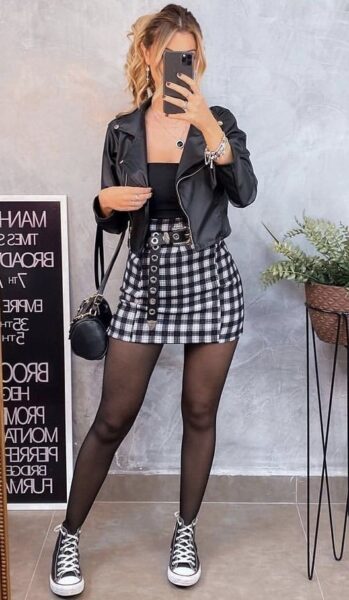 If you aren't wearing any coat or jacket, choose baggy or oversized tops with fleece-lined leggings.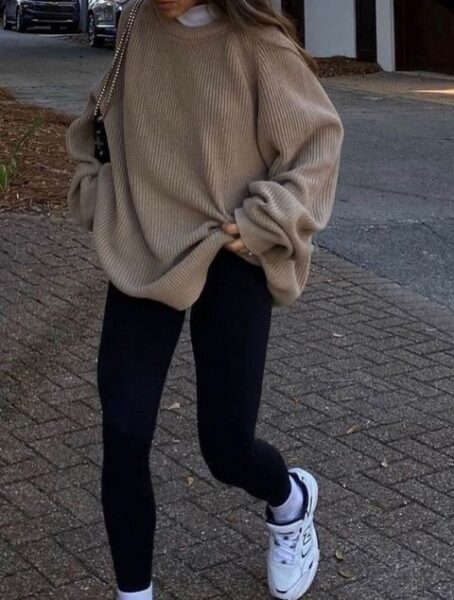 25 – Brown Turtleneck Sweater With Black Leggings And Long White Jacket
Wear a brown turtleneck sweater with black tights and a white zipper jacket. Use a grey wool knitted scarf to wrap around your neck. Also, for footwear, choose fur-lined white snow boots.
24 – Black Zipper Sweatshirt With Puffer Coat And Grey Boots
Who doesn't love an all-black outfit? Also, it is easier to layer a black outfit in winter than in other seasons. You can choose any shade of your liking for the coat, but if black defines you the most, you can always wear it.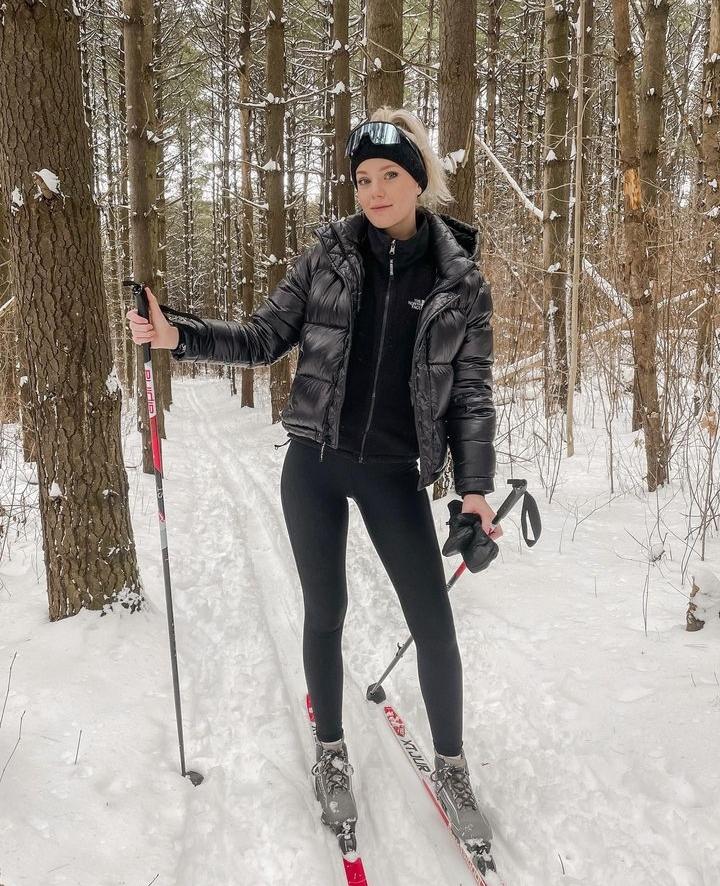 23 – White Top, Plaid Skirt, Beige Coat & Black Boots
Wear a white wool top with a plaid skirt in red and pair a beige coat to complete the outfit. Match your shoes with your skirt, and don't forget to add skin tights to beat the weather.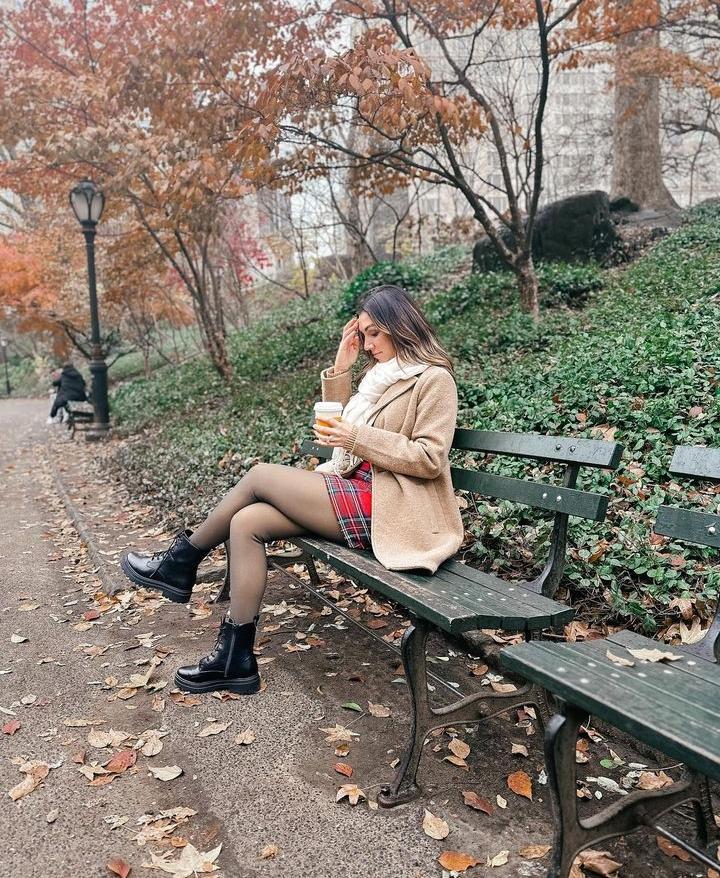 22 – Black Top With Long White Hooded Jacket And Matching Sneakers
A black oversized turtleneck and white hooded jacket can be casual attire or perfect for an outdoor meeting. You can wear jewelry according to the course of the day. Also, add flat sneakers and a shoulder bag for the final touches.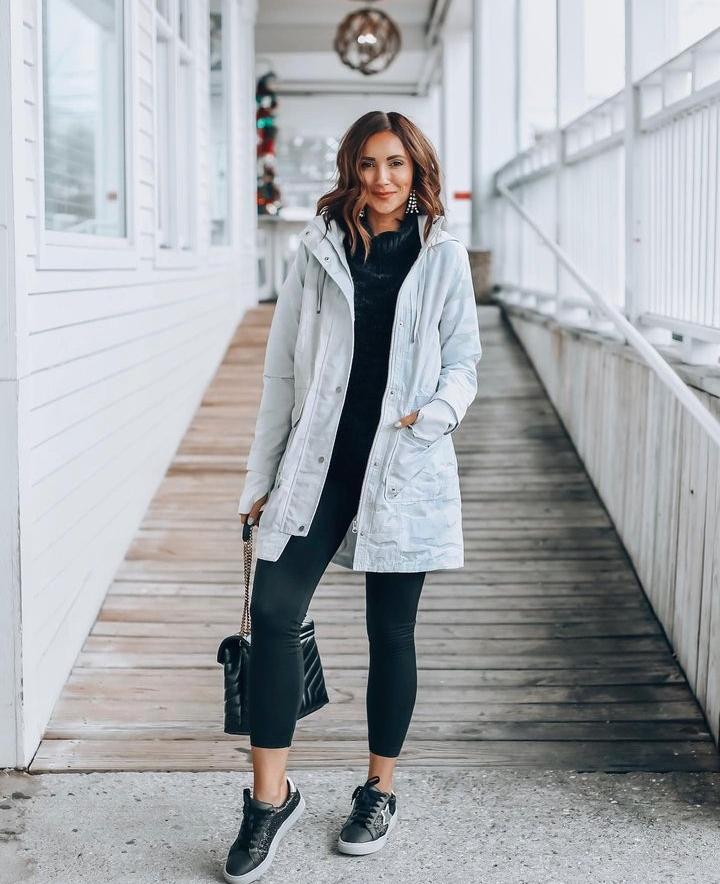 21 – Blue Tie & Dye Shirt With Grey Bottoms And Black Fleece Coat
Tie & Dye tops are very trendy these days. Pair it with black leggings and a black fleece-lined jacket. If the weather is too cold, you can also add a beanie. You can further layer the outfit with a muffler, or a high-neck is also fine. Choose white gloves to match the beanie, and that's it. You are all set to go outside.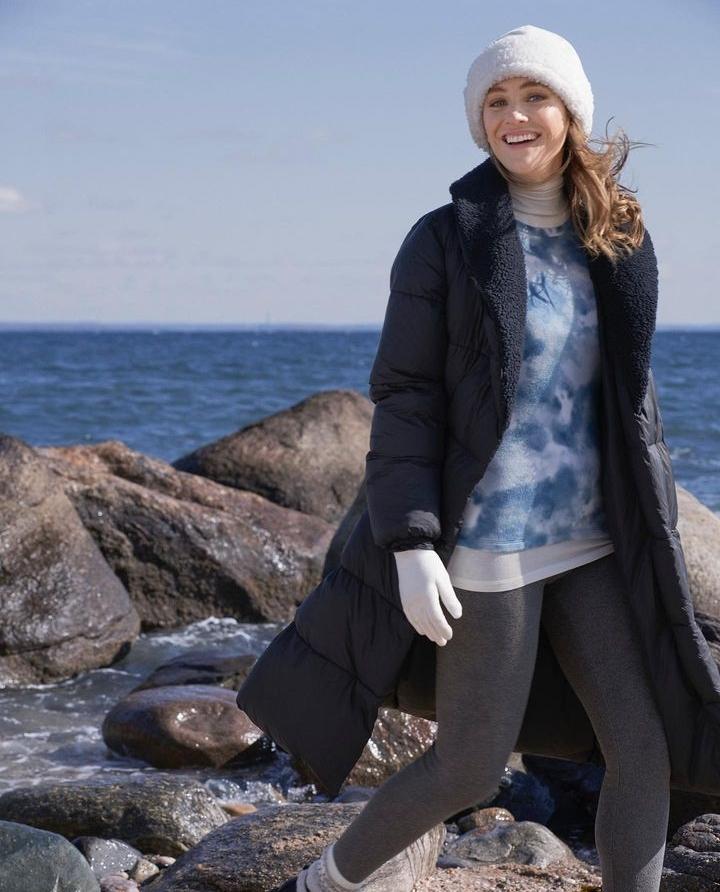 20 – Striped Shirt And Black Tights With Light Pink Teddy Jacket
A white and black stripe shirt is the one piece of clothing that almost everyone owns. You can easily pair it with black tights and a pink fleece jacket. Wear your daily wear sneakers and a p-cap. You can also add a coat over it when you are stepping out.
19 – An All Black Outfit With Black Puffer Jacket And Brown Muffler
It's not difficult to put together an all-black outfit from your closet. To add a little color to your attire, you can add different elements like a brown muffler or white shoes. You can even style white gloves with it to create some contrast in your outfit.
18 – Grey Sweatshirt With Blue Leggings And Yellow Jacket
The easiest way to elevate a look of a basic outfit is to add a bright colored coat or jacket. For example, with a grey top and blue bottoms, wear a yellow jacket. Choose black boots, considering the weather. You can also add ear covers and gloves to complete the look.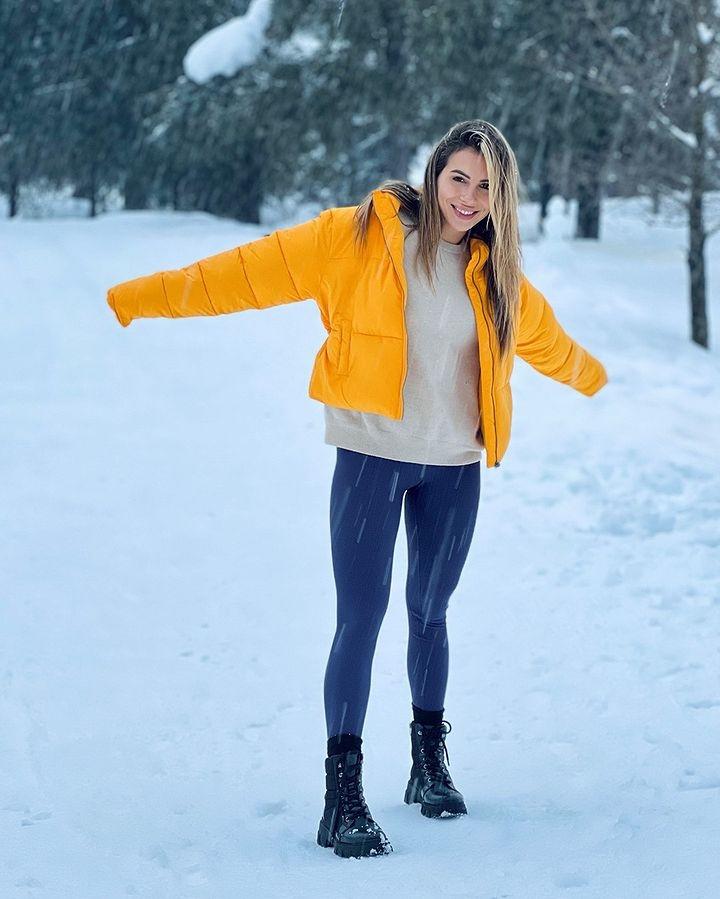 17 – White Top And Grey Tights With Beige Crop Jacket
Wear the white wool top with grey fleece-lined tights and pair it with a beige puffer jacket. Choose your favorite shoes which can protect you from this cold weather. You can match shoes with a top or jacket. Lastly, carry a tote bag for all the essentials.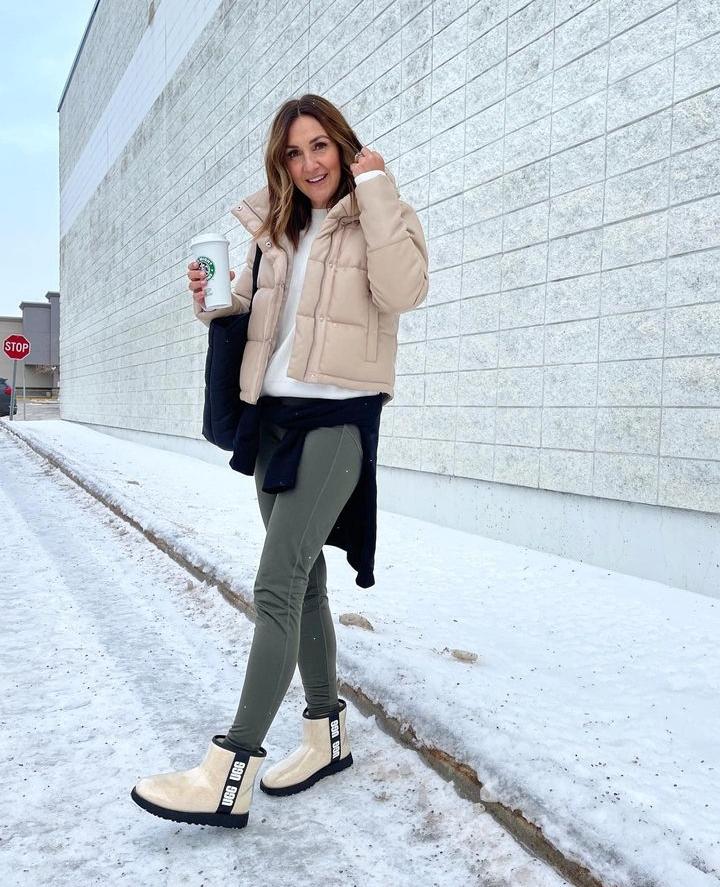 16 – Maroon Sweater Dress With Black Stockings And Boots
Do you have a dress but don't know how to style it in extreme winter? This could be an issue a year or two before but not now. Stockings remain the most helpful clothing item for any short dresses this year. Wear a wool-knitted maroon sweater dress outfit with a belt.
Now, wear skin or black fleece-lined stockings to consider the weather conditions. You can choose between the pattern or simple stocking according to your liking. Finish the look with ankle-length black boots.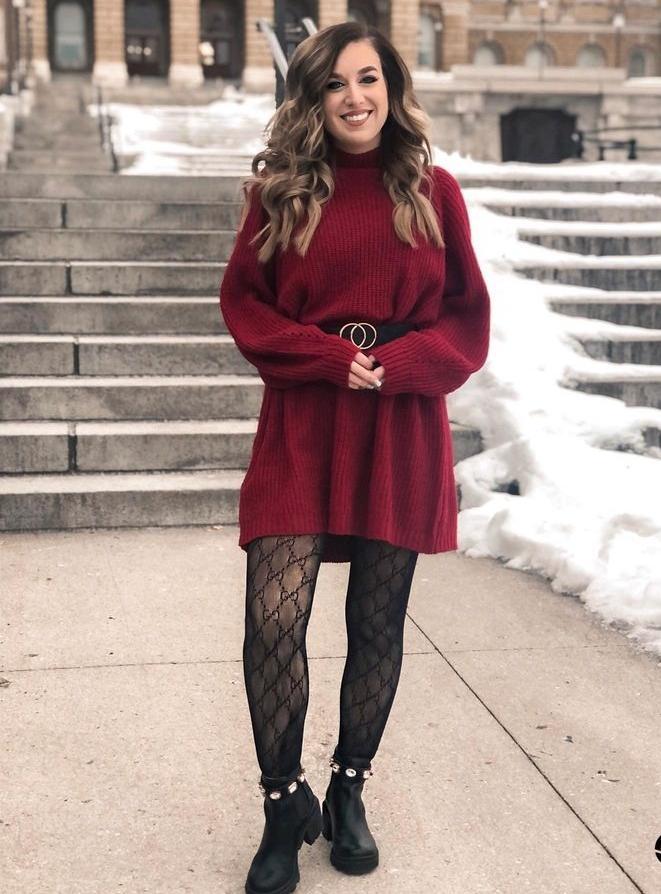 15 – Black Shirt With Brown Zipper Jacket & Ankle Boots
You definitely have a black turtleneck shirt in your closet, don't you? But styling it again and again with an all-black outfit must be boring. This season, try to pair it with other dark shades like brown. Brown leather can come in handy in situations like these with brown bottoms.
Add a beanie and gloves as an accessory. You can also wear a chain above the turtleneck if you want a smart casual look. Choose shoes depending on the atmosphere but in black.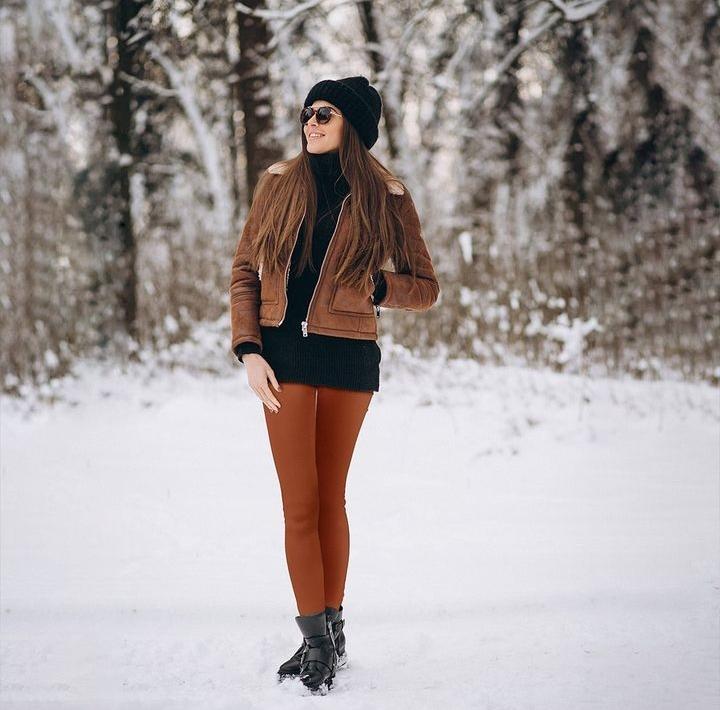 14 – White V-Neck Loose Shirt With Green Tights And Blue Cardigan
Pick a loose white v-neck shirt and pair it with green bottoms. Now layer it with a light blue cardigan and wear long grey boots.
If you aren't wearing a cardigan, I suggest wearing leggings with pockets or gloves so you can warm your hands from time to time.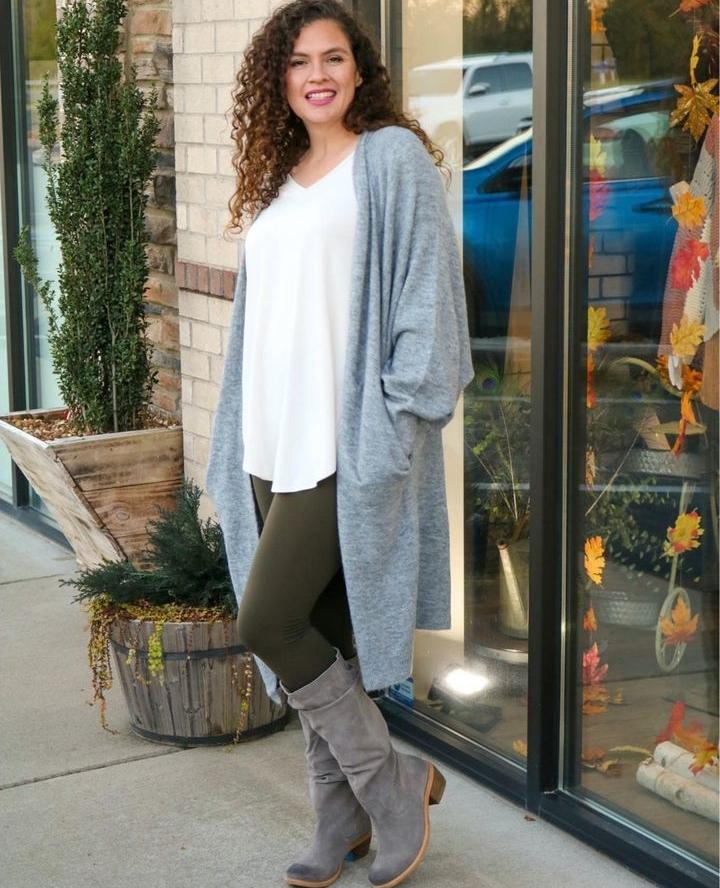 13 – Pink Hoodie And Beanie With Leggings & Laced Mid-Calf Boots
A pink hoodie top and blue bottom are a perfect color combination for any season. But if you want to create this combination in winter, wear fleece-lined leggings instead of casual ones. You can layer your outfit with a jacket or coat. Lastly, add a pink beanie to finish the attire.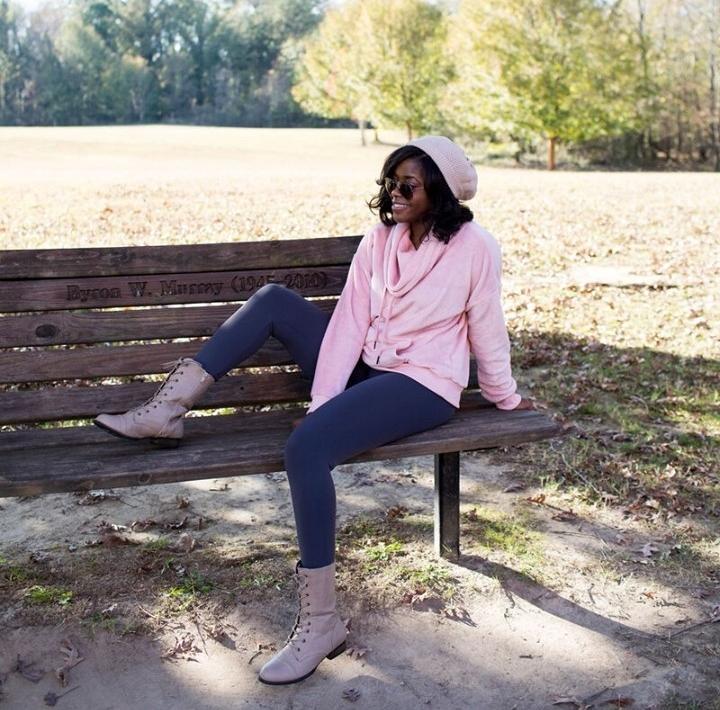 12 – Pink Side Cut Sweater With Black Leggings And Long Scarf
Wear a wool knitted side-cut sweater with black leggings. Use a long white and black muffler to roll it like a scarf. Choose your best brown leather shoes to go with the whole look. Lastly, carry a matching bag, and that's it. You are all set to step outside to enjoy your day.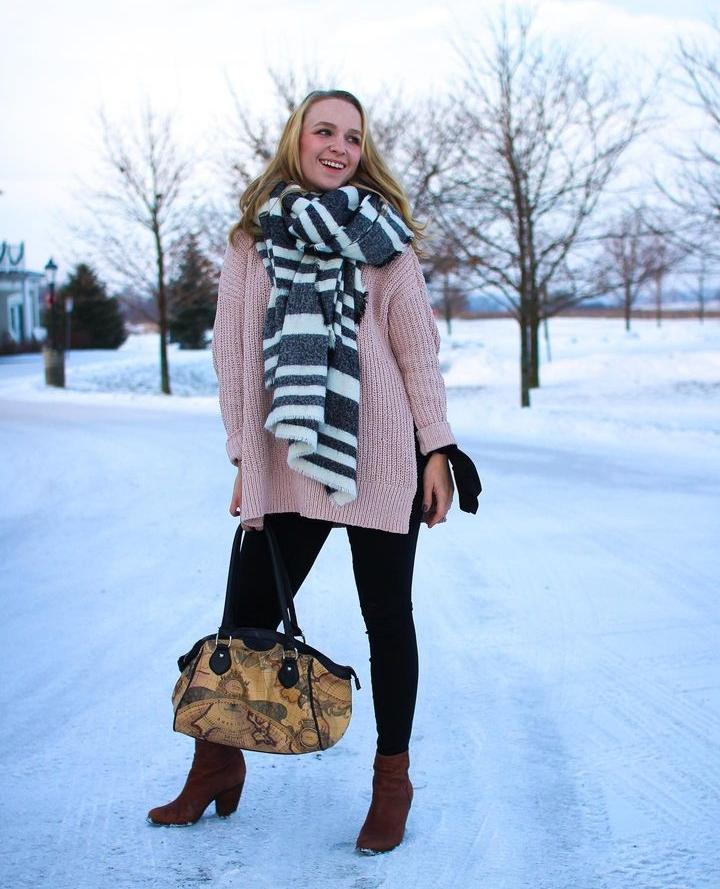 11 – Beige Top With Black Bottoms And Grey Rain Jacket With Black Winter Beanie
A beige top with black bottoms comes in casual wear, but you can make it fancy with a long grey rain jacket. Choose boots that are atmosphere friendly but also look fine with your outfit. Add a slouchy beanie and red lipstick to maintain the Christmas vibes.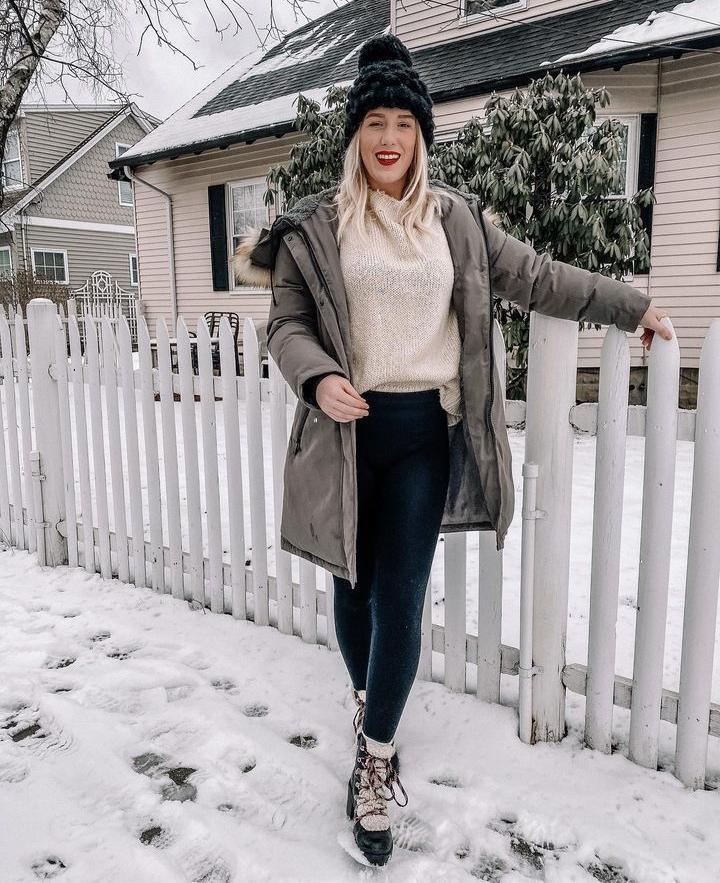 10 – Blue Sweater, Black Leather Shorts, Black Coat & Knee-Length Boots
A blue top with black leather shorts and a black button coat is a perfect ensemble for winter. Add black leggings and long boots to beat the cold weather. You can also include gloves and a scarf to complete the outfit.
09 – Green Turtleneck Sweater With White Pleated Skirt And Purple Fleece Coat
If you love pastels, then this outfit will be your favorite on the list. Wear a green turtleneck wool knitted water with a white pleated skirt and pair it with a purple fleece coat.
You can wear this combination in winter and spring but with little alternations. Like in winter, add leggings in your outfit to beat the cold and black shoes.
08 – Black Button-Down Shirt Dress With Brown LV Belt And Black Shoes
Shirt dresses look perfect in summer, but the real task is to style them for winter. Wear a leather belt around your waist and use a little gold accessory for a casual smart look.
07 – White Collar Shirt With Pink Sweatshirt And Long Black Boots
Collar shirts are pretty standard, and you can style them in many ways. Here's my favorite look for winter to create with a button-down collar shirt. Pair it with a bright shade sweater like pink. Instead of going with pants, choose leggings and finish the look with long knee-high boots.
06 – Brown Fleece Lined Leggings With Rust Puffer And White Sneakers
If you love to spend your winters in casual clothing, there's nothing better than a hooded puffer jacket. You can wear it for the whole season in many different combinations.
When you hear about the pink and brown variety, it might not warm your heart, but if you play with the right shades of pink and brown, it can be the most eye-catching color combination you could ever wear. To make the outfit look more subtle, wear white shoes instead of matching them with the outfit.
05 – Pink Sweater Top With Black Leather Skirt And Lace Boots
You definitely have a lot of knitted sweater tops for this winter season. But the real challenge is how to style the same sweater again and again differently. Choose a leather miniskirt from your closet and pair it with skin tights.
Wear knee-high lace boots and carry a shoulder bag. You can change the top and bottoms, but the rest of the outfit will remain the same. In this way, you can create many different outfits.
04 – Brown Zebra Print Mini Dress With White Fur Collar Coat And Dark Brown Mid-Calf Boots
Combination of dark brown and white screams elegance. Wear a zebra print dress and pair it with black leggings. A fur collar long white coat is a perfect option to complement the look. Wear mid-calf boots in brown to finish the look in style.
03 – Black Crewneck Top With Plaid Crop Jacket & Black Leather Skirt
Crop jackets are pretty easy to style but with the right pieces. Pair a black crewneck top with a leather skirt. You can layer the outfit with a fleece-lined flannel crop jacket. Accessorizing your outfit with metal chains is a good option if you like belts. Choose your boots according to the length of your skirt.
02 – White Sweatshirt, Skirt, And Chunky Shoes With Long Beige Coat
You can mix and match white with almost every color, whether dark, neutral, or pastel. Wear a white wool sweater and a white miniskirt. Go with skin leggings and a long beige coat for a chic look. For footwear, choose chunky boots. Accessorize your outfit with a matching headband and crossbody bag.
You can further layer the outfit according to your liking and weather conditions.
01 – Teal Blazer With Black Knee-High Pointed Boots
Oversized outfits are pretty trendy these days, and if you keep a blazer oversized, you can convert it into a dress. Don't worry about the bottoms, and you can always choose skin or black fleece-lined leggings.
Wear long, knee-high pointed boots and carry a black shoulder bag. Accessorize your outfit with a thick gold chain, and wear shades to complete the look. Tie your hair in a sleek back bun to give the model off-duty vibes.
Frequently Asked Questions
Q: Do fleece lined leggings keep you warm?
Ans: It may be better to save fleece leggings for sitting around the house on a cold winter day instead of wearing them to your sweatiest gym classes or workout sessions because they are suitable for looking fancy in cold weather; they aren't moisture friendly.
Q: How do you wear fleece lined leggings?
Ans: You can style them with pretty much every outfit. While some fleece tights are slightly see-through, fleece-lined leggings are completely opaque and offer complete coverage. Consider them more like thermals or black leggings and wear them with long sweaters, dresses, or under activewear clothing for warmth.
Q: Are fleece-lined leggings good for winter?
Ans: These are the ultimate solution to wearing fancy clothes in winter. Leggings and tights are still appropriate as the weather gets colder; enjoy fleece-lined leggings that keep you warm and comfortable all winter. The training leggings may appear to be your standard pair, but they include a super-soft fleece inner that adds extra insulation.
We hope you are no longer confused about how to wear fleece-lined leggings!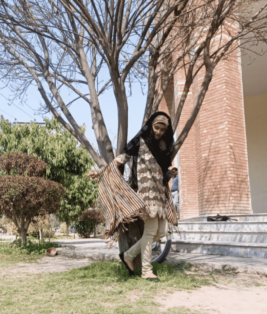 Javeria is a student and a content writer. She is good at public speaking, leadership, and management. She is passionate about writing, reading & music. She is an ambivert and is always up for a new friendship adventure. As an English literature student, she thinks fiction is more fun to read than nonfiction.