Legging Outfits For Plus Size Girls – Wearing the right thing at the right time is key to looking fabulous. People size you up in less than thirty seconds of your meeting them and your clothes have a lot to do with how others perceive you. Especially if your body shape demands some extra specifications.
Wearing Leggings for school, work or any other recreational event is as important as wearing leggings for a wedding or some formal event. Leggings keep you cool and comfortable. You feel feminine along with the fact that your legs are protected.
   How To Style Leggings If You're Plus-Size
Leggings aren't so hard to style and they really shouldn't be, you can style them with tons of outfits. You can wear leggings with maxi dresses, mini dresses, crop tops, and fashion tops as well. You don't have to worry about being plus size because clothes should not be about your size, you are not supposed to fit into clothes but instead, clothes are supposed to fit you.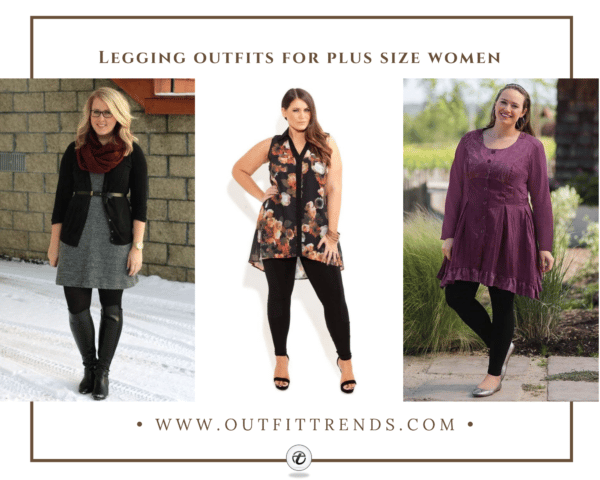 Tips For Wearing Leggings
Choose a material for your outfit that really makes you feel yourself, something doesn't make you uncomfortable at all, so choose wisely.
When you are at home you need to be comfortable with your dress so your waist-band should be high enough that when you move around your house it stays comfy for you and you carry out your daily tasks comfortably.
Your leggings must be of perfect length. you must not tuck them into your boots or must not need to fold it because that won't look good, you must know how to look stylish in your comfort.
You must choose a perfect top to wear with leggings. If you are plus size my advice is that you must wear a short top, not a full-length one. You must choose something that makes you look younger.
Leggings are something that shows off your body so try to choose the right kind. Be comfortable with how you look and wear it with confidence. RECOMMENDED: 12 Hot Plus Size Street Style Fashion Ideas for This Season
But if you are forty plus, you can try wearing some maxi dresses with leggings so you can stay comfortable.
Leggings are the right choice to wear in cooler weather. They are thicker than tights so they are nice and warm.
Here are some great ways to wear leggings for plus size ladies.
↓10 – Funky Leggings For Plus Size Ladies
Plus size girls and women especially shy away from wearing any funky, vibrant or bold printed leggings because of their figure. These days there are so many great prints and designs are available in leggings and every woman wants to try them out. Well here is a good news for all plus size ladies, you can wear the funky and glammed-up leggings. Just bug the size that is appropriate and comfortable for you and you will definitely look more than pretty. Also have a look at Plus Size Date Outfits- 20 Ideas How To Dress Up For First Date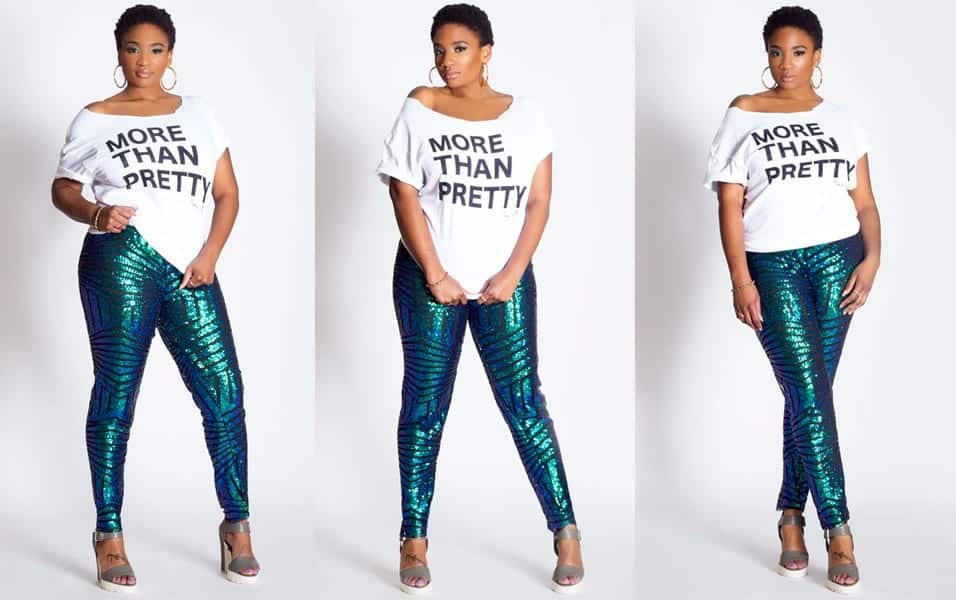 ↓9 – Wearing Leggings for Work:
People think that there is no room for leggings at workplace unless you are a yoga instructor or choreographer.But right kind of stuff like your long top or stylish accessories can enhance the chance of your wearing leggings at work. Because of its casual look, it might not suit the conference room or board of directors meeting but somehow you can manage it in a way that your boss won't find annoying. Your leggings must be covered with a cardigan or perfect knee length sweater to look cool, comfortable and beautiful. you can wear like boots and put a blazer on top to give your dress a formal look.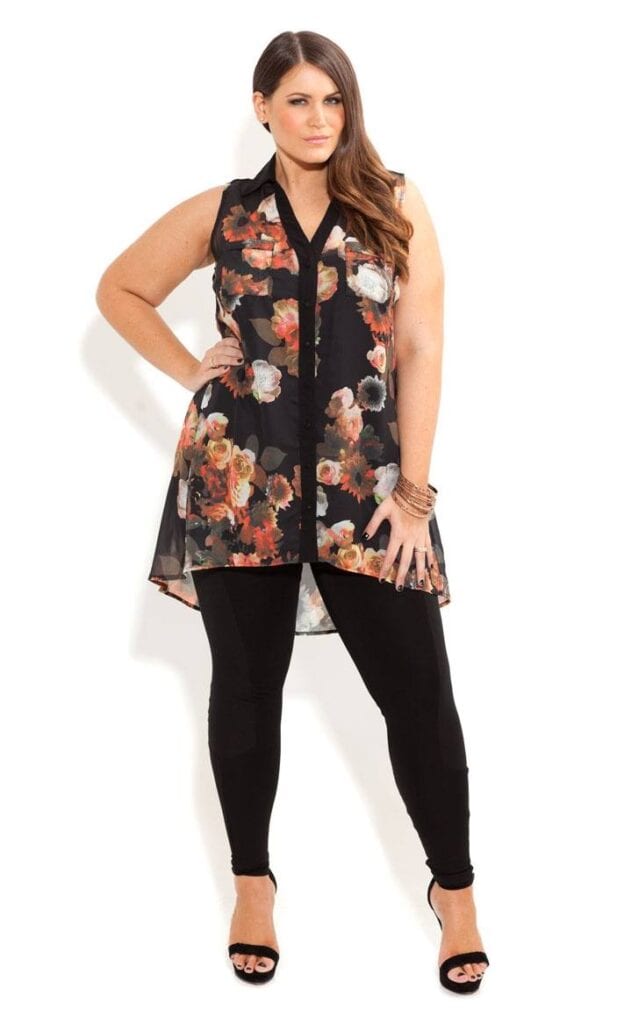 via
↓8 – Leggings With Tank Tops For Curvy Ladies
Here is to breaking another stereotype. Tank tops can look great on curvy ladies too. Just choose the right color that goes with your complexion and you can wear your favorite tank tops with leggings. For some more inspiration, here are 20 Best Adele Outfits Every Plus Size Woman Should Follow

via
↓7 – Wearing Leggings To A Wedding For Plus Size
What to wear at the wedding? Sometimes it is a very pivotal question if you want to conquer the evening. Leggings seem to be a good choice. It will not only make you feel comfortable and confident with your outfit, it can also give you a stylish look if worn perfectly.
I think the color of your leggings with a perfect combination of the top can enhance the beauty. Wear a tunic or a dress as a top with the leggings. I would suggest dark colors like vintage, black, navy but not orange or yellow of course. The color of your leggings will add grace to your personality and minimize the casual look. The top must be of simple chiffon fabric and you can also wear a jacket. If it is indoors, your chiffon top with golden or may be silver embroidery will look fabulous and if you are at an outdoor wedding you can put on your jacket.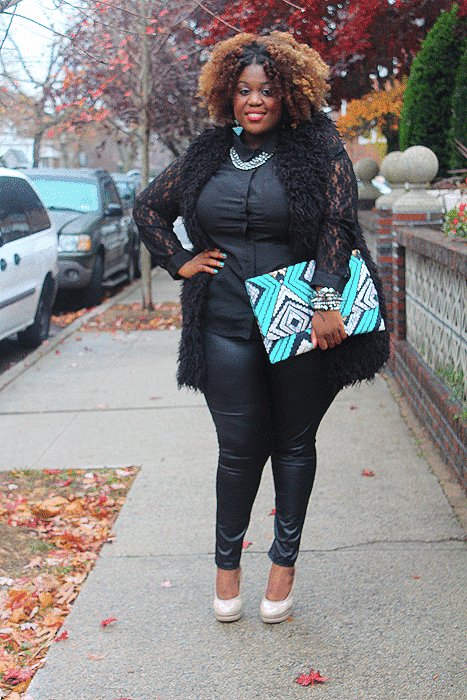 via
↓6 – Winter Look with Leggings:
Go for monochrome colors this winter. If you choose for example fawn top or sweater…navy blue or black or even maroon leggings will compliment. Knee length boots will do with a dark color leggings and a wool muffler. Check out Casual Outfits for Plus Size Women-14 Funky Curvy Women Style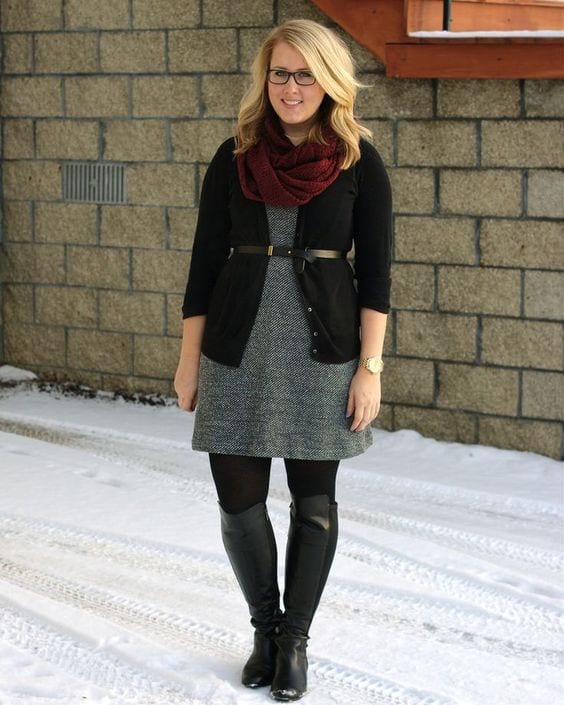 ↓5 – Wearing Leggings At School
To wear leggings at school seems to be a good choice. I remember wearing skin leggings under my little red skirt to school. The skirt not only covers your back side but also add to your comfort especially if you tie a belt to hide your belly button. Because of strict codes of school and social norms students are not allowed to experiment with their style. Leggings seem perfect because they not only protects but also compliments the dress code.
 
via
↓4 – Party Wear With Leggings For Plus Size Ladies
RECOMMENDED: 28 Fashionable Nightclub Outfits For Plus Size Women This Year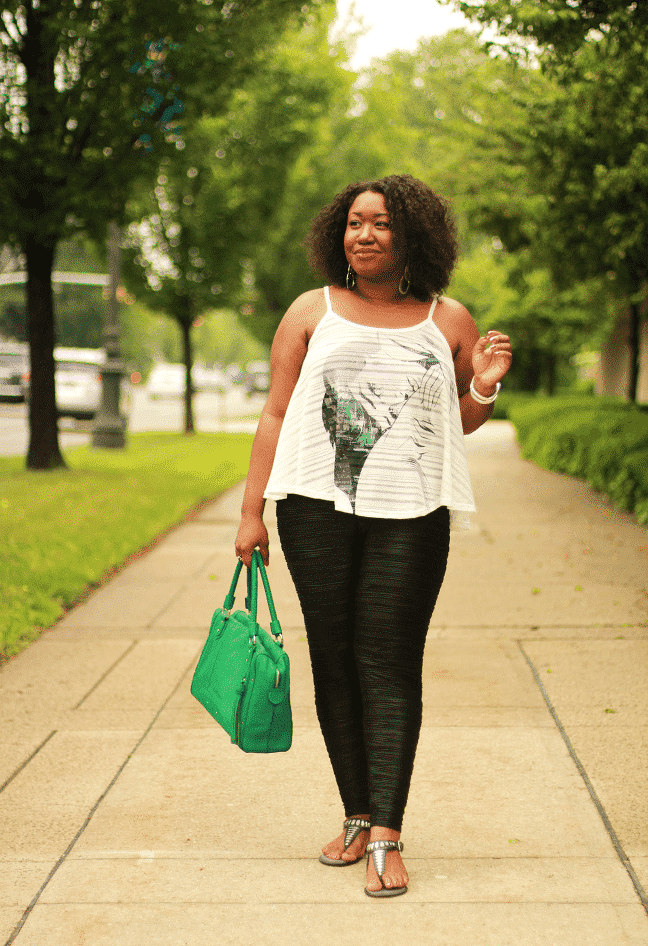 via
↓3 – Black And White Leggings Look For Plus Size Girls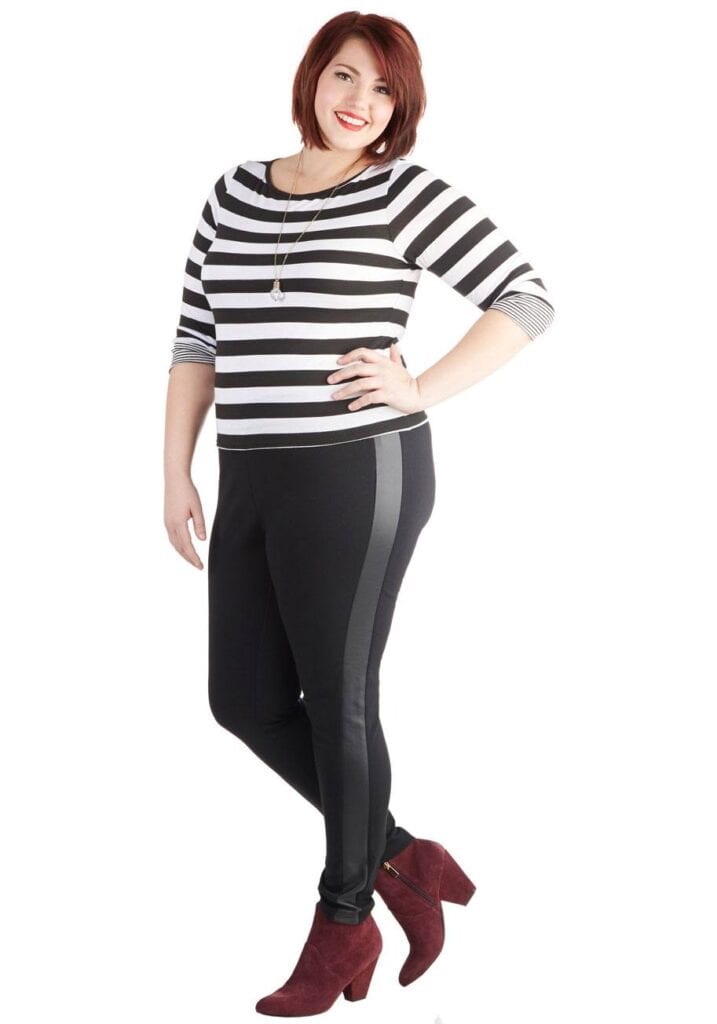 via
↓2 – Beautiful Spring Dress with Leggings:
Simple leggings with a flowery top. And yes you can experiment with colors in spring for instance: you can add a top with yellow or black and yellow combination leggings will enhance the beauty and experimentation. Don't miss out these 18 Plus Size Sequin Outfits-How to Wear Sequin as Curvy Women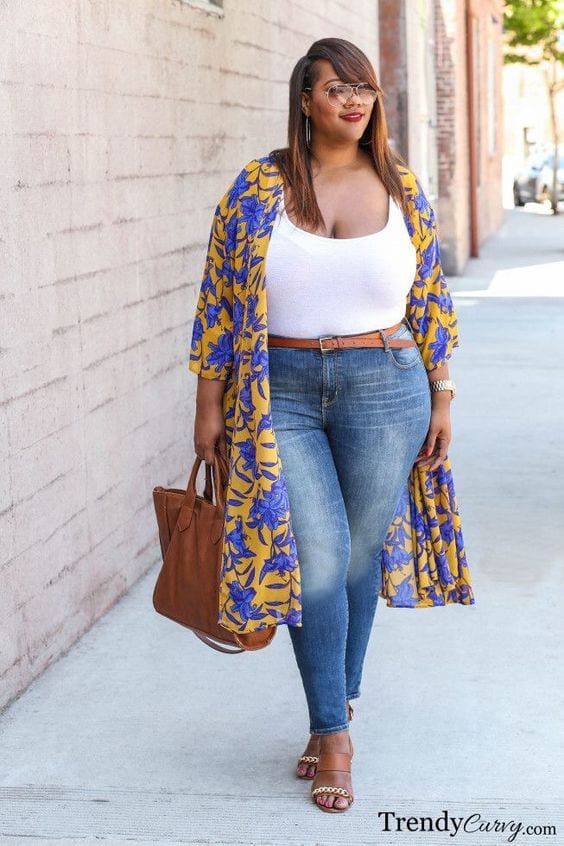 via
↓1 – Best Accessories to Wear with Leggings for Plus Size Girls
Being curvy means that you need statement making accessories as tiny ones won't be much noticeable. So when wearing leggings, it's best to accessorize with the following:
A bag that goes proportionately with your body shape
Pointed shoes or Boots
Chunky bracelettes, dangling earrings or a statement necklace, but don't overdo things by wearing them all at the same time. It's important to accessorize minimally for a classy look
Add a pop of colour through one of your accessories for example a funky belt to show off your curves. You can also use the belt to give yourself some extra height by simply wearing it over a scarf or a sweater.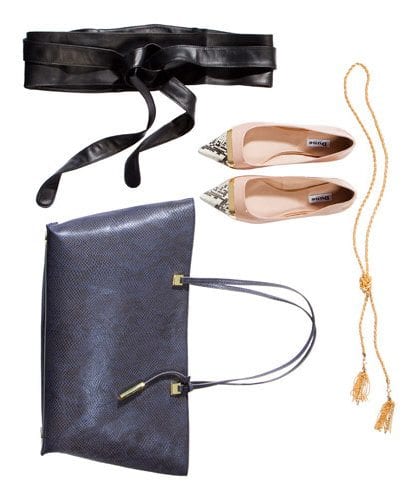 A scarf is a great accessory to add color to your outfit and also to bring more attention to your pretty face rather than your body.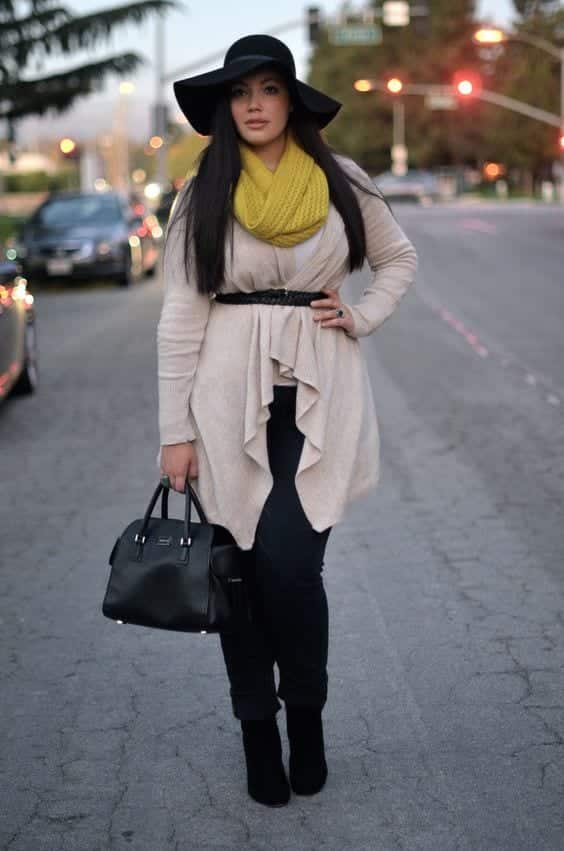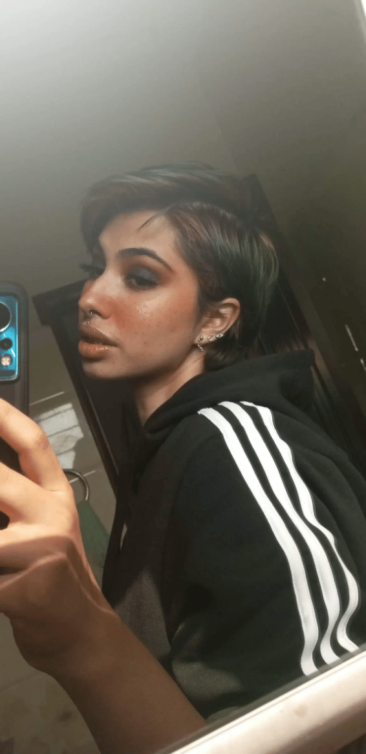 I am a women's holistic health coach and student that enjoys history, experimenting with makeup and skincare, playing sports, working out, and doing all things adventure-related.