Outfits To Wear With Red Pants. Well, for most women wearing red pants comes down to just one thing; Confidence. While the classic and most frequently seen style of trousers are the blue denim jeans, red is in a league all of its own. With red being a very bold, warm colour it is not uncommon to see during the spring and summer seasons.
With this in mind, why not extend their usage into autumn and winter for a jaw-dropping and attention-grabbing look? Most people with stray towards the cooler tones such as blues, silvers, greys and purples during winter, but red is guaranteed to get you noticed. So what to wear with red pants? Well, it depends on what style you want. Formal two piece suit? Simple and casual jeans and t-shirt? The possibilities are endless. This post has 20 great ways on how you can look great and pull off those timeless trousers.
What To Wear with Red Pants for Women
Here are some simple tips to keep in mind when wearing or buying red pants:
Red and white is the classiest combination especially if you're wearing red pants for the first time.
Avoid wearing red accessories with red pants as it seems over-done, instead go for gold, silver, rose gold or white accessories.
Nude and neutral colors too, work well with red pants.
Avoid wearing loud colors with red pants such as orange.
Since red pants are loud enough to make a style statement on their own, keep the rest of your outfit simple.
Remember that red pants are most suited for Casual wear.
Layering however can help you dress up your red pants for a more formal look.
The shoes you choose to wear with red pants depends on two things, the top you're wearing and the occasion you're wearing the outfit for.
↓ 20 – Bohemian Style Dark Red Pants
An easy way to pull off the red trouser look. The bohemian style is so easy going and looks stunning. With a lace white top this look is a breeze! You should also check out these trending: Asymmetrical Skirt Outfits.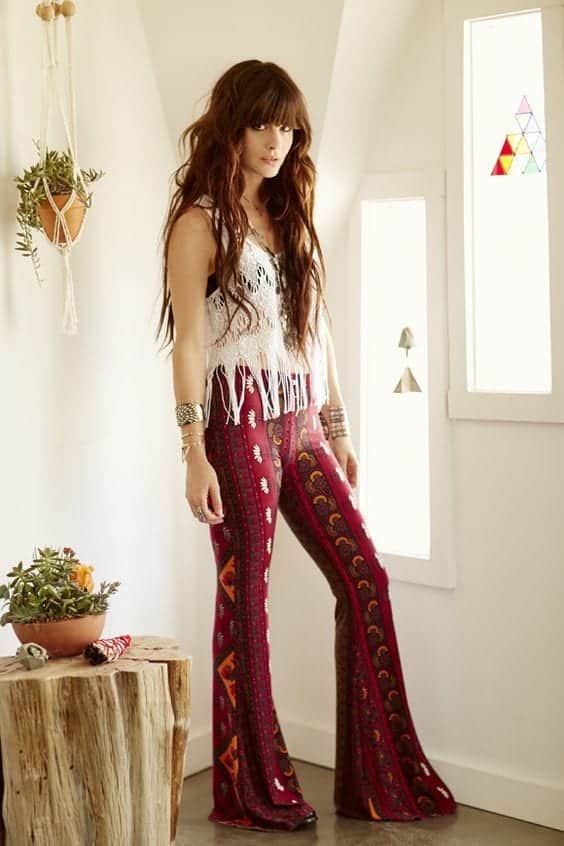 via
↓ 19 – City Smart Casual for School
This look incorporates red suit pants with a plain white top and black blazer. Accessorise with a chunky necklace and heels.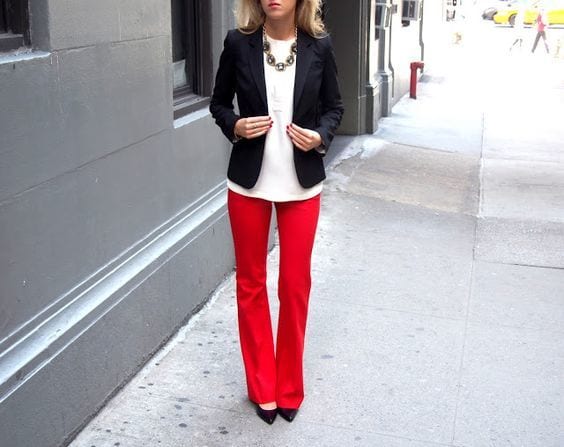 via
↓ 18 – Business Woman Look
 A great look for the office using red cropped trousers with a white blouse and soft toned jacket. Also check out these 29 Cute Outfits with Lace-Up Ballet Flats to Consider This Spring.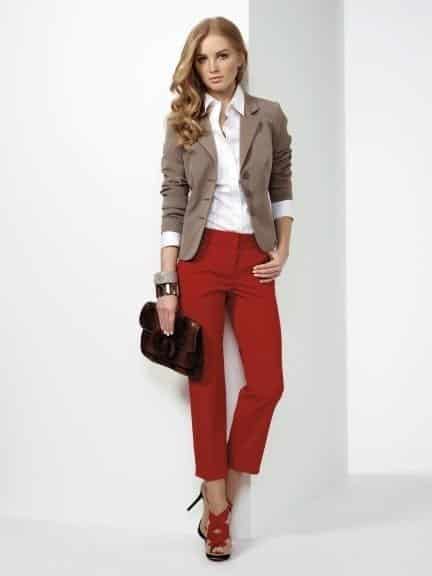 via
↓ 17 – Red Boot Cut Pants with a Tee
Red suits are the best way to get noticed. Striking red with contrasting black printed t-shirt and nude toned heels are the combination.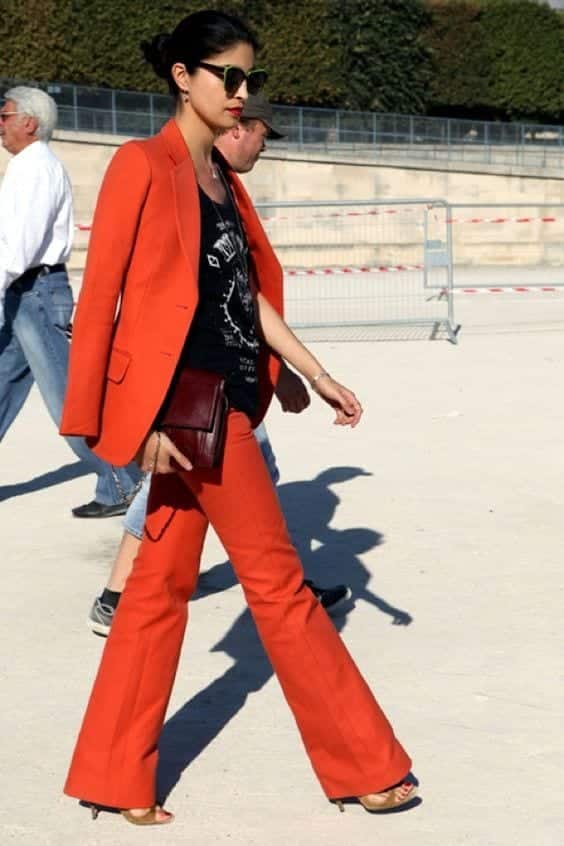 via
↓ 16 – Plus Size Red Pants Style
I love this look. Nude toned simple v-neck top makes the red flared trousers the focal point. If you love wearing red, you wouldn't want to miss out these Red Outfits For Women.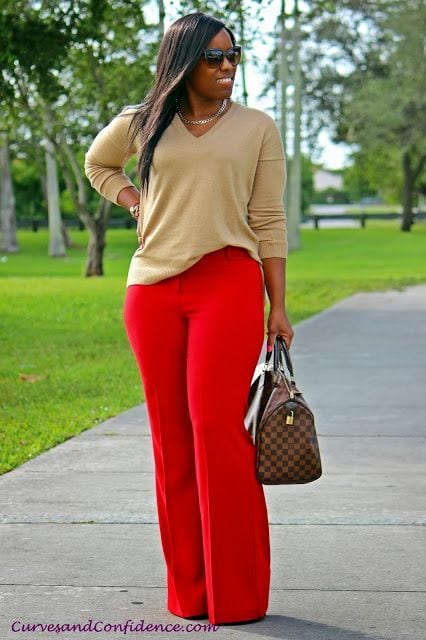 ↓ 15 – Summer Travelling Style in Red Pants
A fantastic look using high-waisted trousers with a cute button-up denim shirt.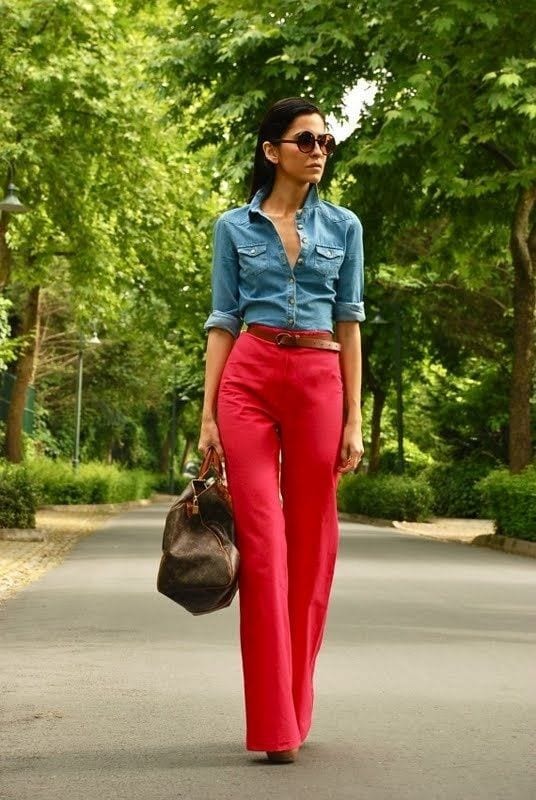 via
↓ 14 – Summer Street Style
Red cropped trousers with cropped white top. Accessorise with a shoulder bag, sunglasses and cute plimsols.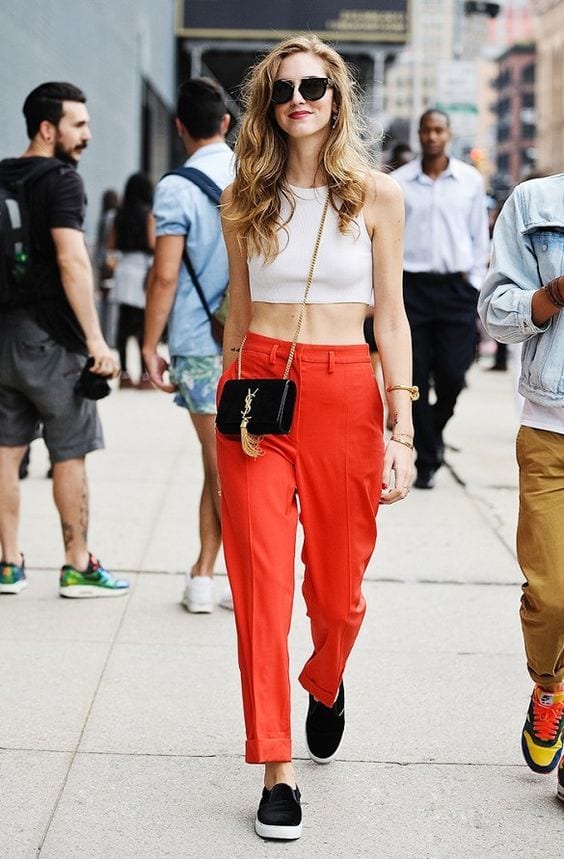 via
↓ 13 – What to Wear with Red Pants to a Wedding
Burgandy red trousers with checked heels and black top and blazer.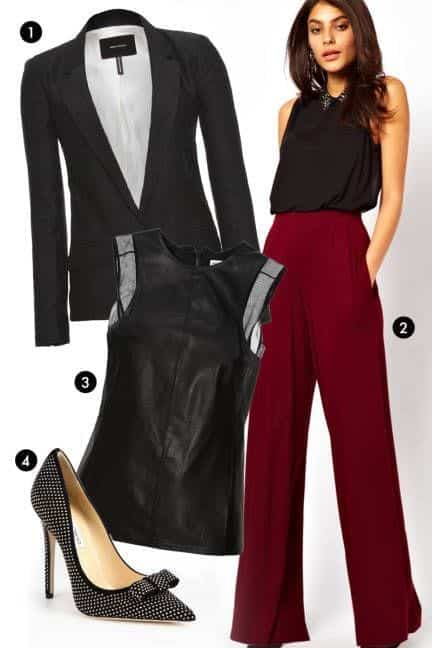 via
↓ 12 – Casual Combination
Red skinny jeans with stripes is always a winning combination. Don't miss out these Wardrobe Planner Apps to help you plan your outfits to perfection.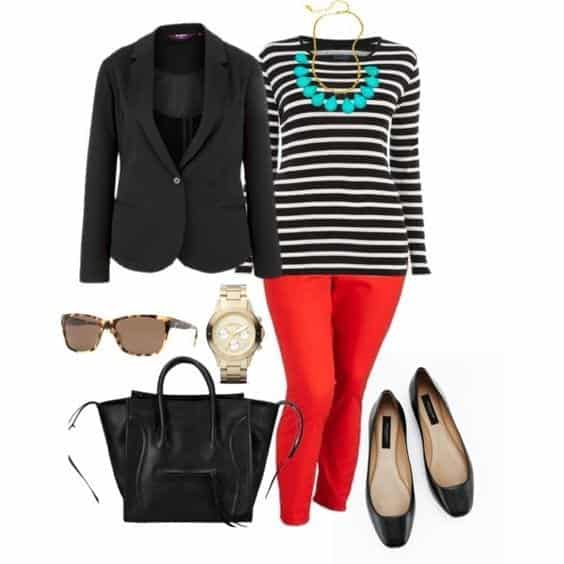 via
↓ 11 – Comfy and Casual Red Pants Outfit for Home
Burgandy red patterned flares with turtleneck jumper and bright silver shoes. A great and simple look for winter. Check out these 33 Best Ideas on What to Wear at Home.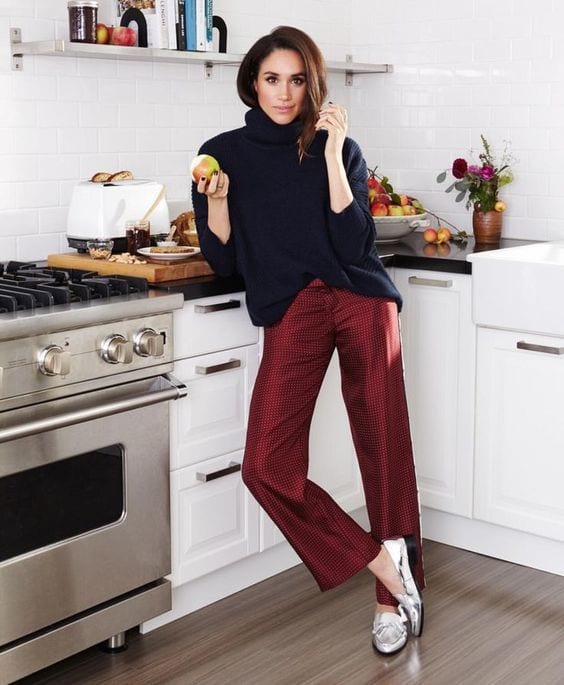 via
↓ 10 – Red Pants with Heels
A full red suit with low black top. Finished with black gladiator heels.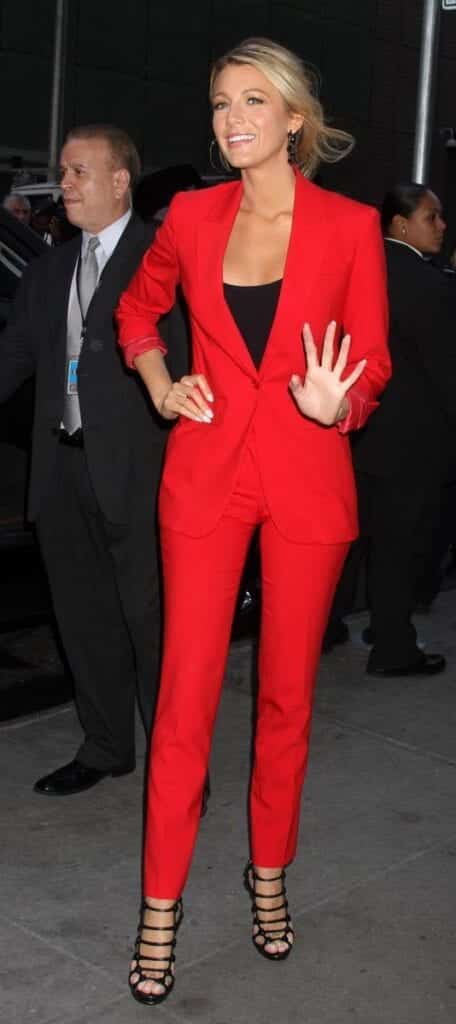 via
↓ 9 – Stripes And Prints  
Patterns always bring out the colours so it's not surprising that here the red flares stand out against the striped top and animal print bag.
via
↓ 8 – Leather and Textures
Red leather look skinnies with textured red coat. Plain white top and nude-toned shoes make the red stand out.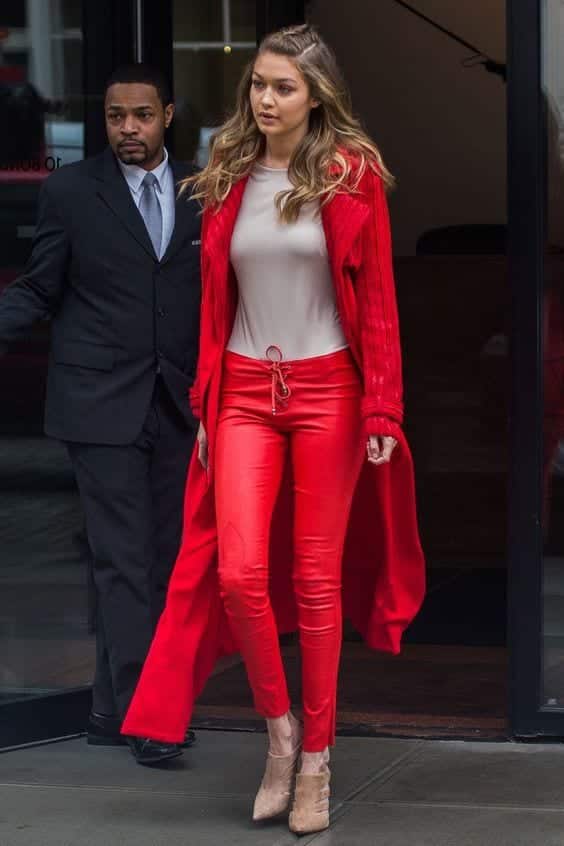 via
↓ 7 – How to Wear Red Pants that are Too Long
Victoria shows us how it's done with her soft red flares, white top and checked knee-length coat. Stunning look for winter. If you have slim legs then you can surely look great in long pants and heels are the easiest way to manage their length. Wearing long pants is also a good solution for short girls who want to look taller. Here are 17 Cute College Outfits for Short Height Girls to Look Tall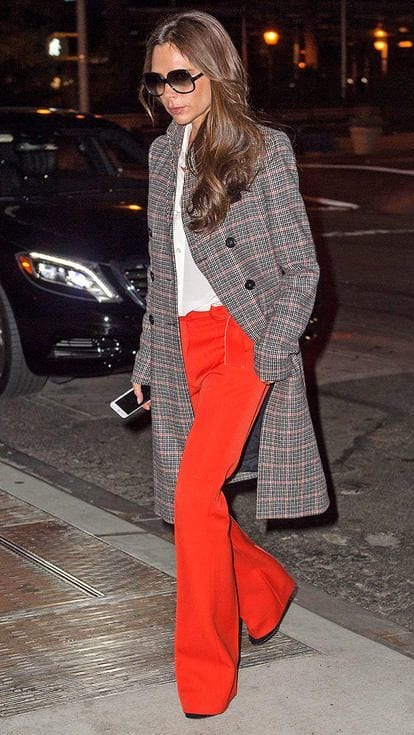 via
↓ 6 – Red Pants with Peplum Top
Red flares with a black fitted peplum top. The chunky belt adds shape and style.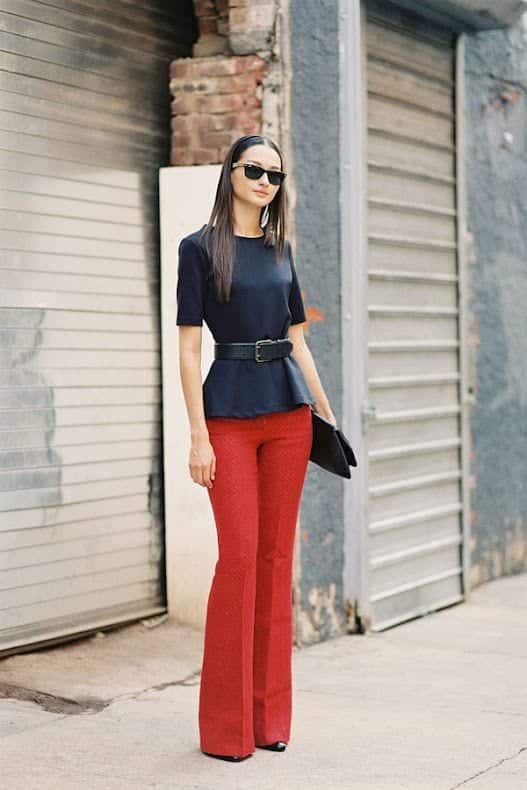 via
↓ 5 – How to Wear Red Leather Pants
Red leather trousers are a must-have for every girl and you can wear them in any season, except when it's too hot of course. Here are some dos and don'ts of wearing leather pants, and for more awesome ideas, do check out 17 Cute Outfits with Leather Pants for Women this Season.
For a girly look, pair it with feminine colored shirts like pink.
Avoid wearing a shirt in the same colour as your pants.
For layering, choose tailored fit items like blazers.
Remember that leather pants may be worn for casual office wear but they're not a good choice for corporate events.
Shirts in longer lengths would work well with leather pants, so don't be afraid of wearing them with flowy tunics in Summers.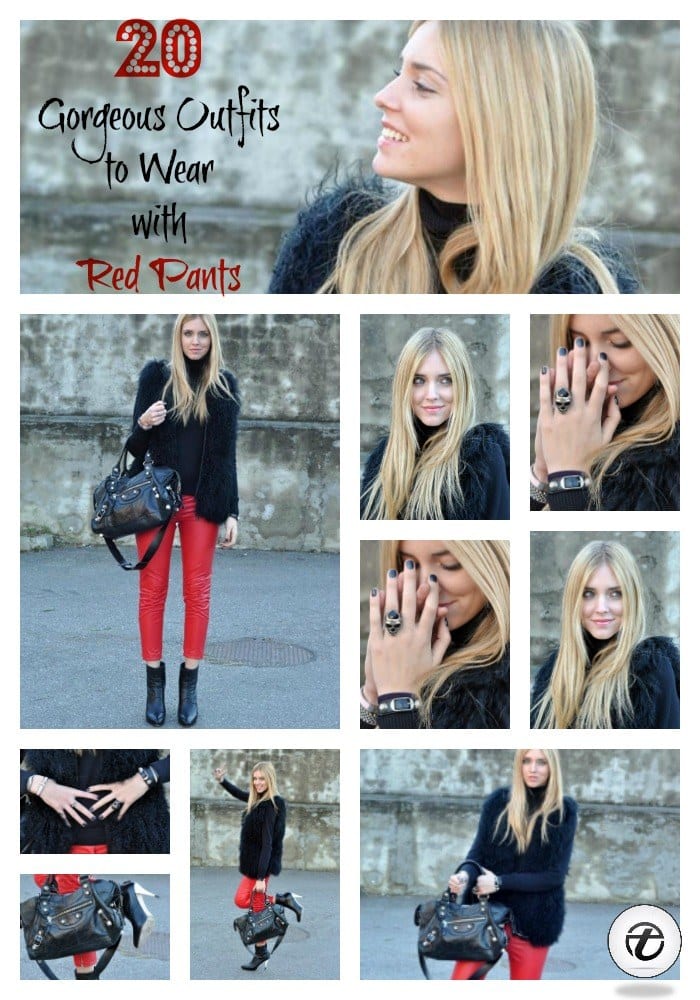 ↓ 4 – Celebrity Style Red Pants Outfit
A bit of a modern twist on Jessica's outfit with red straight leg bottoms and white blouse with black cardigan. Studded handbag and blue tip shoes complete this gorgeous style.

viavia
↓ 3 – Sporty Outfit with Red Trousers
I love this look. Red and black tartan print trousers with a cropped black top.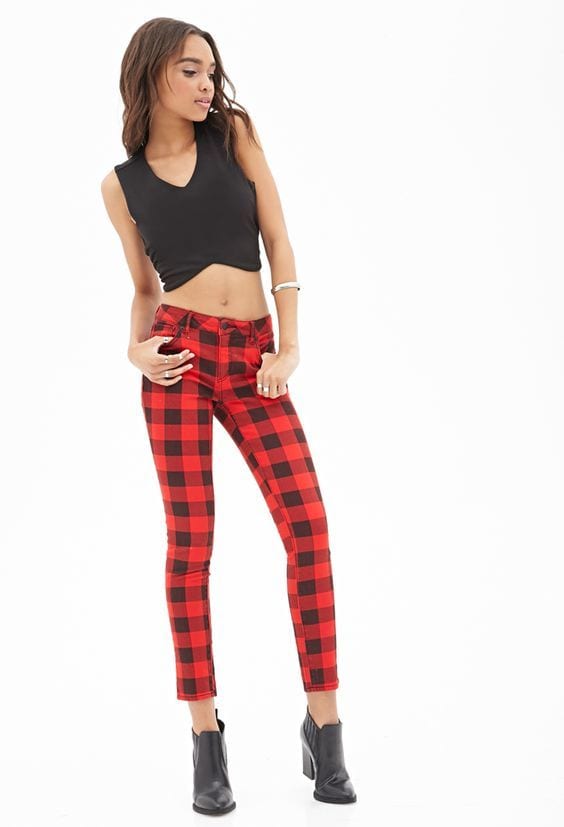 via
↓ 2 – Red Pants Outfit for Curvy Women
Beautiful red trousers with stunning floral print jacket and plain white vest top. Have a look at these 24 Palazzo Pants Outfit Ideas for Curvy Girls.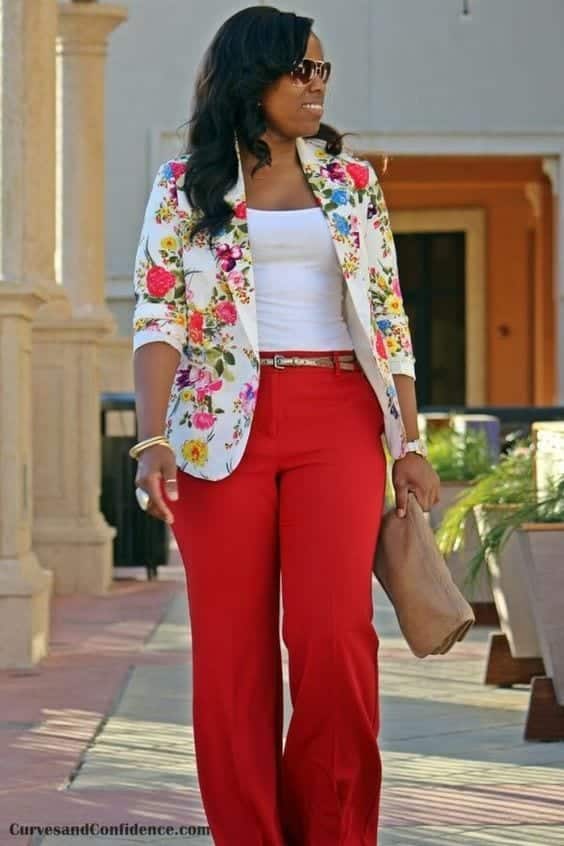 ↓ 1 – Red Pants with White Shirt
The best combinations of colours. Red trousers with white top and crisp white jacket. White shoes and toffee toned bag to finish the look beautifully.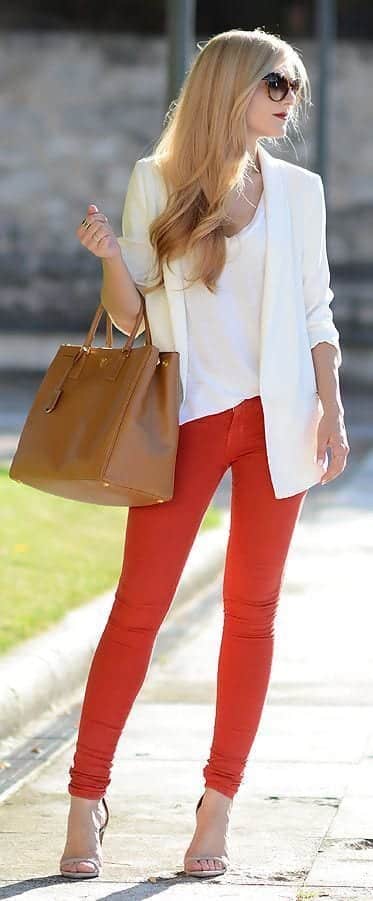 via
A great look with white blouse and red cropped bottoms completed by a beautiful polka dot clutch bag.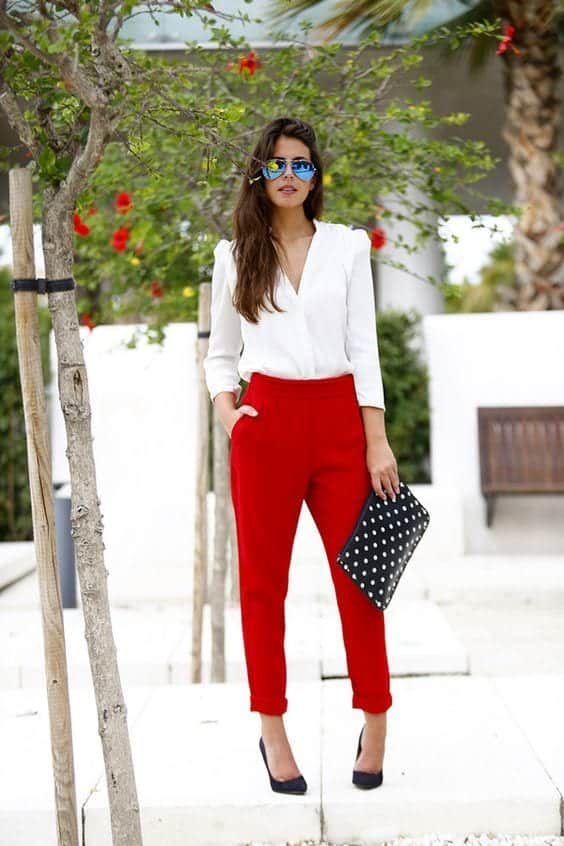 via