Women's winter outfits for Rome: Rome, the capital of Italy, is one of the most beautiful places you should consider visiting. With the beautiful 18th-century architecture, from the ancient Colosseum to the historic Pantheon and the iconic Trevi Fountain, there are many landmarks you can visit when you decide to visit Rome. Rome is just as beautiful in the winter as it is in the summer.
Don't expect the Italian winters to be super cold and harsh; expect temperatures to be around 3-4 Celsius, the perfect weather to wear cute, layered outfits. We bring to you the best Winter Outfits you can wear in Rome, and wow everyone with your style.
What to Wear in Rome in Winter?
Since the winters are mild, the outfits can be more fashion-forward and creative instead of focusing on layering and protecting yourself from the extreme cold. You can wear cute winter outfits and stay warm in just a few layers.
Faux furs, knee-high boots, cute sweaters, long coats, and blazers are great clothing items for the winter. If you plan on visiting the landmarks colorful instead of neutral outfits will look more photogenic. Instead of wearing super casual winter clothes, try going for high-fashion looks and opt for classier outfits. Rome is not the place to go basic with your outfits.
The Parisian aesthetic with the berets, furs, plaid blazers, and boots looks super cute and appropriate for the time of year and place.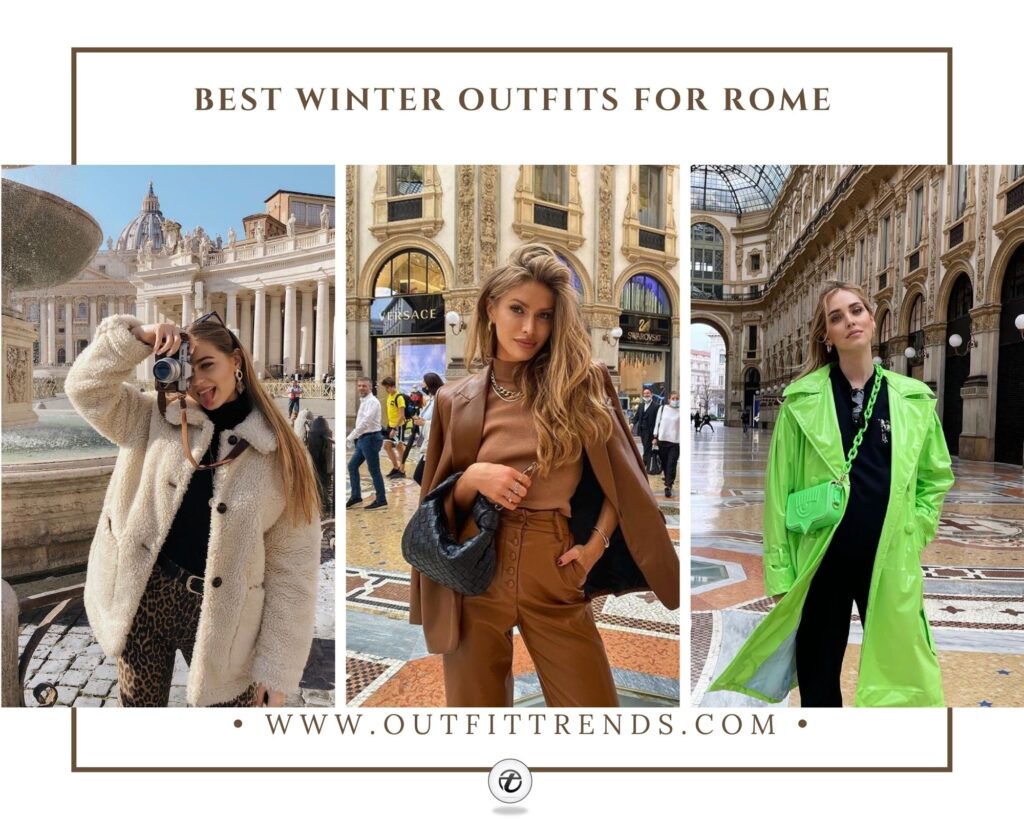 Tips on Styling Winter Outfits for Rome
–A good pair of boots, whether knee-high, ankle or long boots will look great with almost any winter outfit you plan on wearing.
-If you want to add color to your outfit, a great way is to wear a basic black outfit under and a colorful jacket, or a coat on top.
–Accessorize with cute berets, or mini bags as these items are usually the most visible accessories in winter.
-Make your outerwear the statement piece of your outfit.
–Faux fur is the way to go. Say no to animal fur.
↓ 37 – Black Fur Coat
Fur coats look great with any winter outfit. You just need to throw it on, and it adds the fanciest touch to your outfit, making a basic outfit look expensive. Add a belt, and a black beret to accessorize and you are ready to explore the city. Here are some superb ideas on Different Ways to Wear Faux Fur Coat.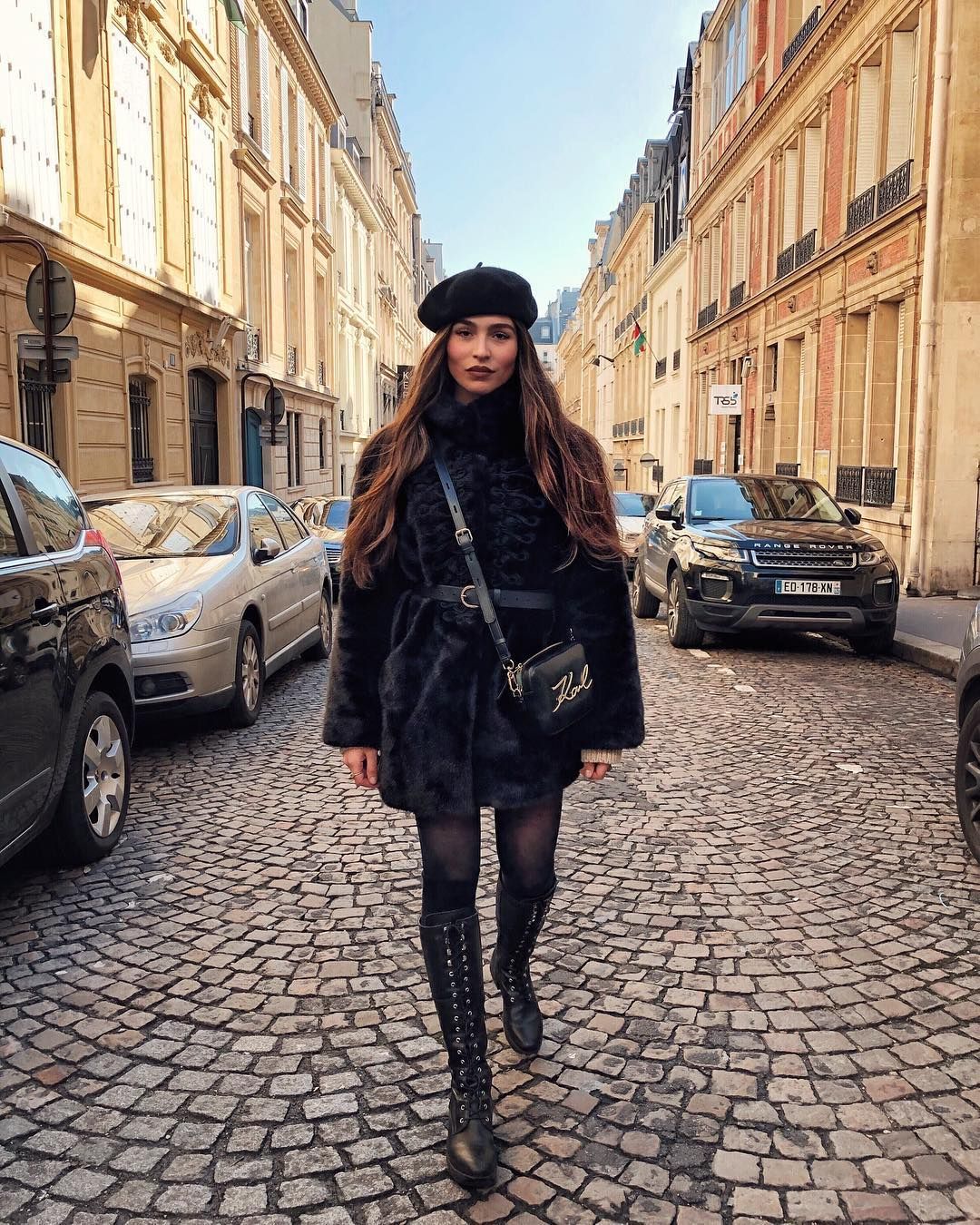 ↓ 36 – Blue Faux Fur Shearling
Here we have a shorter faux fur paired with a basic all black outfit. This is a great way to add color to your outfit and looks great in photos.
↓ 35 – Chestnut
I absolutely adore this color, and it is really the color for the winter and autumn months. Here we have faded black jeans paired with a chunky sweater, and a brown coat on top as well as a matching scarf, and a black hat.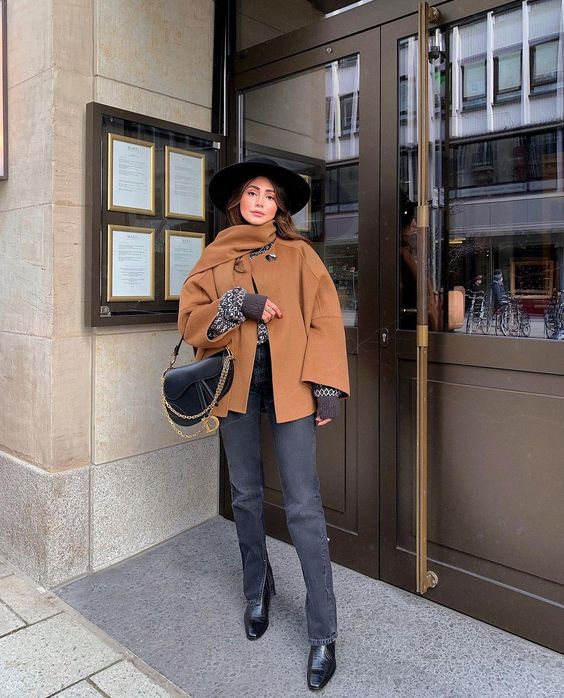 ↓ 34 – Hailey Biebers
Hailey Bieber is the street style queen. Rome experiences mild winters, therefore, an outfit like this works great for the weather. Here we have a matching green set, paired with knee high boots and a shoulder bag. The chunky chain detailing on the bag is my favorite part of this outfit.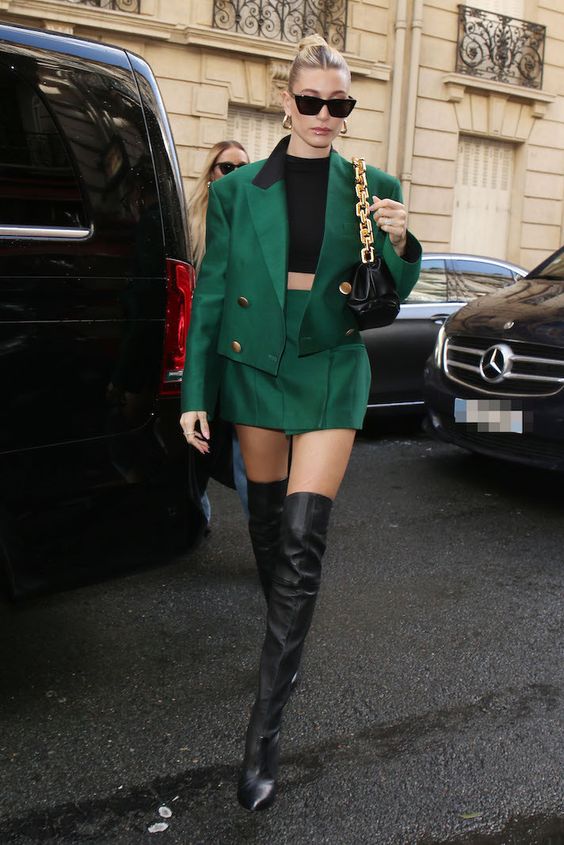 ↓ 33 – Skirt
Here we have a black pleated skirt, paired with a white button-down shirt and a cream knit sweater on top. You can wear this outfit with stockings and some ankle boots. Layering is a great way to style your winter outfits.
↓ 32 – Check Mate
This outfit is so It Girl and the cool-girl vibe and aesthetic. I love the print of the coat as well as the matching Chanel bag. Printed coats are such a vibe for the Italian winters.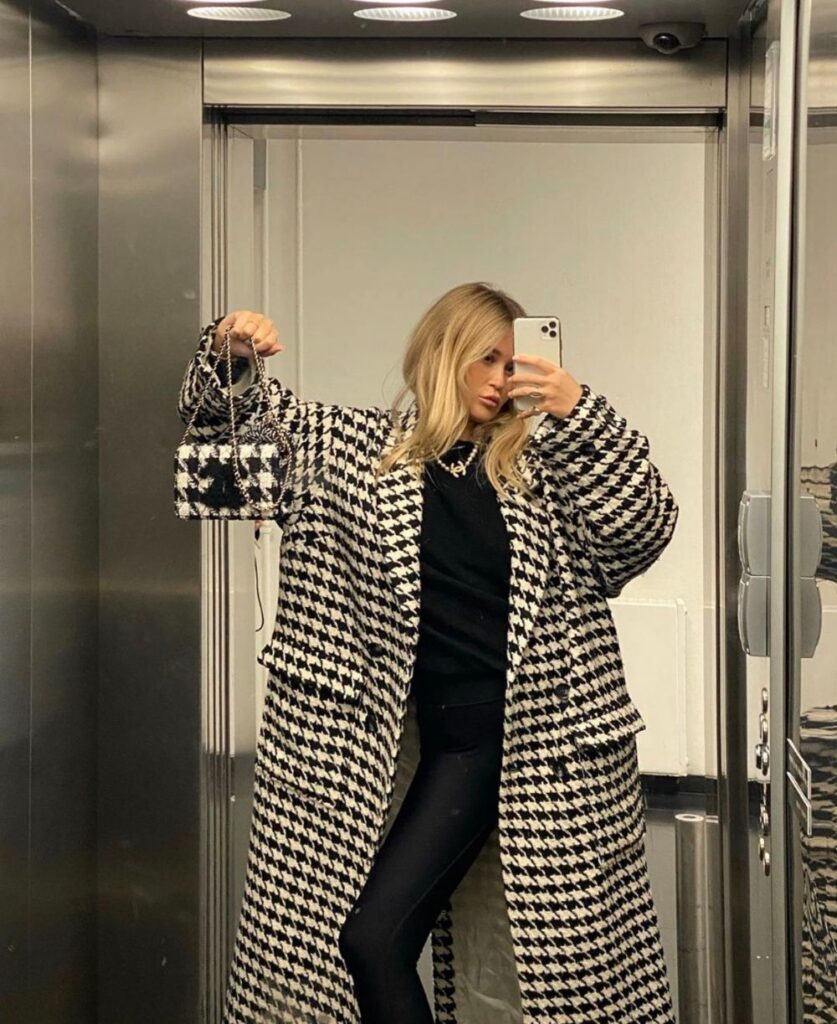 ↓ 31 – Long Coat
Super Long coats look so high fashion and trendy, here we have a dark brown coat paired with matching leather pants, a black mock turtleneck top and white boots as well as a white bag. Notice how the bag and the shoes are matching. Here are some more Ways to Wear Long Coats This Winter.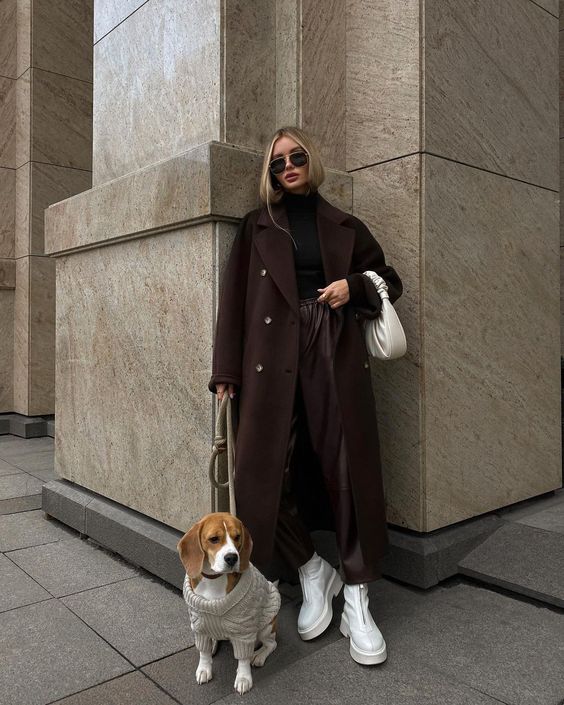 ↓ 30 – Luxe
A very luxe way of styling your blazer is by pairing a big belt with it. It synchs in the waist giving some dimension to a loosely fitted blazer.
↓ 29 – Long Boots
Here we have brown python boots, paired with a camel-colored coat, some skinny jeans, and a white sweater under. Loving the tones of this outfit, so chic!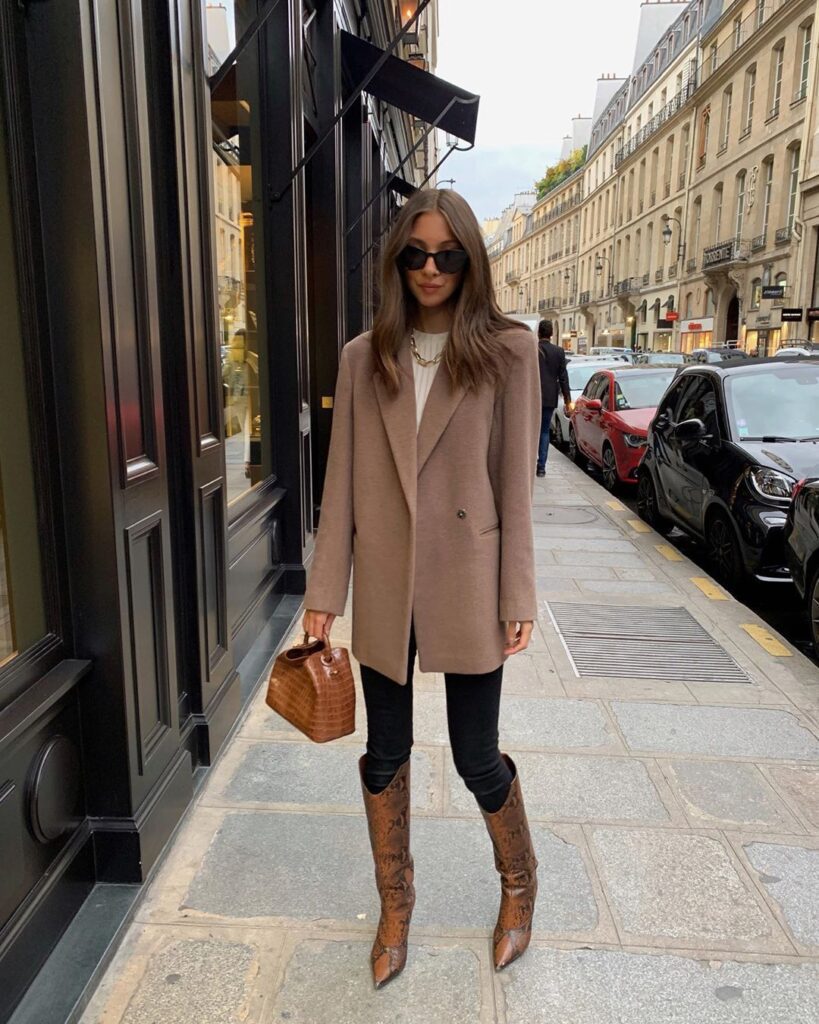 ↓ 28 – With a Trendy Jacket
For winters all you need is a basic outfit, but what really makes or breaks the outfit is the outerwear. A trendy jacket such as this black shearling, with fur detailing at the front adds so much to a simple outfit and really takes your outfit to the next level.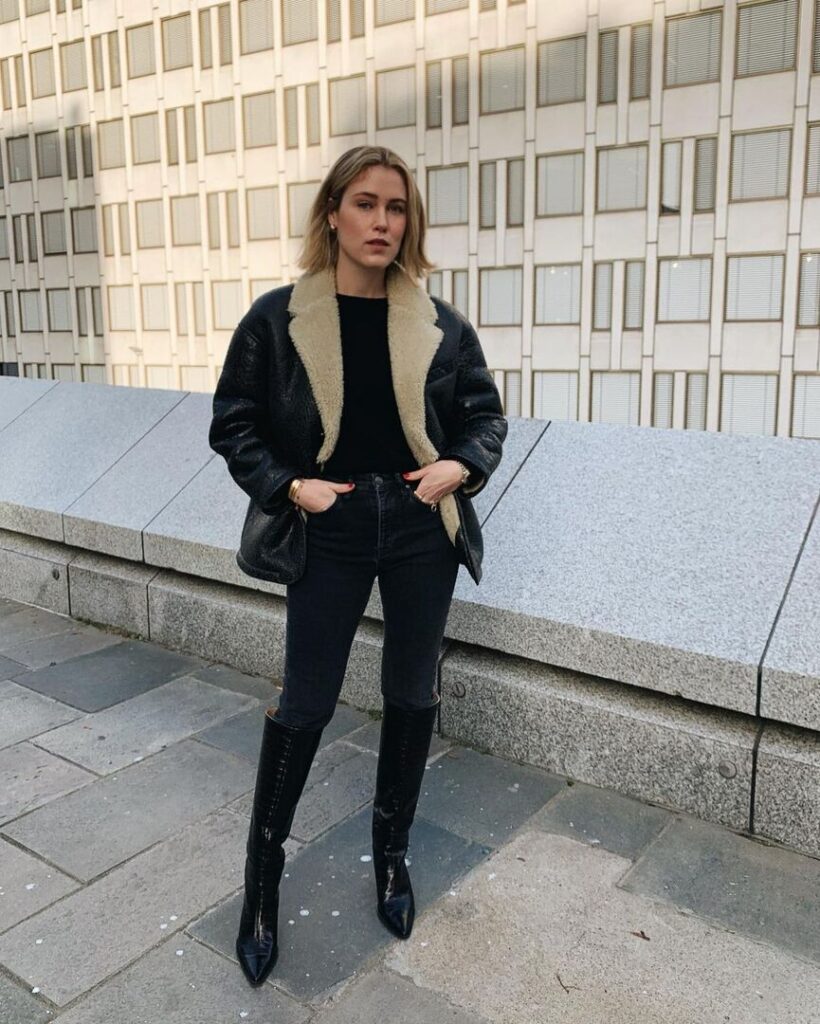 ↓ 27 – Canary
Don't stick to neutrals in the winter, a pop of color never hurt anybody. It looks great in the gloomy months especially if you are traveling and want great pictures, adding color to your outfit especially a bright yellow like this one is an excellent choice. You can add color by simply opting for a brighter-colored sweater or turtleneck with your neutral outfit.
↓ 26 – With Leather Pants
Leather Pants are a great option to wear with your winter outfits, it elevates any outfit and makes it look sleek and fancy.
↓ 25 – With a Teddy Bear Jacket
The hype around these teddy coats and jackets was insane, and for a good reason. These soft and stylish jackets are perfect to pair up with a winter outfit. Here we have patent leather pants, paired with a simple white tee and the infamous teddy jacket.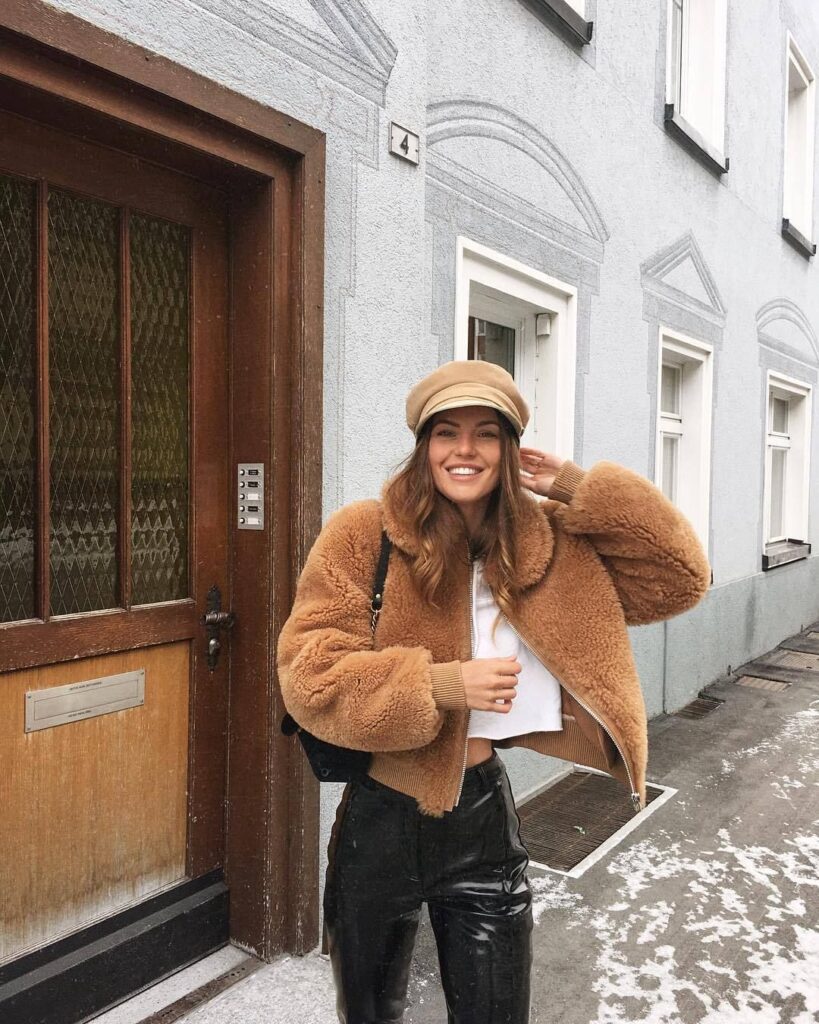 ↓ 24 – Sweaters
Why opt for plain solid-colored sweaters when you can wear the cutest printed sweaters. There is a wide variety of such sweaters online, and you can wear them with leather pants, or jeans, combat boots and a cross body bag.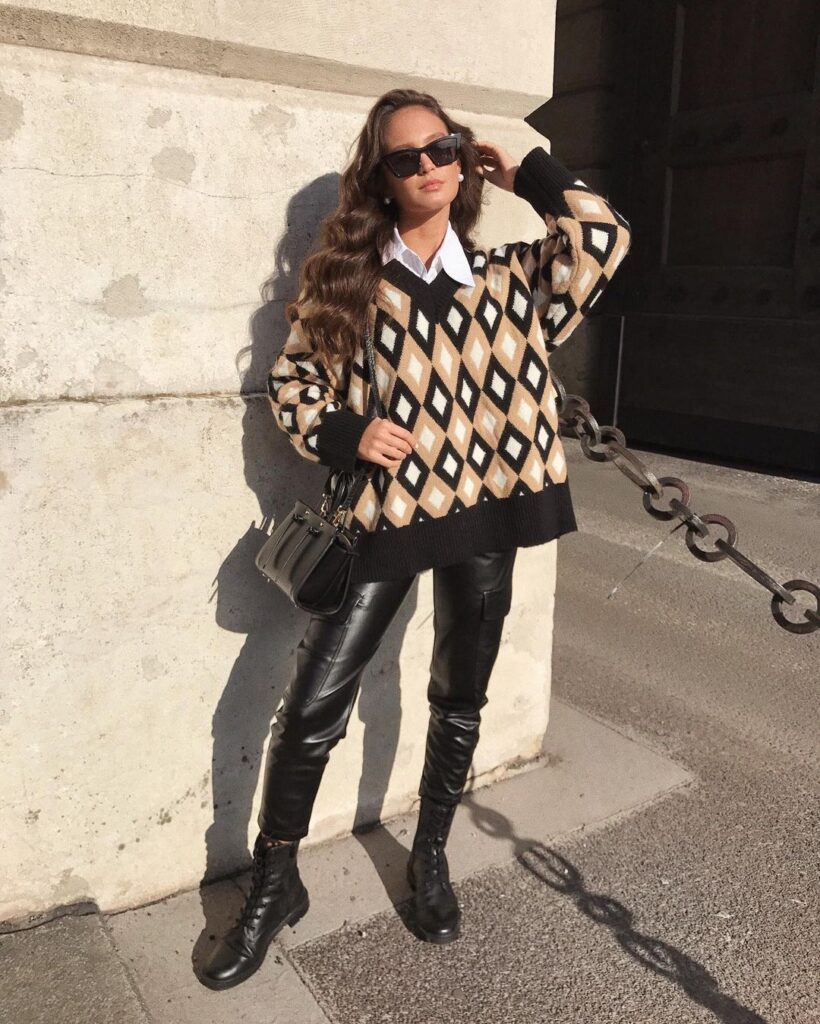 ↓ 23 – Animal Print
Try experimenting with different prints and textures. Pair cheetah print pants, with a turtleneck and a long cream coat on top. You can accessorize with a belt with gold detailing and even add a nice pair of earrings.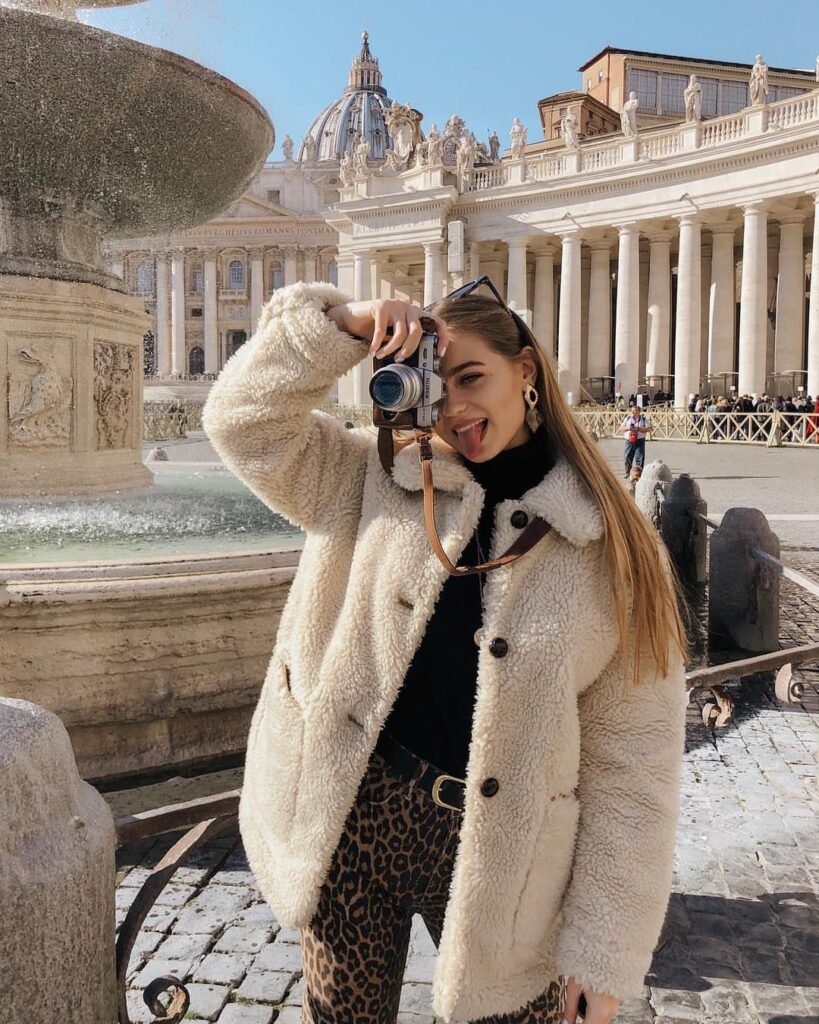 ↓ 22 – Neon
Here we have a Neon look for the bold girls. Its not a tacky highlighter green color, but a beautiful one. Black sweatpants with a hoodie is paired with a neon coat and a crossbody bag.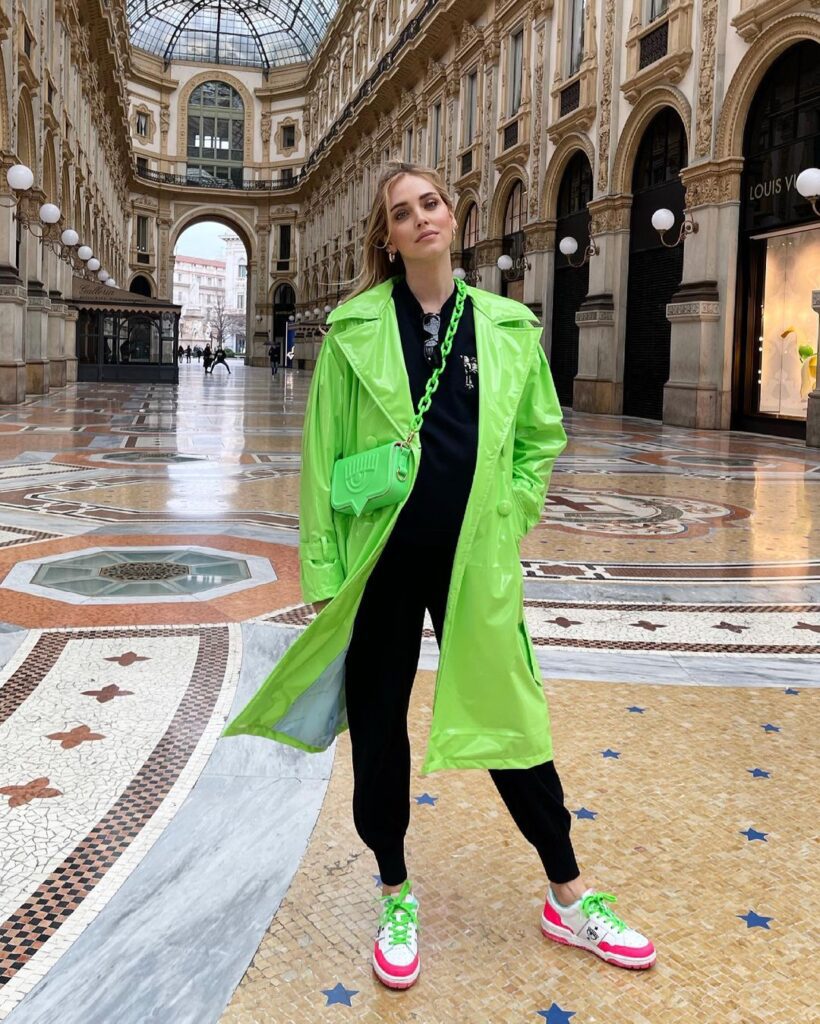 ↓ 21 – A Knit Dress for Rome
Looking for a fancy winter look for Rome? A knit dress is a perfect choice. Usually, loose winter clothes can hide your curves, but a knitted dress like this one keeps you warm and fits all the right places and looks great for a night out or a date. Pair the dress up with a button-up top under, and knee-high boots. Here are more ideas on How To Wear A Knitted Dress This Year.
↓ 20 – Two Tone
Oh gosh! This has to be my favorite look. I love the two-tone concept so much. You can keep the basic outfit one color and introduce color to your look with the outerwear. Here we have a beautiful green and white coat paired with a green bag and I am all for this look.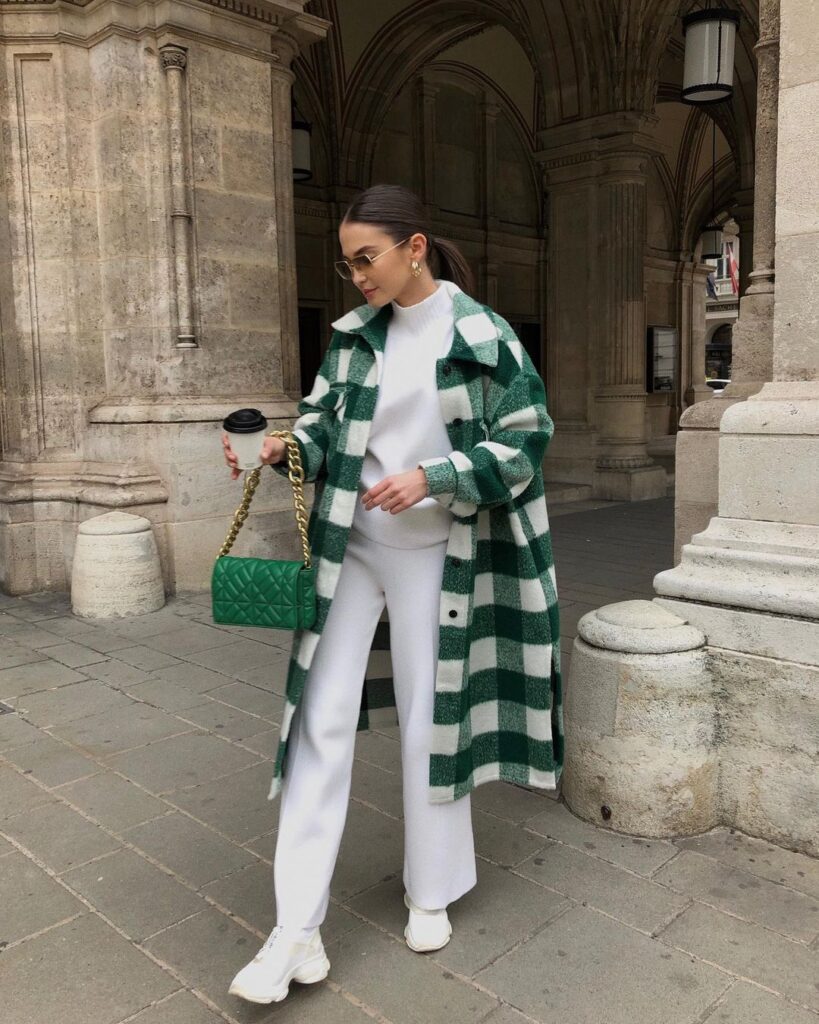 ↓ 19 – Baby Blue
Such a pretty shade of blue. Here we have an argyle print sweater paired with an all-white outfit.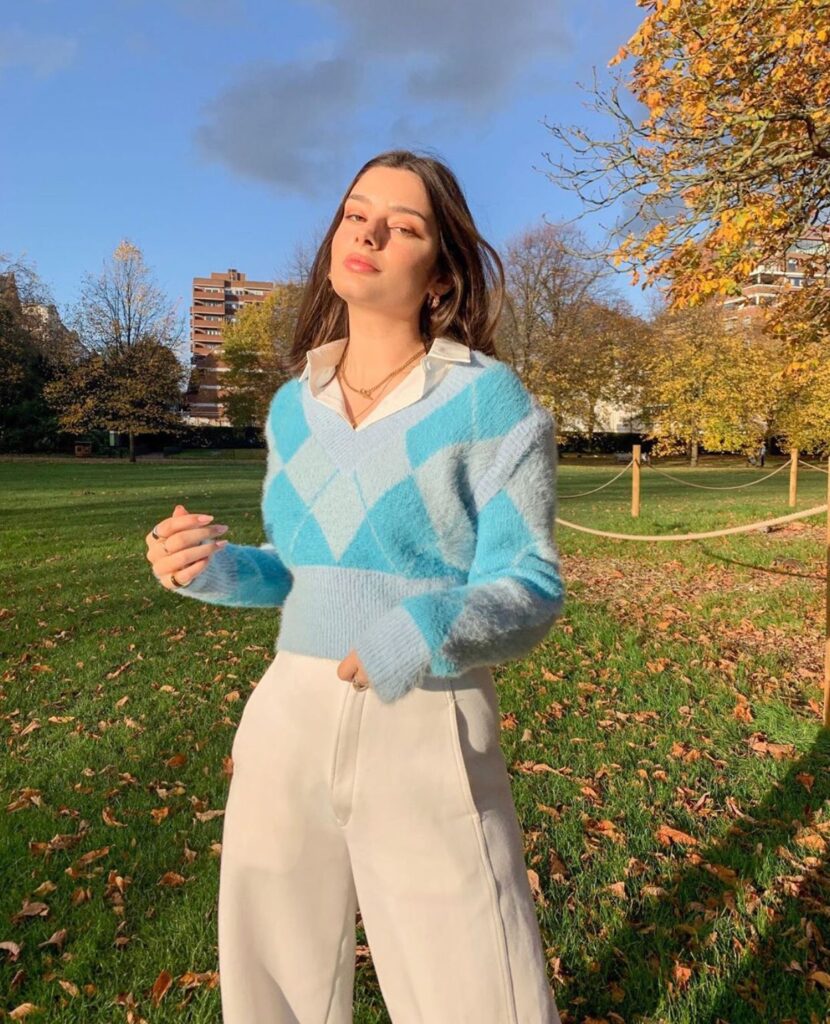 ↓ 18 – Denims
As the temperatures are not freezing during winter, you can get away with wearing a pair of jeans with a thicker material shirt and a cute jacket on top. The furs on the collar and the sleeves look so trendy.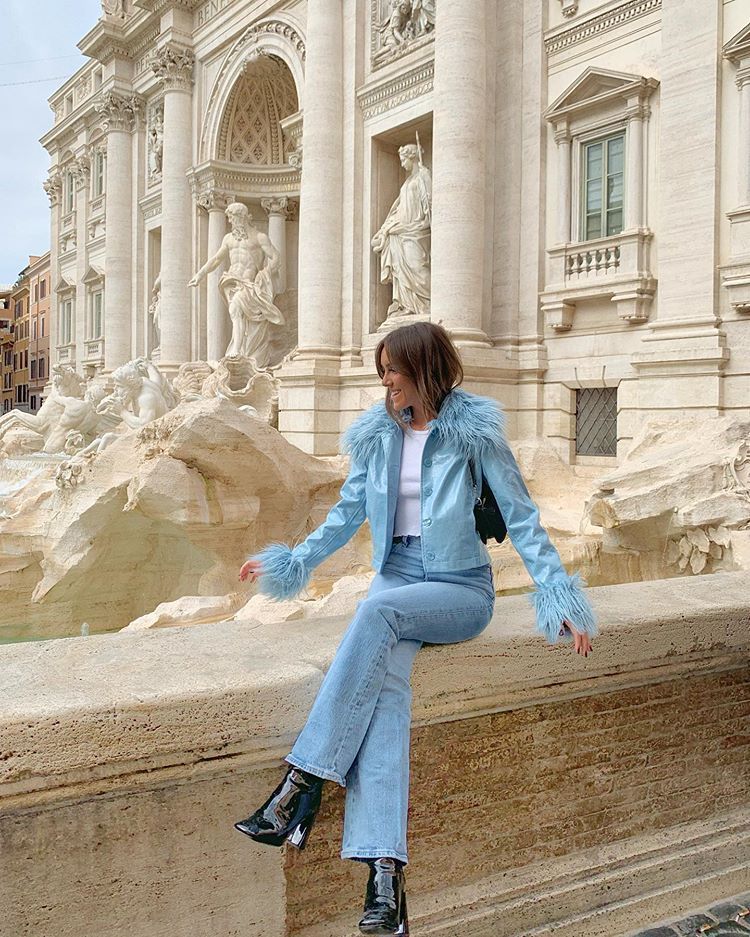 ↓ 17 – The Hourglass Cardigan
Here we have an hourglass shaped cardigan which looks super modern and gives the illusion of a synched in waist and a fitted dress.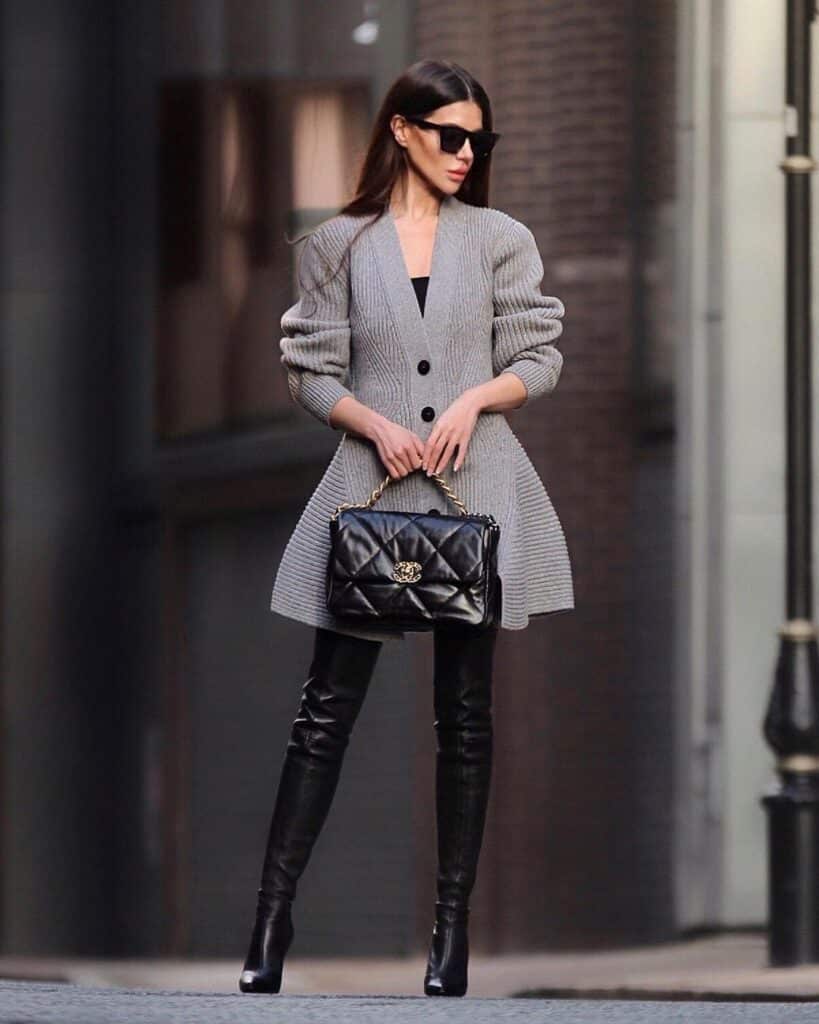 ↓ 16 – Parisian Vibes
The Parisian style aesthetic blends in well with the architecture in Rome. The beret, with the wide leg jeans and a crotchet sweater will look wonderful with the ancient roman architecture.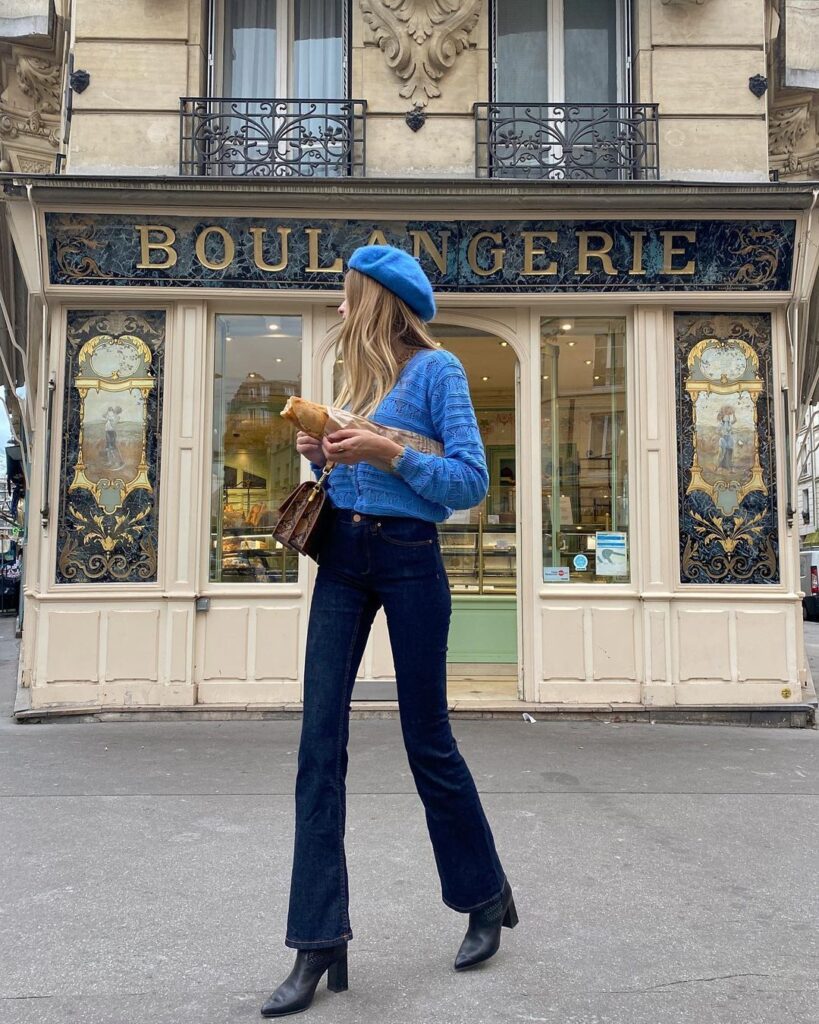 ↓ 15 – Romee Strijd's Dior Look
Looking for something high fashion and chic? Here we have Romee's full Dior Look. A shawl dress, paired with a Dior belt, a Lady Dior bag, heels, and big shades.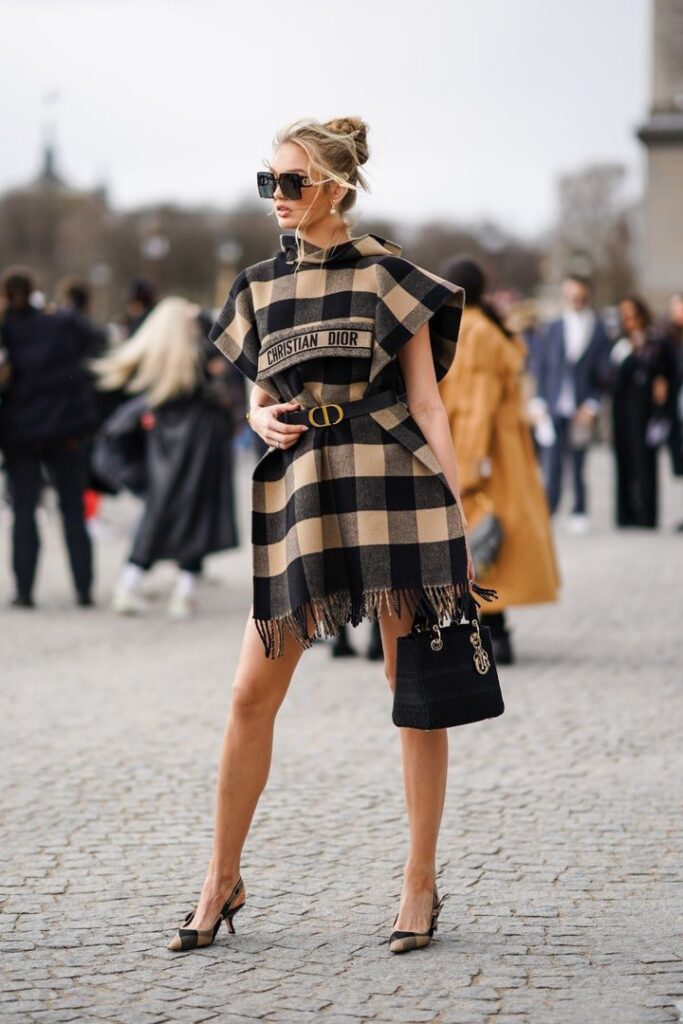 ↓ 14 – Purple
For the perfect pictures, a bright-colored fur coat looks amazing and stands out in front of roman architecture.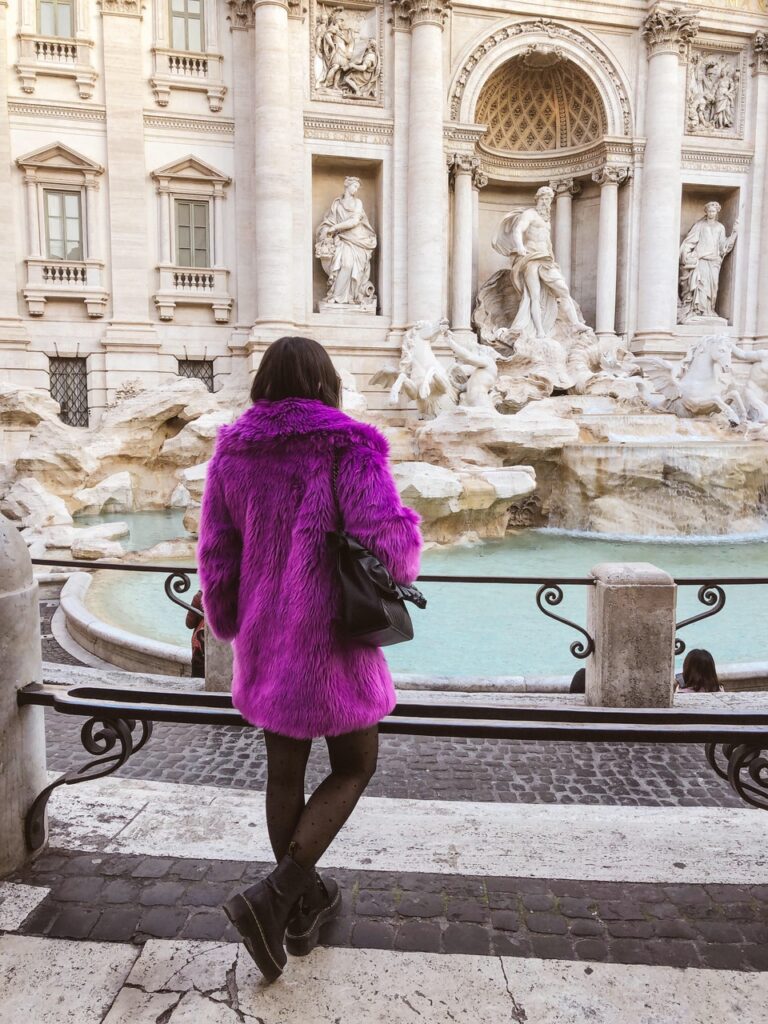 ↓ 13 – With Puffer Jackets
A trendy way to style your big puffer packets is by pairing them up with leather jeans, Chelsea boots, a black sweater under, and some hoops to accessorize.
↓ 12 – Kylie Jenner Chanel Winter Look
Here we have Kylie Jenner in a full Chanel outfit, a black fitted dress, a Chanel beanie, and some gloves. Who says you can't look sexy in Winters?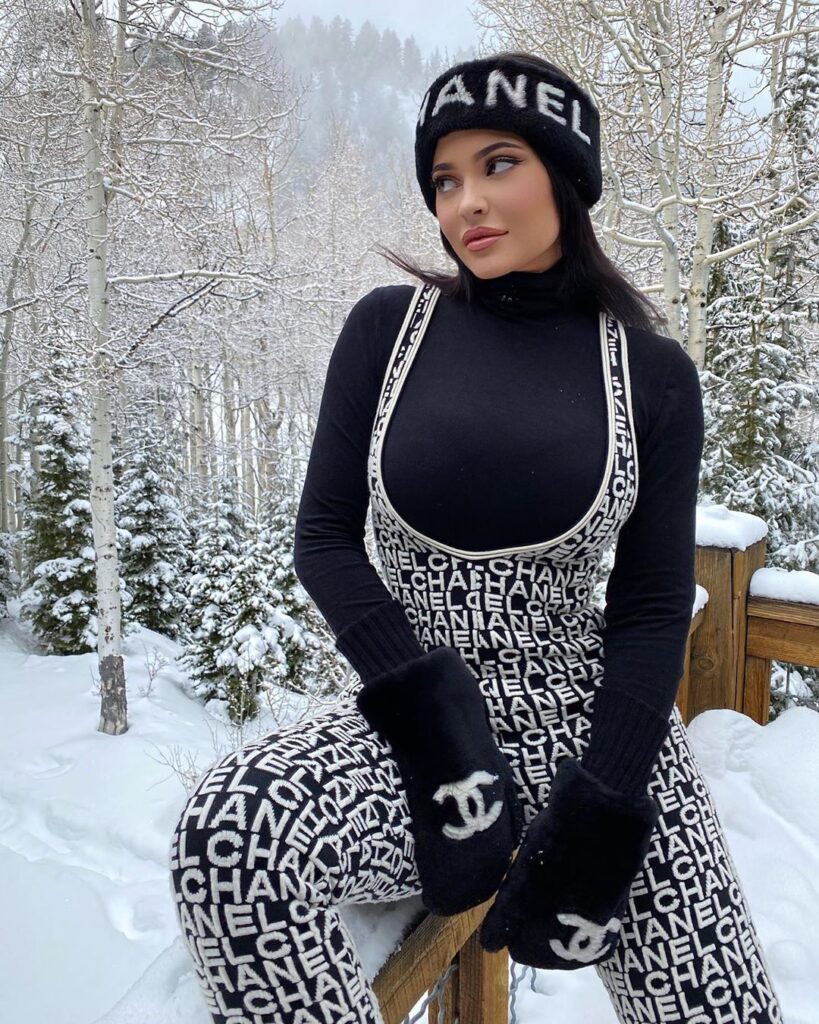 ↓ 11 – Metallic Jacket
For the super chilly days, a puffer jacket with a unique coloring or material is a great option.
↓ 10 – Knee High Boots
Knee high boots make an outfit look so fashion forward and trendy. For a sophisticated look, pair them up with a skirt, a blazer, and a matching bag to go with the outfit.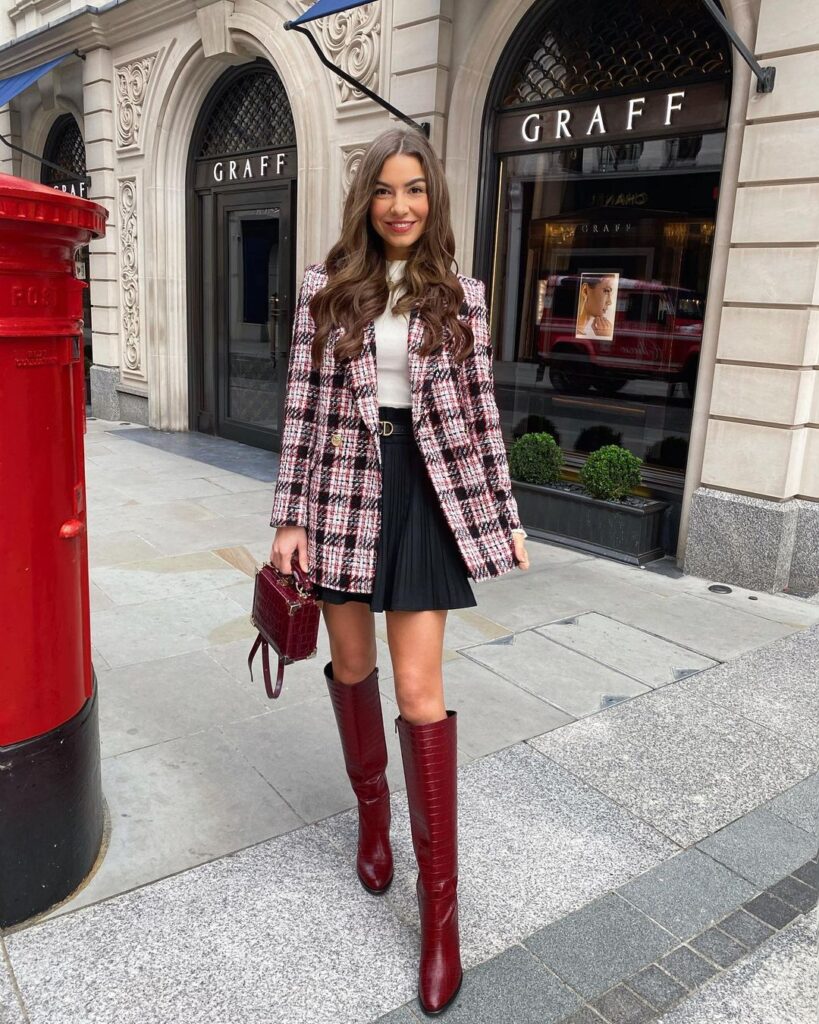 ↓ 9 – Saks Potts Fur
These coats took the internet by storm. You don't have to do much to style these coats as they speak for themselves and look great no matter what you style them with.
↓ 8 – Aesthetic Wear
Try pairing your mesh tops with white pants, and a black leather coat. The shoulder bags and the layered necklaces with the retro shades are the easiest items to make an outfit look aesthetic. All the IT girls of Instagram seem to be rocking this look and so can you.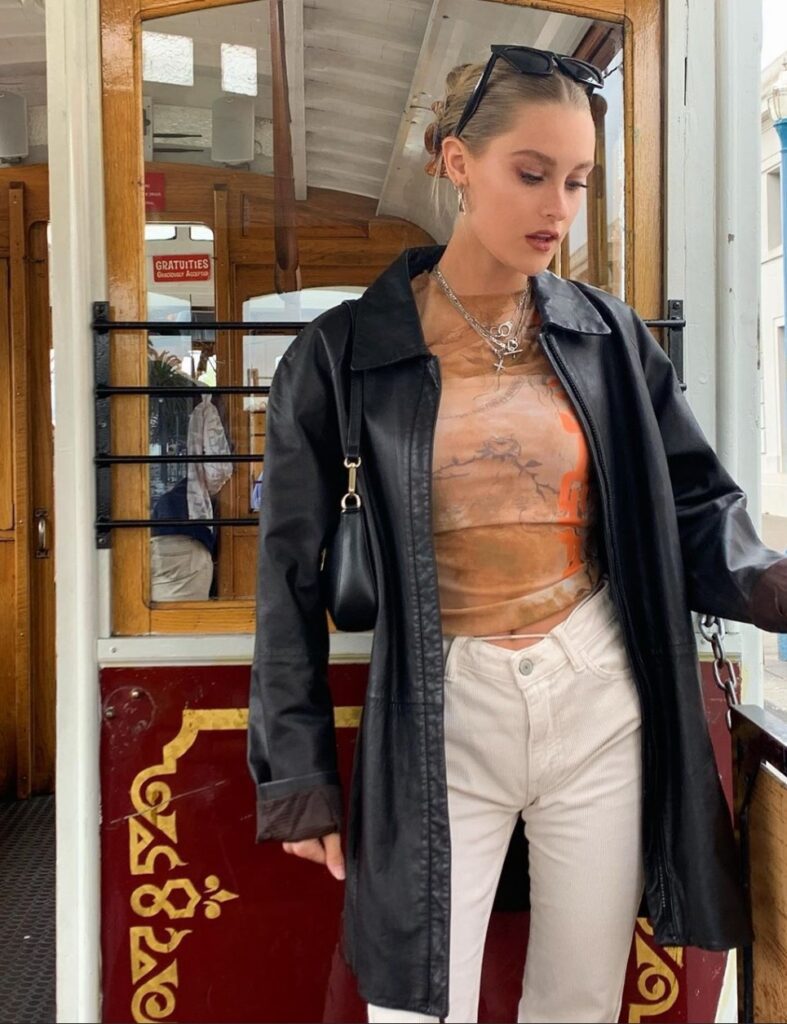 ↓ 7 – Monochrome
Brown has been such a trending color and what's better than to wear a brown monochromatic look.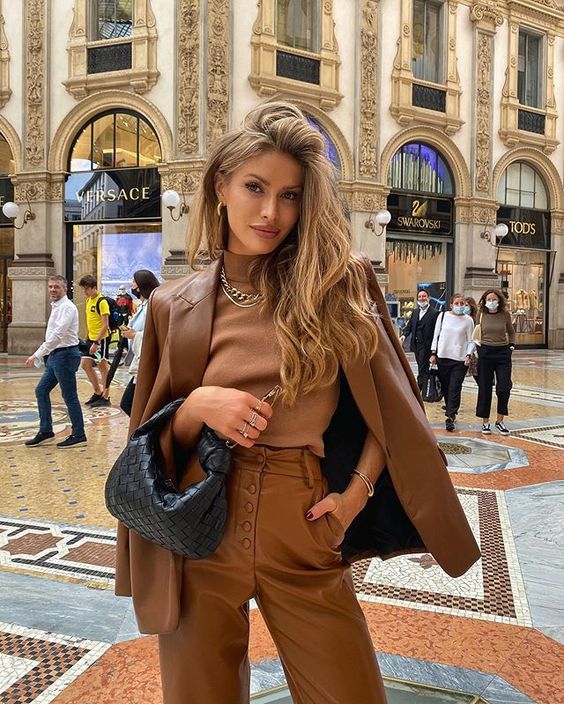 ↓ 6 – With a Beret
Berets are a great way to add to your look, it's the perfect accessory to pair with your winter outfits. A long baggy sweater, paired with a white button-up dress can be paired with stockings and black knee-high boots.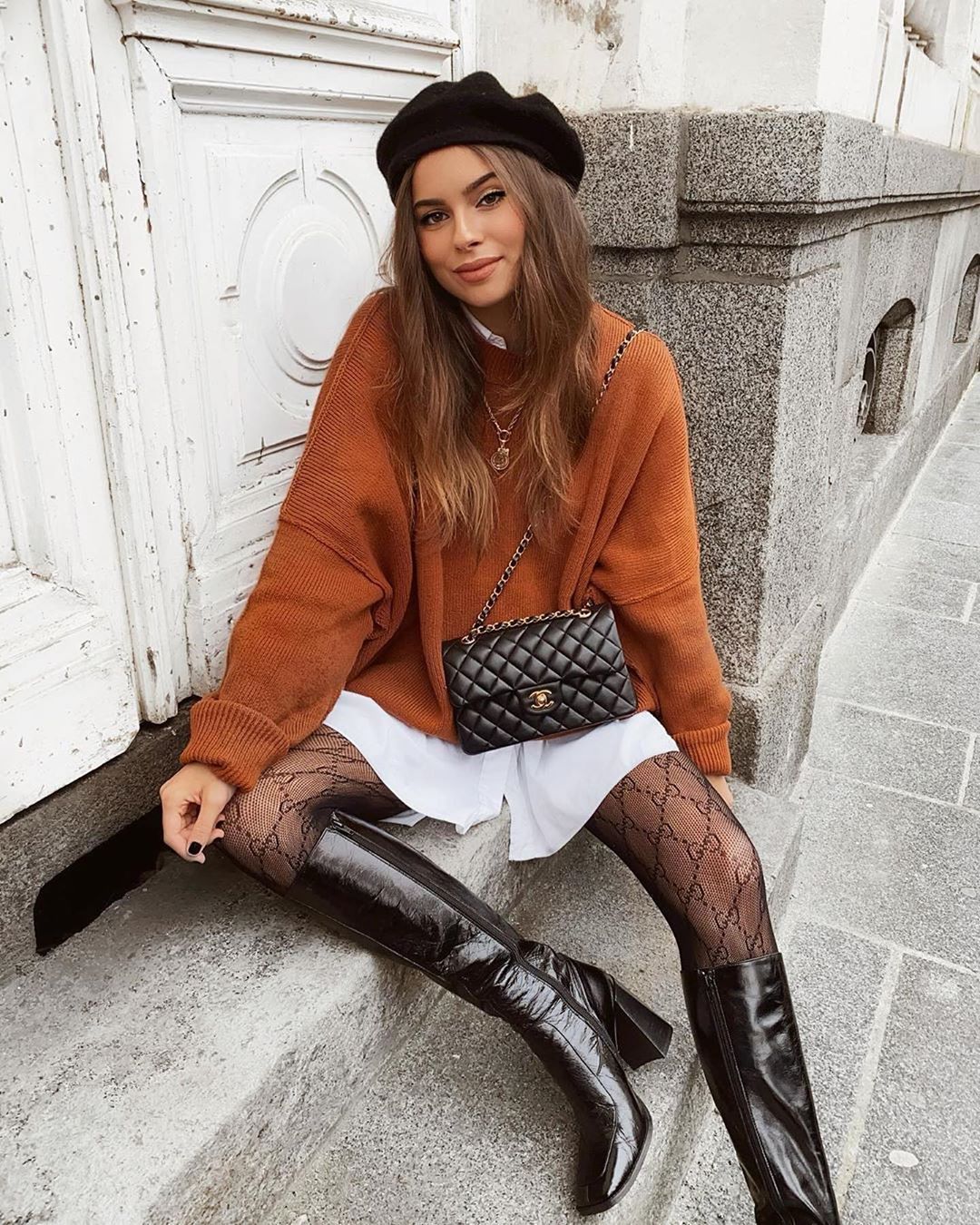 ↓ 5 – Plaid Winter Look
Coming in a variety of colors, these plaid coats go with most colors in your winter wardrobe. They look good with a pair of jeans, skirts, leather pants or knit dresses. Here we have a blue and brown plaid coat paired with a white turtleneck dress, a beautiful brown bag, stockings, and black boots.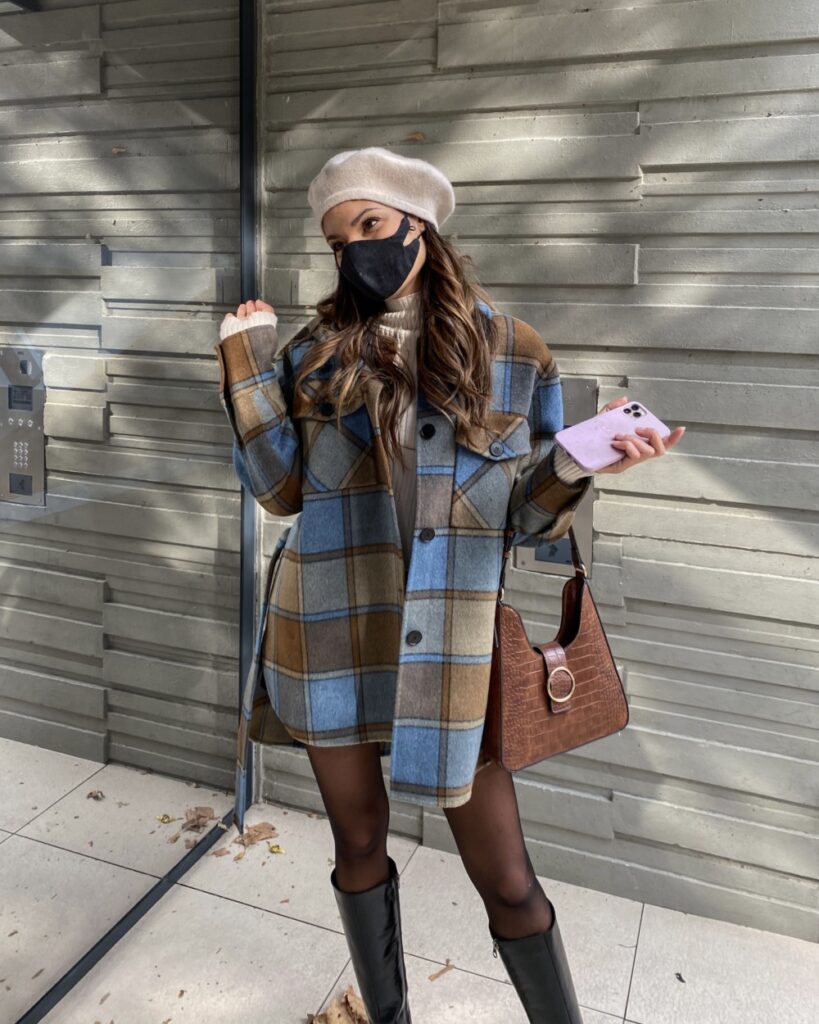 ↓ 4 – Simple Tourist Winter Looks
Simple, with a bit of an edgy vibe this outfit is easy to recreate and looks good on everyone. A pair of denim jeans styled with a black top and a leather coat looks great for the winter months. It's a comfy outfit for the tourists who want to explore the city and landmarks the entire day while looking fashionable.
↓ 3 – Elsa Hosk's Winter Style
Here we have a cream two piece, a long skirt paired with a warm sweater. You can accessorize with a brown chain bag and this simple, yet elegant look will make you look stunning so effortlessly.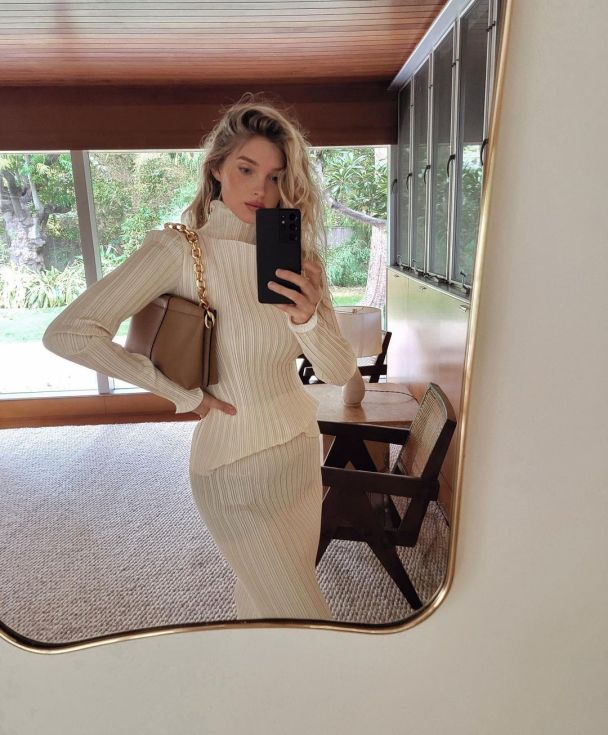 ↓ 2 – Accessorize With a Scarf
Adding on a scarf to your winter outfit, always adds a nice touch to your outfit as well as print.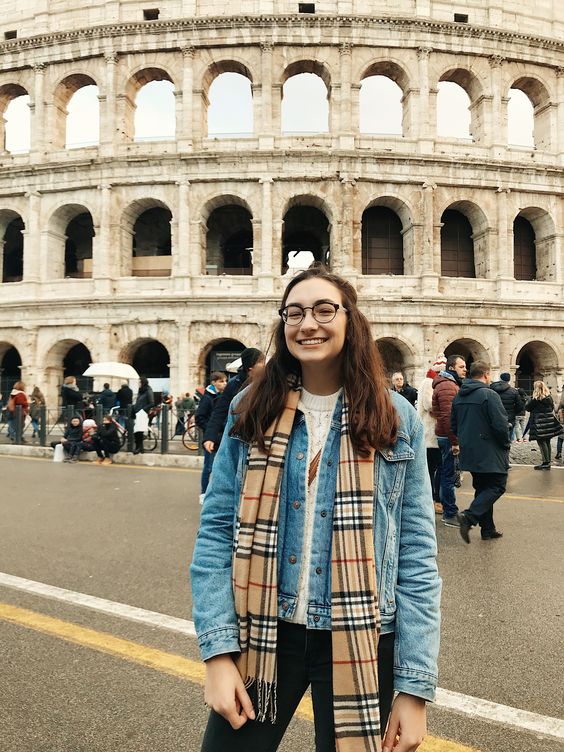 ↓ 1 – Button Up
Pair a white button-up with a coat, stockings and boots and you have a beautiful look ready for you.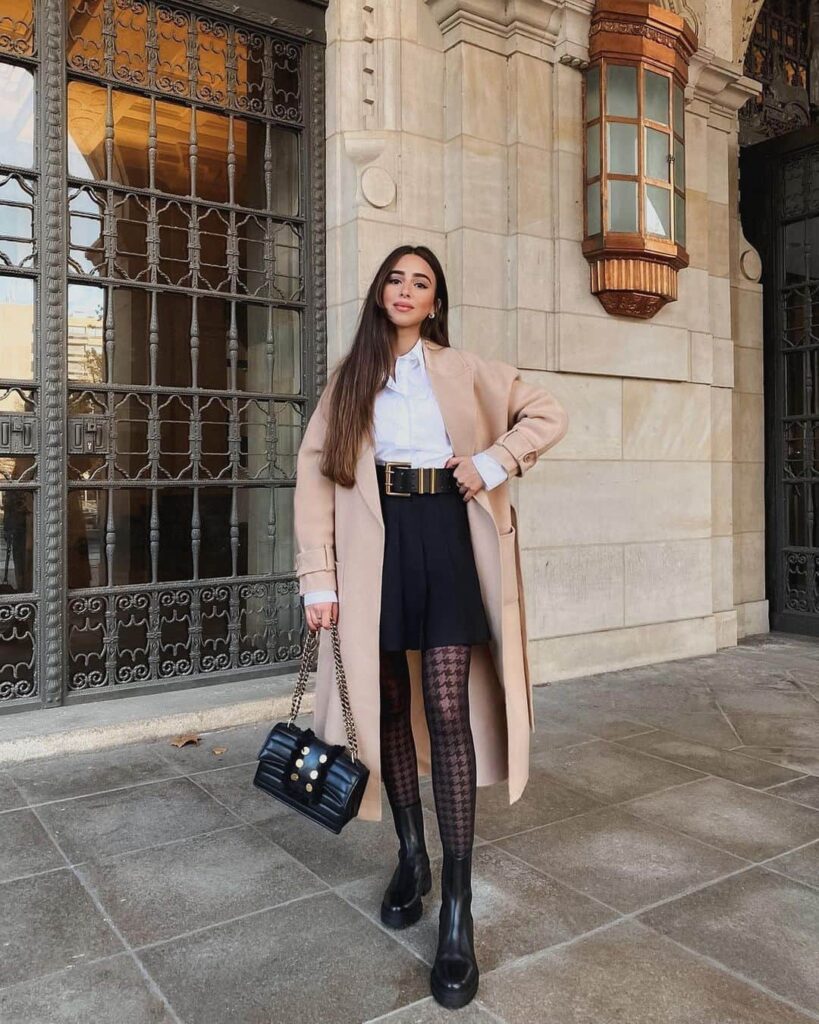 Frequently Asked Questions
Q. What winter items to pack for Rome?
A. As Rome experiences mild winters, from temperatures varying from 2-4 degrees thus a few warm coats ranging from fur coats to biker jackets, sweaters, knit cardigans and dresses will be appropriate. Keep 2-3 essential pants such as skinny jeans, leather pants, and stockings and plan each outfit with them. You should focus on keeping outerwear the most fashionable piece of your outfit as it is the most visible.
Q. What to wear in Rome in December?
A. A thick turtleneck paired with leather pants, wide-leg or skinny, with a warm coat of a color or pattern of your choice and some Chelsea boots with a nice shoulder bag, will look amazing and will keep you warm in the chilly December days. For a fancier look pair a pleated skirt with a white button-up shirt and a warm long coat, a pair of stockings and your favorite boots. Add a nice belt, as well as minimal jewelry to complete the look.
Q. Is there a dress code in Rome?
A. Avoid wearing shorts or miniskirts if you are visiting a church. The Vatican gardens in Rome also have a strict dress code with no shorts or sleeveless clothing items allowed. Since it's winter you will be good to go to visit most landmarks with outfits mainly comprising of coats and pants. Save your winter outfits with stockings for other landmarks and days for exploring the city.