Summer Lunch Outfits. Summer is all about having fun with your friends and usually, plans are made to revolve around meals. The most commonly enjoyed meal with friends and family has to be lunch. Then comes the question of what to wear in the sweltering heat that will allow for style and creativity and also comfort.
Well, look no further, as this guide will provide you with everything you need to know about styling options for lunches with your besties.
There are no specific "rules" when it comes to styling summer clothes for lunch, nor are there any restrictions or specific color palettes. The best thing about summer is the wide variety of choices when it comes to different styles of clothing and also all the bright and vibrant summer colors! Because of this, summer outfits become so much more versatile, making it all the easier to narrow down good options to wear at a lunch.
How to Dress for Lunch in Summer?
There are many choices to choose from when it comes to summer outfits. All the way from floral dresses and skirts to distressed shorts and wide-leg jeans, you can work with them all. Fashion trends change on such a regular basis that it will be no hard task to find cute tops to wear: they can be cropped, corset-like, blouses, ruched tops, and so much more. And I have not even started on the amazing variety of colors yet!
Do's and Don'ts
Don't go for excessive layering! The sweltering heat of the summer will make it very uncomfortable for you. And comfort should never be compromised when it comes to style!
Do try to color block with bright colors! It gives the perfect summery effect and is also very creative!
Don't overuse denim in your outfit! It should stay to a minimum in one piece of clothing (preferably lower wear). But denim accessories can come off extremely tacky and are major fashion faux pas.
Do try to include white in your outfit. You can never go wrong with it in summer.
20 – Green Printed Dress With Ruffles and A Cinched Waist, Paired with Cream Accessories
This is the perfect dress to wear in the summer not only because of its unique color but also due to the ruffles and the flowy cut of the dress. The cream-colored heels and the minimalistic bag match and bring out the cream-colored print on the dress too and really tie the whole outfit together.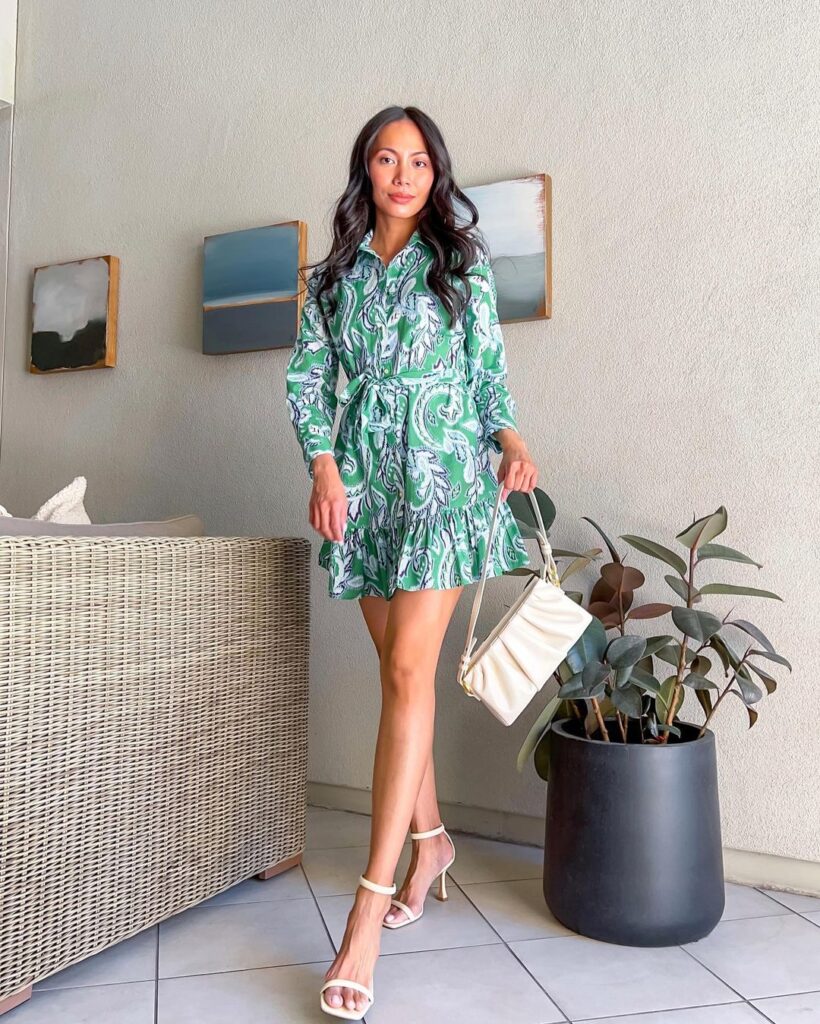 19 – Summer Floral Dress With Minimalistic Floral Print Paired With Platform Heels and Cream Baguette Bag
This dress has very subtle tiers in it, which add to the delicate floral print. The colors are muted for those who love to wear more neutral colors, and they are accentuated further by the cream baguette bag and the additional texture provided by the summery platform heels. This is one of the outfits that scream summer and will get you a lot of compliments when you wear it at your next lunch!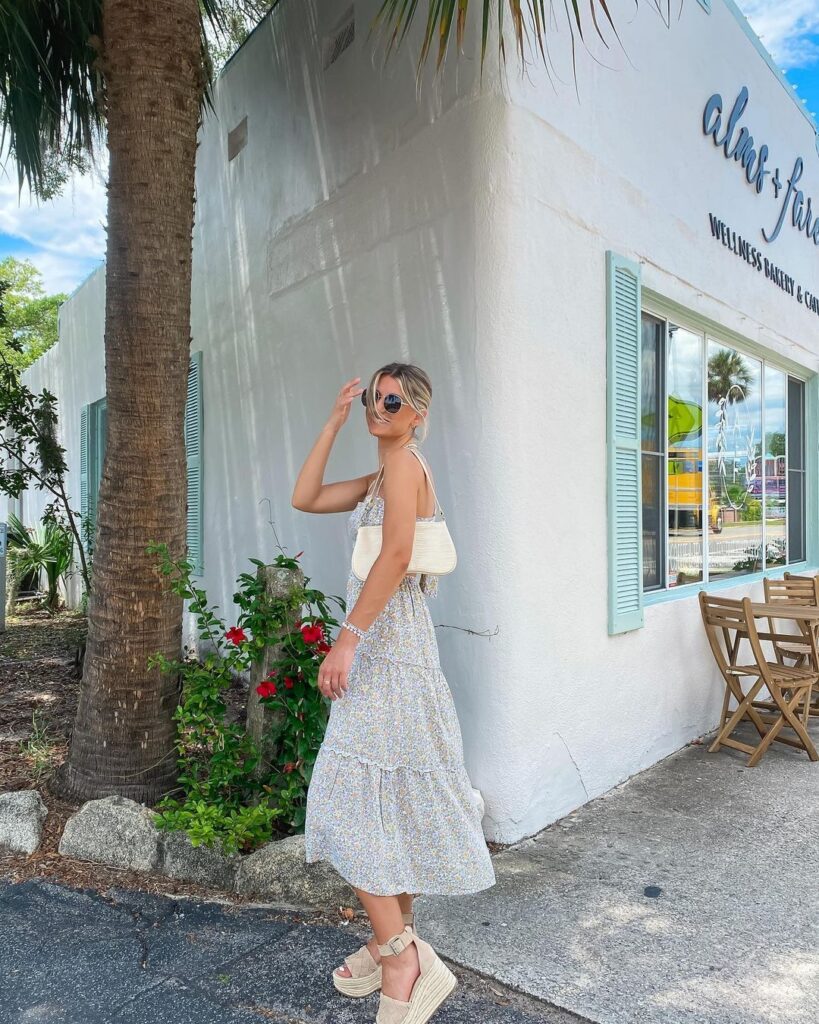 18 – Pink Full Sleeved Cotton Dress With White Heels
When you think of summer, you think pink. This outfit has to be the best pink outfit for summer. It's a collared pink dress which is cinched at the waist by the ruched elastic. The material is so breathable and perfect for summer, and with the addition of white heels, it will make the perfect outfit to wear to lunch. The accessories can either be matched in pink or white also gives a classy and chic look.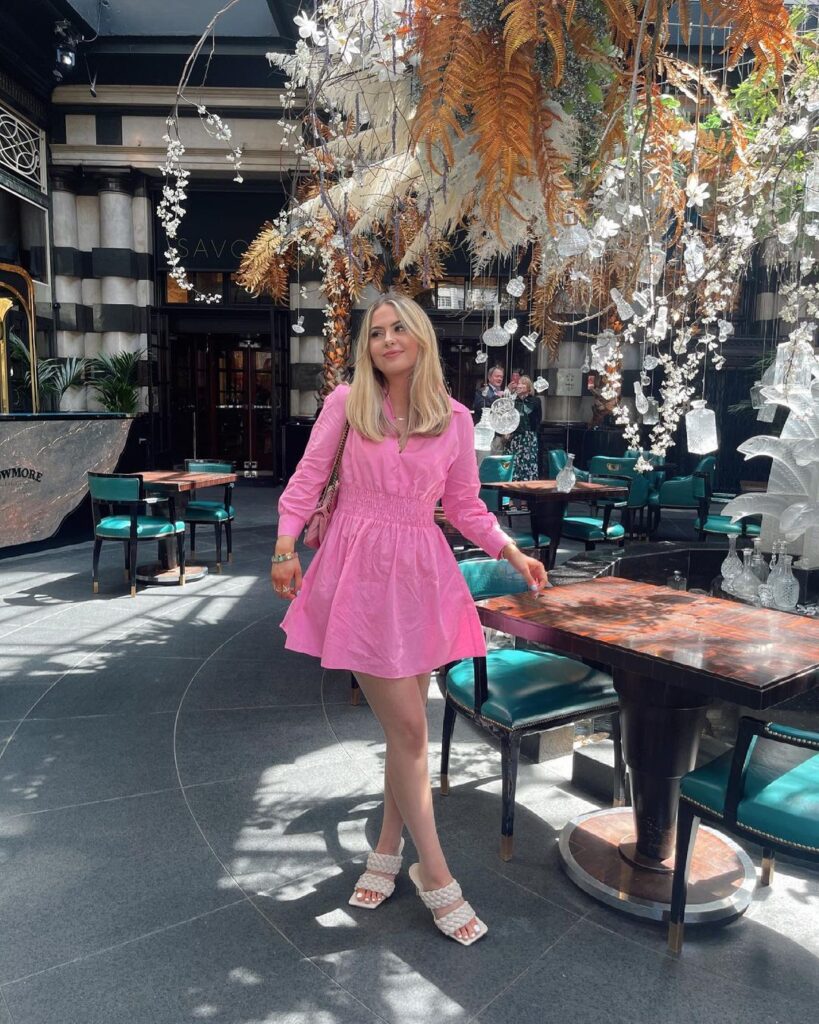 17 – Mini Floral Blue Dress With White Flowers and Matching White Sneakers
Another rendition of the floral printed dress, this one is mini, with an off-shoulder neckline, and puffy short sleeves. All these things are the perfect elements to make a summer outfit. More depth can be added to it by the addition of a pair of cool sunglasses. Shoes can be any, from heels to sneakers, but if they are white to match the flowers on the dress, they are perfect for a summer lunch with your girls.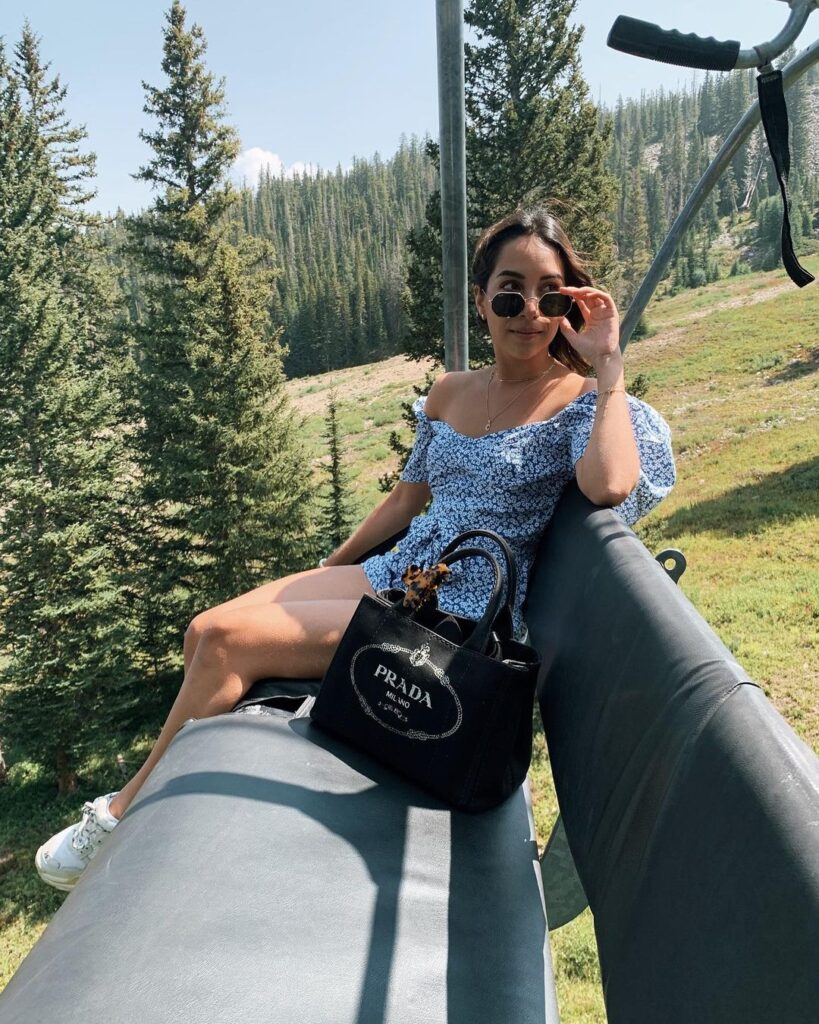 16 – All White Outfit: Asymmetrical White Crop Top, with Matching Tennis Skirt and White Sneakers
This outfit shines because of its simplicity. The asymmetrical neckline of the top adds creativity while the pleats of the tennis skirt add another texture for dimension. White accessories will enhance the look and make it a perfect outfit to wear for a summer lunch.
15 – Blue And White Check Skirt and Top Combo
The patterns in this outfit are perfect to compliment the summer vibes when you are going out for lunch with your friends. The top is asymmetrical and the skirt has ruffles, and both are ruched from the sides to hug the curves in order to give a flattering effect. This is best worn with a nude pair of heels, and if you want to add a pop of color, opt for a bright-colored bag!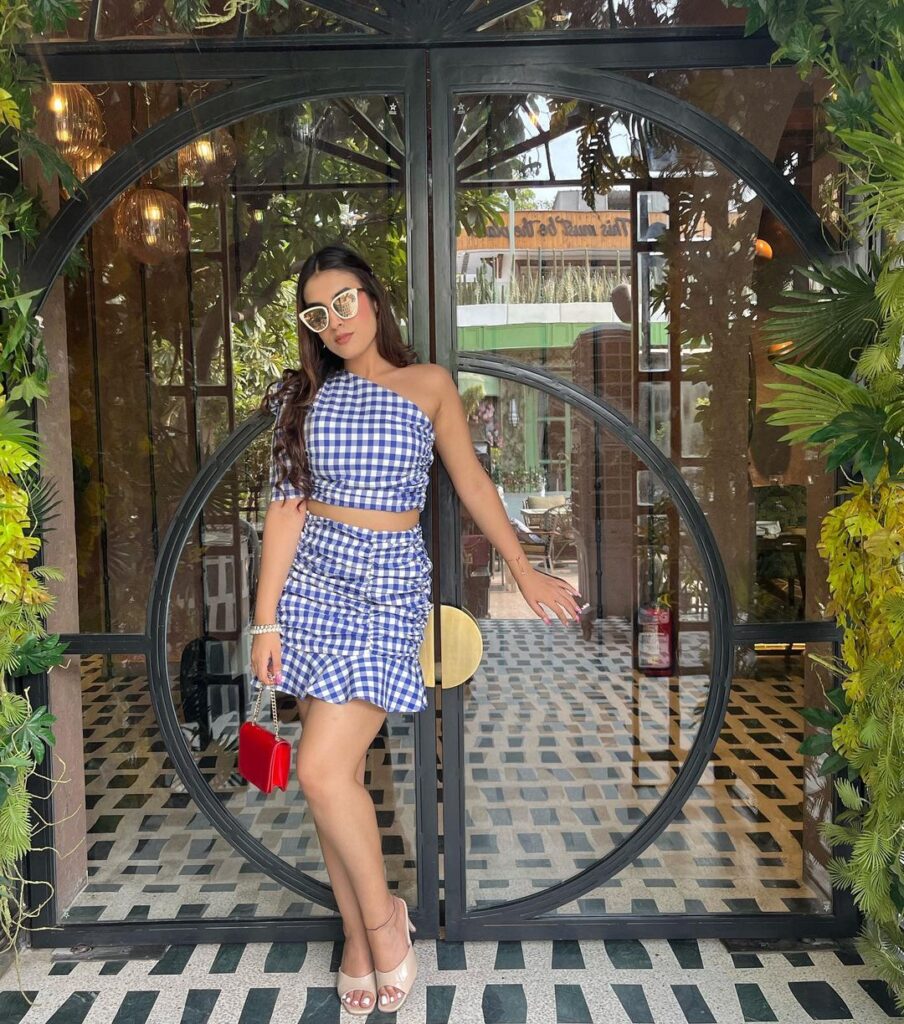 14 – Muted Pink Tennis Skirt with Lacey Floral Crossover Top Paired With White Sneakers
This outfit is so youthful and gives off such an athletic look when worn, and is perfect to keep you cool for the summer. The colors are muted, but flattering on almost all skin shades, so this outfit will be perfect for anyone! It is very beautiful to wear at a summer lunch too!
13 – Light Sage Green Linen Shorts and Linen Shirt Layered Over a Cropped Corset Like Top
This outfit has incorporated white by pairing it with a beautiful muted sage green color which really compliments the skin tone and has a flattering effect. The white boots match with the top to create a very coherent look and provide a nice clean canvas for the sage elements to really shine. This outfit is so sophisticated but also casual at the same time, hence making it perfect to wear to a summer lunch.
12 – Color Block A Bright Orange Halter Top With Raw Hem Black Denim Shorts
While this outfit leans more towards the casual side, it is perfect to beat the heat during the summer. The color blocking adds so much dimension to the creative and unique cut of the top, that it makes such an effortless outfit look very put together and well thought out. This is perfect to wear at lunch as it will definitely catch everyone's eye!
11 – White Cropped Top With Denim Shorts
When making combinations with denim, you can never go wrong with the classic denim and white combo. This cropped top is a beauty in itself, with the unique cut and ruched effect, and it goes perfectly with the raw hem shorts. This outfit is so nice to wear at a lunch, and can be paired with either black or white accessories, due to this outfit's versatility!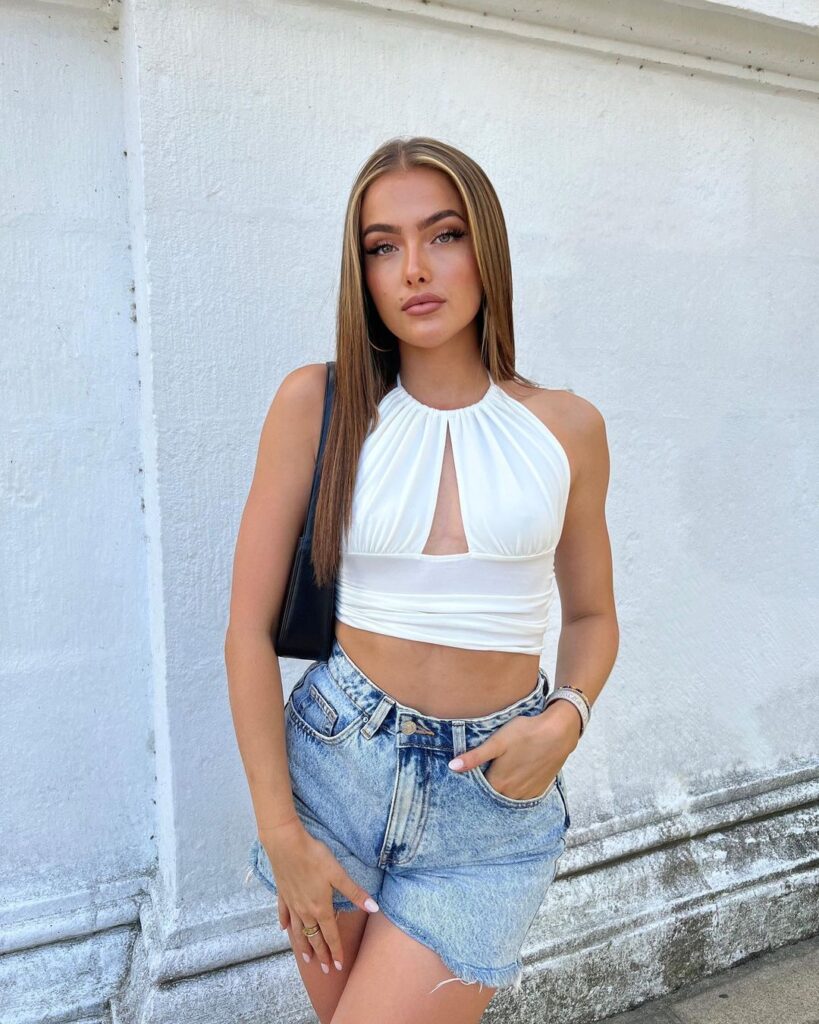 10 – Bright Red Puffy Sleeved Top With Distressed Shorts
This bright and vibrant color is flattering on everyone and is a must for everyone's closets this summer. The flowy cut for the top provides lots of movement which is eye-catching, even despite the color, and will keep you comfortable. It is a great option to wear to lunch as it encapsulates the essence of summer perfectly!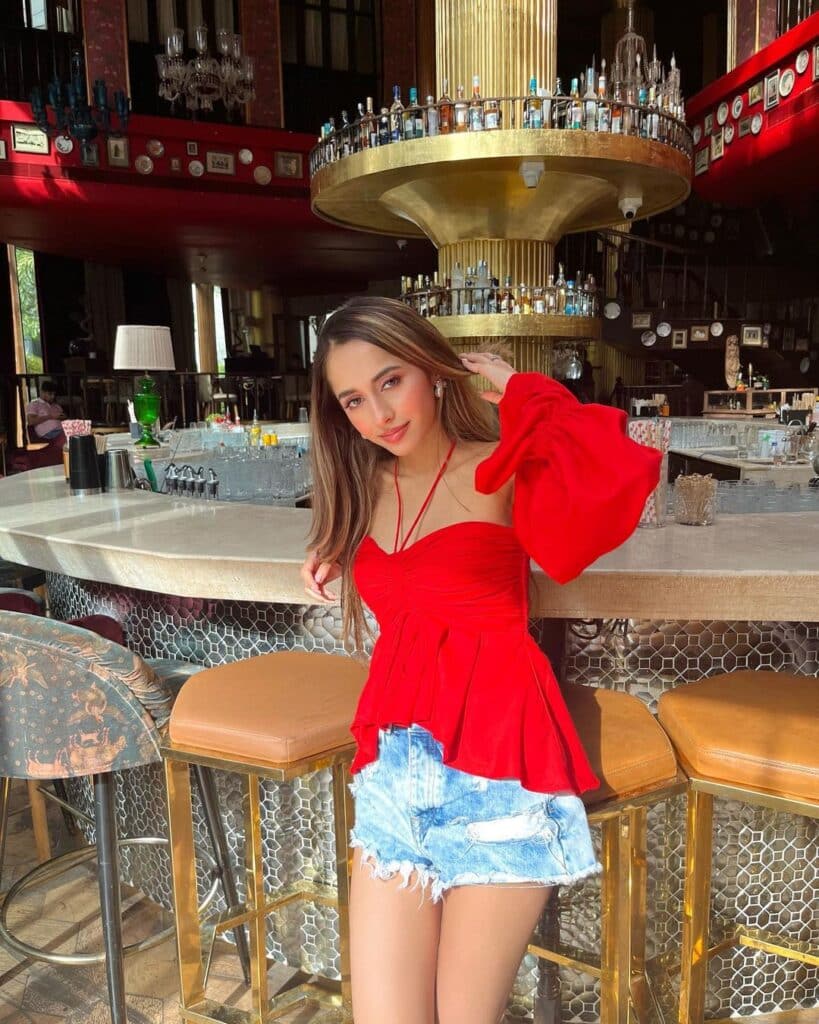 9 – Ribbed and Ruched Beige Top With High Waisted Skinny Jeans and White Sneakers
For a more simple and casual look, opt for this, beige ribbed top, which is ruched from the sides to flatter the body and create a lovely silhouette. It is perfect to wear to a casual summer lunch, as it is effortless to wear and easy to pull off as it requires staple pieces that are already present in everyone's closets! Tie it all together with white sneakers and you have yourself a great look.
8 – Straight Leg Raw Hem Jeans with Off-Shoulder White Top
Another great option to wear at a lunch is this straight-leg jeans and white top combo. The white top is ruffled and ties at the front which is a great detail, but the jeans pull the whole outfit together with a flattering look that elongates your legs. It is the perfect outfit to wear in the summer, especially the off-shoulder top, a summer staple, which will complement your figure
7 – Color block Yellow Pants with A Black Ruched Top With Lace Sleeves
This summer outfit is the very picture of grace and style. The vibrant color choice adds creativity and youthfulness, two things that are essential for all summer outfits. Furthermore, the elegant black top is a great option. The v neckline of the top accentuates the upper body and the ruched detailing adds dimension. The addition of texture by the lace on the sleeves ties it all together. This outfit is great to wear at a lunch, especially with the clever detailing of accessories and pointed boots to go along with it!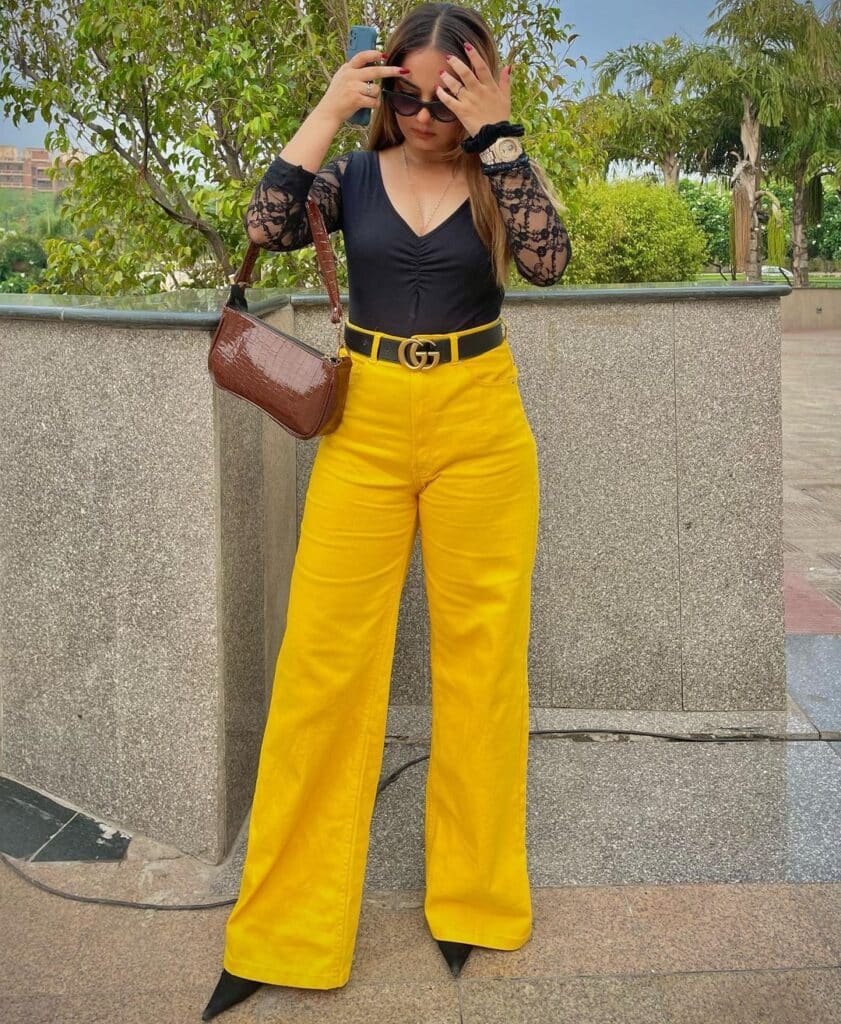 6 – Sleeveless Neon Pink Ribbed Top With Criss Cross Detail at the Waist
This top is perfect for summer with its beautiful color and style of the top. But the important detail to note is the crisscrossing of the top at the waist. This detail while it may be small, accentuates and enhances the top, even more, giving it a unique quality that will definitely not make your outfit go unnoticed! Since the top is cropped and ribbed, the best thing to pair it with is maybe straight-leg or wide-leg jeans. Grab a cute baguette bag and white sneakers and you have a lunch outfit that will leave everyone stunned!
5 – White Patterned Bandana Top Tied With Wide Leg Black Pants and White Sneakers
This is such a simple but stunning outfit that can give such a flattering and youthful look to whoever wears it. The bandana points downwards on the torso which helps to elongate the torso and make it look better. The wide-leg jeans also further accentuate the waist making this outfit perfect for anyone who wears it. This is a great option to wear for a simple lunch out with your friends!
4 – Bright Colored Top With White Straight-Leg Pants
Red and white are the ultimate color pairing; they complement each other so well in all types of clothing. So why not take advantage of that? Grab your favorite off-shoulder red top and pair it with high-waisted white pants and you will look so effortlessly chic and sophisticated. The colors are absolutely stunning to wear in the summer and they will look even better worn at a lunch.
3 – White Corset Top With High Waisted Wide Leg Jeans Paired with Matching White Sneakers
This is another great option for looking stunningly chic and classy. Corset tops will cinch your waist and accentuate your figure to make you look snatched and the wide-leg jeans, a summer staple, will offset the tight top to truly flatter the silhouette.
This will be perfect to wear at a summer lunch, especially when tied together with white sneakers, which will complement the top perfectly.
2 – All White Jumpsuit with Jute Belt
Jute is the perfect reminder of summer as it brings the image of the beach to mind. And paired together with an all-white, plain jumpsuit is absolutely stunning. The colors not only complement each other but also accentuate the skin tone of the person wearing it, making it such a good summer outfit. The outfit can be further enhanced by the addition of seashell or white jewelry, which will lift the overall outfit and make it perfect to wear at a lunch!
Last but not least, we have this beautiful color palette of white and green, which again, is very reminiscent of summer. These colors will be perfect to show off your new tan and look extremely flattering. A matching coverup of a cropped sweater can be added if it gets a little chilly, but this is probably the best outfit you could wear to a summer lunch with your friends. It's so trendy and easy to wear!
Q. What are some styling tips for very hot days?
explore different clothing options in cotton and linen as they are the most comfortable and breathable options! Besides this, for lower wear, try to opt for skirts or other shorts, and try to avoid denim, as it can be suffocating!
Q. How to dress at a summer lunch where you are the host?
As a host, you want to make a good impression, but you also don't want to go overboard. Focus on a dressy outfit, but make sure to not overdo it with over-accessorizing or too many funky colors clashing. Sometimes keeping it simple can go a long way, after all, less is more.