Skater Dress Outfits Ideas – Do you find it difficult what to wear because you are too picky? Do you hate overdoing your outfits? I guess most would say yes to this. In that case, this article is for you. This article will help you choose, or at least, give you an idea about how you style your outfit. The skater dress outfit is the most common option for you out there. You can wear it anywhere and anytime.
As stated, these outfits are the best to opt for when in dilemma. You can easily wear it to any gathering, party, meeting (though in that case, you have to be careful how you style it) or a date. Even the same skater dress that you wore to the last party can give you a new look if you style it differently for your next gathering. Here, a variety of outfits are listed that you can wear in different ways.
Styling Your Skater Dress For Different Occasions
Out of ideas for styling your skater dress outfit? If yes, you don't need to panic. We are here to help you out. The skater dress is the most common, simple, and yet stylish outfit to wear. You can wear it with different accessories, boots, trainers, heels and so on. While wearing it, make sure the length is according to your body shape. In other words, make sure you choose the length properly so that you appear the way you want to. You can wear a casual skater dress (with sleeves or sleeveless) or a fancy one.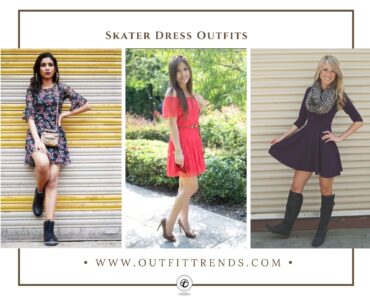 Tips And Tricks For Styling Skater Dress Outfits
The first and foremost trick is to style your outfit that will highlight your figure. If you are wearing a loose skirt, a belt around your waist would be suitable.
The position of the belt (if you are going to wear it), should be according to your body shape. If your waist is broad, wearing it a little above your waist would be better.
Choose the length of your dress wisely. If you want your legs to appear long, mini dress outfits would be your call.
If you want to look thin, a vertical lined dress would help you in this.
You can wear your skirt as a skater dress by hiding the top which will give the illusion of a skater dress. All you have to do is, throw a belt with some width over your skirt.
No matter what you wear, make sure you feel comfortable in your attire.
20 – Off Shoulder Skater Dress With High Heels
If you want to wear a cozy as well as a casual skater dress, you can simply wear your dress by throwing a belt over your waist and pair it with high heels with open toes. You can wear shoes matching your dress or wear them in contrast with the color of your dress. In case your dress has a light shade, the shoes can be of a darker shade for a contrasting look.
19 – Pair White Skater Dress With Matching Accessories
The monochrome white dress is the simplest yet the most elegant one. You don't need to be on your toes for color combinations. Just wear all white and you are done. Take this look as an example, a white printed dress paired with matching accessories and strapped flats looks quite stylish. To be honest, any flats would do in this case.
via
18 – Black Dress With Gold Belt
Styling your black skater dress with sleeves (or without sleeves) might be difficult for you, but it isn't actually. Black is a color that can be paired with a variety of colors. The trending combination is black with any shade of red. For instance, you can go for red statement earrings that will highlight your looks. Adding bangles or bracelets or a wristwatch would be better. Throw a belt too if you find it suitable.
17 – Yellow Casual Skater Dress With Heels and Necklace
If you want a casual skater dress for your upcoming gathering with your friends, this look might be the one for you. It is casual and glamorous. Pick any of your plain yellow skater dresses, pair them with golden heels and add some accessories like a necklace and bracelet. A handbag would look well with this look as well.
16 – Style Skater Dress With Boots
Here is another casual look for you. If you want to style a dress with boots, here is how. A full sleeve skater dress would do well. Pair your dress with knee boots (it can be a high heel or low heel) and wrap a scarf loosely around your neck such that your neck is visible. Fold your sleeves a little below your elbow. This would add chic and cool vibes to your getup. You will definitely look stylish and cool with this outfit.
15 – Team Black Skater Dress With A White Blazer
This look is my personal preference as it gives off cozy and elegant vibes. If you are a black lover, you will love this look. You can pair your black skater outfit with a white blazer. Adding a black handbag or purse will add to the vibes. As for the shoes, go for black knee-high gladiator sandals and your look is complete.
14 – Frilled Skater Dress With Sandals Or Wedges
If you are going for a frilled mini skater dress, make sure you try it before actually going out in it. The reason is you need to be sure of your comfort in this kind of outfit. You can wear a cute necklace with it and maybe studs or tops. Wear strapped sandals or wedges with your outfit. I wouldn't suggest going for heels in this outfit though. A body-fitted mini skater dress doesn't go well with high heels most of the time. In the end, however, it all comes to you. If you feel like it, you can wear heels.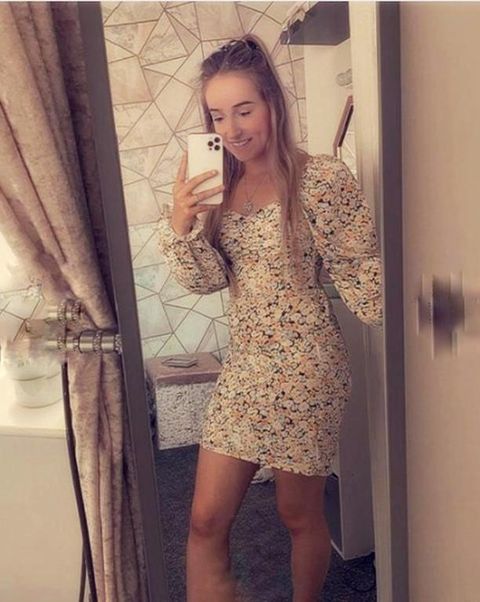 13 – Floral Dress With Red Leather Jacket
Such outfits are quite common among women. Usually, while wearing it, you might want to avoid red because you feel like it will look too much. However, there are certain occasions, where throwing something red would look stunning and not out of place.
For instance, if you are going to a cocktail party, a wedding, or on a date, all these occasions would call for a red touch to your get-up. Even then if you don't like going for a full red, you can wear a floral skater dress with sleeves or without sleeves depending on the way you see fit, and throw a red mini jacket over it.
In case the weather doesn't allow you for a jacket, a chiffon scarf loosely wound around your neck would do the job. Adding accessories like rings with red gems, red earrings, and red bracelets would make you look even more gorgeous.
12 – White Dress With Matching White Boots
Don't have a skater dress on the spot? Have you run out of skater dress outfits? No worries. Here is a way to transform your ordinary skirt plus a top into a skater dress. All you need is a skirt, a top, and a belt (optional). Simply tuck your top under your mini skirt so that both items give the look of being one. You can wear a belt which will look like you are wearing it over a dress. Make sure you are wearing the top and the skirt of the same color. For your inspiration, have a look at the image below.
11 – Floral Skater Outfit With Open Toe Heels
This is another example of a casual skater dress outfit. If you don't want to wear too glittery, this printed but not too vibrant is a good choice. You can pair it with open-toe heels and various accessories like a belt, a statement necklace, a ring on your finger, and maybe big round pair of earrings.
10 – Black Skater Dress With Boots
Black lovers might find this look quite appealing as it is all black. You can wear this black dress with boots. This one is my all-time favorite. Pair a black skater outfit with black ankle boots and if the weather allows, throw a black jacket over your shoulders. This would add savage vibes to your overall look. Complete your look by adding a small handbag or a clutch.
via
9 – Printed Skater Dress With Black Shoes And A Mini Bag
Are you having a rough day? Face your challenges with one of your savage-looking mini skater dress outfits and defeat all of your hurdles. Team your floral printed skater outfit with ankle shoes while adding a mini bag to your look. Make your look complete by wearing statement hoop earrings.
8 – Denim Shirt With White Dress
Looking for cool skater dress outfit ideas? Here is one. All you need is your skater dress and a shirt (cold shoulder preferably). Take out your button-down blouse shirt. Now, wear your skater dress and throw your shirt over it. This outfit style would look like you are wearing a top with a skirt. You are now ready to go wherever you are headed.
7 – Floral Summer Skater Dress With Tights
Pick out your cold shoulder dress and pair it with black tights as black goes with most of the floral prints. Wear your wristwatch, and maybe a pair of small and cute tops. This is your simple, day-to-day look for your grocery shopping or the like.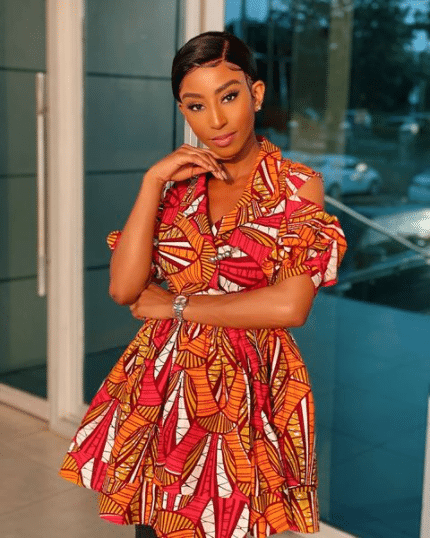 6 – Blue Casual Skater Dress Outfits With Snakeskin Heels
Get your look feminine by wearing a blue backless skater dress with snakeskin high heels preferably peep toe high heels. Add some bracelets and a cute pink handbag to your overall look. If the weather is cold, add a cardigan or a sweater to your attire.
5- Black Skater Outfit With Leopard Pumps
Even celebrities can not resist the urge to go for casual looks. Casual looks have their charm that no other look can beat, most of the time anyway. You can recreate their looks as well. Pair your black long sleeves dress with leopard-printed pumps and black sunglasses.
4 – Mini Skater Dress Outfits With Tights
Get all set with this look for your upcoming party or meet up with your friends. Team your mini skater dress with black tights or any other color in combination with the color of your dress. Make sure the colors complement each other. Wear knee-length boots with your outfit.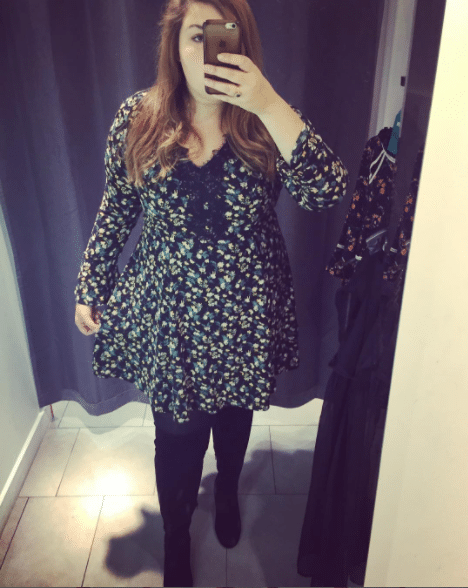 3 – White and Black Skater Dress Outfit Look
Go black and white with this look. What I mean is wear a plain white skater outfit with black boots while adding a shoulder purse and a ring to your getup. You can add more accessories if you like. You can also reverse the color of the dress and shoes i.e, black dress and white shoes. But in that case, you can go for heel boots. If the weather is cold, wear a pull-up sweater over your outfit.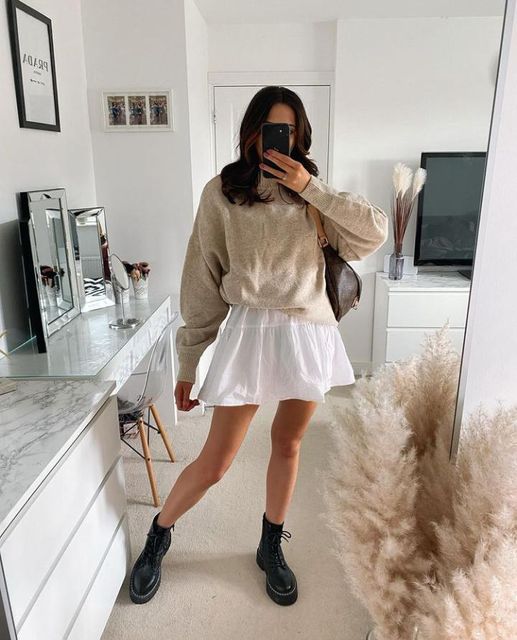 2 – V-Neck Skater Dress With A Denim Jacket And Loafer Mules
Pick your blue floral dress out of your wardrobe and team it with loafer mules of any light color. Throw a denim jacket over your shoulders and wear a wristwatch. That's all. You will slay this look and steal the crowd wherever you go.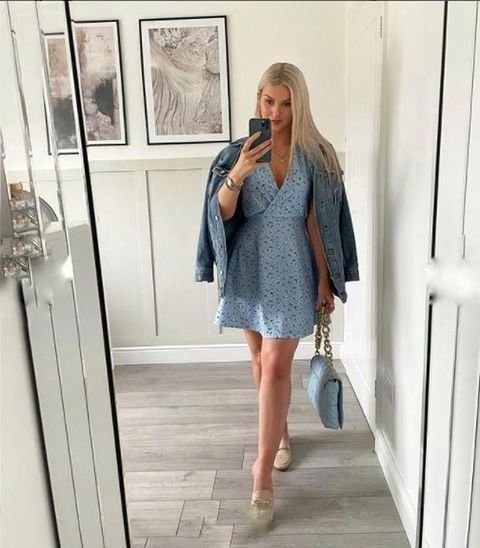 1 – Navy Blue cocktail Skater Dress Outfits With High Heels
Worried about what to wear to an upcoming party or a friend's wedding? Do you have a cocktail dress? If yes, it is time to pick it up. Wear it with high heels as the occasion calls for high heels. For bottoms, wear leggings or tights with your dress. If not, you can leave your legs bare as well. Add some light jewelry to your look. Now you are ready to look stunning.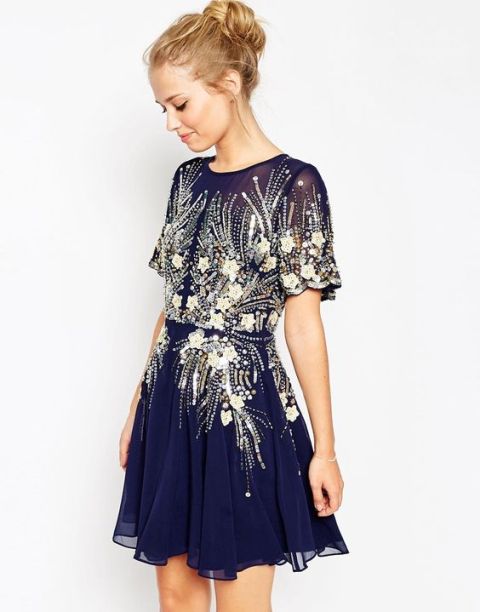 Frequently Asked Questions
Q. Can you wear leggings with a skater dress?
A. Skater dresses usually go without bottoms. Most women prefer to go for dresses that leave legs bare. Still, you will find a lot of skater dress outfit ideas on the internet that would look good with leggings or tights. Leggings are usually suitable for casual looks. Besides, winters are ideal for pairing skater dress outfits with leggings or tights. In summers, sheer tights might be suitable. So, the answer is yes.
Q. What shoes to wear with a skater dress?
A. Choosing your shoes for skater dresses depends on the occasion you are going to wear the outfit. In addition, you have to keep your comfort in your mind. There are a number of options. For example, boots, that vary in type as well like ankle boots, combat boots, lace-up boots, knee boots, etc., sneakers, trainers, heels, loafers, flats, and the list goes on. The most common are boots, pumps, and wedges. Go for the one that suits your attire.
Q. How to wear a skater dress in winter?
A. A skater dress might be uncomfortable if not properly styled in cold seasons. Once you get to know how to layer it, you will feel cozy in your dress. Wear a long sleeve casual skater dress with leggings or tights. You can wear skintight jeans as well. Layer your outfit with a cardigan or a sweater. A jacket is a good option too. If the weather is too cold for a sweater or a cardigan, go for long coats.