Shoes to Wear With Blue Dress for women: Blue is not only the color of nobility but also the first choice for most of our dresses. Whether you are opting to go for a simple lunch date or for a fancy wedding or dinner party, blue is the perfect option.
Various shades of blue provide you all kind of options for various occasions. However, matching the right footwear with any dress is always a tricky option. Therefore to end your troubles and save your time, we have compiled an excellent list of various colors and style of footwear that will perfectly complement your blue dress.
Read on for some of the most fabulous looks that you can rock with your blue dress this year!
What Shoes to Wear with Blue Dress
Here are a few essentials to keep in mind:
Try and experiment with different colors to go with your blue dress instead of playing it safe by wearing blue from head to toe.
When opting for footwear, it is wise to select the right color so as to not take attention away from your dress.
Light colors will go well with the light colored blue dress and vice versa.
Choose the right footwear for the season and occasion you are dressing up for.
↓ 26. What Color Shoes to Wear with Sundress
When you are wearing a sundress, the perfect shoes to wear are casual slippers or sandals. These beautiful bright brown colored sandals will go nicely with a blue sundress. Have a look at this ultimate guide on How to Wear Shoes without Socks.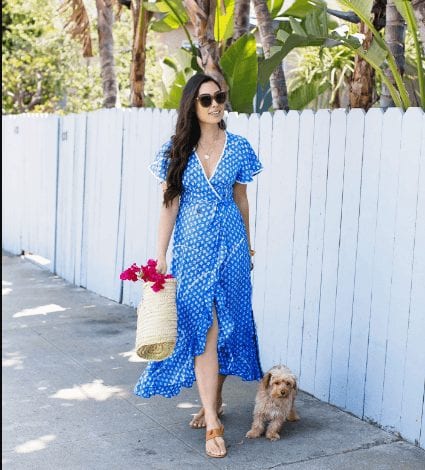 ↓ 25. Casual Sunday Brunch Shoes
Pristine white sneakers are a wardrobe staple and most comfortable footwear to carry for casual Sunday evenings. White colored sneakers and slip-on go well with light blue dresses.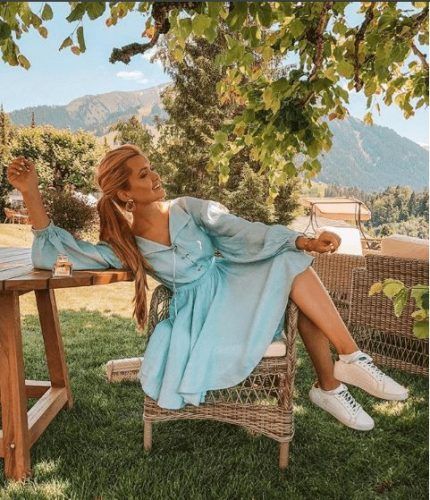 ↓ 24. Smart Thigh High Boots
Black is the color of drama and it instantly catches the eye. Beautiful black thigh highs will be picture perfect against a light blue dress.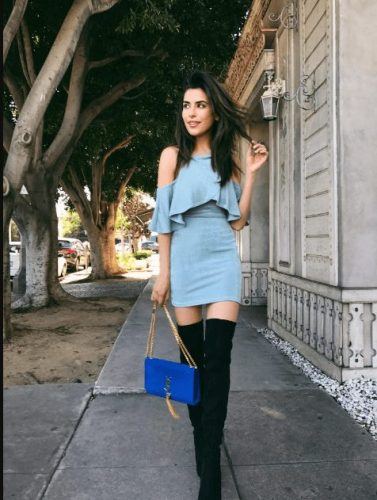 ↓ 23. Edgy Triple Strap Shoes
When confused, go with two different colored palette footwear. Silver and black go beautifully together and create a certain charm and gives you that perfect edgy look.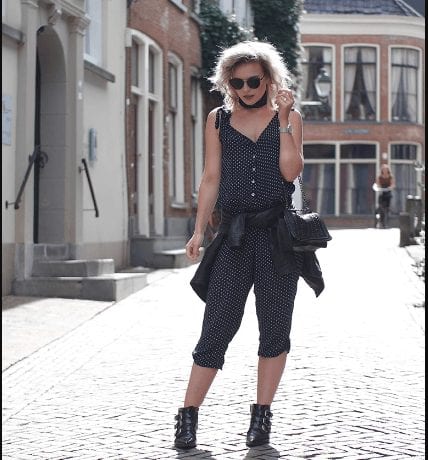 ↓ 22. Blue Dress with Black Heels
Even though we wear black heels all the time without giving a second thought, but they go so well with dark shades of blue dresses and even with minimal work will give you that perfect elegant outlook.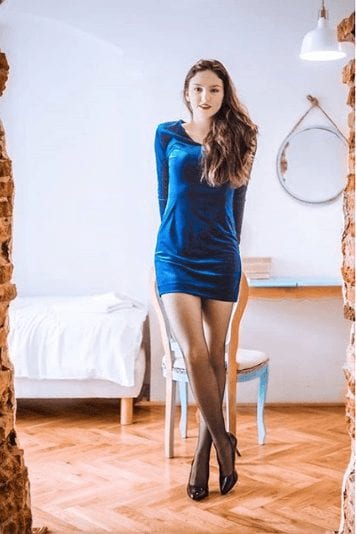 ↓ 21. Half-Bow Orange Sandals
Sometimes it is better to go all gun blazing when choosing footwear. Bright orange sandals will not only add a nice pop of color but will also make your footwear stand out when you are wearing that dark blue dress.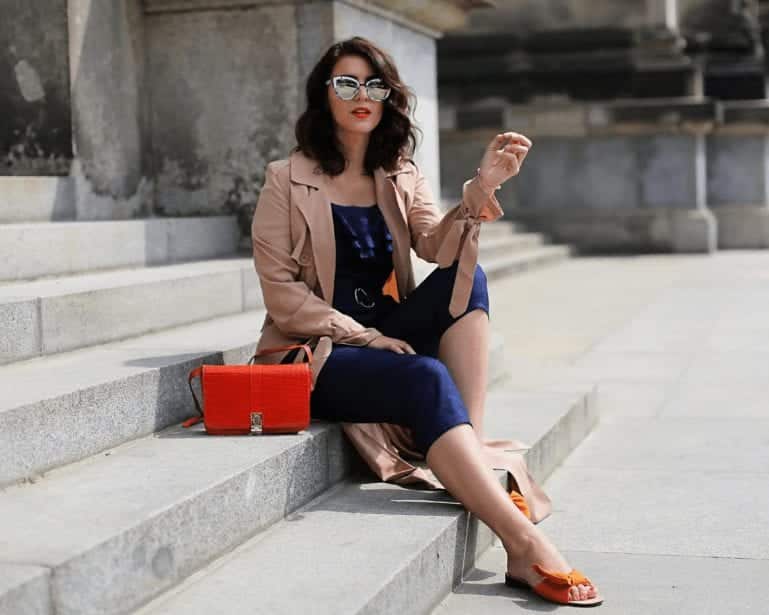 ↓ 20. Metallic Sandals
Metallic shades with a certain holographic feel are all the rage these days and have the quality to enhance any dress you are wearing. Very prominent but with a certain laid-back quality, metallic sandals will go well with a floral blue dress with a Hawaiian theme. Here are 16 Cute Outfits To Wear With Gladiator Heels/Sandals This Season.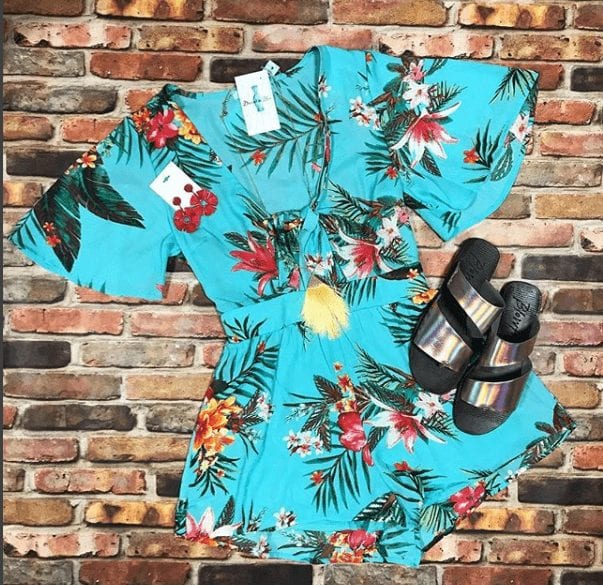 ↓ 19. Patterned Shoes
If any singular color confuses you, switch over to patterns with various different colors so that you can mix and match them. Leopard print shoes are timeless classics that will be a champion with your blue dress.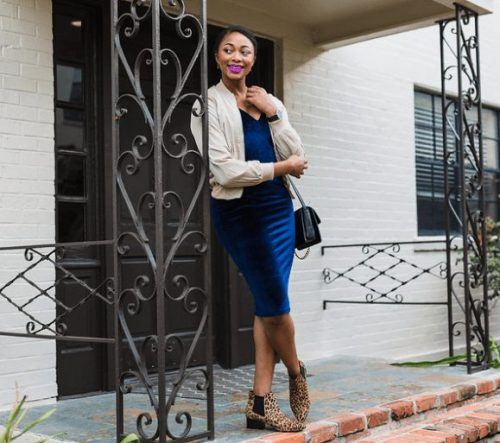 ↓ 18. Embellished White Wedges
White and latte colored wedges with their soft contrast will highlight the beautiful dark blue dress you are planning to wear.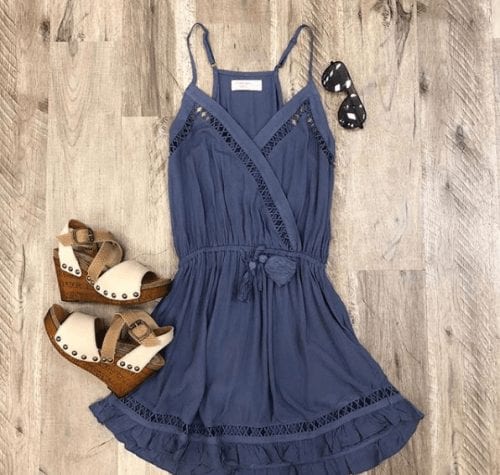 ↓ 17. What Color Shoes to Wear with Cobalt Blue Dress
If you are choosing a bright blue colored dress like royal blue or cobalt blue, you might as well go bold with the choice of your footwear. Yellow has been splashed all over the Instagram feeds of famous bloggers and celebrities and yellow colored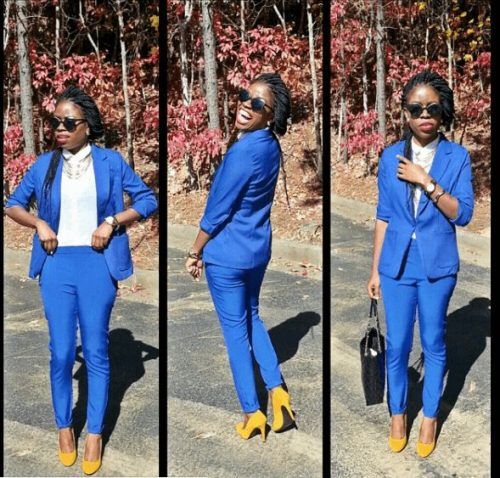 ↓ 16. Leather Buckle Sandals
Searching for the perfect modern sandals to wear with your blue dress? These awesome sand colored nude sandals will complement your blue dress.
Via
↓ 15. Black Furries for Comfort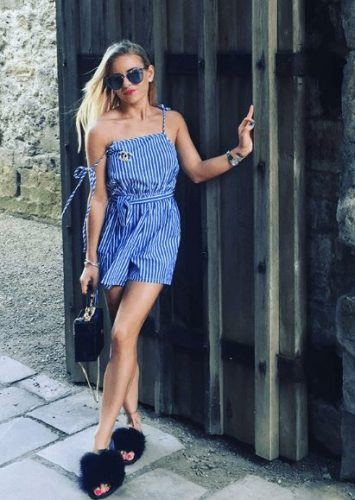 ↓ 14. Elegant White Pumps
White is a very inspiring and peaceful color that has the quality to enhance the blue outfit you are deciding to wear. Choose white pumps for a great choice of footwear.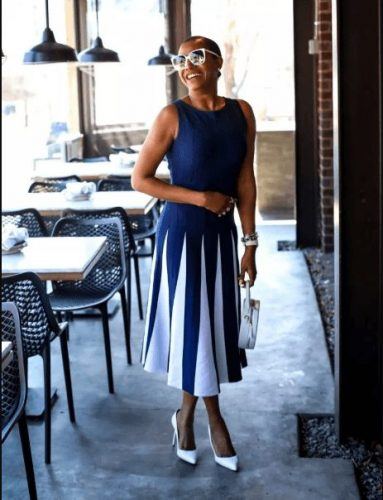 ↓ 13. What Color Shoes to Wear with Navy Blue Dress to Wedding
Women love to wear blue for weddings and it is the first choice for most of us when opting for a bridesmaid dress. Nude chunky heels will be a nice option to try with a beautiful navy blue dress this season.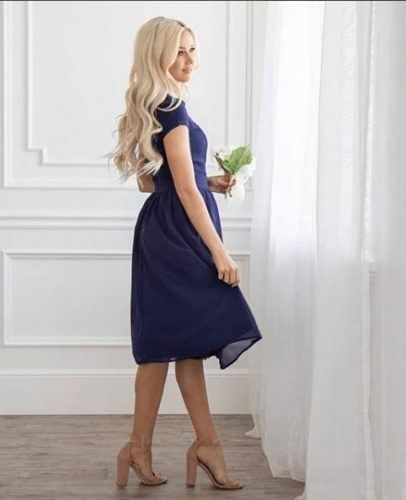 ↓ 12. Big and Bold Strappy Heels
When opting for a noble color like blue, why not choose something bold and bright to make you stand out from the crowd? Neon orange strappy heels will look gorgeous with your blue dress.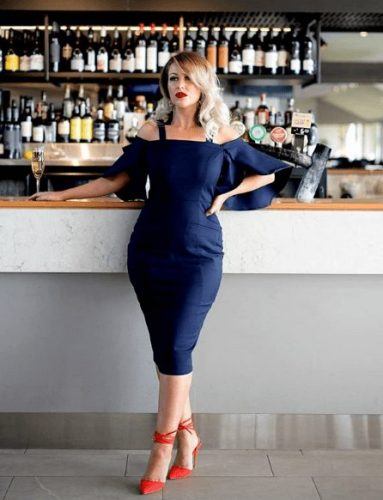 ↓ 11. Powerful Gladiators
When wearing a short blue dress, you have the choice of wearing gladiators to show off those beautiful legs. A tan pair of gladiators would be an ideal for your blue dress.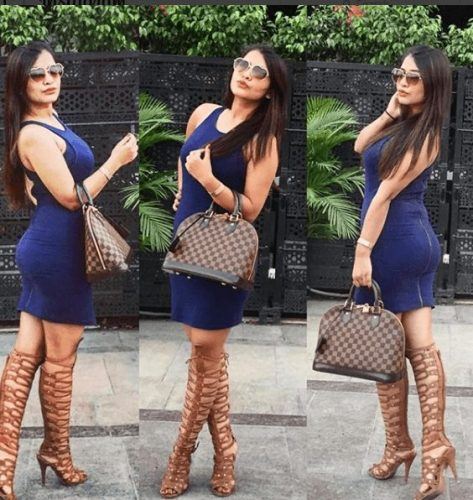 ↓ 10. Shoes with Blue Party Outfit
Why not opt for blue shades of footwear to go with your blue dress? Though it is the traditional option for many of us, it still makes a stunning impression. Check out these 26 Ideas on How to Wear Flat Shoes in Summers.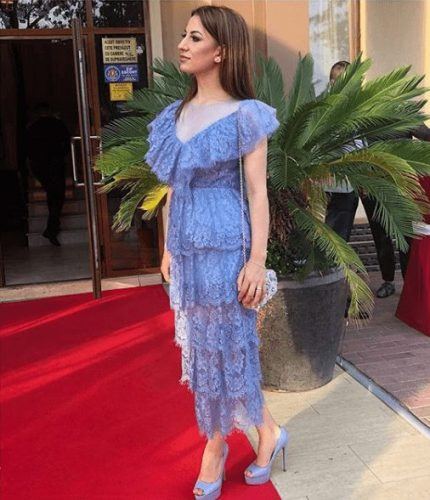 ↓ 9. What Color Shoes Would You Wear with a Light Blue Dress
If you are going to wear a light soft shade of blue dress like sky blue or powder blue, soft undertones of footwear like pastels such as mint green or cream color will be an irresistible and attractive option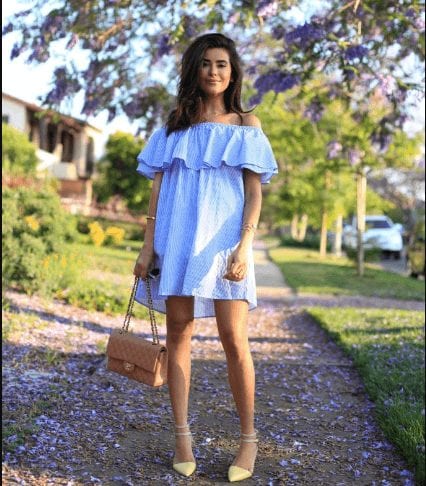 Or just opt for these silver metallic heels like our favorite celebrity, Selena Gomez.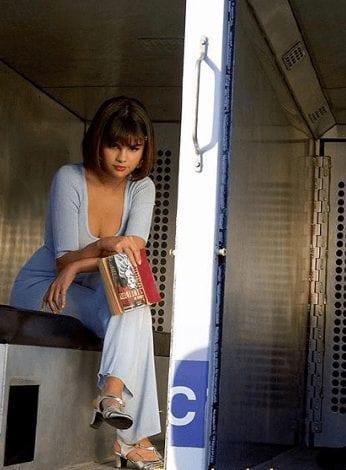 Here's a another look in silver heels and blue dress by fashion blogger Courtney Trop.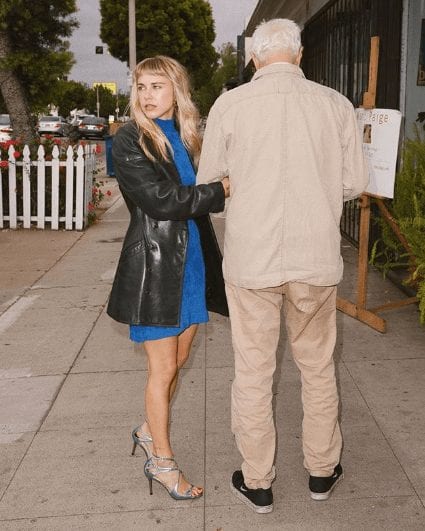 ↓ 8. Trendy Ankle Boots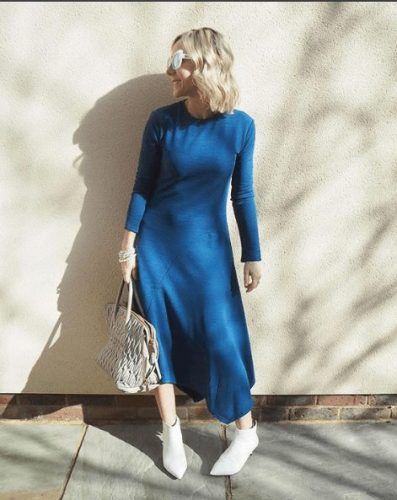 ↓ 7. Floral Heels
Floral prints have been a great favorite and the whole world has jumped on this bandwagon. Choose floral heels to go with your blue dress for that fancy effect.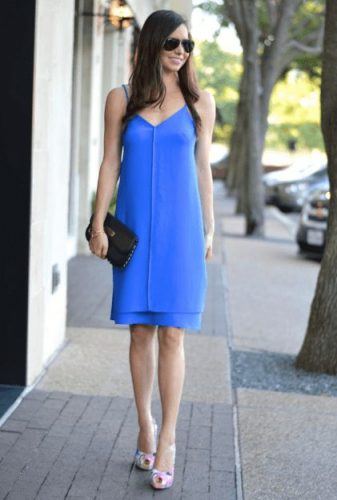 ↓ 6. Blush Embellished Heels
Blush colored heels are the first option to go with when the choice of footwear becomes tricky. Blush heels will go well with your blue dress and add more sophistication to the whole outlook.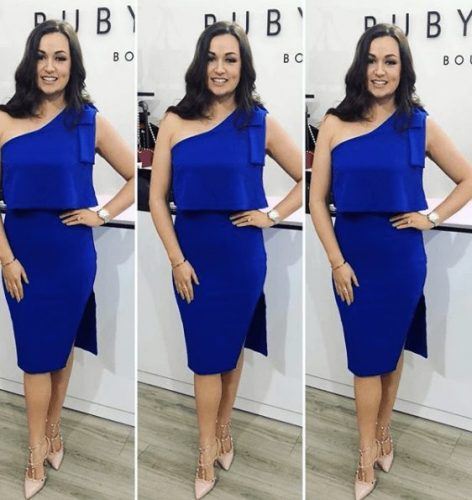 ↓ 5. The Glamour of Silver Heels
Feeling glam queen vibes? Flaunt off your silver glittery heels for the night!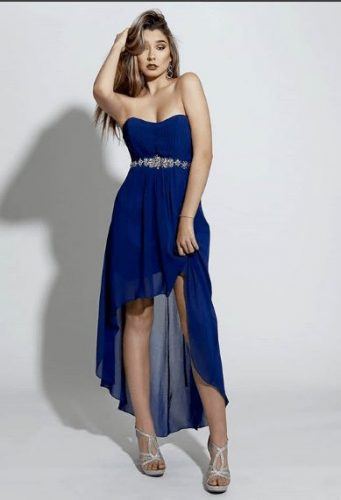 ↓ 4. Red Heels
If You are going for a vivacious look, try red heels because they are a perfect vibrant match for your dark blue dress.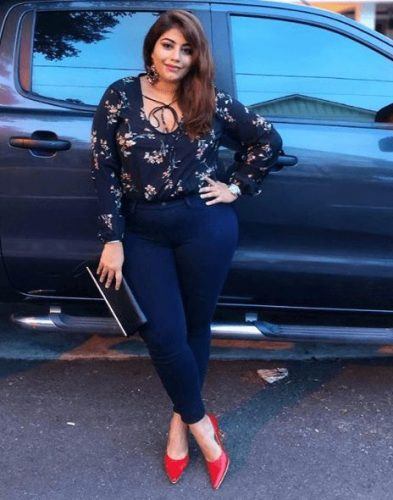 Red heels also work great with a blue striped dress.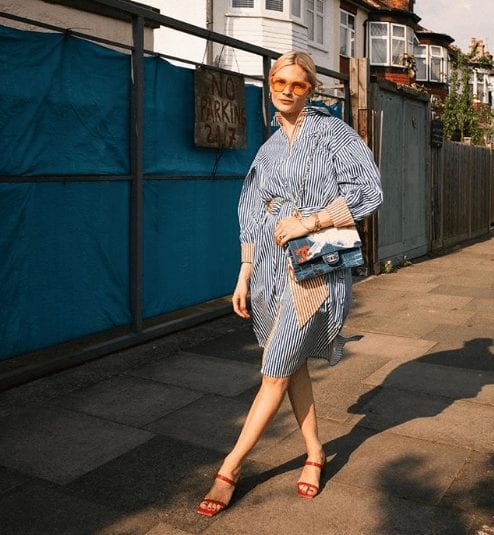 ↓ 3. Rich Pink Beauties
Pink is the perfect choice for the girly girl look and who wouldn't swoon over beautiful hot pink heels? You have a wide shade range for pink from baby pinks to hot pink to go with your blue dress.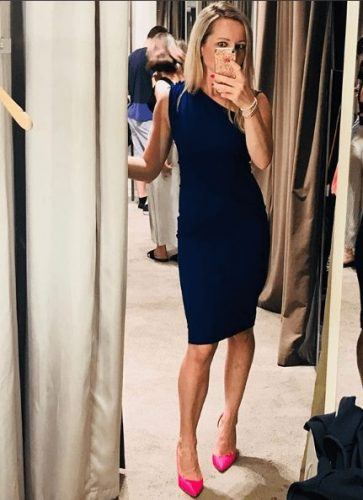 ↓ 2. Blue Dress with Green Heels
Never thought green shoes could go with the blue dress? Try them on and see the magic of dark hypnotic green shades like emerald as they match well with not an eye-popping but rather attractive look.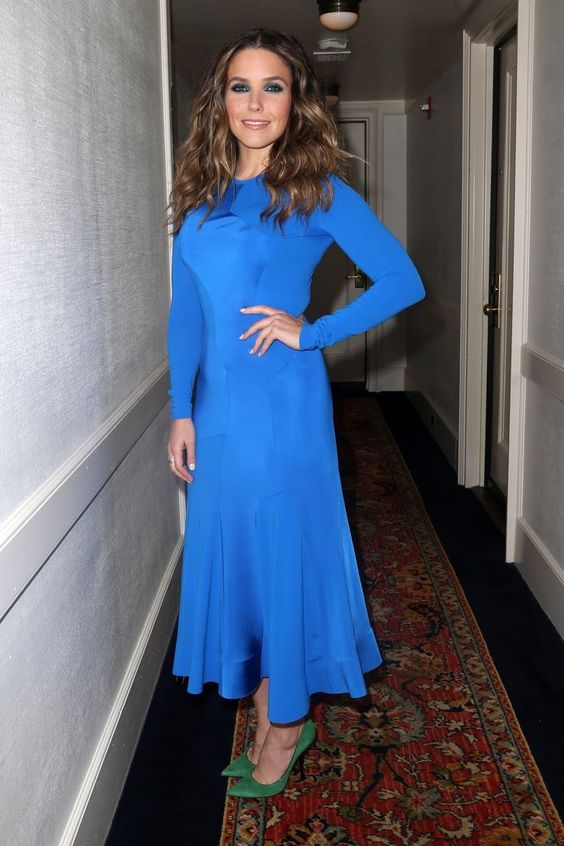 ↓ 1. Purple & Burgundy Hues
Purple and Burgundy are royal colors. With their dark hues, they are a perfect match with your blue dress as they channel a modern look with elegance.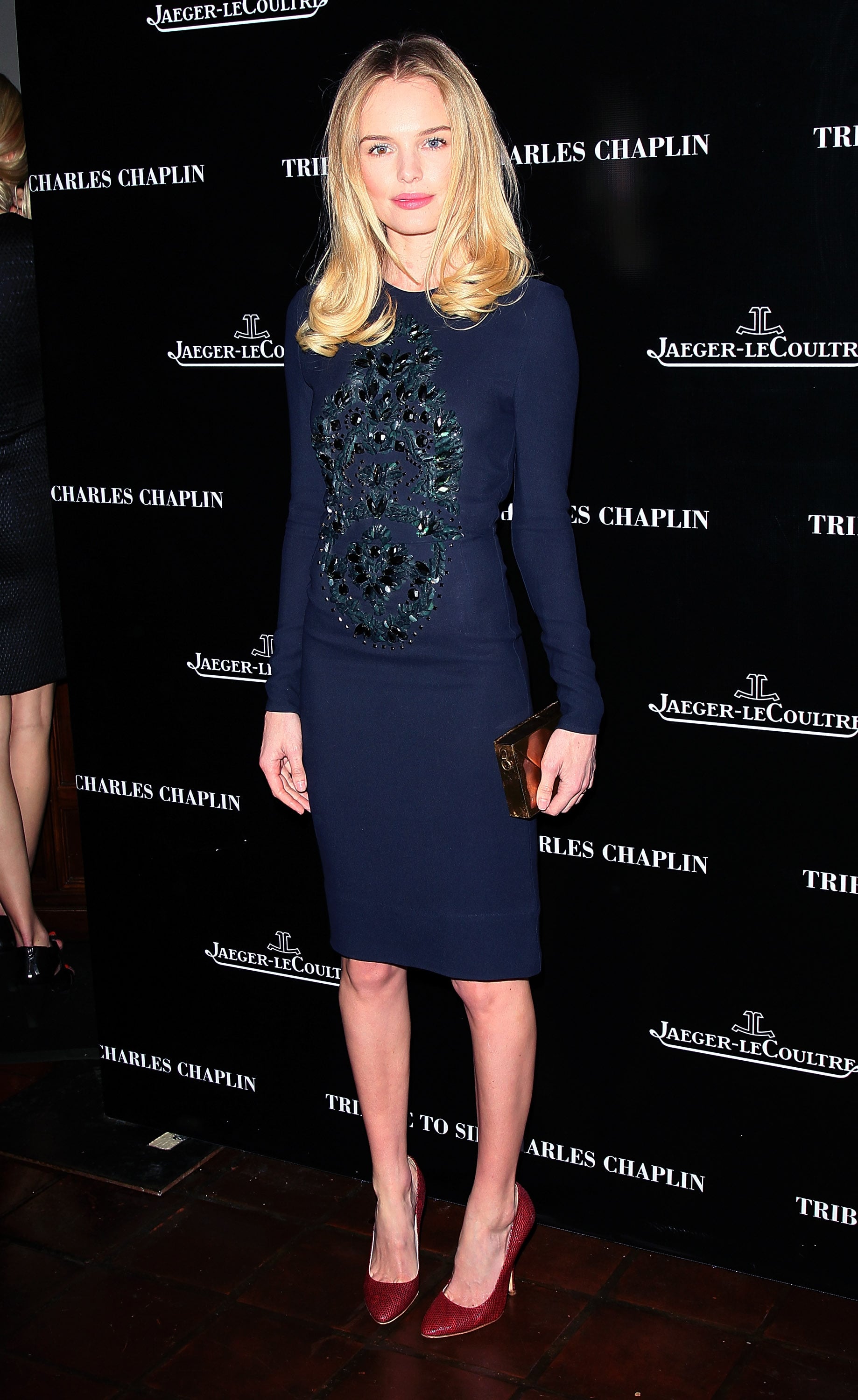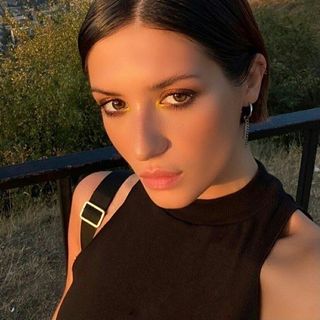 Avid reader and Fashionista. London Based freelance lifestyle editor