Everyone, regardless of age, benefits from maintaining physical fitness and activity, and mature women are no exception. Whatever your preferred style of exercise—yoga, jogging, or going to the gym—having the correct gear can substantially improve your comfort and effectiveness.
This article will look at the 12 best workout attire made exclusively for older women, emphasizing comfort and style to keep you inspired and self-assured throughout your fitness journey.
As we grow, our bodies could have various requirements for and tastes in training attire. Mature women frequently place a higher value on functionality, covering, and comfort without sacrificing style, as we discussed in detail in our post on Comfortable Travel Outfits For Women Over 60.
The good news is that the fitness sector has acknowledged the value of inclusive designs and now provides a wide choice of solutions that are tailored to the unique needs of older women.
Let's look at some important factors and suggestions for the best gym attire for older ladies so that you can feel motivated and inspired each time you work out.
Here's everything that we'll cover:
Work Out Clothes for Women over 50
Styling Tips
Embrace Breathable Fabrics: The fabric you select for your training attire is essential for both comfort and effectiveness. Choose breathable textiles like cotton or bamboo, or choose materials that wick away moisture, like nylon or polyester mixes. Throughout your workouts, these fabrics will keep you cool and comfortable by allowing your skin to breathe.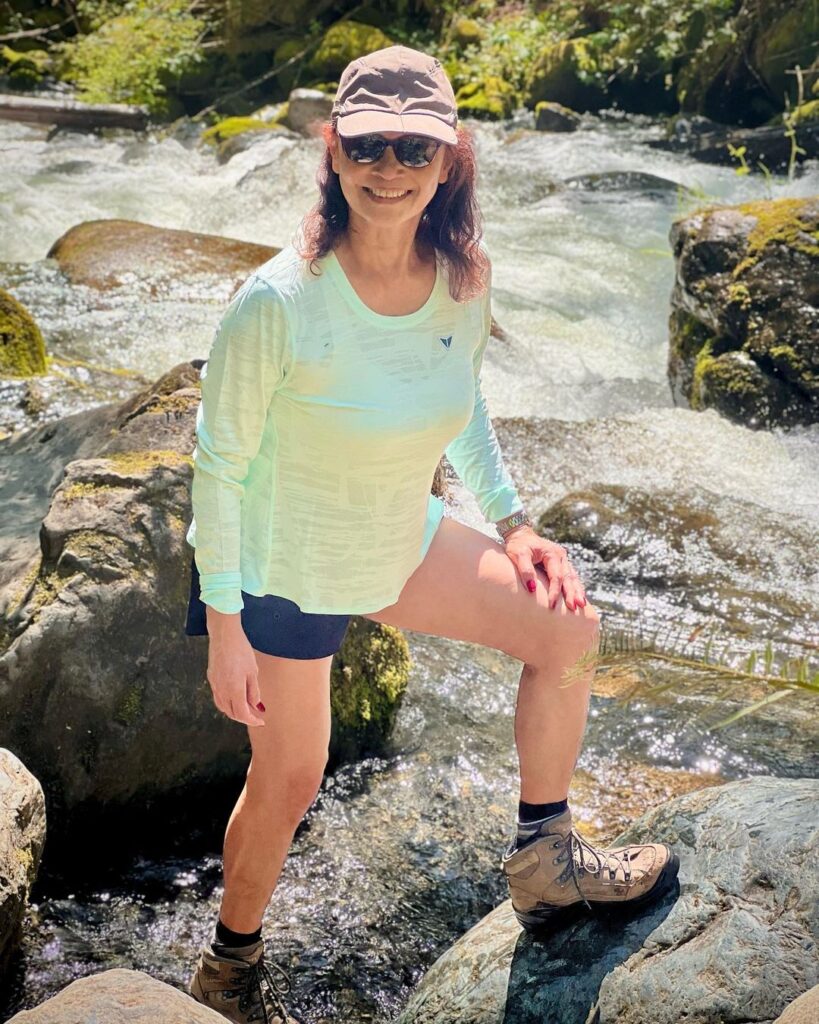 Choose Supportive Sports Bras: It is even more crucial to give our bodies the right support during exercise as we become older. Invest in top-notch sports bras that provide plenty of support and ease any pain or strain on your shoulders and back. For the most comfort and stability, look for bras with wide straps, adjustable closures, and a firm underband. Here's a list of the best bras for older women.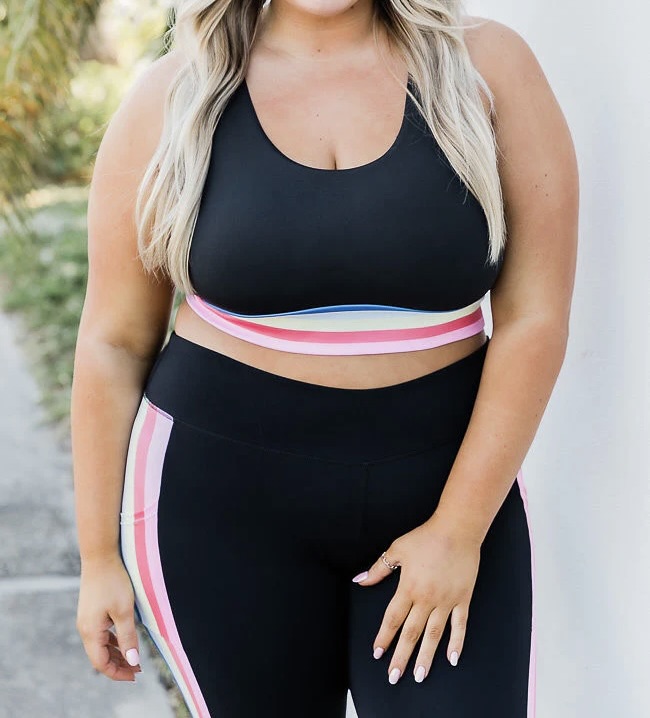 Prioritize Comfortable Bottoms: Give flexibility and comfort a top priority. Choose a pair of wide-waisted yoga pants or elastic leggings that fit loosely on your hips without digging in. To support your muscles and joints, provide some compression in the designs you choose, which can lessen fatigue and speed up recovery.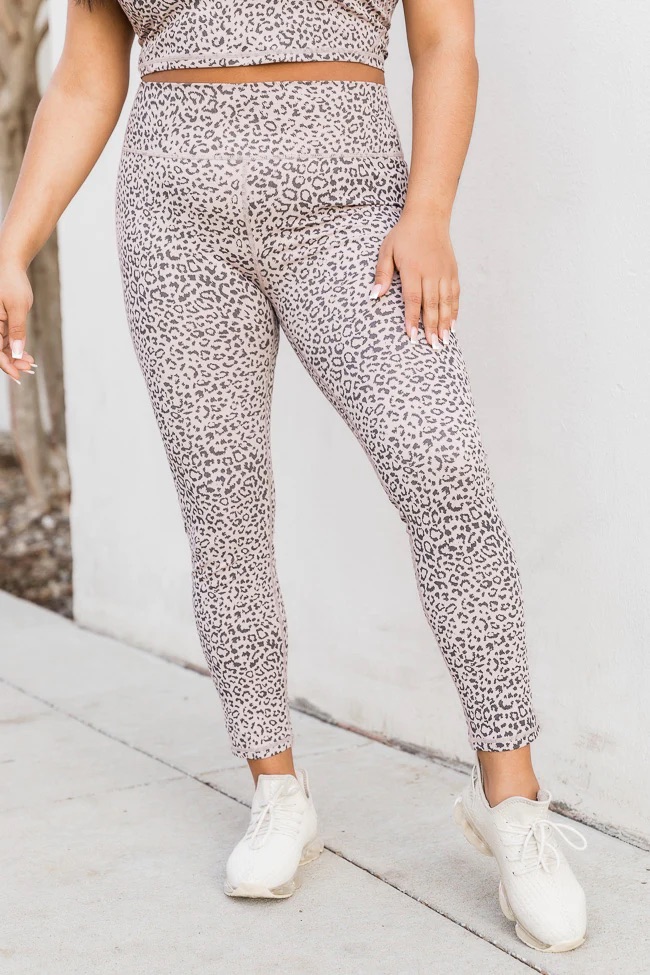 Opt for Moisture-Wicking Tops: It's normal to sweat while exercising, but it's crucial to wear shirts that keep you dry and comfortable. Choose shirts that drain sweat away from your body so that it can swiftly dissipate. Depending on your preferred workout style and the weather where you are, think about wearing loose-fitting t-shirts, tank tops, or light long-sleeve shirts.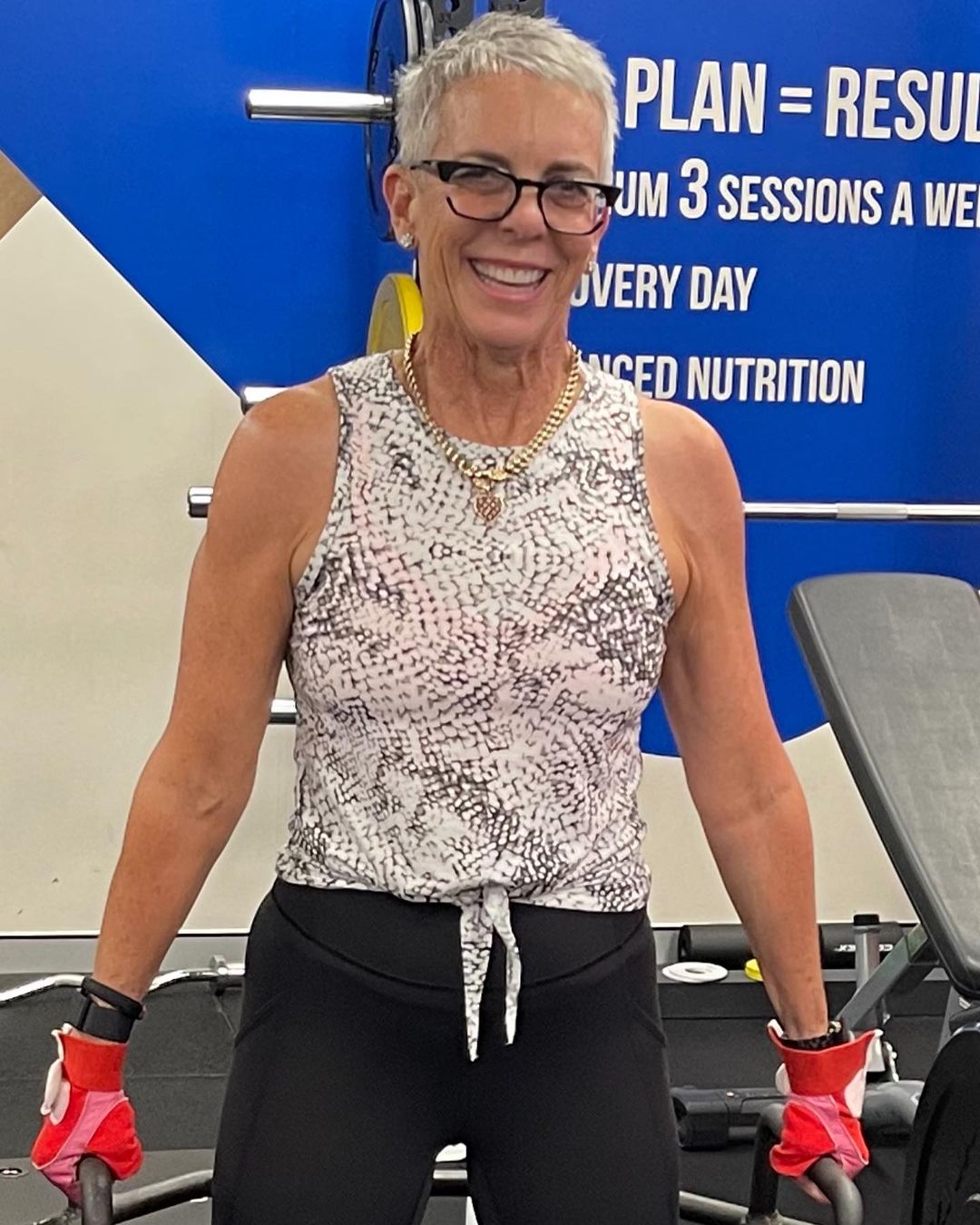 Don't Forget Supportive Footwear: Finding the best training shoes is essential because they give your feet and joints stability, cushioning, and support. Whether you are walking, running, or cross-training, look for athletic shoes made for that activity. To address any foot problems or swelling that may develop with age, choose shoes with enough arch support, shock absorption, and a wide toe box.
Layer Up with Versatile Jackets: Having a multipurpose jacket is crucial if you exercise outside or in colder climates. Look for coats that can be readily layered over your training attire and are lightweight and breathable. During your outdoor workouts, use materials like fleece or moisture-wicking textiles that offer insulation while allowing perspiration to escape, keeping you warm and comfortable.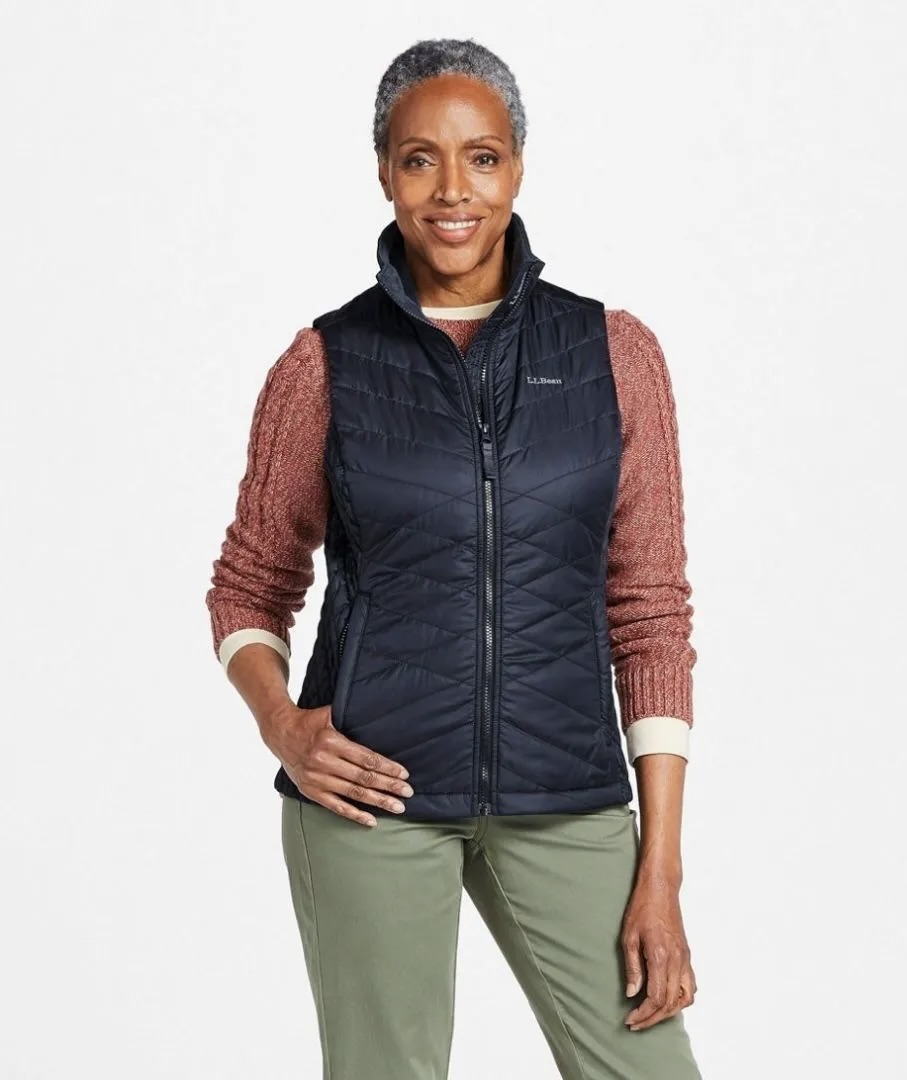 Prioritize Safety and Visibility: Prioritising safety is vital when working out outside. To increase your visibility, particularly during early-morning or late-night workouts, choose training attire with reflective components or choose brightly colored apparel. Consider using a headlamp or reflective armbands as additional accessories to further improve your visibility to others.
Here are some of our favorite dressing styles for women over 50.
Athletic wear options
Below are the finest fitness clothes for women over 45 that will help you feel and look fantastic when you exercise, from essentials like tanks and shorts to chic athleisure outfits.
12 – Black Full sleeve Shirt Paired with matching leggings
For more outfits like these, check out our detailed post on Different Ways to Wear Leggings For Mature Women.
11 – Blue Tank Top With Matching Bottoms
10 – Pastel Yellow Workout set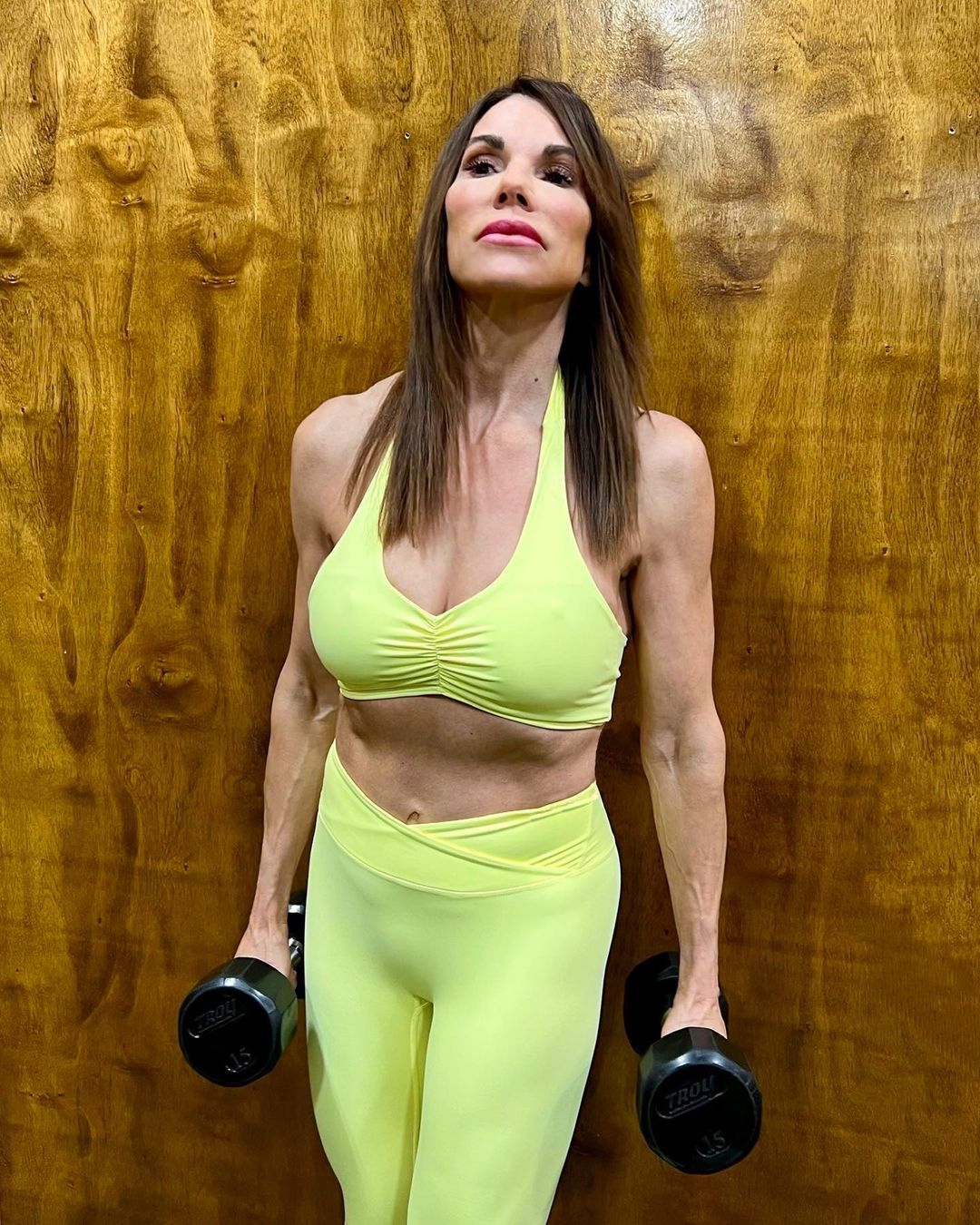 9 – Grey Crewneck Sweatshirt with Zip pocket Leggings
8 – Floral bodysuit and high-waisted black leggings paired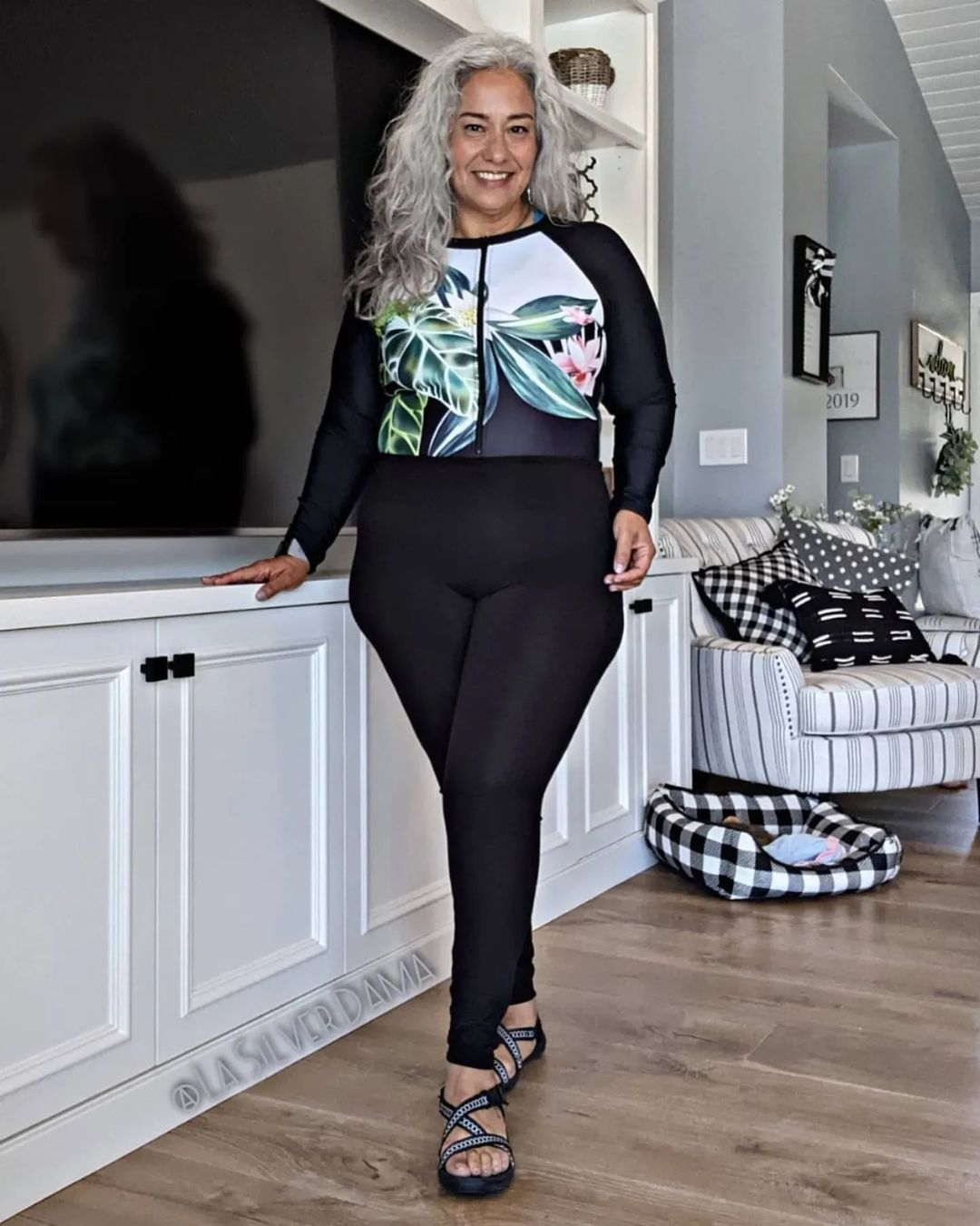 7 – Turquoise Athletic top paired with black leggings
6 – Purple Zip-on sweater and blue jeans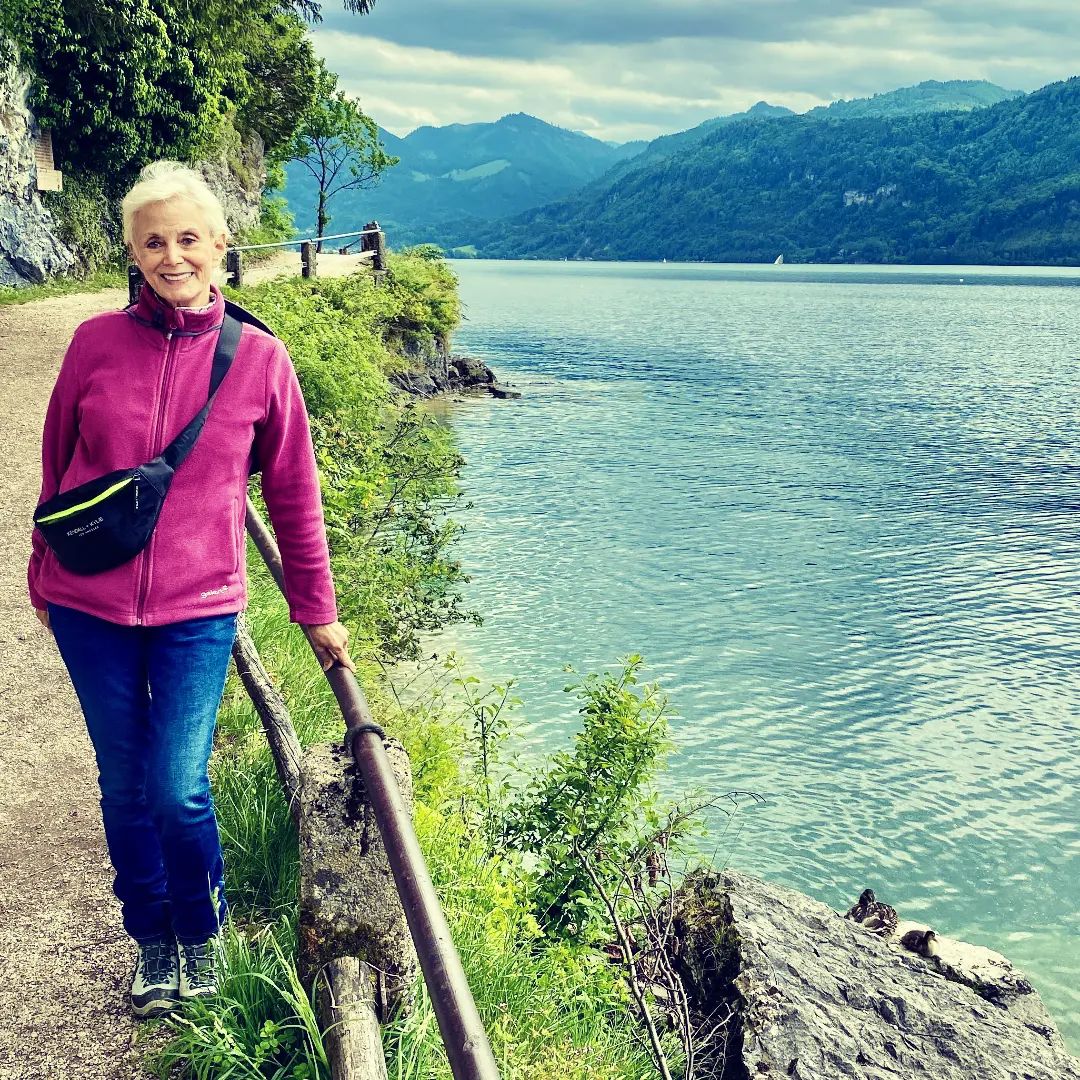 5 – Blank Tank Top And Bottle Green Leggings
4 – Orange workout set with white sneakers
3 – Blue crewneck and grey shorts
2 – Hot Plum Outerwear and black leggings
1 – white Tennis Dress with Pink shorts
FAQs
What should an older woman wear to the gym?
When selecting gym clothes, older women put comfort, functionality, and personal style first. They frequently don comfortable, supportive sports bras with broad straps and a variety of adjustment options.
They frequently choose moisture-wicking shirts composed of breathable materials like nylon or polyester blends to keep themselves dry while exercising. Wide-waisted bottoms that are comfortable, like leggings or yoga trousers, provide flexibility and ease of movement. They choose comfortable footwear for older women, made for specific exercises like cross-training, jogging, or walking. When necessary, layering elements like sweatshirts or lightweight coats are added or removed. Older women meticulously accessorize with accessories like headbands or bracelets to keep their hair and perspiration in check.
It's important to prioritize individual comfort and style while ensuring that gym attire supports fitness goals and provides a comfortable workout experience.
How to look classy in workout clothes as an older woman aged 45 and above?
Focus on tailored fits and choose neutral colors like black, grey, navy, or white for your gym attire if you want to look stylish. Pick comfortable and long-lasting textiles, including soft cotton or mixes that wick moisture.
Keep it traditional by wearing a simple, well-tailored tank top with well-fitting leggings or yoga trousers. Pay close attention to the little things, like elegant patterns or tiny mesh inserts, to enhance refinement. Add a layer of sophistication by wearing chic jackets or cardigans.
Consider your choices of understated accessories, such as tasteful jewelry or a stylish workout bag. Achieving the ideal mix between comfort and fashion can help you project a classic and self-assured appearance when working out.
Best workout brand for women over 45?
The majority prefers Athleta and Lululemon because they offer high-quality, fashionable clothing. You should be free to dress stylishly for exercise regardless of your age. Style counts. Why? Because you perform better when you feel and look beautiful!
University student by day and a ferocious writer by night. As an avid homebody, I'm a lover of naps, cookie dough, and currently residing in the borough I love, most likely multitasking. :)