Best Travel Outfits for Ladies Over 60. No matter what your age there is no reason you can't still rock a stylish look. This post looks at several ways the older woman can look stunning wherever she may be on the globe and regardless of the time of year.
For the traveling woman in her 60s and beyond, deciding on a great outfit can be a little challenging. Am I going to be too warm? Am I going to be too cold? Are these colors ideal? What shoes are best for me? Do I want to be comfortable or stylish? Can I be both? These questions can be easily answered in our top 10 outfit picks.
The best way to set a good wardrobe is to choose the right colors. Neutral tones, black, grey, navy, and tones like mustard yellow or aubergine purple are great options to create a gorgeous look with ease. There are also some tried-and-true pieces you may want to consider. Look through our recommended ensembles for more ideas on how to dress while traveling.
What to Wear When Traveling In Your Sixties
Remember, this article talks mainly about what to wear while traveling… not necessarily what to wear once you reach your destination. However, you can certainly apply some of the tips we have included here, as they are handy and even universal. Here are some hard and fast rules to get you started:
Incorporate pieces into your travel outfit that you will also wear after reaching your destination. This is a brilliant way to conserve space in your bags, especially if you are trying to travel light. Examples of pieces you can wear en route versus packing would be a scarf, a pair of earrings, a blazer, a hair accessory, or a pair of comfy shoes.
Never wear brand-new shoes on a trip, as they will be less comfortable and may hurt your feet, which could definitely affect how enjoyable your trip is. Break them in first.
Dress for comfort, but avoid common comfort pieces such as elastic band pants (these don't flatter anyone), shapeless dresses, oversized tee-shirts, sweaters with embroidery or appliques, and unstructured suits.
Consider a capsule wardrobe for traveling. If you don't know how to build one, there are several videos on YouTube, as well as articles online, that you can learn from. A capsule wardrobe makes traveling light easy and building outfits a lot simpler as well.
Try a monochromatic look. This can be a really simple way to put together an outfit that is stylish without investing too much time in coordinating various pieces of different colors. Our only caution is to not wear head-to-toe denim. That is one monochromatic look we do not advise! You should also choose a color that suits your overall complexion.
If you dont have time to go through the complete article, just watch this short video summary: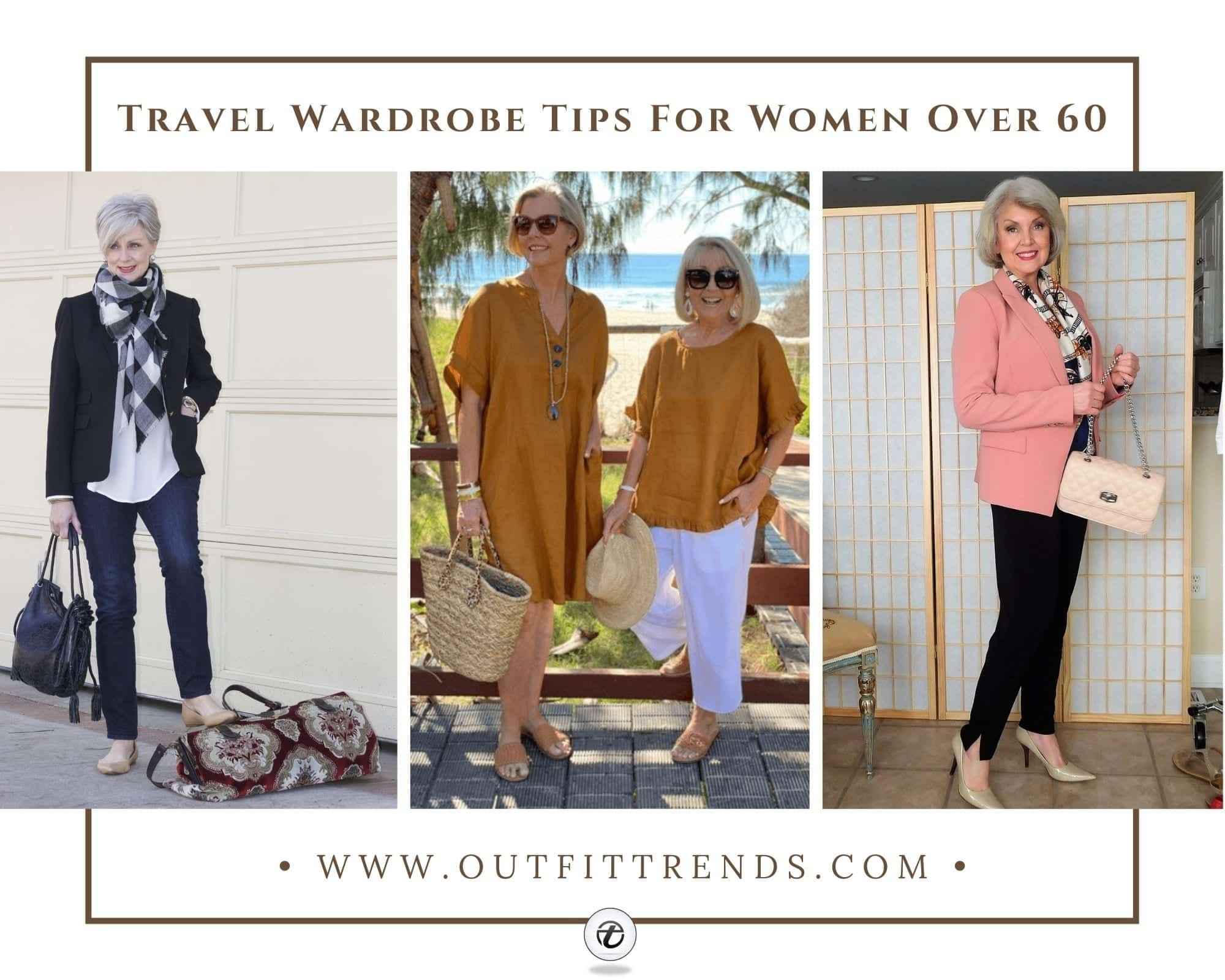 ↓ 10. Tailored Jacket and Slacks
In our last post we talked about Fashion Tips For 60 Plus Women, and today we'll be focusing on travel outfits. When packing light, one good jacket is a must. We recommend having yours tailored and choosing one in a neutral shade (black, white, navy, or beige) to ensure it goes with the rest of your outfits. Three-quarter length sleeves are also advisable: they give less of an "office" feel to your jacket and keeps the look fresh and sophisticated.
The outfit pictured below is a lovely option for the traveling lady: black straight-leg pants that fall right below the ankle are not only comfortable to wear but they are versatile and can be worn with many other outfits throughout your trip.
Pair with a black top, a tailored jacket of your choosing (we think the black-and-white combo is classy), and add a pretty scarf to tie the look together. Last but not least, we have a simple pair of neutral sandals. Elevate the ensemble with a classic makeup look, a great shade of lipstick, and painted nails.
Outfit Details:
Womens Lapel Open Front Jackets
OFEEFAN Womens Fall Sweatpants
NUWEERIR Womens Mulberry Silk Scarf
Sam Edelman Classic Flat Sandal
↓ 9. Soft Pink Jacket and Heels
For a trip where your travel time is not so lengthy, a pair of heels can be incredibly stylish. But we advise wearing heels only when your travel time is short as heels aren't practical or super comfortable to wear for long periods of time (as we are sure you can attest to). For a short train trip or plane ride, we love this classic ensemble.
Once again, we see the versatility of plain black pants. You can create any number of outfits with them, simply change out the jacket and accessories. (You can also tweak this look to make it appropriate for a longer trip by switching out the heels for flats.)
We always recommend bringing color into your looks as well, whenever possible. If you don't know already, find out what colors work best with your complexion. The darker your skin, the more bright colors you can wear. Fairer skin types may have to experiment with various shades to avoid looking washed out.
Outfit Details:
Cicy Bell Womens Casual Blazers
NUWEERIR Womens Mulberry Silk Scarf
ROYLAMP Women's Casual Bootcut Pants
DREAM PAIRS Women's High Stiletto Heels
YXBQueen Quilted Leather Purse
↓ 8. Velvet Jacket and Patterned Jeans
Many style icons of a mature age tend to stick to solid colors when creating outfits. This is a viable and effective option for sure. However, you need not feel that it excludes the wearing of any prints or patterns ever.
If you have discovered that you love a great pair of patterned pants, then definitely incorporate it as a signature style in your wardrobe. Just be sure that it suits you and your body type and doesn't go overboard.
Wearing jeans might be another thing you have been taught to avoid, but as pictured below, they are certainly ways to wear them that will suit your overall appearance as well as your age and style choices. Straight-leg jeans in dark washes are preferable.
You can also try wide-legged jeans or flared jeans, which can help make you appear taller. Choose jeans that have a little stretch (1% or 2% is suitable) to help with problem areas. Tucking in your top and adding a belt is also a great way to create a slimming silhouette.
Outfit Details:
ANDORRA Super Soft Luxurious Cashmere Winter Scarf
Soda Women's Western Ankle Bootie
Women Leather Belt for Pants Dress
↓ 7. Neutrals for Fall Traveling
While traveling in the fall, two things may be on your mind: practicality and warmth. But if you are reading this article, a third thing is probably at the forefront of your thoughts, and that is style. Is it possible to dress stylishly while also being practical and staying warm?
Absolutely. And here is a great example. From the straight-leg jeans (comfortable, versatile) to the slightly puffed-sleeve jacket (stylish, warm) to the checkered scarf (warmth!) this look has it all. You can also wear layers to provide extra warmth like a long-sleeved top under the jacket.
Be sure to accessorize with some statement earrings and add some lipstick to round out the look. We also love the neutral color scheme as this is an easy and practical way to stay stylish without having to put too much thought into it. It also makes designing outfits easier as everything already matches.
Outfit Details:
Luvamia Women Casual Long Sleeve Blazer
NYDJ Marilyn Straight Denim Jeans
Women Tassel PU Leather Handbag
↓ 6. Statement Jewelry & Accessories
Traveling whilst wearing too many pieces of jewelry can be more of a hassle than what it's worth. If you are going through airport security, you may have to remove all of it which can be time-consuming and inconvenient. Our solution is to pick a few statement pieces and go for a minimalistic look.
Here we see a chunky chain necklace paired with stud earrings and a couple of bracelets. They would take only a minute or two to remove and they help elevate the overall look as well. A crossbody bag is also an accessory we love.
It's practical and easy to keep track of (unlike a handbag, which must be constantly looked after) as it hangs on the body. When choosing yours, a neutral color is optimal (at least for traveling), and if it features a pretty belt buckle or other features like a tassel, hurrah for you.
Of course, to elevate any look, you need to put on the right amount of makeup and use the right products which is why I highly recommend that you go through these Makeup Tips for Older Women from Professionals.
Outfit Details:
Starter Women's Polar Fleece Jacket
Gloria Vanderbilt Trouser Pant
BOUTIQUELOVIN 14K Gold Chain Necklace
↓ 5. Helen Mirren Travel Style
It's hard not to be enchanted by Helen Mirren. From her extensive body of work to her absolutely cutting-edge red carpet style, it's safe to say we are major fans. So we couldn't overlook her in our roundup of style inspiration for developing a travel wardrobe over 50 and 60.
Here she is, showcasing a simple but easily imitated look that, yes, includes some plain black pants. (What can we say? They just really work.) We love the fur stole she included, the two-toned flats, and the lace-finished top. Want to feel like a celebrity travelling in style? Add some incognito sunglasses to the mix.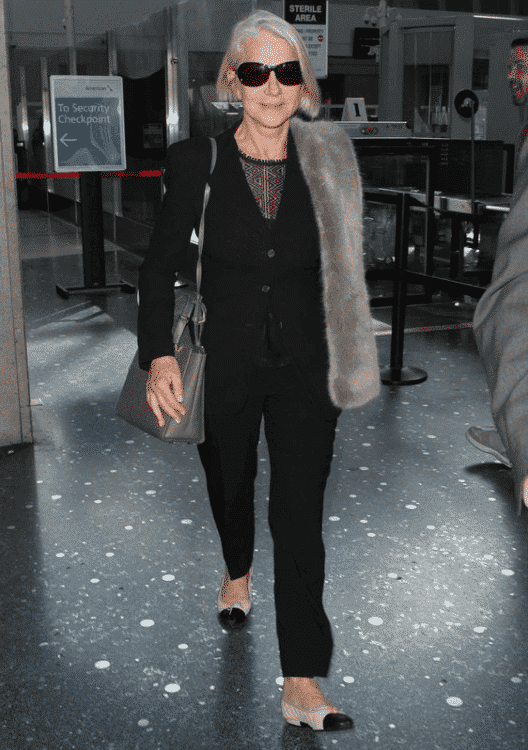 Outfit Details:
Marycrafts Women's Blazer Pant Suit
Travelon Anti-Theft Heritage Hobo Bag
↓ 4. White Cropped Pants and Summer Jacket
A light jacket is a must to add when you are designing your summer travel wardrobe over 50 and 60. It is the perfect piece to round out a stylish look, plus it's great when you are traveling by plane or train, areas that are typically air-conditioned in the warmer months. Opt for a neutral color and timeless pattern.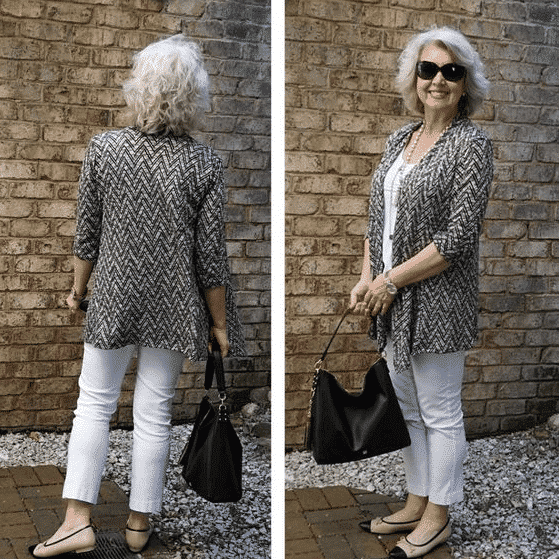 Outfit Details:
Radley London Leather Tote Bag
↓ 3. Animal Print Sweater & Booties
Casual clothes for a 60-year-old woman may not need to be as chic as this look, but when given the choice between a shapeless shift and a great sweater/pants combo, we will always recommend the latter. An outfit like this is basic, but makeup, accessories, and shoes help bring it up to a sophisticated level.
We also love animal print anything on a mature lady – within moderation, of course. Keep it understated but don't be afraid of a great shade of lipstick worn with some statement sunglasses to showcase your adventurous spirit and vivacious personality. You can find more ideas like these from my earlier post on Cutest Animal Print Outfits for Women this Season.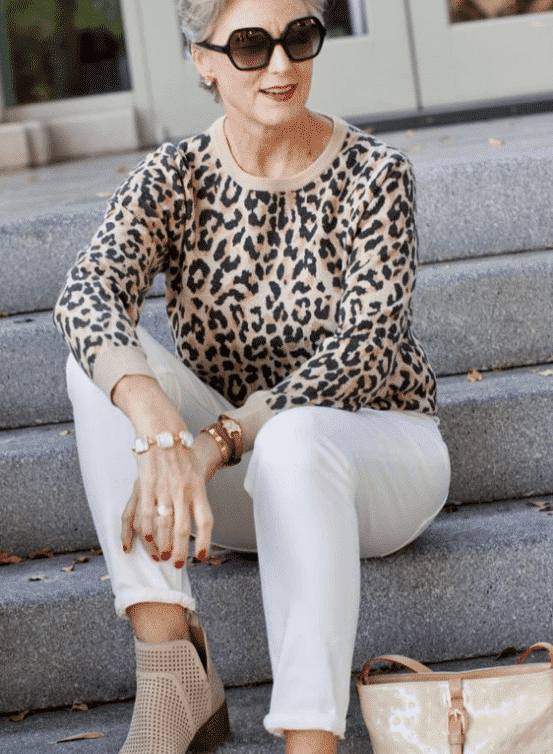 Outfit Details:
Brier Faux Leather Laser Cut Ankle Boots
↓ 2. Floral Capris and Olive Green Shirt
Here is another casual outfit we adore. And a great example of how to incorporate pants with a pattern or print into your travel look. The netted mules are great as well for comfort and style. If you want to opt for floral leggings instead, I highly recommend that you go through these Legging Tips For Women Over 40.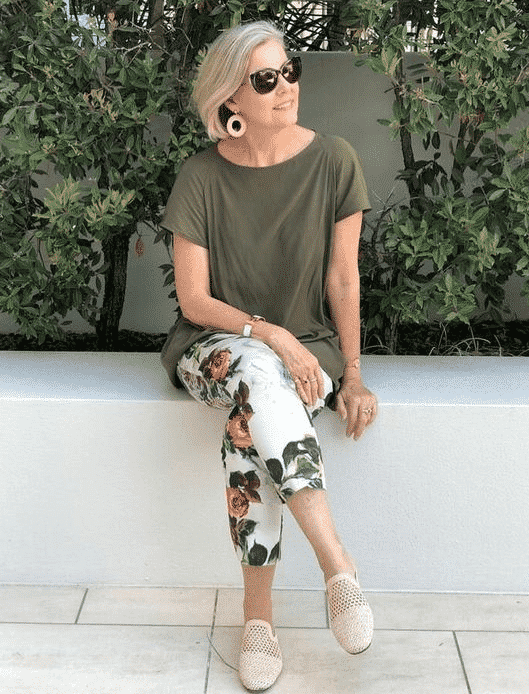 Outfit Details:
↓ 1. How Should A Petite Over 60 Dress?
Our final outfit picks offer two options for the over 60 ladies. If you are on the taller side, a knee-length dress with a v-cut neckline and button detailing is a great option for you. While we normally advise steering clear of shapeless shifts, this one offers a v-neckline that is slimming and offers some visual structure.
The buttons also help draw the eye to the center. For a petite lady, here is one travel option for you: a top in a flattering color paired with wide-legged pants and pretty flat sandals.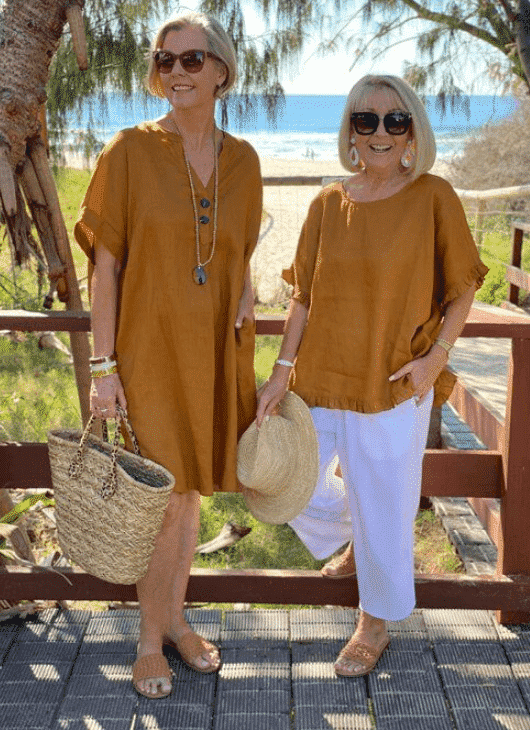 Outfit Details:
Raffia Straw Hat Panama Fedora
Lightweight Lounge Terry Pajama Pant
Frequently Asked Questions
Here are some frequently asked questions about travel clothes for older ladies and more. If you don't see your question answered here, leave us a comment down below and we will be sure to get back to you!
Q. What should a 60-year-old woman wear?
A. It depends on the woman, but a 60-year-old lady should dress in the clothing she has learned best suits her. This may look a little different than what it did when she was 20, but then it should! No matter our age, dressing according to it is the surest way to age gracefully and fearlessly. So ask yourself: what colors have I learned best suit my complexion? What is my current body type? Do I look my best in tailored clothing? Is orange really not my color?
Assess your current wardrobe and find out if you need to update it a bit. Do you have a signature work-horse style piece that you feel confident in? Consider investing in a few more pieces like it. You may have a few trouble spots you want to conceal or move attention away from (we all do, after all). Learn how to work with those spots. A 60-year-old woman should dress as she wants to be seen (elegant, sophisticated, vivacious, etc.) as well as feel.
Q. How should I dress in my 60s?
A. This question goes hand-in-hand with our previous question and answer, but to add to it, our primary advice is to seek out style icons you can learn from to inspire you in your ongoing cultivation of a wardrobe best suited to a lady in her 60s.
Do you have a favorite actress or celebrity that embodies a style you admire? Think of Helen Mirren, Meryl Streep, Anna deWintour, or Michelle Pfeiffer. Or perhaps you grew up admiring the likes of Elizabeth Taylor, Grace Kelly, or Katherine Hepburn. While styles have changed since these beauties were in their 60s, don't be afraid to bring some of what you loved about their wardrobes to your own. Katherine Hepburn was as famous for her elegant pantsuits as Grace Kelly was her timeless style and poise.
You also probably already know what things to avoid. Neon leggings and miniskirts are best left to the preteens. While you certainly don't want to appear too juvenile, you also shouldn't feel like you are stuck with elastic-band pants and muumuus. There is a happy medium where you wear your age proudly, with all the grace, elegance, and sophistication your lived years have developed in you. Focus on what pieces most suit you in this stage and stick to those. Having a signature look needn't be boring; it is just another facet of what makes you, well, you!
We hope you found this article on what to wear travelling for ladies over 60 helpful. Looking stylish at any age takes some effort but it's always doable. Do you have any tips or secrets for travelling as a woman over 60? Let us know in the comments below!