As we get older, our preferences and requirements change – be it in terms of our outfits or our fragrances, so let's talk about the greatest perfumes for older women.
Additionally, I'll offer insightful advice on how you can up your scent game to make a lasting impact. Here's everything we'll cover:
What defines a mature fragrance?
Finding the perfect scent is an exciting journey for older women, as they can explore a diverse range of scents that embody sophistication and elegance. In turn, they can allow older women to express their style and create lasting impressions confidently.
From warm and woody notes to floral and oriental blends, a scent suits every preference and occasion. Embrace your individuality and choose a signature scent that resonates with your personality, leaving a trail of timeless sophistication wherever you go.
As we begin to age our skin tends to become, making woody scents and warm, spicy perfumes particularly suitable for older women. However, there are also plenty of fresh and floral fragrances that work beautifully.
Understanding which scents harmonize well with your body chemistry increases the chances of finding a new favourite when blind-buying a perfume. Paying attention to specific ingredients or notes can also be beneficial.
If you're unsure about committing to a large bottle until you've experienced how a fragrance melds with your skin, consider opting for a smaller size, such as an oil or roller ball.
Tips on Smelling Good:
Hydration is Key: Keep your skin moisturized to enhance the longevity of your perfume. Well-hydrated skin holds fragrance better, allowing it to develop and linger throughout the day. Use unscented body lotions or oils as a base layer before applying perfume.
Layering Fragrances: Experiment with layering perfumes to create a unique and personalized scent. Start with a scented body wash or lotion in a complementary fragrance, then spritz your chosen perfume on pulse points. Layering allows for a multi-dimensional fragrance experience and helps your perfume last longer.
Less is More: Remember that older women often have a heightened sense of smell, so applying perfume subtly is important. Aim for a gentle mist on pulse points like wrists, neck, and behind the ears. Allow the fragrance to settle and avoid overwhelming others with a heavy application.
Consider Seasonal Variations: Choose perfumes that align with the seasons. Lighter, citrusy or floral fragrances work well for spring and summer, while warmer, spicier scents are perfect for fall and winter. Adapting your choices to the climate can enhance the overall experience and ensure your scent harmonizes with the environment.
Experiment and Discover: Don't be afraid to explore new scents and step out of your comfort zone. Visit perfume counters, attend fragrance events, or try out samples to discover unique notes that resonate with your personality and style. Embrace the journey of finding a signature scent that embodies your individuality. You can also use this wheel to find out the range of scents.
The fragrances of this year blend timeless sophistication with modern twists, allowing mature women to exude confidence and allure. By following the provided tips and tricks, anyone can enhance their fragrance experience and create a lasting impression that beautifully complements their age and style.
The Allure of Classic Floral Bouquets
17 – Chanel – Coco Mademoiselle
Coco Mademoiselle is an elegant and timeless scent that has been popular for many years. It exudes a blend of fresh citrus, warm patchouli, and romantic rose.
It strikes a balance between classic and modern, making it perfect for everyday wear or special occasions.
16 – Dior – J'adore
J'adore is a luxurious and sophisticated harmonizing with floral notes of jasmine, rose, and ylang-ylang. It is complemented by fruity undertones and a touch of musk. This perfume is ideal for formal events, evening occasions, or any moment when you want to feel effortlessly glamorous.
15 – Guerlain – Shalimar
Shalimar is an iconic fragrance with a rich oriental blend of citrus, floral, and spicy notes. It features accords of bergamot, iris, jasmine, and vanilla, creating an alluring and sensual scent. This perfume is perfect for special events or sophisticated evening outings.
14 – Estée Lauder – Beautiful
Beautiful has a romantic and feminine blend that combines a bouquet, including rose, lily, and jasmine, with fruity and woody notes.
It is a versatile perfume suitable for both daytime and evening wear, making it an excellent choice for various occasions.
13 – Chanel No. 5
A true icon, Chanel No. 5 epitomizes timeless elegance with its blend of floral notes and warm undertones.
With a delicate bouquet of jasmine, rose, and ylang-ylang, this legendary fragrance exudes sophistication and grace. Perfect for formal events or evenings out, Chanel No. 5 is a symbol of refined femininity.
12 – Gucci Bloom
Gucci Bloom celebrates the beauty of nature with its captivating white floral composition. With notes of jasmine, tuberose, and Rangoon creeper, from my perspective, it creates an aura of effortless charm.
It is an excellent choice for everyday wear, adding a touch of vibrancy and femininity to your ensemble.
Embracing Warmth and Sensuality
11 – Estée Lauder – Sensuous Nude
Sensuous Nude exudes sensuality and sophistication. Blending notes of bergamot, jasmine, and amber, this warm and inviting scent is perfect for intimate evenings or romantic occasions.
It envelopes you in an aura of alluring confidence.
10 – Yves Saint Laurent – Libre Women
Yves Saint Laurent Libre Women is a fragrance that exudes confidence, strength, and freedom. Its harmonious blend of vibrant citrus, elegant florals, and sensual base notes creates a balanced and captivating scent experience.
It is a modern interpretation of femininity that celebrates individuality and empowers the wearer to embrace their true self.
9 – Hermès – Jour d'Hermès
Jour d'Hermès has a radiant and uplifting aromaticity, that captures the essence of a beautiful day. With a harmonious blend of floral notes like gardenia, jasmine, and apricot flower, it evokes a sense of joy and elegance.
This perfume is well-suited for daytime wear, adding a touch of brightness and optimism to your daily routine.
Timeless Woods and Spices
8 – Hermès – Twilly d'Hermès
Twilly d'Hermès is vibrant and youthful which happens to combine floral, spicy, and woody notes. It features a blend of ginger, tuberose, and sandalwood, creating a playful and energetic scent.
This perfume is ideal for casual daytime activities or social gatherings.
7 – The Fireplace Fragrance – Maison Margiela Replica
Maison Margiela Replica by the Fireplace Fragrance is an evocative and captivating scent that transports you to a cosy winter evening by a crackling fireplace. The fragrance opens with a warm and smoky blend of burning wood and spicy cloves.
As the scent develops, subtle notes of sweet vanilla and chestnut add a touch of creamy richness, reminiscent of roasted marshmallows gently melting in the warmth.
The overall composition is beautifully balanced, capturing the essence of smoky woods, comforting spices, and a hint of sweetness.
6 – Lancôme – La Vie Est Belle
La Vie Est Belle is a modern classic, radiating warmth and joy with its blend of sweet gourmand notes. With hints of iris, vanilla, and praline, its notes are known to create a comforting and inviting aura.
It is ideal for everyday wear, embracing the joy of life and celebrating your individuality.
oud-based fragrances
5 – Amouage – Interlude Woman
Interlude Woman is complex and intriguing that incorporates oud, floral notes, and spicy undertones. It captures a sense of mystery and sophistication, ideal for special occasions or when you want to leave a lasting impression.
4 – Montale – Black Aoud
Oud Satin Mood is sophisticated and velvety that combines the richness of oud with Turkish rose, vanilla, and violet. It creates a warm and comforting scent, making it a great choice for intimate gatherings or cooler seasons.
3 – By Kilian – Rose Oud
Rose Oud is a harmonious blend of oud, Bulgarian rose, and spices. It offers a captivating balance of floral sweetness and woody depth, suitable for both daytime and evening wear.
2 – Maison Francis Kurkdjian – Oud Satin Mood
Oud Satin Mood is sophisticated and velvety that combines the richness of oud with Turkish rose, vanilla, and violet.
It creates a warm and comforting scent, making it a great choice for intimate gatherings or cooler seasons.
1 – Tom Ford – Black Orchid
Black Orchid is an opulent and sensual enriched which features a blend of oud, black truffle, ylang-ylang, and dark florals. It exudes opulence and sophistication.
Perfect for special occasions or evenings out, Black Orchid leaves a lasting impression of intrigue and allure.
FAQs
Q. Should older women only wear "mature" scents?
Q. How can I make my perfume last longer?
Q. What is the most popular perfume for older women?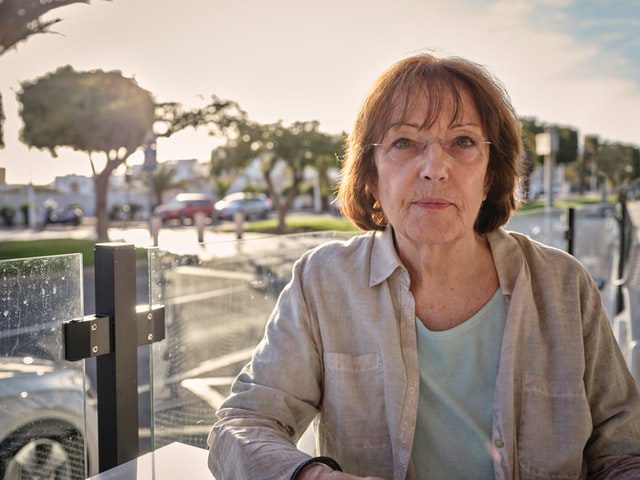 Living my 50s in style doing what I love the most!