Looking for ideas on how to dress Goth? Want to know about the latest goth fashion trends? How would you do makeup for a goth look? Well, today, I will be explaining how to. Personally, I love goth fashion and scenes, so I will try my best to put it into words for you.
Fashion constantly evolves, and new trends are emerging on runways, red carpets, and streets. A clothing style that has always been on the rise is gothic fashion. As a distinctive blend of darkness, mystery, and exotic romance, it's understandable why goth outfits are so irresistible to some of us.
But here's what probably comes to your mind: are goth fashion still a thing? Well, the answer is a YES! This diverse and unique trend has become the go-to fashion for many style icons and celebrities who want to spice up their styles from time to time. The great thing about this clothing style is that you don't need the spikes and chains to be gothic. You can do various other tricks to achieve the cute gothic street style you can wear to almost every occasion.
So, What is Goth?
The Goth image is a mixture of different styles. Beginning in the early 1980s, Goth incorporates flairs such as Punk, Victoriana, Cyber, and Industrial. Goths can be somewhat judged straight away by the image; however, getting into this subculture can be very gratifying indeed. With so many events to attend monthly and such diversity, there is no excuse not to show off how appealing the Goth look can be.
Styling Tips for a Goth Look

Black! The most recognizable trait of this scene is black. The clothing is black; the shoes are black, hair is black, and even the make-up is black. However, colors do creep their way into this image. Powerful reds, alluring royal purples, and emerald greens are always charming colors that accentuate and highlight curves and features. Do check out goth hairstyles.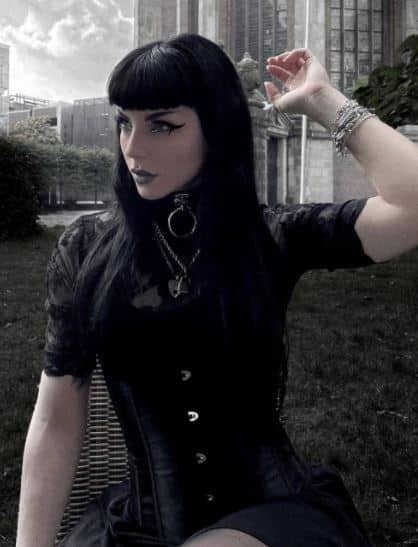 Goth Style Make-up 
Gothic makeup is very easy. However, it is possible to go overboard. For example, black lipstick is usually a no-no if wearing a rock band T-shirt and studded chain-covered trousers. Instead, just accentuate your eyes with block black eyeliner or eye shadow. Black or even red or purple lipsticks are an acceptable gothic makeup touch if achieving a more feminine look. Colored lace and ribbon are a great addition and match to colored lipsticks. Shy away from bright colors such as pink and yellow unless venturing into the cyber side of Goth.
Corsets
Corsets come under the title of Victoriana or Lolita. Lots of shapes and lots of lace also come into this category. Corsets are a fantastic item of clothing in the Goth scene. Not only are they sexy and very feminine, but they also come in all different shapes, sizes, and colors and everyone can wear one. Corsets add a perfect Je ne Sais qua to any gothic outfit. Corset lacing is fashionable on all types of gothic attire such as the backs of jackets and down the sides of trousers. Why not complete your corset outfit with a fishtail skirt or web-shaped mini? Match make-up to your corset. If your corset is black with red piping, blend red eye-shadow with black to create a smoky red finish. This will bring out your eyes and make them an outstanding feature that will compliment your outfit.
Industrial
Industrial Goth includes more metal and can also fall under the heading of cyber. Buckles, spikes, chains, studs, plates, and any other type of metal accessory are a must. Other accessories include collars, dreadlocks, gas masks, and leather bracelets.
Goth Style Footwear
You will usually see people from the gothic subculture out in huge chunky boots again with elements of metal and the use of chains and studs. However, for trends like Lolita and Victoriana, cute dolly shoes are considered Goth and are a beautiful touch to any corseted outfit. Make sure your footwear suits the style of Goth you have gone for. There is such a wide range of shoe styles for Goths that finding the perfect shoe is not an issue.
With such a huge variety of gothic styles, it is not problematic to ascertain which one suits you best. Why not check out these images of cute girls wearing gothic clothes and discover your inner Goth.
Latest Style Goth Fashion.
Being goth means that you are infatuated with the darker shades in the color palette. Body-fitting dresses or body cons are a liking of girls associated with this culture. This fashionable piece is a perfect outfit for attending any event from a birthday bash to a concert. You name it.
Just not for a kid's party. A shoulderless leather frock with a chiffon skirt is quite a thing when worn with fishnet stockings and accessorized with chains and a belt. Wear a jacket on it with a hat to add extra character to the dress. You can either wear long boots or high-heeled lolita shoes. Obviously, the makeup needs to be spot on also.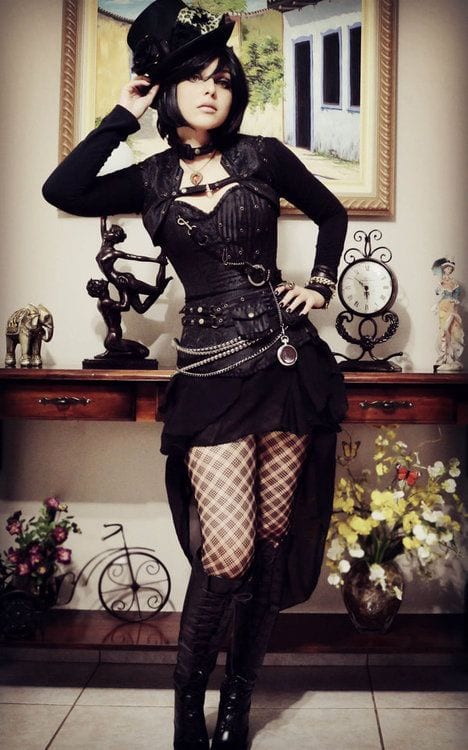 12 – Cyber Goth
Cybergoths love dark clothes, dark music, and futuristic steampunk fashion. They mix them up with elements that are not typically Gothic, such as bright neon colors or electronic dance music.  If you're on the lookout for cyber goth, then go to a bar and find someone with bright neon hair or neon-colored ensembles.
Chances are they belong in this gothic category. To complete the look wear a neon-colored wig, synthetic hair, or bright hair extensions. Remember that it's not about neon, but achieving a look that is both futuristic yet gothic.
11 – Gothic Lace Dress
If you want to feel feminine and beautiful while following the gothic trends, you should definitely consider going for a lace dress with a corset. This is such a classic and irresistible piece which you can wear to more formal events when you are looking to achieve elegance. Complete your look with black pearls and sheer gloves and let your hair be tied in a gorgeous braid.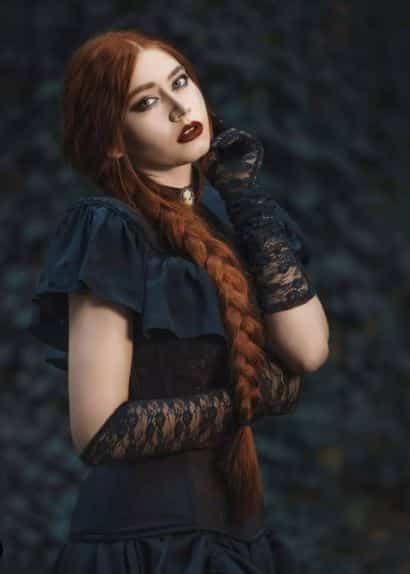 10 – Aesthetic Goth
Going on an adventure? Or just to school on an autumn day. This is a nice goth ensemble that you can adopt. Hoods are also an important part of dressing up in Goth. You can wear a dark shirt and shorts under the hood or a shirt with black tights and buckles long boots. Hair can be left open with smokey makeup around the eyes.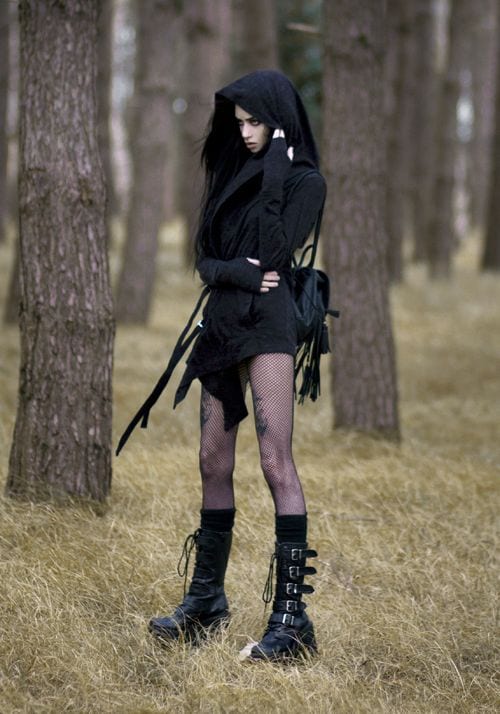 9 – Pastel Goth Style
Time has changed and pastel goth is such a popular trend these days. Influenced by the Japanese Kawaii fashion, it's a cuter version than the gloomy gothic fashion. Although darker tones are the ones that best define Goth but going for lighter tones cannot harm you if you dress up properly as is shown.
While some girls may the traditional gothic looks hard to put off, integrating the pastel hues like dusty pink and dreamy purple does make things easier. Opt for a silver pleated skirt and match it up with a black graphic top. Again boots should be heeled and top-notch makeup.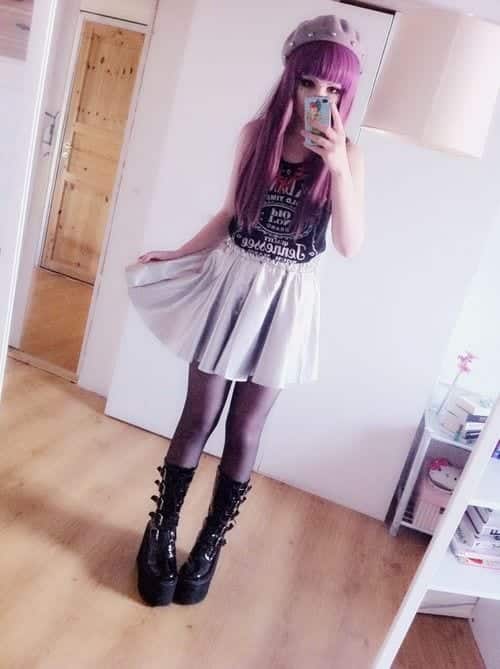 8 – Halloween Look
Halloween is right around the corner and dressing up as a witch is no difficult for a goth girl. Net skirts are considered mod and trendy, so mix matches a nice skirt with a plain black or maroon velvet top. Accessorize with a choker and bracelets. Red hair will look best with the outfit, and a hat is the last thing you should not forget as what is a witch without her hat.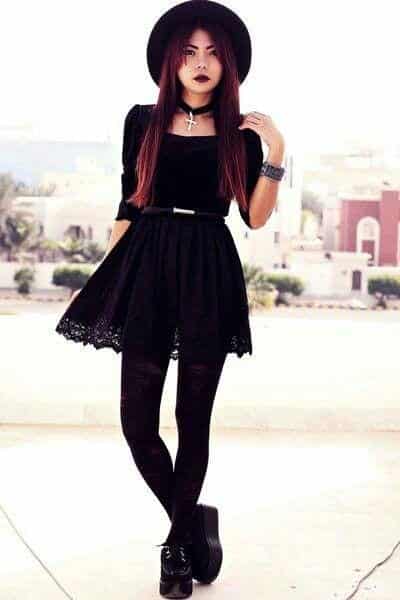 7 – College Girls
Goth is everything if you know how to incorporate it into your wardrobe without overdoing it. Such is the case with these shorts. Add extra character to the outfit by wearing fishnet stockings and a shirt with a tie. High ponytail looks nice with the winged eyeliner and red lips. A leather jacket is all you need now for the X factor. Do check out short gothic hairstyles.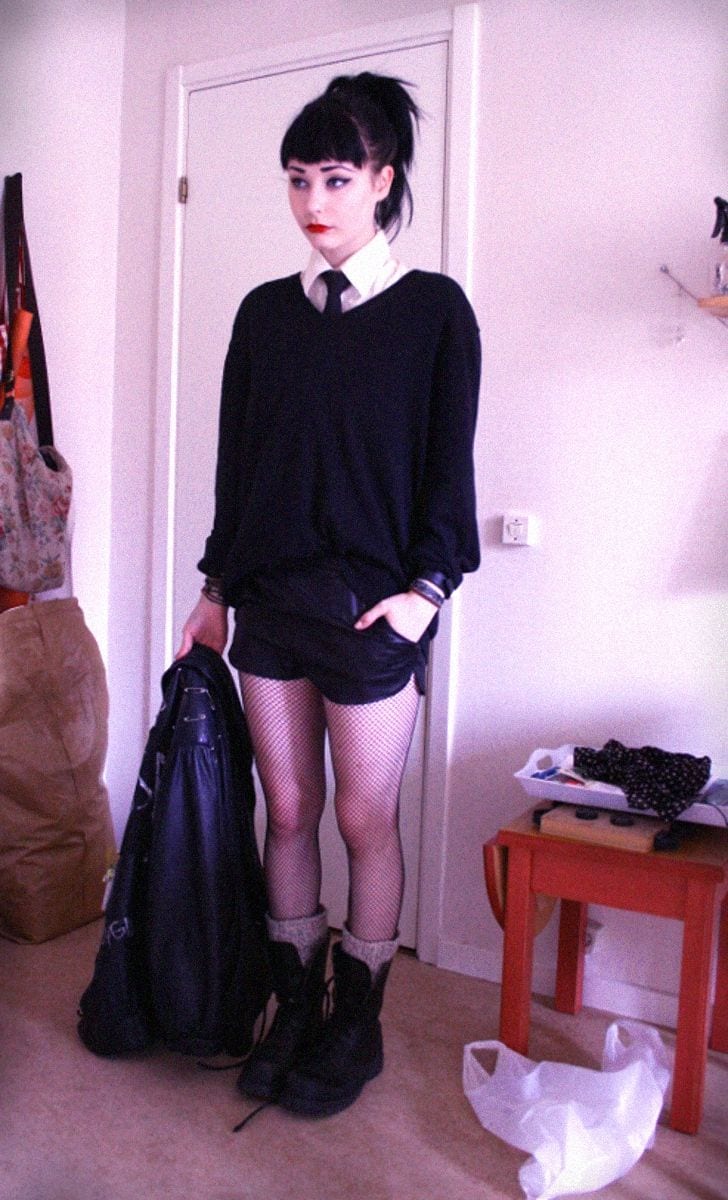 6 – Street Style
Incorporating gothic features into your everyday outfit is a great way to keep up with gothic fashion. You can go for a black pair of jeans topped off with a graphic tee and black shoes. Complete your look with a straight hairstyle, Bold lips and mysterious jewelry pieces around your neck, and hand gloves.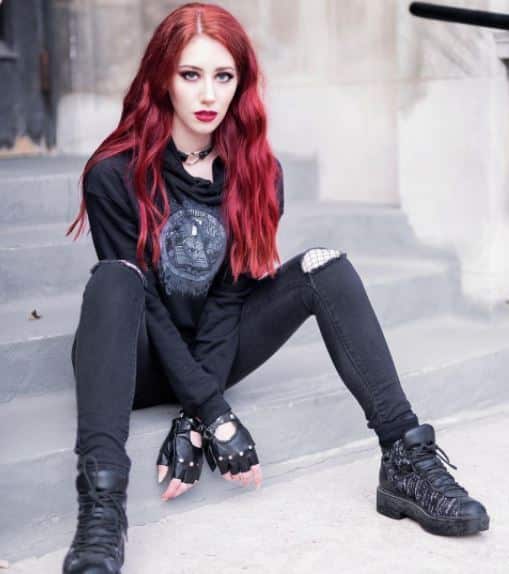 If you want to wear them at work do check out goth work wear ideas. 
5 – Goth Look with a Corset
Corsets are a fantastic item of clothing in the Goth scene. Not only are they sexy and very feminine, but they also come in all different shapes, sizes, and colors and everyone can wear one. So if you are just getting your feet wet in the gothic fashion department and you want to go subtle with the look. This is the look you can go for.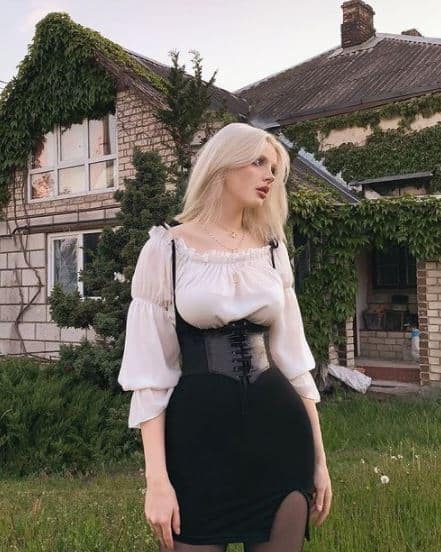 4 – All Black
Leather and silk and net all combined into one gown. What better can a girl ask for? Wear it for your friend's party or if you have one at your house. Again boots look nice, but you will look gorgeous with high-heeled lolitas. How gorgeous does this look?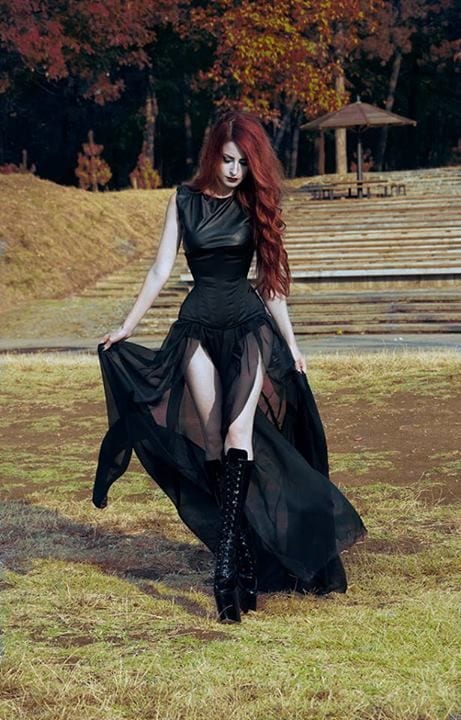 3 – Alice in Wonderland look.
Alice in Wonderland look. Striped socks matched with a black frock look extra cool with bleached/blonde hair. You can incorporate a fish net into your dress for your arms or as stockings. Be attentive to the details and you can always be the charming gothic girl boss!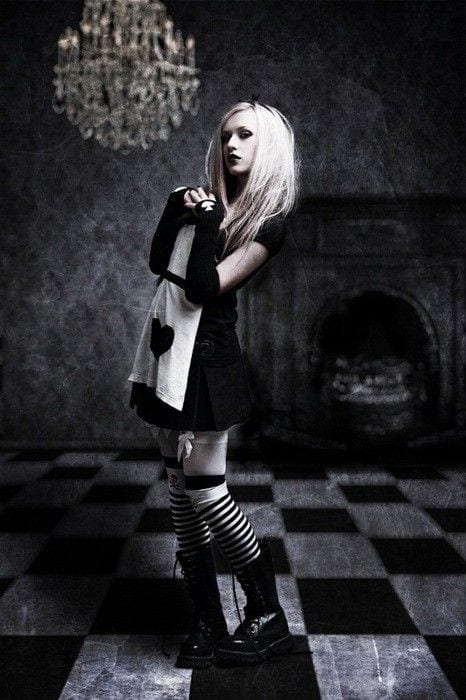 2 – Plus Size Style
Regardless of your shape and size, a gothic look is for you. I mean, now is 2021 and it's time to stay authentic to ourselves, isn't it? So to all my fabulous plus-size ladies, own your curves and wear whatever you want. If you want something slightly more forgiving, team a black top with a flowy A-line striped dress that just accentuates your high waist and contours your body proportion perfectly.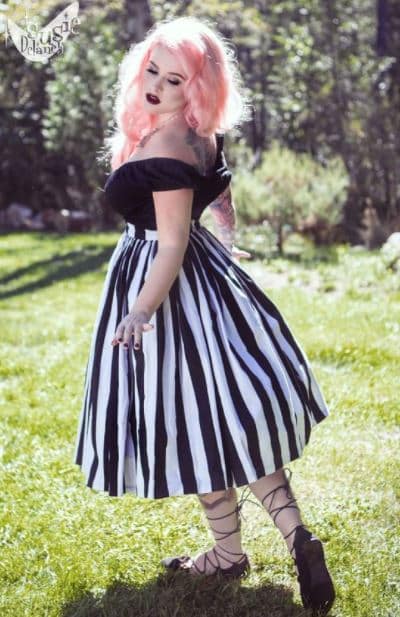 1 – Summer Style Goth
Regardless of the season, gothic girls are loyal to the black hue. While black is a heat-absorbing color in the summer, you can still put on a cool look with a black lacy skirt, a cute white shirt, and of course black hot shoes. Complete your look with gorgeous minimal accessories.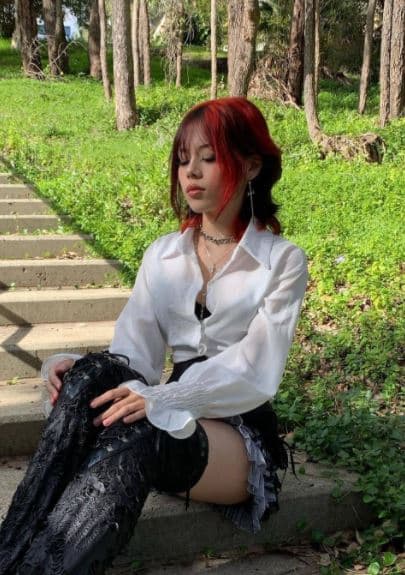 FREQUENTLY ASKED QUESTIONS
What are some ideas on how to dress like a goth?
I would recommend going to thrift stores and buying a lot of different sweaters and tops in blacks, greys, and dark colors. Look in all sections of the shop not just your gender. Try checking both the men's and women's sides, and don't think you have to spend much on the clothes themselves.
Make sure you always have basic black pieces like a t-shirt, jacket/cardigan and skinny jeans, and skirts if you wear skirts. As long as you get the right shoes, accessories, and makeup if you want to wear it it will look great.
Hair can also be a big thing, but I've seen many different ways to style it, but it is usually either sleek and straight, teased, or messy with curls or waves. Bedhead is a big thing some goth-like, I prefer a slightly messy curly style. It adds volume and is much healthier for my hair as I have natural curls. Remember the biggest thing that sets you apart from the other dark fashions is the way you carry yourself, not brands or looking exactly like your goth friend next door.
What are some tips to dress Goth?
Stick with neutrals and a lot of dark colors. You could do purple, reds but try to stay in the darker realm of them.
What are some best gothic clothing brands?
Finding genuine goth clothing brands has always been a difficult task. To save you from stress, pain, and unnecessary costs, in this article, I'll introduce you to the best gothic clothing brands.
TRIPP NYC
VOID CLOTHING
DISTURBIA CLOTHING (Grunge, Punk, Goth & Girly Gothic Clothing)
FOX BLOOD (Goth Fashion Outfits & Vegan Gothic Clothing)