Short Goth Hair Styles for Girls – The Goth style has been inspired by the Romantic era and the Goth culture movement in the early 80s. Goth look is more about expressing your mysteriously dark side. Over the years, this grunge look has taken many forms but the basic style has remained the same: dark makeup and dyed hair with dark clothes. Along with dark colors, heavy metals are used in gothic fashion with hair styling being a major part of the entire look.
Hairstyling has taken many forms since the 80s and women have been more experimental with their styles. They have striking hair with braids, high buns, short and long hair with different colors, and dark eyeshades to go with it. If you are unsure about your grunge hairdo, then keep scrolling.
How To Style Goth Hairstyles For Short Hair?
While braids undercut and well-cut jet black speaks more about fashion hairstyles for goths, women with short hair need not worry. There are a lot of ways you can pull off the short hair by adding gothic punk to it. Goths have a different way of expressing themselves along with dark and mysterious, they can look effortlessly edgy by adding a unique touch to their braids and buns.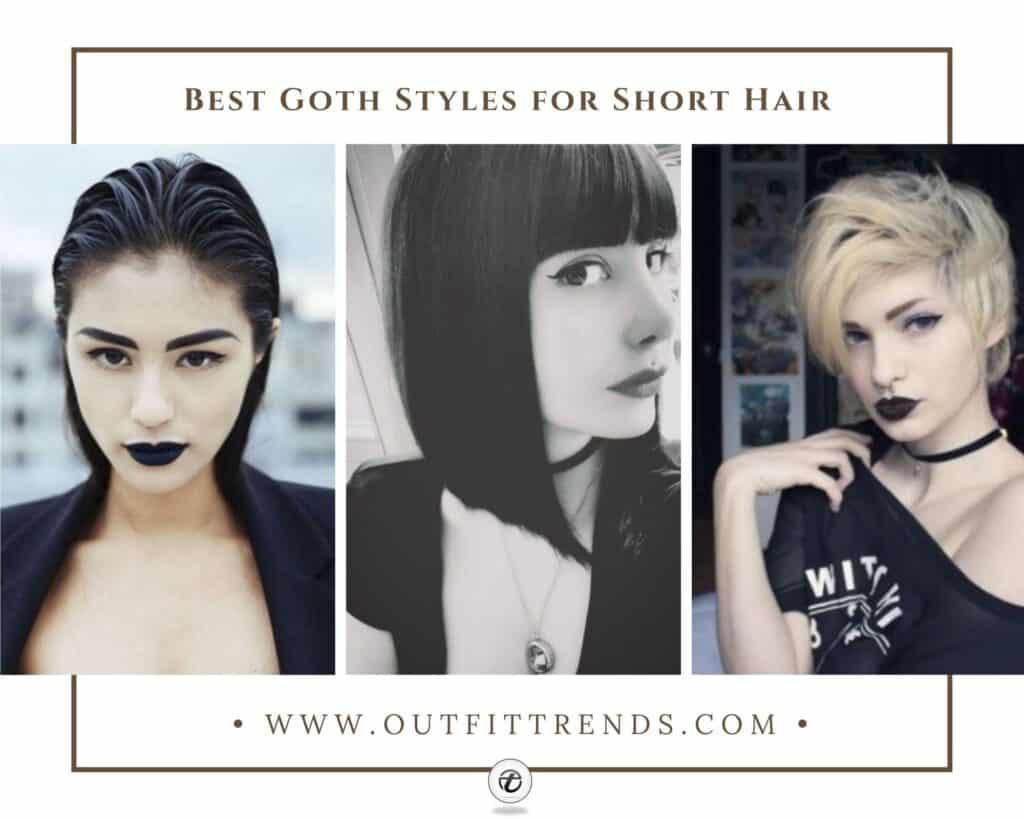 You can go with the simple and basic cut, dye your short locks or just accessorize your hair to enhance your gothic hairdo and stand out. It does not really matter if you have straight hair or curly, if you are a blonde or brunette there are fashionable hairstyles for you to nail this rebellious look.
Styling Tips
Don't hold back from experimenting with your gothic hair. Dye your short blob completely or just streaks of hair but go bold and beyond. 
Don't be afraid to accessorize your hair with occasion specific accessories. Put on a net veil, a hair band, a flower crown or just cat ears for Halloween party. Do what you can to stand out.
If you color treat your hair make sure you use hair protecting serums before styling them to prevent them from damage or breakage.
Similarly, you may also use hair styling gels and sprays to make the hairdo last longer.
↓ 20 – Classic Black
This is a typical, short and dark hair style making it a signature grunge hair look. This short hair style is basic and will work well for you if you have stick straight hair. You can try to keep the length of the sides equal to keep them symmetrical or just get it roughly chopped. This short bob is easy to maintain and does not need a lot of sprays and serums to hold your hair in place. You should also check out these Gothic Work Outfits.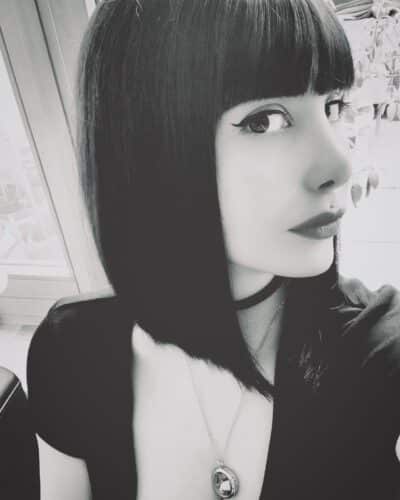 Source
Get similar pendant here $11.95
↓ 19 – Gothic Hair Style For A Date Night
If you have a date night planned and want to look dramatically romantic then add some beach waves to your dark hair using a hair curler for a smoking romantic look. Use a hair gel to hold your waves in place for a long time. With dark eyes, dark hair and sexy outfit, it will be a night to remember!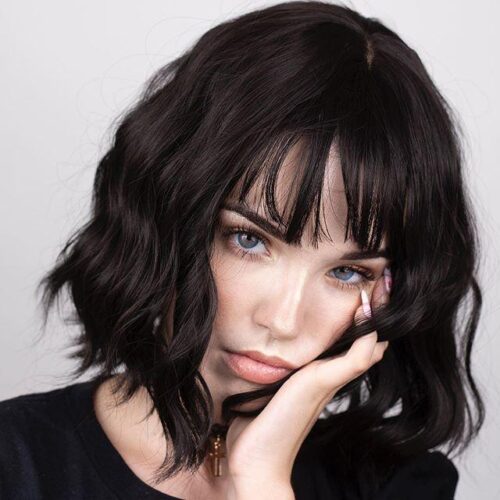 ↓ 18 – Grunge Hair Style With Bangs
Bangs always gives an edge to the short gothic hair style. It will go well with you raven black or even other dark dyed hair. Chop some blunt bangs and bring them to the preferred side of the forehead. You can even put your creative shoes on and shape your bangs in a spear or asymmetrical style. The shaped bangs will however require daily maintenance. You can then tie your hair in a low bun or just leave them loose.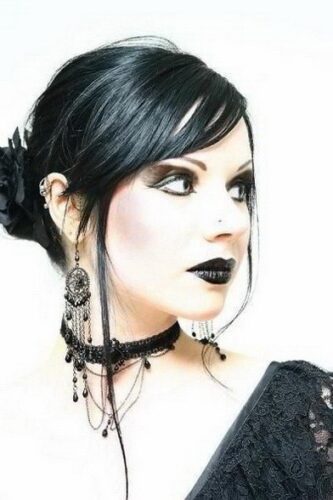 Get a similar black choker for $10.99
↓ 17 – Slicked Back Grunge Look
If you are a fashion conscious goth and want to get party ready in no time then this hair style for short hair is just for you. All you have to do is take a styling gel and apply it to your hair, comb them backwards and you are good to go! Lift the look with a black choker around your neck and deep black eyes.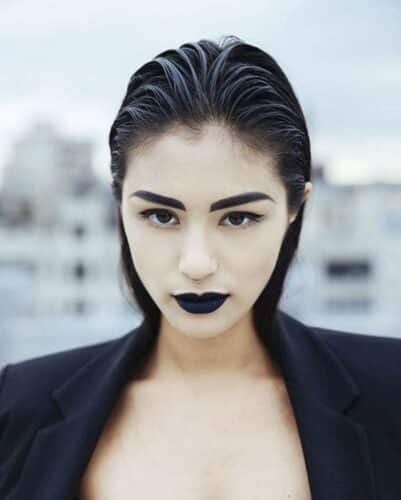 ↓ 16 – Dark Angel Wings 
You can add a twist to your dark short bob by adding feathery wings to it. Make two ponies on the top an dfather themto give a dark gothic angel effect. You may also even it out if you want kee it sleek and neat. Use a black eyeliner and eye shade to bring out the goth girl in you.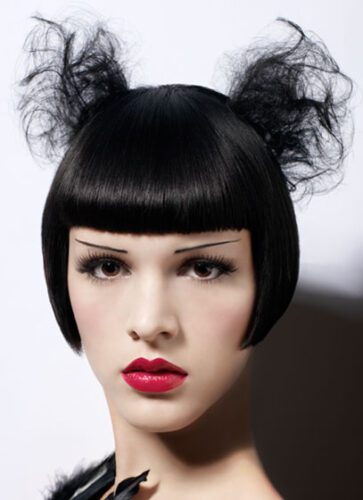 ↓ 15 – Curly Style
Girls with curly and textured hair can effortlessly pull off an afro goth look. If you want to redefine your curls then you may use a curling iron. For a more casual and messy look you may loosen your curls by running your hand through them and enjoy the rebellips look.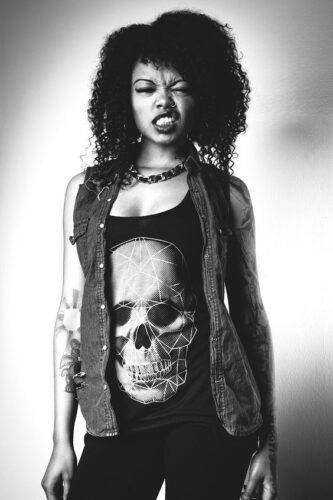 ↓ 14 – Metallic Grey Goth Look
If you don't like coloring your hair in the classic grunge style then you may go for a lighter color. You can opt for a shade of grey to channel you inner goth goddess. Look like a diva in this short cut and chic color!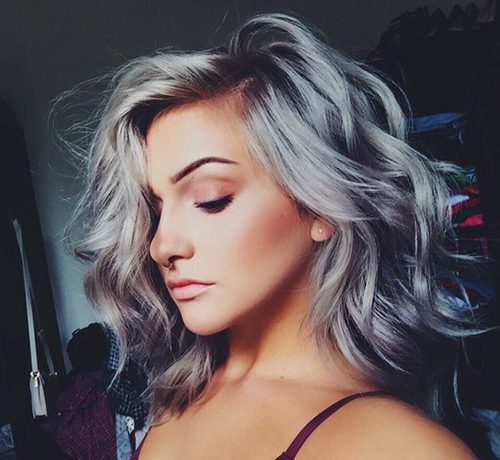 Get similar metallic grey hair look $15.55
↓ 13 – Messy Top Bun
A bun up do looks hot anyways, but if you really want a quick fix for your untamed hair from last night's party then tying a top knot should be your go-to goth for short hair. You can carry this look at a part, at the gym in your track suit, or even at the office. Just give your top bun a gothic look by making it messy and setting it using a hair spray to keep it in shape for long. Here are all the Ways to Rock Half Bun Hairstyles.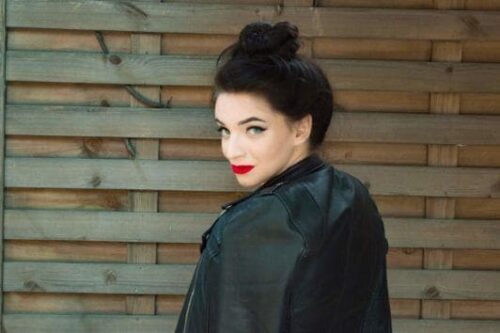 ↓ 12 – Two Tone
Just to spice things up a little, you can go half and half. This could be black and fluorescent purple, green and pink or yellow and orange. This two tone colored hair will give an attractive edge to the monotone gothic look. This look can be paired up with dark makeup, long lashes and nude lips. To add a spark to the entire look you may add glitter in your hair.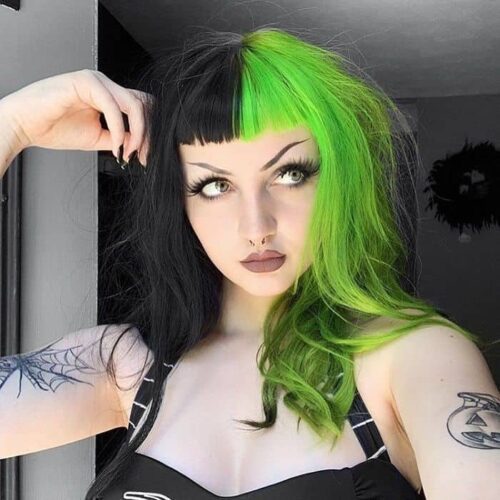 Buy similar eyelash extensions $9.36
↓ 11 – Styling Products
There are ample products available that will help you style your hair. Ranging from hair protecting serums to heat resistant sprays, styling gels and hair setting sprays to keep the hairstyle going for long. Additionally, you may also find colored hair sprays to try on a new color temporarily. 
↓ 10 – Box Braids
Box braids are another style that a short hair goth girl can try. Sweep your box braids back or leave them hanging around, you can always make it look more gothic with a touch of dark eye shadow, a black choker in your neck and killer black frames to complete the rebellious look.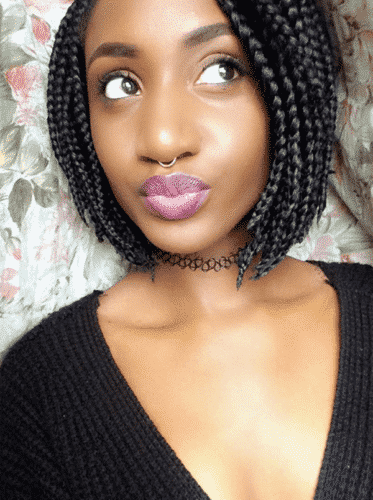 ↓ 9 – Colorful
Gone are the days when gothic look was associated with black color only. Today, it is more about unleashing your wild and bold side. Give it any grunge hair color you like and rock your everyday. Make sure you consult a professional before you apply chemicals to your hair and invest in color restoring and damage protecting shampoos.
Get similar lip studs here $7.99
↓ 8 – Messy Color Mix
If your vibrant self cannot decide on a single color then you may as well go for a variety of shades. There is no such thing as too much color! Thus, make it dark, mysterious and messy! Mix those colors, wear a bold statement jewelry piece and flaunt that gothic make up look to make a heads turn.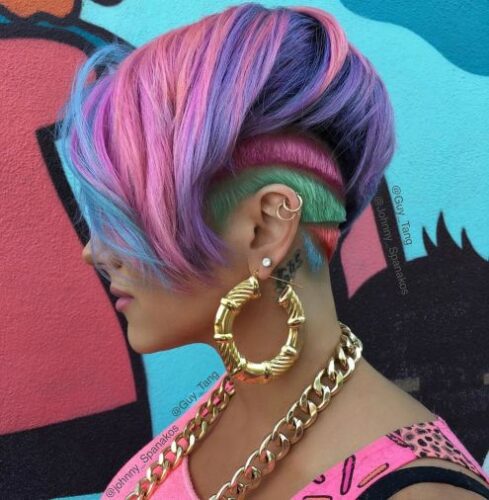 Buy similar necklace here $36.50
↓ 7 – Orange Swirls
To get this look you may take a small strand of your hair and then twist it to make it look rope-like. The orange rope like swirls make you look beautiful and bold if paired with the right kind of makeup and clothes. You can go for the same hairstyle for short hair in a different shade of your choice. Have a look at our exclusive guide on How to Dress Goth.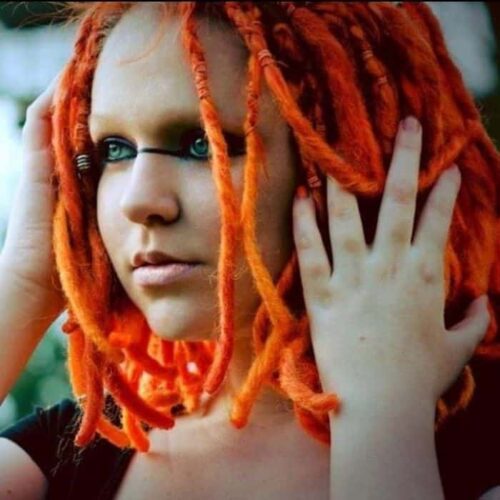 ↓ 6 – Flower Crown For Short Grunge Hair
Be it Halloween, a college party or a wedding, you don't have to hide your love for flower crowns. They will give you a slight formal look at the wedding with a hair up do. Pair it up with traditional dark grunge eyes and bold lips to give off the mesmerizing wild vibe.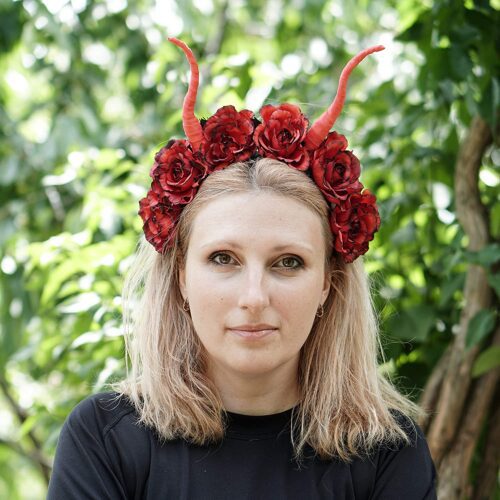 Buy similar crown here for $60
↓ 5 – Goth Halloween Look With Cat Ears
With Halloween around the corner, this should be the easiest go-to look. Wear cat ears on your short curls or stick straight hair to ace that Halloween look. You can accentuate the look by wearing dark smoky eye shadow and burgundy lips.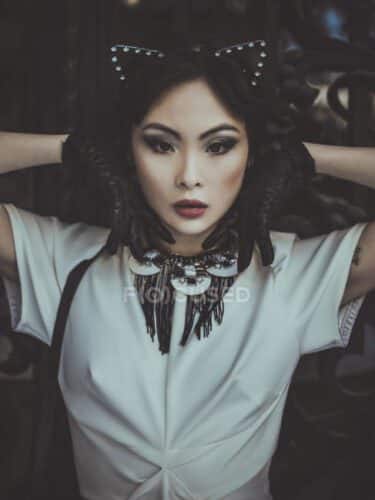 Source
Buy Similar white shirt for $23.81
↓ 4 – Undercut
Lift up your gothic look by dying your hair in contrasting colors and combine this short dyed hair with an undercut to give off a grunge haircut girl look. Similarly, you may go for a handmade eye tattoo to amp up the look or even go makeup less. Wear a nose ring and a metal neck piece to amplify the rebel in you!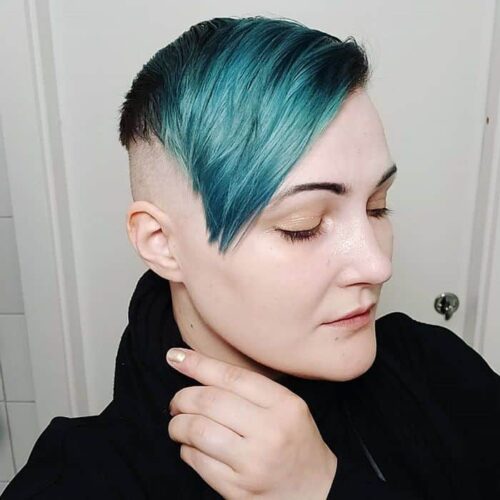 ↓ 3 – Colored Feathers
Get them dyed in colors of your choice to make it look funky and wild. Use these colors alternatively and add a striking black to it too. Wear a black outfit and raven black lip with piercing to make the look stand out.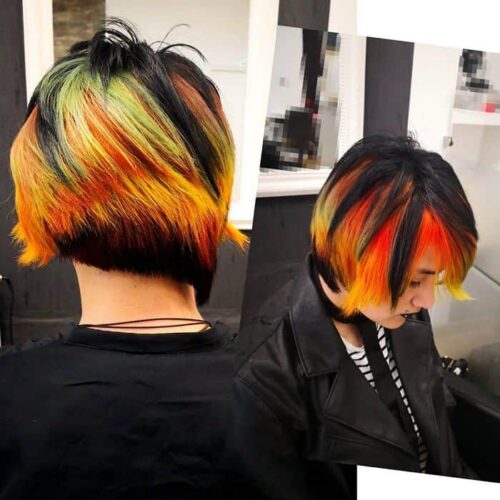 ↓ 2 – High Up Grunge Hairstyles
A high up messy look is a great choice for a goth girl who wants to nail it in the first impression. You cannot wear it every where as it is occasion specific and it also requires high maintenance but it sure does give you an edge over goth girl cuts.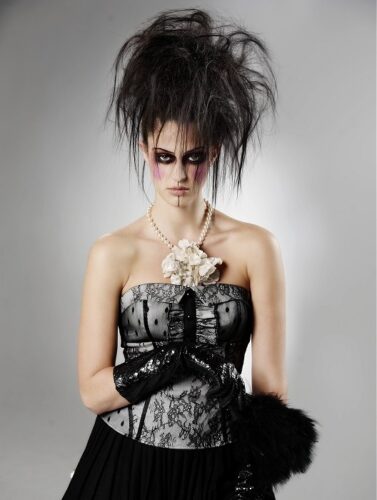 ↓ 1 – Gothic Hairstyle For Short Hair 
In this era, you don't necessarily have to get your short hair done in a certain way to look gothic. It is your clothes, the accessories you wear, and the makeup that creates an entire grunge look persona. Dark eyes, layered dark hair, dark lips, piercing and tattoos and dark clothes along with the right kind of accessories gets it all together for you to make you look like a grunge haircut girl.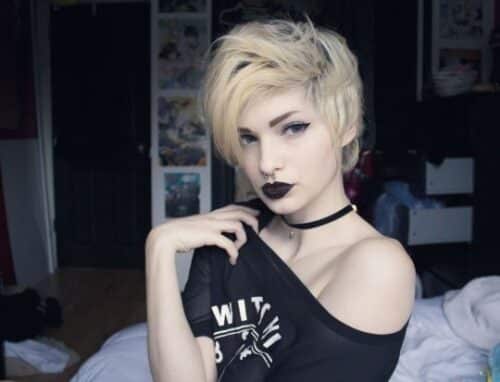 FAQs
Q. What hairstyles do goths wear?